Review example is provided by manufacturer.
I think that keylights is what Lumintop can do. Everyone knows "worm" and "tool" which both are a good choice. And now manufacturer decided to add premium model to this line of small lights.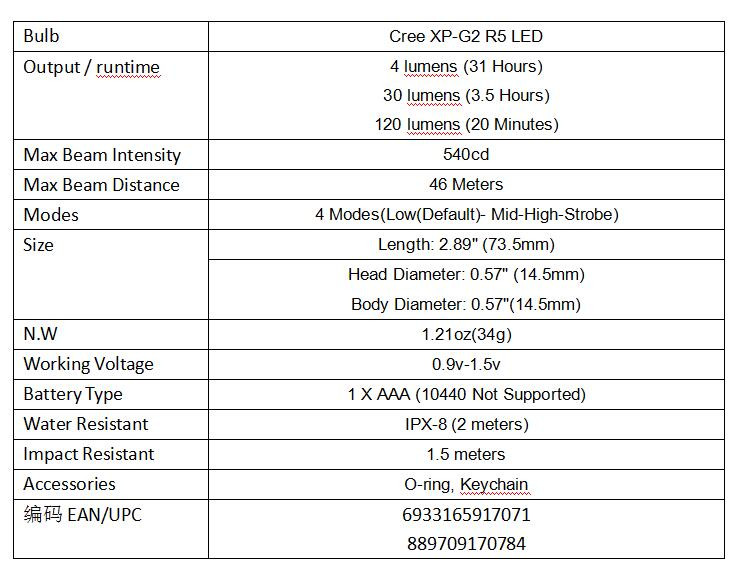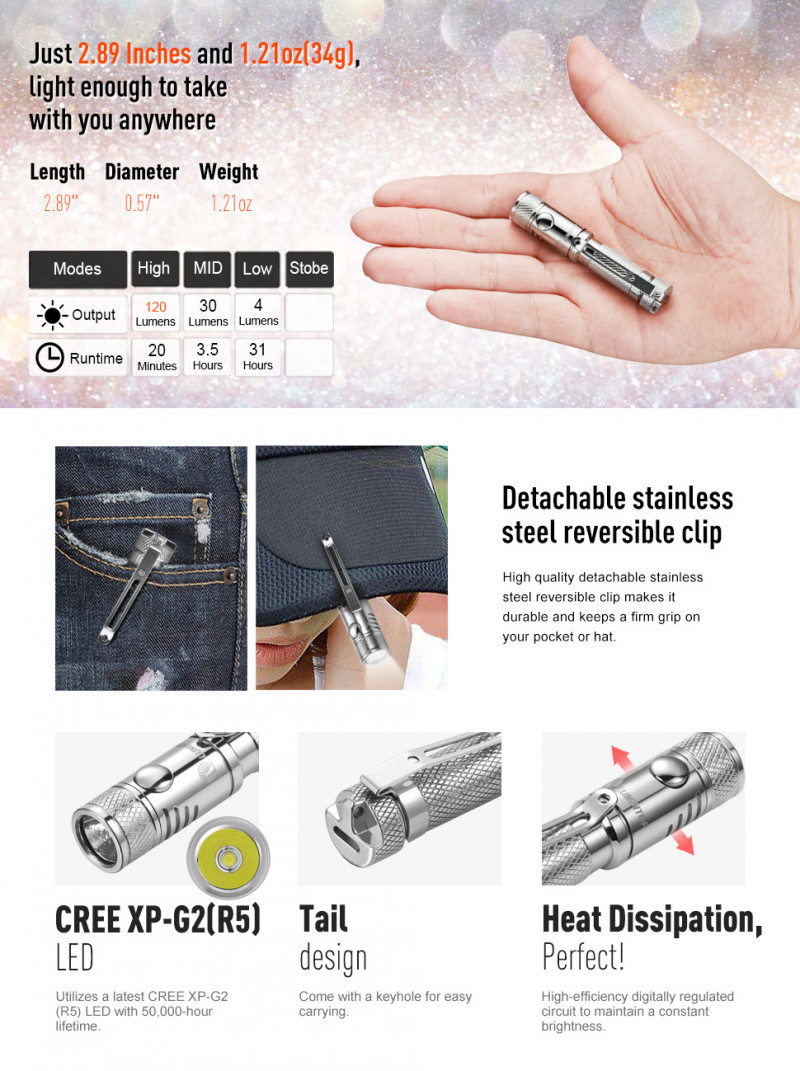 *PACKAGE *
Ant has the same thick cardboard package that Lumintop has been using in all the last models. This one will survive any long journey from China.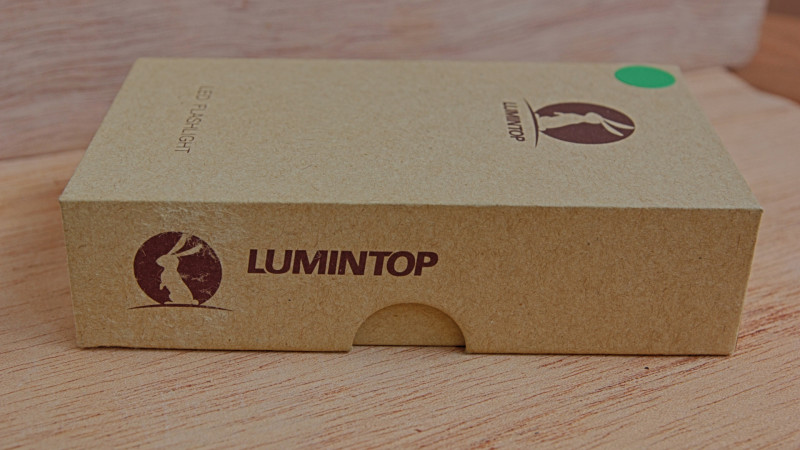 When I opened box, I was surprised to see that keylight was vacuum sealed .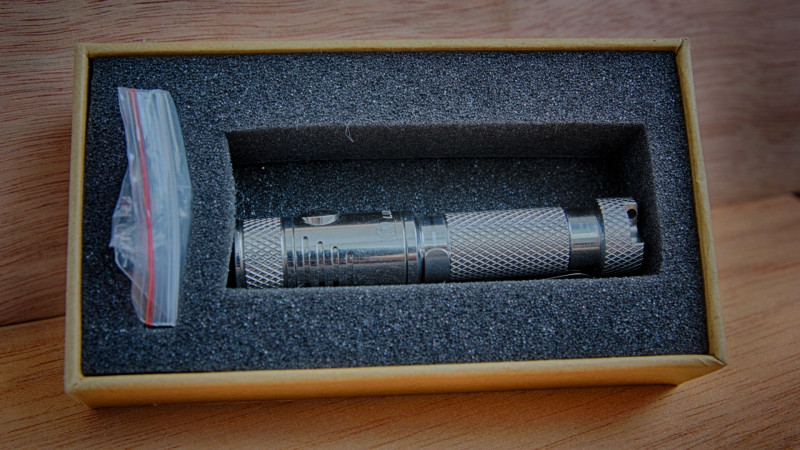 Package incudes:
Ant
Manual
A couple of O-rings
Small metal ring.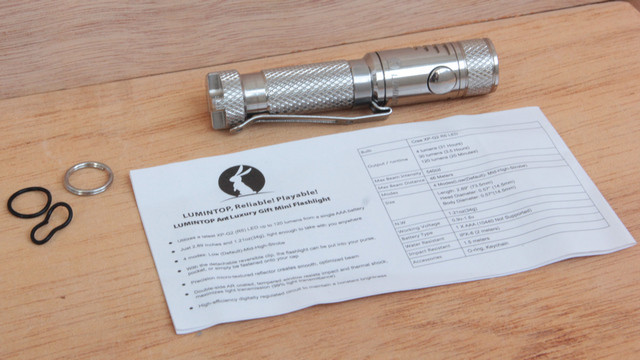 This flashlight is typical keylight size product, the same as any other.
APPEARANCE
That is what I absolutely like about this flashlight. I was exited so much that I even deleted 1st video review and made second version of review.
I get SS version, there is also Brass.
I saw and owned about 5-7 different keylights, and this one is undoubted winner for me. That is 100% what I like in design. That is a kinda of flashlight bonsai ) Small, but the same as full-size.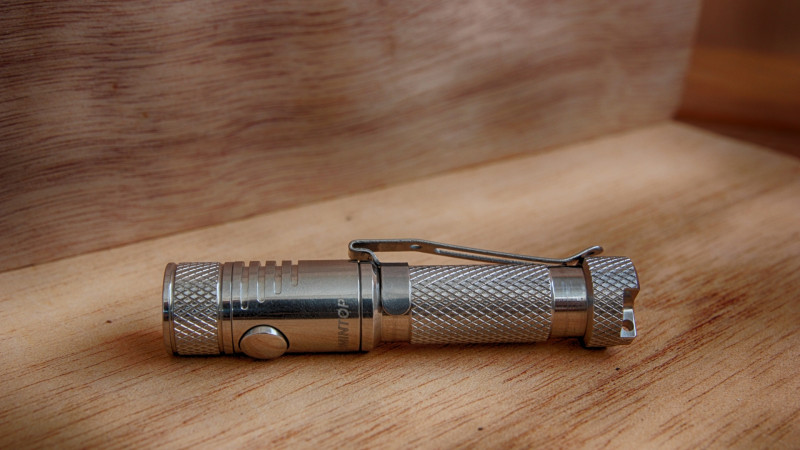 Knurling is small, and also repeat one from full-size flashlights.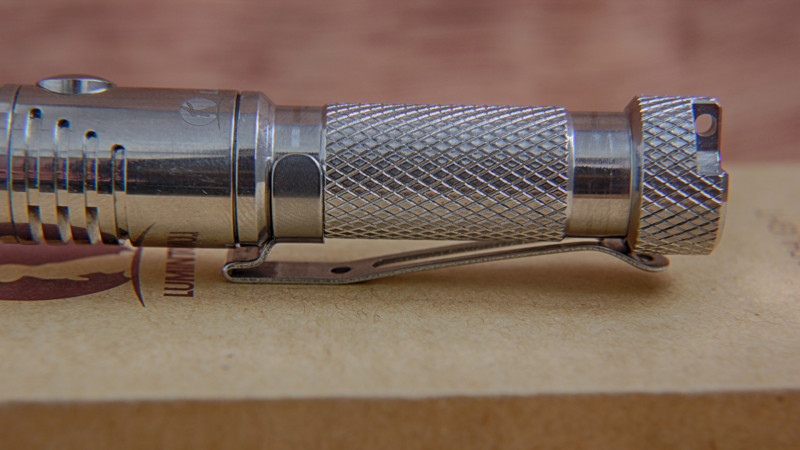 There are even cooling ribs, though i`m not sure that when you cover almost all the flashlight body with your palm, that will work well. Anyway – for my taste, that is a good addition to design.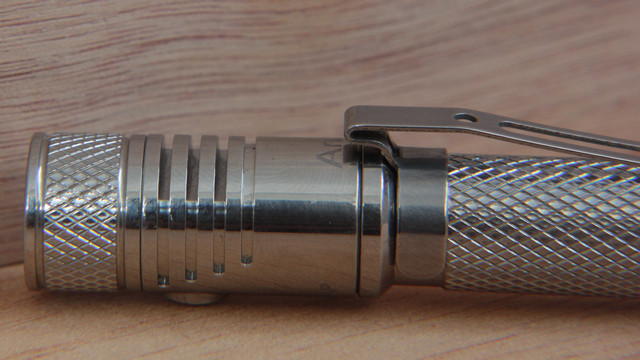 Side button…at first I was confused, predicting that it will immediately turn light of in pocket, but then…well, below in UI i`ll tell you my conclusion)
And again, it looks good.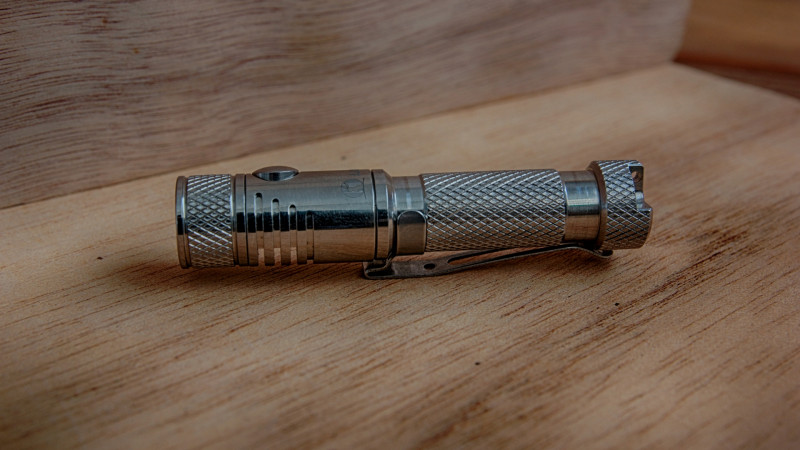 Tritium insert provides with some dim glow to locate keylight in shelf.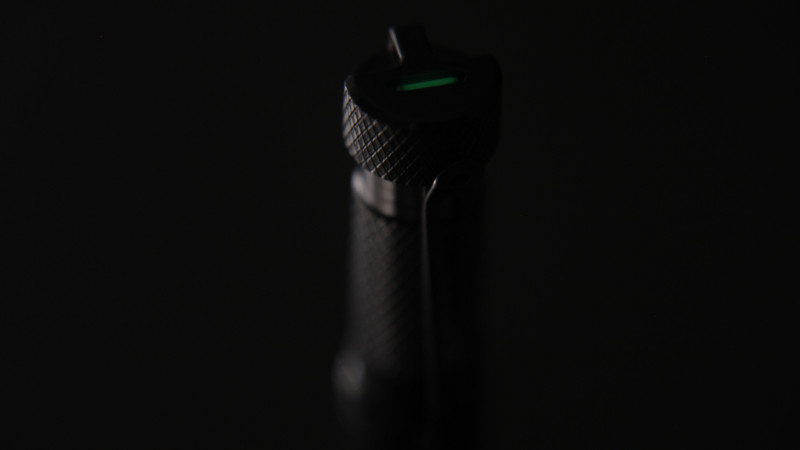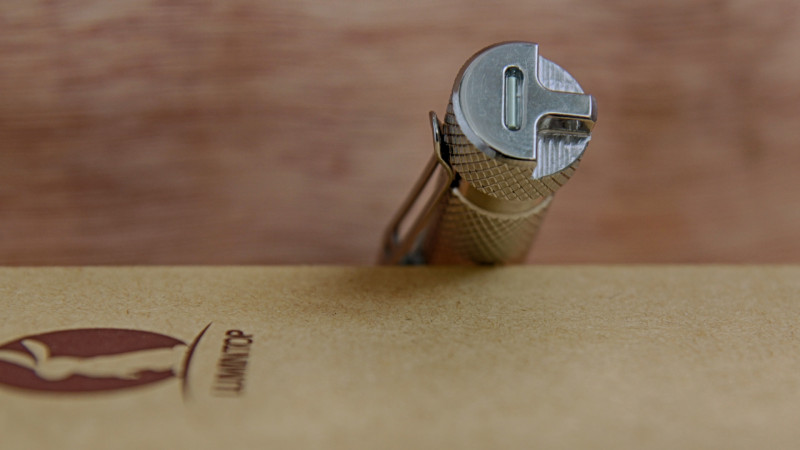 Small hole for metal ring.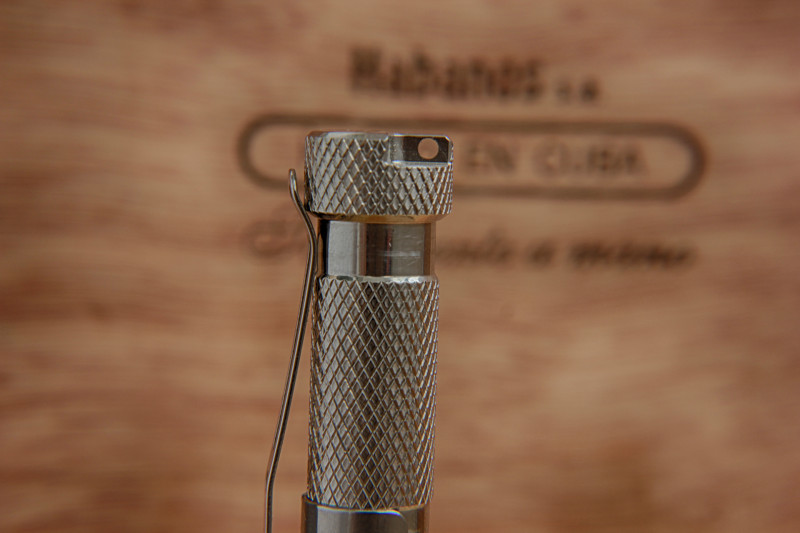 Insides are usuall – thick sides, tail spring, contact plate at head.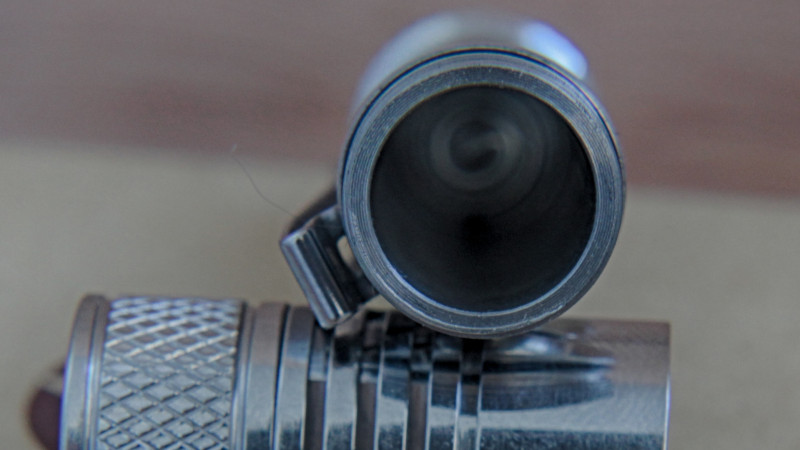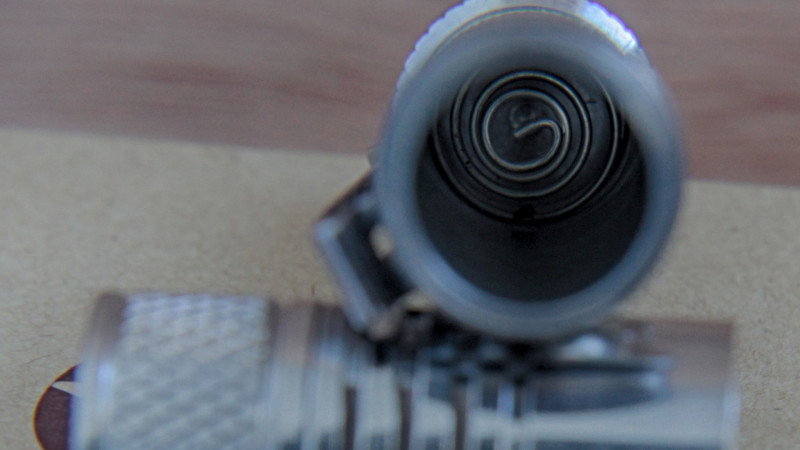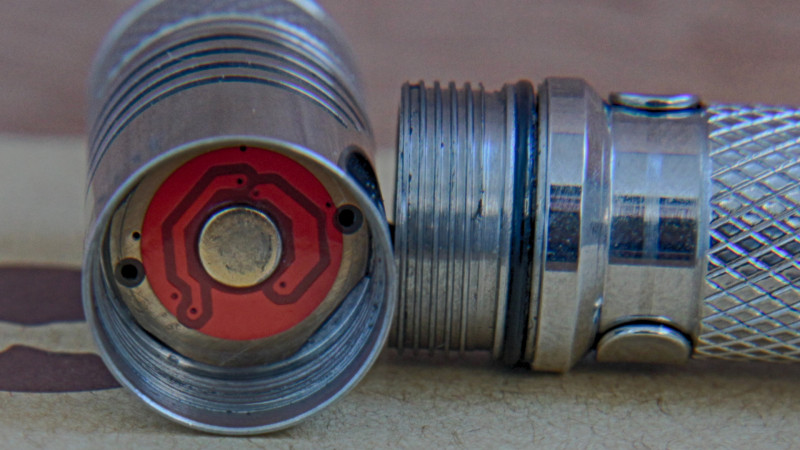 Reflector-LED is ordinary ones. OP and XP-G2 R5. Well, for such a price, i`m sure Lumintop must place Nichia there.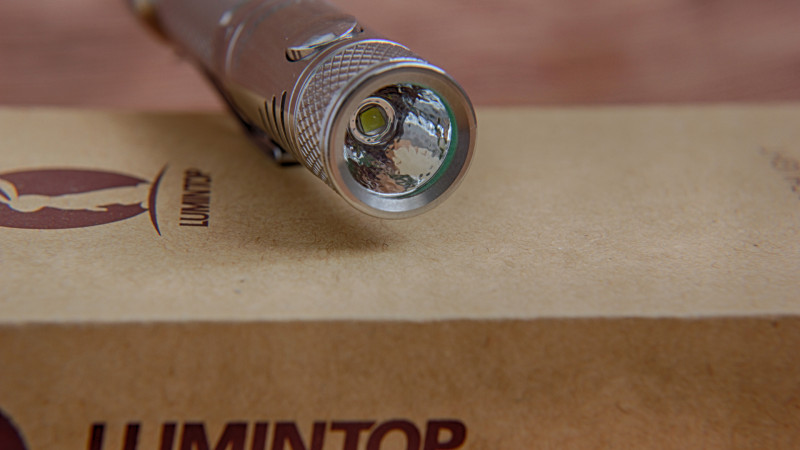 That is all I can say about appearance. Again, it 100% fits my tastes. Modest, solid, small. Argh, that's a treasure.
UI
.
Just press side button to cycle throw low-mid-high
Keep button press in low mode to enter strobe. Good idea to hide it.
And, of course, being put in pocket, this keylight will immediately be turned on.
Just twist head little bit , the same that you would do with regular head-twisting flashlight. That will physically lock flashlight. When you need light, just twist head little bit and use button.
PERFORMANCE
And if appearance is great, performance is an ordinary one, almost as majority of other keylights. Ah, there is no PWM-shimmering at any mode.
Low – for shelf searches, to illuminate keyhole.
Mid – ok for outdoor, 5-7 meters range. good idea to use to illuminate path ahead of you.
*High*– very bright for such a size. But I bet you know what is keylight with 130 lum, so i`ll tell you nothing new.
So, Ant looks a way better than others, but perform as most of them.

there are links to all the versions of this flashlight at Lumintop offficial store
*btw. you can use "fatjoe" codeword to get 20% discount )
*
OVERALL
Excellent appearance (to my taste) and build quality. Performance is good for such a size, but still is on the level of other good keylights.
Well, that is a gift flashlight, so as I gift it will serve well. Especially if person haven`t seen keylights before, so 130 lums in high from such a small light look surprisingly bright.