Maglite Solitaire LED
Reviewer's Overall Rating: 
★★★

☆☆
Summary:
| | |
| --- | --- |
| Battery: |  AAA |
| Switch: |  Twisty |
| Modes: |  1 |
| LED Type: |  Luxeon C |
| Lens: |  Plastic |
| Tailstands: |  Yes |
| Price Paid: |  $16.99 |
| From: | All Spectrum |
| Date Ordered: |  12 October 2012 |
Pros:
Long battery life
Adjustable focus
Much brighter than old Solitaire
Candle mode
Lifetime warranty
Cons:
Not as bright as many lights
No knurling
No clip
Plastic lens and reflector
Features / Value: 
★★★

☆☆

Maglite has been behind the LED cutting edge for a while, but they are finally introducing some new LED lights, including a much needed refresh of the 2-lumen incandescent Maglite Solitaire with this 34-lumen LED version (based on Mag's ANSI test, which they helped formulate). A lot of people like Maglites and this a huge improvement. Also it is an affordable American-made light which will appeal to some.

The light is very, very simple, with one mode of 34 lumens (slightly less on NiMH). The light is switched on by twisting the head, coming on with a wide focus and then being able to tighten down to a smaller hotspot as you continue twisting.

The price of the light isn't bad at $16.99 and I would guess that it will eventually drop below the retail price, especially if it can be found on sale. This light arrived very quickly from All Spectrum. I ordered this Friday night, they marked it as shipped not an hour later, and it arrived from California to Georgia by Monday morning, just using first class mail. The light is packaged in a nice plastic box and includes a lanyard and a Duracell battery as well as instructions in French, Spanish, and English. It also has a lifetime warranty, though it doesn't cover the LED (maybe left over from the incandescent days?) and you pay $3 for return shipping on warranty service.

Here is the light disassembled. O-rings at the joints. You can see the unusual electrical contacts in the tail piece along with the heavy duty keyring attachment. Most of the pictures can be clicked for an image twice as large.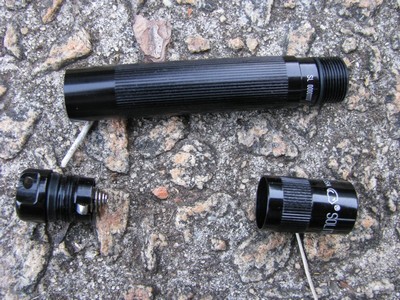 Design / Build Quality: 
★★★

☆☆

Maglites are generally built tough. This light is a little more delicate, I think. There is no knurling and nothing to stop the light from rolling unless you attach a lanyard to the heavy duty lug on the tailpiece. While most lights are two pieces, this one has three, which makes it a little longer than other lights. Like other Maglites, you can unscrew the head and the light will stay lit, offering a candle mode (though the head doesn't act like a stand as it does the others).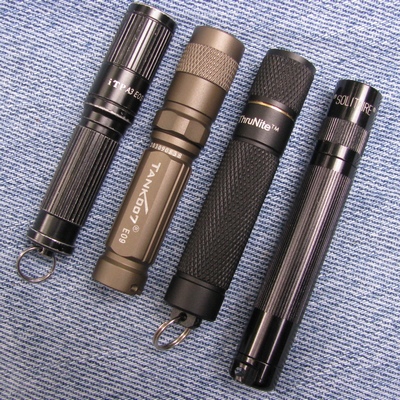 The light is designed for alkaline use though the instructions do not say that you can't use NiMH or a lithium primary. Playing around with it using NiMH batteries, it seems to work okay, but it does flicker some. I can't imagine that is because of the NiMH batteries. Some are saying it has something to do with the tail spring.
Maglite uses plastic lenses and reflectors in their lights, which I'm not crazy about, but I don't know if it matters that much.
Here's the Luxeon C LED, mounted to the head.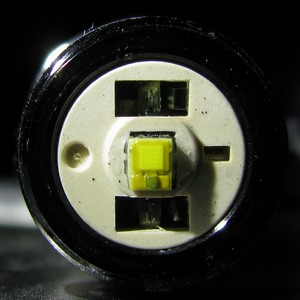 Battery Life: 

★★★★★
The Solitaire uses a Luxeon C LED, a little brother to the Rebel LED previously used in some of the bigger Maglites. This LED can be drive at a maximum current of 350 milliamps, which is pretty low. But the big advantage of the low current is long battery life.
The first time I did a runtime test, I only got 85 minutes or so, but I think the battery I used must not have been fully charged. I can't measure the voltage during the test, so I leave the light on and then stop every now and then and test the at rest battery voltage and current draw at the tail of the light. This light is hard to get a tail current because the inside of the body tube has anodized threads except for a band of bare threads where the tail piece makes electrical contact. Knowing from my previous test that it would last a while, I didn't even check on it for an hour. Using a 800 mAh Duraloop that I had charged the night before, I ran the test again and got 2 hours, 19 minutes, and 27 seconds before the light finally blinked off.
So based on my objective scale of 1 star for 0-15 minutes, 2 for 15-30, 3 for 30-60 minutes, 4 for 1-2 hours, and 5 for anything over 2 hours, this is the first light I have ever tested to get 5 stars.
| | | |
| --- | --- | --- |
| Time (hh:mm) | Voltage | Current (mAh) |
| 0:00 | 1.425 | 360 |
| 1:00 | 1.253 | 300 |
| 1:20 | 1.243 | 300 |
| 1:40 | 1.228 | 280 |
| 2:00 | 1.193 | 290 |
| 2:10 | 1.149 | 300 |
| 2:19 |   |   |
Light Output: 
★★

☆☆☆

Light output is not great compared to my other AAA lights, which feature brighter Cree XP-E LED's driven harder than this light. But the advertised 34 ANSI lumens (which seems correct to me) is still reasonably bright and since it only has the one mode, it might be a good all-purpose brightness level, more of a Medium than anything. The original Solitaire was only 2 lumens, so this is a huge upgrade in comparison to that poor thing.

The Luxeon C has a flat lens over the LED and for some reason there seems to be some color separation in the hotspot of the light with some yellow and some cooler white areas. It's only noticeable on walls and not as pronounced as the Cree XT-E drop-in I have.

Here are some indoor comparisons to other lights. The pictures below are taken with the lights 50 cm from the wall at 1/100th second exposure. If you mouse over the pictures you can see the same shot at 1/1600th exposure. The Solitaire is always on the left.

First, with the Tank007 E09 on the right. This is a great light, but draws almost 5 times the current and eats a battery in 25 minutes: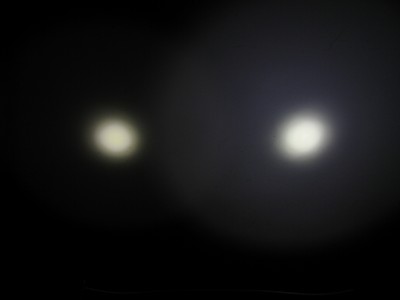 I can't measure light output, but I think the light is brighter with alkalines, so here is the same comparison with the Solitaire using an alkaline battery. All other pictures have both lights using NiMH batteries: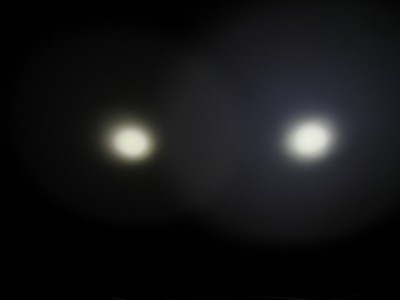 Next up is the Solitaire against my EDC, a XP-E version of iTP A3 EOS. This shows how even though the Solitaire doesn't have as much output, the ability to focus the beam as well as the smaller die LED help give the light a tighter hotspot: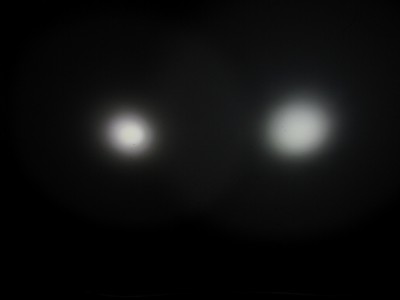 Lastly, here is the Solitaire vs. the Thrunite Ti:
Outdoors, I set up a houseplant about 25 feet away, and the lights are aimed at the fence posts in the distance about 100 feet away. The exposure is 3.2 seconds to best match what I was seeing by eye. I may do these over again at 4 seconds because in these pictures it looks like the Solitaire is hardly putting out any light.
Here is the Solitaire on NiMH with a mouseover of the light on alkaline batteries. I'm not seeing a huge difference in output, but I'm not seeing a huge amount of output either.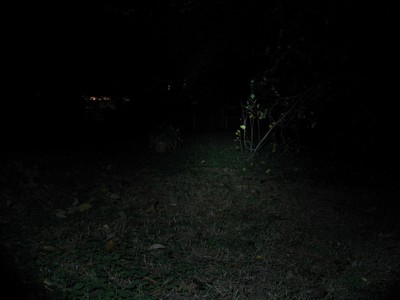 Next, I'll compare to different lights and the mouseover will always be the Solitaire on NiMH. First up the Tank007 E09:
Now here is the iTP A3 EOS: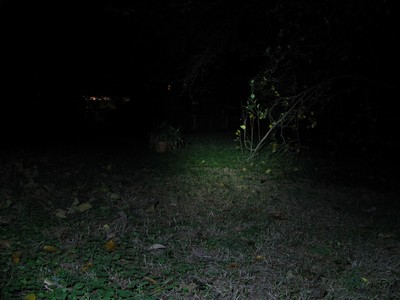 Now here is the Thrunite Ti: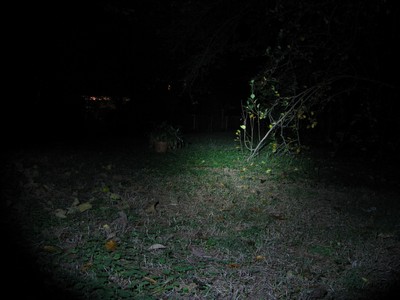 I haven't tried the Solitaire on a lithium ion battery, but I usually use one in the iTP A3 EOS, so here is what happens when you do that: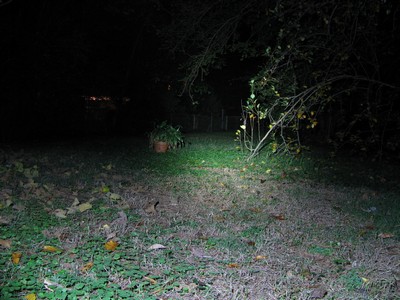 Summary: 
★★★

☆☆

I think people who like flashlights tend to go for the maximum output, but there are those who appreciate long runtime. When it is dark, it only takes a few lumens. While I prefer my other AAA lights, which can achieve longer runtimes by using Medium, I always run them on High, so this guarantees you will get good runtime. Also, hey, it's a Maglite which is meaningful for a lot of people. Still made in the USA. And I hope that it will eventually be widely available in retail stores, like other Maglites.

So I think there is an audience for a light like this, but I have other lights in this price range that I think have some significant advantages in build quality and brightness.