Review: Prairie Fire D10 - 26650 with Side Switch
Prairie Fire D10
Reviewer's Overall Rating: ★★★☆☆
This light was provided by LightsCastle for review.
Summary:
Battery:

26650 (OR 18650 w/sleeve)

Switch:

Reverse Clicky Side Switch

Modes:

5 mode: Hi-Med-Lo-Strobe-SOS

(No memory – resets at 10secs)

LED Type:

XM-L T6 (as claimed)

Lens:

Glass

Tailstands:

Yes, perfectly

Cost:

$30.00

From:

LightsCastle (Link to D11 model

see reason below)

Date Shipped:

12-05-2012 (Recv'd 12/24/2012)
Pros:
26650 compatible

Nice feeling side switch

Solid build quality

Nice size in the hand

Glass lens & aluminum reflector

Decent Heatsinking

The "next mode memory" resets after only 10 seconds.

(No memory seems to suit a driver with blinky modes better.)

Well focused beam, mostly a thrower

Well centered emitter

Could make for a very nice mod host
Cons:
Very under-driven (only

2.0A

1.33A on high)

Threads were dirty upon arrival causing light to flicker

Glass lens arrived with a chip at the edge

Price is a bit high for its performance level
Other Specs/Details:
Reflector: 51.1mm wide (49.1mm inside) x 40.1mm deep (to LED)
Body Tube: Diamater 57.6mm at head, 31.6 @ battery tube, x Length 198.3mm (total)
20mm driver diameter
20mm emitter star
Plastic insulator over emitter to protect from reflector to LED shorts
SMO reflector
Uses PWM (detected shining at a fan, but doesn't bother me in use), but no driver whine
Decent threads once cleaned and lubed
O-Rings at every joint
Strobe seems to me to be a "medium" speed strobe
Comes with 18650 sleeve
Crystal (crystalcai) from LightsCastle sent me this light to review two months ago and I'm just now getting around to the review (sorry Crystal, and sorry BLF'ers). Crystal has been very nice to deal with over PM's and has provided quick replies. Based on this experience, I wouldn't hesitate to order from LightsCastle.
Crystal sent the light in their new packaging which is a nice cardboard box (not the typical cheap thin cardboard boxes we're used to from other vendors). The box came inside a standard bubble pack envelope. I'm under the impression that all lights will be packaged in these boxes. They didn't have the light in stock, but it only took two days to get it and ship it out. It shipped out 12/05/2012 and was delivered 12/24/2012, not bad considering the holidays.
NOTE: I must point out that the model I am reviewing is a "D10", but the product link is for a "D11". I searched the LightsCastle website and checked back through my PM's and I couldn't find a "D10" link. Apparently there was a mixup. I will have to check with Crystal about this and see if they can sell this D10. I would imagine the D11 to be nearly identical to the D10. It appears to me to just have some styling differences at the head (fins) and tailcap. I know Richie086 has ordered a D11, so hopefully he can chime in on drive currents and such.
My first impression of the light was that it's a very nice size in the hand. It has a solid feel to it. It's similar in size to a typical 2 C cell sized light. (I don't own a 2C Maglite, but I would guess the 2C Mag to be slightly larger.) The light had a few minor imperfections in the anodizing (which I've come to expect) and a chip at the edge of the glass lens (hardly noticeable behind the bezel). The switch has a nice feel to it as well, although mine must need cleaning because it causes some flickering. The light has a typical 5 mode driver, but no memory, which seems to work out well so that you don't have to see strobe or S-O-S modes if you don't want to. The "next mode" memory resets after 10 seconds (i.e. no matter what mode you were in, the light will reset back to high after being off for 10 seconds). The emitter is an XM-L and claims to be a T6. The tint looks like a typical nice cool white. I don't see any purple or blue in it. The beam is well focused with a nice tight hotspot. There are slight rings in the beam only noticeable when white-wall hunting. At a distance of 4.5 feet the hotspot diameter is 4 ¼ inches and the corona (which is slightly yellow) is 14 inches wide. Total spill width is 64 inches wide. This light is more of a thrower than a flooder, but I wouldn't call it an excellent thrower.
Shot in my hand: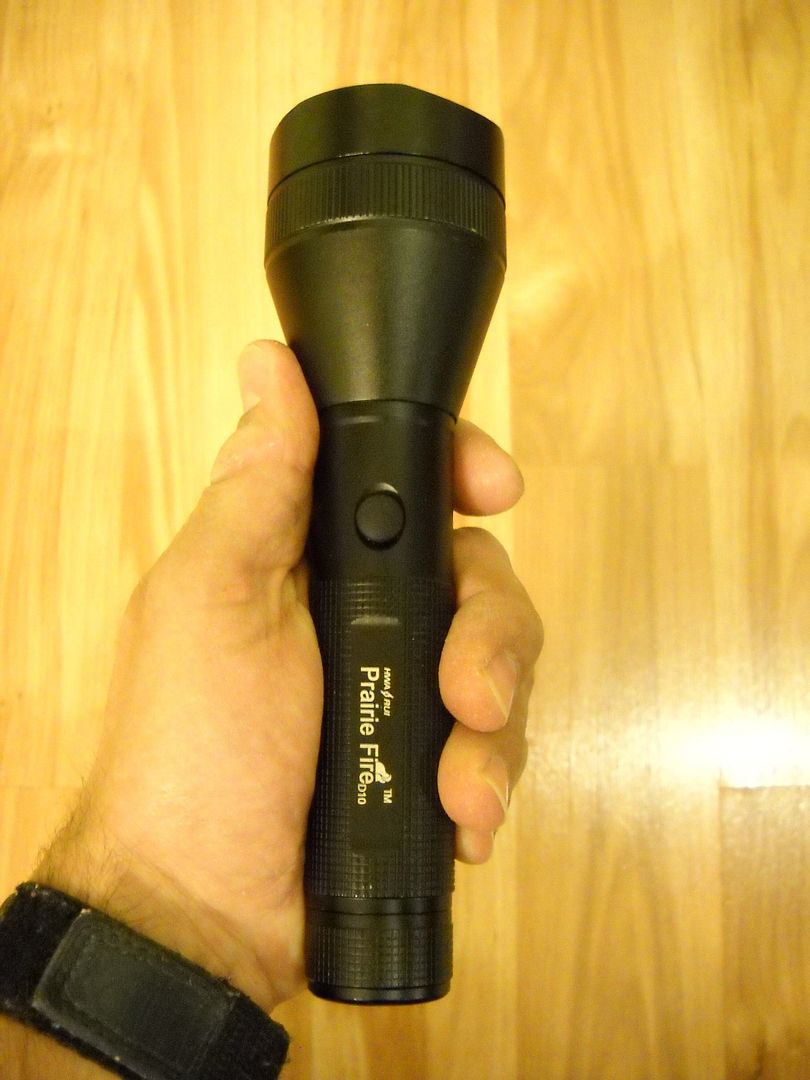 Control (wall is "lettuce" green and 4.5 feet away):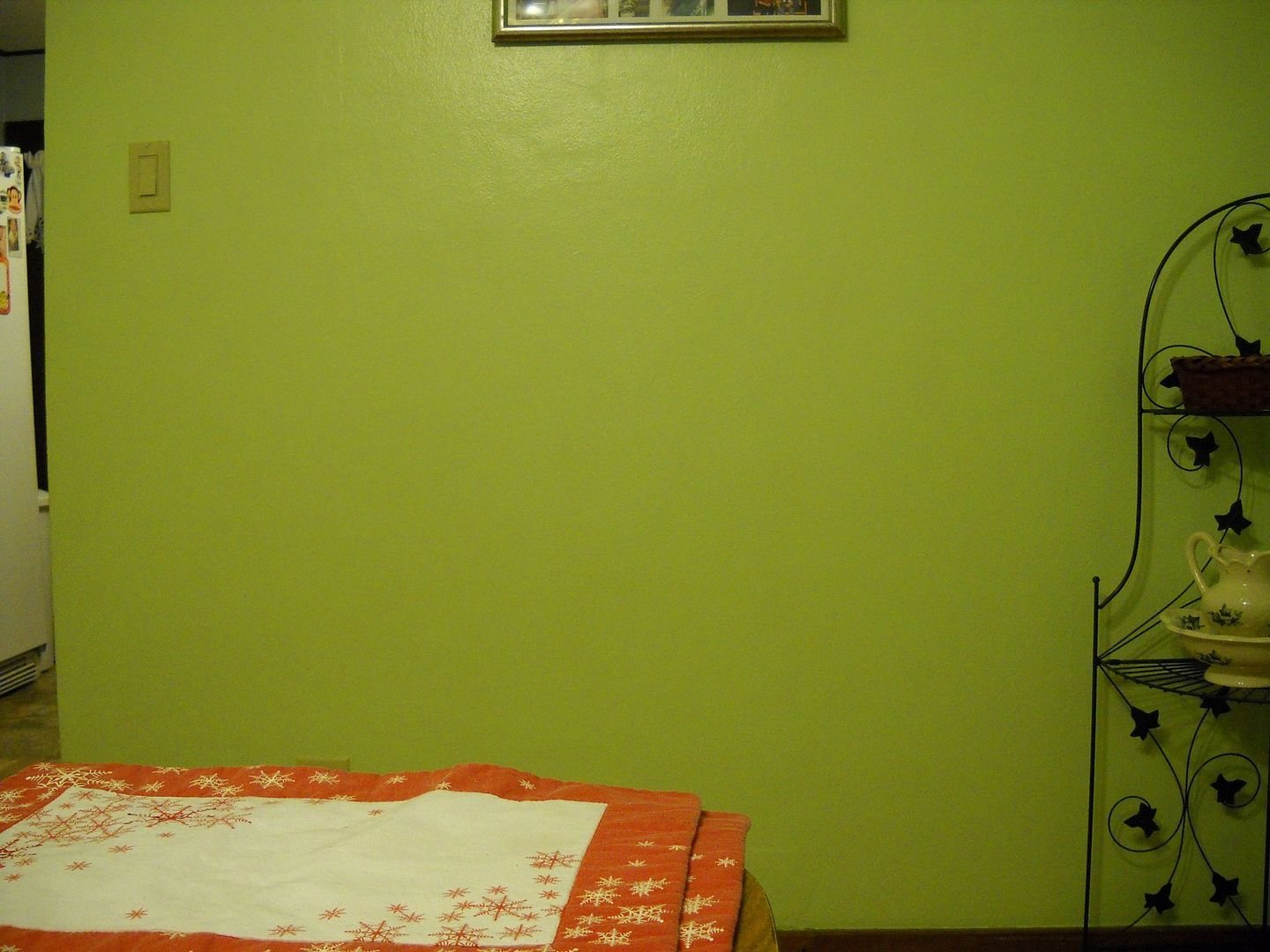 Beamshot on High:

My light had some serious flickering issues when I received it. I found that after I cleaned and cleaned all threads with rubbing alcohol the flickering pretty much went away (just some occasional flickering in the switch now). The threads didn't feel bad as it came (slightly lubed) but after I cleaned and re-lubed they feel very good.
Heatsinking seems pretty good. The pill threads into the bottom of the reflector which then threads into the head of the light. The pill has a solid platform where the emitter mounts, but has plenty of hollow space inside between that platform and the driver. The emitter seems to be glued down well with thermal paste.The head has some good mass to it as well. I left the light running on high for over an hour while typing this review and the head barely got warm. I would say the heatsinking would be fine for a 3+ amp XM-L. You could also fill the pill for some more mass behind the emitter.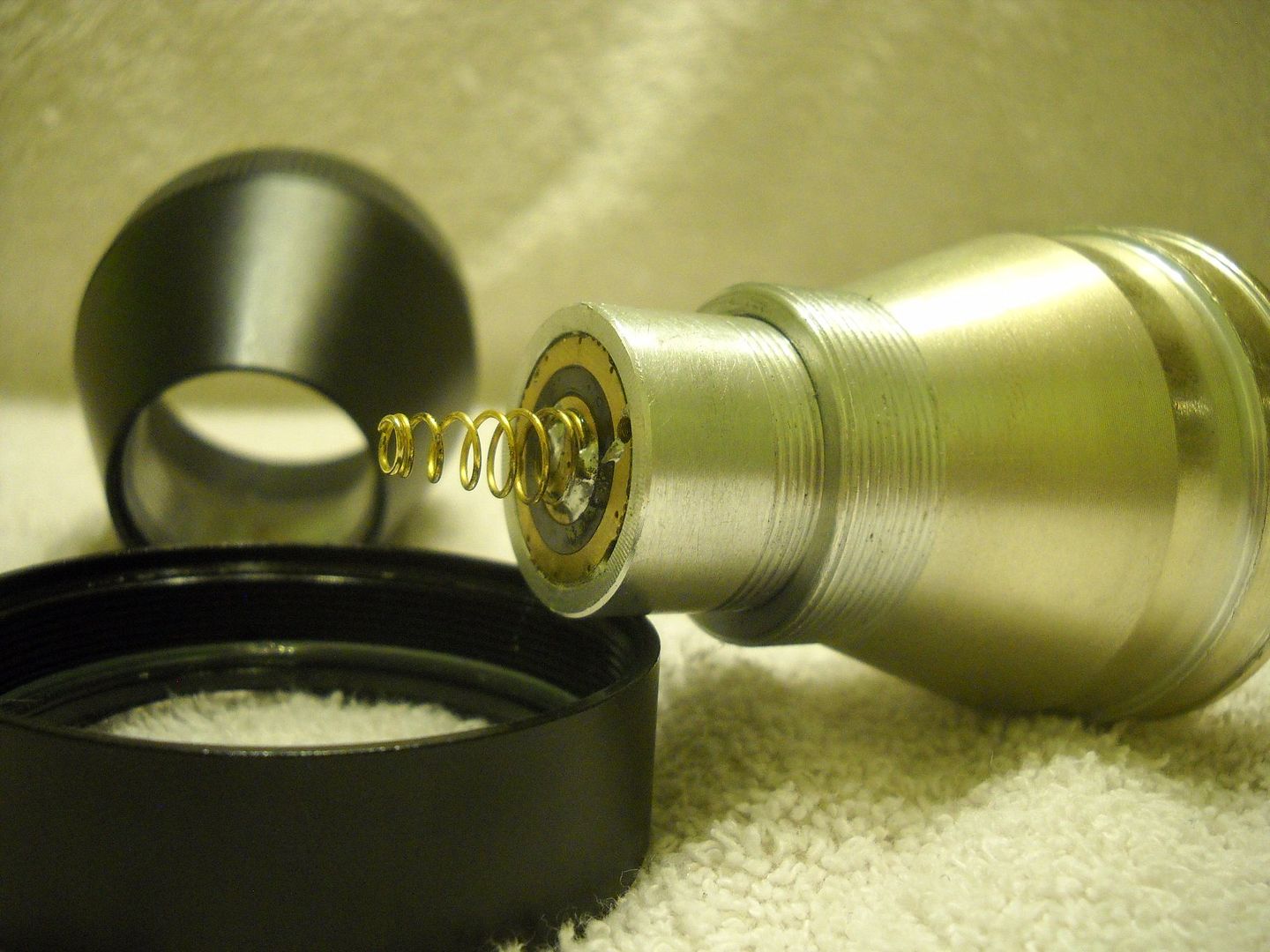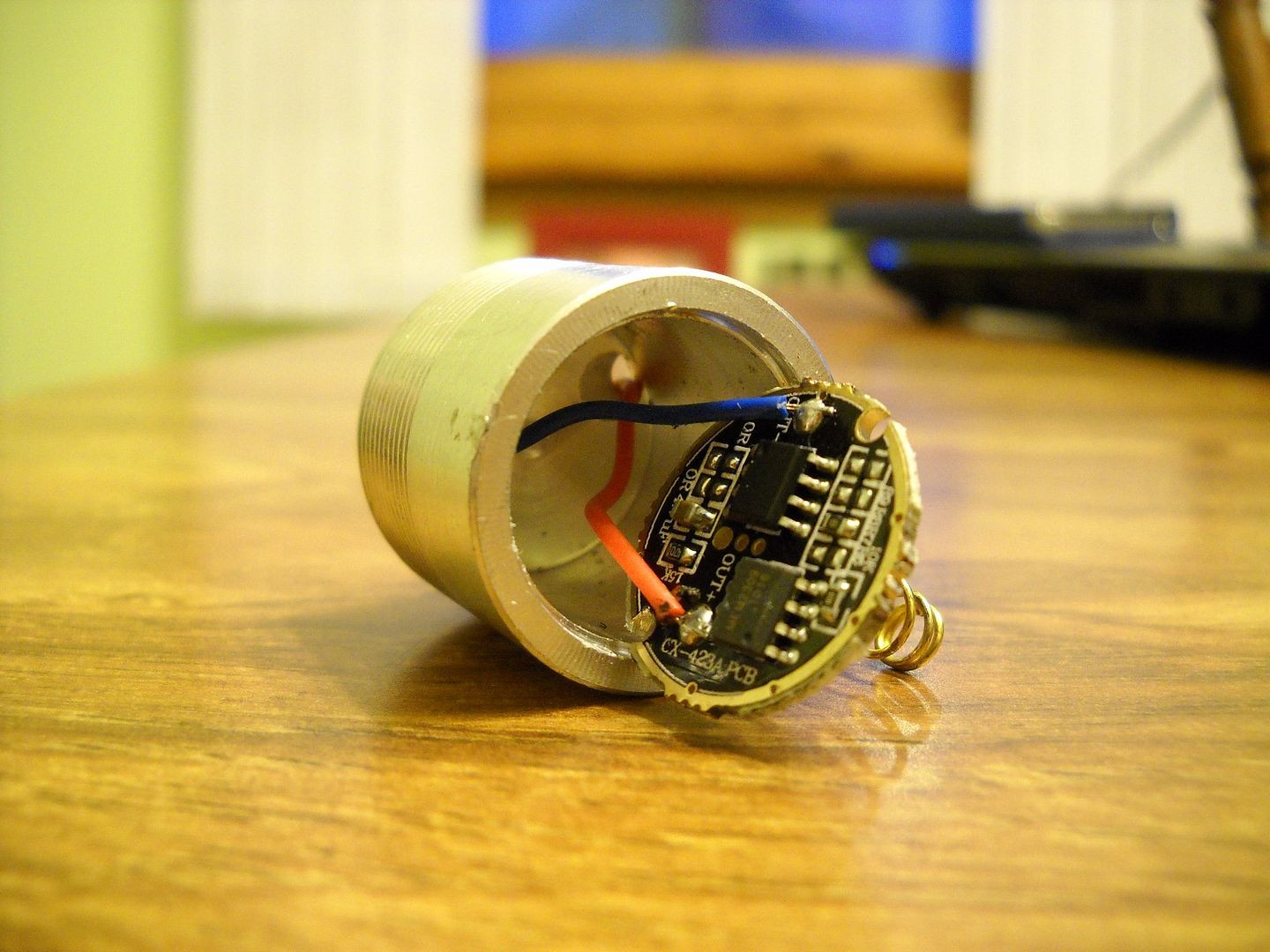 Tailcap currents: As previously stated, the light is under-driven as I received it only reaching 2.0A on high with a fully charged 26650. Light levels come out to 100% - 50% - 25% which to me is too close of a spacing resulting in a low which is not really very low. Here are my measurements on fully charged cells:
*EDIT May 17th 2013 - found out my old meter was reading currents too high and so I finally got a new meter (see new meter readings below)

On a protected Trustfire Flame 26650 @ 4.21v:
Hi – 1.98A
Med – 0.98A
Low – 0.48A
On an unprotected King Kong INR 26650 @ 4.22v:
Hi – 1.70A
Med – 0.90A
Low – 0.46A
I also tested current levels on the same King Kong @ 3.81v (rested after light ran for about 1 hour) and had:
Hi – 0.98A
Med – 0.49A
Low – 0.25A
*New Meter readings with TF Flame 26650 @ 4.18v:
Hi-1.33A
Med-0.63A
Low-0.30A

I didn't have any issues with either of my batteries fitting for length or rattling. The positive contact from the switch module protrudes slightly so flat top cells shouldn't be a problem. It is difficult to measure tailcap currents due to the threads being inside the tube and obstructed by the battery. I found it odd that it pulled less current on my unprotected King Kong.
Here are numerous photos. Descriptions listed pertain to the photo below the description.
Broken down: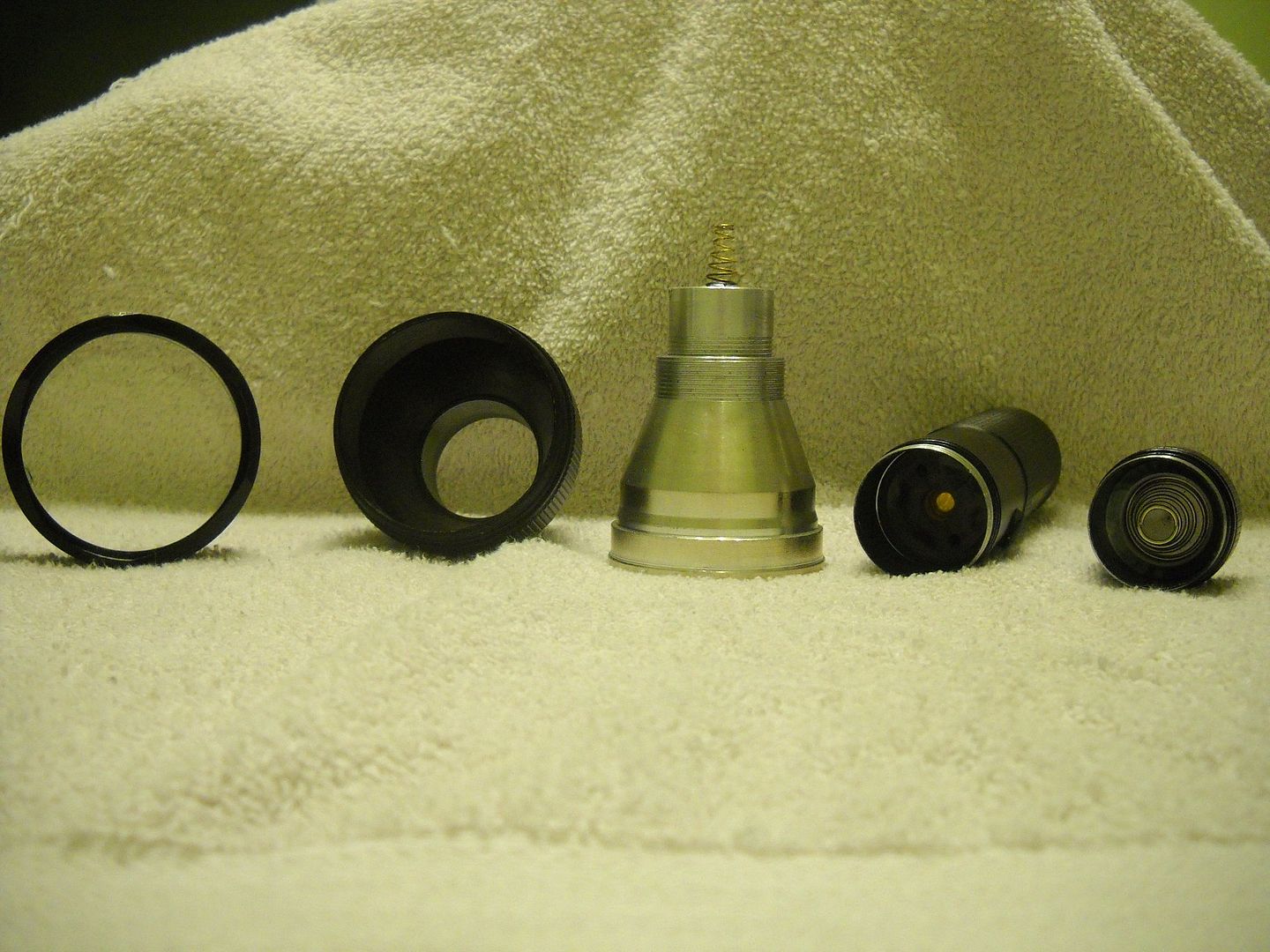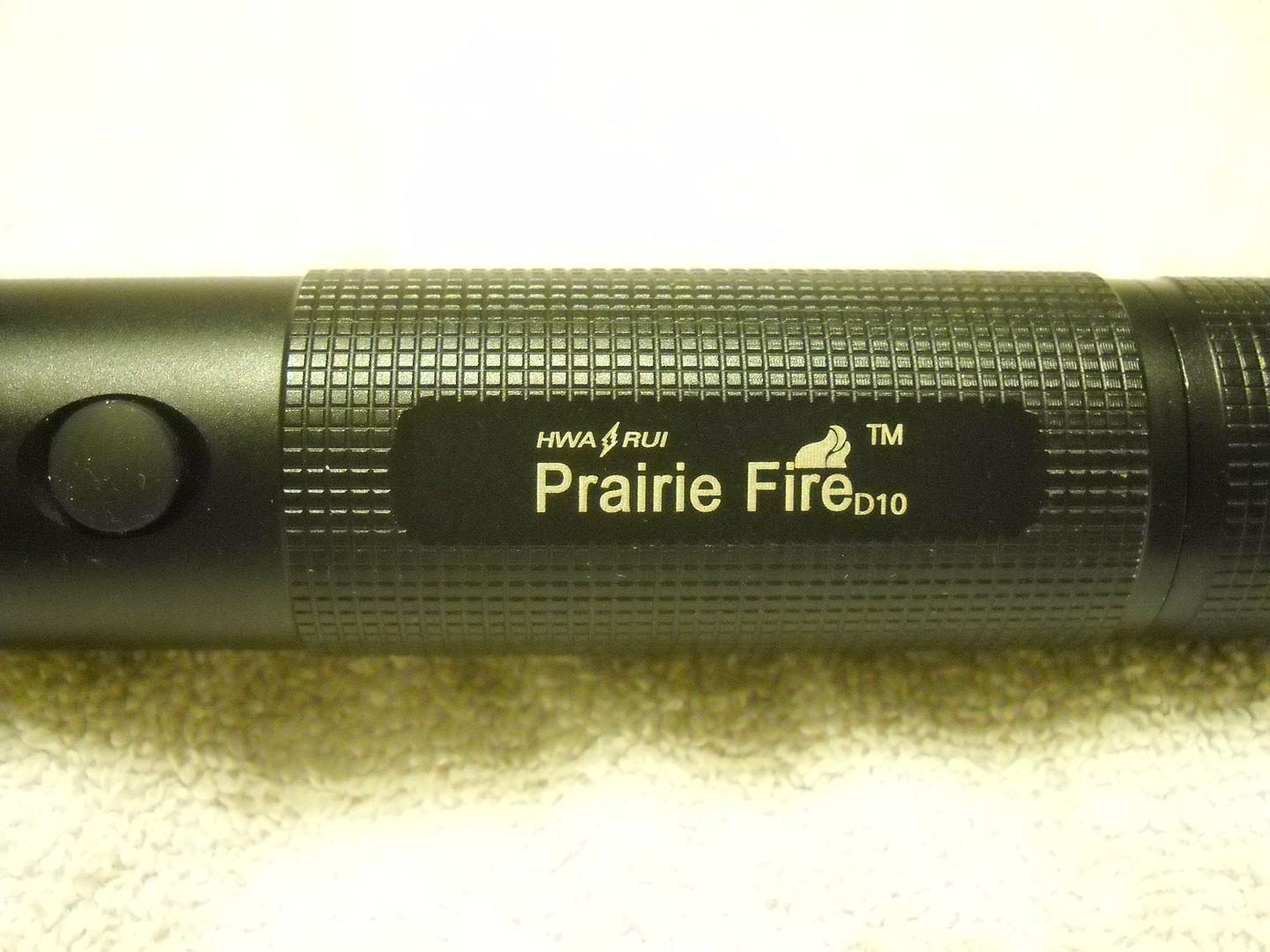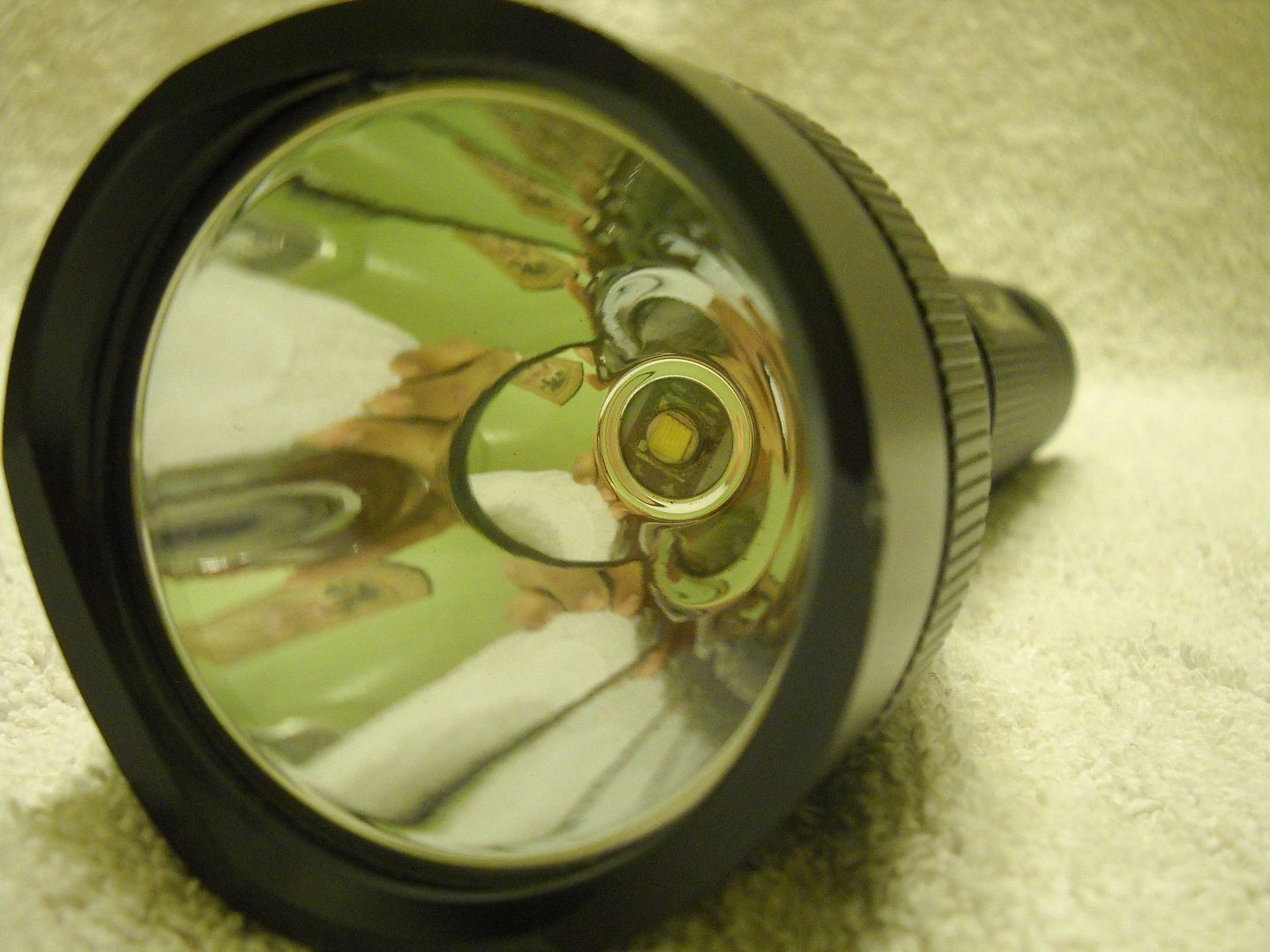 Well centered emitter: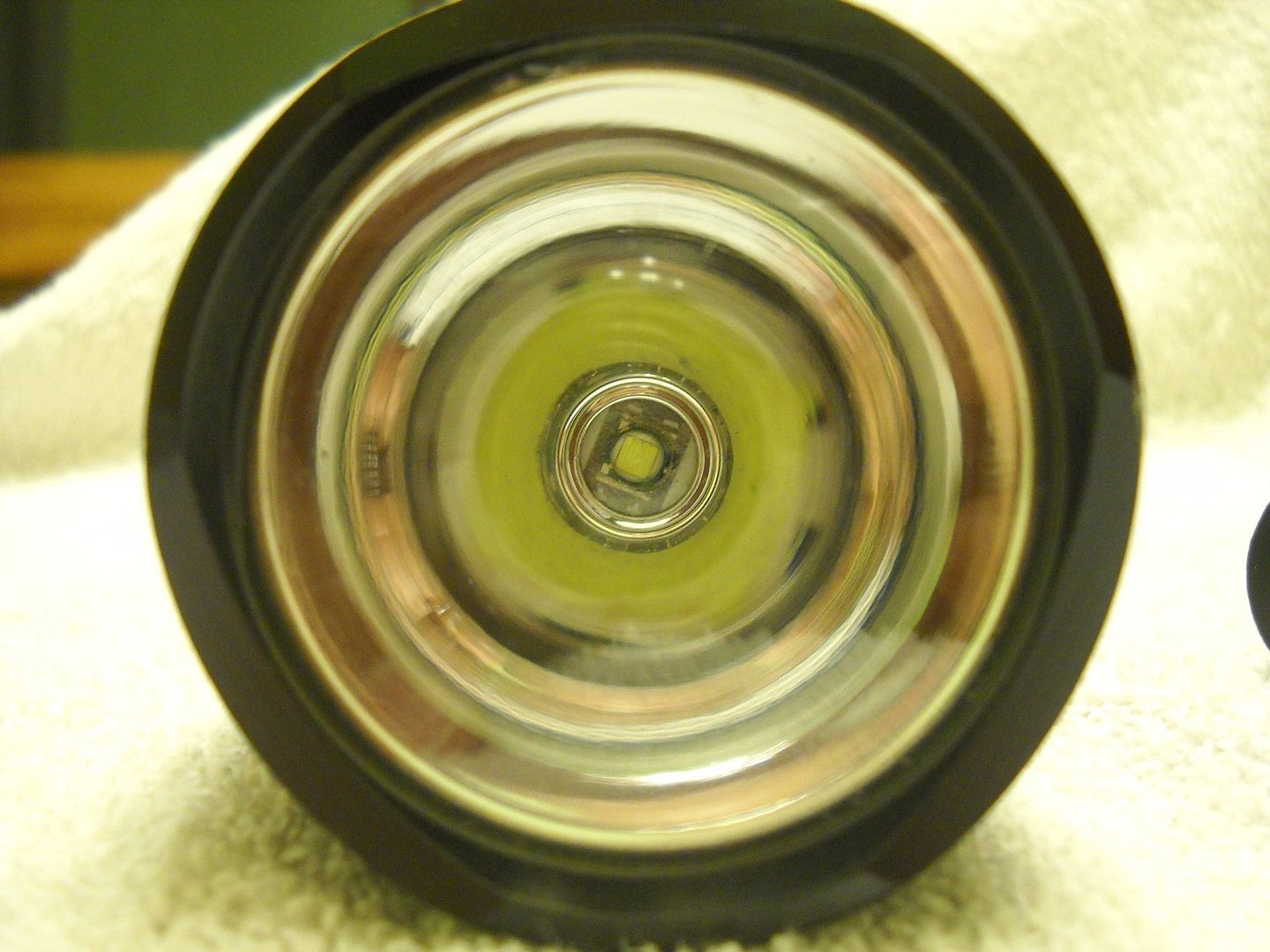 Chip in my glass lens:

Tailcap threads: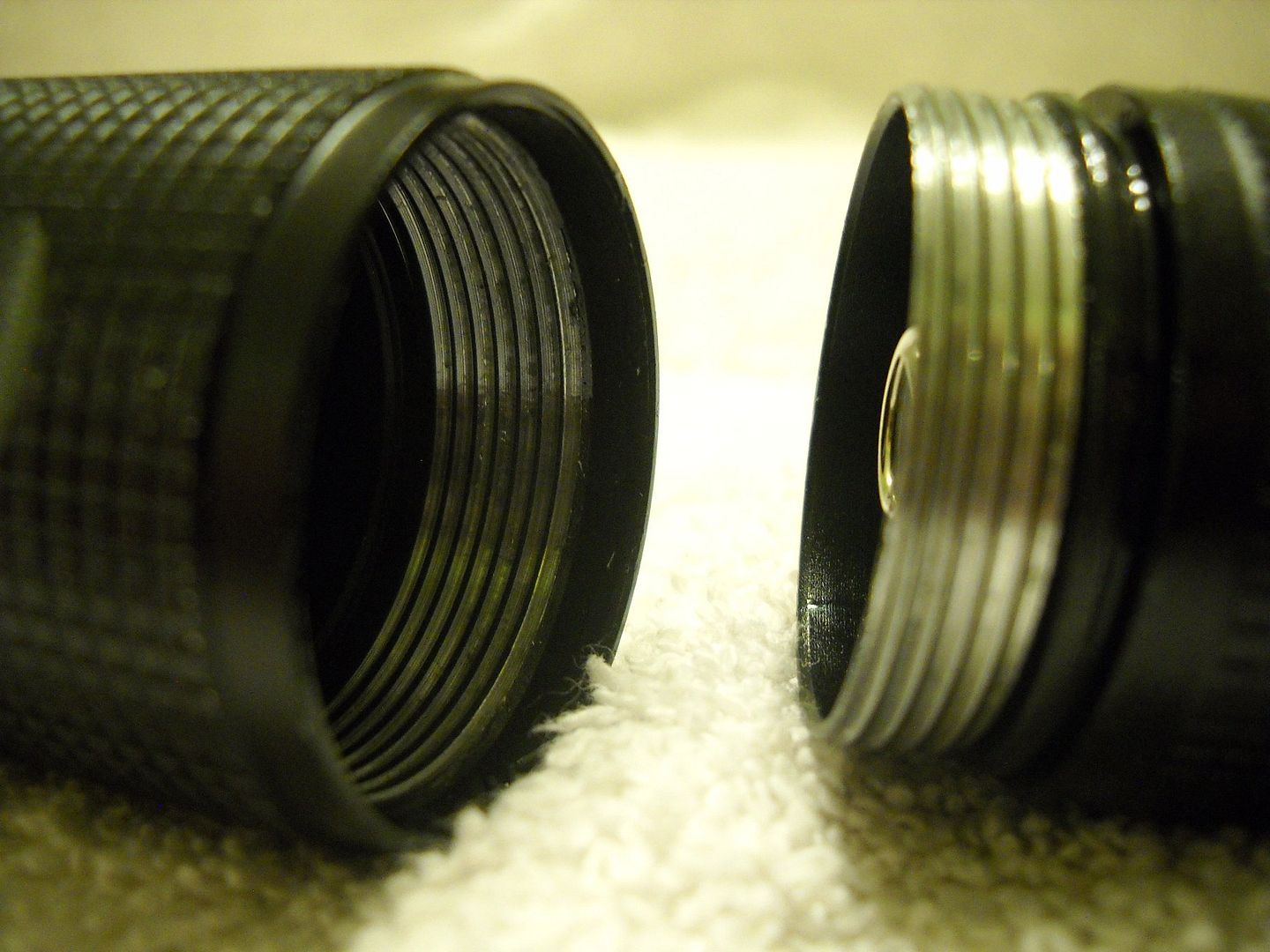 Tailcap threads didn't look square cut to my eye, but they do look it here in this photo: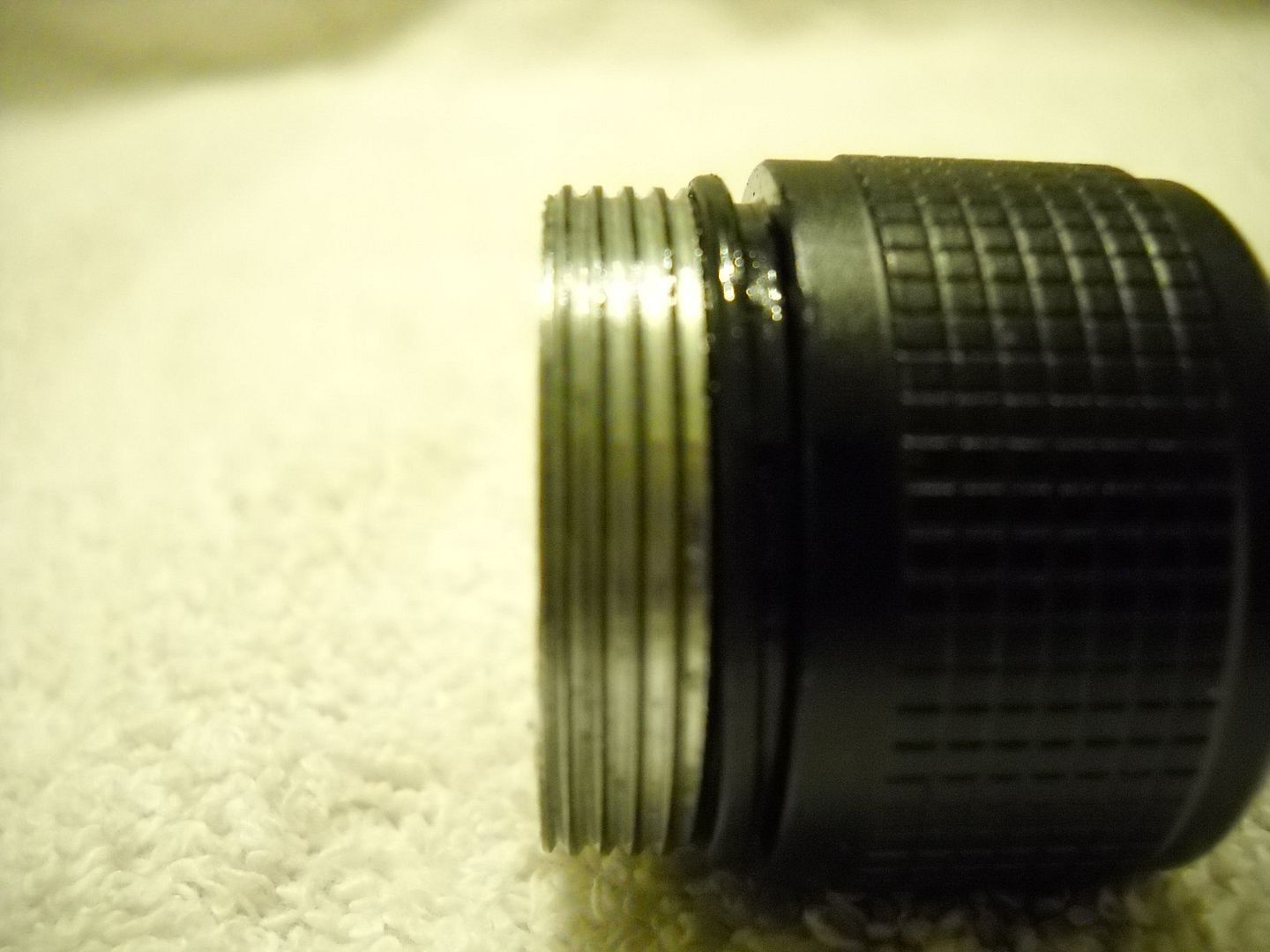 At the head end: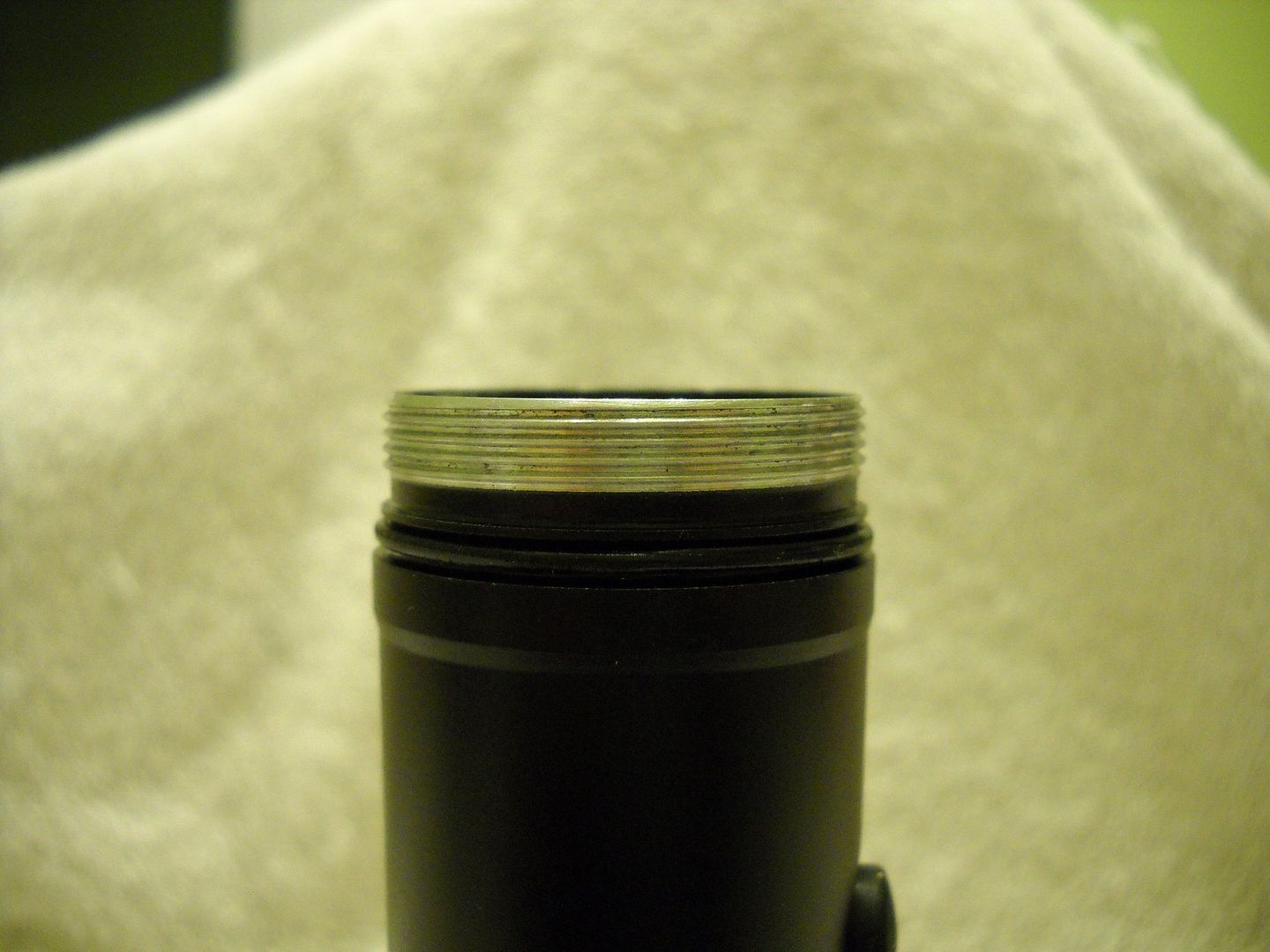 Top side of switch module: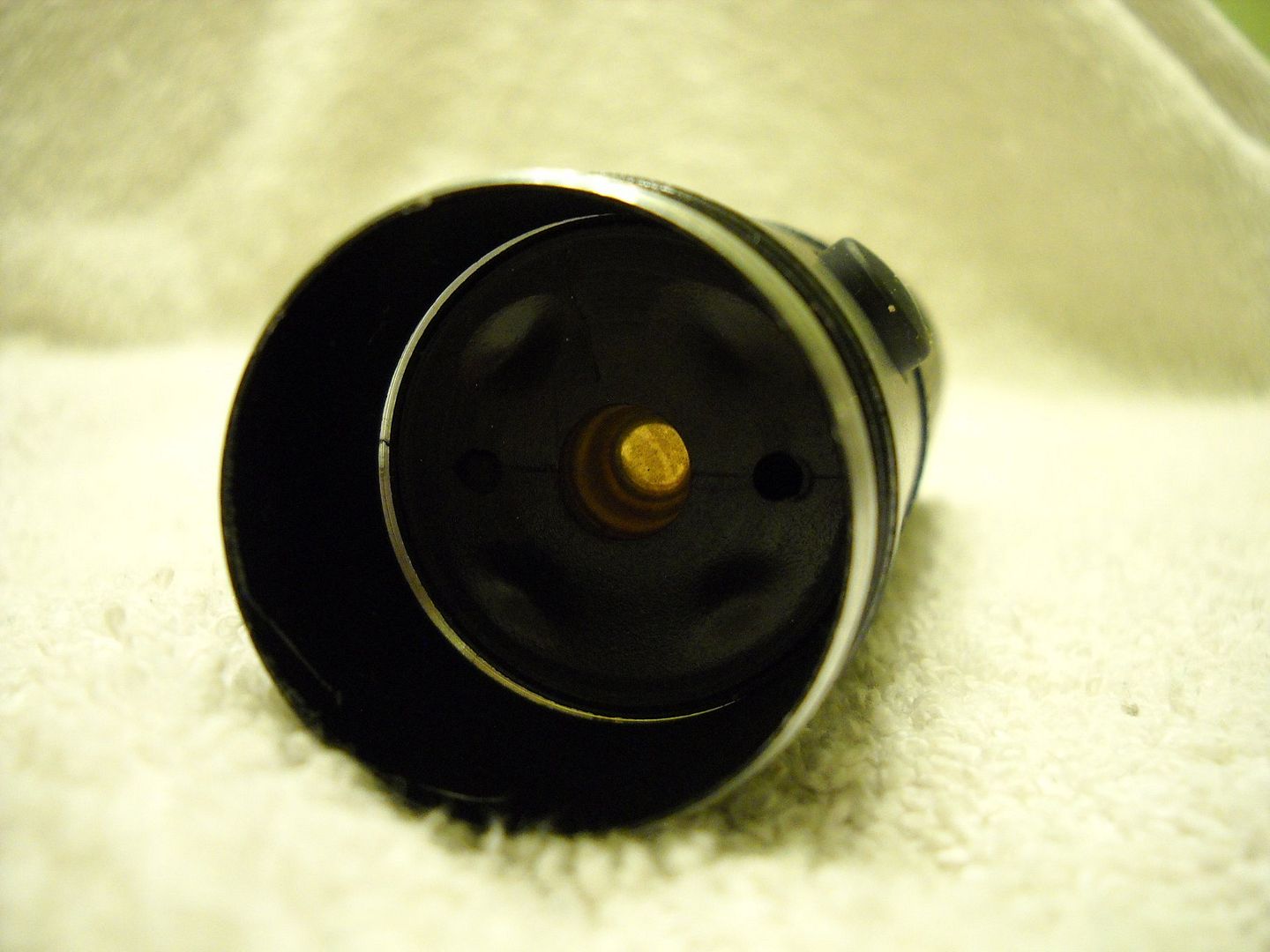 Some measurements: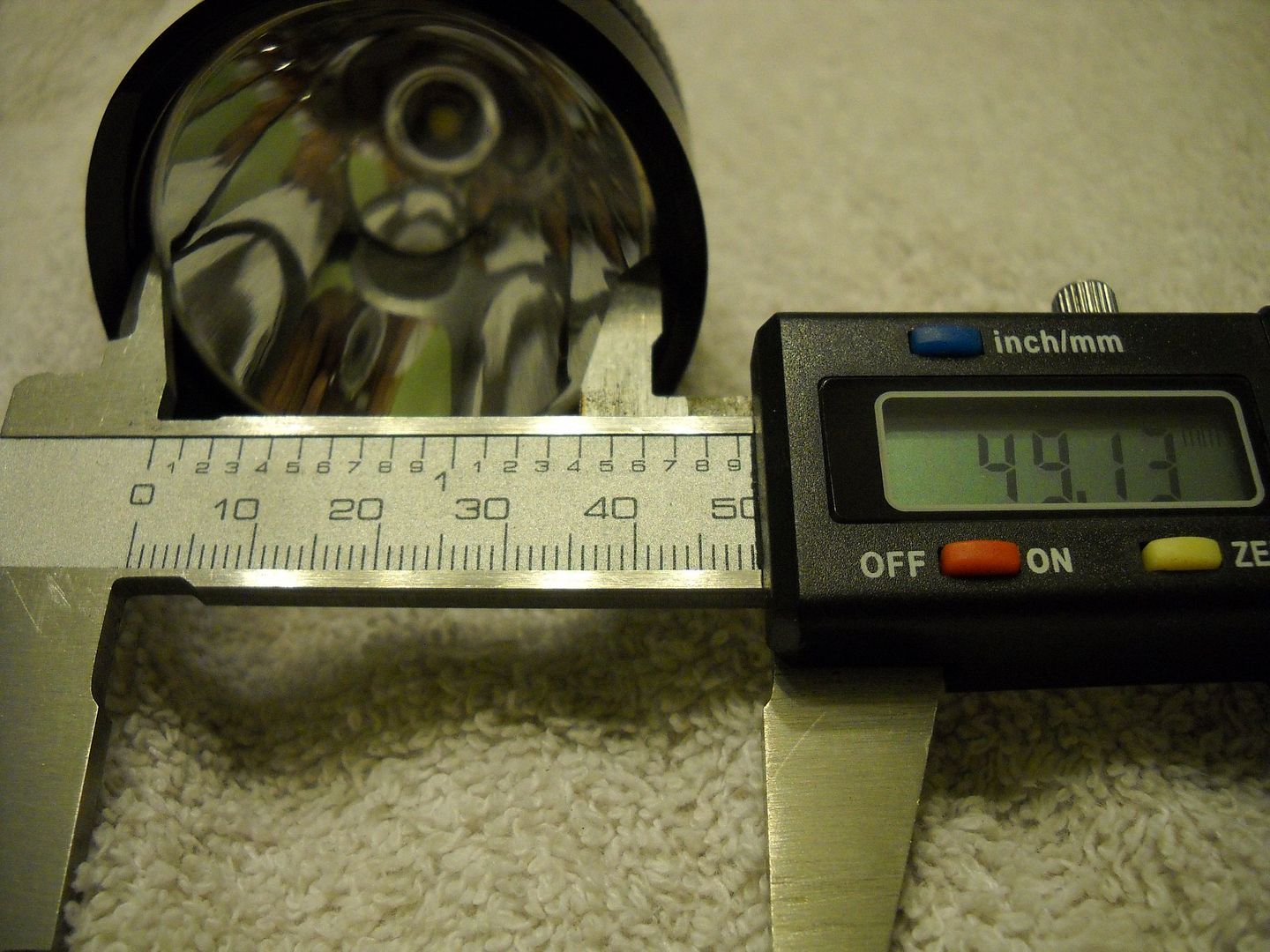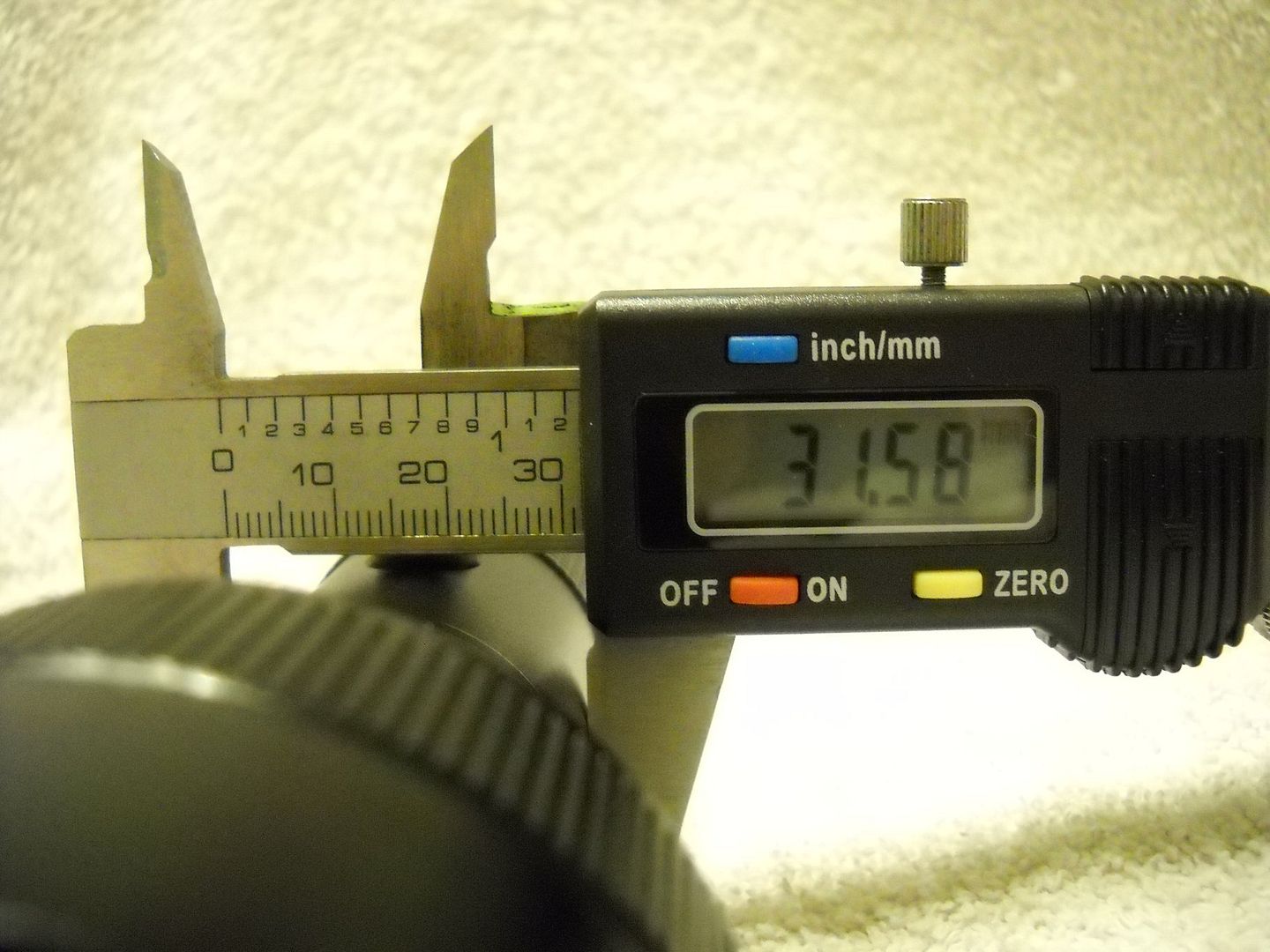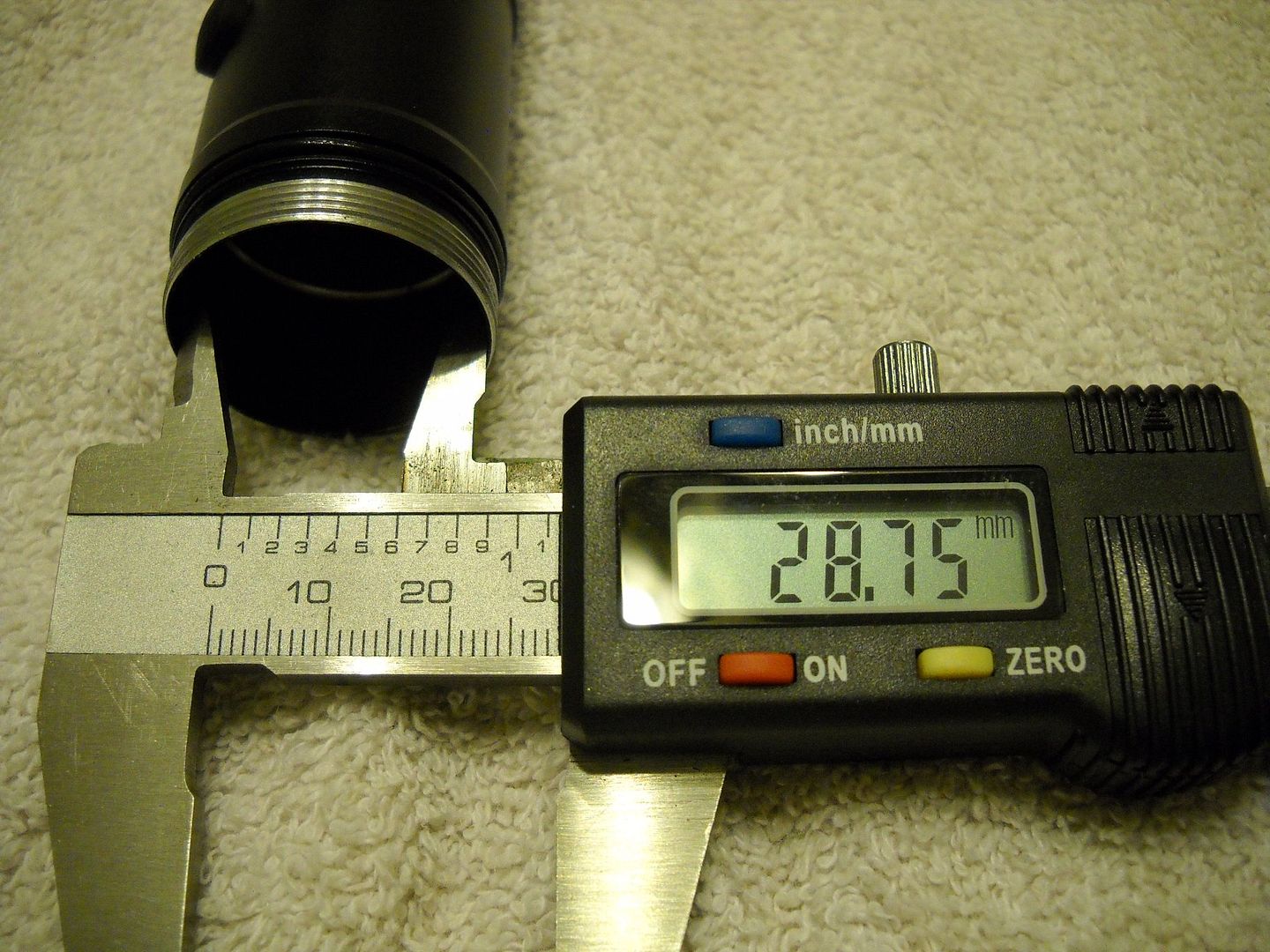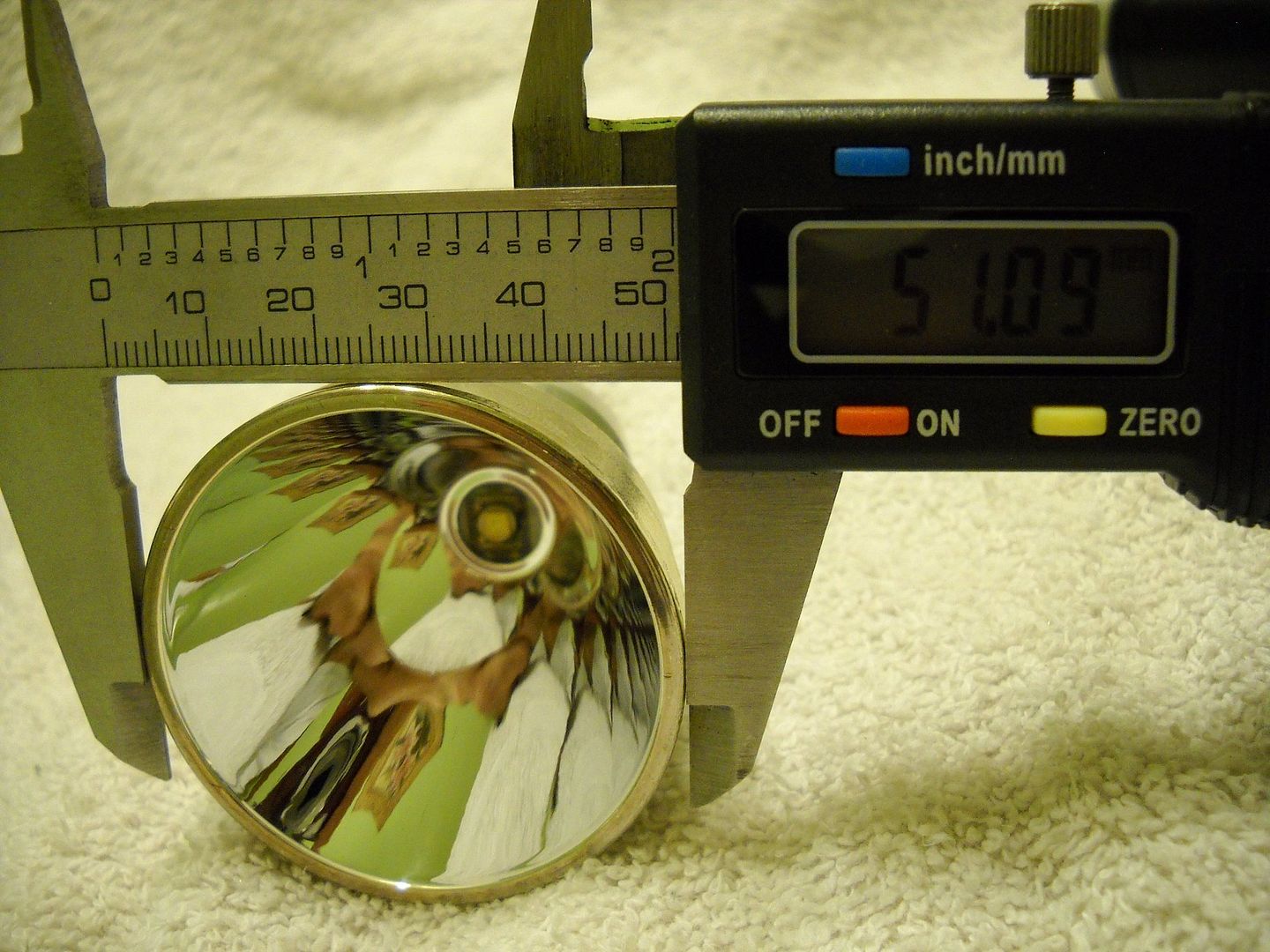 This photo is showing the approximate reflector depth to the LED hole:

With a protected Trustfire Flame 26650: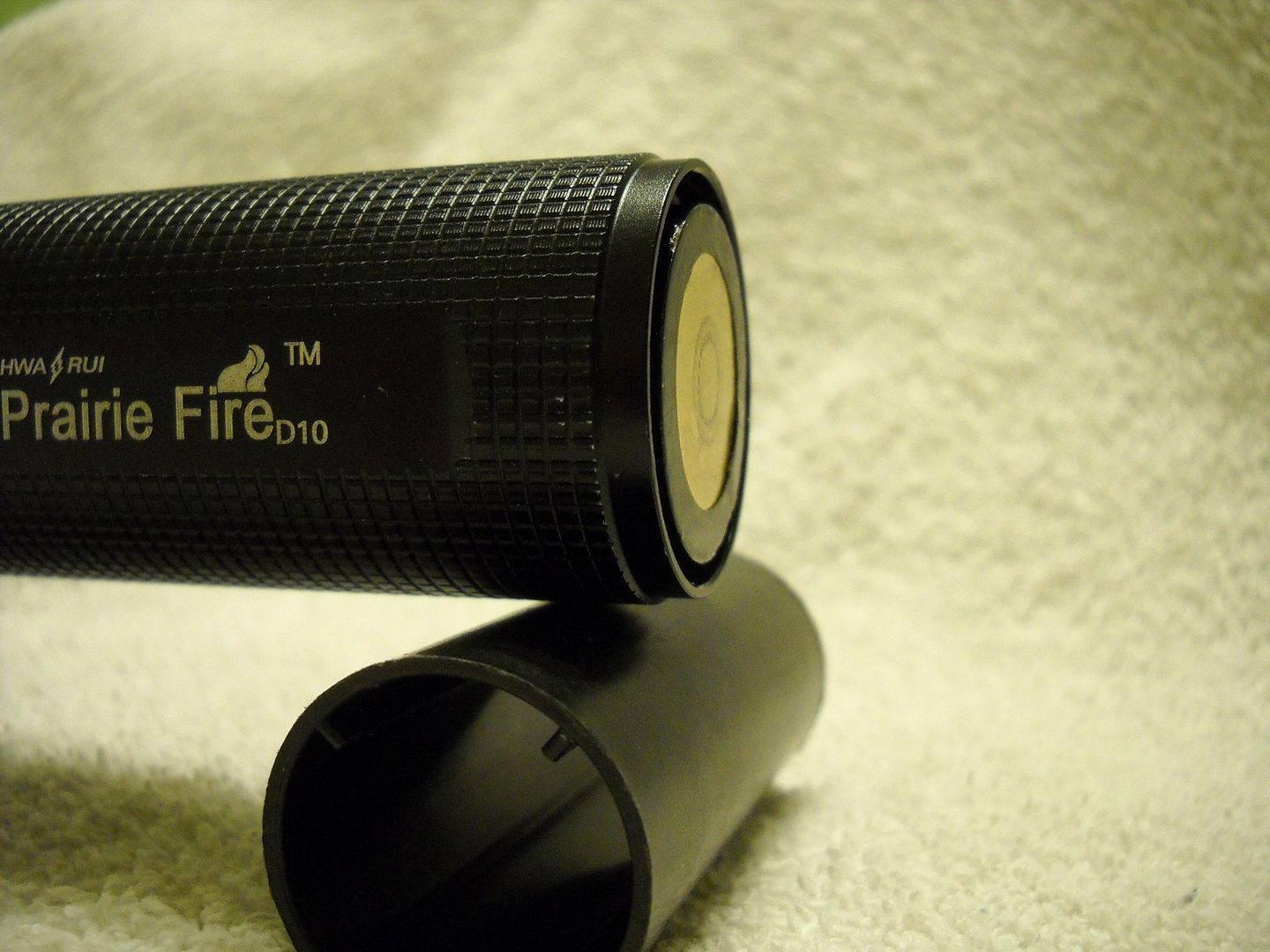 Driver: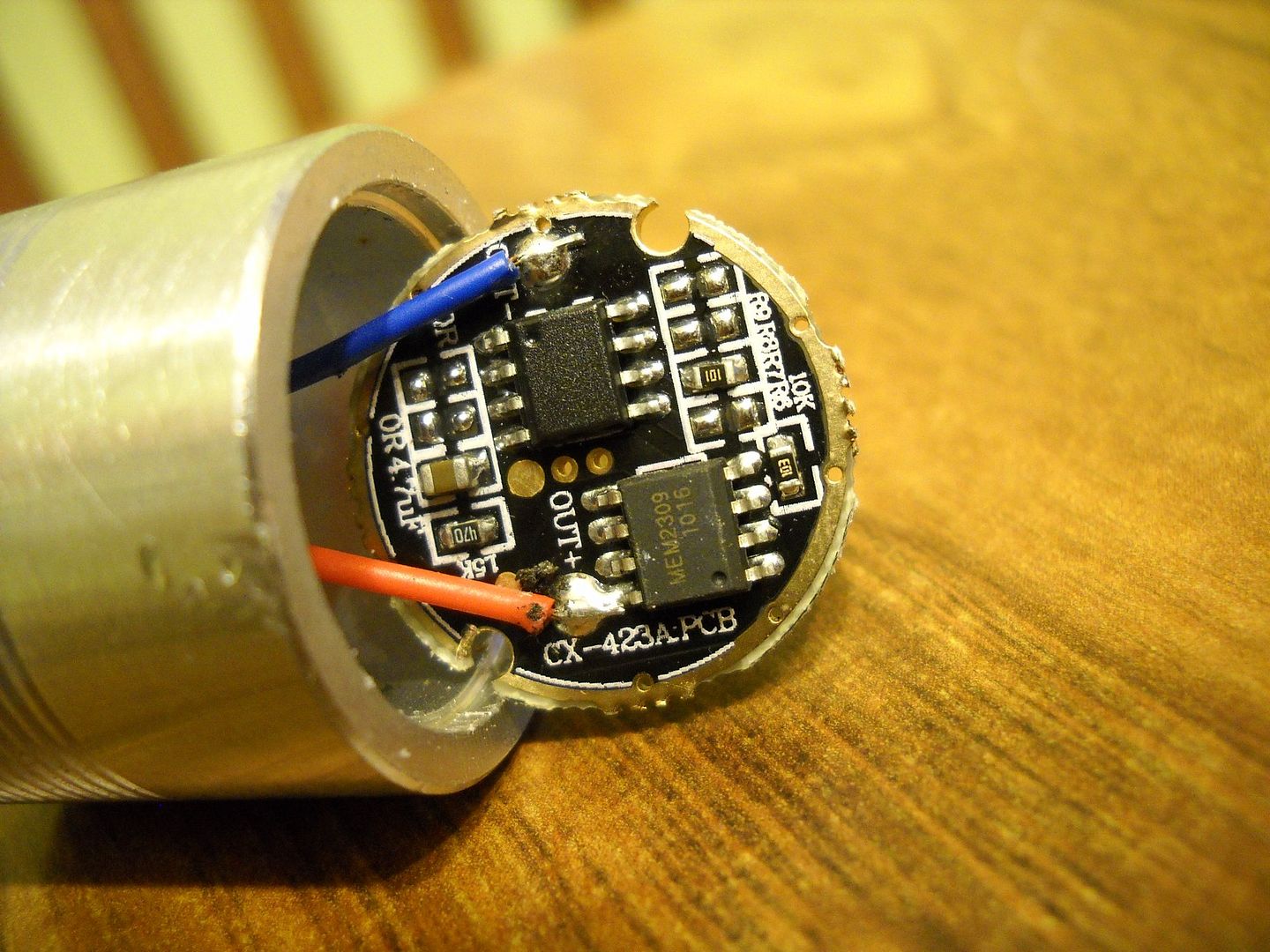 Pill depth:

Depth of open area inside pill (you can also do some math and see that the platform thickness the LED is mounted to is 3.47mm):

Size comparison, HD2010 on the left, Prairie Fire D10 center, Jacob A60 on the right: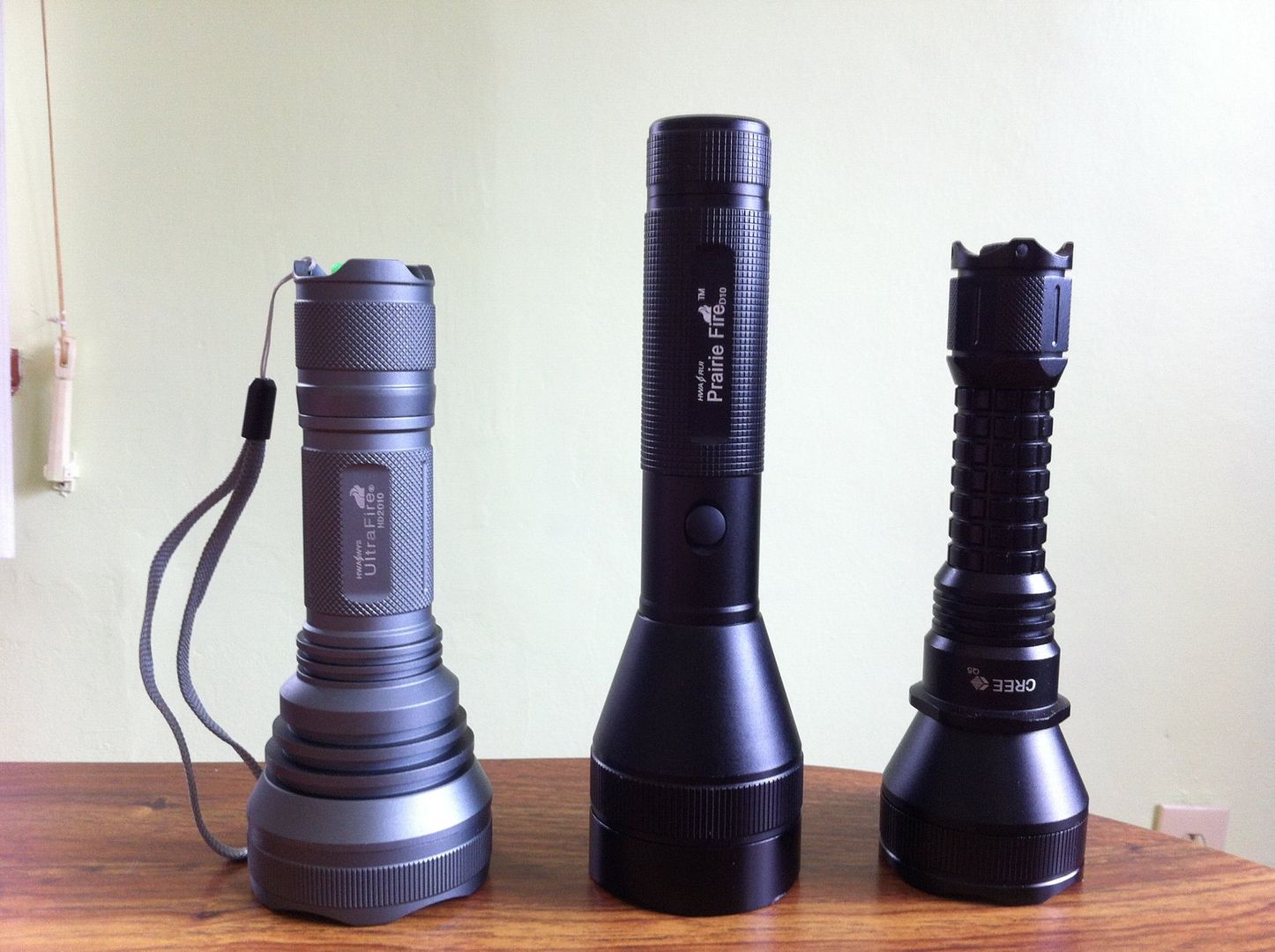 Same order as above: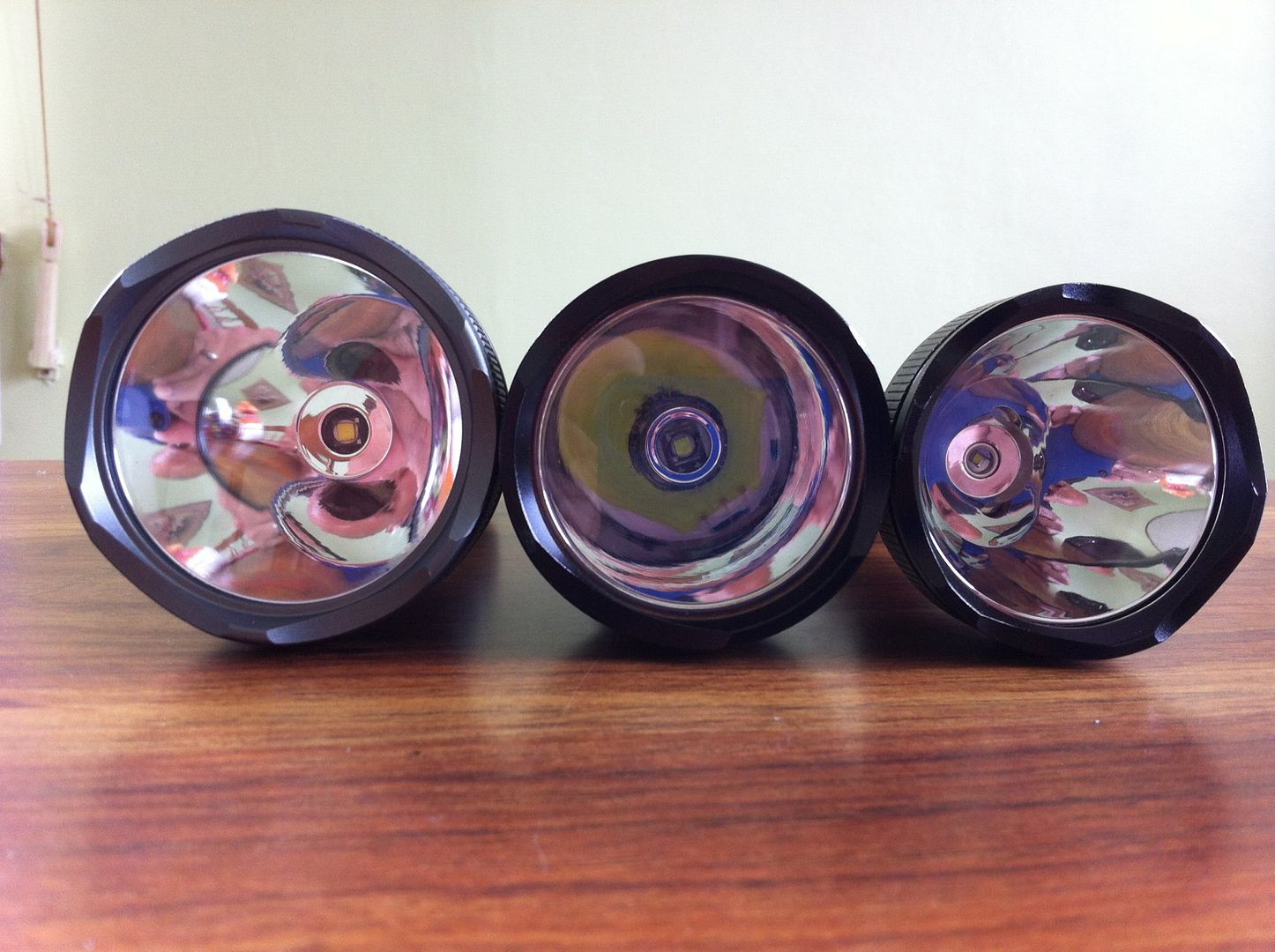 Beamshots (sorry, I was rushing to get them before dawn) taken with my point & shoot Nikon on "Night Landscape" mode. Approximately 150 to 200 feet 184 feet to the shed (EDIT 4/19/2013 - finally measured this distance):
Control:
High: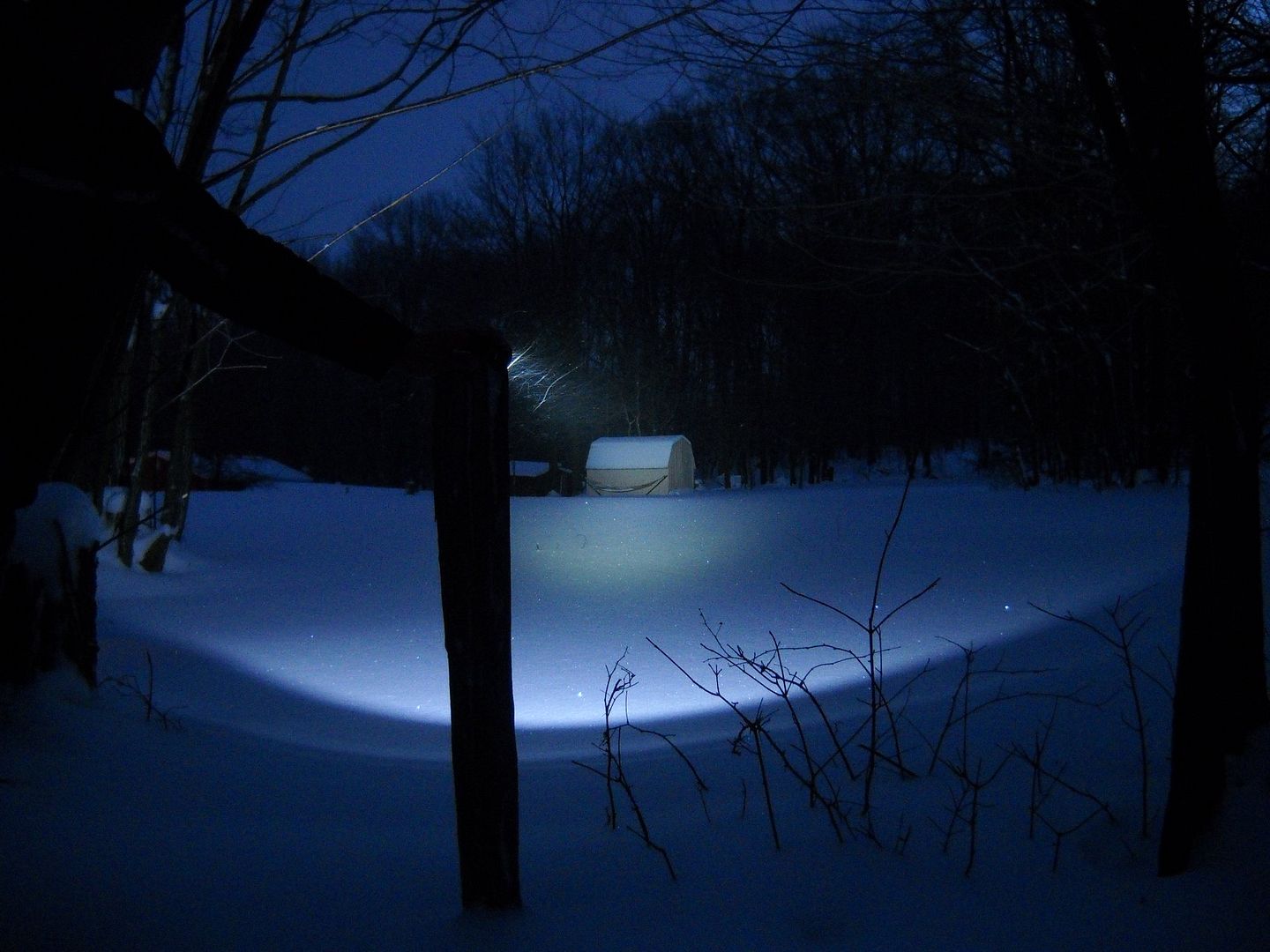 Medium: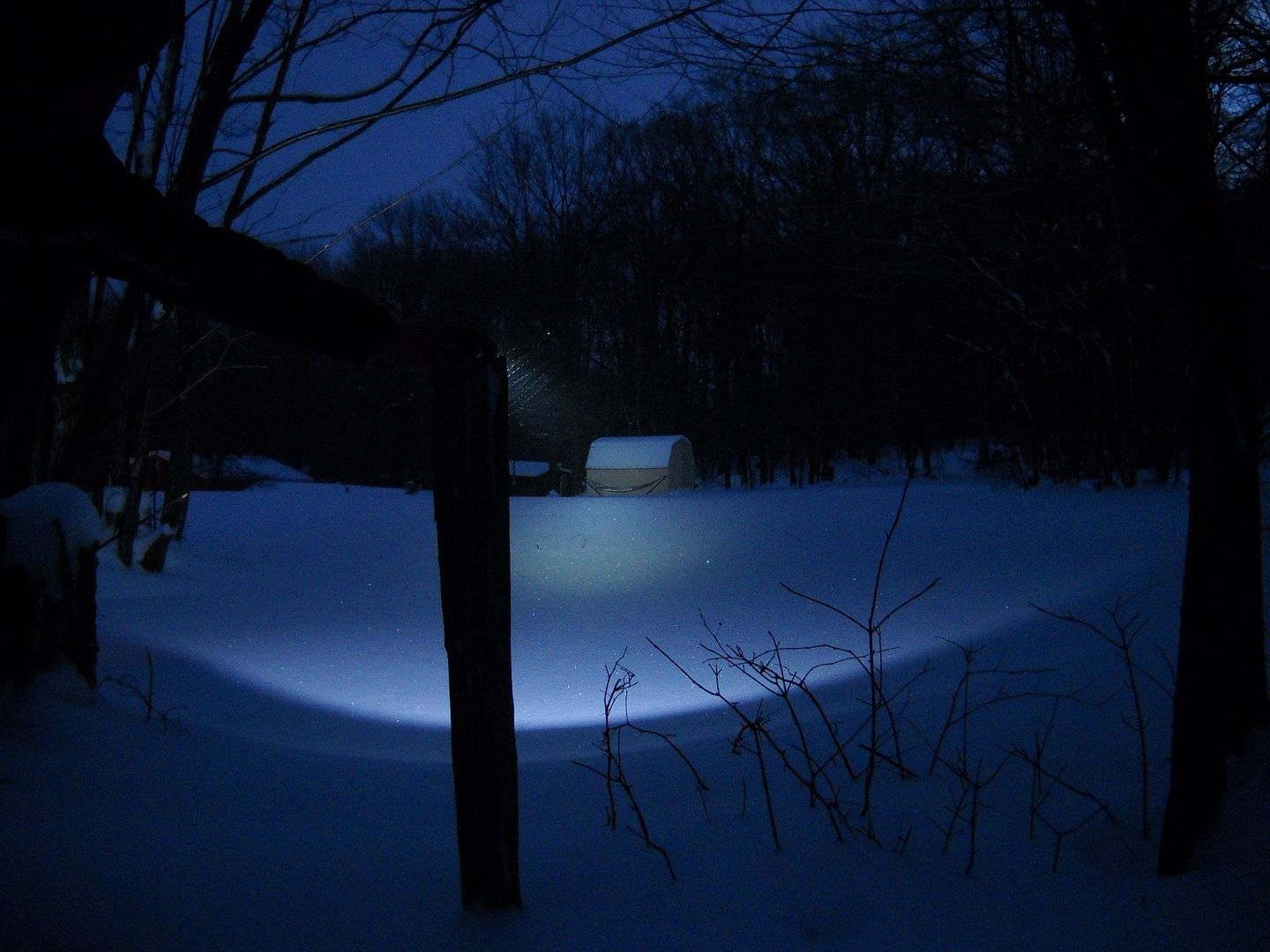 Low: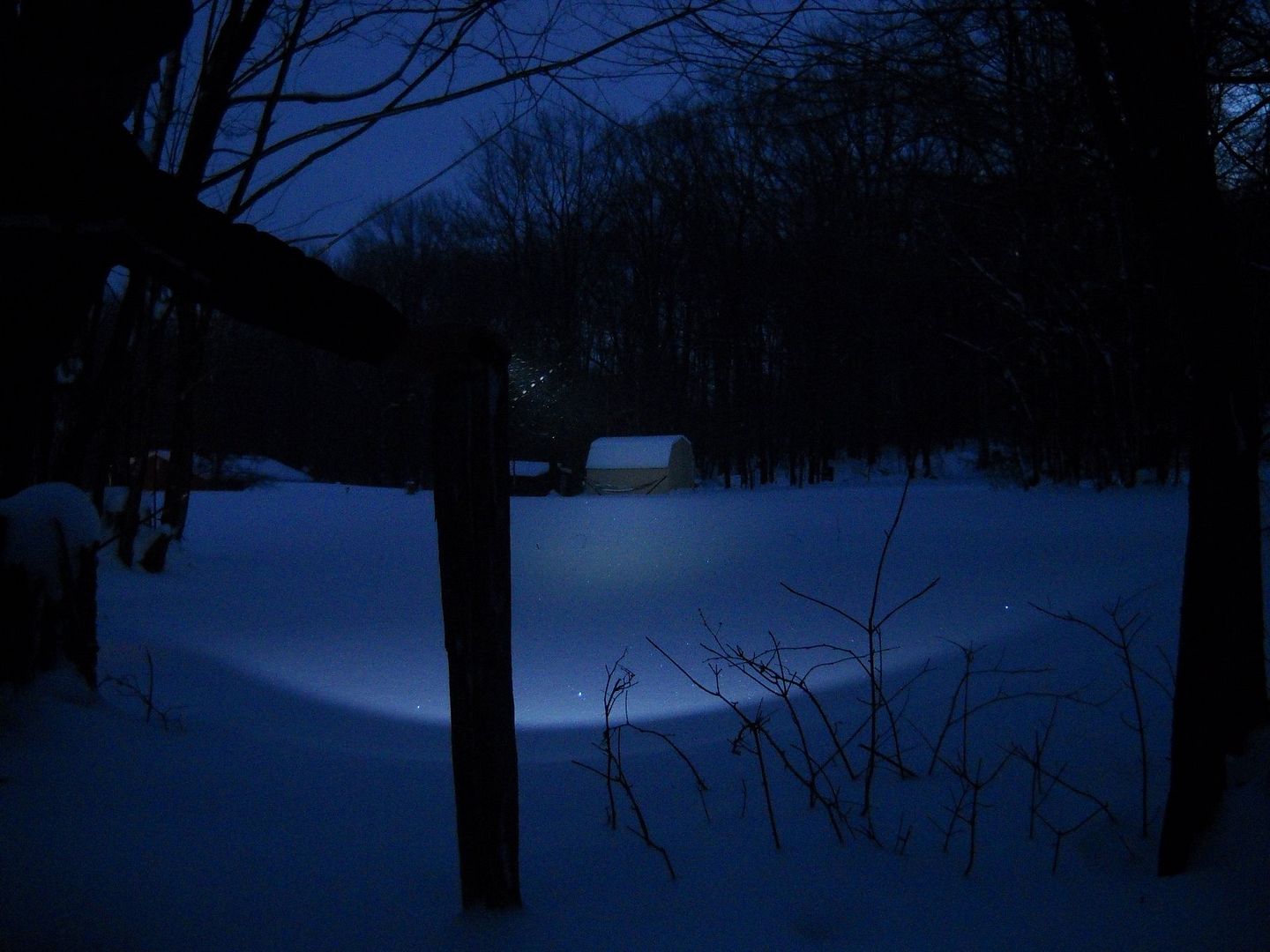 My conclusion is that this light is just average. It is a nice budget mod host, but at the current price of $30 it's too expensive for me to consider. Now that the review is done, I think I'll drop a neutral white XP-G2 in it with a 2.5A Nanjg 105c.
Comments are encouraged and welcomed. This is my first formal review, so please take it easy on me. I do again apologize that I took so long to post this one.
-Garry