Review: Fandyfire G36 3 x XM-L T6/ 2 x 18650 *pill pics added*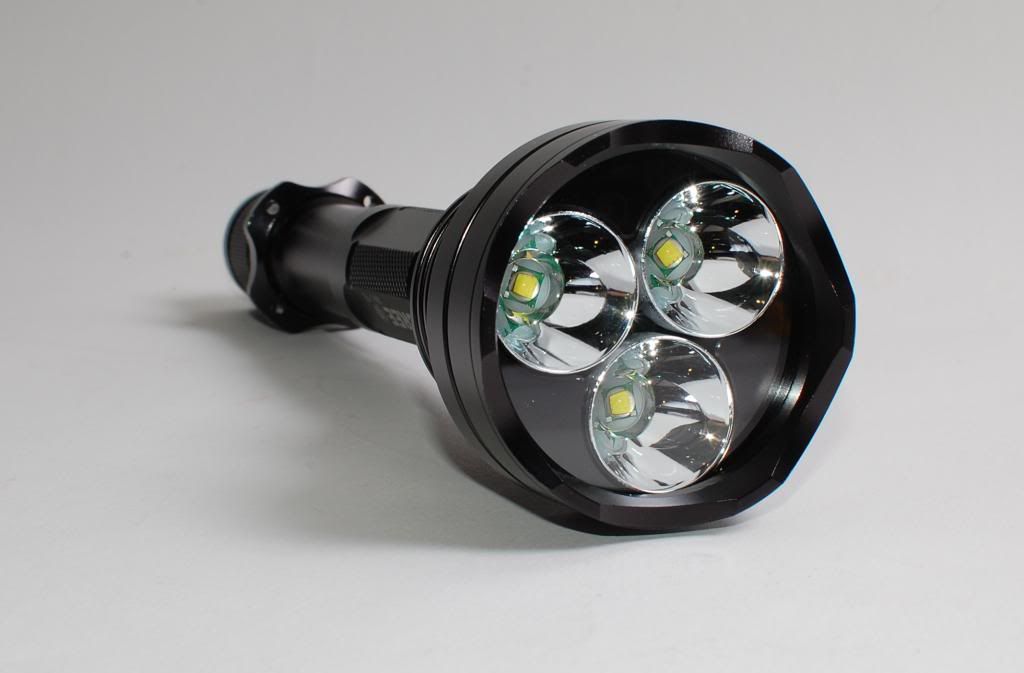 Frugal Fan(tastic)dyfire Fun!
I received the light in perfect condition after only 10 days. It was shipped in a bubble envelope, with little sign of trauma. My initial impression was 'wow, this thing is small!", which it is, and very nice looking for a triple plunger.
Bottom line: For $35 US, you get a fun, very bright, compact 2×18650 triple XM-L light with great heatsinking. Very attractive looks along with good build quality…plunger-style lights aren't always thought of as being attractive, but I have to say this one is an exception. It is deceivingly small, being not TOO much larger than a C 8 in some respects. It is conservatively driven at approximately 1.5A, which has both good and bad points. This light has become a daily user for me – while not quite as bright as my SRK, it provides more light than I know what to do with while sipping 1.5A. The medium and low modes are fairly well spaced, and provide added versatility. I see this as a great camping or walking light.
Summary:
BIN: T6
Tint: Cool White
Number of Emitters: 3
Voltage Input: 8.4~12V
Circuitry: Digital regulated 4000mA
Runtime: 1~2 hours
Mode Arrangement: Hi > Mid > Lo > Fast Strobe > SOS
Lens: Coated Glass Lens
Reflector: Aluminium Smooth/SMO
Strap Included: No
Clip Included: No
Battery: 2×18650
Switch: reverse tail clickie
5 Modes: Hi-Med-Lo-blinkie-stinkie
Mode memory: yes
Tailstands: Yes
Price Paid: provided for review by Crystal at lightscastle
Dimensions: 8.07 in x 2.17 in x 2.17 in (20.5 cm x 5.5 cm x 5.5 cm)
Cost: $34.80 US Fandyfire G36
The box is a bit heavier than the typical boxes we receive, and is also branded:
First, a little size comparison with a Jacob A60, the G36 and a C8 – as you can tell, this thing is very small for what it is:
Side by side with an SRK:
The head is a machined unit with three cavities for independent floating aluminum reflectors: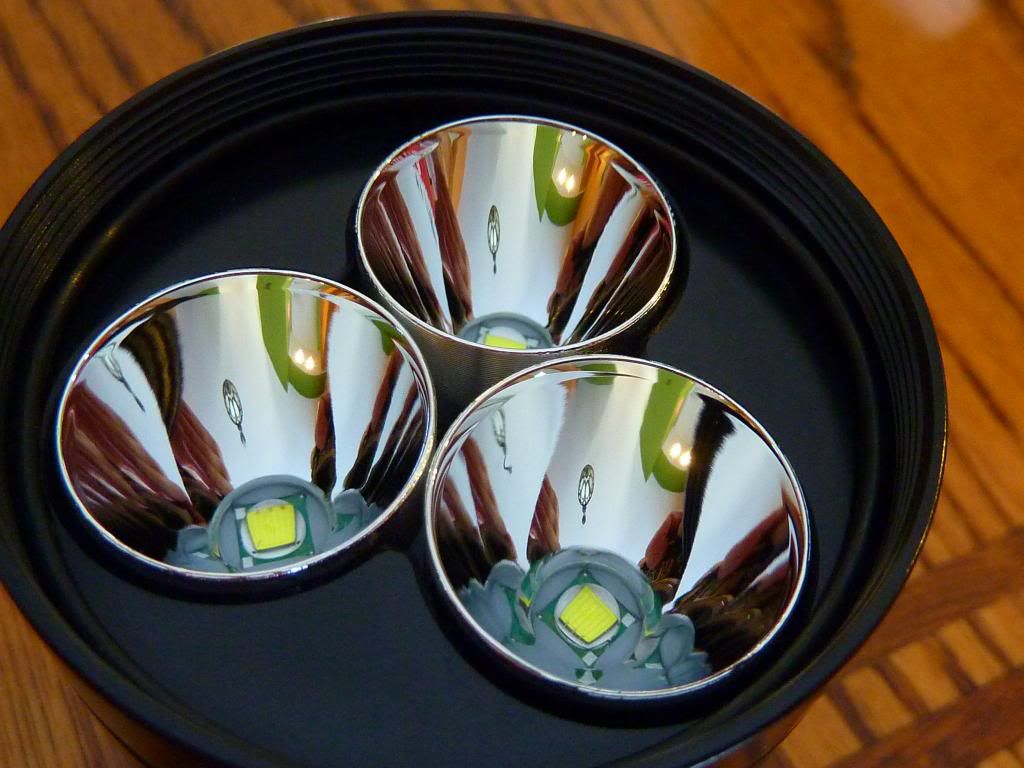 The reflectors are a bit smaller than a standard P60 reflector:
G36 on the left, P60 on the right: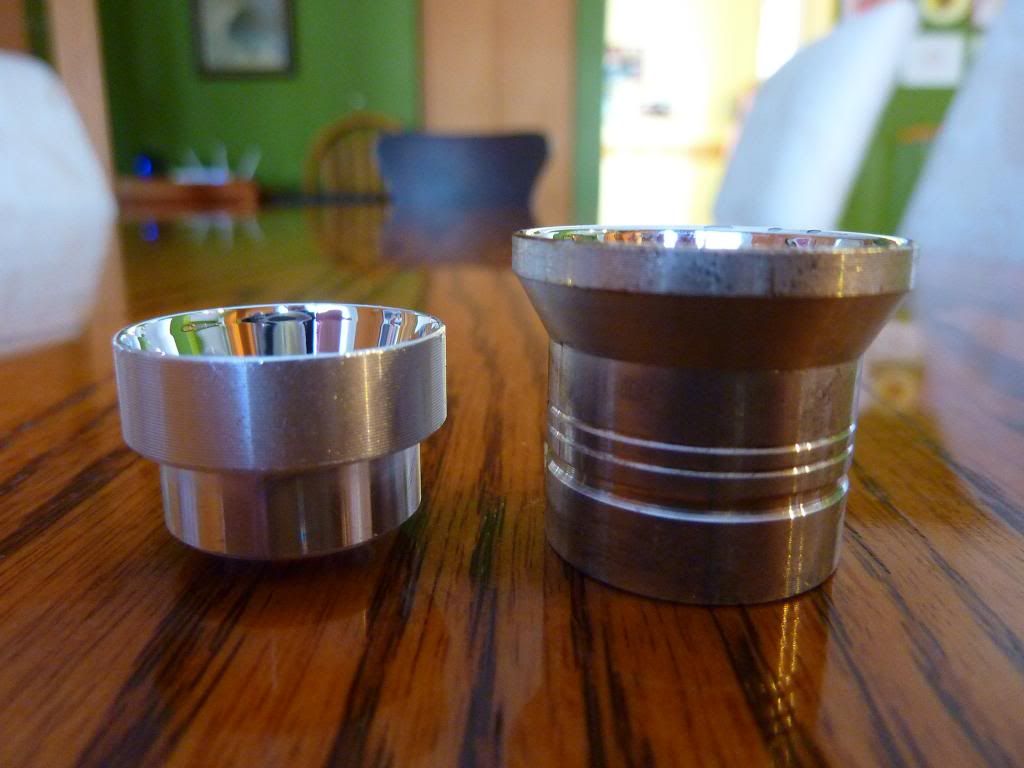 The " star"
Heatsinking is excellent as it is simply milled into the head, plus the LED's have centering rings: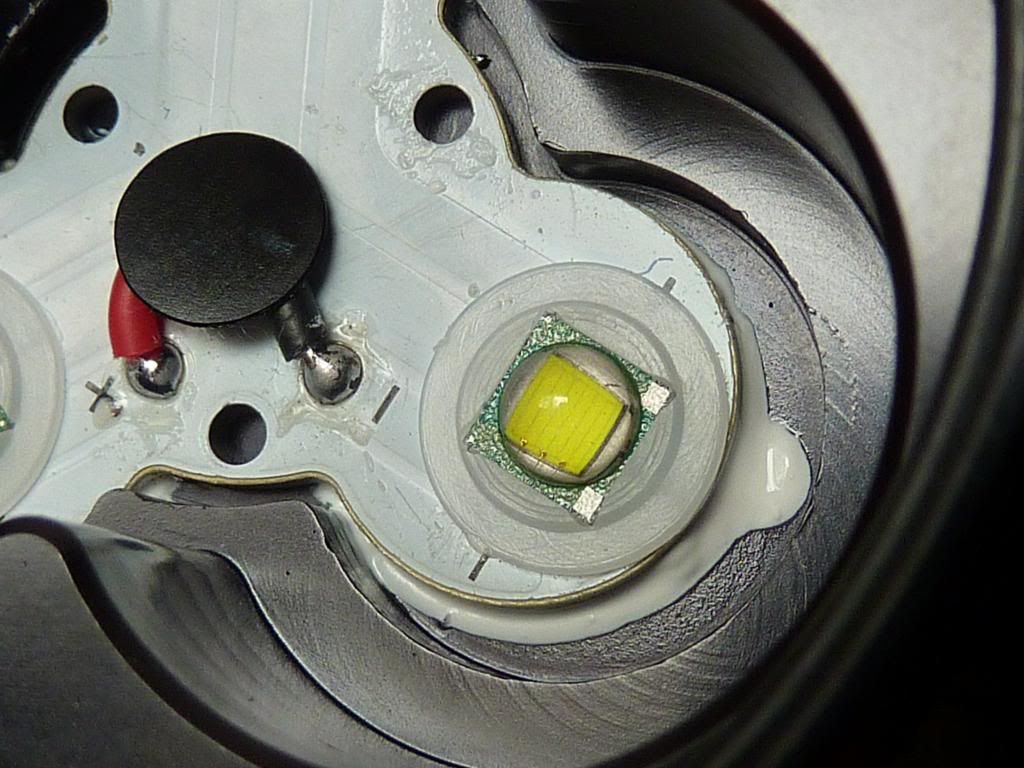 The deeply recessed driver is 26mm wide:
The light has square threads, came unlubed and very slightly rough:
And now, onto performance…
I tested the light with two protected Tenergy flat top cells charged to 4.19v. On high it pulled a consistent 1.52 amps, on medium it pulled .79 amps and low pulled .19. Visually, the modes provide fairly nice spacing. The low is decent enough for everyday use around the house at night, though I'd hardly call it a firefly mode. The head heats up fairly quickly, but even after 15 minutes indoors it isn't too hot to touch. I found it interesting how quickly it cooled down after being shut off. This of course is a sign of good heat dispersion. The beam is fairly floody, as would be expected, but carries fairly well. I'd guess the output is somewhere around 1500 lumens, though I have no way of measuring that. It definitely has the 'wow' factor that we crave.
Beamshots were taken with the trees at about 15m distant. I used a Nikon D40 with a 35mm prime lens at f1.8, 1/10th sec shutter speed and iso 200.
G36 on high:
SRK on high: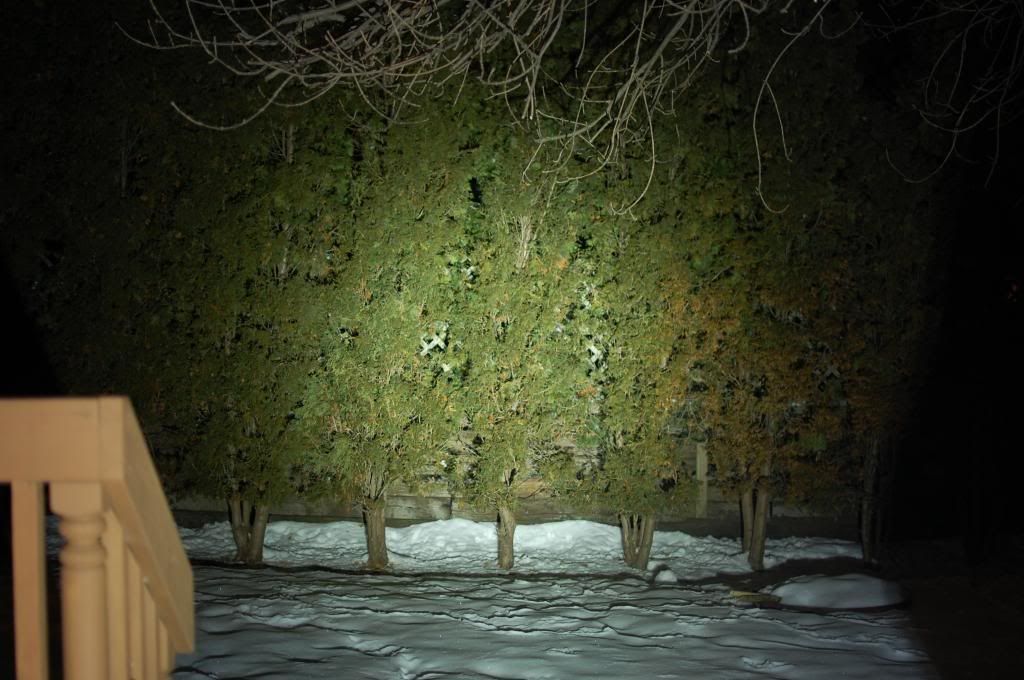 HD2010 on high: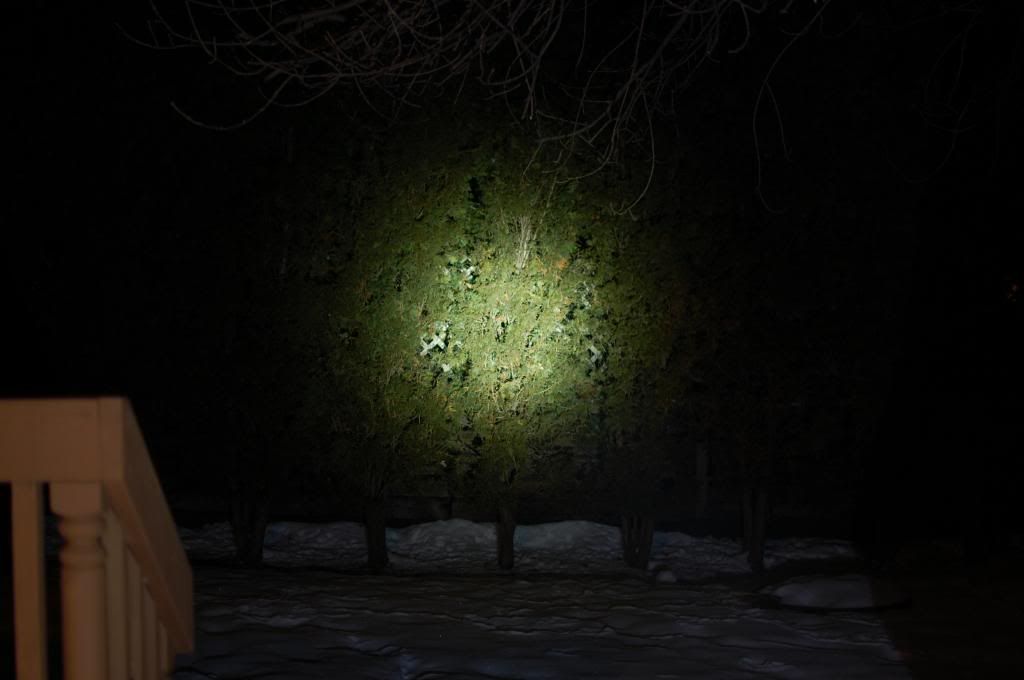 G36 on medium: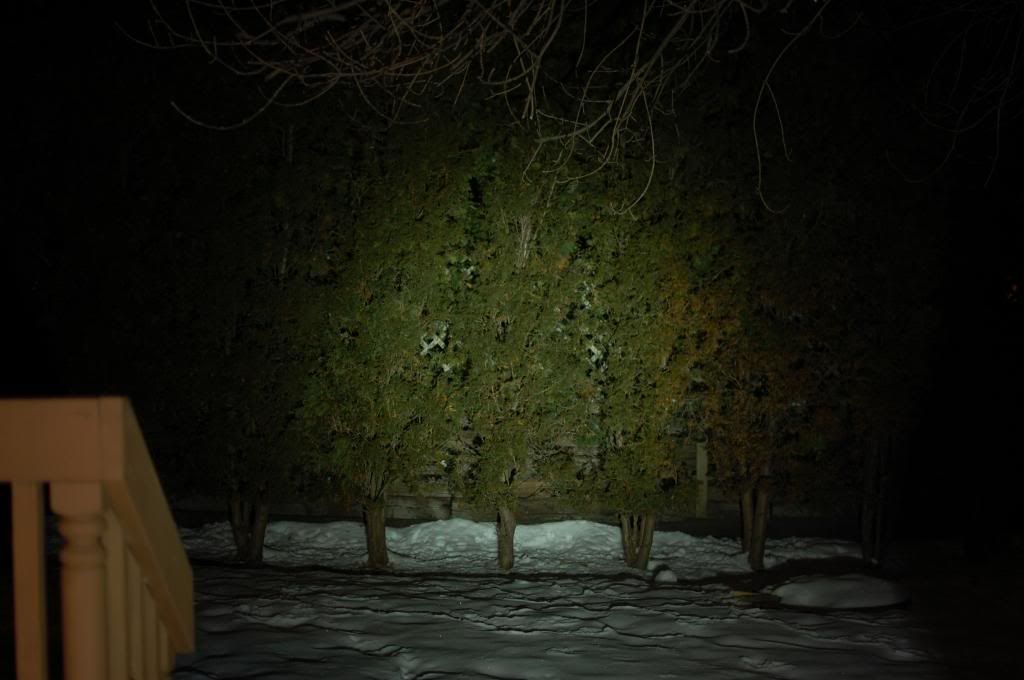 G36 on low: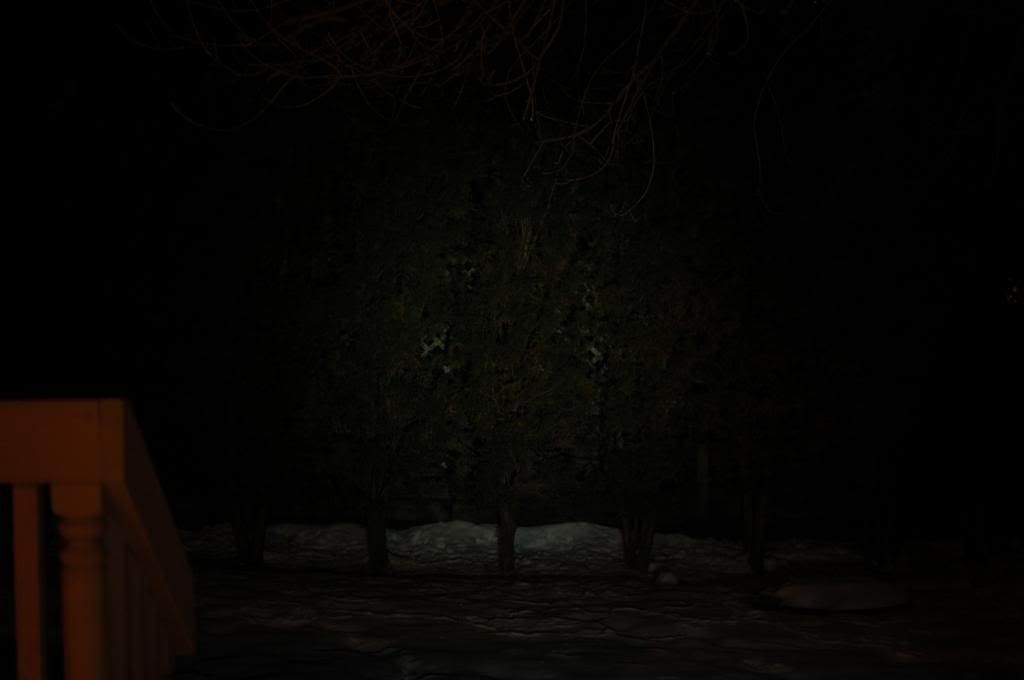 In conclusion, the G36 offers a solid budget choice in a bright triple XM-L. It is a very compact, attractive and well-built light, and an alternative to the SRK or Trustfire 3T6 (who am I kidding, we need all of them!), and as a great host to mod. More than anything, this is just a fun light…every kid should have one!
!
!
EDIT:
Sorry for the delay, but I finally got the head taken apart (with the kind help of Hoffig) and have added a few pics. It's quite simple to pull this apart, I thought it might be glued but it wasn't…I wrapped the nut-like end in leather, put it in a wood vice and it unscrewed easily. The driver is held in place by the nut, so replacement would be a piece of cake. The stock driver is 26mm wide and approximately 13.6mm thick, with the cavity being 12mm deep from the ridge that the driver rests on. Please ask if there are any other questions, I'll be happy to add pics as well.
One piece head/pill: