Hello
This is one of the brightest 1×18650 flashlights from Olight.
Excellent heat dissipating design provides high efficiency.
p=.
First impression-There are beautiful cooling fins on the entire head;It has a smooth reflector with larger diameter than
the normal 1×18650 light;Thick stainless steel crown bezel.


Anodizing is excellent everywhere on the body without gaps and scratches.Beautiful matte black type III hard anodizing.
Nice polished stainless steel bezel.
M22 can be found also with black coated bezel.


Olight M22 Warrior comes in nice small plastic case.

The case contains-the M22 flashlight,interesting semi-hard holster,very useful diffuser,adapter(carrier) for using 2xCR123A batteries,long sturdy lanyard,3 spare O-ring,spare switch cap-it is even glow in the dark,user's manual and warranty card.Sometimes comes and with two CR123A batteries.


The case is very convenient for carrying spare batteries,diffuser and filters,well protected and organized.
There are optional accessories such as weapon mount,color filters,tactical remote switch.


The holster is different than usual.
I found it not easy to use.There are holes at the top and bottom of the holster and it is made of semi-hard rubber.It's not easy to put the flashlight in it(actually mine is too narrow),mounting it to my backpack is also not easy.It has one pocket on each side.Good to carry batteries,knives or smaller flashlights.
I prefer a maximum closed holster(to protect the glass from dust and impact),easy to attach to backpack.
-Aluminum body with anti-scratching type III Hard anodizing.
-Dimension: (L)144mm , (Head) D41mm, (Tube)D25mm
-Weight 146 g (without battery)
-LED Cree XM-L2
-Battery: 2xCR123A OR 1×18650 Rechargeable Battery
-Reflector: Smooth Reflector
-Lens: Tough ultra-clear tempered glass,with anti-reflective coating.
-Three output modes: High 950Lm(1h),Mid 250Lm(3h), Low 20Lm(30h)
-Beam intensity 23,256 cd
-Maximum Throw 305m
-Waterproof IPX8
-Impact Resistance 2m
The cooling fins are very smooth,beveled to avoid sharp edges.The whole body of the flashlight is very well made.No bad edges for my hand.


The pocket clip is good serious sturdy clip,very well attached and locked by the tactical ring.Accidental detaching is not possible.


The tail switch is forward clicky with momentary on activating.
M22 can't be used in candle mode(tail standing) because the switch is too protrude and there is not enough periphery around it.
But this makes it easy to use.The switch itself is just right hardness-not too stiff,not too loose.


The tactical grip ring is metallic,securely locked in place-no free moving,rotating.Some people prefer to remove the ring,but I don't recommend that,because the tactical grip ring is very important for the good stable grip.
There's no sharp edges around the switch.


Olight M22 is equipped with LED Cree XM-L2.


Anti reflective coated,ultra clear glass.
The LED is perfectly centered to provides maximum concentrated spot in the beam.


M22 uses a special red sealing O-ring for the glass lens.It is not regular circular cut.It is C shape and seals he glass in front,back and side position.
Also provides excellent impact protection.
The bezel is thicker than usual and also helps for better protection on the glass lens and reflector.
Can be used also for tactical purposes and self defense.


The flashlight body can be disassembled into three main parts.


The screw threads on the head side are square cut,very well made with smooth screwing.


The screw threads on the tail cap are also square cut.They are anodized excellently for better resistance and lock-out is possible here,to prevent accidental activating the light.The O-rings are well greased,the anodized thread is also greased for smooth screwing.


The battery tube is thinner than expected for a flashlight with so thick bezel and maximum power of 950 lumens.
I prefer thicker walls,they will maintain better with the heating of the LED and will provide better resistance.
The thinner walls make the flashlight lightweight and it is very comfortable to carry and if it is gun mounted.
There is a spring at the head,to protect the battery and driver board from impact.
There is enough space for thick protected batteries like Sanyo 18650 protected.

Excellent performance with a Keeppower 3400mAh protected battery.
Maximum runtime.Maximum current to the LED.


Thanks to the Wide smooth reflector,the beam has very good concentrated hotspot with good smooth spill.
The light from the XM-L2 LED used in my sample is cool white with yellowish tint,visible mwhen compared to other whiter(cooler) XM-L2 lights.


M22 has very nice simple UI.
Three constant lighting modes and one flashing-strobe.
Low-Medium-High lighting mode can be selected by twisting the head.
Fully press the tail switch to turn ON/OFF.
When turning OFF,the last used mode will be memorized(instantly-no need to wait 3 sec.)
M22 uses forward tactical switch and that is also used in the UI.
From OFF – single half pressing activates last used mode;
- double half pressing activates High mode;
- triple half pressing activates strobe;
Fully press(click) to lock the mode.
I like the quick access to High and Strobe,but to do this the light should be in OFF position(because we use momentary ON for controlling the driver).
Something that I miss here is possibility of using the momentary ON for signaling.It is just impossible in this flashlight.

Battery Keeppower 3400
U=4.197V
I high=2.85A
I mid=760mA
I low=71mA
Sanyo 2600 Vs Keeppower 3400


The values after the step down are a little different because the curve is calculated by the percentage of the initial brightness.
High-Medium-Low in percentages


Lumintop TD16, XTAR B20, Klarus ST11, Klarus XT11, 52mm SMO XM-L, C8 XM-L U3, C8 XP-G2


Fluorescent room lighting, Olight M22, Lumintop TD16, XTAR B20, Klarus ST11, Klarus XT11, 52mm SMO XM-L, C8 XM-L U3, C8 XP-G2

Olight M22 with diffuser.

Outdoor Beam shots
Olight M22 Low-Mid-High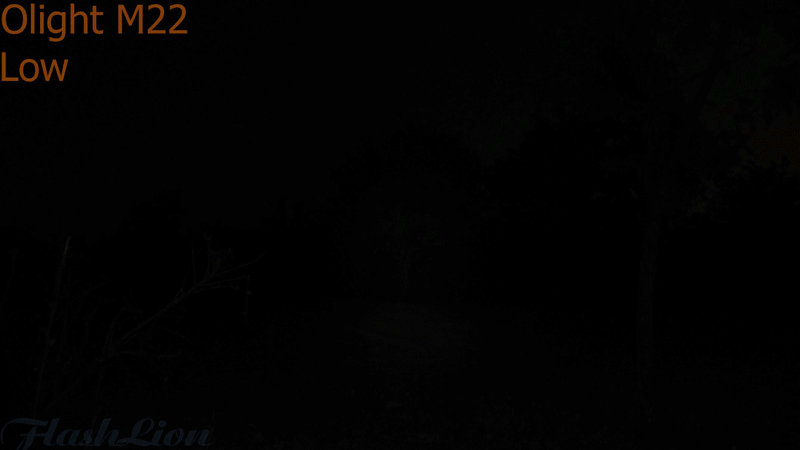 Olight M22 Low-Mid-High Diffused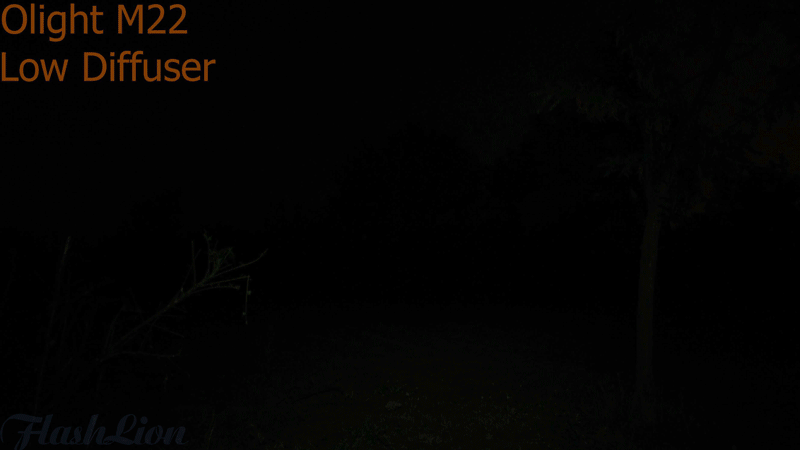 Comparison to other lights
The place where I took this pictures is great.There is a tree on the right that help us to see how wide is the beam.This tree also has different colored leaves.We can see the difference in the color reproducing between the light from these flashlights.

Some of the other flashlights

The grip is very good thanks to the tactical ring.M22 is shorter than I expected,but is sufficiently handy.


Video

As usual in my new reviews I test the flashlights in the river.
Olight M22 successfully passed the test.

In conclusion I can say that the Olight M22 is excellent flashlight if you need powerful well throwing flashlight with nice big,smooth reflector in comfortable size.
There are some cons personally for me that I already described above,but they are absolutely not a deal breaker.This flashlight is recommended for every flashaholic.

Thanks for Reading!
- Special thanks to Olight and their distributor for providing M22 Warrior for review. –