Lumintop SD10 "Household Searchlight" Review
Reviewer's Overall Rating: 

★★★★★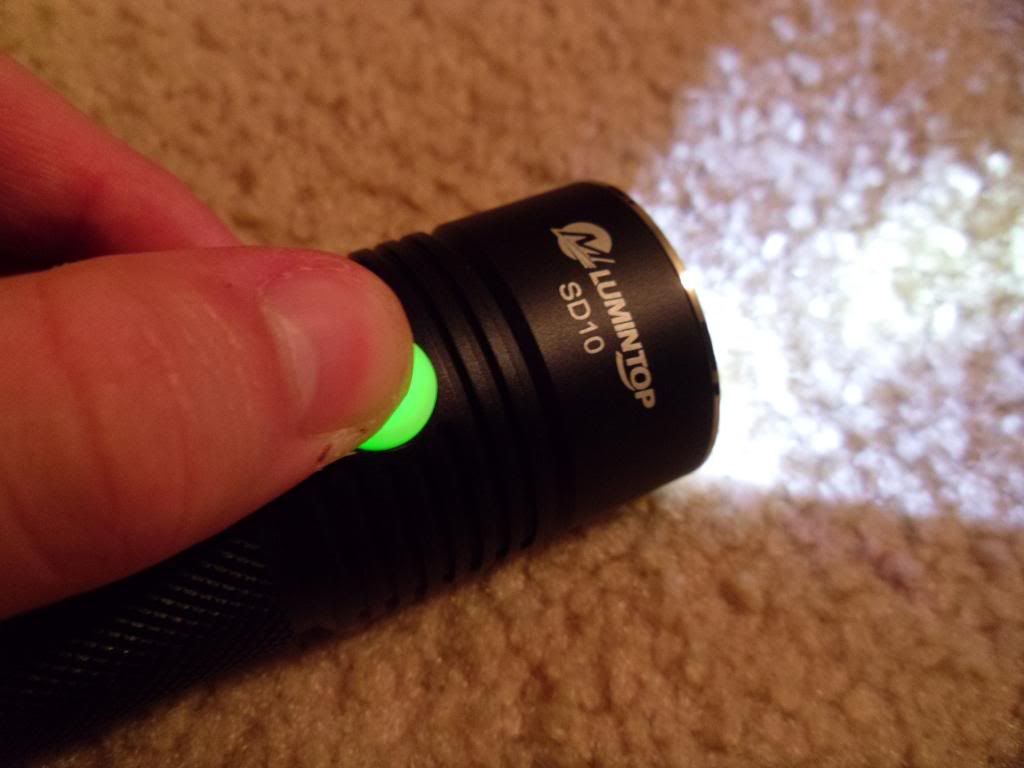 Summary:
| | |
| --- | --- |
| Battery: |  3x AA, 1x D, 1x 18650/26650/32650 |
| Switch: |  Electronic side switch |
| Modes: |  L/M/H with memory, hidden strobe (double click) |
| LED Type: |  XM-L2 T6 Cool white |
| Lens: |  AR coated lens |
| Tailstands: |  Yes |
| Price Paid: |  $53 |
| From: | hkequipment |
| Date Ordered: |  7/12/13 (received 7/31/13) |
Pros:
Runs on basically any battery config you could imagine
Low mode is in fact low enough
Easy lockout prevents parasitic drain (loosen tail cap 1/4 turn)
Good build quality (except battery carrier)
Cons:
Might be a tad on the expensive side for some.
Might be difficult to mod?? - more on this later
No reverse polarity protection
Battery carrier is cheap and not well built.
Manufacturer specs:
SD10 is one of the world's smallest, lightest and brightest 32650 searchlight. It is compatible with a wide range of batteries through intelligent control, and thus it has different outputs based on different battery types. It ensures not only enough brightness but also product stability and long runtime. With premium CREE XM-L2 T6 LED, its output reaches up to 800 lumens.
Construction:
1. Coated tempered window resists impact.
2. Aerospace aluminum uni-body design combined with a stainless steel retaining ring offers superior impact resistance. Mil-Spec hard-anodized. O-ring Sealed.
3. Front side switch.
4. Superb heat release system provides excellent heat transport capacity.
5. Slip-resistant body design.
6. Lengthened lanyard hole with tail-standing design.
Operation:
A. OFF State:
Press and hold the front side switch for more than 0.5 seconds to turn on the light, while another press for 0.5 seconds will turn the light off.
B. ON State:
Click the front side switch to switch between 3 output modes: High, Medium and Low. Double click the switch to enter into Strobe mode, after another click, the light will go back to original brightness. It memorizes last brightness level when the light is turned off, while Strobe will not be memorized.
Note:Putting the SD10 battery carrier into the body reversely may cause a breakdown in the circuit.
| | |
| --- | --- |
| Length | 4.69 inches (120.3mm) |
| Diameter | 1.56 inches (40mm) |
| Weight | 4.03 ounces (115g) |
Features / Value: 

★★★★★
Light arrived sealed in a bubble envelope in a nice box with extra o-ring and a lanyard.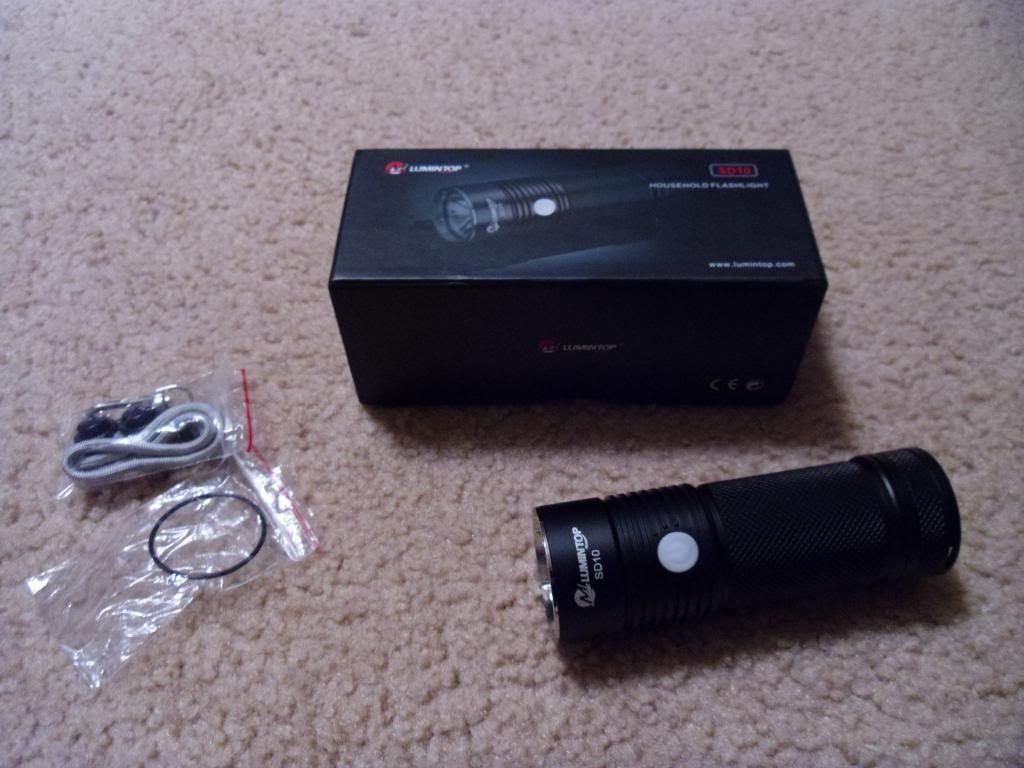 This light runs on any batteries pictured below!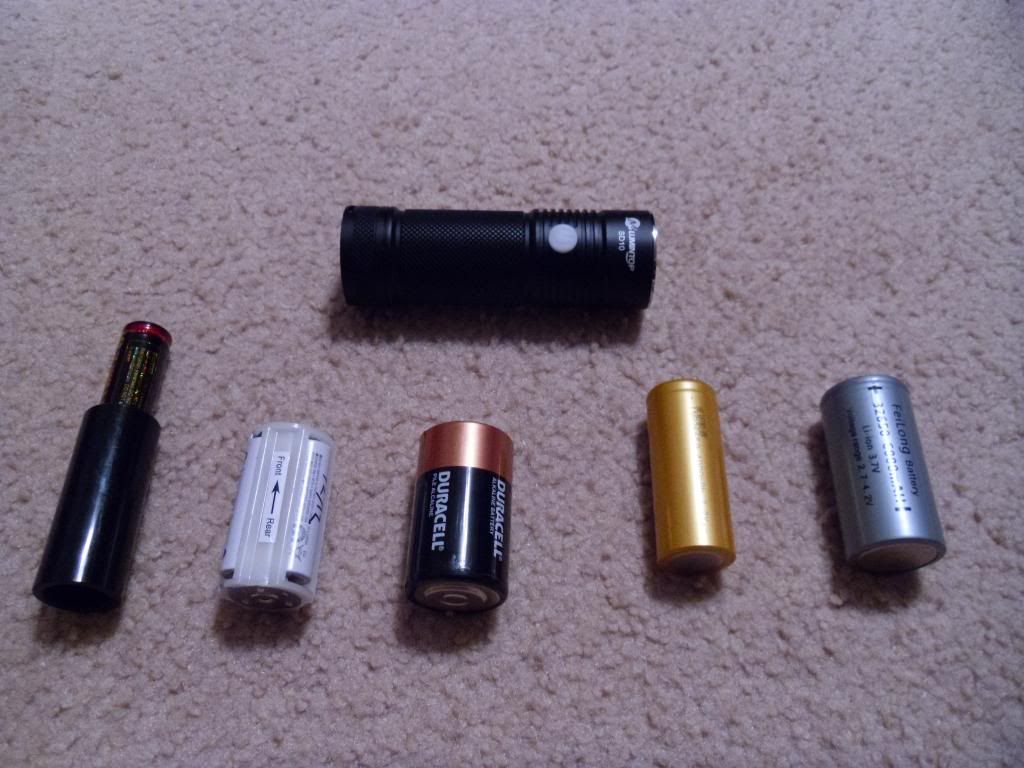 The light will run on any of the following batteries: 1x 18650 (with a 26650 spacer), 1x 26650 (protected might not work depending on cell length), 1x 32650 (feilong unprotected), 3x AA (nimh or alkaline), and 1x D size alkaline.
I did try to fit a C size battery, but the cell is too short to make contact on the negative spring and would need a spacer.
I did not try 3x AA lithium as I do not have any on hand.
Design / Build Quality:

★★★★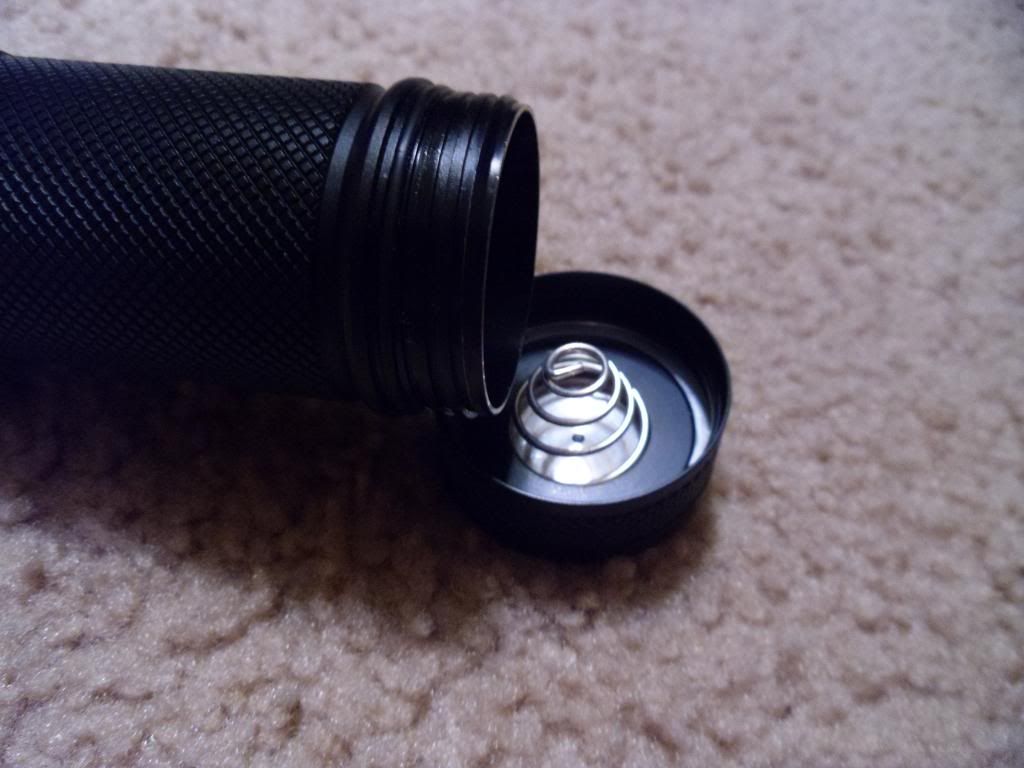 Threads are square and do not wobble.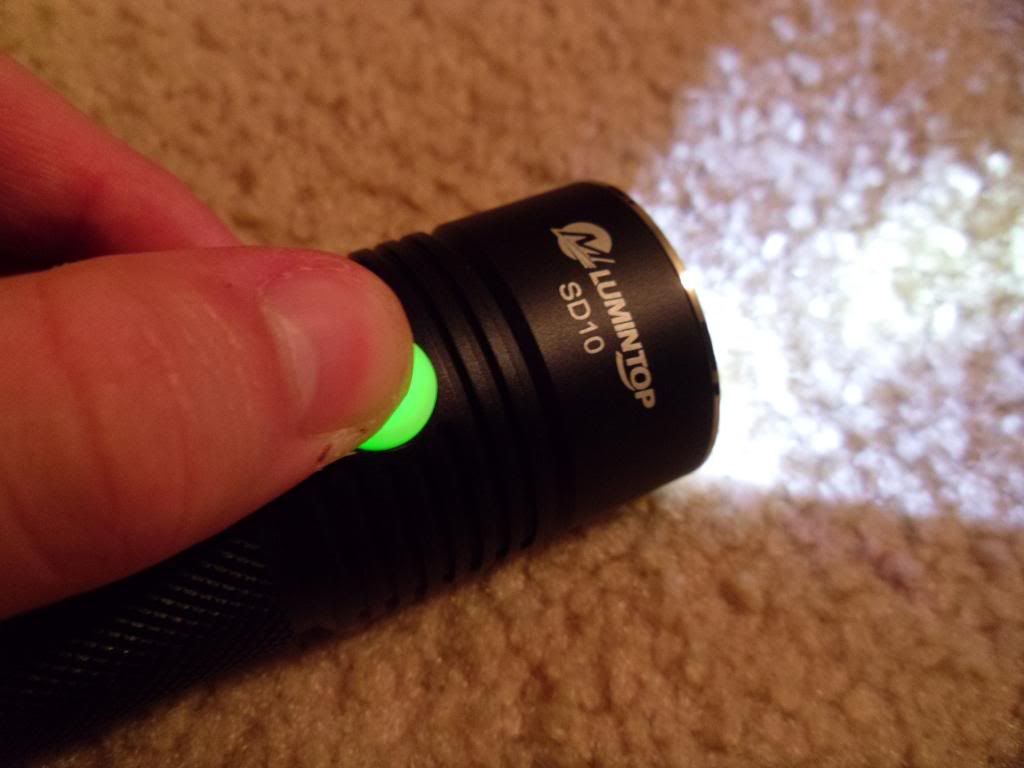 Switch is a little on the "squishy" side, but works fine and glows a nice green when you press down on it. It would have been nice if this switch always glowed green when batteries were inserted. (like the terminator). Switch is electronic and can easily be locked out by loosening the tail cap a quarter turn.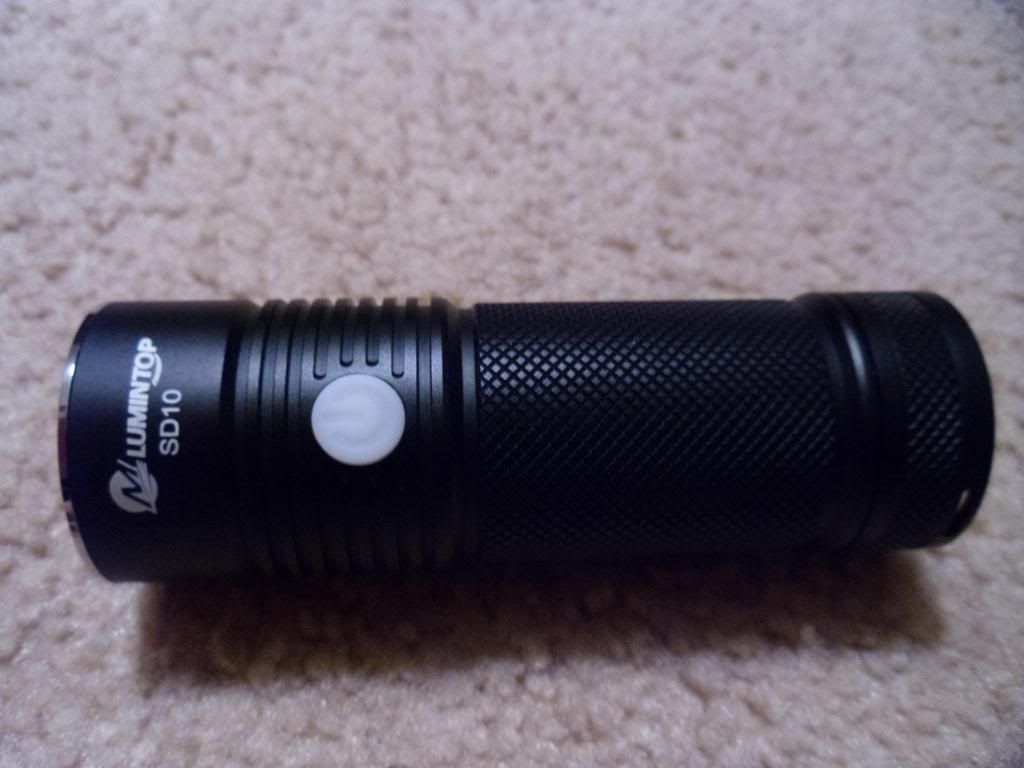 Knurling is adequate and provides sufficient grip.
Emitter is well centered and the lens is AR coated
- note I believe the bezel can be unscrewed and removed to access the emitter. I do not have a way to open the bezel without fear of scratching it, but I suspect you modders could access the emitter through the bezel. The reflector is shallow enough where I believe it wouldn't be too hard to swap the emitter through the front of the light.
Other thoughts:
The reason for the 4 star rating is the battery carrier. Frankly - its a piece of crap. It does get the job done, but it made of plastic and has puny springs. It will wobble around in the light as well since the battery compartment of the light is larger than the carrier itself. I would have liked to see something along the lines of the battery carrier the Xintd x3 uses - especially since this is a $53 light.
Battery Life:
Not reviewed.
I have not done extensive runtime testing with batteries yet. Here are the manufacturer specs though.
| | | | |
| --- | --- | --- | --- |
| Battery type | 1×32650 | 3×AA | 1×D |
| Low output / runtime | 10lm / 280h | 10lm / 150h | 2lm / 60days |
| Medium output/ runtime | 100lm / 26h | 100lm / 15h | 30lm / 80h |
| High output/ runtime | 800lm / 7.5h | 500lm / 6h | 200lm / 7.2h |
Light Output: 

★★★★★
For its size, the SD10 does quite well. Output on high on any battery config is enough to light up my living room. The low mode on any cell config is also "low enough" for you moonlight mode freaks as well.
Here are some comparative ceiling bounce numbers for reference.
1x D alkaline
L - 0.1 lux
M - 4.5 lux
H - 19.3 lux (18.5 lux @ 30 sec)
3x AA eneloop
L - 0.8 lux
M - 8.8 lux
H - 62.8 lux (59.0 lux @ 30 sec)
1x Li-Ion
L - 0.8 lux
M - 10.2 lux
H - 76 lux (73.8 lux @ 30 sec)
Here is a shot on high (I took more photos of the different output levels, but I really do not like the way they came out - I am still figuring out my new camera)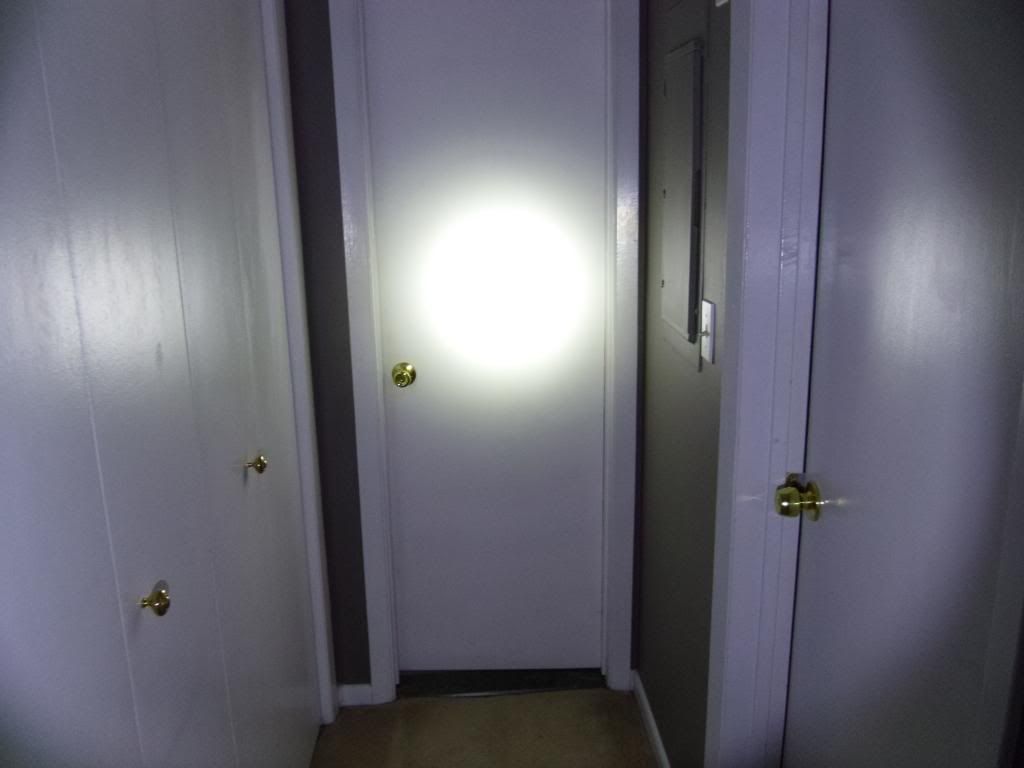 One last note - the hot spot of this light is slightly on the "square" side - I believe this is due to the shallow reflector and the XML2's square die shape. This does not bother me at all and does not detract from the light in any way - but I felt it was worth mentioning. I tried measuring current - but I my cheap multimeter/leads are not up to the task. Sorry!
Based on the "relative" ceiling bounce numbers and comparison to other lights I feel the manufacturer's lumen claims to be accurate.
Summary: 

★★★★★
This is a great light - It will run on basically any type of battery you want and provide a good amount of usable light on any output setting. Tint is cool white & free of any purples/greens etc. The cheap battery carrier can be overlooked as it really has not interfered with the general day to day use of my light. I regularly use 3x eneloops with no issues. Is this light worth $53? To me it is. I have seen this light for sale at wallbuys for $45 during an "instant kill" sale - so it is probably possible that we will see some prices in the high $40s in the future.
—
Would you mind keeping the wrong flashlight?
Best wish, May
Tmart service team

 

PLEASE HELP ME GEARBEsT! IM LITERALLY CRYING!