[EDIT]: Heavily revised version april 2012.
Here is a simple spreadsheet "LED-CALC " for calculating output from torches with Cree LED's XM-L, XP-G, XR/XP-E. Now also includes XB-D and XT-E. Formulas are fitted to CREE's data sheets.
Good for trying out "what if".
It is preloaded with 5 cases for each type of LED. You can change these cases freely or add more cases by copying columns.
The spreadsheet is provided "as is" with no responsibilities for my part.
I have found it pretty good for predicting output.
But most important: Have fun with it.

This is a bit of the spreadsheet for explanation: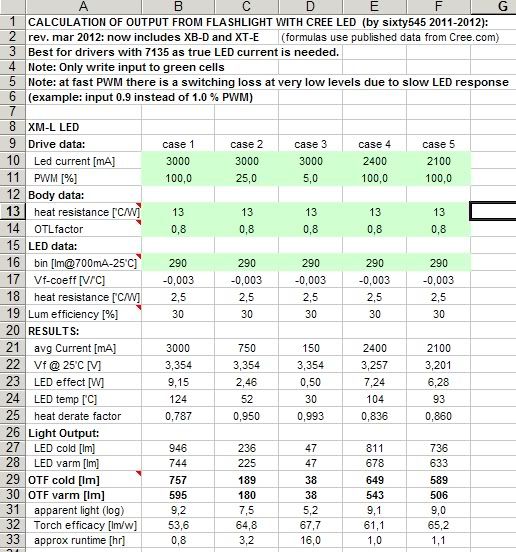 Only 5 numbers has to be set (the upper part in green color):
LED Current [mA]:
  The max current through the LED.
PWM [%]: The PWM level 0-100 %. 100 if constant current.
Heat Resistance ['C/W]: The heat transfer resistance for the flashlight body. An empirical number (normally 10-15). Guidance is provided.
OTLfactor: This is also an empirical number, how much of the light find its way out the front lens (normally 80-90%).
bin (lm@700mA or 350mA):
  Put here the middle output for the LED bin e.g. 290 for a T6.

Now the results:
LED cold (lm):
  is the output from the LED calculated with a formula fitted to Cree's output vs. current curve.
LED warm (lm):
  is the derated output after warm-up.
LED temp ('C):
  is calculated so that a cooling value of 3 will give about 150 'C at the highest allowable current.
t-derate:
  is the output derate factor calculated with a formula fitted to Cree's output vs. temperature curve.
OTF cold (lm):
  Out The Front lumens when cold.
OTF warm (lm):
  Out The Front lumens when warm.
apparent light:
  A number (for output) which is better to compare with because of the eyes logarithmic behavior. A difference of 1.0 is a doubling of output but is not perceived that much.
Torch efficacy (lm/W):
  how many lumens do I get from 1W of battery power.
runtime (hr):
  with a 2400mAh 18650 battery.