KronoReview of the UltraFire AT-008.
One AT-008 was provided by GearBest , and another AT-008 by GeekBuying for review. GearBest has an XP-G, while GeekBuying claims to have an XP-E, but in actuality also has an XP-G emitter. I thought about doing separate reviews, but the lights are almost identical except for some very minor internal changes.
Manufacturer Specifications (as appear on website):
General-
Brand: Ultrafire
Model: AT-008
Emitter Type: Cree XP-G R5 *(Note: Listed as XP-E R2 on GeekBuying site)
Total Emitter: 1 x Cree XP-G R5
Lumens: 700 Lumens
Feature: Lanyard
Function: Household Use, Walking, Hiking, Camping
Battery Type: 18650
Battery Quantity: 1 × 18650 Battery (not included)
Mode: 3 (High > Low > SOS)
Focus: No
Rechargeable: No
Specification-
Power Source: Battery
Reflector: Plastic Smooth Reflector
Lens: Glass Lens
Body Material: Aluminium Alloy
Available Color: Black
Dimension and Weight- Product weight: 0.091 kg Package weight: 0.200 kg Product size (LxWxH): 12.5 × 3.0 × 3.0 cm / 4.9 × 1.2 × 1.2 inches Package size (LxWxH): 15.0 × 5.0 × 5.0 cm
Package Contents Package Contents: 1 x LED Flashlight
Manufacturer Specifications (as appear on website):
Highlights
Amazing high Brightness Cree XPE-R2
Quality aluminium alloy construction
3 Modes for different situation
Support charging directly with the 18650 batteries inside
Portable size, easy to carry
Neutral white light see everything the real color
Magnetic tailcap for muti-function
Specifications
General
Brand: UltraFire
Color: Black
Material: Aluminium alloy
Quantity: 1
Specification
Emitter: Brand Cree
LED Type: XP-E
Emitter BIN: R2
Number of Emitters: 1
Color BIN: Neutral White
Voltage Input: 3.7~4.2V
Circuitry: 900~1100 mA
Battery Configuration: 1 × 18650 (not included)
Lumens: 270LM
Runtime: 3 Hours
Number of Modes: 3
Mode Arrangement: Hi / Low / Flash
Mode Memory: No
Switch Type: Forward clicky
Lens: Glass
Reflector: Smooth Aluminum
Switch: Location Side
Strap: Included Yes
Clip Included: No
Lighting Range: 150m
What's in the box?
1 x Flashlight
KronoReview:
The UltraFire AT-008 is a single 18650, XP-G R5 light with 3 modes (High, Low & Strobe with hidden SOS). Here are some things I observed in this light:
Pros:
Feels good in hand, nice size.
Magnetic tail.
Side Clicky. NO sub-par rear clicky with next mode memory!
OK beam with decent spot.
Square head makes for a nice anti-roll feature.
Build quality is better than average sub $8 light.
Throws decently for a cheap light.
Hidden SOS.
Cons:
Hard to remove bezel.
Only a small lip for emitter. Needs a solid shelf for direct thermal transfer.
Useless charger hole…no charger supplied with unit. Many Chinese lights, unfortunately, come this way.
Plastic lens (GearBest & GeekBuying specs say it is glass…not so!).
Plastic reflector (Labeled YK P002, 23mm diameter).
Won't take protected cell…tailcap won't screw down all the way.
No anodized tail lockout.
Low output. I don't have a light meter, but it is nowhere hear the 700 claimed lumens. Probably more like 200-250 lumens (purely an estimate).
Blinkies.
My Photos:

Head/Driver with wrench. Had to use a Visegrip lined w/electrical tape to remove bezel.

Head/Driver-side view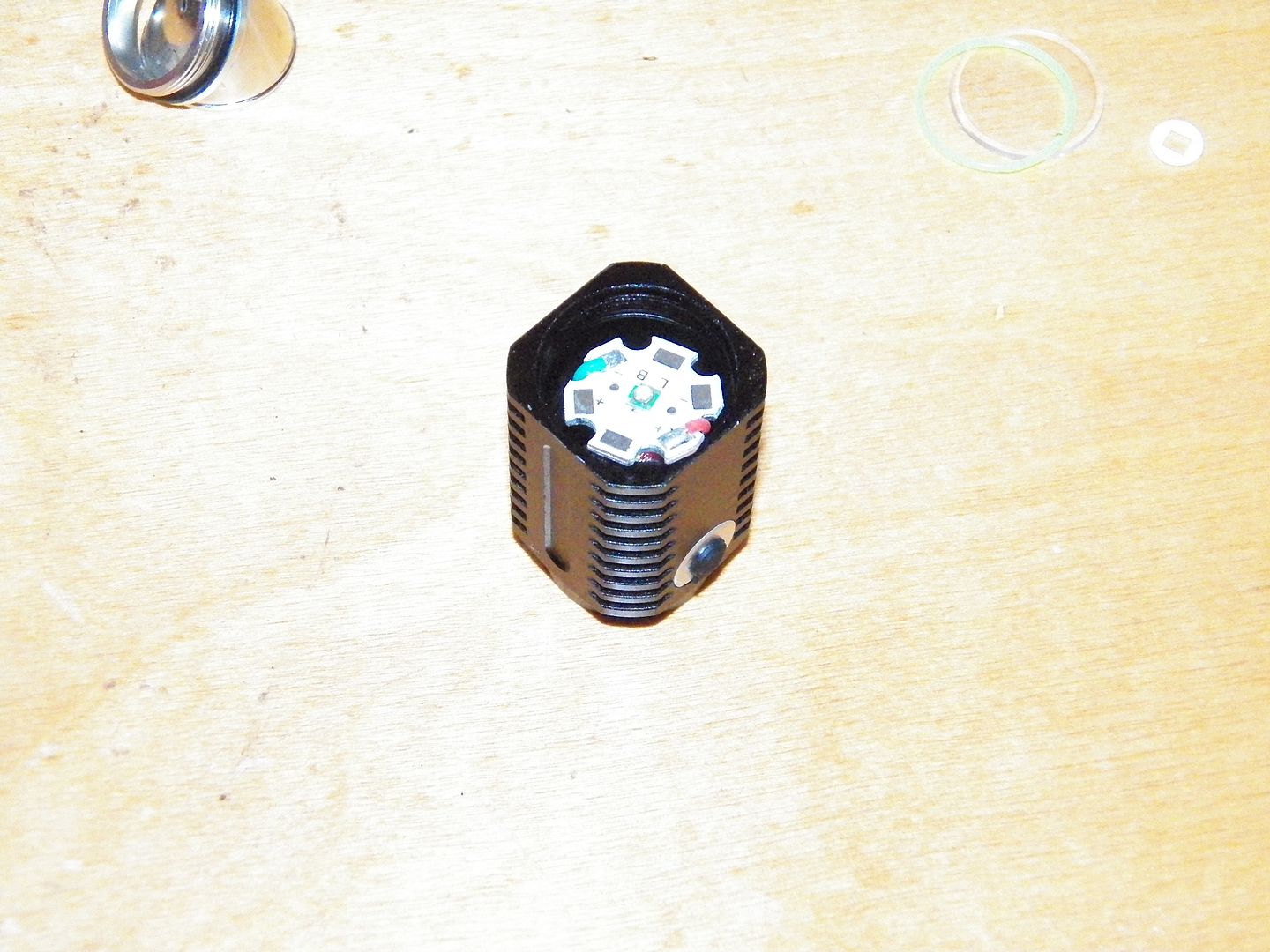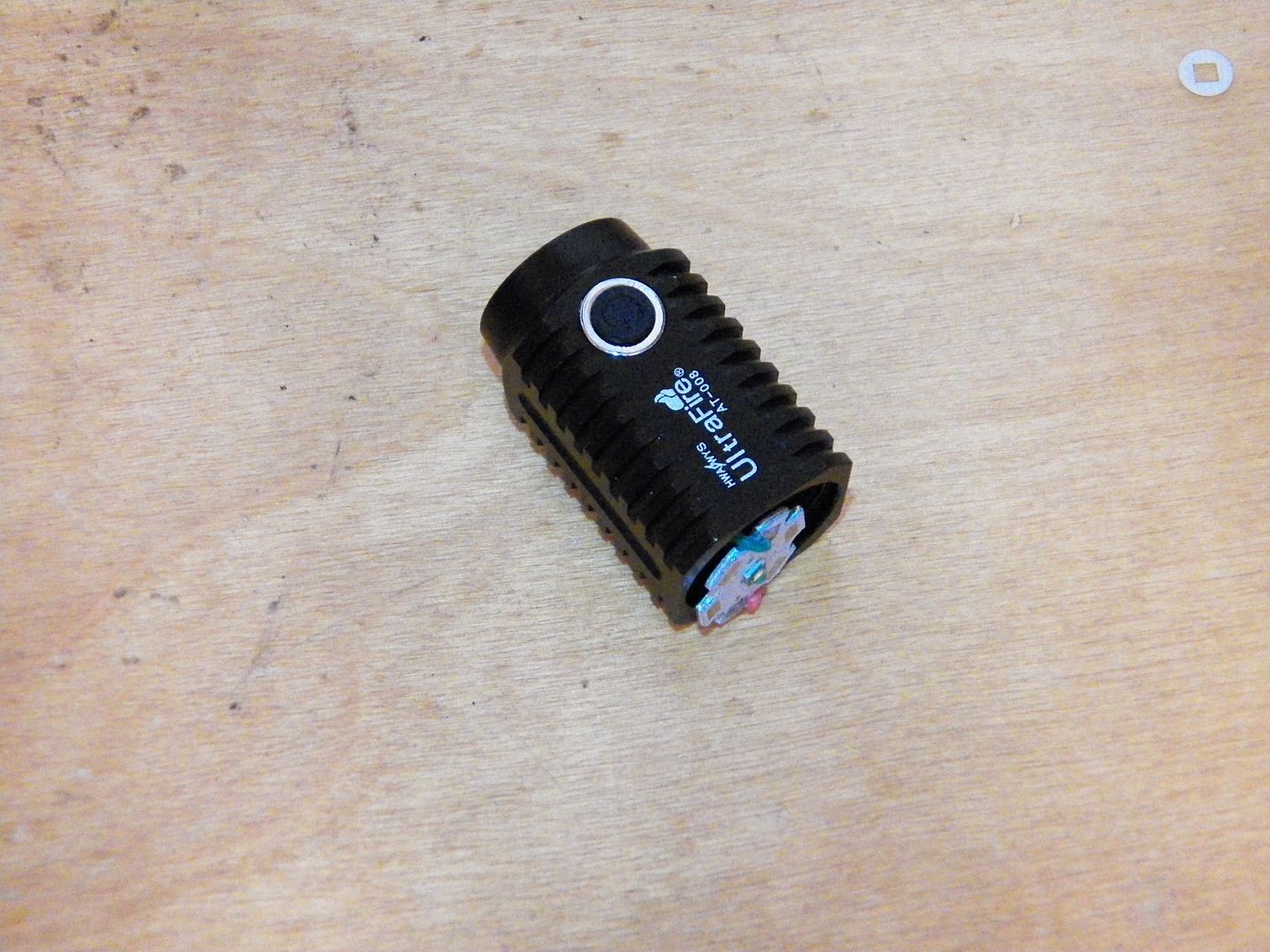 Head/emitter

Head/showing small lip that emitter sits on.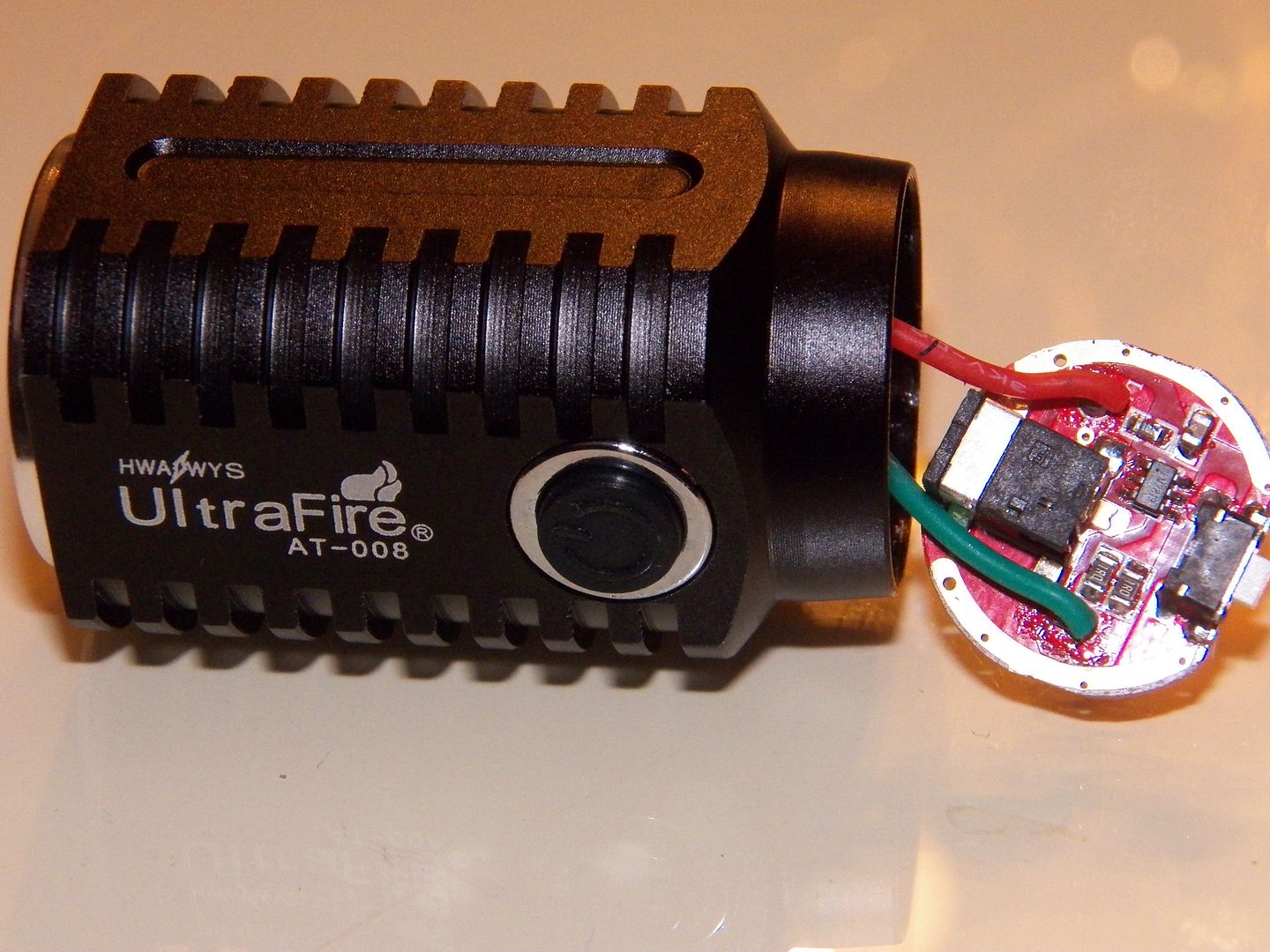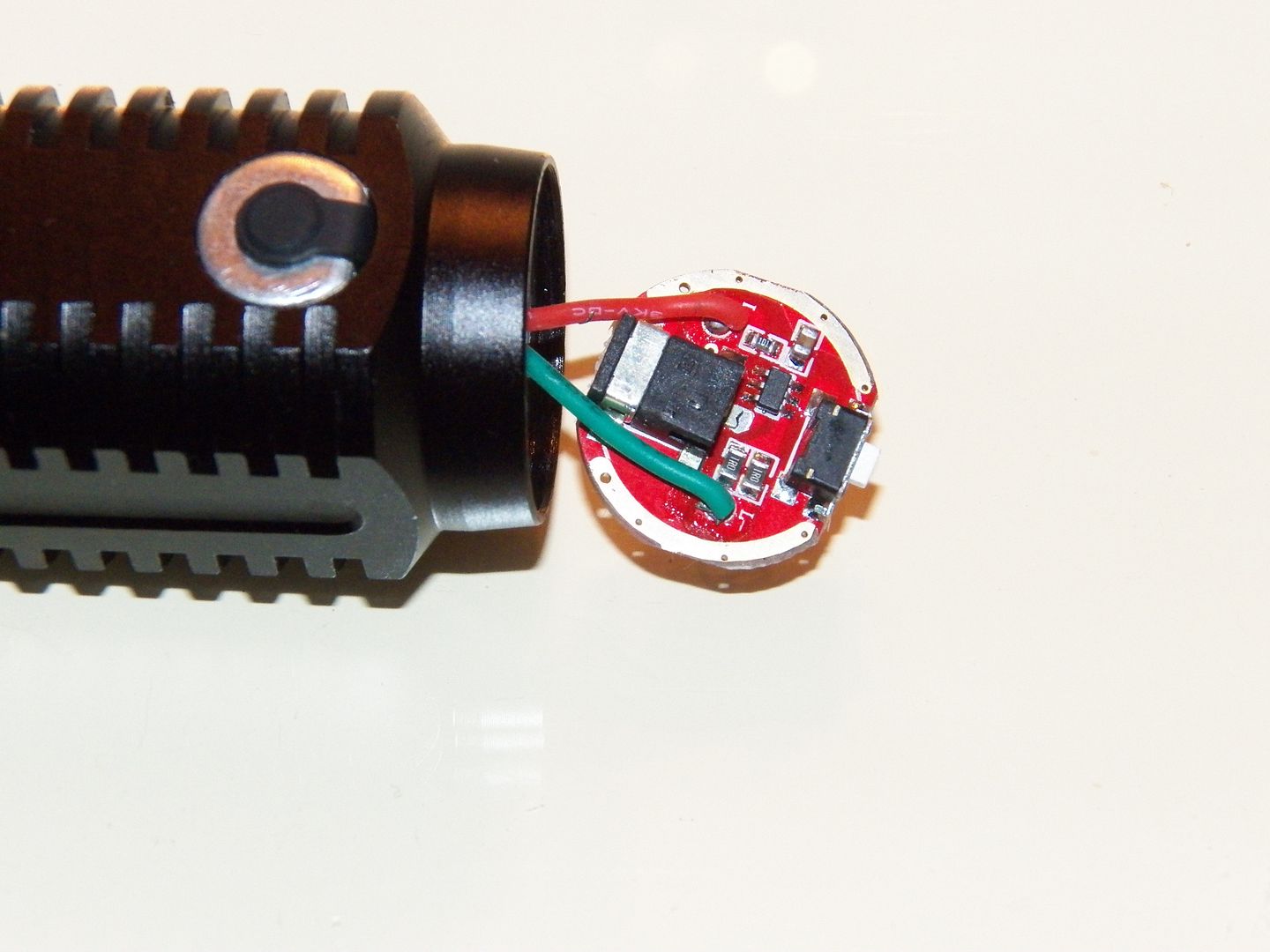 Underside of board.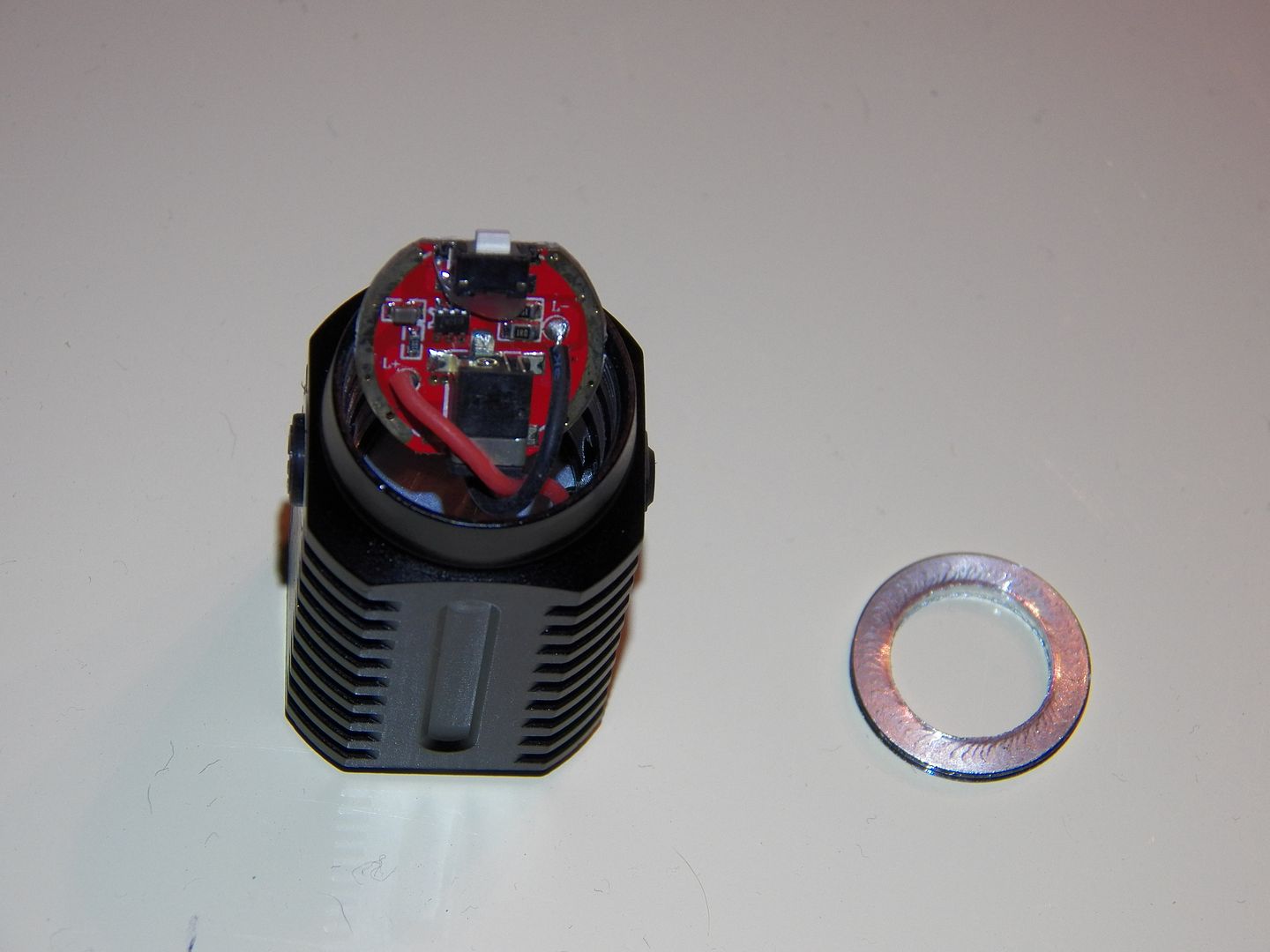 Underside of board on GeekBuying version (note different color negative wire, glue reinforcement of clicky switch, and no retainer ring holes for removal).

Bezel and reflector removed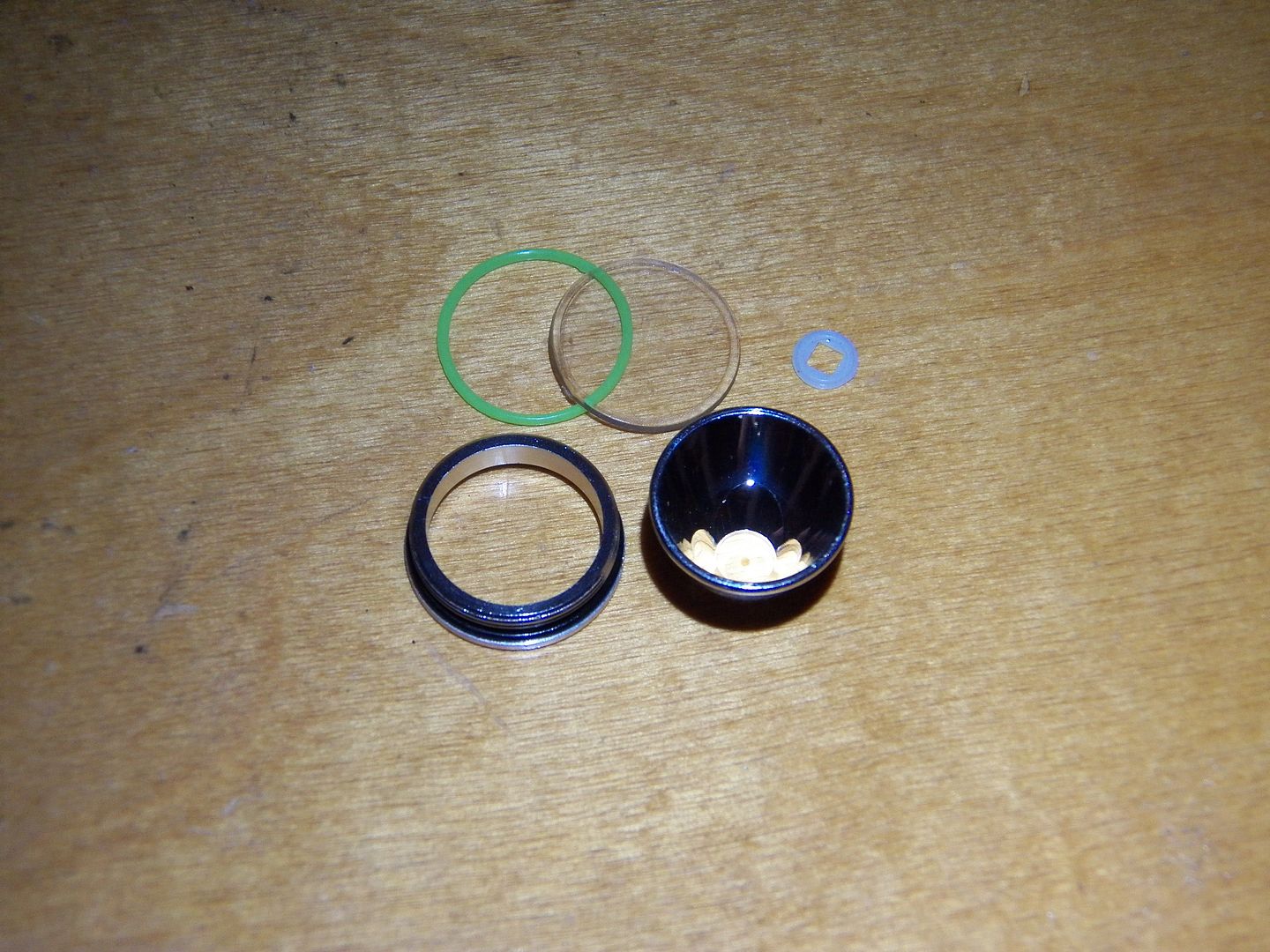 Lens, reflector, LED center piece, bezel and GITD o-ring.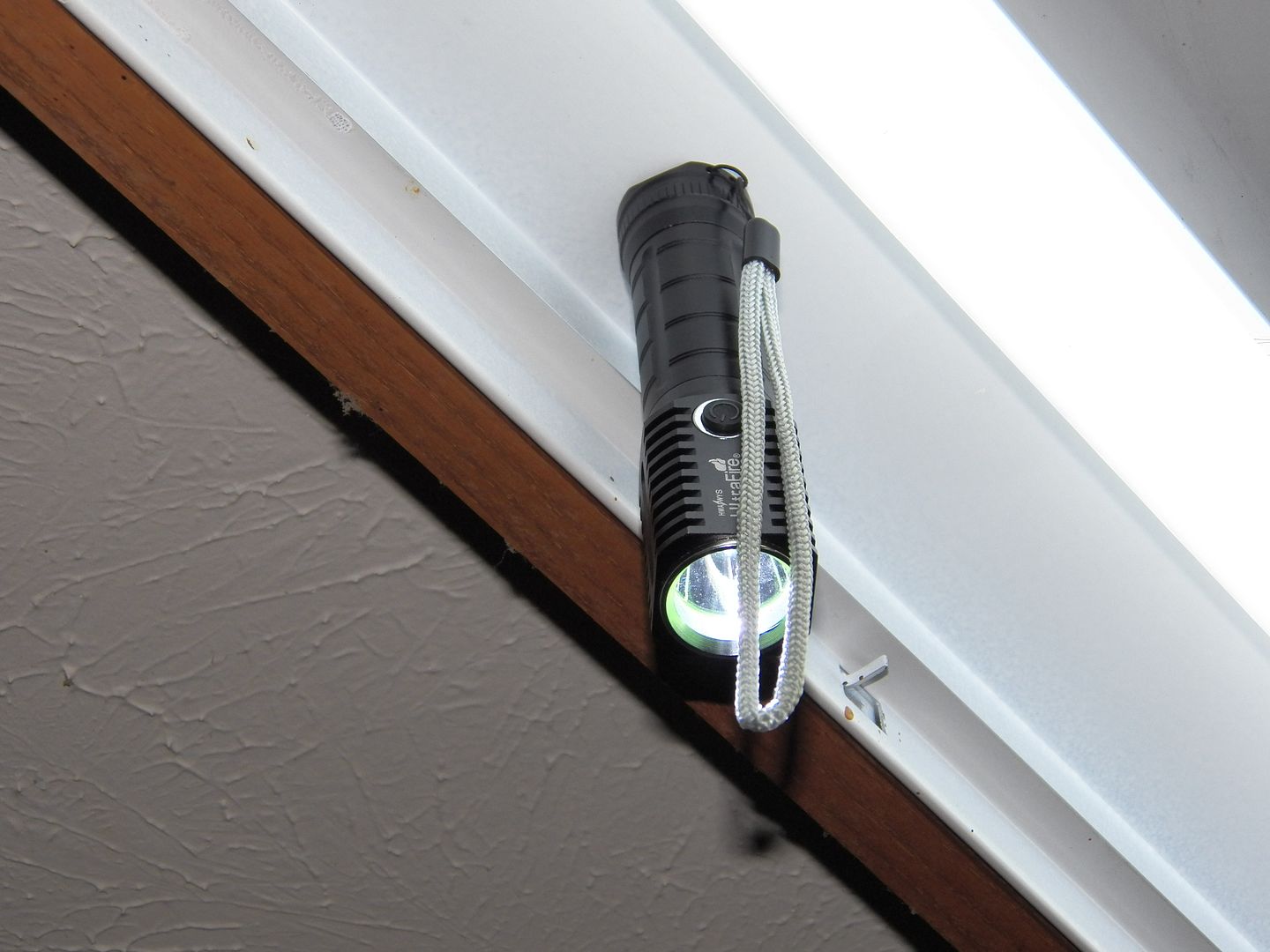 Magnetic tail sticking to metal light fixture on ceiling.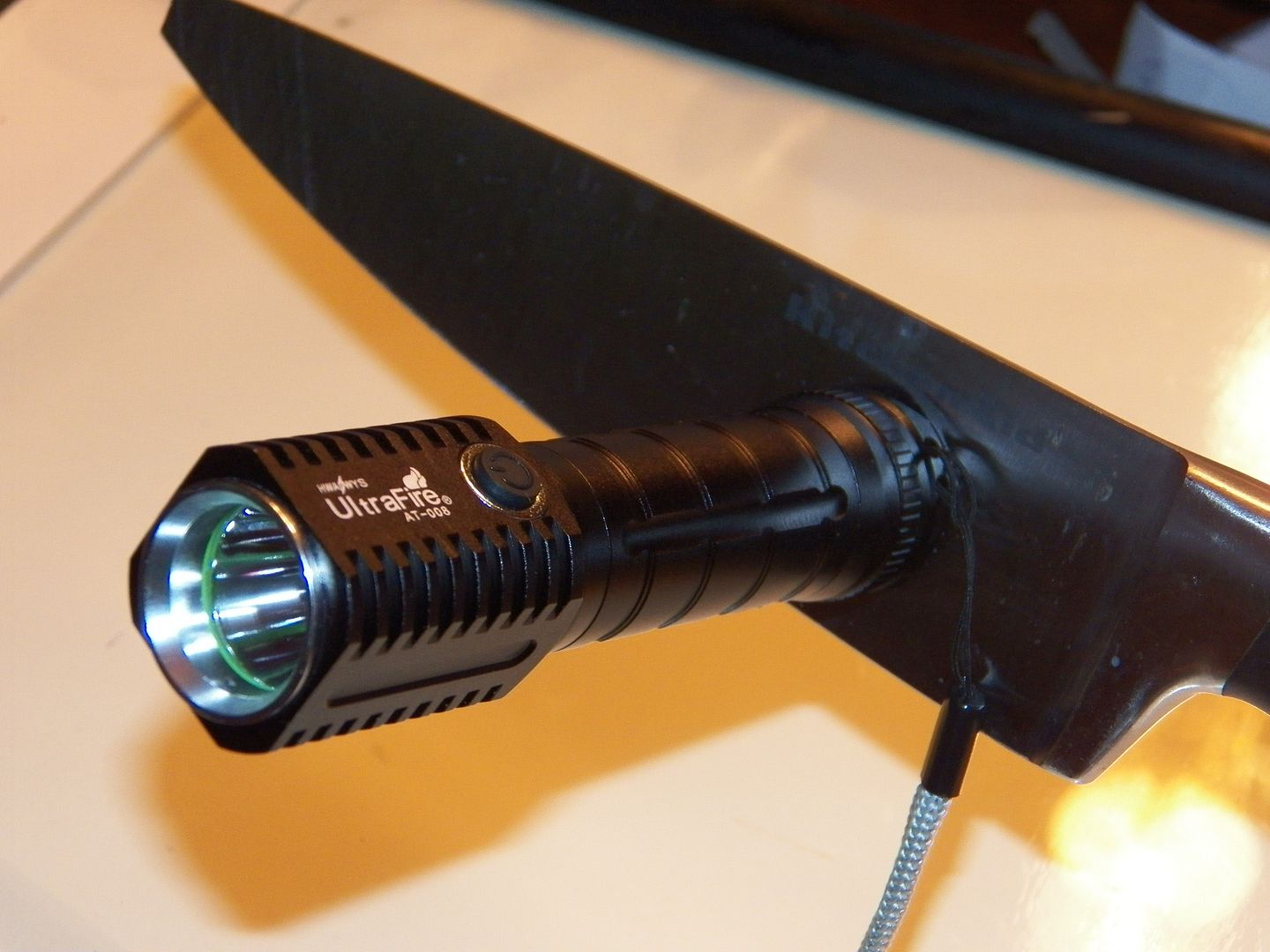 Magnetic tail sticking to kitchen knife.
Beamshots: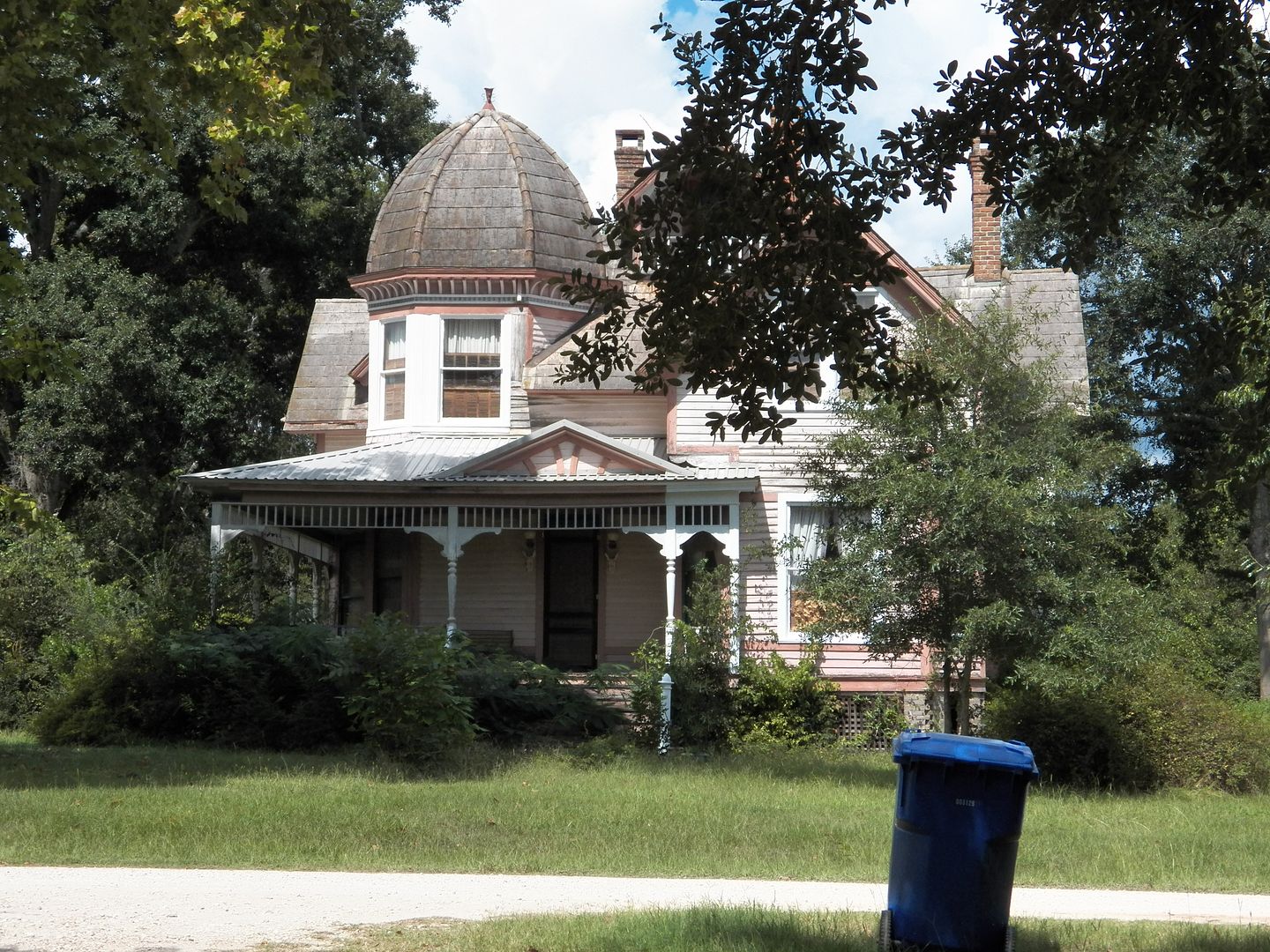 Control shot

UltraFire AT-008 on High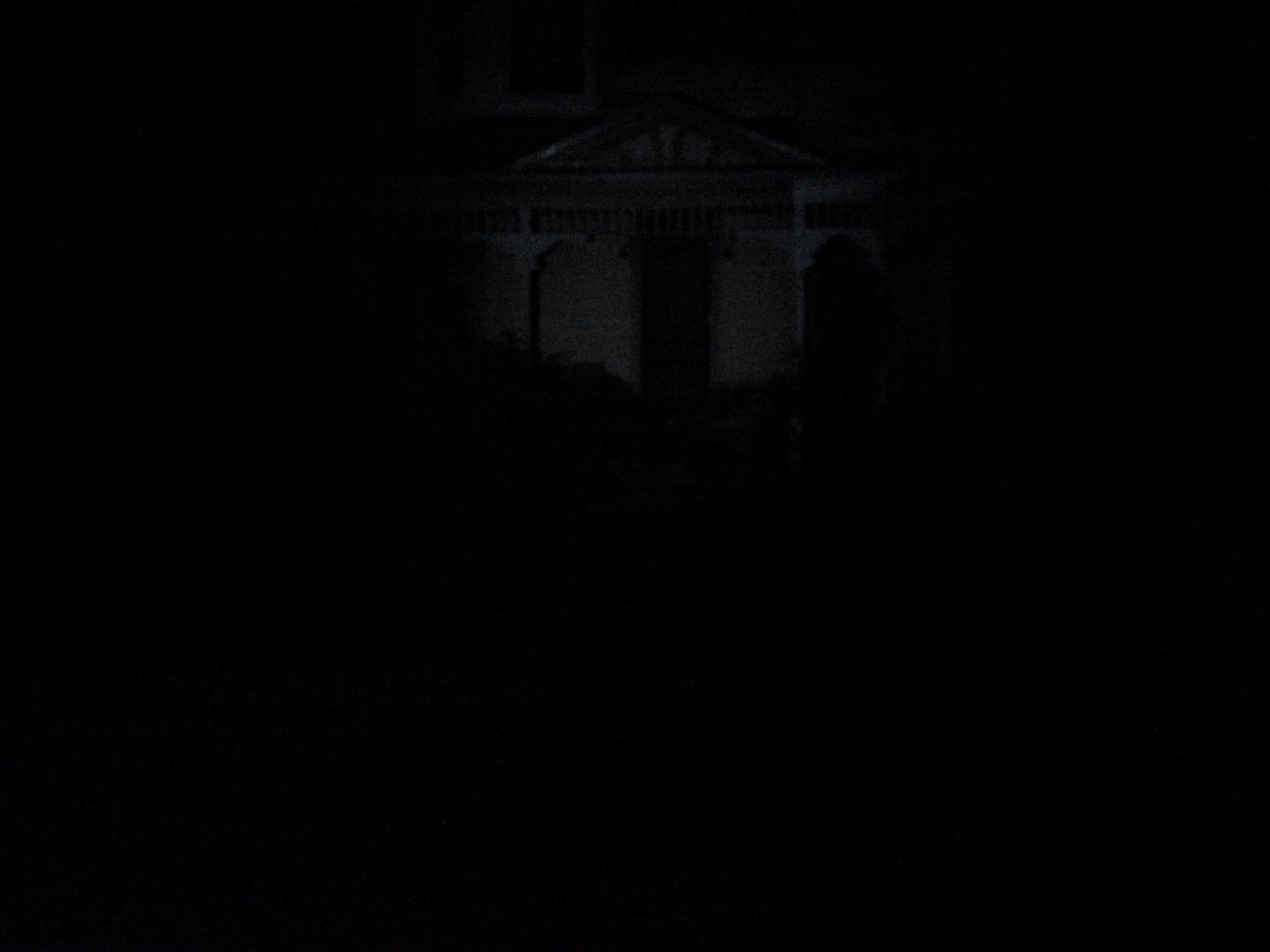 UltraFire AT-008 on Low
GearBest and GeekBuying pics:

Here's an additional picture for the magnetic end, stuck to a knife…lol

And the charge port which GearBest omits from their pics.
Summary:
I like the compact size of this light, however, the internal design is lacking. Not that surprising for a very budget, side clicky. If this had a solid emitter shelf, it would be an awesome budget light. But…since it doesn't, and it has a plastic lens, un-usable charge port, and older emitter, I only give this a moderate grade. However, since it has a decent quality build, usable side clicky, NO next-mode memory and a magnetic tail, it will be useful to some looking for those features.
Kronological Patented KronoMeter Rating: 3/5.
—
No one, after lighting a lamp, puts it away in a cellar nor under a basket, but on the lampstand, so that those who enter may see the light.
My Reviews: Ma