Thorfire TG05 XP-G2 R5
| | |
| --- | --- |
| Brand | Thorfire |
| Model | TG05 |
| Retail Price | $15.99 |
| Battery Type | 1.5v or 1.2V AA |
| Emitter | XP-G2 R5 |
| Demensions | 97.5mm(length) x 21mm(diameter) |
| Weight(No Battery) | 50g |
| Features | Type 3 hard-anodized anti-abrasive finish |
| Available | Bangood.com |
Thoughts
I have owned the Thorfire C5 and absolutely loved it. The quality of the product was very good and this product did not disappoint either. The anodizing on this light is very well done. The TG05 looks and feel very good in my hand for a smaller light. My only other single AA light was the SK68 and this is definitely more pleasing to EDC everyday than the sk68. This light looks like it took the best parts of the Fenix E12 and updated it with better products
User Interface
The Modes are very well placed and has mode memory if the light is in the mode desired for 5 sec or more.
High (100%) 280 lumens> Medium (45%) 120 lumens > Low (10%) 28 lumens – Strobe – SOS
Flashlight teardown
The pill is not a solid pill but it does have a shelf for the emitter.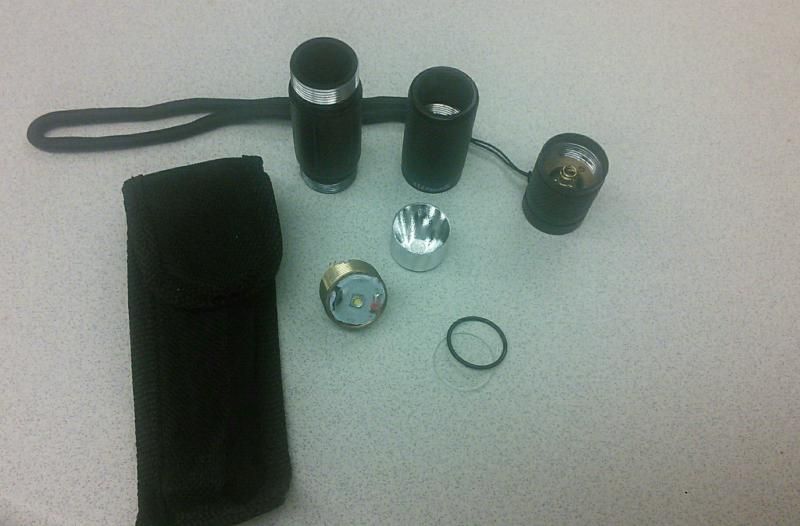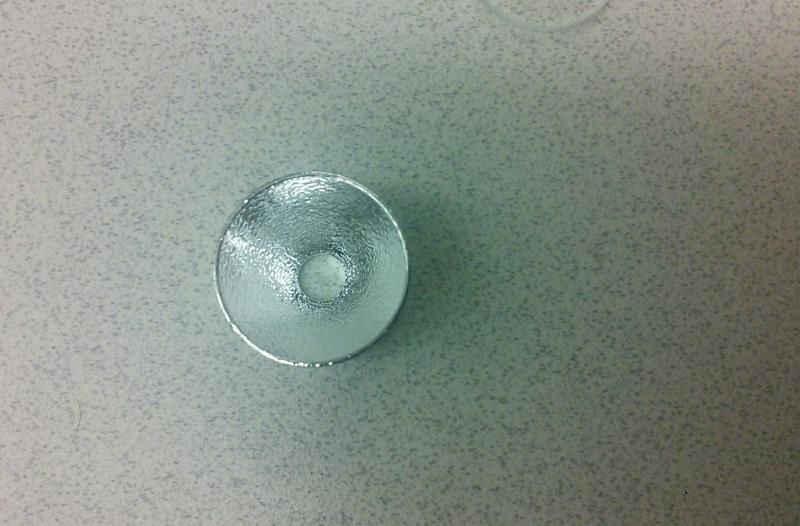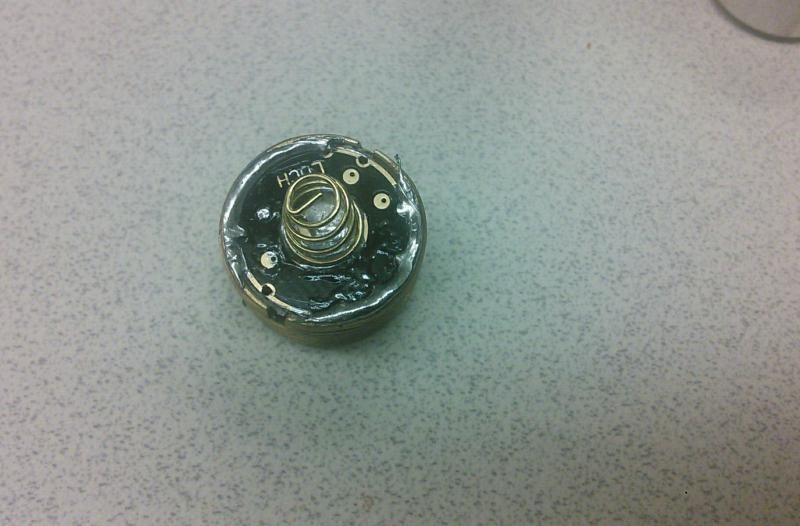 Packaged Extra's
I don't know if this was because it was a dealer handout for a review but this light came with alot of extra's.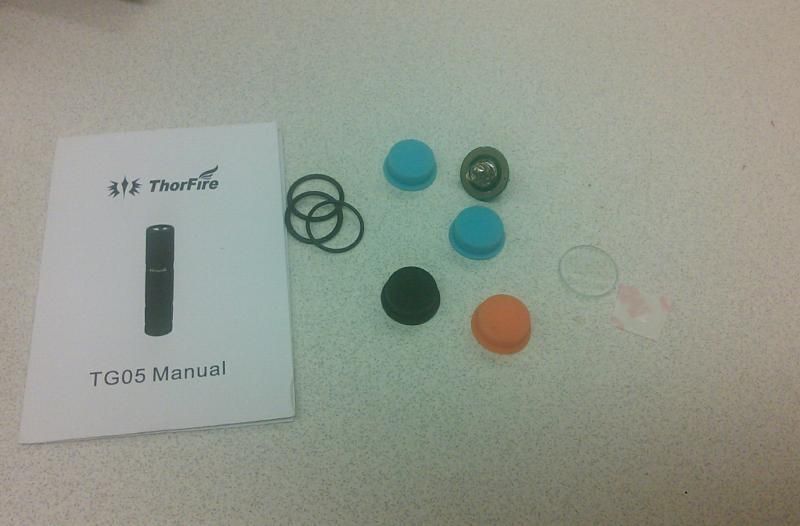 Pro's

Solid build quality
amazing heat dissipation
Will use Enloop's
Lots of Extra parts
Pre-Lubed from factory
Decent light ouput
Tail stand

Cons

Will not use 3.7v 14500 Batteries
Soldered Driver to pill
Heavy OP reflector
Conclusion
I really enjoy this light and was amazed buy output. I had it on high while outside for 25 minutes looking for my dog that got outside of the fence and this light didn't even heat up, this surprised me. For a small light and small OP reflector, this light threw quite well, I was able to see my shed from my house clearly and my shed is 15-20 meters from the house. This light lit it clearly.
I think this light is one of those jewels in the rough that you have not heard about. I would give this light a 4.5 out of 5 stars and this is based on the soldered driver to the pill.

PS
I am still waiting on my fluke to come back from repair and as soon as it does, i will get numbers for the review and I am still waiting on Thorfire to get me the Lumens numbers. Lumens added to review
Extra Images
Full Light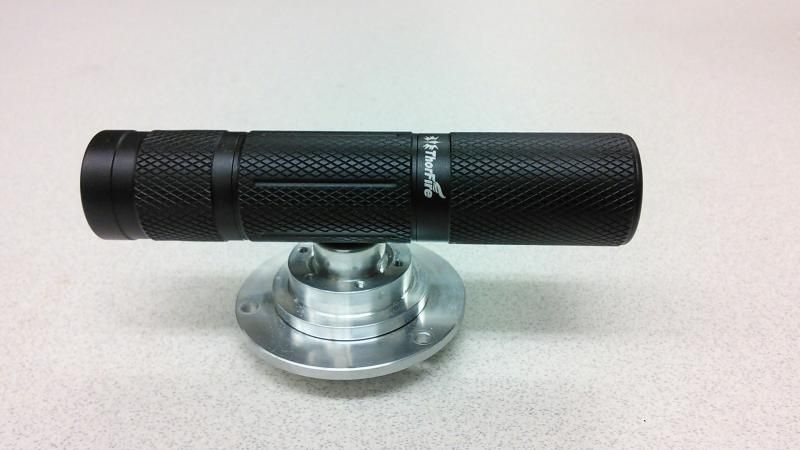 Body

Inside tail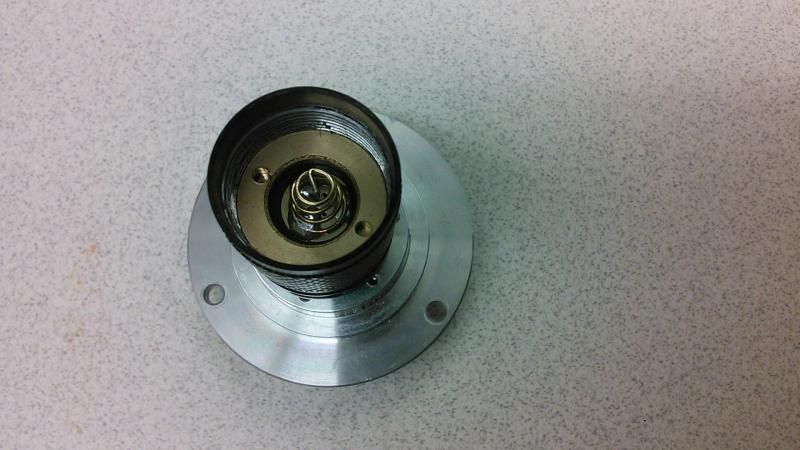 reflector and emitter

Side of head