ThorFire TS05
http://www.amazon.com/ThorFire-Keychain-Flashlight-Stainless-Battery/dp/...
Moneys Paid: $20.99
Warranty: 2 years free repair
Website: www.eachine.com
Details (measured):
Material: Stainless Steel and Brass
Weight: 28g
Dimensions: 81 × 16 mm
Tube Thickness: 0.6 mm
Reflector Diameter: 16 mm
Lens: 14.2 × 1.04 mm
Voltage: 1.5v AA
Modes: High – Mid* – Low
Memory: None
LED: Cree XP-G2
Tint: Neutral
From my experience with SS lights, I expected more heft when I first picked up the TS05. With an AA installed, it weighs 10 grams less than my SK68 clone does without a cell! The reflector seems to be the only part made of aluminum with just brass showing at the pill and tail cap. It appears to take a special tool to disassemble the light any further than what's required for cell replacement so it's good that it comes with a 2 year warranty.
The TS05 comes in a display box with a manual, a keyring/hasp, 3 spare o-rings and an extra lens.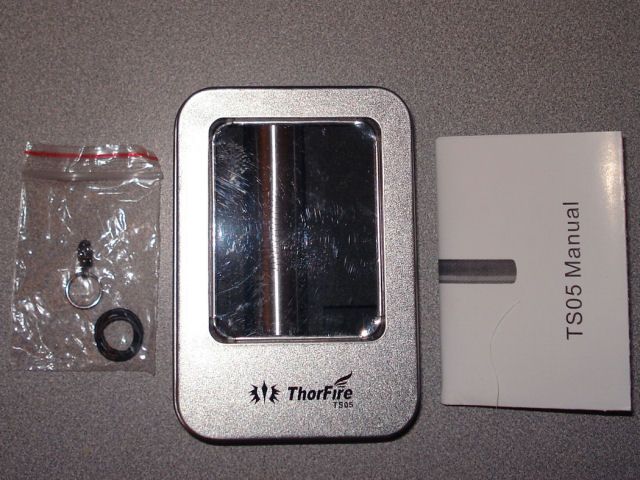 Same length as a standard BIC lighter and only slightly fatter. The ribs and brushed finish provide good grip.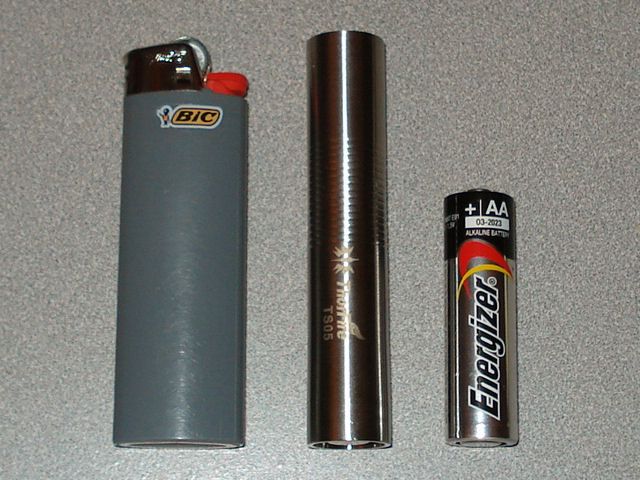 The lens and OP reflector appear to be held in by the brass pill which requires a five pronged tool to remove(?). If so, why is there a spare lens? Is there a bezel to unscrew? There's no visible seam but the tail cap seam is also invisible due to the brushed finish.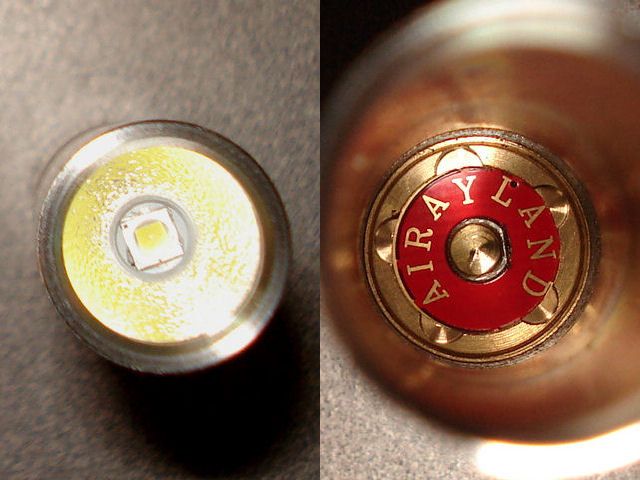 The switch feels good with strong spring pressure for it's size. The lack of a rubber boot gives it a less mushy, more decisive feel. Like the pill, the switch also takes a special tool to remove.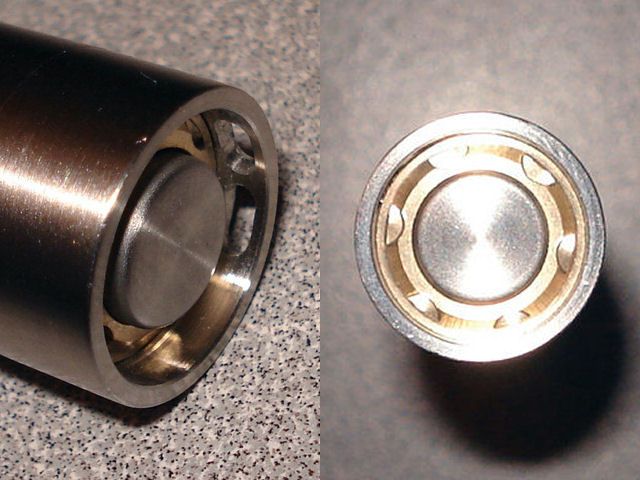 Threads are square and shallow but feel better than they look. The o-ring is tight and requires a bit of force to screw/unscrew the tail cap as the female threads begin to make contact with it when fully tightened.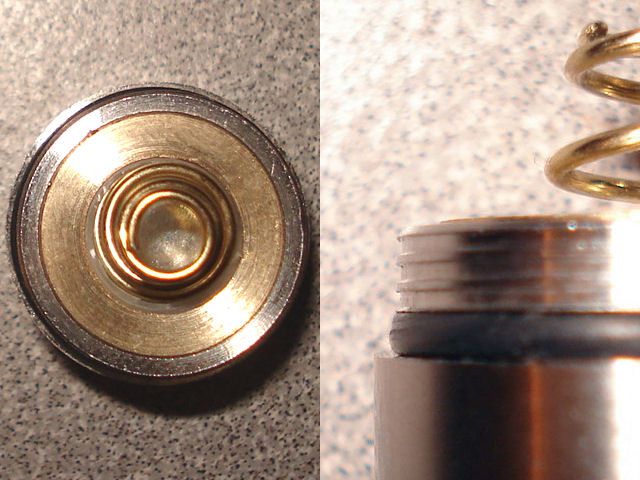 And finally, a wall shot. Spill is about 90 degrees. Output is good for a light this size without getting extremely hot. Tint is neutral, not blue as shown.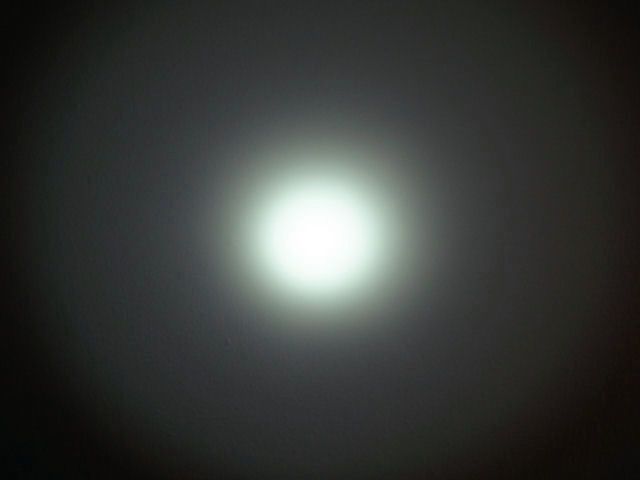 The driver seems perfectly matched to the light's ability to dissipate heat. It never gets uncomfortably hot with a fresh cell. After being left on high for 10 hours, the output is pretty low but still usable in fairly dark areas. Letting the cell rest overnight, the light is bright again providing good output for another 10 minutes or so as it slowly dims. Under normal use, the frequent recovery periods should help get the most out each cell while putting out good light.
The good:
Price and delivery time (2 days)
2 year Warranty (assuming they stay in business)
Clean, seamless exterior
Stainless steel and brass contruction
Small and light weight
Uses readily available AA cell
Cree XP-G2 neutral tint
Robust switch/metal button
Square threads
2 oval tail cap holes
Glass lens
Tail stands
No blinkies
Doesn't get too hot
Spare parts incuded
Tamper proof construction
The bad:
14500 not recommended
No clip but the tailcap holes can be used to attach one
Slightly noticable PWM on low (and medium*)
Tamper proof construction (not DIY friendly)
*Quality control issue:
My light goes from high to low with a quick flash of medium in between so it's effectively a 2 mode driver which I prefer anyway because in most cases, high and medium modes are visually too close in output.
Conclusion:
Even though this particular light is missing the medium brightness mode, I can't say anything bad about it since it works fine and using Amazon's painless return policy or Eachine's 2 year warranty would make things right. I already requested a return label and ordered another light. I'll post an update when I receive it. The cons don't affect me either. So, without nit-picking and having faith in Eachine's warranty, I'd give the ThorFire TS05 a 5 out of 5 star rating.
UPDATE:
The new TS05 has 3 modes and is pretty much the same except the tail cap o-ring doesn't rub the threads and the weight is closer to 27g. As expected, the 3 modes have mid and high much closer than mid to low. It's another con that doesn't bother me too much but it's enough for me to lower my rating to 4.5 stars.
Also, no memory mode. Starts on high.