I have no idea how to start a review, you know, the grand opening sentence, so I will leave it like that for now
!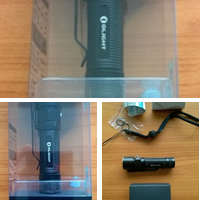 Anyway, bought it from Gearbest here during their sale, looks like the light will be sold at 22.99$ until its out of stock - not sure about their quality though, read on to see what I mean or go straight to this therad here:
http://budgetlightforum.com/node/42791
So, is it worth the money paid? Yes, in my humble opinion it is - small, well built, good design, good output, simple user interface with direct moonlight, direct high mode access and hidden strobe and comes with both rechargeable battery and charging pad(this pad appears to be overcharging so be cautious and always check voltages when the it shows that the charging has finished)!  Olight also offers 5 year warranty on this light which is great!
My review will be short since this light isnt new and there are plenty of long and detailed reviews, I will be talking about stand-out points of this light, the rest can be found online if youre interested in more.
Some pictures with content and included charging pad first, battery is already inside the light from factory, so no separate pictures of it, but its Olights 14500 rechargeable: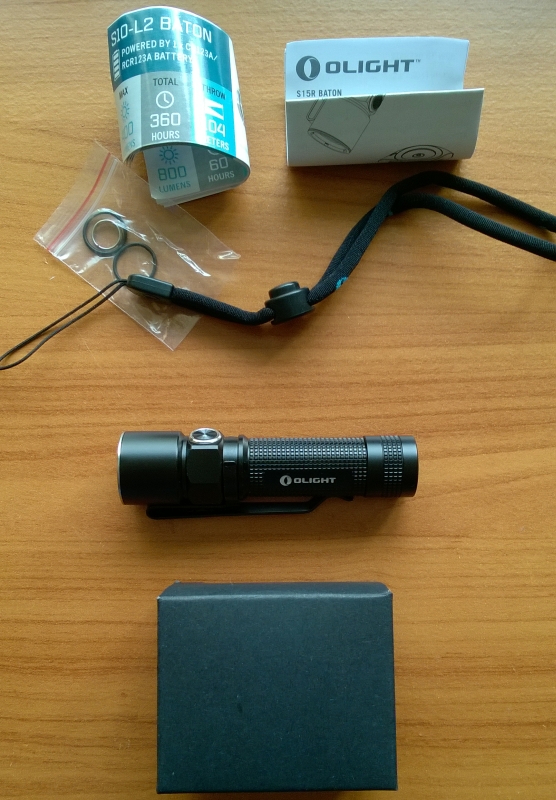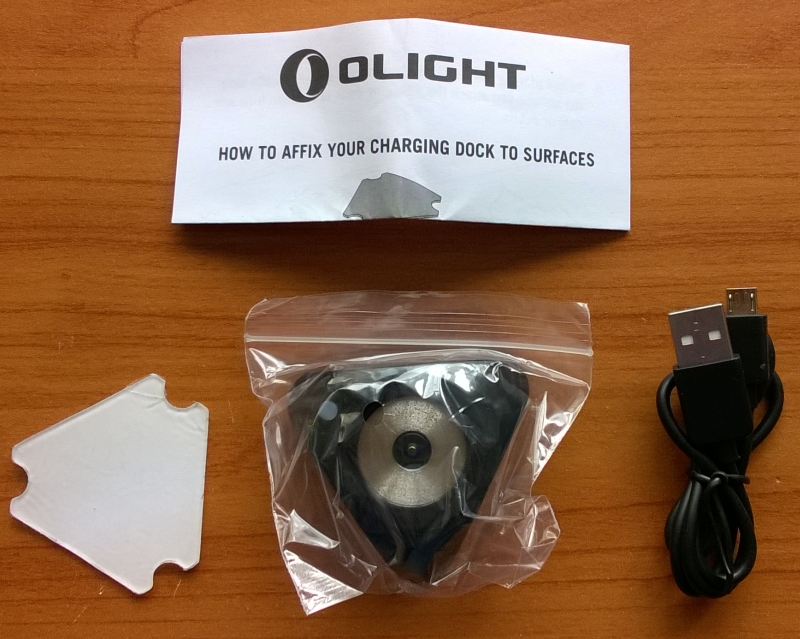 The light turned out to be surprisingly small, perfect for EDC, especially in summer time when you need lots of light in small form. Love its looks.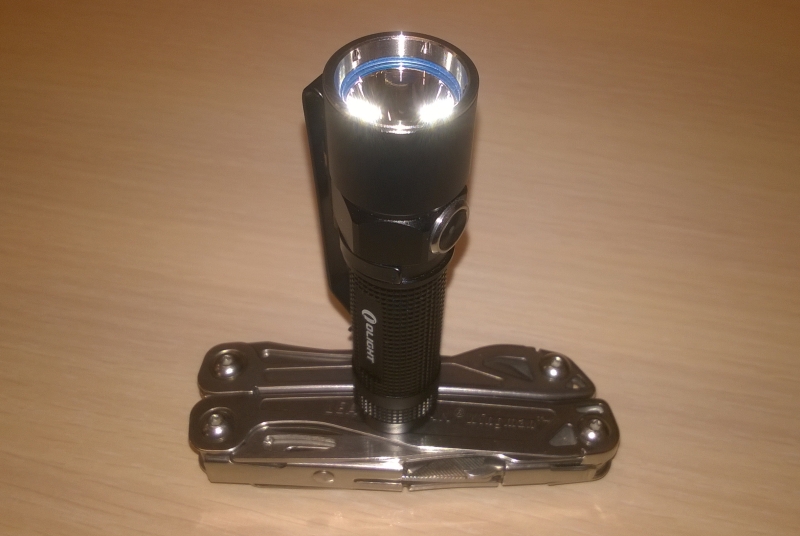 Someone in some review said that magnet in S15R is slightly less powerful than one in previous verson, S15, but I dont own previous one, so cant say.
It is plenty strong to hold Leatherman Wingman and not fall off when being shaken within acceptable limits. There are no problems for light to stay firmly attached to any flat surface at any angle as long as the hole base of tailcap is covered.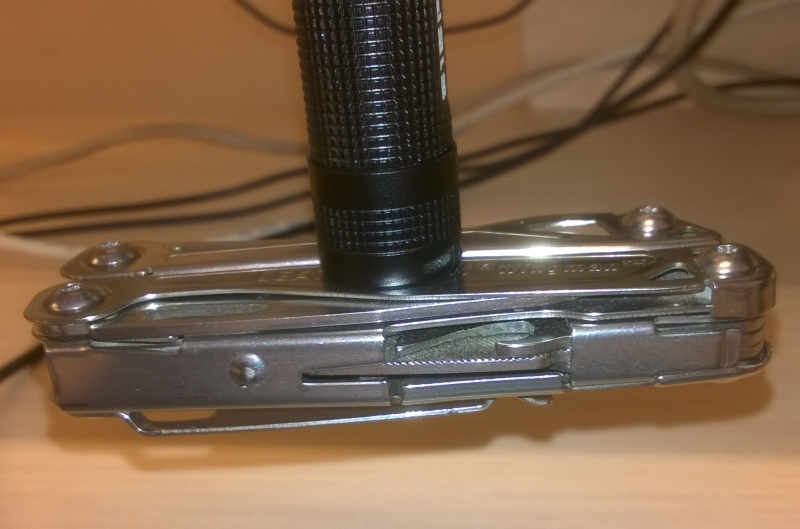 Low voltage indicator works, it looks, only with 14500 and gives low voltage warning shrotly before the light turns off. My measured time was exactly 45 minutes on high when flashlight turned off, last few minutes I had my light behind my back so didnt notice when exactly the red light lit up.

 After light shut off I waited for a minute and turned it back on, on moonlight it didnt show low voltage warning, but on high it appeared instantly and turned off after few seconds. After short pause it would turn on but now showed low voltage on all modes during almost all of my mode switching attempts(modes work fine, the light just shuts off after a while).
 Runtime on medium was 2 hours and 50 minutes exact with supplied 14500 battery by Olight. The light was infront of my nose, but I didnt pay much attention to notice low voltage warning, but as previously, it was for very short time and then the light shut off. Battery showed 3.02V when out of the light.
Runtime on low was 23.5 hours with supplied 14500 battery.
I dont intend to test runtime on moonlight, but I suppose that subtracting 30-50% from Olights claimed runtime should be sufficient if we compare how low and medium modes ran in real life versus what Olight state in their specs.
Overall output is good, love the moonlight mode, high mode. Would love to see medium mode slightly lower to achieve longer runtimes, say, at least 6h straight without noticeable drop in output.
For example, when walking on a trail with some ambient light around low mode is too low while medium is too bright.
Low mode is great with red TW-10 diffuser though! Plenty of light without being blinding!
PICTURE WITH RED DIFFUSER - COMING SOON
White diffuser, naturally, gives out more light, thus even with moonlight mode enable it emits plenty of usable light in total darkness.
PICTURE WITH WHITE DIFFUSER - COMING SOON
Red filter comes with what it seems to AR coating on both of its sides, at first I thought that they sent me white diffuser, but when unpacking noticed that its tint shifts from silverish to red. When in use, it gives out soft red beam, but there is one thing to take into consideration - due to AR coating there will be some greenish ring around outer edge of the spill. In fact, it goes from soft red at the center towards orange and then greenish, but as mentioned, only green spill borders will be noticeable in real life use, unless youre white wall hunting for it ;)!
 BEAMSHOT WITH RED FILTER ON AND PICTURE OF GREEN RINGS AROUND SPILL - COMING SOON
 Included lanyard is big when compared to light, but just the right size to fit around hand, I prefer not using it, but when operating my light in the dark Id rather have it secured with lanyard.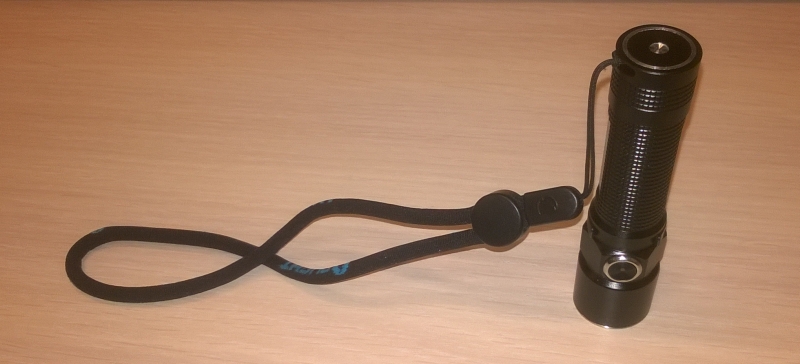 Now, the picture part is done, here are some more thoughts on this light in written form:
Clip moves around light rather easily, but thats not an issue for me
Becomes scorching hot at 25 minute mark on high - not sure if there ever was step down on mine?
Charging pad charged my light to some 4.17V or so.
Good thing about it is that you can also pass-through current to another device through included USB out, this is how I charged my other battery with MC1 connected to it: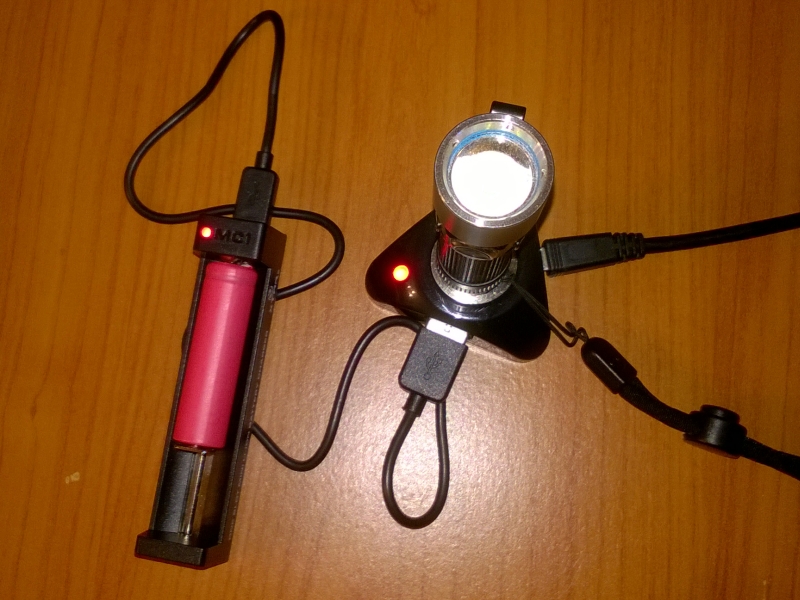 One more charging observation - it could be my tiny LCD voltage testet, but after putting it to charger on its charging pad when the battery was batery used, it showed 4.26-4.27V when freshly off the charging pad and above 4.20V after some minutes, but after running it on high for minute or two, it backed down to 4.1xV, didnt check if the voltage rebounded back to 4.20V after this short use.
UPDATE: It seems that this is NOT just one case, it happened again with the same battery and the same charging pad, beware!
Have both orange and white wands-diffusers for it, they work good, white one is GITD one, both make this light good for direction showing in the dark without blinding anyone, they also fit my JetBeam BA20 just fine.
Bought also Olights red filter for it, now can use it to preserve night vision because orange wand-diffuser isnt that much preserving, still waiting for it to arrive though.
Fits well in my UF-H2B's headband, so with red filter it can serve as night vision preserving head light.
Blue GITD oring around the lens functions, I believe green ones are more brighter and longer lasting though.
S15 extension tube should fit well, according to others that is, making this light even more versatile and gives it both good runtimes and output with 2x NiMh's comparable to single 14500, still waiting to arrive.
Charging pad is very convenient and easy to use, however, I wonder if direct micro USB socket in the light itself wouldnt be even more convenient for charging, then you would need only micro USB cable to charge it, one less thing to worry about because today micro USB cables are the most common(phones, tablets, power banks - they all use them for charging). But I do understand, that such solution could increase the lights size considerably?
 How to improve this little gem:
F*ck the rest, if the charging pad appears to be overcharging the battery, it can shorten battery lifetime at best and blow up your light at worst!
NW tint would be great, this one comes with CW which is more towards warm/greenish
Medium mode could be little bit lower to allow longer runtimes, slight drop in medium wouldnt make much difference in visible brightness, but would increase runtime which I would like to be at least 6h on medium instead of Olights quoted 4h(and 2 hours and 50 minutes in reality with supplied battery).
NiMh charging capability also would be great
Switch could be lit up in the dark, its well pronounced, but due to the size of this light it would be easier to find where the swith is in the dark
Clip is not reversible, I would prefer to carry my light with head down in my pocket, but thats nothing special
Yay or nay?
For 22.99 that GB currently asks this is really easy buy, plenty low moonlight with decent runtime and very good high output for 45 minutes with included 14500 battery and charging pad(someone should test it how good it performs overall) so I ordered another one.
Its up to you, some have received lights with good charging pads, other not so and get their batteries overcharged by a considerable margin!
Also, battery on my first light(the one reviewed here) appears to have hooked positive end while battery on other light that I have received appears to have some corrosion issues, see here for more:
http://budgetlightforum.com/node/42791
I will update this review with pictures and conclusions when used with 2xNiMh as well as comparison of orange/white wands and red diffuser filter when it arrives.
(They have arrived, lazy to do the update, will do so later
) 
Thanks for reading ;)!