Had my Xtar WK41 for a while now and I figured I would try my hand at a review! Got this from Gearbest for review and wanted to pass it along.
Gearbest.com – WK41
8% off coupon Code – LED2015GB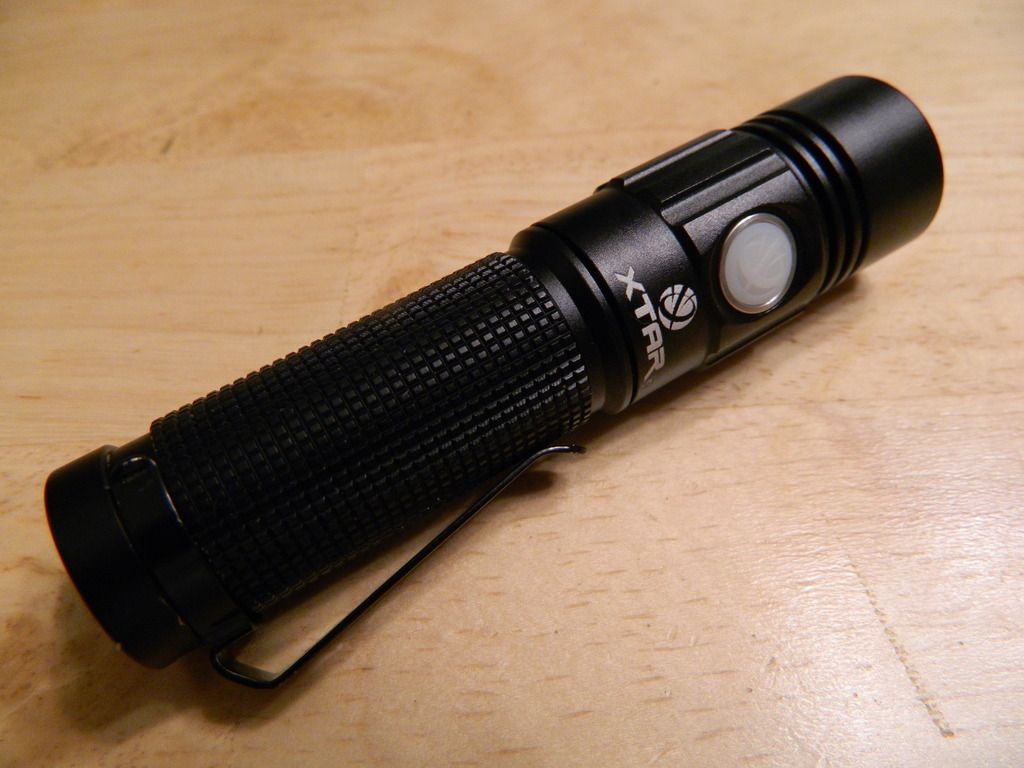 WK41 Flashlight
So before we get to the stats and info that I copied below I just wanted to do a quick write up on the light. I ended up getting the WK41 from gearbest for review and quickly fell in love with this little guy. Lets talk about the positives first. I like that it uses AA and 14500 batteries, and that it automatically detects between them. The 14500 gives you the higher 300 lumen brightness mode. The modes are very sufficient for my use, and I appreciate that the strobe is easily accessible with a double click. I do carry this with me in daytime alot, and I like that I can use it as a defensive tool as well as a pocket EDC light. The pocket clip is very strong, and has yet to pop off from regular use. It's reversible and yo can put it onto a cap or hat. The interface is simple, and easy to remember. This light is 100% waterproof and pretty strong as well. I've dropped it many times with no bad effects. It also has protection against reverse polarity and over-discharge of the 14500 batteries. This is pretty handy because unprotected 14500s will fit into this. Of course, you should use protected for safety sake, but in a pinch you can use an unprotected 14500. And most important, I have not had one accidental power on in my pocket. Alright… now the negative. The low battery indicator is not accurate at all. In fact the way this light operates is a bit weird. I had it running for about 3 hours at full blast, and instead of draining the battery it reduced brightness slowly over time. I'm not sure if this is intentional, but after 3 hours I gave up as the life of the battery could easily stretch into 10's of hours when it is dim. I went through a couple AA batteries, and it seemed to be the case. I haven't drained a 14500 yet to see if it does the same. Although the pocket clip has not popped off yet, I do strongly prefer a clip that is permanently attached to the light. Overall I'm very happy this little light and it is going to see a ton of use!
Maximum Output 300Lm
Ultra-clear Tempered Glass Lens with Anti-reflective coating
different battery prodides different output
Environmental protection silicone material, waterproof and wear-resisting
Ergonomic design
Stainless steel clip Sturdy and durable
Headstand Tailstand Anti-roll
Compatible with different batteries
Waterproof IPX8
WK41 Flashlight
WK41 EDC Flashlight
WK41 EDC Flashlight
XTAR EDC flashlight WK41 Sirius AA
ANSI Illumination levels: Turbo High Mid Low Strobe Signal SOS
AA Batteries: 150Lm 60Lm 30Lm 3Lm 150Lm 60Lm 60Lm
14500 Lithium Batteries: 300Lm 150Lm 30Lm 3Lm 300Lm 150Lm 150Lm
AA Batteries: 2.0h 5.0h 8.0h 120h / / /
14500 Lithium Batteries: 1.8h 1.9h 6.0h 100h / / /
Max Range : AA Batteries: 60m 14500 lithium Batteries: 115m
Max Intensity: AA Batteries: 900cd 14500 lithium Batteries: 3310cd
Impact Resistance: 1.5m
Waterproof: IPX8
LED: CREE XM-L U2 LED
Crust Materials: Anodized aircraft 6N01 aluminum alloy, type III hard-anodized anti-abrasive finish
Working Voltage: 0.9~4.2V
Battery: 1*AA/14500
Switch: Side clicky switch
Size: Φ23.0mm(Head dia)x Φ19.8mm(Body dia)xΦ21.0mm(Tail dia)x92mm(length)
Net Weight : 45g(Excluded batteries)
Additional Functions: Battery type recognition, Automatic shift down, over-discharge protection
Features:
1.Battery type recognition, different battery provides different output
2.Automatically shift down: When use lithium batteries, voltage is below 2.75V, WK41 turns off automatically.
3. High efficiency constant current driver circuit
4.Click the switch to change between lighting modes, Double click the switch to access and change between the Hidden modes. In either Hidden mode, pressing the switch once changes to Low mode.
5. Reverse-polarity protection to prevent damage from incorrect battery insertion
Notice:
■Fully charged 14500 lithium batteries with protection circuit are recommended.
■Because of the different characteristics of different battery types, the flashlight output and low-power indicator levels can vary.
■In the hidden modes, mode memory and the low-power indicator function are disabled.
■When the remaining battery capacity is very low, the WK41 may flash.
■When the WK41 is not to be used for a prolonged period, it is recommended to remove the batteries.