Here we go! Another S1A review! This light was provided by Olight for review.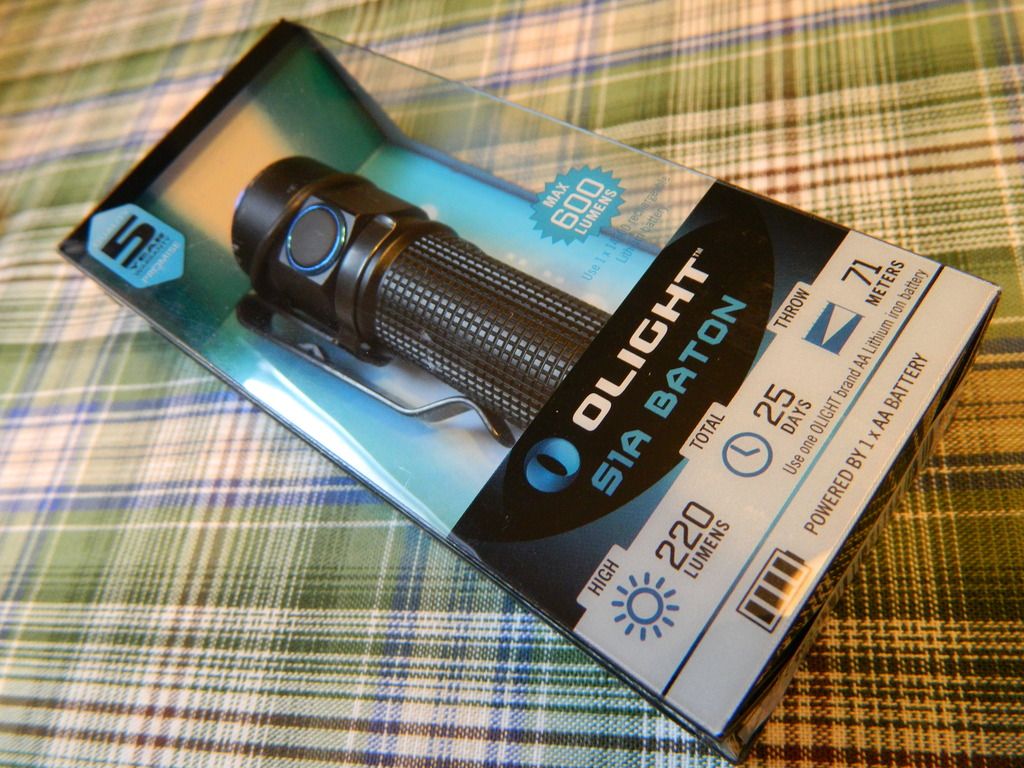 Manufacturers Specs:
LED
:
CREE
XM-L2
LED
Power Source: 1 x AA (Lithium or Alkaline) OR 1 × 14500
IPX
Rating:
IPX
-8 (Waterproof and submersible up to 2 meters) Impact Resistance: 1.5 meters Brightness Outputs (Using 1 × 14500): Turbo (14500 Only) – 600 Lumens → 300 Lumens – 1 Minute → 1 Hour High – 220 Lumens → 100 Lumens – 1 Hour 40 Min. → 10 Minutes Medium – 50 Lumens – 6 Hours 30 Min. Low – 5 Lumens – 60 Hours Ultralow – 0.5 Lumens – 15 Days Brightness Outputs (Using 1 x Lithium Primary AA): High – 220 Lumens → 100 Lumens – 1 Hour 50 Min. → 30 Minutes Medium – 50 Lumens – 10 Hours 30 Min. Low – 5 Lumens – 80 Hours Ultralow – 0.5 Lumens – 25 Days Peak Beam Distance: 118 Meters (Using 1 × 14500) Peak Beam Intensity: 3480 cd (Using 1 × 14500) Dimensions: Length – 3.13" (79.5 mm) Bezel Diameter – 0.83" (21 mm) Body Diameter – 0.73" (18.4 mm) Weight: 1.29 oz. (37.5 g) (Excluding Battery)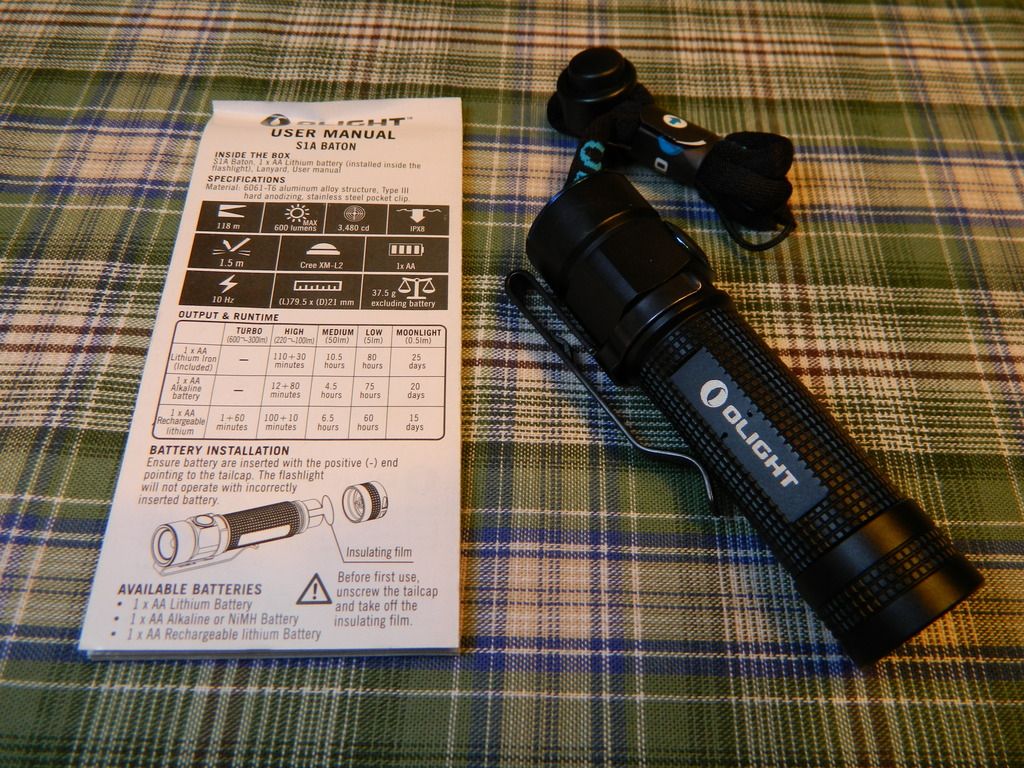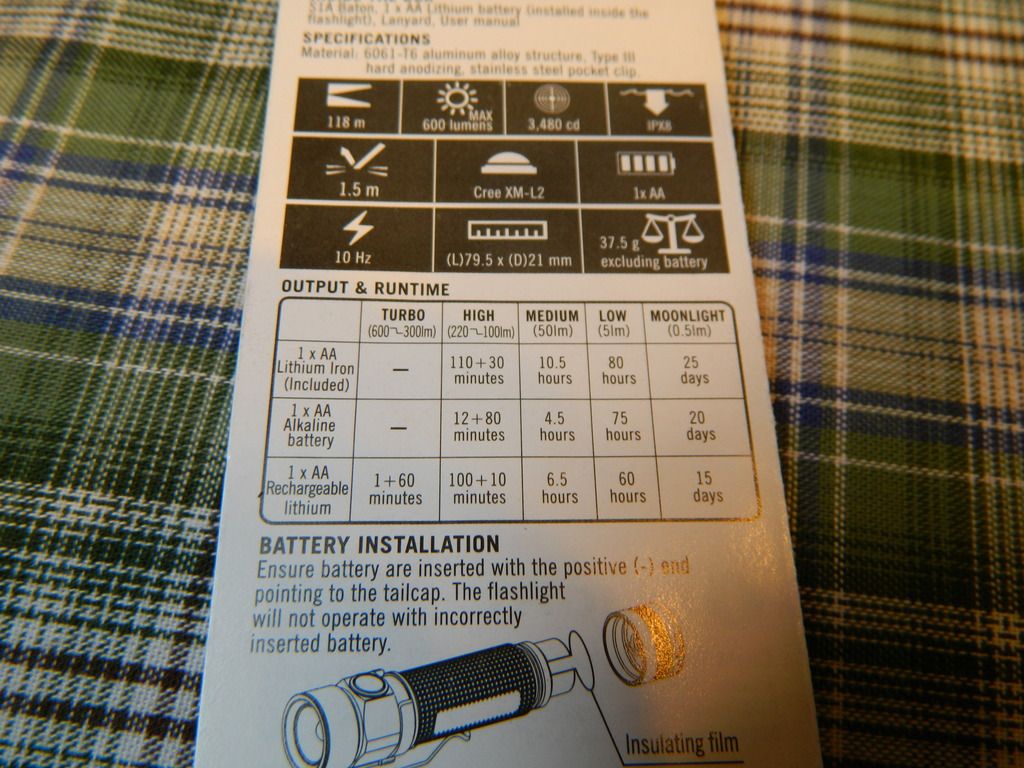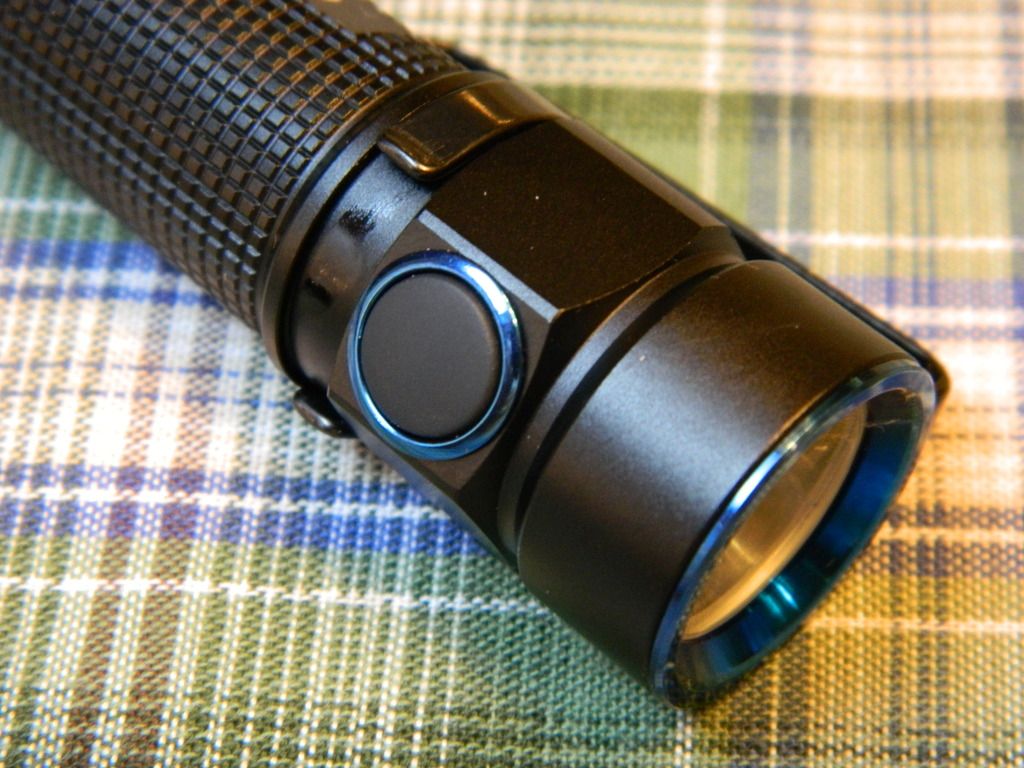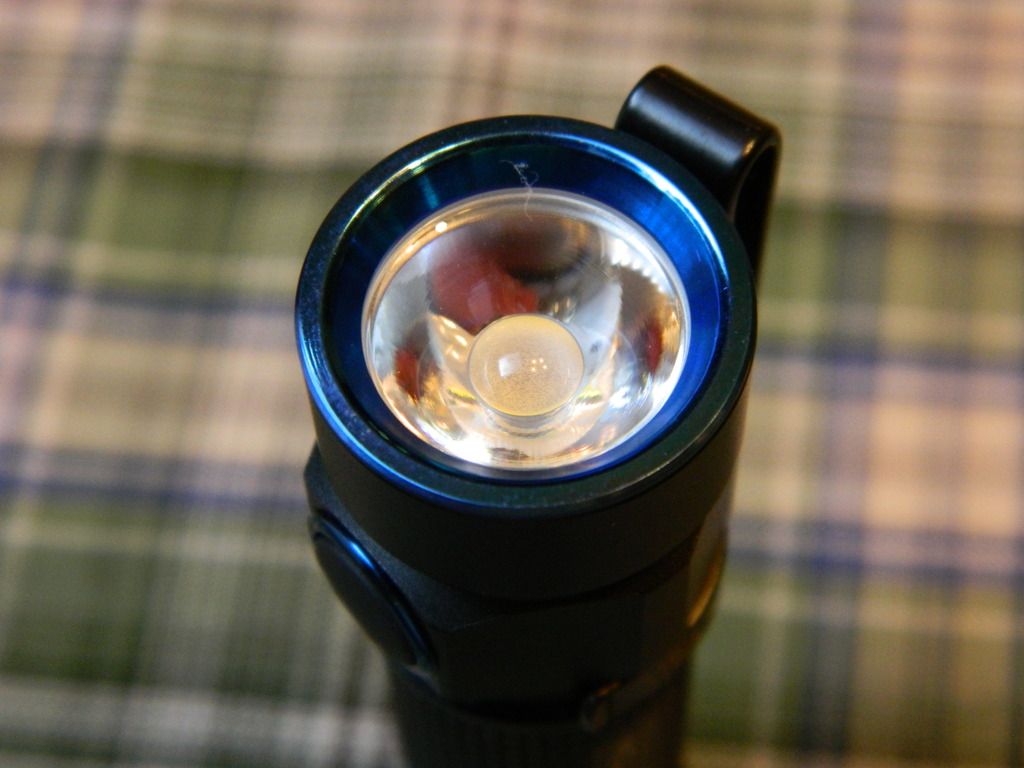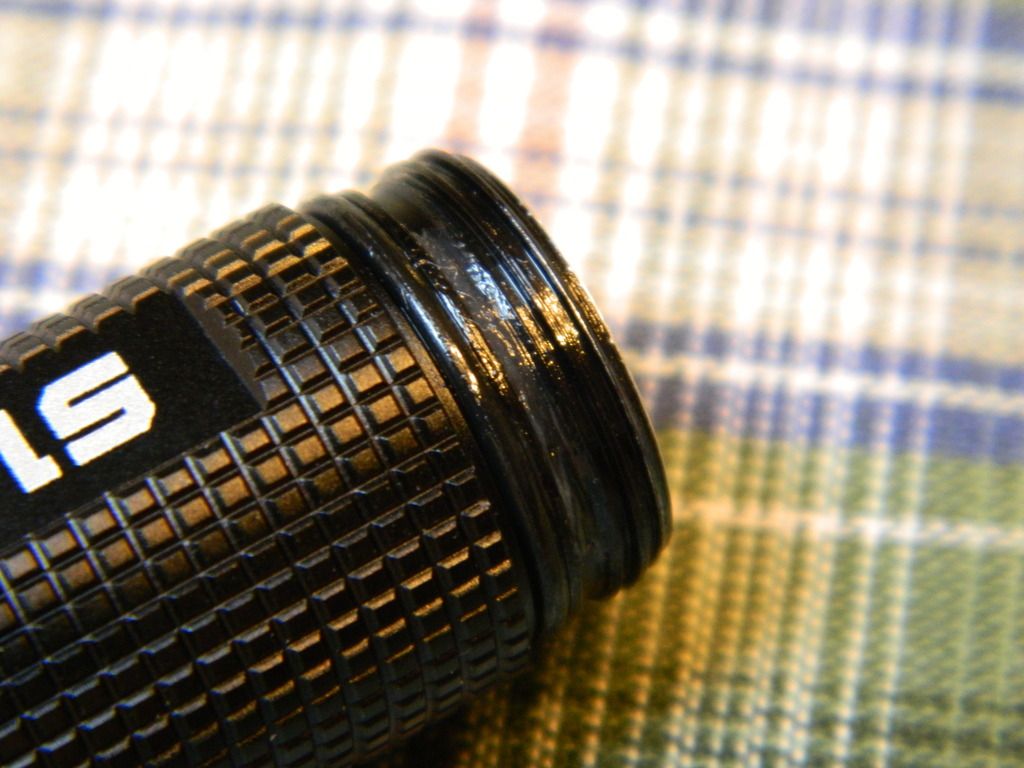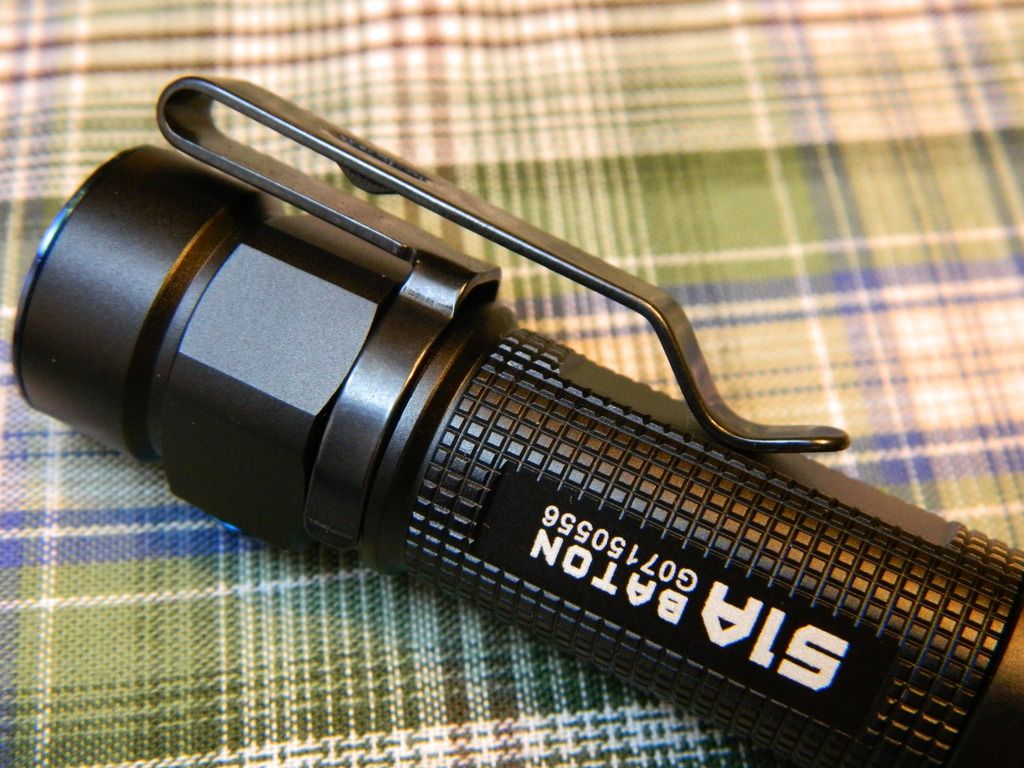 The S1a Comes with a lanyard and a replacement oring in a clam shell package. It is a simple AA flashlight that uses a single side switch and opens only at the tailcap. Inside the tailcap there is a magnet, and the bottom is flat so it can tailstand. The pocket clip is typical of any olight and is deep carry with the lens up. It holds very well in the pocket. The switch is flush with the tube, and has not turned on accidentally in my pocket so far. Threads are annodized so you can lock out the light at the tail cap. The lens is a TIR lens with a cool white beam with no trace of blue or green in it.
My youtube Review:

Performance: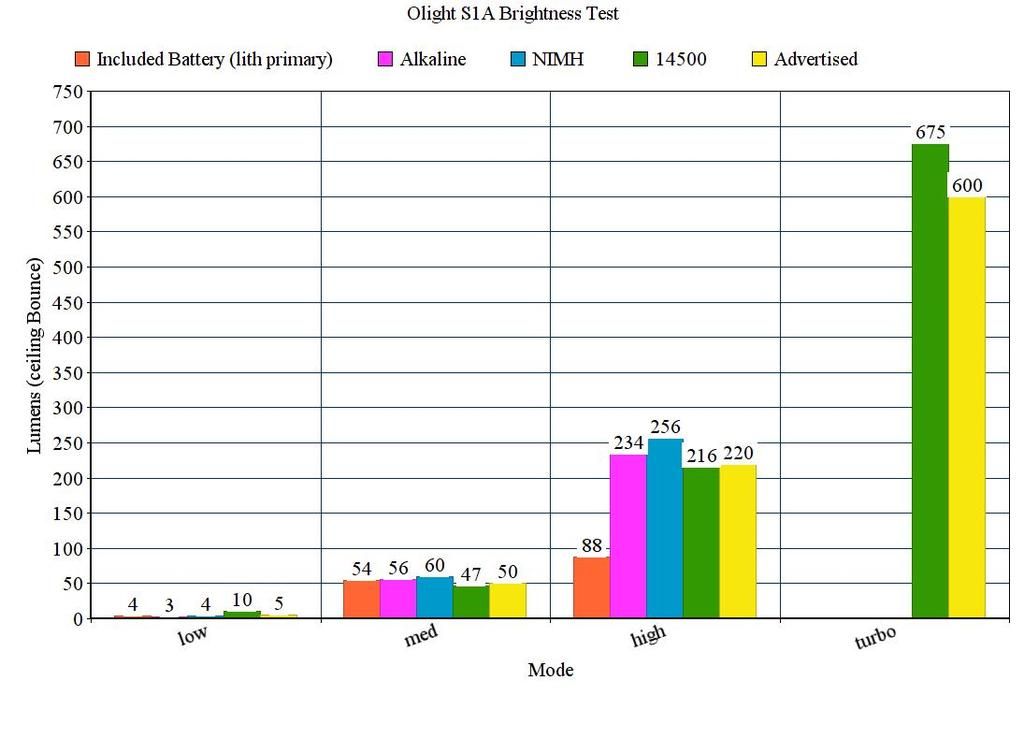 As you can see form my ceiling bounce tests, my results are very consistent with the advertised specs. it always makes me happy when a manufacturer is honest about the light and includes information about step downs into their specs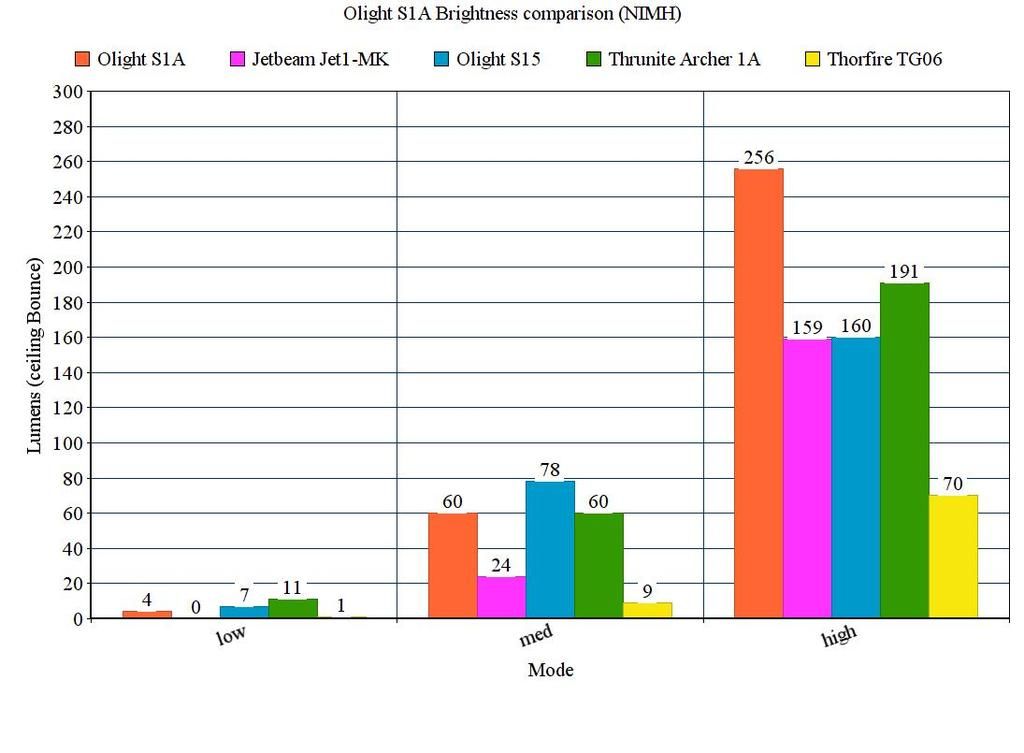 With NIMH this light does very well against the competition as far as brightness is concerned.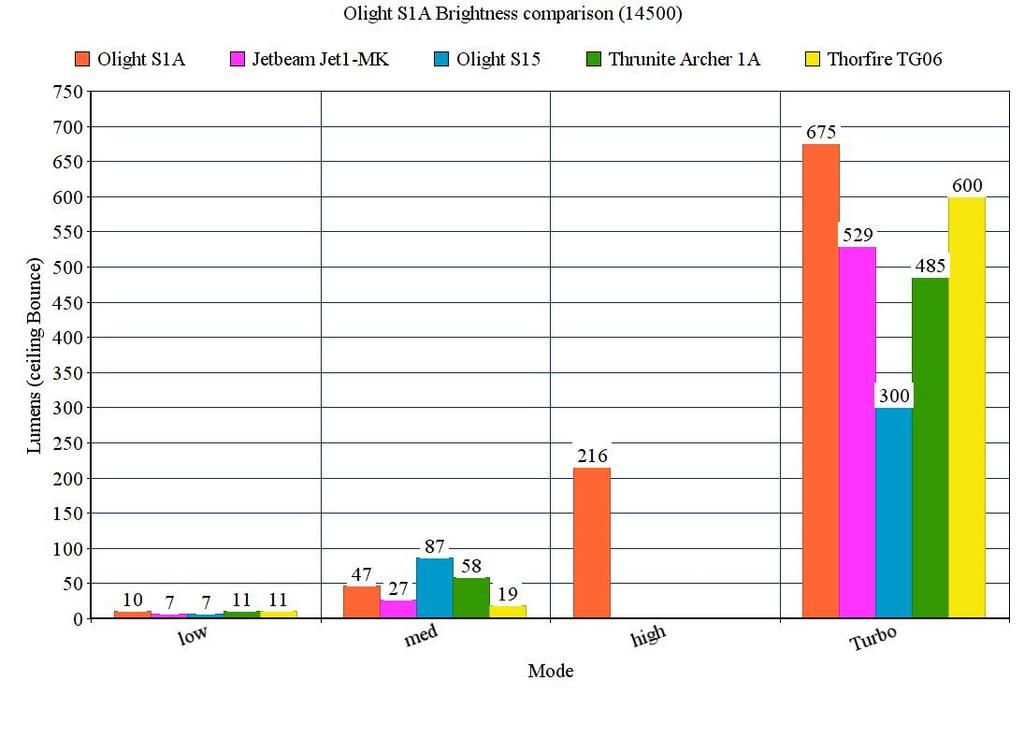 The S1A is no slouch with 14500 either. Bear in mind that this chart is a little misleading because the Turbo mode of 600 lumens only lasts for 1 minute and then it steps down to 300 lumens. It is also interesting because the S1A turns into a 4 mode flashlight with a 14500 battery, whereas much of the competition just replaces the existing high mode.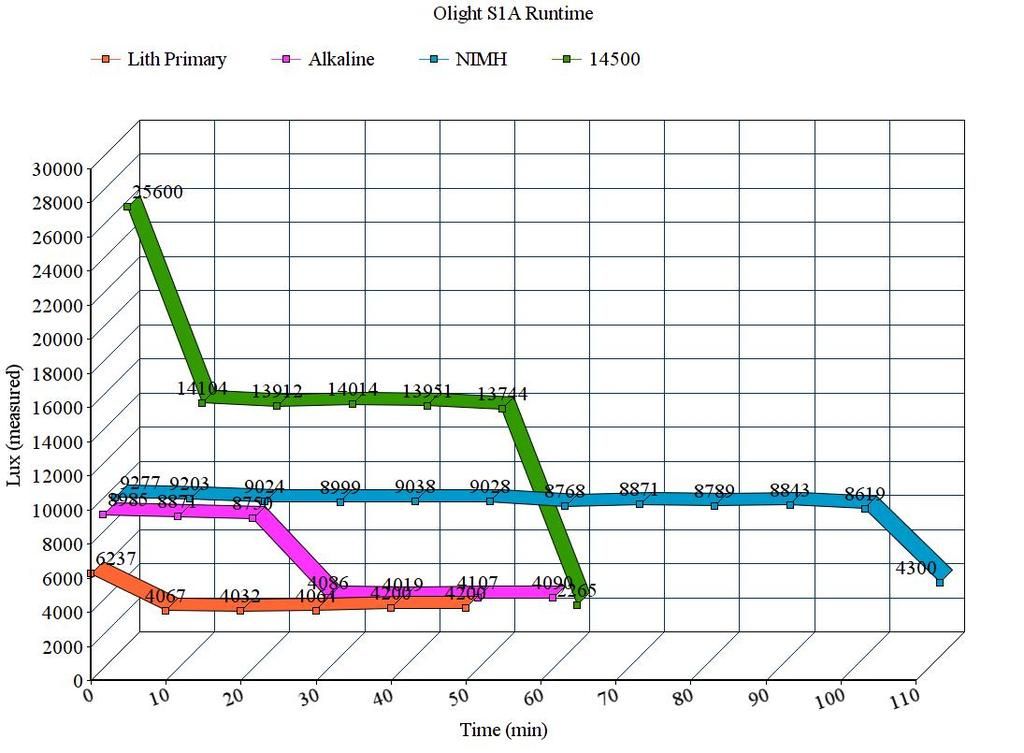 This chart is a really good representation of the light output, runtimes, and the stepdowns. It also shows that the regulation in this light is top notch. Really nice flat discharge curves on this light. Another thing to note is that the olight branded lithium battery that comes with the light is terrible! It will not support the high mode for more than a second or 2. It pretty much immediately steps down from 180 lumens to 80 lumens. I didn't do a full runtime on it because it settled around 50 lumens and I knew it would take 4-5 hours to run it dry. So my advice is not to use that battery if your going to be using high mode.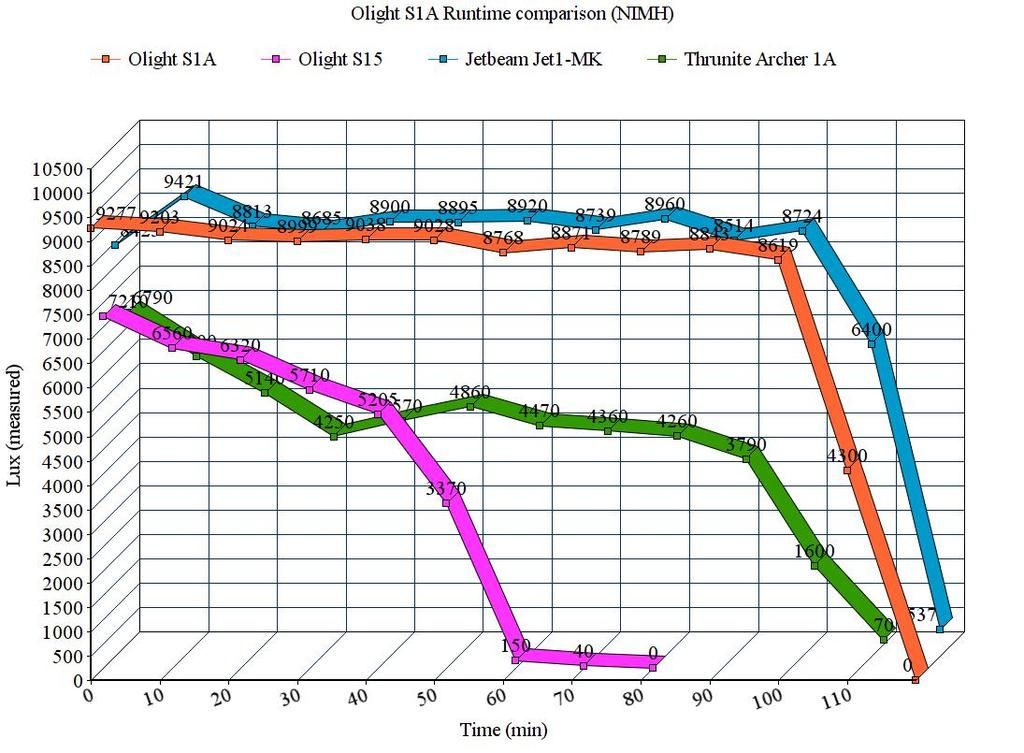 You can see in this chart of NIMH runtimes how much of an improvement this light is over the S15. Bear in mind this chart measures lux, and not lumens or % output so what is important is the discharge curve rather than the numbers. The S15 just couldn't even come close to competing with these other AA lights. The S1A falls right into the pack and performs very well with a pretty even runtime and discharge compared to the other lights.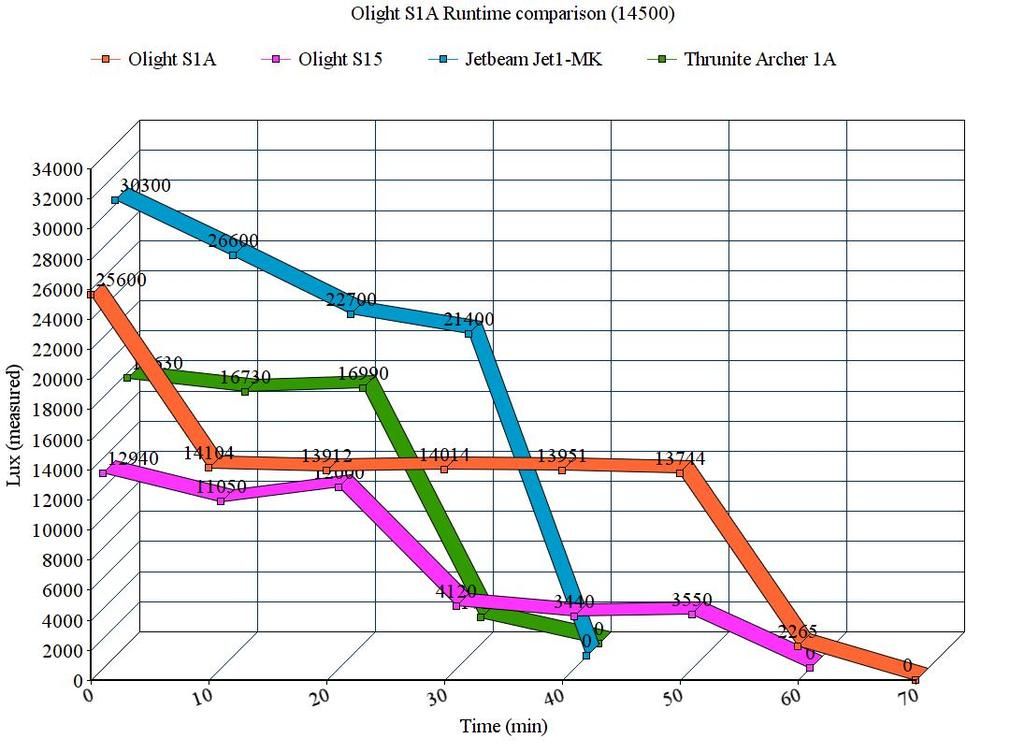 When it comes to 14500 performance the S1A has that really nice burst of 600 lumens for 1 minute and then settles down to 300 steady lumens for the duration of the runtime. This light is the tortoise and the hair all built into one.
Step Downs:
I'm giving this topic its own section, because I think its important to note this stuff in the review. This light has some interesting and confusing step downs. I'm going to break them down to you.
14500 – The light ran for 1 minute @ 600+ lumen and then 51 addition minutes at 300 lumens. At the 52 minute mark the light had another hard step down to around 30-40 lumens. I pulled the battery at this point and it was at 3.35 volts I did let it run another 10 minutes and it did run at that brightness the whole time. I pulled the battery at that point and it was around 3.15 I ended the test at that point.
NIMH – The light runs a solid 110 minutes of steady output, and dropped in brightness by about 50% It ran about another 10 minutes and the light began to strobe slowly. I ended the test
Alkaline – the light ran for 20 minutes and then had a hard step down that reduced brightness by about 50%. The light continued to 68 minutes and it started to strobe. I ended the test at that time.
Beamshots: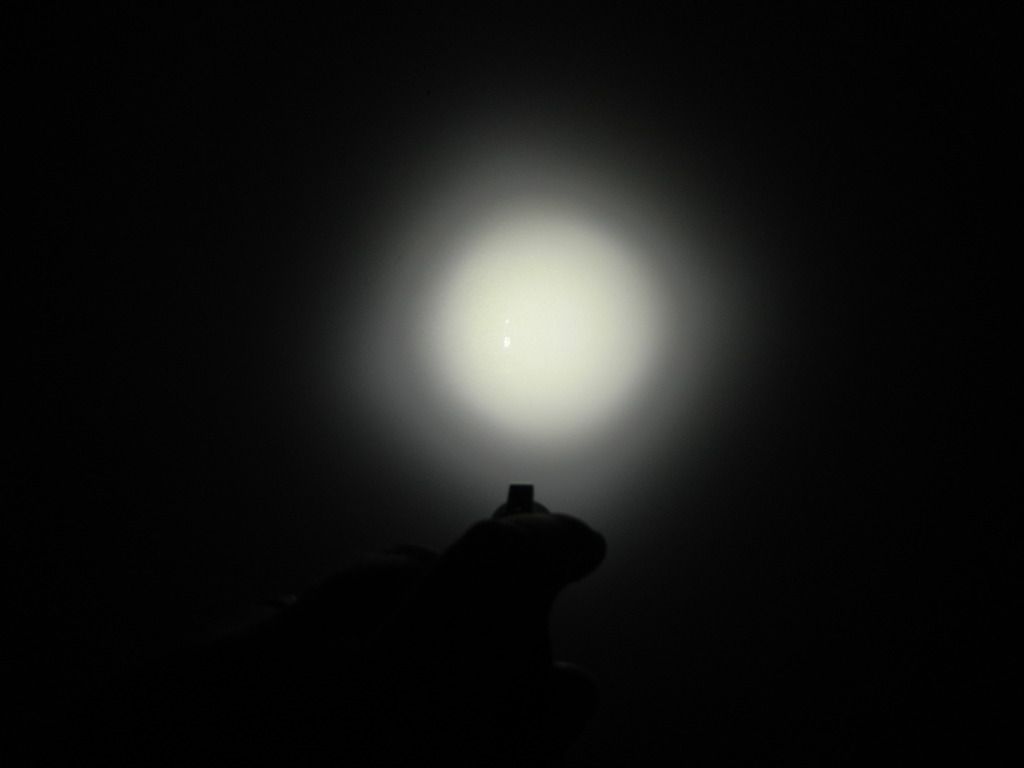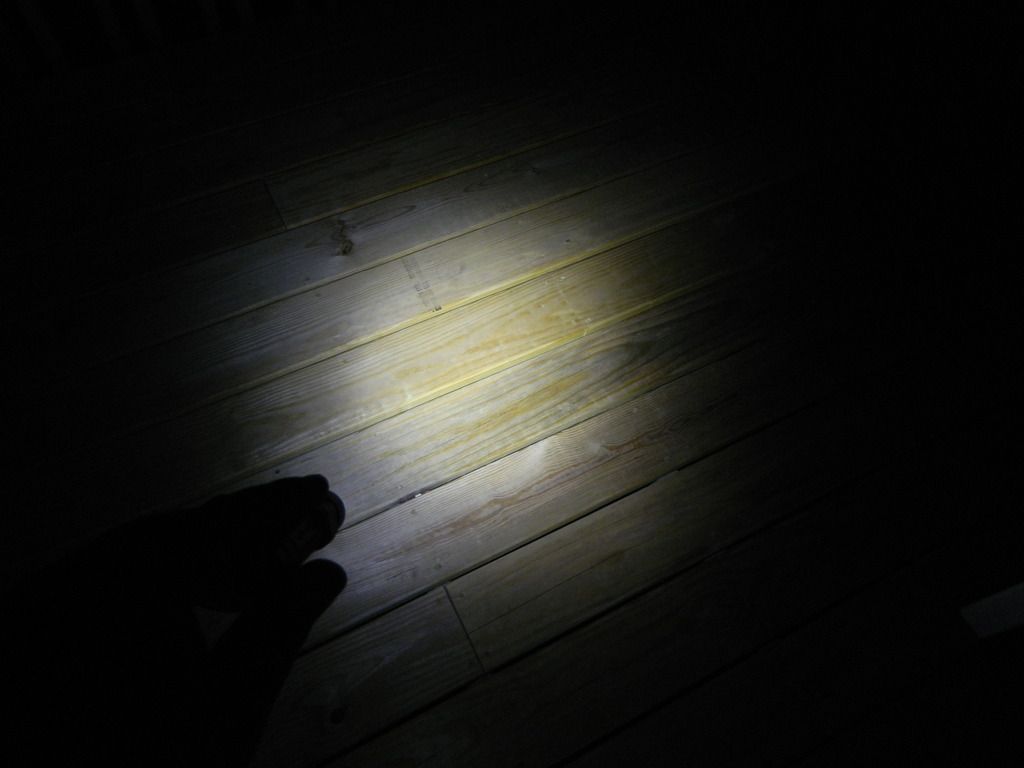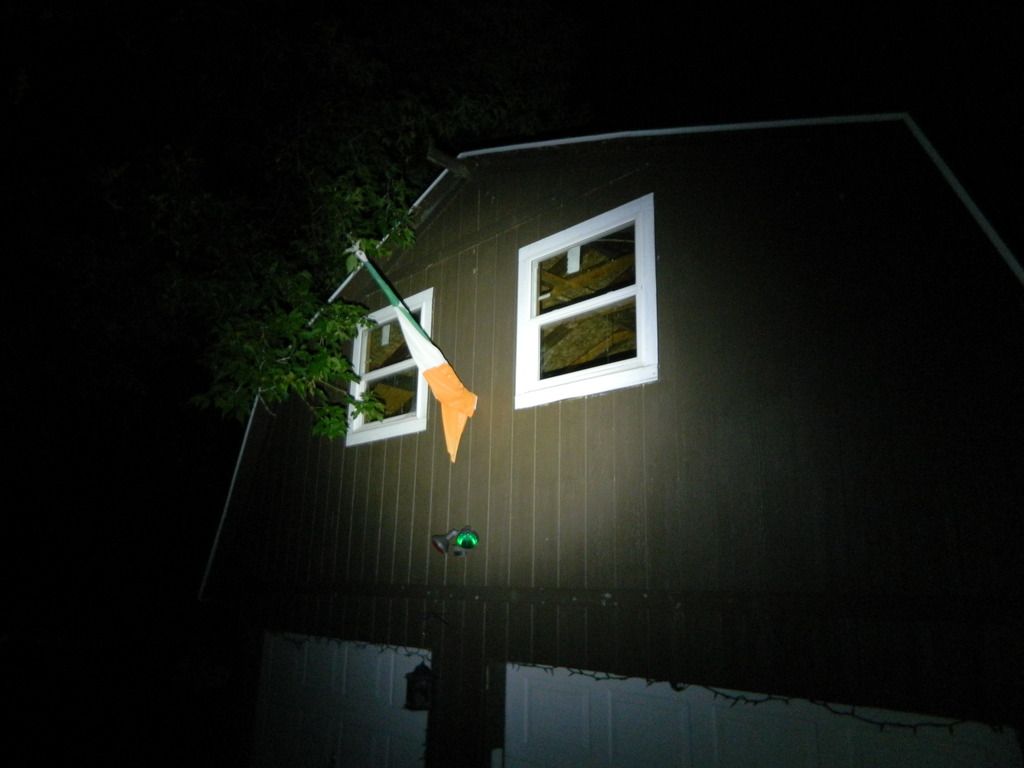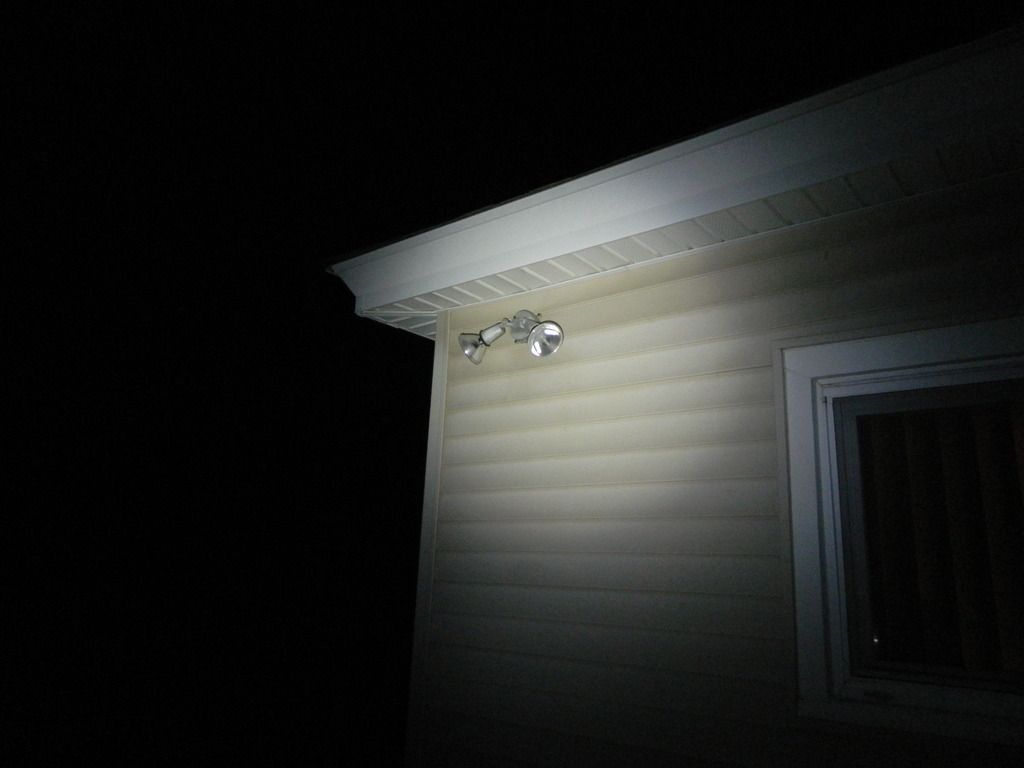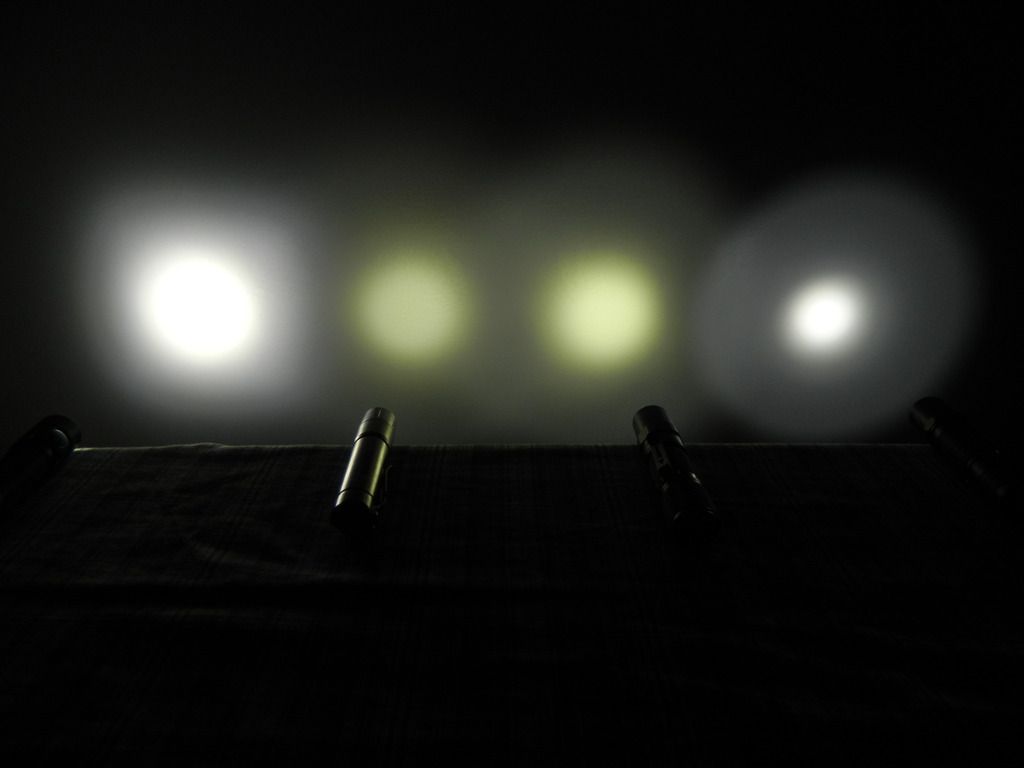 S1A VS Thrunite T10T VS Thrunite Archer 1A VS Thorfire TG6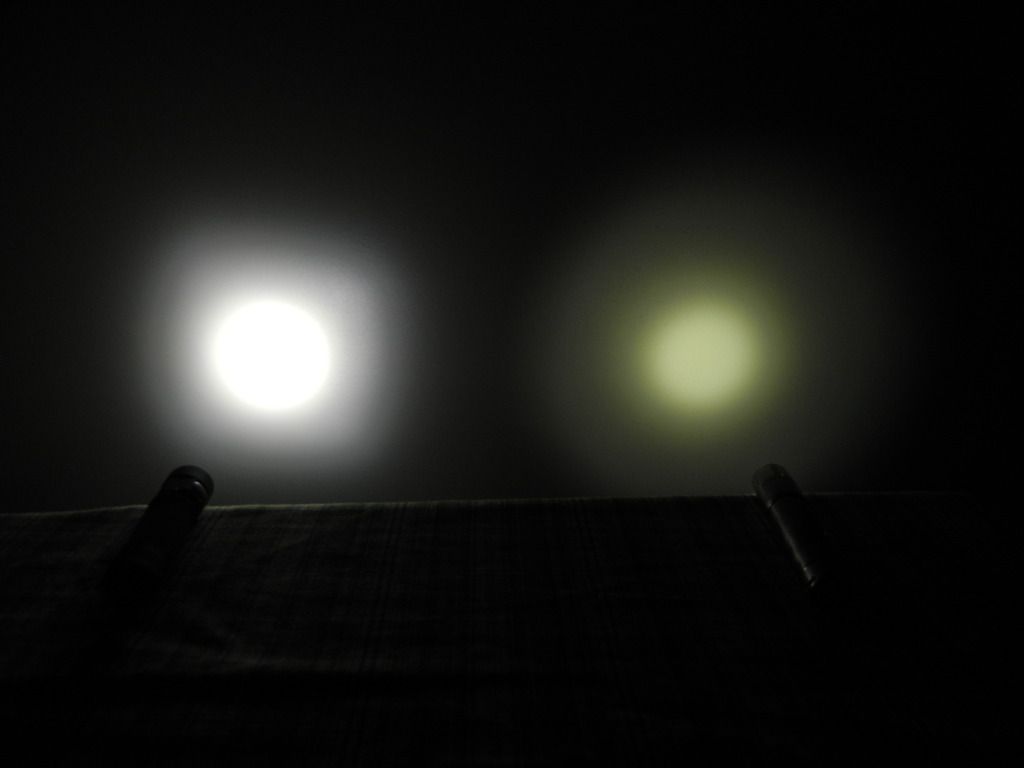 S1A VS T10T

S1A VS Archer 1A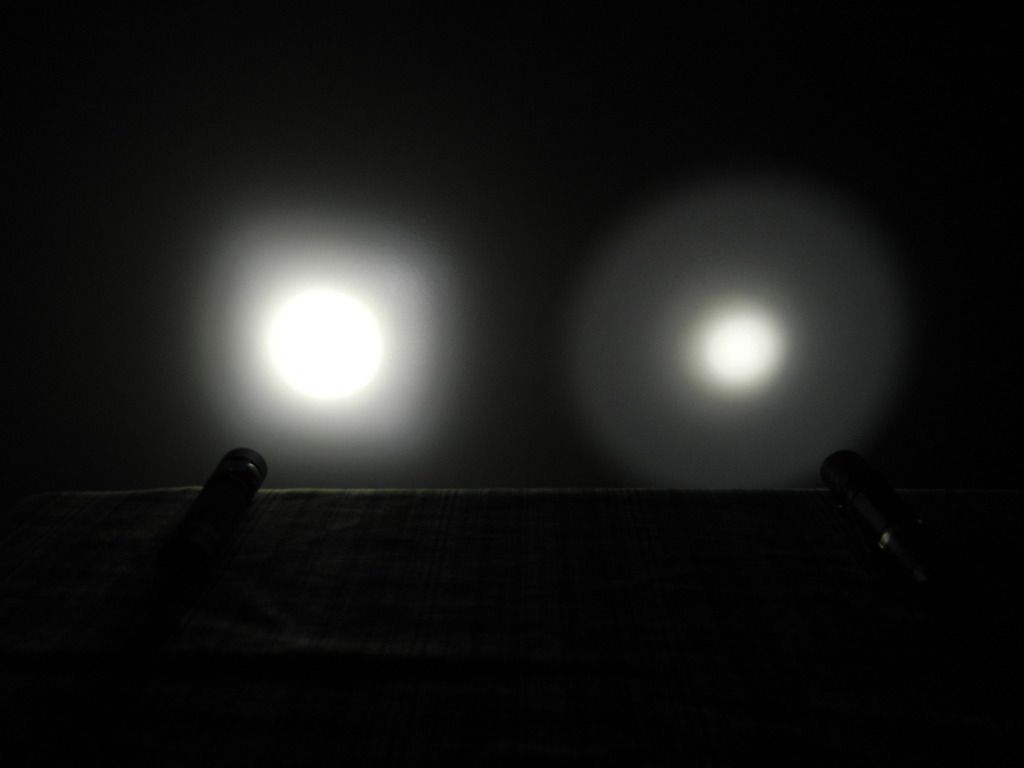 S1A VS TG06
The light has a really nice pleasant beam to it. This will be a really nice light for close up work. I'm not seeing any hint of blue/green in the tint at all so I'm very happy with that. I'm also pretty fond of TIR lens lights so this is a big plus for me.
Size Comparison: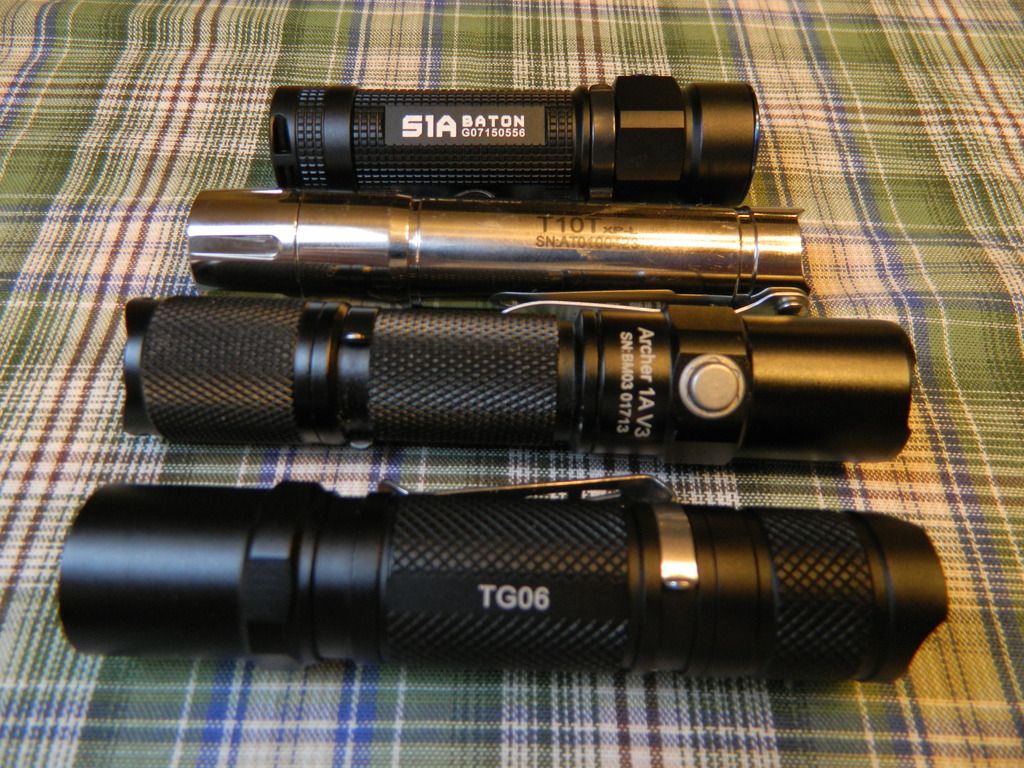 The S1A is the runt of the group.
Final Thoughts:
To be honest the S15 completely turned me off from Olight, and I was reluctant to take this light to review. but I did set my bias aside and decided to give the S1A an unbiased look and see if it was an improvement over the S15. I can say that performance is a huge improvement! There are some things I like about the S1A, and those are the size, pocket clip, and the TIR lens. I really think more AA lights should be TIR. I also like that it has really good regulation and I do like the step down on NIMH and Alkaline with the strobe at the end of battery life.
What I don't like about the light is the 1 minute runtime at 600 lumens. My original plan was to see how many 1 minute bursts the light could handle. After your minute is up I could not get the light to return to 600 lumens without recharging the battery. This could be problematic. If you have a light that has been sitting a while, or even an older battery you may not be able to get that 600 lumen burst. Plus, if it does turn on in your pocket you lose that capability until you charge again. I don't like such a big step down in a light. For some people this may be beneficial, but I don't like the idea of starting a project, and then not being able to finish because the light stepped down so much. Another thing I don't like is that the magnet is much weaker in the S1A than it is in my S15. Easy fix though. Going to swap them out since I hate the S15 anyway.
I think this is a light that is going to fit some people's needs very well, and not so much for other people. The olight interface is pretty easy to master and is good enough for EDC as far as I'm concerned. I would not count on my fingers to be accurate enough to get that strobe going in a real emergency situation. as a small compact EDC I think this light really works. The performance is right there with the competition, and Olight was very honest in their advertised specs.
here is the big question. Knowing what I know now, would I buy the light?
To be honest probably not. Don't get me wrong. It's a nice light with great performance. But the S1A doesn't fit my preferences well enough to spend $50 on it. I strongly prefer a reverse tail switch over the side switch. I really never find myself carrying lights with a side switch on a regular basis. Which is good news. I would not buy the S15 because the performance was terrible. This light meets my needs for performance, but just doesn't meet my preferences for ergonomics. The good news is that this light is going to fall into many people's preferences for every day carry and will be a great light for them.
So even though this light does not fit in with the kind of light I regularly would carry, this light might be something for you to consider since it does have really good runtimes, brightness and performance.