Hi folks.,
Please accept my sincere apologies for the lack of any beamshots or fancy graphs and stuff in this quick and dirty review. I don't have the equipment or the nouse to be able to do such things – consequently, this review is based around the aesthetics, build quality and pros and cons of the new Olight S Mini torches.
I have quite a few Olight torches from the "Baton" range, these being the S1, the S1A and the S1R and S15R rechargeable versions.
Now, to add to these, is the tiny, beautiful S Mini. It is a limited edition torch, with each version limited to 9999 pieces.
The Usual Suspects……….
Can you pick the S Mini out?
The S Mini range arrive in a premium package which looks really good. An attractive, solid, thick cardboard box, cellophane wrapped, containing the torch.
There is a tiny ribbon to pull to release the torch from it's snug foam-rubber packaging.
Also included with the instructions is a little card explaining the limited edition and also the rules of a prize draw based upon your individual serial number. If you're a winner, there are a range of torches which you'd receive as a free gift courtesy of Olight, dependant, of course, on which number your torch is.
I didn't win.
I'm not bitter in the slightest….not one little bit…..totally fine about it….really, I am…..
The S Mini is available at launch in two materials, copper or titanium, though I understand a Stainless Steel version is also being launched soon. In copper or titanium there are three variants, so in copper we have the raw copper version (which if not polished will tarnish over time, developing its own unique patina), the coated shiny copper Rose Gold version which should stay beautifully shiny and the black version which will stay black -  this is the only version which stays true to Henry Ford's (colour) vision. In its copper variant the torch weighs 70g with the included primary CR123A cell installed. The S Mini can also use rechargeable CR123A cells. Please note, these are Lithium Ion cells which would need a special charger. I recommend the Xtar VC4 intelligent charger for about £20 or so.
The titanium version is lighter, coming in with the cell at a mere 47g (1.7oz). The three Ti variants are polished, bead-blasted (with what I think is a neat, matte "urban" sort of finish) and finally the one I got (kindly sent to me by Sandra of Olight for evaluation and review – thank you so much Sandra  ) which is the utterly gorgeous Rainbow PVD (Physical Vapour Deposition – a scratch and corrosion-resistant coating) torch. Each rainbow torch will be unique, having a slightly different finish. I like that a lot. I've taken pic after pic after pic of this little gem of a torch and, to be honest, the pictures just don't do the torch justice. It really is an extraordinarily good looking thing and I sometimes find myself just staring at it as I fondle it, rolling it around in my fingers, mesmerised as it catches the light……..
Perhaps I should get out more.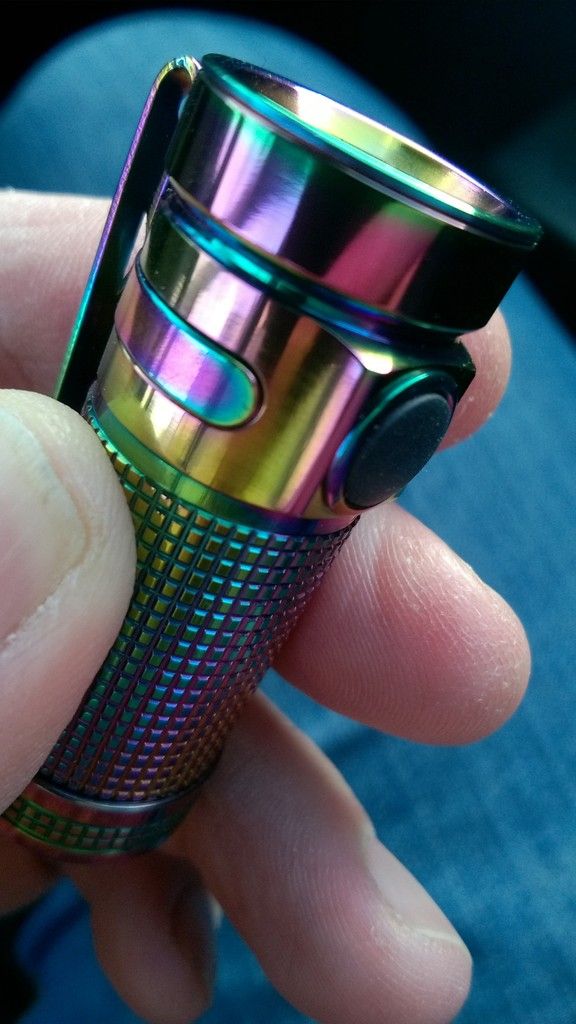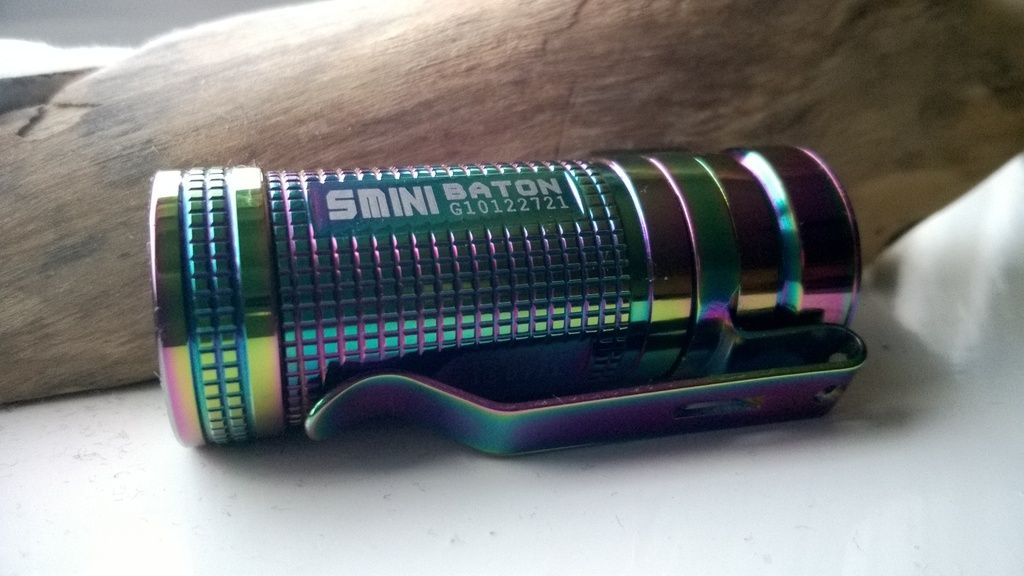 As with every single other Olight torch that I own, it is without flaw. I have gone over it with a magnifying glass and can't find a single blemish. The coating appears very even with lovely gradation of colour, sweeping from red to purple to green – wonderful. The knurling is totally uniform, perfectly done. The delicate engraving is neat and precise. The dished TIR (Total Internal Reflection) lens is completely clear. The steel clip (also rainbow coloured) in a deviation from the usual Baton feature, is in a fixed position, diametrically opposite the switch. It is, of course, removable should you prefer your torches to be without them. One small addition to the clip is the addition of a couple of small (2mm or so) holes to allow a thin lanyard to be threaded to the head of the clip. I will probably get some slim round leather cord and make myself a little Diamond Knot lanyard, just to help getting it out of my pocket and, basically, because I like lanyards.
Again, maybe I should get out more….
As you can see, the torch is very small. It is about 54mm tall and 20mm diameter. It just disappears into the palm of your hand. Don't be deceived though because it packs a very powerful punch. More on that later. The torch has a flat base so tail-stands with ease if you want it to. I use mine at night time in a low or moonlight mode, just standing on my bedside table while I read my tablet and plump up my pillows. The torch has had a few features of other Batons removed or refined to cut down the size. Firstly, the base doesn't have a hole for a lanyard, this instead being part of the clip as I've said. The magnetic base that other Baton's have has been removed. Some may lament that. I can see the positives for both sides of the argument – magnetic bases can be very convenient but can also be a bit of a pain if you have a penknife or keys in your pocket. There is no integrated charging either – you'll have to either use primary CR123A cells or have a suitable charger that can work with Lithium Ion cells. The head of the torch is shorter than the other Baton's so I suspect Olight have done some work in miniaturising the lens and guts of the torch. The whole torch is a mere 20mm longer than the CR123A cell that goes in it. I really struggle to think of how much smaller these things can go. Totally compact.
The torch follows, more or less, the same interface as the other Batons. From off, a single tap of the switch takes you to the last used mode (if it has been switched off for more than ten minutes after using high mode it will revert to medium mode not high). Press and hold the switch from off and you enter moonlight mode. Keep holding moonlight for two seconds and it will turn off, electronically "locking" the switch. Whilst locked, you can still tap the switch to use moonlight momentarily – this seems to be a new feature and is great for tiny flashes of very dim light to find your way around in the dark or, I suspect, discrete Morse signalling or similar. If locked, press and hold for more than two seconds to enter standard moonlight mode. Lifting off and then pressing and holding the switch cycles you quickly through low, medium, high. A double tap from off enters high mode. There is also a strobe function should you need it, accessed with a triple tap.
Moonlight is a mere 0.5 lumens – a fresh cell will give you 30 days at this level.
Low is 12 Lumens, you'd get 64 hours.
Medium is 60 Lumens which can go for 8.5 hours.
High starts off at 550 Lumens but will dip after 90 seconds to 300 Lumens for a couple of hours. This is to help preserve battery life and to make sure the head of the torch doesn't overheat.
Pros:
Beautiful – a real talking point.
Compact – it couldn't really be much smaller.
Powerful – 10% brighter than the S1 Baton.
Versatile – a good spread of different options from moonlight to wall of light.
Strong – drop resistant and IPX8 certified for effective waterproofing.
Cons:
Pricey – some may balk at the price, but it offers good value.
Batteries – relatively obscure and expensive CR123A's.
Charging – no in-built charger if wanting to use RCR123A's, meaning a separate Lithium Ion charger would be required.
Suggestions:
Olight could bundle this with a RCR123A cell or two and their excellent Universal Magnetic Charger cable (a teensy USB powered cable with bi-directional magnetic poles – just stick them on either end of more or less any rechargeable Lithium Ion battery and the charger will sense which are the negative and positive poles and charge the battery for you) – I think such a bundle would be a good seller.
I hope you liked my review.
SP