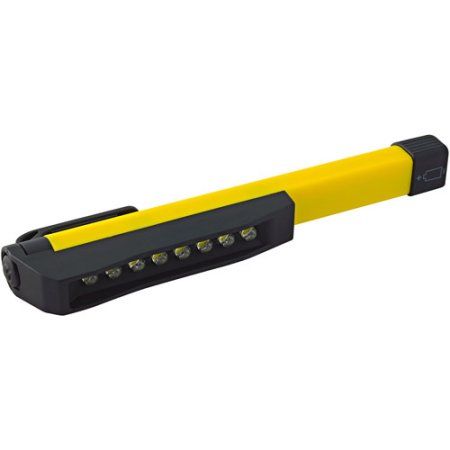 Shoreline Marine Portable LED Light So, I couldn't pass up this 8 led version of the Larry COB light. I'm a sucker for yellow. Love it. So I had to have it. Now I have a pair of Yellow/Black Twins.
Order on line from Walmart
NOW
ON
SALE
for $5.26 Zero shipping to your local Walmart. !
It's a clone of the Larry Light from NEBO. Same switch, same tailcap mechanism, right down to the overall dimensions and shapes. All that is different is you have 8 WHITE LED's instead of COB.
The tint is neutral compared to the warmer Larry COB. No blue at all. Beautiful!
Also comes with 3 crap AAA batteries. SuperHeavyDuty sux….keep em for your remote controls. But the light is NICE. Very nice. Positively made on the same assembly line as the NEBO Larry Light….
Did I say I love Yellow & Black?