A few weeks ago I started this mod and have been dropping teaser pics here and there already. I've been told it needed its own thread so here we go.
Last year I jumped on the bandwagon for a GB of these getting first one and then much later another with the intent of performing the mod to be detailed in this thread but was still a bit dubious whether my hacksaw drill press lathe was up to the task. The recent Sipik SK68 mod laid those fears to rest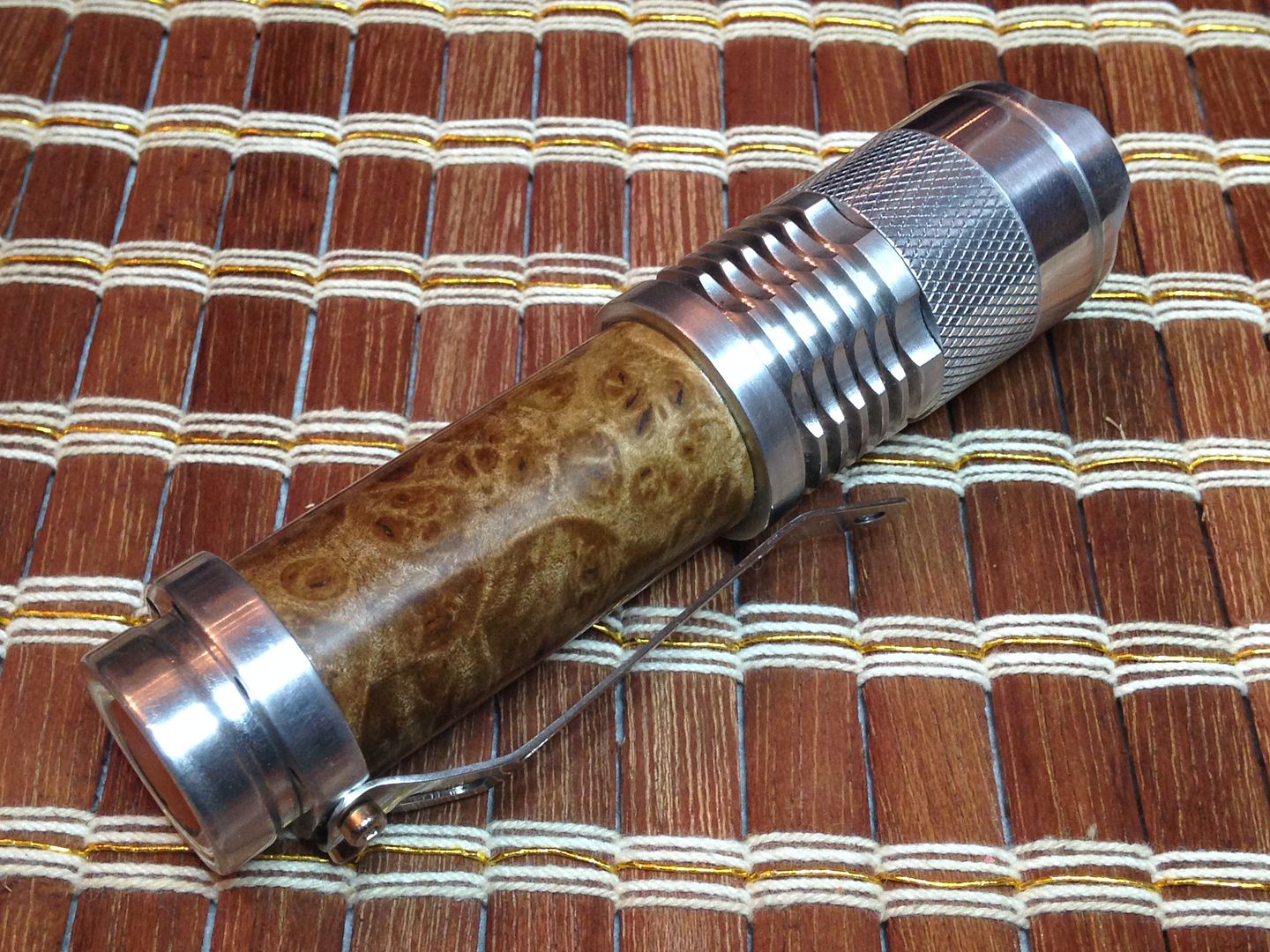 so one evening I worked off some excess anger by using an un modified hack saw to hack off the knobs on the pill/focussing section of the tube, that adrenaline was handy getting me through all that cutting. After that I cobbled up a mandrel to spin it with out of a 3/4"x 1/2" shank drill bit, some tape, a slit piece of 3/4" pvc, and more tape to fill the space below the internal pill threading, and spun it up and down, round and round past my fixed hack saw blade.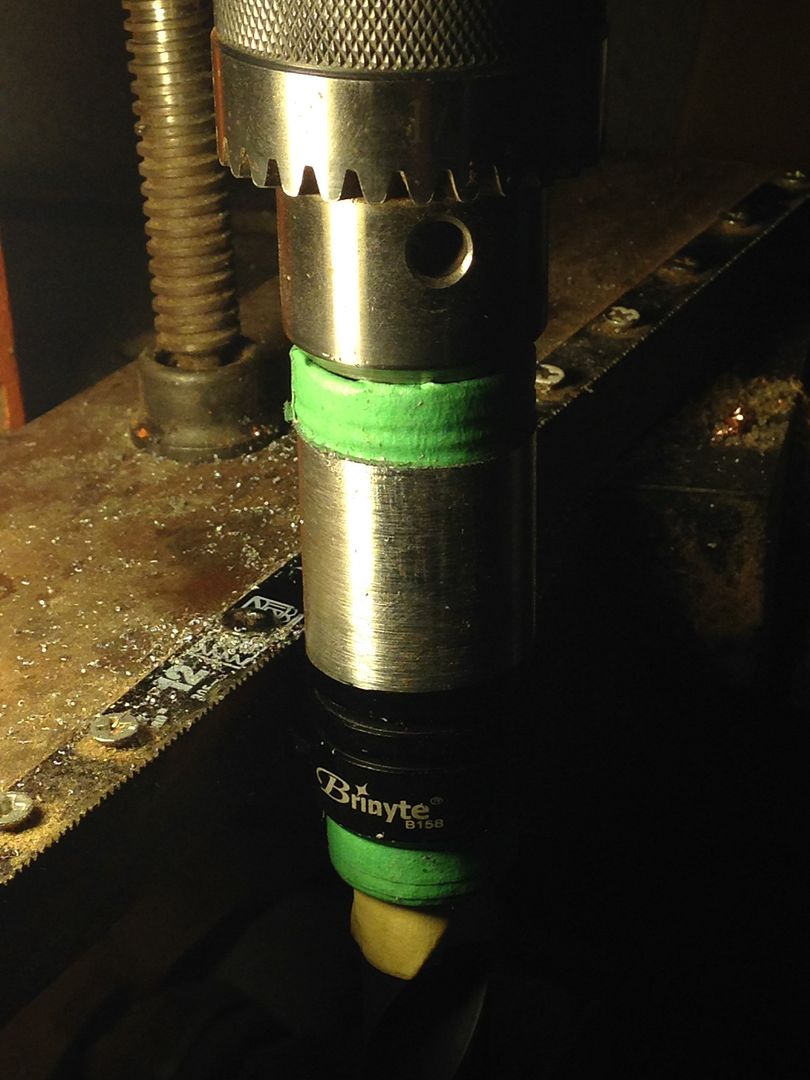 Wanting to cover as much of the tube as possible as streamlined as possible I kept going until I got close to the bottom of the tube grooves.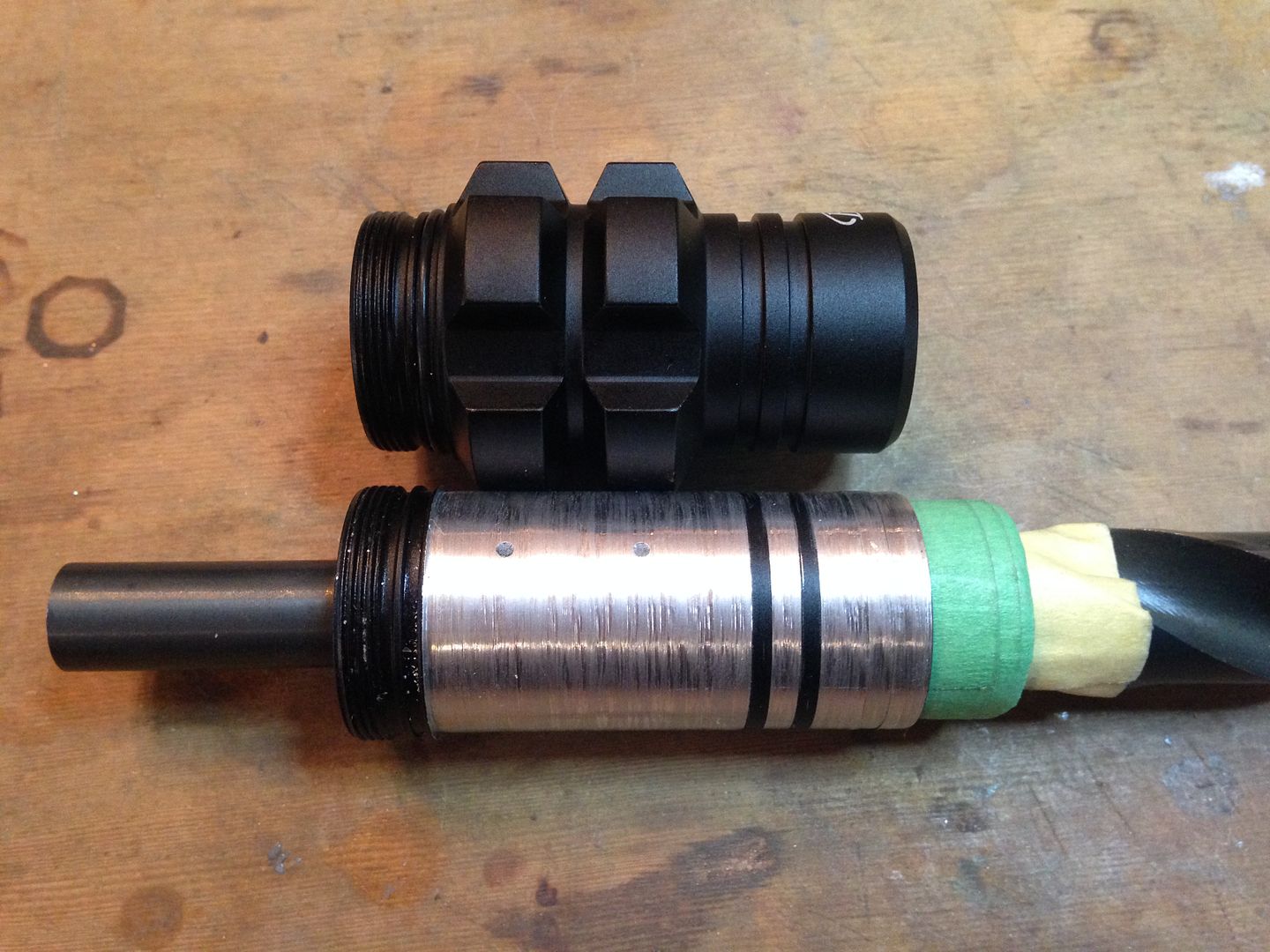 Setting aside that part for the time being as it provided me with the sizing needed for the other parts of the mod I selected some wood to recover the tube, choosing a "mystery" wood I believe to be teak from salvaged beam stock. Early experimtation revealed that it has some internal checks which I hope to avoid but will deal with or accept as needed. I first cut a piece a bit long and drilled a 1" hole to start with locating the bore in the best part of the wood that I could see then cut some excess away leaving the hole centered in a rough octagon. The piece was then mounted on a 7/8 " hole saw wrapped in 2" masking tape until a snug fit was achieved, and onto the drill press.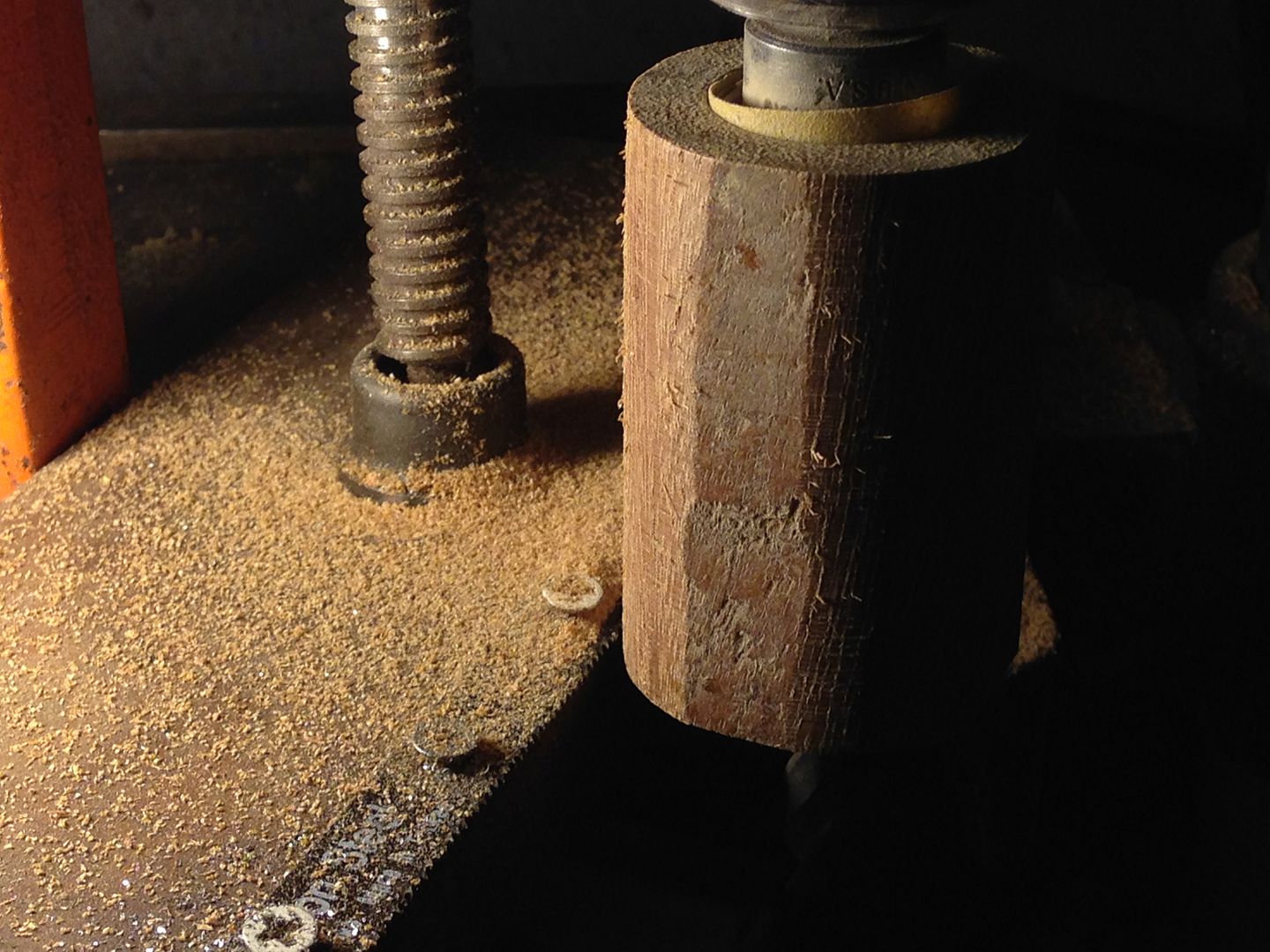 I continued until the flats were gone then sanded it an soaked it with epoxy resin. You can see some of the checking I mentioned earlier.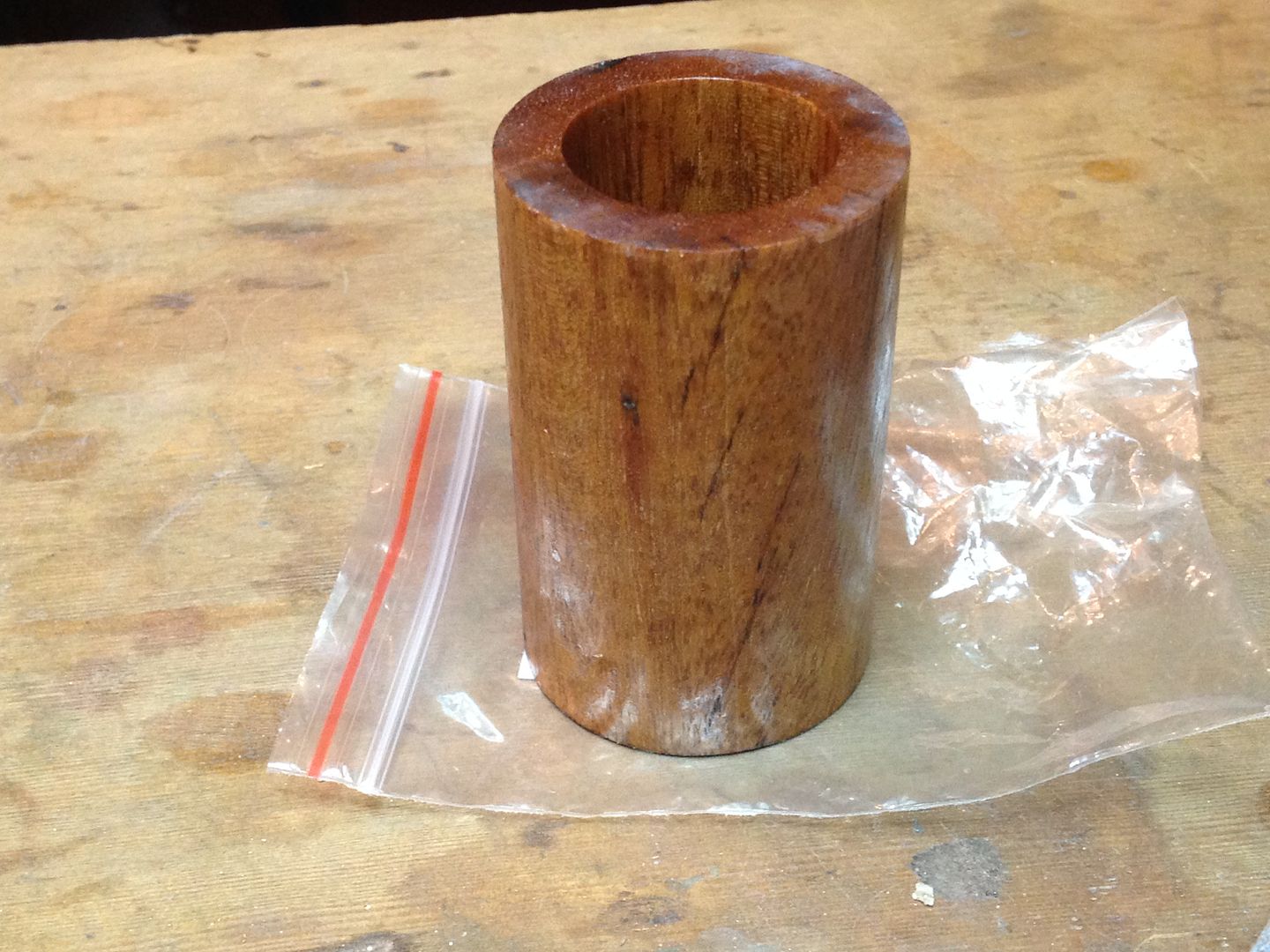 Setting this aside to cure for a few days I began the tedious process of fabricating fins out of sheet stock alone. First, I need a thin wall copper tube that fits the paired down aluminum tube so I measured the OD of the aluminum, multiplied by pi and added the thickness of the sheet plus a smidgin. Then I cut a strip of .5mm copper wide enough and long enough and squared up one end.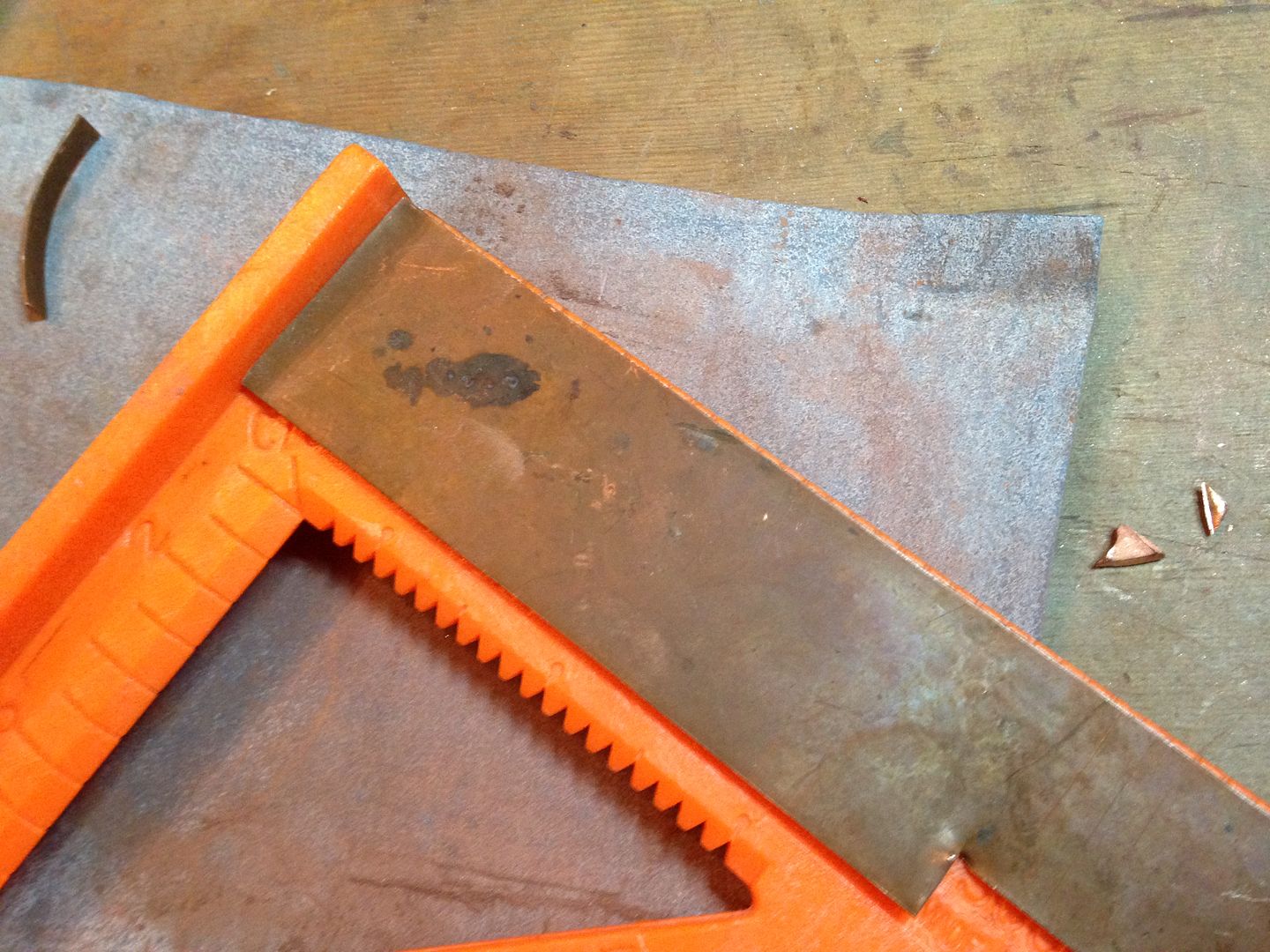 Then marked, cut, and squared up the other end. To save Mapp gas I annealed it on the stove to soften it.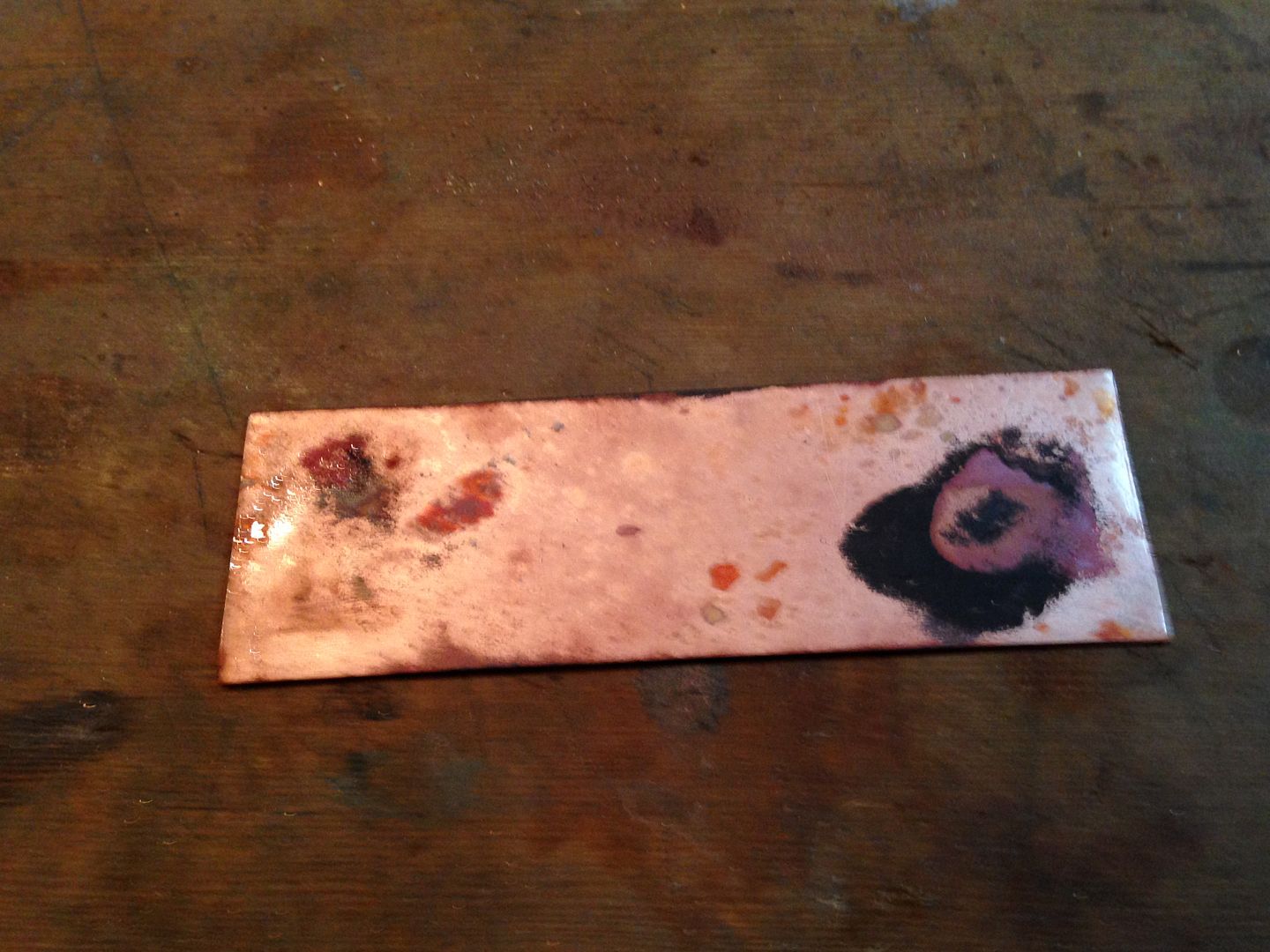 Then it was rolled round and tied shut with garbage bag ties with the covering burned off. Here it is after brazing and a hot bath, you can see a short piece of one tie that brazed to the seam.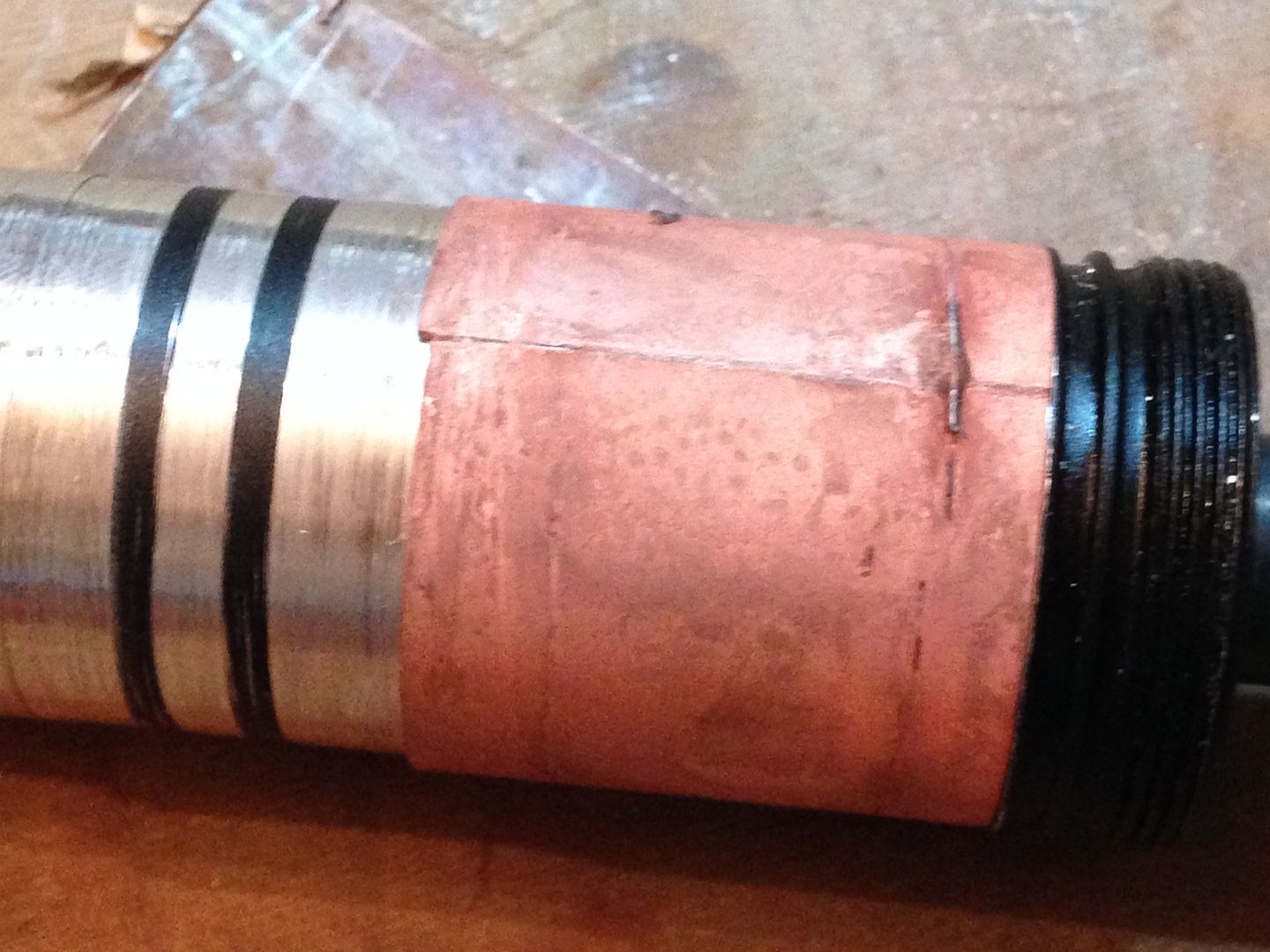 Next up are the fins themselves. This is slightly thicker stock first marked, then lightly punched and notsolightly drilled with a 1 1/8" hole saw. The strip was trapped between blocks of wood clamped to the press table.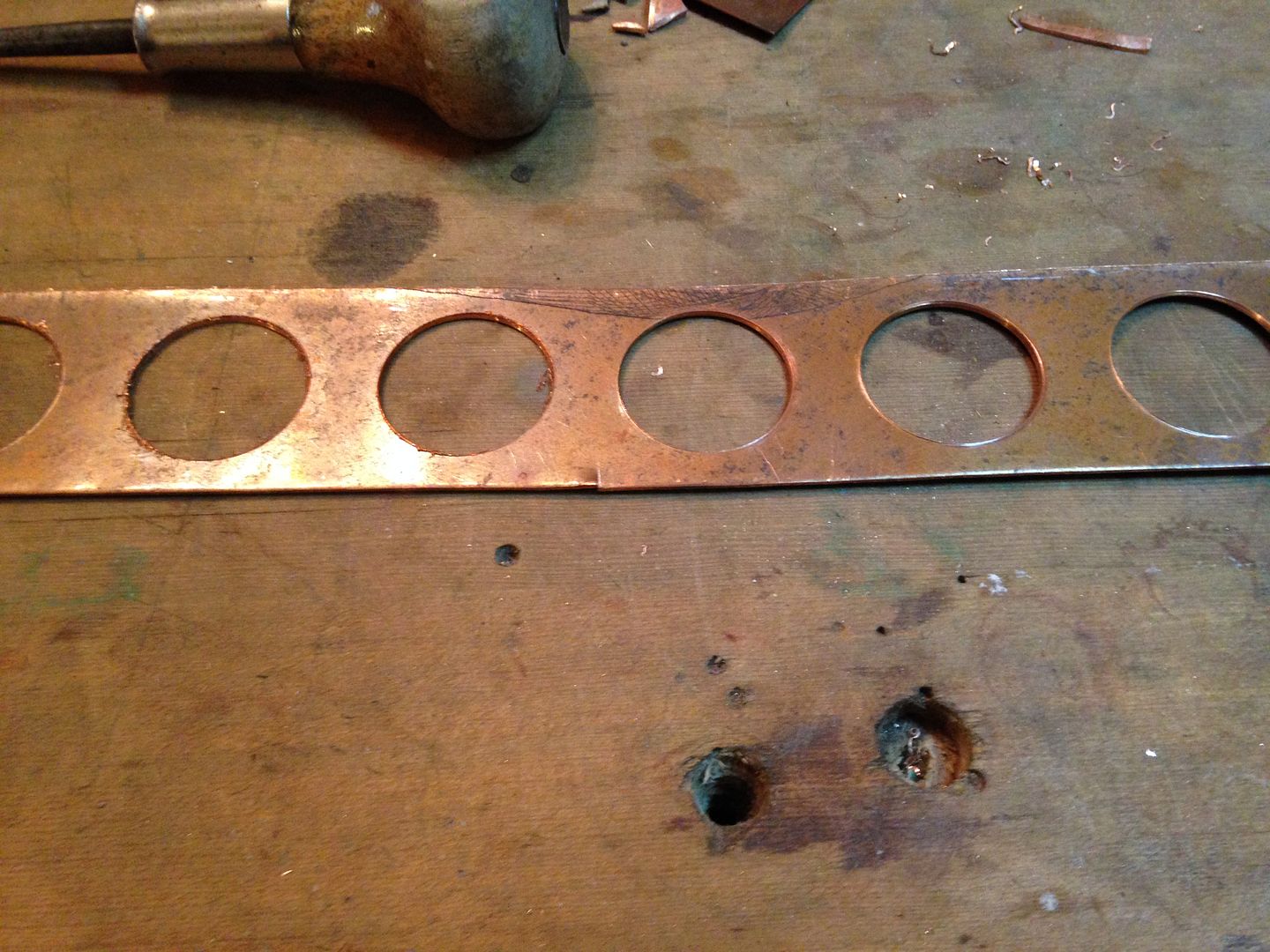 I used a square to scribe between the holes and heavy shears to cut them free.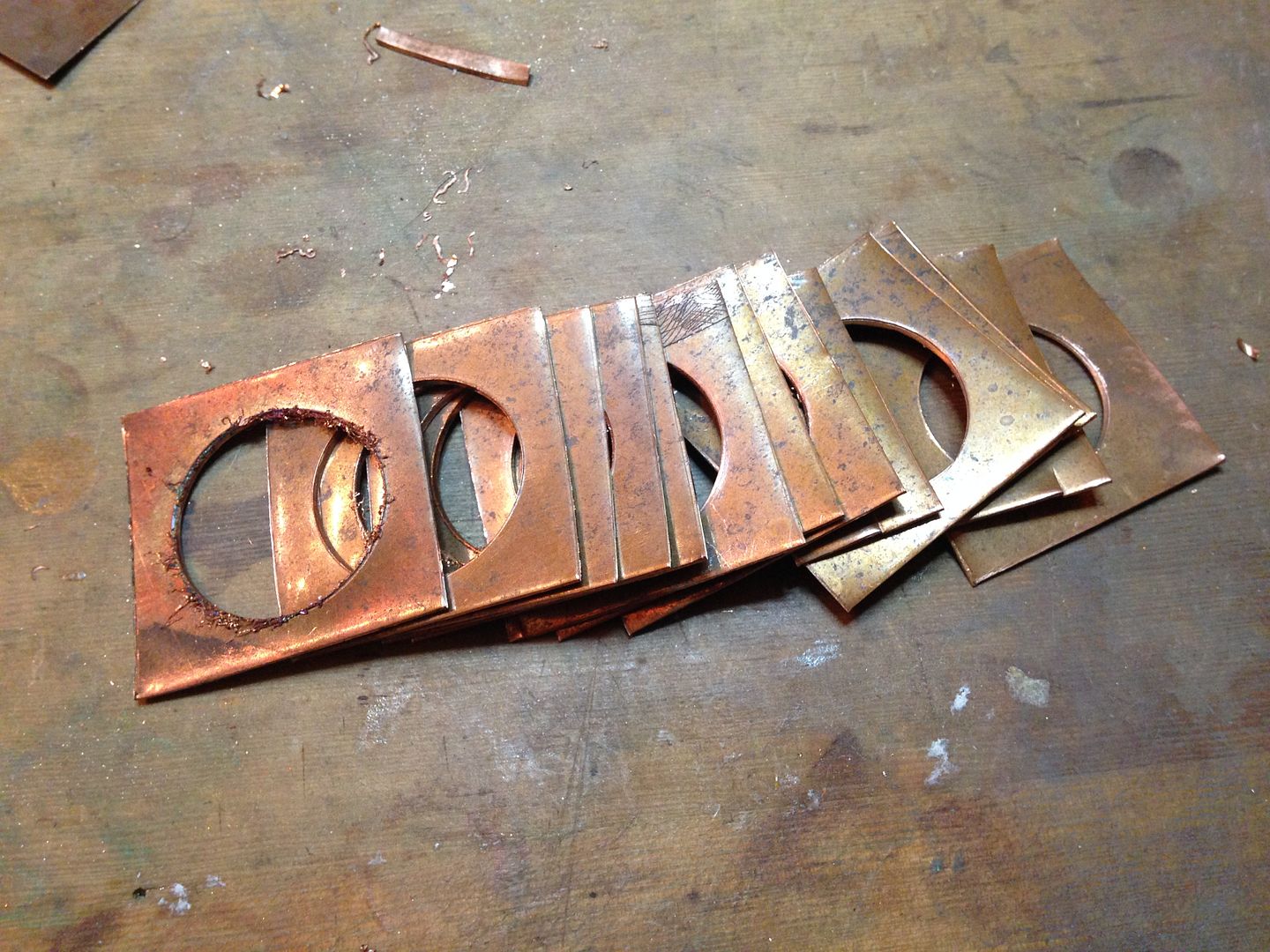 Rather than marking concentric circles I laid one on top of another using the aluminum tube as a center guide and the threading as a stop and scribed straight lines tangent to the circle I was aiming for.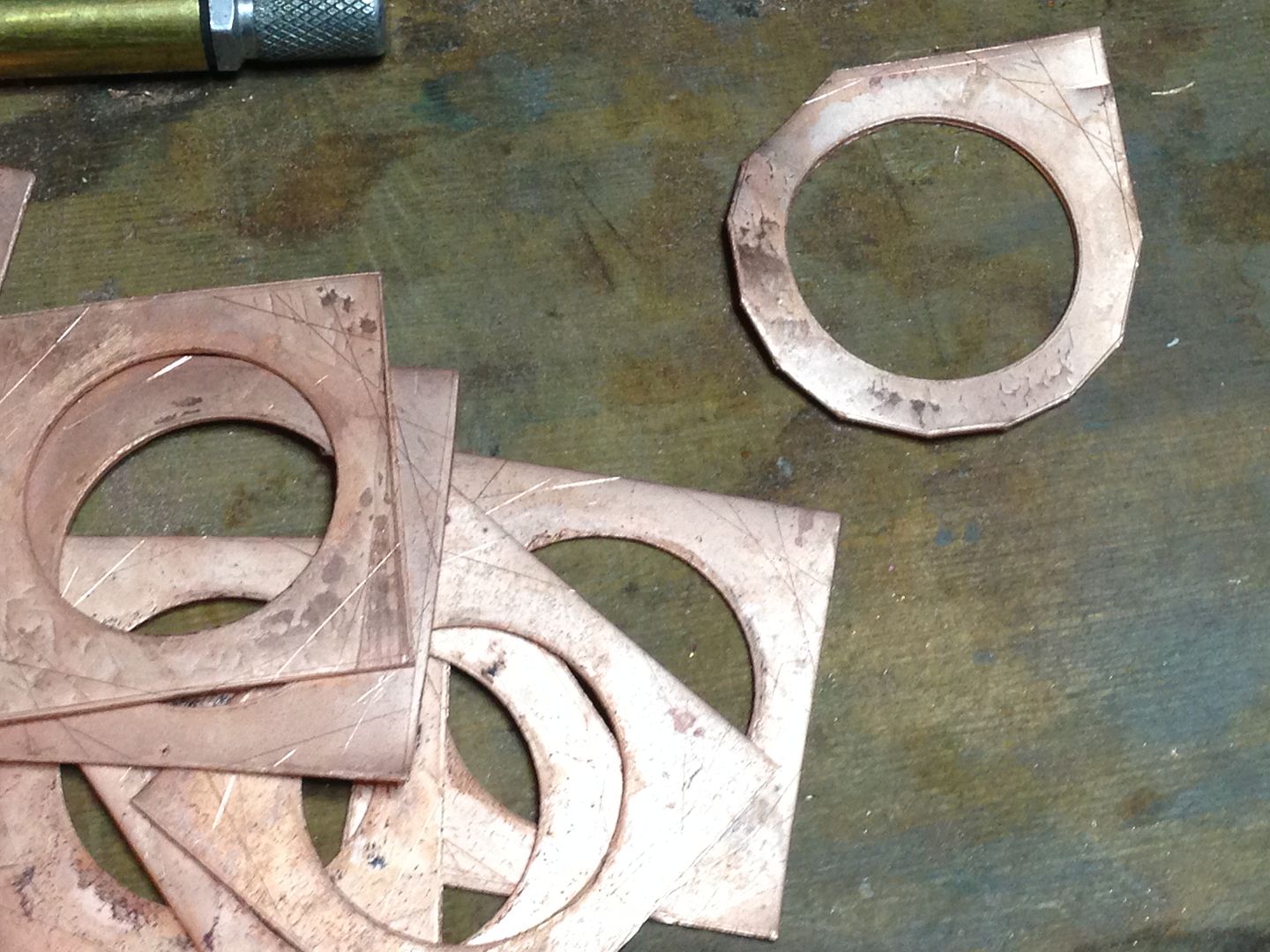 A pile of copper bits later and after rolling with a brass pipe I use for that purpose I had a stack of sort of round and sort of flat discs.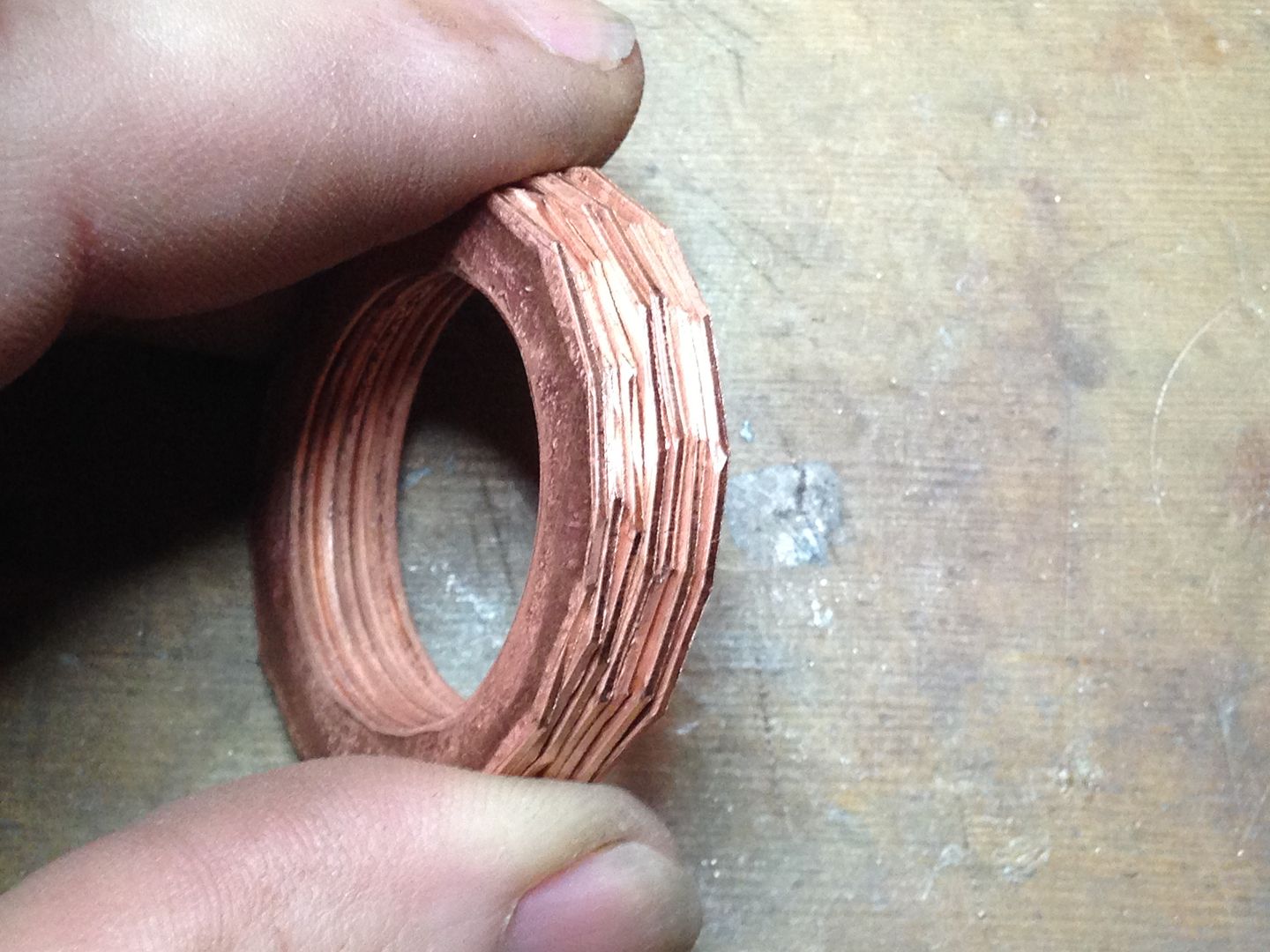 They need to be reamed slightly to fit over the first copper tube.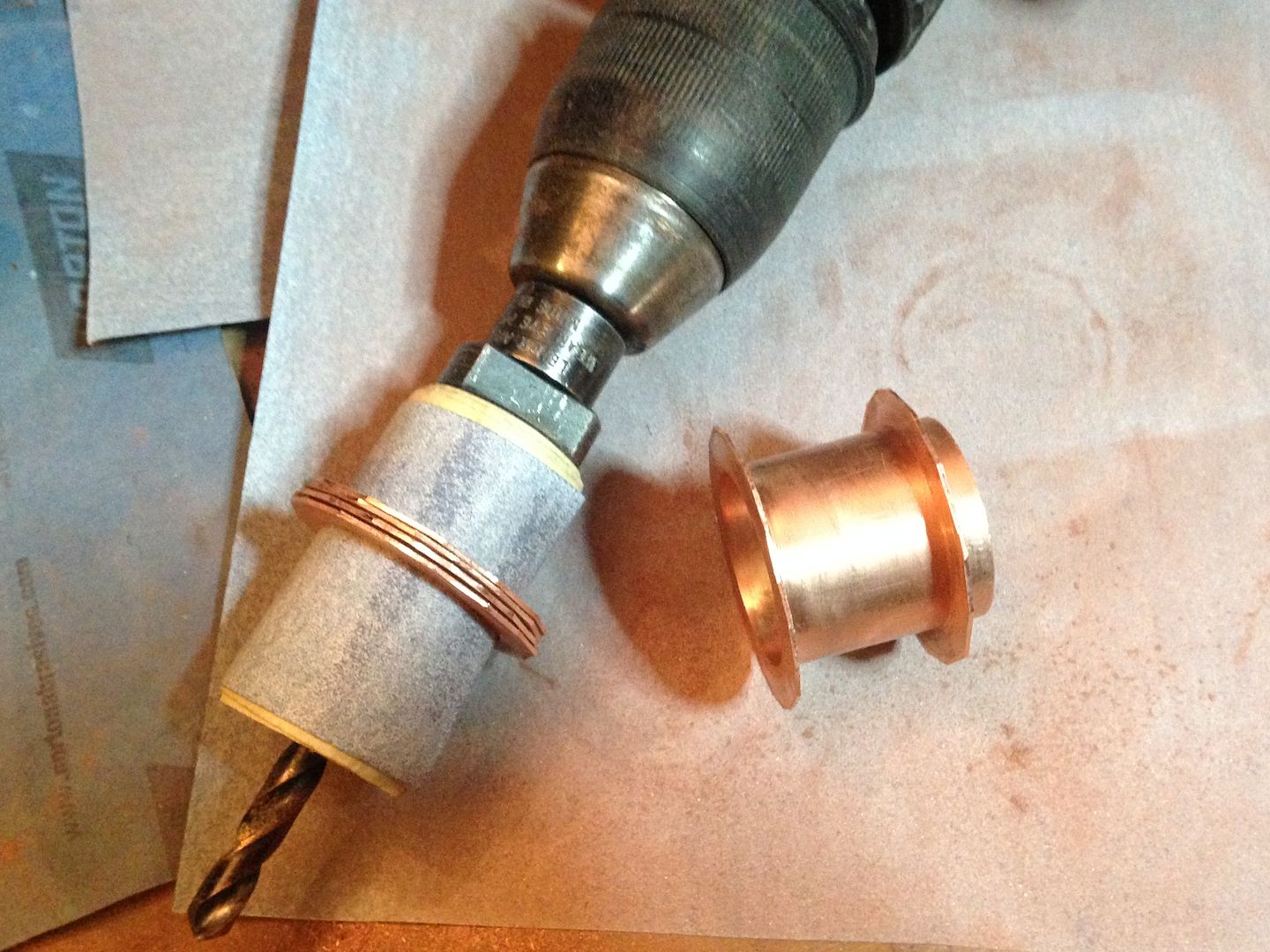 Now I need to space the fins equally apart. When I first started doing this I used brass or copper wire made into rings but I've lately come up with a way to make fairly short rings of fairly even (within ~.02mm) dimension. First I make another copper tube sized to fit over the first and fabricated in the same fashion.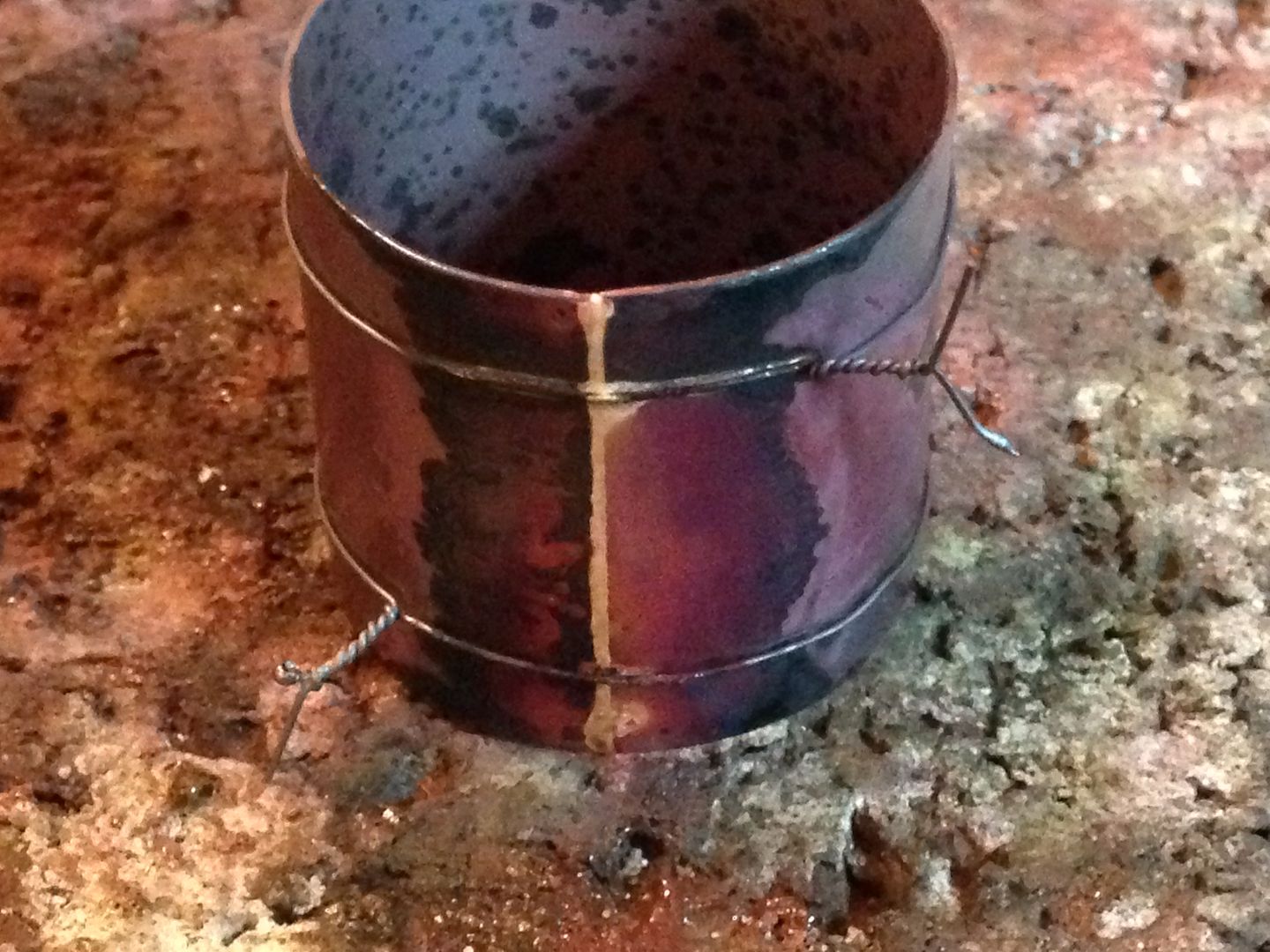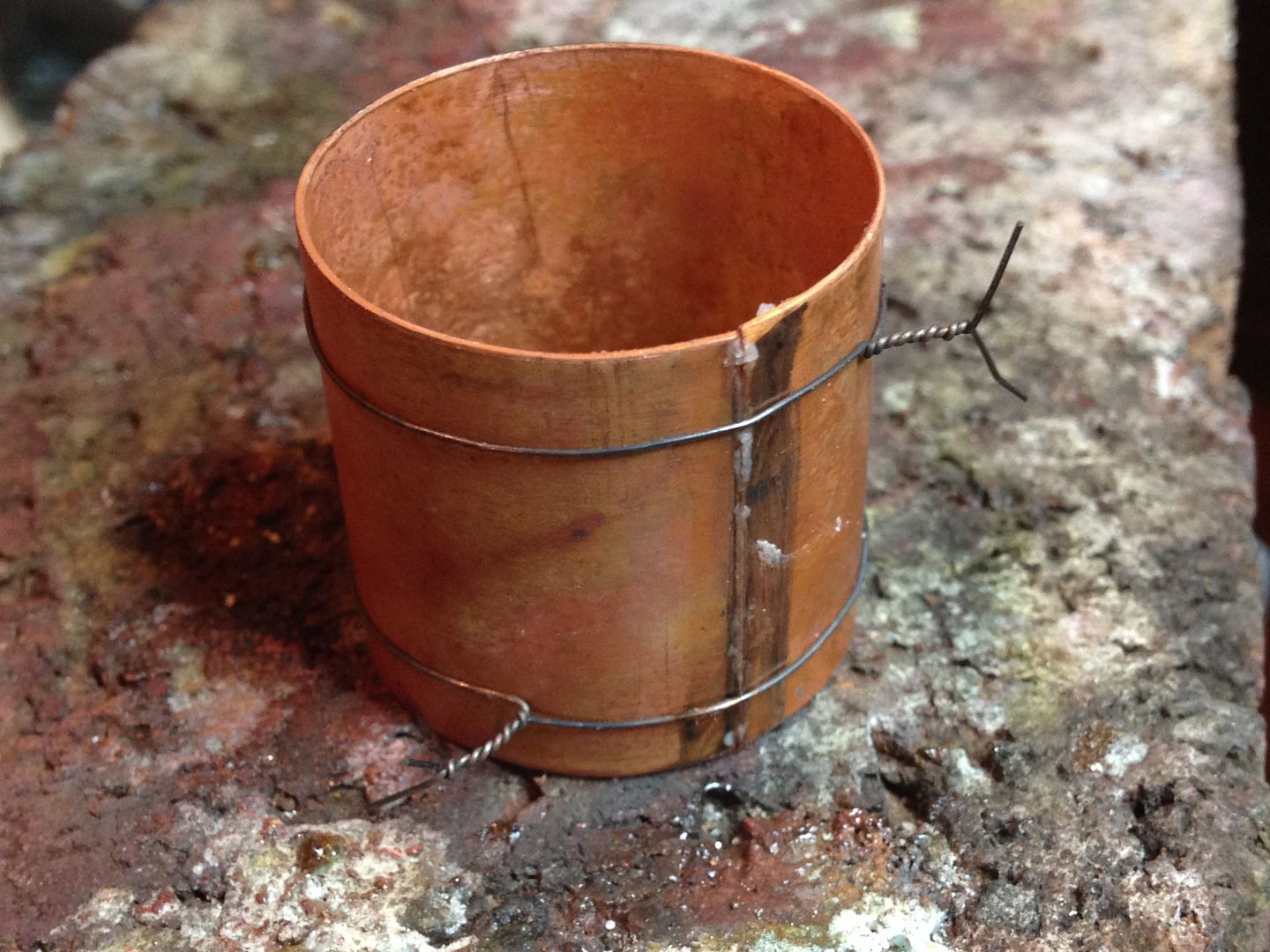 Then I cut the tube into rings by slipping it over a piece of pvc wrapped with tape for a snug fit just up from the end. I use a Dremel disc in the drill press and leaving the end free of tape allows each ring to drop free. After each cut I dress the end of the copper and make another cut. At this point the rings are much too long but m not sure how short I can cut them since the copper is very grabby in the cut and the freed piece is more easily mangled the shorter it gets.
To get then all flat and true to a consistent size I made a jig from a washer and an aluminum disc the correct thickness with a bit of tape for a handle.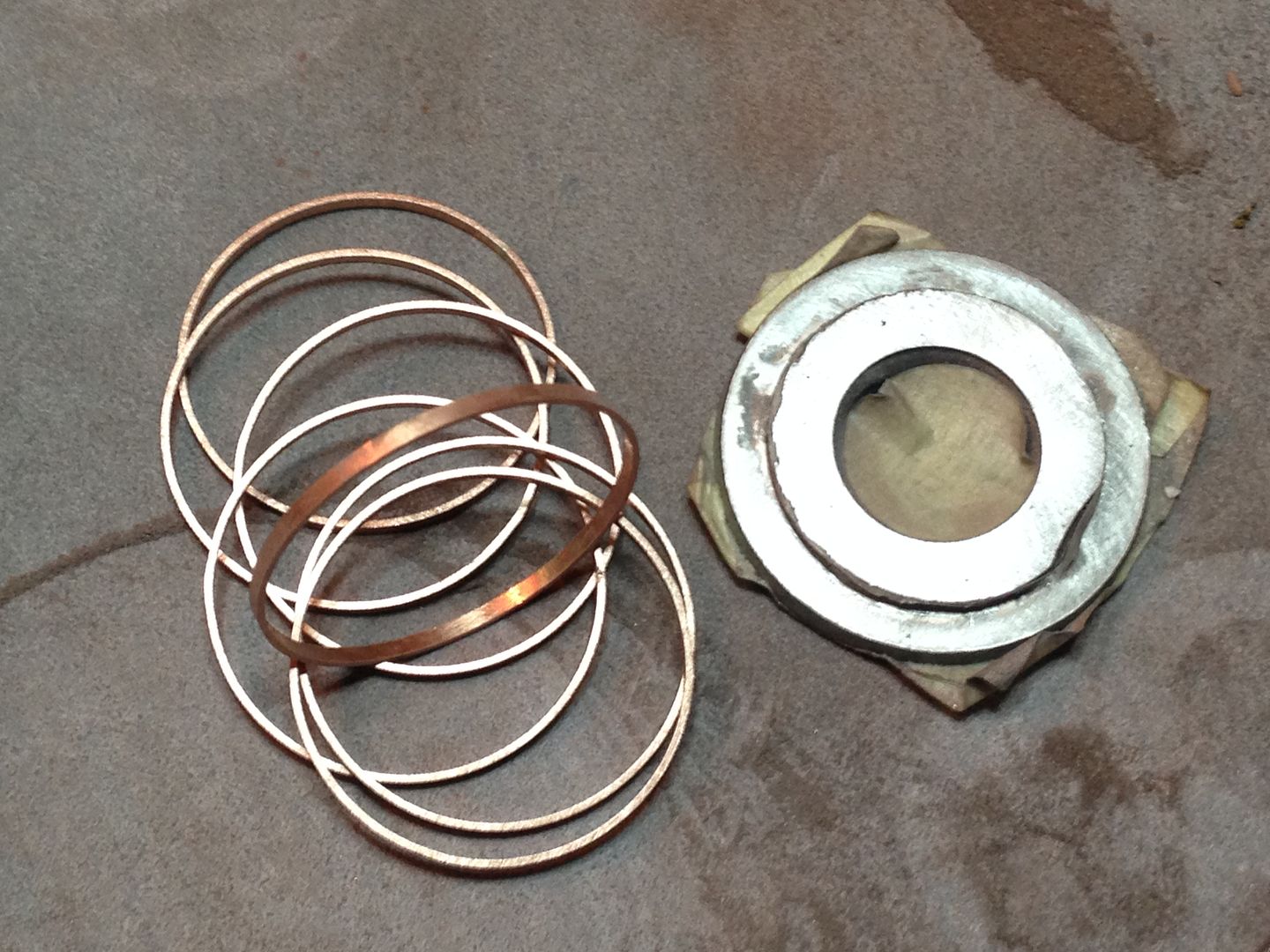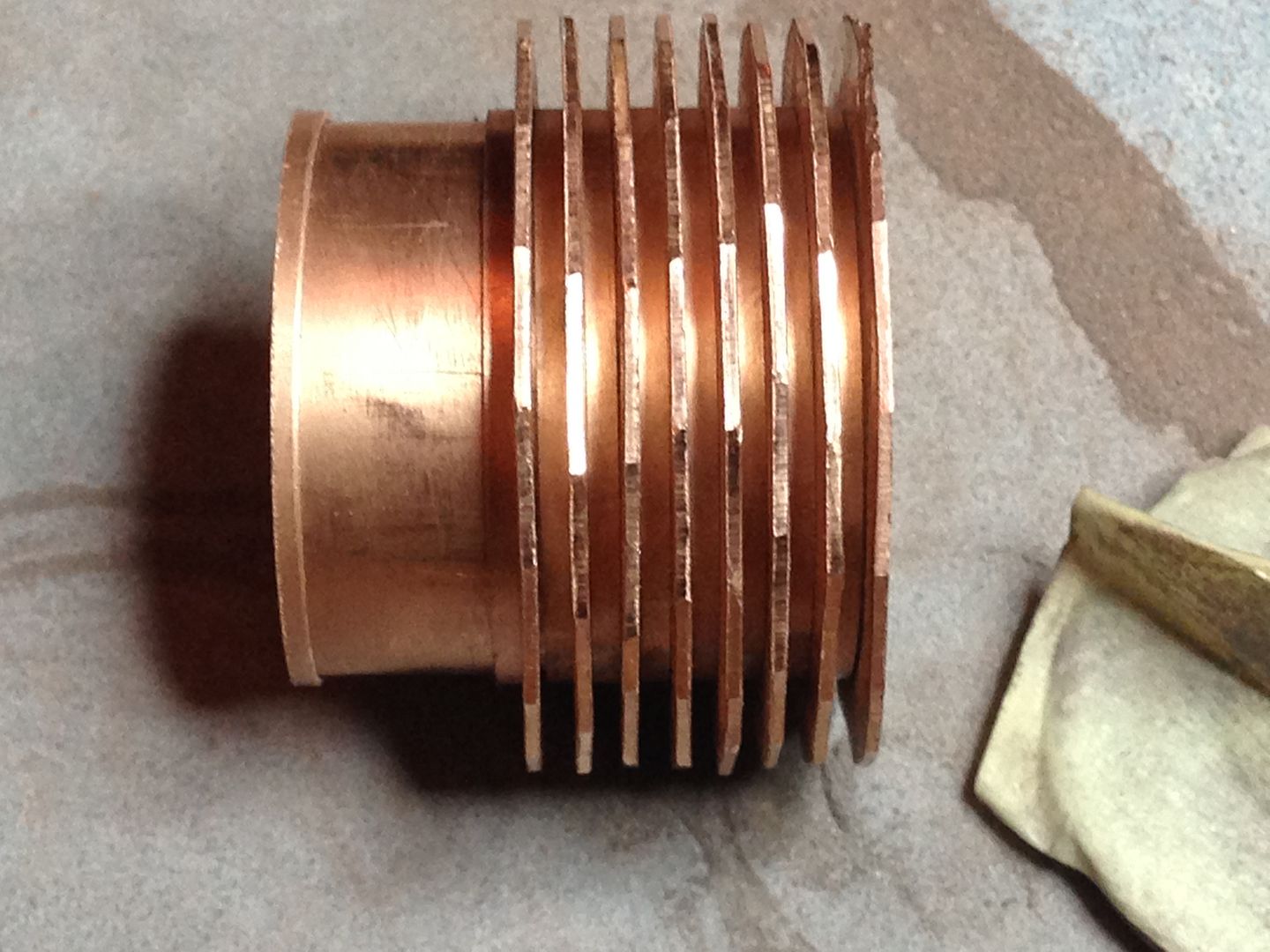 At this point they were all a bit over 1.5mm but before I brazed it all up I reduced them further to 1.4mm +/-.01mm. Guaging how much paste to apply was beyond me so I tried to go light and pray that more would wick in from some excess I applied from the end. One thing I forgot to mention was one disc was cut with a 1" ID hole and brazed to the true end of the first tube. Both tubes were brazed with wire solder while the fins and rings were brazed with paste which has a lower melting point. The point of that was to minimize the likelihood of the rings or tube coming apart at the seam while being heated to braze the rings and discs. It didn't fall apart.
After a hot bath in flux remover you can better see the excess solder on top, and that it fits.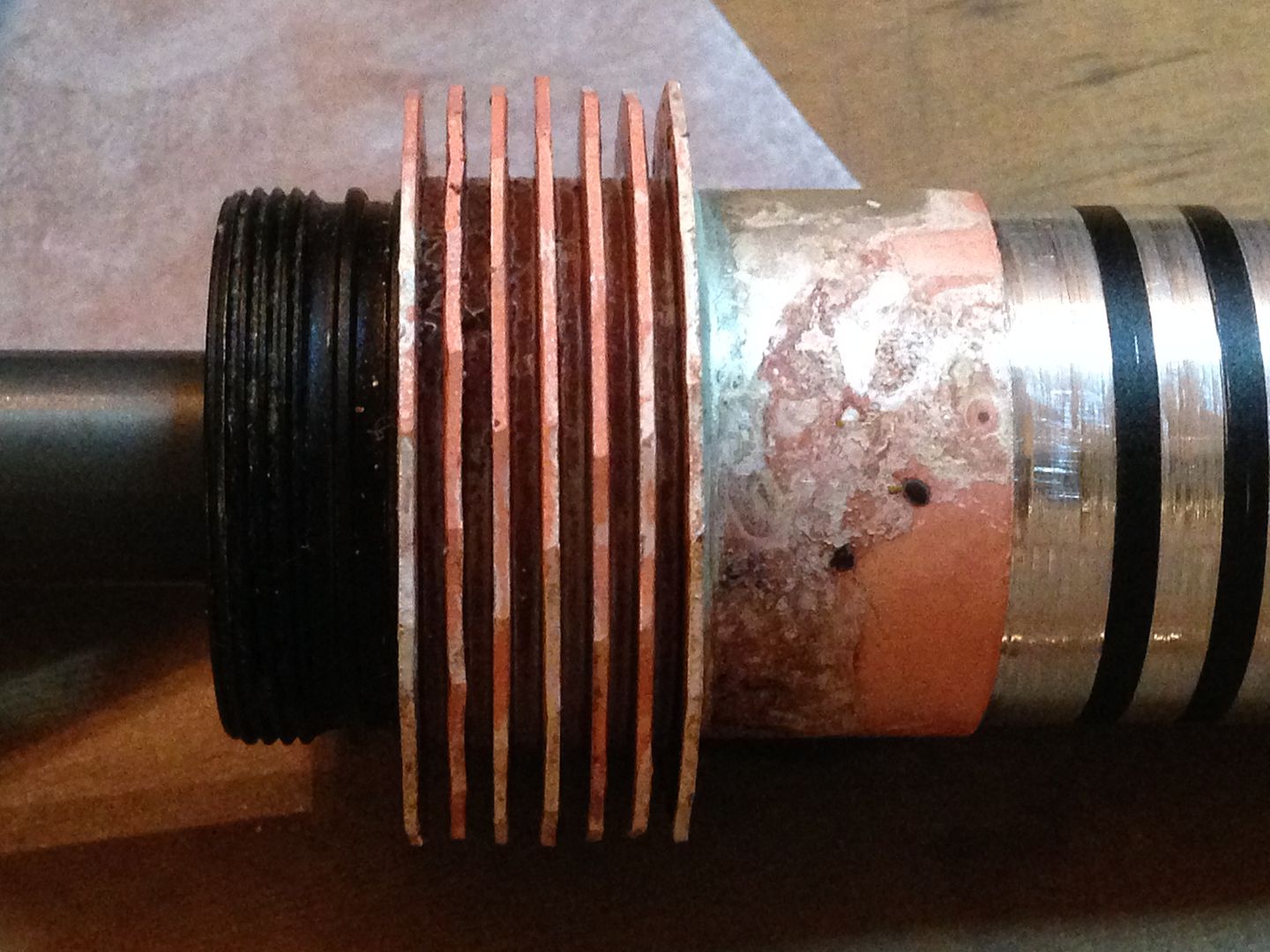 That's all the progress I have to report for now.
—
Three Tanna leaves to give him life, nine to give him movement. But what if he eats the whole bag?
Scott