I purchased the E10R from Gearbest when it was on sale for $16.99. At that price I couldn't say no. A sub-twenty dollar AA/14500 flashlight with micro USB charging. Take my money! Please! I paid the extra few dollars for upgraded shipping and it arrived 8 days after my order. Pretty amazing for crossing the globe. It arrived with packaging still in great shape.
Where to buy (Affiliate links)
Jetbeam E10R @ Gearbest.com
http://bit.ly/2qCvoX5
Other Jetbeam flashlights:
http://bit.ly/2pWbfie
LED: CREE XPL-H1 LED
Output / Runtime:
1x AA battery:
High: 190 lumens/1.1 hours
Medium: 46 lumens/9 hours
Low: 4 lumen/100 hours
1× 14500 battery:
High: 650 lumens /0.5 hours
Medium: 46 lumens/9 hours
Low: 4 lumen/100 hours
Beam Intensity: 4100 cd
Throw Distance: 129 m/423.2 ft.
Impact Resistance: 1 meter
Water Resistance: IPX-8 (Submersible to 2 meters for 30 minutes)
Direct recharging function via micro-USB port (NiMH and Li-Ion batteries only)
Multi-LED Battery charging indicator
Remembers last used mode via memory function
High efficiency circuit board provides up to 35 hours runtime on lowest output level
3 unique brightness settings
Powerful defensive strobe mode
Multi-function side switch
Stainless steel pocket clip
Tailstand capable
Titanium ring protects bezel from damage
Toughened ultra-clear mineral glass with anti-reflective coating
Aircraft-grade aluminum body
Anti-scratch type III hard anodized
Compatible with NiMH, Li-Ion, alkaline, and non-rechargeable lithium batteries
Dimensions:
Weight: 1.25 oz/35.4 g
Head Diameter: 0.75"/19.1 mm
Body Diameter: 0.75"/19 mm
Length: 3.85"/97.7 mm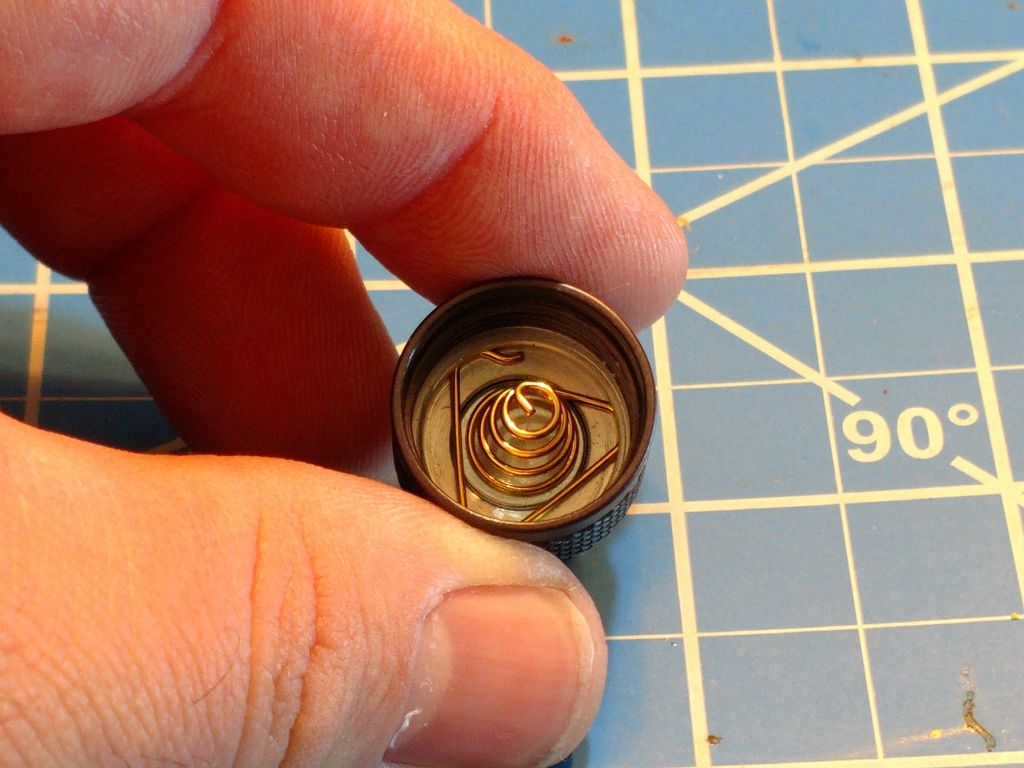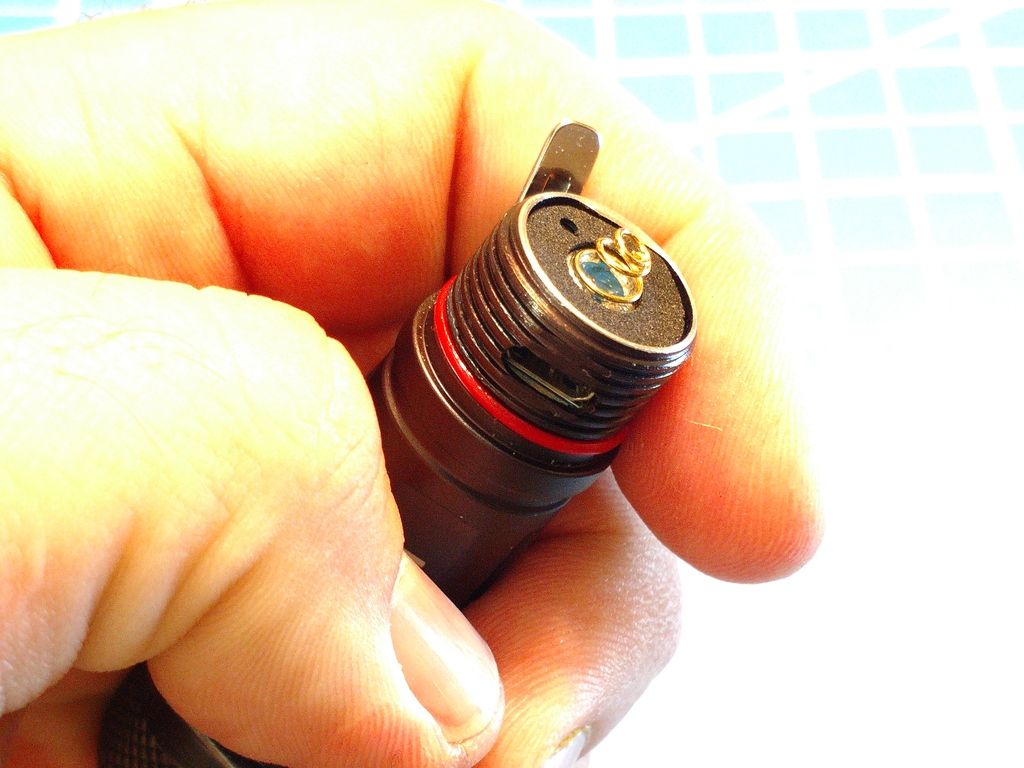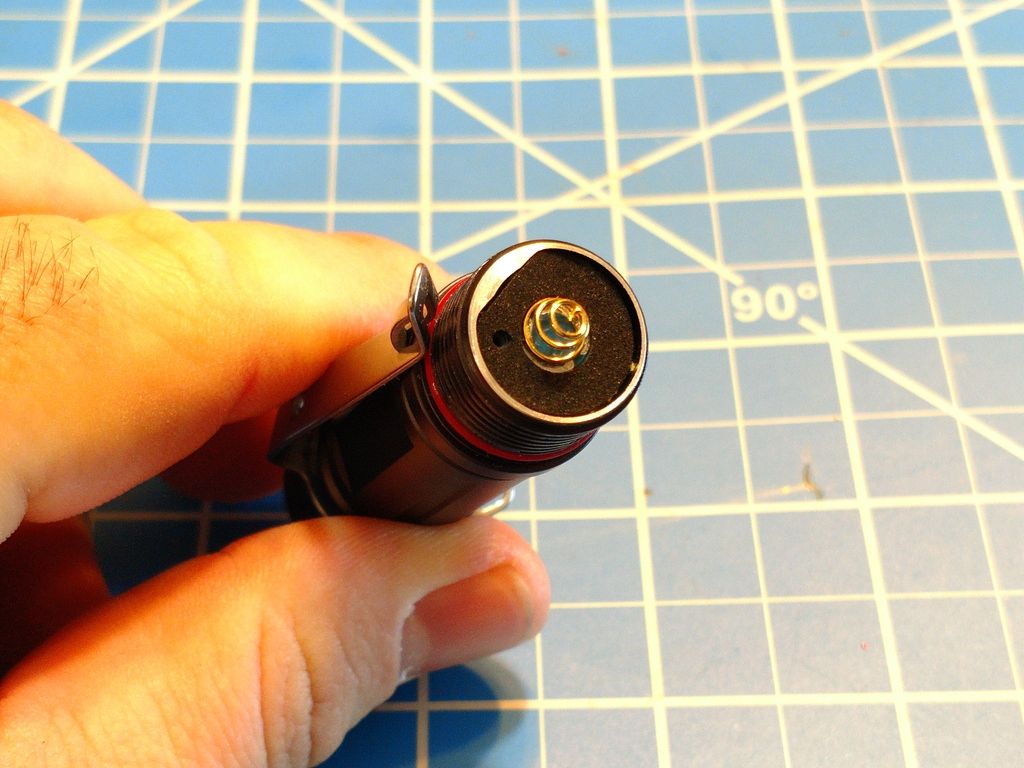 The quality of this light is on par with the Jet-I Jet-II, Jet-U MK. The anno is smooth and surprisingly scratch resistant. The glass is nice and clear, the o-rings arrived in great shape. Threads are decent and came lubed. The light is in 3 pieces. The tail cap has a spring and magnet. The threads are anodized so you can do a physical lockout of the light. The threads are tight so I haven't had any issues with it loosening or tightening in the pocket while locked out. The light does tailstand well. The magnet is weak and wont hold the light at a 90 degree with a battery inside. It will hang upside down no problem. Looks like it could easily be replaced with a stronger magnet as it looks like the only thing holding it in place is the tail spring. The battery tube section contains the USB charging component. Which is awesome because it separates it from the driver/head in the event that you want to do any modding. Smart Jetbeam! The head end of the battery tube does not have a spring on the inside so it is actually quite picky with batteries. I did get a weird combination of flat top and button tops to work. Flat top Efest IMR14500s worked, but my flat top Sanyo 14500s did not. Same randomness with my button tops. On the outside of the battery tube there is a spring that makes contact with the driver. The USB port is in the thread section of the head so you never have to worry about small rubber boots or covers. The driver appears to be press fit, with no sign of glue. Mine does wiggle slightly when I hit it with tweezers. The light operates with a side e-switch only. Bear this in mind if you are looking to mod the light. There is a very small button on the positive connection to the driver. This mates with the spring from the battery tube. The reflector is smooth and came free of defects. The bezel is said to be titanium, but I could care less. Not a feature that interests me. I was unable to open the bezel. Perhaps it's glued, perhaps I have small girly hands. The pocket clip is a bit of a horror story. It is a small bent strip of stamped steel that wedges between the tailcap and battery tube. It spin freely even with the tailcap cranked tight. On the reverse side of the pocket clip is a small triangular lanyard loop. This is probably the most uncomfortable thing on earth. Have a kid jump on your lap and your going to have a small thin pointy piece of metal digging into your leg. Being it is opposite of the pocket clip you can not position it away from your leg. Yikes. I don't foresee myself using the pocket clip now that testing is over! Not so smart JetBeam. Not to mention it is very thin and easily gets caught on fabric couches, seatbelts, etc. There is a small lanyard hole in the tailcap as well so you do have that extra option. Overall the light is mostly done well, with the exception of that awful pocket clip. I should also note that the e-switch is nearly impossible to find in the dark. The light is round and has no way to index the switch. It operates smoothly and haven't had any issues with it missing mode changes… yet.
Here is another horror show. When you put in a 14500 it charges at around 4.8v under the load and .85a. So in a perfect world I'm sure it's a 5v 1a charging component. There is a small led at the head of the battery tube that lets you know when it is charging and complete. The light did actually switch colors, and I checked the 14500 and it was at 3.75V. I put it back in and left it a few more hours and it was still at 3.75v. That's a pretty massive amount of undercharging going on there. I didn't even bother to try NIMH because I'm just not ever going to use the charging port based on my results with 14500. I've read other reports of undercharging, so it does not appear to be just me.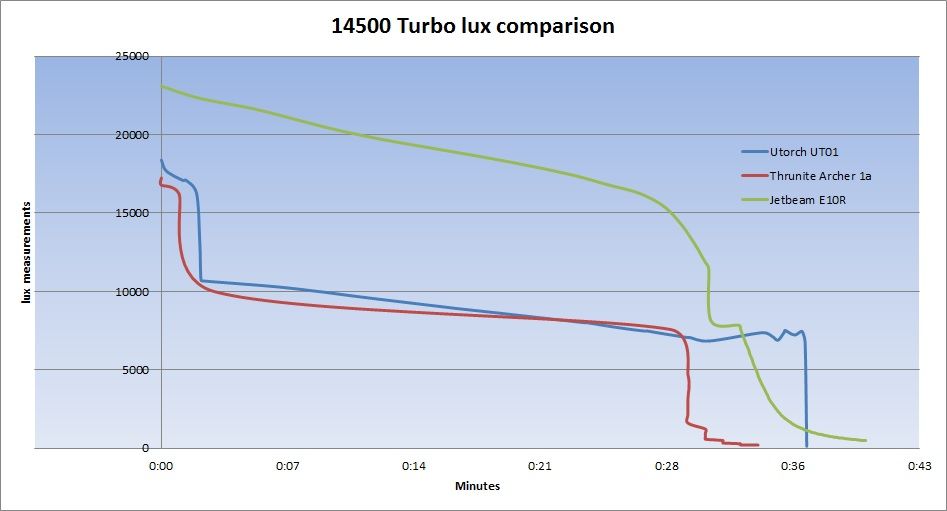 Not too shabby. My lumens came in significantly lower than the advertised specs. This could be a calibration issue as I have changed equipment so please take this into consideration. My Utorch ut01 also came in about 50 lumens below advertised so I think I need to work on my calibration. The great part about this light is that it does run full blast with a 14500 and gradually declines in brightness. My assumption is that it goes into direct drive for 14500 use. Your going to get a good 30-35 minutes of usable light with the right battery. My light shut off so there does appear to be working LVP I checked and the battery was at 2.70V after shutoff. It did rebound to around 3.0v so you can definitely go back and squeeze a few more minutes out of it in an emergency situation. The light gets pretty darn hot after about 10 minutes. Not hot enough for me to abandon the runtime test, but I wouldn't want to be carrying it at that temperature. NIMH gave a very nice regulated 200 lumen output for a little over an hour. Alkalines put out a decent showing… but they are staying at the kid's table. The light also has a mode memory but you do have to leave it on for a few seconds for it to kick in.
It's a tough light to compare to other lights because most manufacturers of AA lights that produce over a couple hundred lumen have a step down. So although you get a longer runtime with some of these other lights, you do only get a few minutes of actual turbo. It takes about 30 minutes to get to about 50% of original brightness. So if you like at a light like the olight s1a or s1r you do get a lot more light for tat 30 minutes.
Overall this light puts out like a prom date. I ran this light hard with a 14500 test, nimh, and alkaline test back to back with no cooling. No problems whatsoever. It can take the heat, it can take the extended runtimes. If only they would fix the charging!
+ Beam Shots:+
So I really don't have a meter accurate enough to give you exact figures. I checked it several times with several batteries and got some wildly different answers. All of my results were in microamps or very low milliamps. The pattern I saw is that there is definitely more drain with NIMH batteries. Either way, it looks like you're going to get a few months before it drains the battery. Not a big issue at all considering you can lockout the tailcap.
I'm not seeing it with my eyes. I tried waving the light in front of my hand, and checking in the shower. I'm not seeing it, but I'm also not sensitive to it at all. I'm not seeing it on camera either. This doesn't mean there isn't PWM… like I said I'm not sensitive to it at all. Except the Nitenumen NE01. I can see the PWM on that just looking at it. Yeah, I'm weird.
Although the light has some flaws, it is an absolute homerun for the price. A magnet upgrade and a new pocket clip and I would be in love with this light. I can overlook the problematic USB charging, because I rarely use it on lights to be honest. My cell phone is USB-C so I don't have normal old USB cords laying around anyway. It performs well, can handle the heat of long runtimes, and has a simple easy interface. Not much beats a 3 mode e-switch flashlight for the simplicity of everyday carry. The tint is cool white, and pleasant to look at. The beam is pretty smooth as well and it has enough throw to make it useful for outdoor activities like hunting, camping.
Improvements I would like to see
Better pocket clip
A flat for the e-switch so it can be located in the dark
Fix that usb charging!
A lower low mode – and I mean moonlight!
If you're going to have strobe, have a beacon. A small beacon that lights once every 10 seconds would be awesome for camping. I set down and lose flashlights until morning a lot! A moonlight beacon is a beautiful thing for people clutz like me.