Review example was provided by Fasttech. This is the product page at webstore. As usually, you can use BLF codeword to use 5% discount.
This is my 2nd Sunwayman, the one I`ve tested before was T25C – potentially good, but just terribly overpriced sh*tfire in reality. And that was soon after release of decent and interesting C22C\C22CC, when Sunwayman was a company that issued new products more than twice a year. So, when I get a chance to review collectable copper 16340 light, I had no doubts )
Stared characteristics:
● CREE XM-L2 U3 LED, with a lifetime of up to 50,000 hours;
● Slightly depress the side switch to turn on/off the flashlight as well as selecting desired output mode:
Turbo (380 lumens, automatically lowers to High after 3 mins continuous use)
High (180 lumens, 2 hrs )
Mid (50 lumens, 10 hrs )
Low (10 lumens, 60 hrs )
Strobe
● Constant current circuit, constant output
● Uses one single CR123A(16340) battery
● Working voltage: 2.8~4.2V
● Convex lens with as high as 95% light transmittance
● Dimensions: 59mm (length) x 26mm (head diameter) x24mm (tail diameter)
● Weight: 30.8g (battery excluded)
● Quality copper; Stainless Steel retaining ring on the top
● Anti-oxidation finish
● Waterproof, in accordance with IPX-8 standard
● Accessories: Lanyard, O-rings
PACKAGE AND APPEARANCE
Package is somewhat that i`ve seen in Tank 007 keylight, but with paper wrapping. Well, that still can be used fo gift, but i`d expect from collectable thing more than a tin box.
Package is regular: flashlight, manual and o-rings with lanuard.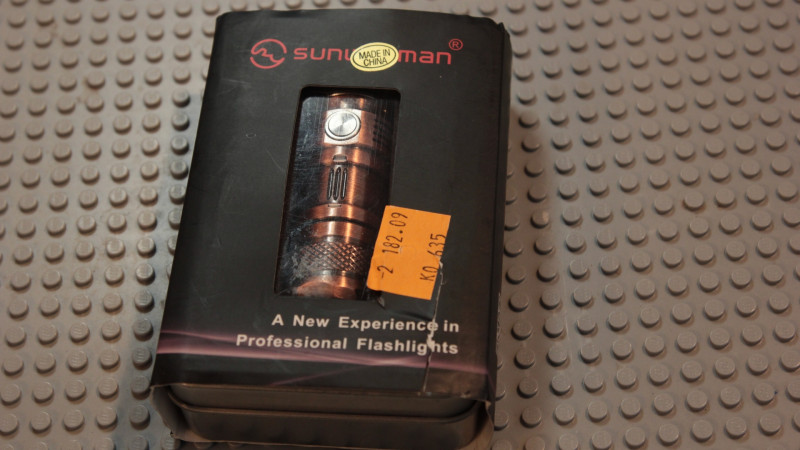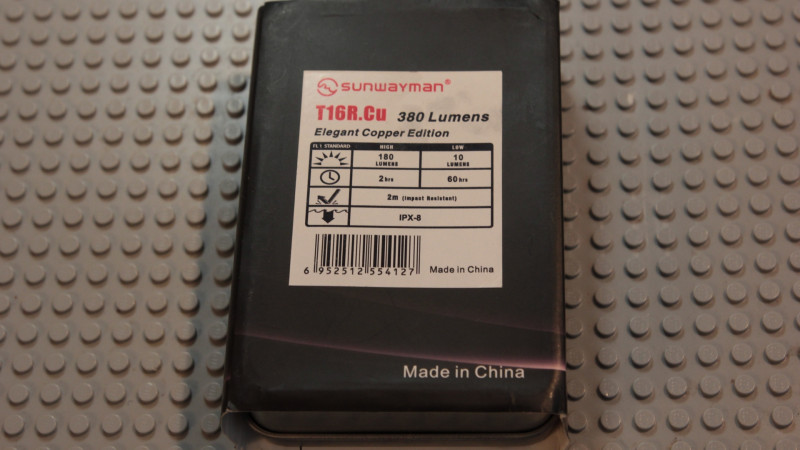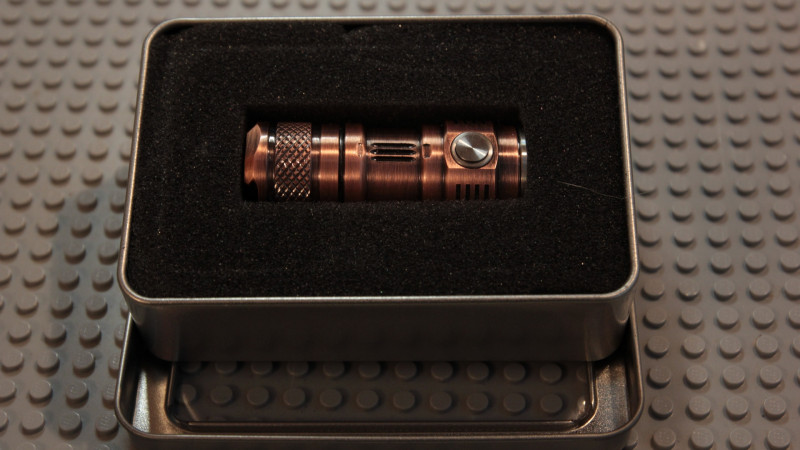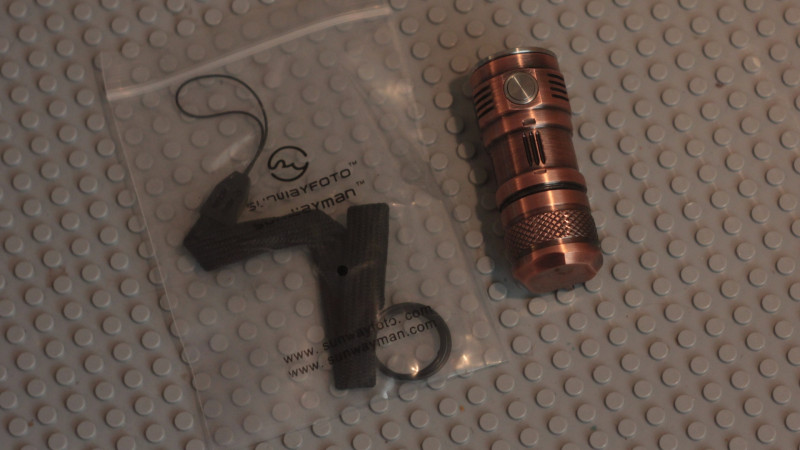 S16R is REALLY small for 16340 light, just 59×26mm, here it is along with other popular model – On the Road M3. Last one is not big, and S16R is even smaller. Smart readers have already stared to quickly think about stepdown – )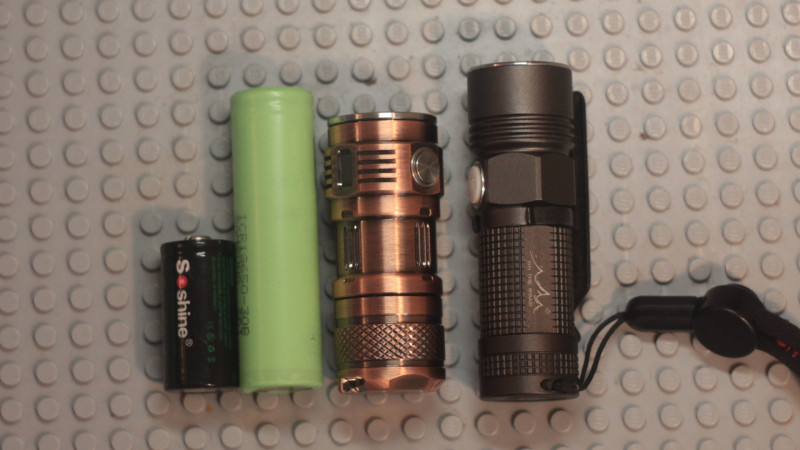 There is also choice of non-coollectable aluminium black and grey versions that also look attractive.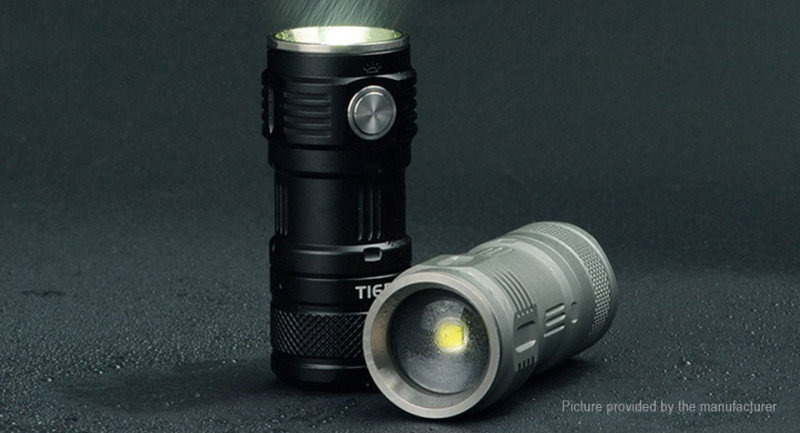 Copper body looks quite retrofuturistic, reminding me about some "Fallout" equipment. At the same time I feel that it has something similar to Meso-American ornaments. This short shallow notches in copper body definitely looks so Mayan for me. So manufacturer as well might engraved something like Uitsilopochtli sittin on cactus and eating heart of Led Lenser`s engineer, or epic battle of Quetzalcoatl and Fenix.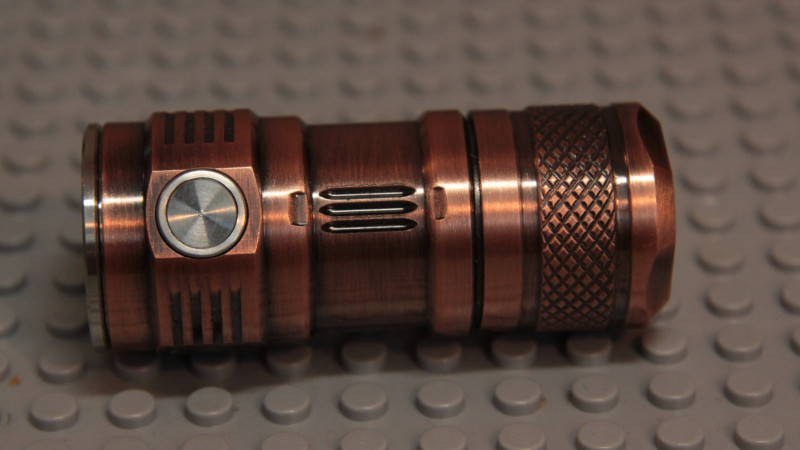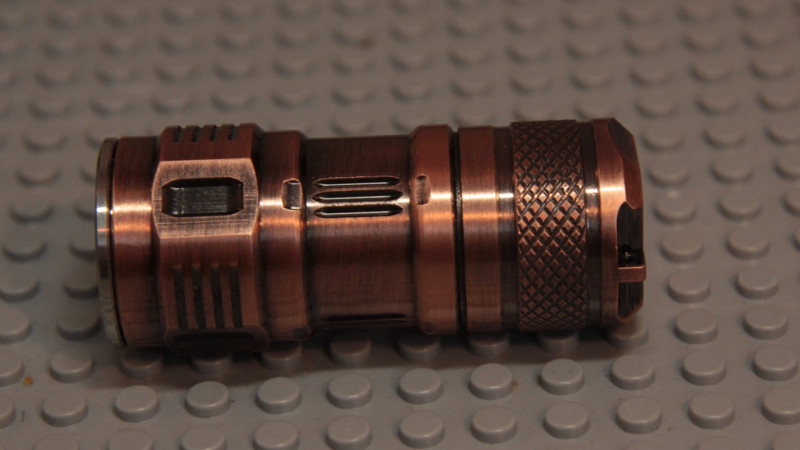 So, what about design – this flashlight looks definitely unusual and being a rare collectable thing it give it`s owner what it supposes to give – feeling of having something unusual and good-looking.
There is rhombic knurling at the tail to make unscrewing easier. At the rear side there is a model name and lanyard lug.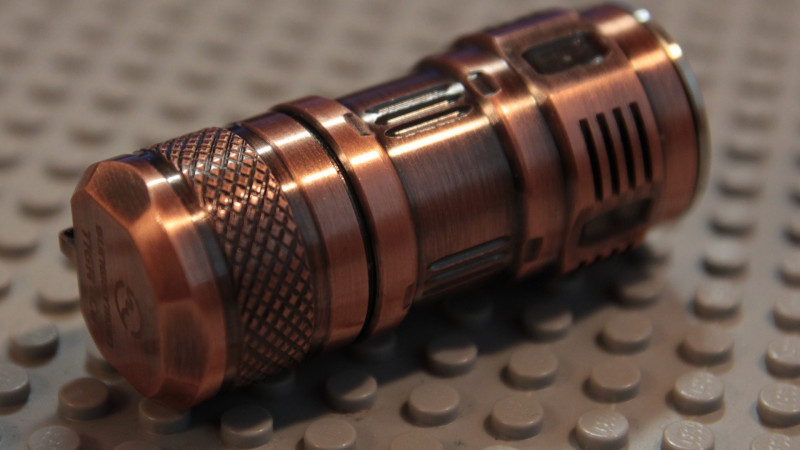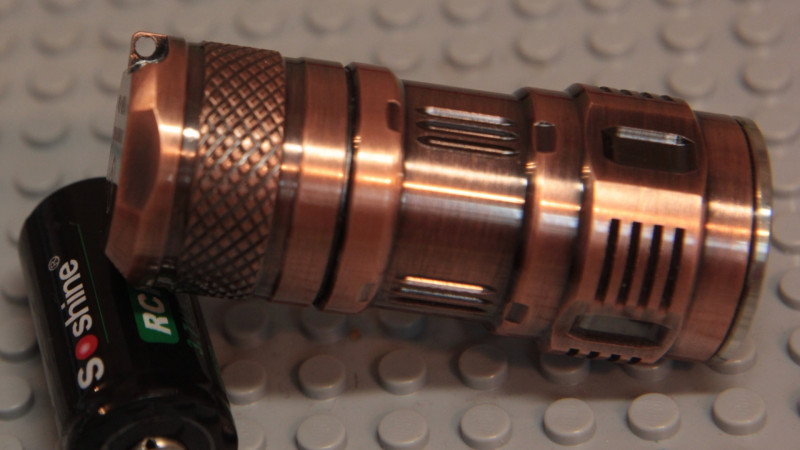 Tail spring is really think, it can even fit some 26650 bright flashlight. BTW you can see plastic tube-16340-C123 adaptor.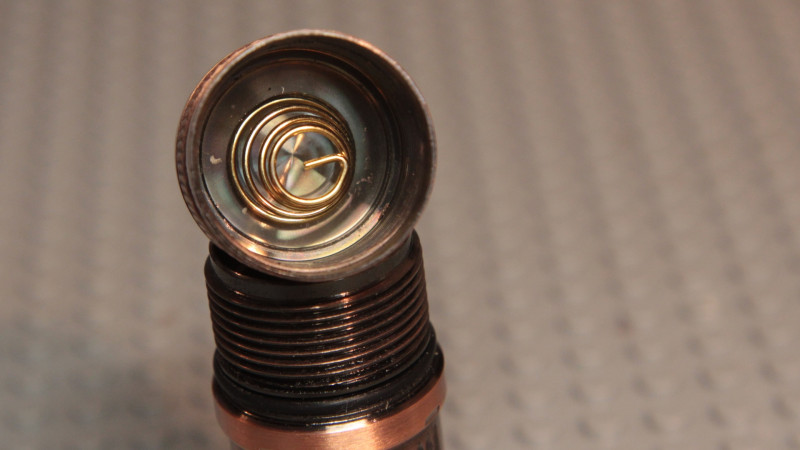 Threads are accurate and well lubricated.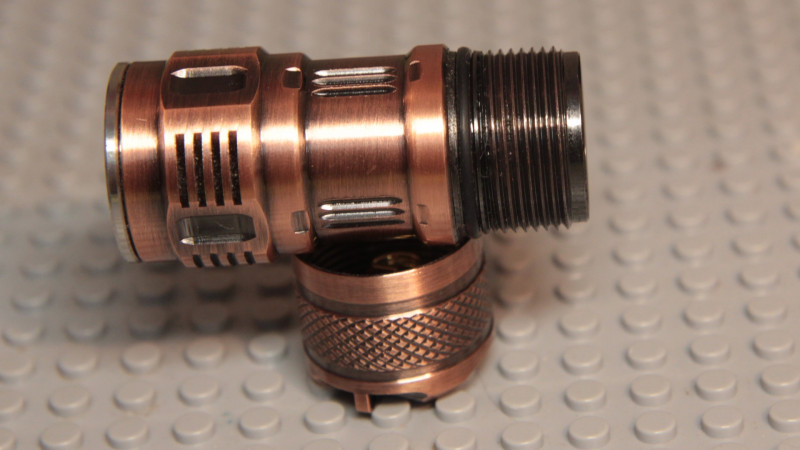 There is no spring, but contact plate at head. No bad, since that is not tactic product, but more shelf-dweller )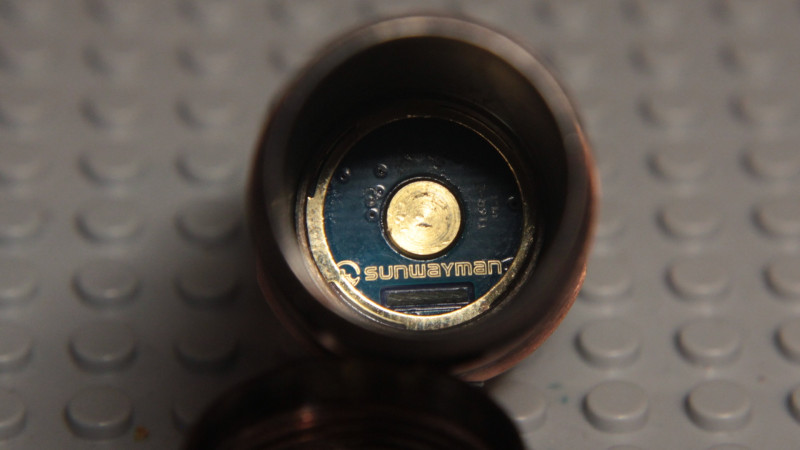 Button as accurate and small. I had no problems with finding it in darkness, but that may be a challenge in cold weather, especially with gloves on.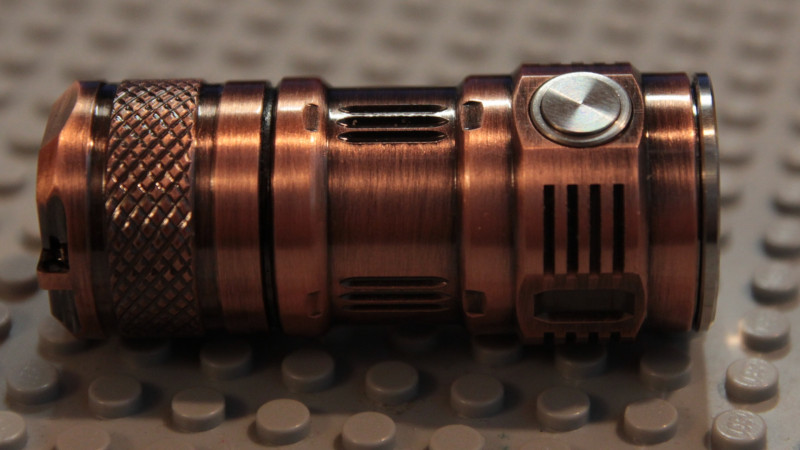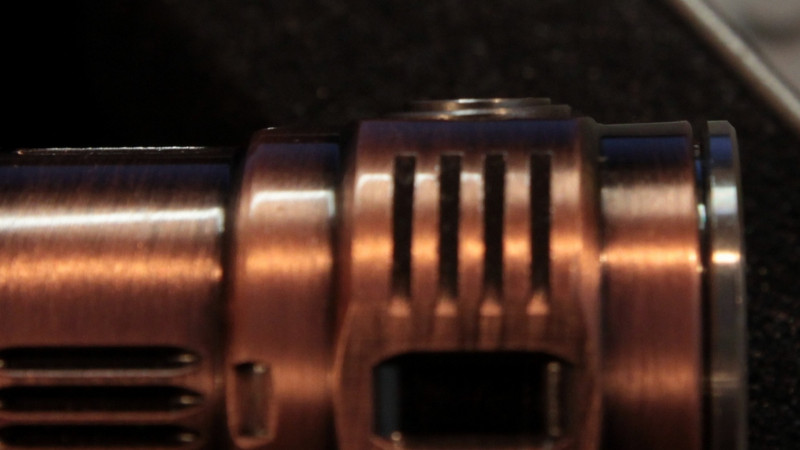 Cooling ribs? What? No, no cooling rinbs. That is a collectable thing that is not supposed to be functional. Just hold it in hands, and adore it.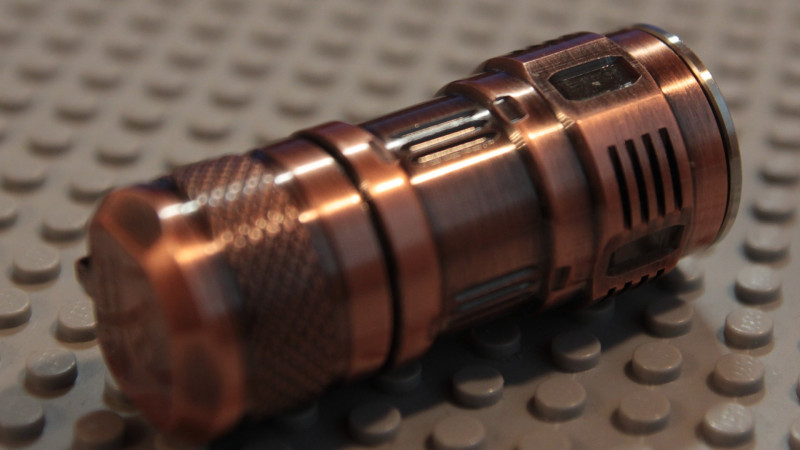 There is no reflector. Sunwayman decided that flashaholics, people that know that stuff and spend hundreds bucks on it will do without OP or TIR, obvious choice for such small light. Sunwayman gave us convex lens instead. Thanx, thanx (sarcastic)! At least they didn`t put nameless LB LED, and put XM-L2 instead. Seems they also thought that T16R is good enough itself just to be also working thing, so they even put BLACK pad, thing that will reflect NO light, under this lens, to make it even more useless.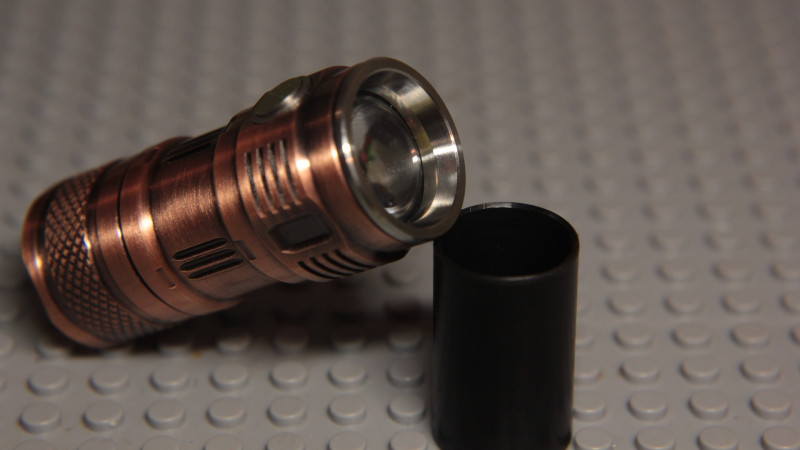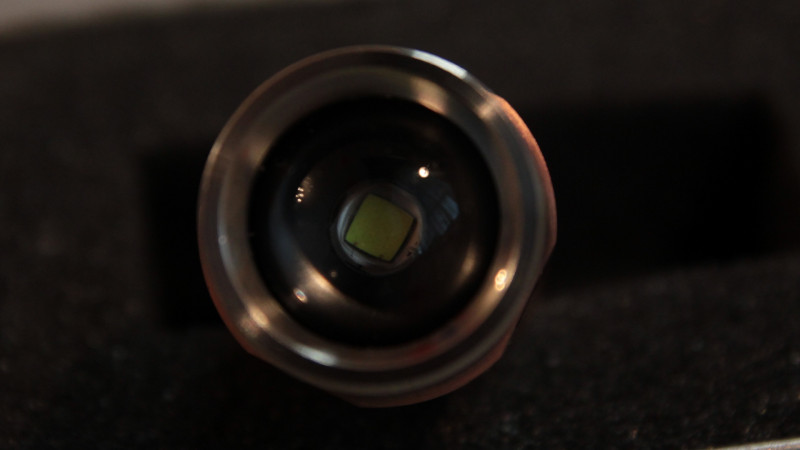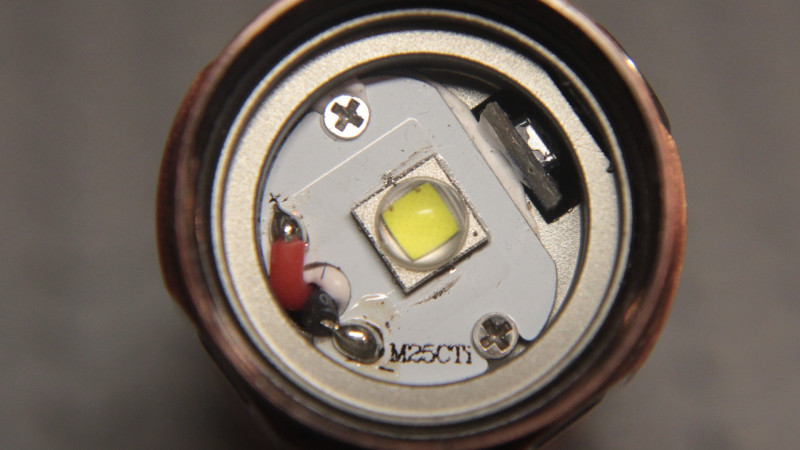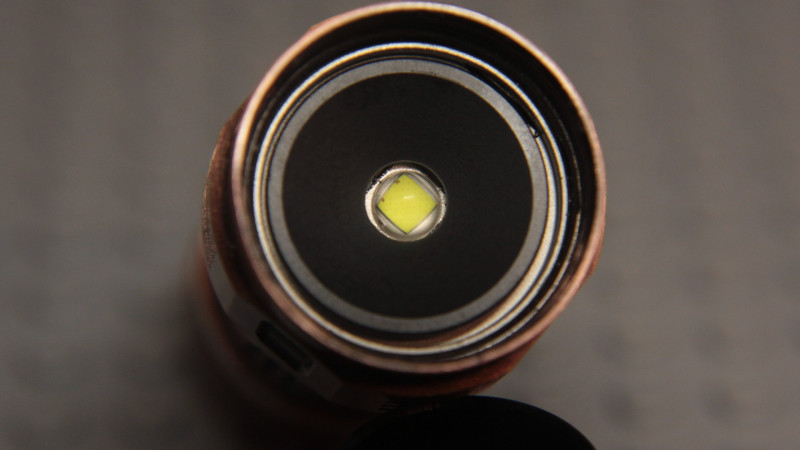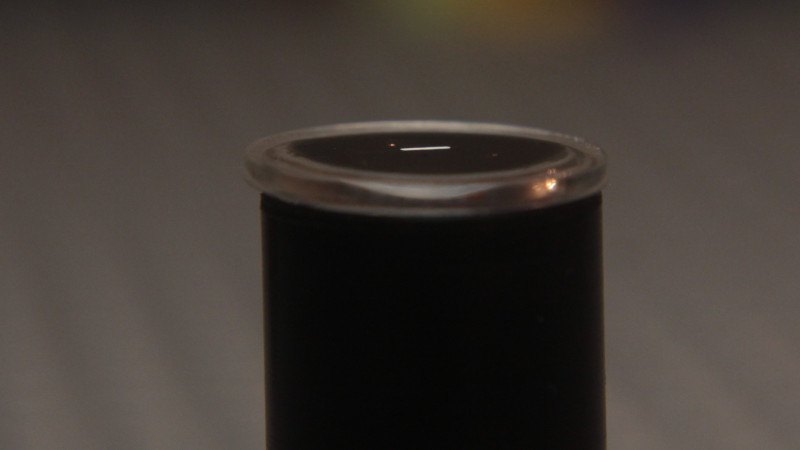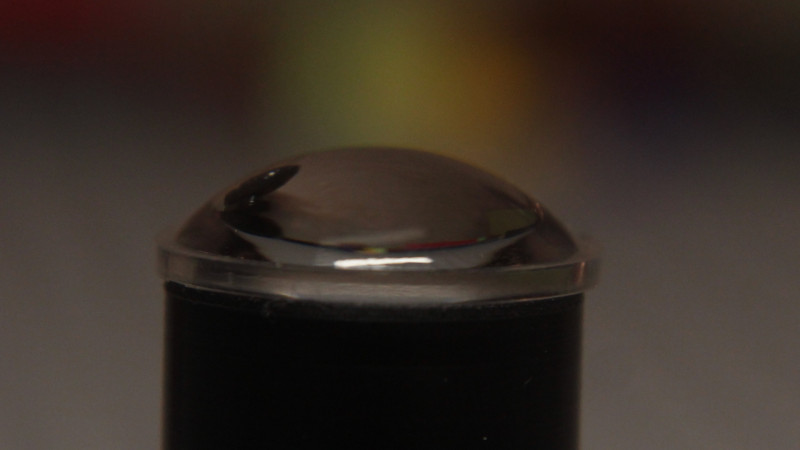 Overall – build quality and appearance are both good.
Construction of optic system is terrible and has no excuses .
UI
Olight-ish.
On-off by quick pressing, mode switching by holding button.
Of course, this ui + such small button requires lock-out function. Sunwayman granted us, unfaithful, with it, but left foggy explanation in manual. It took me about 5-7 minutes to figure out how it works,
You have to click and release (light goes off) button and then immediately press and keep button. T16R gets locked. Unloking is similar. Once you get used to it, this is simple and quick.
2 x presses – SOS.
There is a mode memory
PERFORMANCE.
Ok, guys, I think you`ve already prepared and have in mind what to expect. Yes, you get all the pack of crap features which you normally get with 1-2$ noname "flashlights" made from mud and pressed siluminium.
PWM-shimmerin? Yes, Sunwayman generously provided us with it in ALL the modes except turbo.
But to be honest, I have to mention that it`s frequency is high, so it`s almost undetectable at pen-test. But shower test made everything clear, there it is. In real use that will be no disadvantage at all. But once you paid 50$ for it, you expect not to face it at all.
Light is CW.
Modes:
Turbo (380 lumens, 3 min stepdown)
High (180 lumens, 2 hrs )
Mid (50 lumens, 10 hrs )
Low (10 lumens, 60 hrs )
Amperage: 0.048-0.149-0.364-0.789А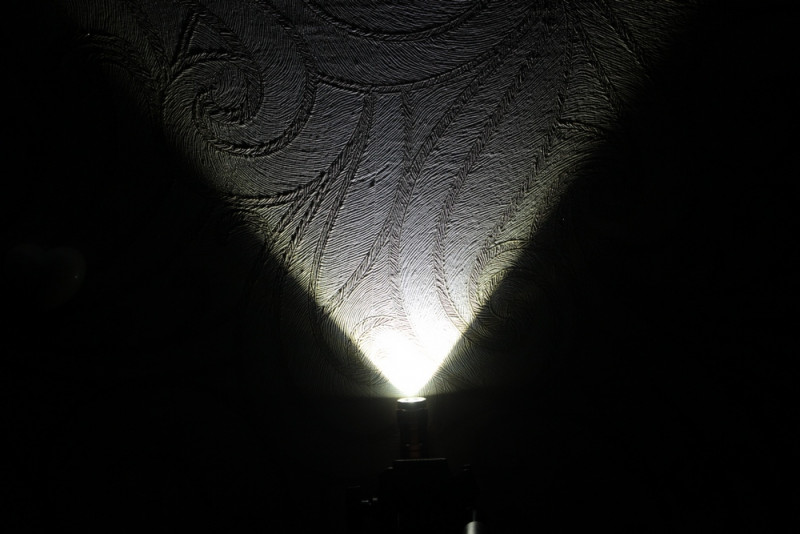 Well… what can I say. Sunwayman did their best to create collectable thing that should be collectable – stay on shelf and please owner right untill being turned on.
All the light evenly fills circle. I know that those who had no chance to use at least Convoy lights and keep on relying on cheap noname zoomies, find this good. I find this undisputably sad. Just to add some salt on wound, this black pad definitely dims still not that bright light. Well, i`m not an engineer, and has no right to call idiot the one, who decided that putting this pad instead of something reflective is an improvement. So I keep my thoughts unspoken.
Light is main in flashlight. Last can be ugly, but once it provides user with good light, that can excuse a lot of: UI, bad body etc. Here we get nice body, nice in everything besides main, light. Sunwayman could add simple 1$ cost TIR-lens and everything wouls be cool. Of course you can use T16R, it provides with some light, but max brightness and light distribution are way worse than you want to get.
Ok, please take a look.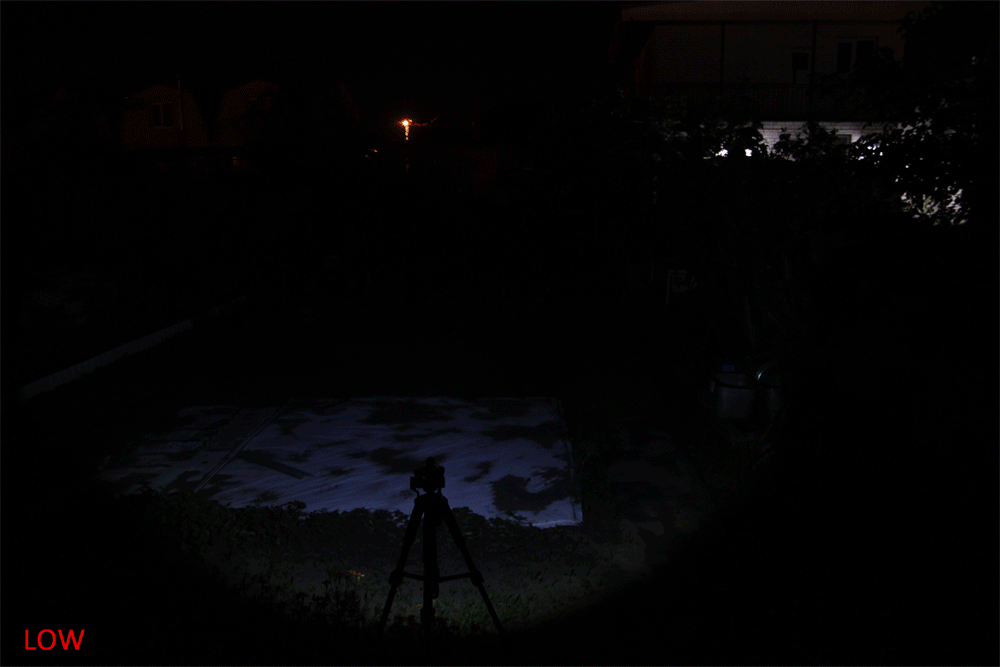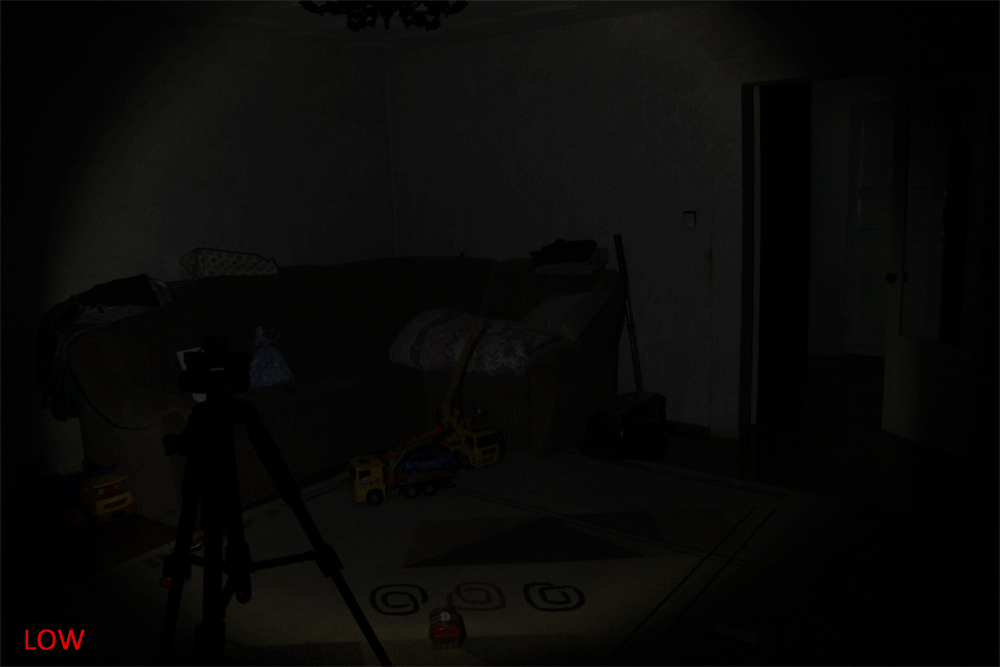 Chart…stepdown is so deep as the financial canyon that Sunwayman fall into, making stuff like this.
"constant curren and constan output" they say in nice pics…constant idiotism and moking on users, I say. Here they show no sight of stepdown and keep shortsightedness in serious turbo.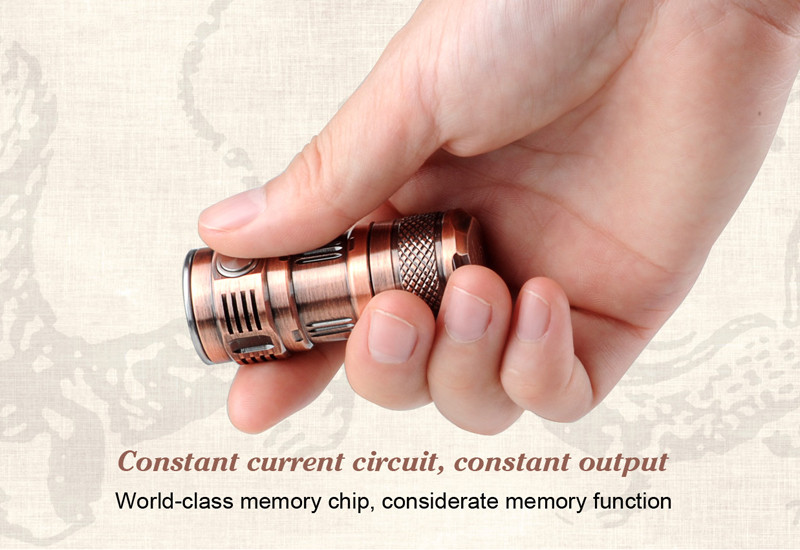 Btw, they promised 3 min stepdown. I got 2 and a half minutes (with cooling)
OVERALL
Well. As I mentioned above – sunwayman decided to make collectable (read" thing that is being kept out of use" ) thing and they succeded. That is nice looking product that will perfectly rest in peace with other expensive lights that you keep on a shelf with no use.
Of course, if you want to make a gift for someone who had no experience with any good light, you can pick this one without any hesitation – it looks good and will draw a lot of attention. And, it may give some light anyway.