We all know why you're here. It's because of how interesting my reviews are… Wait a minute, you're probably thinking "Hey mapache, isn't this your first review?" Hmm, you're right: this is my first review. In that case, you must be here for my great sense of humour… "Hey mapache, I think I've read some of your posts. You're not as funny as you think you are." Oh, then I guess you're here to see what I have to offer in the way of a review?
If you're still reading, you might be starting to wonder what is going on. Well don't worry – this is indeed an attempt (note to self: emphasise attempt) at a review. A number of weeks months ago, ThorFire contacted me and asked if I would like to review a light. I said yes, however I stipulated – and this is a direct quote from the PM that I sent them – "I won't lie in the review but if there are any major issues, I will contact you first to try and sort them out before making it public." The only follow-up communication I have ended up having to make was letting them know that I hadn't forgotten to do the review.
As there were already plenty of reviews of the TG06S by the time I had my review almost finished, I decided to change this to a long-term experience review.
All my testing was carried out using AA NiMh and Alkaline cells.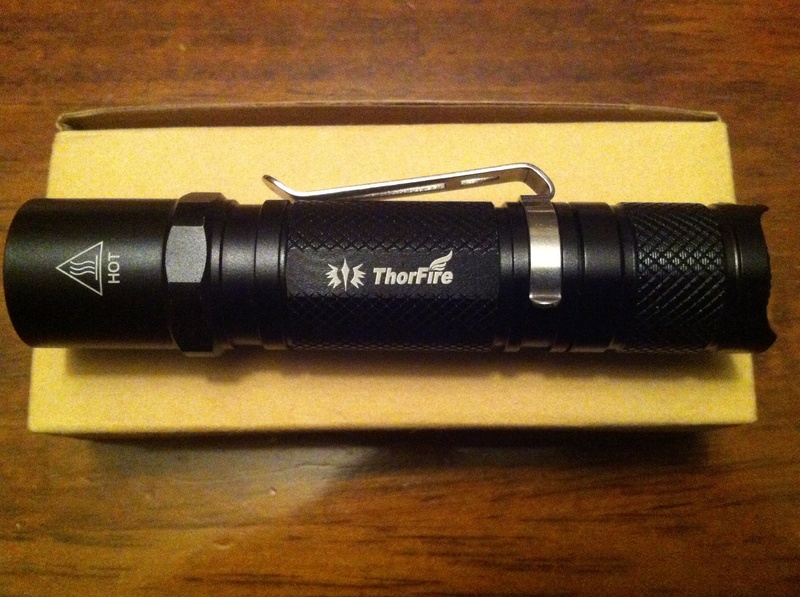 The TG06S is the latest version of this AA/14500 light. It arrived in the typical brown ThorFire box. However, unlike some of the earlier TF packaging that I have seen images of, this one had both the CE and the RoHS marks. Included in the box was the light inside a bubble wrap "sheath", the manual, a little bag with spare o-rings, and a piece of open-cell foam in the bottom of the box for padding.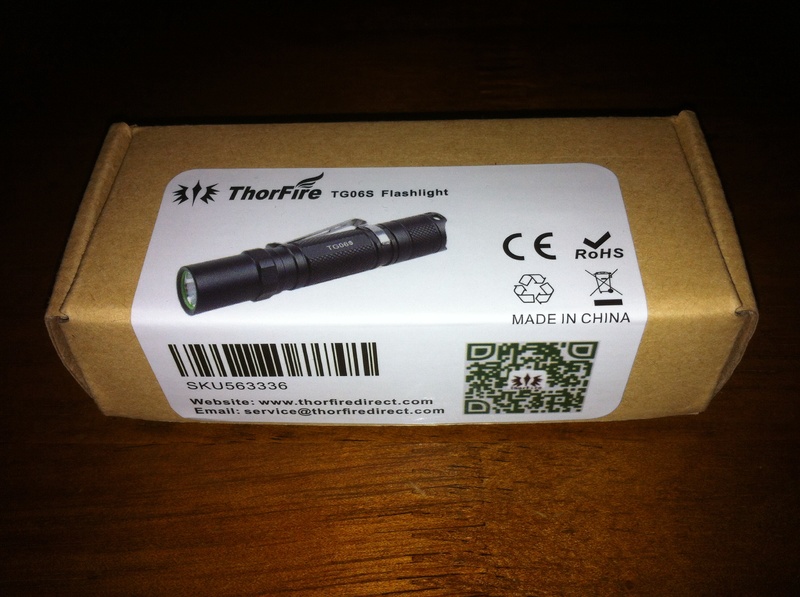 The dimensions that I measured are as follows:
96.5mm length
20mm head, with the anti roll flats measuring 21mm
16.9mm x 12mm smooth reflector
16.8mm driver
1mm pill shelf
The anodising is quite nice. The surface is low gloss, but not completely flat like the C8. A sturdy clip is supplied already attached to the light, and is reversible so that the light can be attached to the peak of a cap / carried bezel up.
The threads are a very smooth, square cut and came lightly lubricated. The tail threads are anodised allowing for tail cap lockout.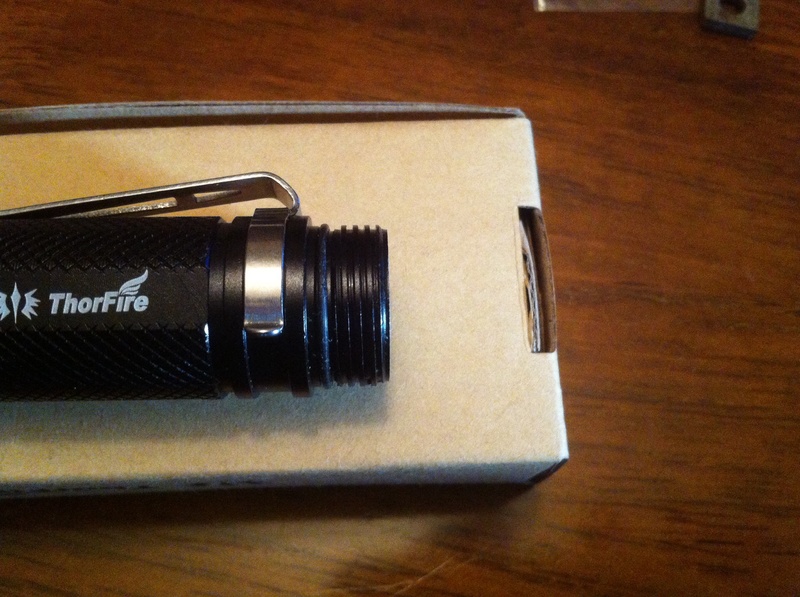 The emitter is listed as being an XP-G2 R5. The tint isn't listed, but it's quite neutral looking with the slightest hint of green. The emitter was well centred prior to me removing the pill. However, due to the centre ring / gasket design it took a few attempts to realign upon assembly. I am far from experienced (AKA a newb) with gasket design and emitter focusing, but it appears that the gasket may be slightly taller than needed and could be causing a slight loss in light output. However, the beam seems to be nicely focused when white wall hunting.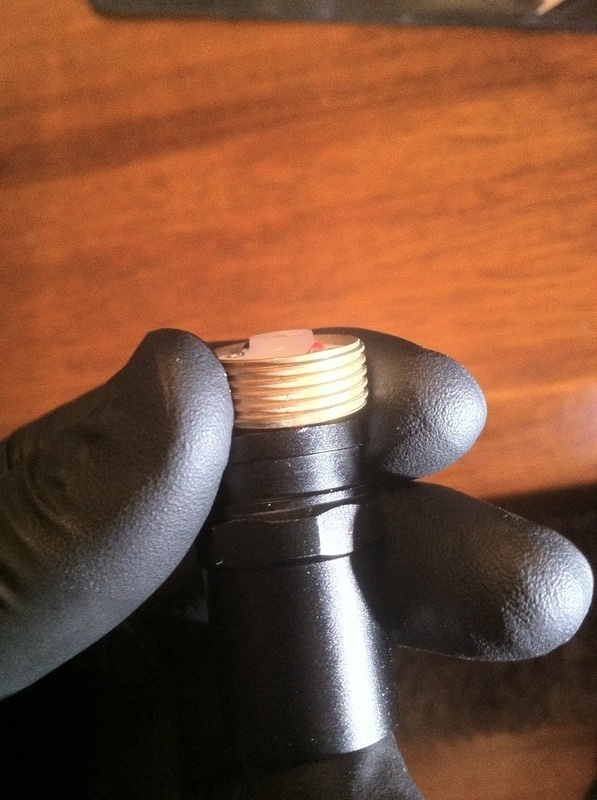 This version of the light comes with a reverse clicky switch, and the sealing flange of the switch boot had adequate lubricant on both sides to help seal out water. The modes are: High, Medium, Low, Moon and Hidden Strobe – without mode memory. The strobe had an alternating frequency almost like a bicycle flasher and strobe combined. The TF lumen claims are 500 lumen on High, with a 14500 cell and 150 lumen with a AA cell.
Opinion Time (yes, everyone has one)
I have been carrying this light on and off for quite a few months now. It spent a lot of time clipped to one of the small pockets on my work pants, or clipped to the pocket of a hoody. The size and weight of the TG06S is excellent for my indoor EDC purposes, being just large enough that I know it's still there without being so large that I am constantly aware of it. Mrs Mapache was quite interested in this light compared to other lights: she too really liked the size, commenting that the 18650 light she has is too heavy for permanent purse carry (I'm somewhat paraphrasing here). She also likes the fact that the TG06S on AA cells runs cool enough that an accidental activation shouldn't burn anything in her purse.
I found this light to have quite a nice tint with plenty of output on AA and a tight hotspot with reasonable spill. Indoors the tint has the slightest hint of green, but is quite pleasant and Mrs Mapache commented that she really likes the tint colour and finds it relaxing compared to the "harsh" 1A tints. Outdoors the green was not visible to my eyes and the tint was excellent for inspecting wildlife burrows for activity and seemed to make the vegetation stand out well. On a number of occasions, I had the light clipped to my baseball cap for inspecting fence lines and wildlife cameras. Most of the time this worked well, but I found that the hotspot was a little too narrow whilst wearing an old and loose-fitting flexfit cap that refused to stay in position due to the increased weight on the peak. However, whilst wearing an adjustable style cap I had no issues with the narrow hotspot as the cap would stay in place with correct adjustment.
The reverse clicky switch is smooth but personally I would have liked this light to have a forward clicky switch as I am digging them at the moment. However, this is a personal choice and is easy enough to switch (pun intended :P) out myself.
The TG06S does have visible PWM whilst using a AA cell in Moon, Low and Medium modes. 90% of the time I didn't notice the PWM at all – nevertheless it did become evident when walking down really tight bush tracks in both Moon and Low modes. Whilst it was not enough to cause disorientation, it was enough that it took a minute or so to get used to it. However, where I found the PWM particularly distracting was when I was fixing a draw slider. I was at an awkward angle with the light clipped to a hat and the work-piece was less than 6" away. In this position, I found the PWM to be quite bothersome.
The following PWM images are f/2.8, 1/15s and an ISO of 1000 (equiv)
PWM Moon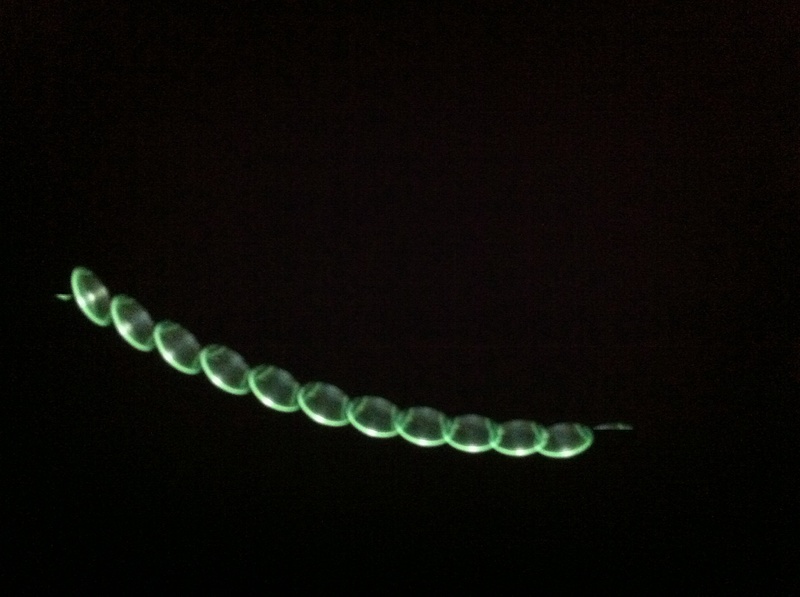 PWM Low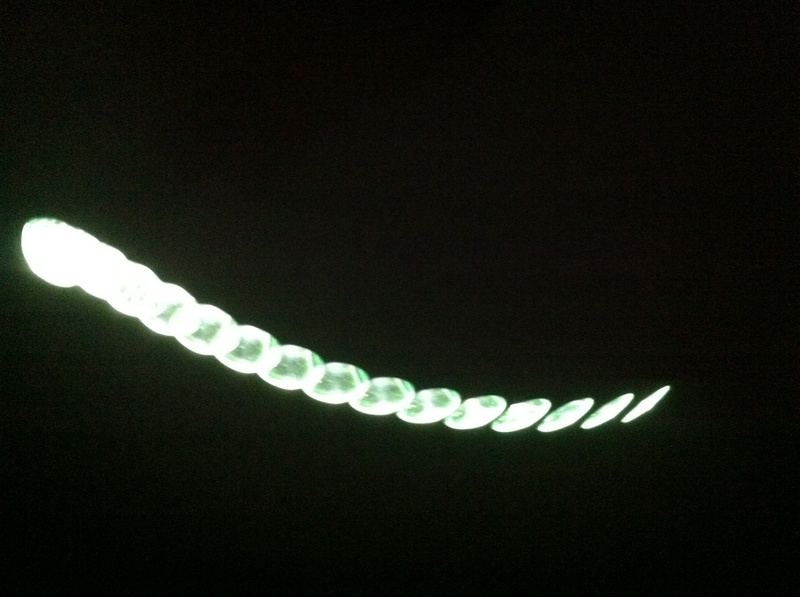 PWM Medium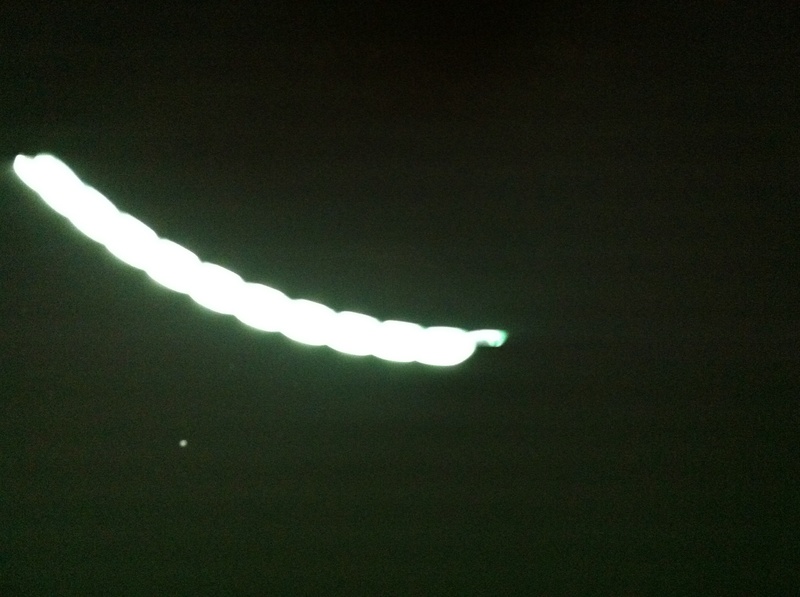 PWM High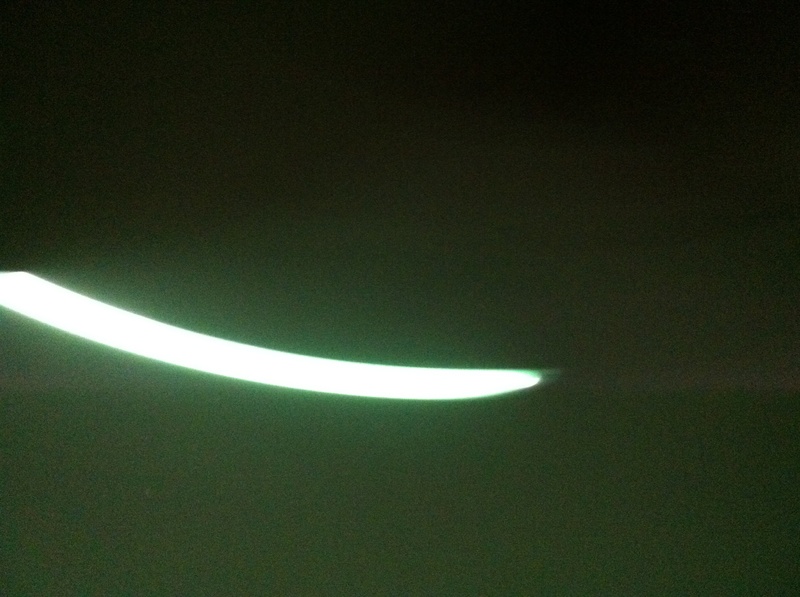 The only thing that I felt was lacking with this light was that it doesn't have memory. In my opinion, a light like this is well-suited to keep on a bedside table, tucked under the corner of a pillow, or next to a sleeping mat for when nature calls in the middle of the night. However, it really needs the ability to start in Moon so as not to wake your companion. I wouldn't want the mode order changed though, as this light is just as useful for EDC – and the ability to start on High is as important as starting in Moon for a lot of people.
Overall I am very happy with this light, as is Mrs Mapache who will likely be claiming it for her purse and I would gladly recommend it to anyone who doesn't notice PWM. However, I would strongly recommend to ThorFire that they make the PWM less visible and that they include last mode used memory.
EDIT – It has been reported by Dusty that there is a newer version of this light now available and it doesn't have visible PWM! A short video is available in this post. It would be nice if TF made the update drivers available to purchase.