To begin: This light was provided to me for free at no cost in exchange for a review. I accepted for two reasons: It doesn't change what I'm going to say here, and also FREE FLASHLIGHT WHOO!
 My ThorFire TG06S was part of the amazon kit, which includes a USB charger and a ThorFire branded 14500. I've yet to get a charger that measures capacity, so I can't vouch for the 750mAh rating on the battery. That said, it works and the light is bright. The light also works well with a fully charged eneloop. I haven't scrounged up an Alkaline to try, and I haven't really tested the light other than with the 14500, so this review is based on the light using the 14500 battery. EDIT: Amazon code for 30% off: J9V7G479
First, the light is brighter than I expected. They claim 500 lumens and I don't have any reason to doubt it. That said, you get 500 lumens first every time you turn it on. Yes, the mode order is H->M->L->Lower. I won't call it moonlight, because I feel like I can look directly at a moonlight-mode emitter without pain, and this is a bit brighter than that. Also, my Streamlight ProTac 1AA claims a 6 lumen low mode, and the low mode here is brighter than that - I therefore do question the 1 lumen rating for this mode. 
The build quality is what I'm coming to expect of ThorFire. Honestly, the brand reminds me a bit of Convoy in some ways. The lights are well built, solid lights, but there's something hinky going on somewhere. In this light, it's the H-M-L-l mode order. Driver swap, anyone? My S2+ needs one even worse! At least this light has no visible (or, like my S2+, audible) PWM going on. The size is nice - the light is shorter than my other 1AA lights, a TerraLUX Lightstar 100 and the Streamlight ProTac 1AA I've already mentioned. In fact, it's nearly identical in length to my Zebralight SC62.
Wait. I can get an 18650 light this short? Okay. So here's why I never went out and bought a 14500 light after I got started on BLF. I saw lots of mods and products posted and reviewed, and I always thought "oh those are cool tiny little things!" And then I'd stand up and remember that I was already wearing an 18650 light that I could pretty much forget was there. Yes, they can get smaller than this and that's pretty nifty. But I'm a cargo pants kind of guy, and I mostly forget anything up to S2+/Jaxman E2L size exists when I pocket carry. So I don't have the 14500 need - and if I did, there are smaller lights in 18650 category like the Zebralight and even smaller in the 14500. What really fits this light into my collection is the ability to run on AA - previously, I wouldn't buy lights that ran on another size cell. 
The pocket clip on this guy is really nice. ThorFire's clip style is a lot more sturdy than those I've got for my S2+, E2L, or EC23. Obviously the Zebralight's clip is more secure, but that has screws! The body comes apart in the usual ways, with retaining rings front and back. I haven't bothered to do this for you today, but if someone requests it I can disassemble further for pictures. The light has a hexagonal anti-roll feature on the head, but the pocket clip is the superior anti-roll feature here. On some surfaces my light stops rolling from the former, but the latter works everywhere. The knurling is mild and diamond-patterned. Overall it's a very comfortable pocket carry.
Okay, honestly I really like this light. I'd try to carry it regularly if it didn't start on high. I'd really like to emphasize that feedback for ThorFire: L-M-H style mode orders are consistently more popular in the enthusiast segment. Otherwise I have to consider it trying to be tactical, and then I want a forward-clicky like my Streamlight... 
P.S. If you pop the clip off, you can attach it the other direction near the head, and it will clip to a ball cap. I damaged my fingernail attempting to remove the clip, shrugged, and added this note instead. 
Click all images to enlarge.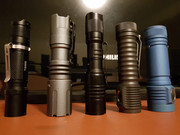 Left to right: ThorFire TG06S, TerraLUX LightStar 100, Streamlight ProTac 1AA, Zebralight SC62, Emisar D4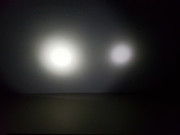 Left: ThorFire TG06S, Right: Streamlight ProTac 1AA. Both on high, Streamlight has a fresh Energizer Ultimate Lithium and the ThorFire has its 14500 freshly charged.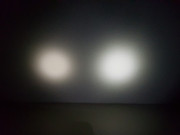 TG06S, Right: Zebralight SC62W. Both on high.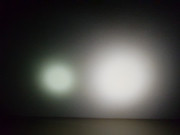 Left: ThorFire TG06S, Right: Emisar D4 on a fresh Efest Purple. 
The pics are not as my eyes saw them, but useful for comparing one light directly to the other in the pic (i.e. seeing that one is brighter or warmer than the other).