Hello buddies,
Odepro had upgraded its TM30 kit recently. Thanks your long-term support to Odepro, Odepro is holding a giveaway activity to welcome the Father's Day.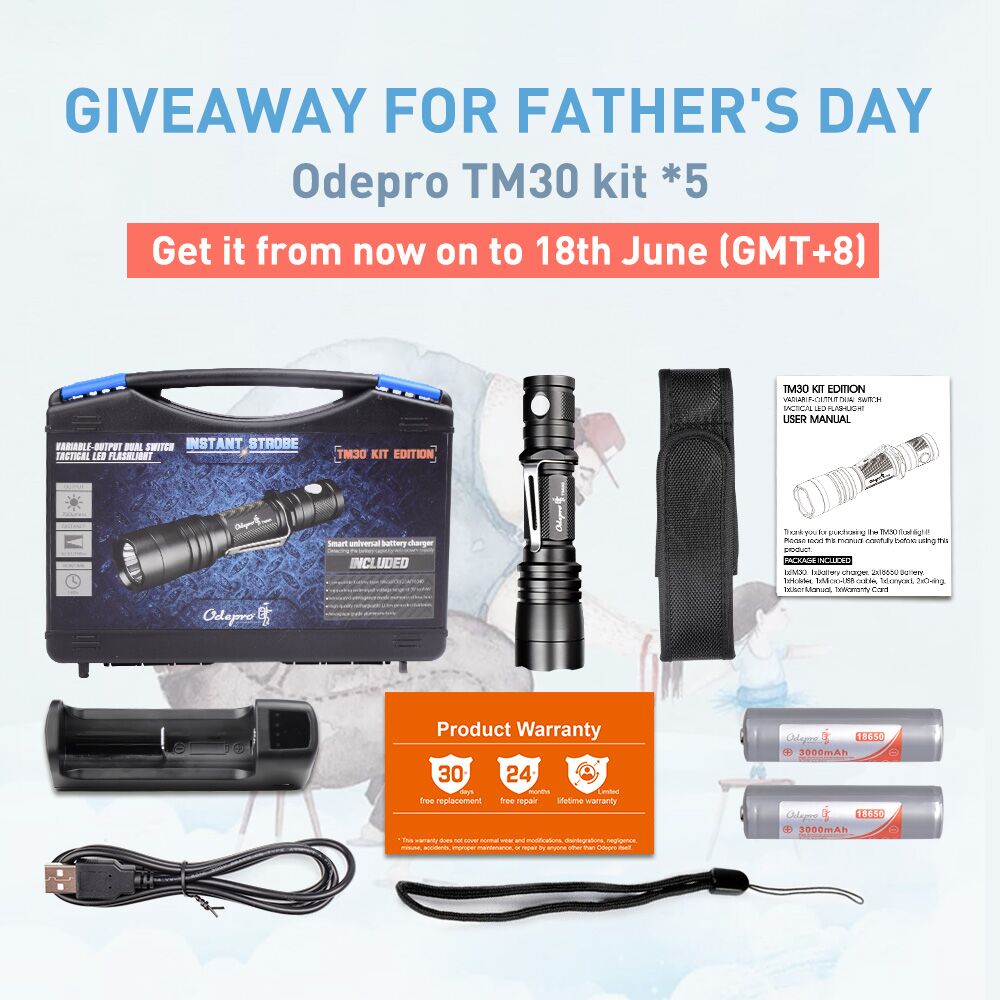 Details as below:
A Facebook account is required to enter. If you don't have a Facebook account, pls visit www.facebook.com to create one.
The TM30 Kit Edition launch official Facebook Giveaway begins on 11th June at 9:00(HKD) and ends on 18th June at 18:00 (HKD)
1. QUALIFICATION: No threshold to Facebook users who are already 18 years or older in the US and Euro region.
2. PRIZE: 5 sets of TM30 Kit Edition
3. HOW TO JOIN IN: Find out the Odepro TM30 Kit Edition Giveaway Activity Post page:
1>Like Odepro Facebook page
2>Like &Comment on the Giveaway post
3>Tag 9 of your friends on the comment
4. WINNER SELECTION: 5 lucky winners will be selected among all the eligible candidates in a random drawing. Each winner will be awarded a set of TM30 Kit Edition.
The one who fails to comply with the Enter Rule will give up qualification by default.
5. WINNER NOTIFICATION: Winner name list will be announced by Facebook Messenger and winners should respond our message within 5 days of notification. Any delayed reply including inactive email account(s) issue, technical difficulties associated, or winner's failure to adequately monitor any email account is beyond our responsibility.
6. DELIVERY: Odepro will ship out the TM30 Kits after the winner list confirmed within 3 days.
Visit here for the detailed info.
Check the TM30 kit out here:
https://goo.gl/HsocLx
(Europe)
What's more, we will offer extra 5 kits of our new products exclusive to the BLF members next time (within Aug~~Sep), pls leave your comment here for the reserved if you are interested. Also, hope you can take this opportunity to join in this giveaway activity to get known more about our product quality
Also, we will need 5 expert flashlight reviewers who can help us to do the written reviews on BLF here if you fail to enter to our FB giveaway activity page but indeed like our TM30 kit. Just comment here with your professional ideas and then I will announce the name list by the end of this month here and arrange them to ship out on 3rd July or a little earlier(the one is most suitable to do the reviews for our TM30 kit)
Good luck, everyone~
Thanks all friends here and the winner of the raffle would be held after our Dragon Boat Day.
Happy Father's Day to all fathers or to be fathers. Life is a wonderful journey for loving and be loved. We rarely said "I love you" to our fathers but we know we indeed love them in the deep heart.
We kept ourselves a little far distance of fathers as they are strict. When grown up, we start to know they are not easy to make a living and felt their deep love for us.
—
☆☆☆ Go more healthily and see further outdoors with Odepro ☆☆☆