Fenix UC35 has been upgraded and now comes with a second generation version - the Fenix UC35 V2.0 flashlight, it is a pocket-sized, compact tactical flashlight featuring micro USB recharging, with exquisite appearance, far-reaching beam and one-handed operation.
It is fitted with a CREE XP-L HI V3 LED that delivers a maximum output of up to 1000 lumens and a max distance of 266 meters. One tactical tail switch and one functional side switch control five output levels and strobe mode. Boot-up battery level indication ensures users are well-prepared.
The included Fenix 3500mAh 18650 Li-ion battery, plus compatibility with cold-resistant CR123A batteries, thoughtfully caters for the demands of various application scenarios. The Fenix UC35 V2.0 is your perfect tactical flashlight for military, policing, outdoor lighting and emergency standby.
2018 upgrade improvements over prior UC35:
● XP-L HI v3 LED provides greater brightness, efficiency and throw.
● Improved stainless steel side switch with battery level indicator.
● New body design is more compact.
● Includes higher capacity 3500 mAH rechargeable battery for longer runtime.
● USB port improved to charge faster and is easier to activate.
● Improved waterproof and dust-proof rating (IP68).
Product Features:
● Cree XP-L HI V3 LED, with lifespan of 50,000 hours.
● Powered by one 18650 rechargeable Li-ion battery or two 3V/CR123A Lithium batteries.
● 5V/2A Micro USB rechargeable, included 18650 rechargeable Li-ion battery.
● Battery level indication and low-voltage warning function.
● Digitally regulated output maintains constant brightness.
● Reverse polarity protection to protect from improper battery insertion.
● Anti-roll and anti-slip body design.
● Tactical tail switch features instant activation.
● Functional side switch for output selection.
● Made of durable high-strength and oxidation-resistance aluminum.
● Premium type HAIII hard-anodized anti-abrasive finish.
● Toughened ultra-clear glass lens with an anti-reflective coating.
It is now available at GearVita.com, see more details please click: https://gearvita.com/fenix-uc35-v2-0-usb-rechargeable-flashlight-1000-lumens.html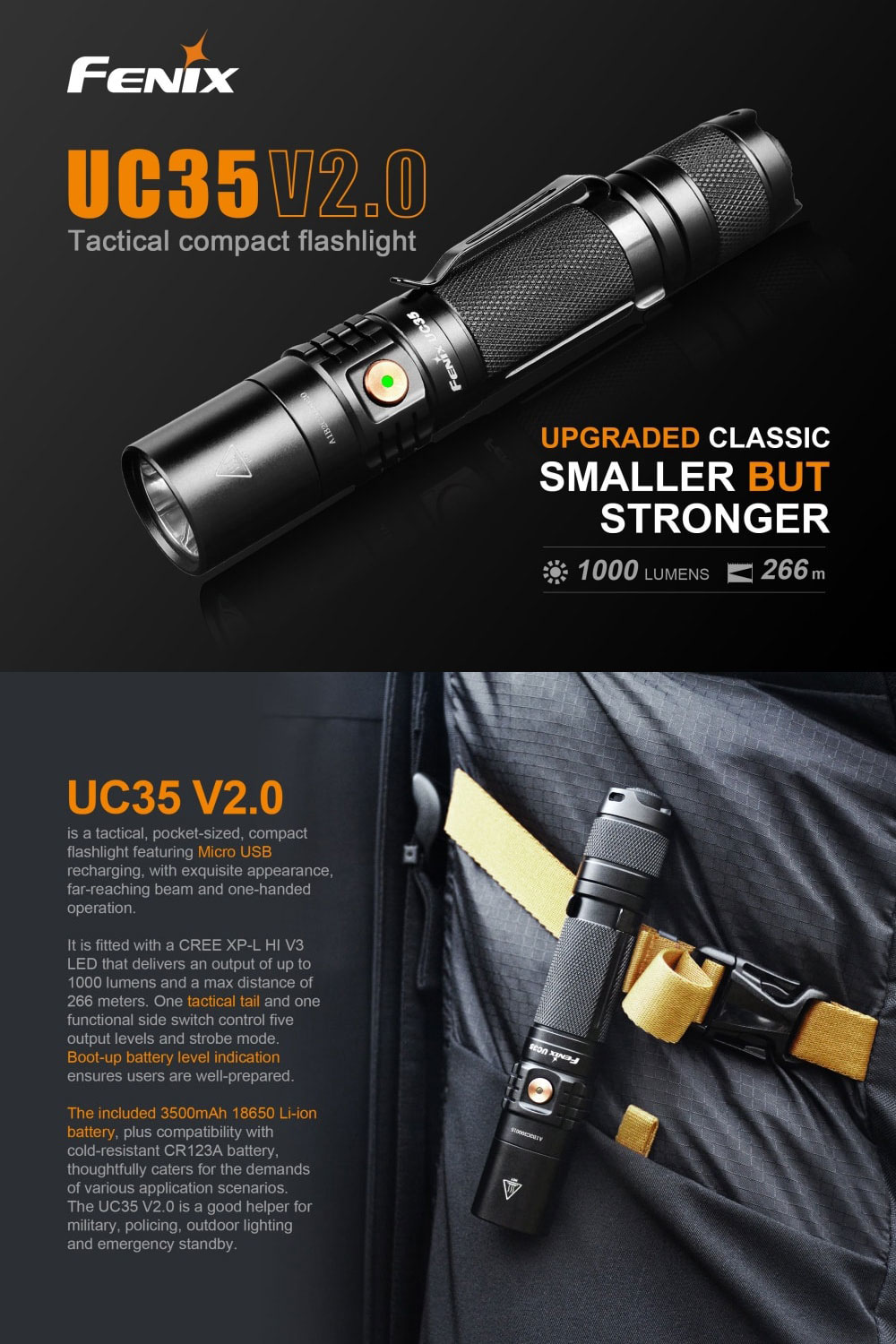 —
Best Brand Consumer Electronics Provider GearVita