We all know what the top 5[Now 4] cells are. Sony, Panasonic/Sanyo,LG and Samsung.
My test is not scientific. I used simple equipment[Opus] and most important "Actual use over time".
This is my experience with these Two cells. Panny NCR18650BD and Sony VTC6.I realize there is a Rated starting capacity difference[BD=3200mAh and VTC6=3000mAh]. If you look at the overall numbers, it is Clear which cell degrades a lot less. Keeping that[their capacity difference] in mind you will see how the BD lost less capacity, was used more than Twice as long and almost 4 X the cycles.
The "BD'S" born on date is 7.22.2013.They have 410 Charge cycles. Their capacity[done today] on my Opus is 2819mAh
The 2 X VTC6 cells were born on 4.28.2016. They have 108 cycles.
Capacity tests also done today.
Cell "A"=2554mAh, Cell "B"=2602mAh. I STOPPED using both the VTC6 cells at the end of March 2018 when I got my Vapcells[Sony VTC5D REWRAP] in the middle of March.So I used them Less than 2 years from BOD and actually less than 19 months from receiving them which was August of 2016.
The BD cell had almost 4X cycle use and is more than twice as old. I know this is only One battery example. However, ALL my NCRB's also follow the longevity path and my experience w/ the 8 to 10 VTC6 that I have purchased got the same results.
My Opus measures ~ 3% high on the average. So those mAh numbers would be even lower.
Do not get me wrong. I like Sony,,,,,,,,I just do not prefer and will never buy the VTC6 again.VTC5/VTC5A/VTC5D and VTC6A if it is ever available.The LGHG2 is another cell I will never buy because of the same reason…Degrades too fast.
I am going to Staples after lunch to Recycle the VTC6'S and a few other older cells.
The chart below shows what I am talking about, even though his test was a rapid torture test and mine was an actual use test over time, the results ARE the same!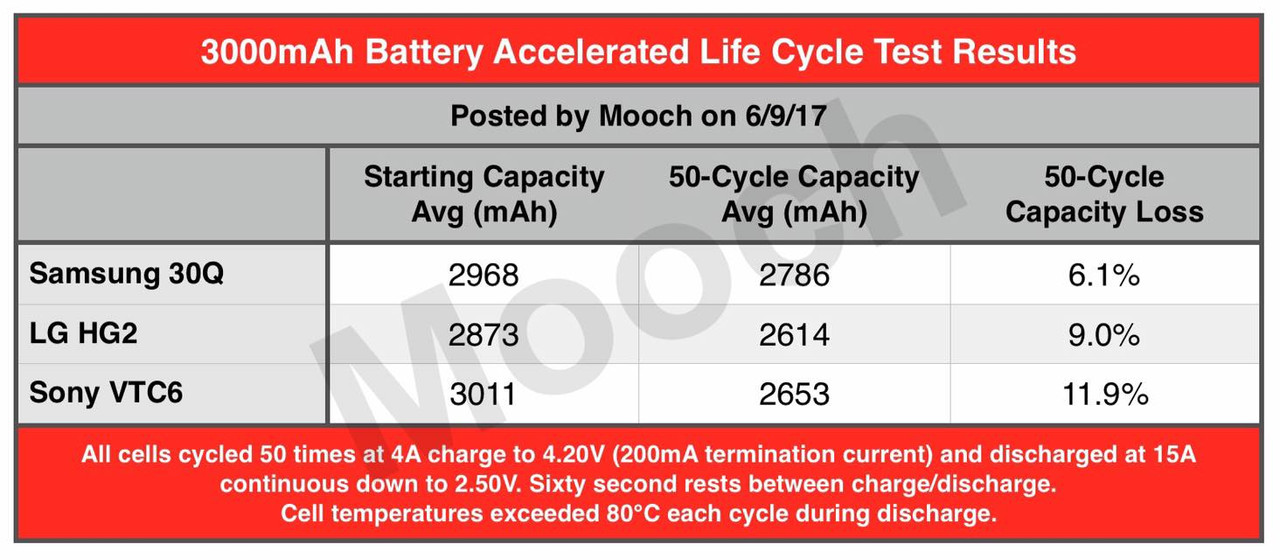 —
Solitude breeds contemplation which creates clarity. 
Environment molds a person. Perseverance changes them. 
                                                                   WOLFDOG