Miboxer C8 Smart charger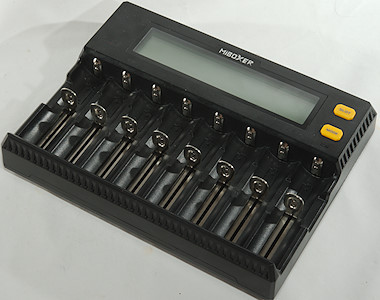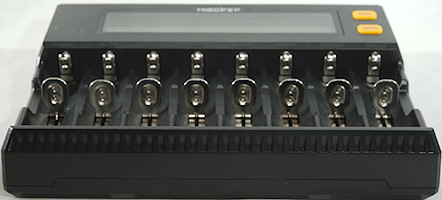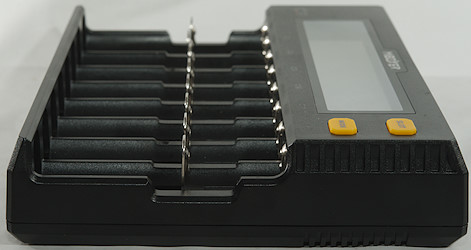 This is a large charger from Miboxer that can handle up to 8 cells, each with automatic current selection and lots of information. The charger supports NiMH and 3 LiIon chemistries with support for many battery sizes.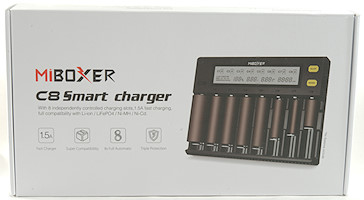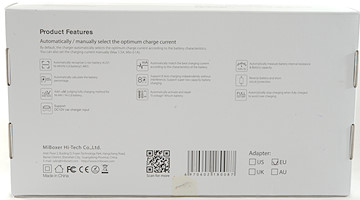 I got the charger in a cardboard box with specification on it.



The pack included the charger, a power supply and a instruction sheet.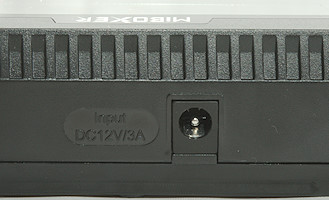 The charger requires 12V 3A power.



The user interface is two buttons and a large display.
A short press on the SLOT button will switch between slots, holding the button down will select all slots.
A long press on the MODE button will allow adjustment of charge current for the selected channel (with short presses).
To adjust chemistry double click MODE button and then select with short presses.
The interface is easy to use and fairly logical.



All segments are shown during power on.



Display when the charger is idle without batteries.



A NiMH battery is put into slot #4, the charger has not calculated internal resistance yet.



Internal resistance is calculated and charger has selected 0.25A as initial charger current, it might be adjusted later on.
There is two numbers that toggles: The first is internal resistance and charge current (mOhm/A), the second is charged capacity and charge time.



A LiIon battery in slot #5 with 105mOhm internal resistance.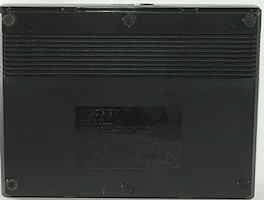 Specifications are listed on the back of the charger with small black letters.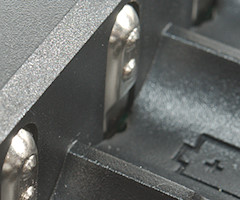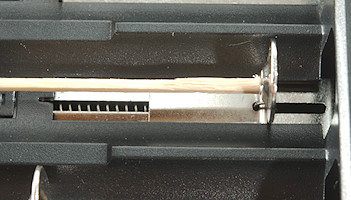 The charger has the usual slider construction. It can handle from 28mm to 74mm, this means even the longest cells.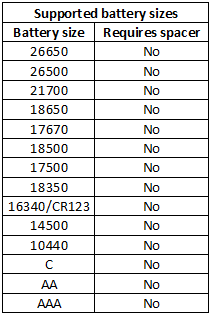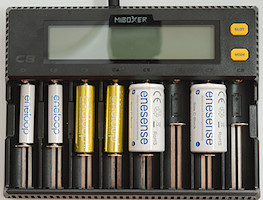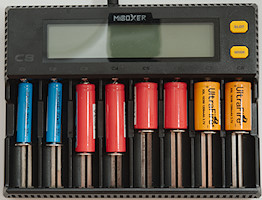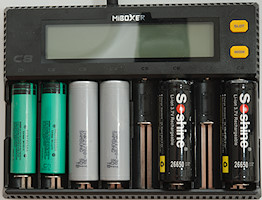 Measurements charger



Power consumption when idle is 0.3 watt

Without power it will discharge a LiIon battery with about 2mA

Without power it will discharge a NiMH battery with about 0.2mA

At 0V battery voltage the charger will charge with 1.5mA and report "Err".

Up to 1.9V the charger assumes NiMH

Above 2V the charger assumes LiIon

The charger will restart when a battery is inserted or power is cycled.

The meter is within 0.01V and works from 0.02V

Charging 4.2V LiIon
Manual charging current: Auto, 0.1A, 0.2A, 0.3A, 0.5A, 0.6A, 0.8A, 1A, 1.2A, 1.5A
Maximum actual current depends on number of batteries, charger can only deliver 1.5A with up to 4 batteries and 0.8A with 8 batteries.
I let the charger automatic select current here, it started at 1A and increased to 1.5A, the termination is at about 50mA after a nice CC/CV charging.
Display shows 3016mAh in 3:12, 64mOhm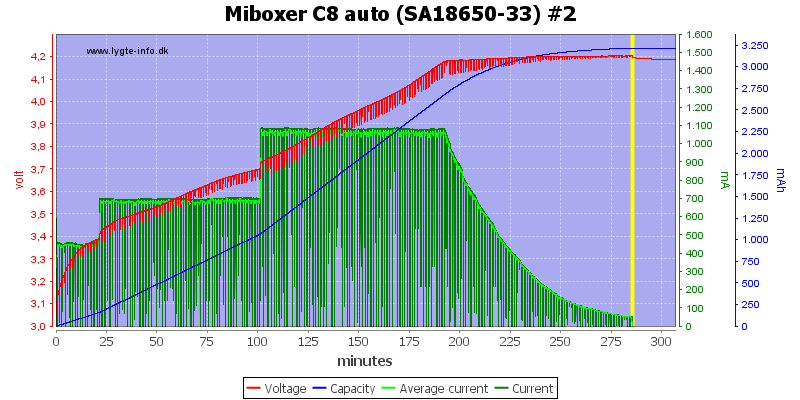 Display shows 3194mAh in 4:40, 80mOhm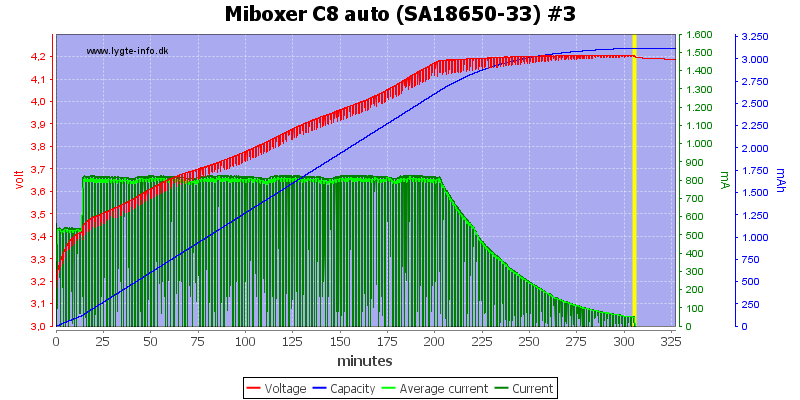 Display shows 3177mAh in 5:00, 93mOhm
Display shows 3275mAh in 3:36, 76mOhm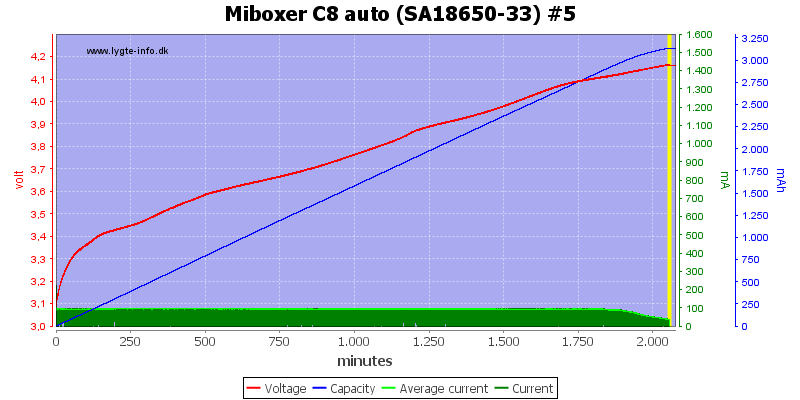 This time there must have been some contact resistance, the current was selected very very low and after a day and a half the charger stopped, but the battery was not fully charged (But nearly).
Display shows 3188mAh in 33:44, 407mOhm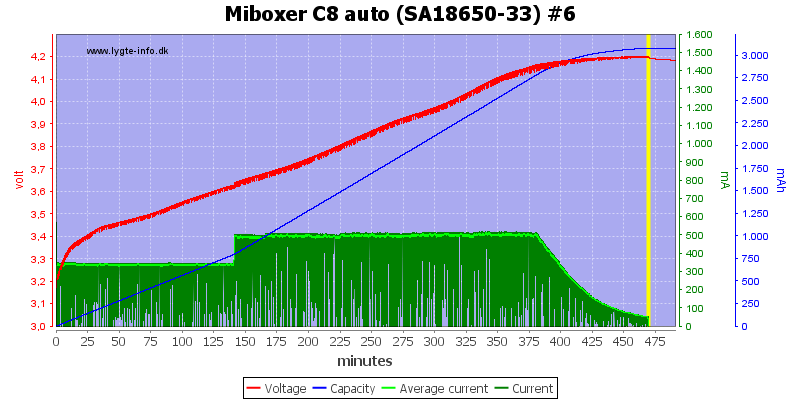 Display shows 2984mAh in 7:42, 119mOhm
Display shows 3162mAh in 10:20, 146mOhm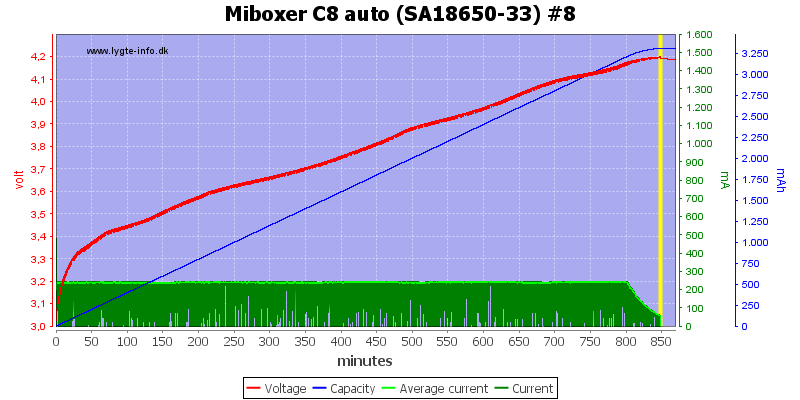 Display shows 3234mAh in 13552, 197mOhm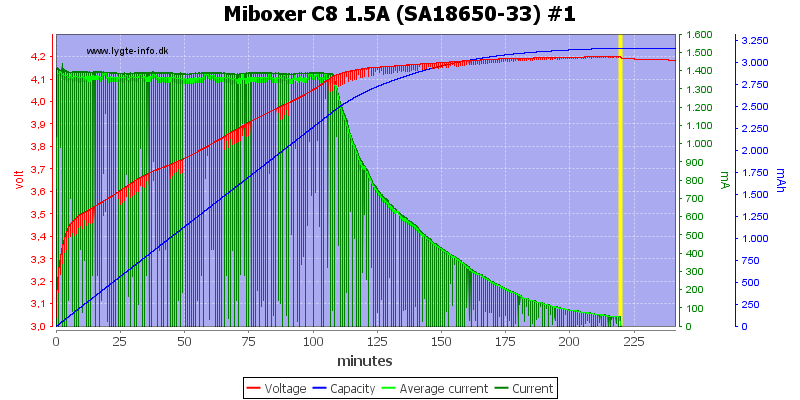 Manually selecting 1.5A gives a fast charging and is within specifications for all newer 18650 cells.
Display shows 3222mAh in 3:36, 95mOhm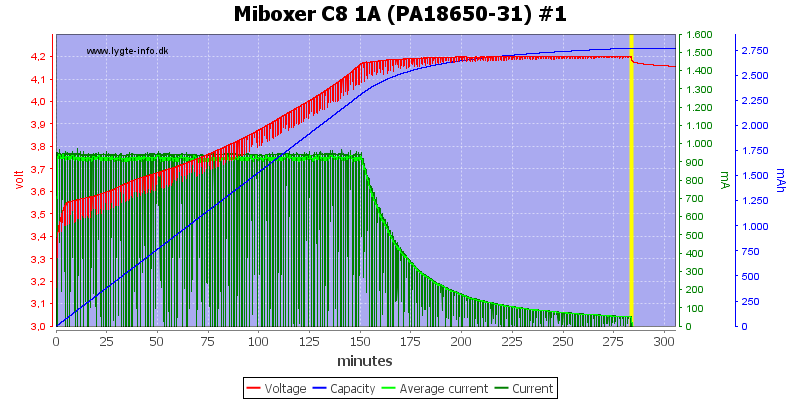 Display shows 2891mAh in 4:39, 113mOhm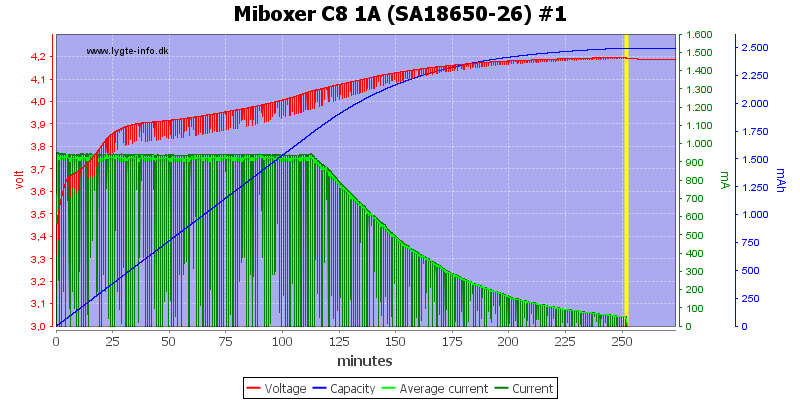 Display shows 2606mAh in 4:08, 205mOhm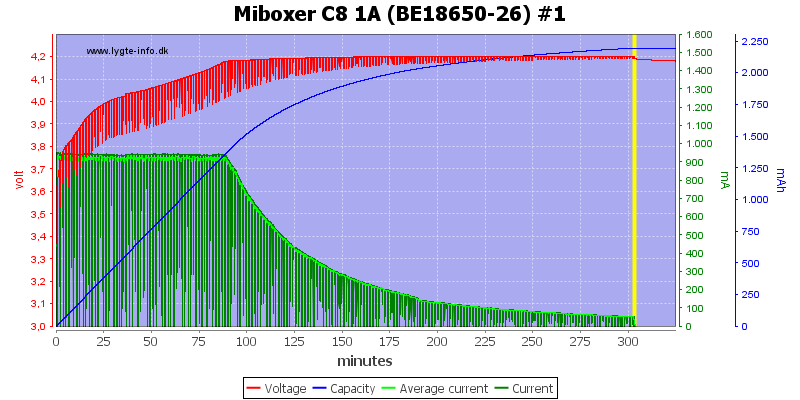 With manually selected current all batteries are charged nicely and as fast as possible.
Display shows 2283mAh in 4:58, 213mOhm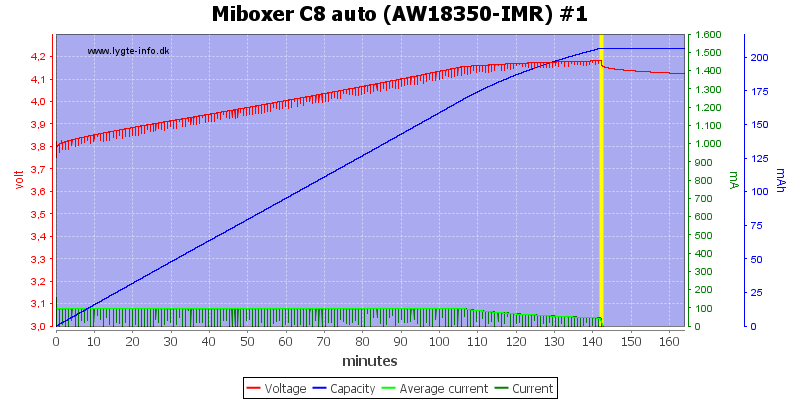 This old and worn down cell I tried automatic on and it charged the cell nicely.
Display shows 208mAh in 2:20, 632mOhm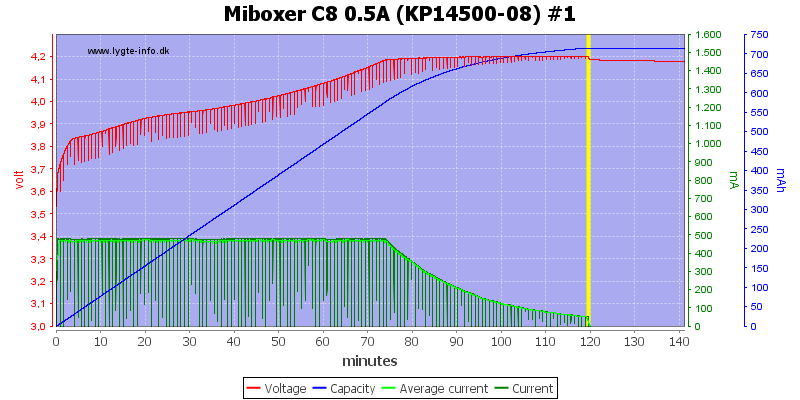 A smaller cell where I manually selected the current is charged fine.
Display shows 736mAh in 1:57, 237mOhm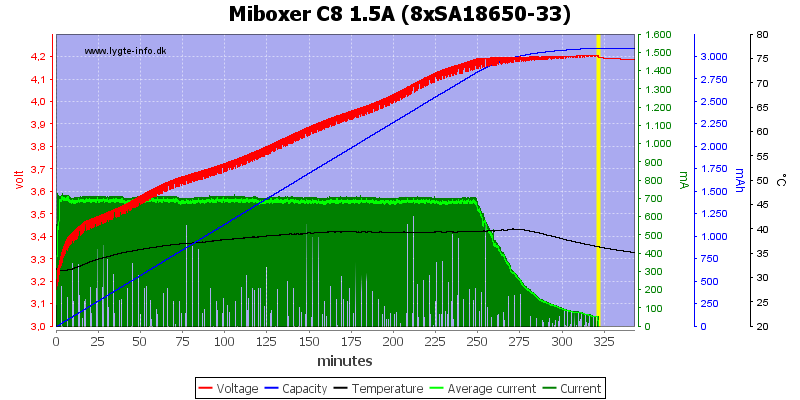 Here I selected 1.5A current, but the charger reduced the charger current due to the number of cells. The charging looks fine.
Display shows 3241mAh in 5:16, 67mOhm

Display shows 3137mAh in 4:49, 43mOhm

Display shows 3305mAh in 5:01, 35mOhm

Display shows 3429mAh in 5:01, 61mOhm

Display shows 3308mAh in 4:56, 33mOhm

Display shows 3053mAh in 4:46, 36mOhm

Display shows 3310mAh in 5:03, 34mOhm

Display shows 3221mAh in 4:56, 45mOhm

With four cells I could use 1.5A charge current.

Display shows 3279mAh in 3:35, 64mOhm

Display shows 3204mAh in 2:49, 39mOhm

Display shows 3236mAh in 2:55, 35mOhm

Display shows 3220mAh in 2:52, 40mOhm

The charger uses up to about 2.5A from 12V when charging at full current.

Display shows 3264mAh in 6:00, 181mOhm

Display shows 3135mAh in 4:54, 43mOhm

Display shows 3301mAh in 5:06, 32mOhm

Display shows 3283mAh in 5:03, 44mOhm

Display shows 3327mAh in 5:04, 32mOhm

Display shows 3108mAh in 4:57, 40mOhm

Display shows 3264mAh in 5:06, 41mOhm

Display shows 3206mAh in 4:55, 44mOhm

M1: 31.0°C, M2: 33.2°C, M3: 33.8°C, M4: 34.6°C, M5: 35.1°C, M6: 35.2°C, M7: 34.4°C, M8: 32.9°C, HS1: 44.7°C
With 8 batteries the temperature is fairly low.

HS1: 42.5°C

M1: 41.0°C, M2: 45.9°C, M3: 45.6°C, M4: 42.2°C, HS1: 63.4°C
With 4 batteries both the batteries and the charger gets hotter.

M1: 49.3°C, M2: 47.6°C, HS1: 53.5°C

The charger uses a internal resistance check to decide the charge current and will then ramp the charge current slowly up.

It is possible to override the current setting at any time.

The charger turn the charge current off the check the voltage.


Charging 4.35V LiIon



The high voltage LiIon looks fine.
Display shows 2931mAh in 3:32, 113mOhm


Charging 3.6V LiFePO4



Display shows 1256mAh in 1:51, 82mOhm

LiFePO4 is charger to 3.6V and the charger stops when the battery is full, this looks fine.
Display shows 576mAh in 2:03, 113mOhm


Measuring Internal Resistance LiIon



The results looks good and the consistency is also fine (I was a bit lazy and only checked 4 slots).


Charging NiMH


Charging current: Auto, 0.1A, 0.2A, 0.3A, 0.4A, 0.5A, 0.6A, 0.7A, 0.8A, 0.9A, 1A

The NiMH charging uses -dv/dt termination, here I used manual current selection. There is no top-off or trickle charge and none is needed.
Display shows 1782mAh in 2:14, 51mOhm

Display shows 1715mAh in 2:08, 63mOhm

Display shows 1707mAh in 2:10, 79mOhm

Display shows 1705mAh in 2:04, 90mOhm

Display shows 1783mAh in 2:12, 185mOhm

Display shows 1681mAh in 2:18, 105mOhm

Display shows 1775mAh in 2:11, 66mOhm

Display shows 1743mAh in 2:15, 148mOhm

Display shows 2258mAh in 2:50, 69mOhm

The two high capacity batteries is charged fine with a -dv/dt termination.
Display shows 2293mAh in 2:55, 55mOhm

The

AAA

is charged fine.
Display shows 666mAh in 1:53, 92mOhm

Here I selected a very low charge current, this means a -dv/dt termination will not work. The charger terminated anyway and at about the correct time.
Display shows 1725mAh in 18:43, 100mOhm

With -dv/dt termination the charger will be slow to termination on a full cell, here it took about 15 minutes.
Display shows 60mAh in 0:14, 53mOhm

The automatic current selection can also be used for NiMH.
Display shows 1744mAh in 4:01, 71mOhm

With NiMH the charger can charge 8 batteries with full current at once.

Display shows 1890mAh in 2:24, 110mOhm

Display shows 1794mAh in 2:13, 52mOhm

Display shows 1880mAh in 2:14, 47mOhm

Display shows 1847mAh in 2:12, 51mOhm

Display shows 1750mAh in 2:07, 54mOhm

Display shows 1766mAh in 2:07, 37mOhm

Display shows 1890mAh in 2:14, 35mOhm

Display shows 1870mAh in 2:13, 41mOhm

The charger uses about 1.8A from 12V

Display shows 1844mAh in 2:13, 101mOhm

Display shows 1834mAh in 2:12, 40mOhm

Display shows 1905mAh in 2:14, 34mOhm

Display shows 1879mAh in 2:15, 38mOhm

Display shows 1724mAh in 2:03, 34mOhm

Display shows 1813mAh in 2:09, 38mOhm

Display shows 1869mAh in 2:12, 29mOhm

Display shows 1847mAh in 2:03, 64mOhm

M1: 41.4°C, M2: 46.3°C, M3: 46.7°C, M4: 47.6°C, M5: 49.6°C, M6: 48.3°C, M7: 48.3°C, M8: 43.8°C, HS1: 70.2°C
8 NiMH batteries gets warmer than 8 LiIon batteries when charging at full current, but it is acceptable.

M1: 49.7°C, M2: 48.5°C, HS1: 55.9°C

The charger uses a internal resistance check to decide the charge current and will then ramp the charge current slowly up.

Current can be changed at any time.

As is common with all NiMH chargers the current is turned off to measure the NiMH voltage.


Measuring Internal Resistance NiMH



The results looks good and the consistency is also fine.


Conclusion


The charger works fine and has a good user interface. For NiMH and 4.2V LiIon the charger is very easy to use, just put the batteries in and it will do everything, the automatic current selection may not select the best current, but it will not cook batteries.
To get a more controlled charge current it is easy to set charge current for one or for all slots, it is also fairly easy to select 4.35V or 3.6V charge voltage.
Some people like to see a percent, some a voltage, this charger shows everything at the same time including internal resistance, but only for one cell at a time.
I will rate it as a good charger.


Notes


The charger was supplied by Miboxer for review.
Here is an explanation on how I did the above charge curves: How do I test a charger