Increase Convoy S2 + up to the 26650 size, put there NW XHP50.2 and what you get is exactly Convoy S11. It is a decent purchase for those, who prefer a risky walk on the edge between the no name trash and brand things
 
This is not the first Convoy flashlight powered by 1×26650 power. A few years ago, was released Convoy BD1 which surprisingly did become bestseller. And 1×26650 version of the Convoy L2 still present on the market. Nothing more comes to my mind.
CONVOY S11 from Simon`s store. the difference in price between the versions with cold and neutral light is negligible, I advise buy exactly 4000K. Moreover, as I understand it, this is the most effective brightness bin.
26650 5000MAH battery.
oddly enough, but yes. These are really good batteries for an absolutely affordable price. I have been buying Liitokala 26650 cells for about 3 years and will keep on. There is nothing better for such price.
LED — XHP50.2
Max brightness — 2400lums
Modes (with mode memory) — 0.1% \ 3% \ 30% \ 100%
Power — 18650 \ 26650
Size — 33х139mm,170g
Thus, the price tag for the full set will be about $ 35. Which is about 20$ less from the price of any A-brand 26650 flashlight.
PACKAGE AND APPEARANCE
when you mean Convoy flashlights, the word "package" means only that you dont get bare flashlight. That`s it. But, well, it would be stupid to expect anything better for such price. You wanna save some money? You saved. So that is not a question.
Convoy S11 comes in a simple white thin cardboard box.

The set is traditionally modest: a flashlight, a simple lanyard and 2 adapter rings from 18650 to 26650. What else did you expect?

The appearance of the flashlight is exactly what you may expect. It is as simple as possible and it's not worth talking about some kind of design. Nevertheless, it doesnt look like cheap and\or ugly product. Just really simply looking flashlight. For its price – definetely normal and expected.

As for the size, then, as expected, the Convoy S11 is the largest of all other popular EDC models. Of course, the same L2 would be larger ,but this flashlight is from completely different functional category.

The flashlight can be disassembled into three parts.

Convoy S11, as usually, has only tail button .

I do not understand why it was necessary to put such a thin spring and solder such thin bypass wire there, if it was possible to initially put a spring with a normal thickness. For example, the thickness of the spring and bypass wire at the side of the head does not cause any complaints.
threads at the middle part are rectangular, from the tail side it is anodized and smaller. Traces of graphite lubrication are symbolic. The thread are not quite dry, but it is definitely worth adding some lubication.

Knurling the simplest: a series of wide and deep concentric grooves (or high protrusions, how to look). Yes, apparently it is impressive, but it has an extremely good effect on the reliability of the grip. The grip is quite comfortable. For owners of a large palm, it will generally be just what you need.

Actually, the only element of the decoration are 2 flat "cheeks" with the name of the model.

 The cooling fins are neither impressive nor deep. I admit that nothing could be done with such width of flashlight, but it would be possible to cover most of the head with cooling fins. Maybe it does not give any significant improvement in cooling, but even at least something is better than nothing.

 
That is not that easy to get it insides. Normally, Convoys are qiute easy for those who want to get inside head. But not this model. You have to disassemble it from the side of the spring. But, honestly, that will not be problem at all for those who know how to customize flashlight. And the majority of users do not care about access to the LED at all, as long as the flashlight works.

Glass with anti-glare coating. And, most likely, like the mass of all other flashlights, also is tempered.
Reflector is orange peel, with XHP50.2 on the bottom.

So, though S11 doesnt seem to be high-design thing, it looks good and has good build quality. I own several convoys, and though they are quite cheap, i never complained about their quality.
 
What to say. The flashlight looks and is assembled at the level of any other convoy – with all the ensuing advantages and disadvantages. Personally, I think that the look and quality of workmanship is quite consistent with the price.
UI
as usually – full click turns flashlight on\off. quick clicks or half-clicks changes modes.
if you keep the same mode longer than 3 seconds, it gets memorized and next time you start with this mode.
2 clicks – strobe
really simple.
Performance.
XHP50.2 and XHP50.
Judging by what i red new version is better when used with SMO reflectors , giving a better focus. In addition, XHP50.2 works better at lower voltages, which gives better stabilization.
Actually, I already had a flashlight with this LED. With a smooth reflector ther was clearly visible pale point, with a shallow textured reflector it is almost invisible.
 
In general, the light distribution is very comfortable for working at both close and at medium distances. Here, for clarity, Convoy S2+ at maximum brightness. I can not ignore that in reality, for the human eye, the illumination is much more evenly lit. And i`m pleased with the color temperature. Who would expect a nice neutral light immediately in stock for the price.
As for the light temperature, I have a neutral version, 4000K. There is warmer and colder. But I see no reason to put a cold LED, while WW can be justified in some situations (dust, smoke, fog)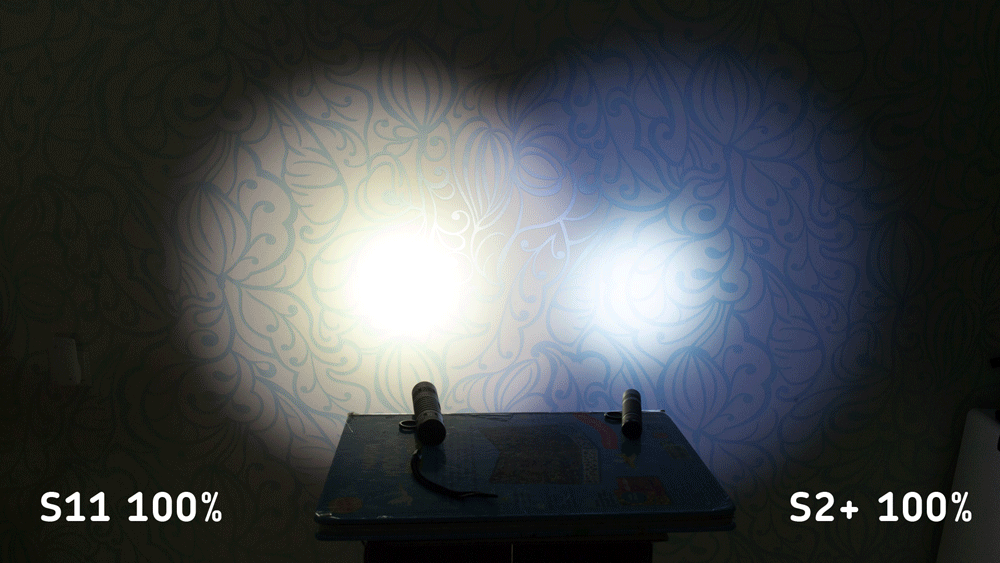 Stabilization is not fhat you expect from Convoy. There is usually a slow descendence in brightness as the battery is discharged. Nevertheless, Convoy S11 showed perfect stabilization. Mode range is also good, convenient for a lot of situations.
measured amperage – 0.05 – 0.3 – 1.65 – 3A
I recommend to use 26650 Liitokala, they are more than offordable. At the same time, the capacity here is quite honest and high – 5000mah and you get excellent current output. I see absolutely no point to buy something else.
There is, however, a minus – the flashlight turns off at 2.5v voltage, which for a battery is definitely lower than the recommended threshold of 2.8-2.9v.
Unexpectedly for Convoy, there is thermoregulation. When the temperature of the sensor reaches 60 degrees (50 temperature of the flashlight body), the brightness drops to 30%. In fact, I saw a drop of up to 35%. Such a difference can be neglected. Running a 3 minute turbo reduces the total running time by 12 minutes.
Well, a little closer, with and without cooling.

0.1% is too bright or firefly mode, but quite convenient for simple purposes. That is absolutely useful mode indoor. See pics below. runtume will be astonishing.
3% mode does not look impressive when you see this number. In fact, this is definitely a sufficient mode for indoor use and quite acceptable in some situation somewhere on the street. Due to the huge battery capacity, runtime will be giant.
 
30% – the same Convoy S2 + at the maximum. In this case, all three hours of work in this mode, the brightness will be the same.
Good balance in brightness and duration. It should be enough for almost any night walk, while the brightness is enough for you to perfectly light everything within a radius of 15-25 meters, and in general terms see what is within a radius of fifty meters. It is for open air. Indoors (basement, etc.) useful range will increase.
Well, if there is an appropriately sized mount, you can use it as a bikelight instead of the same S2 +.
100% is more than enough brightness for some kind of emergency. For domestic needs, it is excessive, but if necessary, you get a good light at a distance somewhere up to 70 meters, well, something can be seen even in a hundred and fifty meters.
That is not really longthrower, but you get decent throw because flashlight is bright.
5meteres, see how 0.1% performs!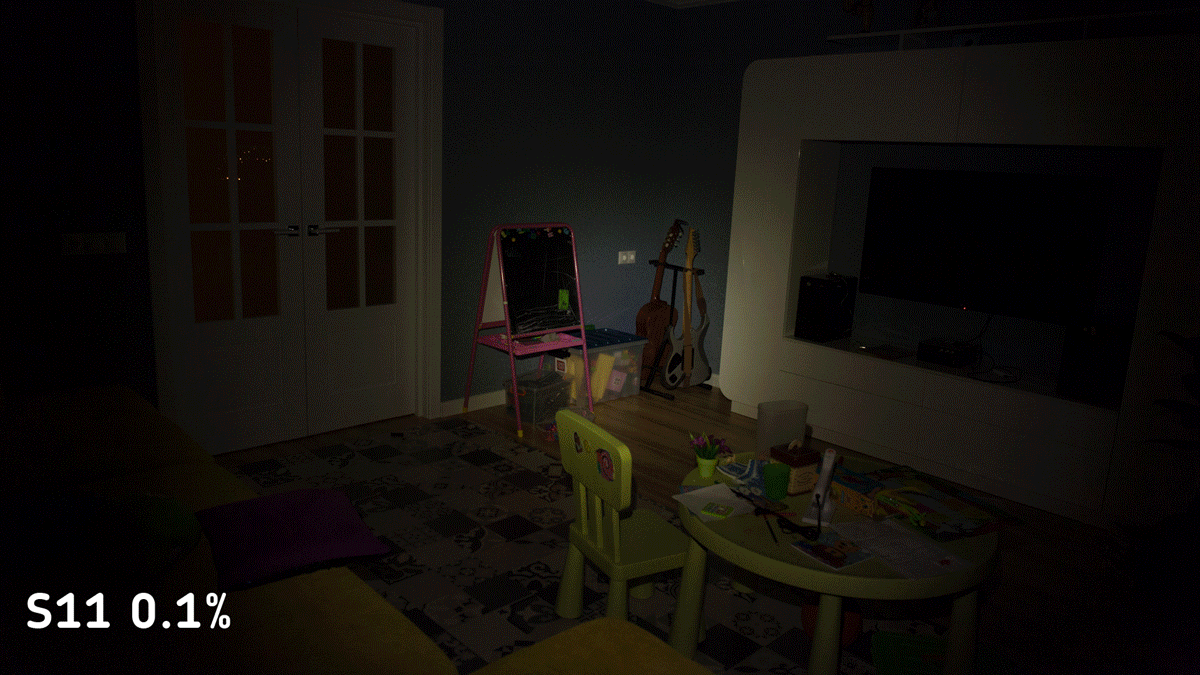 50meters is still ok for 30% mode.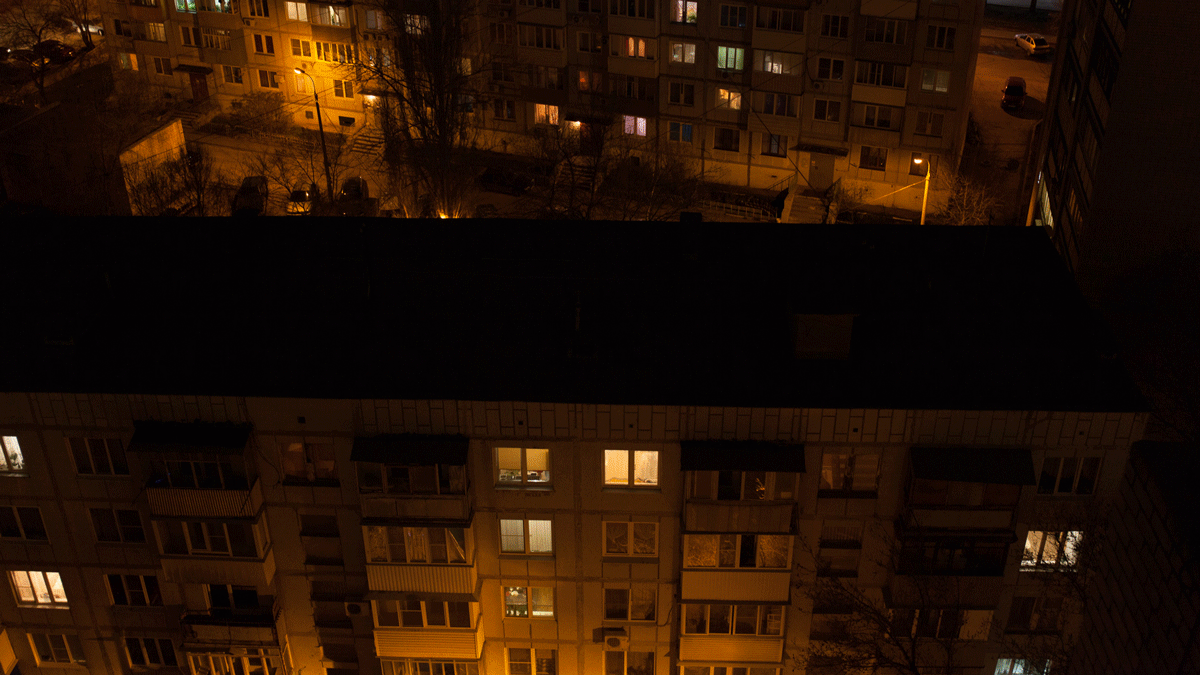 '

75 meters…well, C8+ or M12 will perform better, but Convoy S11 still make struggle with them at 100% mode.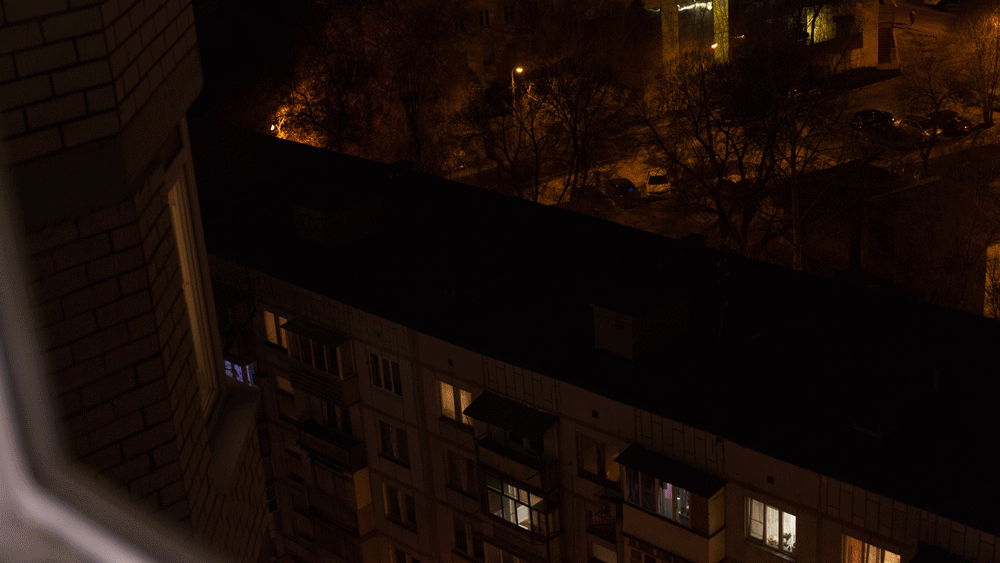 here is a video with bunch of alive video.
General impressions 
 I tested lots of 26650 flashlights. In their mass, they were all either brighter or had better throw. Better appearance or\and more flexible UI, built-in charge and other advantage. But…none of them cost less than 50 bucks.
 I think, when it`s about saving at least 25$, i lot of people would prefer buyng S11, especially, as it is good flashlight. And damng good for the price!
In fact, the only thing that could be improved in this model is adding an intermediate mode olike 10-12%. This will be extremely usefful brightness mode with really long runtime.
 
The bottom line, Convoy S11 is the same larger Convoy S2 + , but with significanly better output, tint and real stabilization.
Let's look at things realistically, 10-12 bucks is a small difference between Convoy S2+ and Convoy S11, and for it you get a radically brighter, more convenient in near and at medium range (and the ability to somehow play in longer distance) light with a remarkable runtime. Well, this is not the usual cold white light, but a comfortable neutral one.
 
The current price tag for this model is extremely modest in terms of its functional characteristics, and if you need a bright flashlight with decent runtime for about 2 dozen of bucks, the Convoy S11 is the one.
I do not even see something close with such a price, i mean anything with neutral light, such brightness and 26650 powered
I think that there will still be a version with a Biscotty driver ahead, but due to good stabilization I would prefer a stock one.
+ price
+ brightness
+ neutral light
+ stabilization and duration of work
+ quite good selection of modes
- I would add an intermediate mode of 10-12%