Another question about flashing firmware.. I recently ordered some Oshpark boards and thought I would try my hand at building my own drivers from components purchased myself (at Digikey in this case). The driver in question is this one: http://budgetlightforum.com/node/46159 I have tried flashing a number of firmwares onto it, namely "bistro" by ToyKeeper. (Love the firmware BTW.) I guess my question is this: since this driver is a dual channel driver but uses 7135 chips on both channels, is that a problem for using firmware such as bistro which is a dual channel firmware but is designed for a 7135+FET layout? If it is an issue, how might the firmware be tweaked to make it work? Back to the issue at hand, I have flashed the hex file (confirmed to be working on a 7135+FET driver) which flashed successfully, but when connecting the driver to power, nothing happens. Also, when hooking up the MCU to the clip, the led lights up. I have never had that happen when flashing the 7135+FET drivers.
Here is a shot of the driver: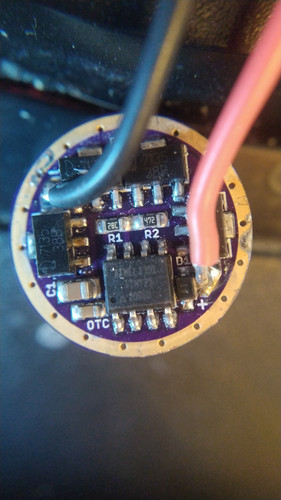 Perhaps someone can identify if any of the components are wrong. 
Any help would be greatly appreciated.