Final results Pic, more at the end of thread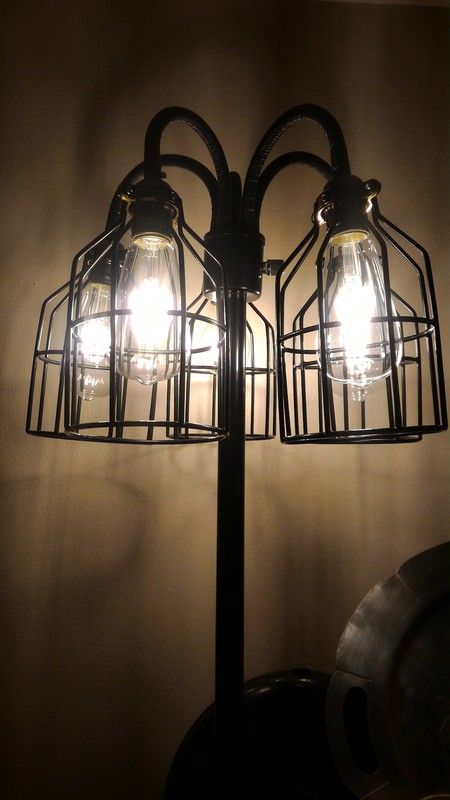 Dug this lamp out of the dumpster today. Had rotted dried out colored plastic flower style covers on the bulbs. Its a standing torchiere with 5 flexible E27 holders. There are threaded nuts to put some globes back on the threaded OD of the e27 holders. I like things with a modern or industrial look.
Not looking for colored lights. But something cool looking. What would you use?
Bad pic but you get the idea. And it will get painted flat black.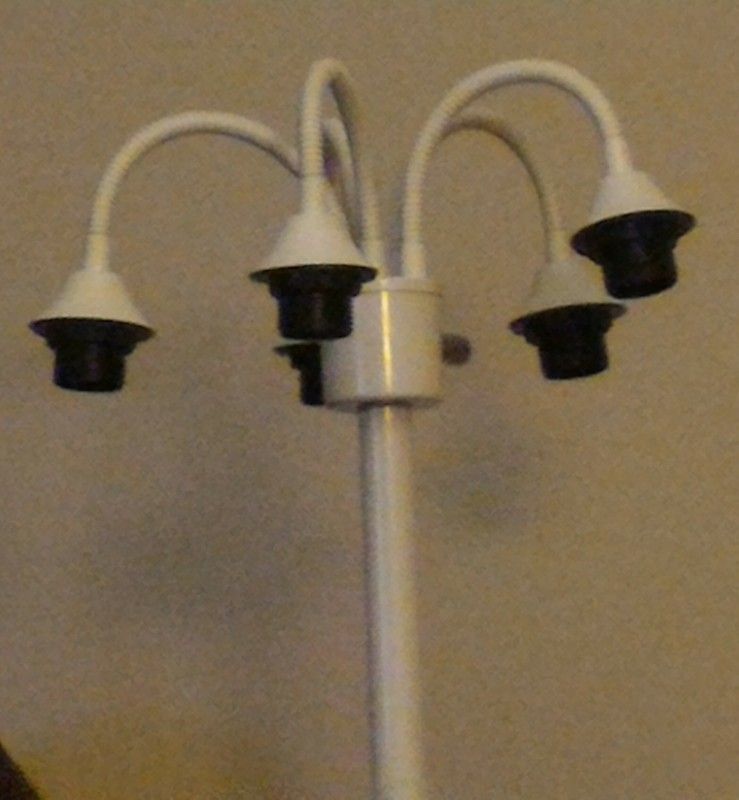 Update: Finished the light, but need to run to HD for a 2 prong plug end. Took longer than expected to build but I did get some parts on the cheap. Used a $30 GearBest GAW gift card to buy the parts… Free light, Free bulbs and bulb holders. Out of pocket was the paint, one can Satin Black, and the 1/2in Heat shrink on the flex tubes. Used the heatshrink over the flex tubes because I knew it would be impossible to change the color without paint chipping off. Bulbs are the 6W COB filament in clear glass. Luckily I bought 6 and had a spare as one Fizzled out immediately when testing. To my suprise they all did arrive unbroken. Replaced the White cord with a scavenged long black one from a retired vacuum cleaner (Free). Bulb cages were going to cost over $40 so that is on hold until a deal is found. Problem was getting an odd number of 5. Packs of 4 are reasonable but… Need 5. Have a few of the ST64 style, more vintage looking COB bulbs on the way but will be a while till they arrive.
Need plug end. For testing, I have twisted on a cord from junk box.
Wanted to gift it, but was informed they have enough lighting now… Will go in bedroom on dresser, outlet switched to wall, as main lighting with a couple tubular sections removed to shorten it.
I like it.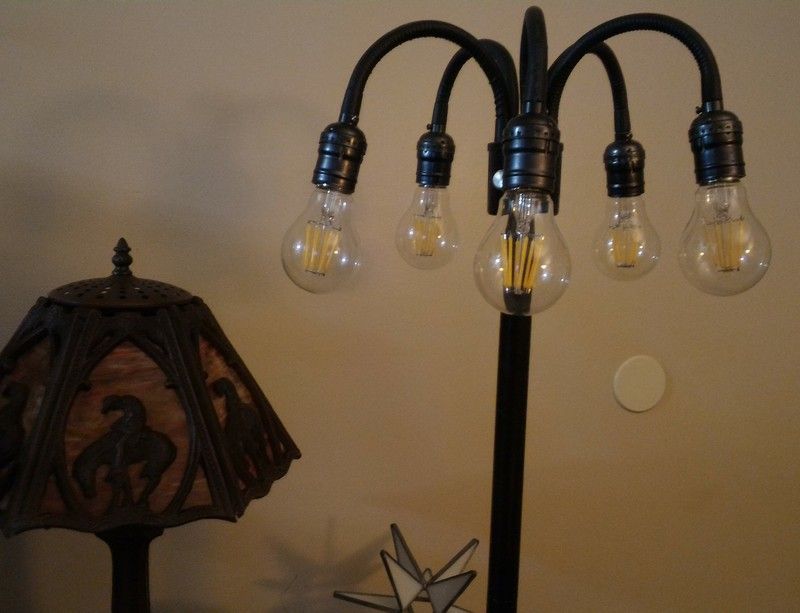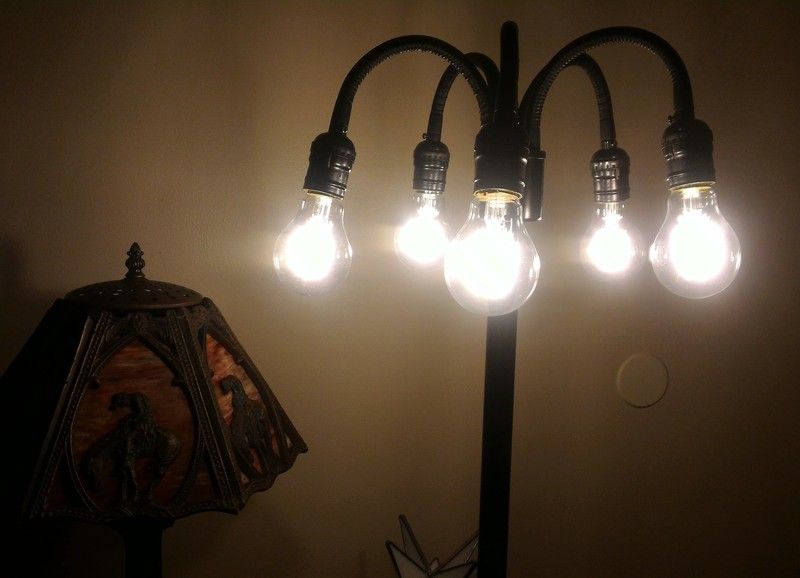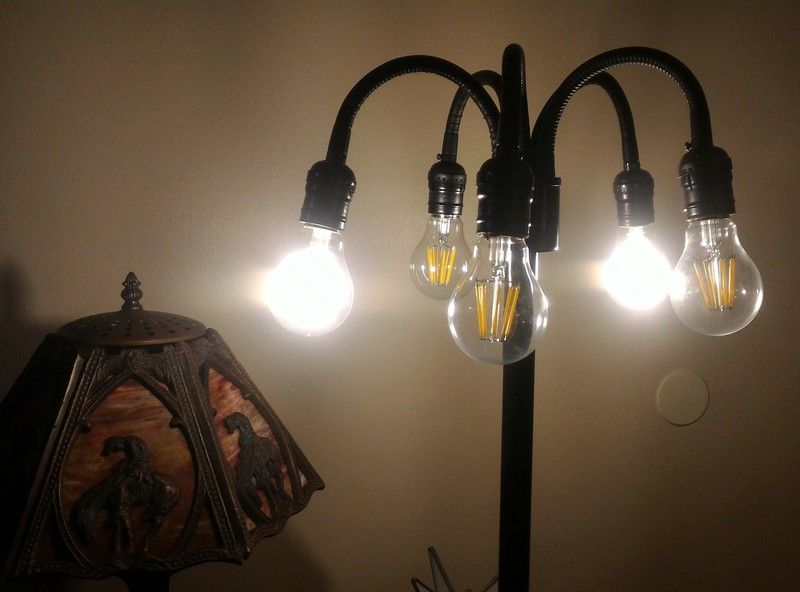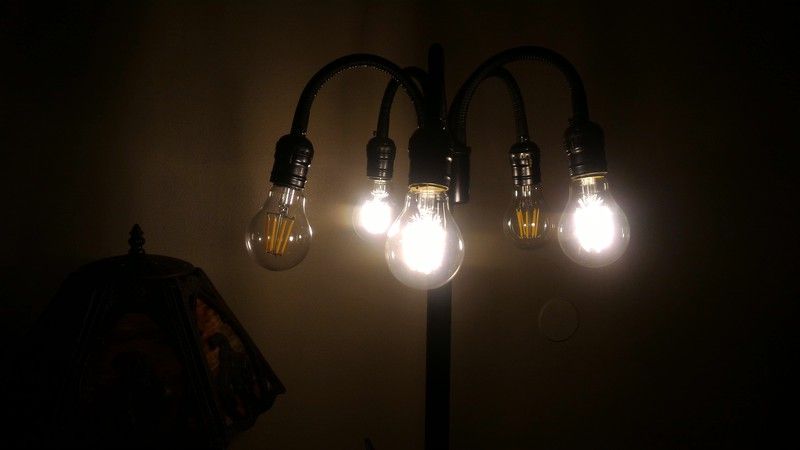 Evolving again. Bought some old style ST64 shape COB LED bulbs off ebay pretty cheap. Only got 4 though in WW, 2X of 6W and 2X of 8W. Looks sweet. Just found the cages in Home Depot of all places. And best price I have seen @ $5ea. This is the Final Evolution of the light.