Review example was provided by manufacturer. Here a product page (in Russian) and here Ebay page, where you can order it.
Those, who want to save some money, can order Ballista right from manufacturer, skipping Ebay`s fee, it will be about 10% cheaper. Contact of YLP sales manager is ouglovs@gmail.com .
YLP is as Russian company, here one more english review of their anoher product, 3-LEDs keylight "YLP Scorpion". That is not OEM stuff, both this 2 flashlights are YL`s own products.
STATED CHARACTERISTICS
Ballista 3.0 is high-power flashlight that combines over-high beam distance and quality neutral light.
Maximum output is up to 1200 Lm, brightness gradually decreasing to stabilized 800 Lm after 3 min of working. Beam distance is 1 km according to ANSI standard.
Neutral white LED XP-L HI provides high quality color rendering and better visibility when using in bad weather conditions such as mist, rain or dust.
Three brightness modes allow to choosing the convenient bright level and working time.
Tail forward clicky button turns on the flashlight momentary and allow to give a signals by short pressing on it; convenient side button is used for changing modes. The chosen mode is stored in memory. Also is possible to activate maximum brightness mode independently from the memorized mode.
• Latest XP-L Hi Intensity neutral white LED
• Beam distance up to 1000 m according to ANSI standard
• Max output 1200 lm
• 3 brightness modes: 55 Lm (30 h runtime), 480 Lm (3,5 h), 1200/800 Lm (1,5 h); strobe; quick access to max mode
• Tail forward clicky button for switching on/off
• Convenient side button for changing the modes
• Battery discharge indicator LED in side button
• High quality body made of aircraft quality aluminum with 3 type anodizing
• High quality smooth metal reflector
• Impact resistant ultra-clear glass lens with AR coating
• Water resistance IPX8 (waterproof up to 2 meters)
• Impact resistance 1 m
• Battery type 2 x Li-Ion 18650 (includes)
• Body-transforming option for working with one or two batteries (with 1 × 18650 length is 185 mm, with 2 × 18650 length is 250 mm)
• Possibility to set third battery (extended tube is needed)
• Two years warranty.
PACKAGE AND APPEARANCE.
For local market it comes into big red box, for international market it comes without it, to save on shipping.
Package includes:
YLP BALLISTA 3.0 flashlight, holster, 2 x protected 2600mAh 18650 battery, spare O-rings, user manual.
Ballista is similar to any other regular 18650 long-thrower, without any designer decorations, like non-anodised crown-shaped besel and tail ring at Crelant 7G5CS, for example.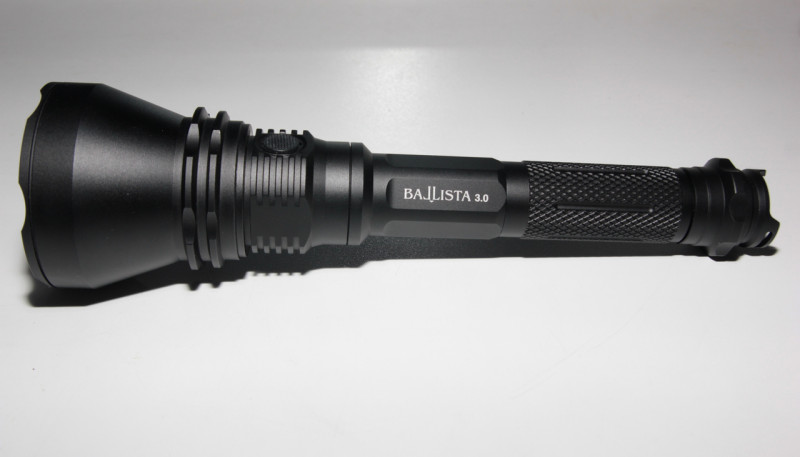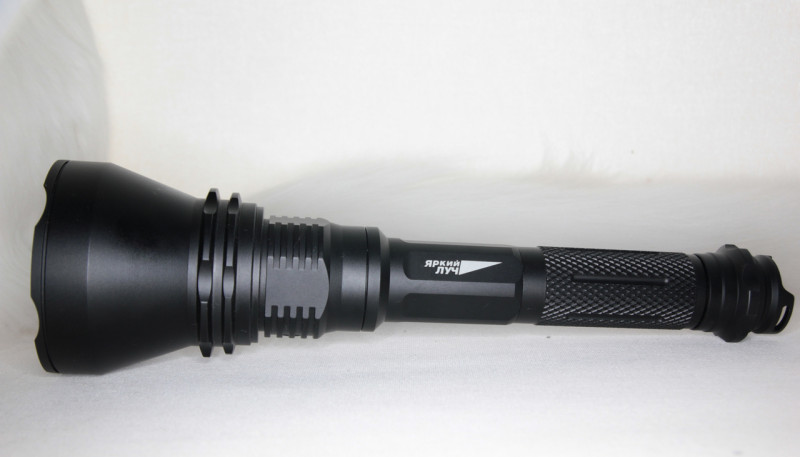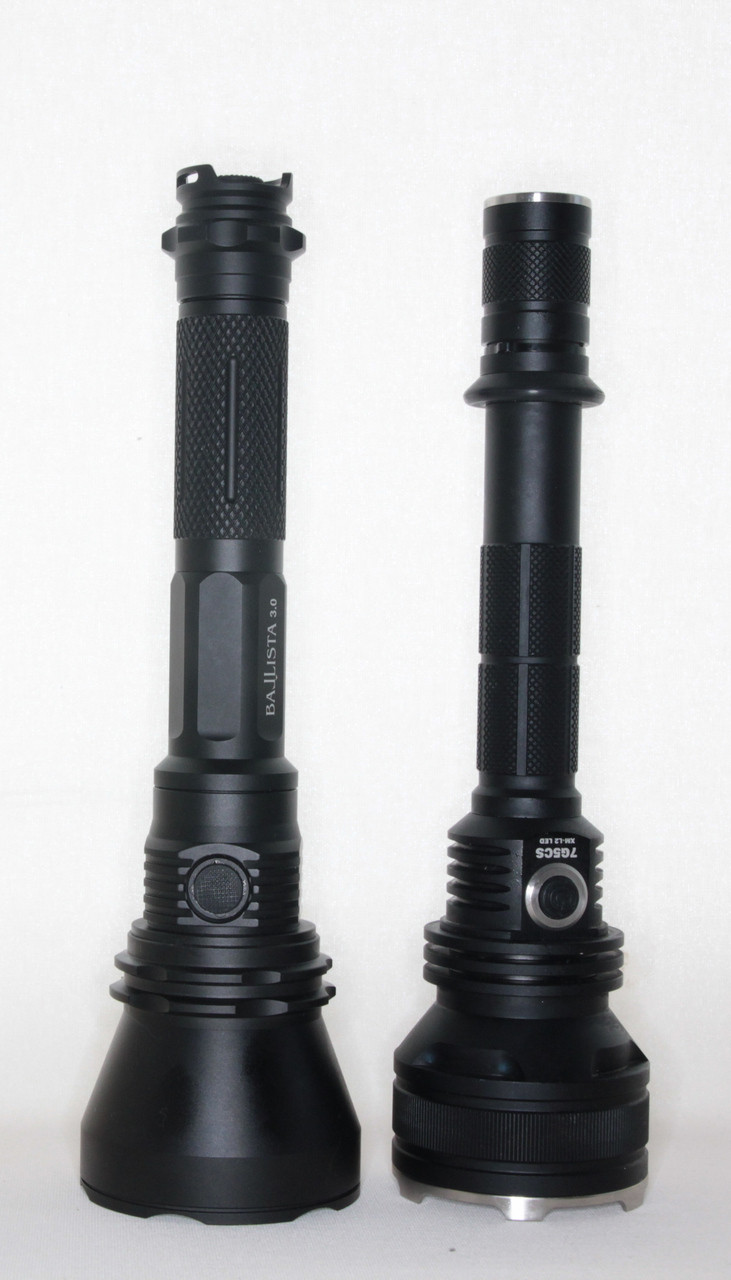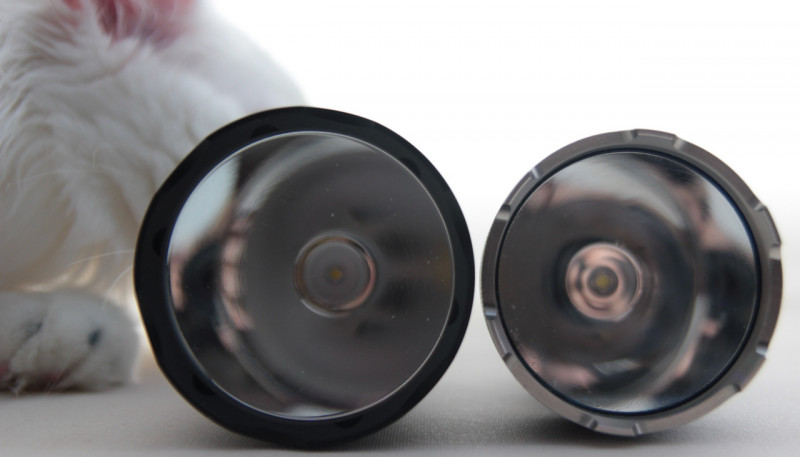 Ballista`s sizes are: head diameter – 68mm, total length 250mm, body diameter 28mm.
And, as Ballista supports voltage up to 14v, you can buy separate tube and make it 3×18650. But be careful with cr132, manufacturer doesn`t recommend using them.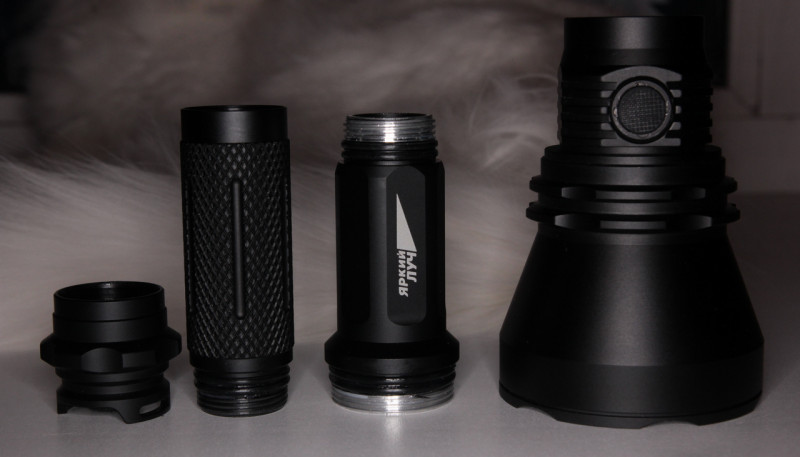 There is on\off power button at tail and mode switch by head (this one also works as red-green indicator). I, personally, find this more practical than just tail button design, the one that Convoy L6 has, for example.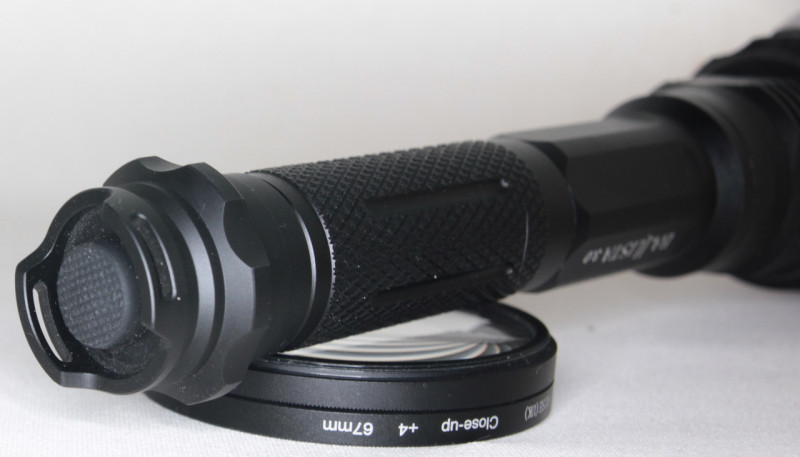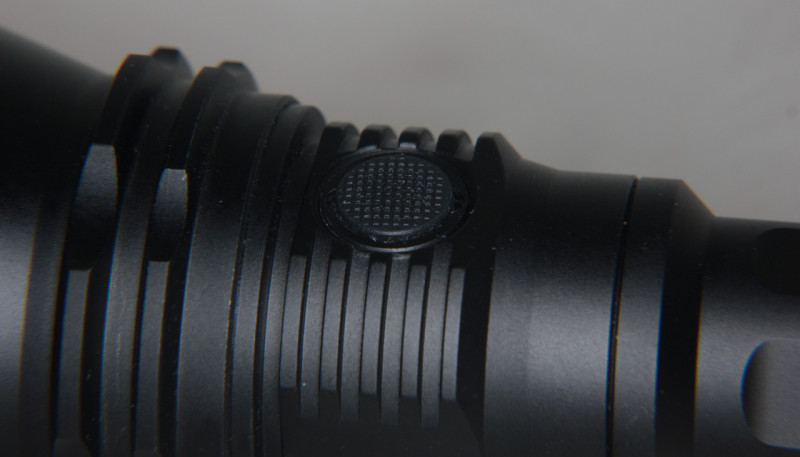 Сooling ribs are quite big, but I think there is enough space to fit 1 more, though even with pair of them I could only measure 43 Celsius in max mode.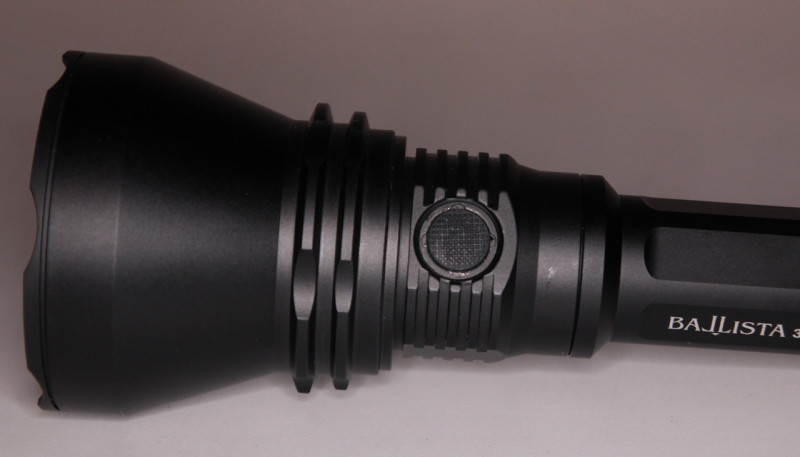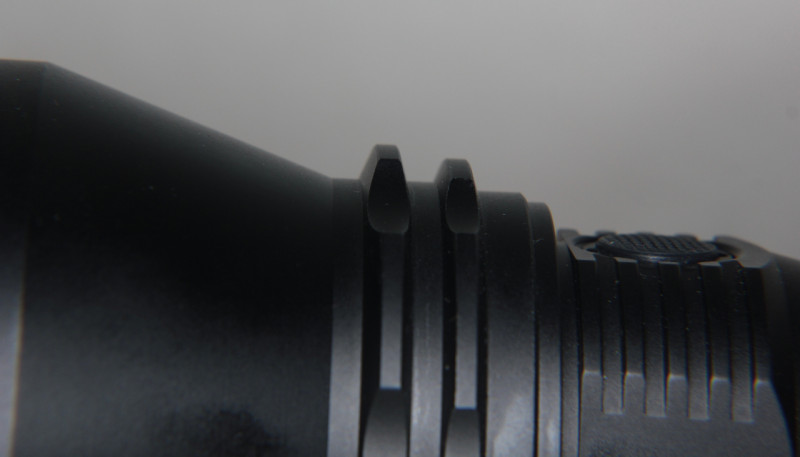 Both head and tail springs are quite thick.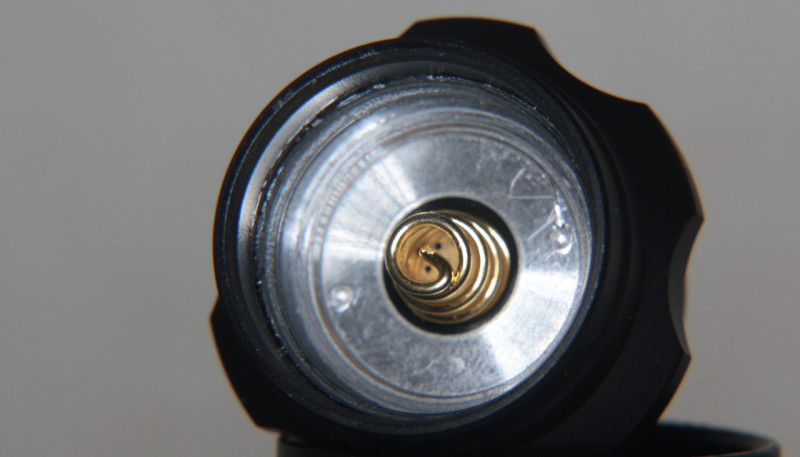 As you can use 1×18650 or 2×18560, handle of flashlight is divided in 2 halves. And each half has it`s own knurling: rhombic or long parallel edges
Machinery is ok, there is enough lubrication (though i`ve added some more, as usually)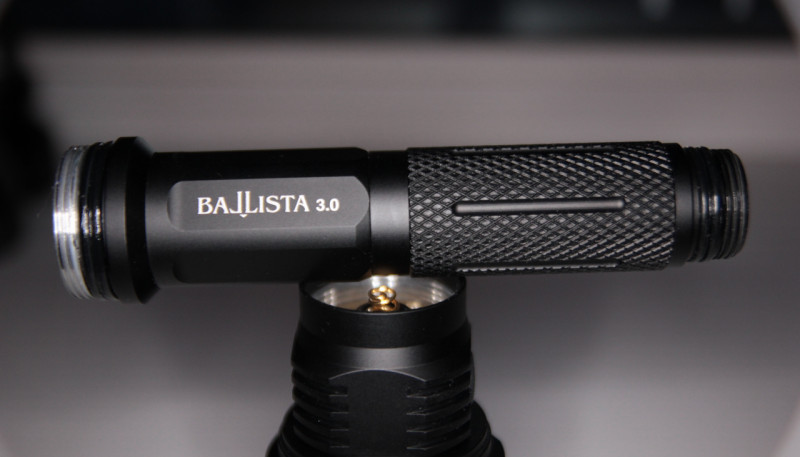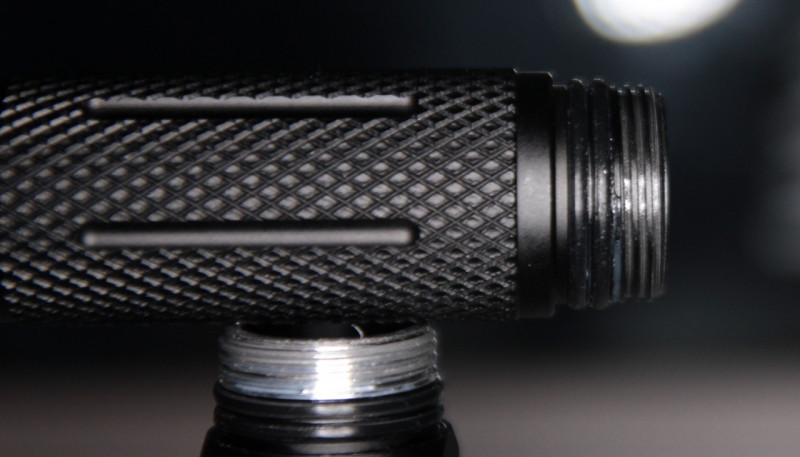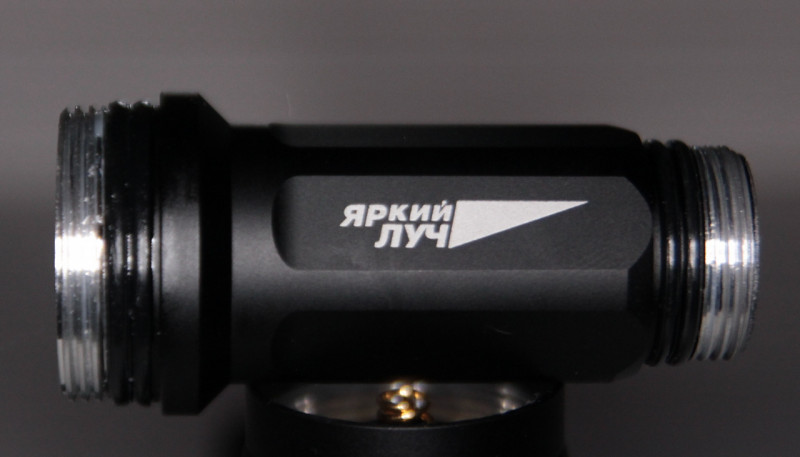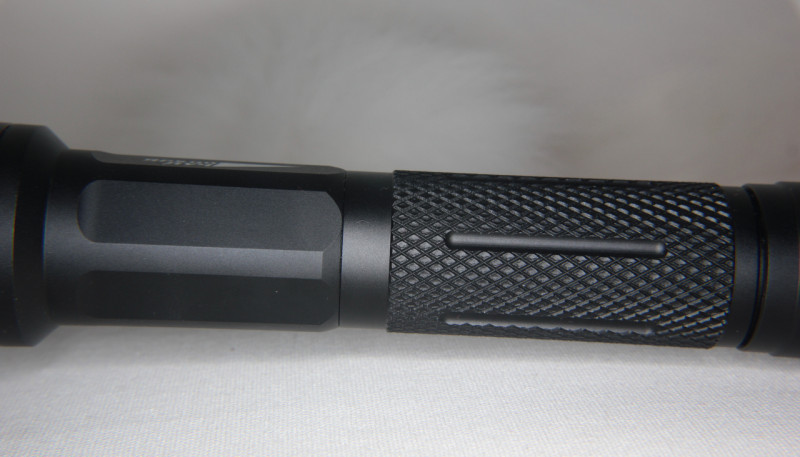 Ballista 3.0 vs L2, both in 1 battery mode.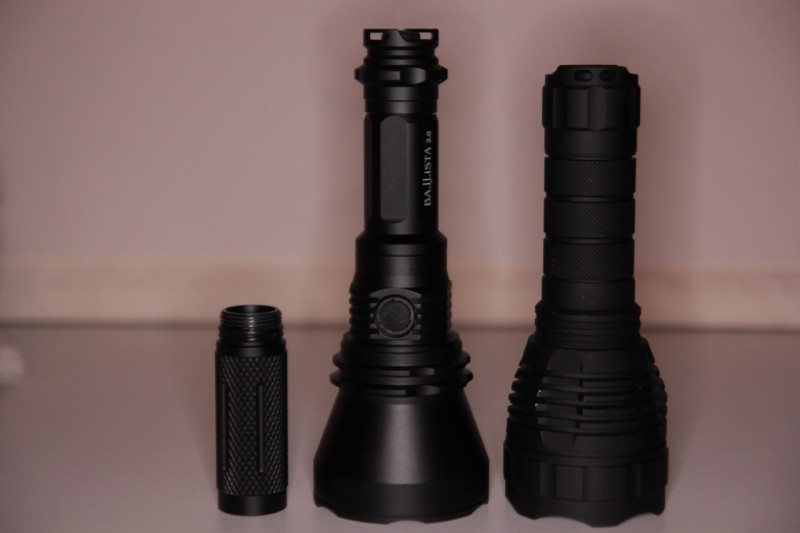 Glass is 3mm, very thick.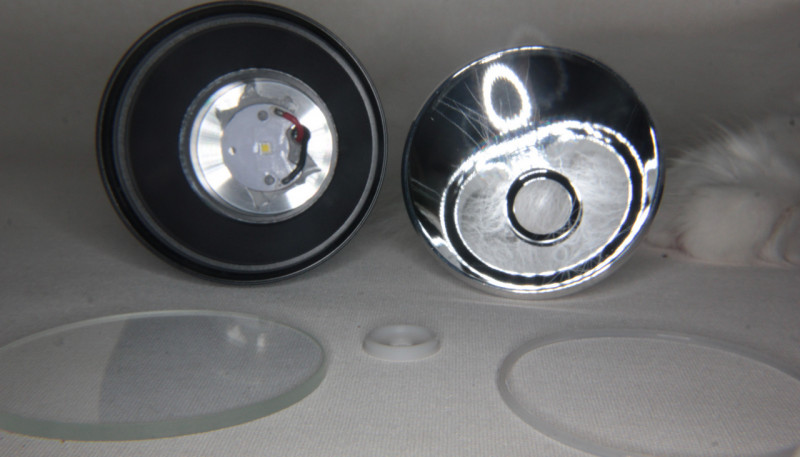 Of course there is deep SMO reflector, with perfectly centered dedomed XPL-HI.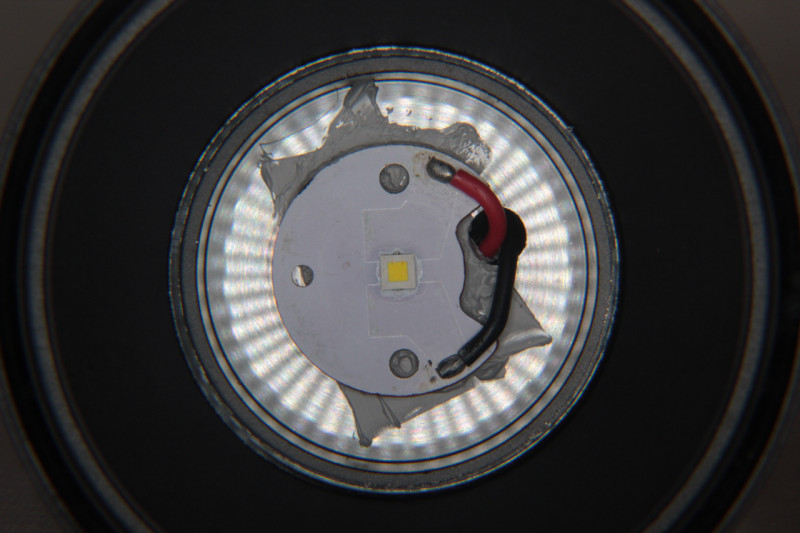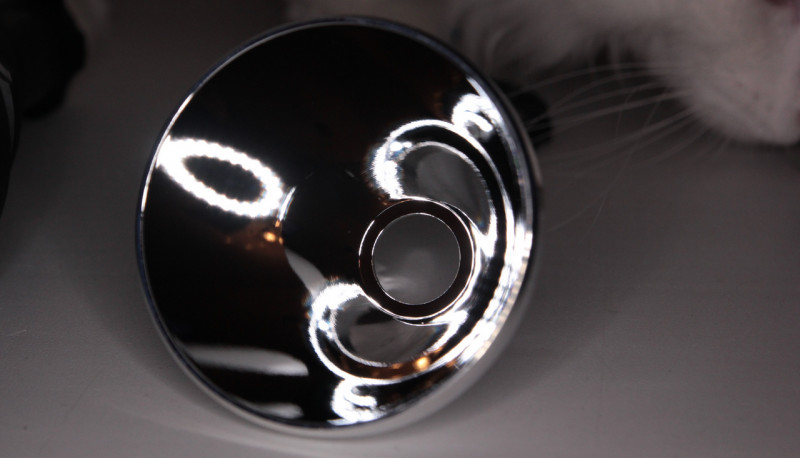 Holster as holster, just not bad regular one.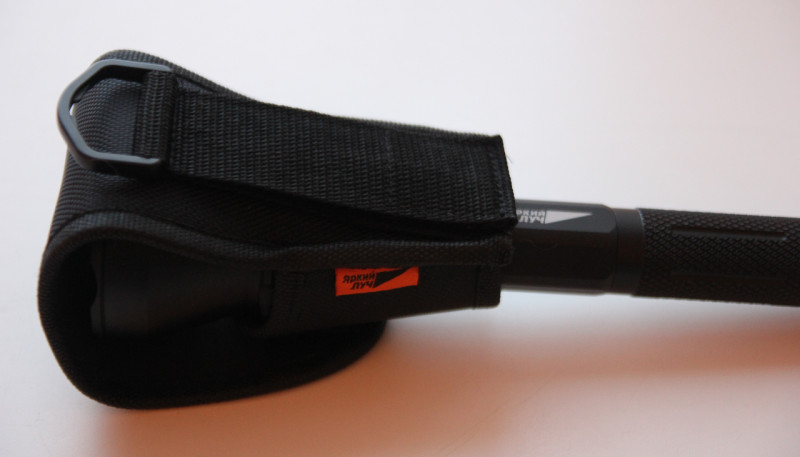 What about charger and batteries included. My charger doesn`t indicates end of charging. I think the reason is too long CV phase. But it charges to 4.19 anyway. Anyway, other chargers (i`ve asked manufacturer) are ok. And, to be honest, who will use this one when there is a lot of better one.
I`d also recommend to use something better for 1×18650 mode, as included battery (which are regular 18650 samsungs) shows worse performancethan my fave NCR18650GA 3500mAh.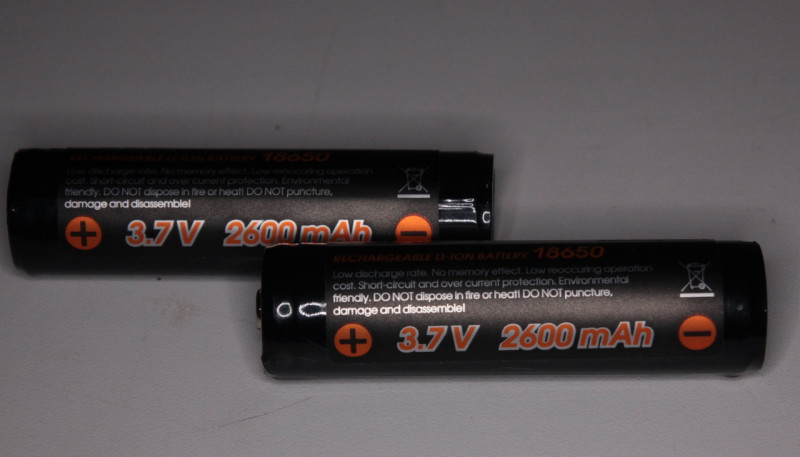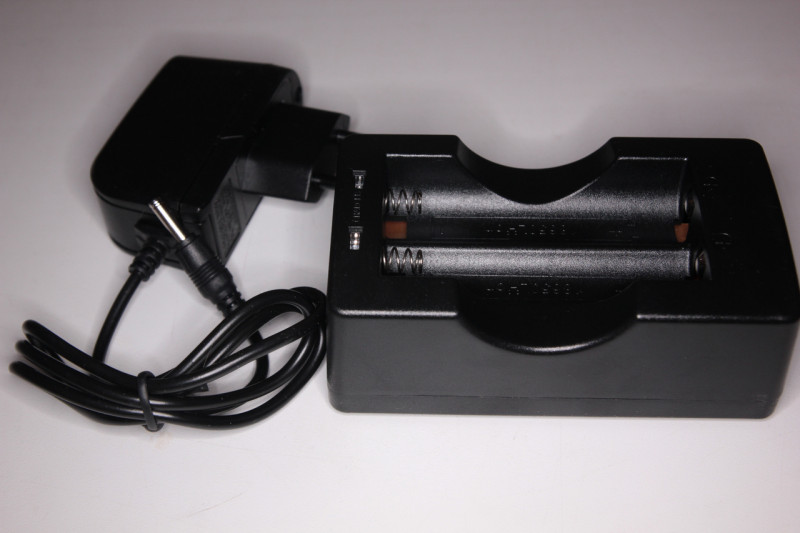 UI.
Really easy.
Tail button – on\off
Head button – mode switch and SOS (longpress when flashlight is ON)
There is memory mode, but you can start Ballista in max mode with simultaneous pressing both buttons.
Head button has red-green indication, which I`ve never seen in long-throwers.
So when it glows green – everything is cool, then goes constant red light, then it blinks. After flashlight turns off when discharged, indicator keeps on glowing red, which good for knowing that it needs to be replaced (but i`m not sure if this can drain battery below 2.8 or not).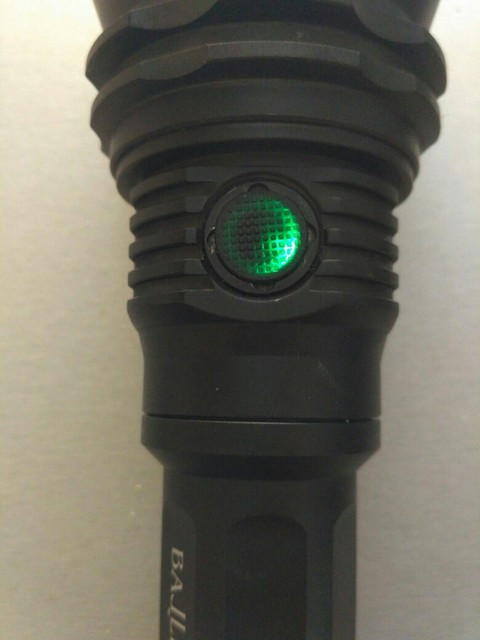 BALLISTA AT WORK.
This light is a classic "piercer".


And here I was surprised to see good tint betwenn «neutral» and «warm». It looks really good, comparing to L2`s cold one. Honestly, from all the longthrowers i`ve seen, this one has best tint.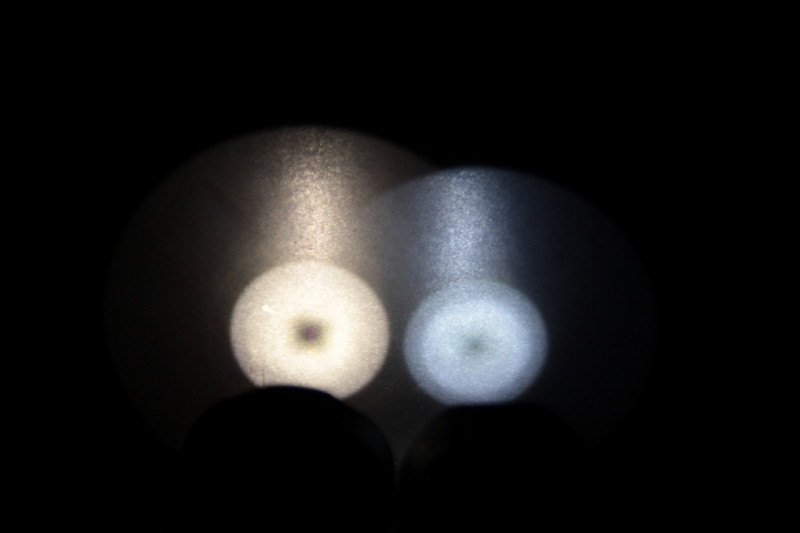 Manufacturer states 1200(+ stepdown to 800 after 4 min)/480/55 lumens
I measured 0.75/0.586/2.39А at tailspring.
After flashlight turned off in 1×18650 mode, I measured voltage at battery – 3.1v, then I turned Ballista on one more time for 10 minutes (very dim), next time it turned off leaving battery with 2.98v. Manufacturer claims 3v as a border, below which flashlight turns off.
Stepdown is by timer, not thermally regulated. I think this is good, because you can click on-off and get max brightness again and again. If you are ok with 800 lumens, you can keep it. With 43 max measured temperature, there is no way to overheat LED
I`ve noticed no PWM shimmering
what about modes:
55 lumens are good enough for regular walking, thanx to good sidelight and neyutral tint. This will be enough for about 10 meter range, surpisingly good for such a timy brighntess. I mean that you will not see clearly all the detail, but at 10 ahead you will see is that a puddle in front of you. hope you got wht i mean.
take a look at GIF below, there is a sight of light at the wall which is in 175meters distance. not bad for just 55 lumens. of course in this case there is nothing but trace if light, but at least it gives an common idea.
480 — definetely comfortable for work within range of 100meters.
1200 and stepdowned 800 — very long beam. I`ve seen reflections of light in windows at homes which are in 500-600meters from me. Of course that is just a glance, but in full darknes, you`ll be able to see if there is elephant ot T.Rex. I evaluate comfortable working range here as up to 300meters. And again, as light is neutral, Ballista will please your eyes.
What about stabilisation — from NCR18650GA flashlight managed to work for 5 hours untill turned off. After initial stepdown , 1st hour and a half were of decent brightess with brightness slowly descending, then hour and a half of descending to something like minimal brightness, and then a hour of dim light, which was enough for 3-4 meters distance
I chose Convoy L2 for comparing tests, as i suppose L2 most popular budget flahslight that most of you, guys, own.
Sidelight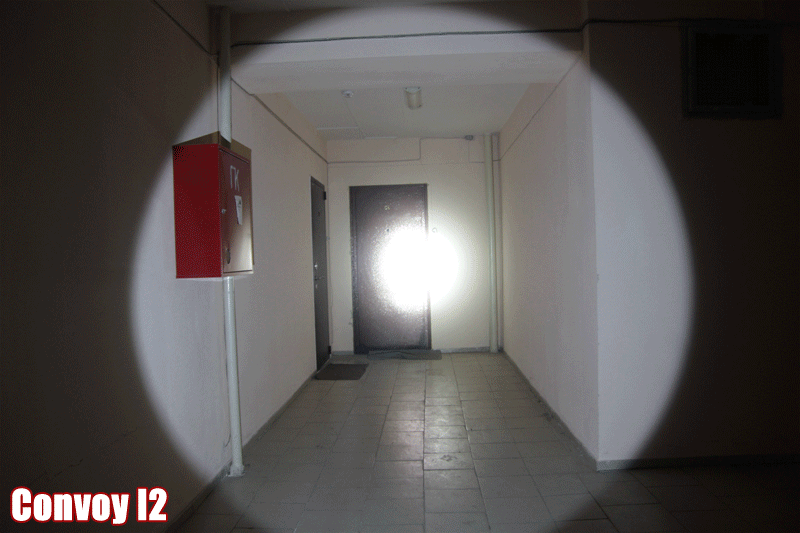 15m distance.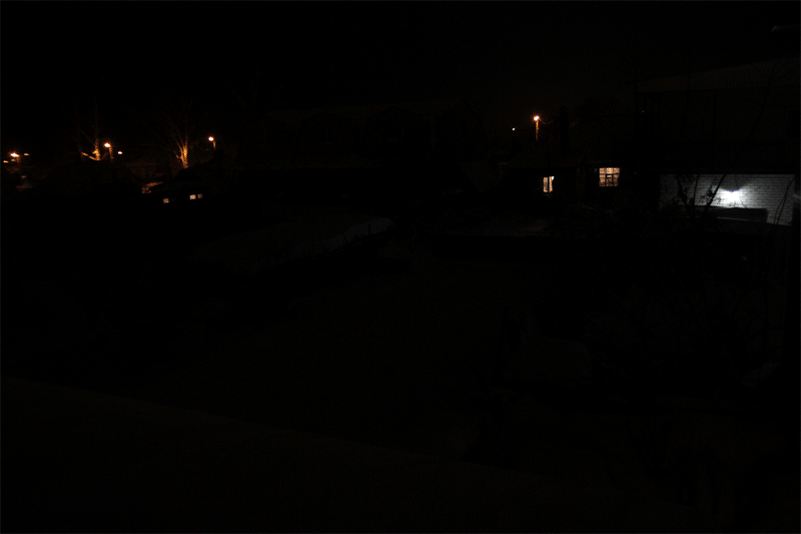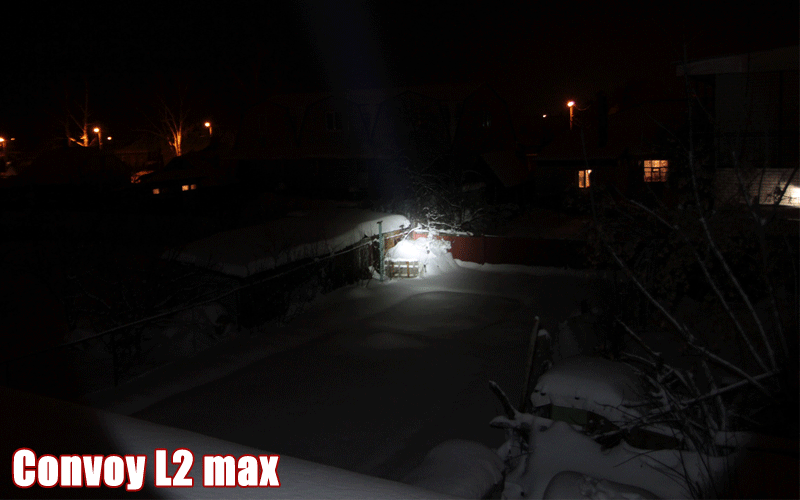 175m distance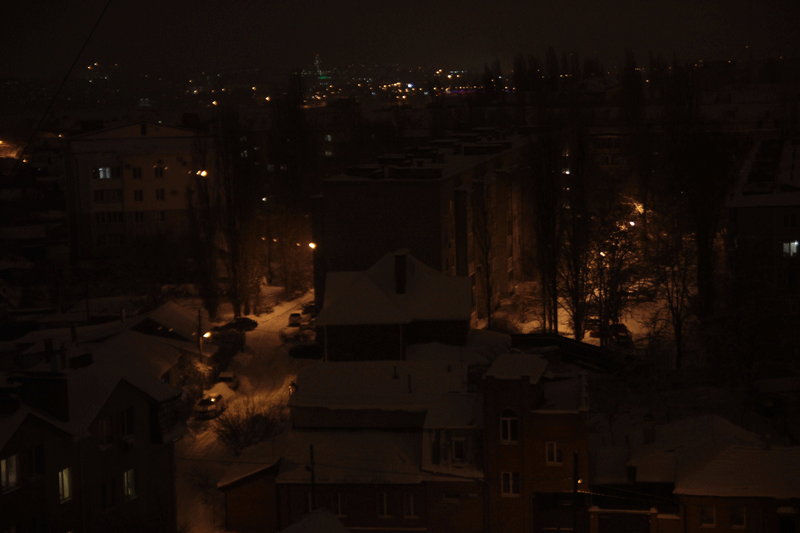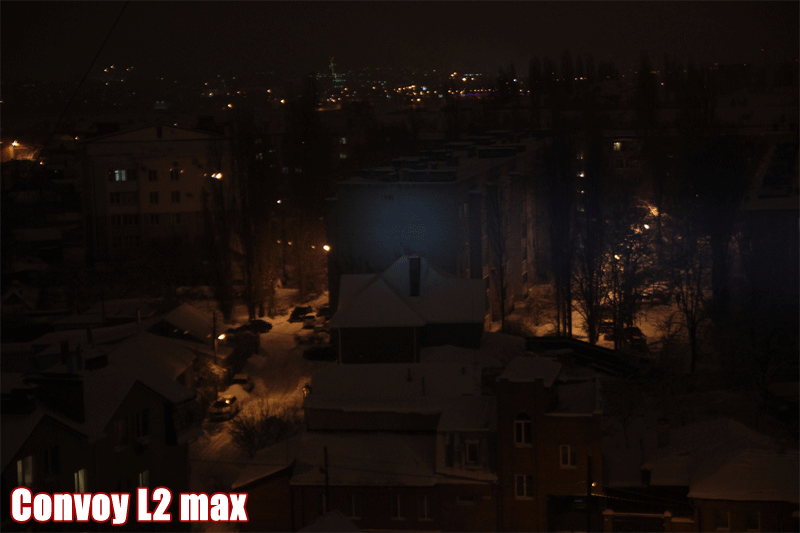 230m distance, versus Convoy L2.


the same with zoom

the same distance, but i took camera and moved closer to end of path, at about 80-90 meters from left point (look at map) to make a picture of how flashlite illuminates end of path, because it is not clearly seen from start point (right one at map above)
L2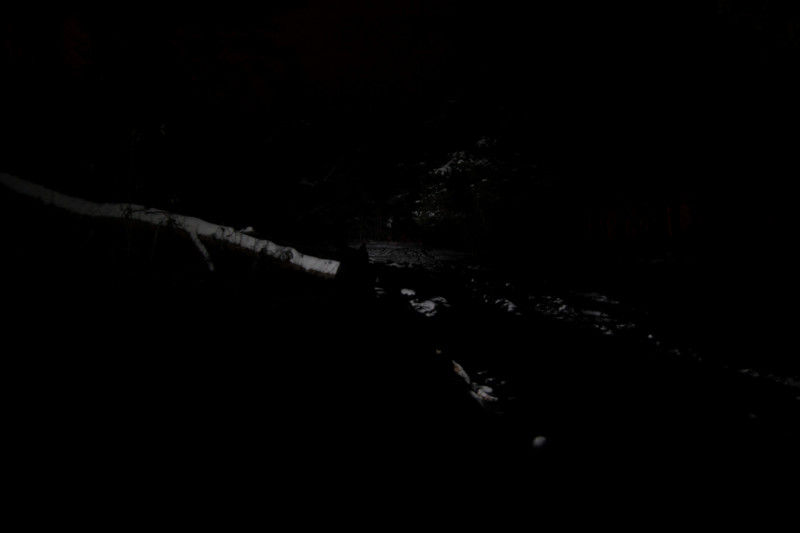 ballista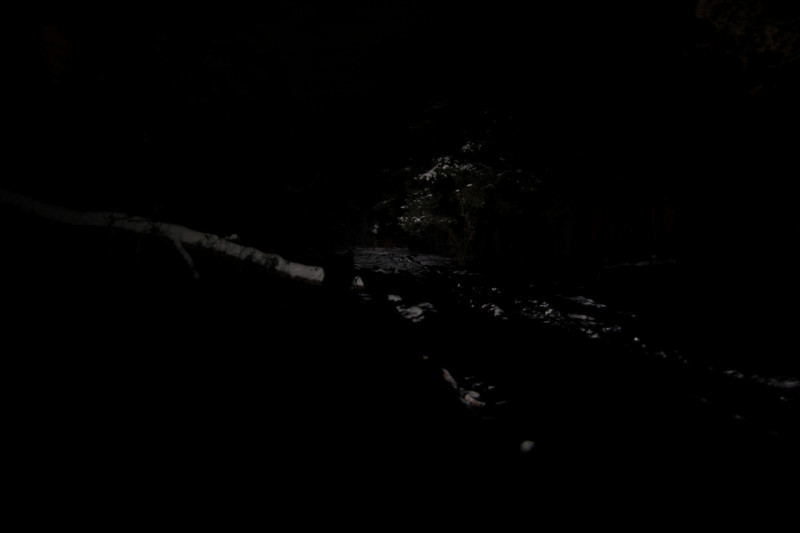 with zoom
l2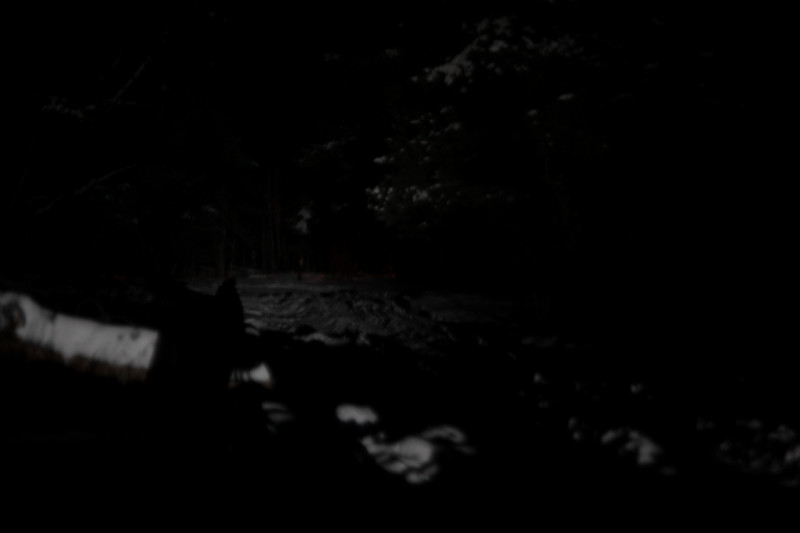 ballista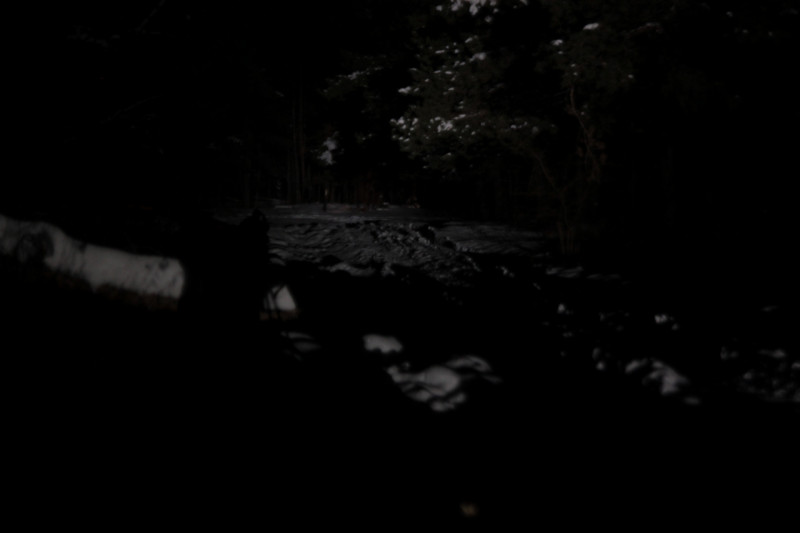 I see that Ballista exceedes L2 in beam range, tint and UI. the only aspect where L2 is unbeatable is price )
OVERALL IMPRESSION
Definetely positive. Long beam, excellent tint and simple convenient UI, no PWM-shimmering.
Build quiality is also ok, the only thing that i`d improve — pair of 18650+charger. I`d put other, better ones, or make a cheaper version without them.
I know there is a lot of longthrowers on the market, but most of them are white light, and choice of neutral light is very small. so in this case, Ballista 3.0 with it`s neutral\warm tint may be good variant. I`m proud that our local company managed to produce something decent.
Those, who want to save some money, can order Ballista right from manufacturer, skipping Ebay`s fee, it will be about 10% cheaper. Contact of YLP sales manager is ouglovs@gmail.com .