Lumintop Worm 2-mode 1x AAA
kreisler's Overall Rating: 
★★★★

☆

 
Summary:
| | |
| --- | --- |
| Battery: |  1x AAA (Alkaline, NiMH) |
| Switch: |  twisty |
| Modes: |  2 (Lo - Hi) |
| LED Type: |  XP-E R3 / XP-G R5 |
| Lens: |  glass |
| Tailstands: |  yes |
| Price Payed: |  US$19.90 / US$29.99 |
| From: |  HKE |
| Date Ordered: |  February 2012  |
Pros:
timeless attractive design, classic looks; reminds of Ti (titanium lights)
highly efficient driver w/ superior constant brightness regulation
current regulated, no PWM, no flickering
2012 version with improved tint bin, minimized greenishness on Hi
2012 version with higher output LED
ANSI FL-1 Standard rating present
ANSI FL-1 Standard rating outperformed(!!)
surprisingly bright on both levels (measured 68lm/14lm!!)
worm-like elongate runtimes (measured 7.0+ hrs!!)
very high built quality
rugged construction, potted driver
longevity, FREE life-time no hassle warranty
sturdy keyring attachment point
secure grip with fingers, lips, etc
surprisingly light-weight (Alu)
amazing throw (Alu)
secure tailstand
never gets hot in unattended tailstand mode
variety of finish colors: black, blue, red, purple, yellow, SS
full lego-ability with iTP A3, Olight i3, Tank E09, ..
Cons:
not the cleanest beam profile in hotspot, corona and spill area
no-PWM-but-current-control produces greenish tint shift on Lo
no official support for 10440's (*CYPM*)
no ultralow Low, no extra blinky modes
no pocket clip; must be purchased separately (Fenix LD01)
maybe too serious (looks, 2-modes only, runtimes) haha
expensive for what it is ... a 1x AAA keychain light!
Relative:
smooth finish, 1-dry-handed operation easy only if oil-lubed properly
unscrewing the aluminum pill requires melting of glue
Alu is thrower, SS more of an allrounder
Preliminaries:
This review contains photographic material from google images, my own PC scans in RL size (click to enlarge!) and other sources. Before anything else I suggest that you read selfbuilt's objective professional review of the Worm. It contains stimulating photos and graphs, a video presentation (similar to Marshall's video), exact measurements of ANSI FL-1 Standard lumens and runtimes, beam shots and enough details to inspire you to buy the product or to turn you off for good. The purpose of this review is to verify some measurements (runtimes, weight), be more subjective, share my enthusiasm and personal opinion, and finally compare it with other desirable 1x AAA keychain lights of mine. I liked the Worm so much that i bought both the Aluminum (Alu) and the Stainless Steel (SS) version. So, above all you need to like the Worm's esthetic optical design which was btw copied by Brinyte, Ultrafire, Sky Ray, MaxToch, FandyFire, UniqueFire, and maybe even more budget light companies! And first off, the heads of the Worms are interchangeable and also nicely compatible to iTP A3 (Olight i3) and Tank007 E09 and vice versa:
(hoover mouse in/out!)
This is important to know because you might already own an A3 or i3 (maybe with a broken head) and would like to make use of their light-weight aluminum body (or vice versa), e.g. you may want to keep the not very light-weight Worm SS body as shelf-queen and use the amazing Worm SS head on the iTP A3 aluminum body. Such a custom setup is likeable for a change or when the SS's performance is appreciated but not the SS's total weight. In the above picture you could tell that the driver contact disc of the A3 sits 1mm deeper in the A3's head but this fortunately does not pose a problem thanks to the perfect machining of the Worms: as you can see the A3 head screws just exactly on the Worms' bodies to establish electrical contact with the A3's driver disc. There is minimal gap left between the Worm's first rippling and the bottom edge of the A3's head. Just perfect!
Worm revision history:
Since the Worm is a current-controlled light, which is rare with 1x AAA lights!, it suffered from poor 'tint performance' in comparison to PWM-controlled light such as the iTP A3. In earlier Worm revisions (2011 and earlier) the light was visibly greenish on Low-mode, and the SS used to be greenish even on High-mode because of its then tint bin of the XP-G R5. To talk figures, early tint bins of both the XP-E R2 and the XP-G R5 were either 1C0 or 1T0. That drama belongs to the past.
Since 2012 all Worm LED's come in 1A0 tint bin, i.e. with "no more greenishness", or let's better say with much reduced greenishness on Low-mode and no more visible greenishness on High-mode. This is excellent news to late adopters of the Worm!
Worm Alu. The Alu originally came with a Cree XP-E R2 emitter, a LOP-textured reflector, and a red driver disc. The current 2012 production version comes with a Cree XP-E R3 emitter in 1A0 tint bin, a SMO reflector, and again with the same red driver disc. In other words, the Alu is a little brighter now and has an improved tint bin. Personally, as an early adopter of the Alu i didnt see anything wrong with the tint or brightness; both were good on my sample.
Worm SS. The SS originally came with a Cree XP-E R2 emitter, a LOP-textured reflector, and a black o-ring at the lens; identical to the early Alu! At some point the LED was replaced by a Cree XP-G R5 emitter (with said really greenish tint and moderate light output). And to reflect the emitter update this was accompanied be the installation of a GITD lens o-ring. The driver disc was golden and looked clearly different from the Alu's red driver disc. The change from XP-E R2 to XP-G R5 was meant as "improvement" and to give the SS a distinctive superior touch also because the SS is more expensive and constructed with small differences. The Alu's construction realized 1:1 in stainless steel material would result in a too heavy-weight Worm. So in 2012 Lumintop improved the SS again, this time for real! Now it comes with an updated, i.e. with the 1A0 tint bin, Cree XP-G R5 emitter, much higher output, and a red driver disc. The GITD lens o-ring stayed in place while the reflector was changed to a SMO reflector, a design decision which i dont understand too well because imho in small lights with a big LED the best choice has to be a OP-textured reflector to smooth out beam profile irregularities, asymmetries, or corona artifacts which are naturally produced by minimal LED eccentricity and the big LED form factor. In any case, the updated XP-G R5 alone with higher output --now spec'ed as 70 lumens (but higher in reality as we will see!)-- and nicer tint is a most desirable improvement over the 2011 SS. The 2011 SS was meh, the 2012 SS is outstanding!
To cut it short, both the 2012 Alu and the 2012 SS have in common the SMO reflector and red driver disc and the 1A0 tint bin in their respective higher output Cree power LEDs. And when you order it, you really want to get this instead of the older 2011 or pre-2011 revisions. Dont buy old Worm stock from your preferred dealer!
What you get:
The Worm is sold in anodized aluminum (sometimes called "Worm 2" or "Worm II"; colors: black, blue, red, purple, yellow) and in stainless steel. The Alu and SS look similar in their rippled design and perform about similar but since the PCB, the LED, the material wall thickness, the length, the weight, the tail, the lens o-ring and the packaged accessories are different, we need to distinguish between the two. Alu or SS, which to buy?? Some specific difference in detail may be crucial in your purchase decision, e.g. the difference in weight. 
The cardboard packaging is quite nice and welcome because it gives you the feeling that you're not acquiring a bulk no-name (or XXXFire) light. Lumintop is neither a well-known brand nor a prestigious brand imho and their brand name&logo sound/look cheapish, nonetheless they produce ANSI FL-1 Standard rated flashlights of high quality and some reputable international flashlight dealers carry Lumintop in their sales program (HKE, Going Gear, LightJunction, Tactical HID, Pacific Tactical Solutions, SBFlashlights, EDC+, FrogWild, LED Flashlight Source, TBFlashlights, ..). Although the emitter was updated and improved in both the Alu and SS, the packaging is still the original same old cardboard box saying "Cree XP-E R2". There isnt even a sticker (adhesive label) which states "Now With Cree XP-E R3!" or similar to reflect the changes. Taking the new Olight i3 as reference and into account that the i3's brightness declines within the first few minutes and that the actual ANSI FL-1 lumens output of the Alu is more like 68 lumens, then the Worm beats (or equals) the i3 in all categories (Impact Resistance, Peak Beam Intensity, Beam Distance, Max Light Output, Water Resistance) except for Max Runtime (measured 18hrs vs. measured 7hrs) where the Worm lacks an Ultralow Low.
Now check out the 2 cardboard boxes. They are identical for both the Alu and the SS. A color checkbox for "Purple" is missing and a "Titanium" version was never produced:
The back covers operation instructions, a 13-digit wtf UPC, and important contact details (phone, email, homepage, fax):
Supplied with the Alu is 1x o-ring and a medium sized split ring. The SS comes with a clamp-keychain-mini split ring combo but no o-ring wtf. The transparent plastic box may state "Lumintop" or not:
Here a more professional photo of an untouched SS sample, very attractive looking:
Features / Value: 
★★★

☆☆ /

★★★★★

I dont know what to write here.

Please read again the Pro's, Con's and Relative's. Everything already said there in clear words.

If the number of possible brightness levels, the number of blinky modes, the existence of an ultralow Low ("Moonlight mode"), the official support of 10440's, the support of Protected 10440's, a user-programmable interface, ugly nonskid knurling, anti-roll bezel, easy non-destructive disassembly, blazing brightness, tint options, Preon P0-like tininess, something fun to play with, a pre-packaged pocket clip, pouch, holster, sheet, etc. is very important to you, then the poor worm loses here because it misses such "features". On the other hand:

Some people dislike very low modes and prefer a Fenix E01-like usuable output on "Low"; 2-modes is simple, foolproof and reduces frustration about mode-skipping, and is a matter of fact more practical on a little light like this; having any kind of tint options is rare with 1x AAA lights (Preon P2, DQG Tiny III) and you could always implant a new LED if you really wanted to; knurling, original anti-roll design, pocket clips would ruin the elegant noble looks (Preon P0) and question its targeted use as keychain light; most users detest blinky modes, especially on 1x AAA lights where they seem really impractical (Klarus MiX6); glued threads of aluminum pills is a normal thing (iTP A3, Olight i3); you never get holsters or similar FREE stuff with 1x AAA lights; and something to play with plus blazing brightness on 10440's?? geesh, and why dont you grow up?

haha

Cmon let's get real! The Worm is nothing but a simple torch, 2-part, with rear spring, o-rings, glass lens, reflector, and aluminum pill which hosts the 10mm round LED star on one side, and the potted driver with the contact disc on the other side, and 2-modes: Low - High. So why do you let me write so much about it and repeat myself all over again?? Haha, ha (again).

If i had to pick out particular points which i personally dont like about my Worm samples (and it is unfair to make any generalizations about them because Lumintop continually strives to revise and improve the Worm series!), then i would spontaneously name 4 things and nothing else but them:

beam beauty (SS, Alu), tint (SS, Alu), weight (SS), and 10440's support (SS, Alu).

Beam beauty is a big deal to white wall hunters although such artifacts (starry hotspot, asymmetric corona artifacts, not very clean hotspot itself: can all be present in Worms!) are common or worse in other 1x AAA lights (Tank E09) because of physical reasons (optics, relative dimensions of reflector vs. emitter) and vulnerability to manufacturing tolerances -- just saying that perfection does exist (Klarus MiX6, Fenix LD01), naturally at a higher price.

Tint was a major concern in all older Worm revisions (2011, and pre-2011) and isnt any longer in latest production batches but in practice you are still challenged by acquiring such a fresh production sample, since local vendors may still carry old stock. -- just saying, no matter how "less greenish" your 1A0 tint bin 2012 sample looks, the prime examples of premium non-greenish tint and beautiful beam pattern are still a mile stone's throw away: the Klarus MiX6 and Fenix LD01, to name again the same two popular products by leading Ch*nese flashlight brands.

Weight is mitigated by swapping the SS body. You can use the Alu body, the Olight i3 body, the iTP A3 body (aluminum or titanium), or the Tank E09 body. Or other bodies with identical threads.

10440's support is peculiar and there is no official support for 10440's *CYPM*, and most flashaholics dont even own or use Li-Ion's in their expensive 1x AAA lights, so not much of a gripe here for users other than kiddos. You thought that iTP A3 is a freaking monster on 10440's (safe op)? True. Beats the Tank E09 on 10440's (very safe op) by double! Then you should see Fenix LD01 on 10440's (unsafe op). Beats the iTP A3 by double!! Having seen what is possible with 10440's (from safe op to unsafe op) the adventurous user will be bored by Eneloop brightness levels even if they are as high as Worm SS 2012, Fenix LD01 R4 or Tank E09 at around 80 ANSI lumens.

In the remainder of the review you will learn in detailed manner about the "features" that you do get with the Worms, especially the Worm SS 2012. Apart from the looks and top-notch built quality, it's all about perfect flat constant brightness regulation with no turbo down-step (and with no PWM!), industry-leading integral brightness, very serious runtimes, no heat issues to be feared, outperforming ANSI FL-1 STANDARD ratings, longevity thru rugged construction and FREE lifetime no hassle warranty, low price and high throw (Alu), perfect as integral keychain member, and its timeless beauty. A torch to please the general user incl. ladies or females if not the kiddo (who wants to play and have fun with his/her new toy) or the Li-Ion maniac (who wants to glare, burn and poof haha). The Worm is neither a toy nor a tool. But. The Worm is an attractive looking keyring pendant which, when needed, will illuminate your happiness in a reliable fashion. Buy one get one free Quote cpf user code kreisler banned During check out Everything nature is green Come help the dinos and free the energy God loves you When excellent prices today stop spamming

 
Design / Build Quality: 
★★★
★★
The SS is of outstanding built quality with a scratch-resistant polished surface and very good keychain attachment point, has minimized play or wobbliness in the precision-machined threads, and one may believe that its solid, hefty construction with a head massivity (i.e. the ratio between the head mass and the total weight) of only 34.5% guarantees its ruggedness and indestructibility but that's not the point or purpose of the SS version. Ruggedness, drop resistance, impact resistance of the SS hasnt been confirmed (ANSI FL-1 Standard, cant be the same as the Alu's, can it?), and you buy the SS rather for its timeless classic looks -- one may find it elegant attractive or boring unexciting, all a matter of taste. And because it's compacter and lighter than the 4 budget light competitors, see review section further below (Ultrafire, Brinyte, ..). Let's go over some details:
Size impression. So small, cute and elegant looking in RL. When i first saw this design in selfbuilt's review i didnt like it mostly because i felt distracted by the relative size of competing keychain lights. But let's be honest, sizes of lights such as the original iTP A3 (1-mode) and the Fenix E05 are exceptional, those were tiny! The current model Olight i3 has now grown to the sizes of the expensive Klarus MiX6 (cp. length) and the Worm (cp. volume). In practice, to me, the iTP A3, MiX6 and Worm feel equally small and perfectly suited for keychain carry. So please dont be concerned about its relative size (volume). The Preon P1 with a clicky ... *that* is a big 1x AAA keychain light if you ask me!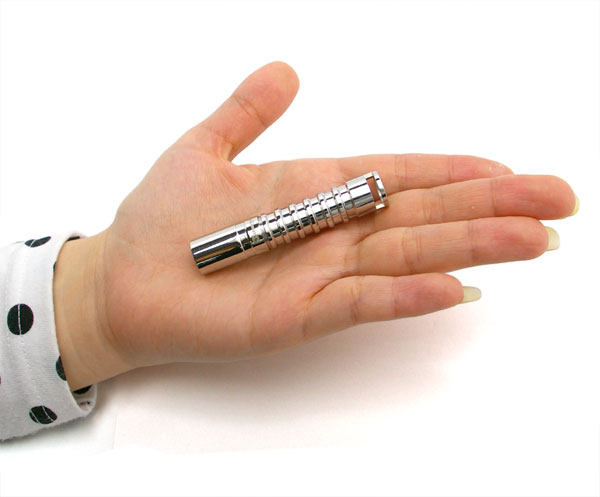 Weight. The manufacturer specs tell us that the weight of the bare Worm Alu should be "9grams" without keychain and 17g with keychain, and the weight of the Worm SS is not given anywhere. Well, well. Since this is my review you better trust my own exact measurements with a FC50:
 

Worm Alu (bare)

manufacturer

Worm SS

manufacturer

Worm Alu (?)

selfbuilt

Worm SS (?)

selfbuilt

Worm Alu (bare)

kreisler

Worm SS (bare)

kreisler

head

N/A

N/A

N/A

N/A

5.400g [5g]

9.361g [9g]

body

N/A

N/A

N/A

N/A

7.699g [8g]

17.753g [18g]

head+body

9g

14g

14.3g

27.3g

13.100g [13g]
27.117g [27g]
As you can see, never trust the manufacturer's specs until you did your own measurements! In the above table "(bare)" means that i removed all split rings, keyrings, keychains, pocket clips, clamps/claws, batteries, etc. if such things had been present (cp. iTP A3). With 13.1grams the Worm Alu is really light-weight! The Worm SS is more than double as heavy and that's quite a bit since the Alu loaded with 1x Eneloop AAA (11.7grams) doesnt even weigh as much as the Worm SS by itself. In RL and in thin pants/shorts, a loaded Worm SS (~39grams) does feel incomfortable imho as bottom pocket rider and one might wish a pocket clip, however in standard jeans/thick trousers and in casual EDC rotation the Worm SS together with a bunch of keys feels acceptable riding at the bottom of your pockets. Just keep in mind that the weight is the main disadvantage and possibly a deal breaker of the SS version although it is still more light-weight than the 4 direct competitors (UltraFire SA-R2, Brinyte BR-S2, Sky Ray S2, MaxToch ED2R-7) from the budget lights sector. And granted you got some lego parts (e.g. from A3, i3, E09, ..) you could always swap the SS body if the weight really bothers you.
Maybe the main reason why the SS feels so hefty or heavy is its compact size. If the torch had the extended size (volume) of a Fenix LD10 or 4Sevens Quark both of which are popular EDC flashlights for pocket carry, e.g. with a pocket clip, with the same weight, then you'd think "hey this Lumintop is awesome light-weight!". It's the conjunto of dimensions and weight, in physics called mass density, which makes you think that something is heavyish or rather light-weight.
Threads. The threads are machined very precisely and clean and, after removal of the o-ring, are much less wobbly than on the iTP A3 EOS Upgraded or the Olight i3, and especially on the SS there is no play in the threads. It takes a little less than 3.0 full turns to disengage the head; on the A3 it takes a little more than 4.0 turns fwiw. Measurements with my digital caliper prove that my two Worms are high precision machined products with tight manufacturing tolerances, maybe that's why the threads are not machined any longer. As with any other 1x AAA light the threads are not square-cut yet fine enough so that accidental loss of the head is very unlikely. Twisting action on both the Alu and SS is very smooth (i use superlube oil to reduce friction on the o-rings and in the threads). Only the slippery surface (polished steel, anodized aluminum) makes 1-handed operation less easy:
Beautiful shiny finish. The surface is brilliantly polished yet very scratch resistant so no need to worry about keys dangling against the torch. With typical usage the SS will keep its good looks, really. What rather bothers are finger prints. No matter how clean your fingers are, a single touch and you got a finger print!
Tail. Have a look at the nice sturdy tail. Minimal machining marks. I heard of people misusing the SS tail as beer bottle opener lol:
Hmm.. not a big deal but why not mention it.. the edges of the tail. In practice they dont pose any issue and the tail area is reserved for a split ring (or your single keyring!) anyway. I am just saying that if feels awkward and a litte harsh when you let your finger slide over the gap. Basically the tail is a 'ring' attached to the bottom of the torch via 2 mini 'bridges'. I wouldnt call their edges sharp or problematic but i might prefer rounded edges wherever viable. Since anything else on the SS is well rounded and smooth and pleasant to touch'n feel, the square-edginess of the tail ring doesnt harmonize in feel with the big rest. Chamfering every edge at the tail area would alleviate the disharmonious feel. Not a big deal:
On the following picture (PC scan) you can see a few micro-scratches on the SS polish but for the most part the white stuff are fine dust particles. I am the filthy reviewer haha. The machining marks at the tail area gives us an idea how the ring was produced:
Driver contact disc. The PCB of the Worm comes with an elevated plus contact. That's something which people were missing in, for example the Preon P0 and its original Eneloop problem:
Also note that the driver discs look different between the Alu and the SS. The golden disc as seen here was installed in earlier revisions of the SS:
Such protruding 3-dimensional plus contacts (poles) may come in handy when you, for whatever reason, wish to experiment with flat-top cells or with installing copper sealing washers. They also protect the contact from abrasion, i.e. mechanical wearing down through the twisting action. It's definitely a quality feature of the built. Another quality feature is the potted design of the driver. I am informed that the head is glued and that the aluminum pill cant be unscrewed with tweezers without the help of heating. Modders who'd like to swap the emitter will find out about the nice built quality of the potted driver once they unscrew the pill.
In newer Worm SS production versions the driver disc seems to be adopted from the Worm Alu and we get the red driver disc, and also a SMO reflector (difficult to see in the picture). The SS keeps the GITD o-ring and has an updated XP-G R5 emitter with 1A0 tint bin:
Thickness. Looks like the SS walls are thinner than the Alu body walls. I am still wondering how they produced the rippled design. In any case the rippled design ensures the immense rigidity of the body. The body is practically impossible to get deformed:
At the lens are you can see the difference in wall thickness again. Also take note of the different emitters. In late 2011 both the SS and Alu were equipped with LOP reflectors and back then the SS already got a Cree XP-G R5 (rated 70 lumens) and a GTID o-ring at the lens. Of course you cant see it from the picture but this SS had a very greenish XP-G R5 (1T0 tint bin):


Reflector. First versions of the Alu were equipped with a Cree XP-E R2 and a LOP (light orange peel textured) reflector and a black o-ring, as seen in the following photo grabbed from the Lumintop site. These Alu versions were manufactured and sold in 2011 and before. Actually i dont know when exactly the product was released to market. Could have been in 2010 or 2011. The very first SS version had the same XP-E R2, LOP reflector and black o-ring:
Then, in the SS, o-ring and emitter was swapped as "improvement" in late 2011. Here a good view with the introduced changes (GITD o-ring, greenish XP-G R5): 
Finally in 2012 Lumintop improved the SS for real and installed a new XP-G R5 with non-greenish tint and also a SMO reflector:
Same kind of improvements for the Alu in 2012. See below a photo the Alu with a yellow body. The newer production versions of the Alu come with a SMO reflector and the Cree XP-E R3 LED. For the Cree XP-E R3 Lumintop chose the same non-greenish tint bin 1A0. Furthermore this new LED is brighter than the original XP-E R2. If your copy has a SMO reflector, then afaik it also got the newer emitter with the higher output and improved tint bin, congrats:
O-ring. In the following photo you can see the SS with a smaller LED, namely the original Cree XP-E, a black o-ring installed, and the old LOP reflector which produced a very large hotspot. This is apparently the old version of the SS before Lumintop swapped the emitter in the SS from XP-E R2 (rated 60 lumens) to XP-G R5 (rated 70 lumens). By the way it should not be underestimated that the deepish body rippling ensures extremely secure grip with fingers, lips, mouth, etc. Have you ever held the slippery Klarus MiX6 with your fingers or the iTP A3 bezel down? There is nothing to hold on and only the friction forces between your skin and the smooth metallic surface would hold the torch and prevent it from sliding away. If the Worm was soaked in soap water, you could still hold it fine with your fingers because of the grooves. Imho those are more pleasant to touch and feel than actual aggressive knurling. Nobody needs aggressive knurling on the entire surface. A keychain light should slide fast and easily in and out of a trouser pocket and not rub against the pocket fabric (see EOSLAMP SP11). At the same time the body should provide enough grip so that the torch wouldnt slip through your holding fingers. The Worm provides the good of both worlds:
The very old version of the SS didnt come with a GITD lens o-ring. The GITD is more like a gimmick and doesnt have a substantial glowing effect neither does it influence the beam/tint to any extent .. except at 1cm distance to a white sheet of paper. The o-ring can be regarded as optical embellishment of the SS head because it looks green at daylight (and true GITD elements would look colorless/white as we know!), very pleasant happiness green dino:
Keyring hole. The following scan is to show how sturdy and precisely machined the keyring hole is. A perfect bore and its wall looks substantial enough that the user doesnt need to fear a breakthrough of the keyring Buy at dinodirect We have the best prices. And spam spam kadahh in case the hole ever fails, you still got the FREE lifetime no-hassle warranty. Contact your local dealer and he'll provide a replacement copy, no problem! Just be reminded that you dont get such a free replacement service from XXXFire brands, Olight or iTP: 
Practical considerations. Look closely at the following picture to see the difference between the two setups. For the SS i am using a single keyring of 2.0cm diameter with the 2 keys engaged, and the keyring is attached around the 'bridge' to the tail ring. This way you can tailstand the torch firmly. As you will see further below this setup works comfortably, and there is no need to use a second splitring (mini splitring). Also note that the keyring is "thin" or not double-layered (double-winded) like a standard splitring. I dont know where i got this thin splitring from but be informed that such a practical thing exists! For the Alu i could use the thin splitring to great effect too but here i am exemplifying the use of the provided mini splitring in series with a standard keyring. Both rings are double-winded as you can tell. In the general case for the Alu this is the preferred setup: using two split rings in series, a small one plus a standard-sized one.
Tailstand. The following scan shows the 2 Worms in tailstand mode. You can imagine how easy, fast and securely you can tailstand them. Even with the keys or keyrings attached:
The following pictures demonstrates that the SS can tailstand okay even if the mini splitring is attached to the tail ring. Remember that these are scans from my flatbed scanner. Here i am thinking that the keychain clamp could be removed because it adds unnecessary weight and bulkiness to the system.
Slimness. Who on earth needs the keychain with the clamp? The following scan shows how slim and comfortable the single-keyring-setup already is. Nobody likes a bulky collection of keys and system of keyrings on the keychain. Our aim is to minimize the total size, weight and bulkiness of our bunch of keys. Thanks to the generous keyring attachment point of the SS, we need just 1 single (thin) keyring to which we engage the torch, the keys and the shopping cart coin. What a nice compact bunch of keys! Just take off the keychain clamp, please:
Keychain attachment point. The keyring attachment point of the Alu is similar to Olight i3's design, sturdy. selfbuilt didnt like how the split ring couldnt move or swivel all the way around:
This is true for the Alu too, and either you live with it by using another ring in series, i.e. 2x split rings in series, or you use the large single-winded special splitring (as shown in the next picture). In the following picture with two rings in series the key and the Alu can be kept flat and slim. Not bulky:
In the following scan you can see that the large single-winded splitring can swivel all the way around .. because its diameter is larger than the torch's diameter. Counting from bezel down position we dont get the the full "360°" rotational freedom but swivel action between 7 o'clock and 18 o'clock, i.e. (11/12 *360°=) 330°. For sure this is much better than the swivel restriction with the supplied small splitring. But dont ask me where i got this large single-winded splitring from, i cant remember, sorry! Maybe Lumintop should supply such a thing. Also note how i exchanged the Worm body. Here i am profiting from the low weight and red color of the Worm Alu body plus the amazing integral brightness of the Worm SS head:
In the following scan i aligned three items. You can see that the SS is a little shorter. For the Alu, i installed again the thin single-winded splitring. Sorry for the poor picture:


The typical attachment point at the SS tail is the tail ring itself as seen in the above picture and you would use the supplied mini split ring as joint between the torch and your main keyring. It is also possible to use the bridge as attachment point. However, a standard split ring (e.g. 2.0cm diameter, double-winded) doesnt do the task too well mainly because the gap (height) between the SS tail and the tail ring isnt high enough to accommodate swivel action of a double-winded splitring:
Using the bridge as attachment point. Luckily a single-winded splitring can swivel more or less well all the way around ("360°"), back and forth:


Let it be noted that the tail ring design consumes space, effectively adds length to the torch, and feels a little awkward because of the multiple edges in the tail area. And even in the above solution the splitring can swivel only 97% comfortably back and forth. The best attachment point i've seen so far was designed on the Klarus MiX6; its disadvantage, the MiX6 cannot tailstand properly. So the SS provides an acceptable compromise between secure tailstand and sturdy keychain attachment point. It is difficult to devise a tail which offers both worlds to my better liking. The most popular example is how Olight tried to improve the design from iTP A3 (excellent splitring attachment point) to Olight i3 (secure tailstand). Epic fail. Let me know if you find a 1x AAA keychain light which offers a 100% agreeable and likeable solution to the problem. Truely a challenge.
Pocket clip.  A pocket clip is not included in the packaging. Not a big deal if you take the Fenix LD01 pocket clip which fits beautifully and very snug despite the smooth anodization. I highly recommend the LD01 pocket clip for use with the Worm, if you really need/want a pocket clip for it. Anyone with 14.0mm 1x AAA lights should have this professional clip:
Works extremely well to be clipped to the front brim of your baseball cap. The upper clip is the old Fenix LD01 clip which slides easily on the slippery smooth surface of anodized aluminum. The lower clip has a high-friction grip on the stainless steel. To remove the clip without leaving micro scratches i let superlube oil suck into the slit before pulling the clip off.
Last but not least, diffusers. Apparently, any 14.0mm or 15.0mm diffusers will work here. Since 14mm diffusers do not exist (well.. have you found some?, i havent.), i use the white hard plastic Tank007 15.0mm diffuser which i got from DD for ~US$2.50. Since 15mm is a little too wide, i placed a stripe of tape (e.g. 3M Durapore™) at the diffuser's orifice to effectively reduce the orifice's diameter. Perfect fit now:
See the SS head on the Alu body and the Tank007 diffuser on top, in Low-Mode (and dont be distracted by the seemingly blueish or greenish emitted light, it's the f*cked up color rendition of my Hewlett Packard PC scanner lol):
Battery Life: 
★★★
★★
Safe operating voltage is 0.9 ~ 2.2V as stated by Lumintop but you may run the driver as high as 0.9 ~ 3.0V. Running the torch with 10440's would fry the driver, and let's leave this statement/assertion like that. Nobody needs to prove or refute it .. because the torch is already surprisingly bright with 1.2V Eneloops and the body is too short to fit Protected 10440's anyway. At some point in future i might test unprotected 10440's in the Worm, i am curious myself lol. ( EDIT UPDATE: i know some answers so send me a PM for new info regarding 10440's in the Worm thx )
At this point it is instructive to note that, as is always the case with Cree power LED's, the runtimes heavily depend on the particular cell model (Alkaline, NiMH, Eneloop) and the cell sample (cell#1, cell#2, ..). While Eneloops are perfectly suited for medium discharge currents as observed in my tailcap readings with aged Varta Longlife Accu Ready2Use NiMH cells freshly off the charger we get a totally different discharge behavior, same holds valid for Alkaline cells:
tailcap reading at Worm Alu:
| | | | | |
| --- | --- | --- | --- | --- |
| Worm Alu | fresh Eneloop | depleted Eneloop | fresh Varta NiMH | fresh Alkaline |
| High-mode | 0.535A | 1.300A | 0.840A | 1.411A |
| Low-mode | 0.091A | 0.299A | 0.098A | 0.104A |
tailcap reading at Worm SS:

| | | | | |
| --- | --- | --- | --- | --- |
| Worm SS | fresh Eneloop | depleted Eneloop | fresh Varta NiMH | fresh Alkaline |
| High-mode | 0.524A | 1.542A | 0.621A | tba |
| Low-mode | 0.089A | 0.306A | 0.092A | tba |
Actual real life runtimes. Now this is where things are getting serious! Namely the most prominent strengths of the Worm are its highly efficient driver and the perfect constant brightness regulation over the long runtimes. I couldnt believe the amazing runtime results measured by selfbuilt so I had to verify them by running two batches of tests. For the first series I used brand-new Eneloop AAA HR-4UTGA cells freshly off the charger (measured 800mAh+ effective capacity) and then was observing the beam intensity closely and didnt clock but the elapsed time:
| | | |
| --- | --- | --- |
| Worm Alu | constant brightness regulation | dimming period to unusable level |
| cell#1, High-mode | 79min | 13min |
| cell#2, High-mode | 75min (772mAh consumed) | testrun interrupted |
| cell#3, Low-mode | 7h8min | 7min |
Each row of the table reads as this, e.g. for Worm SS in High-mode with Eneloop cell#1 (see below): "The torch maintained constant brightness for exact 74 mins after which it dropped out of regulation. The light would then begin to dim just a little but noticeably and from that point on, within 10 mins, dims quickly down to unusable light output level."
| | | |
| --- | --- | --- |
| Worm SS | constant brightness regulation | dimming period to unusable level |
| cell#1, High-mode | 74min | 10min |
| cell#2, High-mode | 74min (751mAh consumed) | testrun interrupted |
| cell#3, Low-mode | 6h59min | 5min |
So with freshly charged brand-new Eneloops we get almost 80 mins on High-mode (This result surpasses selfbuilt's measurement.) and over 7.1 hrs on Low-mode (This result confirms selfbuilt's measurement.) for the Worm Alu, whereas for the Worm SS High-mode runtime is more like 74 mins and almost 7.0 hrs in Med-mode. Yes, on my two samples the runtimes between the Alu and SS versions differ as described and we shouldnt wonder because their LED's arent the same: XP-E vs. XP-G!
And with my aged Varta Longlife Accu Ready2Use NiMH 800mAh cells freshly off the charger (measured 550mAh effective capacity) runtimes are shorter than with brand-new Eneloops: Worm Alu [Worm SS] in High-mode, ~53mins [~60mins] very bright, then very slow continuous noticeable  dimming sets in, and after a total of 1h47min [2h08min] i would interrupt the testrun because the light had reached a moonlight-like brightness level and i could finally stare directly into the LED without getting too blinded. For comparison purposes, selfbuilt's measurements with different cell types resulted on the lower side and summarize as follows:
In my second batch of tests i stopped the testrun after a pre-defined time period, quickly took out the Eneloop cell, measured its remaining offline voltage (which can be assumed to approach the discharge voltage under load), let it rest and recover for 2-3 hours, and finally recharged the cell with a C9000 machine at 0.5C to indicate the consumed capacity. When the cell's voltage severely drops after crossing the magical 1.2000V resting voltage mark, basically the light drops out of regulation too, so the discharge time until the cell is depleted to 1.20V is about equal to the regulated runtime in that mode:
| | | | | |
| --- | --- | --- | --- | --- |
| High-mode (Worm Alu w/ XP-E R2) | testrun stopped | remaining offline voltage | recoverable after 3.0h to | capacity consumed |
| Eneloop cell#1 & testrun#1 | 1h15min | ~1.04V | 1.2166V | 746mAh |
| Eneloop cell#2 & testrun#2 | 1h16min | ~0.92V | 1.2156V | 773mAh |
| Eneloop cell#3 & testrun#3 | 1h17min | ~0.87V | 1.1972V | 785mAh |
| Eneloop cell#4 & testrun#4 | 1h18min | ~0.83V | 1.1737V | 760mAh |
In High-mode, the Worm Alu has a runtime of 77mins. Considering how bright and throwy the light is such a long runtime is impressive. selfbuilt had once clocked about ~60mins for both the initially brighter iTP A3 XP-G R5 and the Worm Alu, however according to my extensive runtime tests (as you can see here!) the Worm beats the iTP A3 by 17mins. It is true that the iTP A3 is brighter in High-mode (in the first 10 minutes only!), but it is also true that the Worm runs longer.
In Low-mode runtimes are getting unbelievably long:
| | | | | |
| --- | --- | --- | --- | --- |
| Low-mode (Worm Alu w/ XP-E R2) | testrun stopped | remaining offline voltage | recoverable after 3.0h to | capacity consumed |
| Eneloop cell#1 & testrun#1 | 7h0min | ~1.166V | 1.2190V | 739mAh |
| Eneloop cell#2 & testrun#2 | 7h6min | ~1.129V | 1.2093V | 724mAh |
| Eneloop cell#3 & testrun#3 | 7h7min | ~1.129V | 1.2097V | 749mAh |
| Eneloop cell#4 & testrun#4 | 7h8min | ~0.83V | 1.1787V | 780mAh |
From the above table we can conclude the Low-mode runtime to be over 7.1h. Amazing! Keep in mind that this number holds true only for original Sanyo Eneloop AAA cells, and not for any other NiMH LSD cell brand product, Eneloop clones, generic NiMH cells, Lithium primaries or Alkalines.
Now let's check out the runtime performance of the Worm SS 2012 sample:
| | | | | |
| --- | --- | --- | --- | --- |
| High-mode (Worm SS w/ XP-G R5) | testrun stopped | remaining offline voltage | recoverable after 2.0h to | capacity consumed |
| Eneloop cell#1 & testrun#1 | 1h20min | ~0.90V | 1.1903V | 768mAh |
| Eneloop cell#2 & testrun#2 | 1h20min | ~0.89V | 1.1863V | 769mAh |
| Eneloop cell#3 & testrun#3 | 1h16min | ~0.89V | 1.1882V | 783mAh |
| Eneloop cell#4 & testrun#4 | 1h17min | ~0.87V | 1.1891V | 769mAh |
more testruns:
1h8min ~0.86V 1.1818V 776mAh
1h8min ~0.84V 1.1768V 754mAh
1h10min ~1.09V 1.2201V N/A
1h11min ~0.88V 1.1870V 789mAh
1h13min ~0.92V 1.1993V 758mAh
1h14min ~0.8xV 1.1924V 744mAh
1h14min ~0.87V 1.1848V 746mAh

1h15min ~0.94V 1.2083V 763mAh
1h15min ~0.91V 1.2024V 732mAh
1h16min ~0.89V 1.1882V 783mAh
1h16min ~0.86V 1.1766V 780mAh

1h17min ~0.87V 1.1891V 769mAh
1h17min ~0.93V 1.1967V 765mAh
1h20min ~0.90V 1.1903V 768mAh
1h20min ~0.89V 1.1863V 769mAh
| | | | | |
| --- | --- | --- | --- | --- |
| Low-mode (Worm SS w/ XP-G R5) | testrun stopped | remaining offline voltage | recoverable after 2.0h to | capacity consumed |
| Eneloop cell#1 & testrun#1 | 7h9min | ~0.86V | 1.1731V | 786mAh |
| Eneloop cell#2 & testrun#2 | 7h5min | ~0.85V | 1.1773V | 778mAh |
| Eneloop cell#3 & testrun#3 | 7h0min | ~0.91V | 1.1803V | 774mAh |
| Eneloop cell#4 & testrun#4 | 6h55min | ~1.14V | 1.2048V | 754mAh |
Wow. This is a beautiful consistent set of runtime test data (3 runs were done with the same Eneloop cell "2", so no wonder) and it tells us that the true runtime (50% brightness) has to lie between 6h55min and 7h0min. Let's be generous and round up, the Eneloop runtime in Low-mode for the Worm SS be determined as 7.0hrs. Fantastic number!! I was able to reproduce and confirm selfbuilt's result who had measured 6h49min for the Worm Alu. So i am still wondering why the Lumintop webpage says "ANSI FL-1 STANDARD 4.0 hours". It's clearly more than that!! F***ing 7.0hrs for Christ's sake!!!
Light Output: 
★★★★★
The manufacturer spec'ed the Alu's output on High roughly as "60 ANSI lumens FL-1 Standard". Dont be fooled by this low-sounding number because after the 10th minute on the Worm is as bright as the iTP A3 XP-G R5 (spec'ed as "96 lumens"), namely both a level of 68 ANSI lumens, and brighter than Olight i3 ("70 lumens") and Klarus MiX6 ("85 lumens"). The reason for this is that the brightness of A3, i3 and MiX6 decreases in the first few minutes until it is fully regulated for rest of the runtime. In other words, while the actual light output of the Worm is around 68 ANSI lumens --and that's what Lumintop should have published!!-- and constant throughout the battery life of an Eneloop cell (77mins.), the reader should beware of manufacturer specs of other 1x AAA flashlights because in most cases the published data (e.g. iTP A3 96lm, MiX6 85lm) is true only for the first few minutes of a freshly charged Eneloop cell. Clearly, as to brightness the Worm competes in the same arena as the iTP A3 XP-G R5 with Eneloop cells unless the user has freshly charged cells and turns the light on for a few seconds only: With freshly charged Eneloops the iTP A3 indeed produces 96lm, and with freshly charged 10440's the iTP A3 becomes a freaking monster with over 200 lumens, easily!
Light output?? This complete review section could be summarized as "on Eneloops, the Worm SS is clearly brighter than iTP A3, Olight i3, Tank E09, and Klarus MiX6", period. Woosh, this is a bold statement!! Nothing has been said about the Worm Alu so far and to what extent this statement is true. To refine the statement and be more specific about the details we can say
"peak brightness with 100% freshly charged Eneloops during the first few seconds might be higher with iTP A3 and Tank E09 but directly after that, i.e. when all lights have dropped into constant brightness regulation, the Worm SS outshines them all. the Worm Alu is a few lumens less shiny than the SS but even at its lower level the Alu's time integral over the cell's runtime would beat the rest too incl iTP A3 and Tank E09".
This general statement is correct and complete and you dont need to know more. The Worm SS's brightness kicks a*ses! For further details, feel free to read on. Since i dont possess any lumens lightbox or continuous recording luxmeters à la selfbuilt or HKJ, you need to study the table and graphs of the old Worm version (April 2011) and then believe me that my new Worm SS (Feb 2012) sample exceeds those brightness levels by quite a bit and that this was my main motivation to put some efforts in this review section even without luxmeters, measurements or graphs! So here it goes:
The following animated GIF (click to enlarge!) shows my five AAA lights loaded with freshly charged Eneloops (resting voltage 1.54V!!) and their brightness recorded shortly after switching them all on on High-mode (t=1min). The next shot was taken 17mins later (t=18min). Counted from the left,
Worm SS 2012 (rated "70lm")
Tank E09 (rated "120lm")
iTP A3 XP-G R5 (rated "96lm")
Worm Alu 2011 (rated "60lm", measured 68lm)
Klarus MiX6 (rated "85lm").
At t=1min, you can see that #2 is the brightest closely followed by #3, or maybe it's the other way round? #3 is a badly regulated light, has its maximum brightness right after turning the light on, and reaches within 10mins a sort of constant brightness regulated level at a considerably reduced output on a par with #4 who started off at this level, namely 68lm. #2 is a freaking cell discharging monster (2C discharge rate at t=0min) and no wonder the brightest during the first quarter of an hour, however its integral brightness** has to be the lowest because after 33mins the light is off.
(click to enlarge!)
HINT: the lumens output is proportional to the black core area
At t=18min, you can see that all lights have declined in brightness yet at different degrees. All torches feel hot (#4) or very hot (#2, #3) except for #1 (warm) who has the largest heat sink with 17.753g body mass and only 34.5% head massivity. The brightest light is either #1, #2 or #5. since #5 is still misrepresented in the GIF, it's not #5. Counting only the black core area, then #1 is the brightest; counting the whole black-brown darkish area, then #2 would be the brightest. #2 is also the hottest torch of all and with the highest consumption of electric charge (current x time). Only a lumens lightbox measurement at this point could clearly determine the winner with the higher lumens output. But more importantly see how #5 did its known High-down step (already at t=3mins), #3 has become one of the dimmest because of its bad regulation, #2 has lost much momentum as well and is having a hard time to keep up the high current draw, whereas #1 has practically maintained its initial high brightness and is still going strong. At this point, #1 is clearly brighter than #3 (and #4 and in reality also #5), and a few minutes later also than #2 because #2's cell is already depleted by then haha. selfbuilt's graphs prove that the Worms have perfectly flat regulation and together with the long runtimes the Worm SS can be nominated as "the brightest light of the 5" (in the sense of brightness averagedintegrated over the cell's full runtime, i.e. the cell's life time integral). To this complicated conclusion have we come through the analysis of selfbuilt's graphs plus my animated GIF. In reality or practice, however, things are much easier: Given an arbitrary Eneloop cell, e.g. at 1.40V, and doing a side-by-side comparison of the 5 lights with white wall shots or ceiling bounce tests, then take my word that the Worm SS illuminates your objects/areas brighter albeit not by much. Appears like better illumination and higher lumens output. Momentarily and also over the remaining cell's life. The difference in typical brightness between the 5 is little though: they are in same order of magnitude and at such low lumens levels (65-75 lumens range) other things play a more important practical role, e.g. hotspot size and spill area size: the here not discussed Fenix LD01 R4, a light which i purchased after i had finished writing this Worm review, possesses a deep reflector to produce a very(!) tight spill area plus an intense big hotspot all in "pure-white" premium tint. Rated at 72 ANSI lumens only, the Fenix appears amazingly brighter than any of the here discussed 5 AAA lights. I would even bet that after taking exact measurements (selfbuilt never measured the LD01 R4, yikes!) both the typical brightness and the integral brightness indeed prove to be higher, so that we'd at least have some numerical proof on the paper. Check my BLF review of the Fenix for more info on it. It's the best of the 6, and also the most expensive of the 6, hooray.
For the old 2011 Worm Alu (spec'ed at "60lm") selfbuilt had measured 68 ANSI lumens, which means that Lumintop had underrated it. Taking into account that my 2012 Worm SS is noticeably brighter than that and even brighter than selfbuilt's measured 78 ANSI lumens of the iTP A3 XP-G R5, i would estimate off the top of my head that the spec'ed "70lm" are underrated as well and the true output be ~80 ANSI lumens. Yet as mentioned, those numbers dont count much because ANSI lumens are taken 3.0mins after activation (with a freshly charged Eneloop) and in a typical practical situation, the Worm SS is perceptibly brighter than the iTP A3 already. And its brightness for sure beats for example my Xeno E03 V3 XML NeutralWhite on High-mode with Eneloops (rated 111lm) and even runs longer than the Xeno!! The Xeno runs exactly 60mins on its High-mode with Eneloops whereas the Worm SS runs for 74mins. Brighter and longer, unbelievable isnt it?? -- but it's true (or maybe my Xeno is a lemon hehe)! Btw, the Xeno is a very poorly performing light with Eneloops. This is at least true for my personal XML NeutralWhite sample!
This can finally be demonstrated in visual detail with the following Hi-Res picture on High-mode where i loaded the three lights with any (almost fully charged!) Eneloop cells. This is a much better representation of the brightness differences you actually perceive in real life, in practice ... the Worm SS *really* outshines the iTP A3:
(hoover mouse in/out!)
...and at this point in time the Worm Alu has about the same lumens output as the iTP A3, as predicted by selfbuilt's graphs (you need to quantify the pure black area to verify this).
Another method of comparing relative lumens output is by looking at their radiation through a 15mm white hard plastic diffuser. In the following 8-frame animated GIF which was shot with freshly charged Eneloops and as quickly as possible because of the steep decline in brightness of the iTP A3 before it reaches the point of stabilization.
Worm Alu: light off - Lo - Hi - Hi (iTP A3) - light off - Lo - Hi - Hi (iTP A3) - ...
You will see that at this point in time the iTP A3 is still brighter than the Worm Alu. It means that i was quick enough to take the shot. Only later, after 10-15mins, should be the iTP A3 as bright as the Alu:
(click to enlarge!)
Worm SS: light off - Lo - Hi - Hi (iTP A3) - light off - Lo - Hi - Hi (iTP A3) - ...
You will see that at this point in time the iTP A3 is already dimmer than the Worm SS. It means that i was not quick enough to take the shot. And it also means that in any practical or "typical" situation the Worm SS indeed outperforms the iTP A3:
(click to enlarge!)
If you enjoyed these animated GIFs, i've collected a few more in some other thread for iTP A3, Tank E09, and Klarus MiX6. Use them to get an idea of relative brightnesses.
On Low-mode the Worm produces about 14lm (spec'ed roughly as "10lm") as measured by selfbuilt and there doesnt seem much competition at this class. Go figure the famed Fenix E01 is advertised as "13lm and 21hrs" and in RL doesnt run longer than 6h50mins, in other words the Worm even beats the Fenix competition!, both the Fenix E01 and the Fenix E05! In the below picture the iTP A3 is set to Med-mode (spec'ed as "22lm") and only a little brighter to the eye than the Worm. But what a gigantic difference in actual measured runtimes!
iTP A3 140min@"22lm"
vs.
Worm Alu 427min@14lm
(hoover mouse in/out!)
The following picture (left side) visualizes that the Worm's "Low-mode" is nearer to the medium modes of some known 3-mode torches (iTP A3, Klarus MiX6; but not the Tank E09 which is the #1 brightest and has a rather bright Med-mode!) and much brighter than their low modes (right side).
Ultralow Low's are fashionable these days, 4Sevens sells lights with Moonlight Mode, Thrunite calls it Firefly mode, etc. Okay, if you really think that ~10lm isnt low enough for your needs then that's the deal breaker here. Personally i am satisfied with the 2 modes: 68lm ("iTP A3"-like) versus 14lm ("Fenix E01"-like), these two levels are well-spaced. However some flashaholic might miss the ultralow Low of a Klarus MiX6 (measured 0.8lm, rated 3lm) or a Preon P0 (measured 0.17lm lol), i.e. a third mode.
Beam beauty / Tint: 
★★★

☆☆

RL beamshots provided by SashiX proud owner of Worm Alu 2012 with SMO reflector.

( ...tba... )

Selfbuilt had published a series of white wall shots in his review, and you might find them helpful or not. Lumintop dealers and the manufacturer posted on their websites photos with beam shots too. Note that these are old photos with the old versions of the Worm Alu and Worm SS. They do give you an impression of the old Worms' throw and old tint. Here is what i could find so far.

Check out the greenish tint around the hotspot while the light is on High-mode. This has to be tint bin 1C0 or 1T0:
The following white wall shot is not very helpful nor very representative imho. Tint and beam profile of the Worms are generally not as beautifully round, artifacts-free and 100% symmetric:
The following picture is rather interesting. It exemplifies the Worm in outdoor use. Quite a rare occasion to have a 1x AAA keychain light manufacturer think of their product as outdoors thrower. Yet it's true, the Worm Alu has a really tight and intense hotspot which make the torch rather throwy than anything else. You could still use it indoors especially for searching for things, spotlighting objects or corners, candle-mode ceiling bounces, etc i.e. for specific illumination tasks. For close-up range more general illumination tasks (reading a book, working at a desk or table, etc) i dont find its beam profile very suitable. The Worm SS has a larger hotspot and its profile is similar to the iTP A3 XP-G R5's, which makes it more of an allrounder than the Worm Alu:

The following picture is from the old Worm SS on High-mode. The center is nice and white, the spill slightly greenish. On Low-mode, the old Worm SS produced a greenish beam both in the center and spill areas like a 4Sevens Quark X. Go figure the distance of the torch to the magazine on the table is rather far. If you are sitting yourself at this (or any other) table and flash the light on the magazine, the hotspot would look smaller and too intense. Yes you can illuminate the entire page of such a large magazine with the Worm SS but for this the torch must be held at a distance of 1.0m, so this beamshot is a little misleading:
In the following picture you can see that the influence of the GITD o-ring is only to be noticed when the head touches the white sheet of paper or is within 1.0cm distance from it ("white paper beam shot at 1cm distance" lmao). It's again the old Worm SS where the beam (hotspot and spill) had significant amount of greenishness on Low-mode and High-mode:
The new Worm SS 2012 has the 1A0 tint bin, which means that greenishness has not been 100% fully eliminated -- it's a Cree XP-G R5 after all! -- but nicely reduced and is now comparable to other XP-G R5 lights of its price class (iTP A3 XP-G R5, ..). Keep in mind that PWM-regulated torches like the iTP A3 will always look less greenish on lower modes than current regulated lights because the latter usually produce a tint shift (to remarkable greenishness, yuck!) when driven with suboptimal low currents. This physical phenomenon was discussed in depth and explained on the inet and forums (CPF, ..), and even leading innovators in the field struggle with the decision to replace PWM-regulation on ultralow Low-modes by current regulation (see reviews for Zebralight SC51 vs. SC80).
Dont feel turned off by the poor tint performance of the older Worm revisions. The tint should not be of major concern any longer when you are interested in this product. I do mention this subject repeatedly in this review to warn you about old production stock from your preferred dealer and also knowing that premium tint is possible with current regulated XP-G R5 emitters, see for example Klarus MiX6 (white/purplish) and the best of the best, the Fenix LD01 release 4 (pure white/least greenish). They are 50$ lights and you dont need to go there just for the better (my promise!) tint performance. 50$ for a AAA keychain light?? Get outta here this is the BFL!
Holding up against the competition: 
★★★★★
Call them competition or call them counterfeits. The rippled stainless steel design seems popular with a growing number of Chin*se flashlight brands and OEM companies, and on DX many customer think that this is the most beautiful flashlight design. If you are open to budget lights, google to find out more info on them:
MaxToch ED2R-7: 3-part, Waterproof IPX-6, Stainless Steel, Cree XP-E R2, SMO-reflector, 3-Mode, 225-Lumen, LED Flashlight (AAA/10440), rated voltage 3.3V/rated current 750mA, Dimensions: (7.85 cm x 1.45 cm x 1.45 cm), Weight: (40 g); US$??
SZOBM ZY-M5: 3-part, Waterproof IPX-8, Stainless Steel, Cree XP-E R2, SMO-reflector, 5-Mode, ?-Lumen, LED Flashlight (AAA/10440), Dimensions: (7.9 cm x 1.5 cm x 1.5 cm), Weight: (45 g); US$15.88
UltraFire SA-R2 : 3-part, Waterproof IPX-8, Stainless Steel, CREE XP-E R2 WC, SMO-reflector, 5-Mode, Memory, 240-Lumen, LED Flashlight (1*AAA/Protected 10440), 0.5~4.2V, Dimensions: (7.8 cm x 1.4 cm x 1.4 cm), Weight: (42 g); US$16.60. some reviews exist, also see CPF; Runtime: up to 30h

Brinyte BR-S2 : 3-part, Waterproof IPX-6, Stainless Steel, Cree XP-E R2, SMO-reflector, 5-Mode, Memory, 0.8-4.2V;  AAA/10440; 240 Lumen, Dimensions: (7.85 cm x 1.45 cm x 1.45 cm), Weight: (45 g); US$10-20 / EUR27.90
Current:1000MA(10440)/300MA(AAA);
Runtime: 30minutes(li-ion)/150mintues(AA); -High power&long runtime -Low voltage protection -Constant output
Sky Ray S2: 3-part, Waterproof, Stainless Steel, Cree XP-E R2, SMO-reflector, 5-Mode, Memory, 120-Lumen, LED Flashlight (AAA), 2.75-3.05V, Dimensions: (7.88 cm x 1.45 cm x 1.45 cm), Weight: (56 g); US$16.99 / US$18.23
FandyFire XG-V5: 2-part, Waterproof, Silver, CREE XP-G R5 WC, SMO-reflector, 5-Mode, Memory, 350-Lumen, White LED Flashlight (1 x 18650), 2.5-4.2V, Dimensions: (11.5 cm x 2.2 cm x 2.2 cm), Weight: (106 g); US$18.30
UniqueFire G6: 2-part, Waterproof, Stainless Steel, CREE XM-L T6, SMO-reflector, 5-Mode, Memory, 600-Lumen, LED Flashlight (1 x 18650), 2.5-4.2V, Dimensions: (11.4 cm x 2.26 cm x 2.26 cm), Weight: (123 g); US$22.79
Sky Ray G6: 2-part, Waterproof, Stainless Steel, CREE XP-G R5, SMO-reflector, 5-Mode, Memory, 600-Lumen, LED Flashlight (1 x 18650), 2.5-4.2V, Dimensions: (11.33 cm x 2.27 cm x 2.27 cm), Weight: (135 g); US$21.20
SZOBM ZY-C16: 2-part, Waterproof, Stainless Steel, CREE XP-G R5, SMO-reflector, 5-Mode, ?-Lumen, LED Flashlight (1x 18650), Dimensions: (11.3 cm x 2.3 cm x 2.3 cm), Weight: ("110/130" g); US$18.81
Lumintop Worm SS : 2-part, Waterproof, Stainless Steel, Cree XP-G R5, OP-reflector, 2-Mode, 70 Lumen max, AAA (no 10440!); Dimensions: (71.46 mm x 13.95 mm x 13.95 mm) (thickness of threads: 1.00mm, min body diameter 12.45mm, tube inner diameter:10.70mm), Weight: (27.1 g); FL-1 Standard: <42m beam distance, 1.5m impact resistance,<540 cd peak beam intensity, 4h+ max runtime, 2.0m water resistance; Runtime: ~7h (test by selfbuilt); no PWM; perfect constant current regulation; US$29.95

Lumintop Worm Aluminum : 2-part, Waterproof, Aluminum (Black/Blue/Red/Yellow), Cree XP-E R2/R3, OP-reflector, 2-Mode, 60 Lumen max, AAA (no 10440!); Dimensions: (72.22 mm x 14.00 mm x 14.00 mm) (thickness of threads: 1.00mm, min body diameter 12.52mm, tube inner diameter:10.76mm), Weight: (13.1 g); FL-1 Standard: 42m beam distance, 1.5m impact resistance, 540 cd peak beam intensity, 4h+ max runtime, 2.0m water resistance; Runtime: ~7h (test by selfbuilt); no PWM; perfect constant current regulation; US$19.95
My thoughts: the Lumintop is smaller, lighter, 2-part, professional and serious. The UltraFire isnt listed officially on the UltraFire website neither is the Brinyte, which seems to be affiliated with UltraFire. The UltraFire and Brinyte look 99.5% identical (well, i dunno!). Due to their weight none of them is suitable for everday pocket carry ... except for the Lumintop Worm Alu (and SS).
Summary: 
★★★★

☆

Imho this is a product which one primarily buys for its optical appearance, the unobtrusive design, the classic looks. And if you love its looks, then why not go all the way down and buy the expensive and better performing SS version? In either case both Worms offer enough else to appreciate apart from the worm-like looks, btw who could have imagined regarding worms for once as something attractive? The Lumintop Worm is a light-weight, elegant looking, inexpensive, serious light harmonically suited for everyday keychain carry with truely outstanding built quality and efficiency. The Alu's intense beam allows for unexpected impressive throw (looking for things, spotlighting objects, candle-mode ceiling bounce, outdoor activities, walking paths) while its tight hotspot is not the optimal beam pattern for very close-up work of longer duration where one may prefer more evenly-lit broad illumination (reading comics, Preon P0, iTP A3, Worm SS). With the variety of color choices and nice packaging the Worm appeals to a large array of potential buyers, male or female, young and not so young, also recommendable as successful gift to non-flashaholics. All in all it is a rather simple unexciting torch (flashaholics, no 10440's!) which will just last you forever for four reasons: 1. unfailing 2-modes only; 2. no operation with hazardous 10440's; 3. superior built quality; 4. FREE lifetime no-hassle warranty.