https://www.olightstore.com/led-flashlights/headlamps/olight-h2r-nova
The light was provided by Olight for review.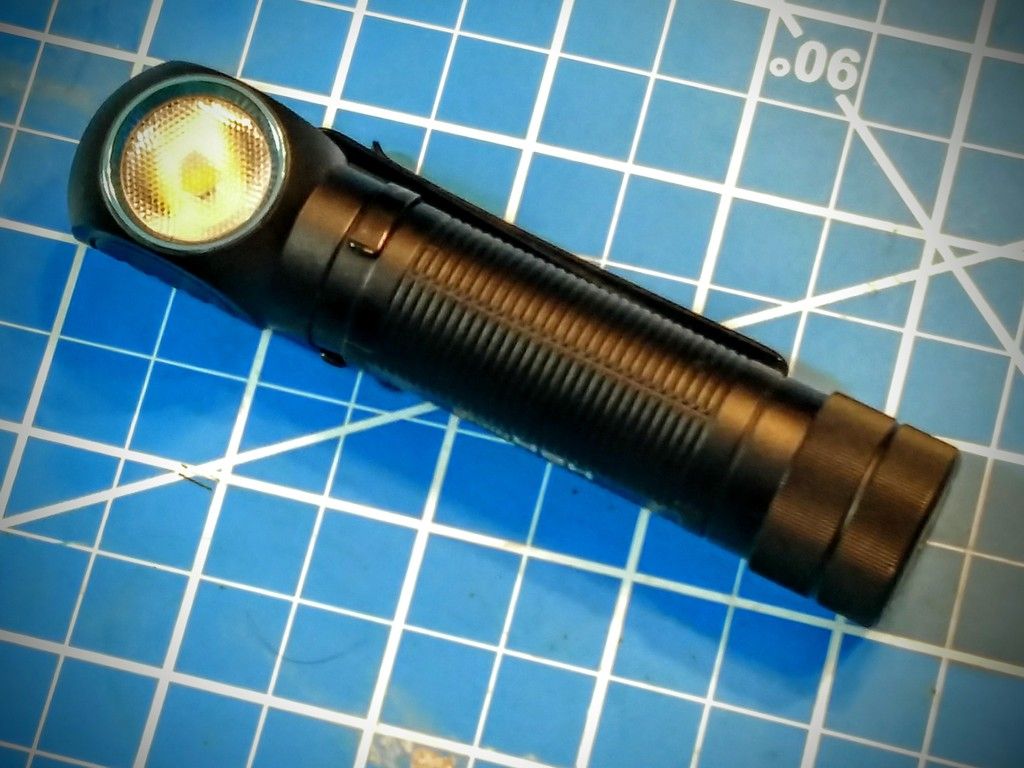 Beam Distance (ft) 501
Beam Distance (m) 153
Max. Performance (lumens) 2300
Charge type Magnetic USB charge base
Compatible Batteries customised 18650
Light Intensity (candela) 5850
Light Form Wide/broad hotspot. Perfect for up close illumination.
Lens / Reflector Type TIR bead lens (wide/broad beam)
Mode Operation Front Switch
LEVEL 1 (lumens) 2300
Run-time LEVEL 1
2300 lumens(~750lm) – Cool White
2000 lumens(~750lm) – Neutral White
1h50m (1m)
LEVEL 2 (lumens) 600
Run-time LEVEL 2
600 lumens – Cool White
550 lumens – Neutral White
2h30m
LEVEL 3 (lumens) 150
Run-time LEVEL 3
150 lumens – Cool White
140 lumens – Neutral White
10h
LEVEL 4 (lumens) 30
Run-time LEVEL 4
30 lumens – Cool White
27 lumens – Neutral White
50h
LEVEL 5 (lumens) 1
Run-time LEVEL 5
1 lumens – Cool White
1 lumens – Neutral White
45 days
Strobe No
SOS / BEACON Yes
Waterproof IPX8
Weight (g / oz) 64 / 2.26
Length (mm / in) 110 / 4.33
Head Diameter (mm / in) 25 / 0.95
Body Diameter (mm / in) 23.2 / 0.91
Led Cree XHP50
Packaging Custom plastic enclosure.
Use everyday carry , car, camping, fishing, household, EDC, general use, fishing, climbing, cave exploration, outdoor activities, house activities
Package Contents
Flashlight Olight H2R x 1
pocket clip x 1
head strap x 1
silicone mount x 1
customised Olight 18650 3000mAh x 1
Magnetic Charging Cable x 1
EVA Pad (replacement of the magnet)
Single-sided Adhesive Replacement EVA Pad
instruction manual x 1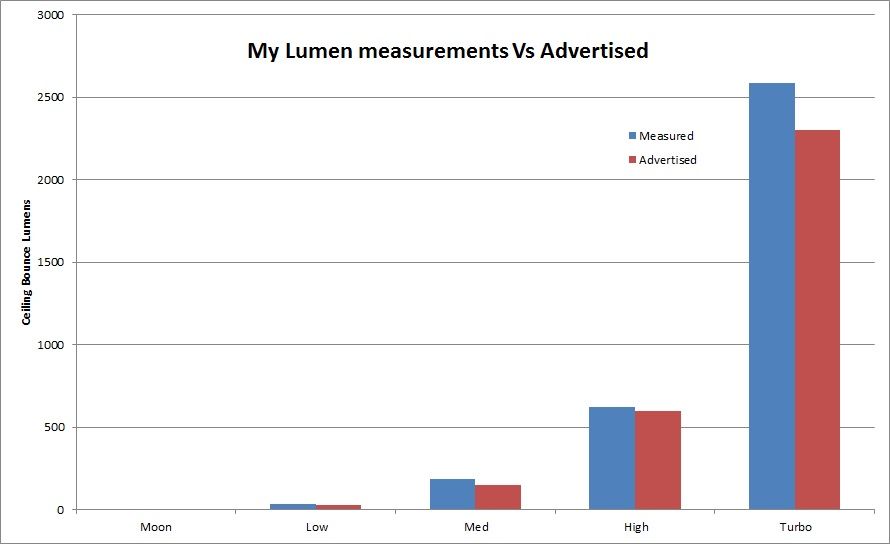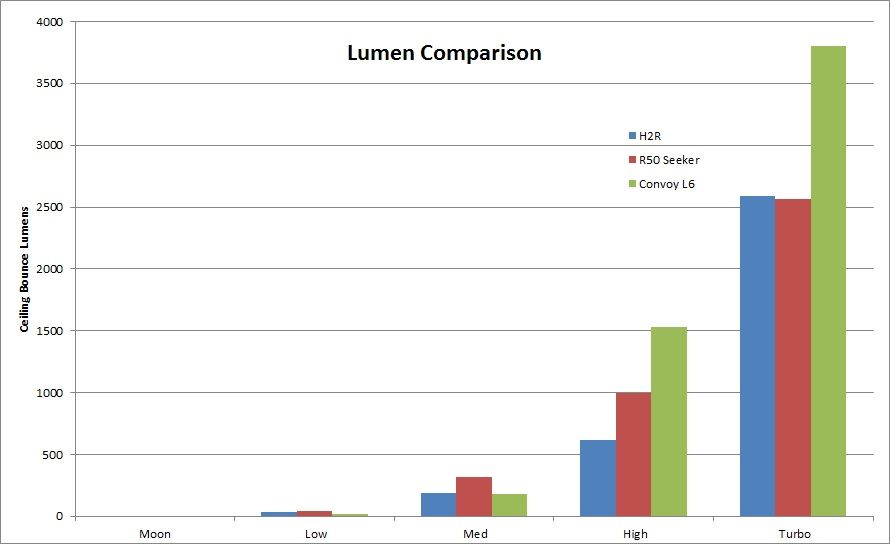 Very nice regulation in this light. The step-down from turbo is pretty fast compared to other Olight flashlights. The step down takes only a few seconds. By the end of that first minute the light is going to be hotter than two cousins under the sheets, but after running the light numerous times it appears to be able to handle it. At about 145 minutes the light is going to start to blink, as you can see in my chart. It did continue to run until the 1:50 minute mark and I shut it off. The battery read 3.0v at that point so I could have taken it further if I wanted to push it.
This light compares very well to the R50 Seeker in my ceiling bounce tests. Which im surprised because of the TIR lens.
Overall this thing is pretty rock solid and you can get a few 1 min turbos before the battery is too depleted to go into the higher mode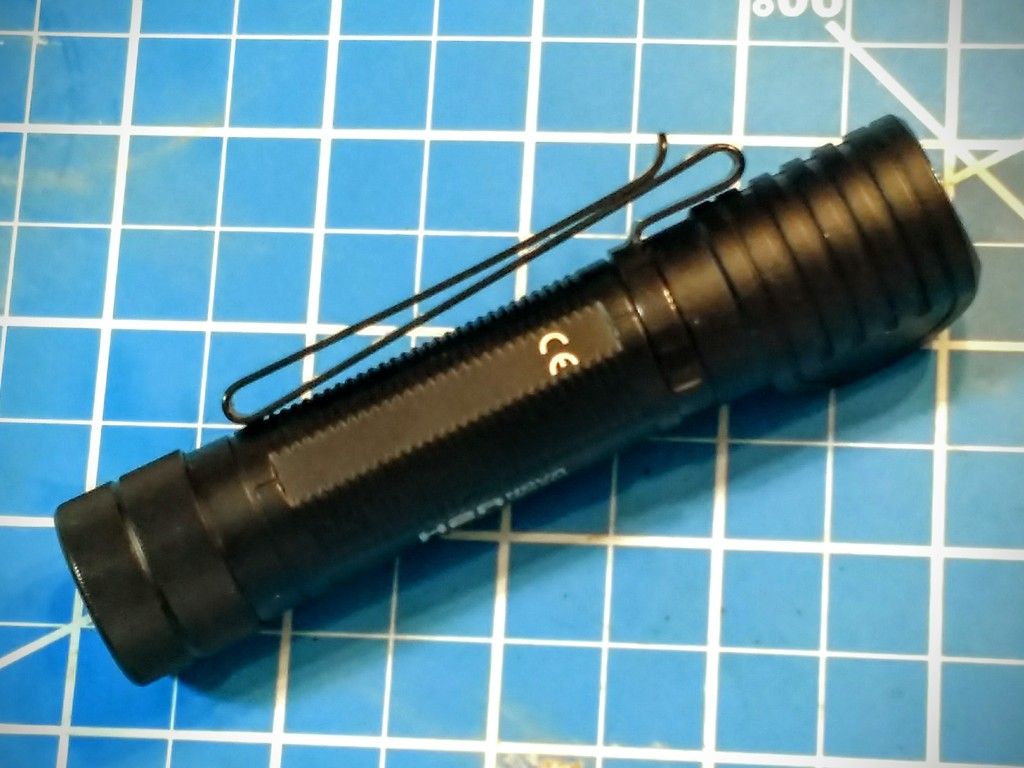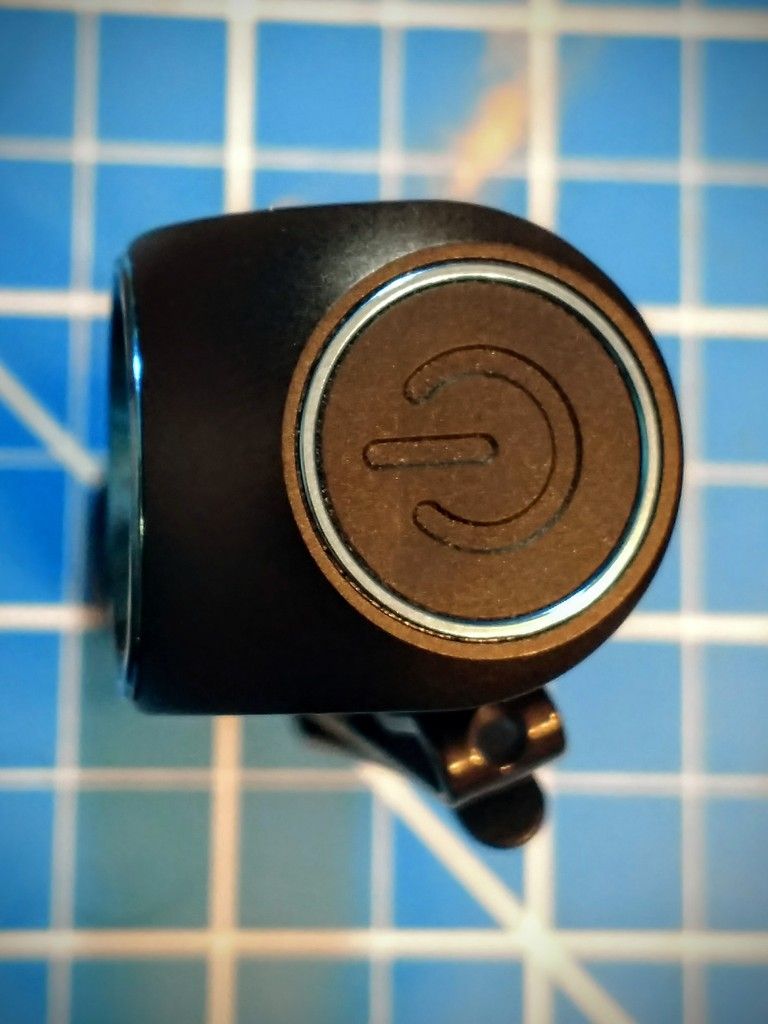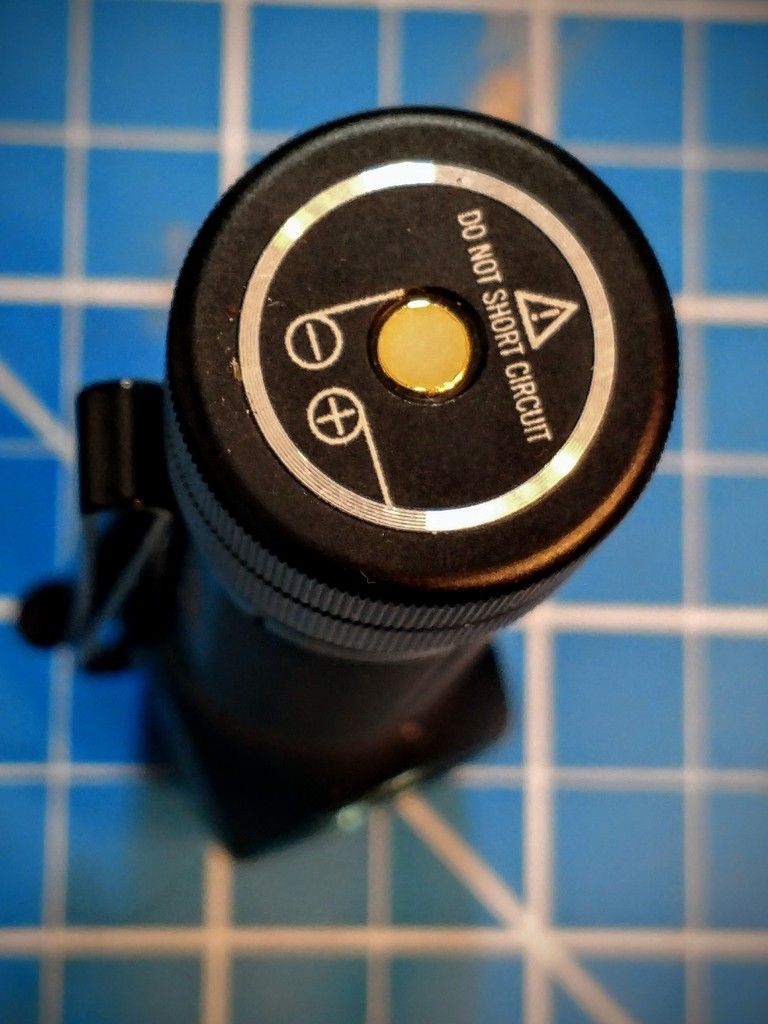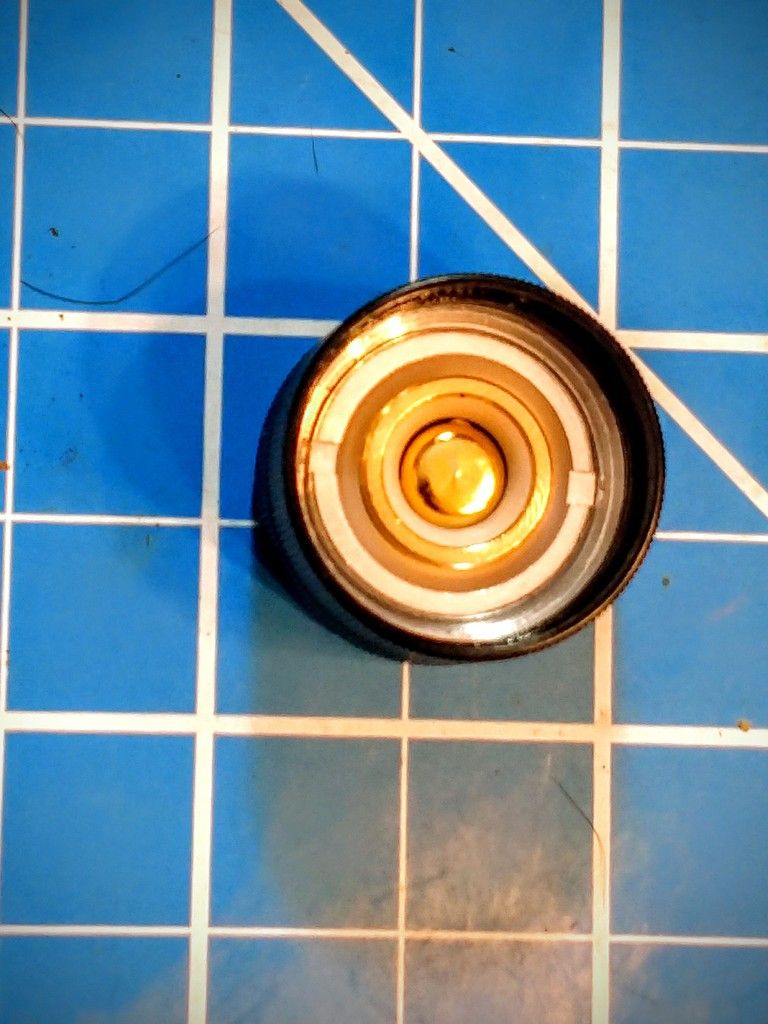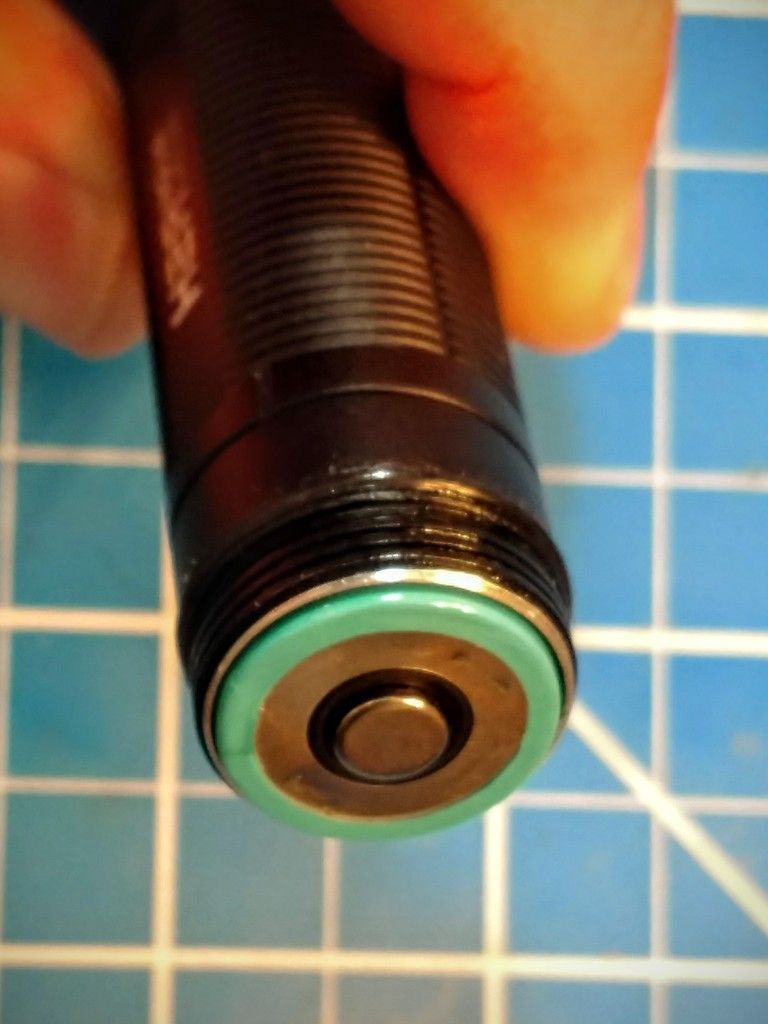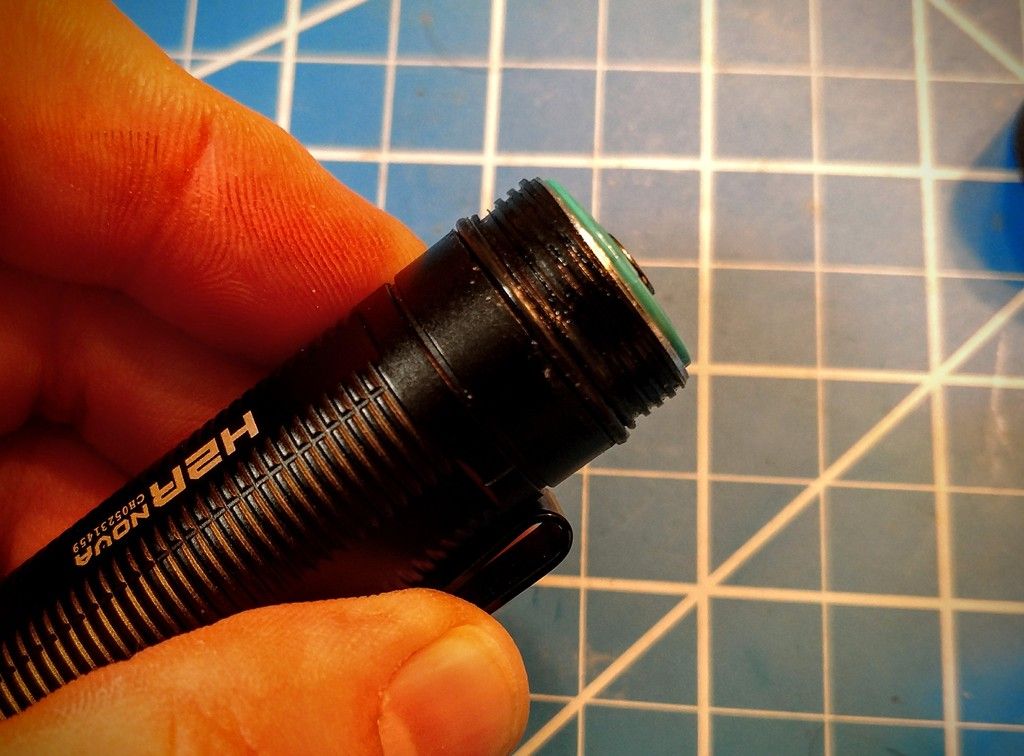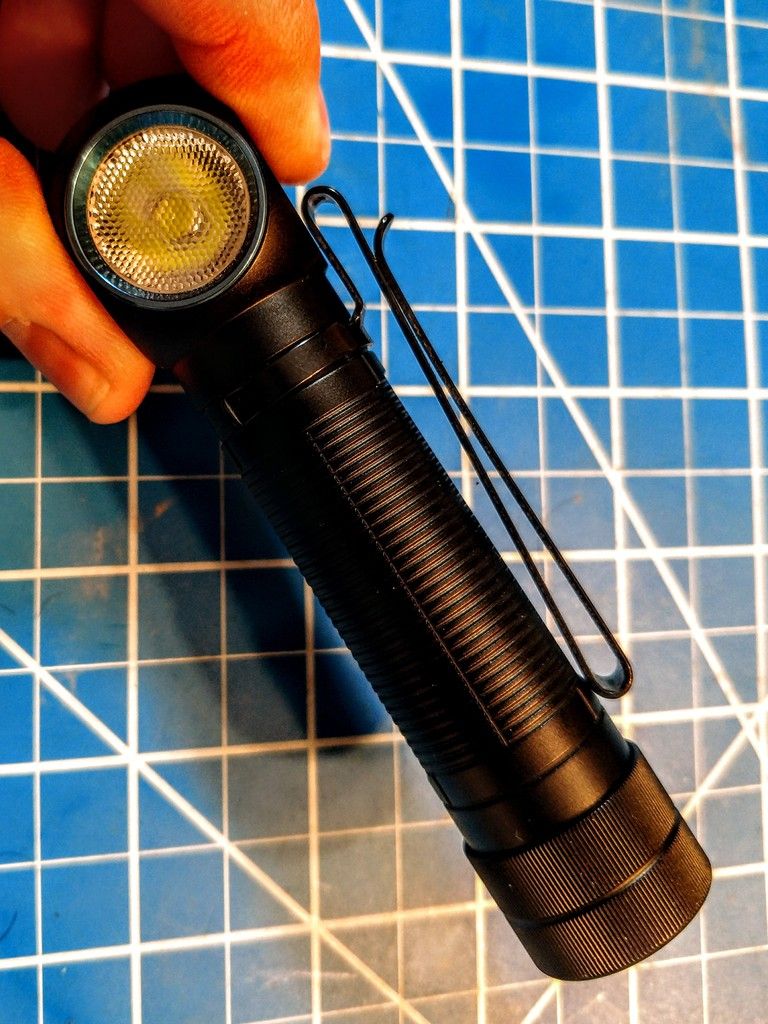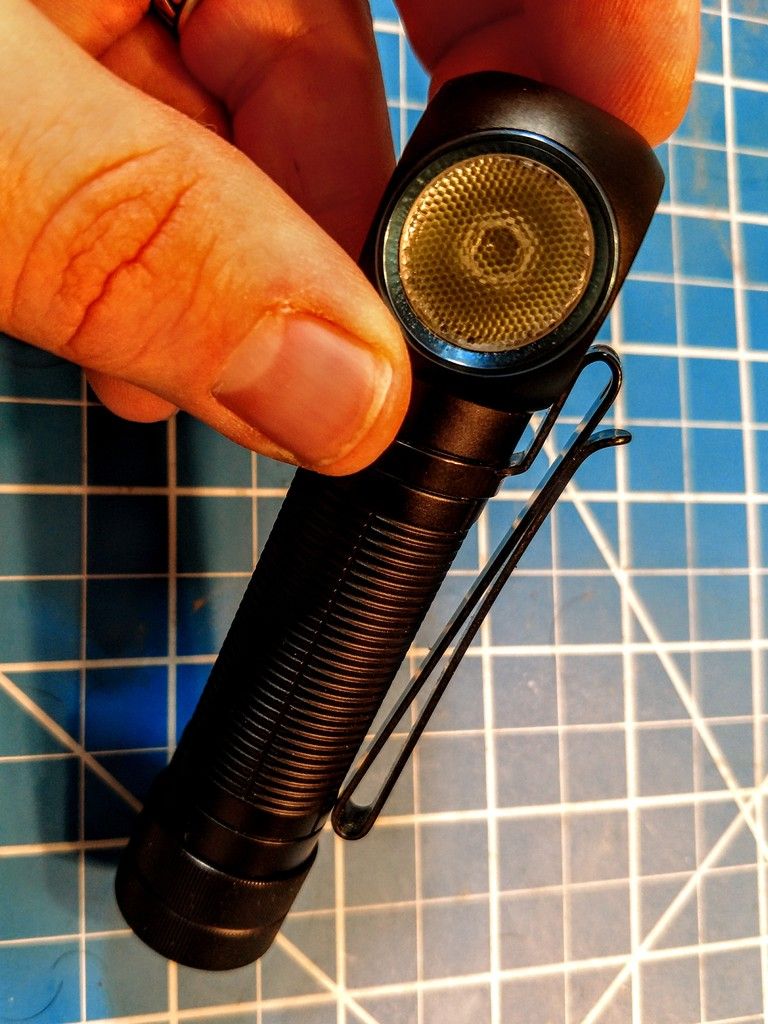 The light is built pretty much identically to the H1R. It utilizes the same construction with the magnetic charging base that puts the battery in reverse configuration to what we are used to. Positive is towards the tail and negative towards the head. This poses a few problems. First is that you are stuck using proprietary batteries, and that you could put these in the wrong way just from habit. The switch is located on the top of the light and is flush with the body. It can not be depressed by pushing against a flat surface. The pocket clip is dual-direction and is really versatile. I've tried it on my hat, both in and outside of my pocket and clipped to the front of my shirt. It holds strong and really gives you great options. The magnetic base is very strong and holds the light firmly.
Not a tremendous amount to say about construction. with this light. Very typical for olight.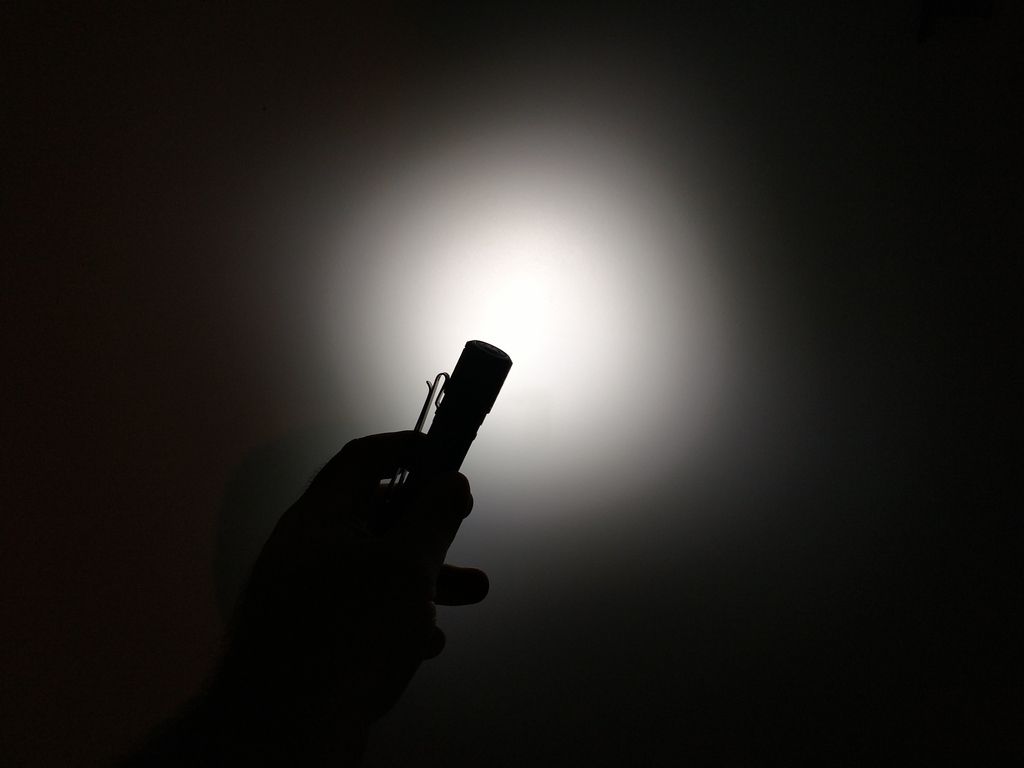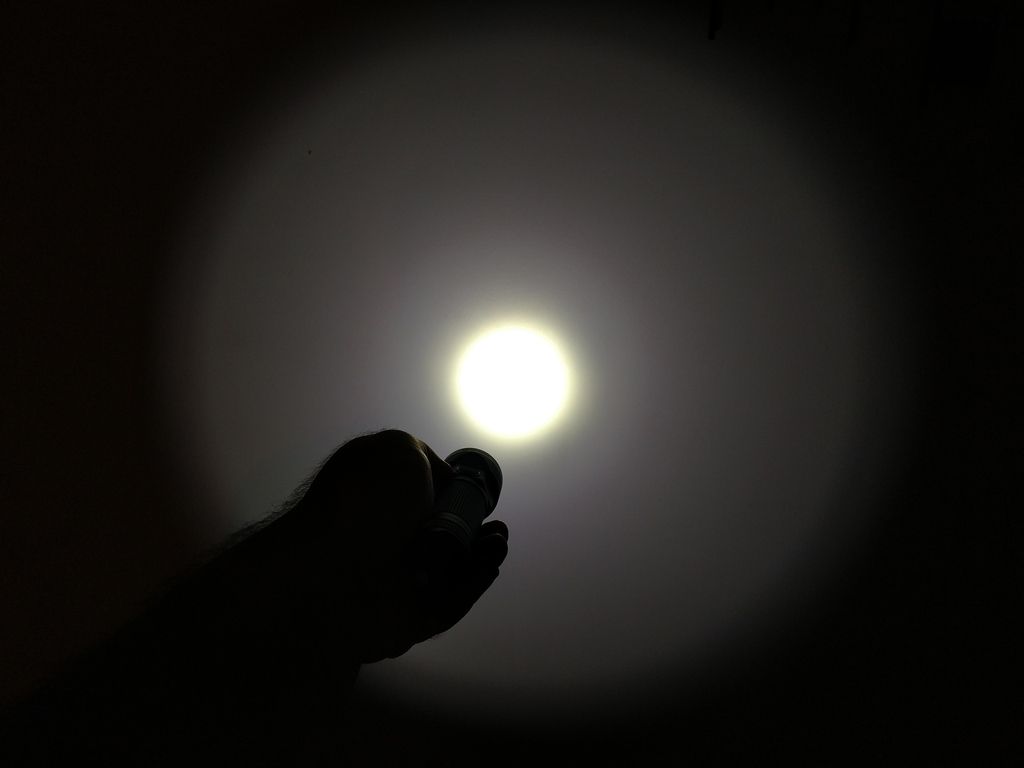 Top is the H2R Bottom is the R50 Seeker – two very different beam profiles for such similar lumens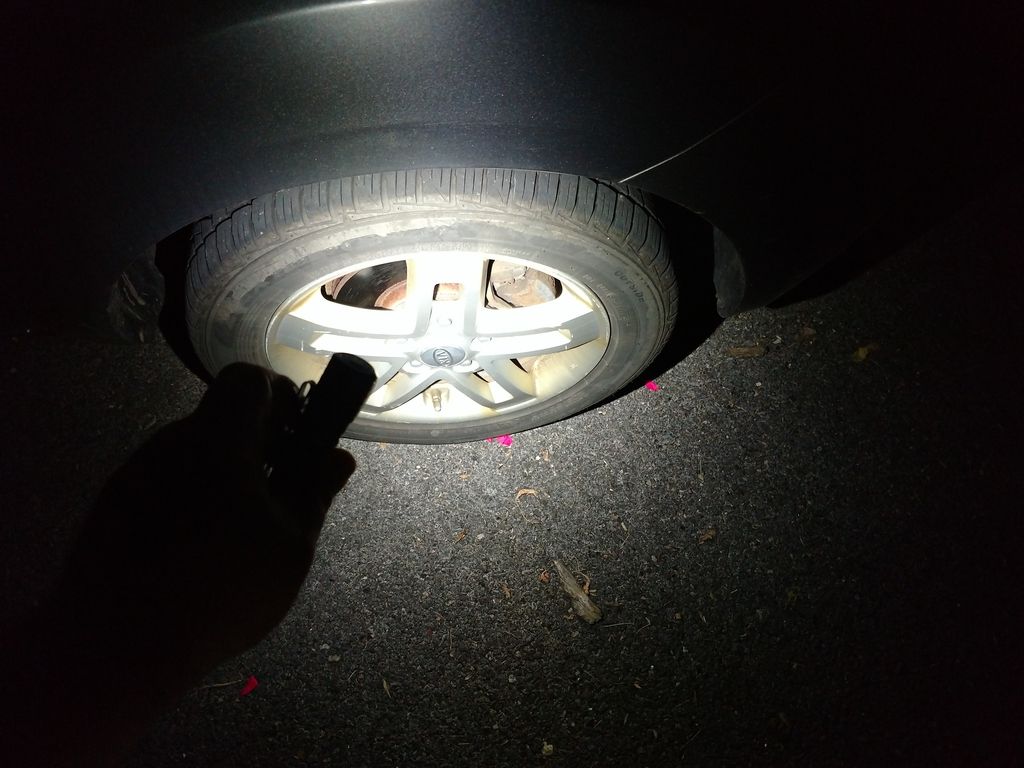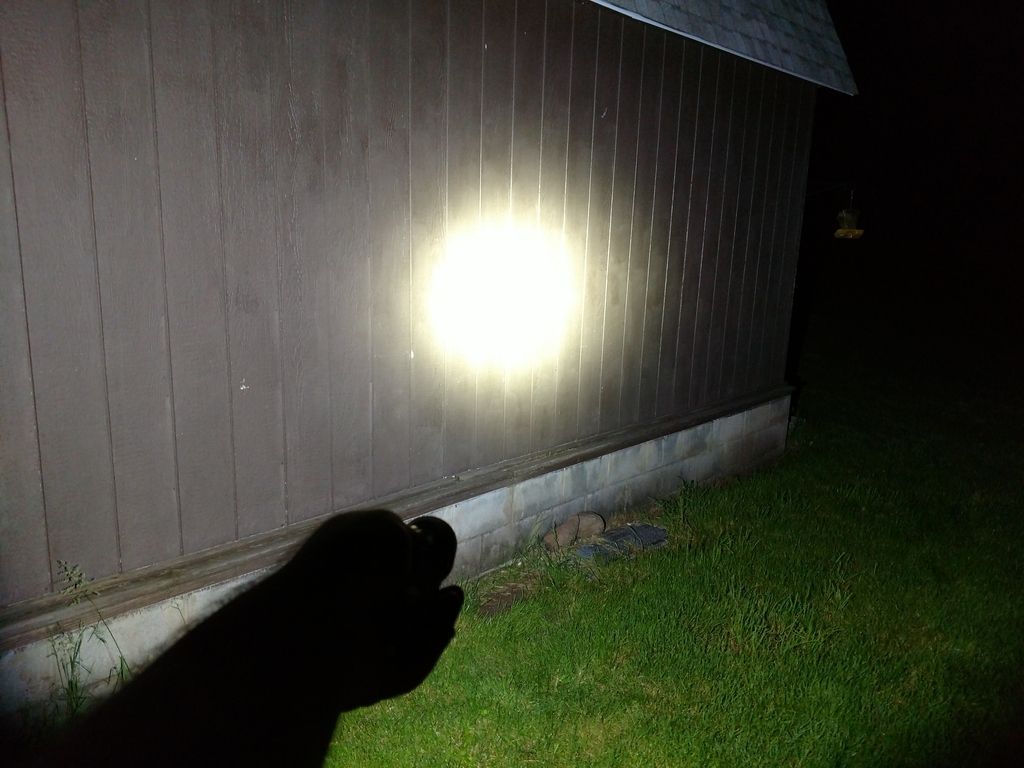 Once again the H2R on top and the R50 on bottom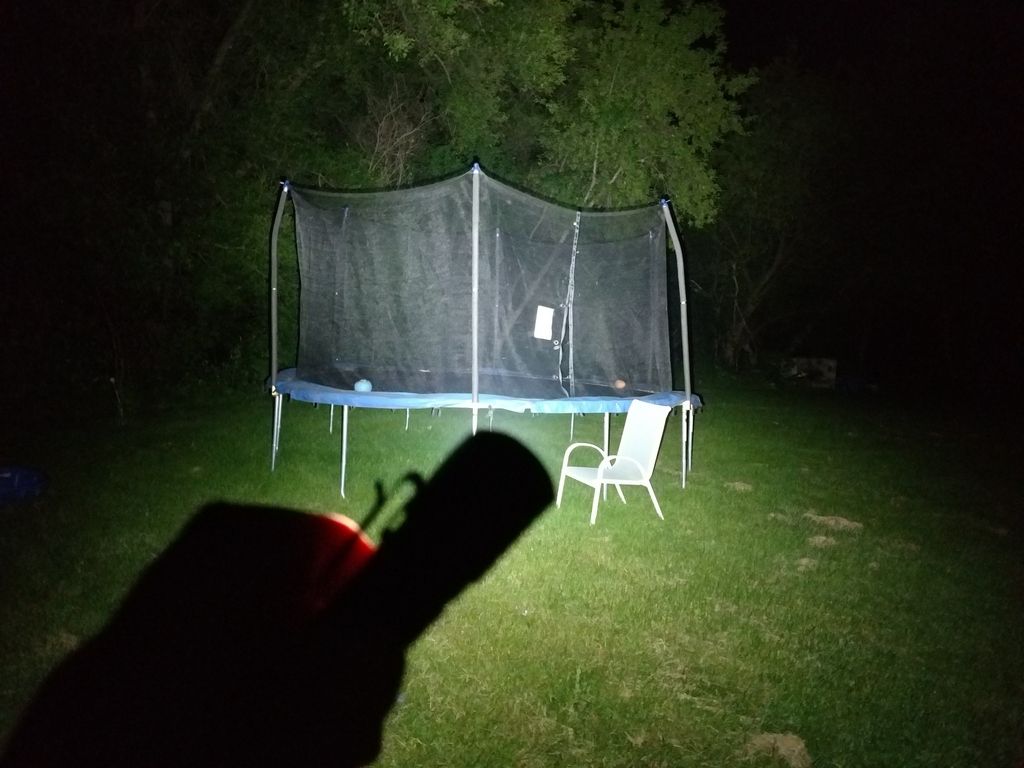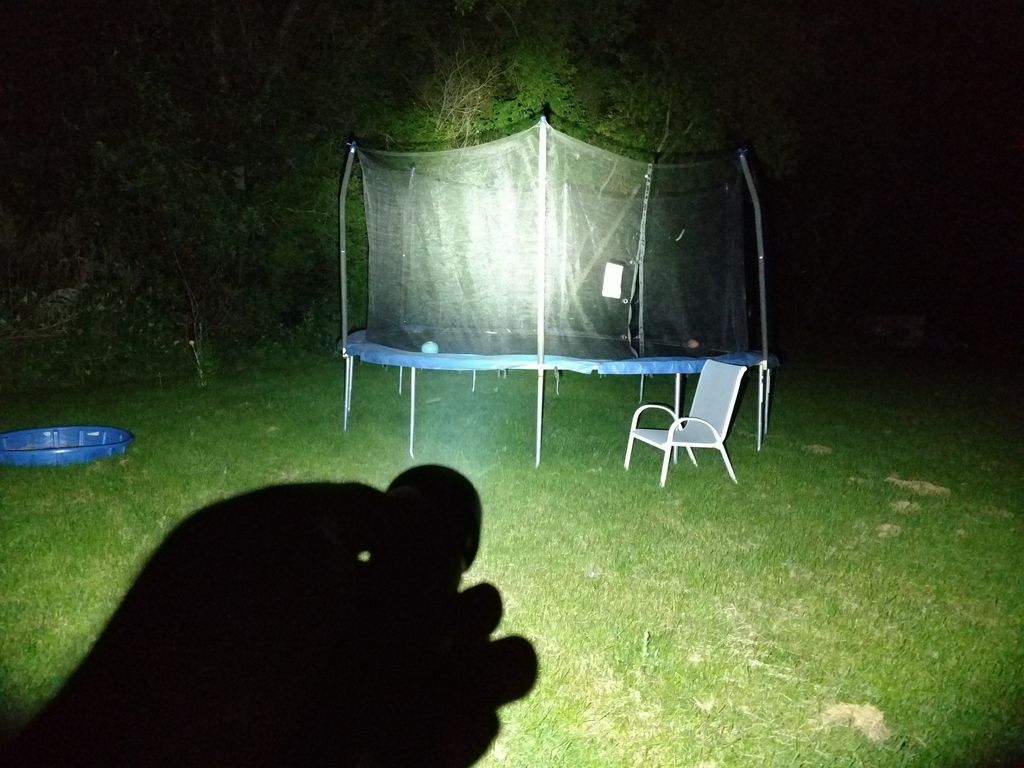 H2R on top R50 on Bottom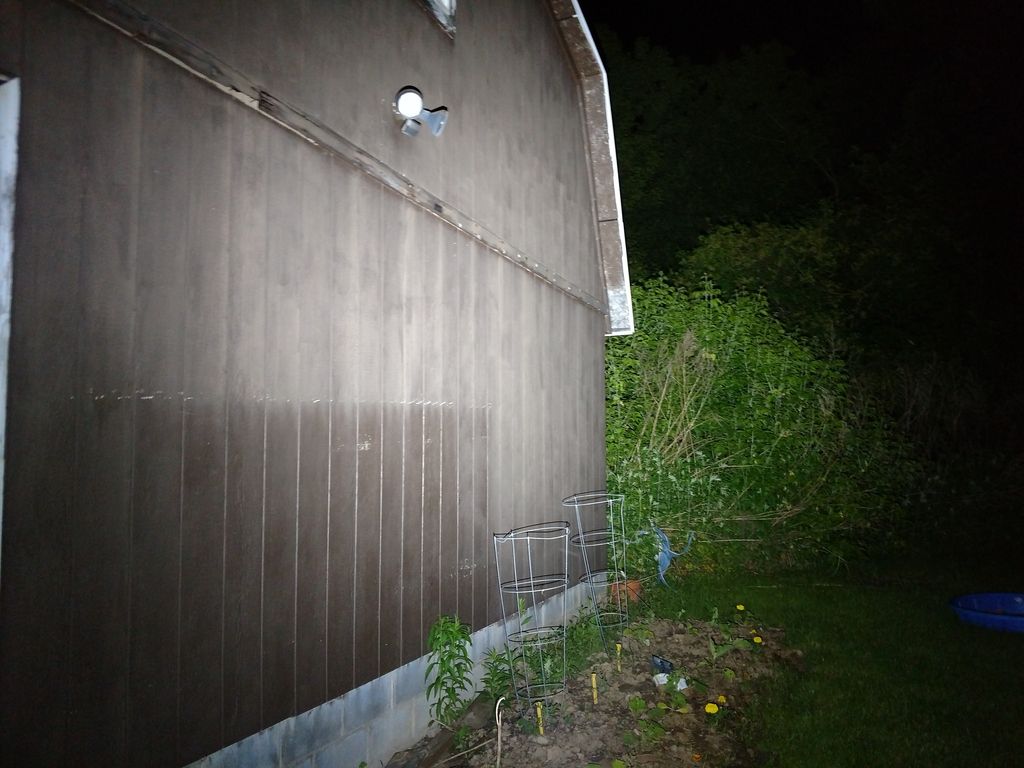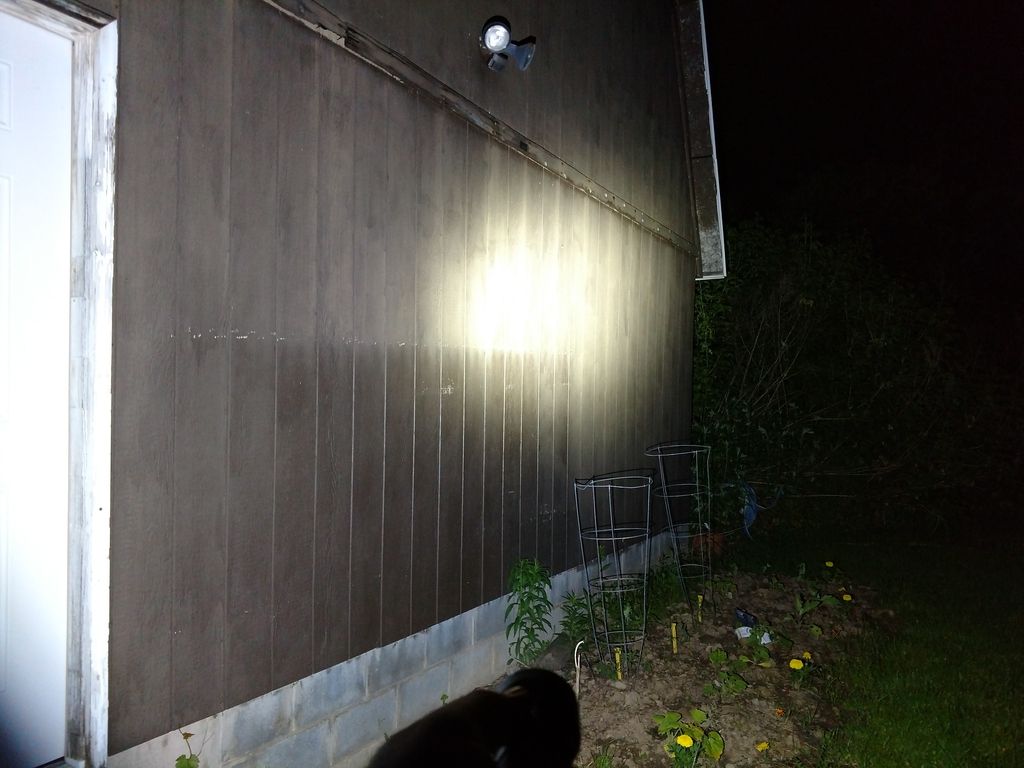 H2R on Top R50 on Bottom
This uses the standard Olight interface
from off:
single press turns on
long press brings to moon
extended long press locks out light
double press turbo
triple press sos
from on:
single press turns light off
long press switches l-m-h modes
double press turbo
triple press sos
the light has memory mode. It will remember anything except SOS. Note it does seem to remember moon and turbo.
left to right:
wowtac a2, olight s30, atactical a1s, H2R, Skilhunt H15, H1R

Olight crams alot of features into these lights that often gets ignored. First is the gradual on/off. When you turn the light on it does turn on slowly. These prevents you from blinding yourself if your memory is on the brighter modes. As mentioned it has mode memory. the light also has a electronic lockout. When the light is locked out it will turn on moonlight in a momentary fashion when you press the switch. The light can also mechanically be locked out by turning the tailcap.
The headband is magnetic and can hold the light without being trapped in.
The magnetic charging system works with other flashlights that utilize that system. Very handy if you own multiple lights.
Holy Cow! an XHP-50 headlamp? who ever thought we would see the days of a real 2500 lumen headlamp. The 1 minute step-down is just right as far as heat and how comfortable I am letting the light get. Olight really crams alot of stuff into these lights and you do get alot for your money with this light. You have choice of tints, moonlight, sos, and lockout. This really has everything I need. Plus this light is super versatile. Not only is it a killer headlamp, but the magnetic headband is fantastic. You can just stick it to it when you are doing a job and just need a free hand for a second. The magnetic base is strong as well and makes this a great work light. The pocket clip can do about anything. You can put it on a brim of a hat (kind of heavy for that… but it works), you can put it inside or outside your pocket, you can clip it to a shirt collar or put it on as a necklace. The clip is also long enough to use on molle gear and it holds ok. the 2-way design of the clip lets you flip it around without removing the clip. This adds a little bulk, but is pretty handy when you are using the light frequently.
It's a little awkward in the pocket, but not anything that would deter me from carrying it. However, the clip does give you enough space that you can clip onto a thick pair of work jeans with no problem.
Overall tons of good features, good solid performance out of the light, and you can get a few good minutes of 2500 lumens.
Criticisms:
The XHP-50 and a TIR lens does seem kind of counter-productive. As much as I like the TIR lens in Olights other offerings, I really think it wasn't necessary in such a high powered light.
Only being able to use proprietary batteries worries me about having this light long term. Will they still make the batteries in 5 years? Will it be easy and inexpensive to buy spares?
no chance to ever mod this guy
mode spacing is awkward. I really would have liked to see a 1000 lumen high mode. When your outside the 300-600 lumen modes blend easy.
No carry case? I really liked the fancy bag/hard case you could get with the H1R. Would have love to seen them make a case for this one.
The retaining strap on the headband is a little wimpy. Plus its got a small tab and there is no way you could use it with gloves.
The Million Dollar Question:
If I lost/broke this light… would I buy one to replace it?
Yes! I was a mega fan of the H1R and this light adds a few great features and really ups the ante with the XHP-50. It's a bit pricey for me, but I really like this light and it is super useful.