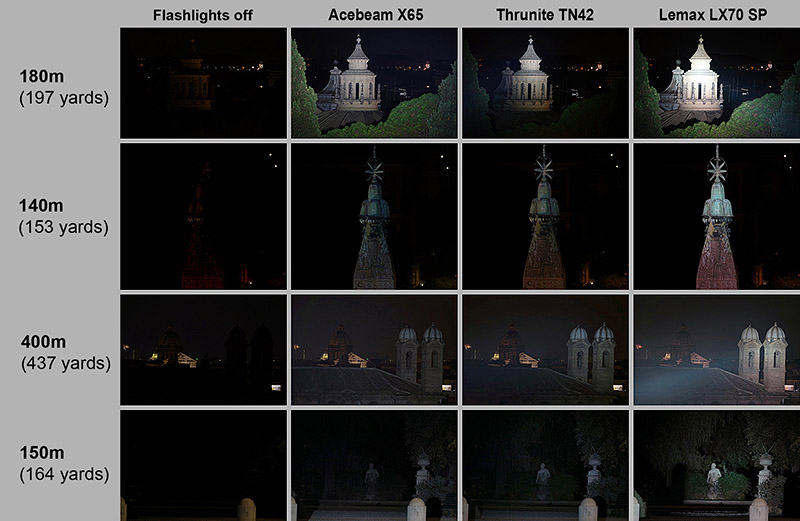 I've enjoyed making a comparative tests between the major throw torches: the Thrunite TN42vn NW and the Acebeam X65vn NW, alongside with what is currently considered to be the world's most powerful portable HID torch: the Lemax LX70 SuperPower.

I chose the X65 because - even though it has less candles than other torches - it has a wider and shaded hotspot that lets you better see what you are lighting. With the tiny TN42 hotspot, it's often necessary to "investigate" a bit by moving the spot here and there.

Living in Rome, I went on the terrace of Pincio hill which dominates most of the city and I lighted some of the emerging elements of the urban fabric, not the most important of course, as they were already well lit by the city authorities.

No wonder about the short distances reached by the bright beams. Though it was a fairly clear day for a city like Rome, the night gravitates on the city a luminescent haze due to the artificial illumination that reduces the light of the torches. Suffice it to think that the HID spot of the LX70, which should reach 4.2km, was barely visible on the dark part of the dome of St. Peter in the Vatican, which according to Google Earth is exactly 1600m (one mile) afar from Pincio's terrace.
So the test is little useful to evaluate the absolute brightness of the torches but it is still good as a comparative test, as the haze reduced the beam of all the torches.

A due observation about the photo at the top right, with the lantern of a dome lit by the HID torch. The lantern looks a little brighter than it really was. The fact is due to the inability of the camera sensor to record high lights, over 95%, so that a white area without any detail appears making the light to seems dazzling. In fact in pictures with darker subjects, the difference in light intensity is smaller.
From the test, it is clear that the LED torches have still some way to go before matching the HID torches, especially as the LX70 SuperPower that at 70W produces 4.500K cd. Conversely, LED torches are much more versatile, with multiple levels of brightness, special performance such as strobe, S.O.S. etc. Of course they are also more pocket-sized and light weight. To be honest, I fell in love with the new Lemax LX70 SuperPower not only for its great performances but also for its amazing design, the robustness, versatility and reliability, which I'd never found before in any HID torch. When I don't use it I keep it in the living room over a table, face down, like a modern art sculpture!