I think that 2016 year was a breakthrough year for 26650 flashlights (Acebeam EC50 Gen2, Klarus G20, Olight R50). Almost EDC size, great brightness and battery capacity – these flashlights have a lot of advantages.
Now I'd like to tell about Imalent DN35. I`d personally prefer DN70 with it`s OP reflector, but huge gap between modes was crucial reason to get DN35 instead.
You can buy Imalent DN35 at
➤ AMAZON
➤ ALIEXPRESS
➤ BANGGOOD
➤IMALENT STORE with 10% off code LUMENIAC748
Manufacturer promises this: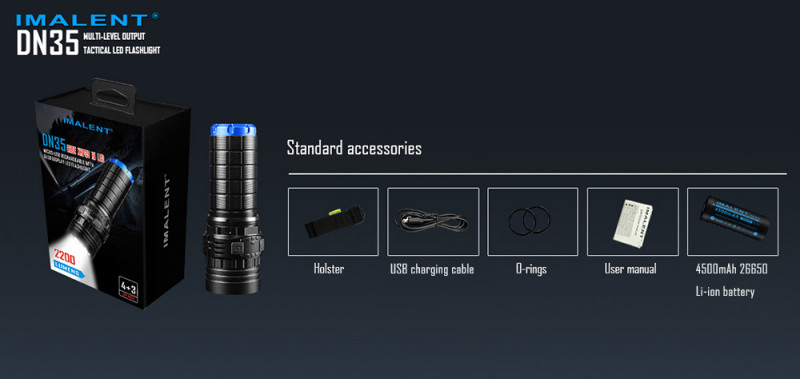 *Emitters: Cree XHP35 HI
*Luminous Flux: 2200LM
*Light Modes: High,Location beacon,Low,Mid,SOS,Strobe,Turbo
*Battery Type: 26650
*Battery Quantity: 1
*Mode Memory: Yes
*Rechargeable: Yes
*Waterproof Standard: IPX-8 Standard Waterproof (Underwater 2m)
*Product size (L x W x H): 11.30 × 3.80 × 3.80 cm
PACKAGE and APPEARANCE
DN35 has a nice package. This is an no doubts one of best packages that I met, really top-class.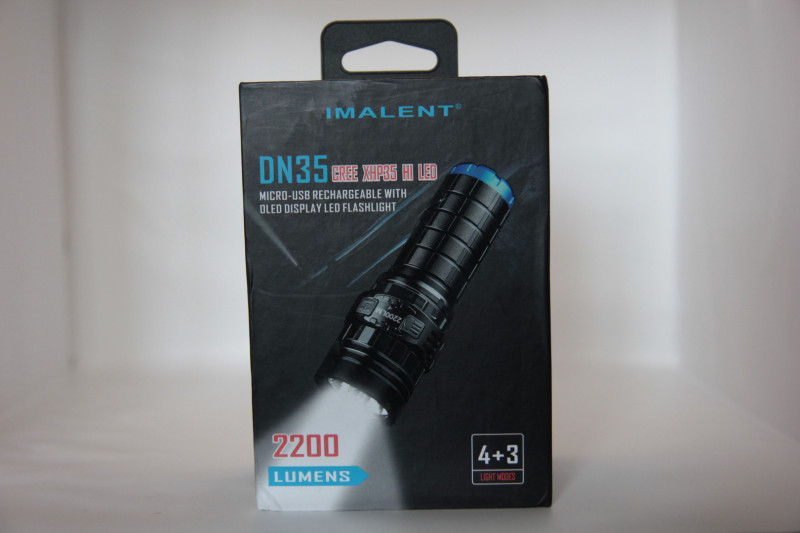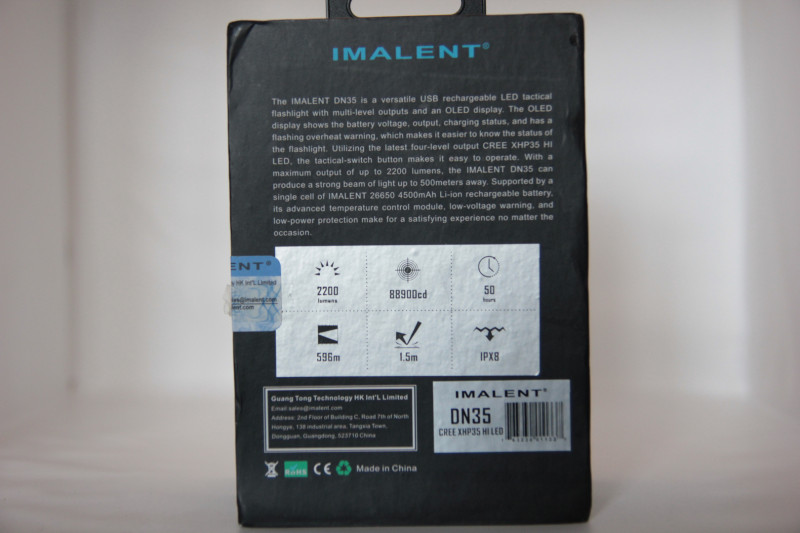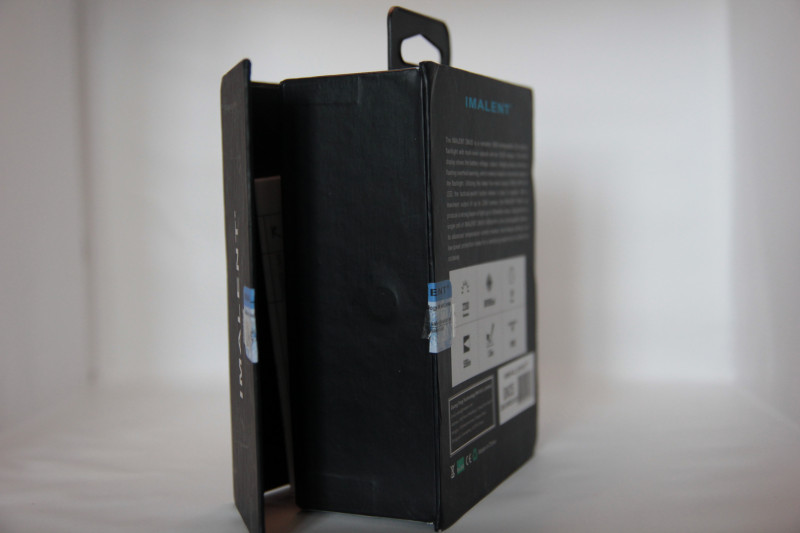 Package includes DN35, battery, manual, holster, usb-cable, o-rings.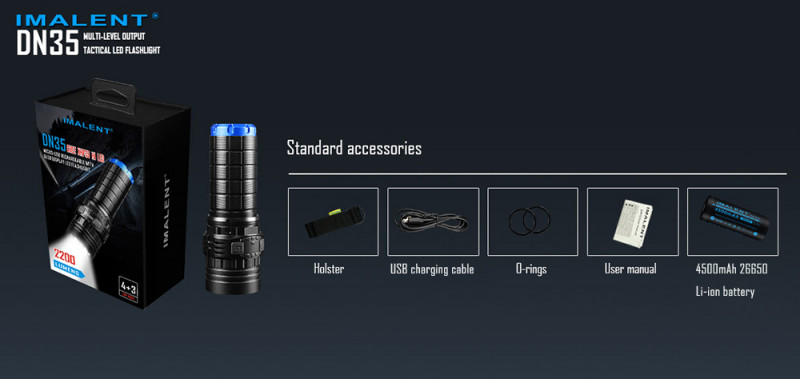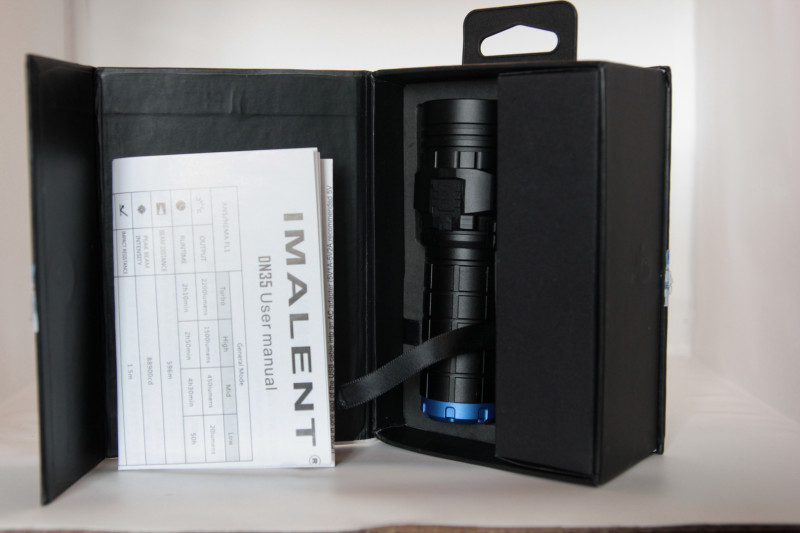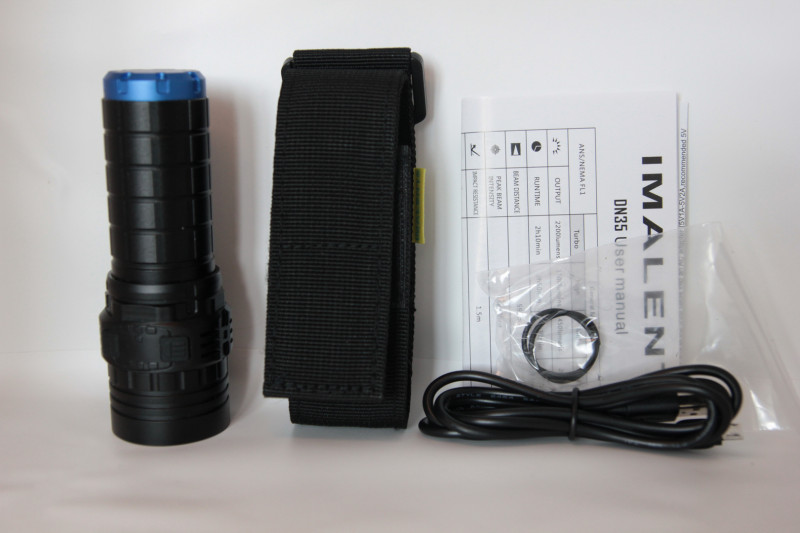 I`d make holster cover just 1 longer.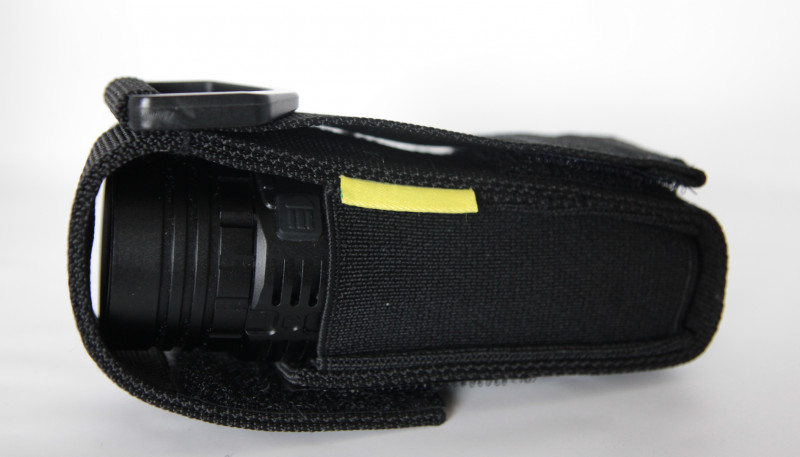 Flashlight has really (IMHO) futuristic appearance, mainly due to blue tail. And it has really compact size, similar to 18650 EDC stuff you carry in pocket, just little bit thicker.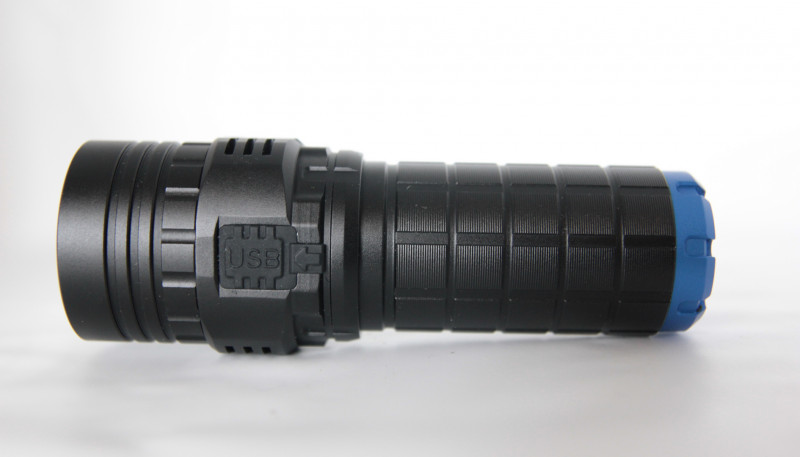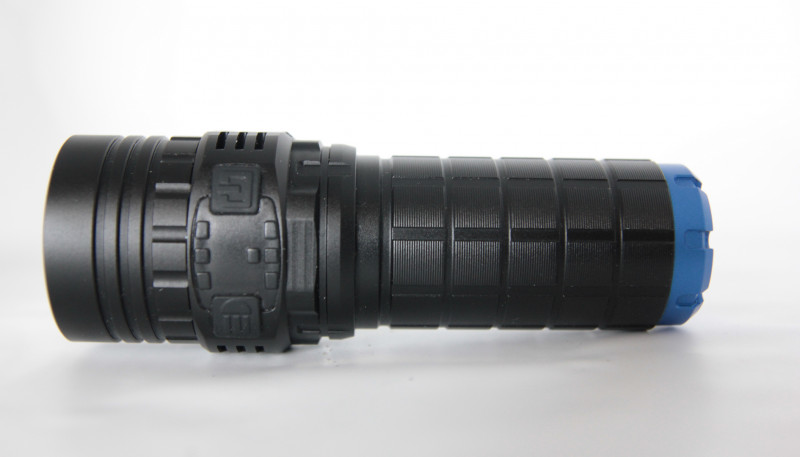 Comparing to other Lumintop SD26, Imalent DN35 shows less size: 113mm x 38 × 32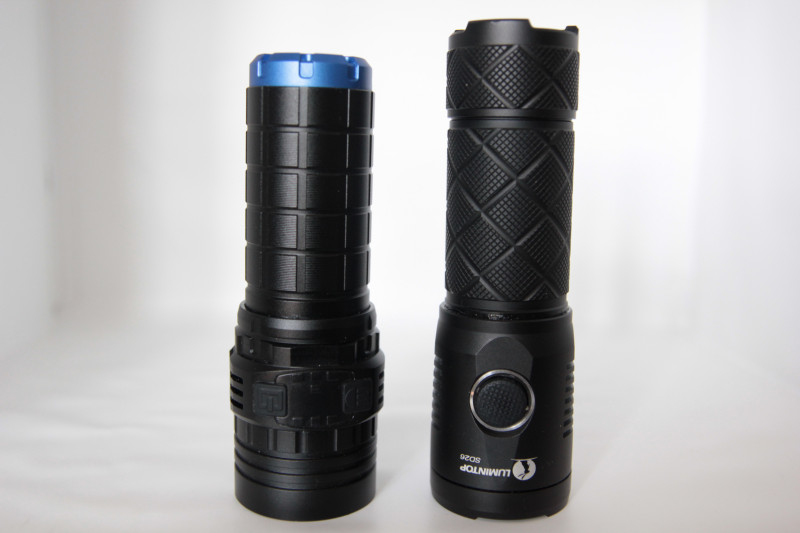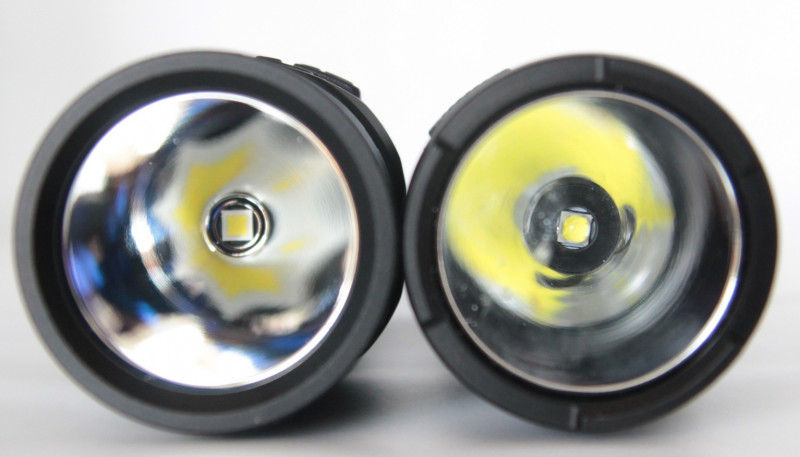 It seems to me that Imalent has it`s own design vision of their product line, and they fanatically fallows this vision.


Right from the start, DN35 attracts attention with it`s blue tails with model name printed on it.
Yeah, that looks cool – who argues, but where is hole for lanyard? I don`t care, I don`t use lanyard at all. But a lot of users do, so for me this is 1`st non AA\AAA flashlight that doesn't have lanyard.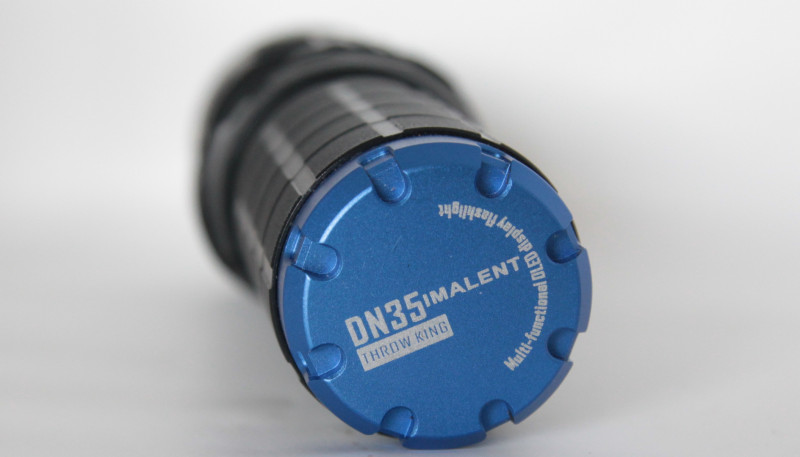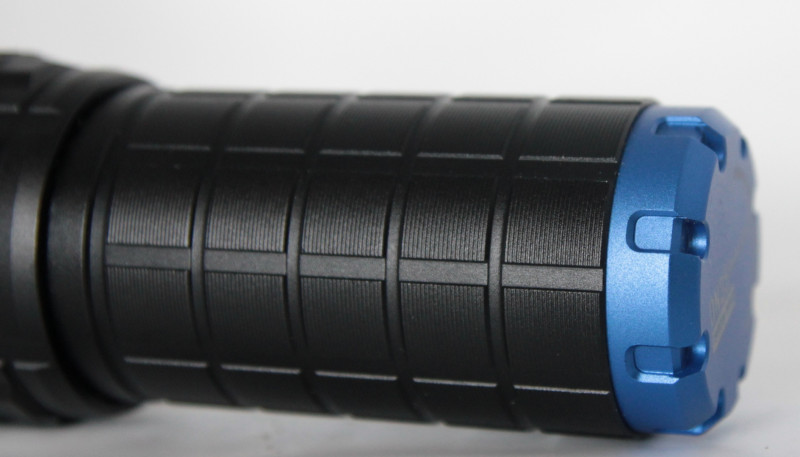 Knurling is small and accurate. Bunch of lined squares. Tail body has length just enough to place 3 fingers, 2 rest conveniently circles head. Grip is good. DN35 fits palm really well.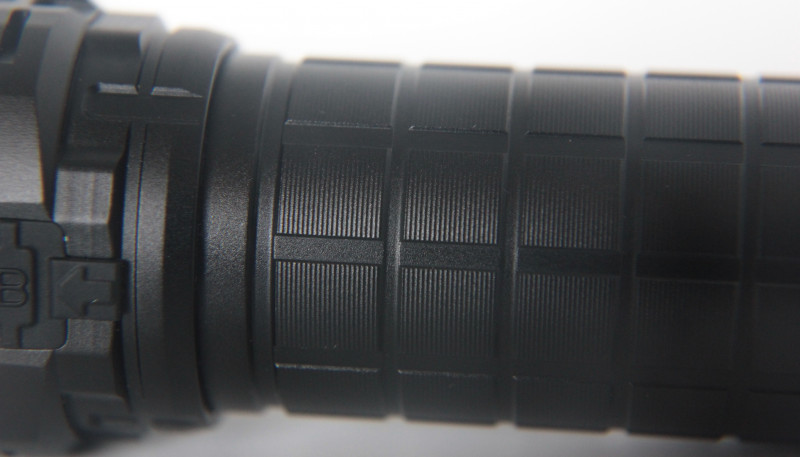 As it usually happens, USB-cover port and buttons are located at opposite sides.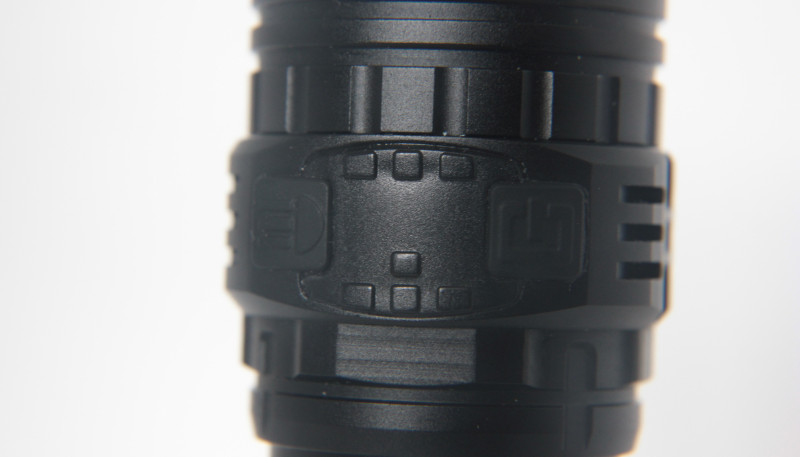 And here is a total "uncool". Small pin at the end of covering usb-port rubber foot easily comes falls through hole in flashlight body. So when you open rubber plug, make sure you do it gently or prepare to loose whole plug.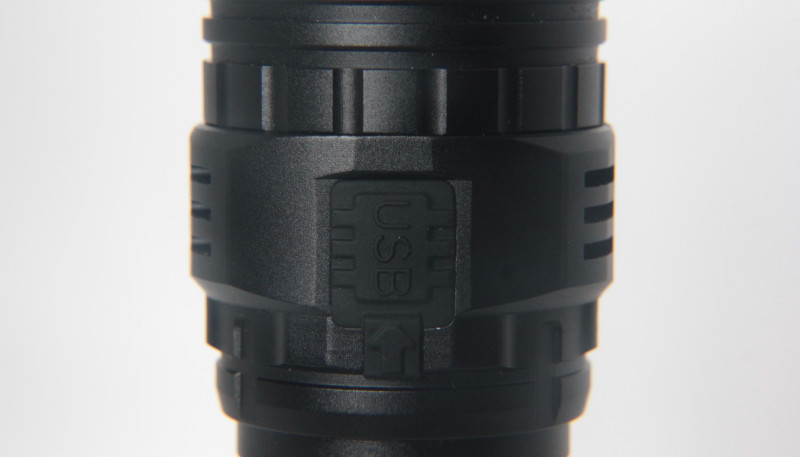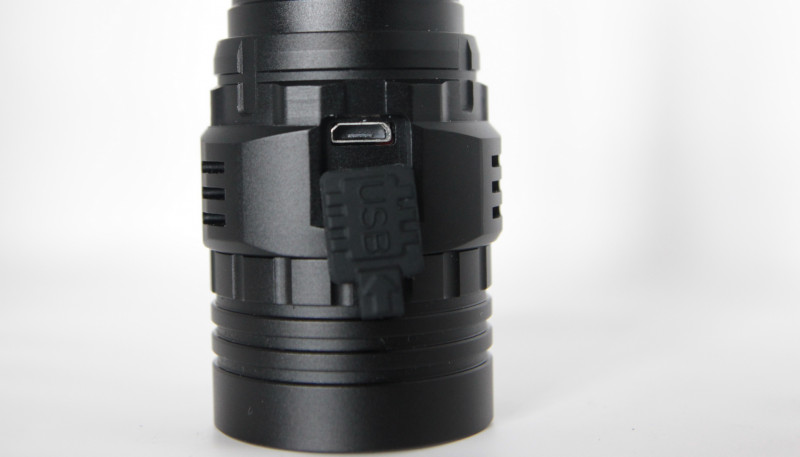 Cooling ribs…well. There are 2 round cooling ribs circling flashlight` removable part of head (not the whole head, just part with glass) and that`s it. There are some strange figures by buttons, may be they are also suppose to dissolve heat, but in reality they just distract you from finding buttons.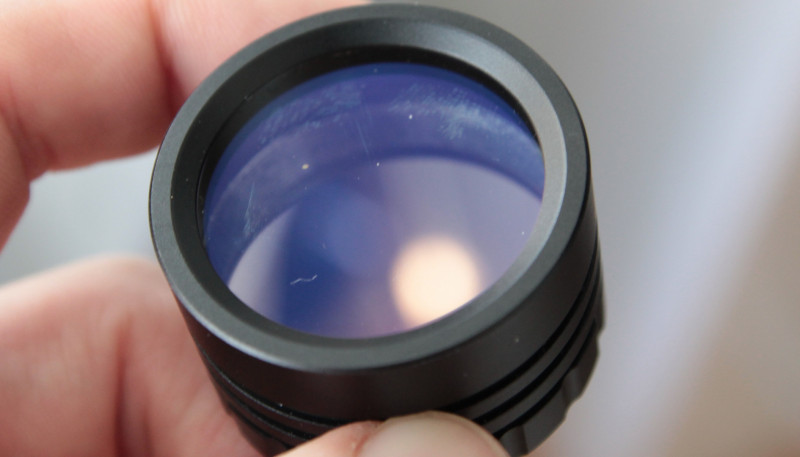 Reflector is SMO, 28×28mm.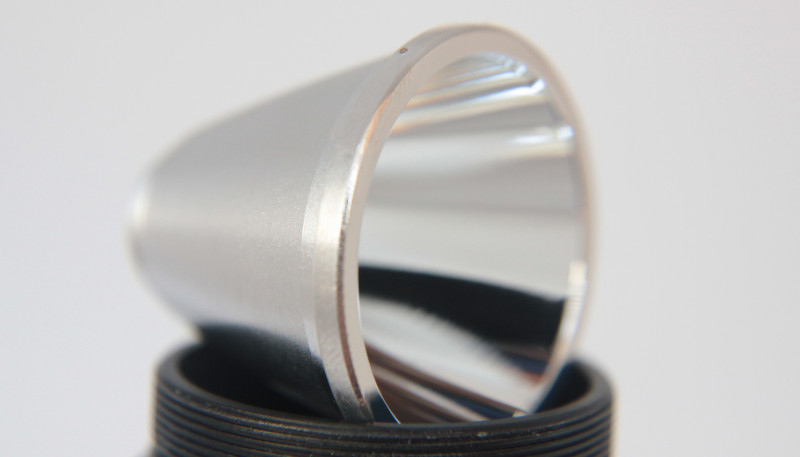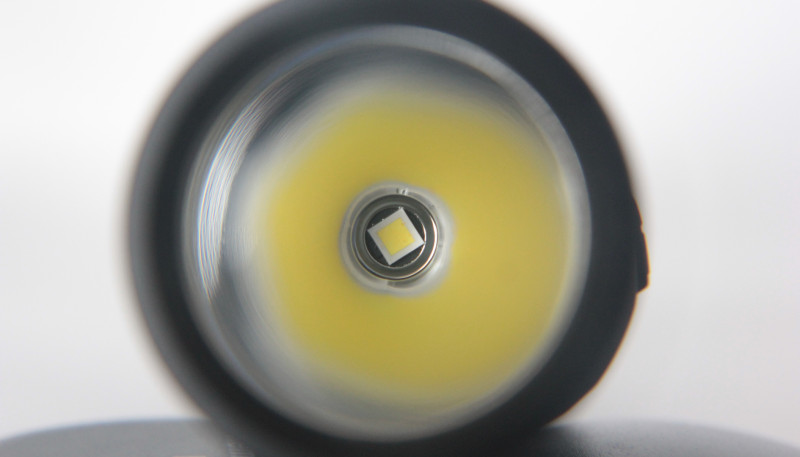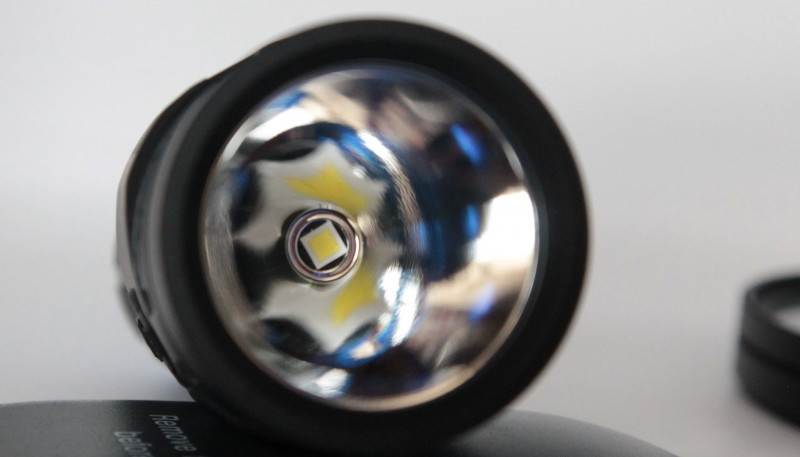 I was surprised to see demoded XHP35.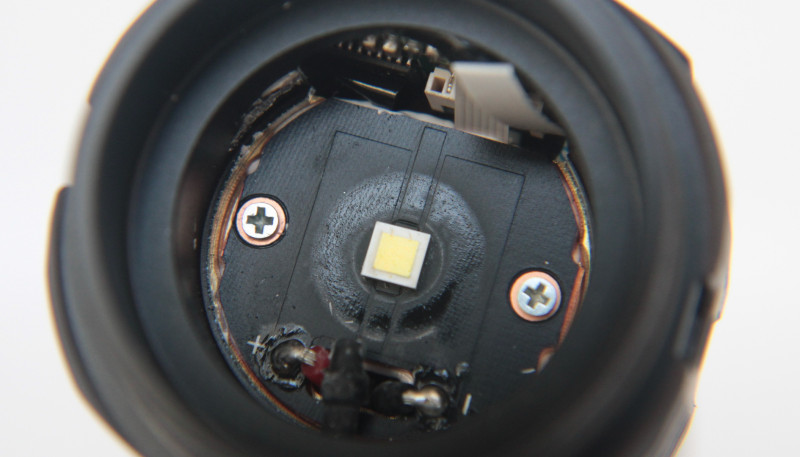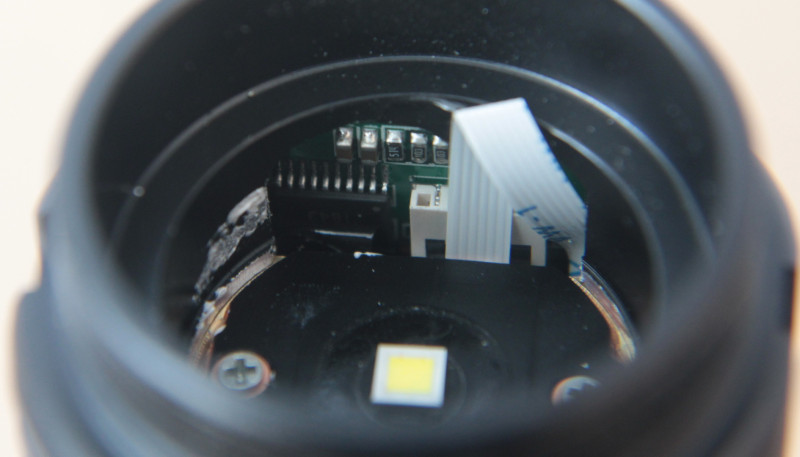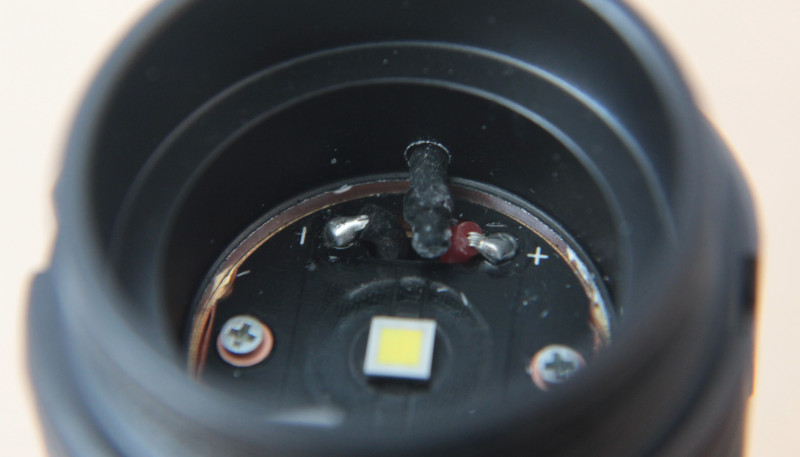 I think that spring at tail was sacrificed for making flashlight length less. Now there is just contact plate.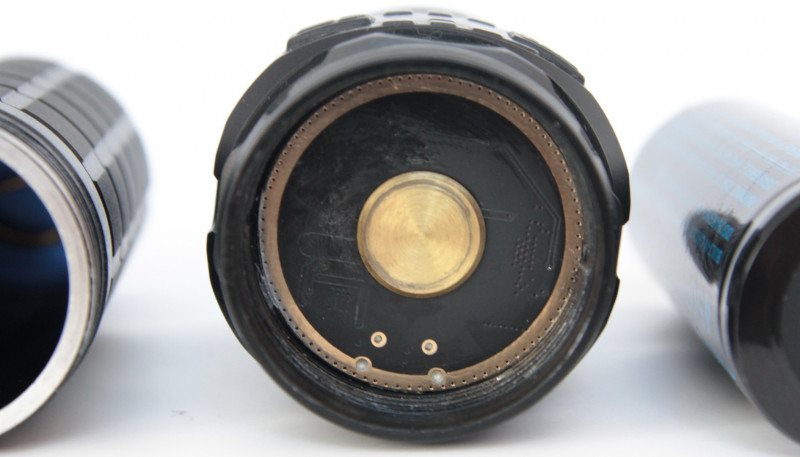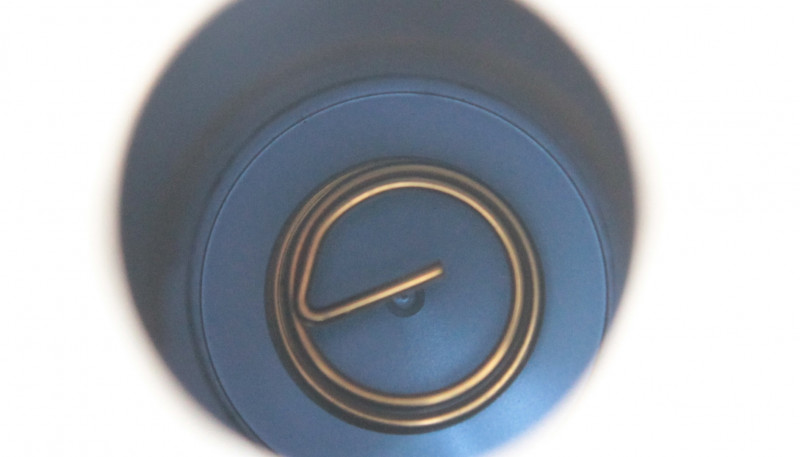 Threads are mid-size, rectangular, well lubricated.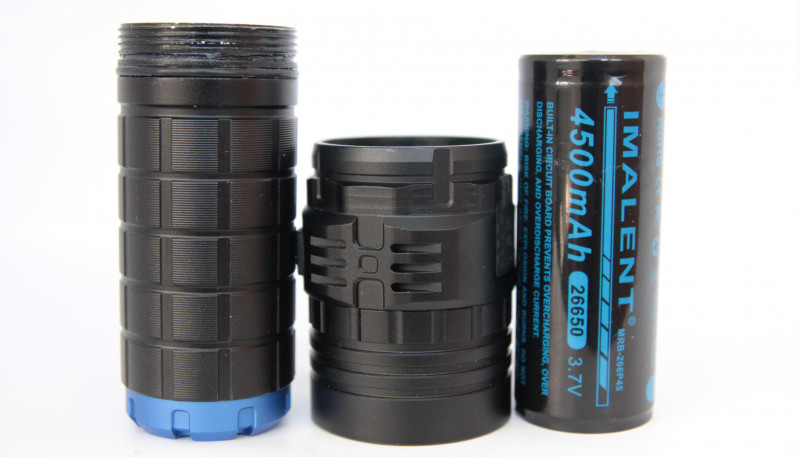 UI
I`m not used to such ui with 2 buttons.
Ok, see pic.
In reality that takes some clicks to get used to it which is good.
But there is a bad, thing to tell you, guys.
These buttons are worst that I see (and i`ve held A LOT of flashlights). That will be a toughest challenge to locate this buttons, when you have gloves on, or in situation when it is so cold outside, that your fingers merely bend. May be dpipping some thermal glue will make them more contrast to the rest of DN35`s surface.
In slow regular usage, that may be not such a problem, I must admit.
Display is a rare feature for flashlight, that Imalent gravitates to. This one is a tiny OLED. Black with white symbols on. It shows mode, voltage, overheat warning, charge progress bar.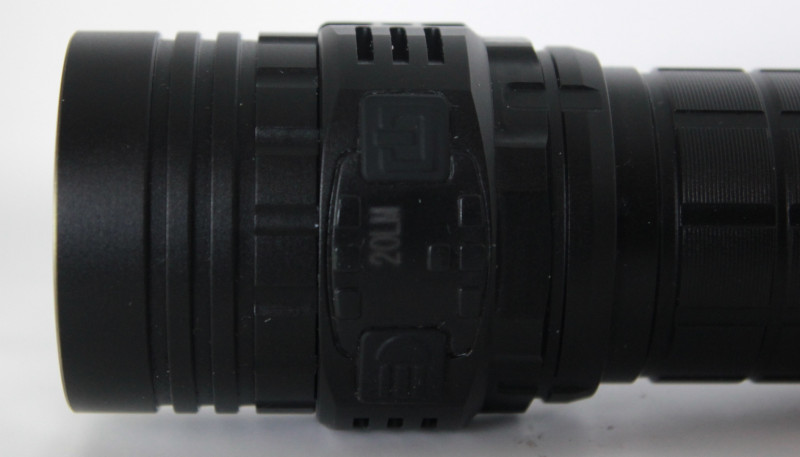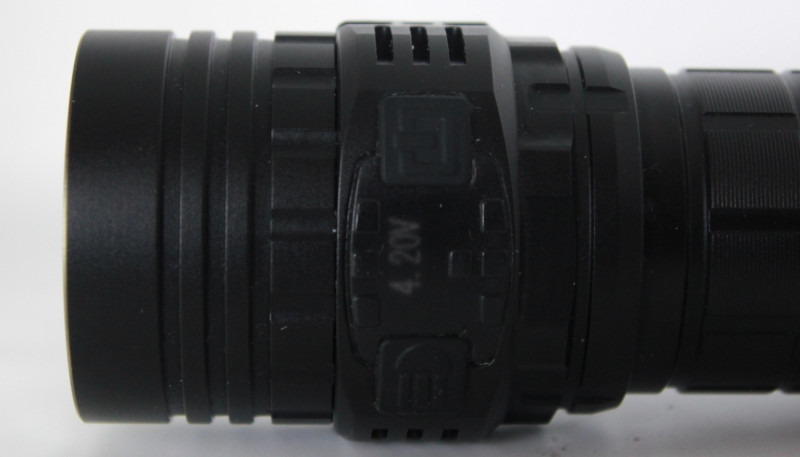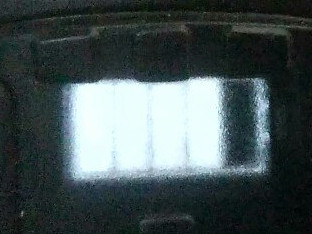 After some time display turns off, which is not convenient – you have to search for button again.
Pressing left button turns display on again.
Adding kinda of Manker`s "dragonbreath" feature would ease finding buttons sooo much!
BTW, there is a discharge warning – when voltage gets below 3.1v, display will blink 8 times each 30 seconds.
DN35 PERFORMANCE.
It has just 1A charging current, so it took 7 (SEVEN!) hours to fully charge battery. C`mon, that`s uncool! I`ve sold all my Opus`es and Liitokala 500`s, so I had to use usb-tester. It shows that 5511mah went insde. Big difference with stated capacity. I mean that I do believe in 4600 rather than in 5511, last numbers are so big for bad efficiency of charging circuit (imho).
What else. Battery protection board has protect battery from voltage below 2.8v. In my case I witnessed 2.6v before light turned totally off.
As I mention, DN35 is an compact for 26650 stuff. This is good EDC size that fits any pocket.
CW light, with light distribution close to trowers.
What about light. I was surpised, but 20 lums (thax for dedomed LED and OP reflector) make visible light at within 15m range, see GIF below. As far as I understand, DN70 has more NW light.
Beamshots: low-mid-900stepdown-high-turbo



DN35 passes shower test for PWM shimmering.
What about stabilization. In room temperature, DN35 kept high mode for about 4minutes and then made stepdown to 900 lums. "Overheating" warning sign appeared at display.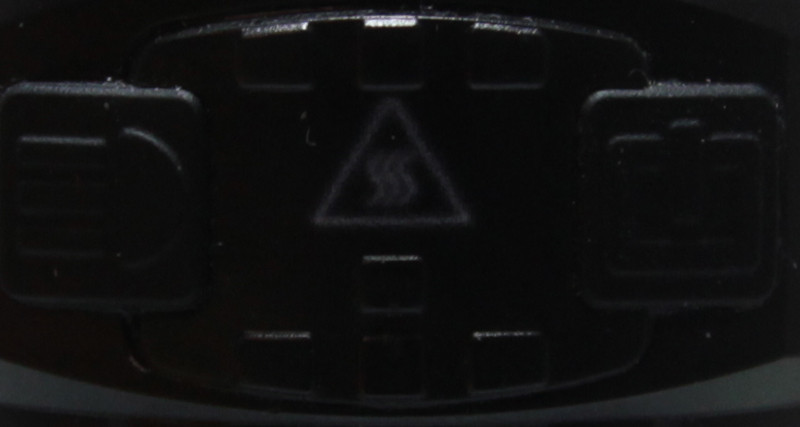 At open space, with air 15 Celsius, DN 35 kept turbo for 5 minutes, then quickly fell to 900 and kept this brightness for 2h40min.
That expectedly means that the real constand brightness is 900lums, and high\turbo may be used for short time. Maybe, maybe in winter there is a chance to use high mode for constant time. I mean Russian\Alaska winter, with -20 Celsius and below. But that face you a necessity to locate button in gloves, again -)
Anyway, 900 lums is ok for any ordinary need, as DN35 make a really long beam.
Hey, guys from Imalent, if you read this. Take a look at Manker and Skilhunt, who offer a bunch of brightness levels almost in any product. In this case gap between 450 and 1500 is a mockery (not to say a spit at face)
7m distance

15 m distace. 20 lum is enough to tell Zerg from Protoss, and 450 is totally comfortable light here.

175 метров. 20 lums are invisible, 450 make some light. In reality only high-turbo are useful here. But, taking in account that I tell about just 28mm reflector and EDC size of flashlight – the light that I see at wall is a great performance.
Those who prefer diffused light, may order cheap diffuser here don`t find any cheaper)
OVERALL
DN35 has perfect package (great as gift) , looks perfectly as well. It has really long beam and has EDC size and USB-charging feature as well as included 26650 battery.
On the other side it has terrible buttons, and high\turbo that last just some minutes. It takes ages to fully charge battery. And there is a big ( yet not giant as at DN70) gap between mid-high and low-mid. Rubber cover plug can be easily lost.
So, decide, guys. I appreciate if some who own this flashlight will share his opinion about it.