Review example was provided by Lumintop, thanx to them for great opportunity to test such a monster.
I want to thank GT team, who created it. That was a real challenge, result is astonishing.
————————————————————————————————————————————————————
If you need any full scale photos, you can download them here
you can buy Lumintop BLF GT at:
AMAZON
BANGGOOD
ALIEXPRESS
Nitetorch store
with 20% off sidewide code HJK5KDNQ
SPECS
Emitter:
12 V Cree XHP35 High Intensity, neutral white, mounted on copper DTP MCPCB
Flux: >2000 lm
Intensity:
>1 Mcd (ANSI throw >2000 m)
Firmware:
Tom E's open-source NarsilM v1.2
User interface:
By default the GT is set to use the very intuitive Narsil smooth RAMPING UI. Instant access to a 2.5 A TURBO mode is also provided.
A more conventional discrete level MODE-SET UI is available as an alternative. Any one of 12 pre-defined mode-sets can be selected.
MOMENTARY mode is useful for signaling purposes or rapidly/briefly lighting up targets.
Battery:
Four or eight button-top 18650 cells (4S1P or 4S2P). Protected cells are recommended. Cells are not included.
Driver:
35 W, 2.5 A regulated buck driver with conversion efficiency that exceeds 90%. Parasitic drain while OFF is ~150 μA (~250 μA with button back-light on).
Reflector:
118 mm ID, aluminum, smooth finish
Lens:
Glass with anti-reflective coating
Body:
Aluminum with Type III hard-coat anodizing
Tripod socket:
Standard 1/4 inch threaded (1/4-20 UNC)
Button:
Tactile with back-lit rubber boot
Ingress rating:
Equivalent to IP65, do not immerse in liquids
Weight:
Approximately 1.8 kg without cells
Dimensions:
135 mm Ø head x 315 mm length
PACKAGE AND APPEARANCE
We all know that this light is huge. But few know how much…This light is monstrous. So is it`s package.
It is thick cardboard box with BLF GT logo, box can include about 6 packages of L6 inside, that is how huge it is! And even this box still cannot fit GT, so it travels disassembled in parts: head, body with pair of carriers inside, tail.
There are absolutely no chance to damage GT (which is too , as it is totally covered by lots of foam rubber.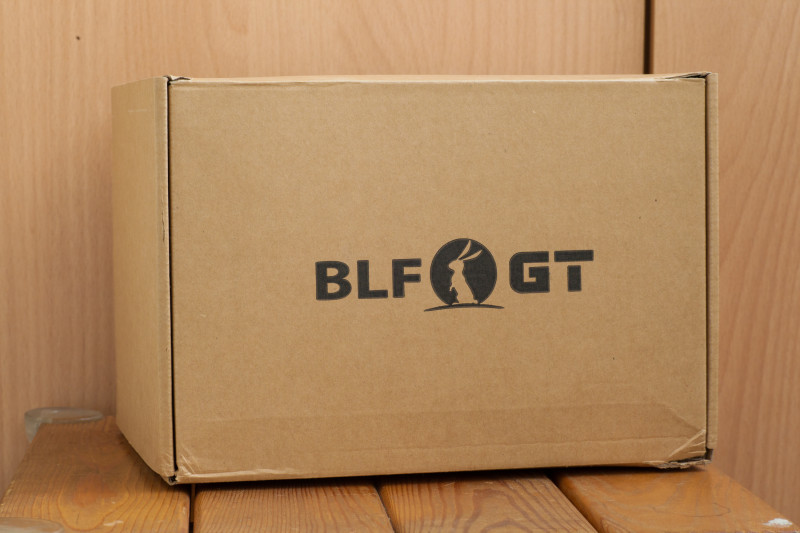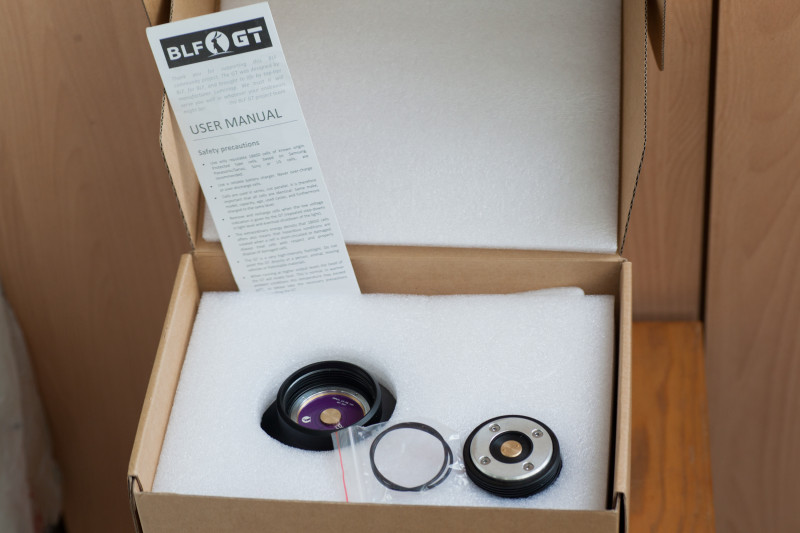 You know, i`ve tested Imalent DX80 and think I was prepared to see big flashlight. But even with such experience GT seriously impressed me, not to mention my relatives…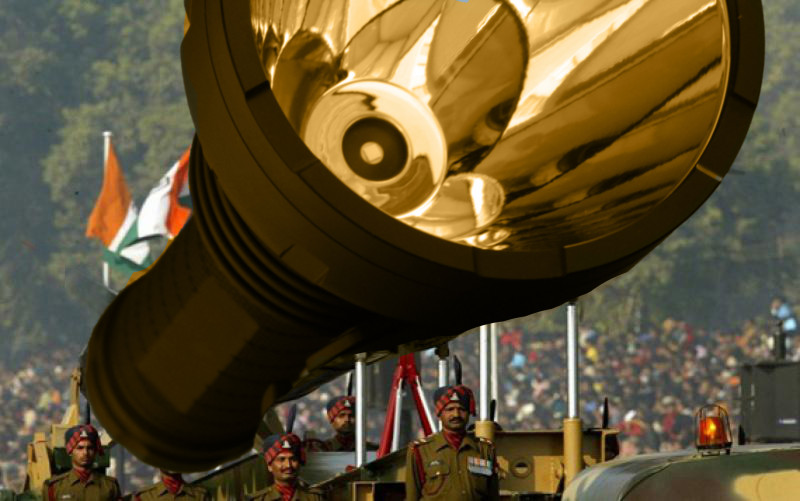 Just some pics to compare size.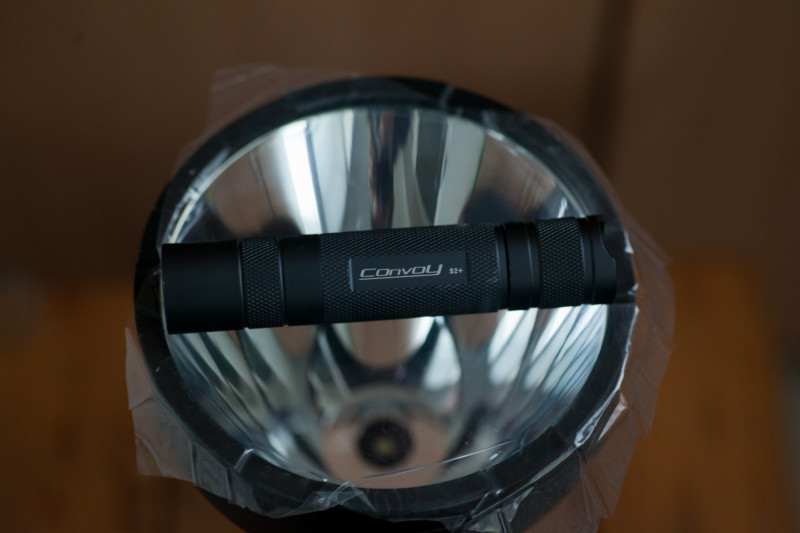 David and Goliaph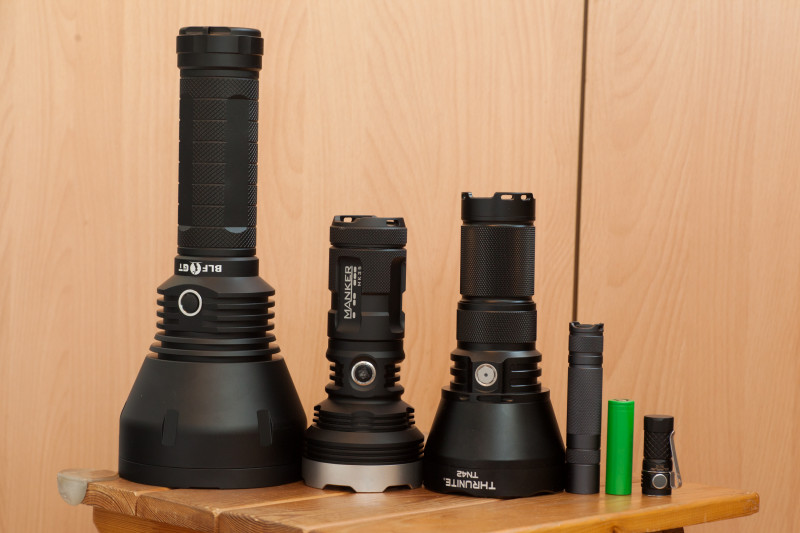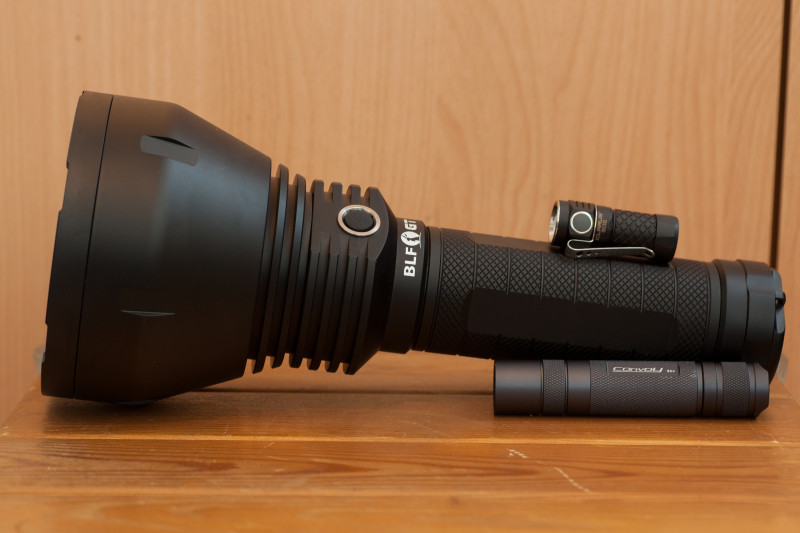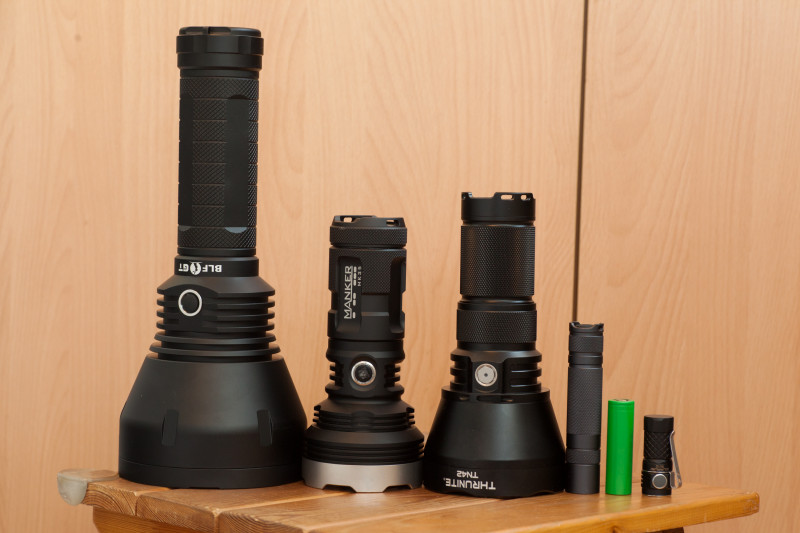 BTW, i had to buy expensive 100-400 lense to test this flashlight as my 90mm Tamron`s focal range is not enough to provide clear pic at distance over 200m.
Some comparing again.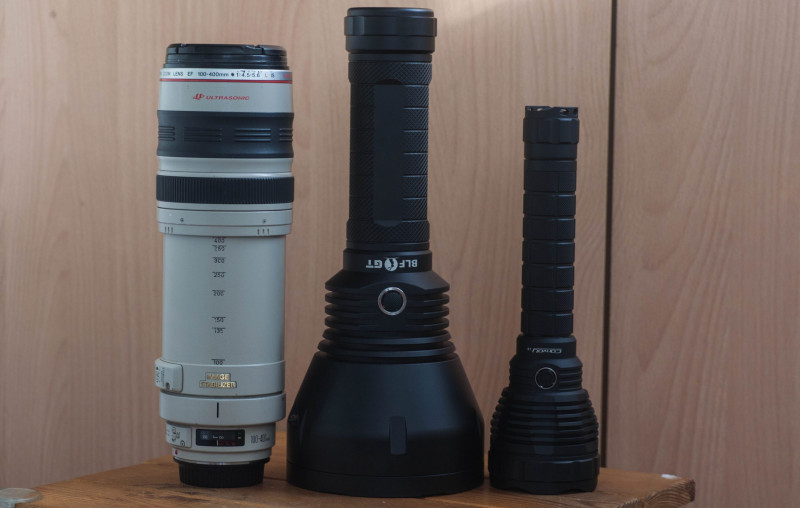 SIZE:
Length – 315mm, head diameter – 135мм, lense diameter – 125mm, body – 60mm
1,8kg wighout and 2,29kg with 8 batteries inserted.
With such a size and weight, it`s reasonable to buy shoulder headstrap. I recommend buying camera strap, there are lots of cheap ones and ali and ebay, that`ll be ok to use with GT.
Another result of such a size is tripod mount. Well, you have an enemy who lives 1 km from you. Just mount GT on tripod, sit on soft chair, grab Cohiba and glass of good moonshine and aim ray of kind greeting right into his windows.
Another variant – you want to visualize Heinlein`s "Tonnel in the Sky" without all these Rosen-Einstein singularity sophistication. Do the same, but aim beam to sky. Here it is, you can see some reflection from Tesla heading to Mars
GT was made by forum members for forum members, it is not a miserable child of incest between marketing and R&D team with voyeuristic supervision of focus group, GT is noticeably user-friendly product with attention to details. One of last is a small plug for tripod mount, which has even small hole for strap to prevent occasional loosing it.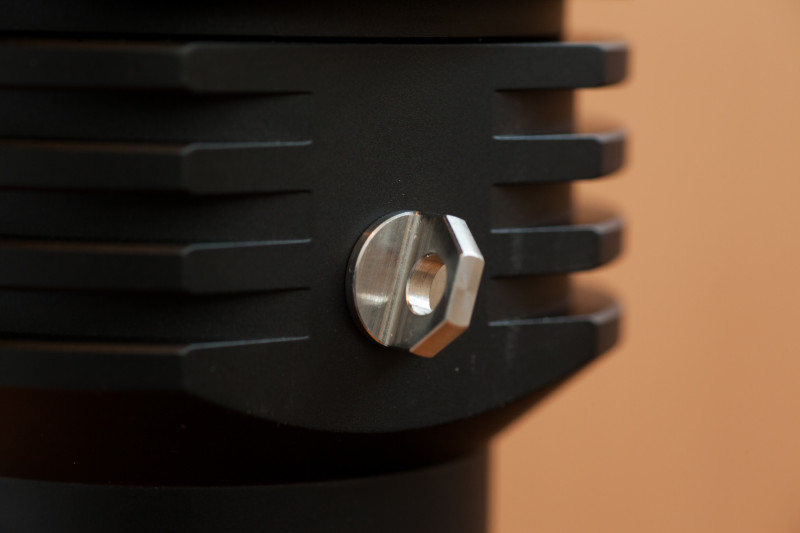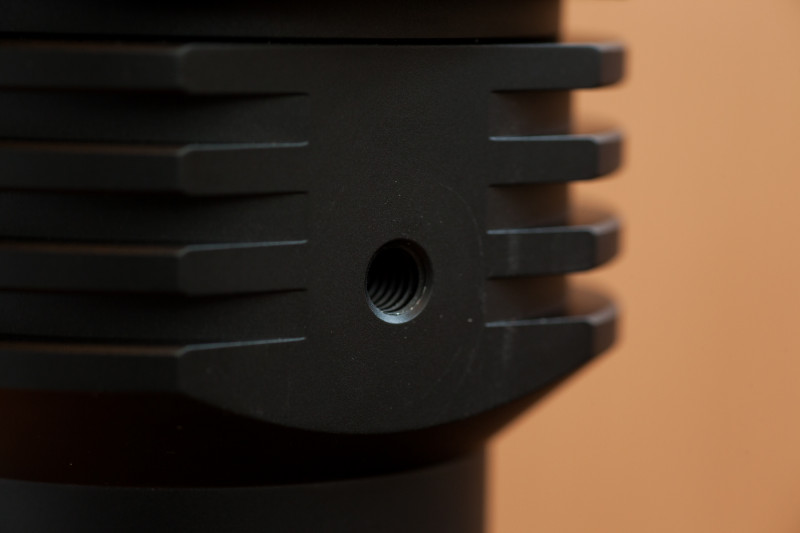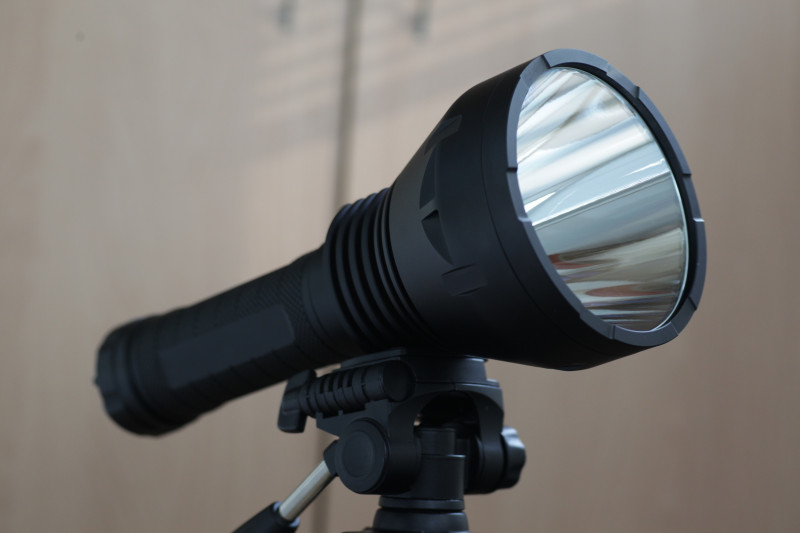 There are no any design decorations, GT is men`s thing. It incarnates brutal and functional design (what to many people may be design decoration itself, I have to admit). It`s like a machine gun, which may be considered beautiful having no any special design, just for pure functionality and solid metal.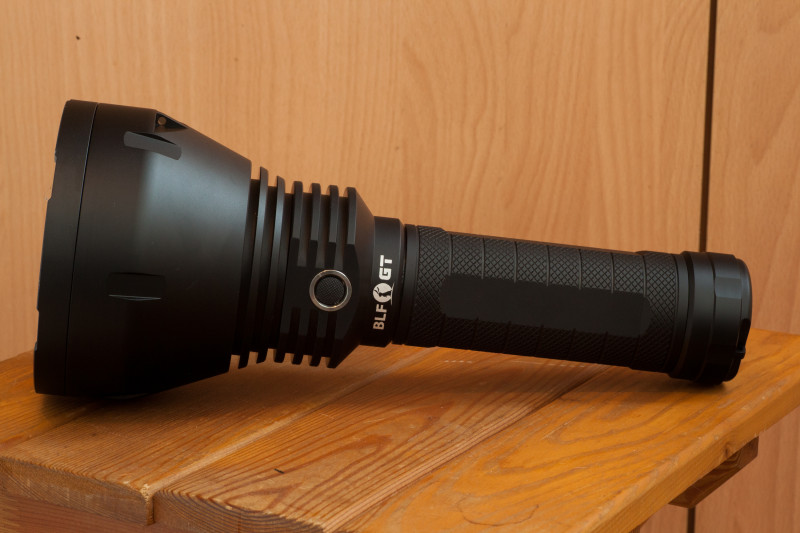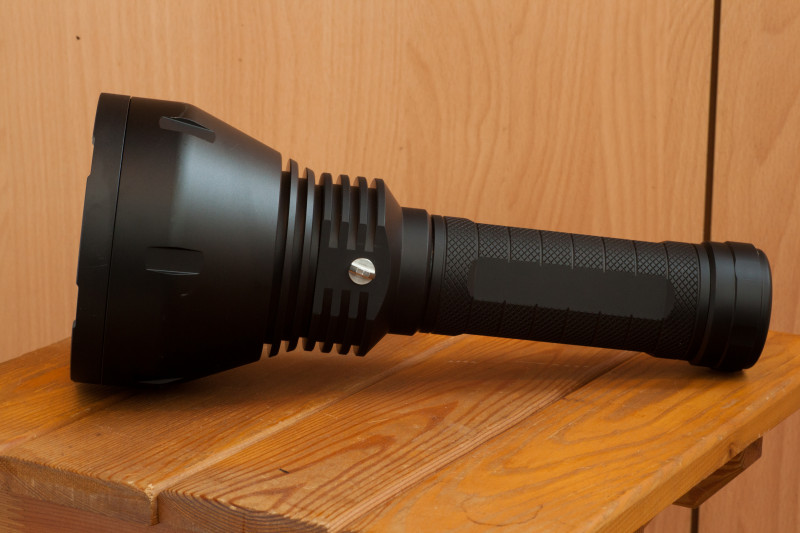 There is a small deepening at the tail with Lumintop logo.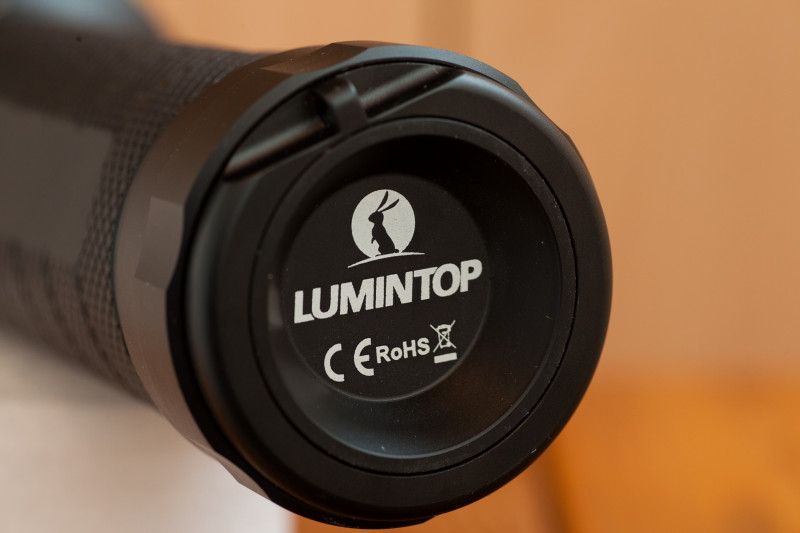 There is also rotating ring with hole for shoulder strap at the tail. At 1st I was surprised that this hole at another hole at head were not oriented correctly, thought that that is a mistake in construction. No, that is a good idea in construction that lets user to place strap properly, no matter how tight you screw\unscrew head and tail – shoulder strap will not be twisted.
Actually, i`m surpised that package doesn't include such a strap, because in China it would cost far less then 1$, i`m sure.
Tailcap is little bit wider than body to provide better grip.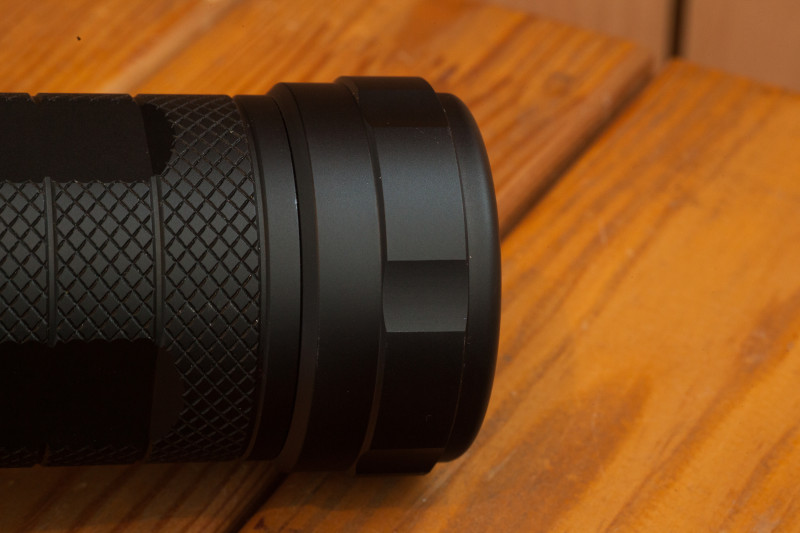 Shoulder strap hole itself.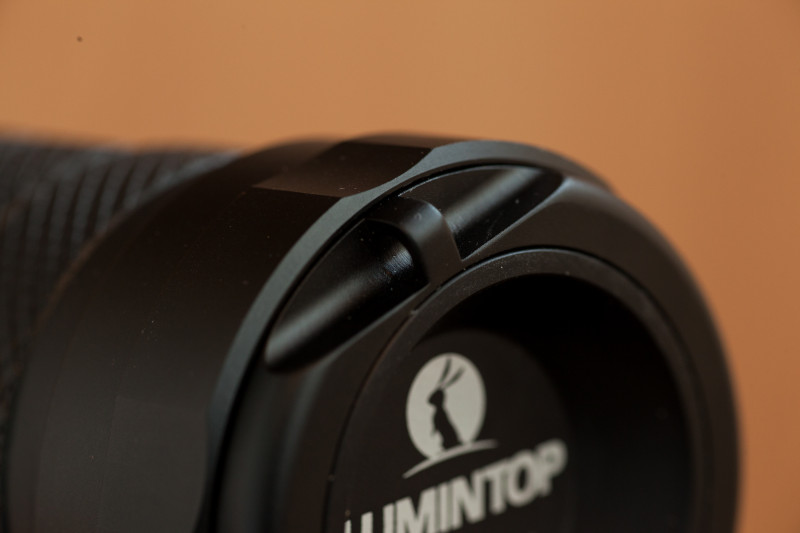 Inside of tail cap is is a blank wall wight QR code which leads to Lumintop website.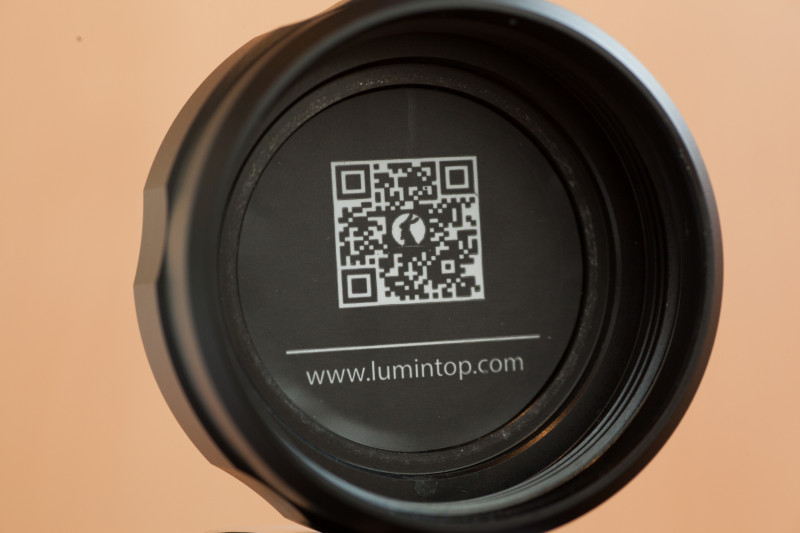 Knurling is traditional, good old "diamonds". As body it thick, there are some long chamfers to provide better grip.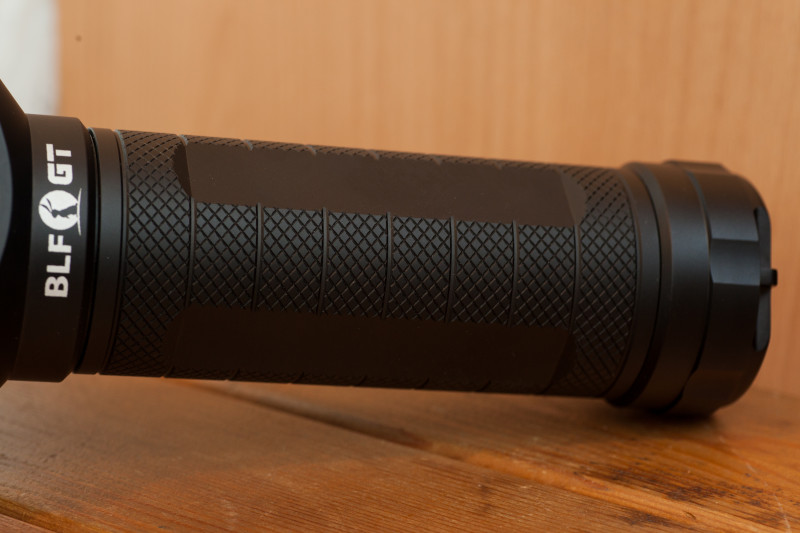 Threads are big, well lubricated and similar at both sides of body, so you can place it as you want.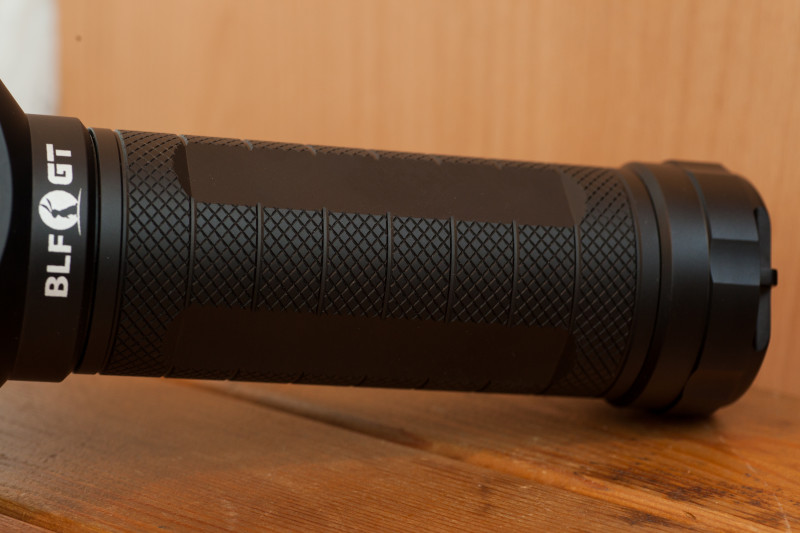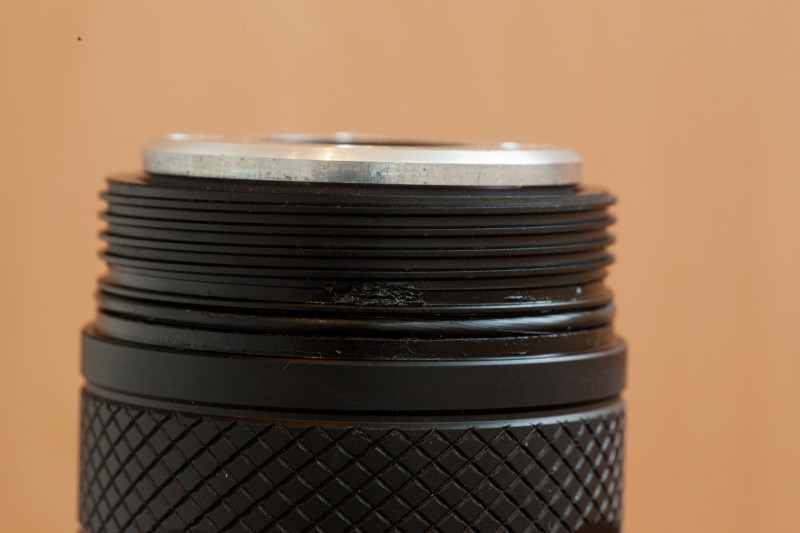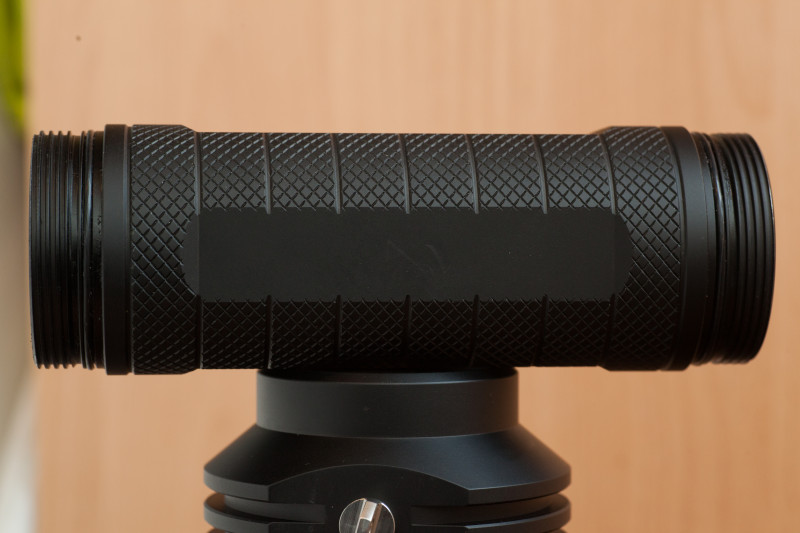 Texas Ace wrote me that 4×18650 version had bad balance, and 8×18650 is balanced much better, while user can still place only 4 batteries in carrier (tail carrier).
Carriers are built accurately. Convex contact plate has spring inside. There are arrow printed at the side to help to orientate carrier properly.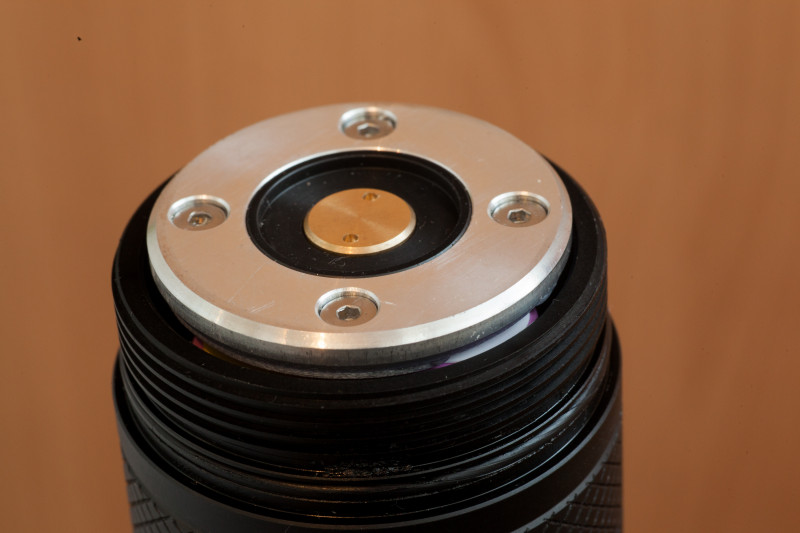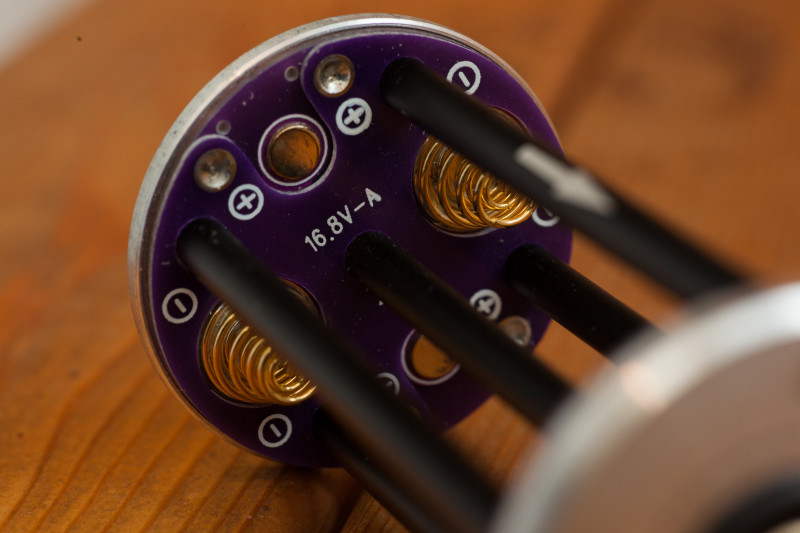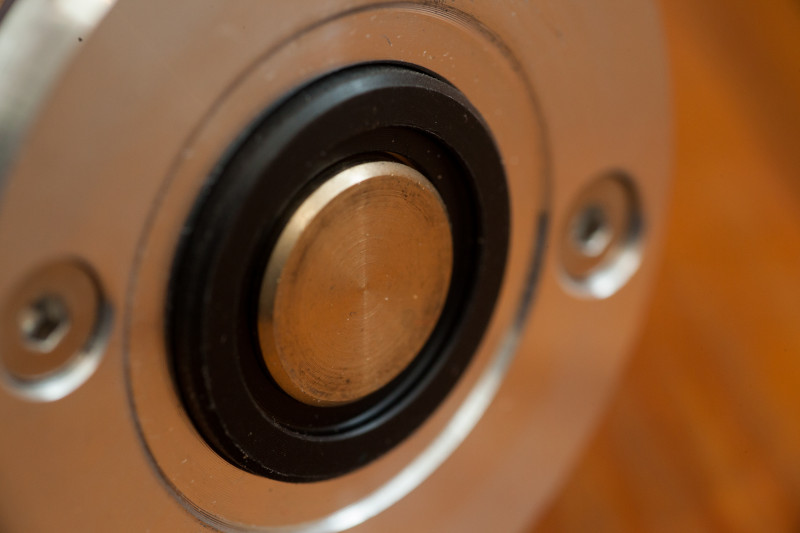 And here is a concave contact plate for convex one of another carrier .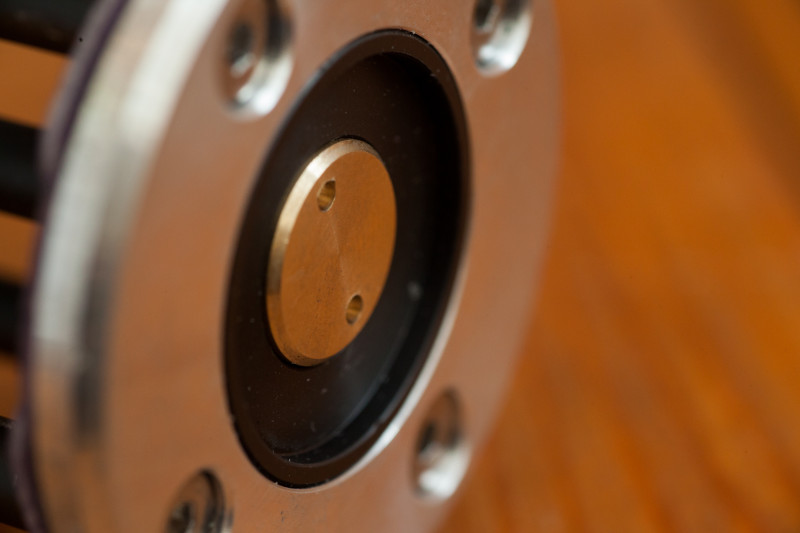 Btw, batteries, are already inserted in carriers and each of last one has sticker with warning!
https://pic.mysku-st.ru/uploads/pictures/03/92/45/2018/02/06/c23580.jpg!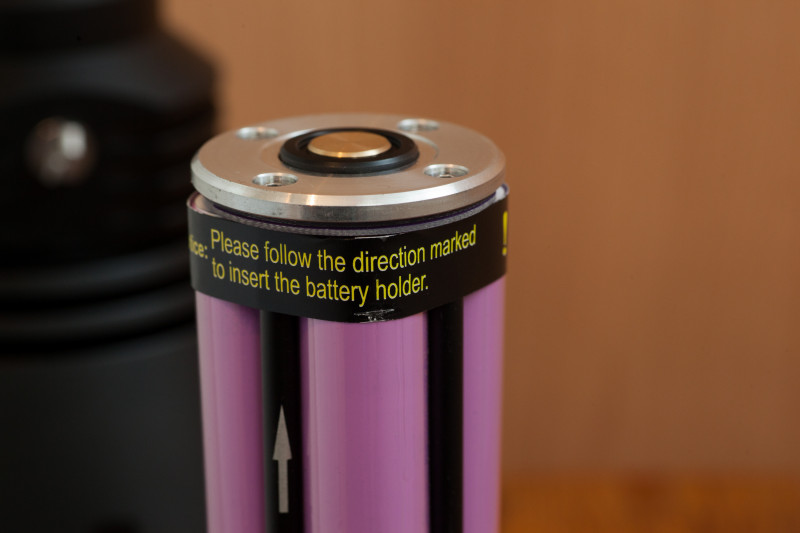 Again, for safety purpose, each battery contact is covered with sticker.

If you buy GT without battery, make sure you have Button-top ones, Flat-top will not work here.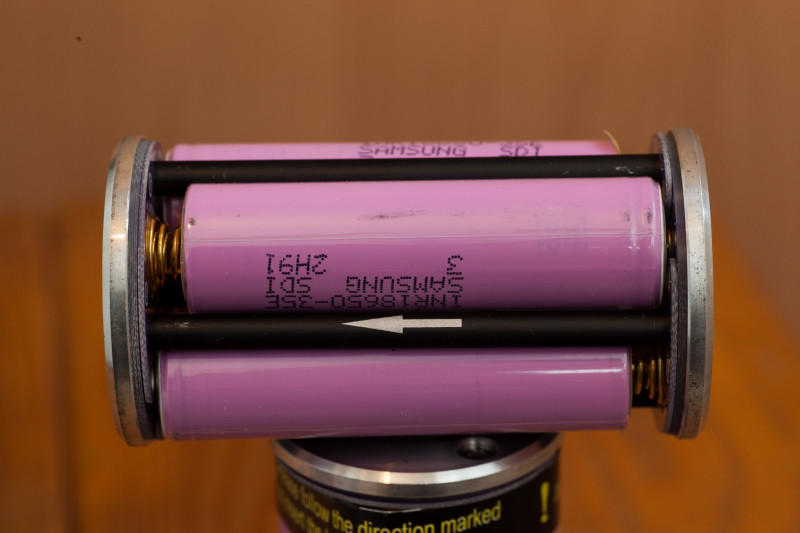 If you buy "all-include" version, Lumintop sends you set of Samsung 35E.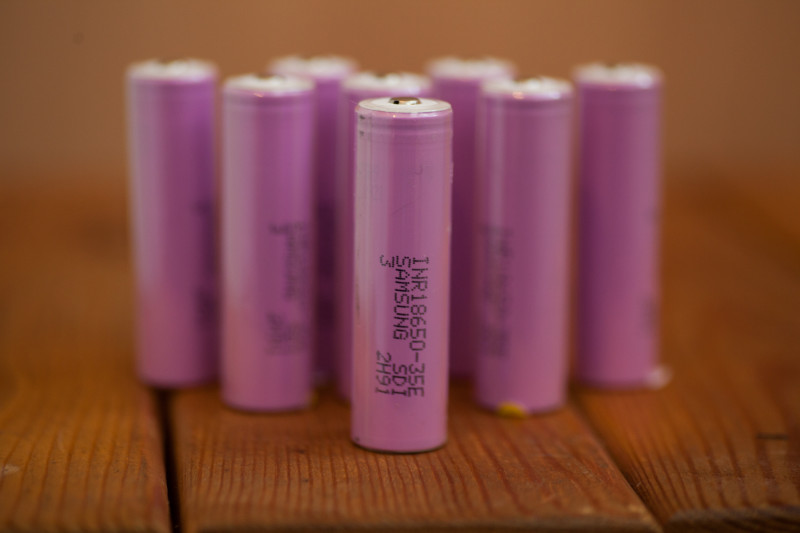 As I mentioned above, you can work in 4х18650 mode, just place empty carrier to head, and carrier with batteries at tail to balance GT properly.
There are a big contact plate at head. Also, you can see 3 famous letter were at driver) Last one is also famous one – Narsil.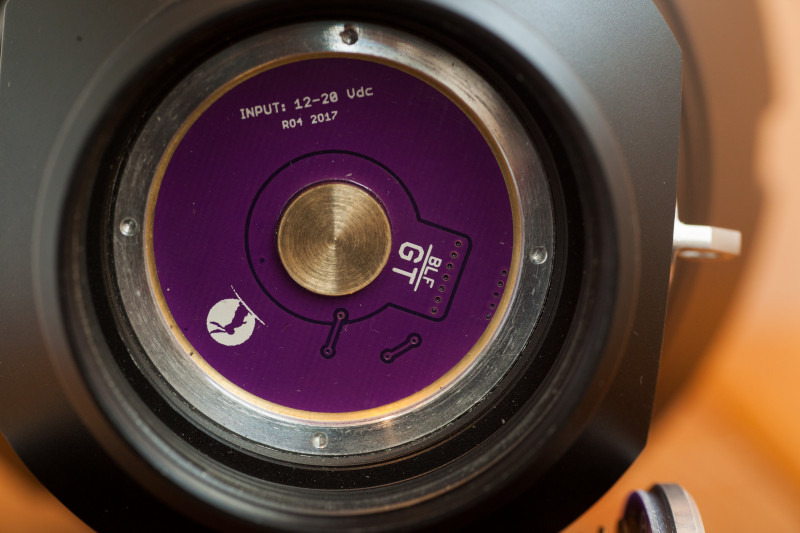 Head. That is no head, that is H.E.A.D!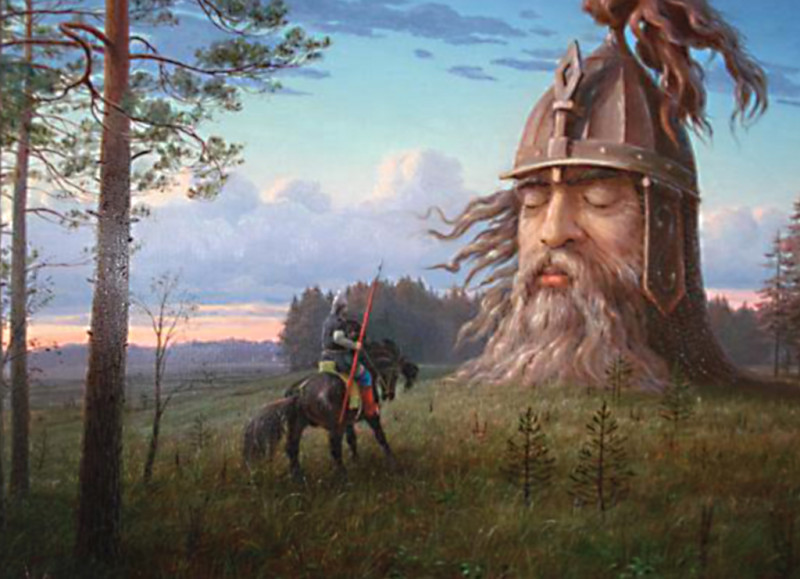 Take a look, S2+ looks like roach being swallowed by pike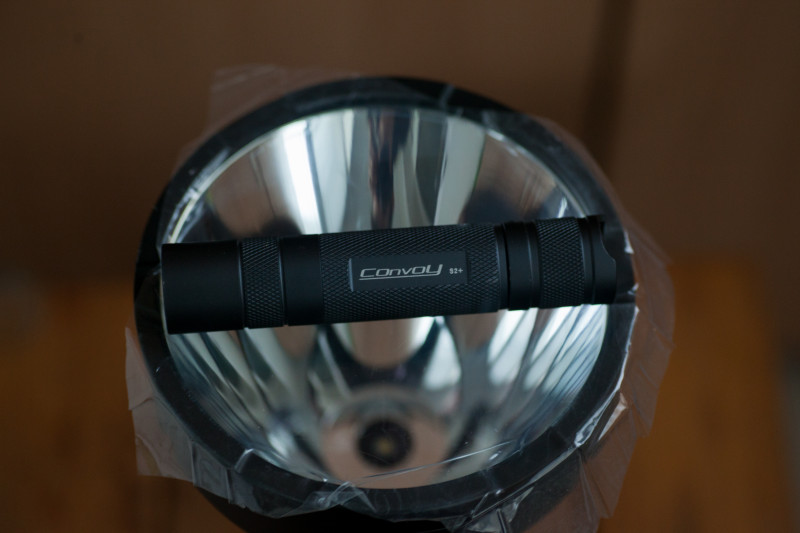 Cooling ribs are huge and deep. You absolutely shouldn't be afraid of overheating. May be, may be if you gonna use it in Mohave desert, you`ll face one. But in 99% of places light will transfer and dissipate all heat.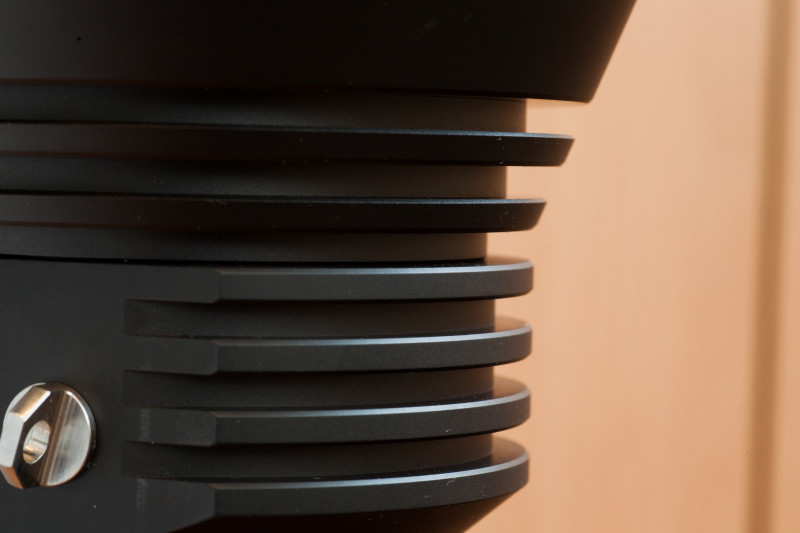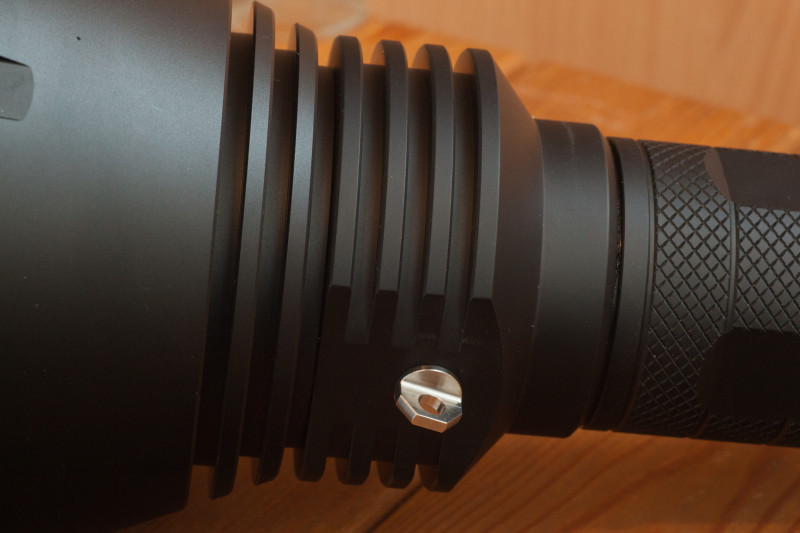 Shoulder strap hole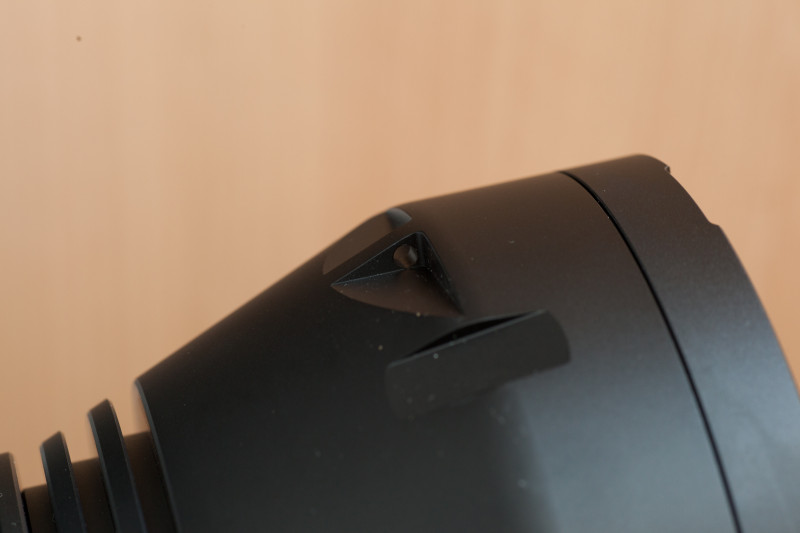 Button looks small, but that's only due to enormous size of head, in reality button is big enough so you will not waste time searching it. And to forget about blind search, button always (you can turn this off) glows green, which is very convenient.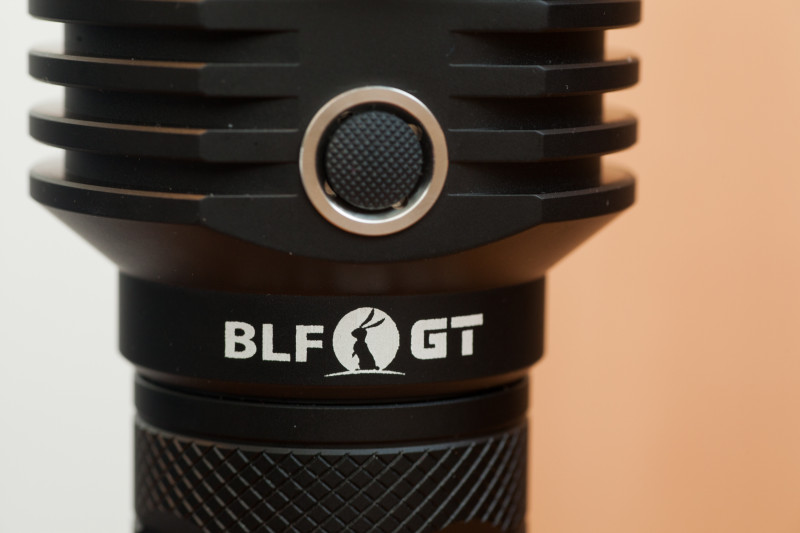 !https://pic.mysku-st.ru/uploads/pictures/03/92/45/2018/02/06/4115ad.jpg!'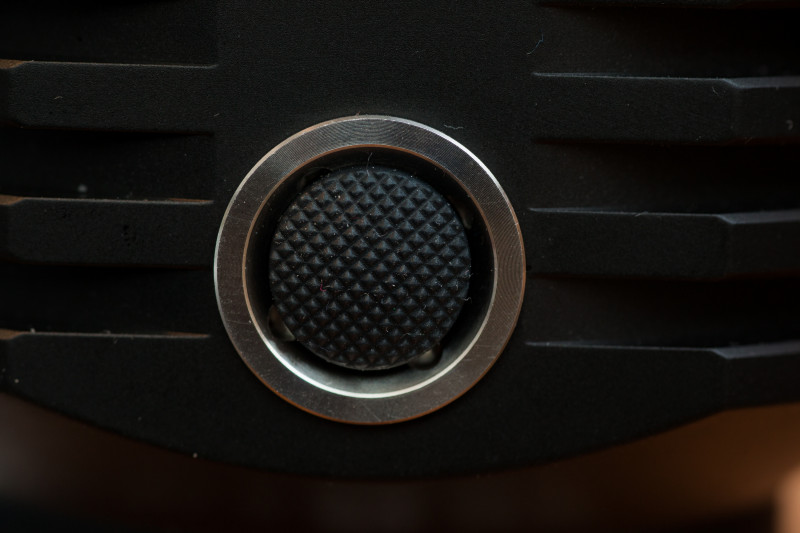 Of course, reflector is SMO with perfectly cantered dedomed Cree XHP35.
Right from factory glass is covered with transportation film.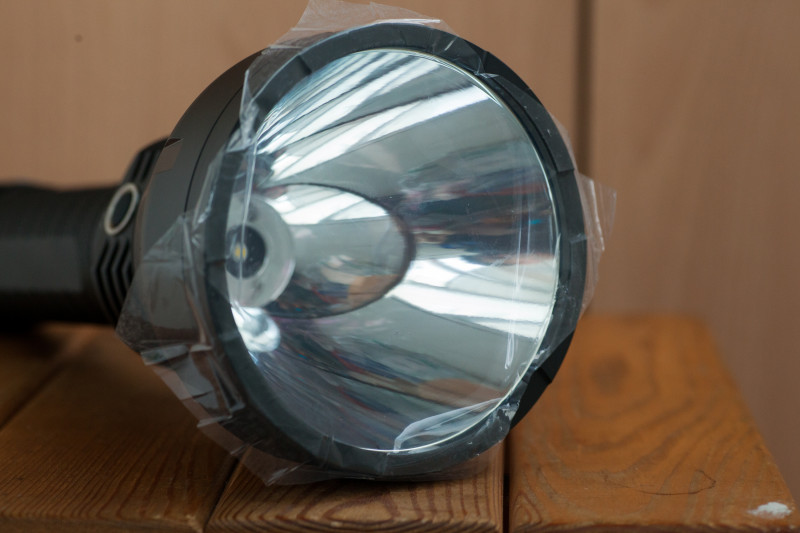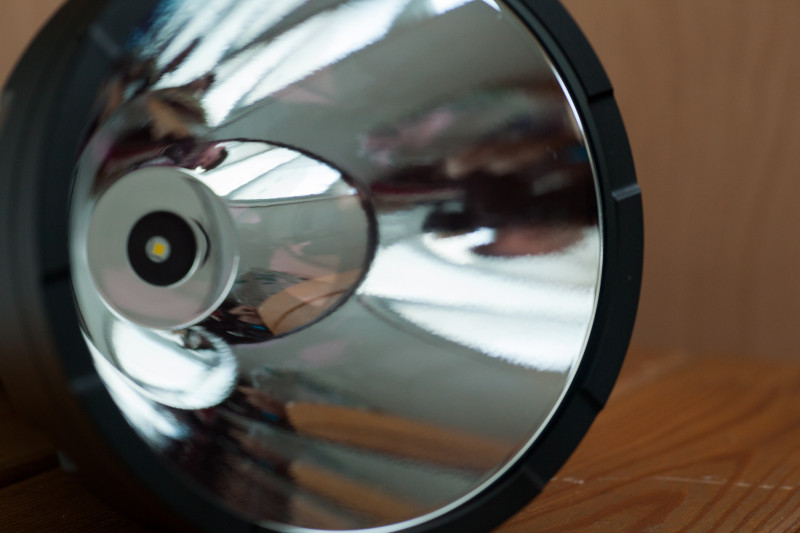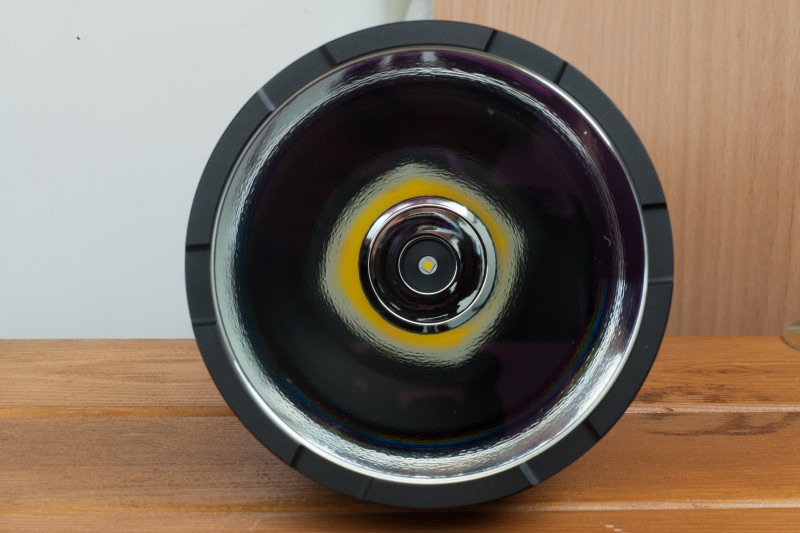 I couldn`t disassemble head, If anyone can provide me with photos, i`d appreciate and include photos into review.
Though GT looks bulky, it fits hand quite good. But, of course, you have to be REALLY big guy to use it without shoulder strap for a long time.
You can craft something like this to easier grip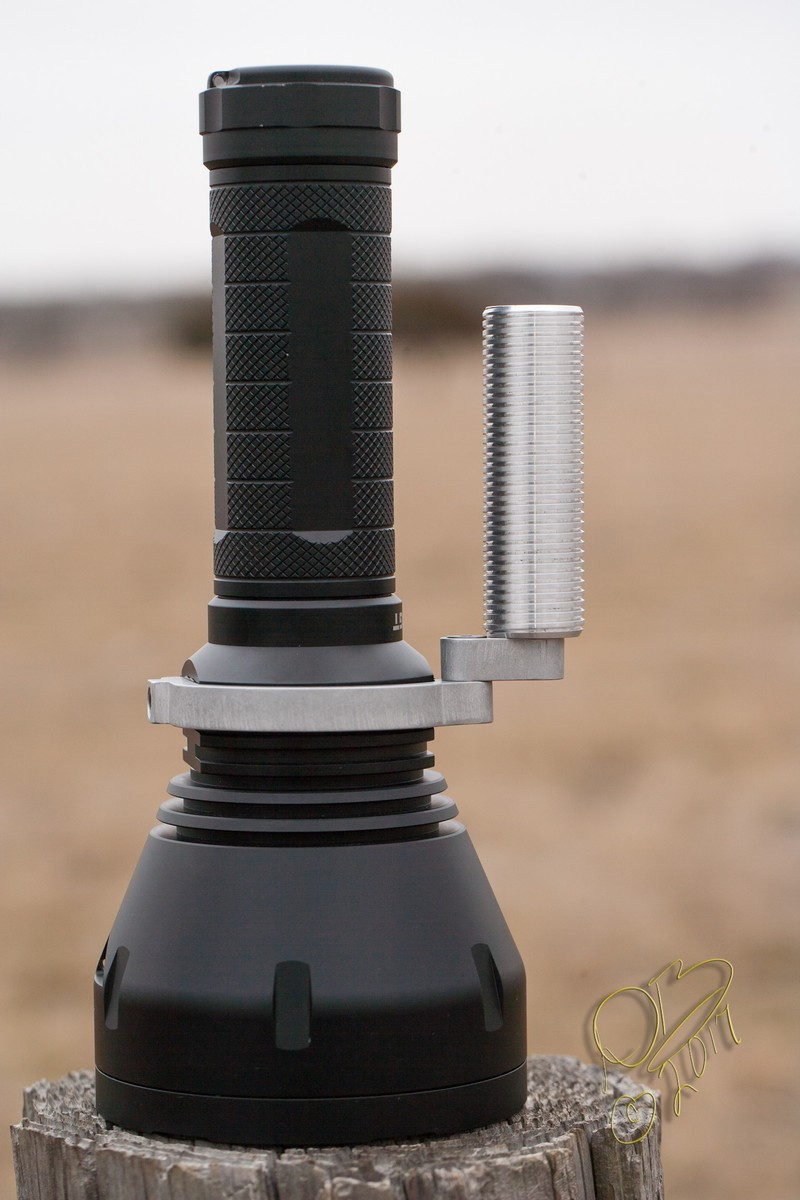 UI.
Just leave a link to manual thread at BLF, that is better than to copy it here, as there are may be good comments.
At 1st I was really confused. But it took me like 15-20 minutes to figure everything out and now, got used to it, I can say that UI is really flexible and enables you to tune GT as you want.
NOTICE!
I faced quick stepdown, and spent a lot of time trying to figured out cause. Then I asked Texas Ace, quoute him "it is easy to start calibration mode when changing settings in the menu and cause it to think room temperature is hot enough."
Though I consider my language skills to be good enough, I still don't understand from manual how to set trigger point for stepdown. I ask to explain me this comments.
As there are no chance of overheating, you simply can turn thermal stepdown off in setting.
PERFORMANCE
Support thread here at BLF
There is no PWM-shimmering at any mode
NW light (pls write K if you know exact number, I assume something like 4-4.5k)
Light is, no surprise, "piercer".
From left to right : mankerMK35\GT\thrunite TN42 0.5m from wall. You can see that GT light has black hole in the middle, light is not focused at this distance.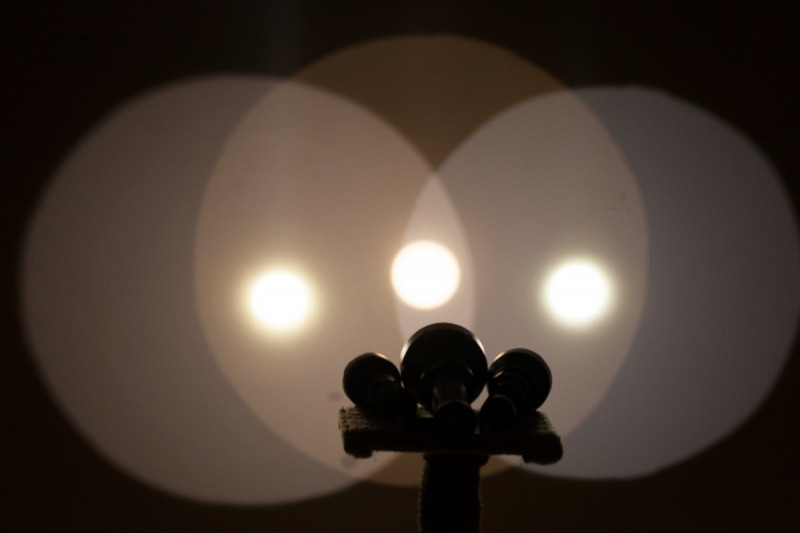 Here is my runtime chart. It is REALLY impressive! 10 hours of 50% is something, especially with the fact that it`s almost the same as turbo of MK35.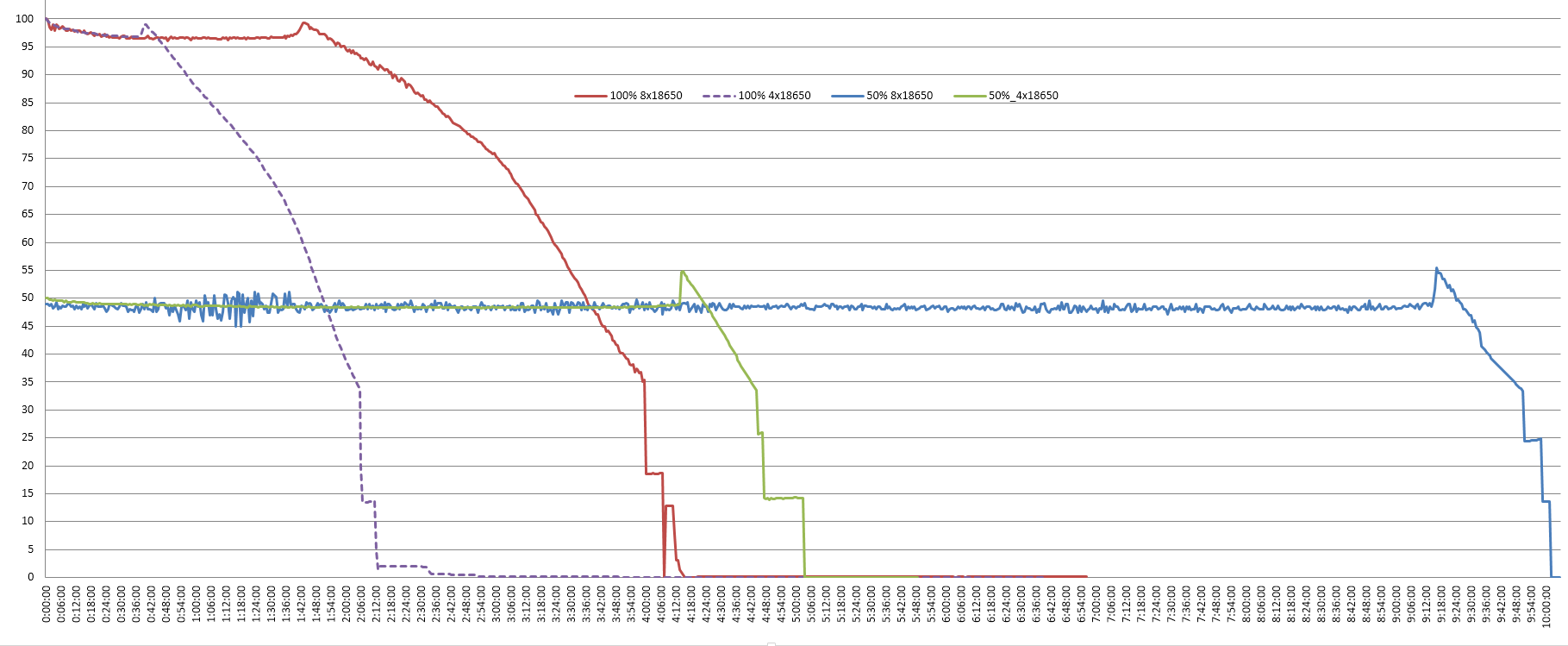 Below is what my luxmeter shows at about 7m distance. I don't recalculate it into candelas, as result always incorrect. Nevertheless, numbers themselves are precise enough to show how this well-known throwers relate in reality.
Convoy C8 Cree XML2 U2 – 1A 960Lm 7135×8 1060
Utorch UT02 2470
Manker MK35 NW 12700
Thrunite TN42CW 17500
BLF GT 2.0A 26400 */2.5A *28800
Difference in significant! UT02 is a decent thrower that I like for perfect ratio of price\usability\throw…and GT is almost 10 time better!
And most interesting part – how GT illuminates things around. Please take a look.
I`ve spent 500$ for 100-400mm camera lense to test GT performance, as only this lense one can show reall output in details. Hope my money are not wasted and you`ll find pics usefull.
I must notice that even 1% formed visible hotspot at 50-75 meters from me. 1%!
12.5% is equal to UT02, 25% covers 100% of regular needs (if you don't use binoculars)
All the flashlights except GT are at their turbo mode.
Sorry, but i couldn't find any place without parasite light, and winter itself is a bad time for reviewing flashlights, because snow reflects so much light…
175m
Btw, daylight photo, house in the middle left is the same from 400-450m GIF.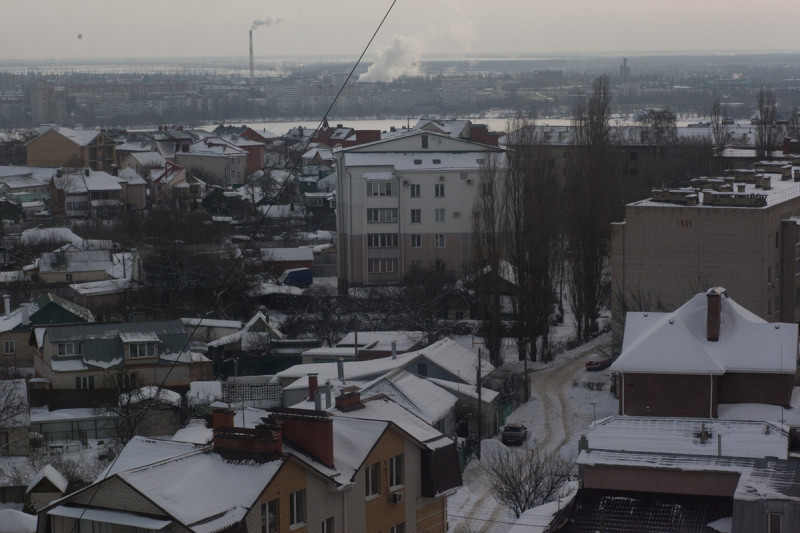 Even 12.5% mode is damn good. This mode will last for DAYS!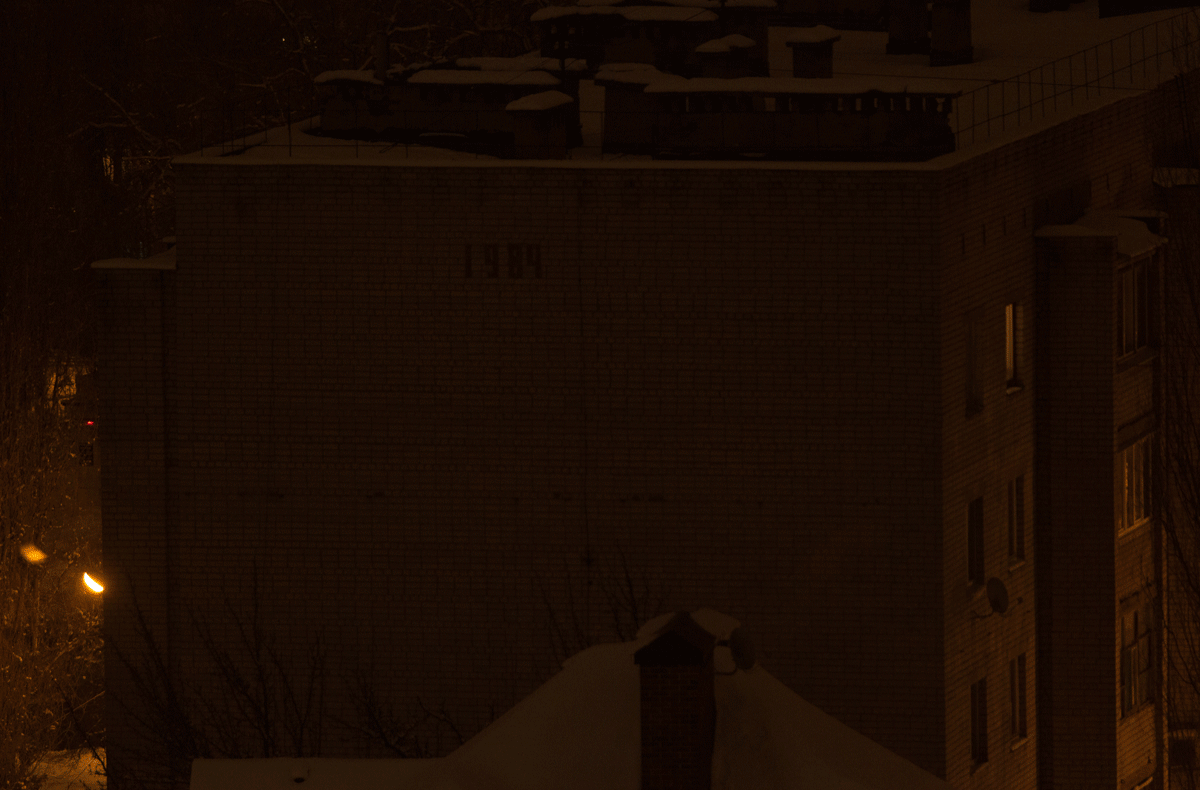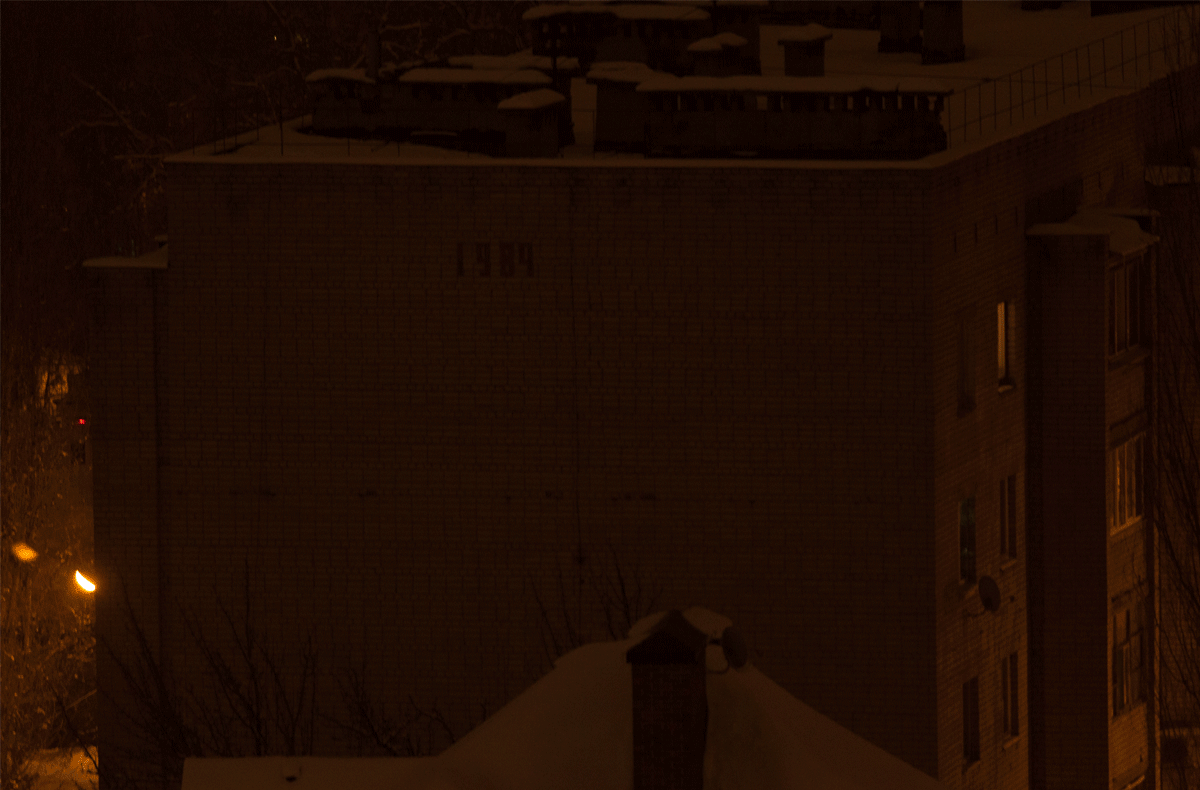 About 350m.
That is limit to UT02 abilities.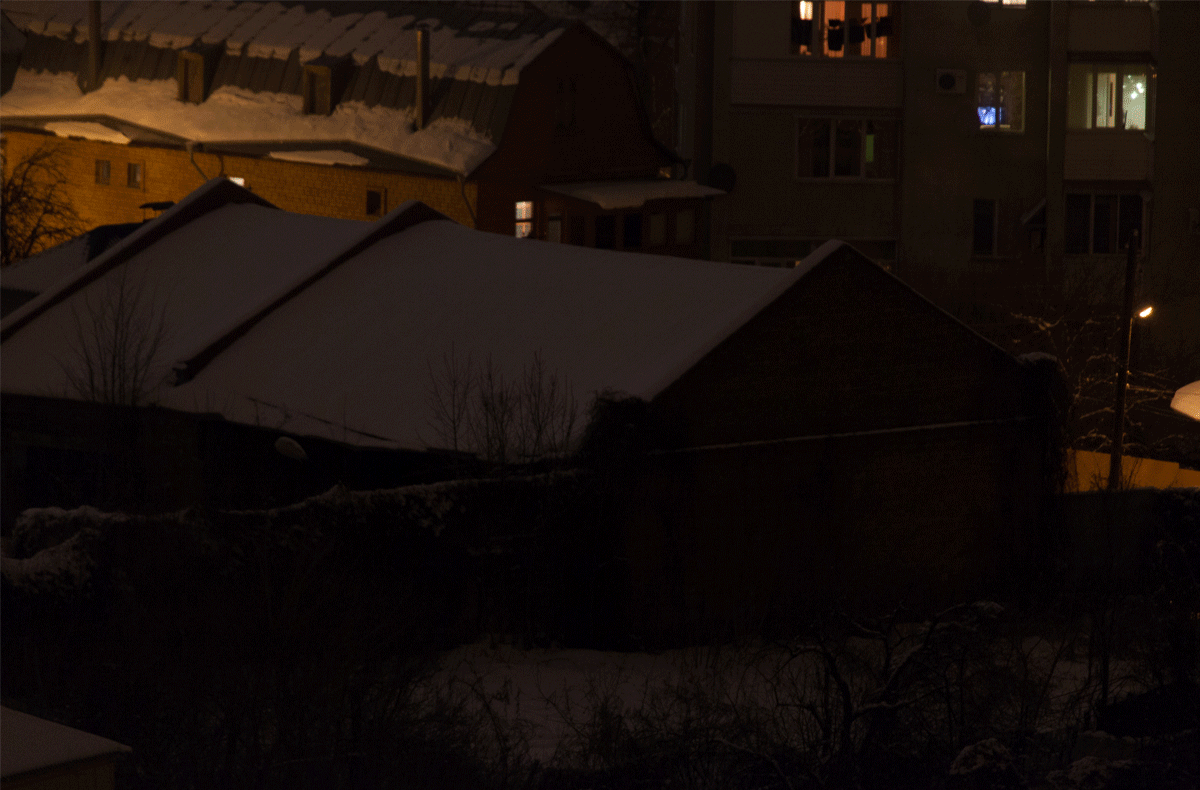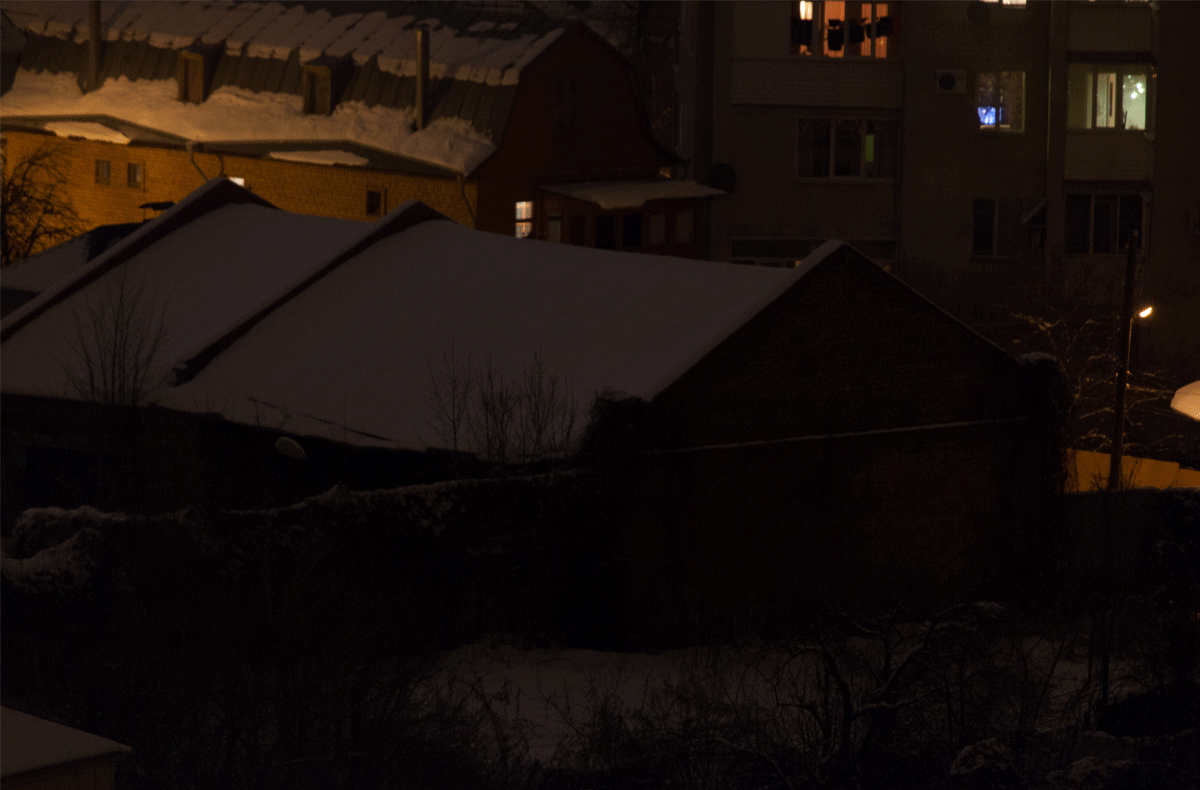 About 400-450m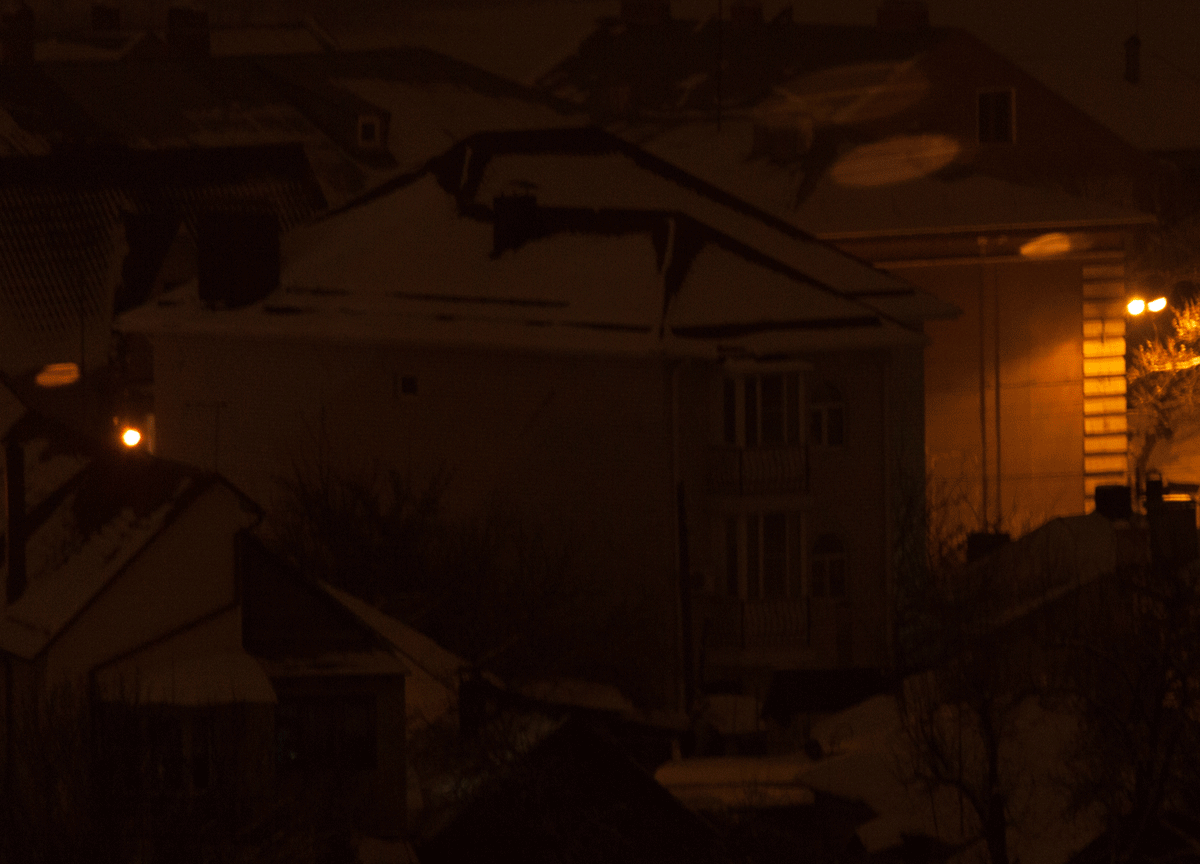 Exactly 800m to house wall.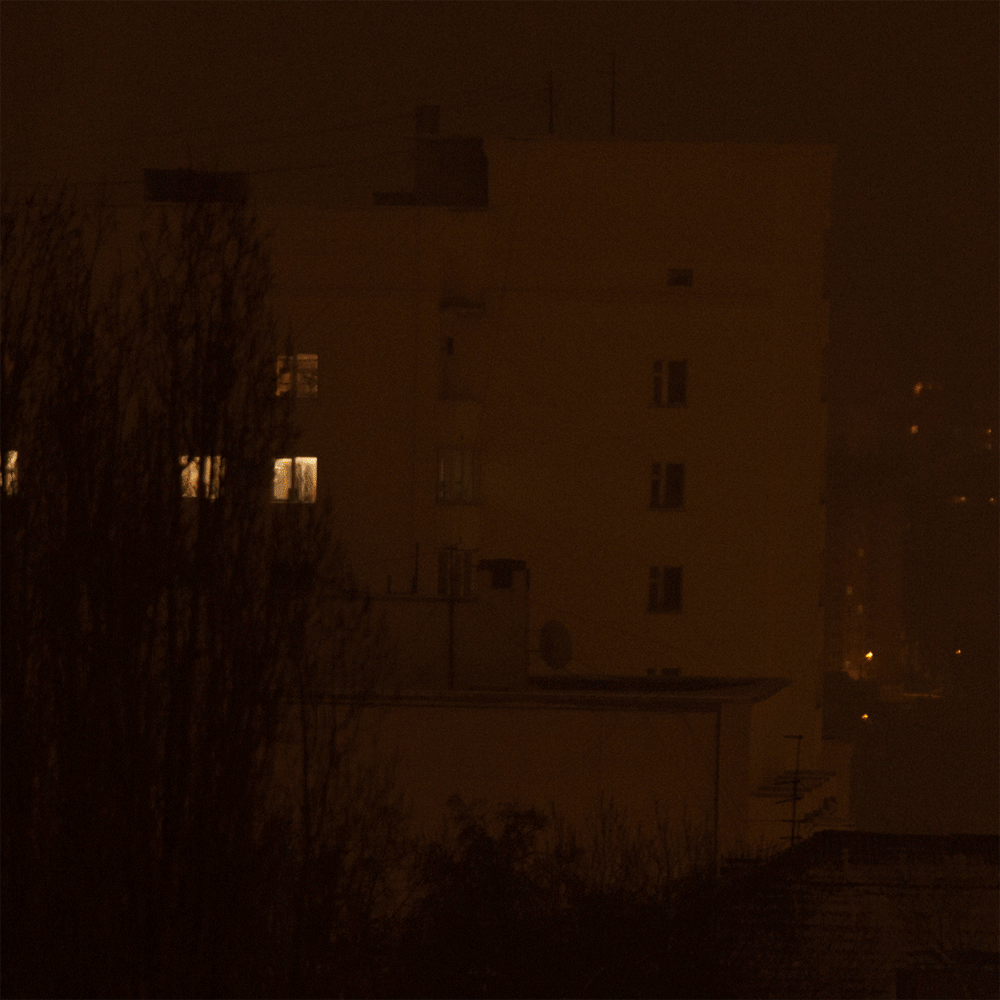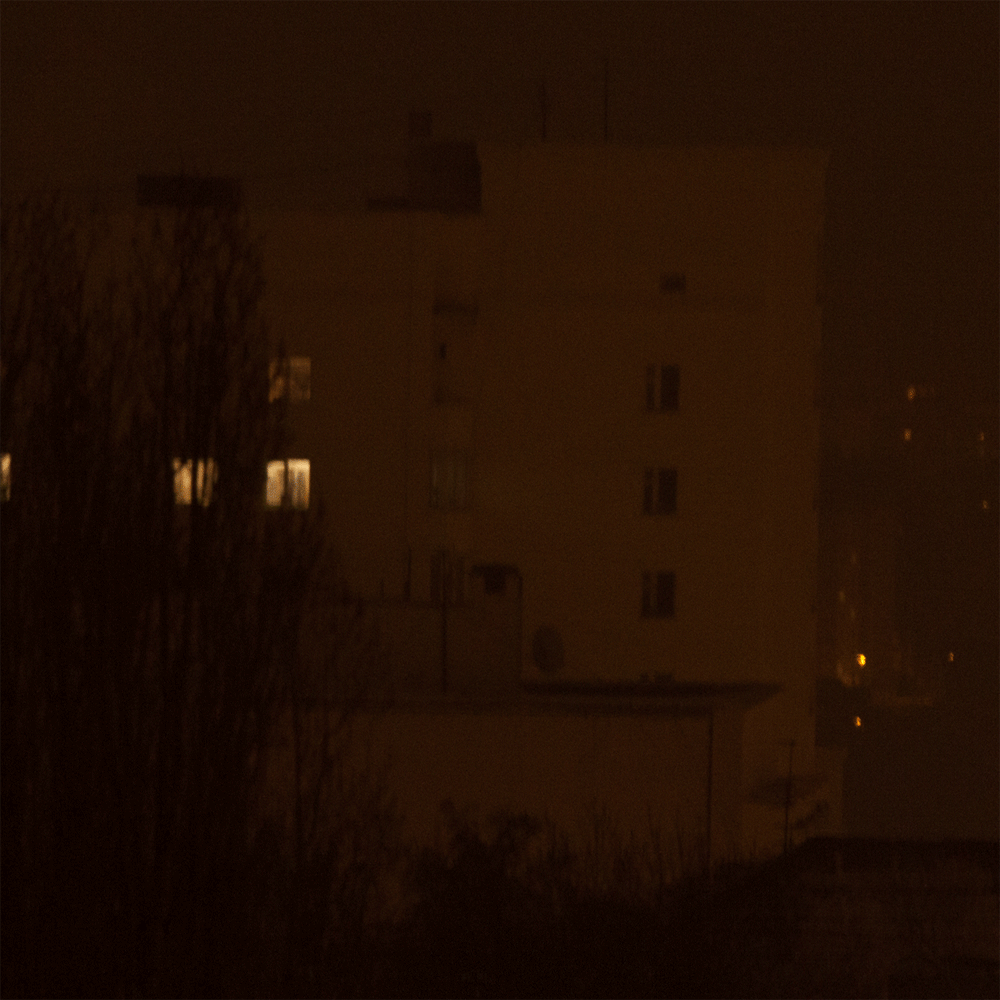 1km distance will be illustrated by only one pic, as other pics were really blurry. Still, you can evaluate throw. Distance is exact. I have look at camera display to see where I point light, naked eye really don't see any detail at this distance. The limit of naked eye I consider to me about 400m.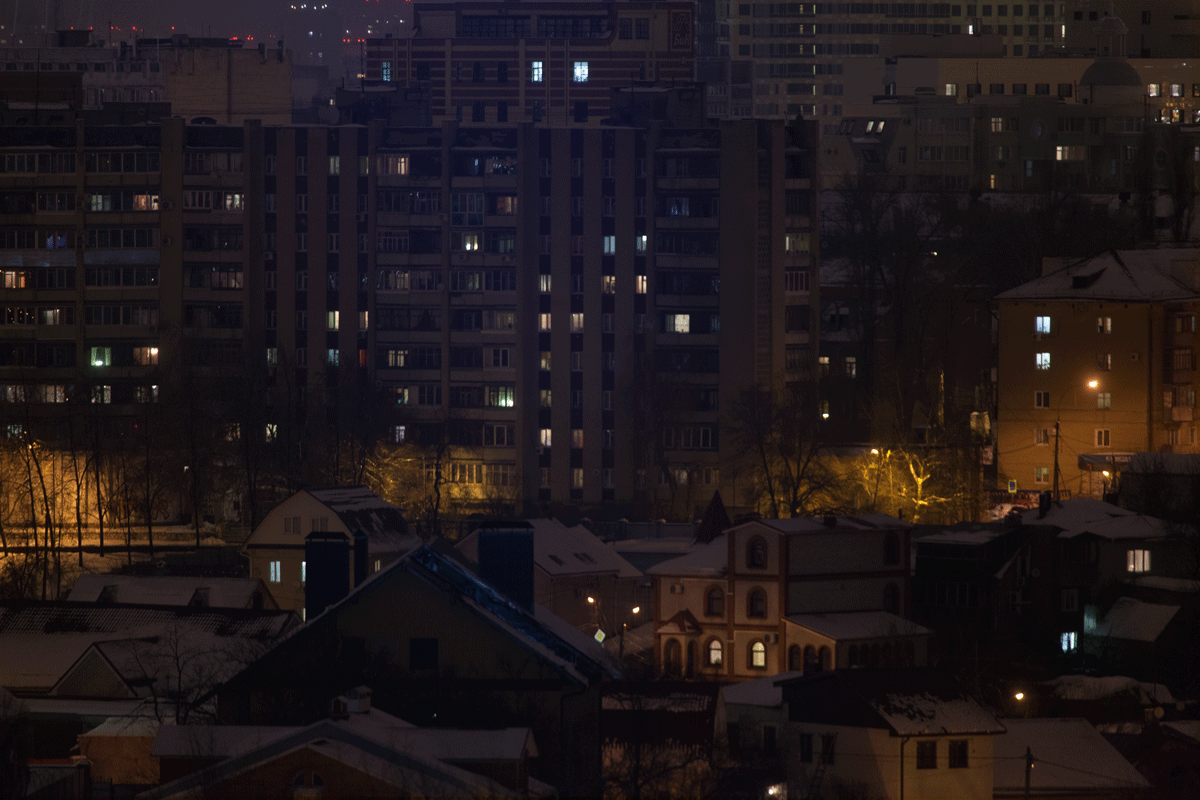 OVERALL
Exreme product in size and functionality. Performance of all others throwers, comparing to GT is "battle of frogs against mices", epic Βατραχομυομαχία, where GT is sent by Zeus invulnerable cancer, superior to all others. It`s BLF-crafted wunderfaffe, portable photon cannon which can blow eyes of anyone in 100-150m range.
Still, you have to understand that GT will show it`s full power at 1km + range, where you really can see something only like Motra flying over Gojira head, you`ll simply will not see anything smaller at such distance. That is why i don`t think that 100% in 2.5A mode will be better than 2A, which is more stable.
I personally prefer Ramp mode with strobe and thermal stepdown disables.
At 400-500 meters I could tell GT from MK35 and TN42 only looking at camera display as well, too far for human eye.
Still, at this range 50% mode will performe like TN42 or MK35 in turbo (which will not last long) , and this light will last for 10 hours for GT!
UI is flexible and simple, for it may confuse you at 1st time. Just spent some minutes playing with GT, and you`ll see how logical is UI.
Yeahh, finally, I did it.
Hope next forum monster will be something VERY bright, may be around 50klumens, good companion to king of throwers.
I will appreciate if you add some info if you have one, i`ll include this in my review, to make it as much informative as it is possible. Also, i dont` overestimate my skills in English language, feel free to pm me to point at mistake or offer better variant for text. let`s make this review better together.