Disclaimer: my Sofirn C8T sample was provided free of charge for me to express my humble opinion on it.
0K my dears, it's been some time already since I got the torch and finally more or less I have it. I had plans for some detailed current measurements and it has been a little hassle. Luckily I have a few interesting pics and data to share, and I'll be adding my disassembly impression and pics in a day or two. I just wanted to first share this worthwhile information.
My C8T's firmware is an early prototype version with low/mid/hig modes and double click to strobe. Bollocks! It indeed has the second group as in the advertisement description, can't really recall how did I presumed the above mentioned @#$%, maybe I missed a click as you have to click 3x times fast for the group mode to change (this is good, if not people would have complained of slow mode shift).
Let's start!
Sofirn C8T. Official specifications.-
From Sofirn's AliExpress site:


Sofirn New C8 with 2 groups and easy to change group, with 3 series, C8A, C8T and C8F
Operation Reference
ON / OFF: Full press the tail switch to activate or deactivate.
Group Set Operation: When on, 3 click continuously, the light flash 2 times and then automatically goes to next mode group.
Modes Set operation: when on, half press to change or cycle modes: Moonlight / Low / Medium / High / SOS (group 2) or Low / Medium / High (group 1).
Hidden Strobe: When on, 2 half click continuously to activate Strobe, and 1 half click to return to original mode.
C8A: Adopt 1 Cree XP-L2 LED with max 1747 lumens
C8T: Adopt 1 Cree XP-L HI LED with max 1310 lumens
High brightness automatically turns to Medium brightness after working 3 minutes, So the running time of High is accumulated . 3000mah 18650 battery used in test.
Specification:
√ CCT Range: 5350K-5700K, Neutral White (NW)
√ Voltage: 2.8V-4.2 Volts
√ Power: C8A--(18W,Max current 5.6A) , C8T--(14W,Max current 4.5A), C8F--(20W,Max current 6A) Please be sure your battery could support this high current
√ Dimension: 44.6mm(head) *24.5mm(body diameter)*144mm(length)
√ Net Weight: 140 gram (no battery included)
√ Material: 6063 aircraft-grade aluminum alloy
√ Light Cup: smooth reflector
√ Made by 6063 aluminum alloy, CNC machines, Premium type Ⅲ hard-anodized anti-abrasive finish to get solid built body, anti-crash and better heat exchange 
√ Toughened glass lens with AR coating, anti-crash and wearable
√ The water-resistant level is IPX-8, it can be used in underwater 2 meters for 30 minutes. And it is used in rainstorm.
√ Mode Memory: Yes. The current mode can be memorized if the flashlight turns on more than 2 seconds. Turn it on next time, it is the original mode memorized.
√ Low voltage protection: Yes. The light is automatically turns off when the voltage is lower than 2.8 volts. The signal is that the light slowly flashes for 1 minutes
√ Reverse polarity protection, to protect from improper battery installation. The light is off if battery install improper.
√ Battery:  It powered by one 3.7V 18650 battery  ( not included,battery should support over 6A, suggest unprotected battery)
Sheesh! Glad I was able to grab the embedded piece of code in the product page, it has made my life much easier.
Official product link: https://www.aliexpress.com/item/Sofirn-New-C8-Tactical-Cree-XPL2-LED-Flashlight-18650-Powerful-Flashlight-Portable-Torch-light-Two-Groups/32829685476.html
I am not going to expand on this too much, right now I'm a bit tired. This flashlight uses a standard Ø17mm slot driver, but Sofirn uses a new dual high and low power MOSFET design. The high power MOSFET is a 9926A (confirmed) and the low power one probably an AO3400 is yet unknown.
My kitchen scale measured around 142.5g of weight for the torch with the strap attached, 189g with a solder-blobbed Samsung INR18650-30Q inside.
High to medium stepdown timer specified at 3:00, my sample does it at 3:25.
Pics!
Daylight white balance was used for all of the pictures.
First a few beamshots with my
obsolete smartphone, pics with an HDR label are HDR as you may guess: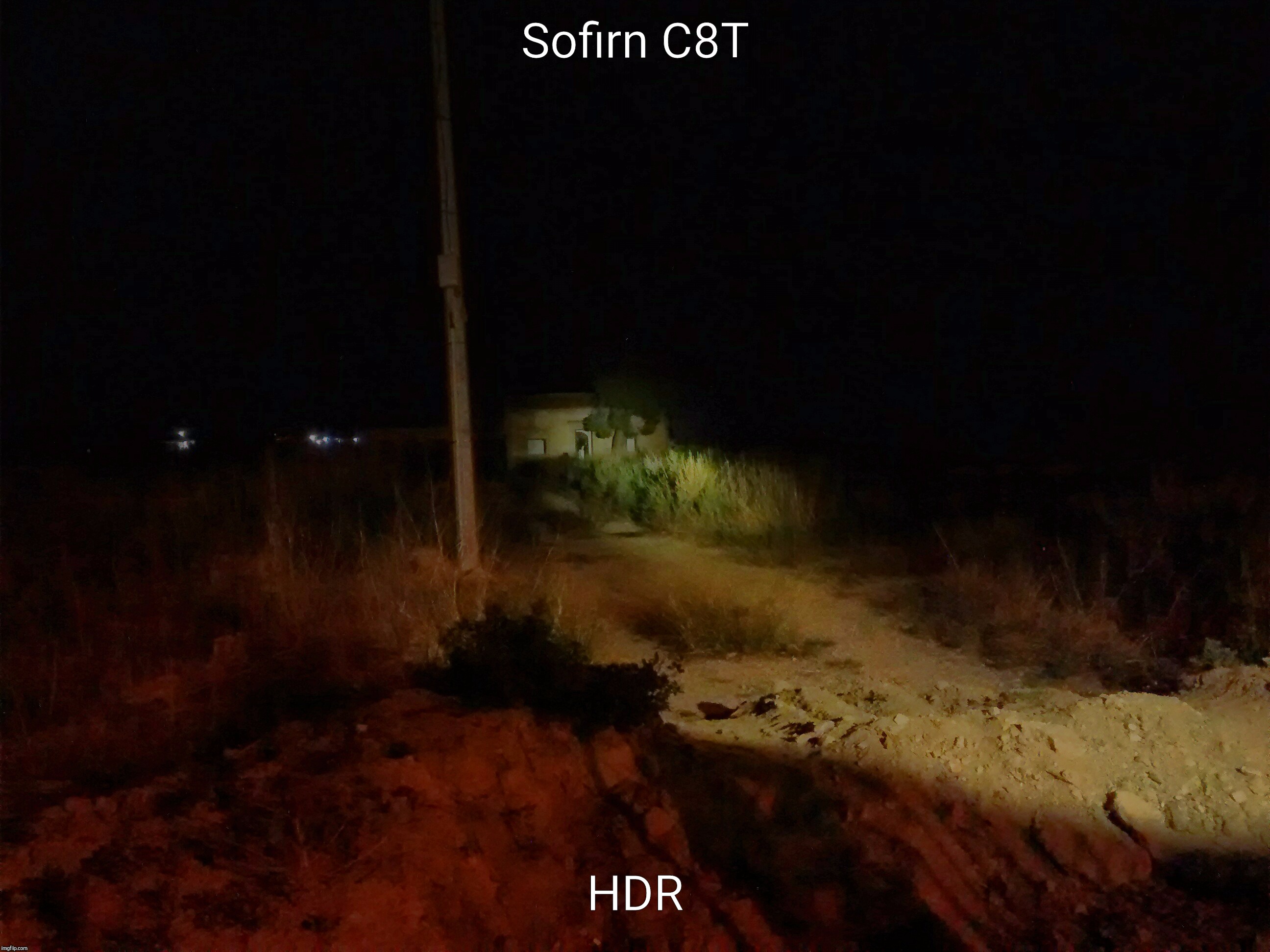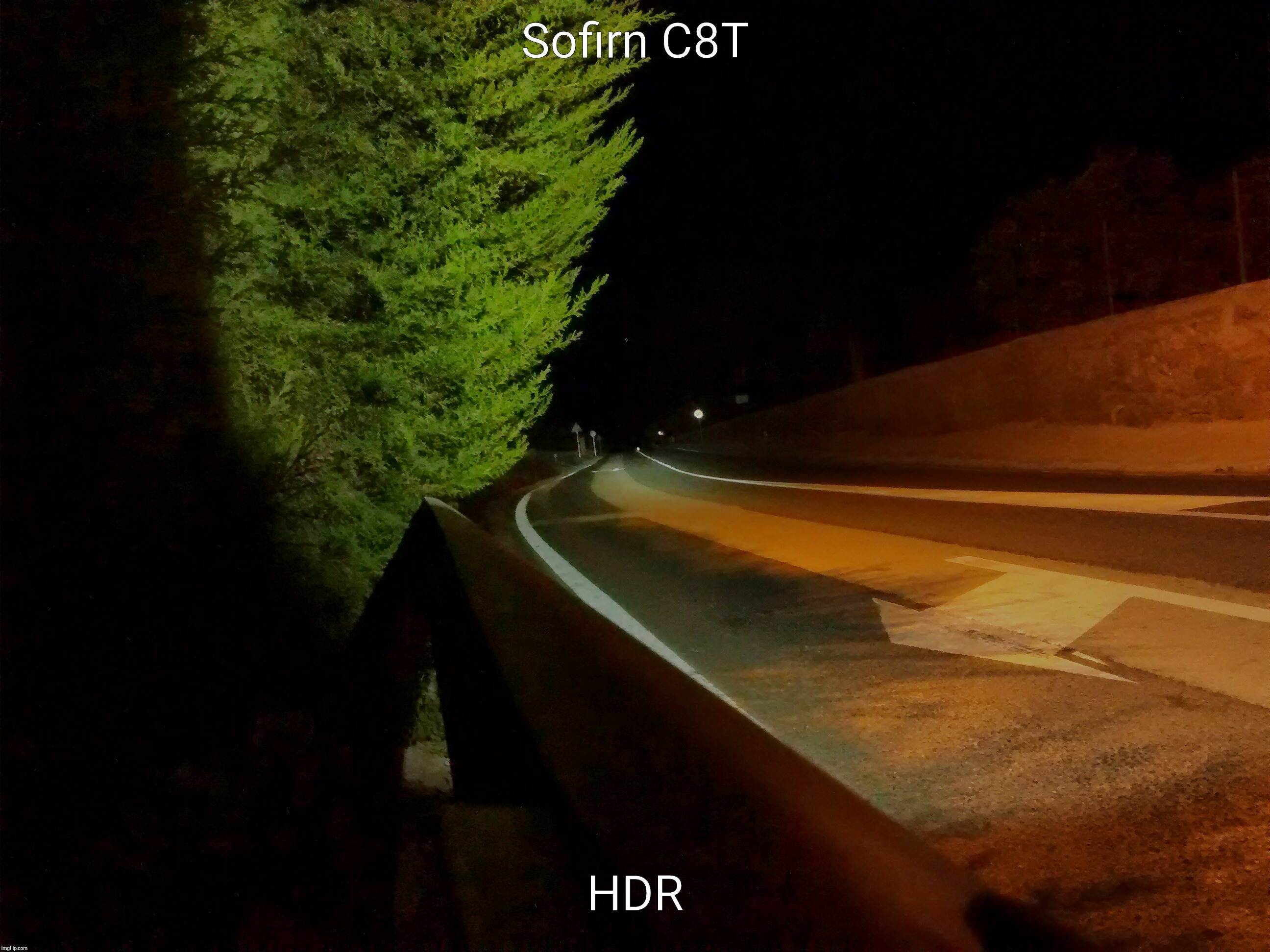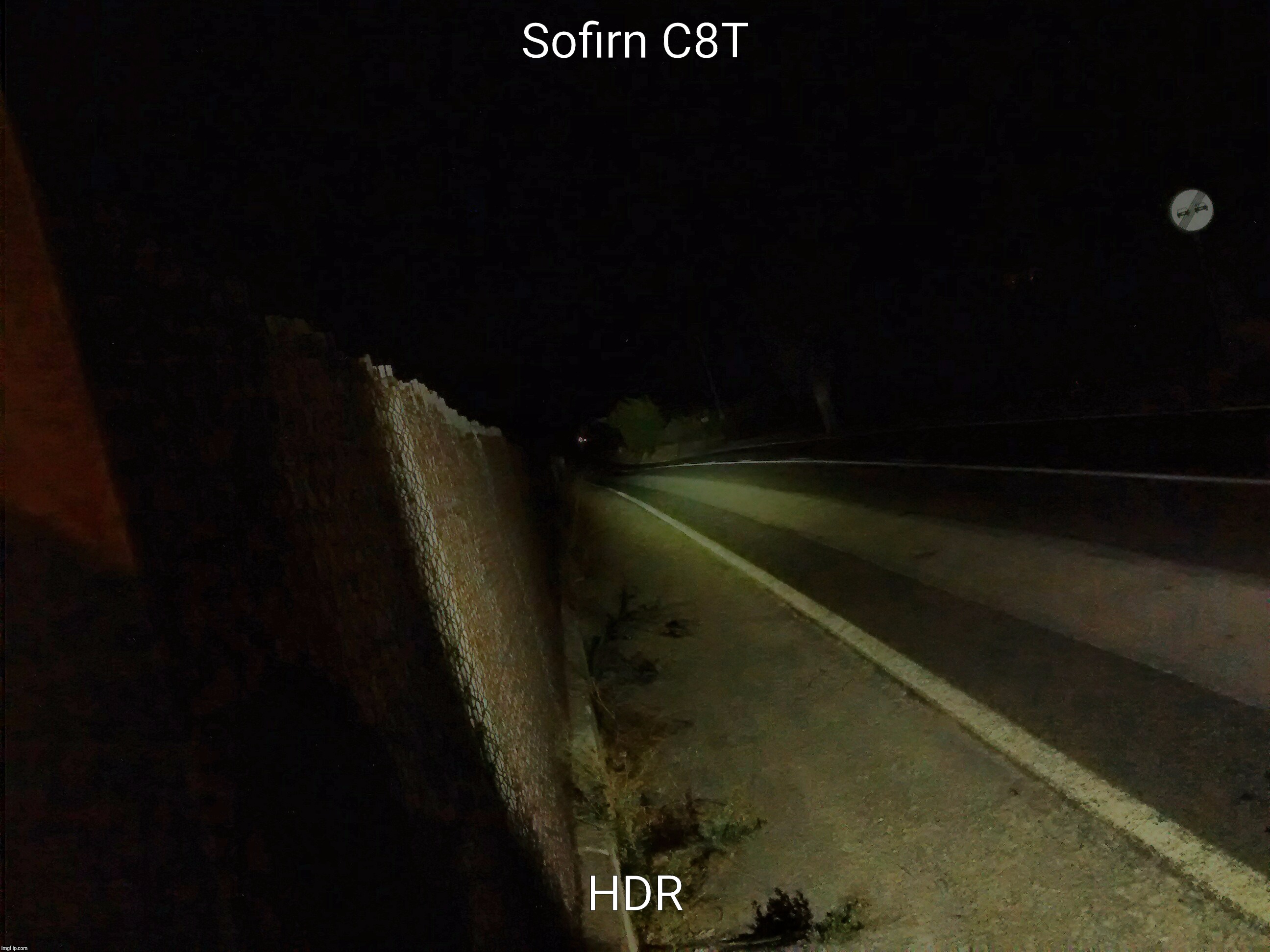 Next picture was taken both in HDR and standard modes: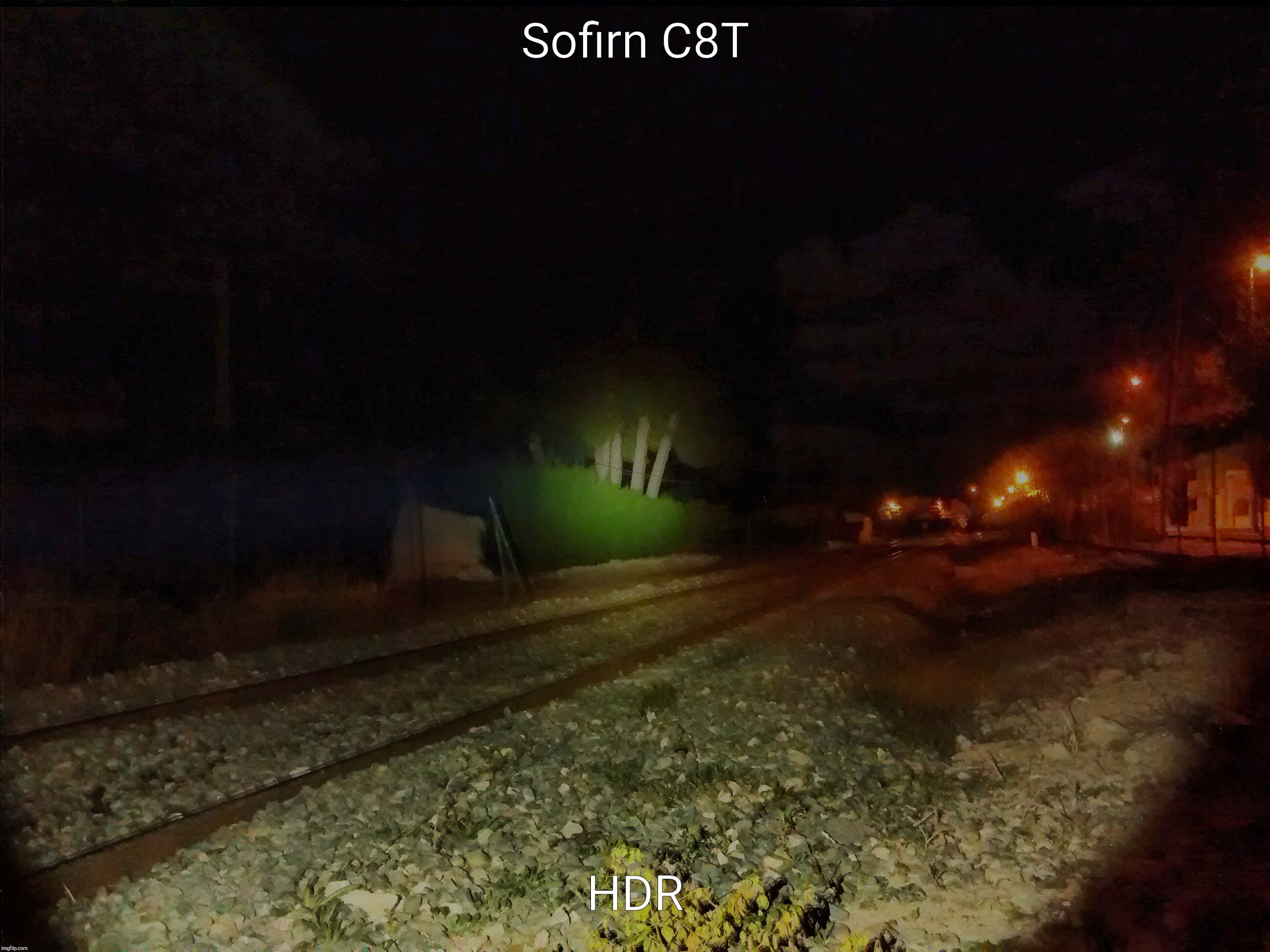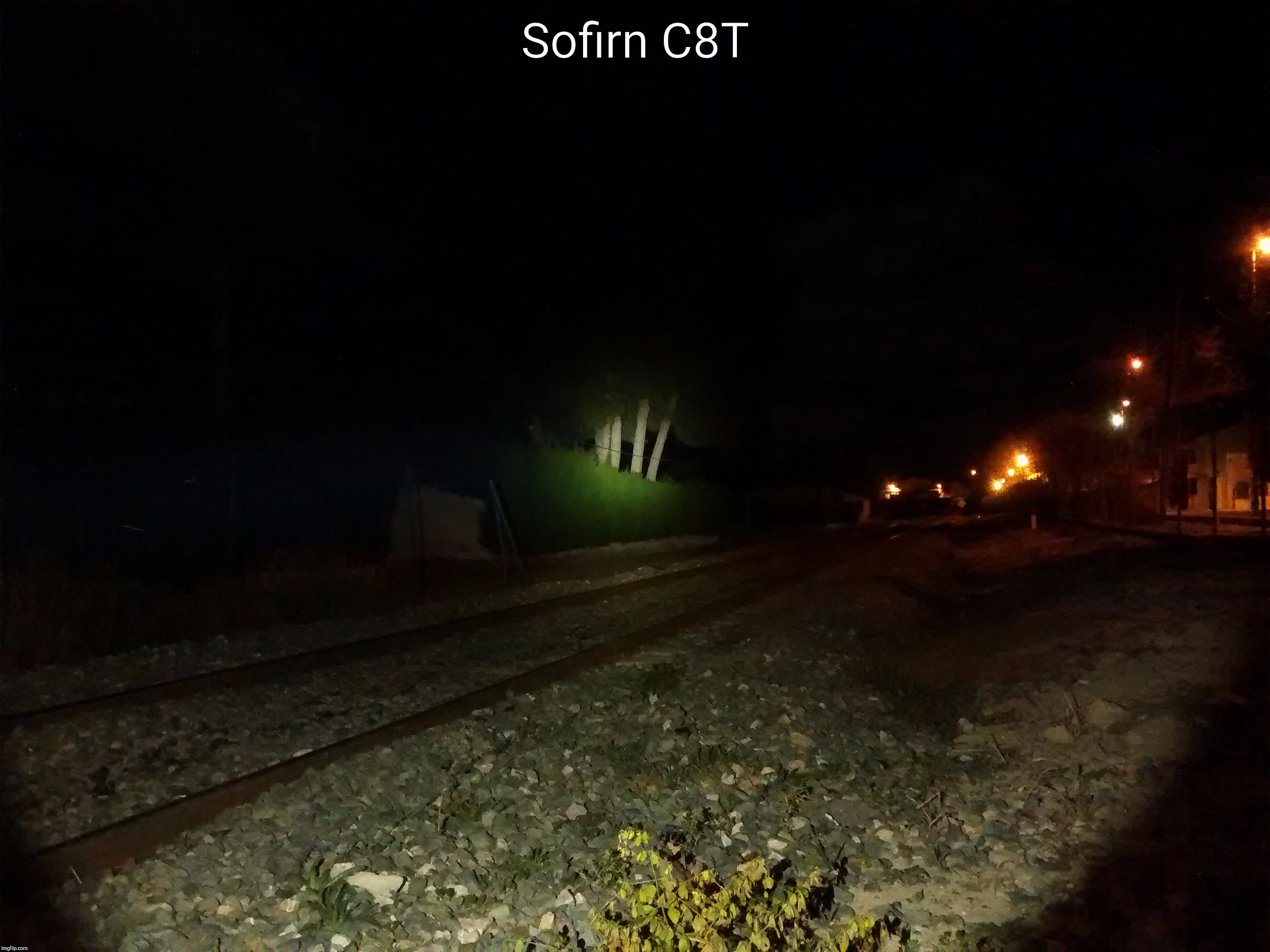 Next, some close up pictures. The torch feels solid, has a great anodization and 1+mm tube thickness. The reflector is an amazing piece of polished metal. No problems for the light tail-standing.
Mmm, just remembered to test the flashlight for underwater ability. It's right now immersed in a wash tub, I'll know in a few hours.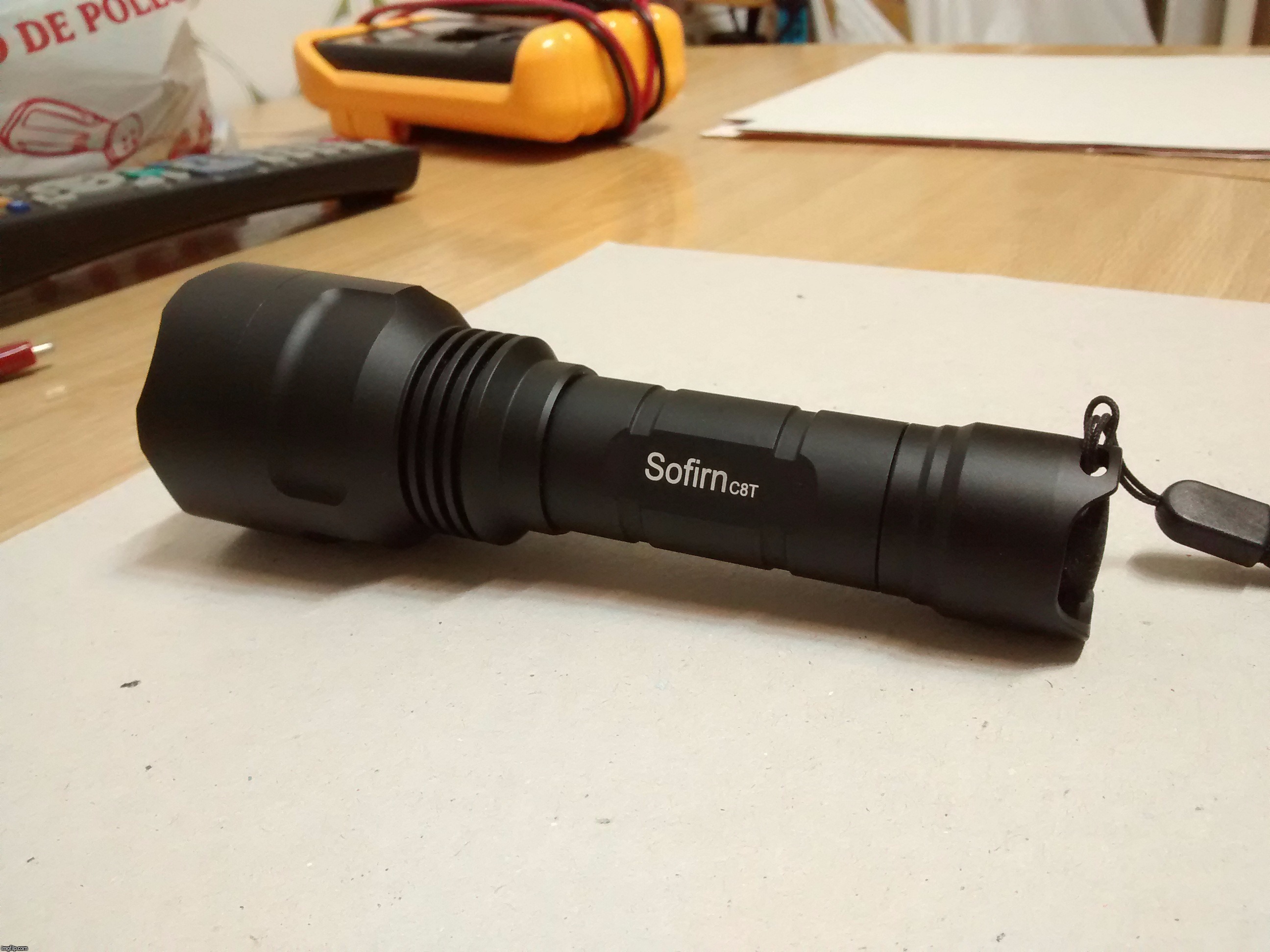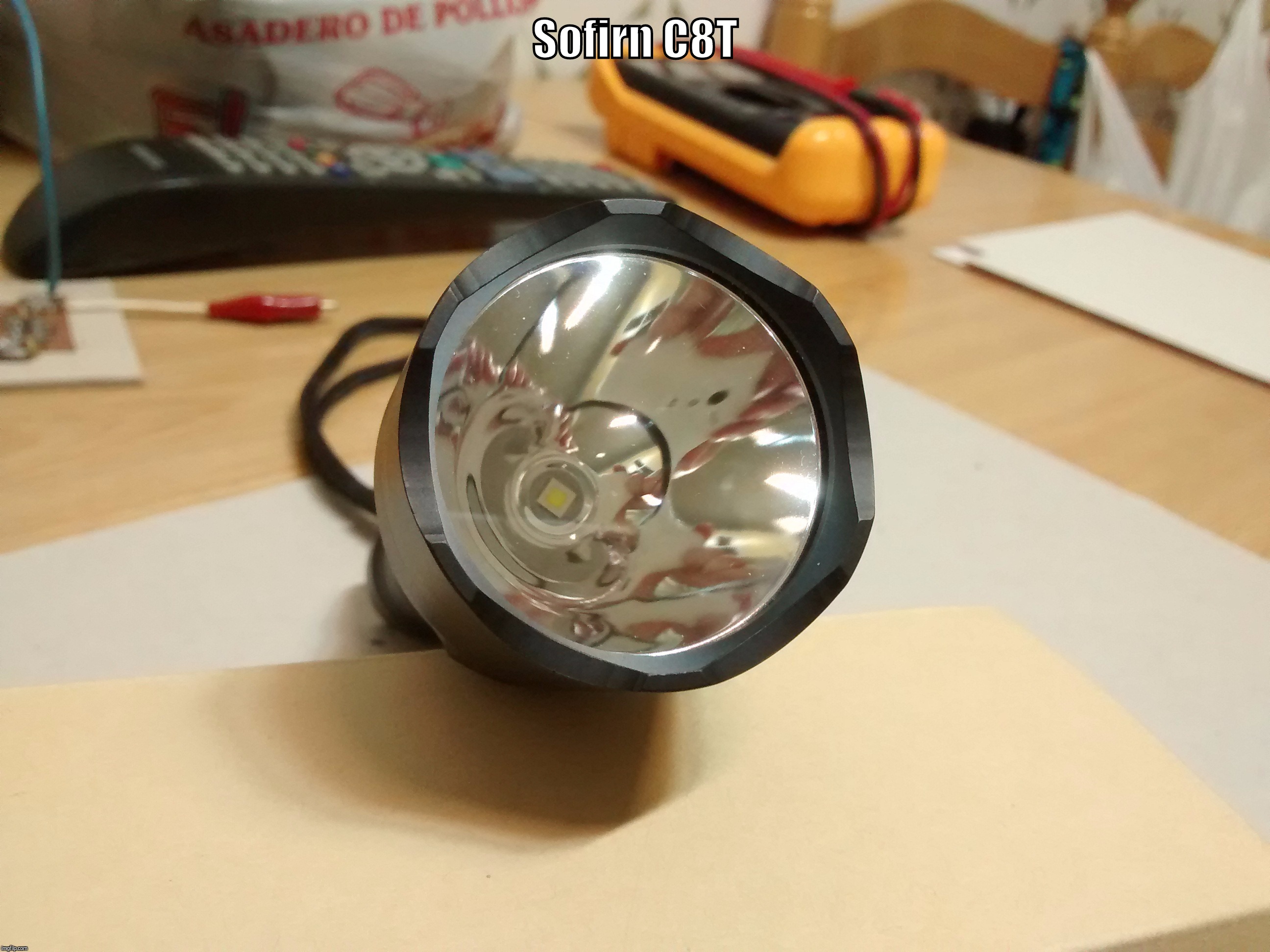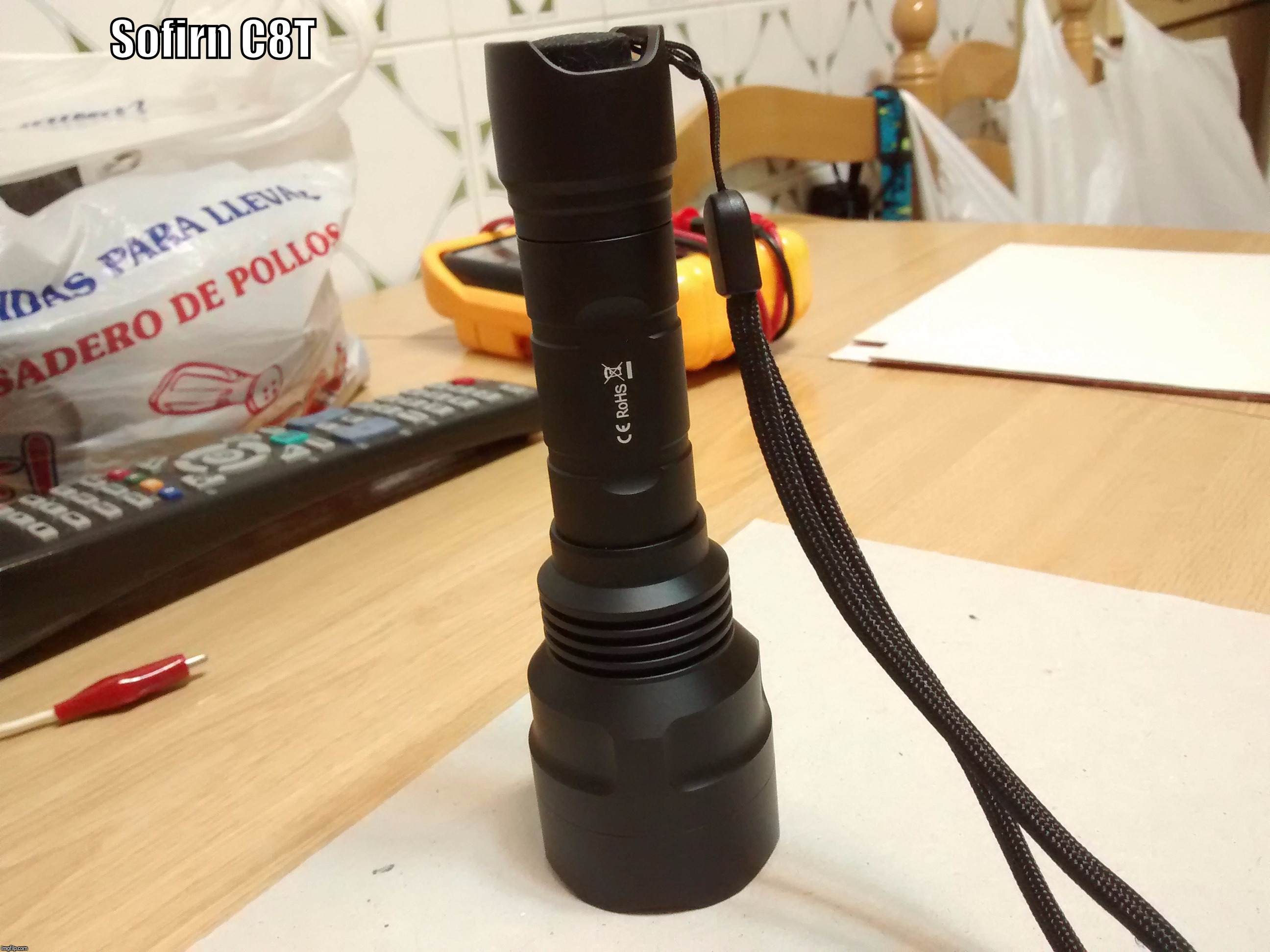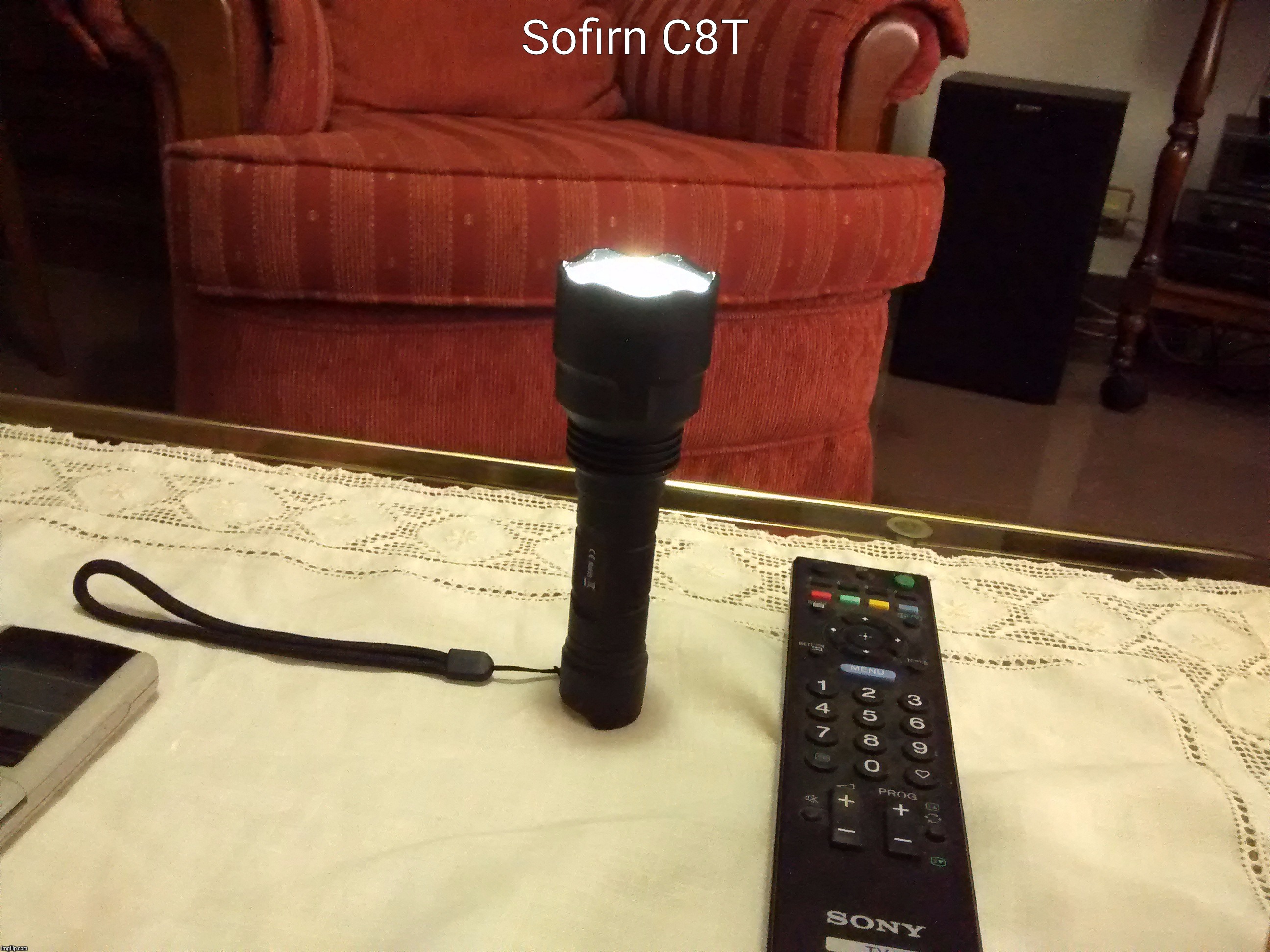 Next, a little homecooked chart. I have obtained the amperage data via polling at different states of charge, using a homemade low resistance shunt (10mΩ, total resistance under 15mΩ excluding contact ones) with alligator clips to attach my multimeter in its lowest voltage range (200.0mV). Sorry if the resolution is a bit coarse, and bear in mind the voltage reading was done briefly after the amperages. Hope you like it: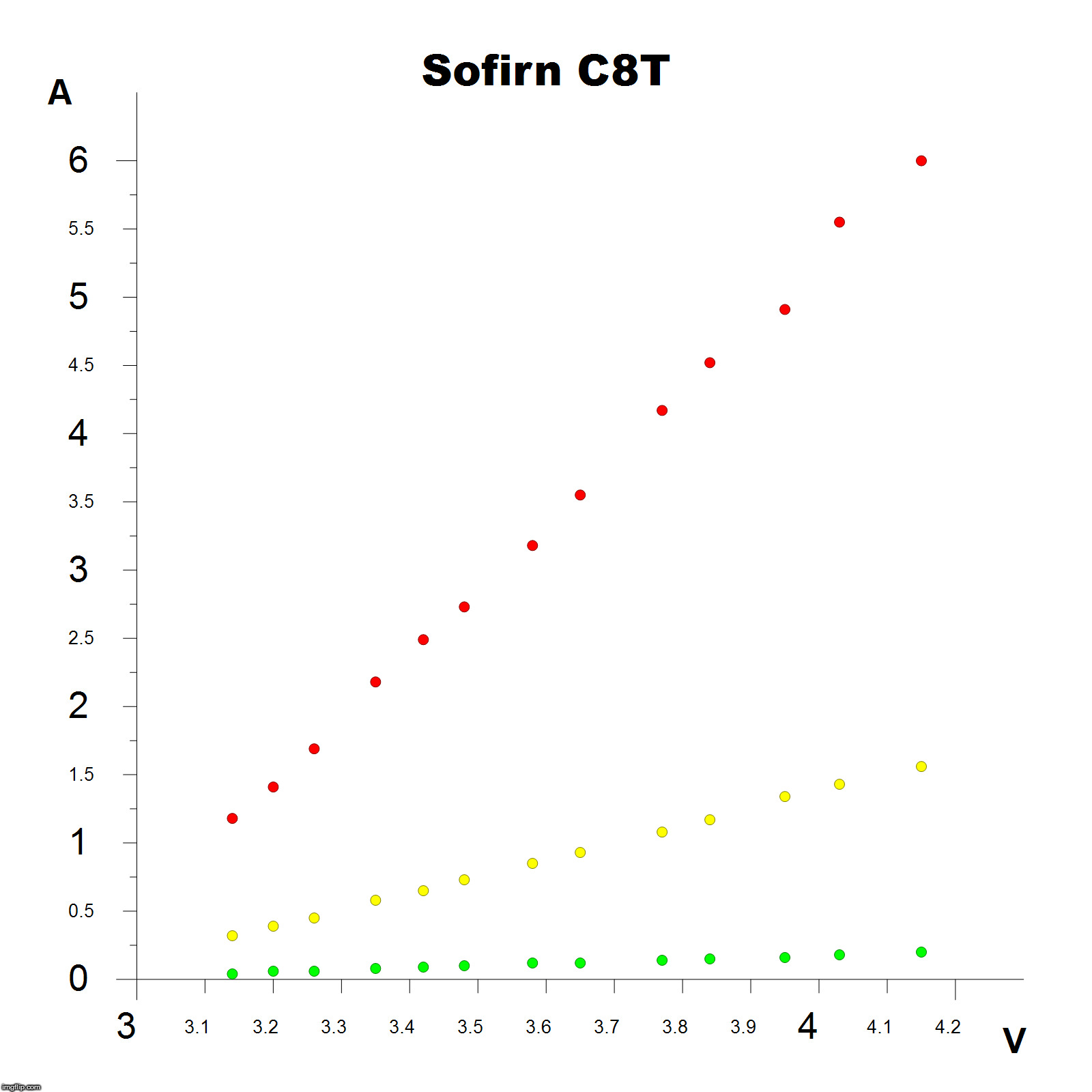 Green dots chart low mode, yellow ones the medium, and reds the high.
Chart data is as follows (low/mid/high currents plus resting voltage after each set of measurements):
0.20/1.56/6.00A, 4.15V.
0.18/1.43/5.55A, 4.03V.
0.16/1.34/4.91A, 3.97V.
0.15/1.17/4.52A, 3.84V.
0.14/1.08/4.17A, 3.77V.
0.12/0.93/3.55A, 3.65V.
0.12/0.85/3.18A, 3.58V.
0.10/0.73/2.73A, 3.48V.
0.09/0.65/2.49A, 3.42V.
0.08/0.58/2.18A, 3.35V.
0.06/0.45/1.69A, 3.26V.
0.06/0.39/1.41A, 3.20V.
0.04/0.32/1.18A, 3.14V.
Finally (for the moment), a runtime graph courtesy of Zak Wilson's ceilingbounce Android application: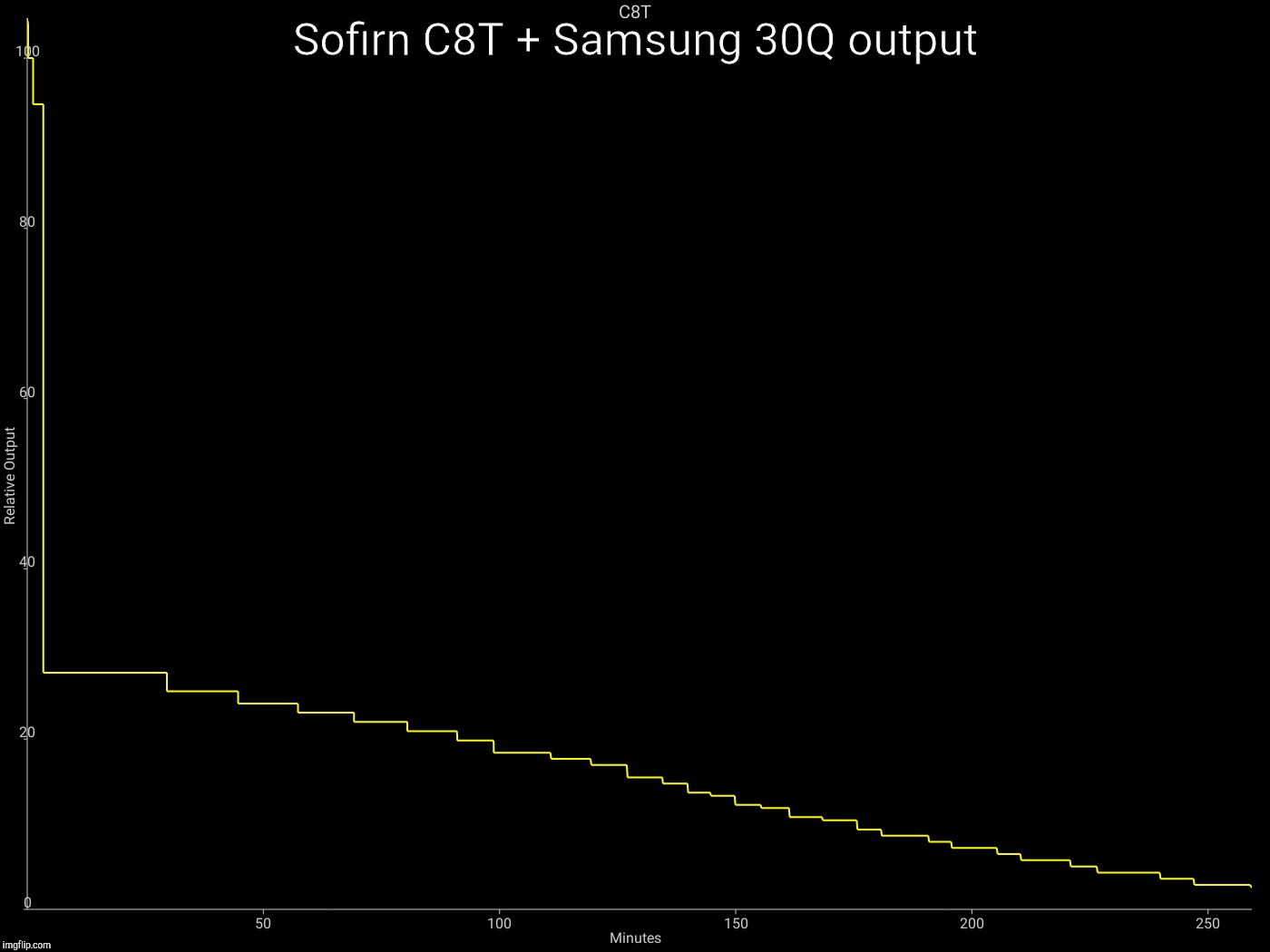 The flashlight low voltage warns at ≈2.8V, cell voltage reading after warning was ≈2.85V.
Now, I am going to have a rest. For the moaners, my throw figures peaked at 102.4Kcd, but since I have no professional luxmeter and smartphone luxmeter accuracy/calibration is pretty hopeless, I've decided not to waste any more time with such issue. All I can say is the thing throws!
More on this later. Have fun!  ̿̿̿̿ ̿̿ ̿̿ ̿'̿'\̵͇̿̿\з= ( ▀ ͜͞ʖ▀ ) =ε/̵͇̿̿/'̿'̿ ̿ ̿̿ ̿̿
Woke up in the middle of the night and remembered: emitter tint is very nice. There's a very subtle greenish/yellow hue around the hotspot and that's about it. I'm a guy of warmer tints and I find it pleasing,  this is field for opinions we do know. At the high output this torch has it fits well.
Single's Day sale is coming very soon, you may want to grab some.
Another thing, take a peek at the strobe behaviour in my prototype, quite funny:
Update: 12+ hours washtub immersion test passed with flying colours.
And now, for your viewing pleasure a few disassembly pictures taken with love and
light: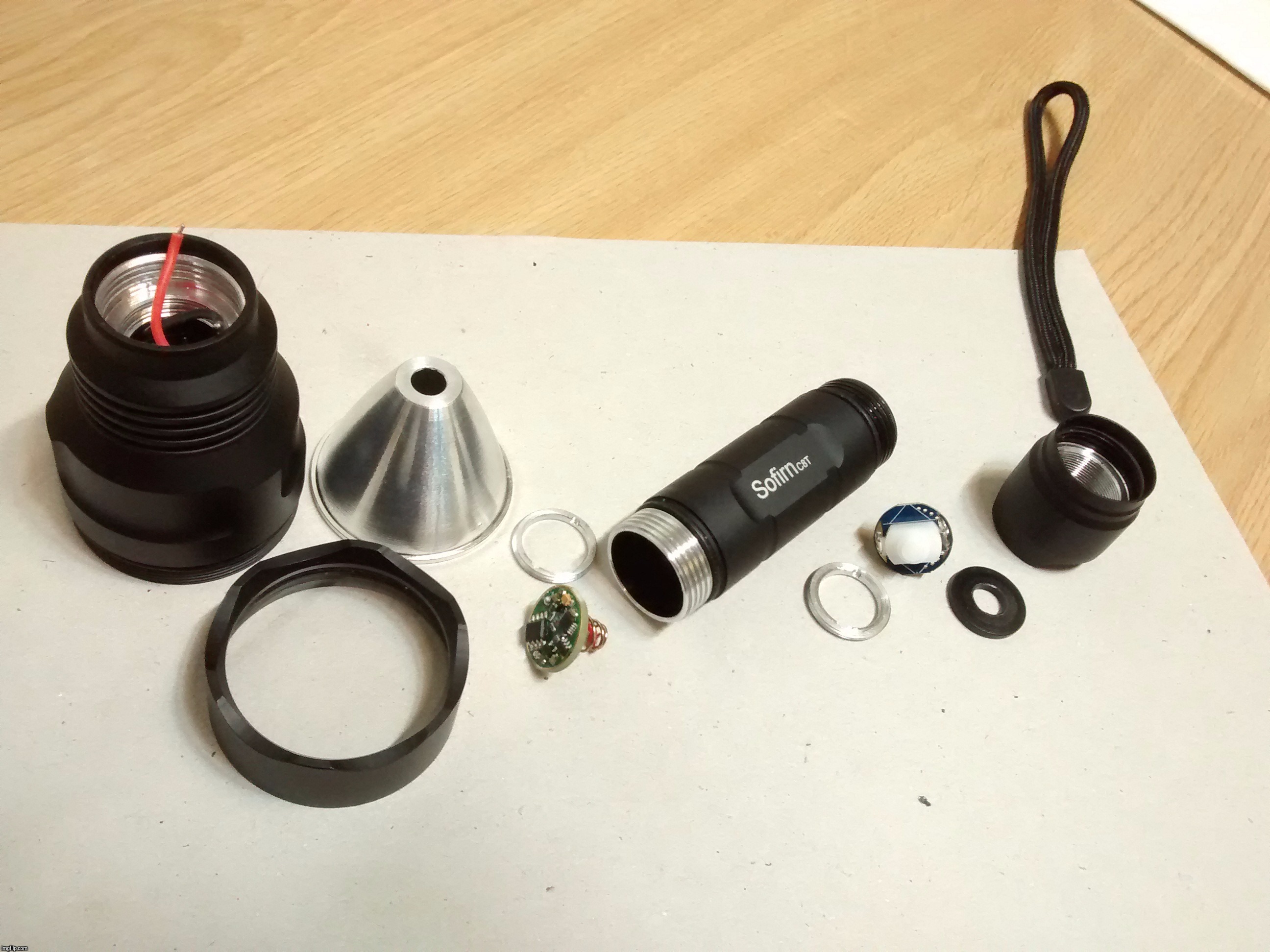 Overview; classic small Omten switch.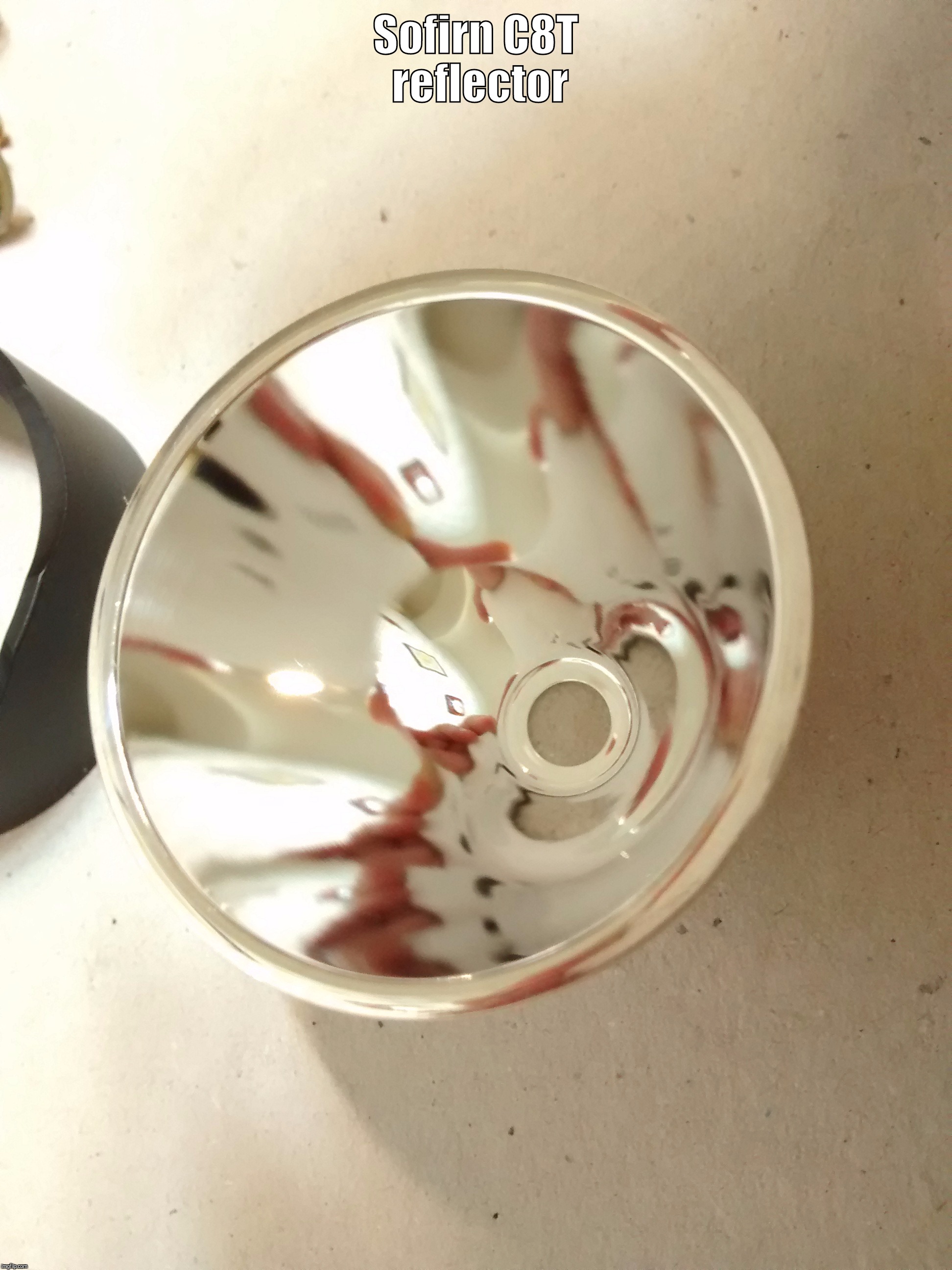 Shiny reflector.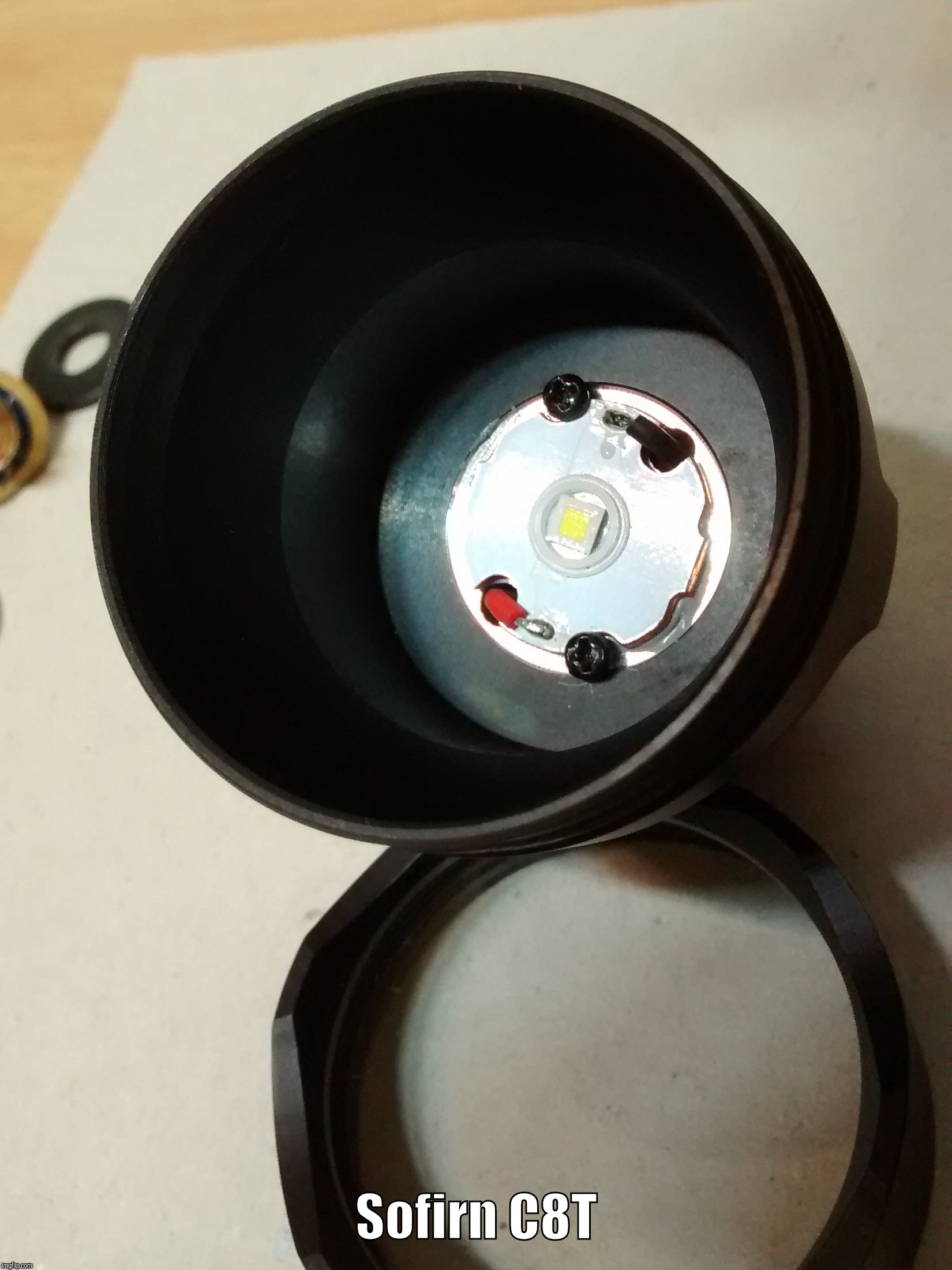 Emitter inside head on 20mm DTP board.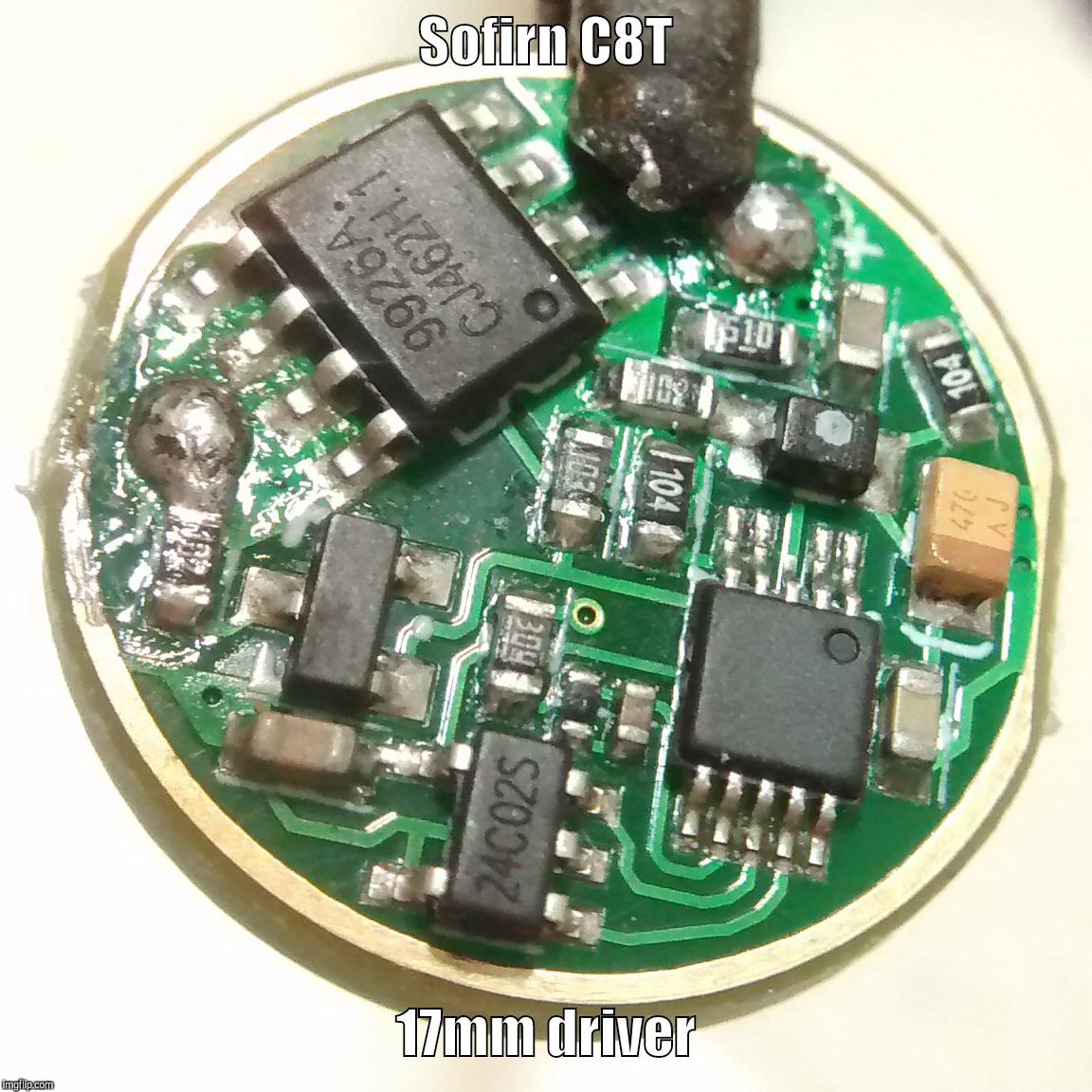 Hope you like this driver close-up. My pretty outdated no macro camera smartphone can't do this without
some help: I attached a 37mm Google cardboard convex lens I had lying around over the camera with 
a pair of cellophane strips. 

Enjoy!
Cheers
P.S.: just added weight and stepdown data, forgot it. Tue, 11/07/2017 - 02:07.
P.S.2: added low voltage warning comment.
P.S.3: added tint and further comment.
P.S.4: added prototype strobe disco behaviour clip.
P.S.5: waterproof test passed, added disassembly pictures.
P.S.6: fixed driver information, added detailed graph data.
P.S.7: removed advertisement pictures, way less bulky and neater now.
—
Deleting a just published post causes the forum thread answer notification to fail. Thus, if you need to change your just published post, edit it. Thanks.
Please avoid fully quoting lenghty posts, namely with nested quotes. Trim quotes down to the essential. Helps with neatness and legibility. Thanks.
I recommend saying no to Covid vaccine. Listen to your soul.