Well hello again BLF, BlueSwordM here!
So, as you might all know, we are a bunch of nice people who want the highest power possible out of our flashlights.
Usually, we have to bypass springs, and that requires time, effort, and experience, and soldering a spring is much easier than doing a spring bypass. Especially in multi-cell lights like the Haikelite MT09R. And let's face it: it does not look good too, and there is a chance of the bypass breaking
We have solutions like phosphor bronze springs in all sizes, but these can only carry about 6-7A, and we want upwards of 15A+. And we do have a spring that can do that, being the IntlOutdoor Beryllium Copper Spring 45% IACS (% of copper conductivity), but it is way too short, and its elasticity memory is not that good.
So, I have made a request to a Chinese company to make special Beryllium Copper 38% IACS with these dimensions:
- Material: C17530 (Beryllium Copper) with IACS of 38%
- Spring upper diameter: 7mm
- Spring base diameter: 9mm
- Spring thickness: 1mm
- Spring height (free height): 13mm
- Plating: Electroplated nickel
- Total number of coils: 5
So about the same size as the LED4Power Phosphor Bronze Spring, but has twice the conductivity!
At 6A, the voltage drop would be about 0,050V, so very high conductivity spring! Just a bit worse than the Beryllium Copper 45% IACS of the same size, but cheaper and has a better elastic memory.
At 1mm wire diameter, it is almost as good as a 22AWG wire! Which is absolutely amazing, and means that perhaps, we might not need to do spring bypasses in most builds.
So, if we can get to an interest list of at least 500 springs, I will order them, and we are going to be golden,
Target price: <0,40$US
UPDATE
I have added an interest list for a smaller spring. I might try to get another batch made for smaller springs. Express your interest if you want one.
I will also make an Excel sheet for following everything, as this is getting tedious.
UPDATE 2
Spreadsheet will be updated weekly
UPDATE 3
Pics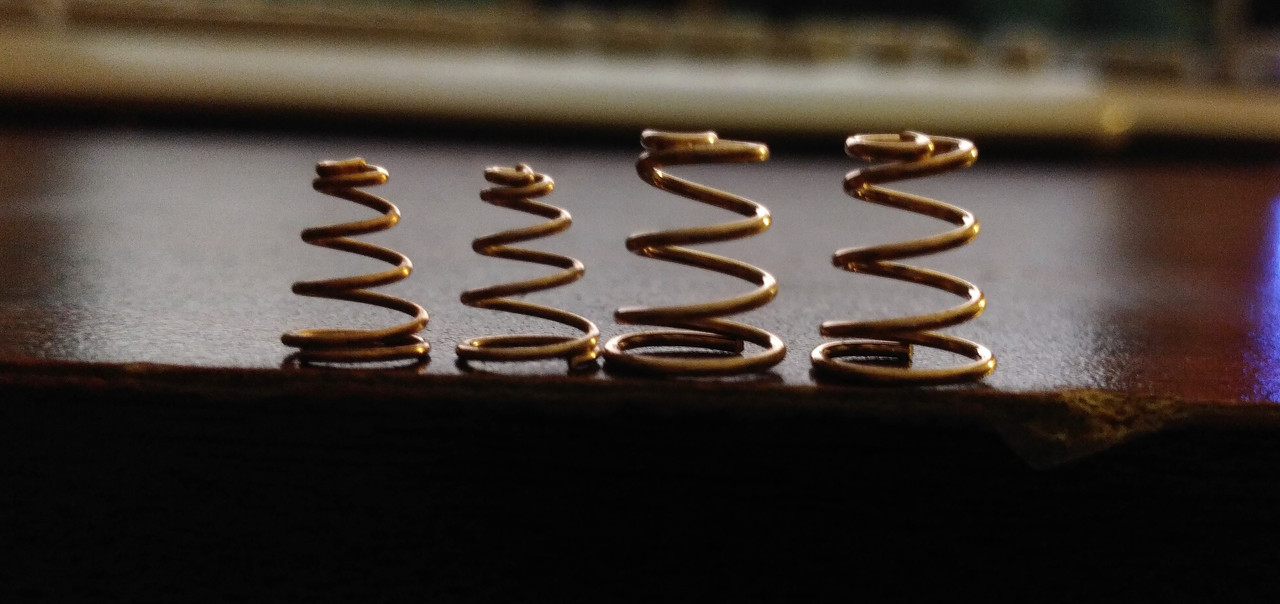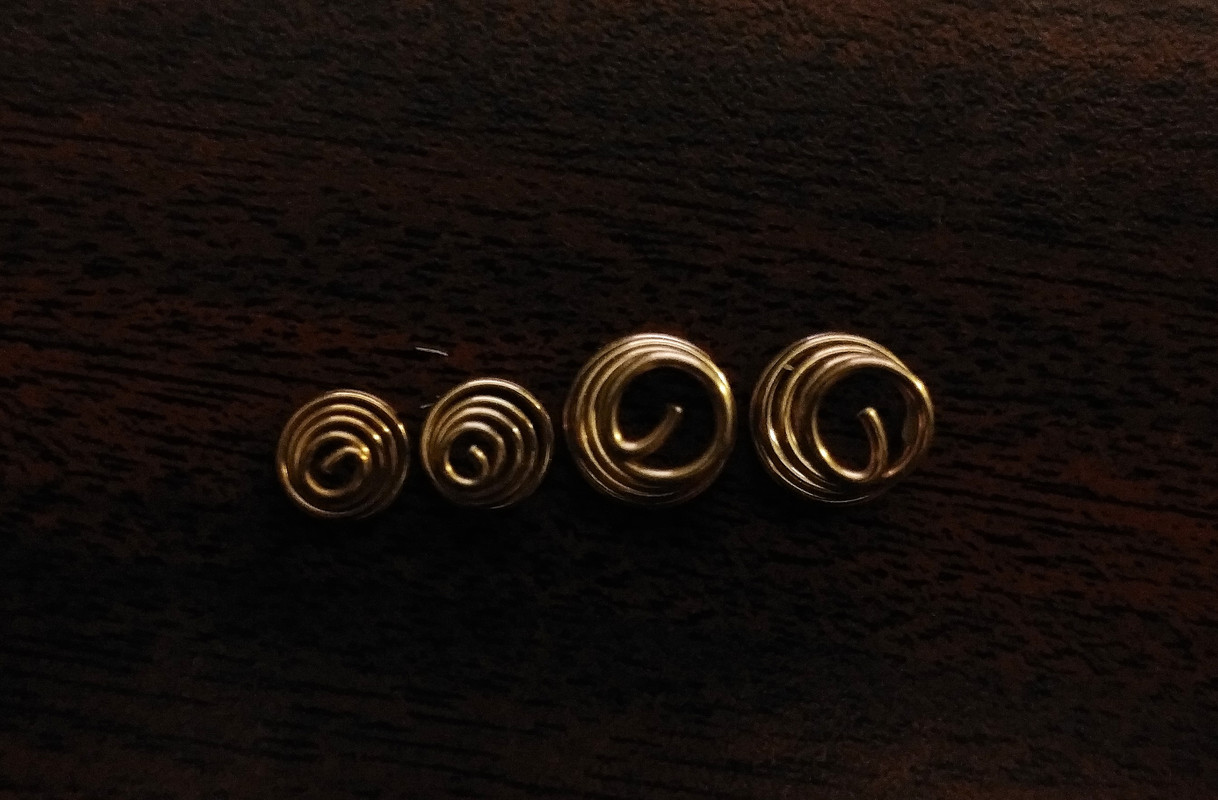 The big spring is equivalent in size to the BLF Q8 spring, except that the bottom diameter will be smaller by 1mm to accommodate almost all tail caps and switch boards.
The small spring is the Fasttech Carobronze one just for comparison.
Big spring vs Fasttech Carobronze measurements
Height: 12mm vs 10mm
Top diamater: 4mm vs 7mm
Bottom diameter: 7mm vs 9mm
Wire diameter: 0,8mm vs 1mm
So not only is the big spring thicker, but it also has better conductivity, so less voltage drop.
Once I get my sample of Beryllium Copper 38% IACS springs, I will compare all of the springs and compare their conductivity. If they are good, then the groupbuy will commence!
Also, if there is enough interest for the smaller driver side spring, I will ask the manufacturer to make a batch for it, with these measurements:
- Spring top diameter: 5,0mm
- Spring bottom diameter: 6,5mm
- Spring thickness: 0,8mm
- Spring height: 11mm
- Plating: Nickel plating
UPDATE 4
The final cost for 2000 springs has been confirmed.
350$US for 2000 springs. I will check with the supplier how much it would cost for 3000 and 4000 springs.
UPDATE 5
After careful considerations, I have decided to order the 2000 big springs first since they are the most popular, and I can validate their mechanical and electrical properties much more easily than with a small spring for good reason, and easier to prototype in a light.
The small springs will be ordered afterwards if the big springs are excellent.
I just want to make sure if everybody is okay with this, and is okay with the amount of springs they ordered.
I am going with a 7mm top diameter because I have calculated that the yield strength is stronger with a 7mm top diameter rather than a 6mm top diameter because of the small bottom diameter of the spring, so there is a lower chance of plastic deformation occurring wider diameter.
UPDATE 6
Well, some pictures and some mechanical testing have been done on the springs since I received.
I haven't had the time to test its electrical properties yet, but they look very promising still.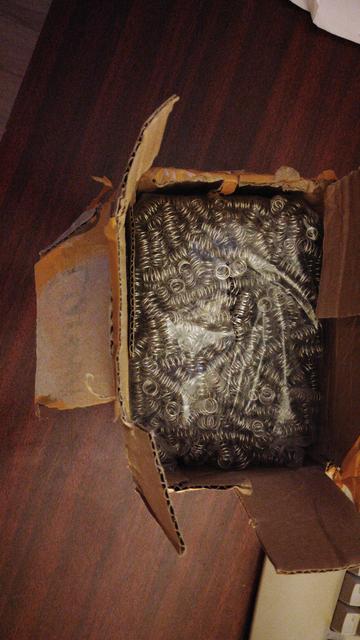 A box of 2000 springs. Looks neat, huh?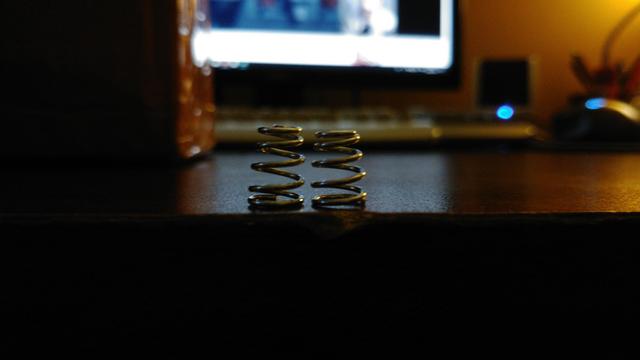 My very scientific mechanical testing of the springs
The spring on the left is completely new and uncompressed.
The spring on the right has been fully compressed 20 times, and it only lost less than a 1mm! That means even deforming it completely results in almost no loss in height, opposite to the phosphor bronze springs I have and the Intl Outdoor Beryllium Copper spring.
The electrical testing is underway and will be done tomorrow. See you then!
VERY IMPORTANT UPDATE
Now, this is the part everybody has been waiting for.
I first off soldered 18AWG wire to both end sides of the springs.
Happy to finally do the testing, I then took the 10A constant current tester I had, and then set it to 6A, for good measure
So, I tested the spring at a constant current of 6A during a duration of 30 minutes for temperature to stabilize, then measured the voltage drop over the entire spring.
Let's just say the first results were… worrying to say the least.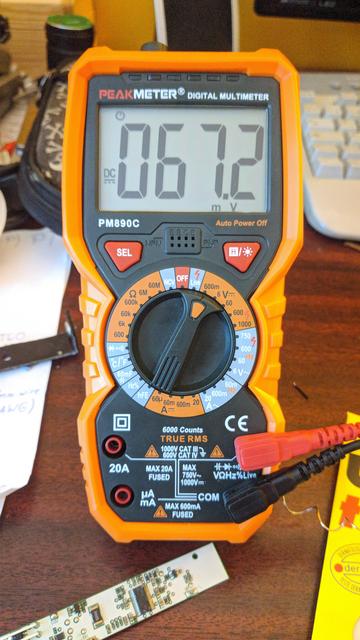 I was quite worried at this point. I was off by my calculations by 30%, which was bad.
I retried putting my multimeter everywhere on the spring. I rechecked the load current to see if it was set too high, which it wasn't. I even tried my other multimeter to check if it was off. It wasn't.
But, then it hit me. I looked close upon the top joint, and I noticed it was… quite badly done, and was holding quite badly actually. I then just pulled it and it came off
Being angry about my bad job, I then redid the soldering of the top joint, and now it was done way better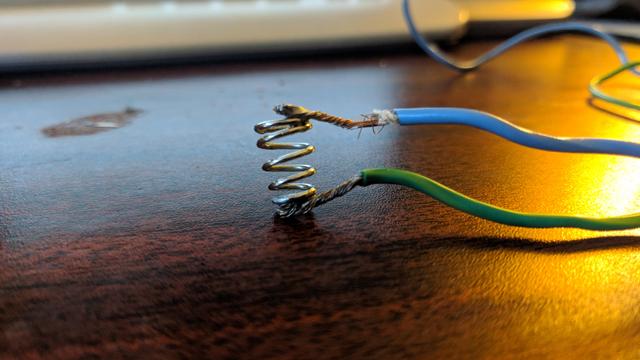 The first soldering job was way worse.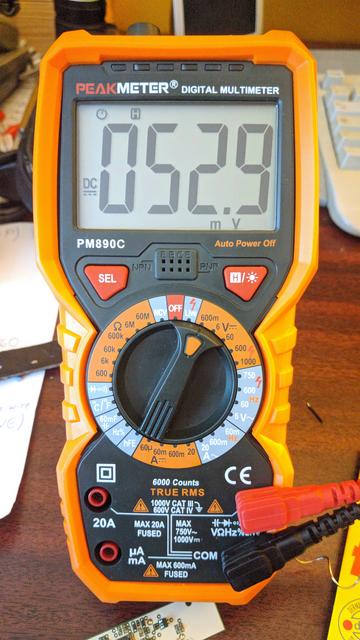 Then, I redid the tests, and voilà! It came exactly on target at 52,9 +/- 1,3mV of voltage drop over the entire spring, as calculated. I was so worried there over a very bad solder joint.

BTW, three things:
As per

DBC

ustom's request, I did the test running the spring at 6A, and compressing it yielded in no further plastic deformation. Which is great!
Well, the spring heated up just a bit above ambient, but 0,35W of power loss is noting to worry about. 15A is probably the highest current you should go with this spring, as at that point, you would get about 1,95W of loss, which is high, but expected at these power levels.
 The spring was much easier to solder on than a steel spring.
TLDR: All, in all, I was pleasantly surprised with these springs. They are excellent high current springs. I was worried a bit at first, but then, I red
Final price is:
(0,30$US + 5$US FOR SHIPPING INTERNATIONALLY) x 1,05 via Paypal Goods and Services.
UPDATE 7
Some pics of the small springs.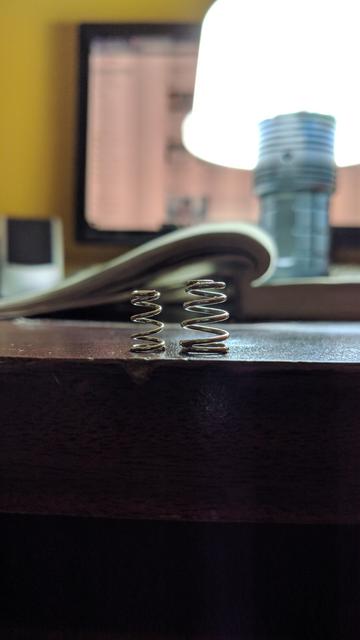 A pic of the big and small spring in a dual spring array.