Here is the product page at manufacturer website
You can buy Nitecore Concept 2 at
➤ AMAZON
➤ ALIEXPRESS
➤ BANGGOOD
➤ NITETORCH they generously offered 20% code HJK5KDNQ valid for all the items in store, including other brands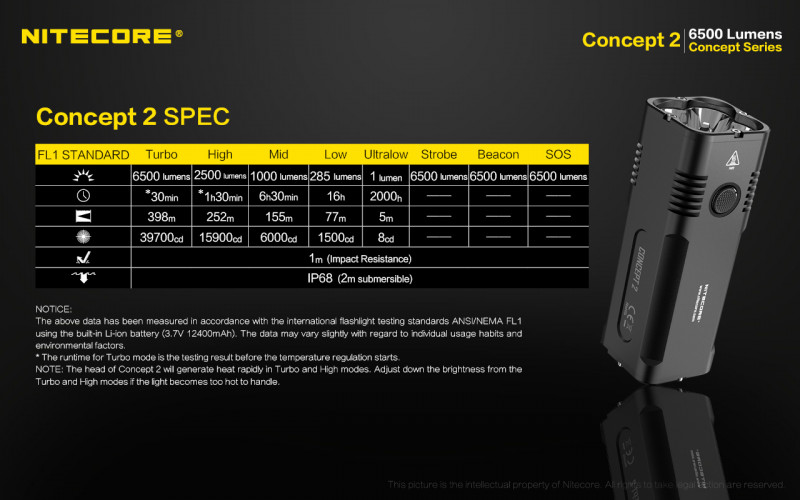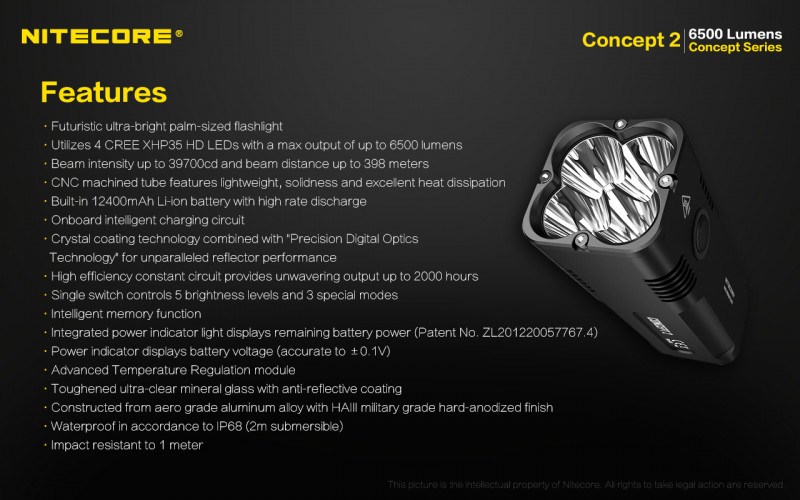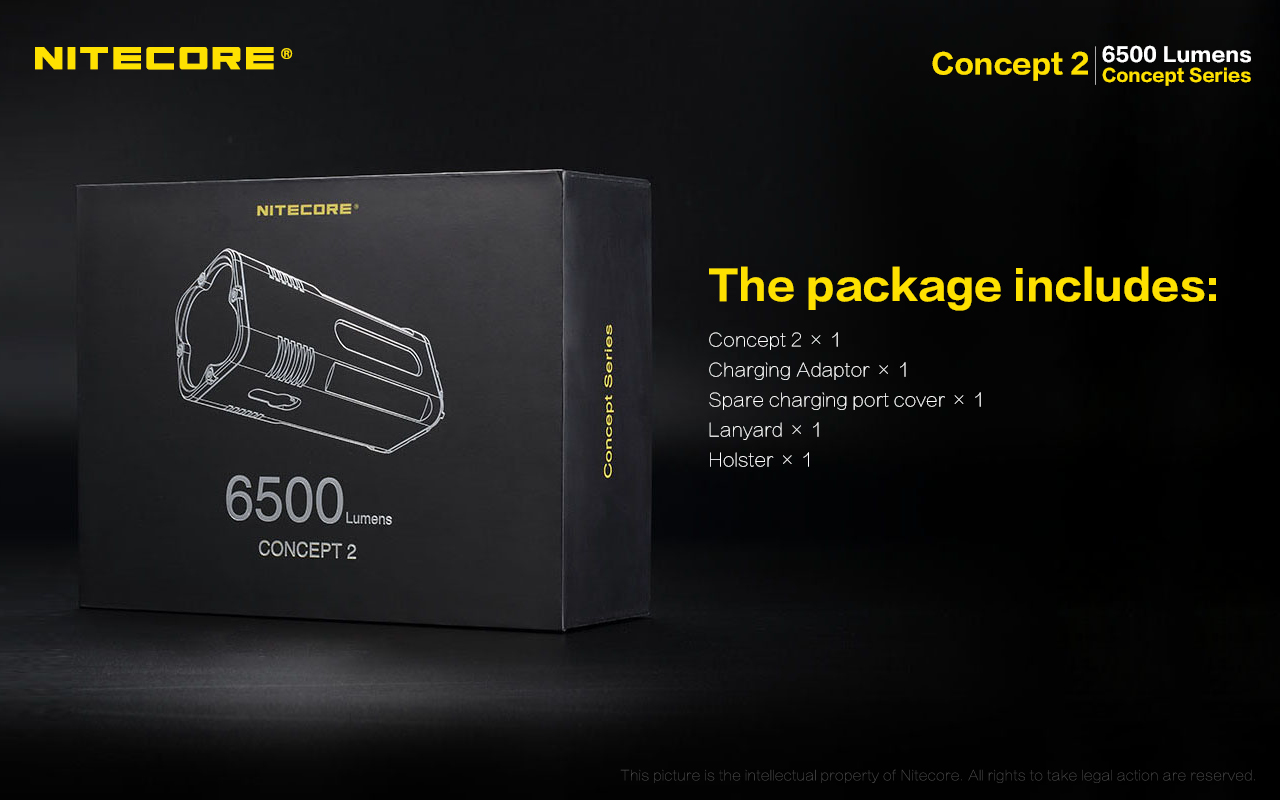 PACKAGE AND APPEARANCE
Package looks expensive. Modest thick black cardboard box with gold\silver embossment.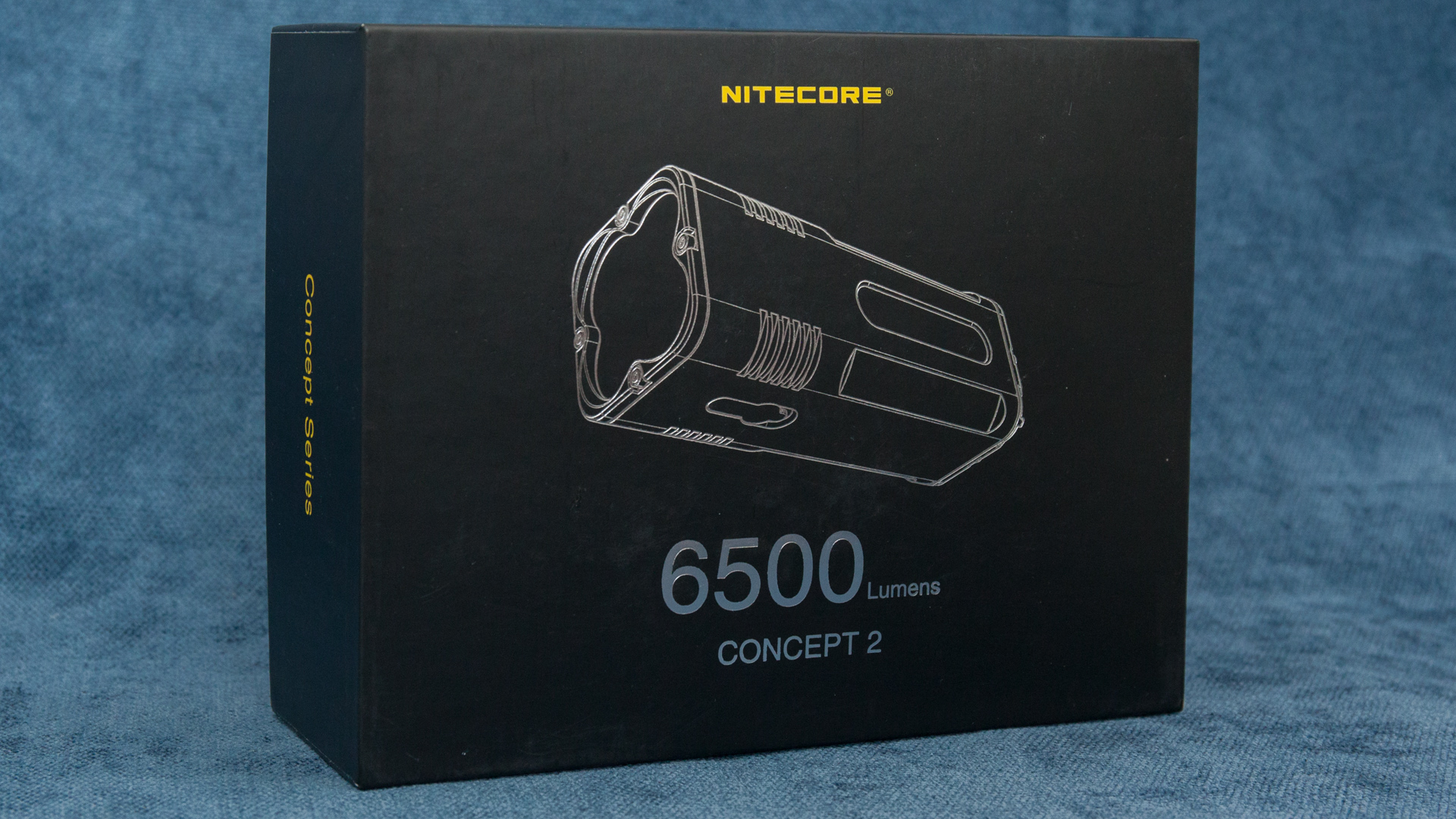 Inside, in black foam rubber lays set of flashlight, holster, lanyard, manual, charger, spare rubber button and charging port cover. Glad to get last 2 ones included, especially charging port cover, as when such cheap thing gets lost user face serious trouble.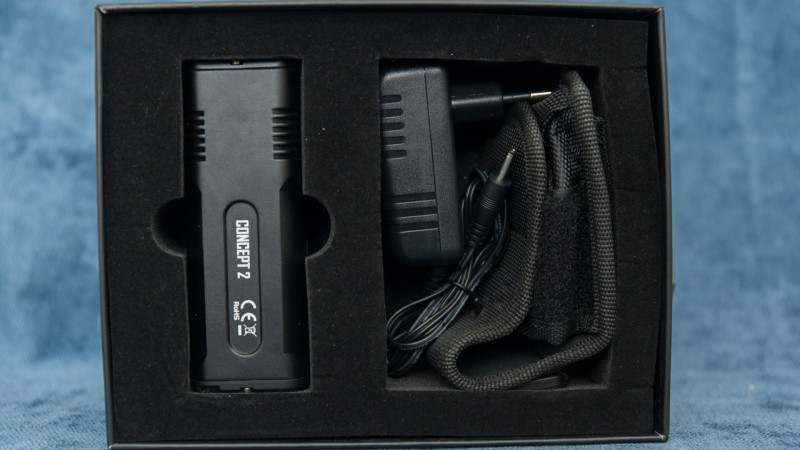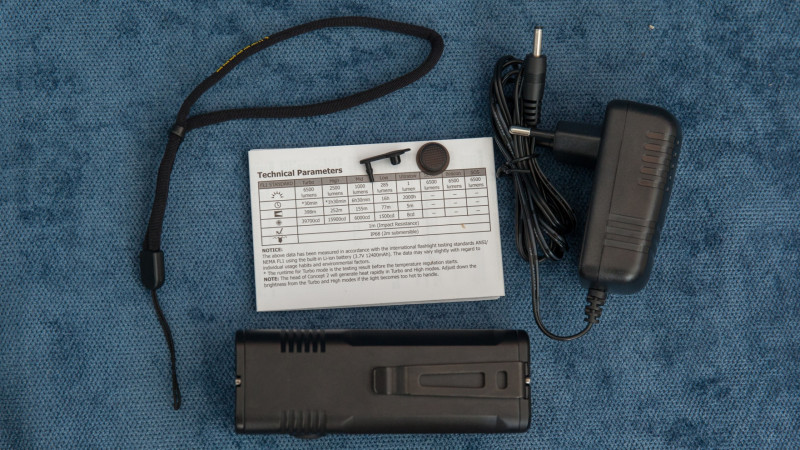 Holster is good, have nothing to add about it. Just good holster (which is…well…good -) ). Pic below speaks for itself.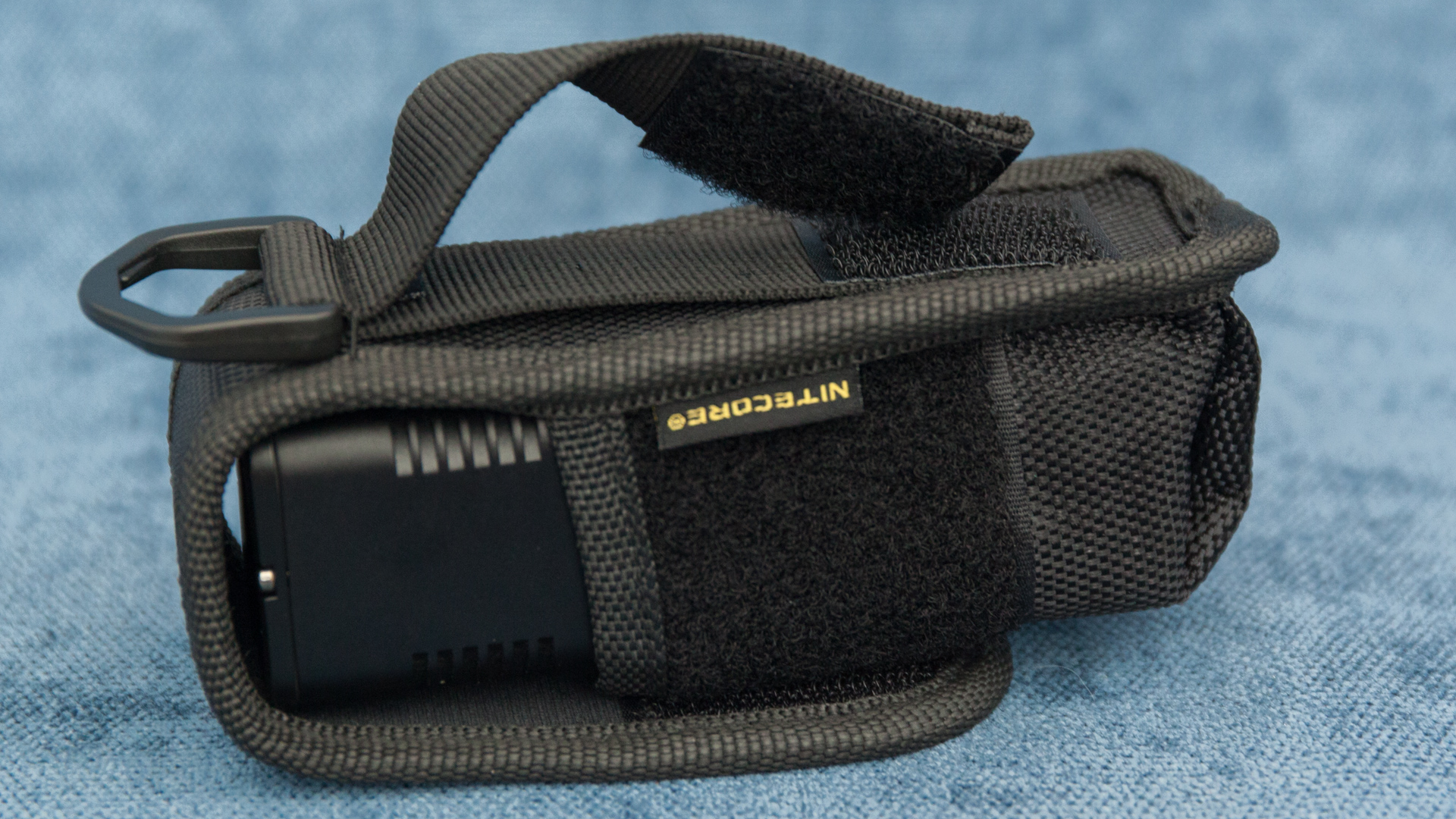 And here is Concept 2 body. It is well built, solid metal bar with 4 reflectors, form-factor that nitecore succeeded with TM model line. In this case, Concept 2 reminds me both of any TM and EC4.
Usually I speak a lot about appearance, knurling etc. But in this case simplicity of design lets me keep this part brief. So, matte black anodizing, no gaps, no scratches – build quality is as good as you may expect from top nitecore product ( to be honest – from any, i`ve tested bunch of them, both cheap and expensive ones and none of complaints were about build quality, which each time was great)
For 4х18650 is surprisingly compact. I`ve already used some other similar lights and having regular round body they were definitely wider. Here you hold 112х40mm flashlight. 350г is still comfortable weight, less than some 26650 lights.
You can easily fit C2 into jacket pocket, but here weight may be felt, that is not EDC 100 and something grams.
Despite (actually, thanx to it) rectangular body, grip is firm. I repositioned clip to the opposite side from button and this helped much to locate button with finger and to hold C2 in proper position with button under finger. There is small curve in clip that perfectly fit finger and adds a lot to firm grip.
Knurling? Not this time. Though, I imagine Concept 2 with some modern knurling and this image in my mind looks attractive.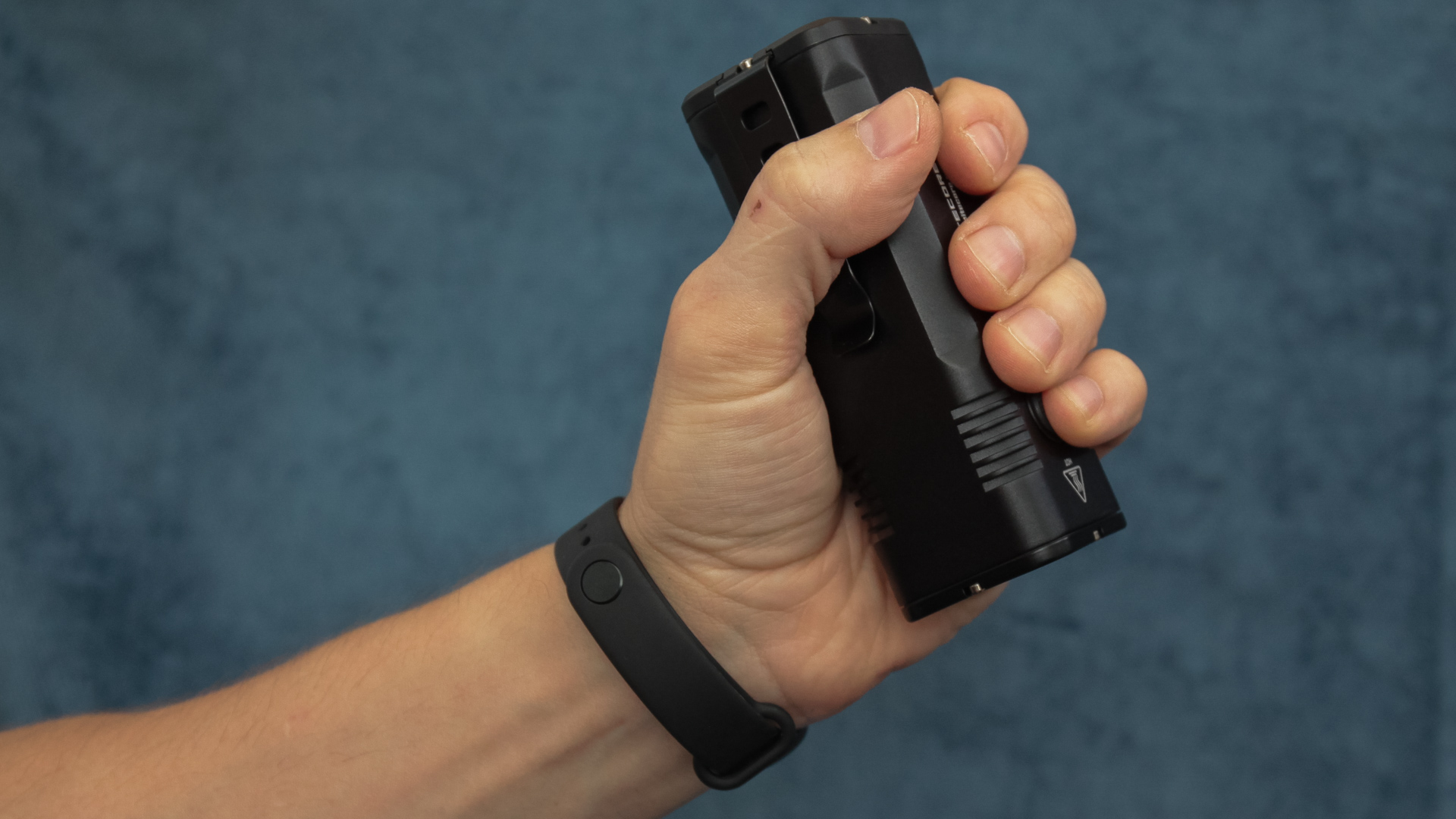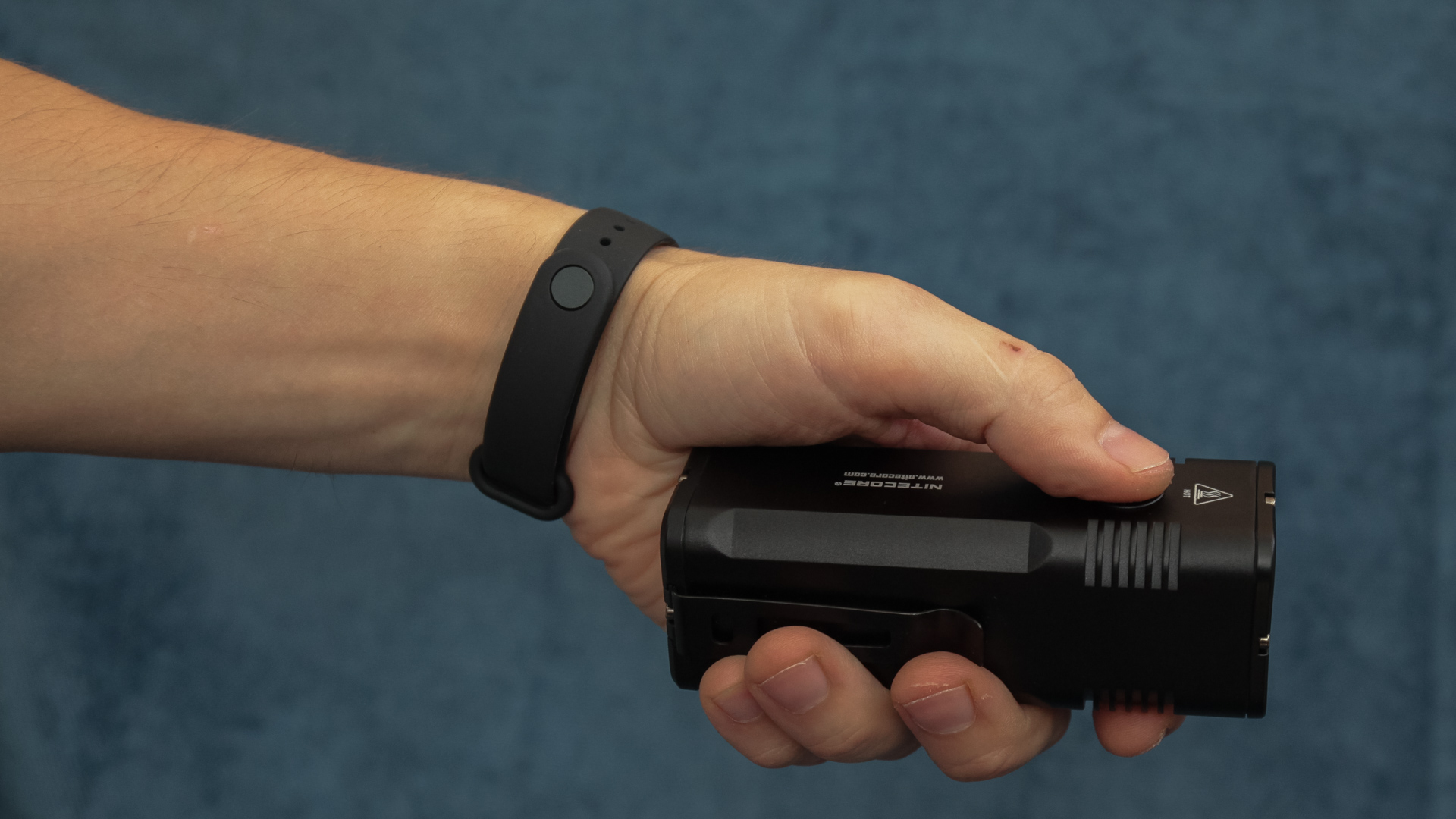 Tailstand is, no surprise, firmest of all the lights I tested.
Hole for lanyard is tiny and after several attempts to put lanyard through it I gave up and attached lanyard to clip. Actually, as lanyard comes pre-inserted into this hole, that is not trouble until you take lanyard apart.
Tailcover hides 4×18650 batteries. I wasn't able to identify them as they are soldered somewhere in front part and I simply wasn't able to pull them out.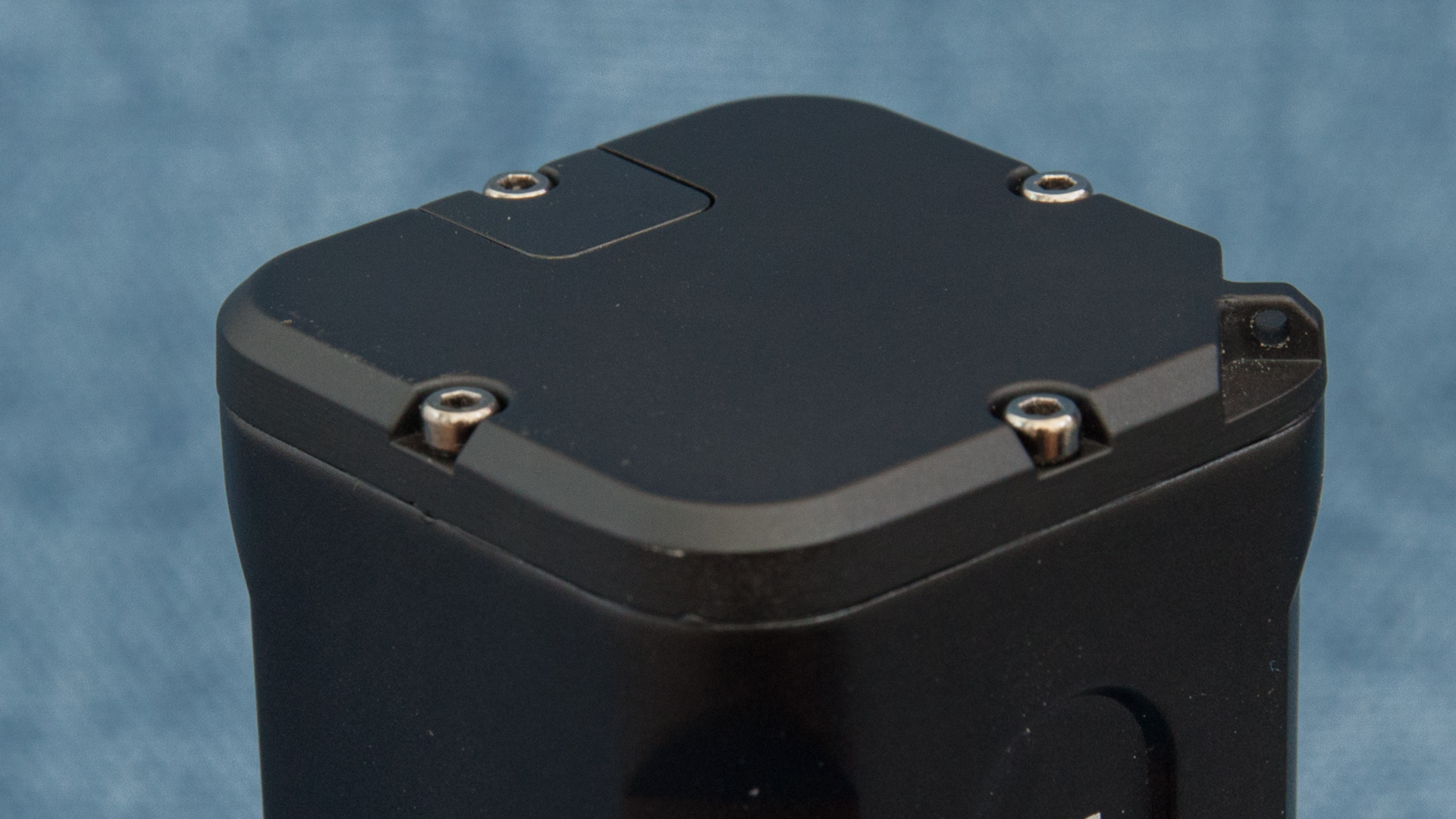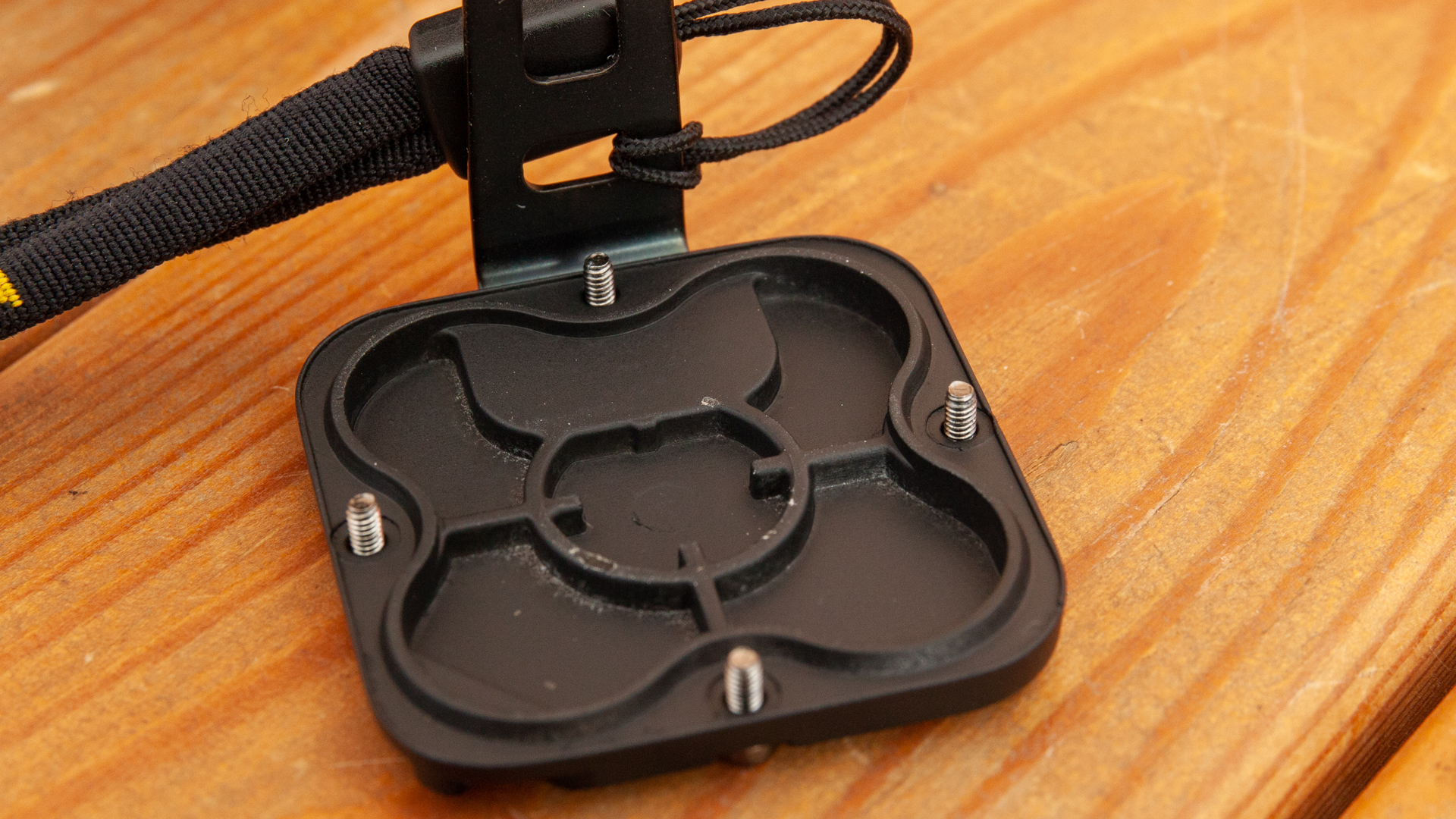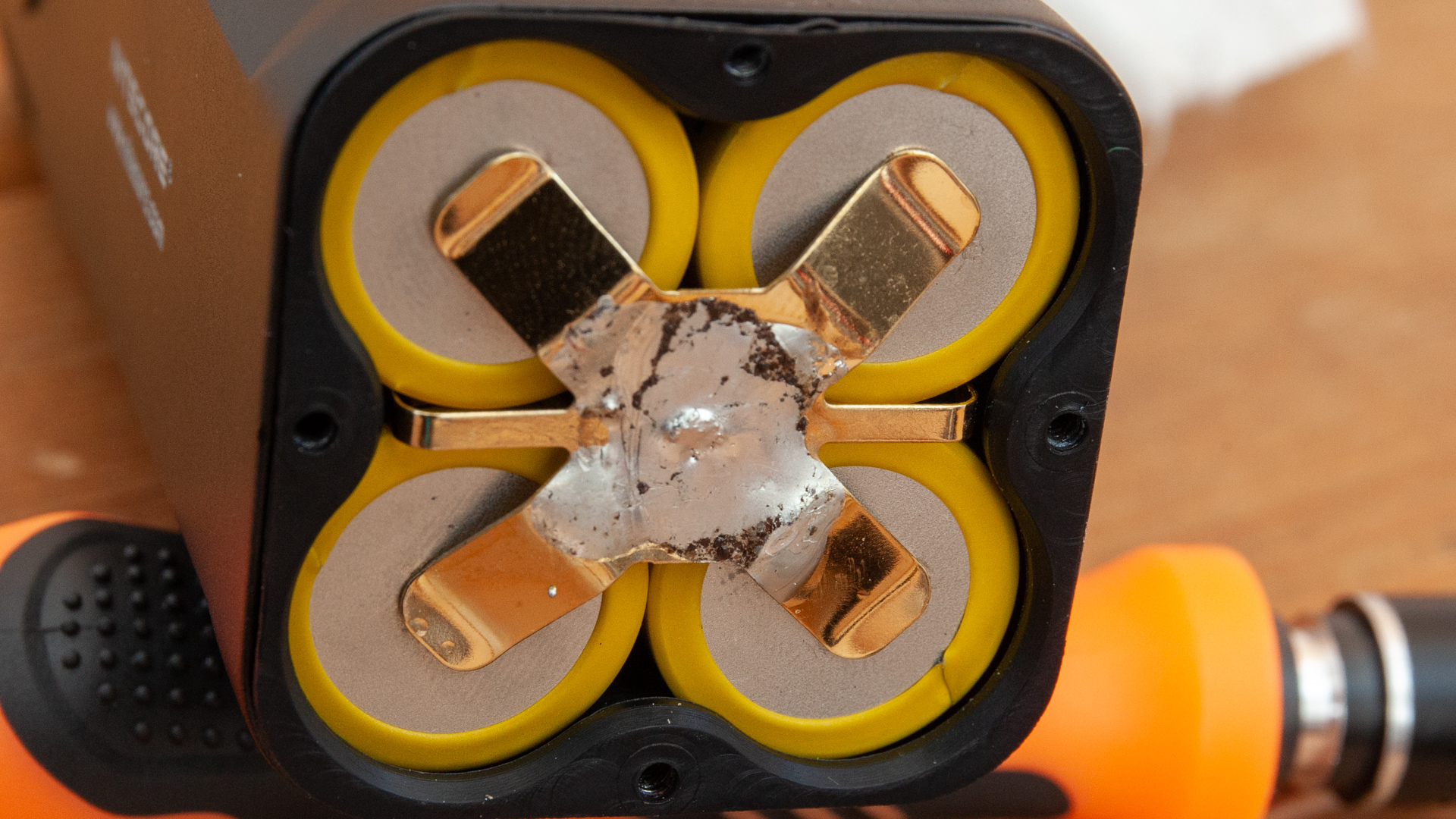 Button sticks out about 2mm. As flashlight is smooth, and once clip is repositioned to opposite side from button, chances to miss it are small.
Btw, here you can see nominal presence of cooling fins. It`s more symbolic and design detail than really functional feature.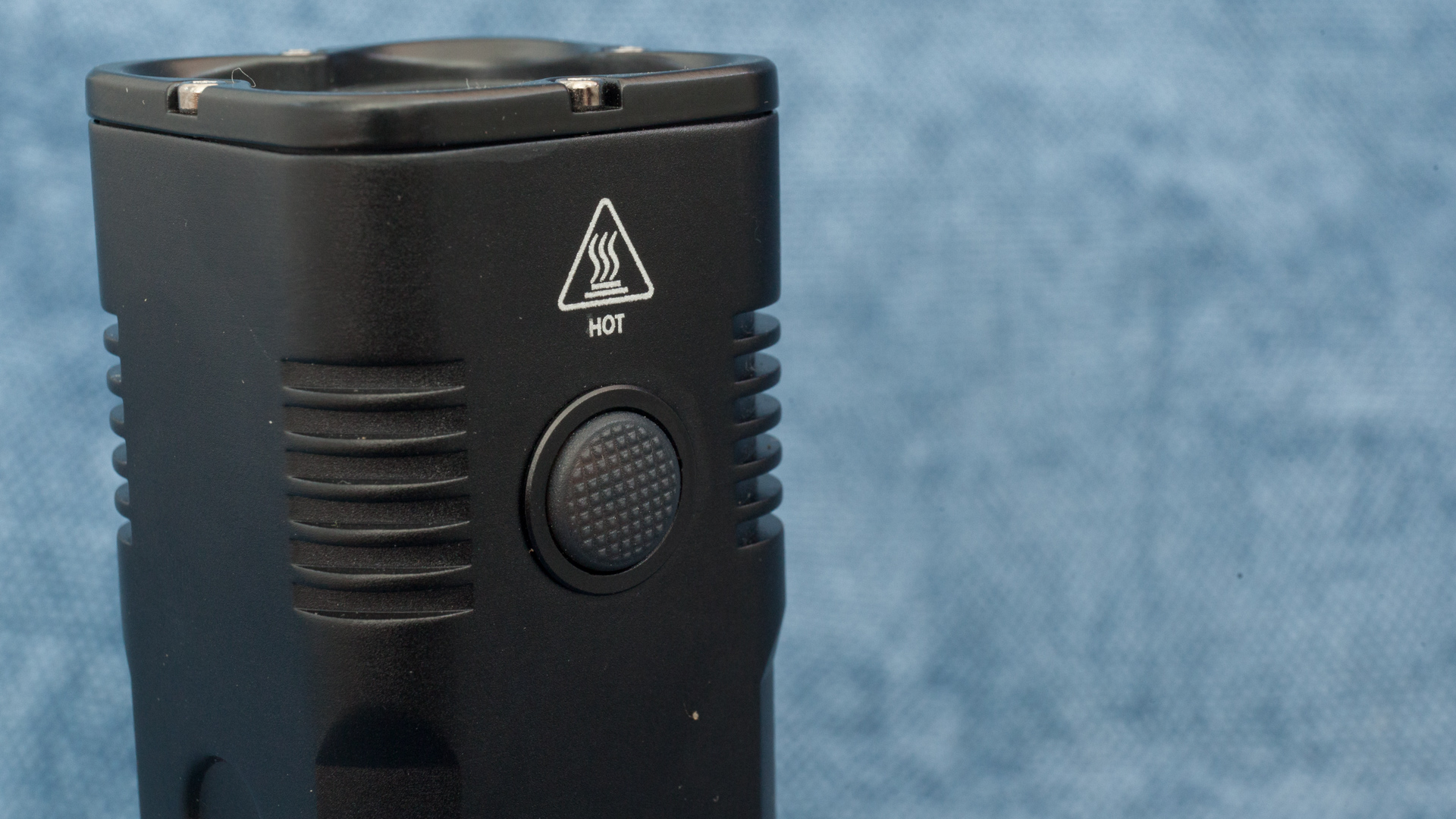 Of course, button has indicator function. And as some other nitecore models it is two layered.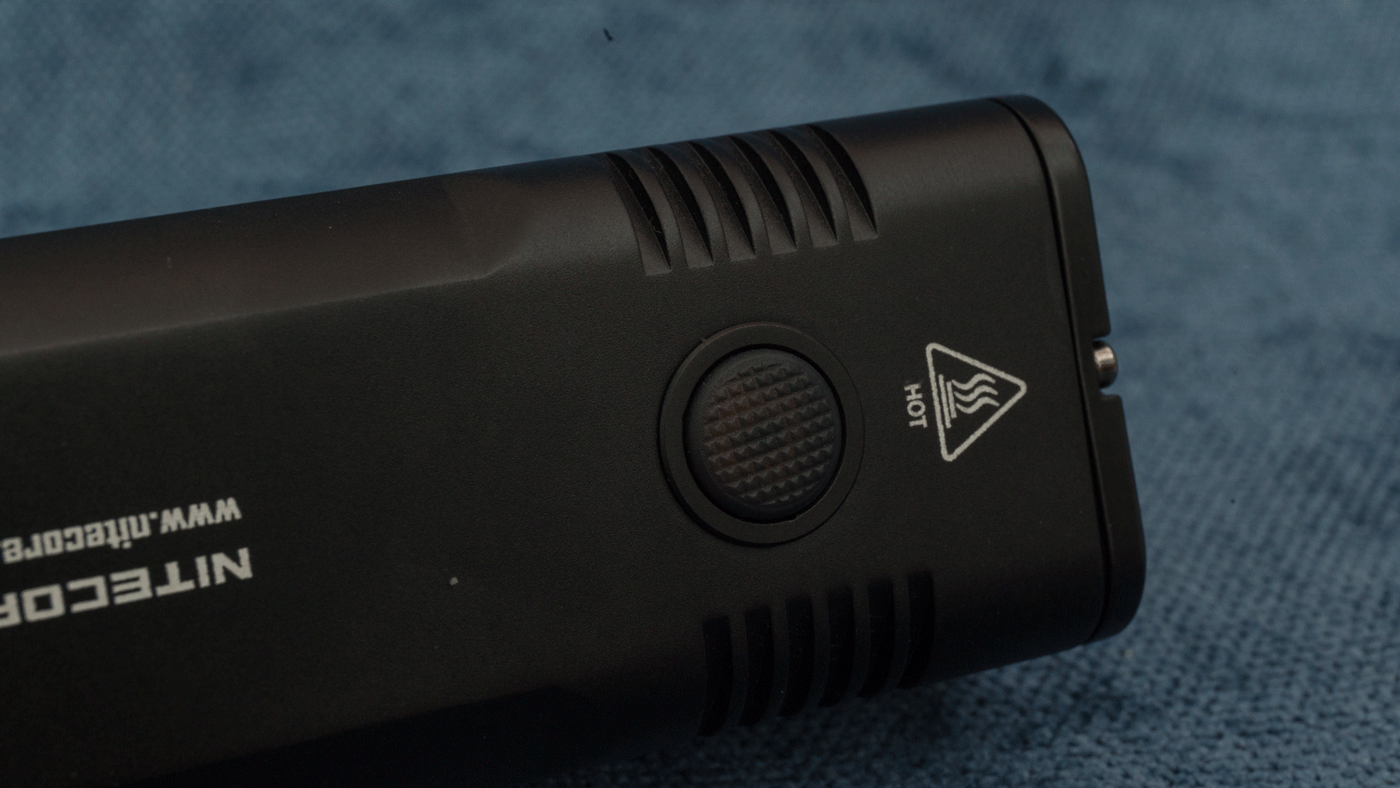 Rubber plug of charging port is really thick and it takes some time to take it out once your nails are cut short. Well, I prefer to make some extra attempts to open this port rather than having this plug loose.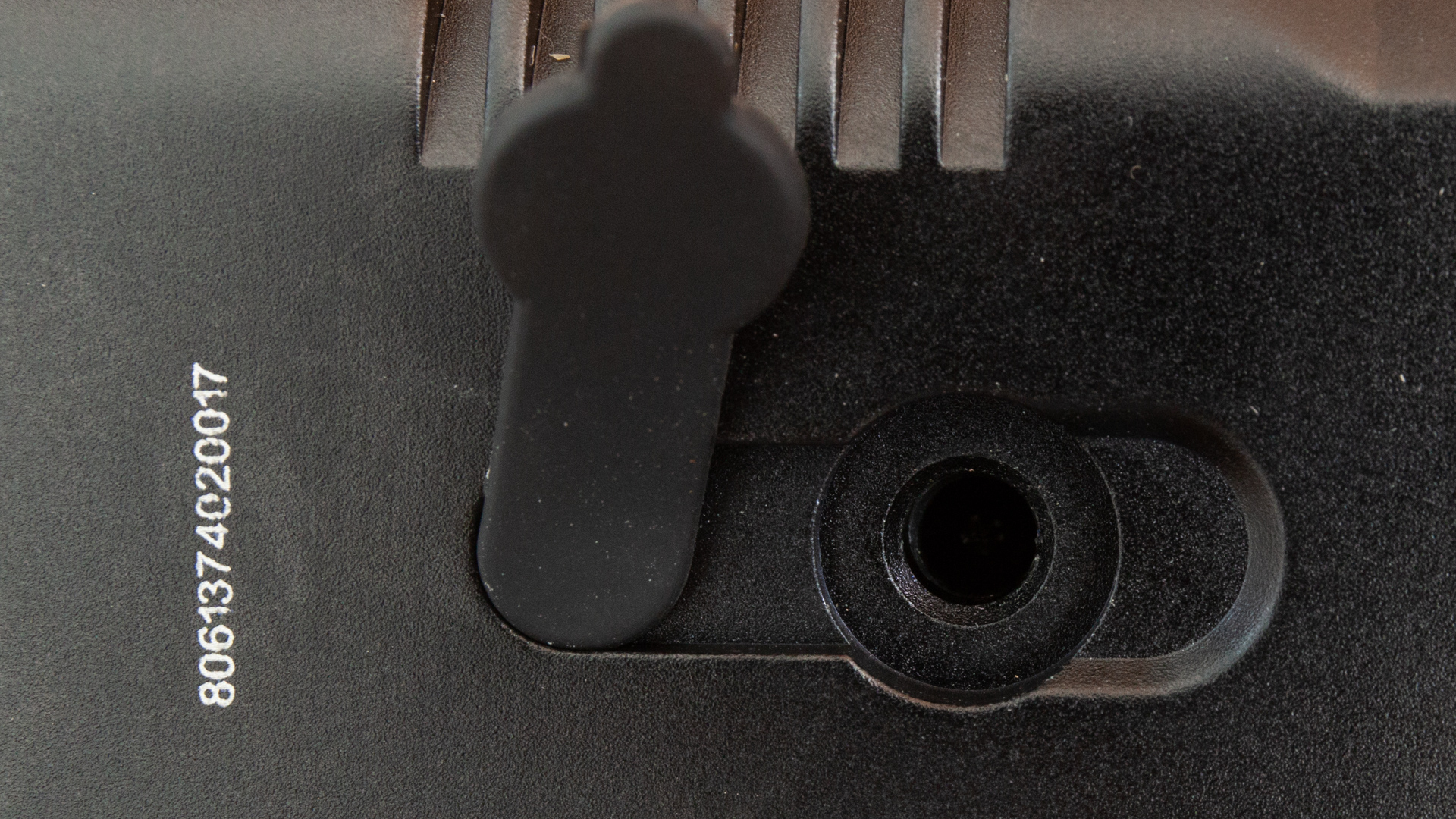 What about charging, i`d prefer to get 2A Type-C here, what would be almost the same for charging time as here with 12v\1А wall charger. And, once it is 12v, may be adding car adaptor would be good idea (though I doubt if anyone will spend 5 hours in cars, enough to fully charge C2). Anyway, this charger works and I believe that you can buy similar charger easily.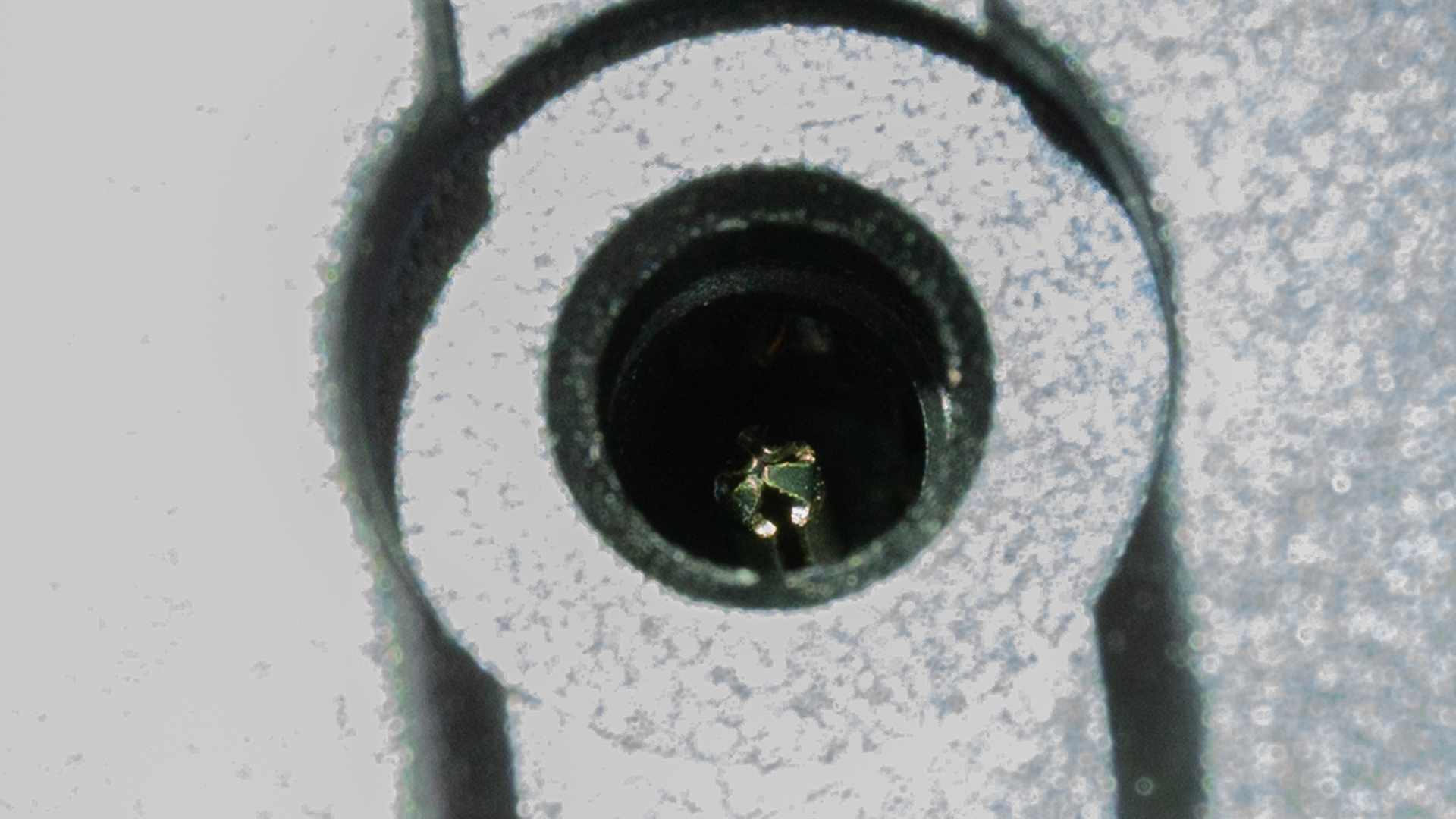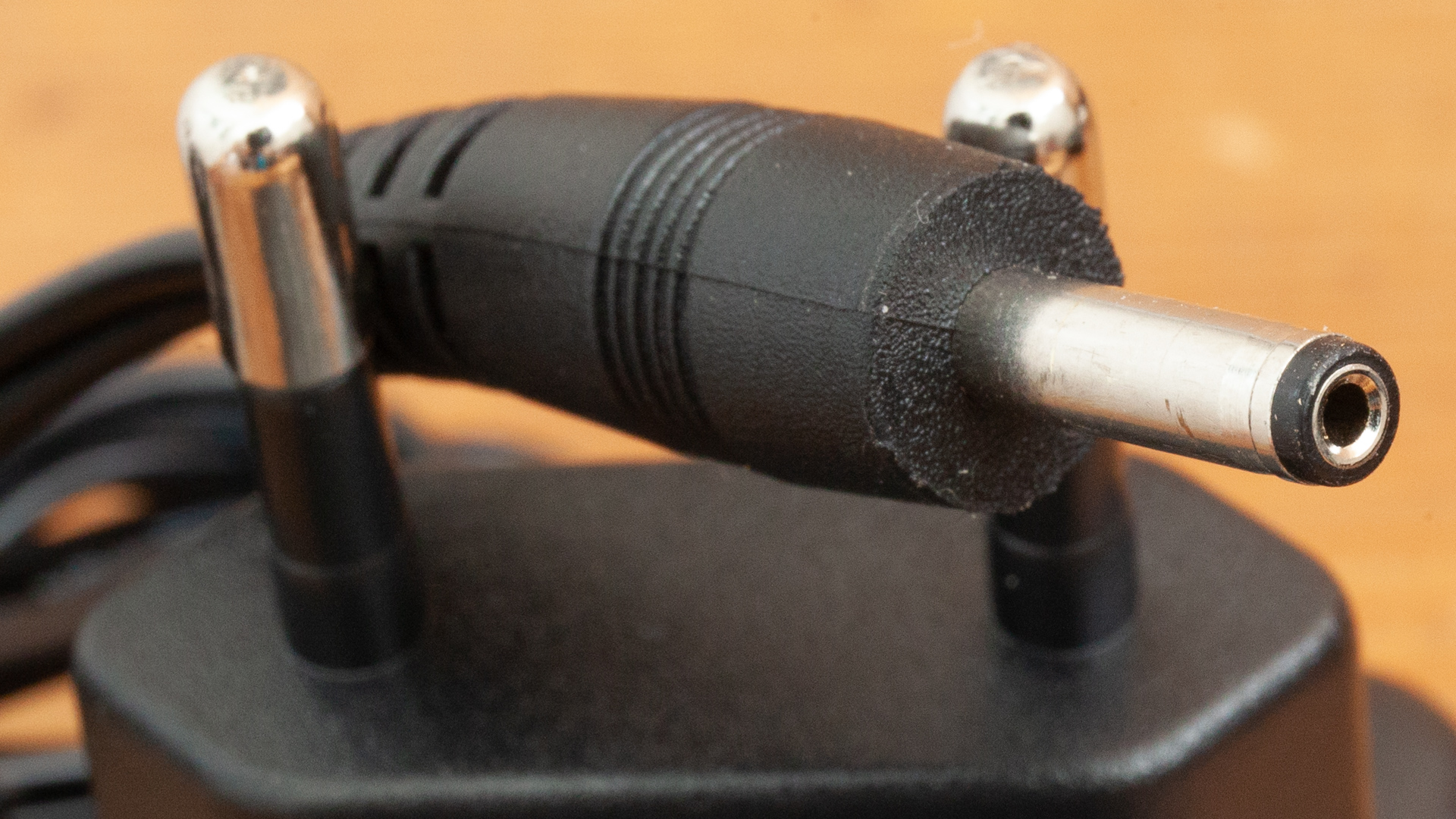 I unscrewed bezel but realized that silicone seal here is pressed sooo tough between reflector and flashlight body, that I cannot take reflector out. Chances to tear seal apart are high. So, guys, sorry, I cannot show you insides other than on pic below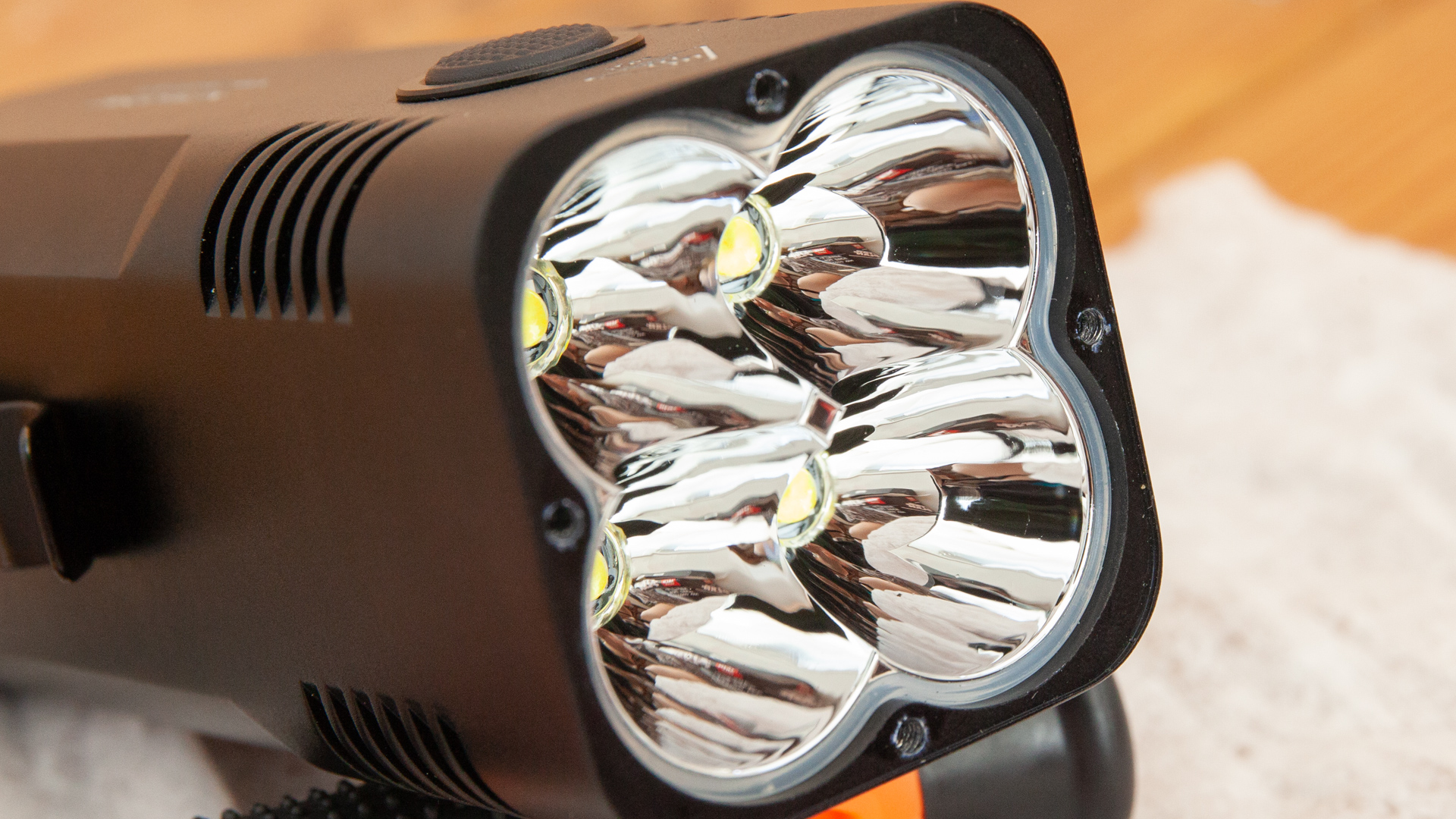 I`d say that reflector is 20-25mm deep. And seems that LEDs are little bit out of center. Suppose that is not that easy to position reflector THAT precise. And, in reality, these 0.2-0.4mm have absolutely no influence to real use. Absolutely.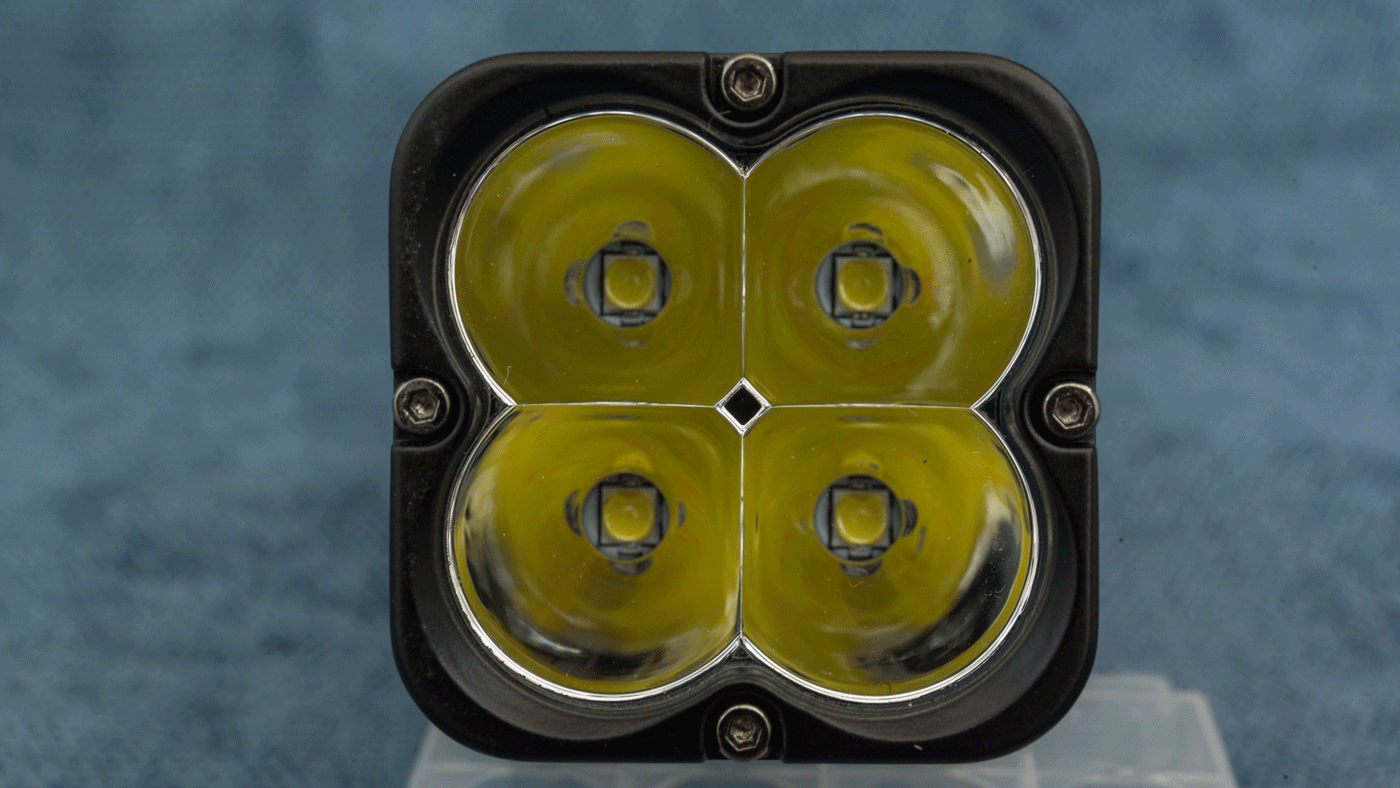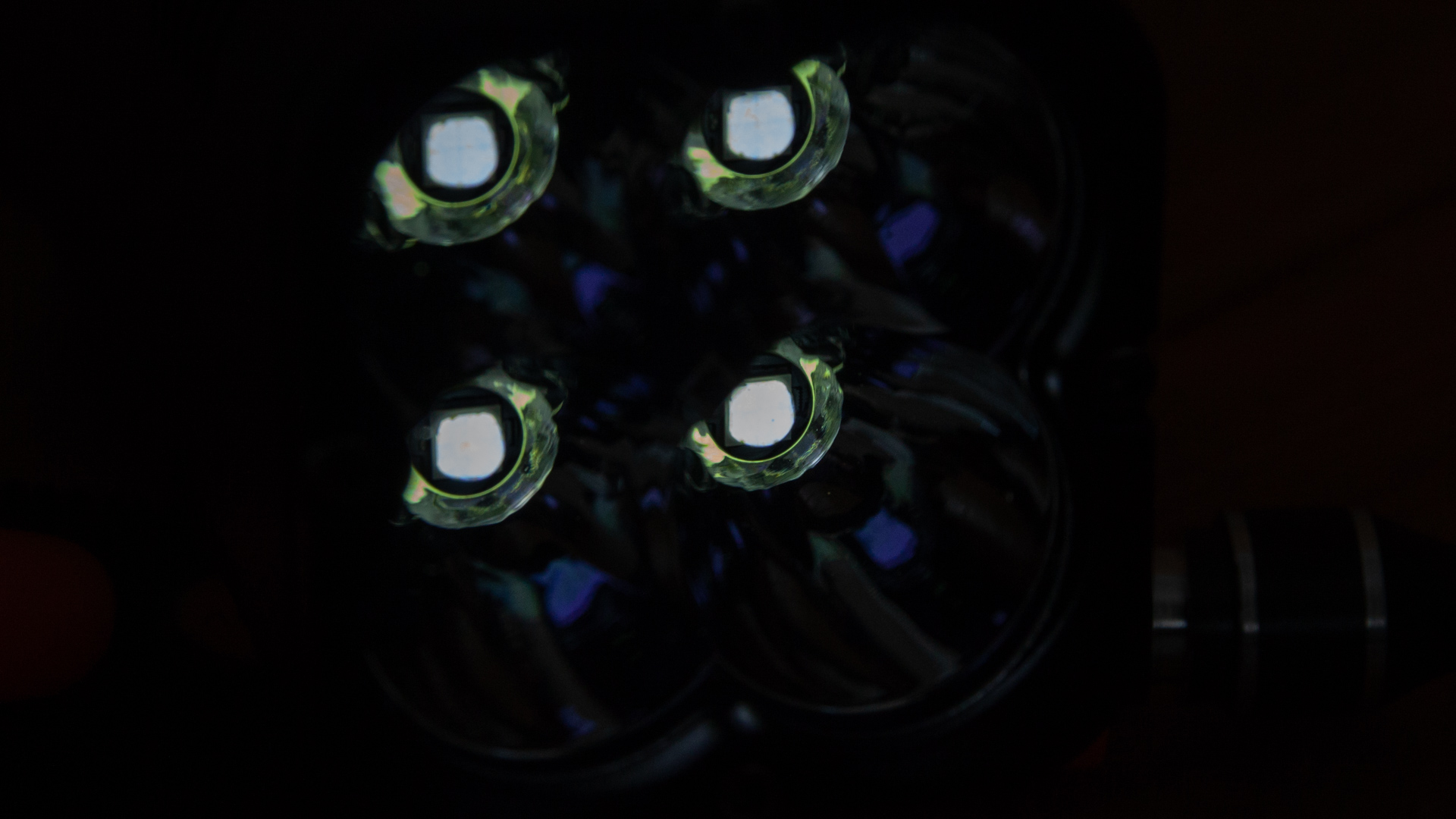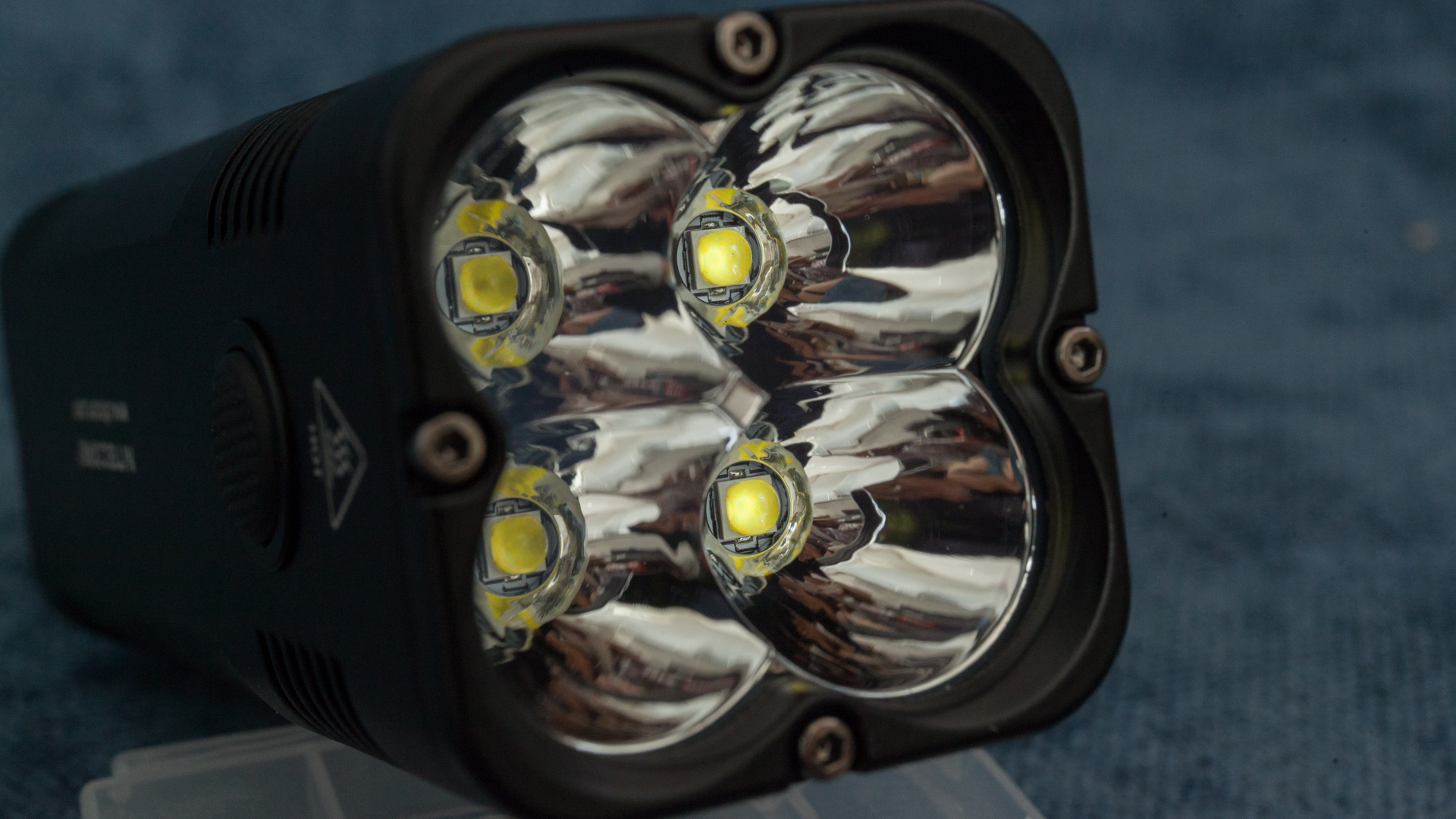 So, that`s all bout appearance. This small brick looks unusual, but I have no complaints about it`s look or convenience of grip ( I used C2 2-3 evenings during tests).
Some notices.
а) I haven't seen 4.2v indication at all, only 4.1v
б) half-press button is easy, so you chances of occasional locking-in are high, that is good because who wants to get such powerfull flashlight occasionaly turned on in pocket?
And what is really good, is reasonable lock-out, which is easy for user and hard for occasional 2 sec deep-press in pocket. I seriously don't believe it can happen.
Actually, before I got C2, I was skeptical about UI, expected it to be less convenient and logical. Now I can say that it`ll take some time to get used to it, as it is quite specific, but once you do – that is definitely ok.
PERFORMANCE
4 x XHP35HD. About 6000K (hotspot visually warmer), no PWM-shimmering at any mode.
You can see difference in color and light distribution with one common used XM-L2 \6500k OP flashlight.
Cross-like light is not what you used to see. I suppose that TM model produces the same light, as they are quite alike to C2.
After 2-3 days of test use, I can say that such specific light distribution make no inconvenience to me. It`s juts not round, nothing more.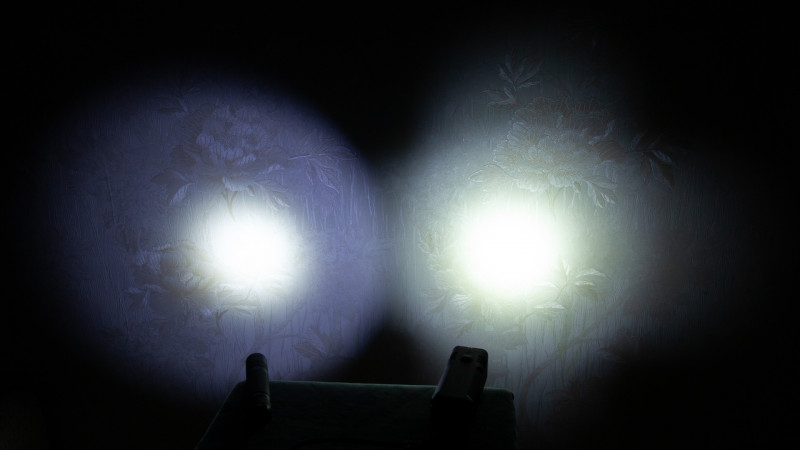 Of course, high\turbo generates a lot of heat and for body with such size and form heat dissipation is challenge. And challenge is rough. So enter thermal regulation.
What i`m trying to say is that you shouldn't expect to hold C2 with turbo on for a long time barehand.
Even high is not comfortable here. With gloves on that is not problem.
My impression about mode spacing and real use.
I feel lack of mode between ultralow and low, something around 70lums would be nice. Of course people will buy C2 for it`s powerful high\turbo, but having good dim mode is nice as well.
Well, in most of needs you will not fell this lack of intermediate mode. But is some situation LOW as it is now is too bright, and ULTRALOW is too dim.
I also thought about something around 600-700 lums, but in reality you can do with 1000\MID as well.
What about HIGH and TURBO. Heh, 3-4 years ago that would be astonishing, now that is just impressive (from flashlight that compact). In turbo you get about 200m of really usefull light (not marketing numbers, you seriously see thing here) and besides this range you get wide sidelight. See pic below.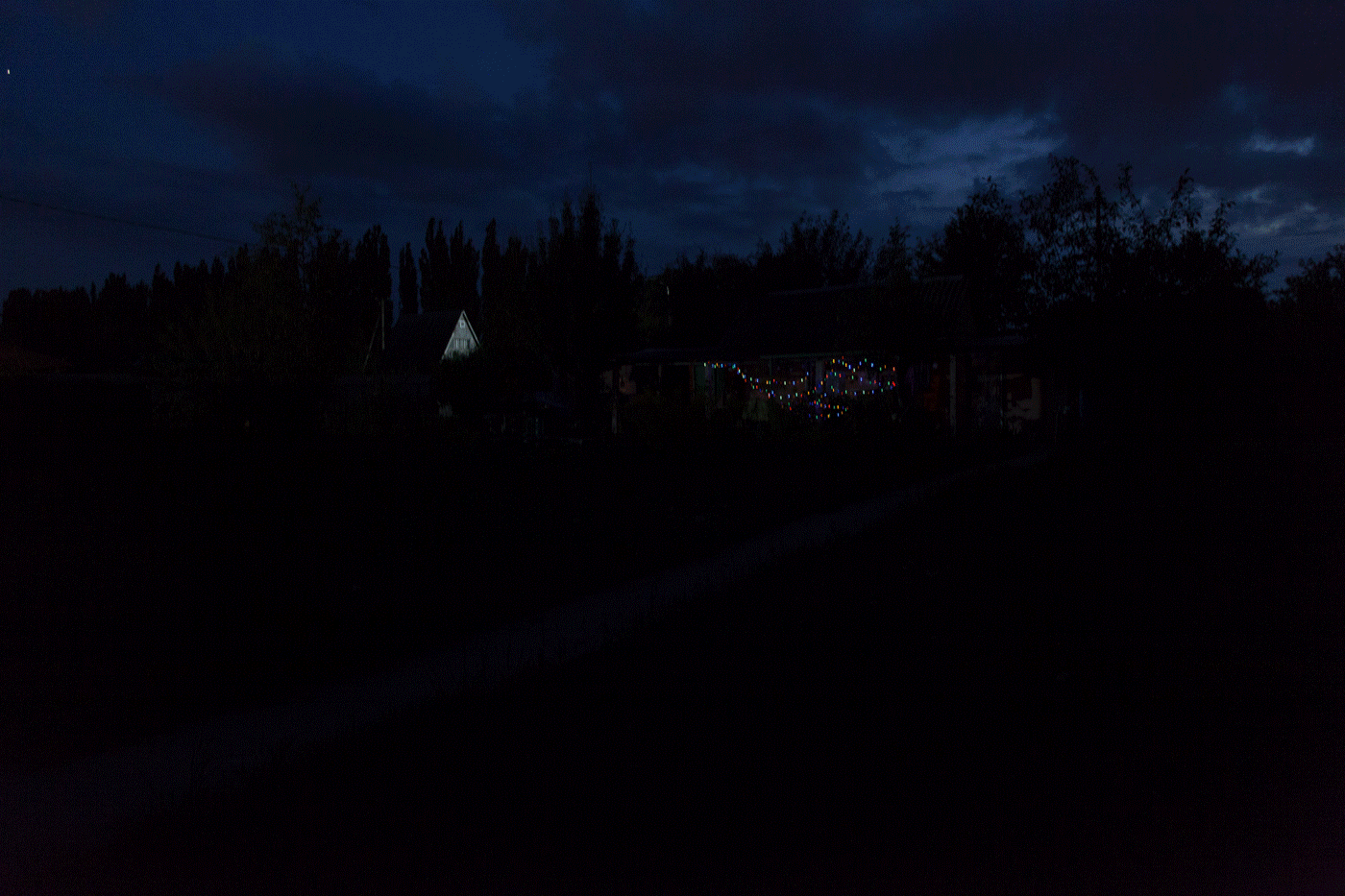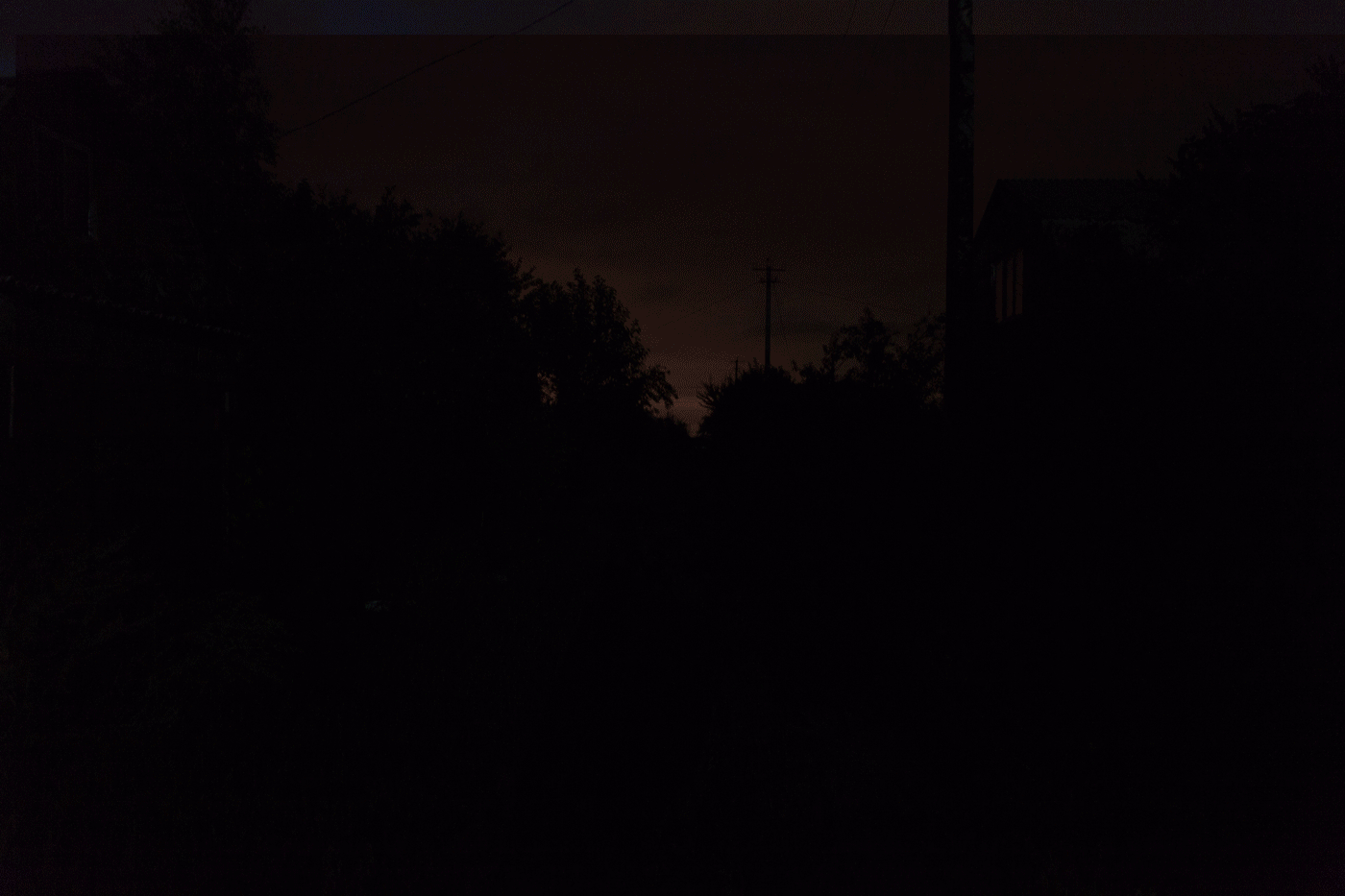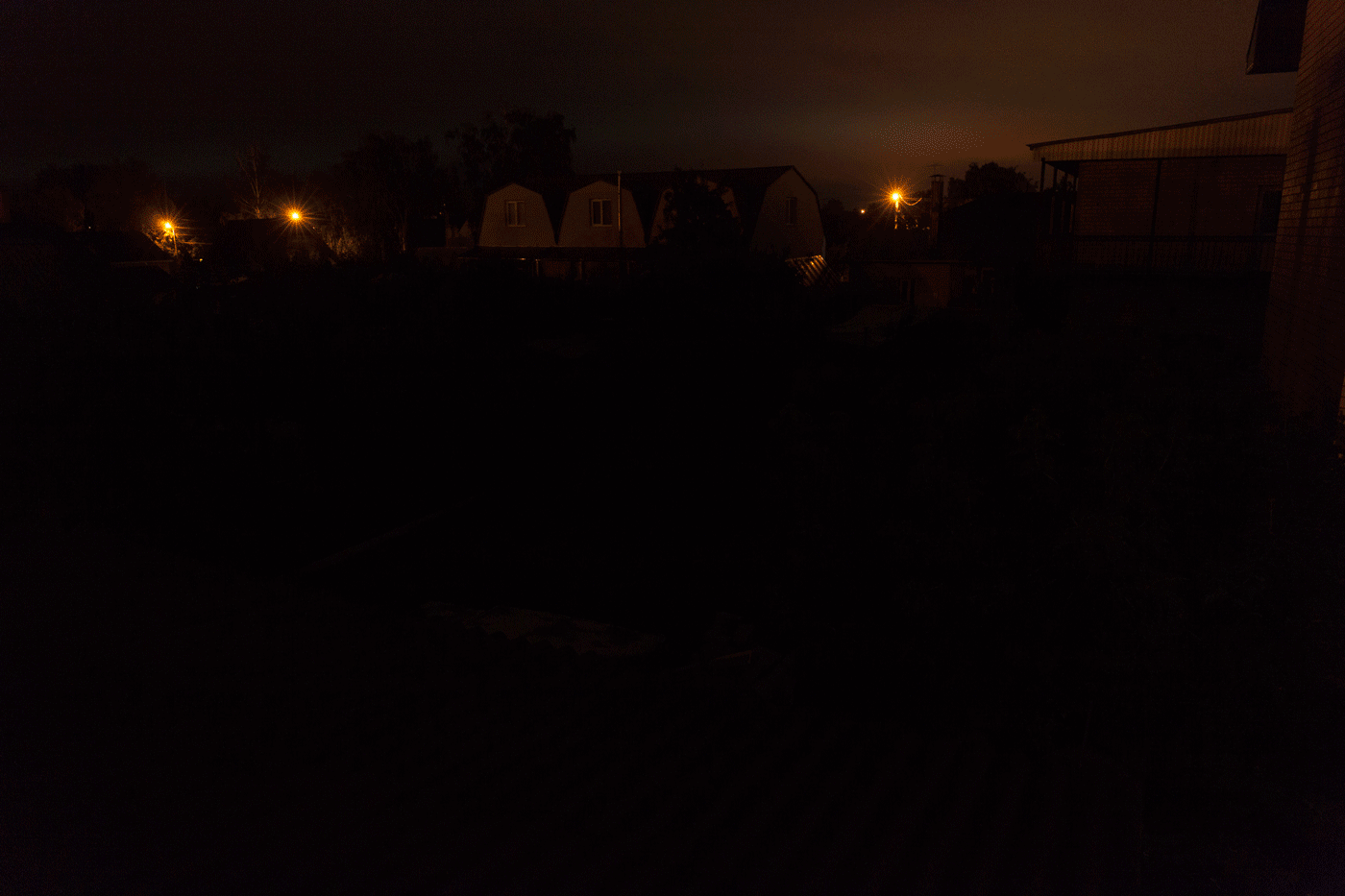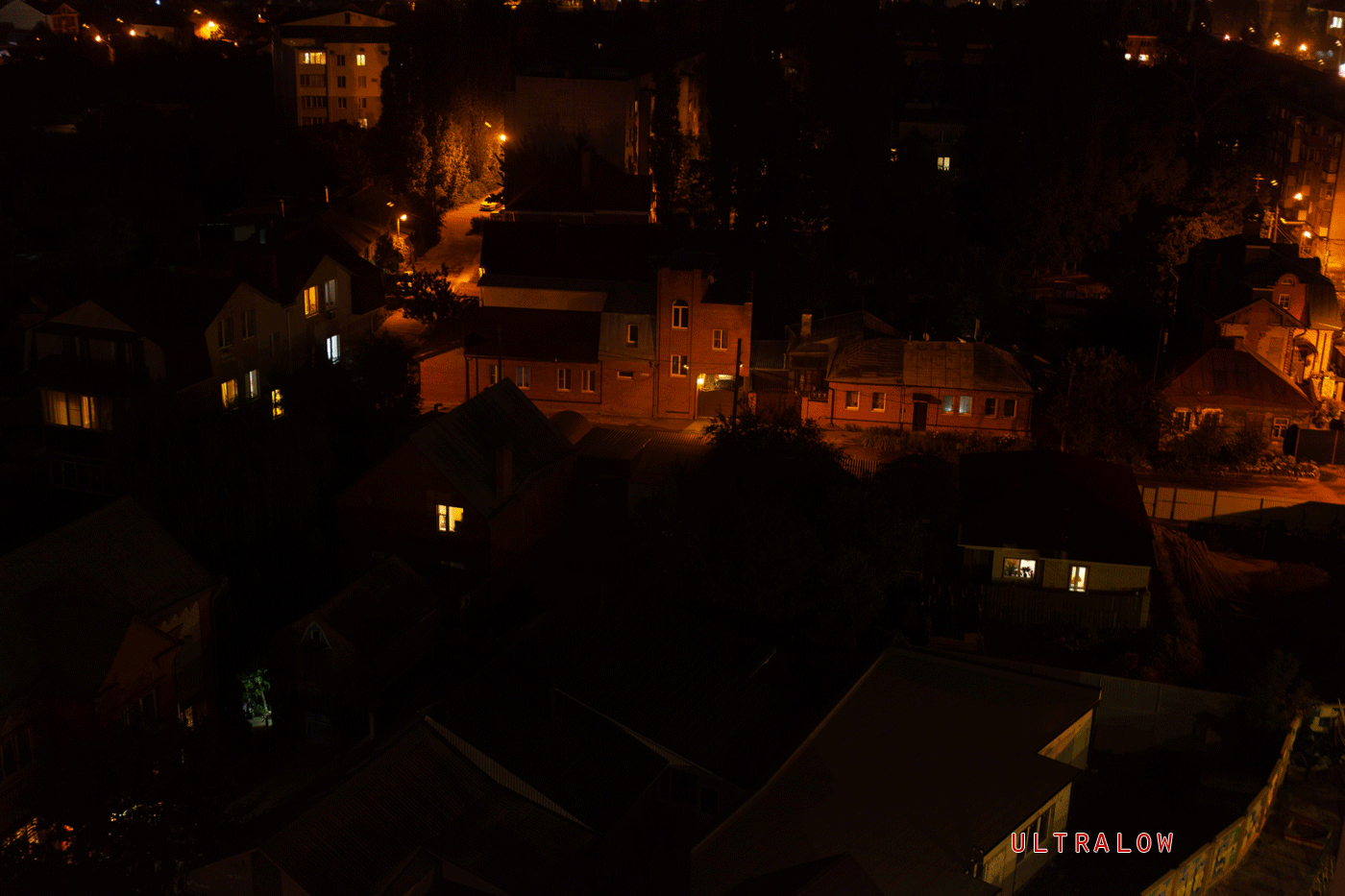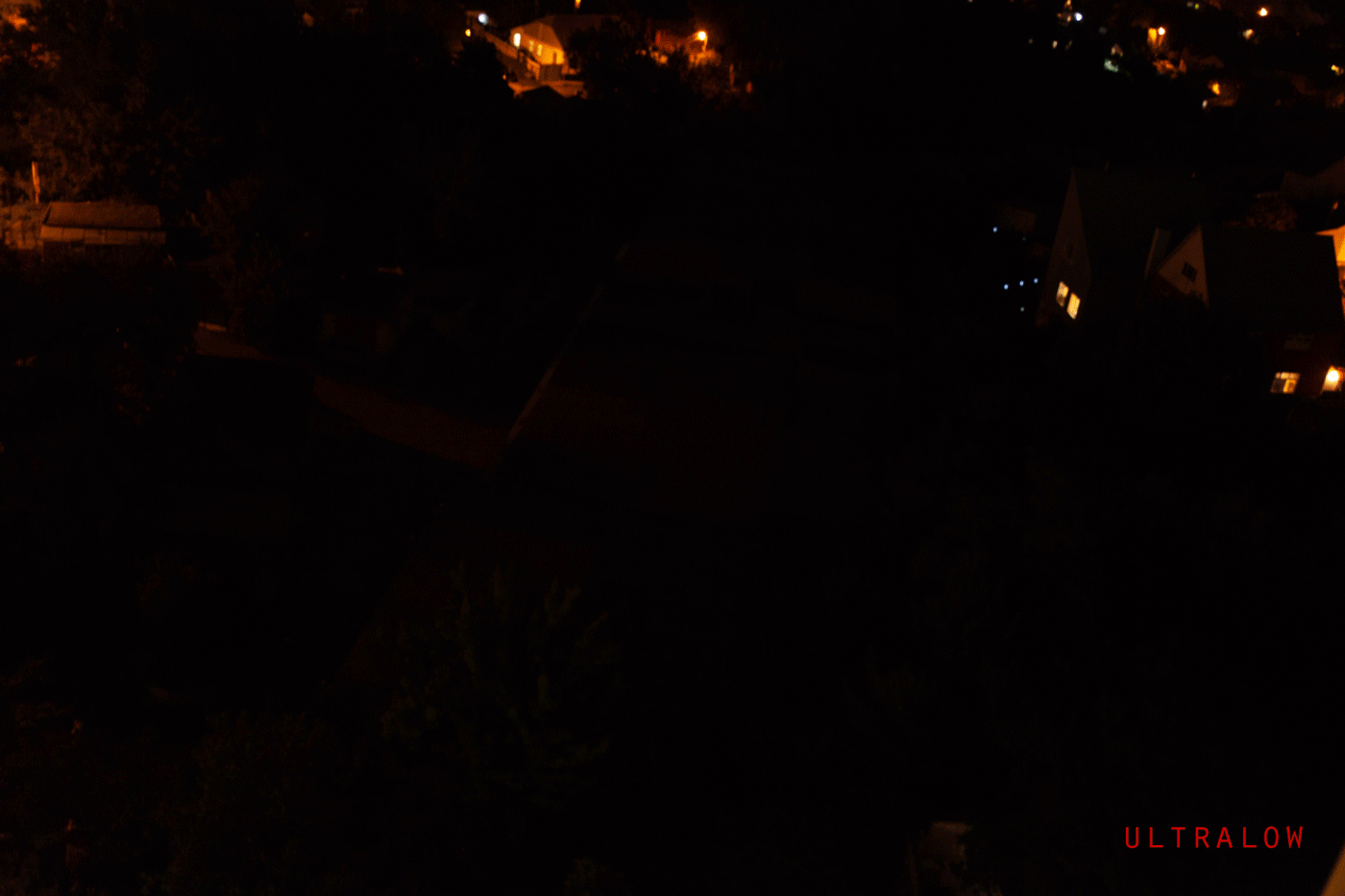 runtime charts demonstrate good stabilization and reasonable thermal regulation. I`m glad not to see sawteeth here. The only fact that surprises me is that thermal regualtopn also influences MID, which is not that hot and bright for such body.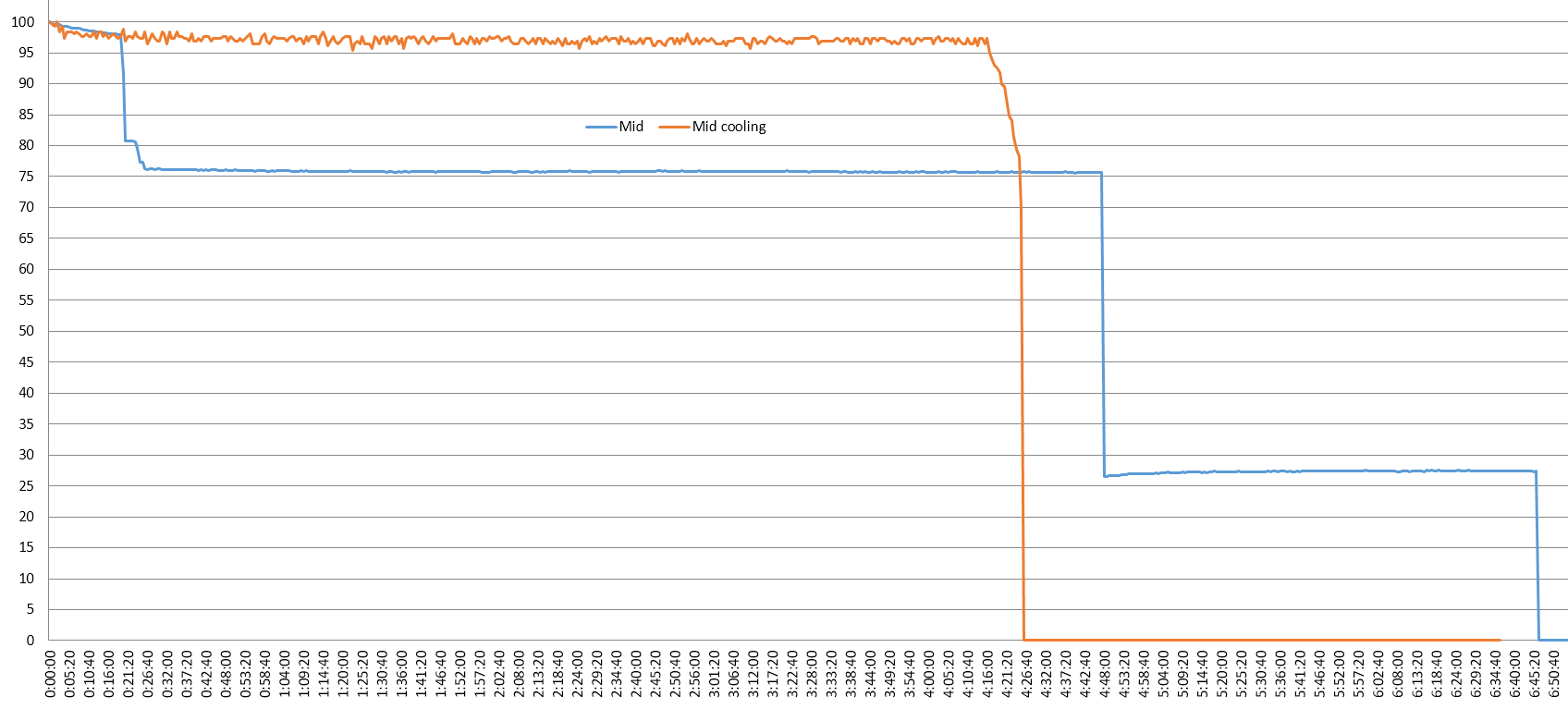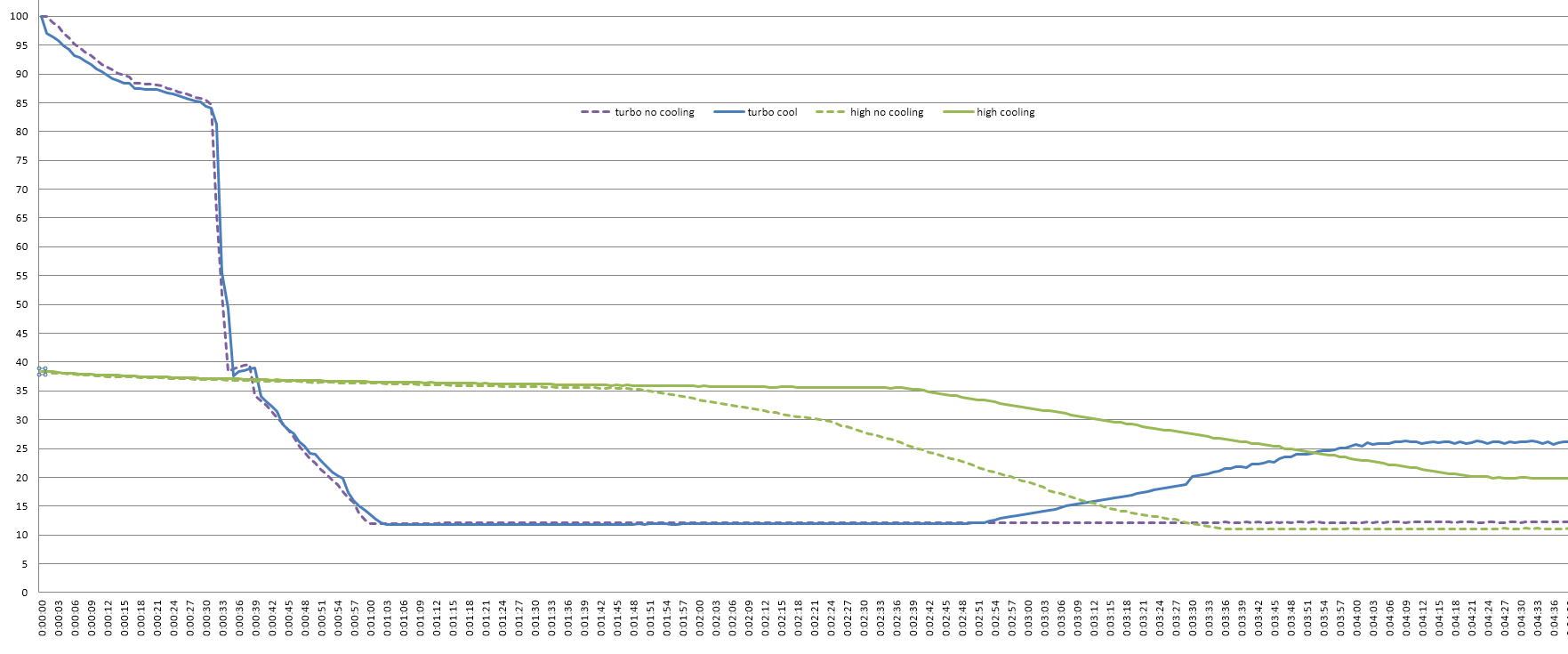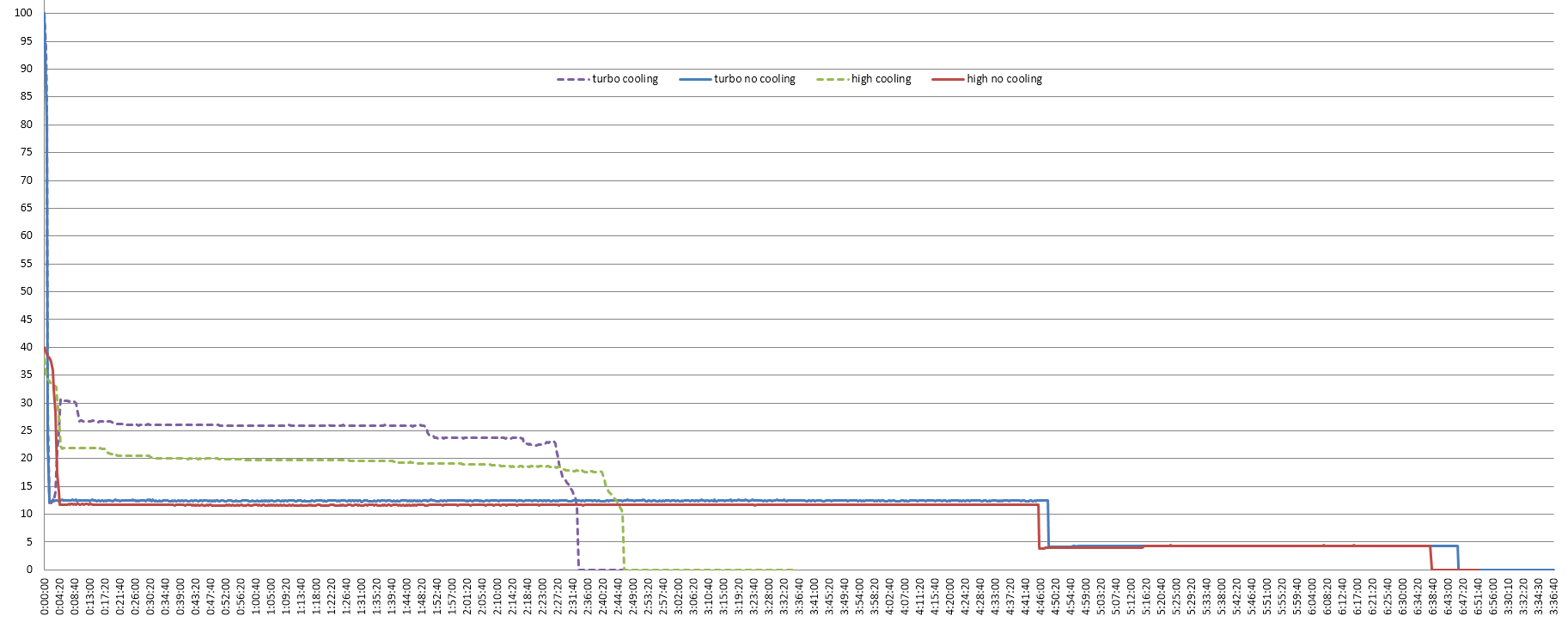 OVERALL.
Well, impression is good. As I wrote above, 3-4 years ago that would be a "OMG!" thing with 2 time higher price tag. Now, with 2-3 20+ kilolumens blasters, for experienced flashaholic that is more "WOW" and still can astonish regular flashlight user.
But still, Concept 2 is still damn bright. For 9 of 10 users that would be most bright light that they`ve seen. And 3-4 years ago C2 would cost at least 2 times more, now this model is definitely affordable for anyone interested in compact and seriously bright flashlight. I think, Nitecore did job well with constructing Concept 2.
PRO
+compact size
+firm and comfortable grip
+good build quality
+impressive brightess
+quite comfortable UI with reliable lock-in\out mode.
-quickly gets hot (inevitable with being that compact, unless you don't want to burn LEDs)
-2A Type-C would be better
- ultralow-low gap
you can buy it here