here is a product page at Acebeam website.
you can *buy Acebeam T211 *from:
➤ Nitetorch store here
they offer great price for all the Acebeam stuff, make sure u proceed to checkout, there will be 15-20% discount code that you can apply and make price even lower.
➤ AMAZON
—
Though I tested a LOT of flashlights, just few of them feels like " I want to tell about it", rather then "I have to tell about it". This one is from 1sts.
XPL-HI, 4000k, 1 or 2 battery run. Excellent, Smithers!
I owned 3-4 acebeams and love them all (and more I like those, which I haven't put my hands on, hah). It seems that company keep in mind that people want, both real users and people from here at BLF (those who ask for more CRI and as much lumens as it possible. If in one model – that`s better).
PACKAGE AND APPEARANCE
Package is not design thing, but I feel like it is conscious decision, it still looks quite good and functional.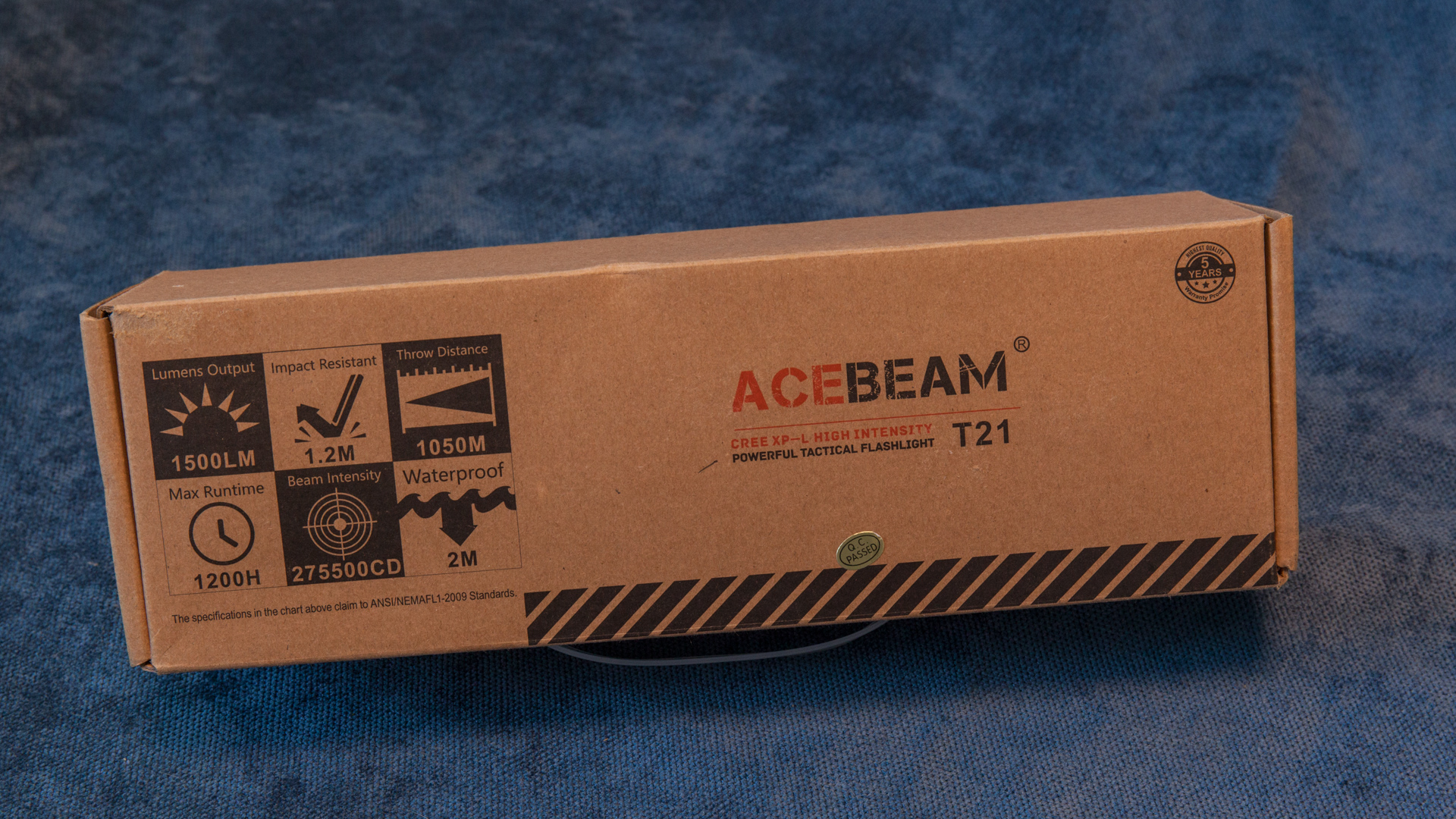 Insides, in foam rubber: T21, manual, warranty card, holster, lanyard and o-rings in one pocket.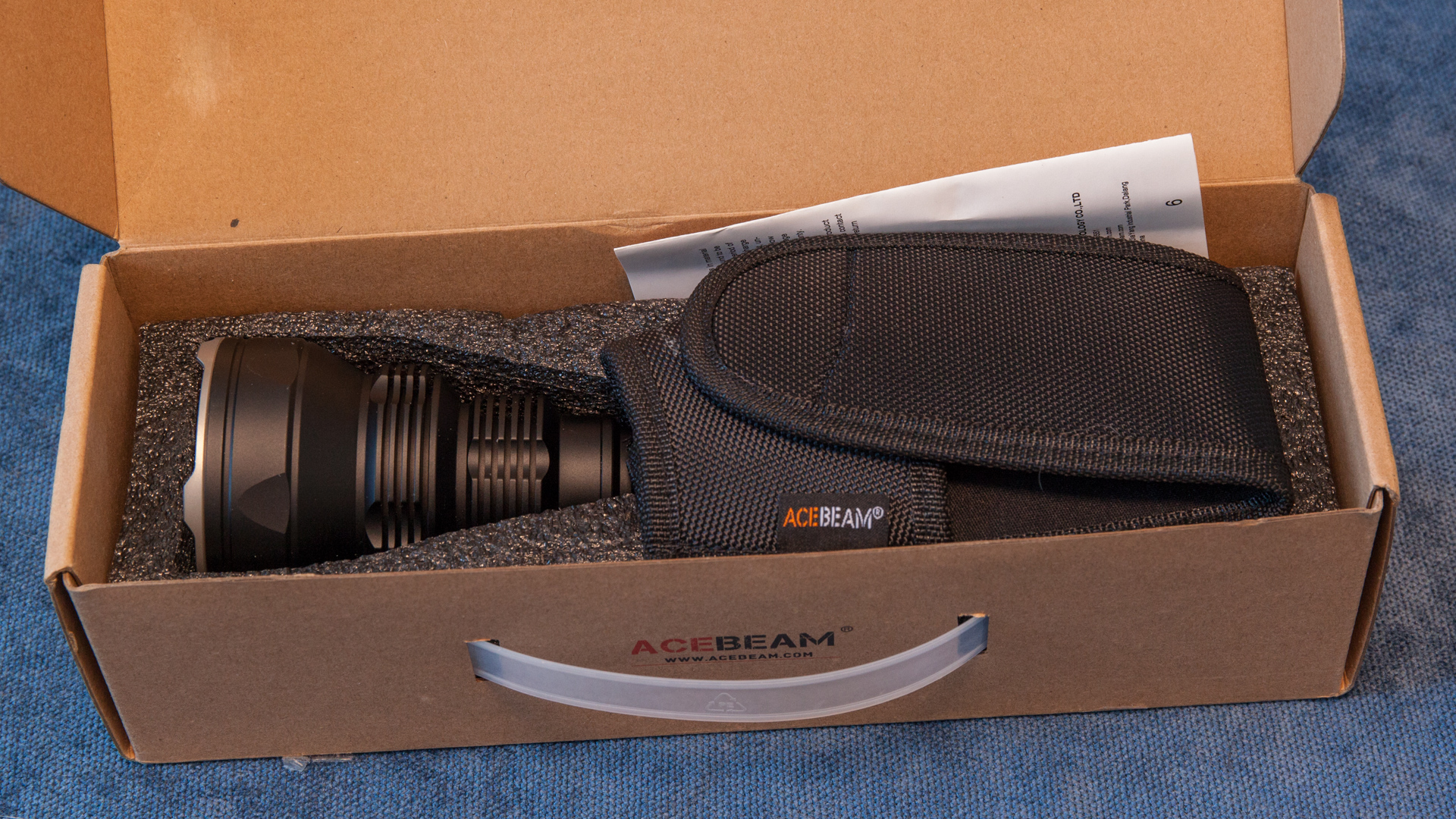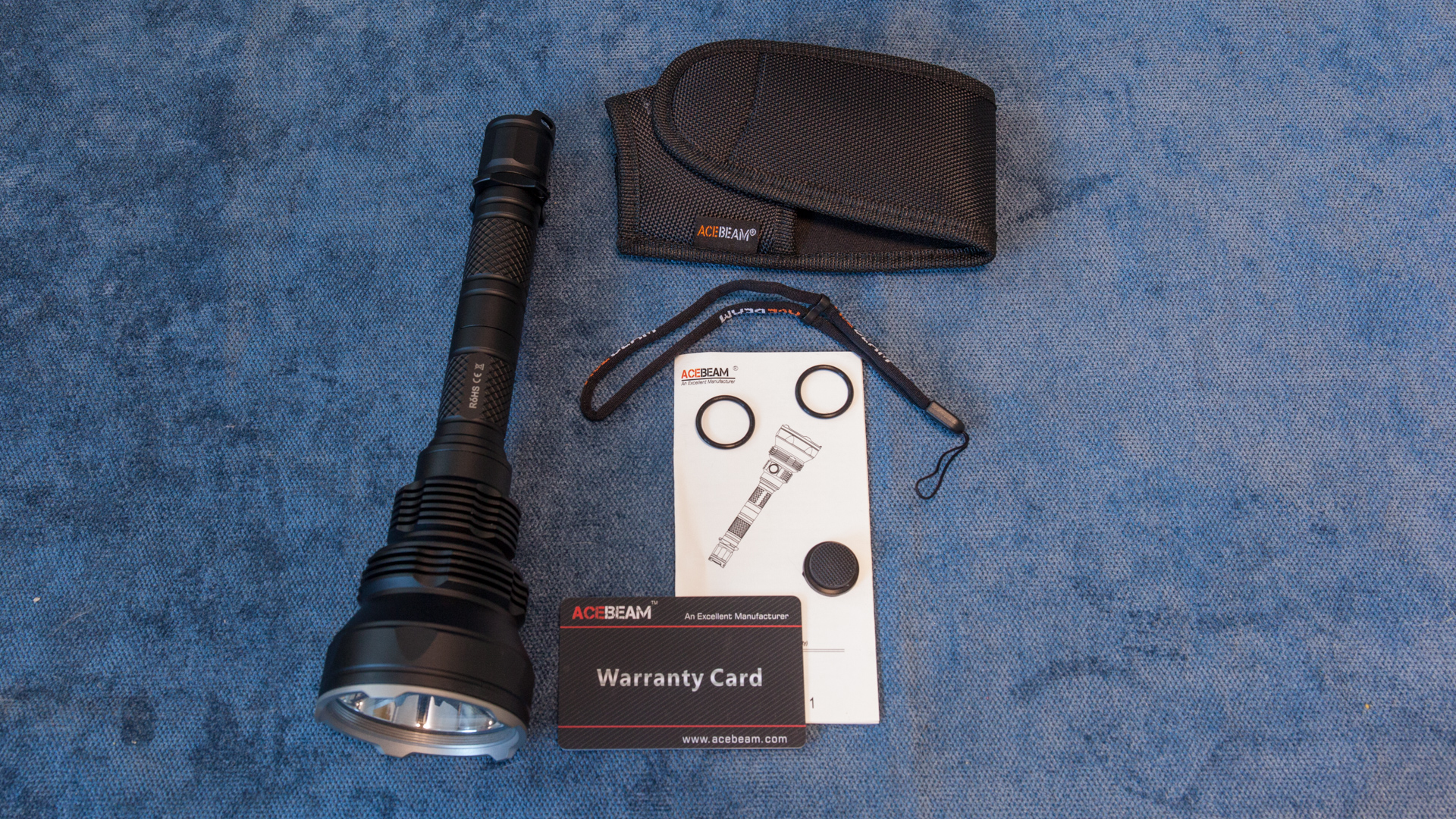 Holster is good. It has 2 layers to attach to belt – upper with velcro, bottom one sewn to holster. In 2nd case you have to take belt out to put holster on it, in situation with Velcro it may catch on and open up when you get through bushes.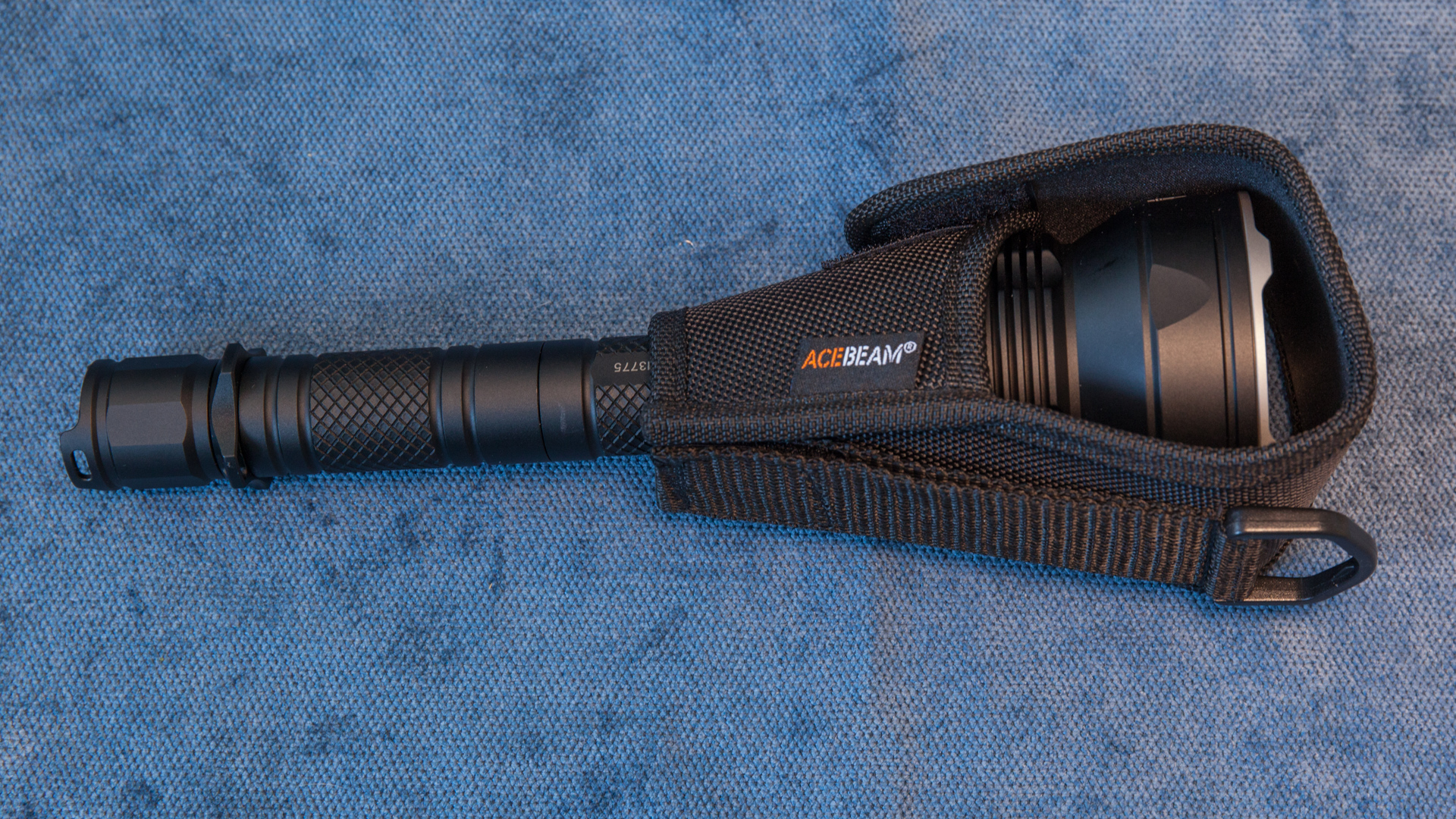 So, it this form-factor of 2×18650 thrower, Acebeam T21 cannot show anything new. There was a lot of model and mostly they all look the same, as you cannot do anything else here. Just because. The only what manufacturer can do in such situation, with ability to learn from dozens of other similar flashlights is to screw up. And, Acebeam didn't. Though Acebeam T21 is not fresh model, it still surpises in good way.
Above, a lot of good words were said. Guys, if I don't like model or manufacturer – I say about it directly. And if like as well. So these words are honest. T21 look good, and feels as much good in hand as well.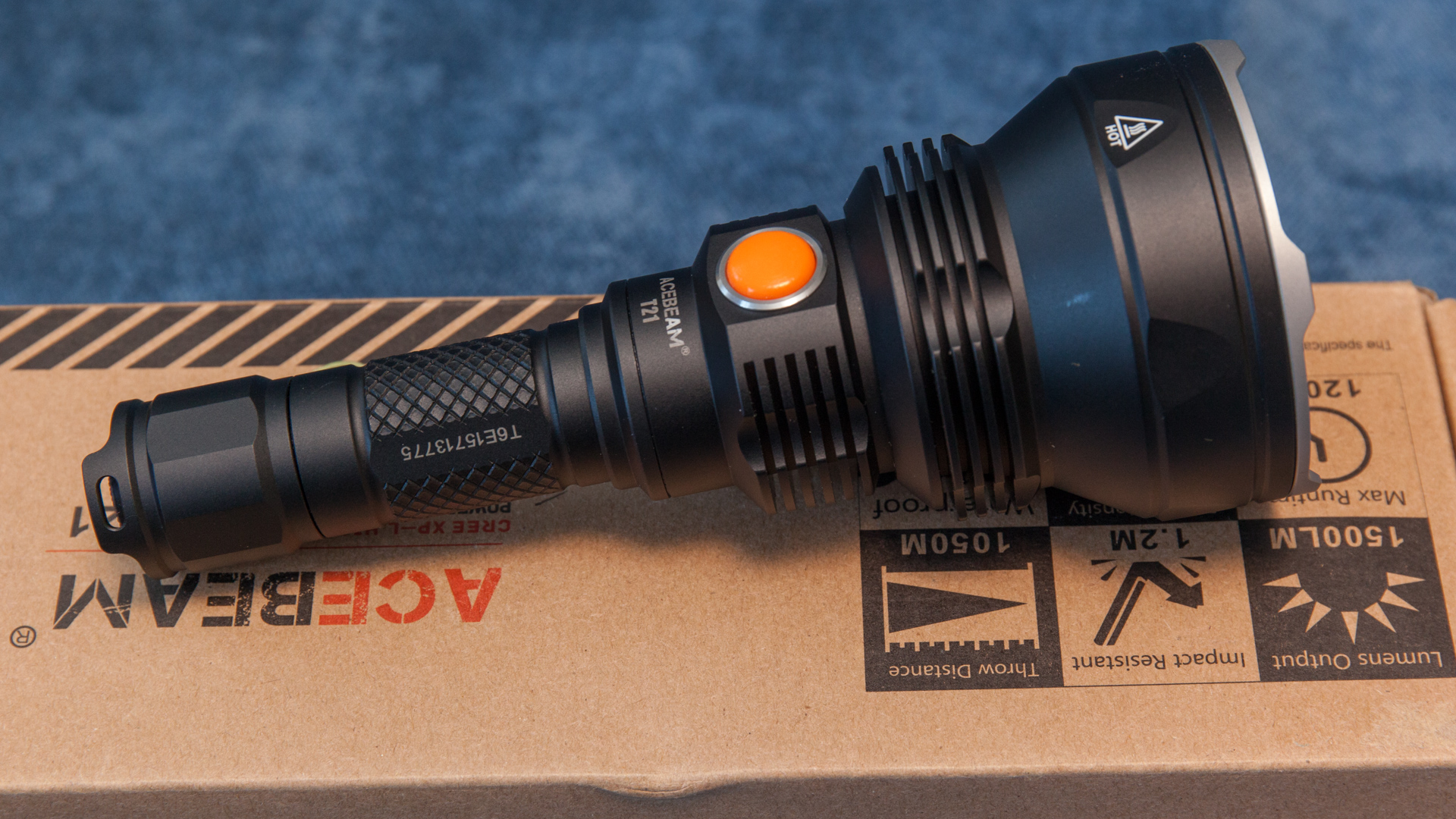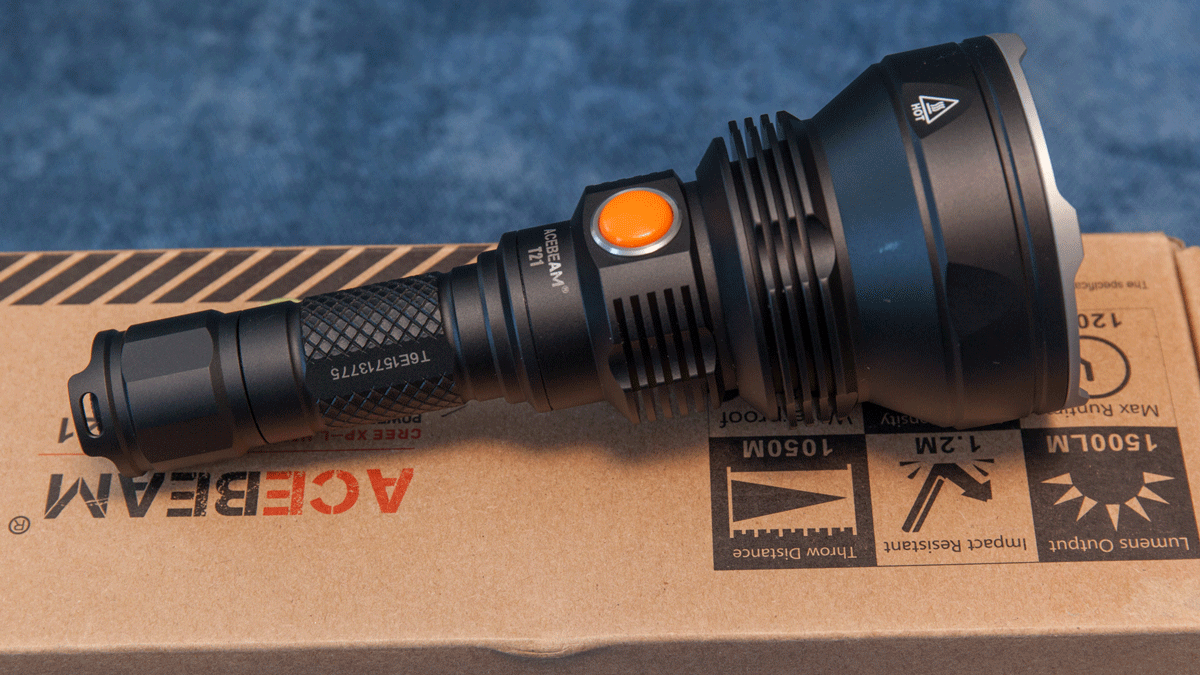 Size is 251х70х25.4mm, 286h without battery. I don't have anything similar right now, so I picket 2 compact lights that most of you seen: GT mini and C8+.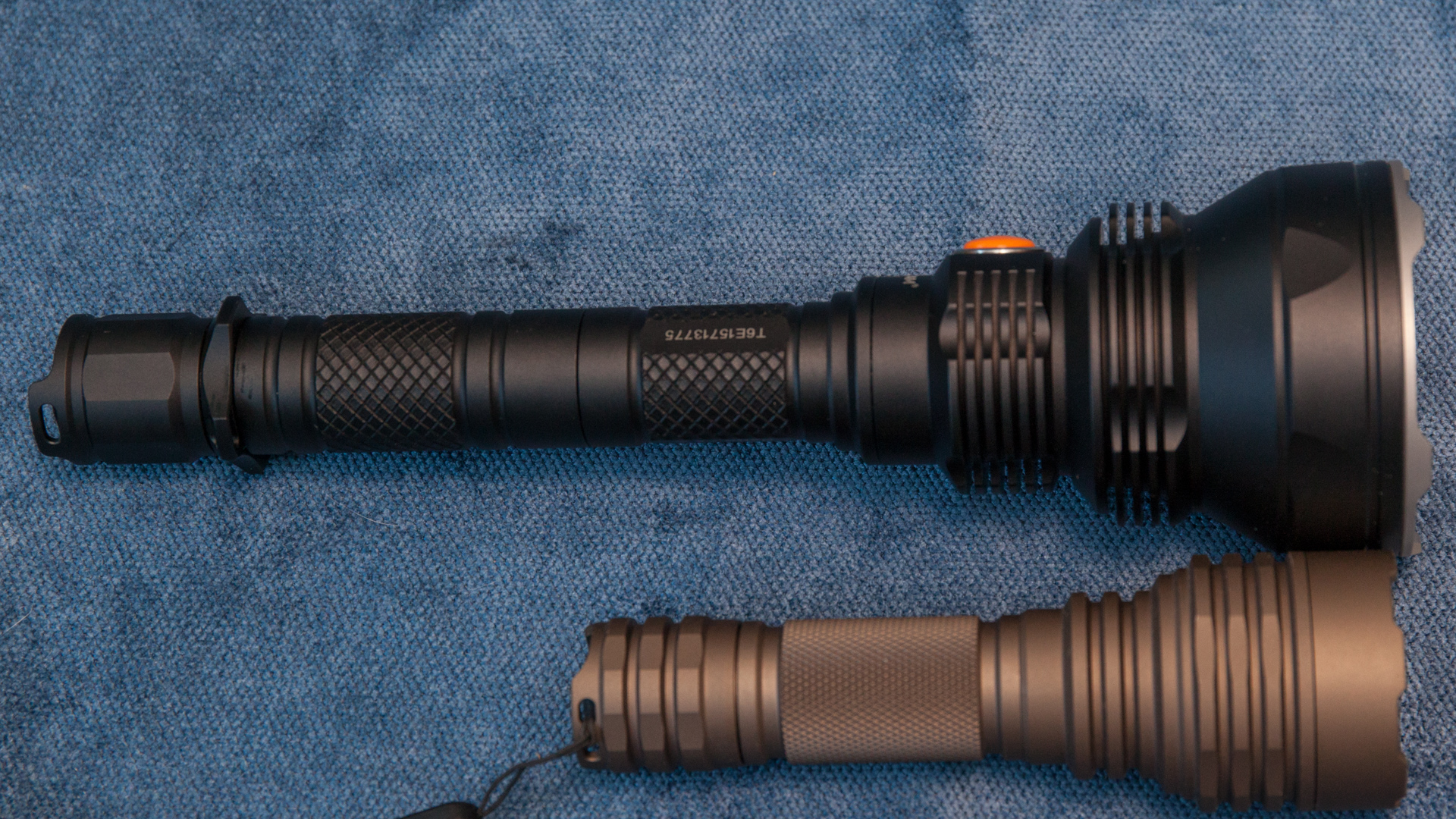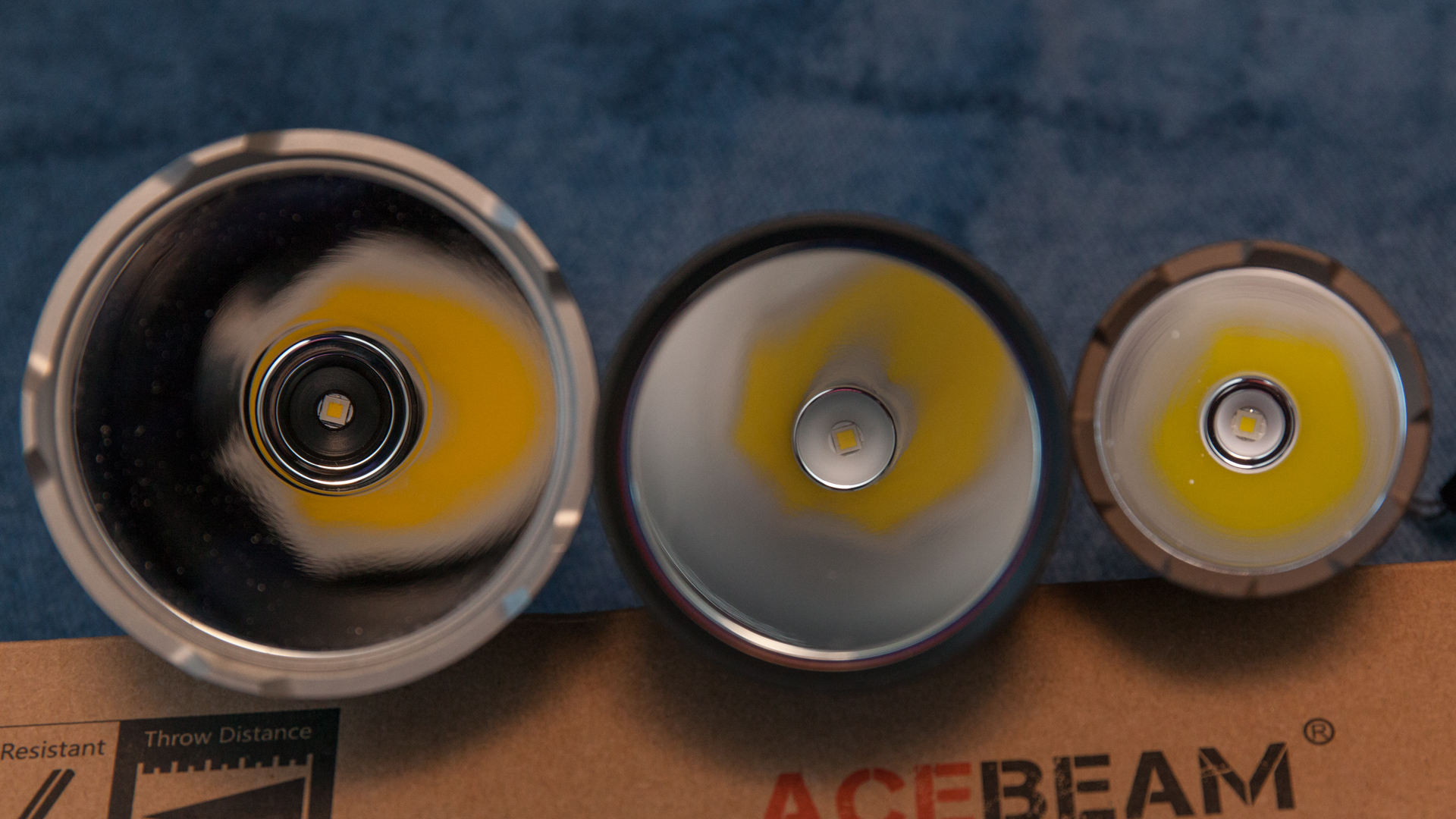 Knurling is mid size, grip is firm. In long-tube version with 2 batteries you can also rely on grip ring at tailcap. It is removable, so I don't understand why didn't make another place for it
for short-tube use.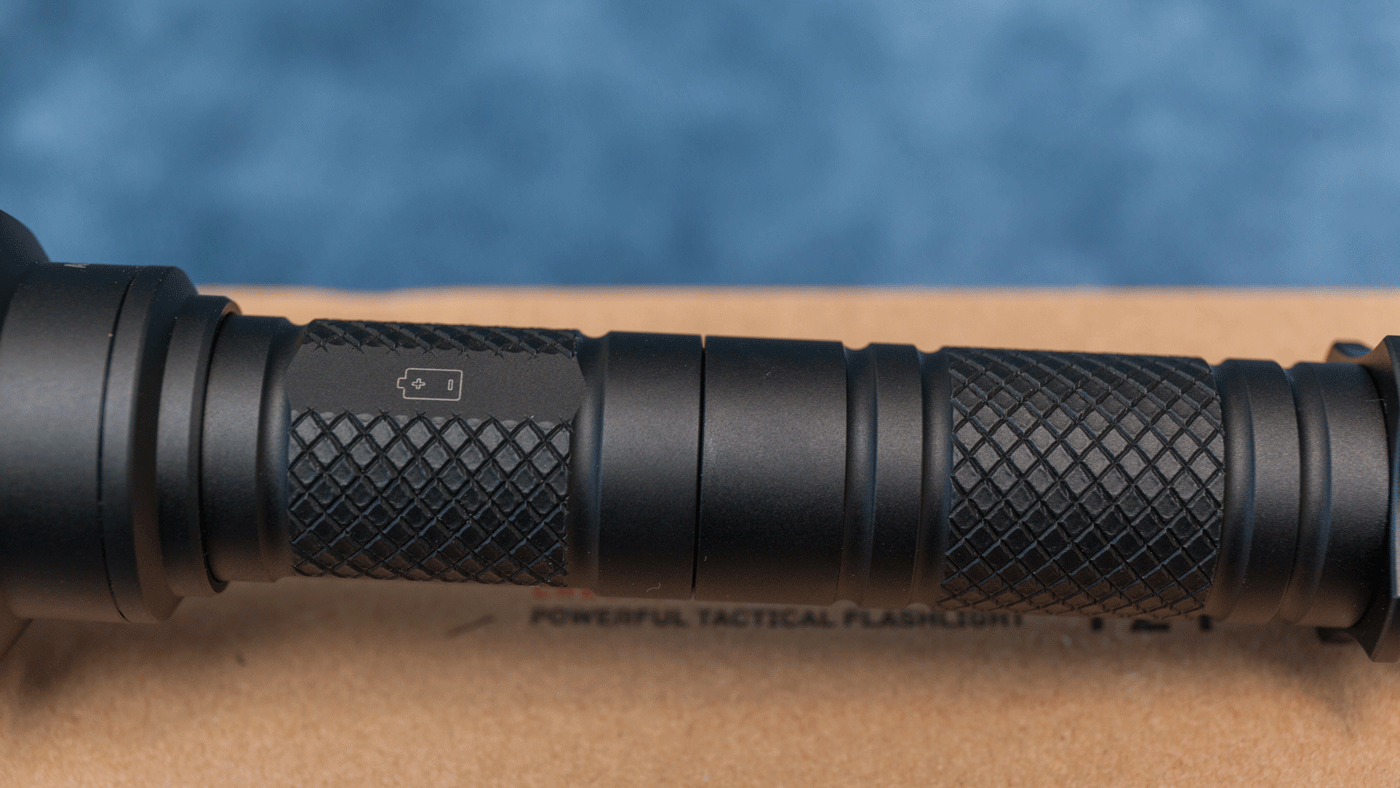 Weight balance and grip are both good, only in 1х18650 head is heavier than tail, no surpise. But far from the point when it hurts your wrist, what happens when you use something like short-tube BLF GT. So, everything is ok here.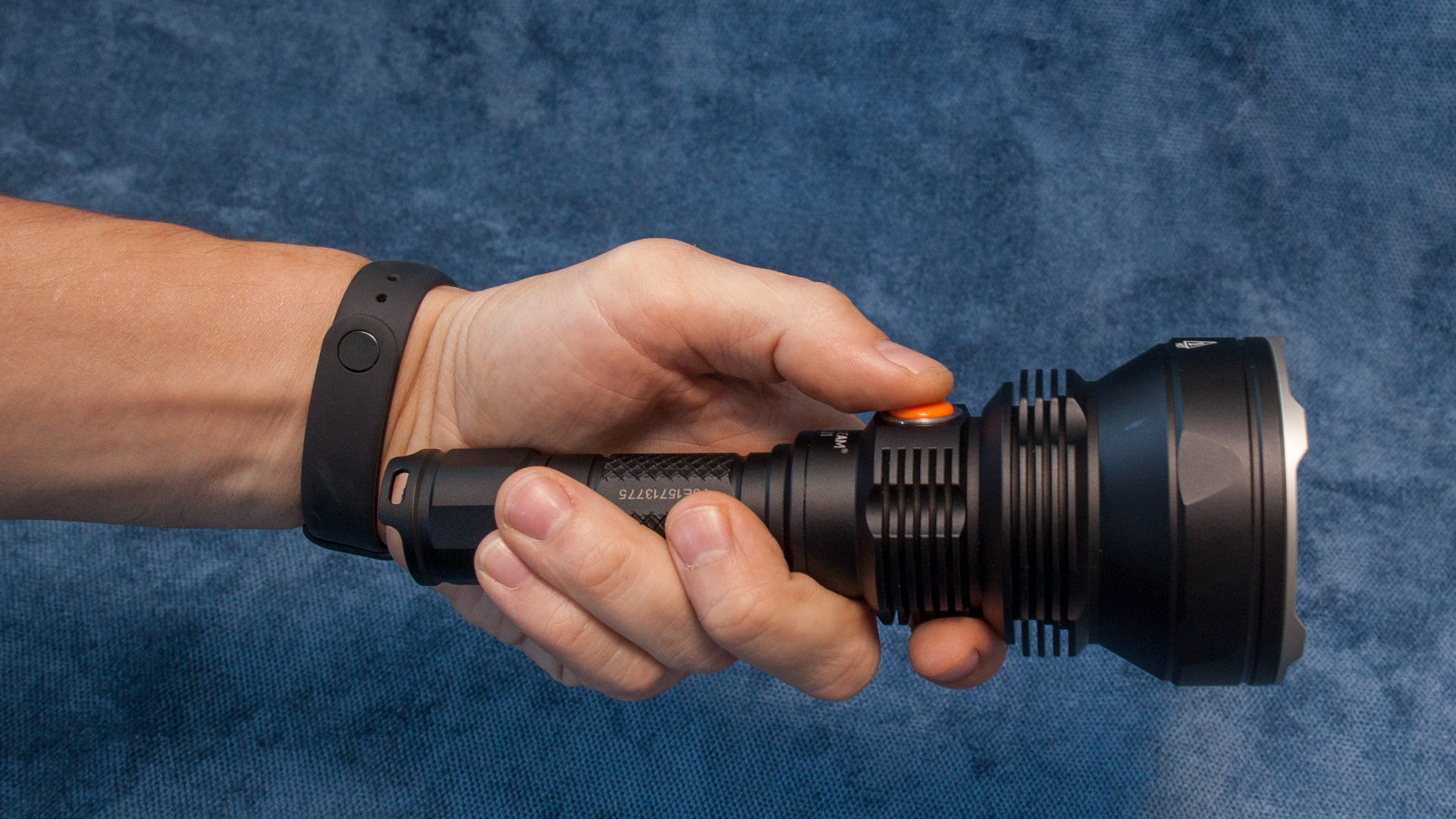 Tailbutton turns light ON\OFF. Deep move, clicky.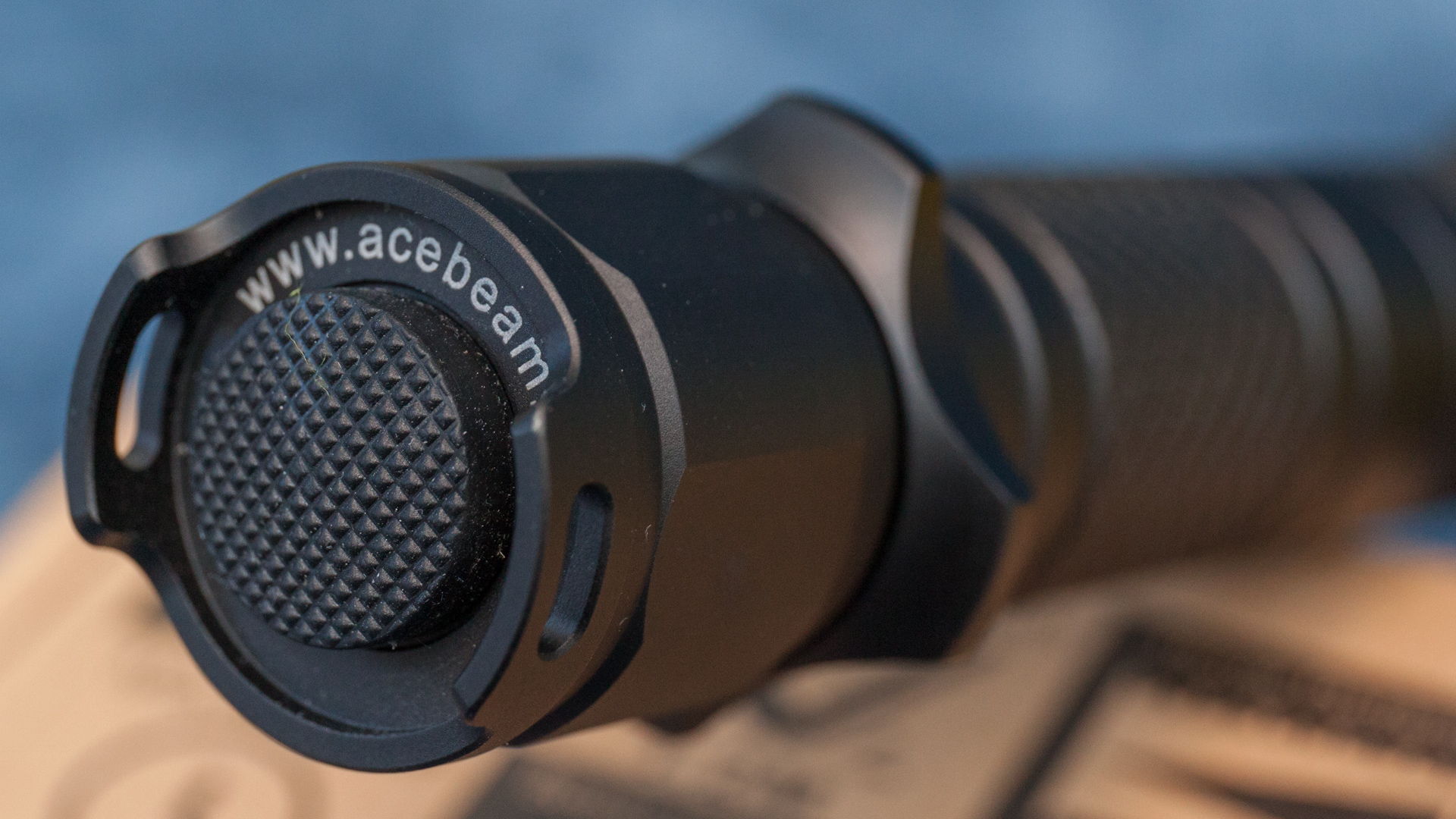 All the 3 parts with threads are excellently lubricated.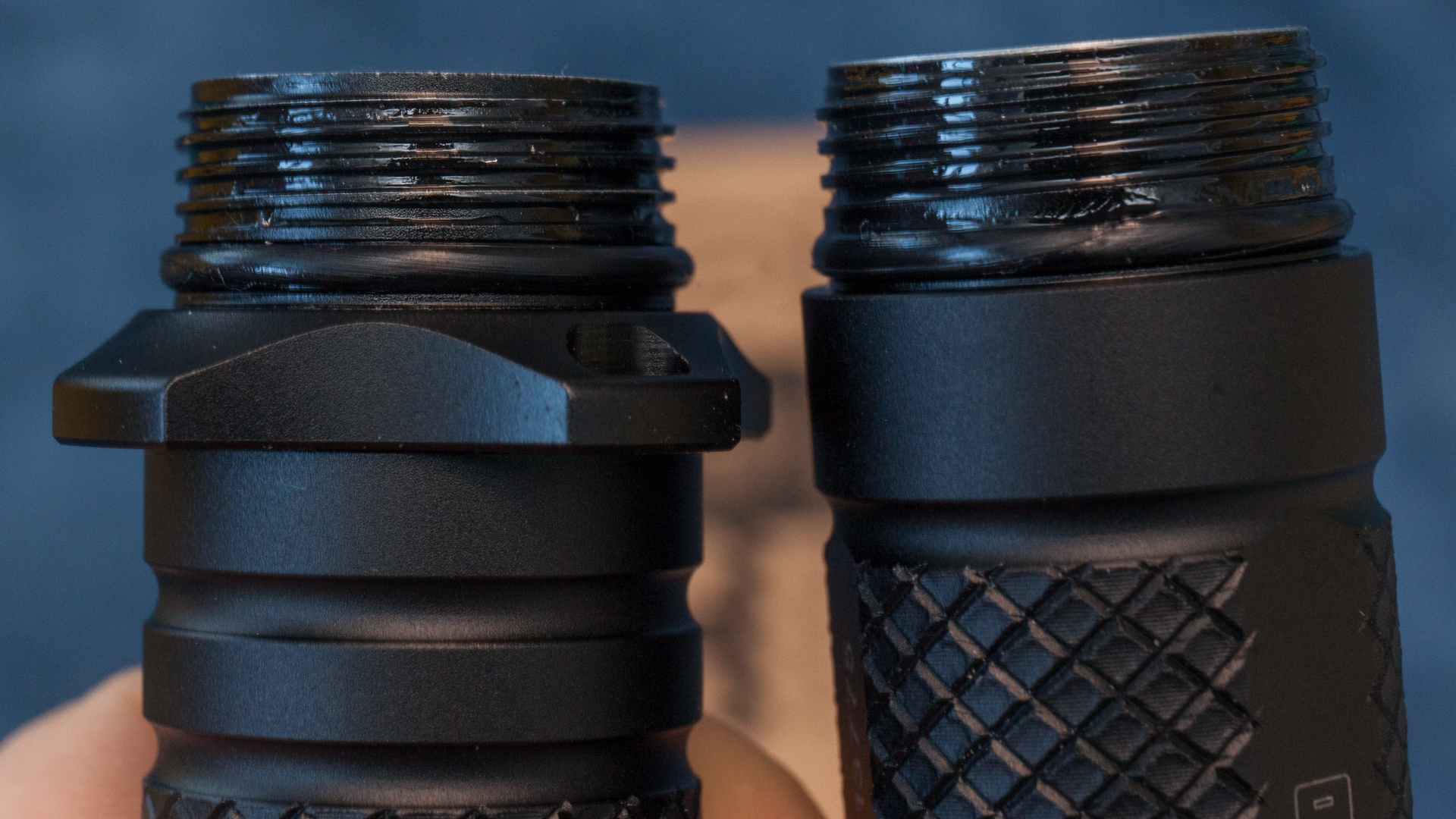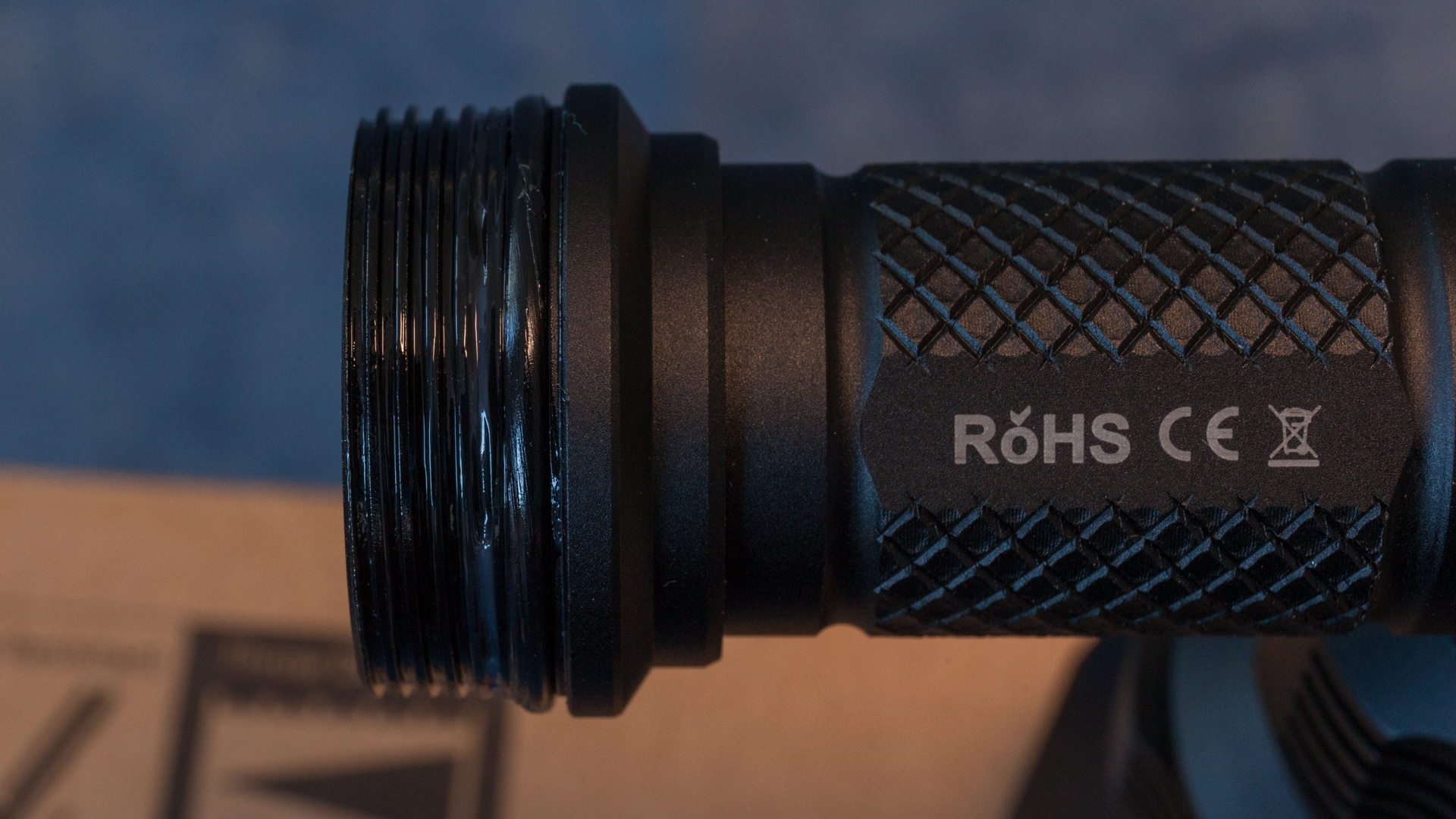 Both springs are thick. And, whoa…screws at tail are glued with some transparent glue. So, fans of modding, prepare your soldering fans.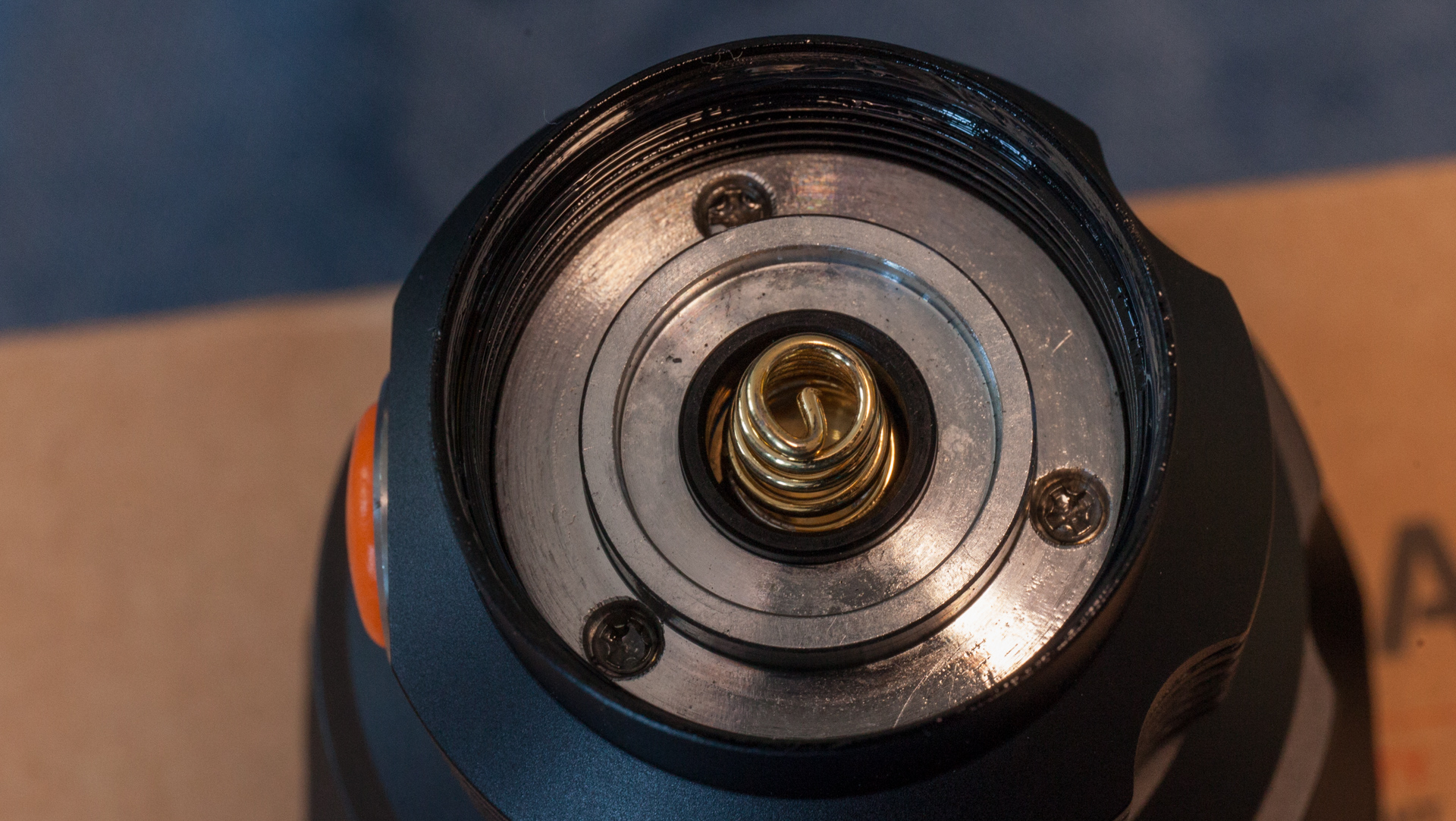 Orange side button is visually contrast with the rest of T21 body, and as all the surface near button is covered with numerous and deep cooling ribs (great!), you can find it easily even with gloves on.
Though, I think that adding some LED indication in button would be helpful as well.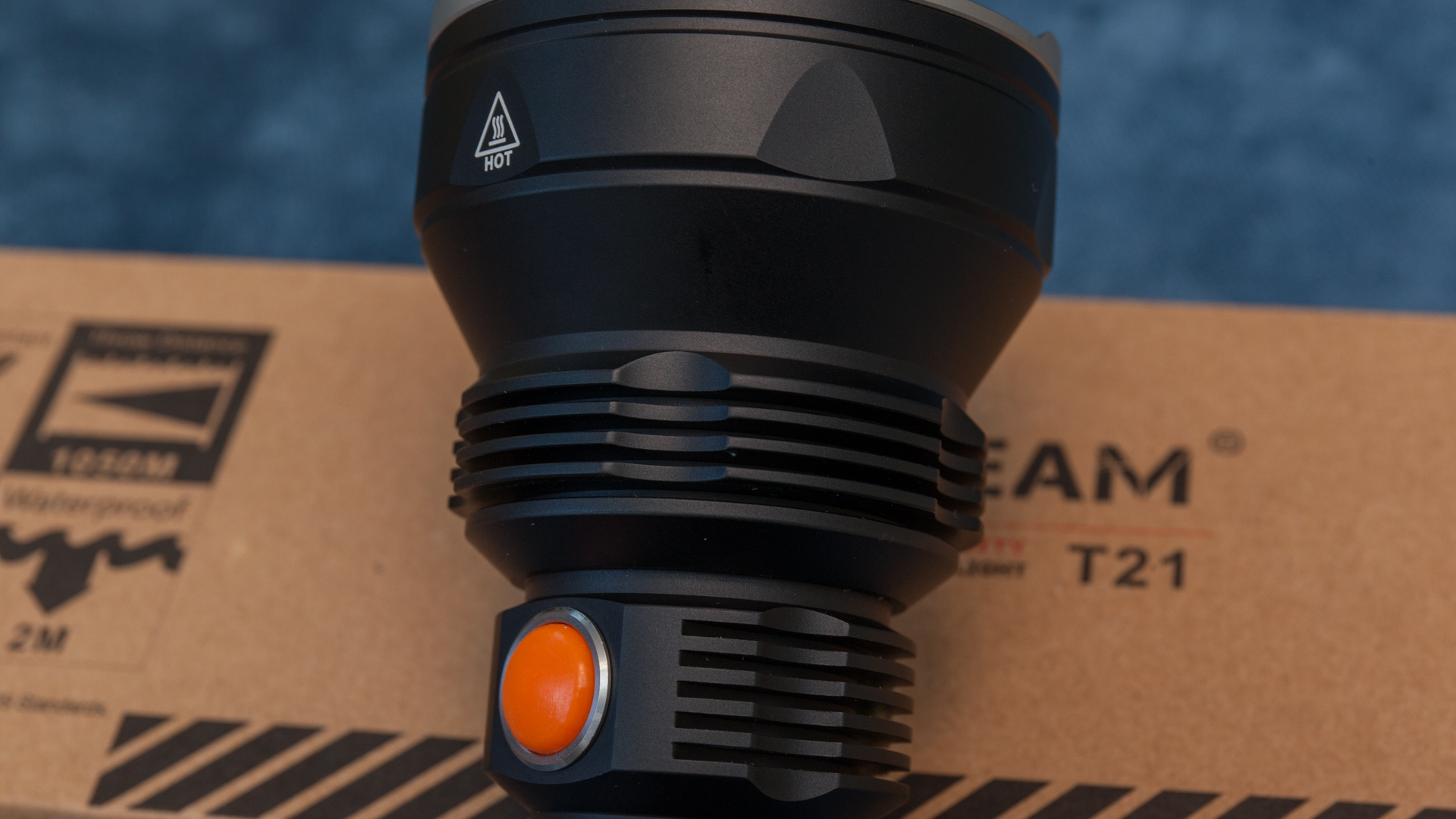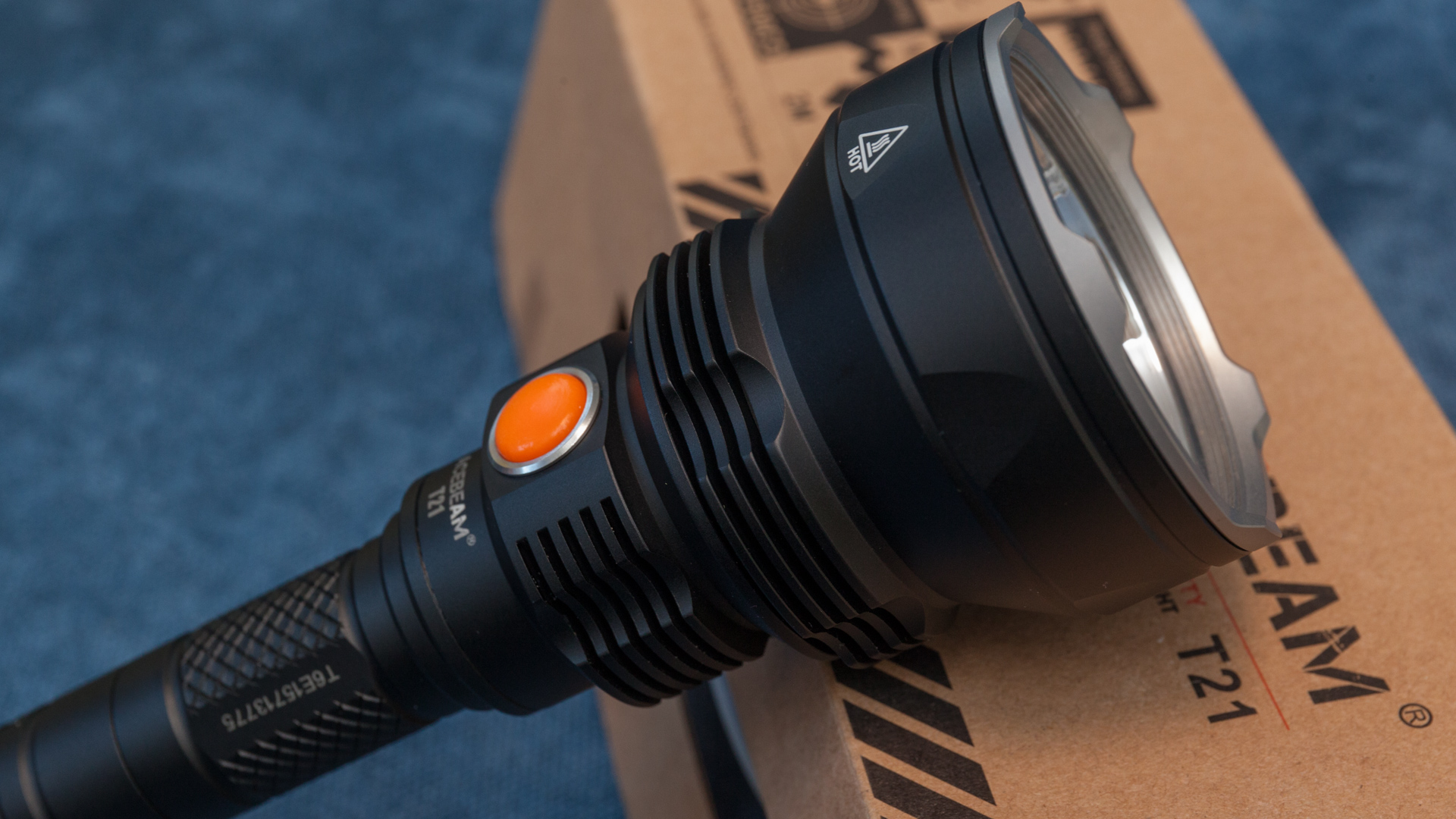 Bezel is "aggressive", with deep teeth. It can settle down bar brawl, if needed. I almost cut my palm of hand when tried to unscrew it, then saw some threads inside, stopped and ask manufacturer. Again, bezel is glued as well. So, no pics of insides. Still, I don't think you can switch LED here to something better. I know that Vinh Nguyen can, but, sure even as is, Acebeam T21 is enough.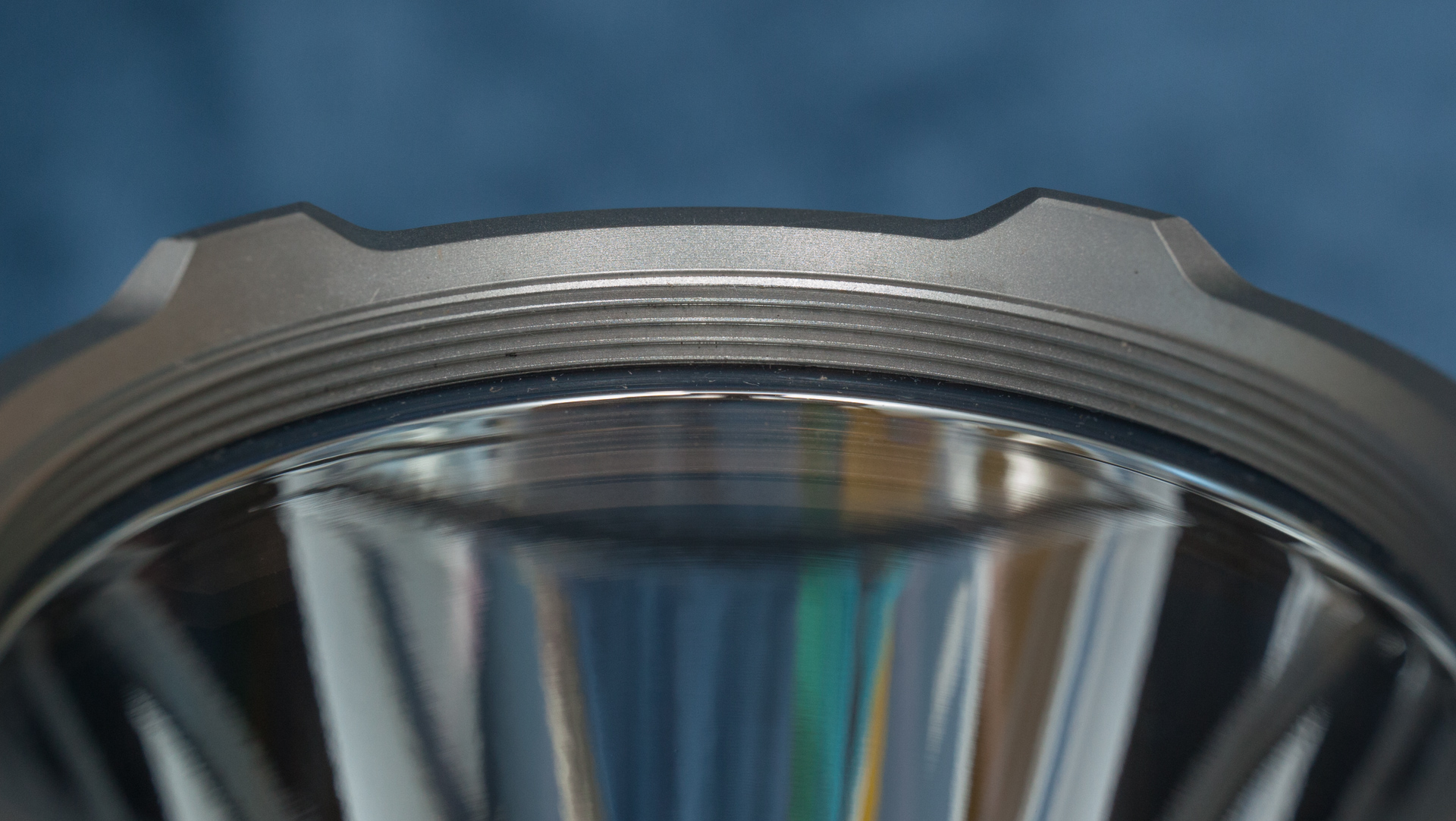 Glass is as usually: tougnedned, AR coated. XPL-Hi at the bottom of SMO reflector.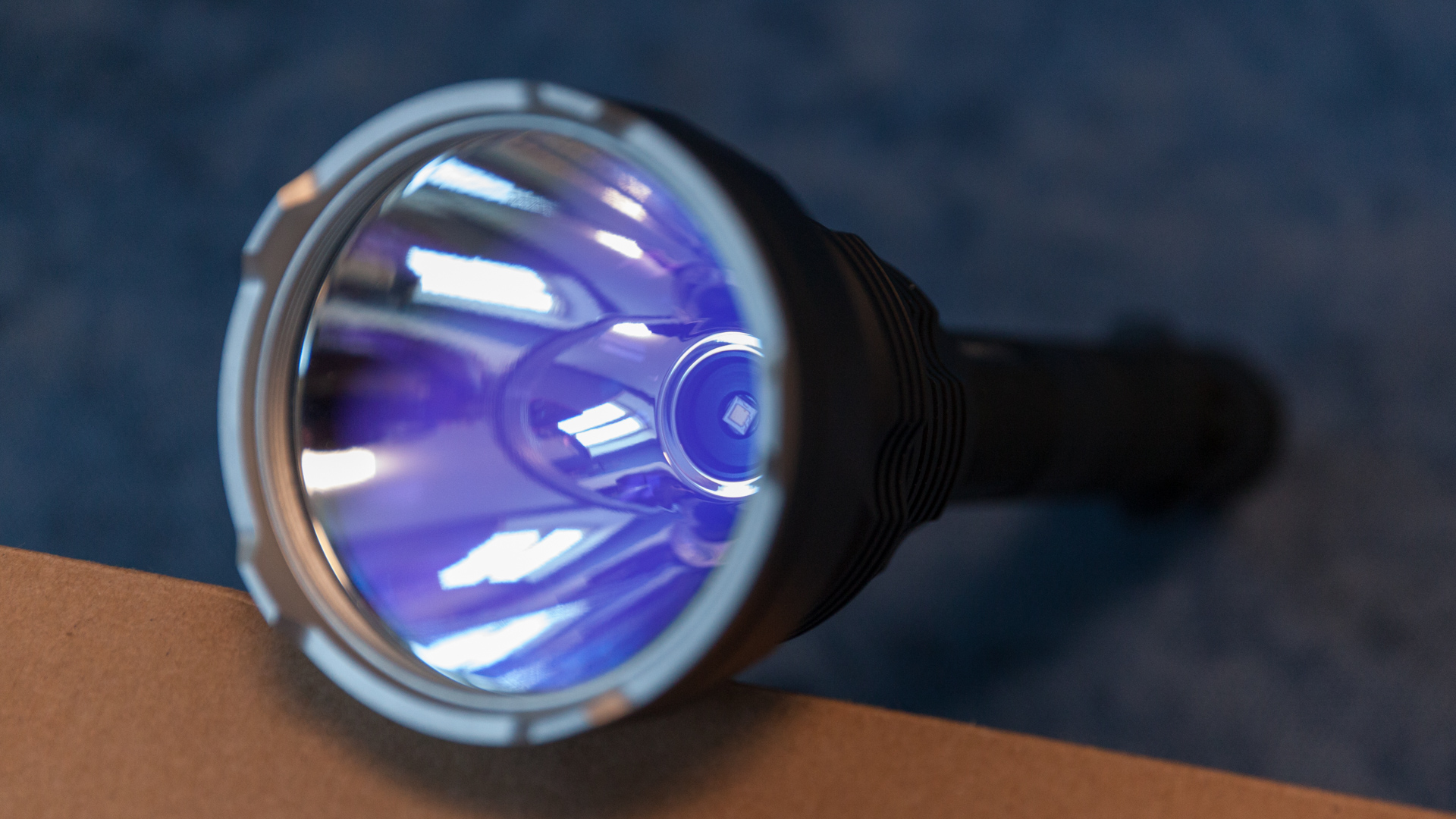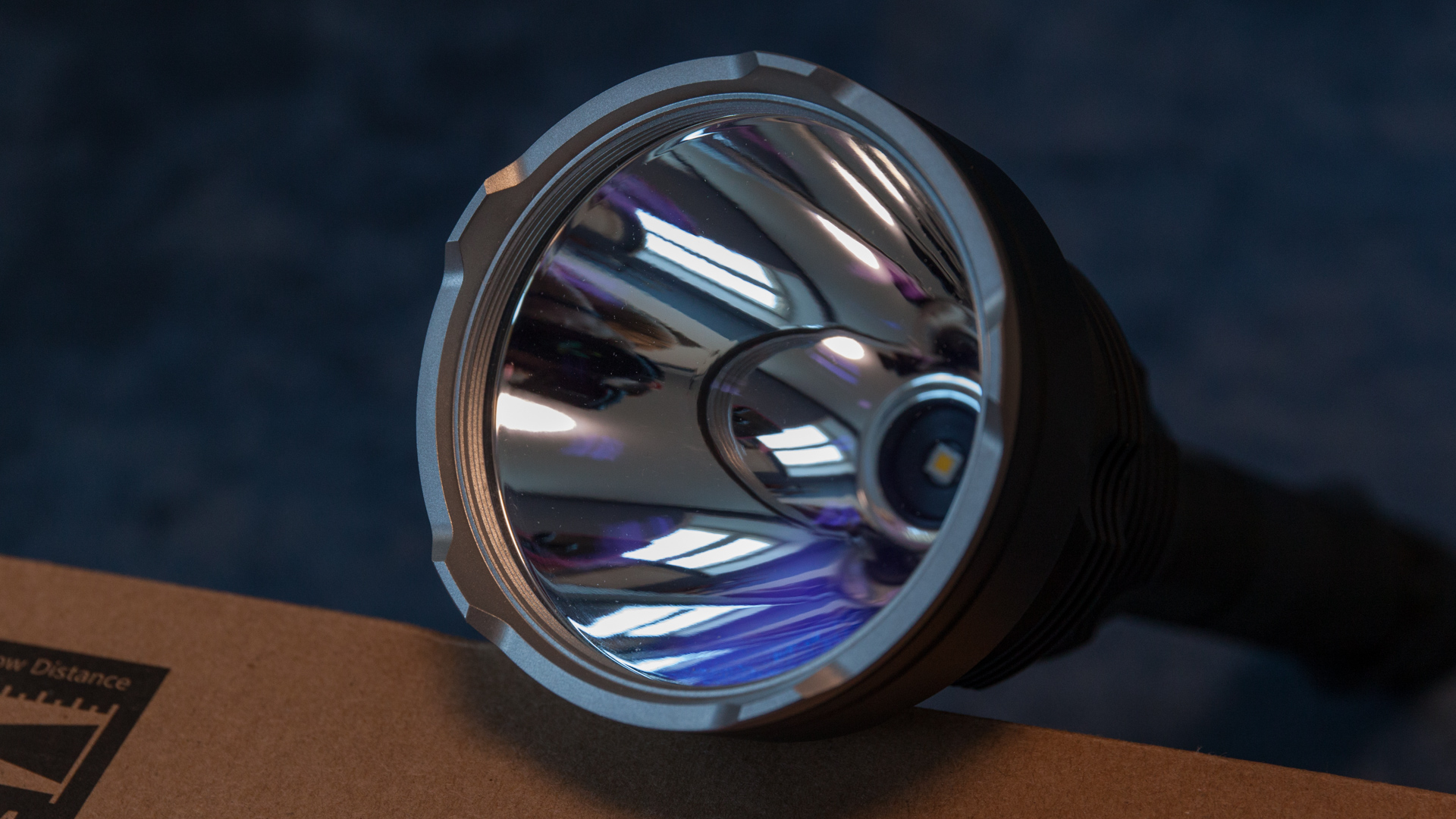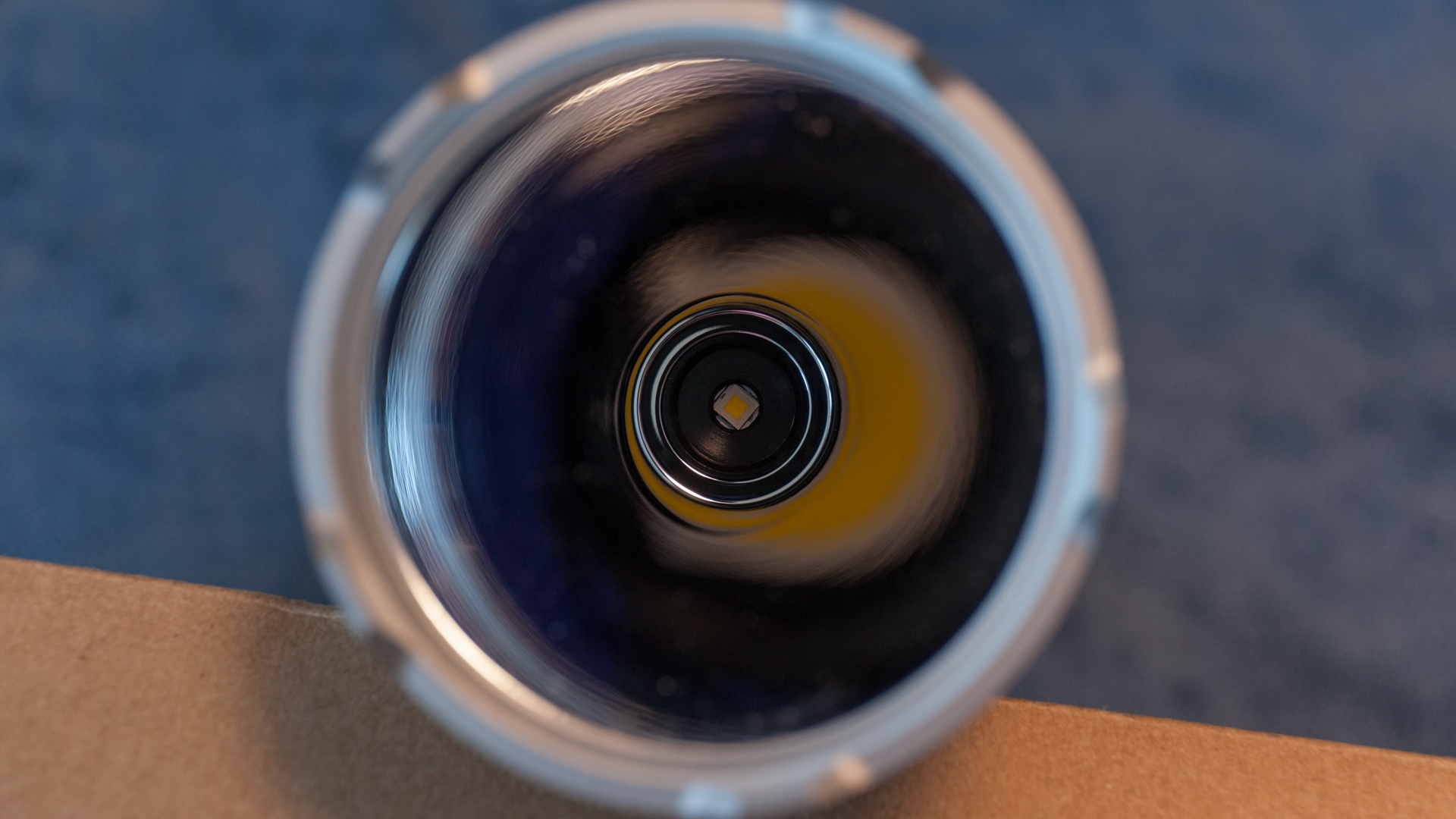 Overall impression: excellent. But modders will face troubles in getting access to insides.
UI
Simplest.
ON\OFF – tailbutton. It also work for halve-clicks, so you can send signals with it.
Tailbutton will change brightness from LOW to TURBO
There is mode memory, and no shortcuts to any mode besides STROBE (2 sec sidebutton hold)
I think that is ok for thrower. It may be more flexible, though. But even as is it is usable without feeling uncomfortably simple.
PERFORMANCE
Acebeam T21 has awesome for thrower 4000K. There are just few NW throwers and even less with light that warm as this T21 has.
I bet this "ONLY CW!" policy is part of global marketing plot, that just few manufacturer ignore, giving people choice of thrower with normal light temperature.
Light distribution is expectable, "piercer".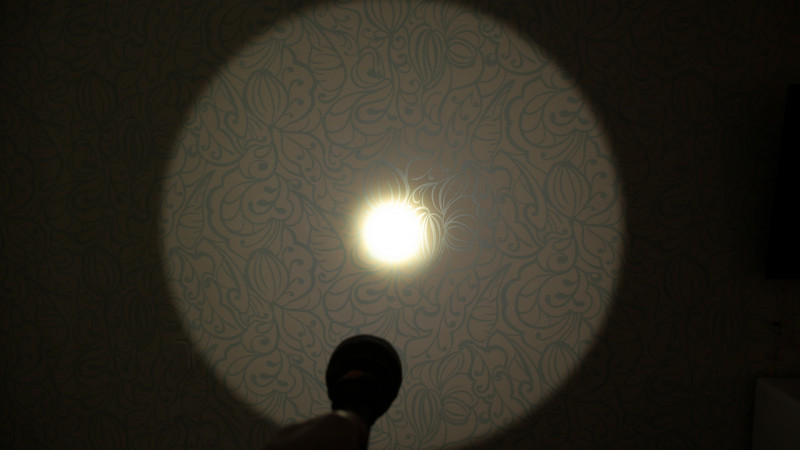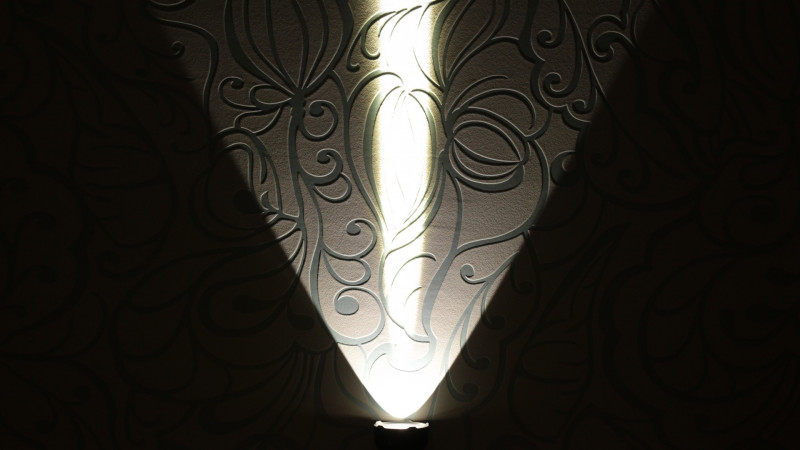 Amperage for 2х18650 : 0,001-0,033-0,4-1,1-3,4А
I tested cheap and well known liitokala NCR18650B. for short tube mode it performes way far from turbo, but keep good descending at their level, being usable even so.
In 2×18650 mode they perform no worse than VTC6 that I use for runtime test below. Light is perfectly stabilized until TURBO.
In
TURBO
you can see blinks, that is
discharge indication
that gets activated when voltage drops below 3.2\6.4 v . blinks are rare, you can still use Acebeam T21. But, make sure turn light of soon, there is
no discharge protection.
At 1st I thought that there is a time stepdown, as I haven't seen any influence from fan cooling here in TURBO. So, turn this mode and turned it over and over again, after some time in HIGH to cool down.
Here is my impression. There is thermal stabilization, it influences on length of work in TURBO rather then decreases it`s brightness (it does a little bith, though). So, you can turn turbo on and on, it will just get shorter each time, as well as overall runtime – that`s it.
oo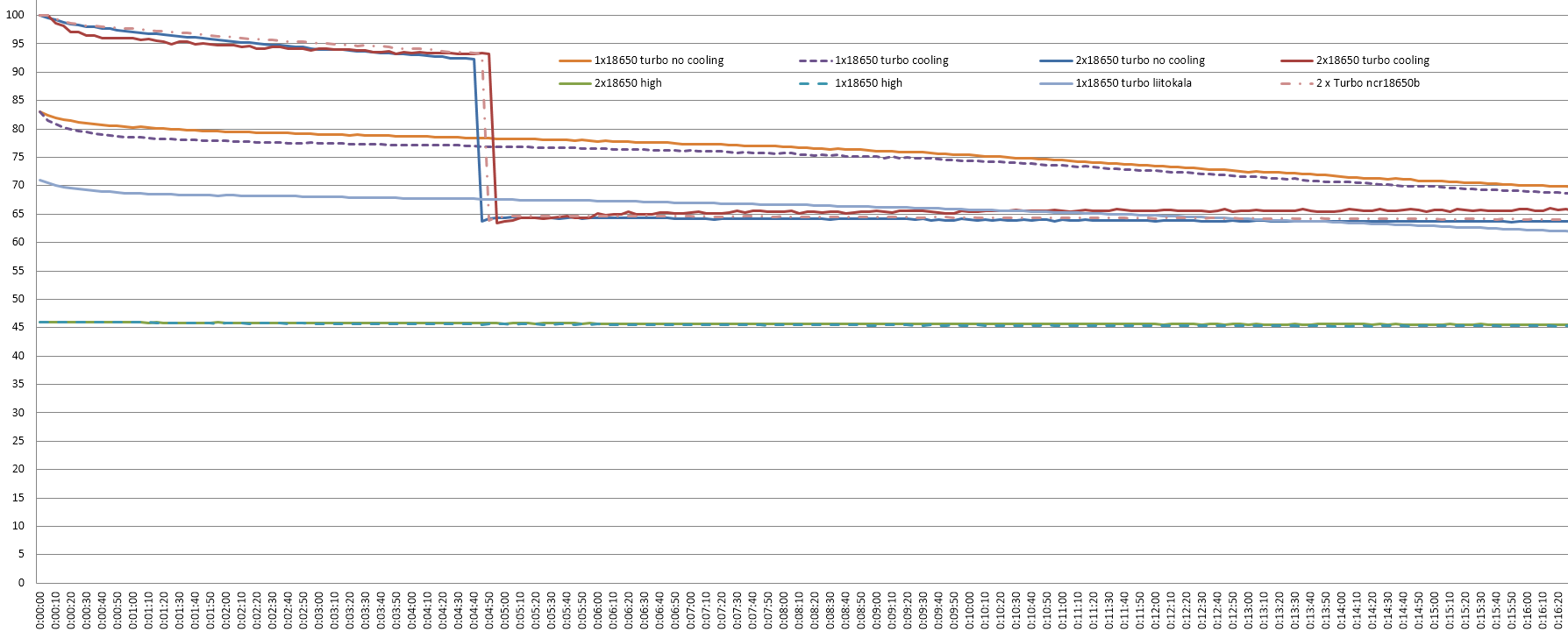 And, most interesting part.
About 60m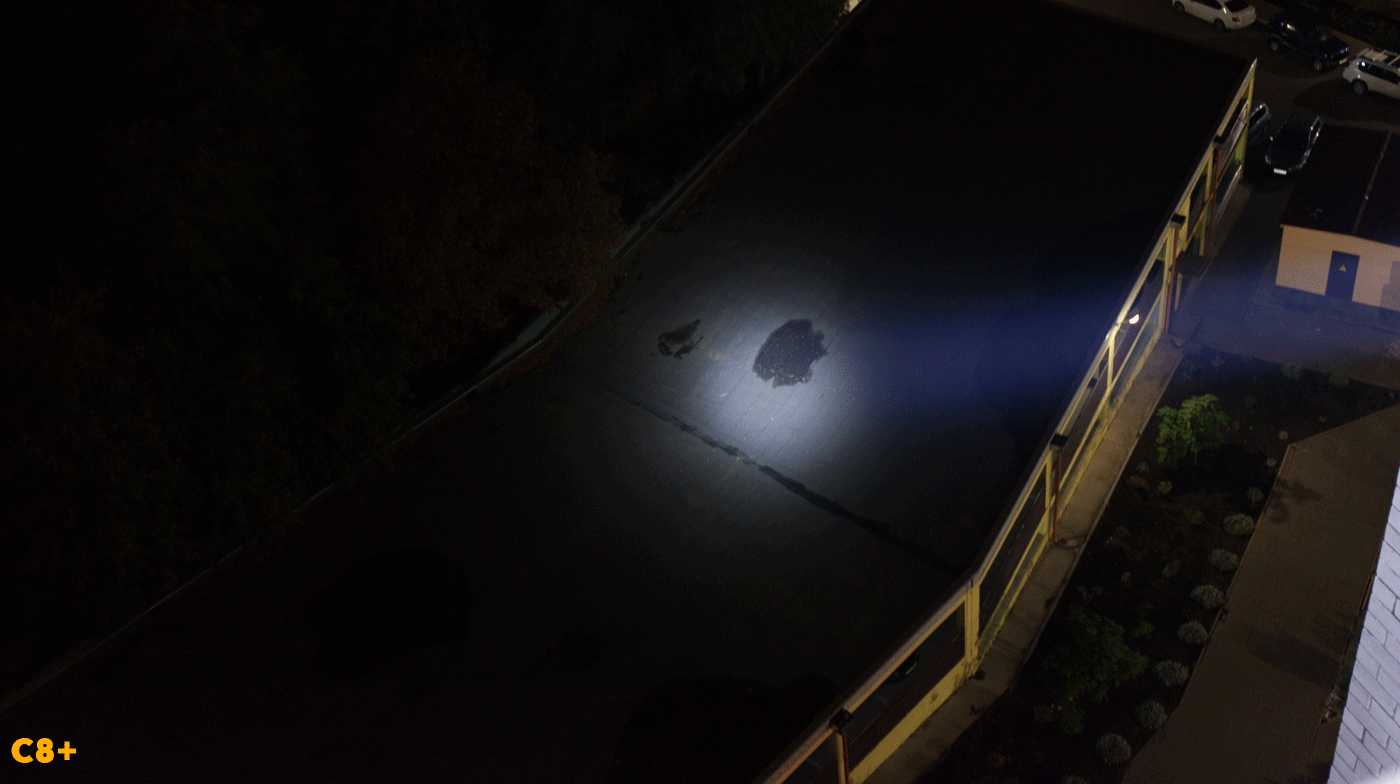 100метров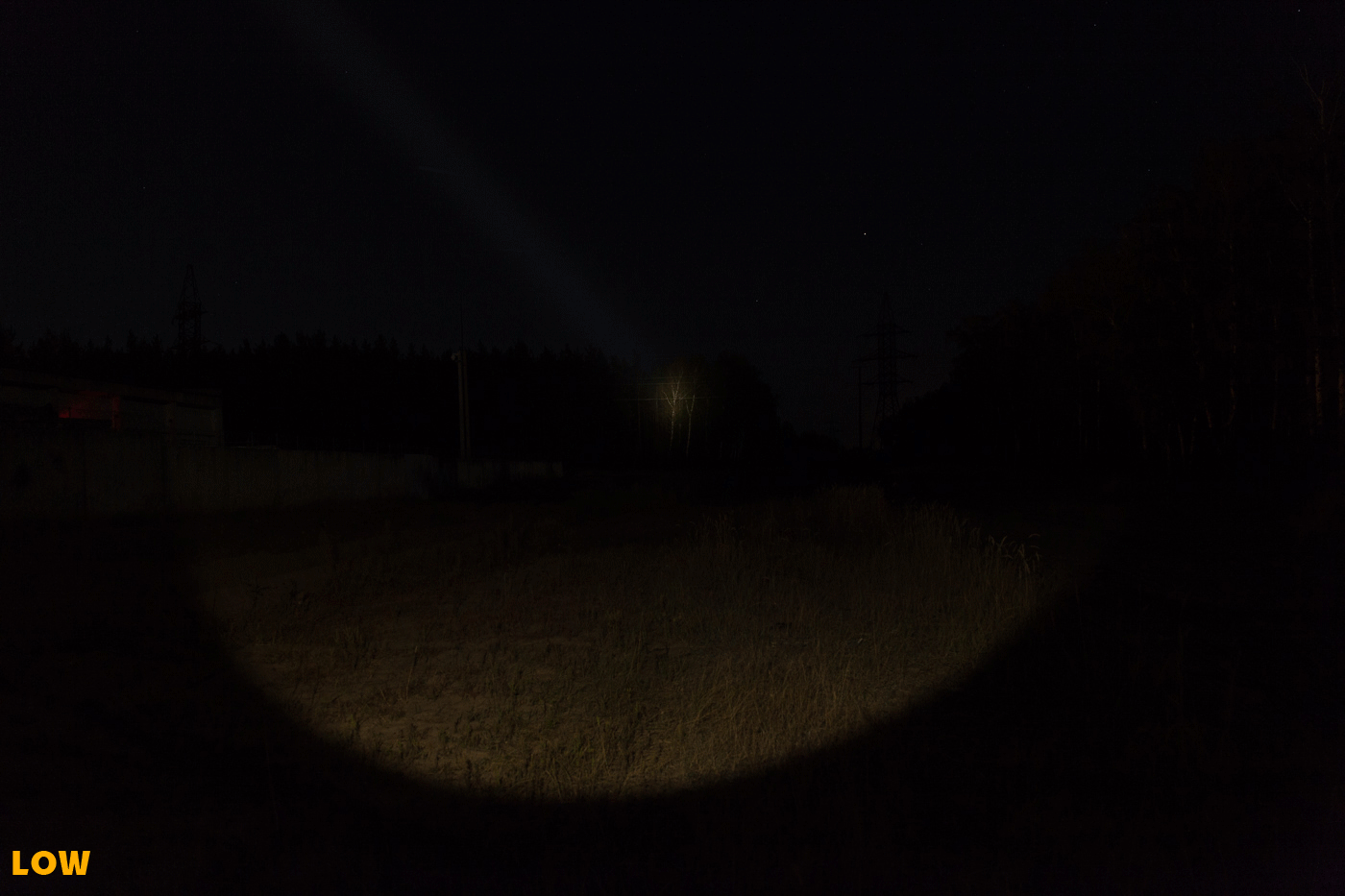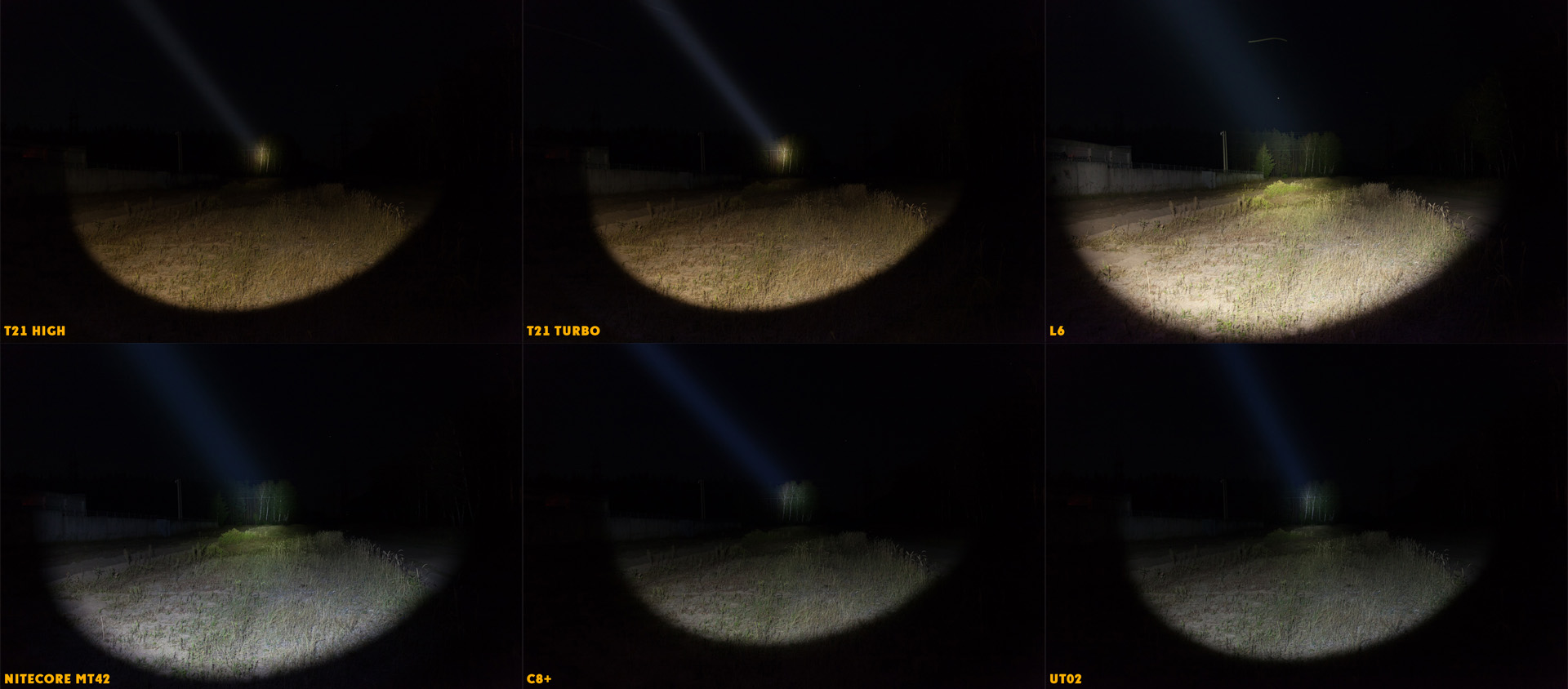 150м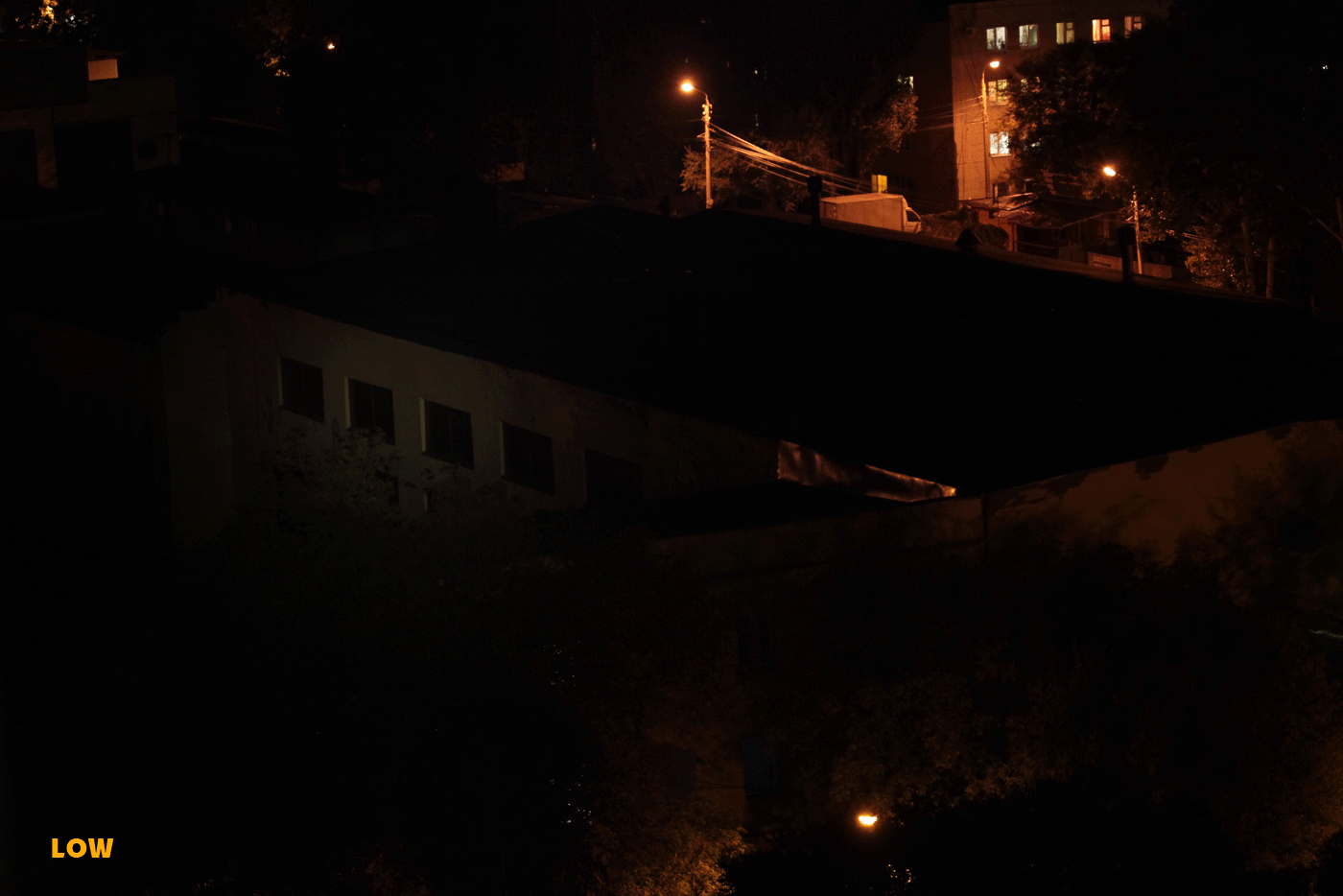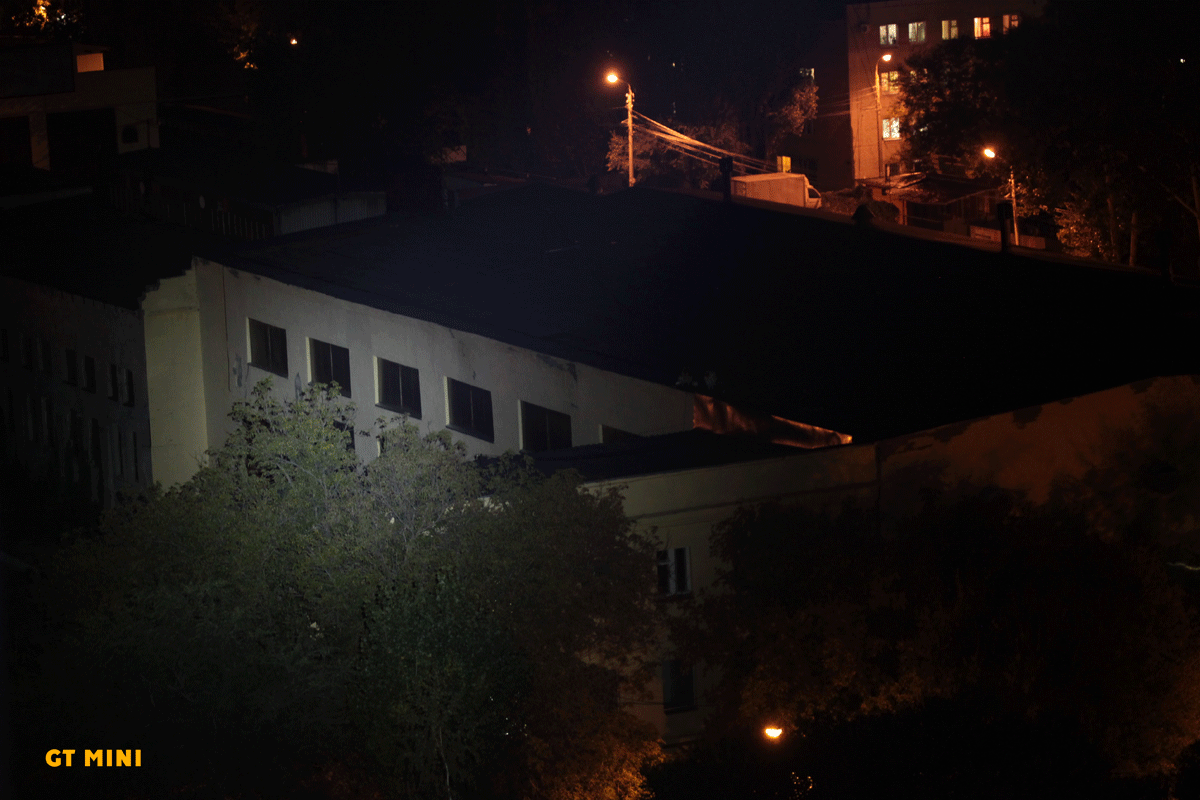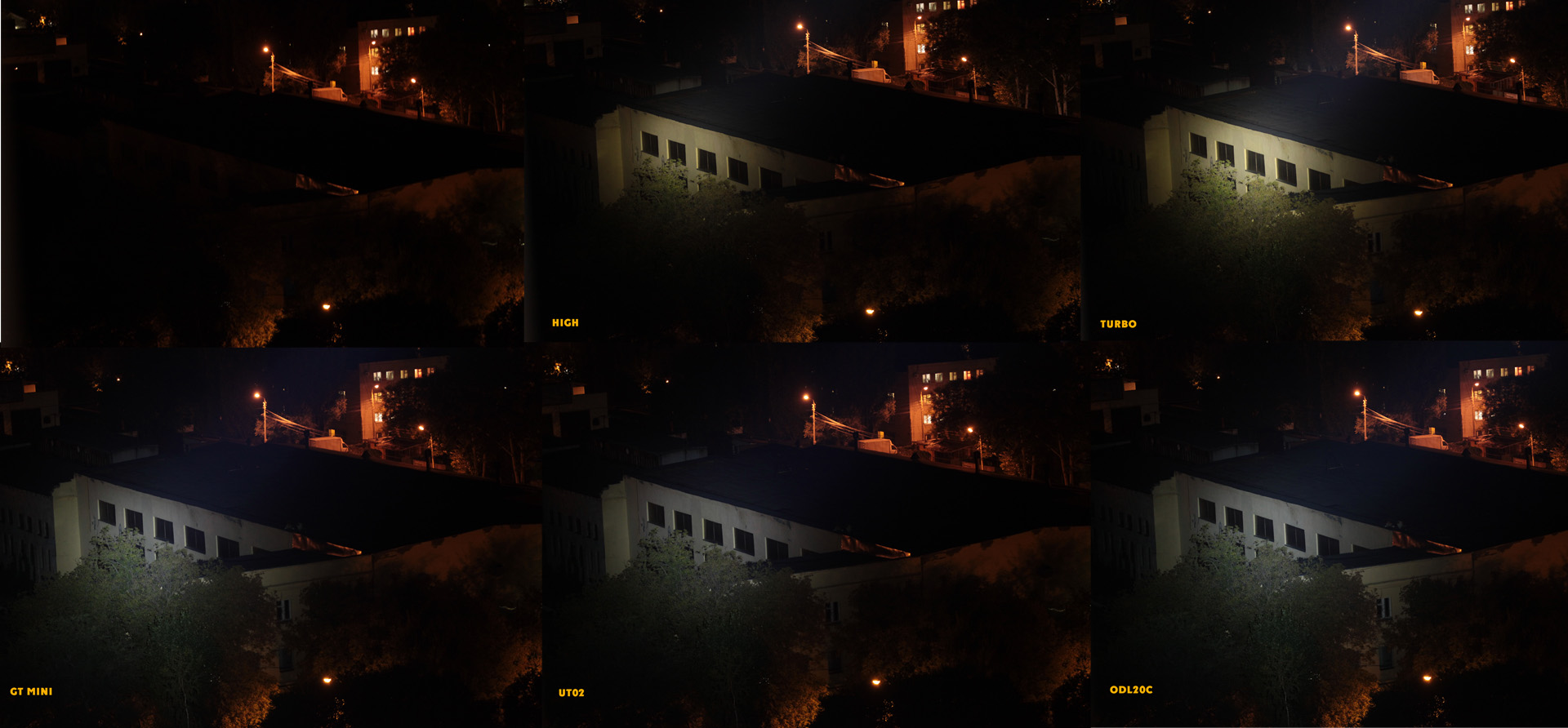 400м
I like performance at this distance most.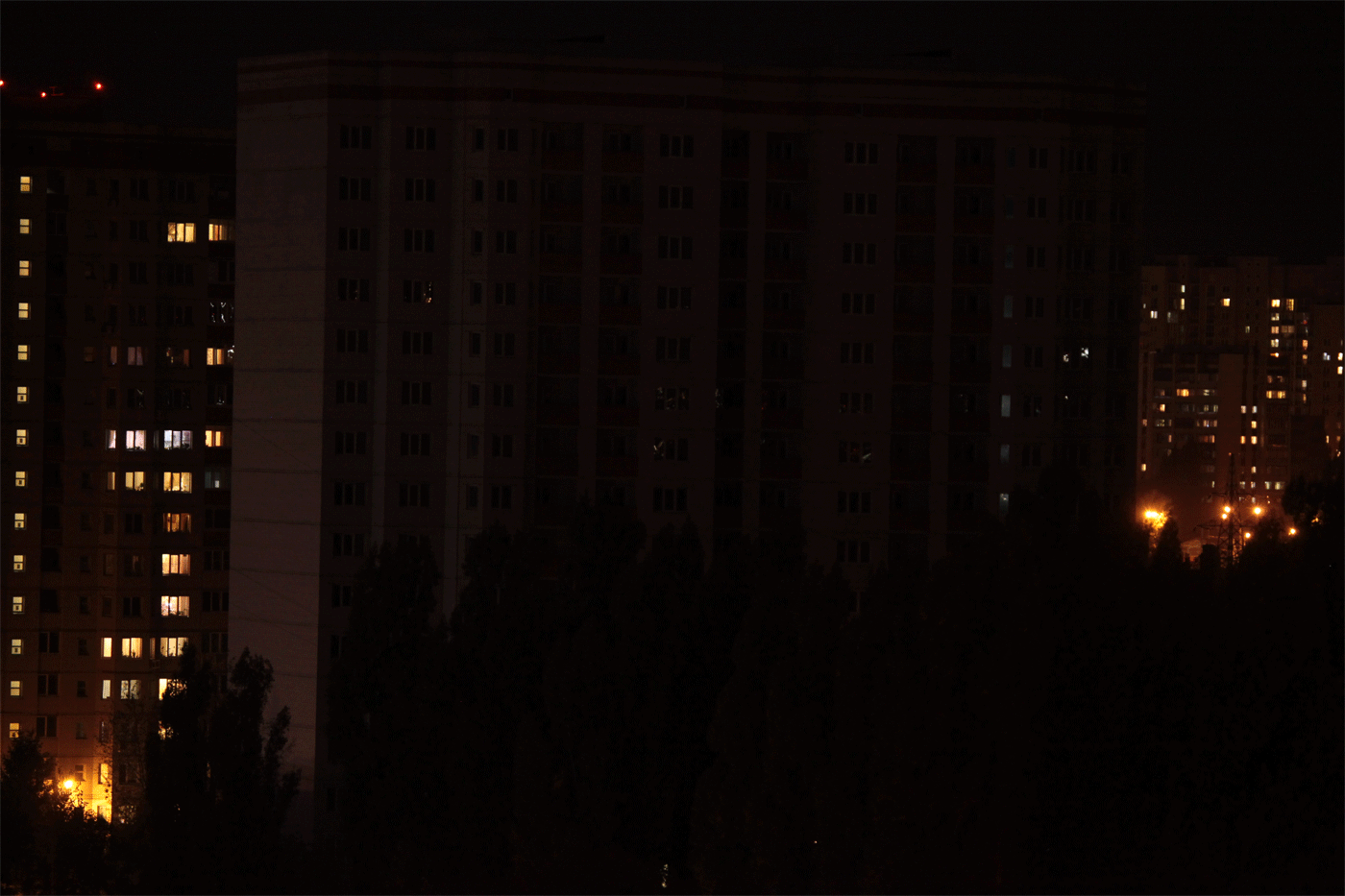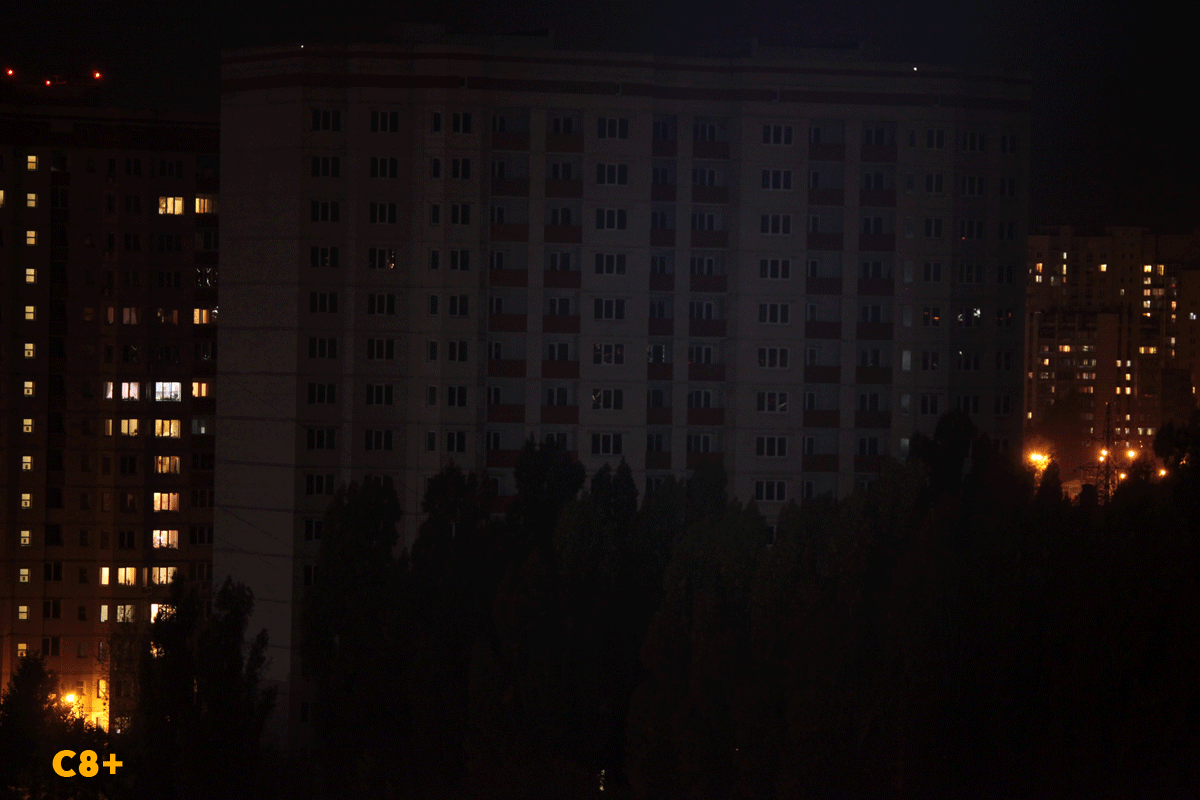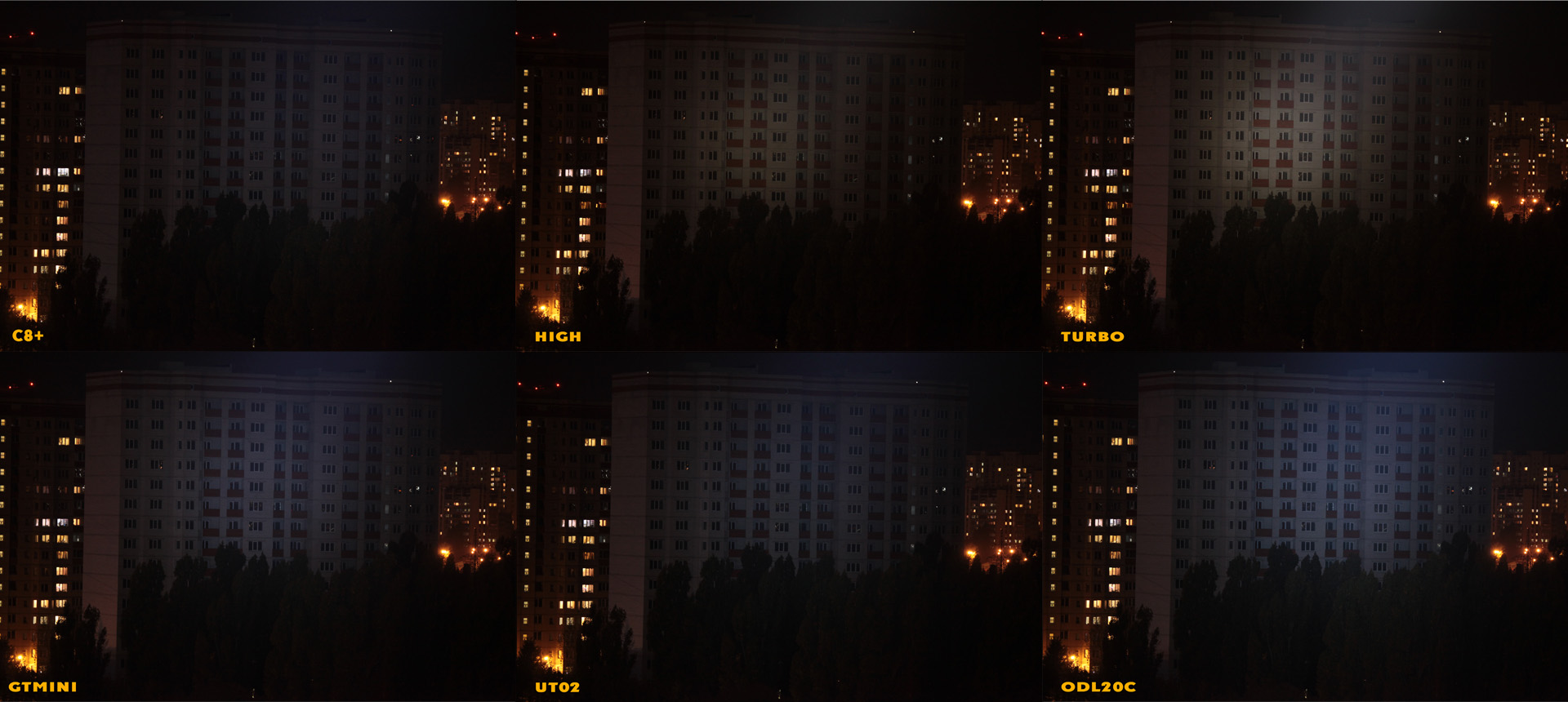 And, finally, I decided…why not check 1km range? Hell, yeah! It reaches this distance! Roof of stores and the bottom part of pic are definitely illuminated. To be honest, without some optics you will not see this at this distance. Big building about 300m from these roofs also gets some light. Of course, that is only to tell if there is a King Kong climbing upon that building to steal some Motra`s eggs from nest. Anyway, I saw a lot of " that`s 1km thrower" specs that lied. This one really can be of some uses even at this extreme range.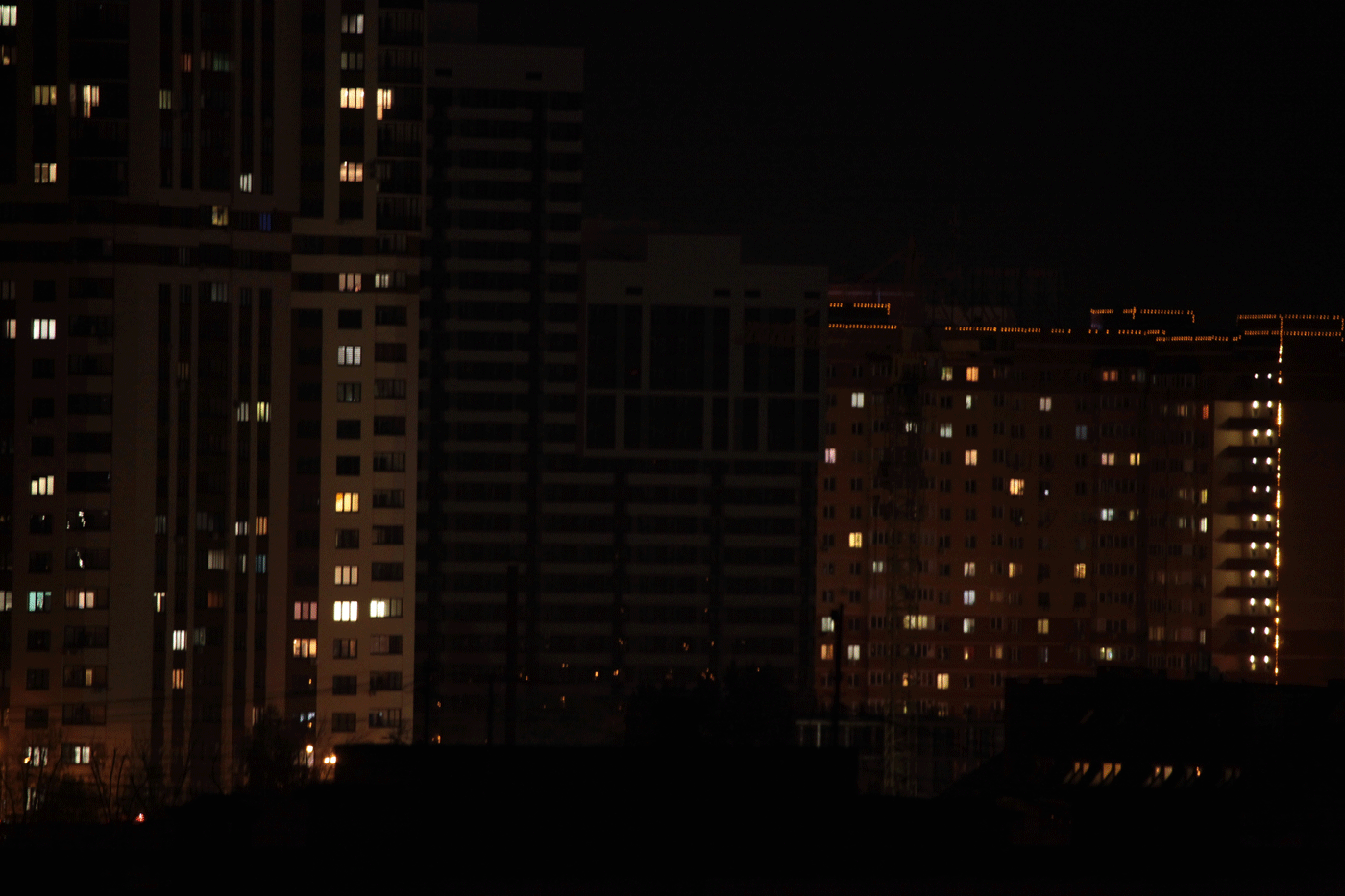 And there are some alive shooting at the end of video review.
OVERALL IMPRESSIONS
100% positive.
If you look for 1\2×18650 flashlight – this one is a really good choice. It may cost more (or the same – depends on manufacturer) then other similar looking stuff, but seriously sure that only 3-4 models amoing 4×18650 throwers, big things, can overperform it or be at the same range. And only once I met 2×18650 with NW light, and that was way less throwing XM-L2 model.
So, guys, if you need something in the form of 1 or 2×18650 for confident use within range of 400-500m (and even some light at 1km and further) – Acebeam T21 will not disappoint you. I really don't see any functional CONs here.