Several months ago, I made a comparative review of Nitecore tactical flashlights. Specifically, it was about the evolution of the P12 line. And now, after a long journey, new P12 21700 came fell into my hands. I offer to see what these persistent experimenters in Nightcore did with this model
Buy Nitecore New P12 21700 at ALIEXPRESS | BANGGOOD | AMAZON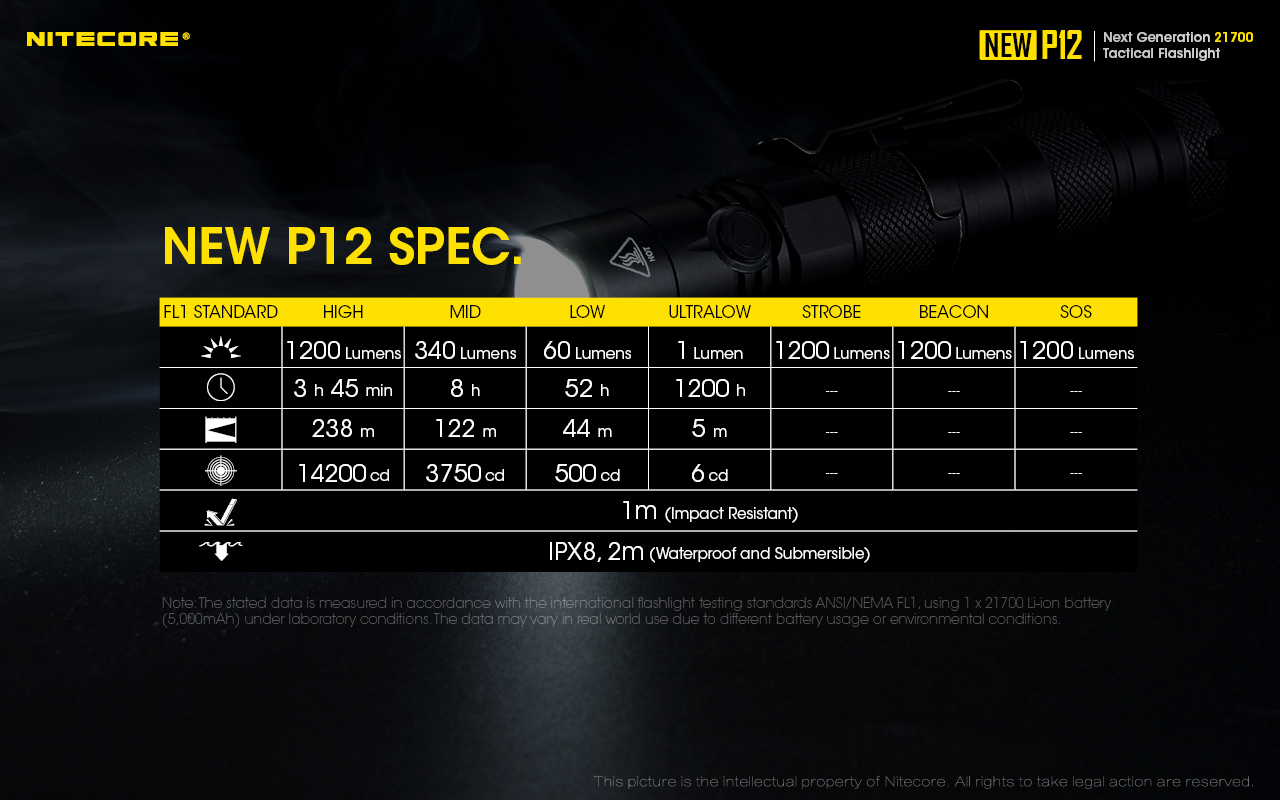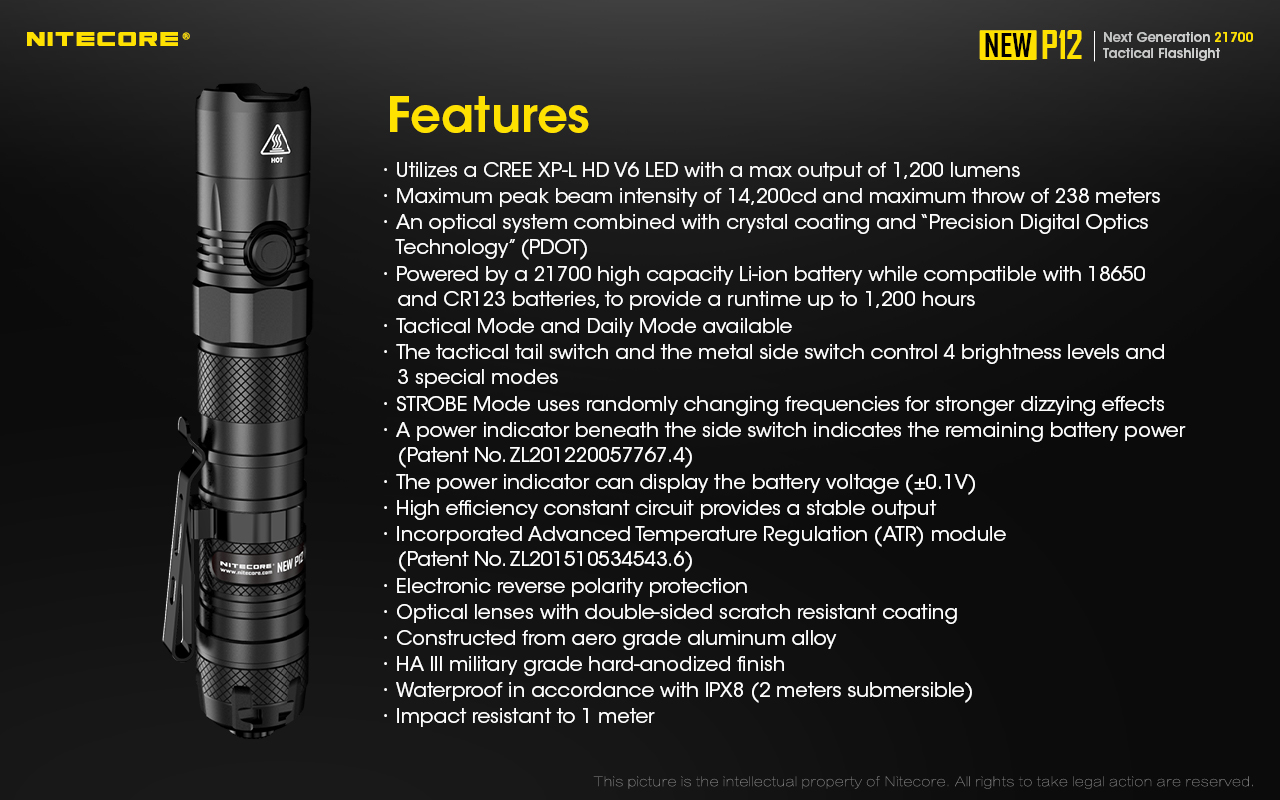 Package and appearance\
Since the flashlight is not of of top-end models like TM, package is completely ordinary for almost of the Nitecore models. All the same black and yellow cardboard, well known to anyone who came into any hunting or fishing store. Nothing outstanding, but it looks decent and recognizable.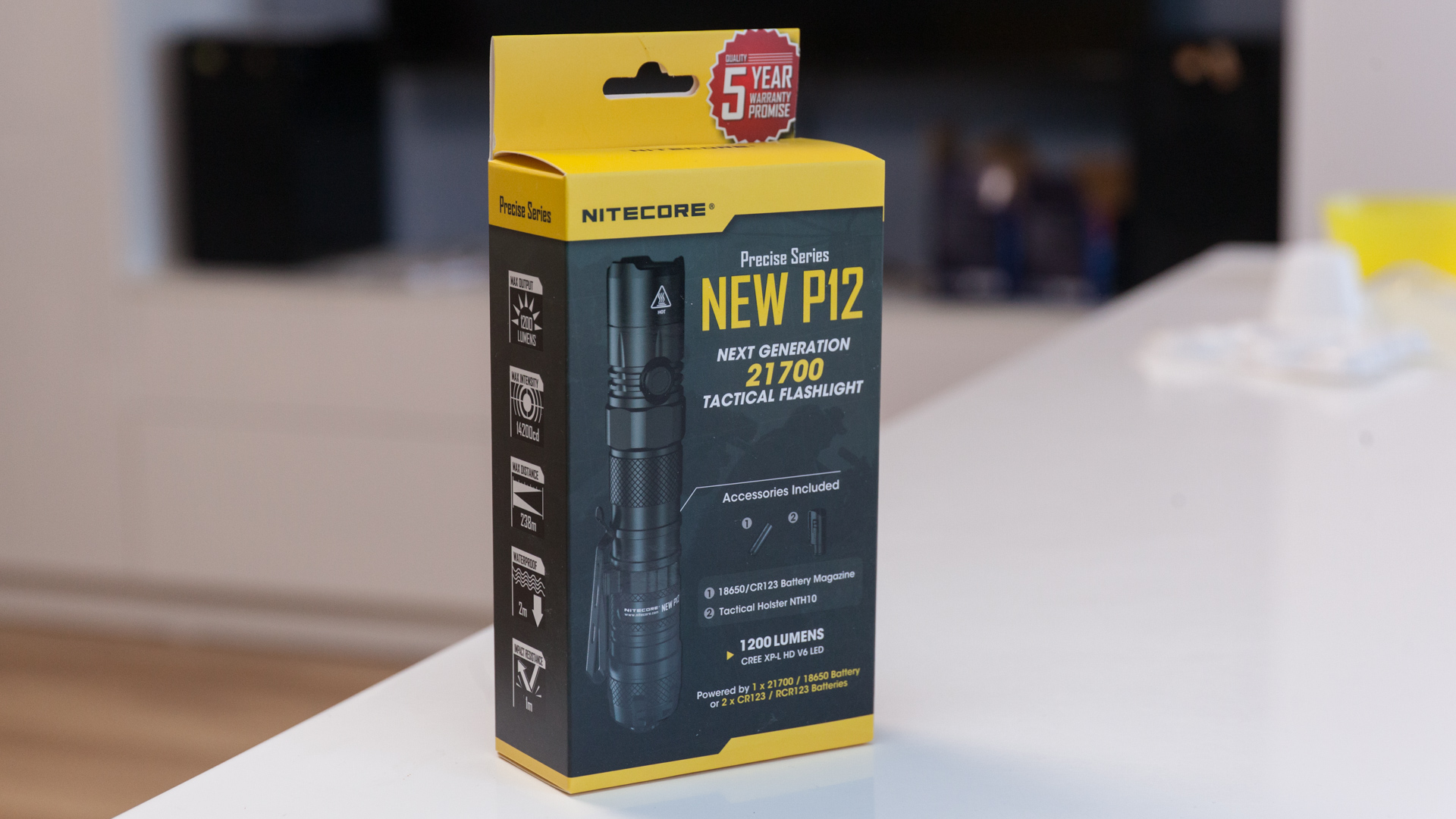 The kit includes a flashlight itself, a lanyard, an adapter for a 18650 battery, a manual and a 4000mah battery. Given the price of a flashlight, I think that including battery with a capacity of 4000mah instead of 5000mah which will fully demonstrate an increase in runtime with such capicity shows greed or lack of foresight. I will clearly show all the difference in the graphs in final part of review.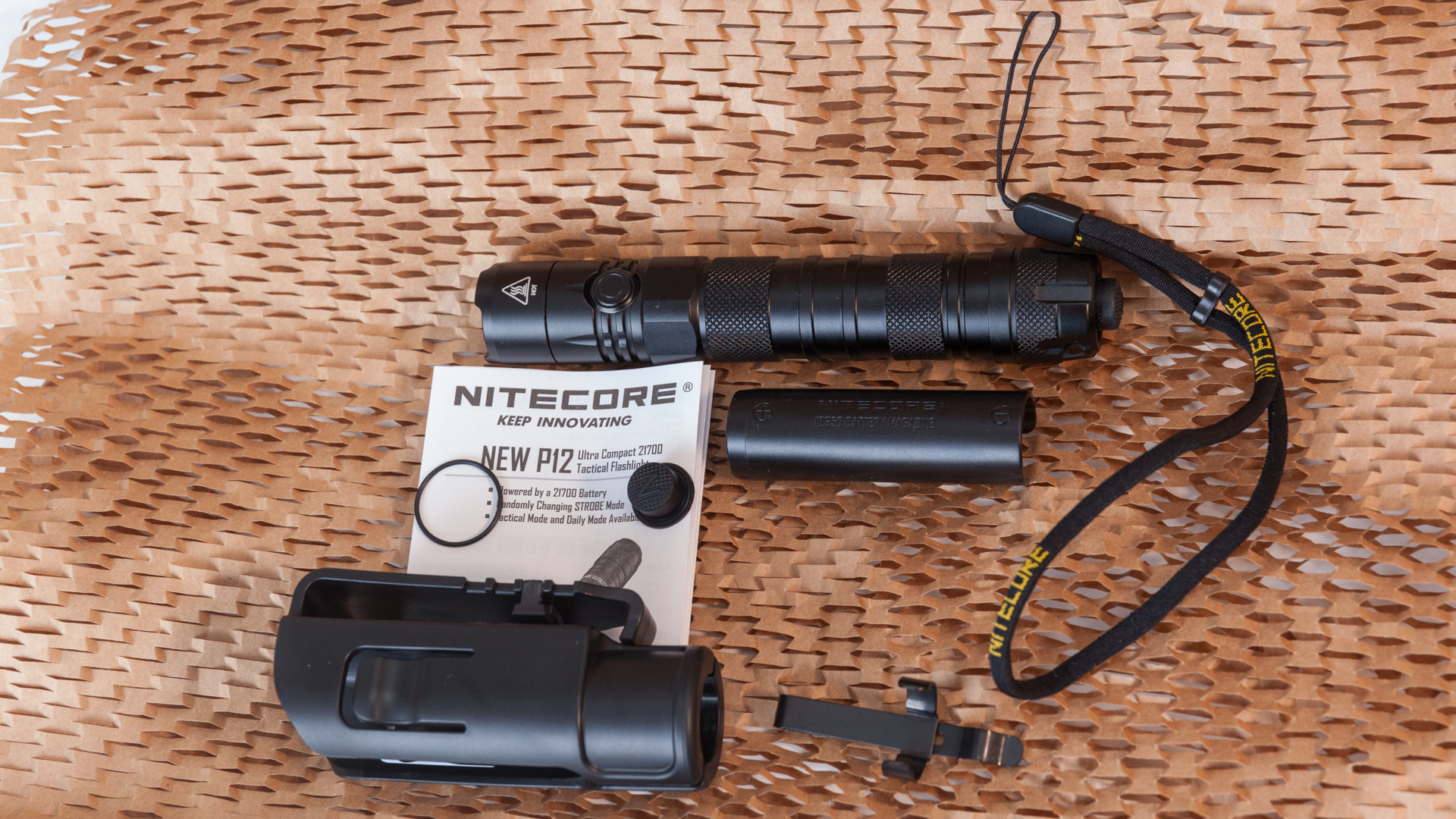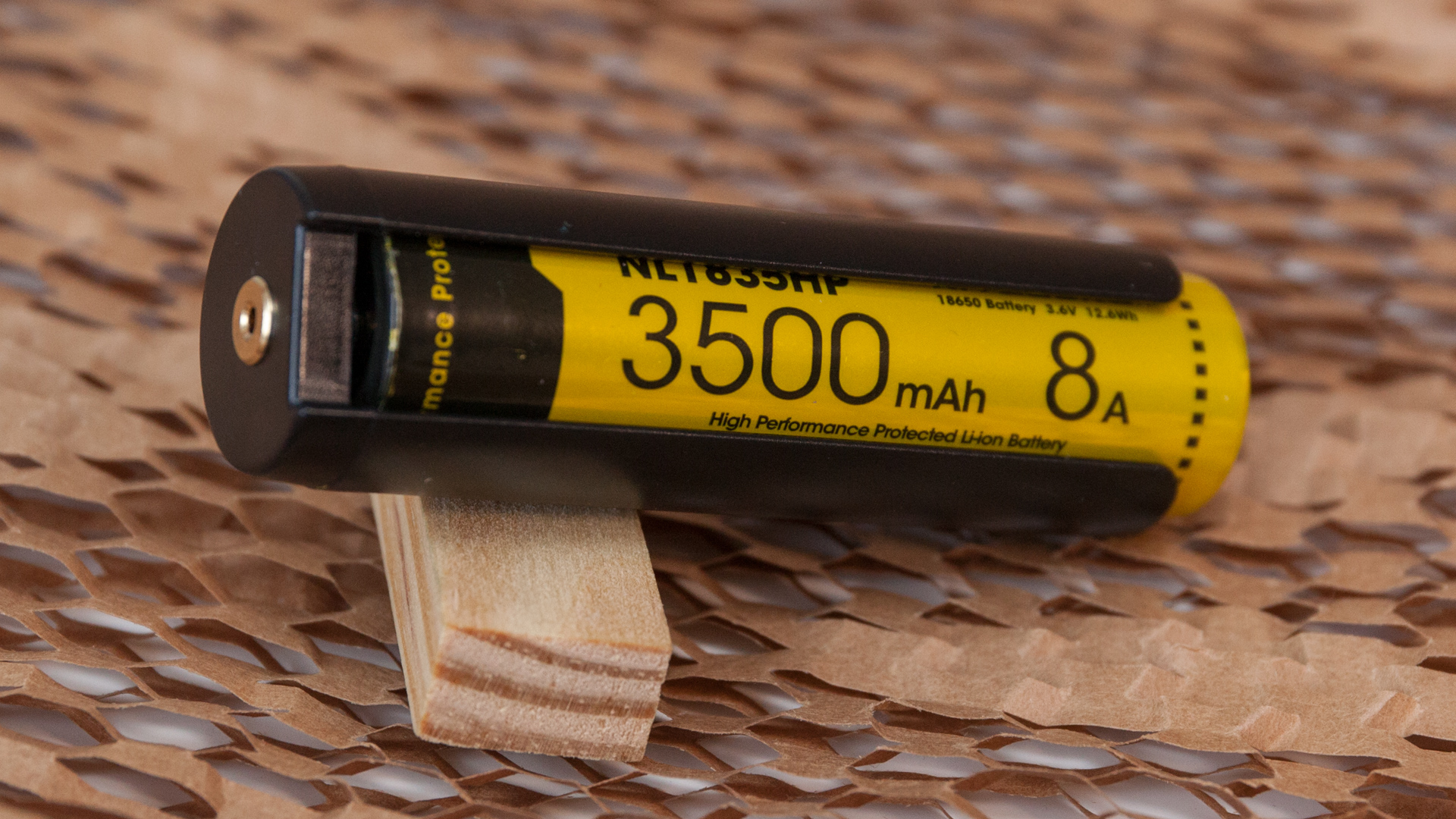 The last part of the kit is a tactical (taaacticall!!) NTH10 case. A kind of thing that I had never seen before. Convienien , really enables to pull out flashlight instantly.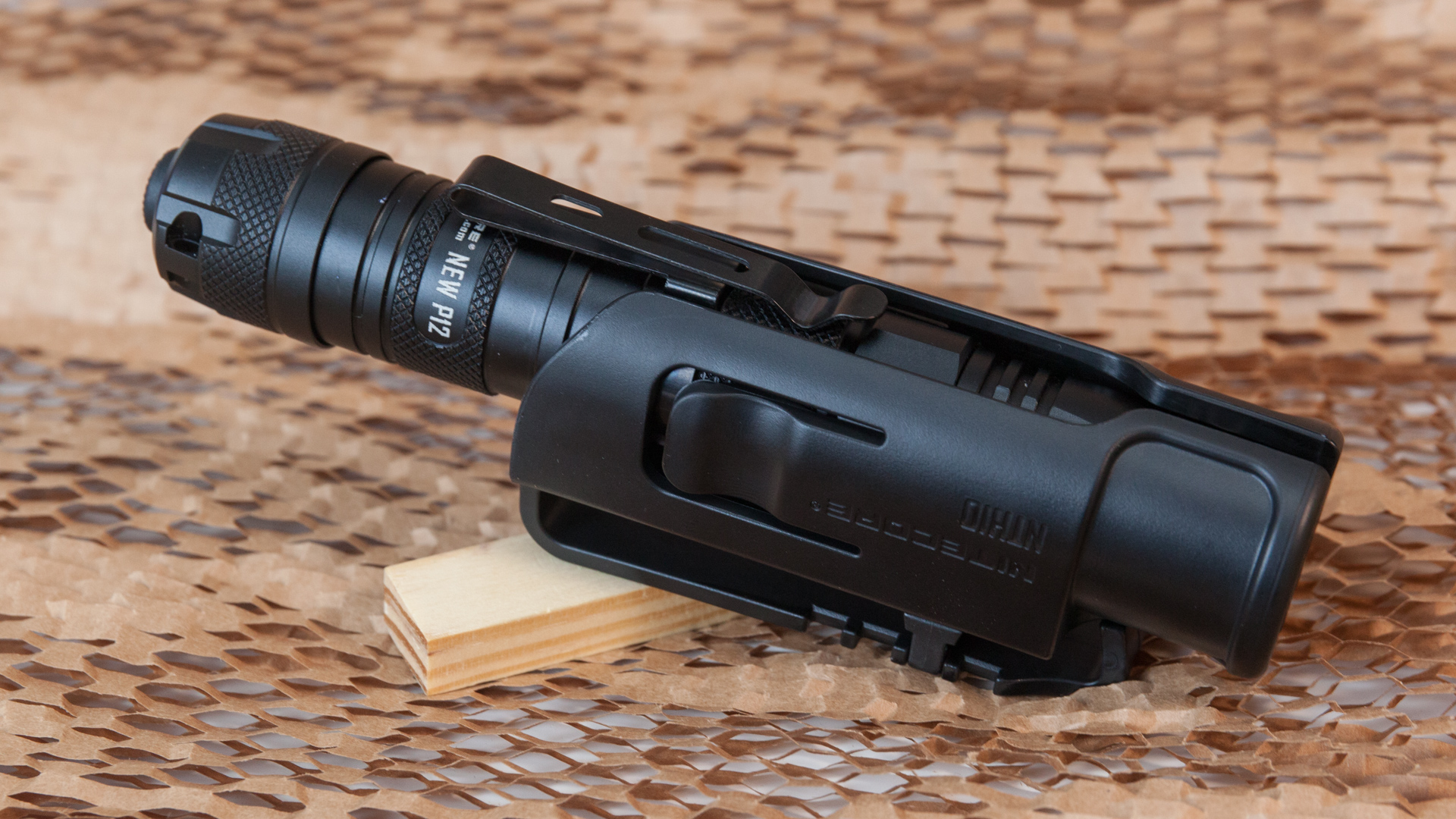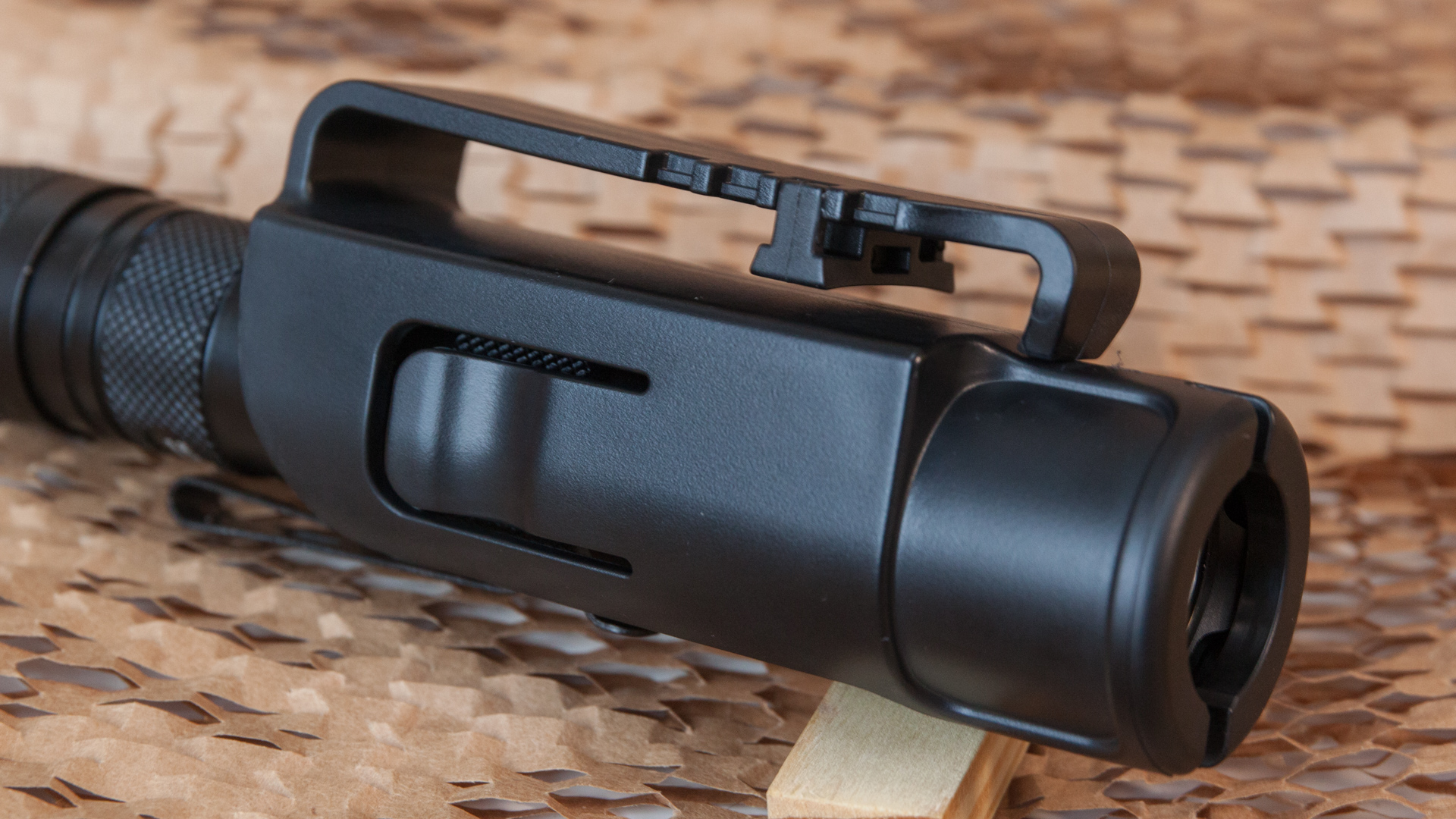 My initial opinion was that new P12, as previous versions, lacks catchy design. But after several day, i changed my mind and state that new P12 looks definety good. It is not state of art (what tactical flashlight is?)or , like P18, is clearly outstanding in design. But, it is clear that new P12 is good looking brand flashlight. For tactial flashlight that is enough.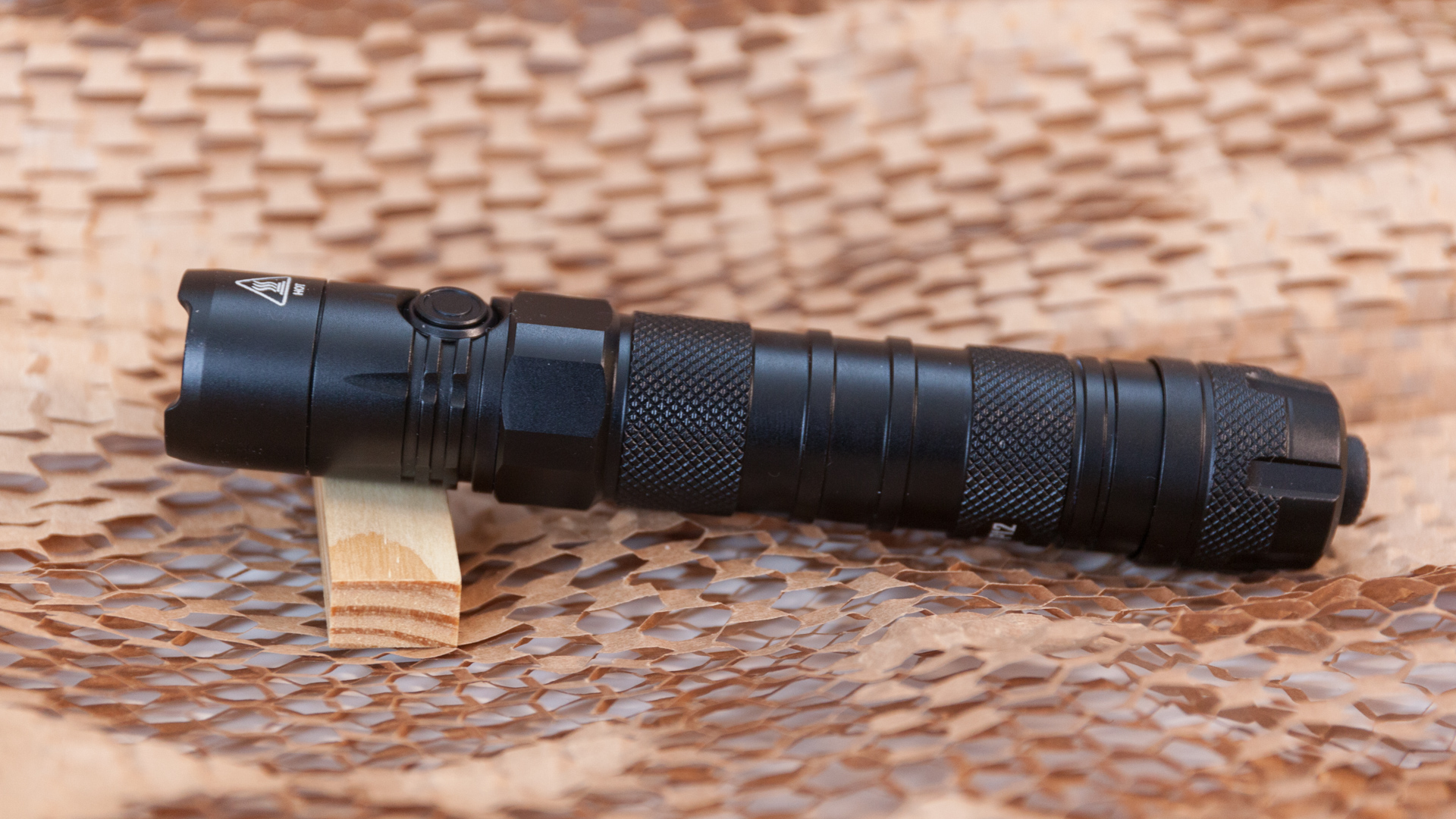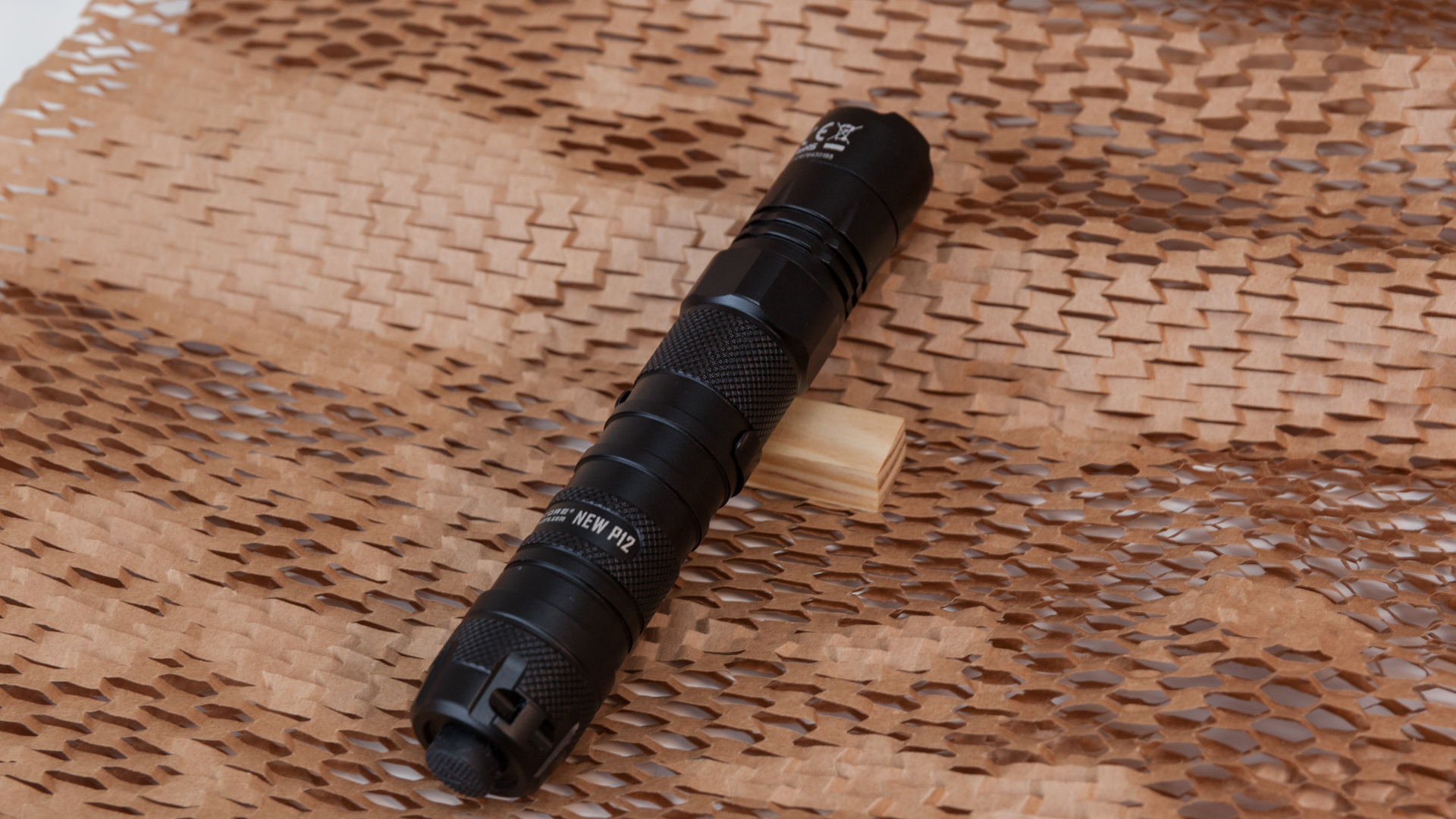 As for the size, it is completely ordinary for a tactical flashlight, this also does not stand out at all (specs call it ultracompact..ahah, it is even longer than old P12), despite containing more capacious battery.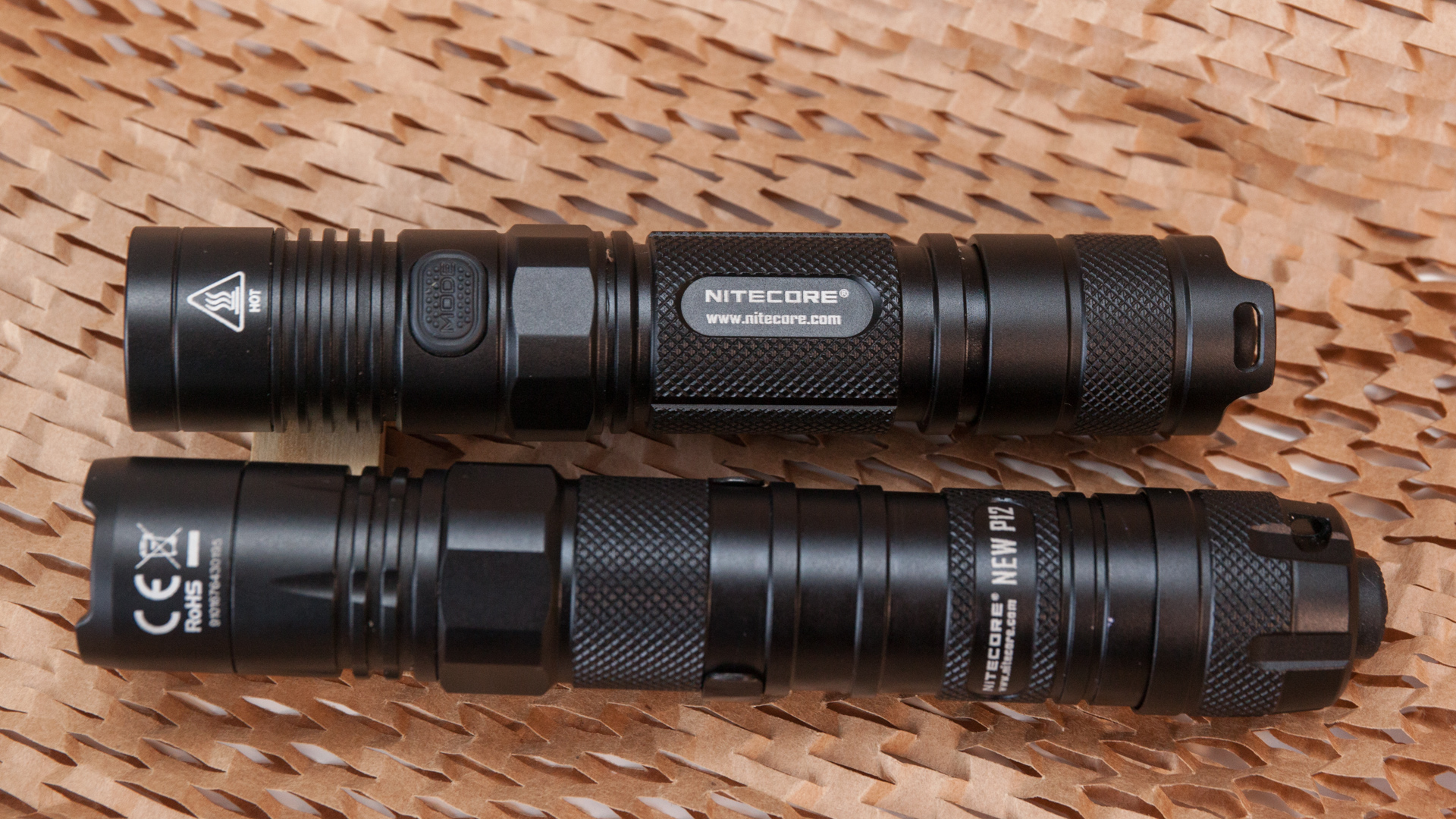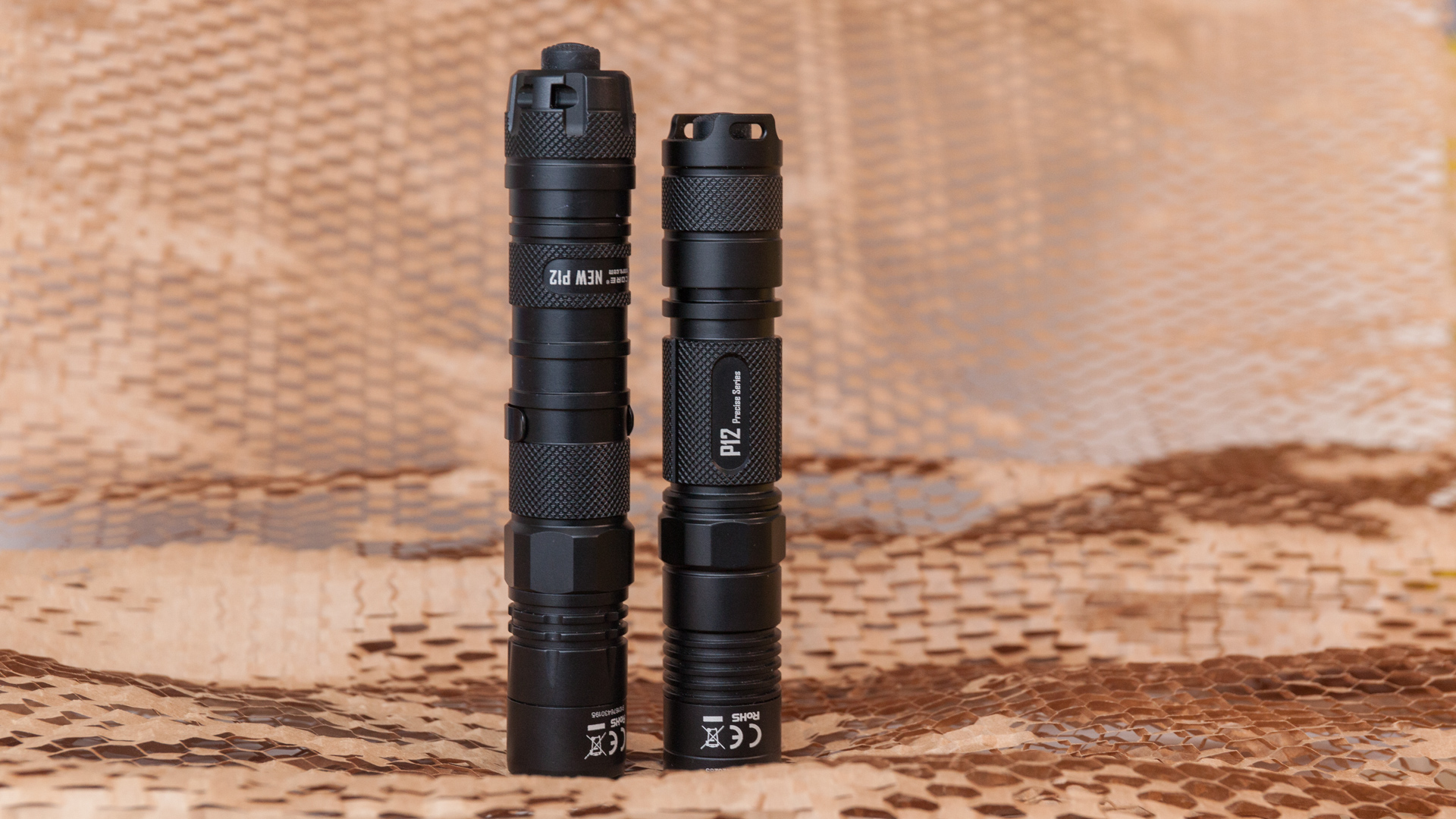 unlike previous models, tail button on the sticks out "nipple"-like, opening access to it from all sides.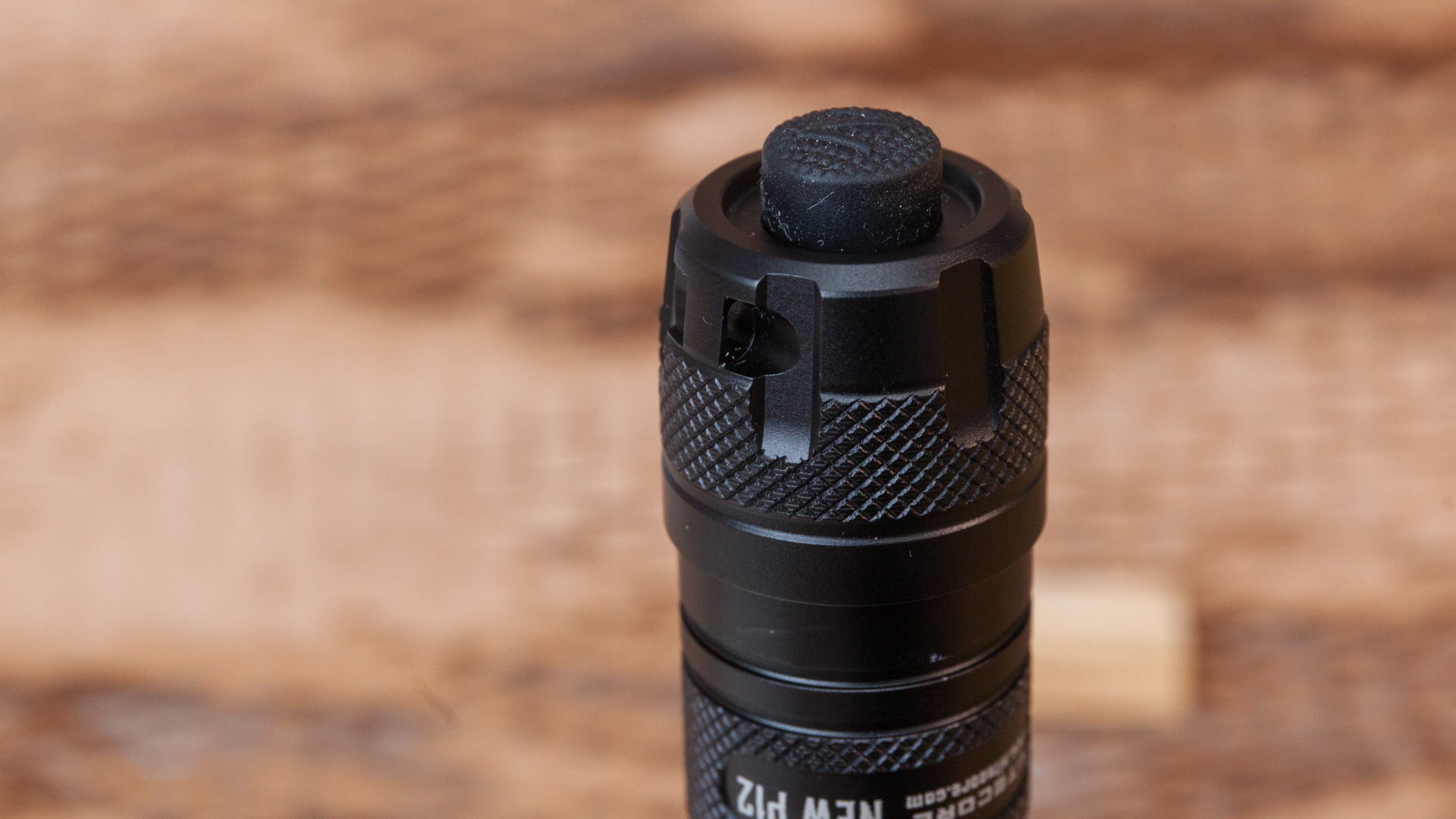 Springs at both head and tailcap are medium thick.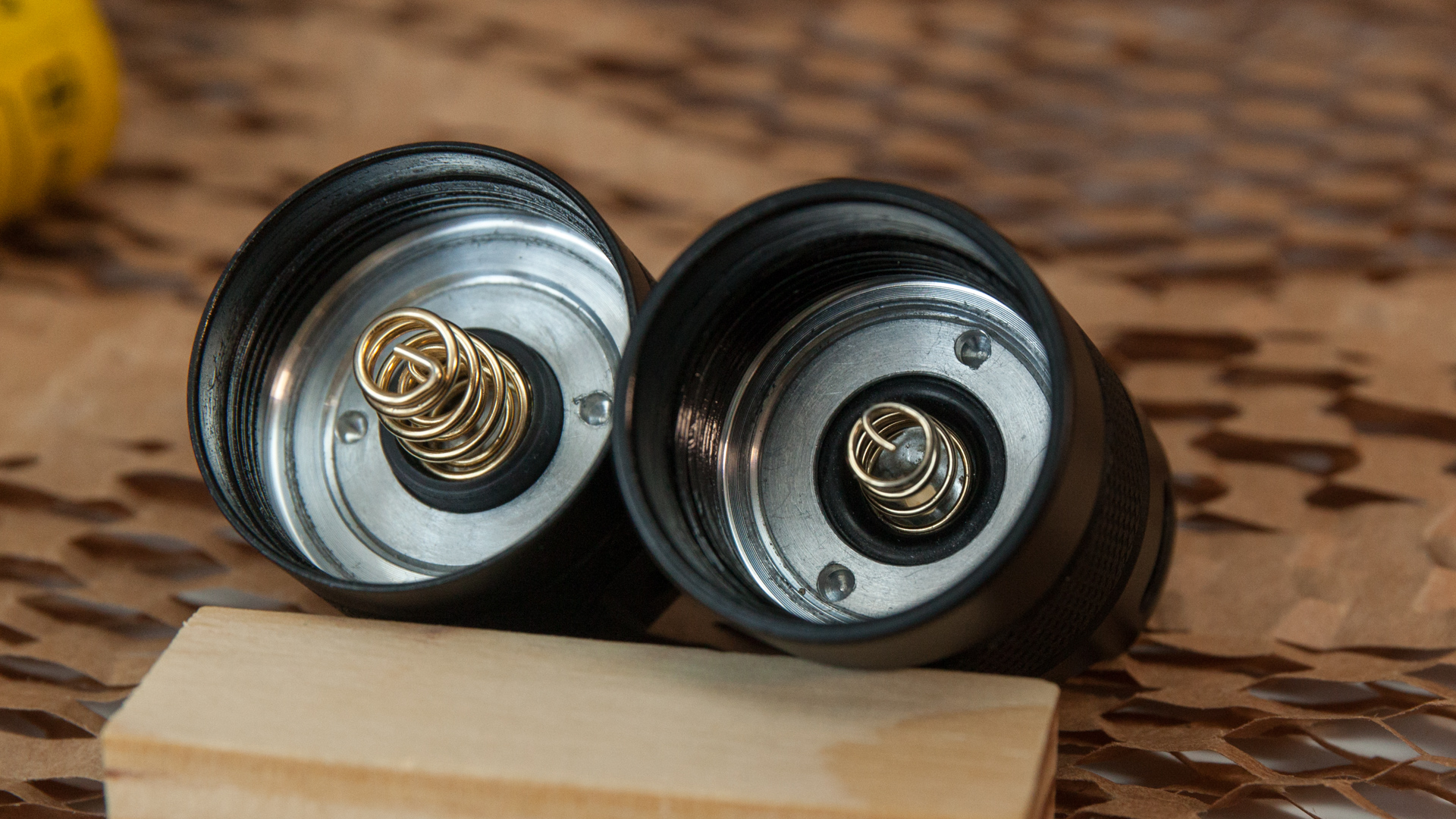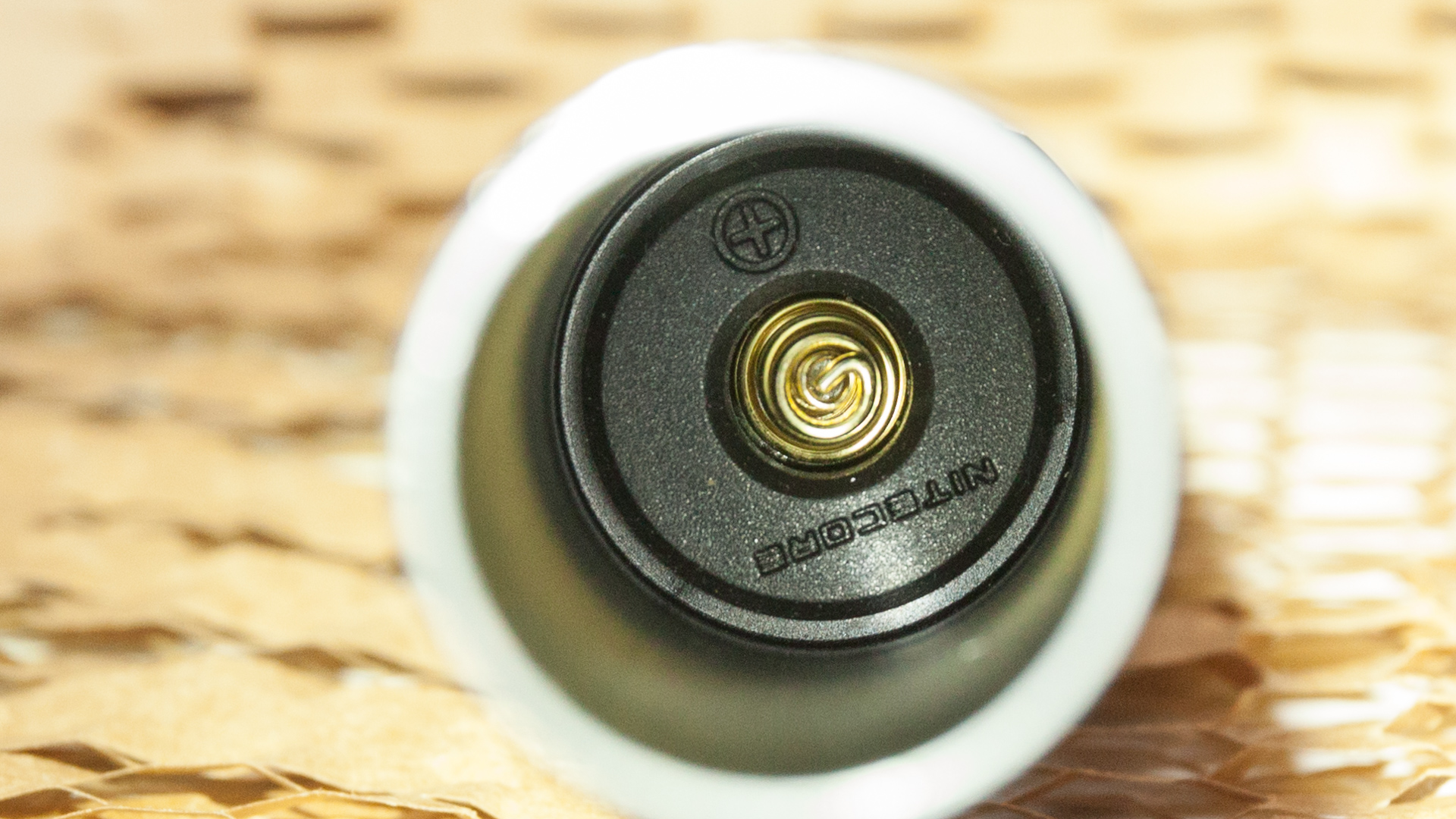 The clip can be removed with reasonable effort, is not overly tight. and it could aslo be placed in reversed position, as you like.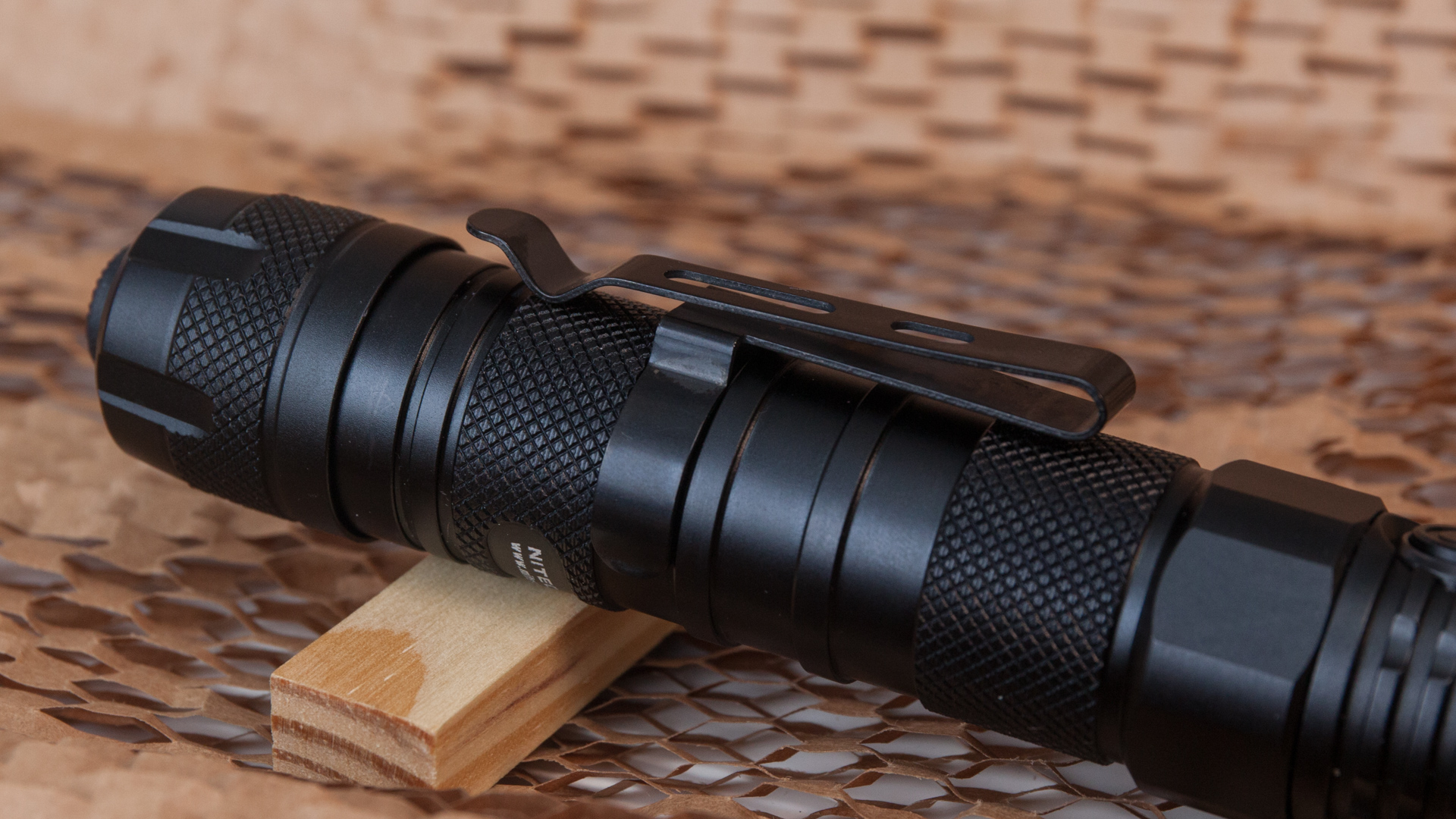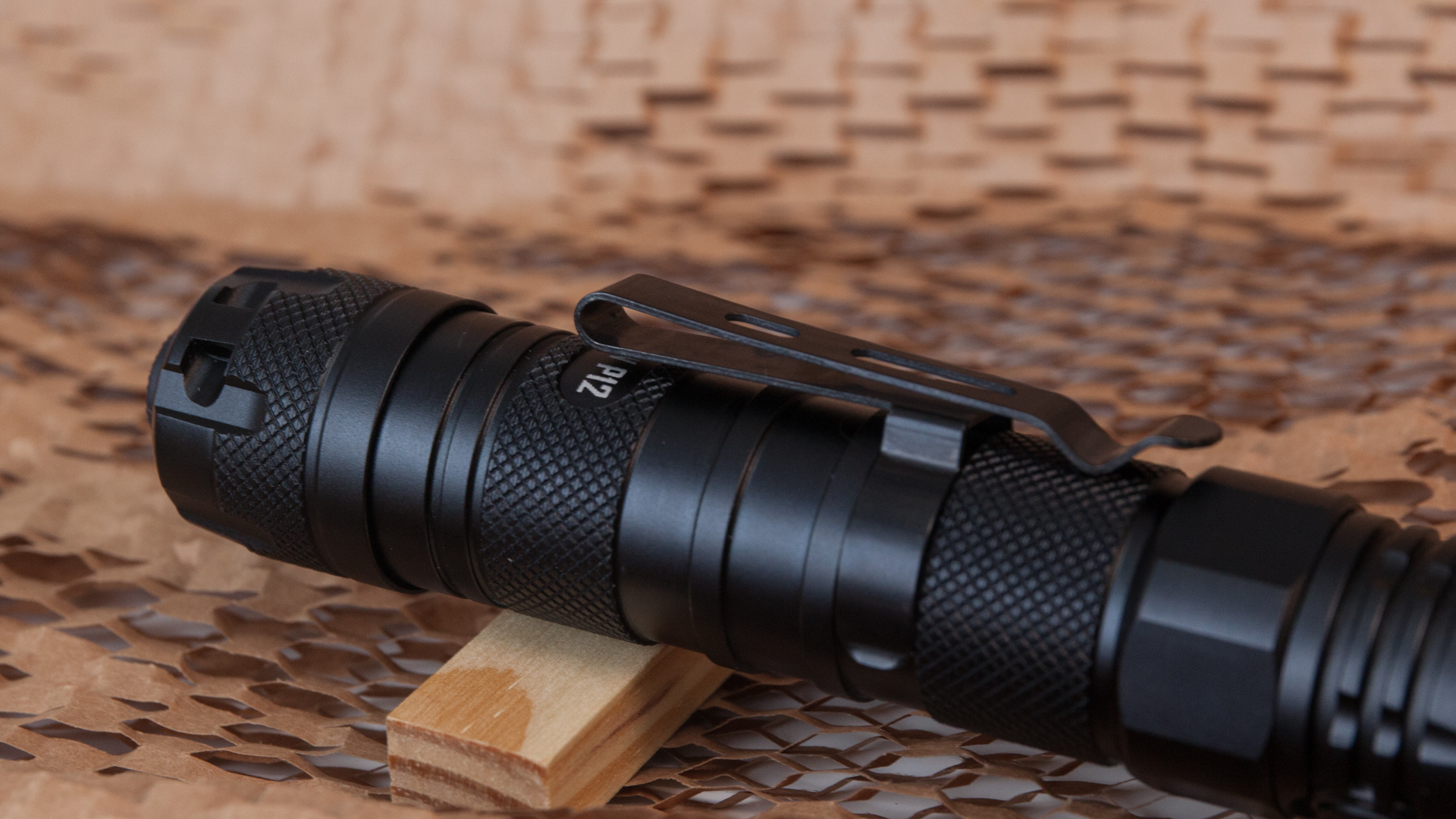 Knurling is smooth, the grip is comfortable. But clip positively affects grip firmness. And here you can see two smooth grooves that serve to install a special taaaactical ring.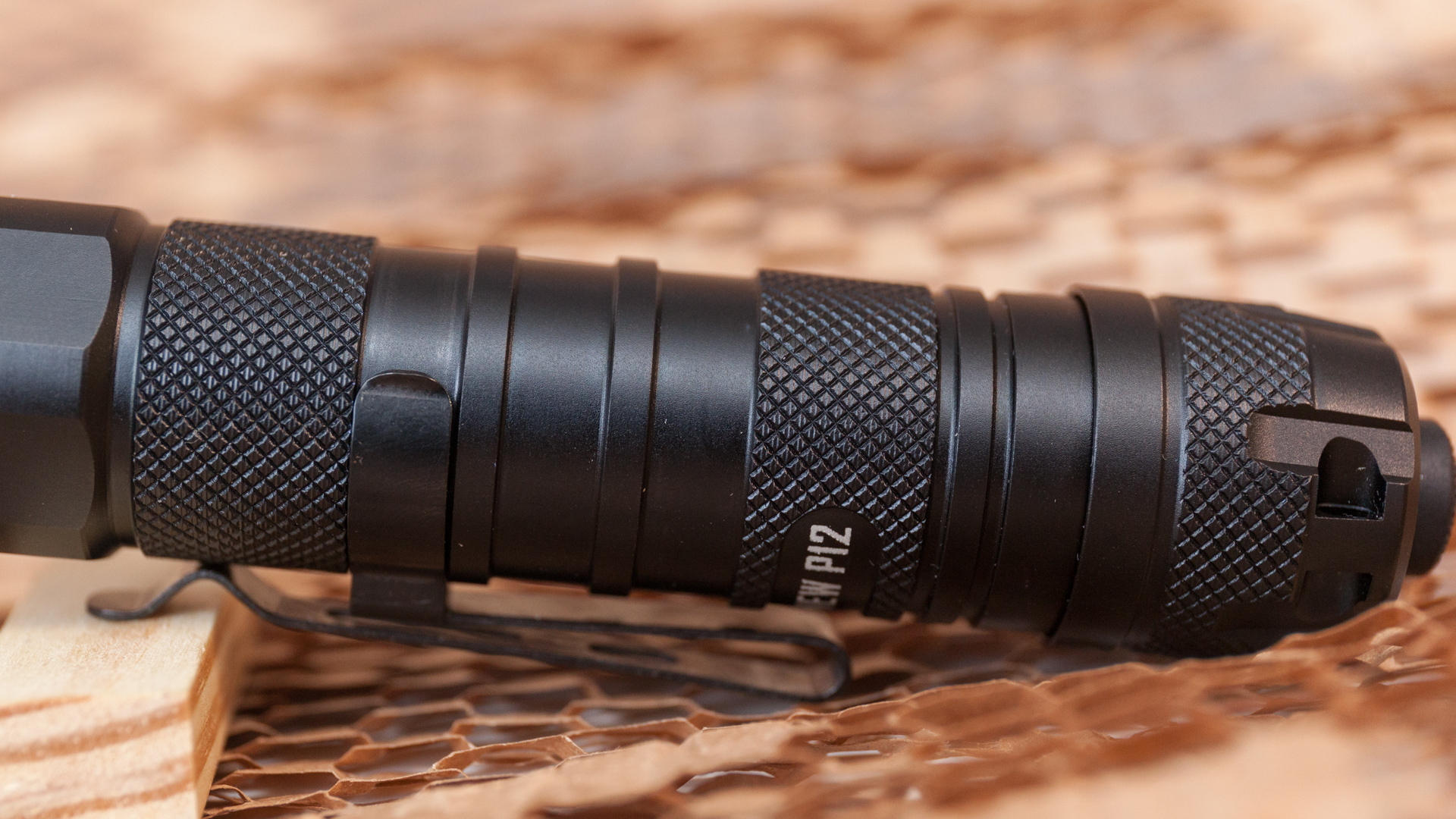 Button, no less, but black metal \m/ (time to turn on tibute to Bathory). The medium-sized black round with backlight illumination.  Ok, this is really weak point - chances are really low for you to blind find it fast. And they are close to zero if you are in gloves or\and in cold weather, when fingers lack sensivity.  I tested New and Old P12 at the same time outdoor and could blind find button of old P12 easily. New one failed test of rapid access.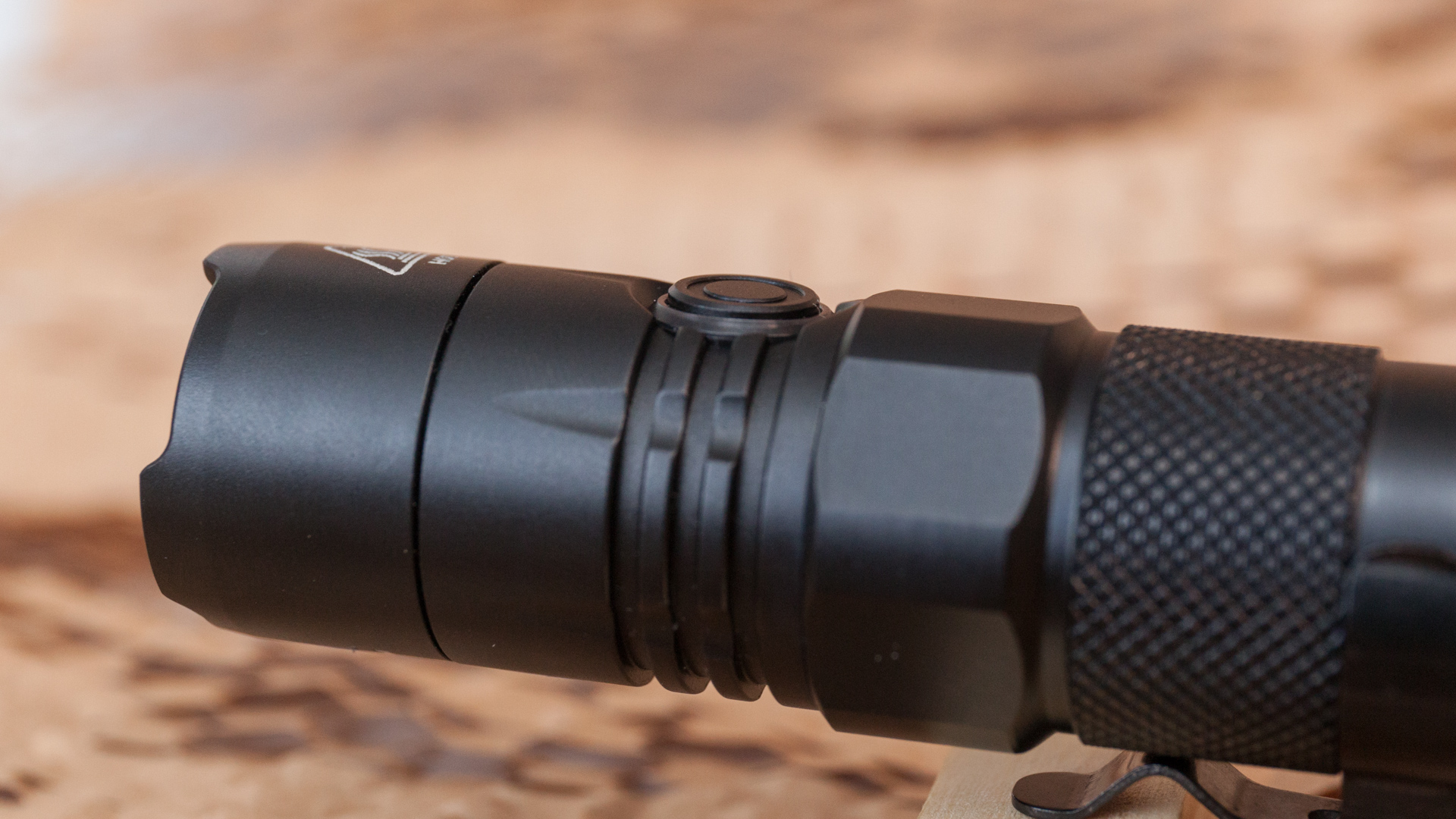 Cooling ribs are small. Given the size of flashlight, something deeper can not be done. However, with such a maximum brightness and overall dimensions of the flashlight, one should not worry about overheating.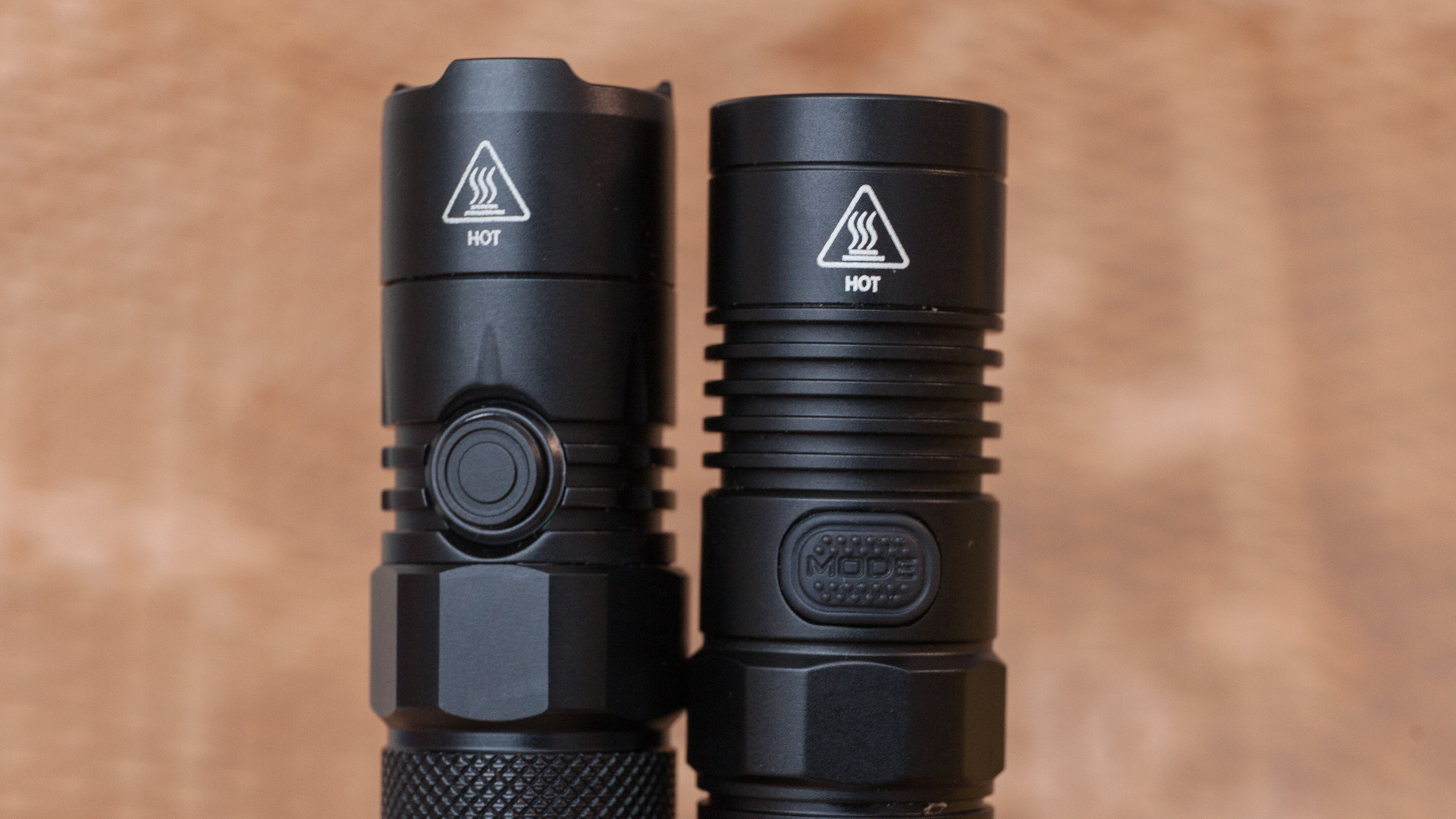 The bezel is quite deep and sharp, quite typical for tactical flashlights that size. Under it - small, EDCish SMO reflector with an XP-L HD LED at the bottom.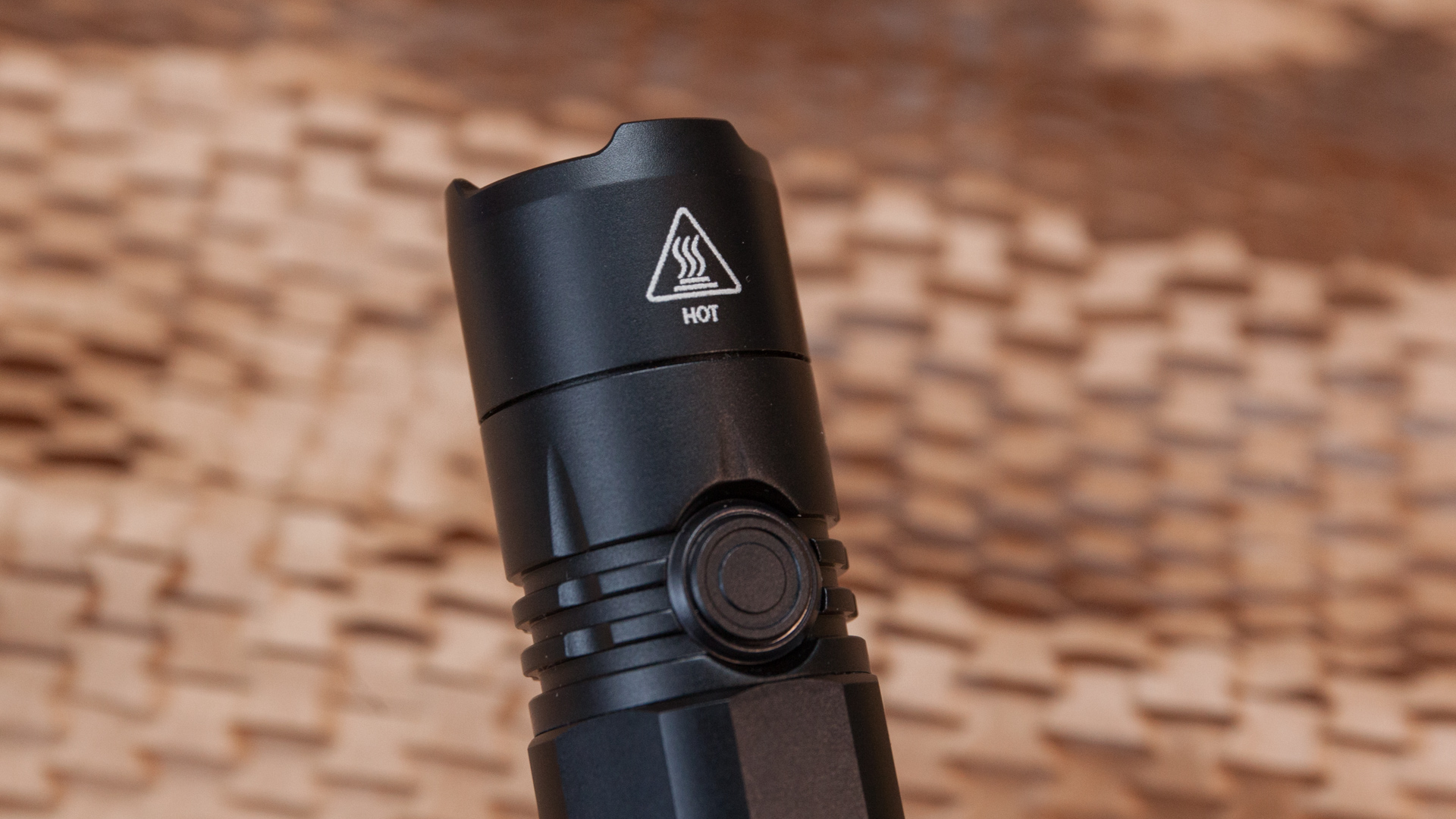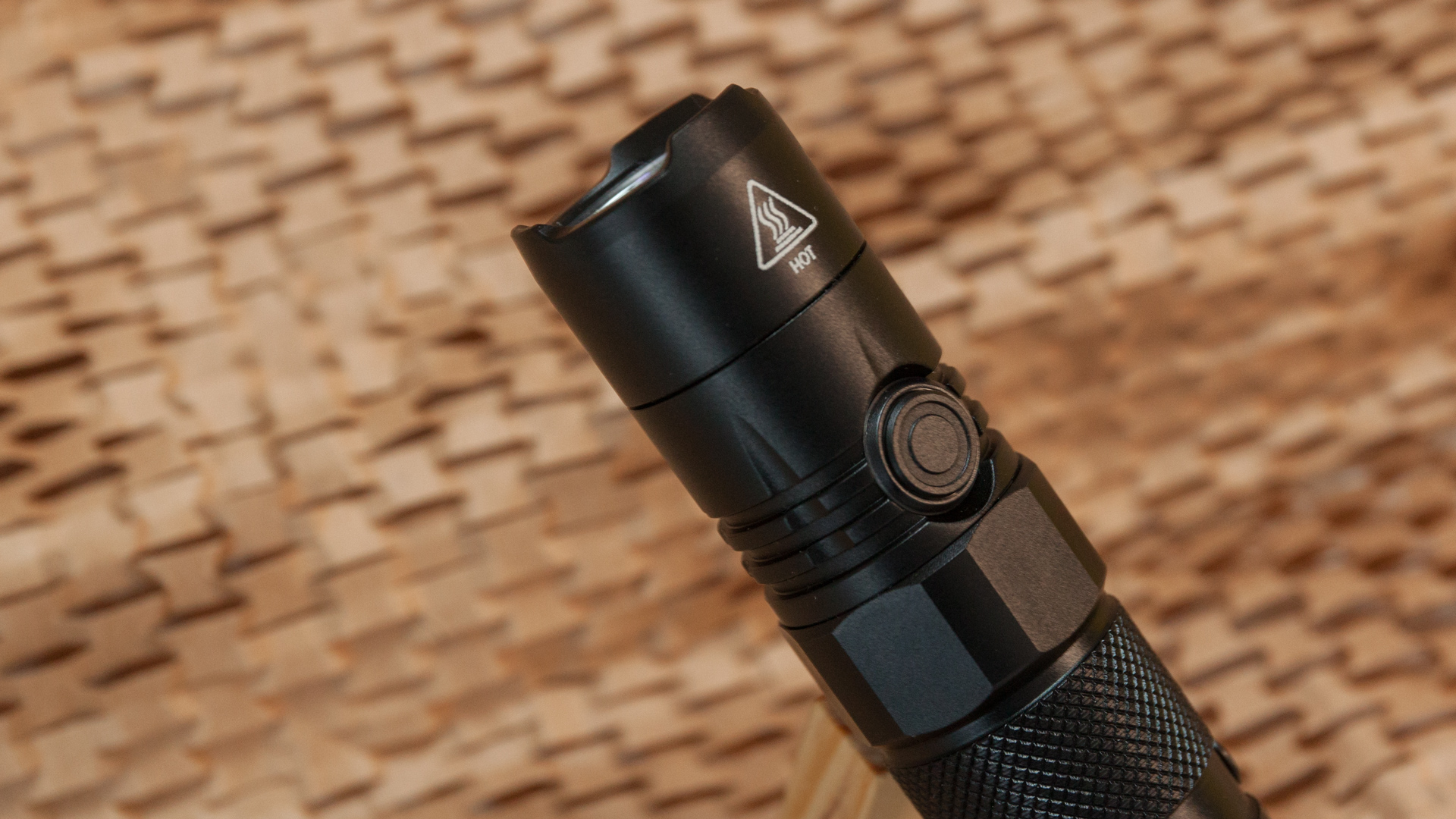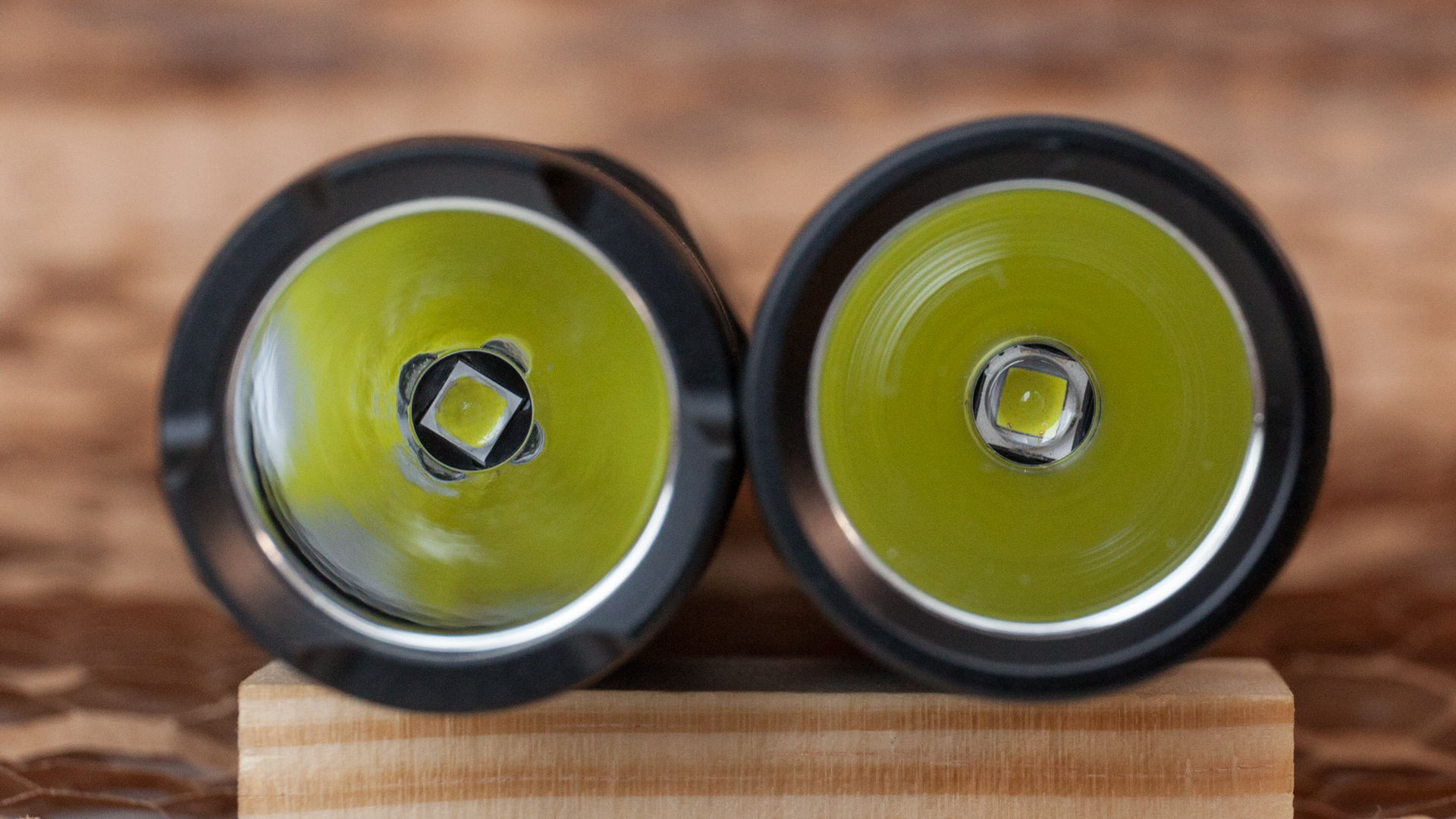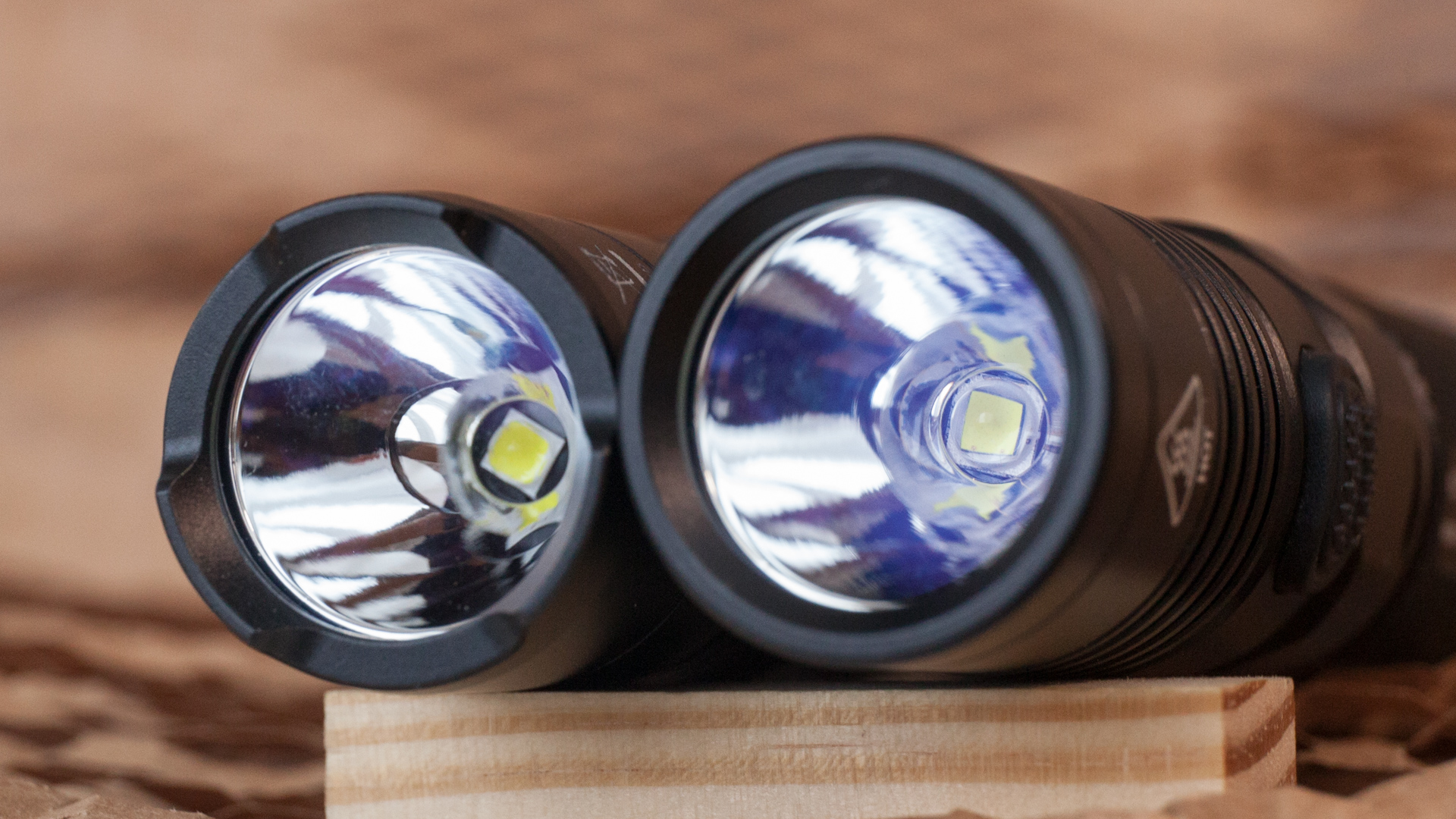 UI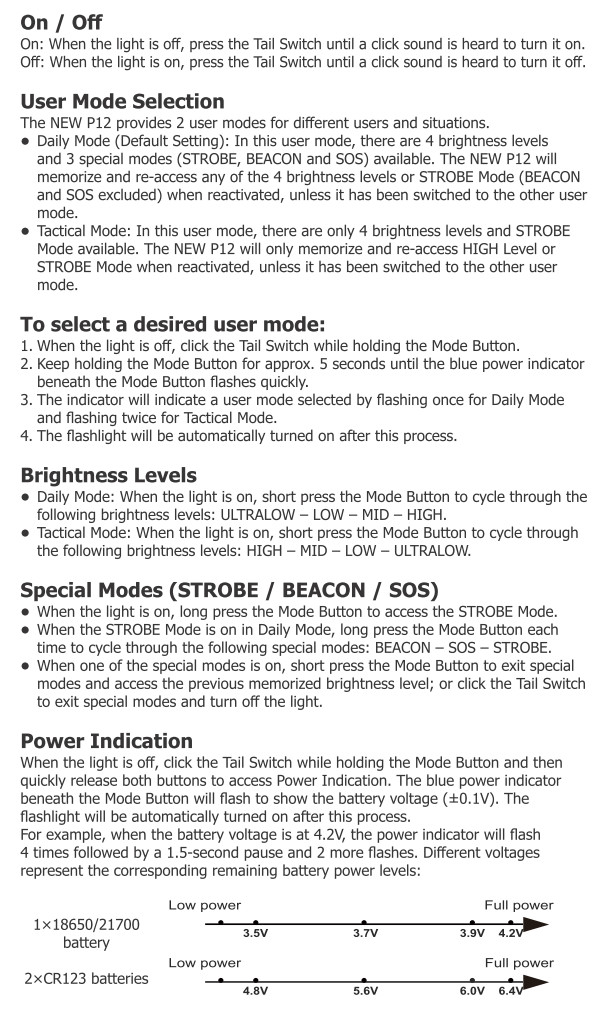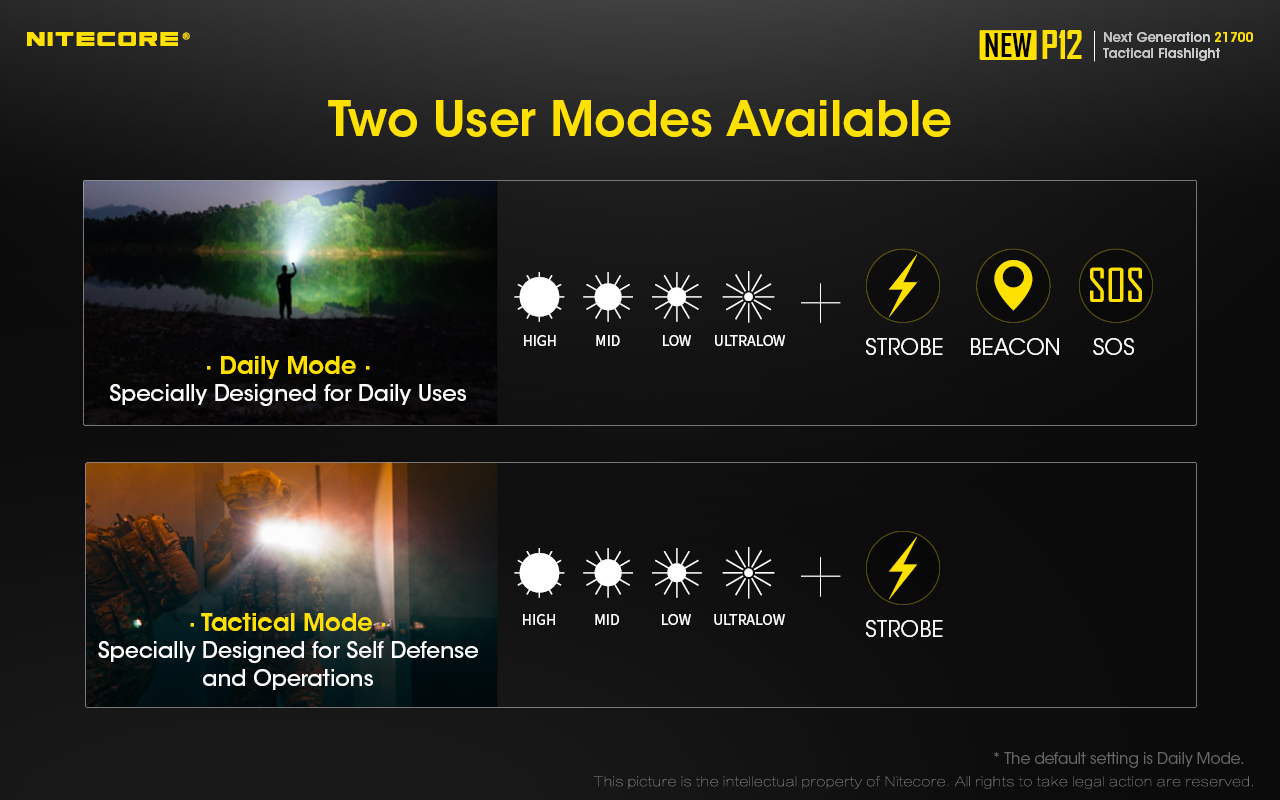 Definetely mediocre, IMO, for tactical flashlight. There are two options - namely, tactic-assault and everyday mode. In the latter, stobe is accompanied by beacon and SOS, and the brightness levels go upward, while in tactical setting downward.
I find UI not that good for tactical purposes. If you forget about instant strobe from ON, P12 here is almost no better than any $ 10 EDC flashlight. Besides modes memory, there is no instant access to LOW/TURBO/Strobe from OFF mode. There is no access to the turbo from the on state. No blocking - all that is successfully implemented in LOTS of other tactical flashlights.
I always surprise how easy it is to screw up with so important feature as UI. And it only takes some thoughts and logic to make good UI, so single $ put in this.
Light
As usually, alternative but cold light. Nevertheless, it is bright enough for most situations where it is not no need for serious throw or flood. In terms of light, new P12 is not very different from its first version, it is only a little brighter, with a little bit more throw. As High mode is not that bright at all, it would be logical to put a longer-range HI LED version instead of HD to increase throw.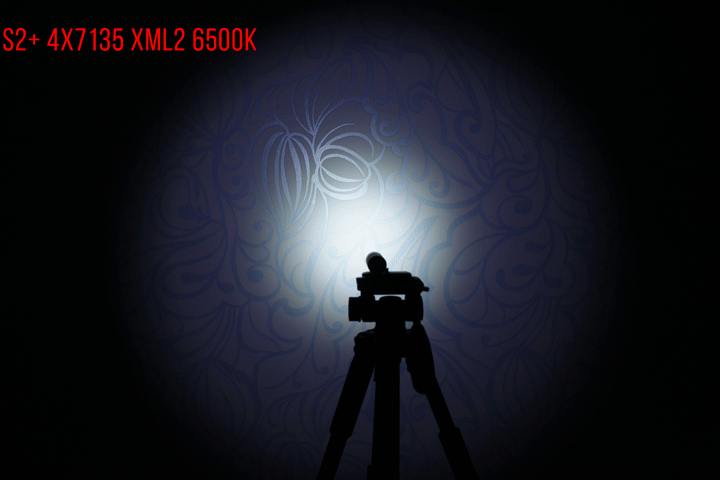 A selection of modes exposes the gap between high \ turbo. However this high level will be quite sufficient indoor, while you can turn on turbo outdor and rely on it for any work within range of 100 meters, then, after stepdown turbo will fall to the level of about 700-800 lumens. Just tell me why not take this level separately in the form of high and give current High it`s real name - Mid. Moreover, I am sure that the size of the flashlight can fully count on continuous operation in this level even without cooling.
As for thermoregulation, it can be seen that cooling does not affect turbo level in general, more or less affects runtime in it , and definetely affects stepdown level.
I have no reason to complain, everything is fine about thermoregulation and stabilization
And here you can clearly see the huge difference in the ability of a 21700 battery to sustain a higher brightness compared to the 18650.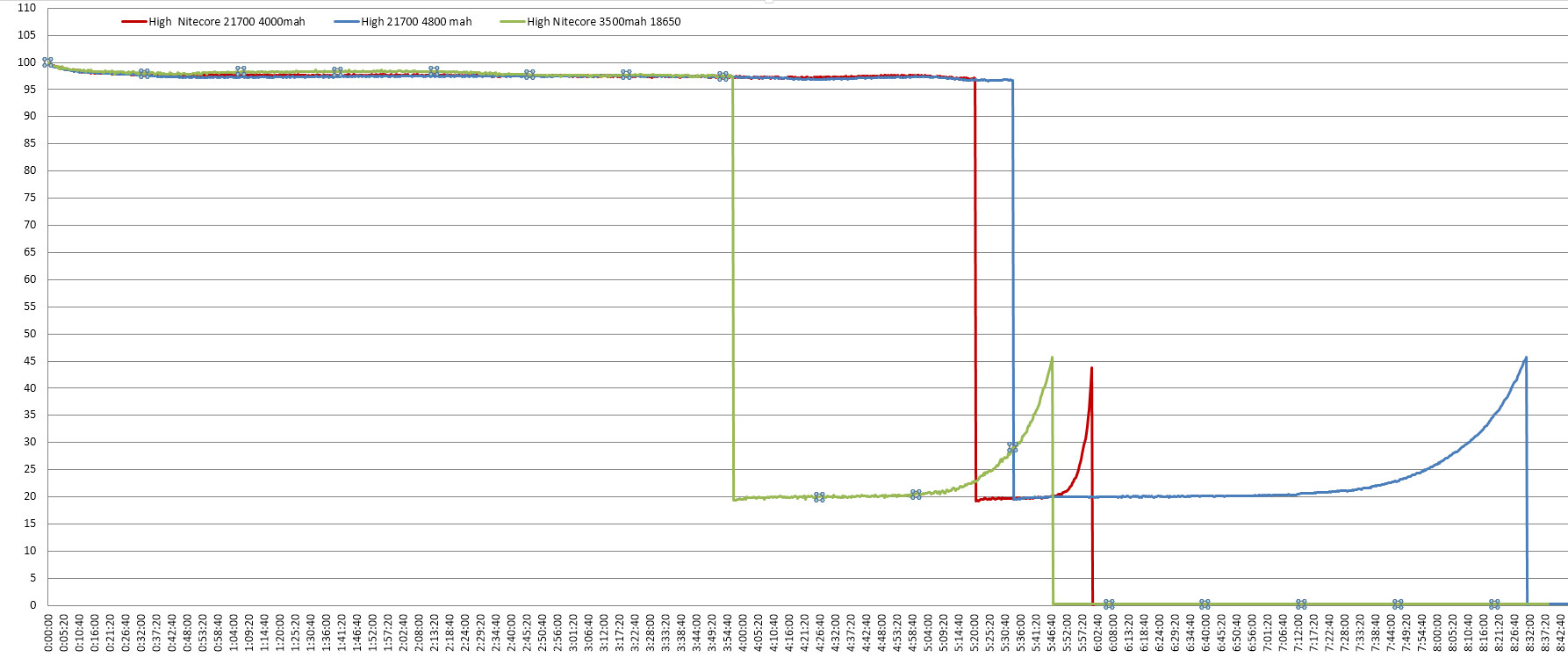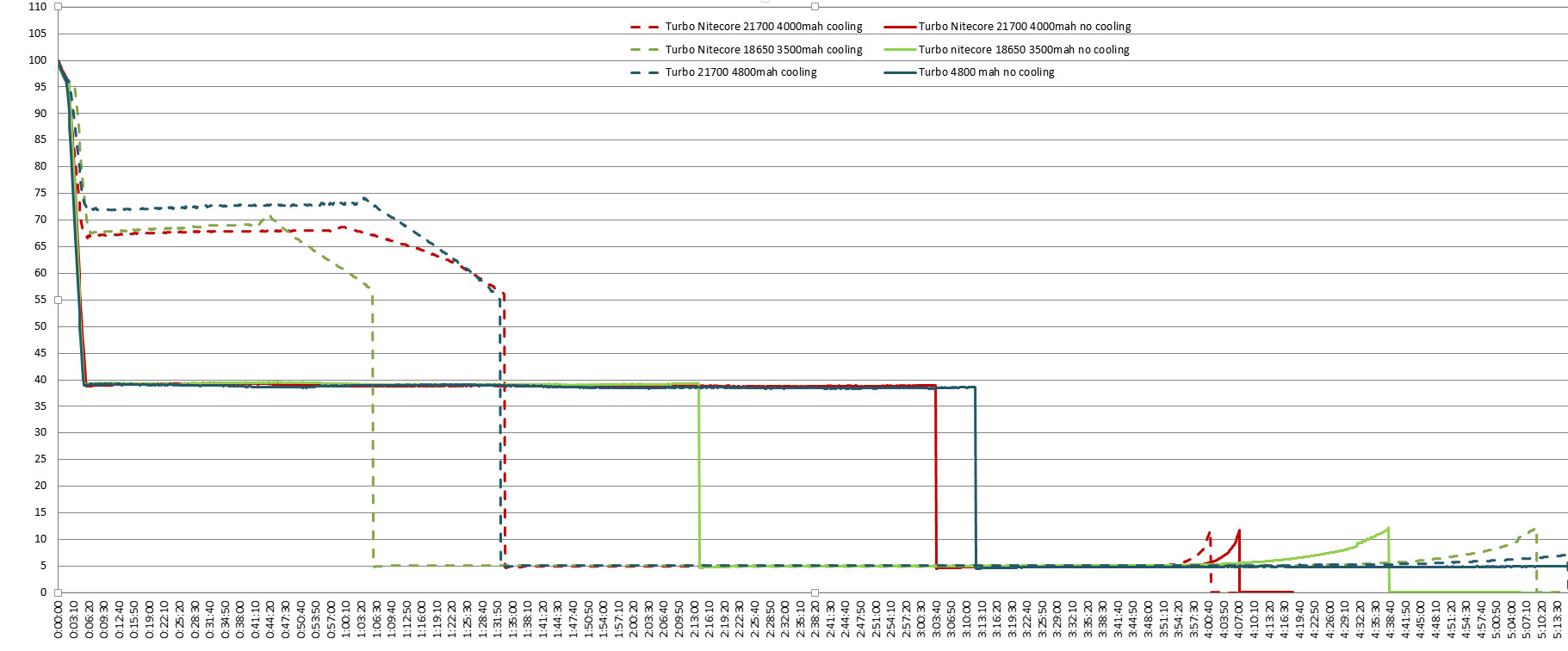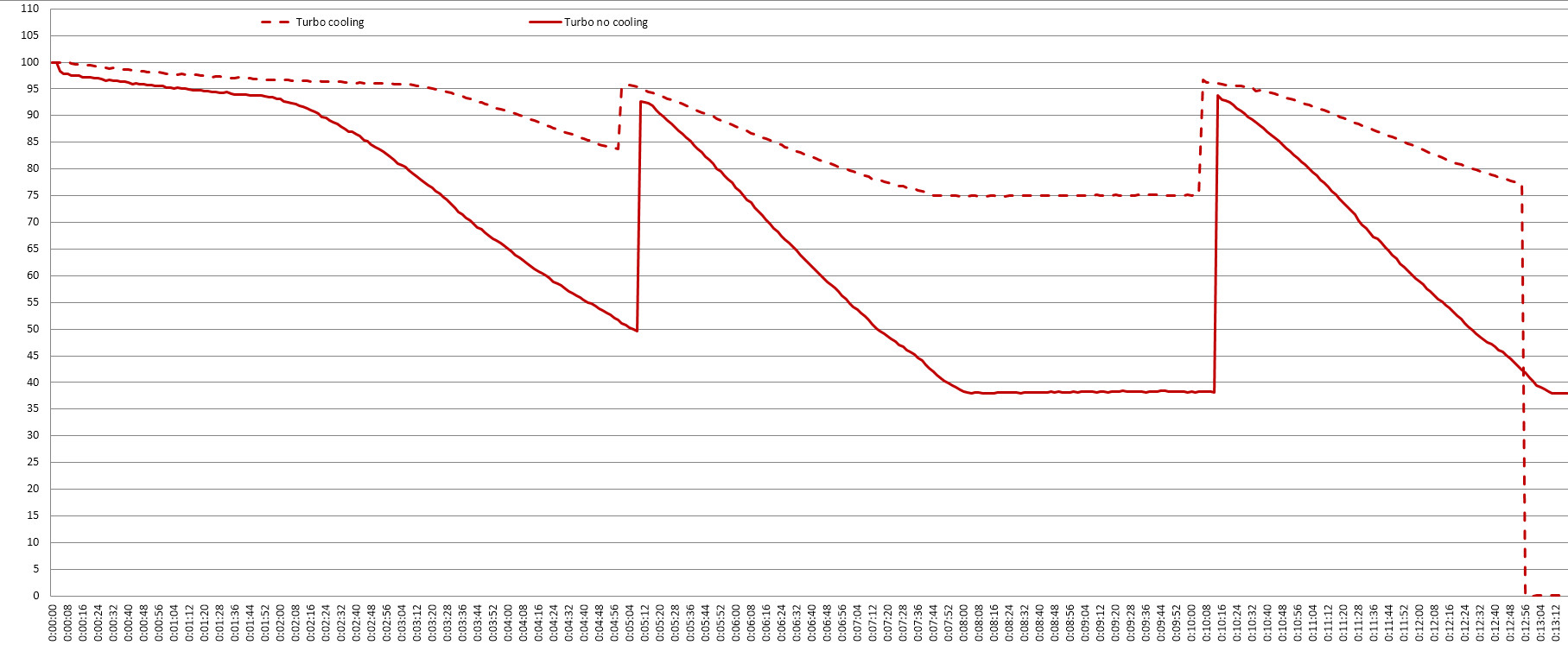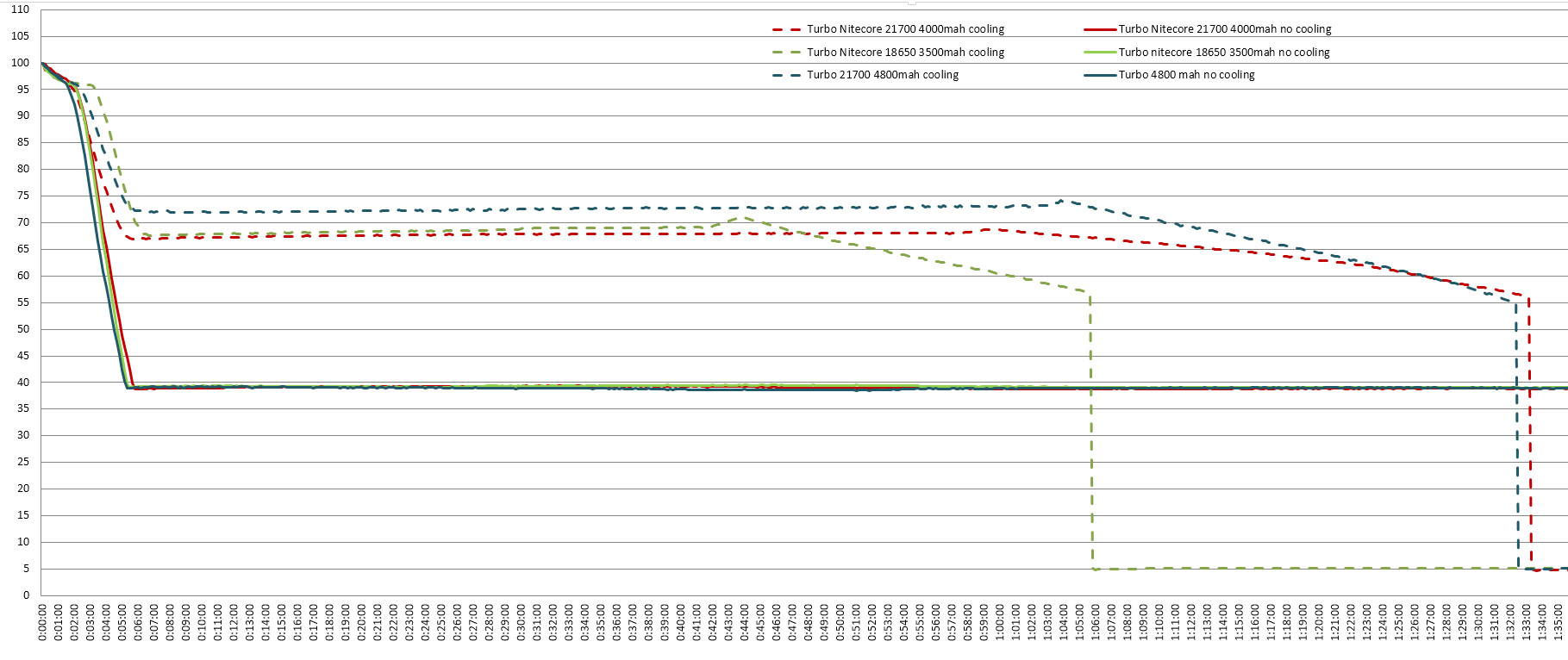 As for the light, it is frankly ordinary to modern standards . Of course, this does not mean that the flashlight is dim, no, it seems unimpressive only comparing to colossal numbers in turbo modes that we got used to so quickly over the past couple of years.
1200 lumens per se is quite a good level of brightness, like standard for many modern EDC flashlights. And this brightness is enough to light from the ground, for example, to 15th floor of the building. I seriously doubt that any use cases of a tactical flashlight of SUCH size implies working at longer ranges. And, if necessary, Nitecore has a P12 GT with better throw. It is possible that it will soon be updated with 21,700 power.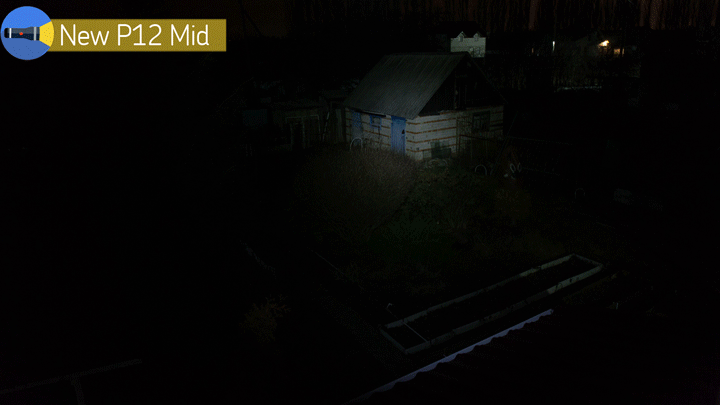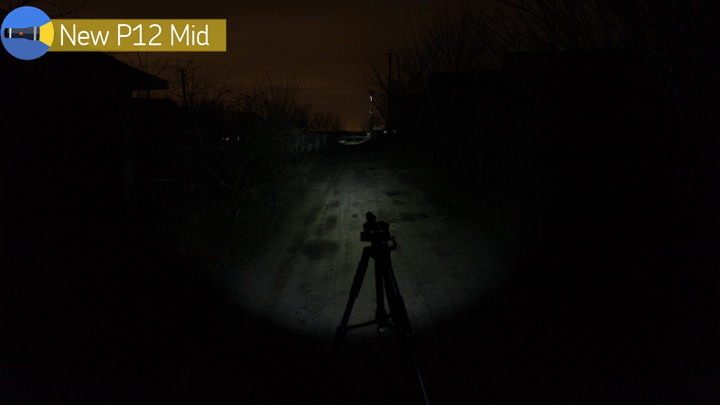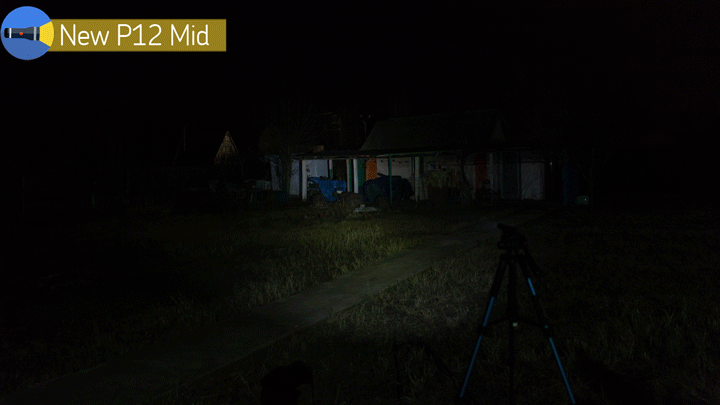 and here is video review with extras.

General impressions
The update did not bring any fundamental changes in the functionality. The new Nitecore P12 is almost 100% like very first P12, accepting the challenge of tech trends only in terms of 21700 battery used.
With 21700 it became a little bigger. A little brighter. A little more throwy. Although, i must notice  - works  way longer with it. That`s all.

I am not ready to perceive it as a tactical flashlight. For me, this is an intermediate model betweeen EDC and tactical light.
If you take it from this position, then almost all the disadvantages that I saw in New P12 disappear. And they, by and large, are about UI  and button only, and therefore subjective at least in 1st one.

And I am convinced that flashlights of this kind have their own audience. This, plus the recognizable model line name and the magic of the brand will surely adds New P12 popularity.