Hi forum, looks to me Hank from Intl-Outdoor has come through with a really nice flashlight/USB charger that I received today.  Typically, my wife and I have been using a NewTrent backup battery charger while on the road in order to keep our Ipod/Ipad, and other devices powered up when away from an electric outlet for charging.  Now we'll be able to have a second portable charger with even greater charging capacity coupled to a powerful XM-L flashlight all in one.
For details, see Hanks website for this flashlight : http://www.intl-outdoor.com/double-usb-mobile-device-charger-318650-xml-t6-flashlight-p-365.html
It came with a paracord lanyard.  The USB charging cable to recharge the flashlight from a computer USB port was several dollars extra, but Hank included it as a gift after contacting him that I forgot to add it to my order.  I did ask him to send me a Paypal invoice, but he included it anyway.  Thanks Hank!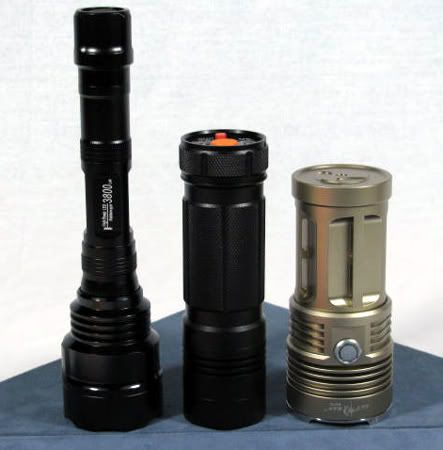 Just a size comparison, Skyray 3800, USB Charger/Flashlight, and Skyray KING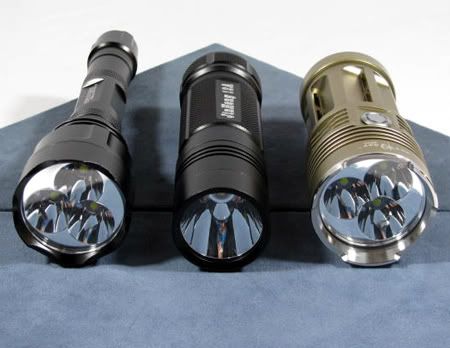 Skyray 3800, USB Charger/Flashlight and Skyray KING - The 38mm reflector appears perfect.  The head unscrews from the body of the flashlight just below the lowest cooling recess.  The tail-cap unscrews to slip out the battery carrier to insert 3x18650's in parallel.  I tossed in some Redilast 18650-3100's from my Skyray KING for testing.  They were slightly tight inserting, and rubbed slightly while inserting into the flashlight tube, but worked great.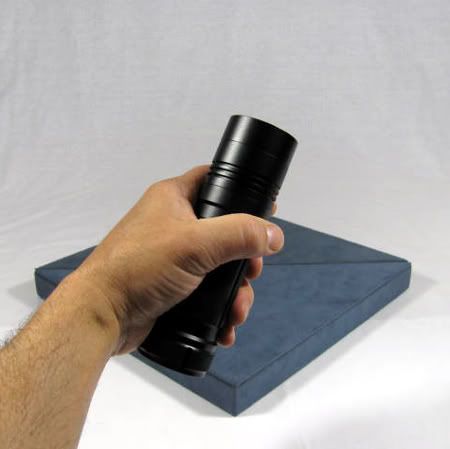 Great size diameter and excellent knurling, certainly won't slip out of your hand.  Threads felt really nice and smooth.
Yep, this flashlight has a second business end for sure.  One USB output exclusive to Apple products, and a second USB output to  charge all other devices.  Obviously this will only charge devices within USB specs.  The mini-USB is an input to charge the flashlight itself so you don't have to remove the 3x18650 batteries should you not wish to. 
Normally I would always remove batteries to toss on my Pila, but it may not be necessary in this case for several reasons;
1.  Batteries are inserted in parallel not series.
2.  Specially designed internal circuitry within the tail-cap controls charging and automatically cuts charging when a full charge is detected. At this point I don't think it balance charges, but having a parallel battery configuration, they drain exactly the same, and it stands to reason they will charge and self-balance also. However, even with Redilast 18650 3100mAh's, I take nothing for granted and will carefully verify how well it recharges my batteries should I decide to charge them inside the flashlight. It may take as long as 6-8 hours, so leaving them in the flashlight to charge is something I don't think I'd do very often since I'd have to plug it into my computer.  Still, a nice option to have.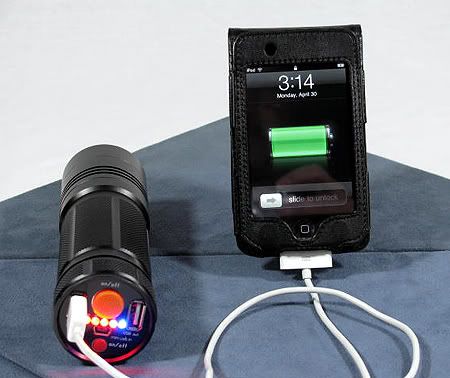 A photo of my Ipod Touch recognizing the flashlight and charging.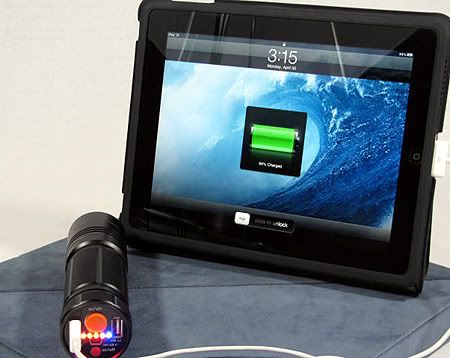 Photo of my IPAD-1 recognizing the flashlight as a charger.  I also tried it on my wife's IPAD-2, and started charging perfectly.
NOTE: The rear LED's you see illuminated only come on when the small lower button is pressed, which is what activates the charging ports.  They also indicate battery condition and can be used while the flashlight is being used as a flashlight.  The 4 RED LED's indicate the flashlight is nearly fully charged, and if the single BLUE LED is also illuminated, this means the batteries are fully charged.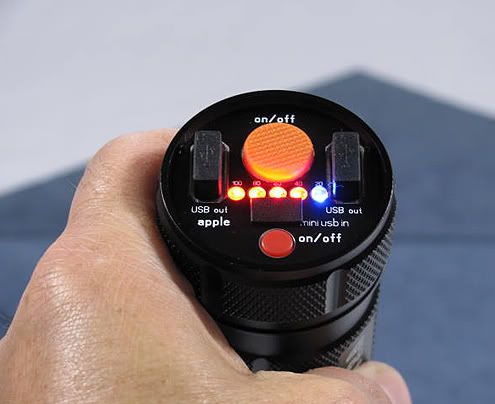 The one thing that did concern me was that no dust caps are included with the light.  Initially when I purchased it, I had already decided to make my own custom made rear cover to keep moisture and dirt out of the USB & Mini USB openings.  Fortunately before taking on a project like that, I remembered I have soft rubber USB and Mini USB caps on hand.  So I inserted them and problem solved, and it also maintains the cool look of the flashlight.  The dust caps being made of soft material make it extremely easy to insert and remove them.
In addition to the great features of this flashlight, it's also one of the custom "Build-To-Order" lights that Intl-Outdoor offers.  It's available in a 3-mode or 5-mode, and Cool White-T6 1A or
Outdoor beam shots to follow.