Lumintop FW21 ×9L may be coolest flashlight of all that i`ve reviewed this year. Besides this, I reviewed almost all the flashlights that Lumintop did in last 5 years, and this is the very best full-scale model they`ve produced in years. IMHO, of course.
This is a real pocket searchlight that combines lots of coolest features. It is quite compact, store 21700 battery, has flexible Andirul UI, and SBT90.2 LED with crazy power and throw.
Ah, good brightness stabilization, as well. For me – that is winning combination, that makes Lumintop FW21 ×9L SBT90.2 best in the whole FW line and mustbuy for any flashaholic.
Damn, so much people ask me about flashlight, which is " compact, bright, with good throw and not that expensive". Here it is, folks, here it is.
I am really glad to tell you about it and hope you`ll like it as much as i do.
OFFICIAL PAGE of the model on the manufacturer's website
you can buy Lumintop X9L SBT90.2 at:
➤ ALIEXPRESS
➤ BANGGOOD [$75] Code:BGXY45
➤AMAZON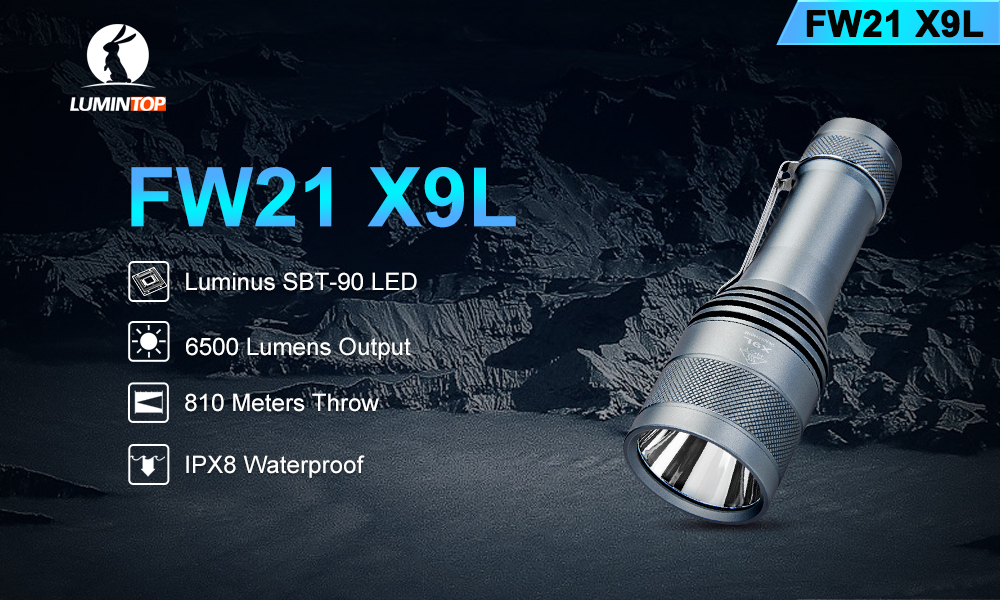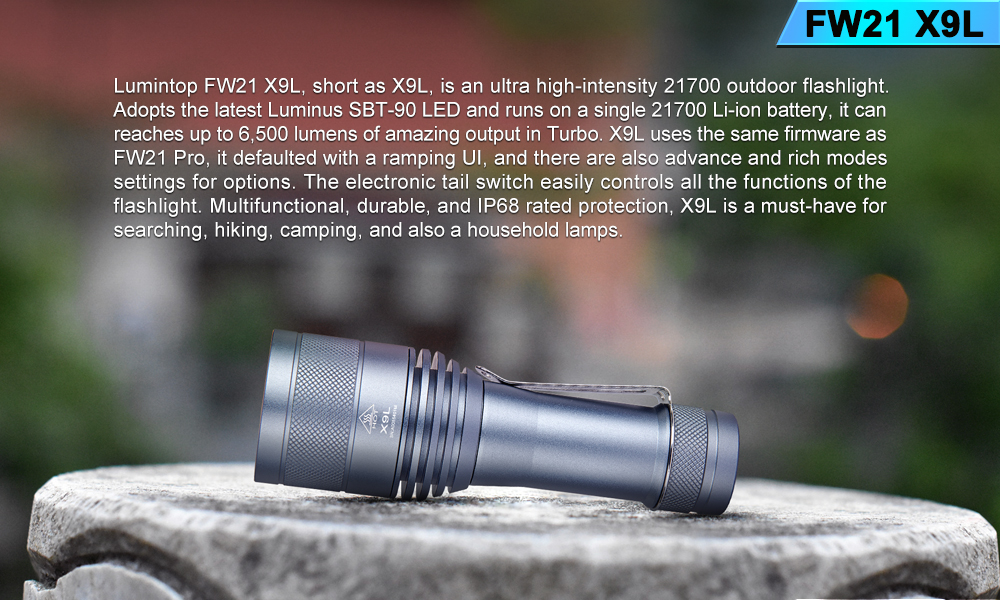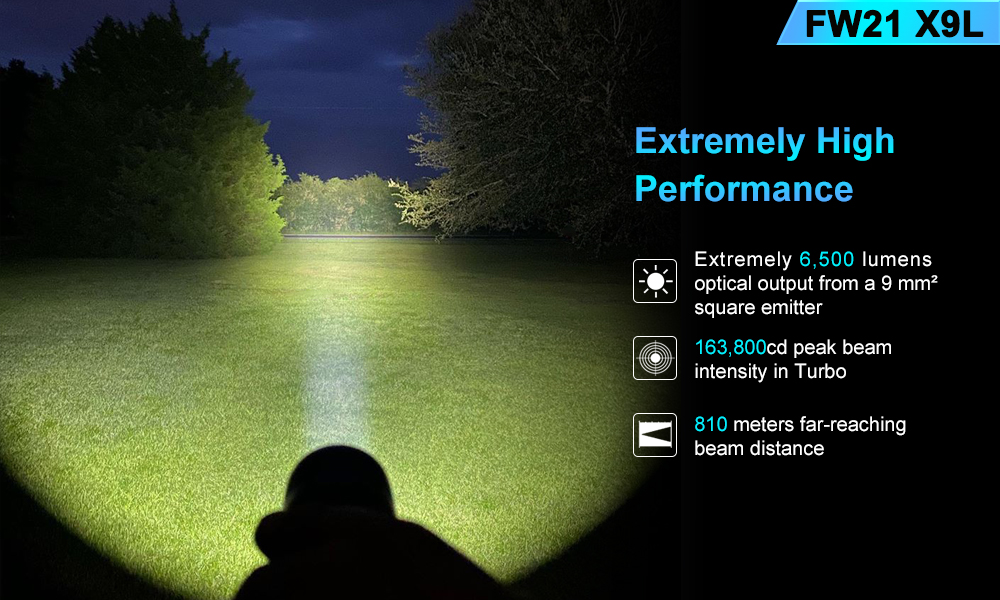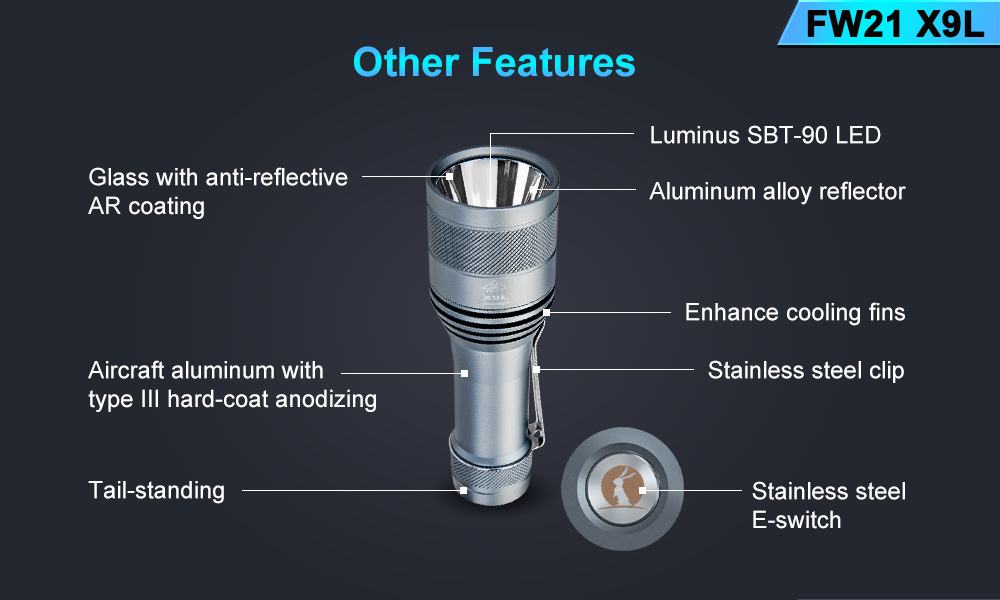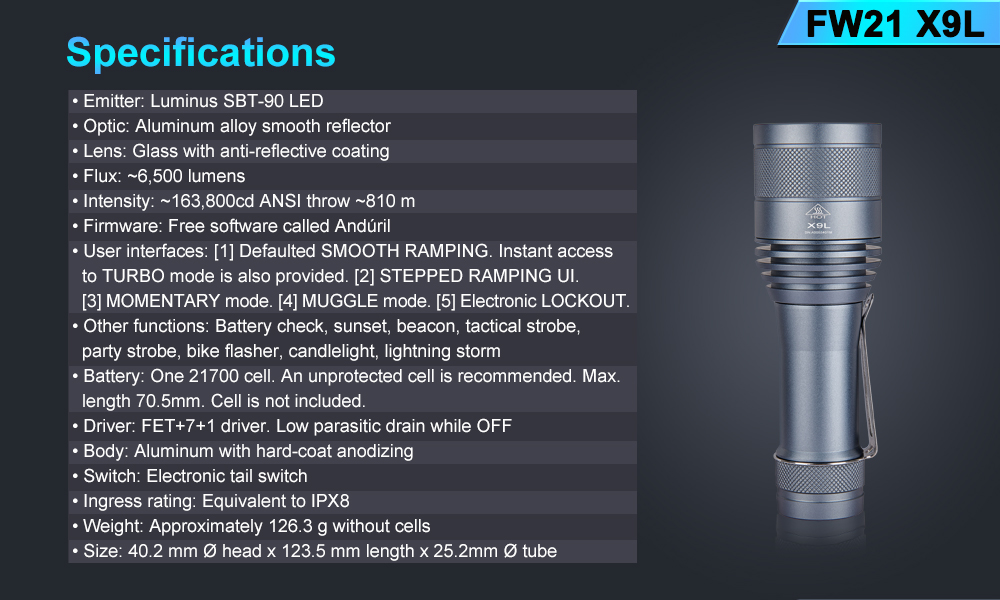 PACKAGE AND APPEARANCE
The same modest beige box with a minimal design.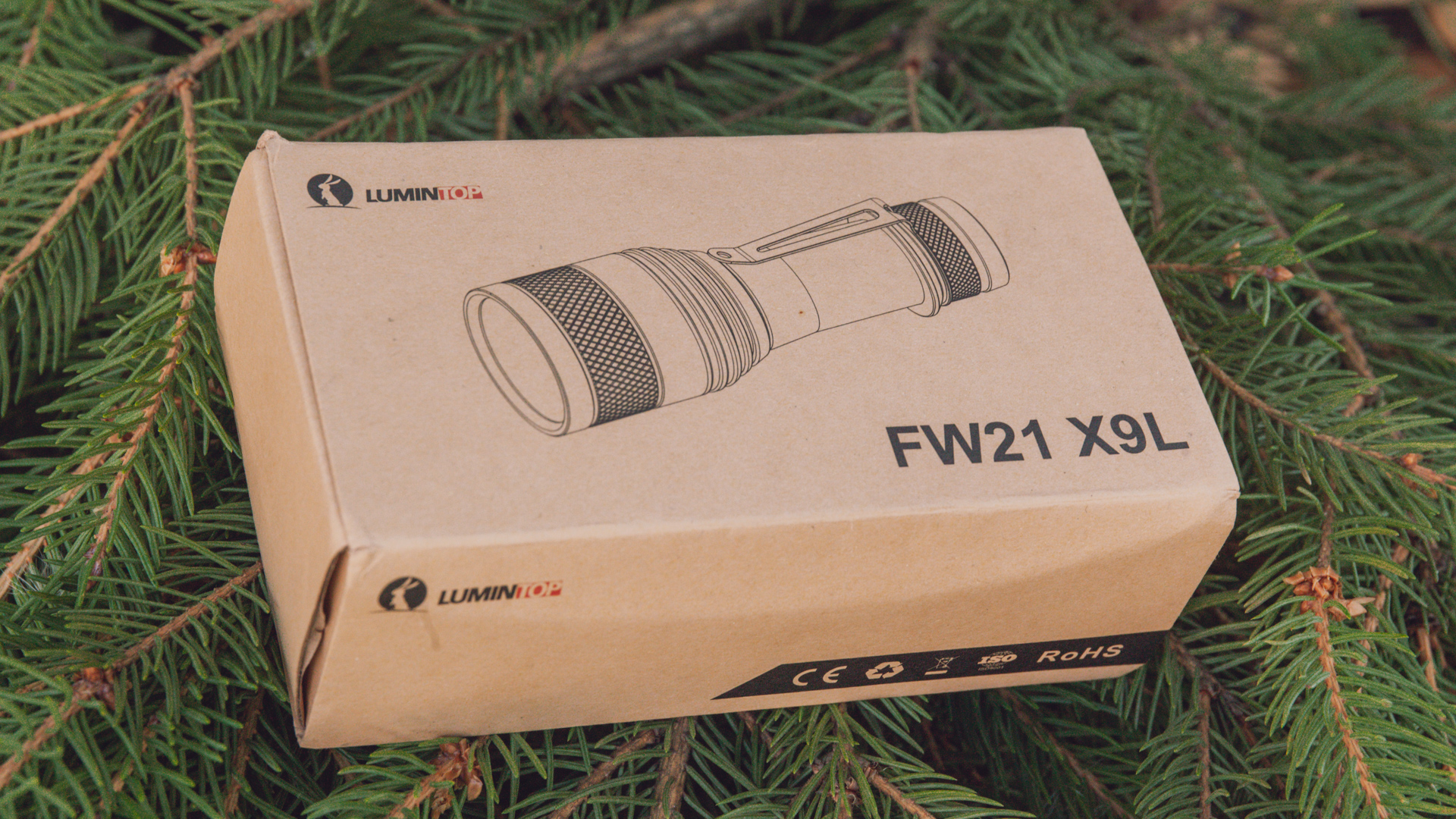 Set includes flashlight itself , huge sheet of manual, pair of O-rings, 18650-21700 conversion tube and an unusual (but convenient) rubber stop ring.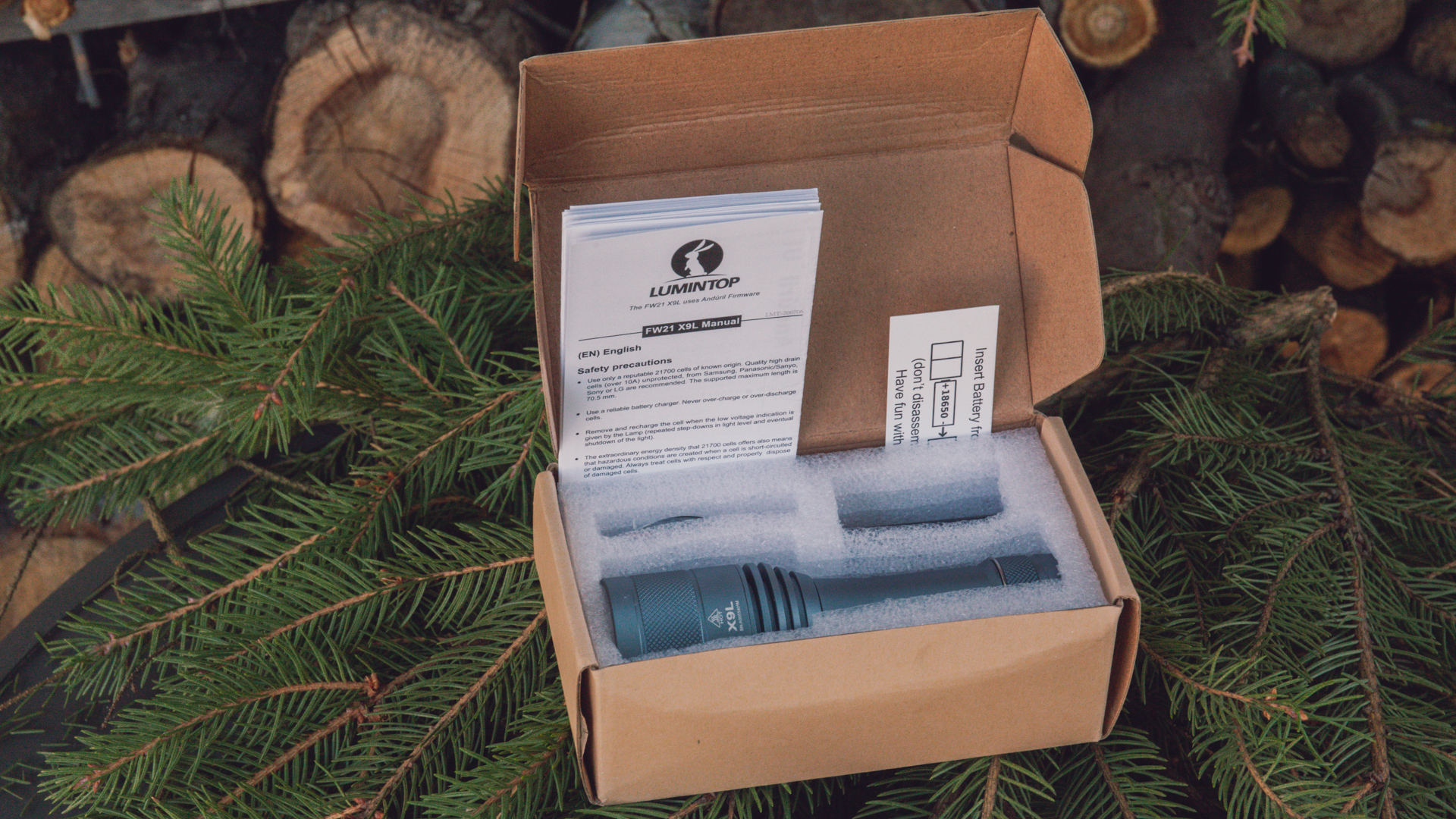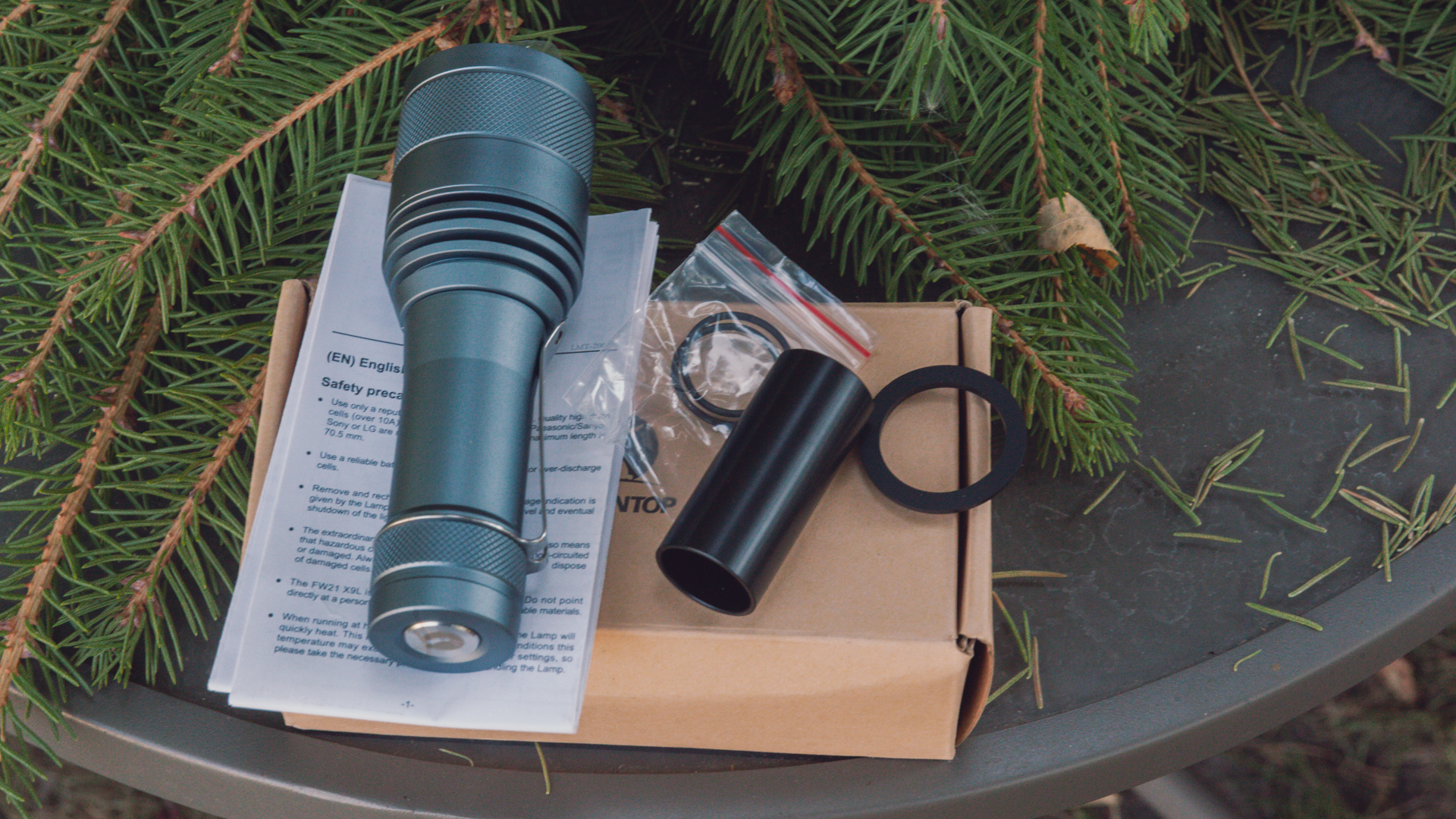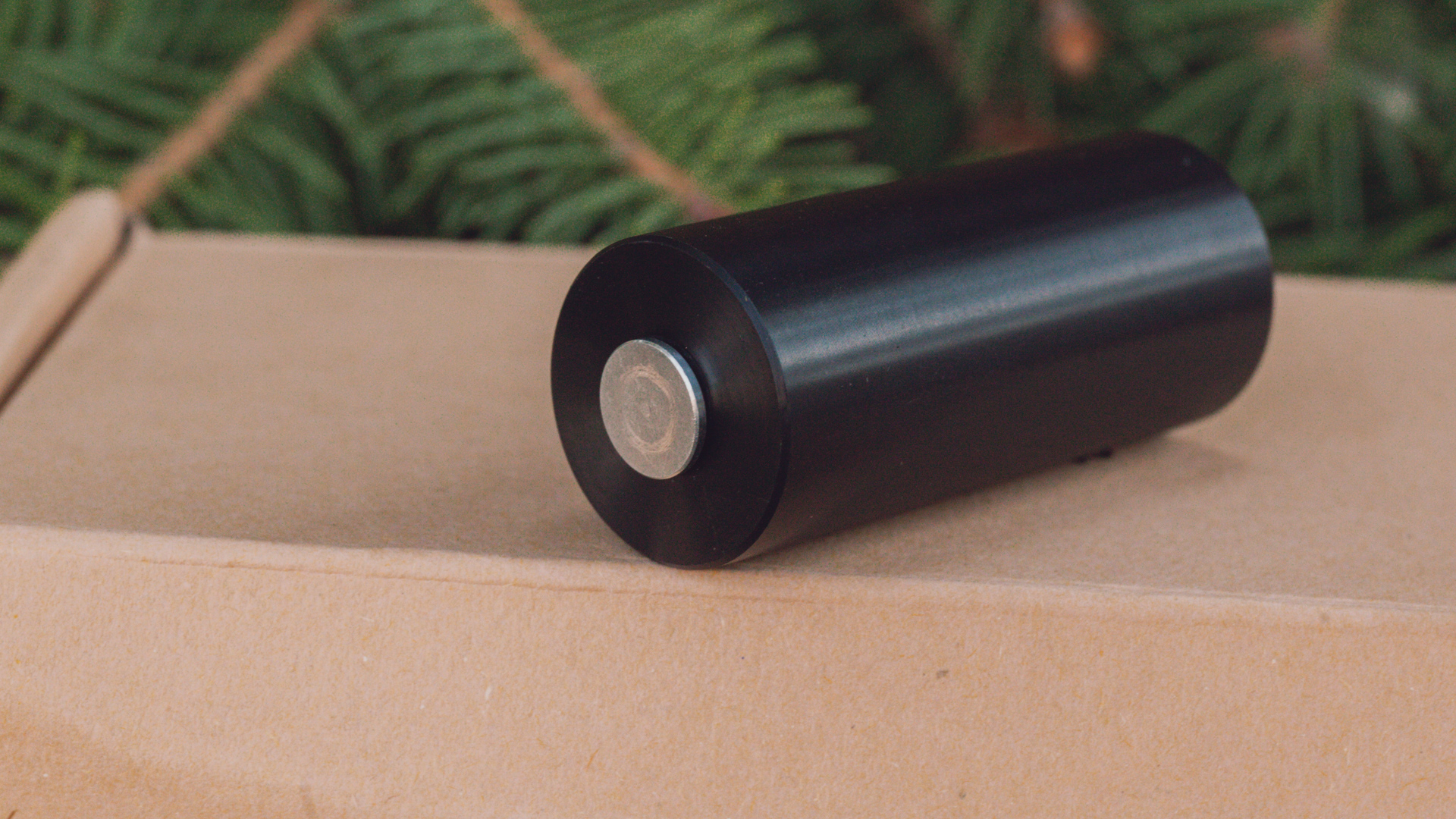 The flashlight is extremely compact for such brightness, it is noticeably shorter (mostly due to the different tail button) than the wonderful budget thrower Sofirn C8G. As something comparable in size I can only name Nitecore TM9K and Nitecore TM10K, but they are far worse in throw and UI. However, there are less.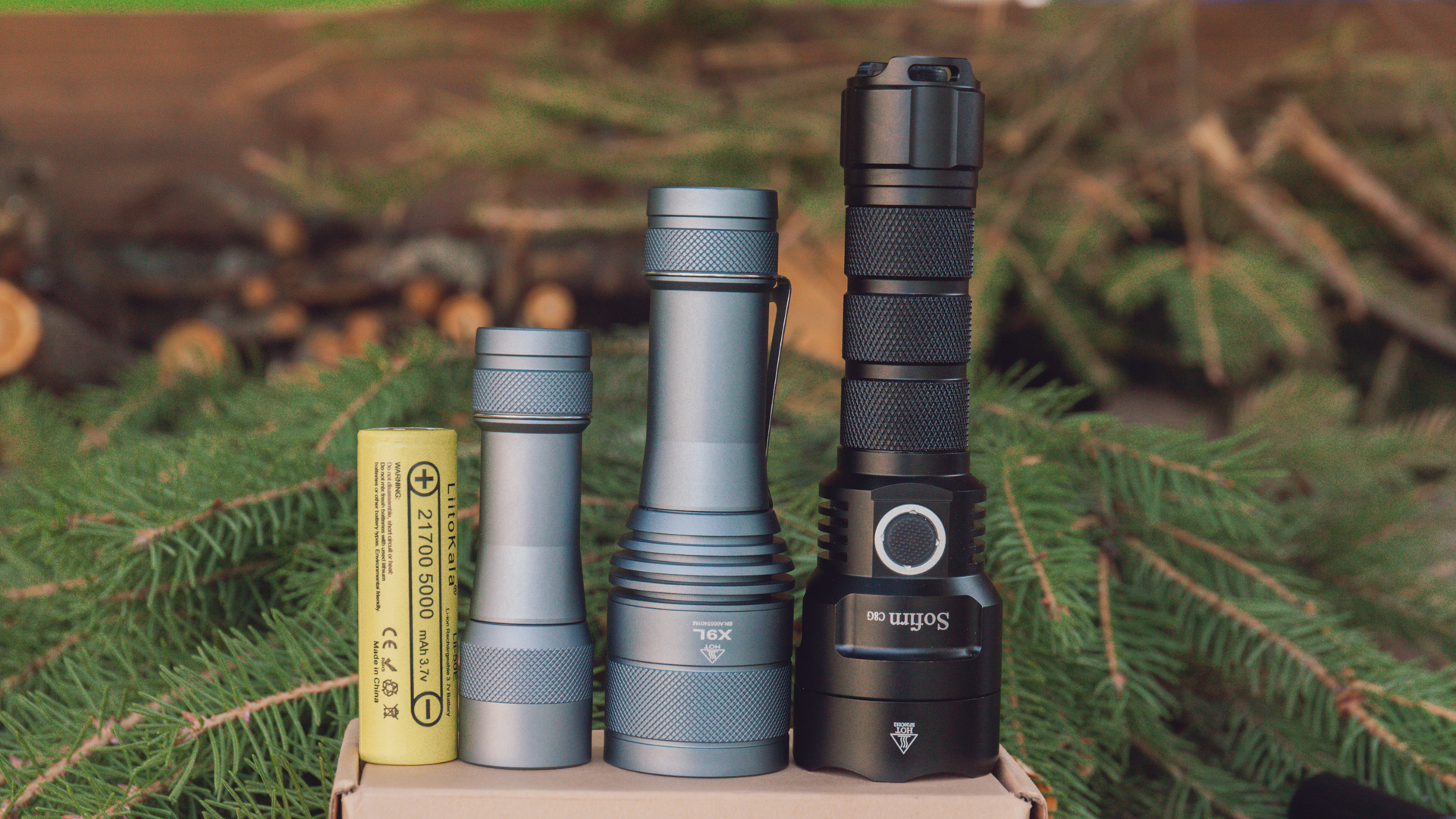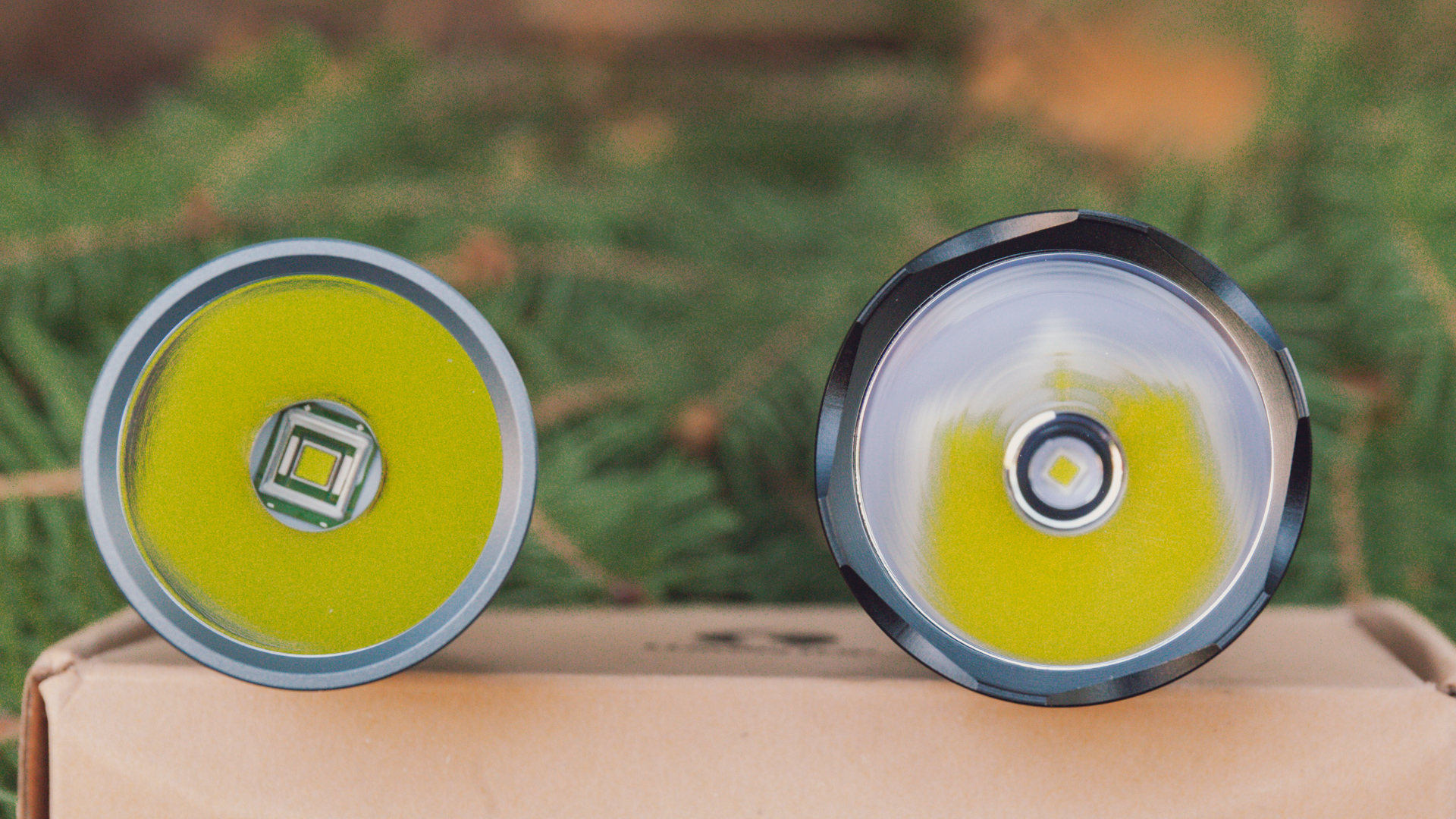 The size, and perhaps the large cooling fins, are the only things that sets the FW21 ×9L apart from the rest of the models in the lineup. The rest of design is the same. It's the same steel gray smooth body without any decorations.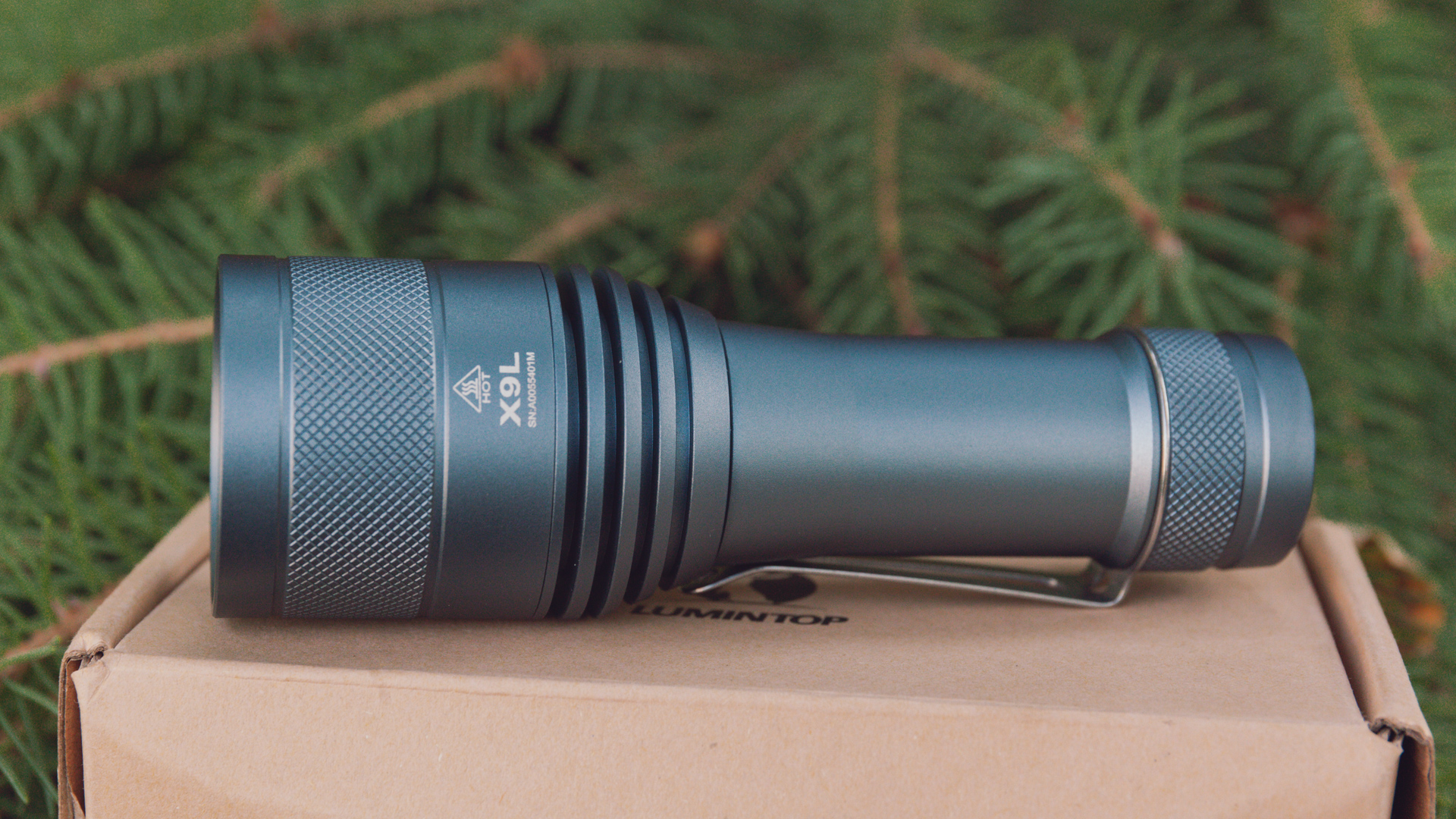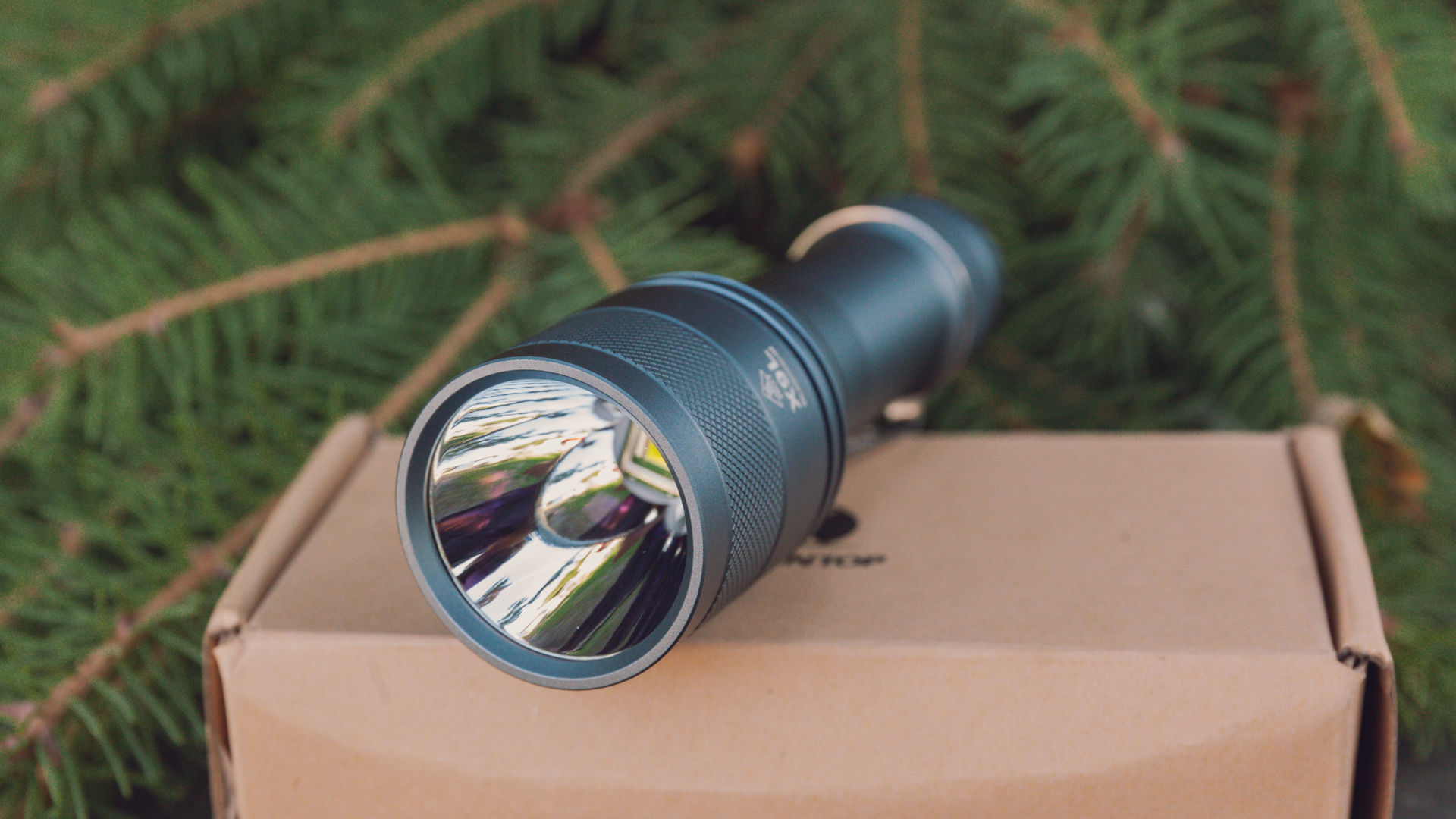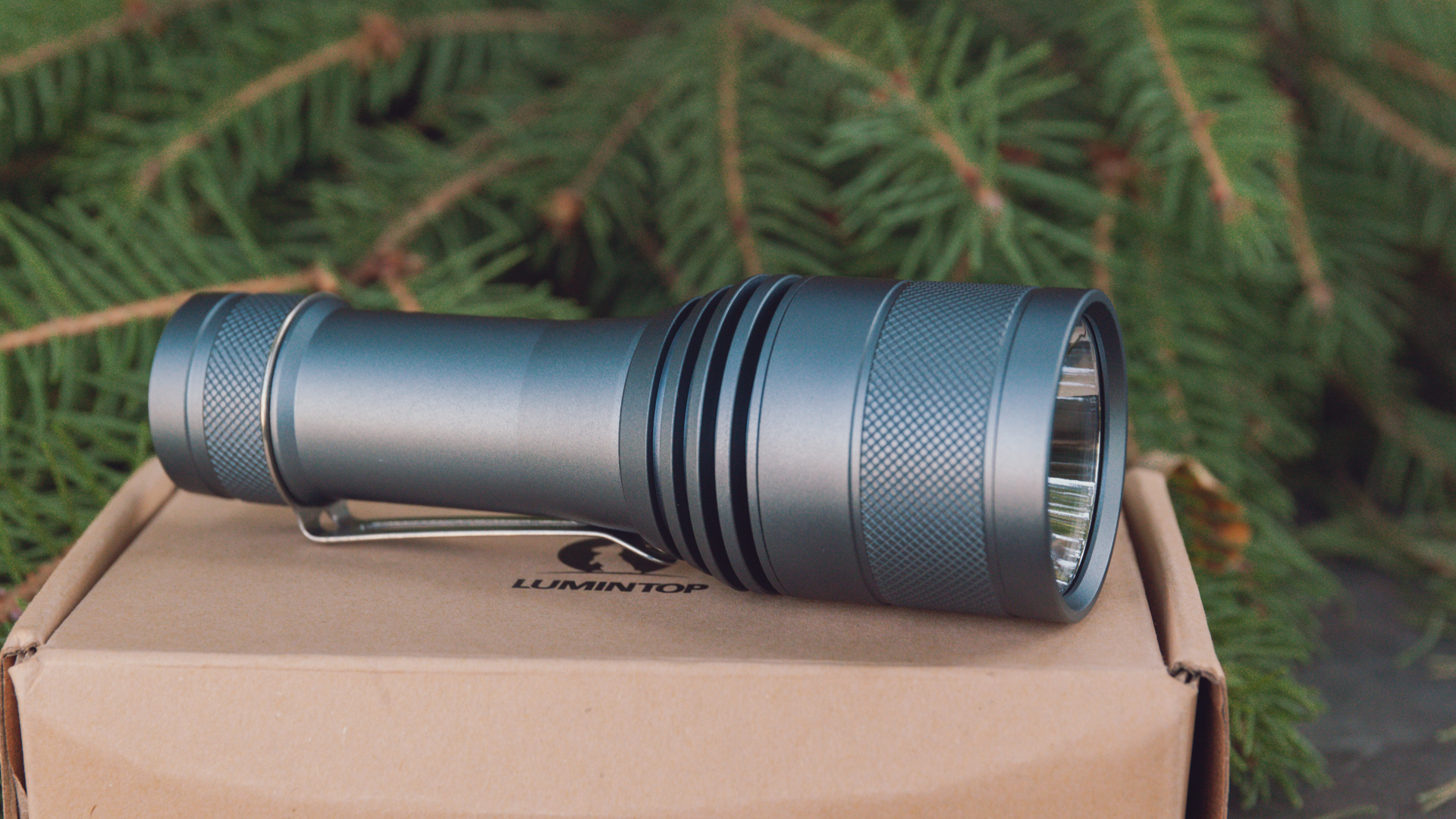 Technically, the flashlight can be disassembled into 3 parts. But manufacturer warns not to unscrew the tail-cap. The current in turbo is extremely high (25A stated ) and the contact should be as good as possible.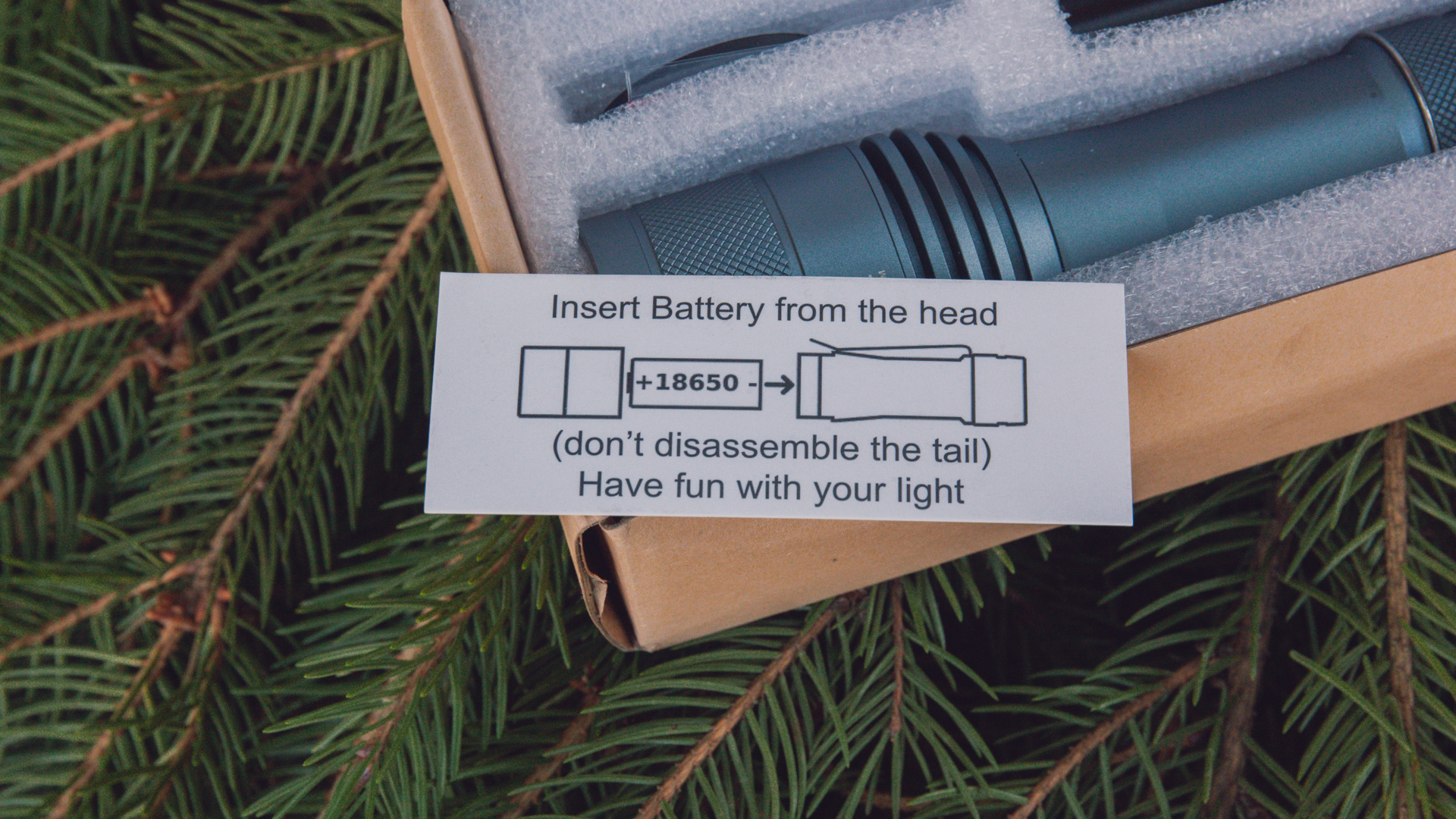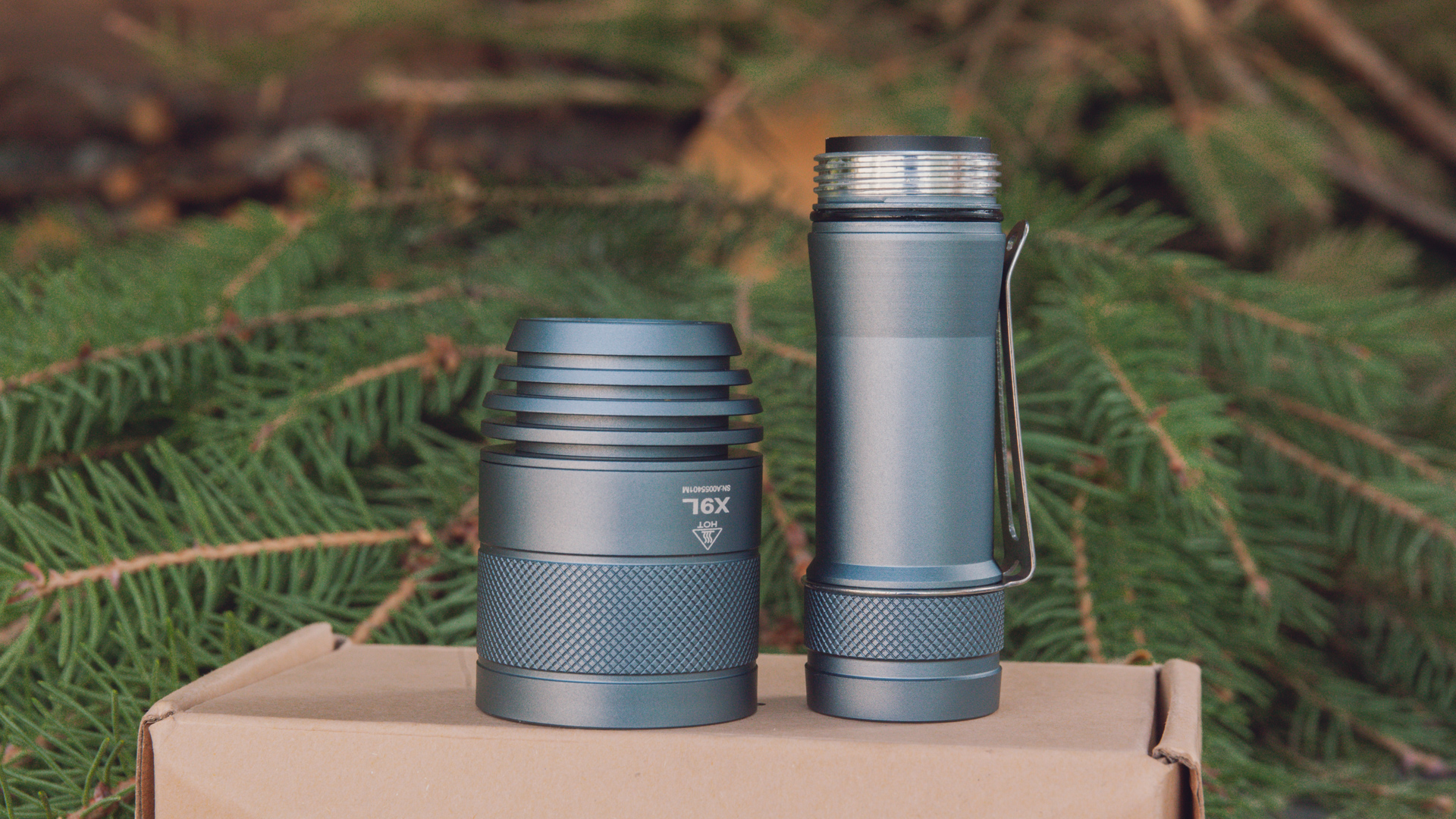 with all it`s flexibe UI flashlight is controlled by single tail button. A medium-sized round metal button is located in a small depression, does not protrude outward.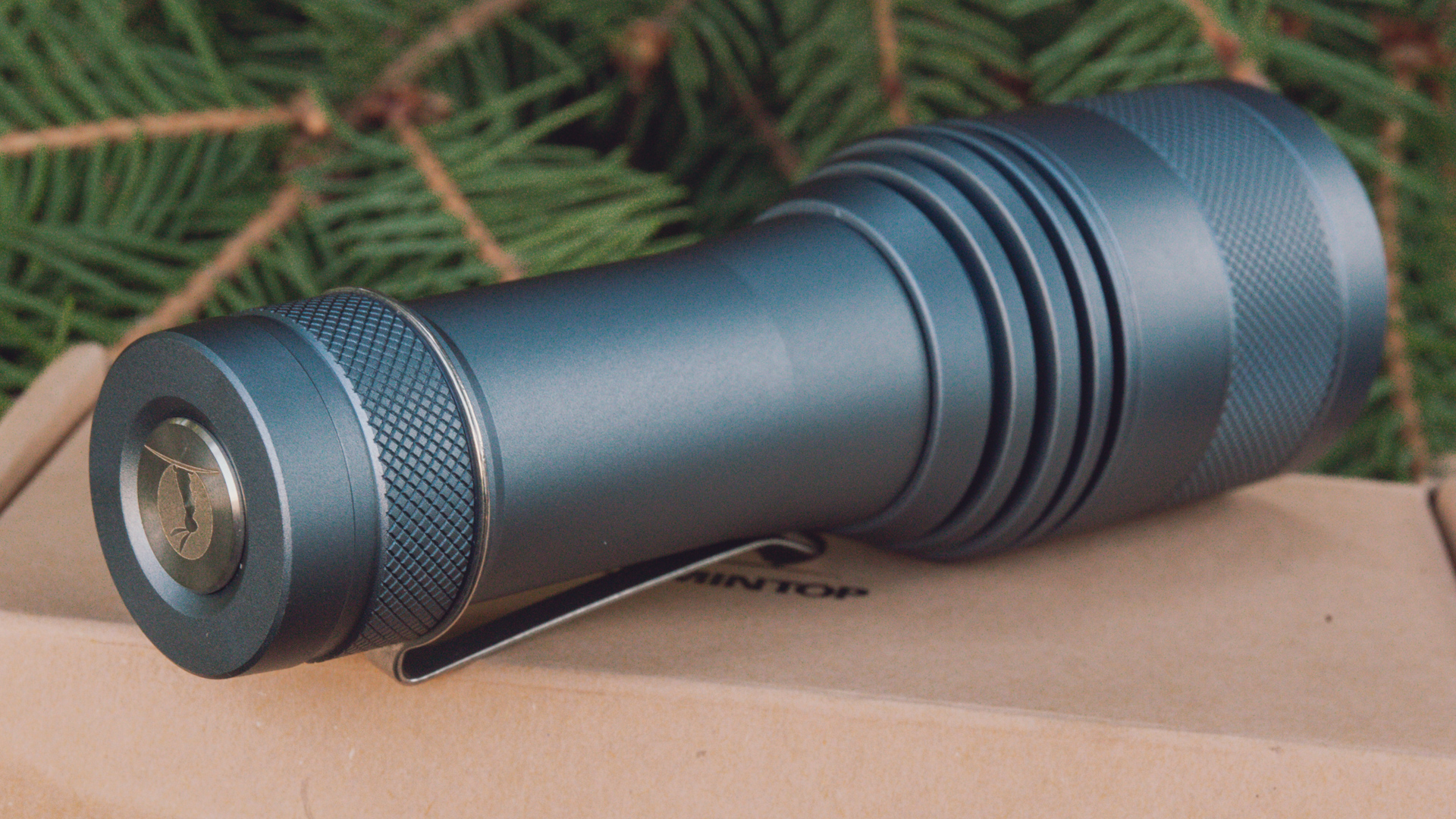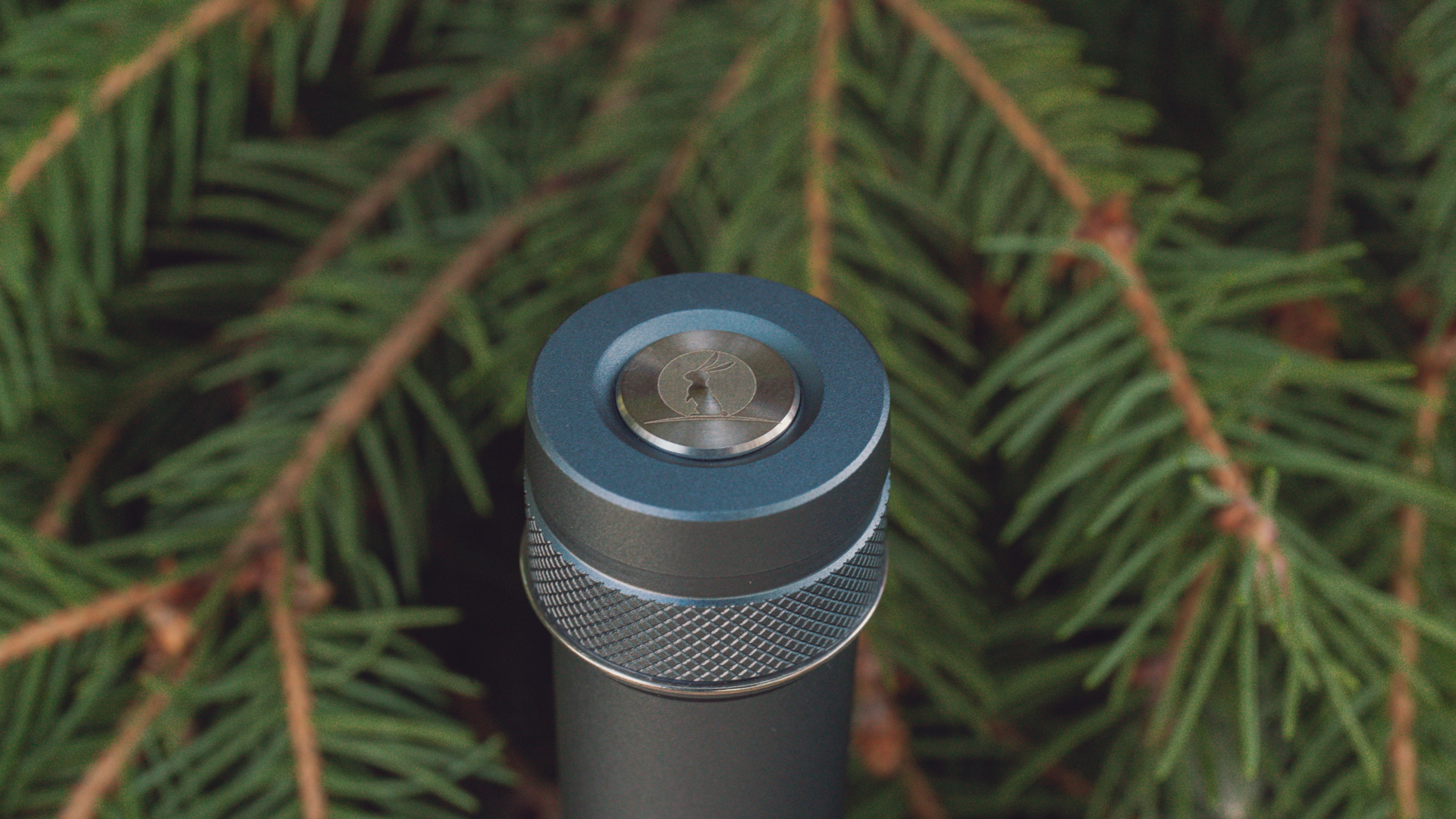 here it is, pic from my previous review.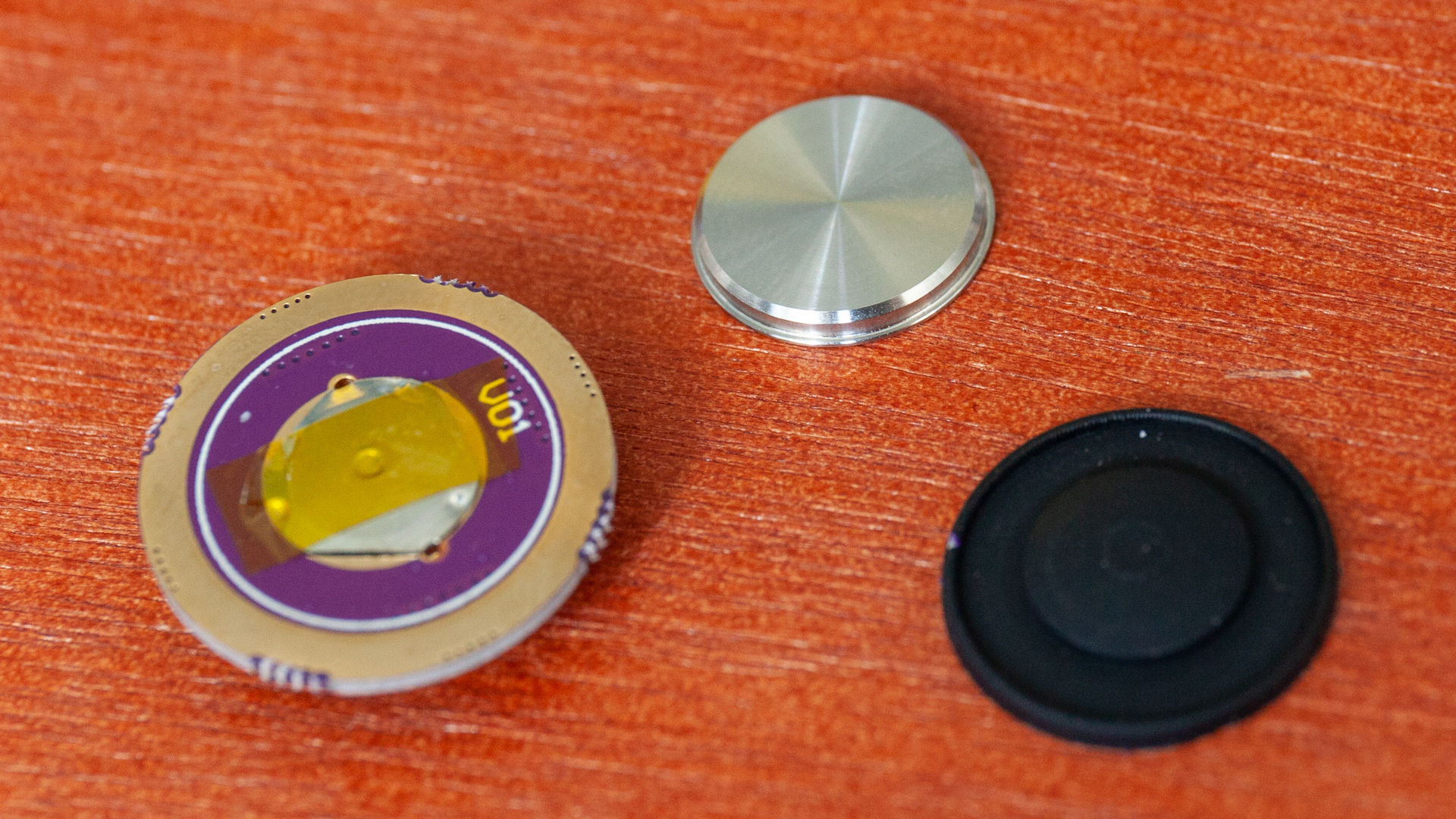 The spring in the tailcap is quite thick. It is rimmed with a slip ring for an additional sleeve, which is pressed into the primary body.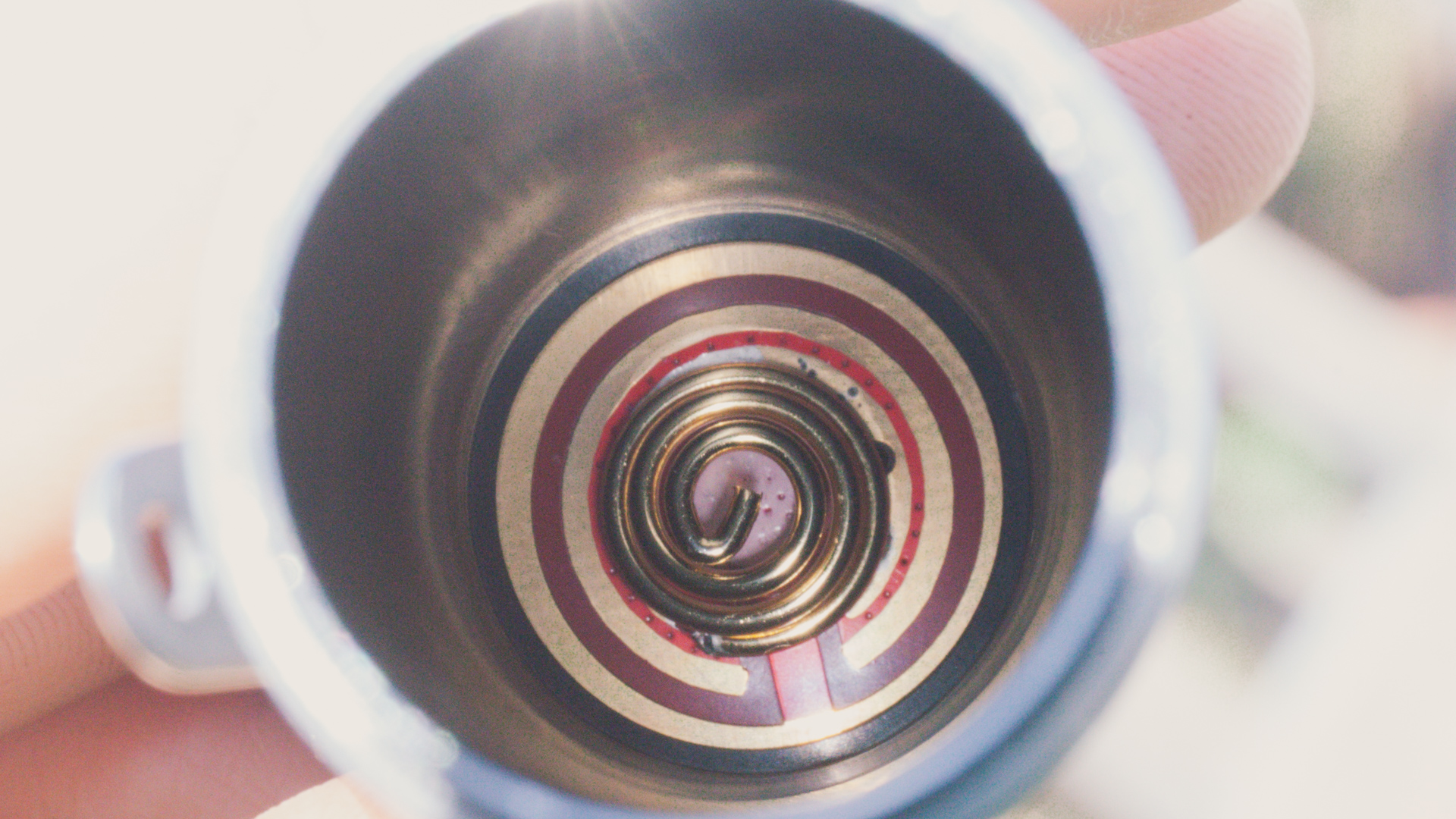 The spring in head it also thick.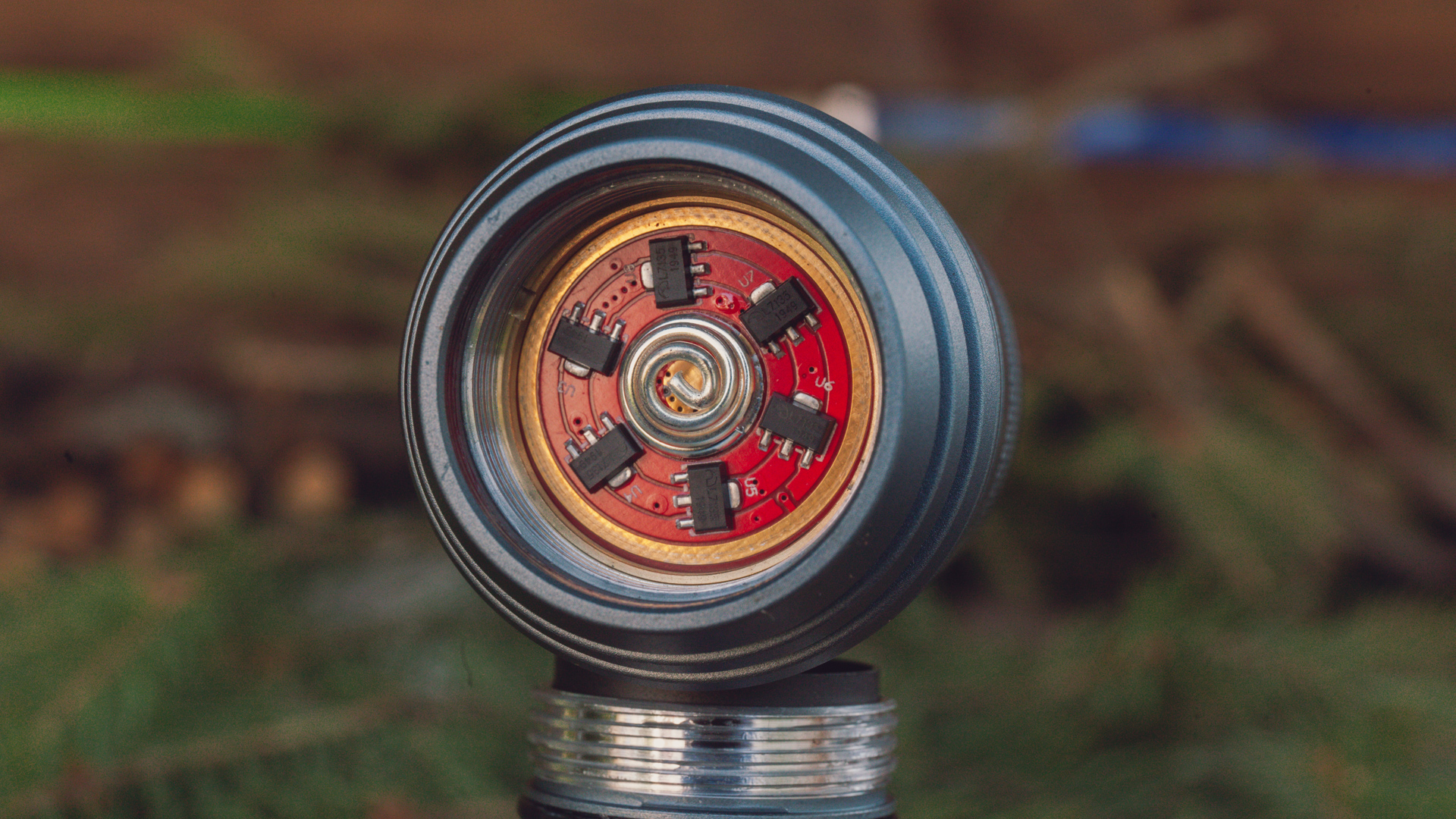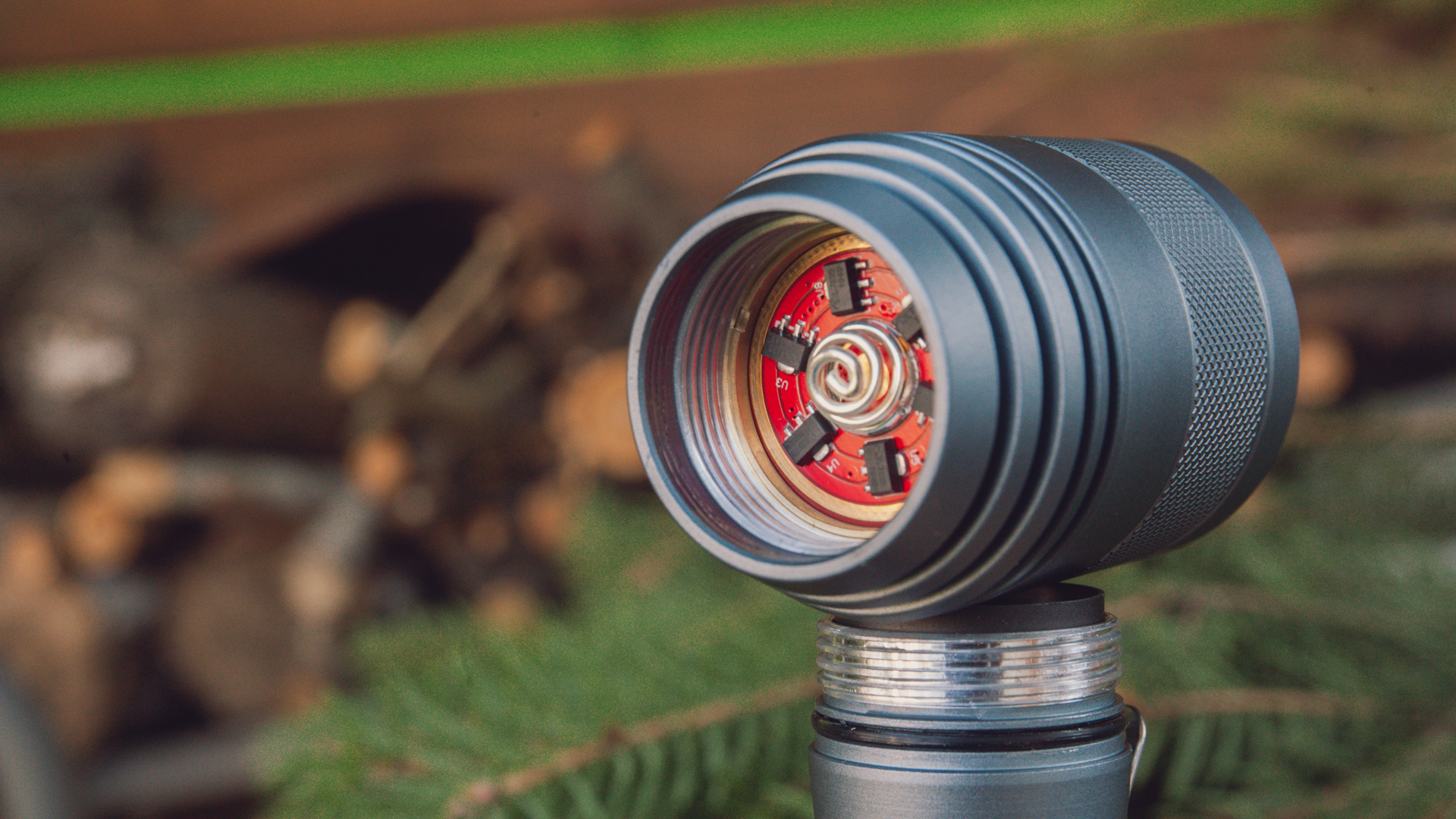 The thread is well lubricated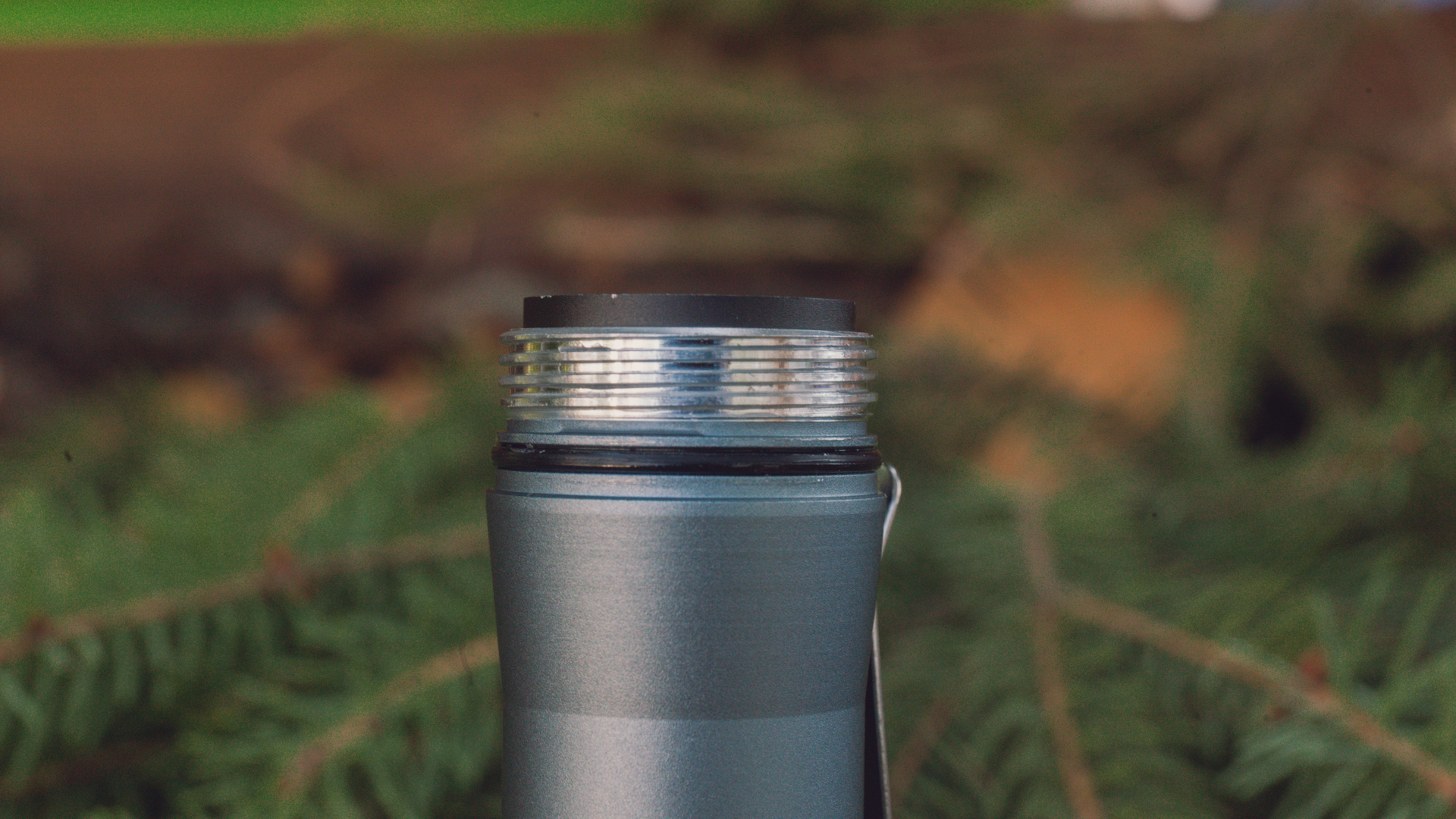 Yes, there is no knurling. The body is smooth. But the flashlight sits perfectly in the hand due shape , clip and rubber stop ring.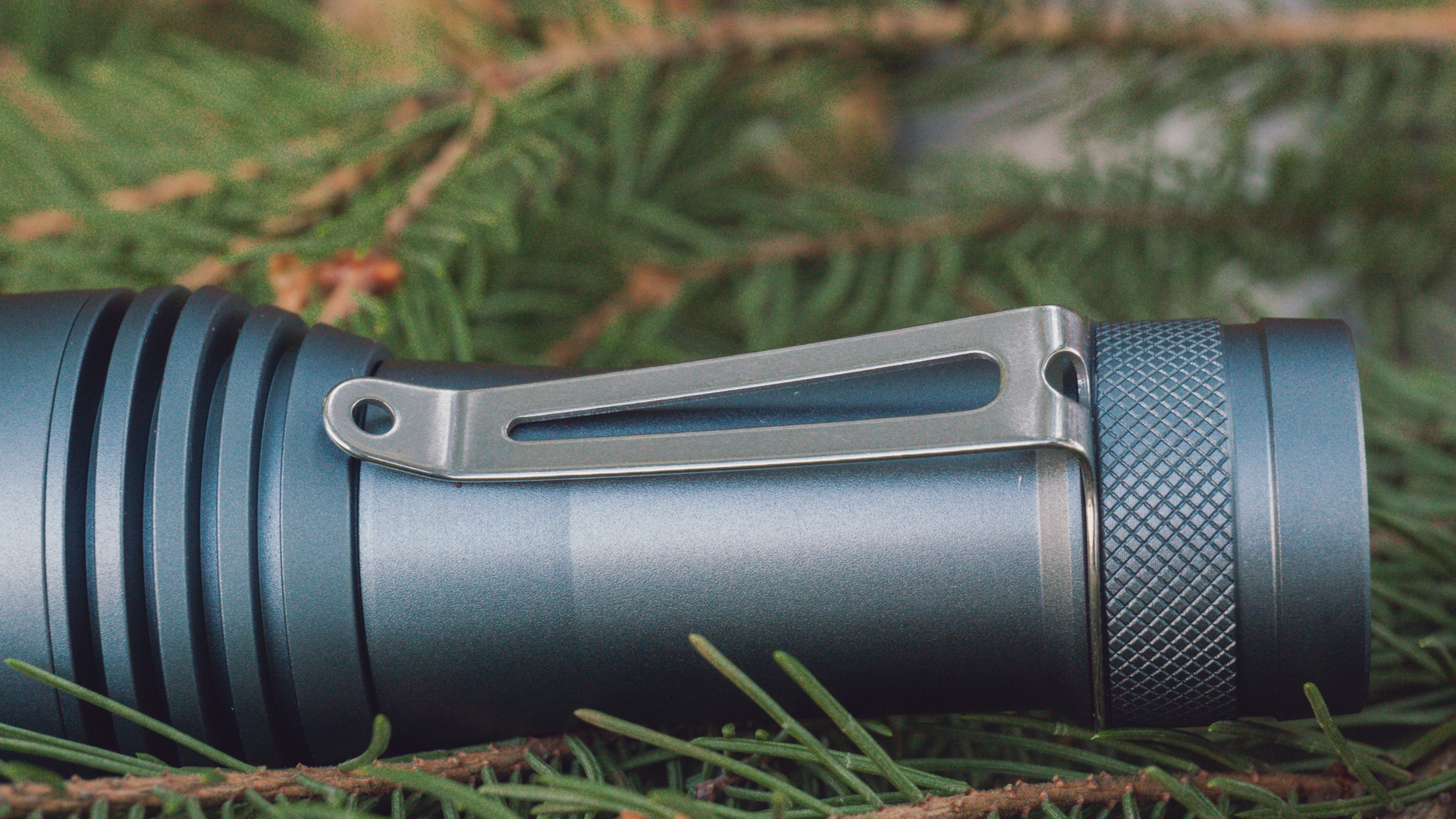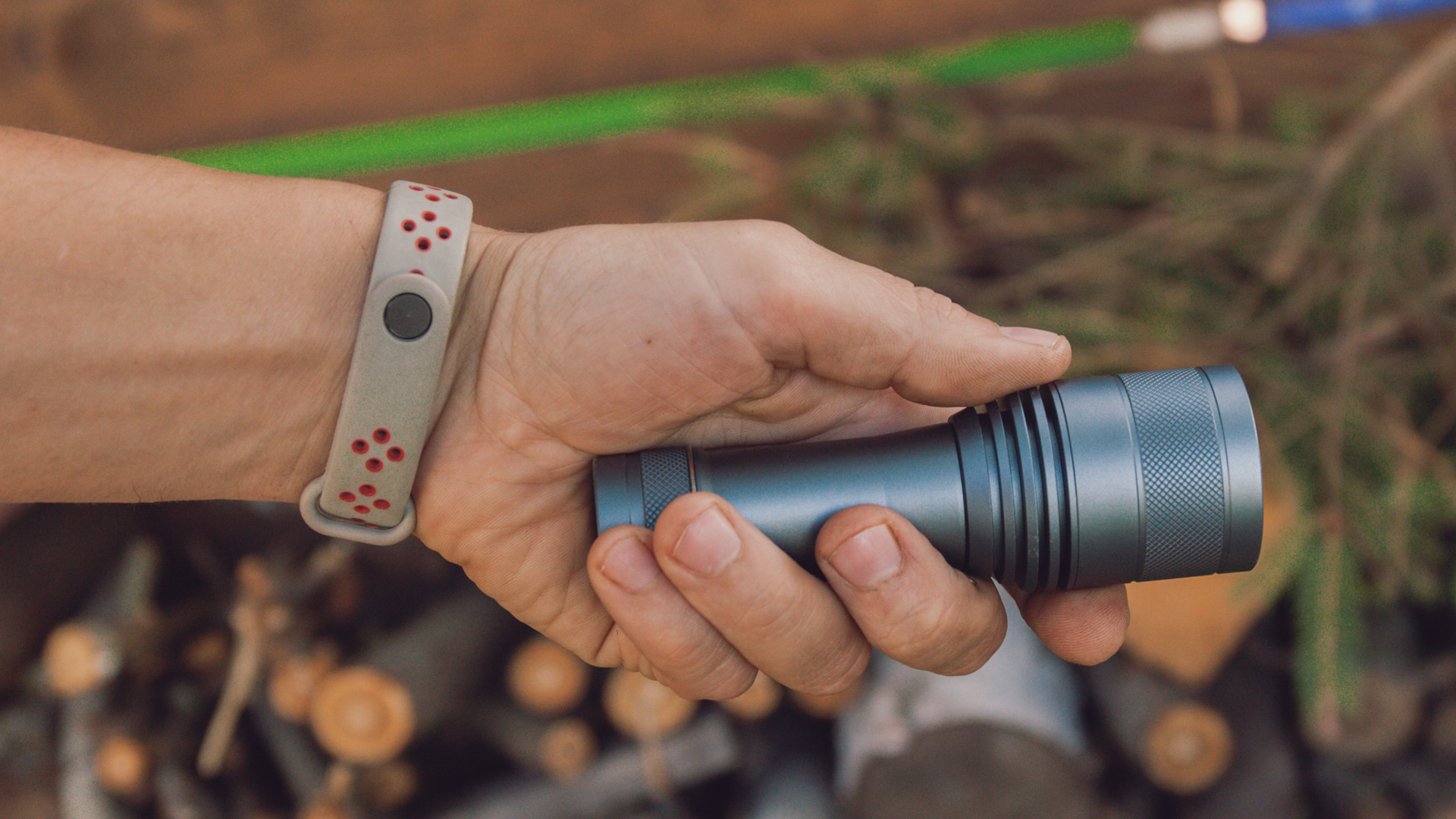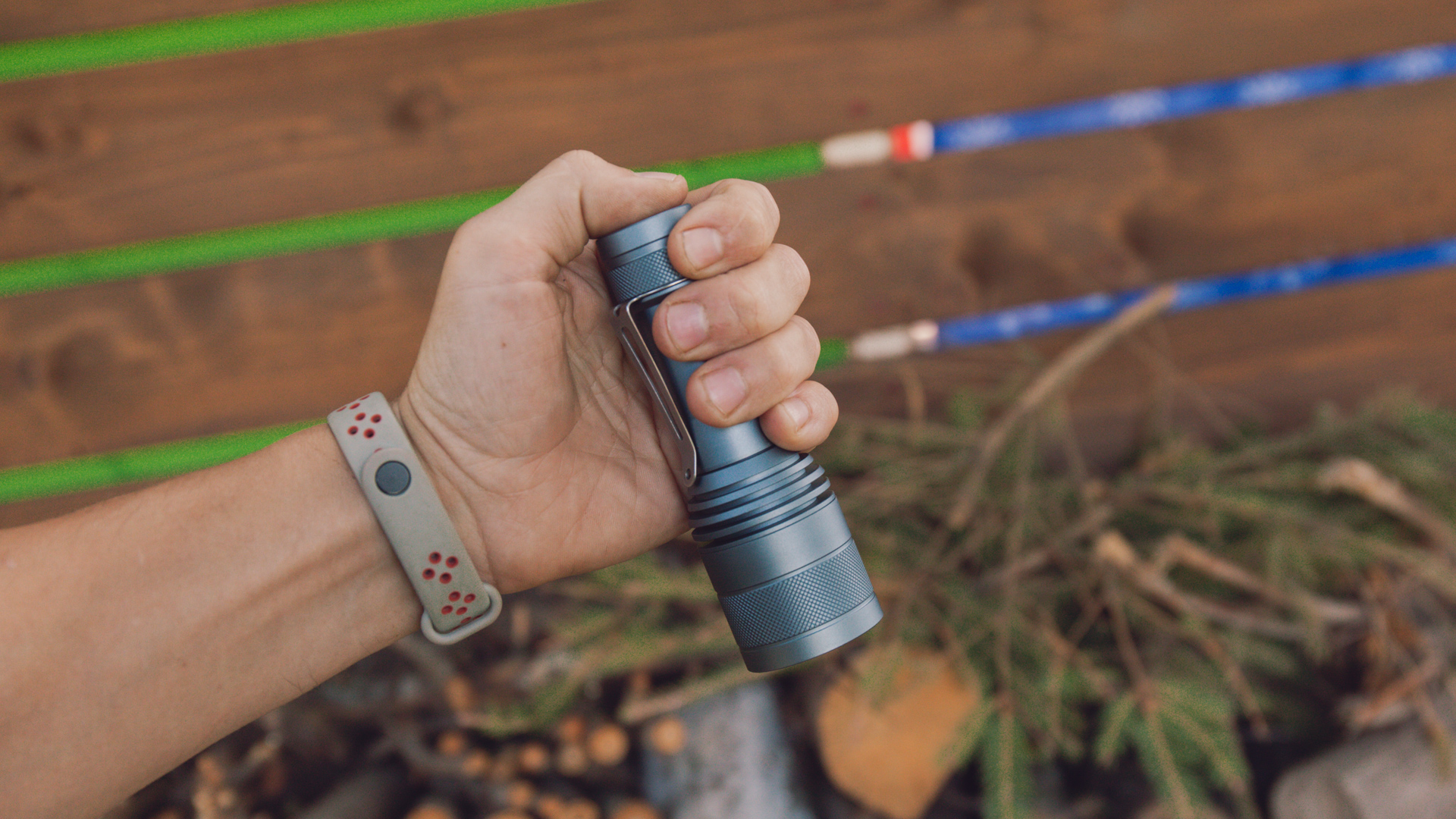 The head is medium size with deep cooling fins.
Unlike previous models, the bezel is glued and cannot be unscrewed. Glass is usual, tempered , with antireflection coating. Reflector is smooth, of course, with the most powerful Luminus SBT90.2 LED underneath.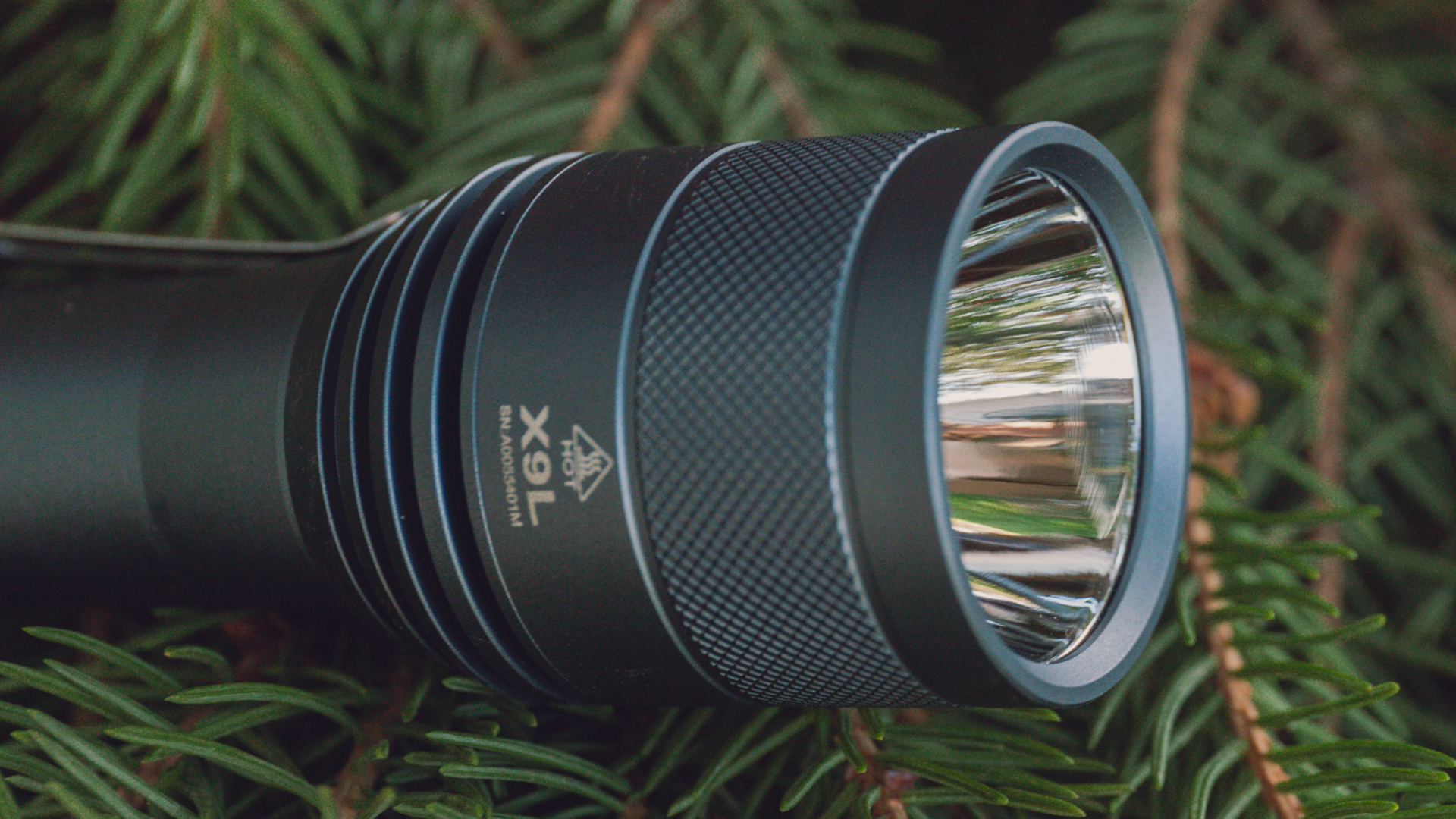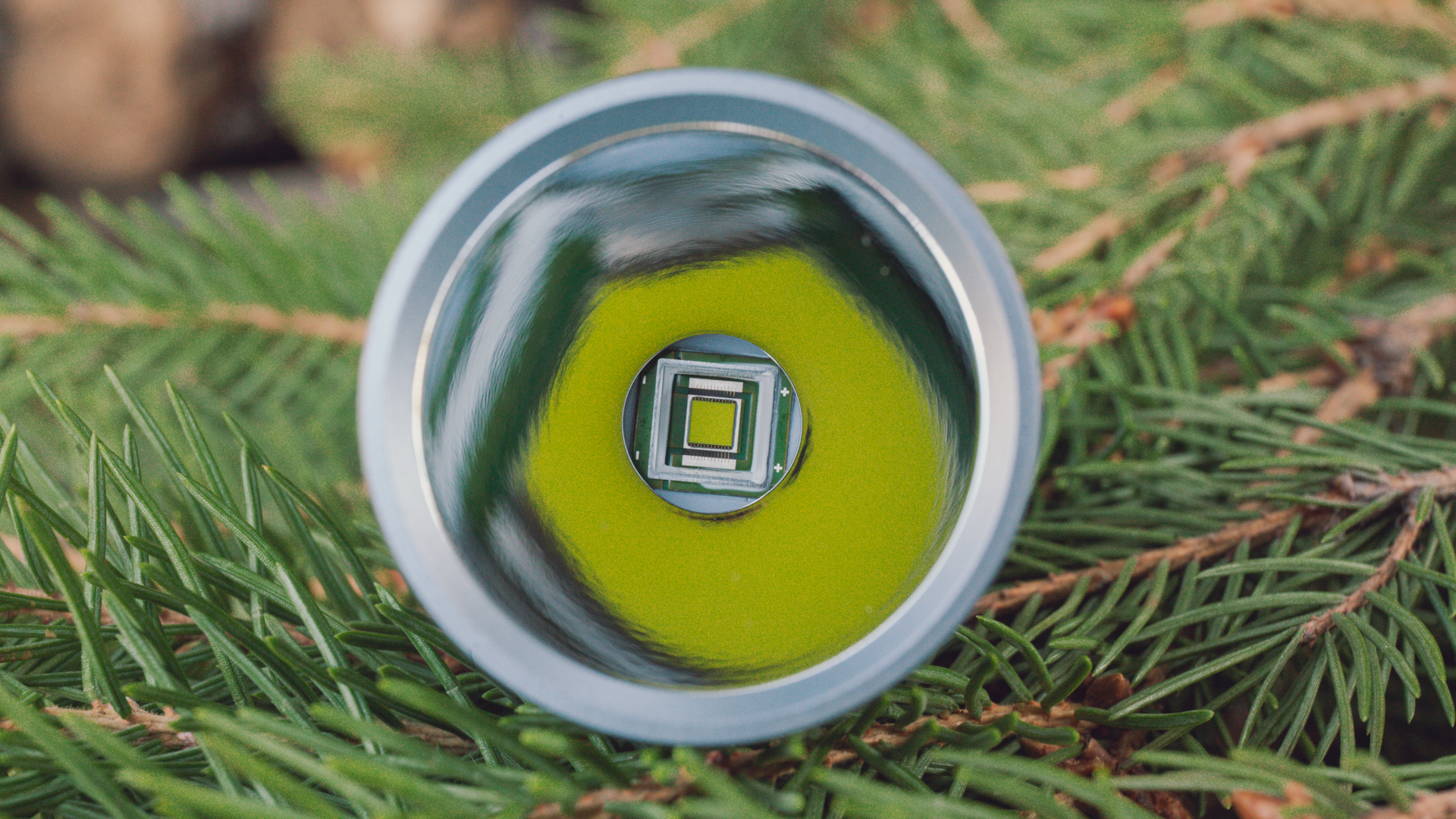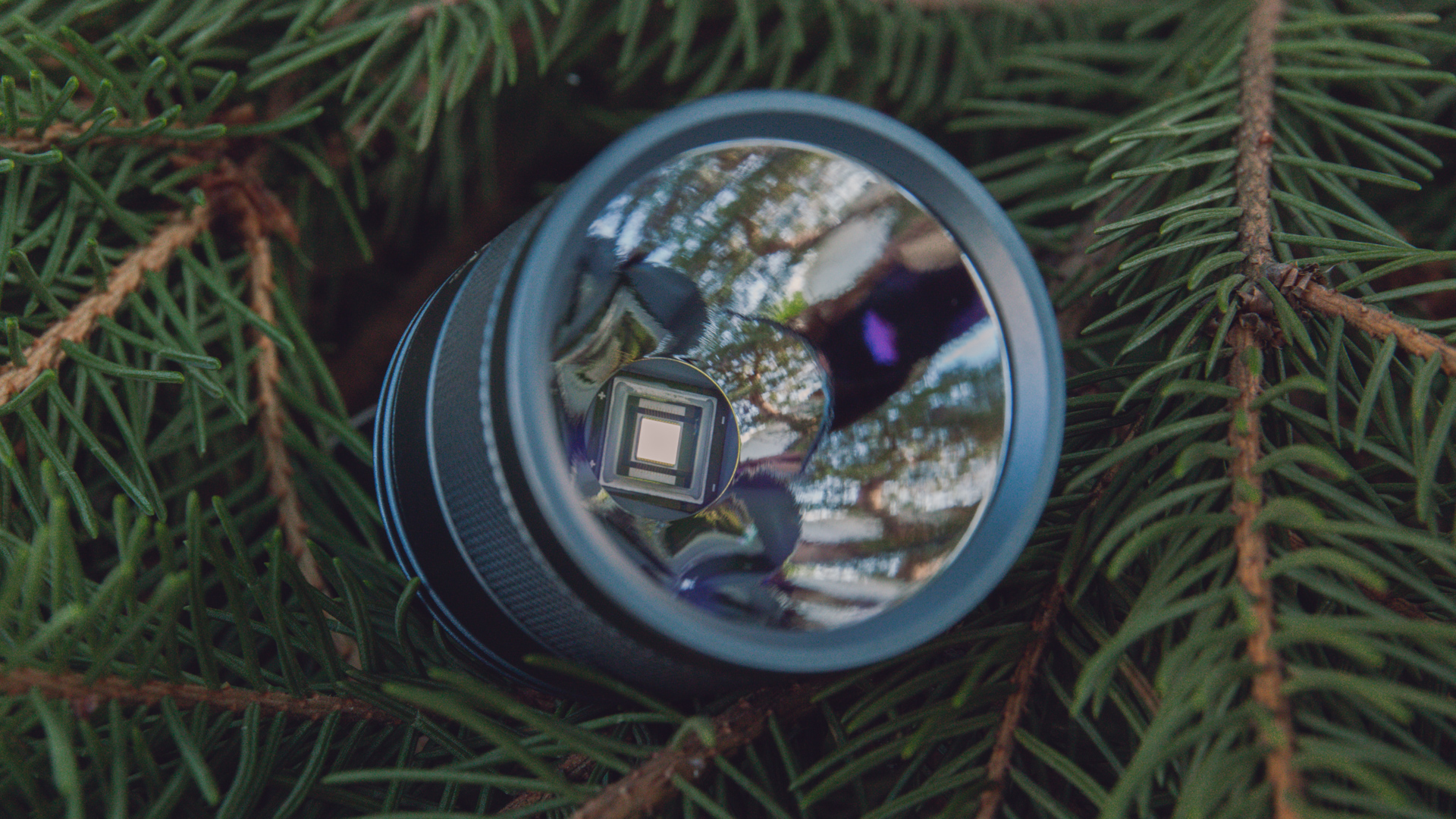 What's the bottom line? This flashlight will not attract anyone with its simple appearance. And may be left untouched on the store shelf. But this is not a flashlight for the general public. Its audience are people who understand what they are buying.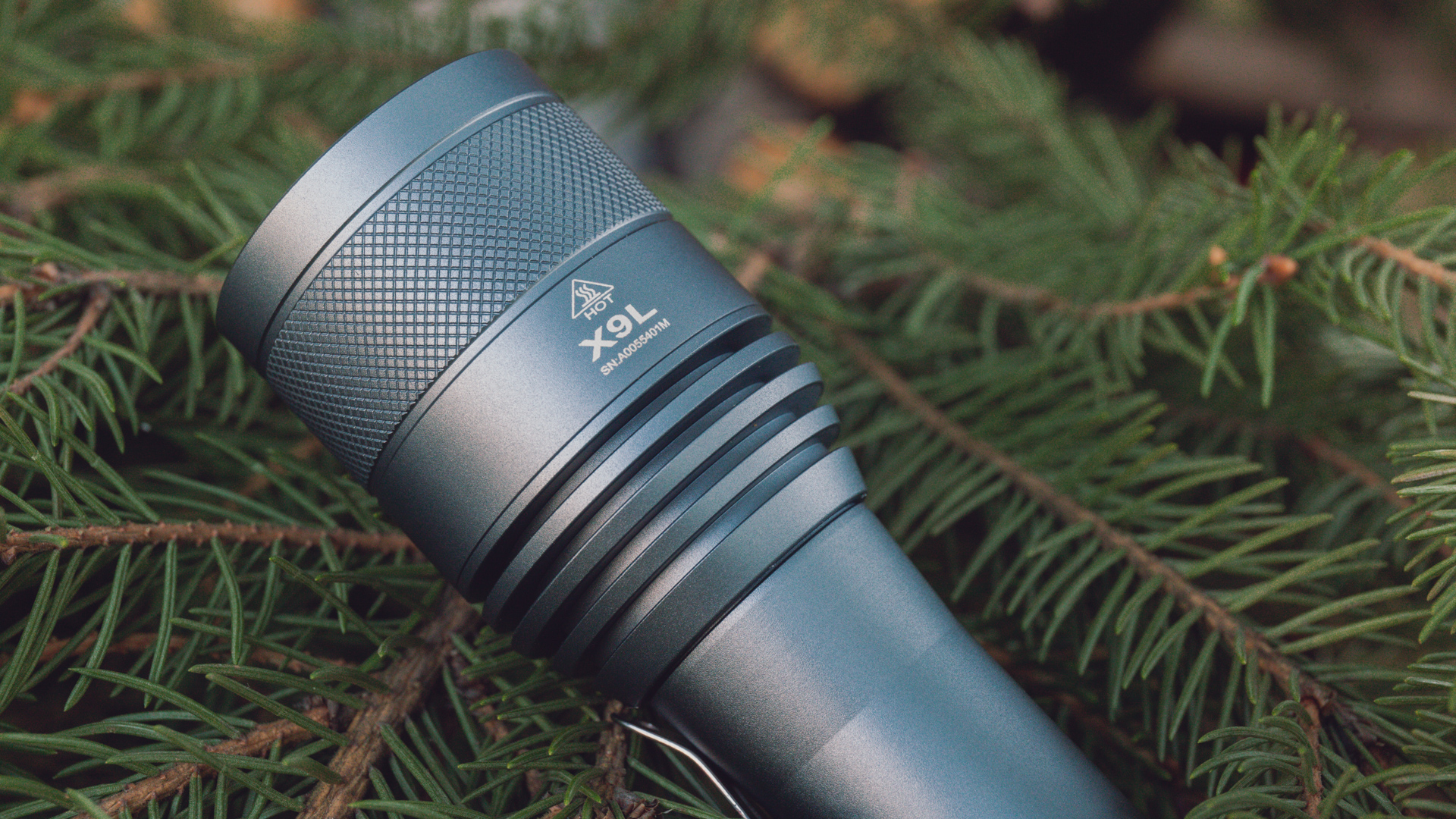 UI
the same Sauron`s death, flexible Anduril.
The default is stepless brightness adjustment, you can switch it is usual stepped one with 7 modes and turbo.
from OFF
Switching on at the last memorized level. – on click, shutdown is the same.
Hold – start at minimum brightness and increase to the ceiling (namely the ceiling, not turbo). Smooth or stepped, depending on what type of brightness enumeration you are in.
2 clicks – brightness ceiling.
Click-hold-ceiling (if off) and dim
3 clicks – special modes (check voltage, beacon, temperature)
Click-click-hold – strobe modes (candlestick, bicycle signal, party-strobe, tactical strobe, "gouge your eye out"). Transition between them by 2 clicks. The last used mode starts
4 clicks – block / unblock. Here, when held, the minimum brightness will be launched. Conveniently.
5 clicks – instant mode (only works from stepped adjustment!) – starts the last used brightness level in stepless control. To get out of it, you need to open the contact with the tail cover. Convenient for situations when you need to constantly run only one mode at one brightness.
6 clicks – Muggle mode. Those. adjust the brightness, give someone a flashlight, it will turn on only in this brightness. Well, to give the same children and not worry that they will blind each other. Here it is at the level of 5-240 lumens. It is quite suitable as a footlight or indoor light.
From ON
On click OFF
Hold – brightness up
Click and hold – brightness down
2 clicks – turbo
3 switching between smooth and step change of brightness.
4 clicks – infinitely variable adjustment.
Enters the selection of the minimum brightness, N clicks sets the minimum brightness. Those. 10 clicks will make the minimum brightness 10 out of 150 possible. 2 clicks to go to the max brightness setting according to the formula 1 + turbo-N. Those. with 1 cheek, the maximum brightness will be equal to the turbo. At 20 clicks, it will be a turbo 19.
2 more clicks – the number of steps in the range of min-max. By default, there seem to be 7 of them, this is already enough.
From what is worth mentioning – here it is necessary to calibrate the temperature sensor. I remeber one model that showed 42 degrees instead of 25 real. SO it heated up rapidly. X9L sensor was set correctly, so there was no need to calibrate it.
bu if you need, go to the temperature settings (3 clicks) then 2 times 2 times – we get into temp chec. it is necessary to compare the readings of the flashlight with an external thermometer. if you see 4 and 2 flashes, that is, 42 degrees, while the thermometer shows 26, you need to intervene. I had to. you need to do 2 clicks, you will see a couple of blinks and bzzzz. during bezz, you need to snap off the real temperature, snap off, there will be a pause and a second pair of blinks, after which there will be another bzzzz – here we go to the thermo cutoff setting. It works on the principle of 30C + number of clicks. So if you click 40 times, the cutoff temperature will be set to 70 degrees. By default it is set to 45 degrees.
Something like that. Basic, of course. Also, for example, you can set the level of the ceiling (I remind you – scrolls to the ceiling, not to the turbo), play with frequent strobes.
You can set the lower and upper level (floor \ ceiling). from ON we make 4 clicks, the flashlight responds bzzzz. During the first, the required brightness threshold (N \ 150) is set by the number of clicks. During the second – the upper one according to the principle (151-N). That is, having made one click, the ceiling is set not by default 130 \ 150 (for this you need to press 21 times), but the maximum available brightness is 150 \ 150x.
Very flexible. Very. This is both a plus and a minus. My eyes are on my forehead when I saw this paper with a bunch of all sorts of settings, because between the moments of receiving a new flashlight from Anduril, I categorically forget all these nuances. For an ordinary user, this may be an excuse to throw a flashlight with swear words. In the sense that you can use it right away, but there is a chance to accidentally climb somewhere in the wrong mode, just by starting to foolishly hysterically press the button.
On the other hand, experienced users and fans of customization will get what they need.
I am sincerely convinced that the need to do all this will greatly limit the circle of flashlight buyers. Once getting used to Anduril, there are no problems. But giving someone like "Oh, dude, here is a present for you" will not work, Dude will call and ask what and how too often. And you will at least need to check thermoregulation.
How Lumintop X9L FW21 SBT90.2 illuminates
It is pure searchlight – bright wide center and tolerable sidelight. What's nice is the color temperature, which is about 5000K or little bit higher.
Usually, manufacturers use CW LED to reach maximum possible turbo, and this has negative affect to throw.
The second pleasantly surprised moment is stabilization. I find that for its size and output, the flashlight shows wonderfull runtime chart. The turbo, of course, heats up and falls down quickly. This is not an overtly sort of blitz, but you shouldn't expect X9L to work non-stop at turbo. Surprisingly, such an obvious moment as thermal or timed stepdown is a real revelation for lots of people who religiously believe in specks like "turbo 2h30min".
As for light as such, even the minimum 1/7 mode gives light that is clearly visible at a distance of like 20 meters. And decent walkaround light starts already from 3/7.
I walked with the Lumintop X9L for several evenings and I can say that this exceptionally long lasting and not very bright mode turned out to be really practical, 4/7 is a level that you can safely rely on at a distance of about 50m. Whole night long runtime in this mode!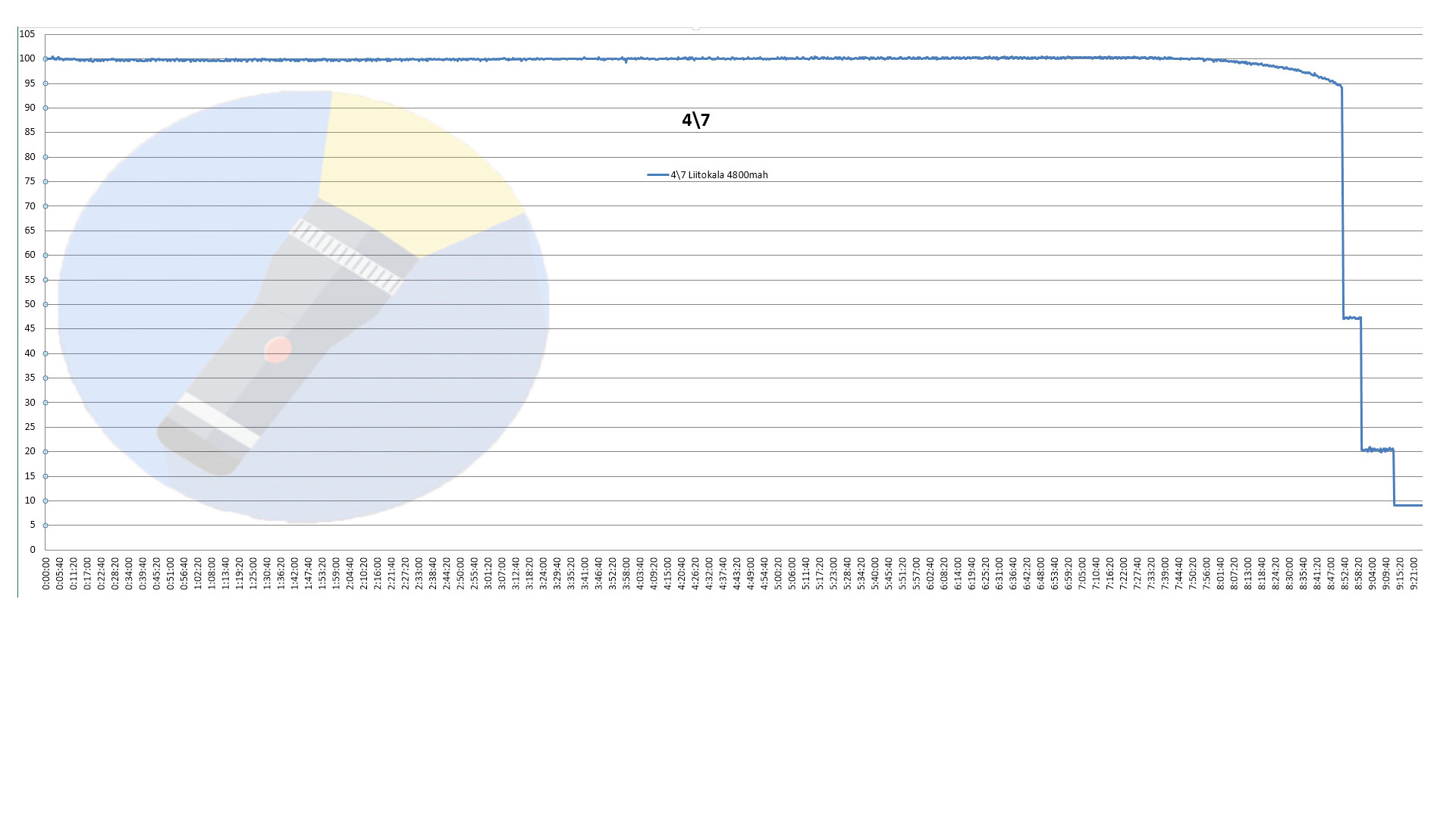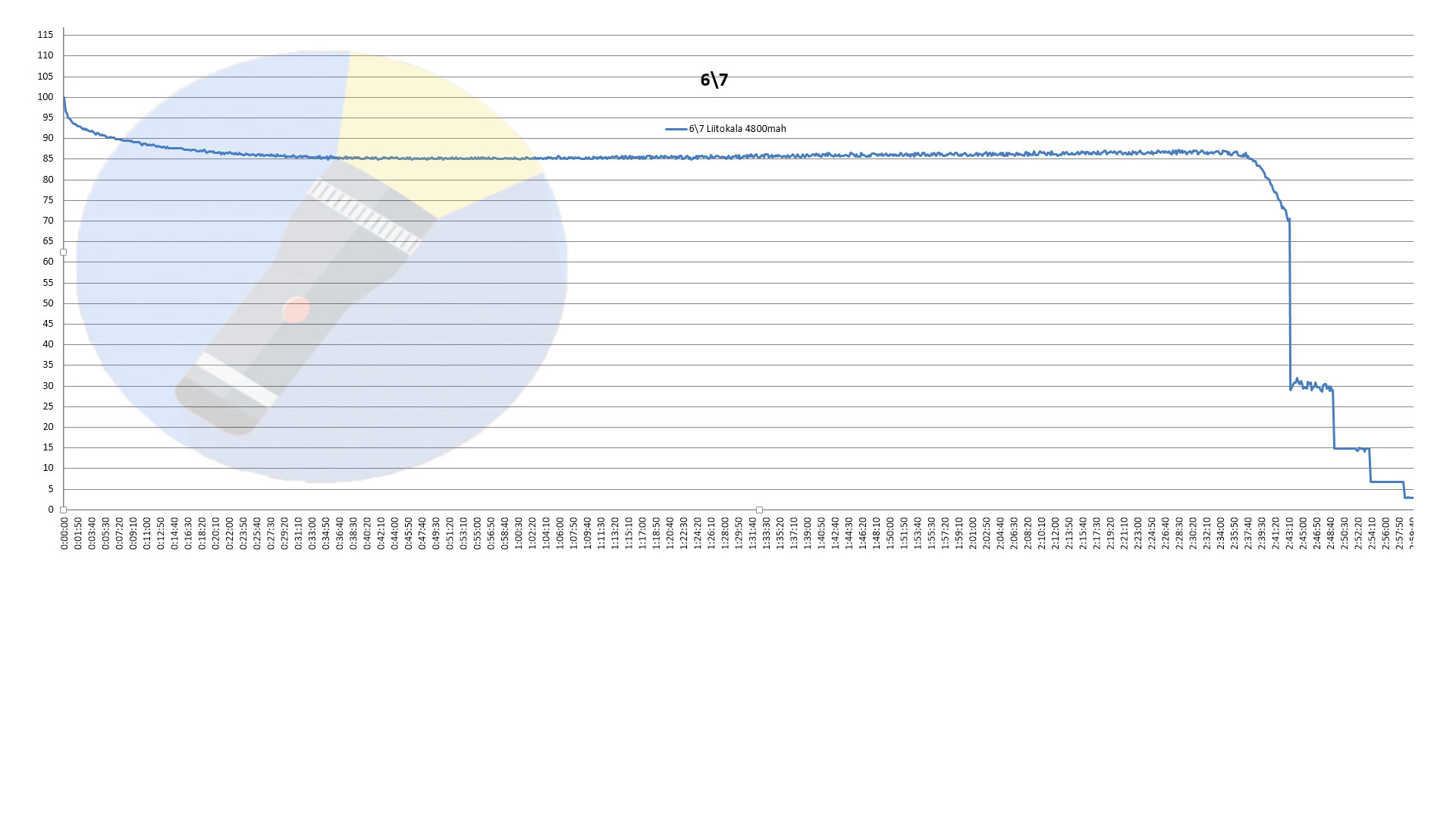 In ceiling, 7/7, you can still see the effect of cooling, with which the brightness stays at the same level. And for walkaround needs 7 \ 7 turned out to be, in general, excessive mode not to mention turbo. They will be usefull only for large areas, when it is necessary to illuminate at a good distance and at the same time not to lose side light.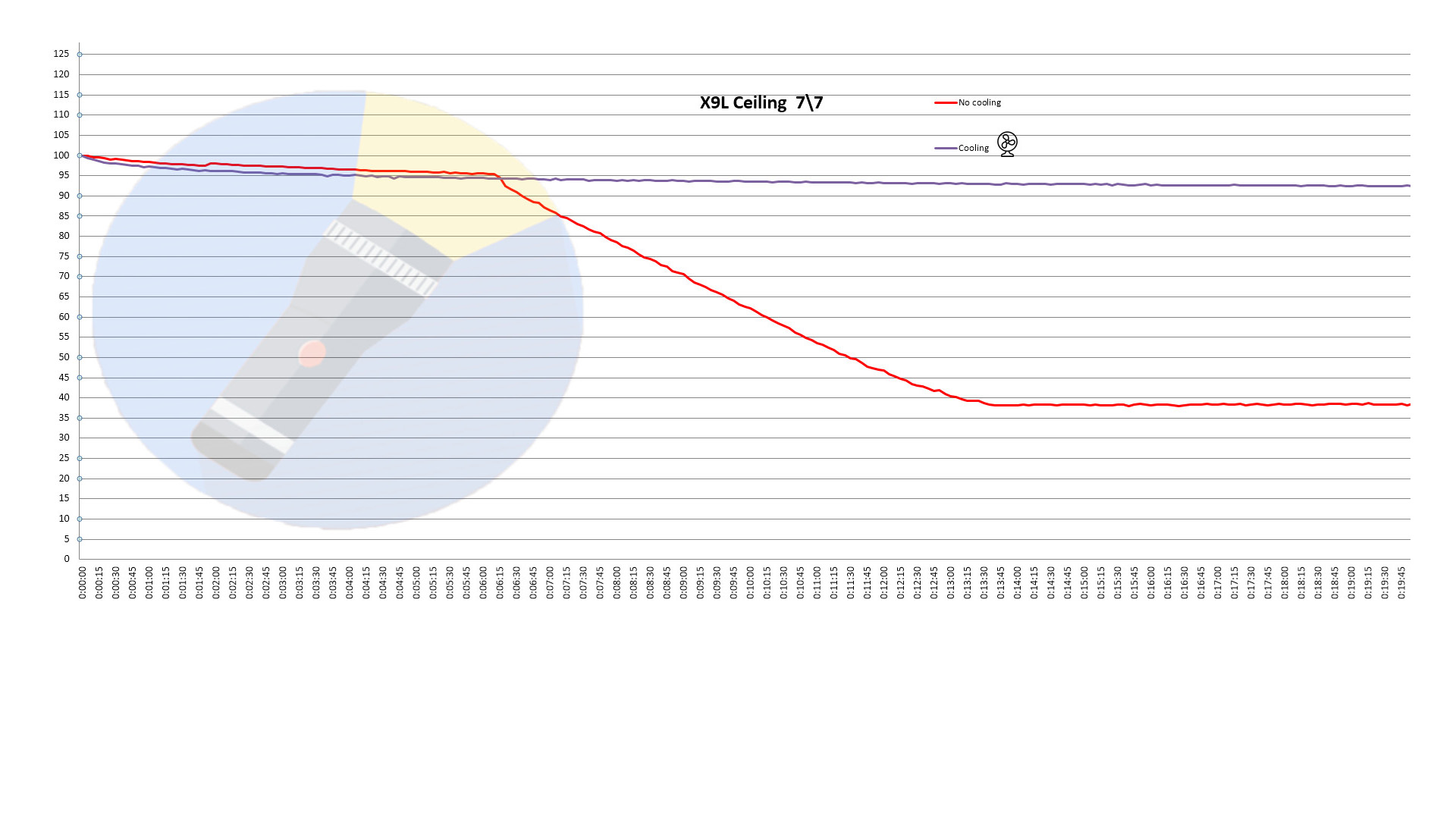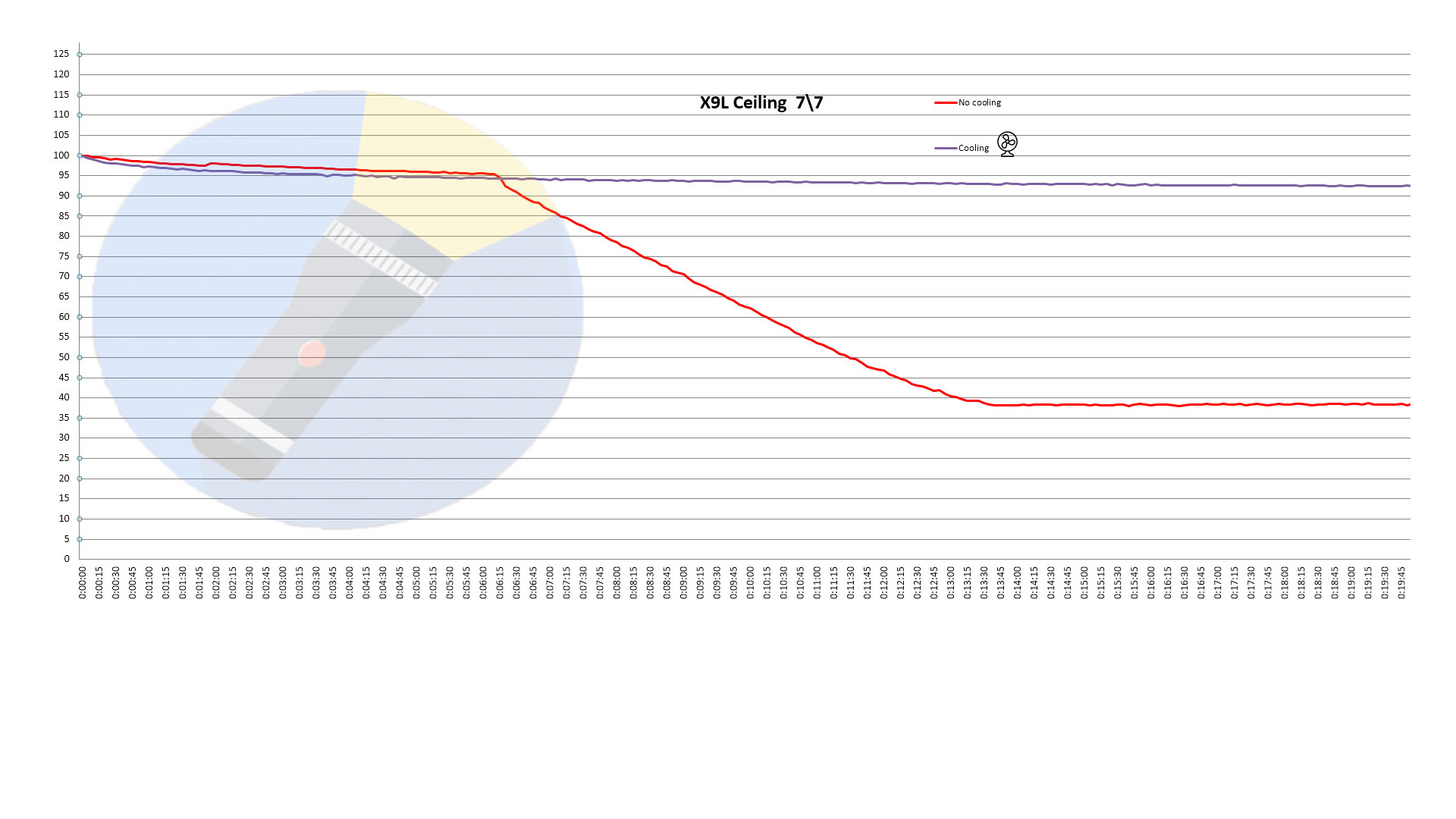 Of course, with such a crazy brightness (let me remind you, there are 6500 lumens!), The head heats up quickly. So you can feel some kind of cooling effect, perhaps, only in winter Interesting fact. The manufacturer stated that the flashlight consumes 25A at maximum.
At the same time, I did not see any significant difference with the expensive high-drain Xtar battery and the frankly budget medium-current Liitokala 4800mah. I am definetely ignorant in all this fet-mosfet things and cannot explain this. but i didnt draw charts by hand…they show what they show…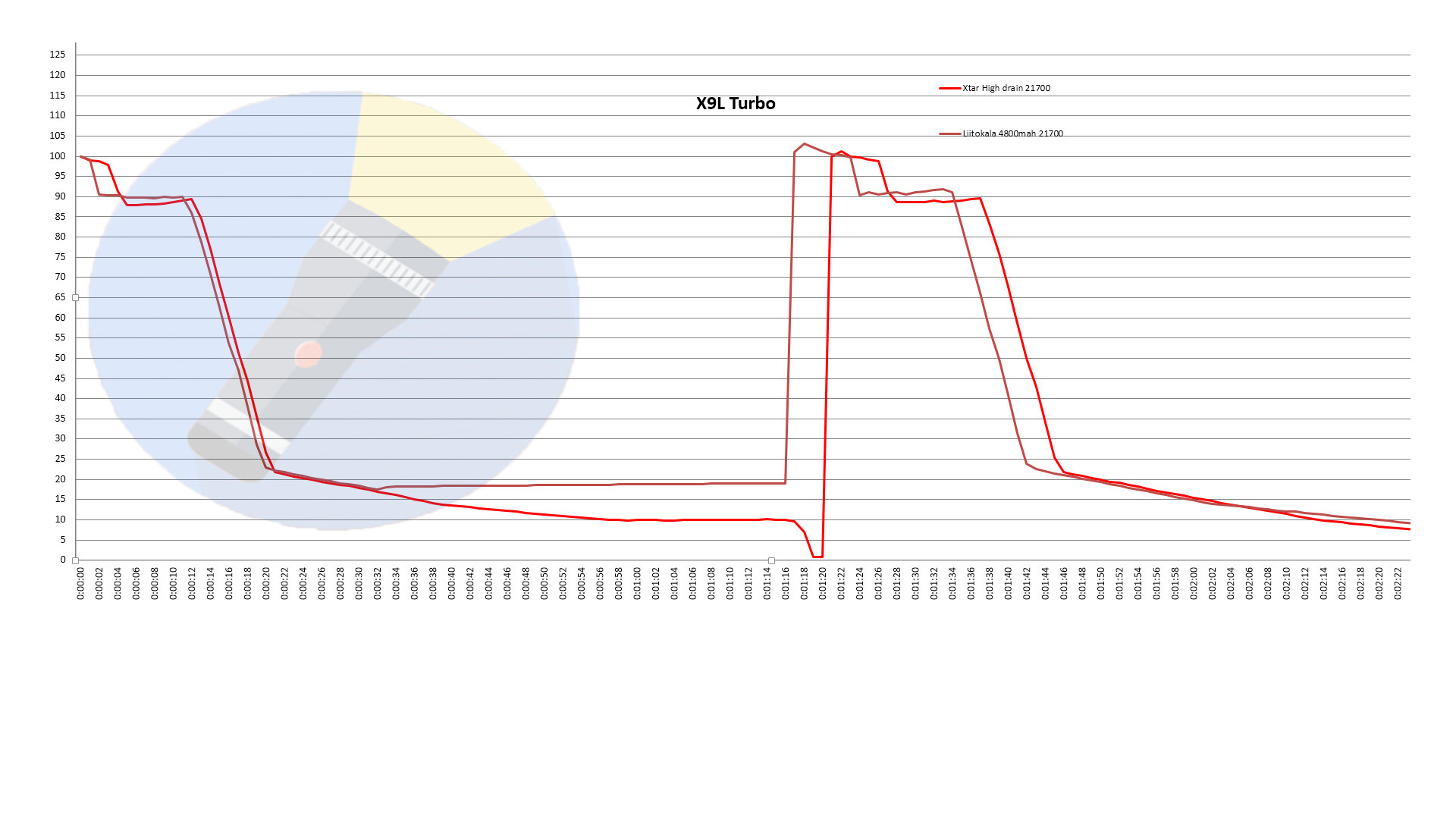 Since the flashlight for its size is actually extremely powerful and long-range, I took as many photographs as possible. Enjoy! I know most of you likes this part ))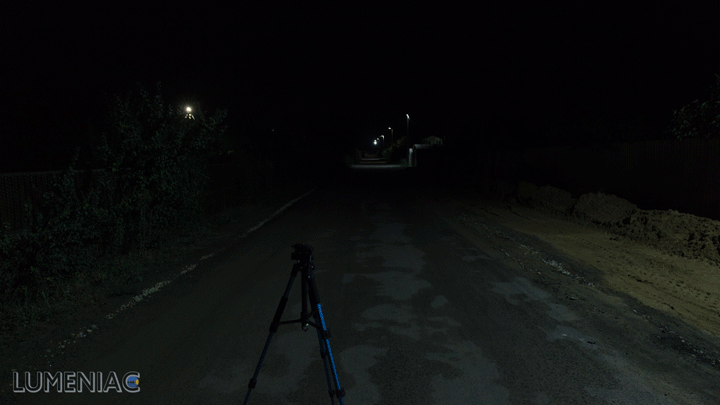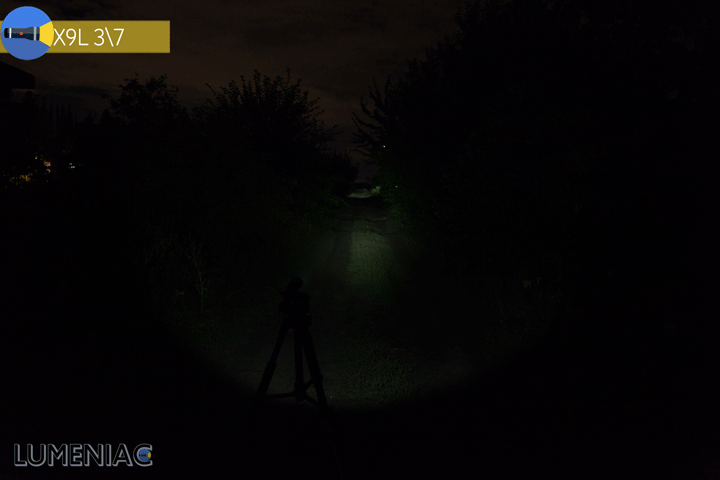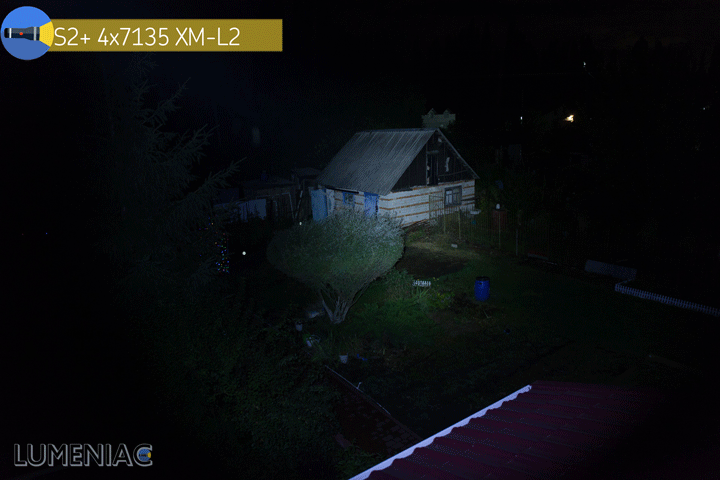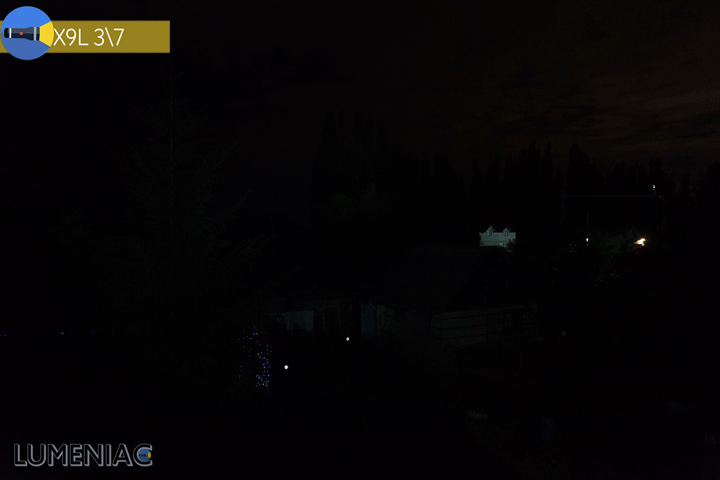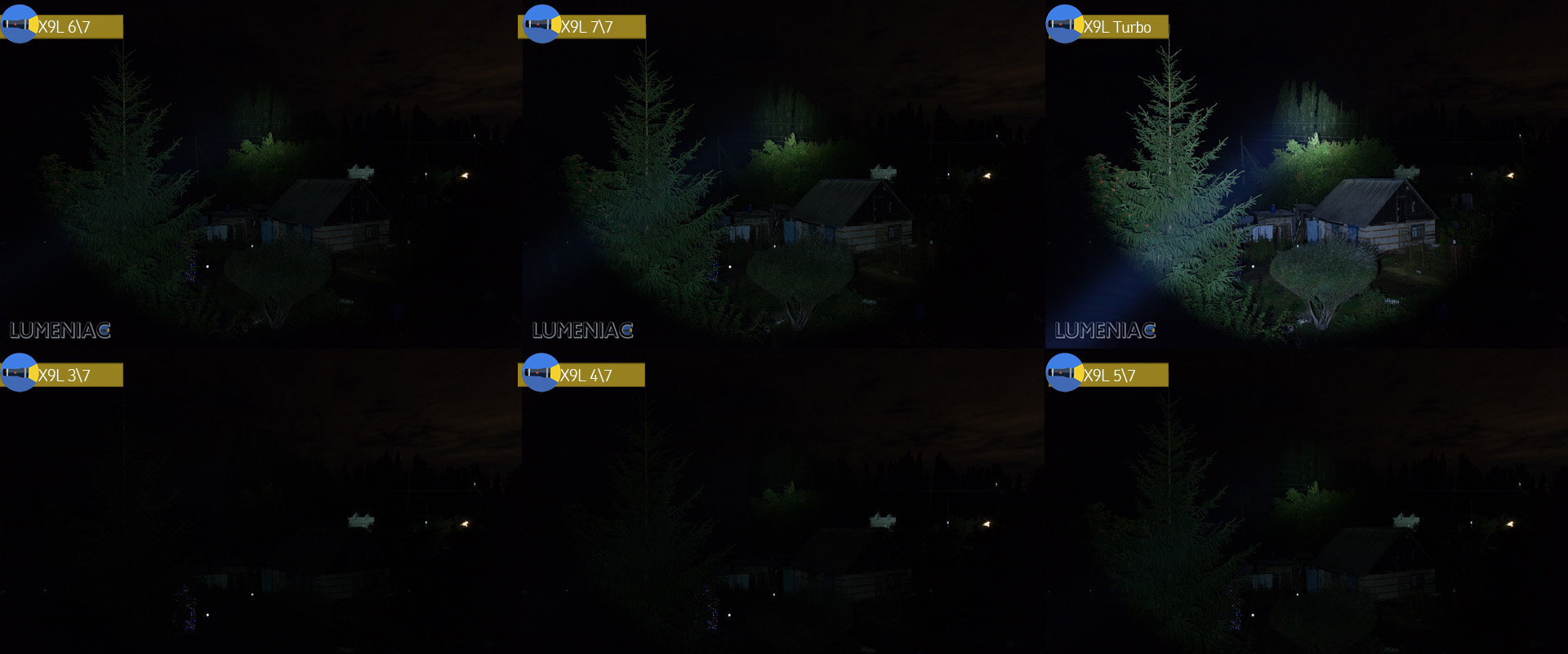 50m to the roof *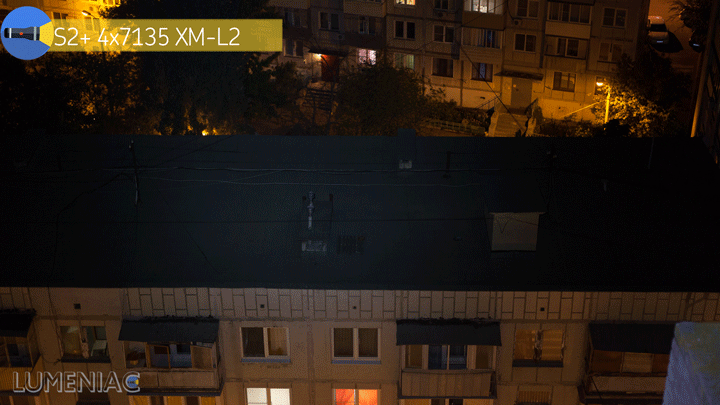 250m.
In my opinion, this is the most optimal range in terms of throw. You can clearly see things, flashlight illuminates everything with good brightness.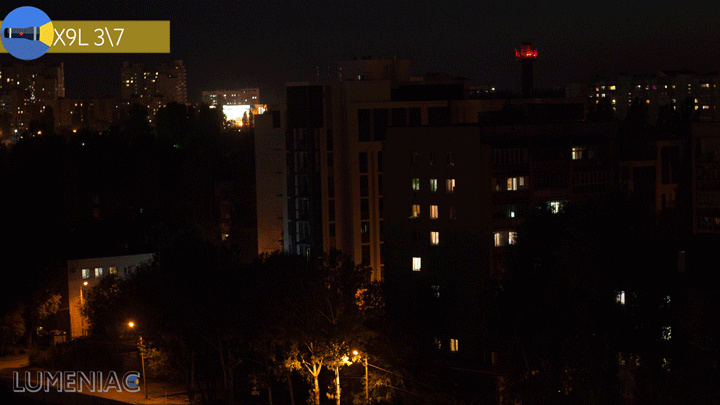 *400m. *
It is also quite suitable, but you should rely on turbo mode, 7\7 will not penetrate that far. As you can see, whole building is illuminated entirely and with excellent brightness. In case of emergency, you can cause, albeit a short, but a real light storm.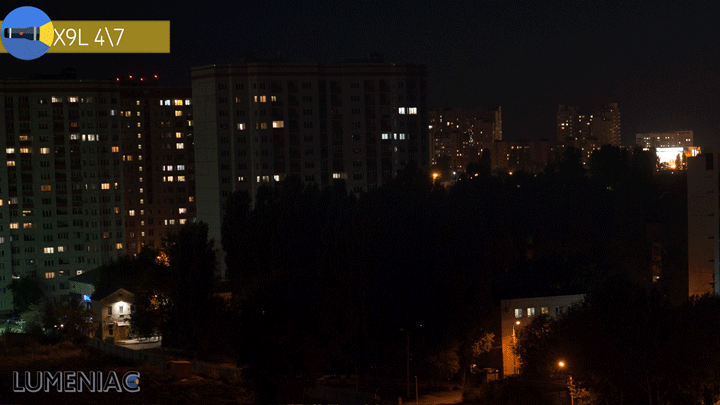 Of course, I advise you to take a look at my video review of the Lumintiop FW21 ×9L SBT90.2. There are many more examples of how this wonderful modern LED flashlight shines.
Guys, I just created my English-speaking channel, Lumeniac international. PLEASE, subscribe it. i work really hard to make my reviews as good as it possible, if you appresiate my contribution to forum, then your like and subscription will encourage me on this way.
OVERALL IMPRESSIONS
Awesome thing that want to turn on again and again. The flashlight is still compact enough to fit in almost any pocket. At the same time, with its brightness and throw, it is able to outshine many significantly larger and more expensive models.
Of course, the maximum brightness at this size will not be long – the flashlight will heat up. But, during the time that I have been using it, I have no reason to consider the turbo as a decorative flash. Yes, 15 seconds is not really long. But during this time you can highlight almost everything you need, an d then the brightness will decrease gradually, and at this time it also shines very brightly.
It is worth remembering that a much longer lasting (7 \ 7, ceiling) will cover the vast majority of needs in terms of brightness and throw. So, turbo mode here would be more of a emergence reserve. And when you need, you can easily turn pocket size flashlight into a real full-fledged searchlight, with brightness and throw that will make everyone aroud forget any flashight they`ve seen before. I mean ordinary user, of course. There are bunch of people here at BLF , who`ve seen some Acebeam and Imalents lumen beasts.
What else sets the Lumintop X9L apart from other models? Anduril's flexible UI of course. Excessively flexible, for many, I speal honestly. But if you do not have plans to go deep into the settings, then there will be no difficulties at all.
Stabilization. This is a critical characteristic for me. And other FW models I've tested had worse stabilization. X9L has brightness, that is stabilized really well.
The NW color temperature is also good and will not reflect from fog and dust like cold white models
The wide light in the center, the hotspot, and tolerable side light does not make this flashlight useless at close range. Although, of course, it begins to show itself best at a distance from about 5 meters.
In fact, for me, the only downside to this model is its simple design. But this is not a functional disadvantage. But, I am sure, such simplicity made it possible to reduce the price of the flashlight which is also good. May be Lumintop will also release some copper model, which will look and transfer heat in turbo better.
In the meantime, from the point of view of real use, I do not see any drawbacks and I think that Lumintop X9L SBT90.2 is an extremely successful model – certainly the best for me from the entire FW line. And it is one of the most interesting flashlights that I got my hands on in 2020. This is a real mustbuy for those looking for pocket sized model with maximum power and throw.
In terms of price and functionality, the flashlight is perfectly balanced. And, again, it is one of the most interesting flashlights that I got my hands on in 2020. This is a real mustbuy for those looking for pocket sized model with maximum power and throw. I believe that it will find it`s fidel fans among BLF community. I simply dont understand how anyone can be unimpressed with this model. In terms of price and functionality, the flashlight is perfectly balanced.