I`ve already reviewed similar, basic model Nitekore TIKI LE. after that, this keylight got updated to version with a glow-in-the-dark body and additional UV / HiCRI LEDs, which one i`ll tell you about in my reviewof Nitecore TIKI GITD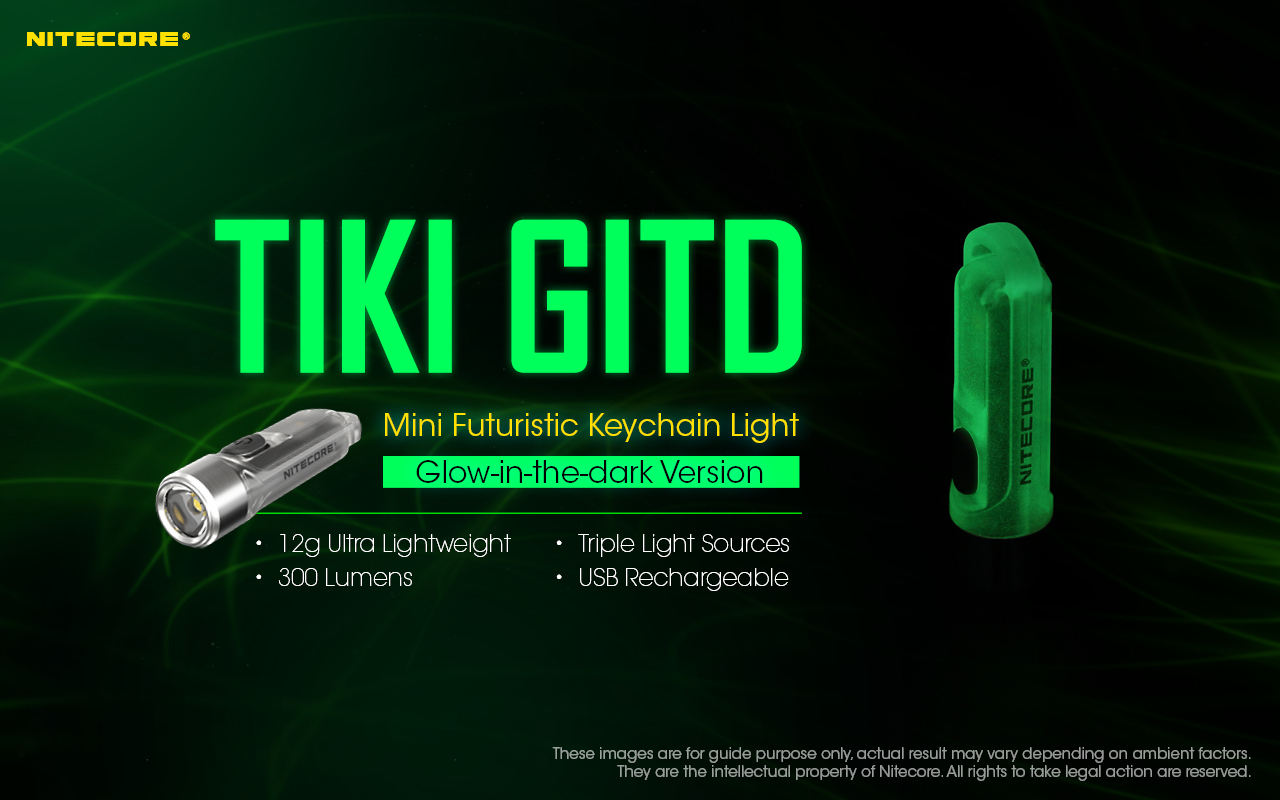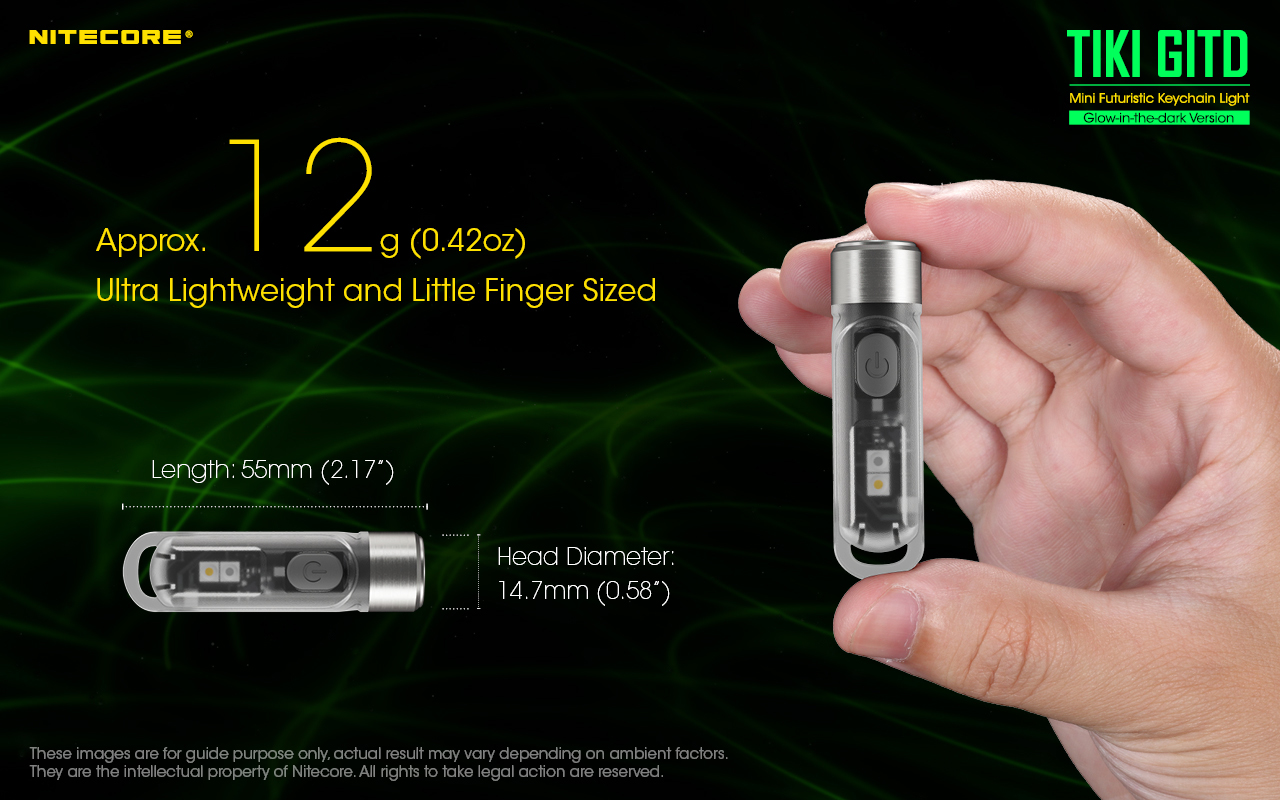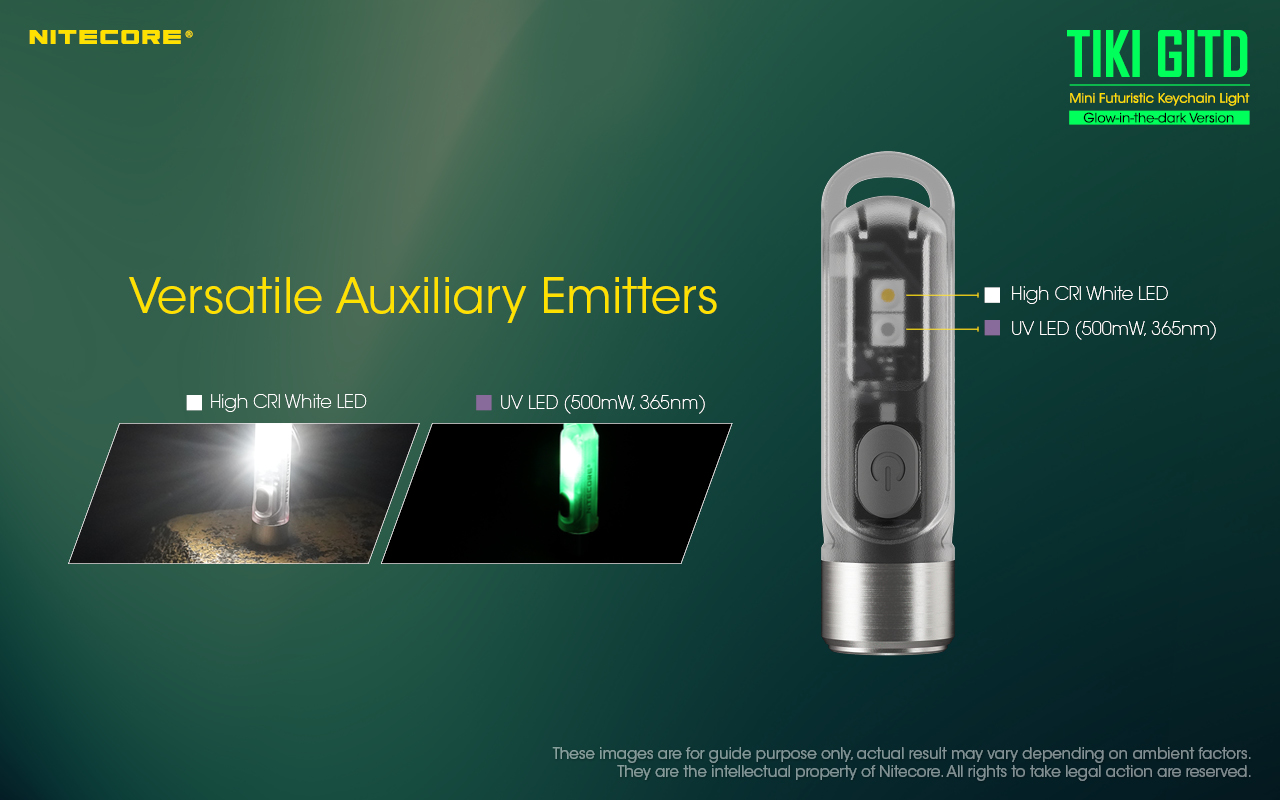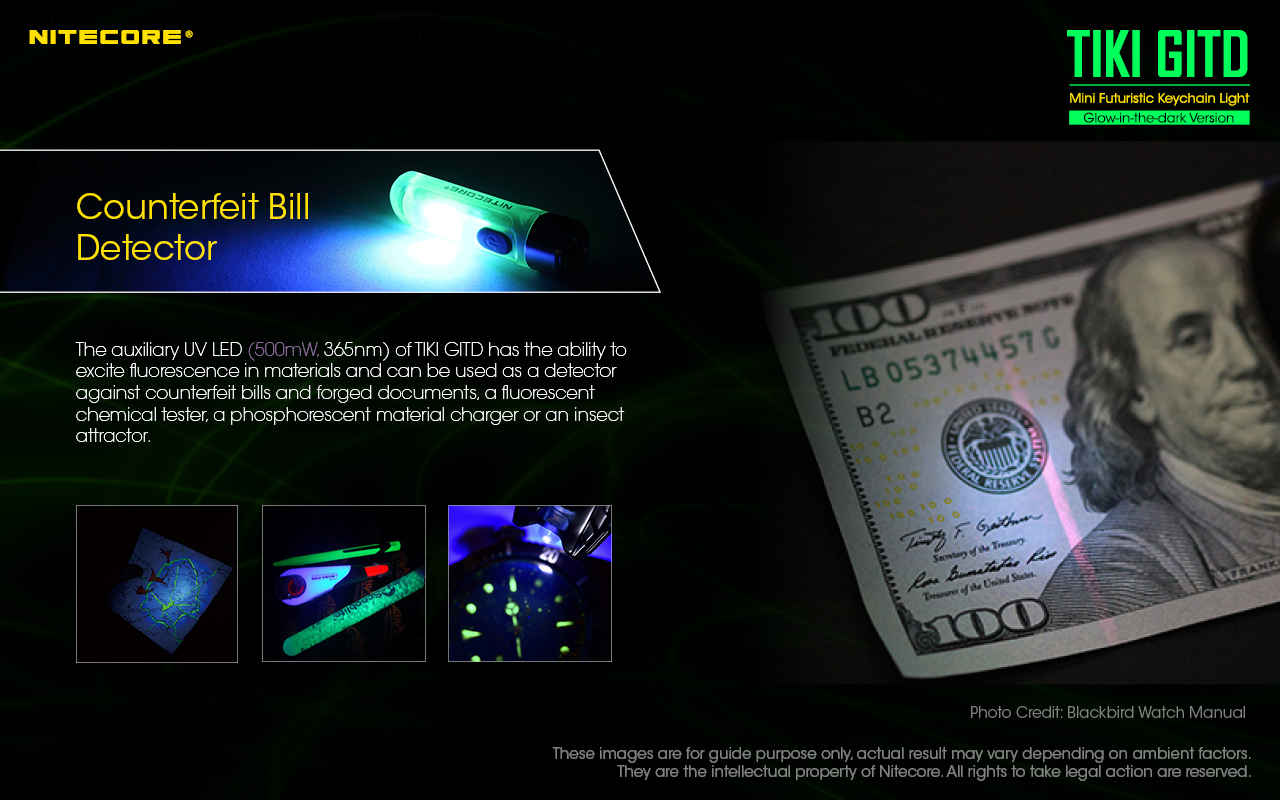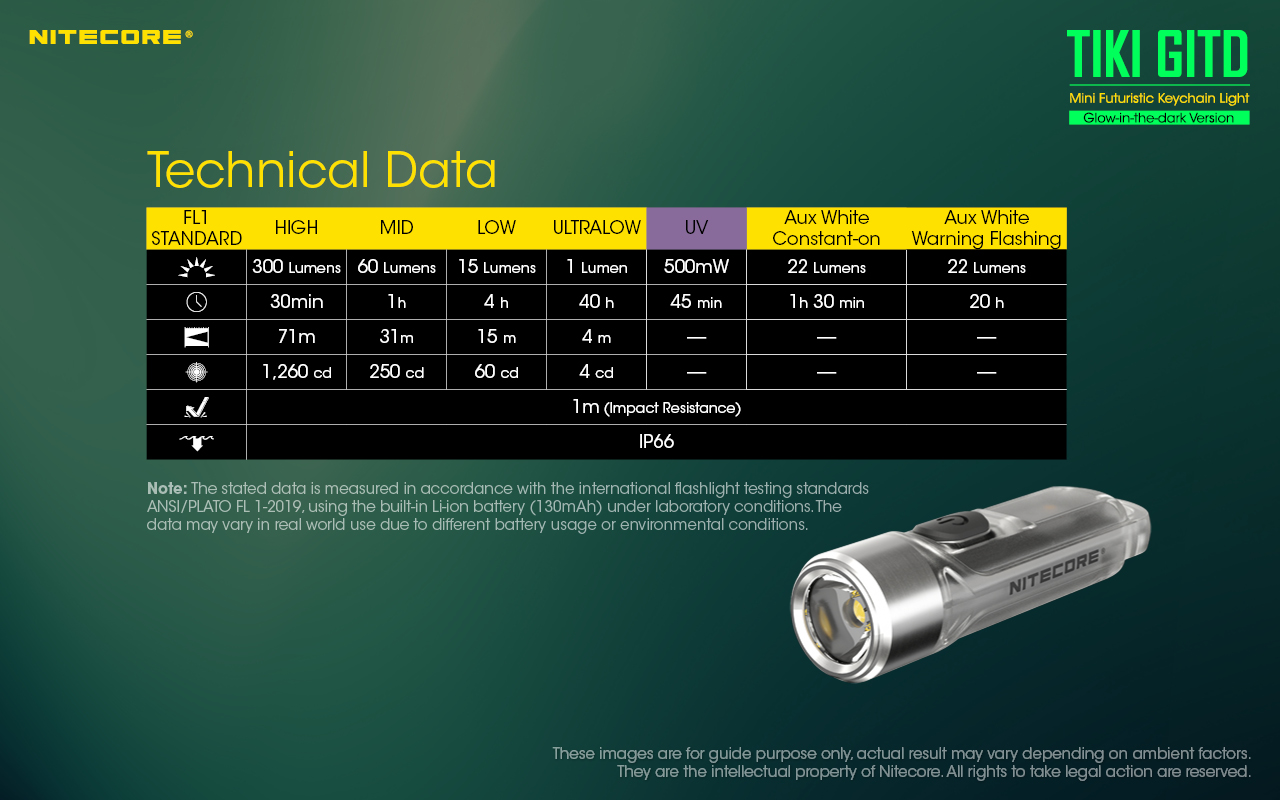 you can buy Nitecore Tiki GITD at: ➤ALIEXPRESS | ➤ BANGOOD | ➤ AMAZON
Other functionally interesting Nitecore flashlights: |
TIP2
|
TUP
|
TIP

SE
PACKAGE AND APPEARANCE
Like the base model, GITD is, as expected, packed in a regular blister.
was: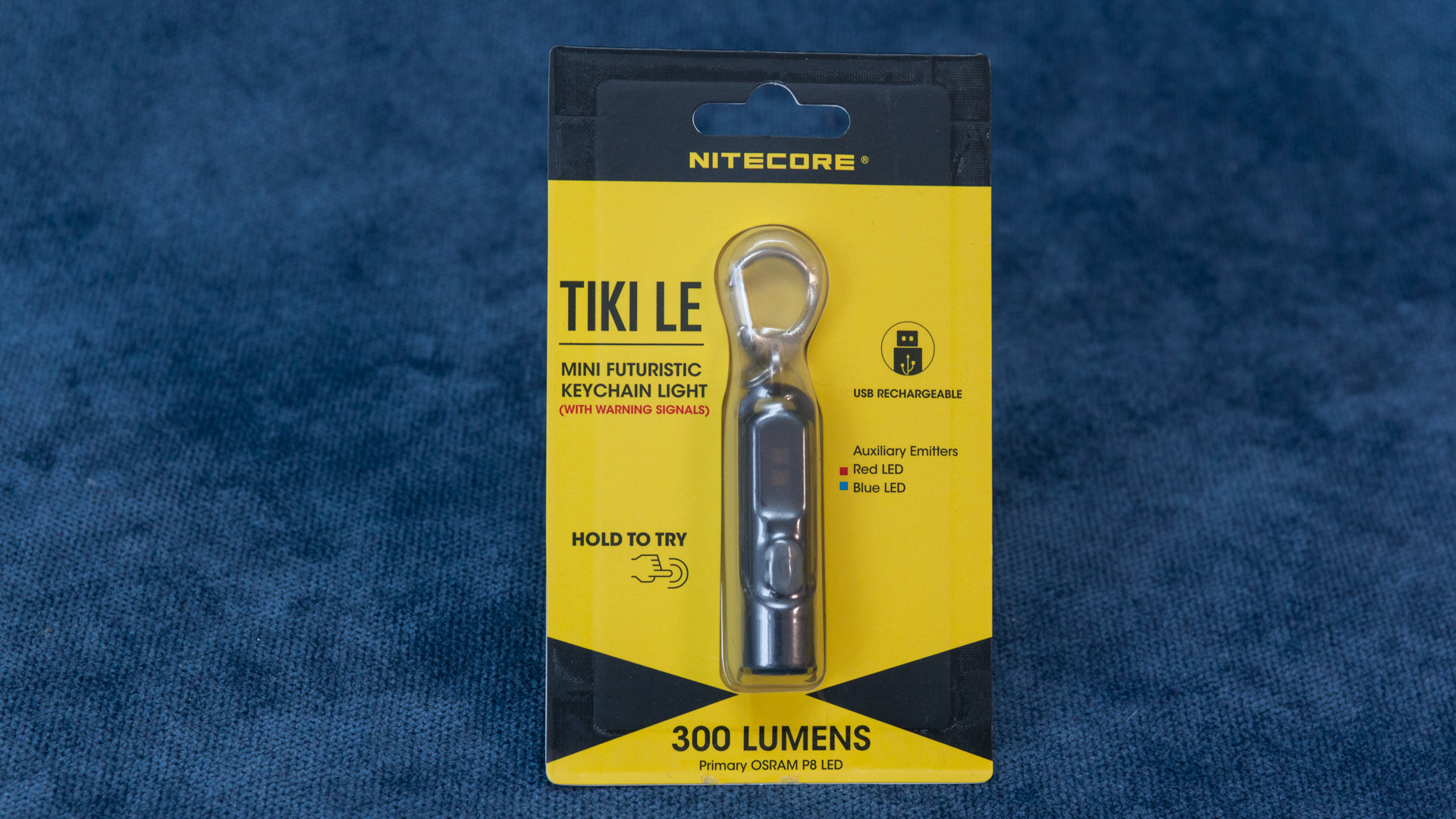 It has become.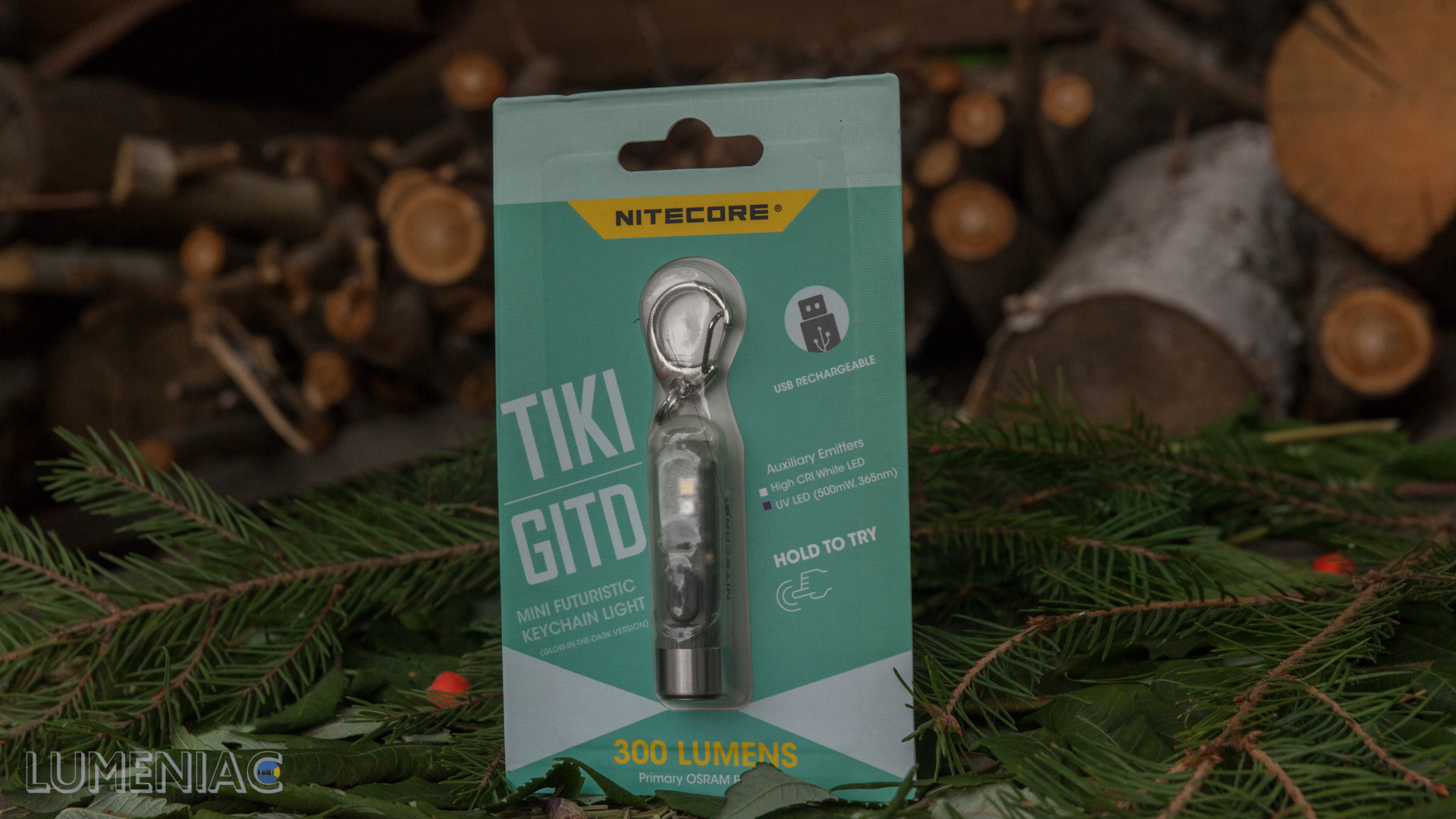 Due to the specifics of the model, the blister is also designed in greenish colors. It looks cheerful and quite present.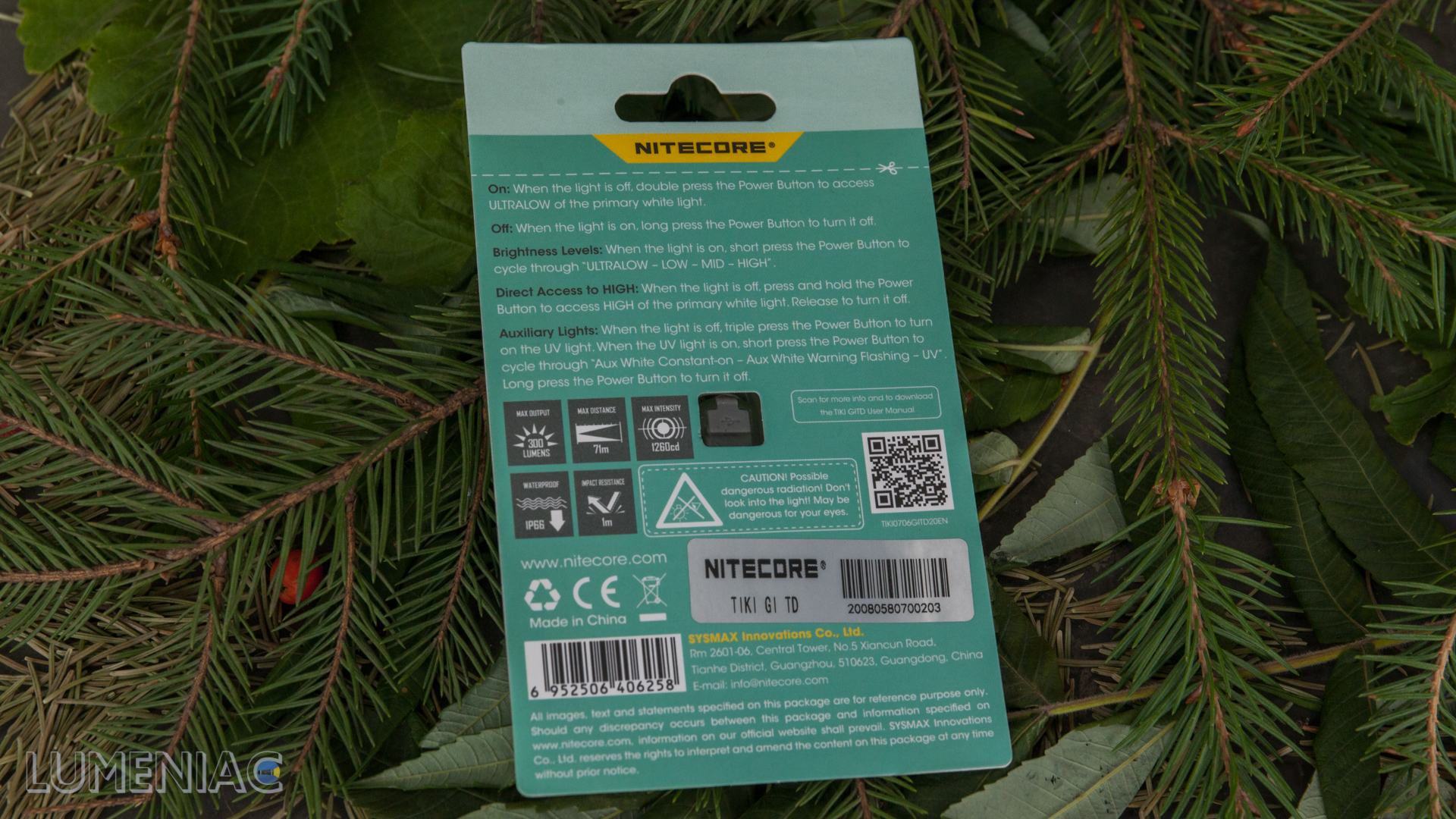 The kit, again, includes the wrench itself, and a ring with a carabiner. There is still no charging cable, but this is a regular micro-usb, so this does not constitute the slightest problem.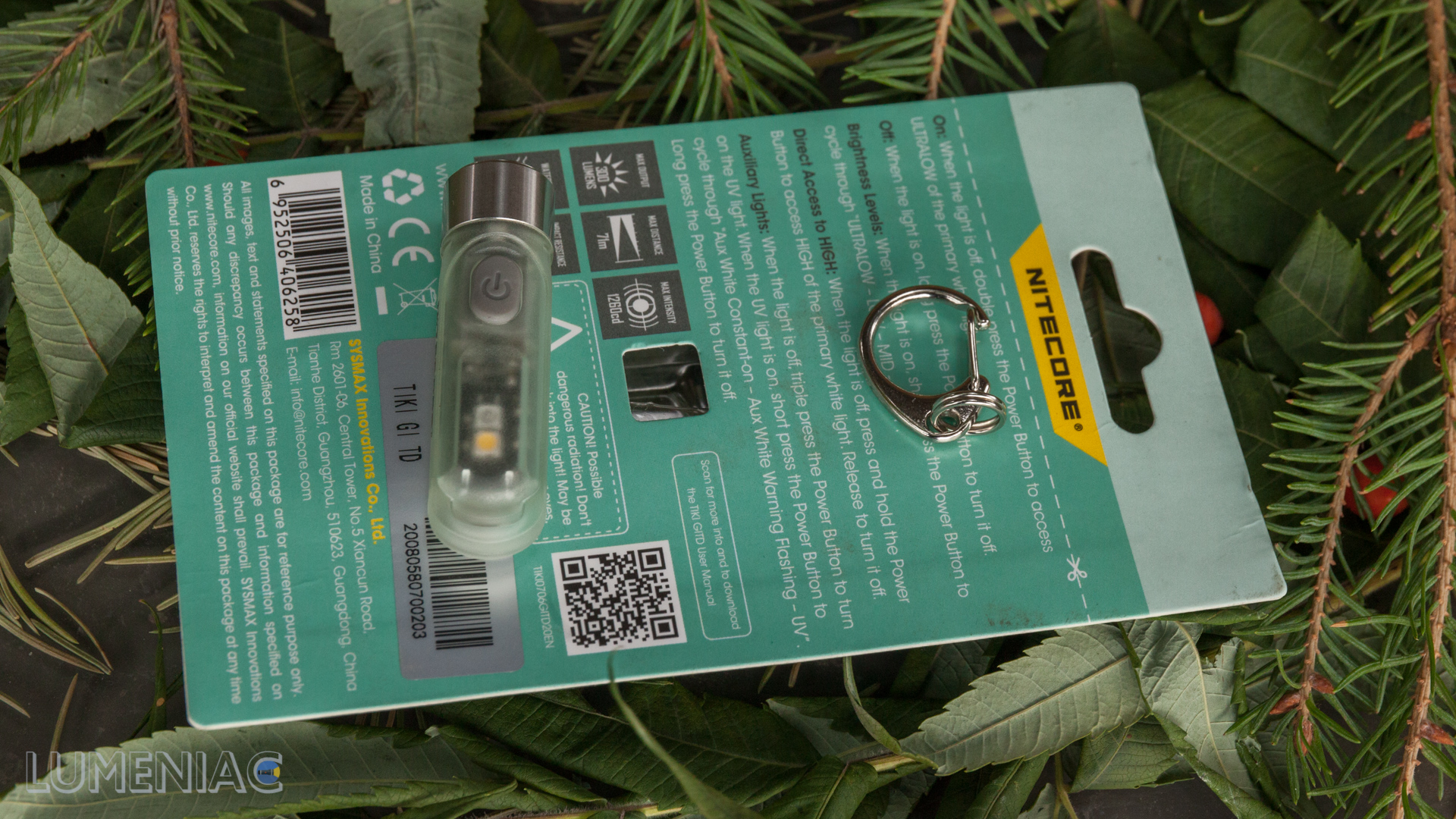 Externally, keylight is a tiny, 55×14.7 cm translucent (this time with a greenish tint) polycarbonate capsule weighing 12 g.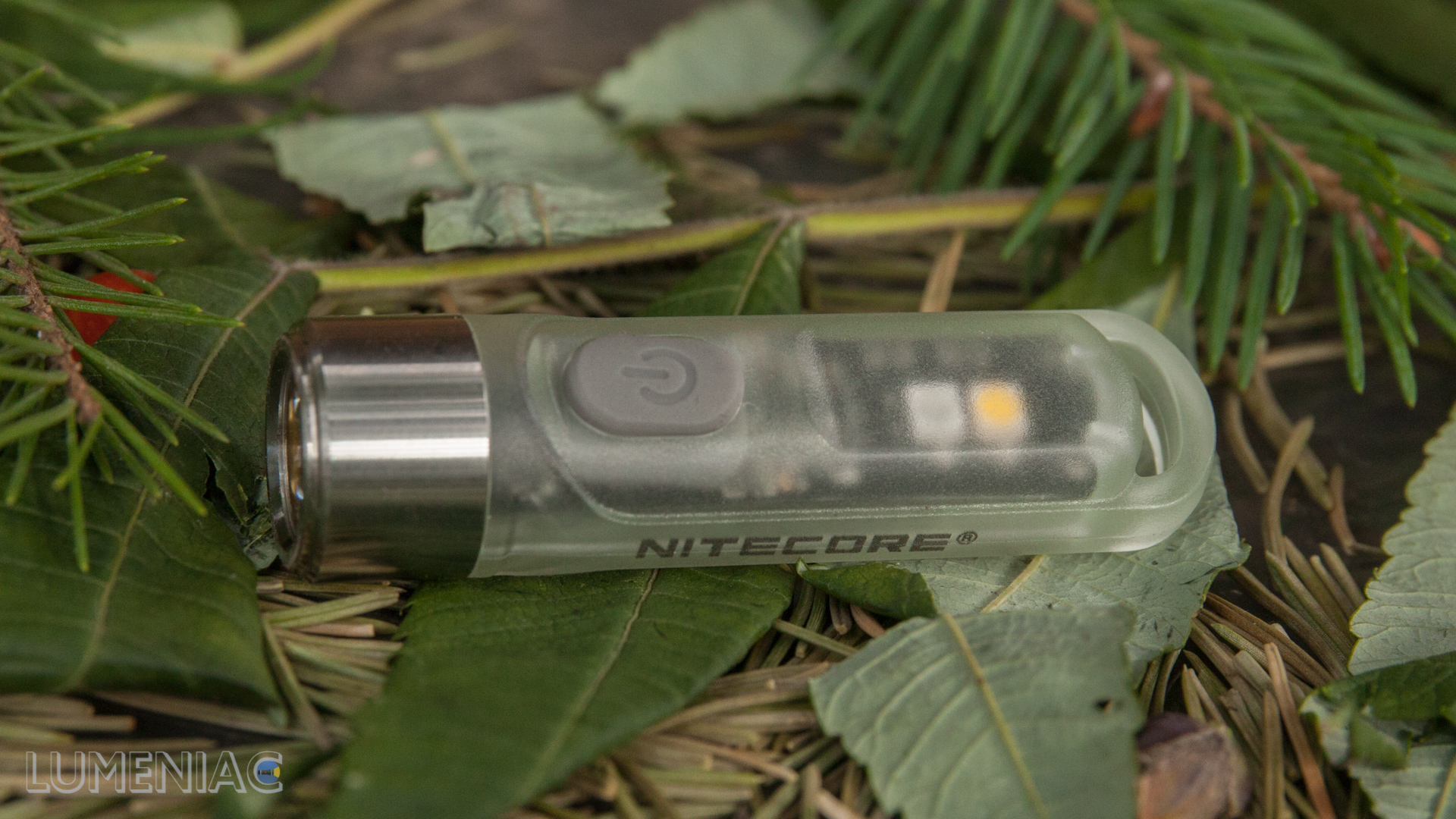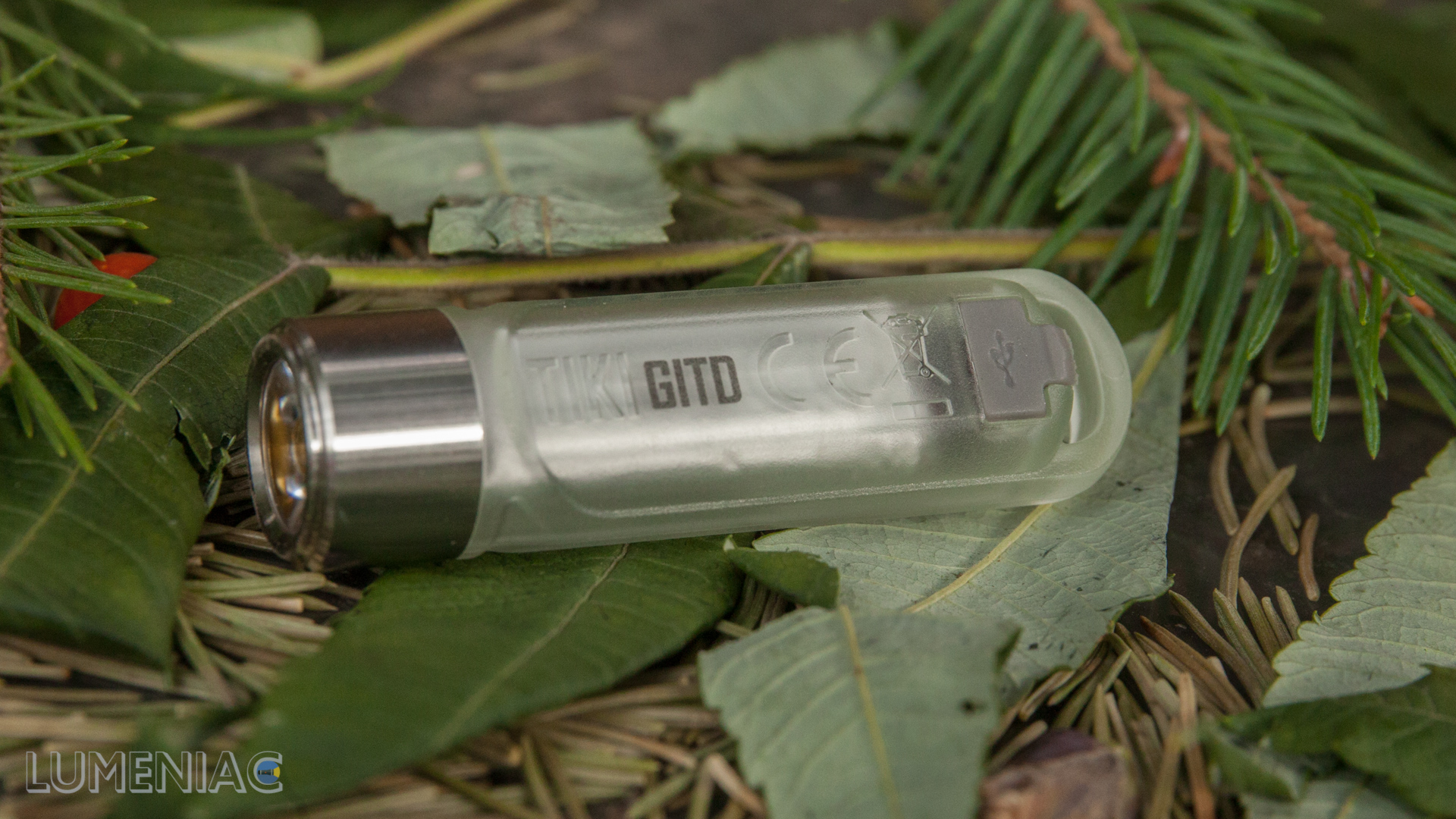 Here, for comparison, what the TIKI LE looked like, you can immediately correlate the sizes. And they are, in fact, tiny. Something less can be expected only from the 10180 powered model.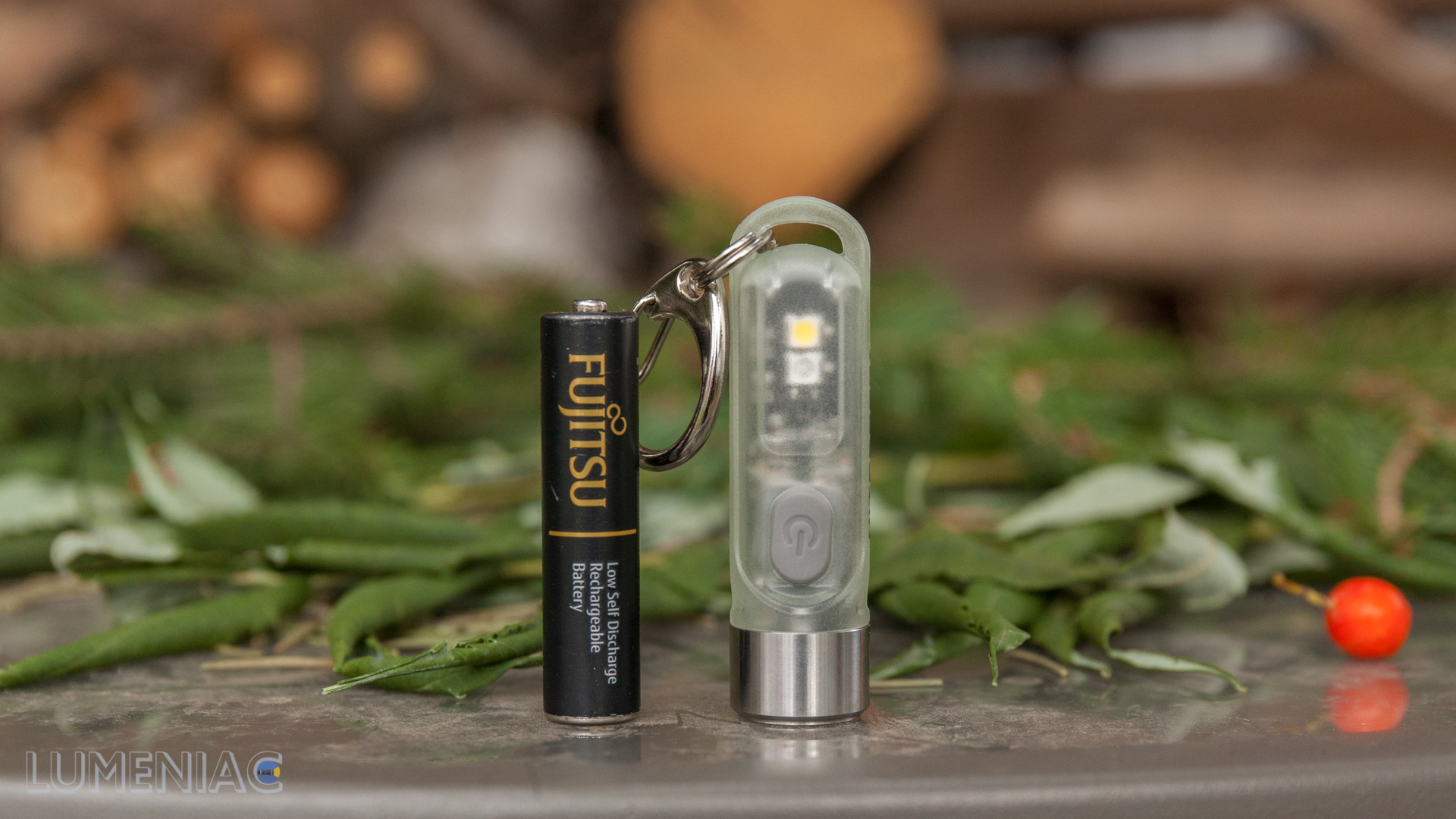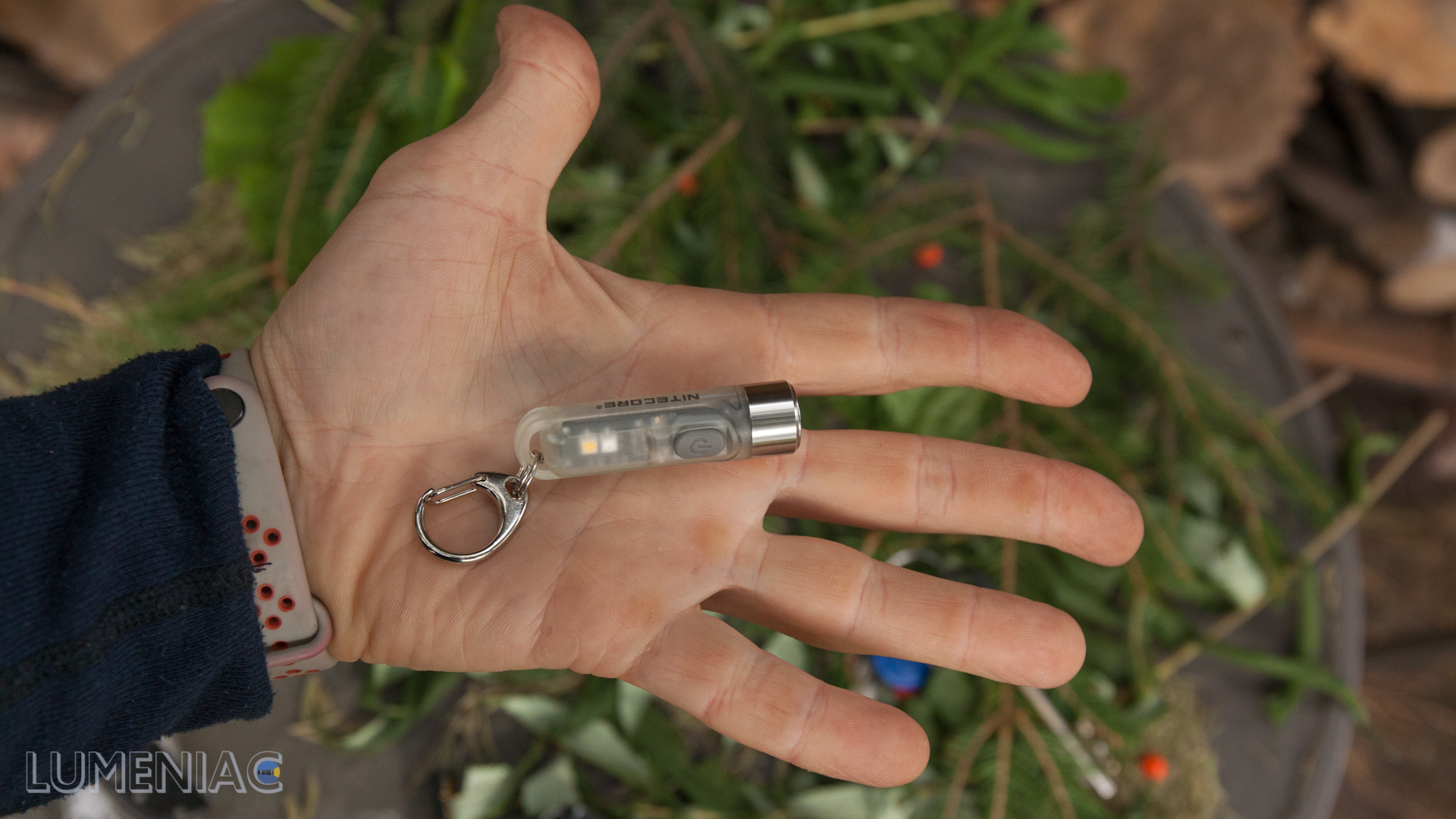 The flashlight looks perfectly natural on a bunch of keys and does not burden it at all.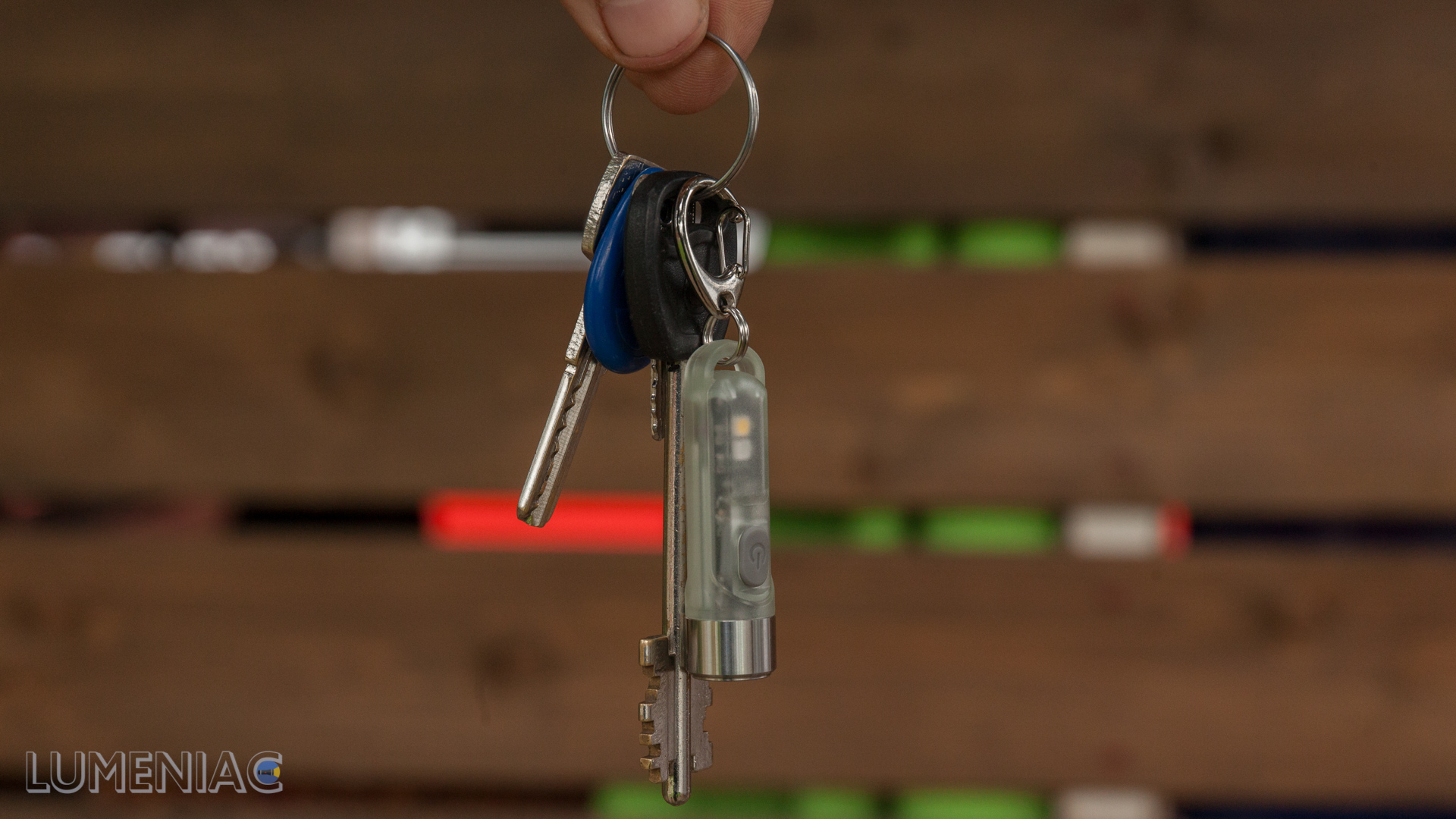 "Where is, where is the luminescence?" – will say impatient reader . Yes, here it is, even in the daytime you can see how the body changes color.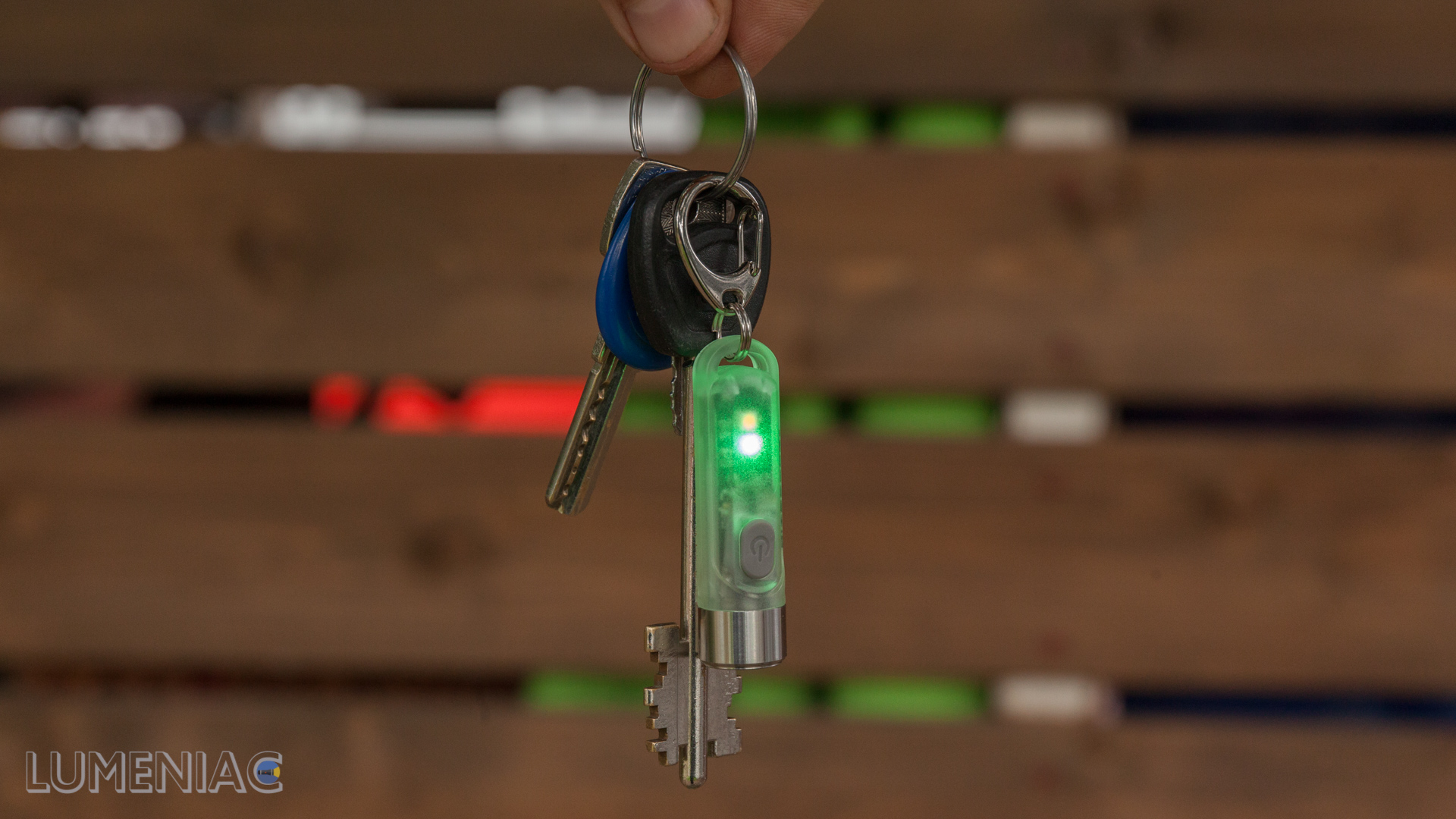 Keylight body needs very little light to trigger the "backlight". This is actually convenient in a situation when you need to find a bunch of keys in the dark.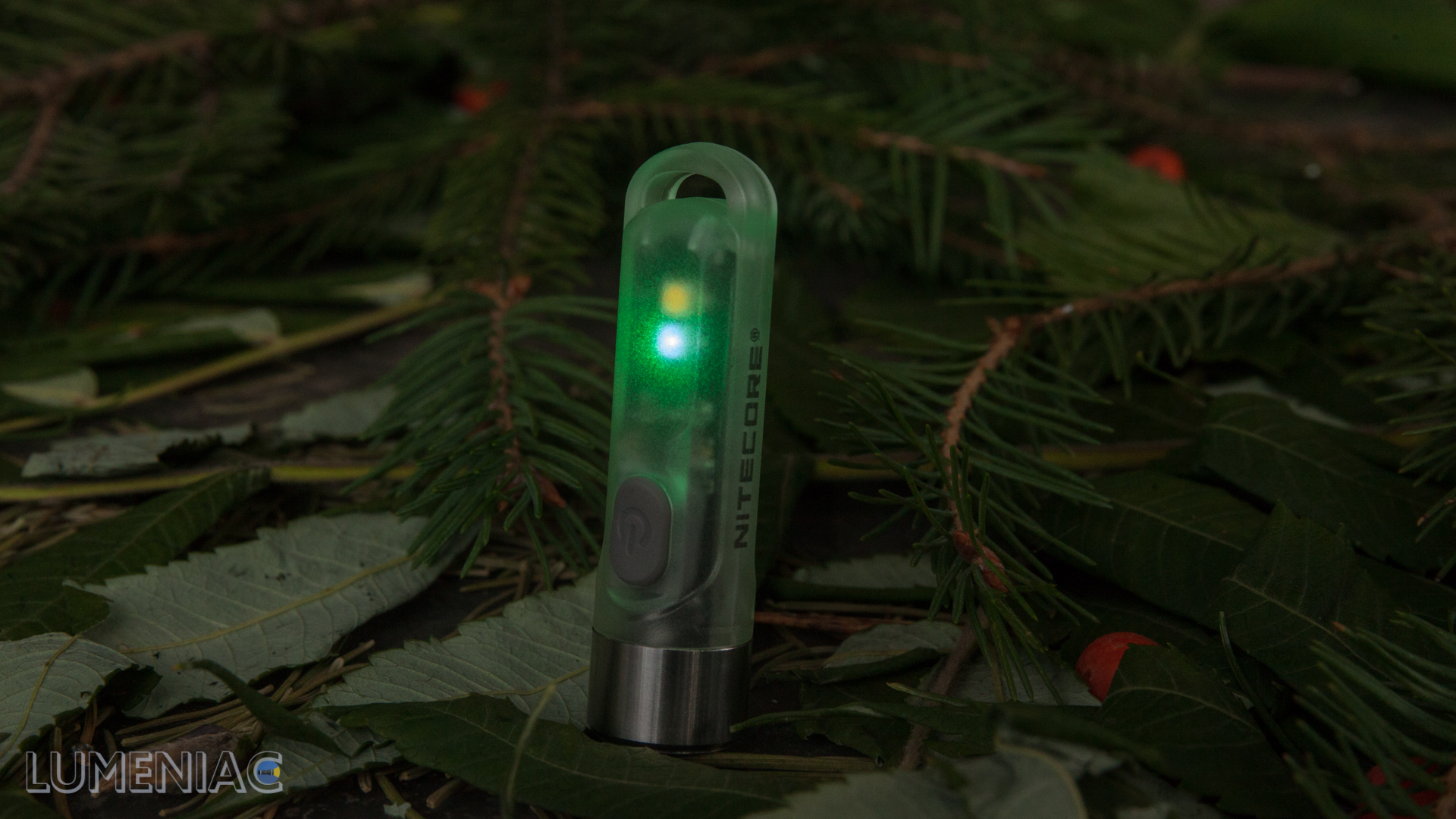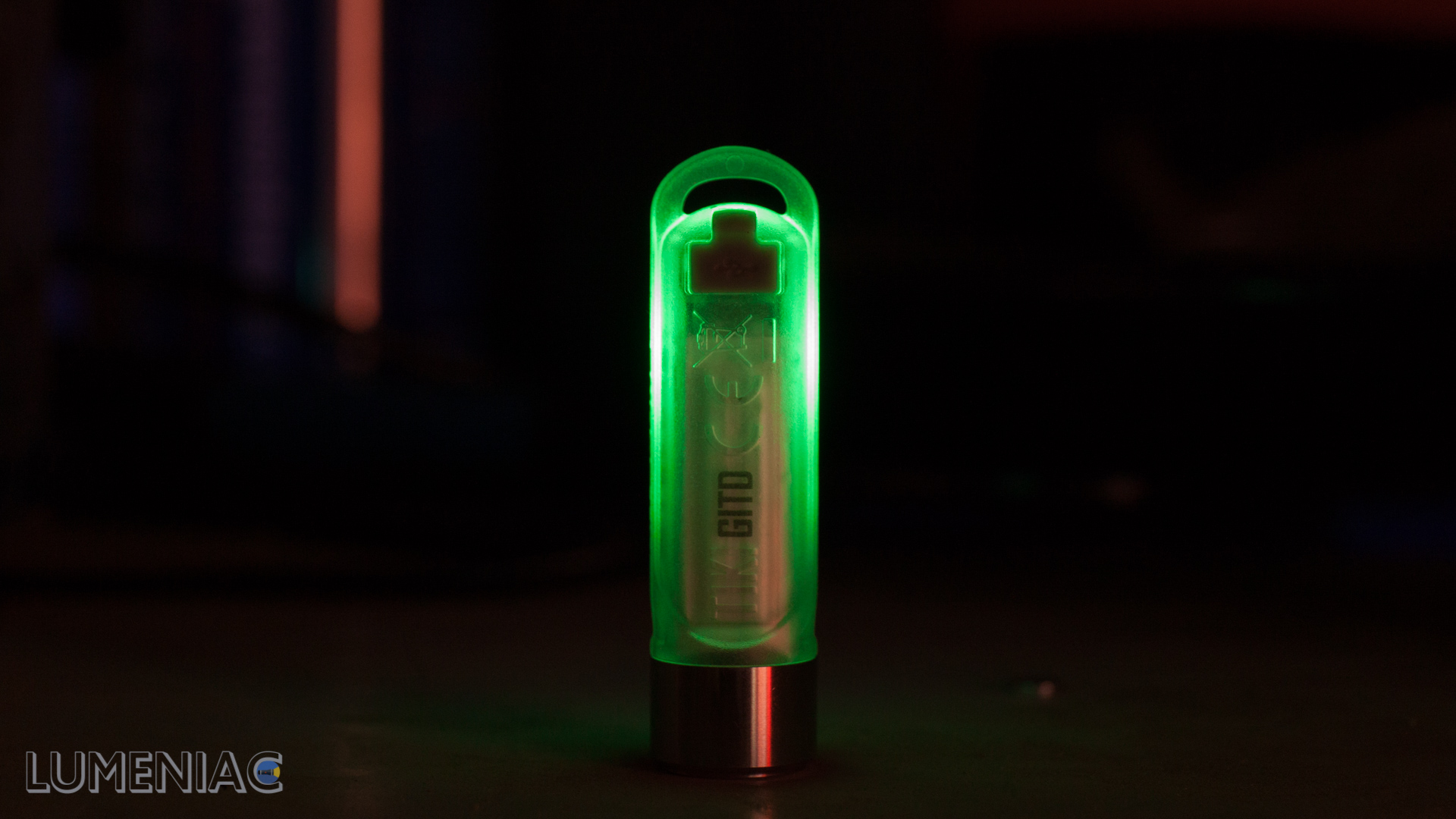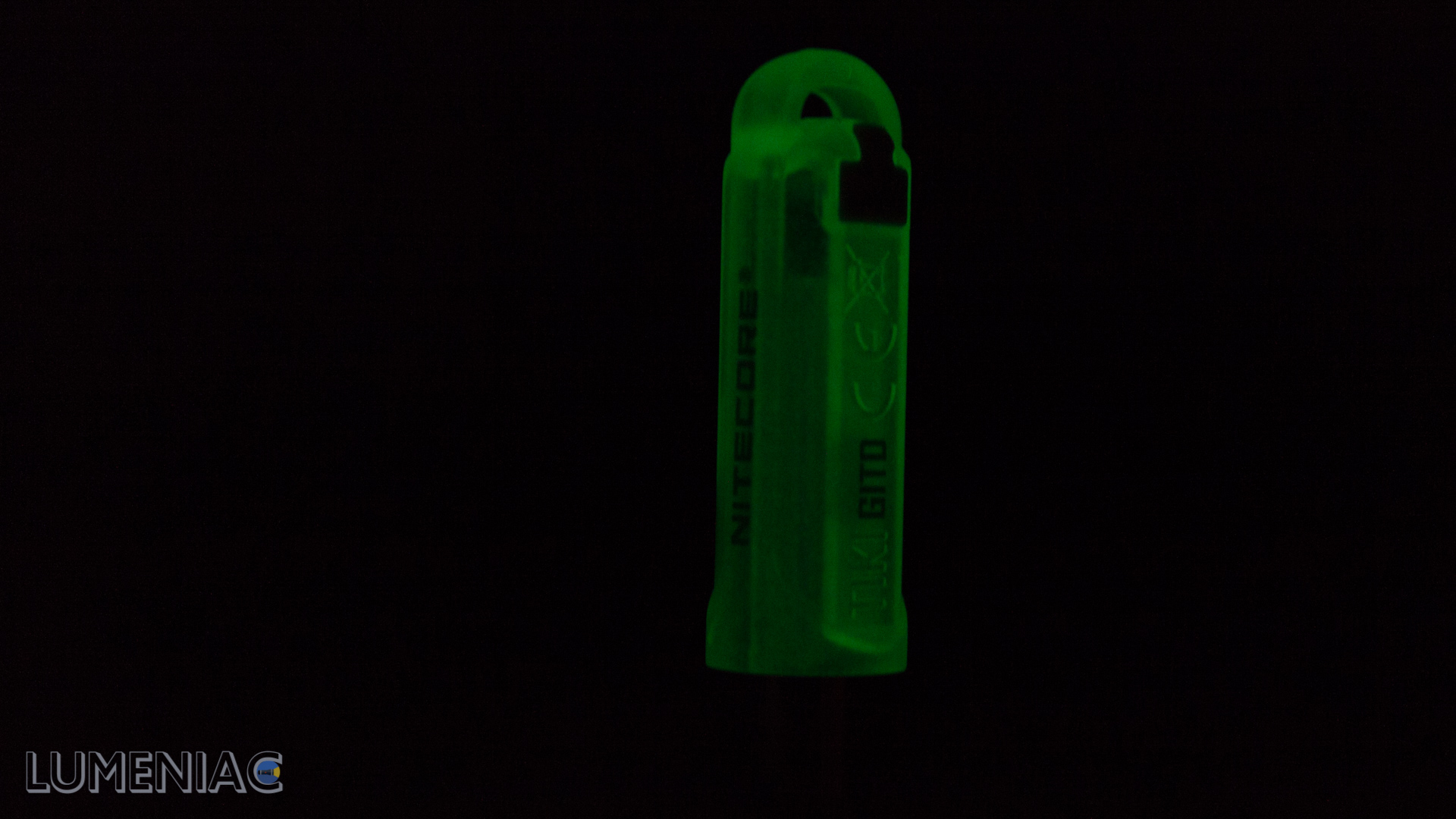 This photo above reminds me of the famous poster for "Alien"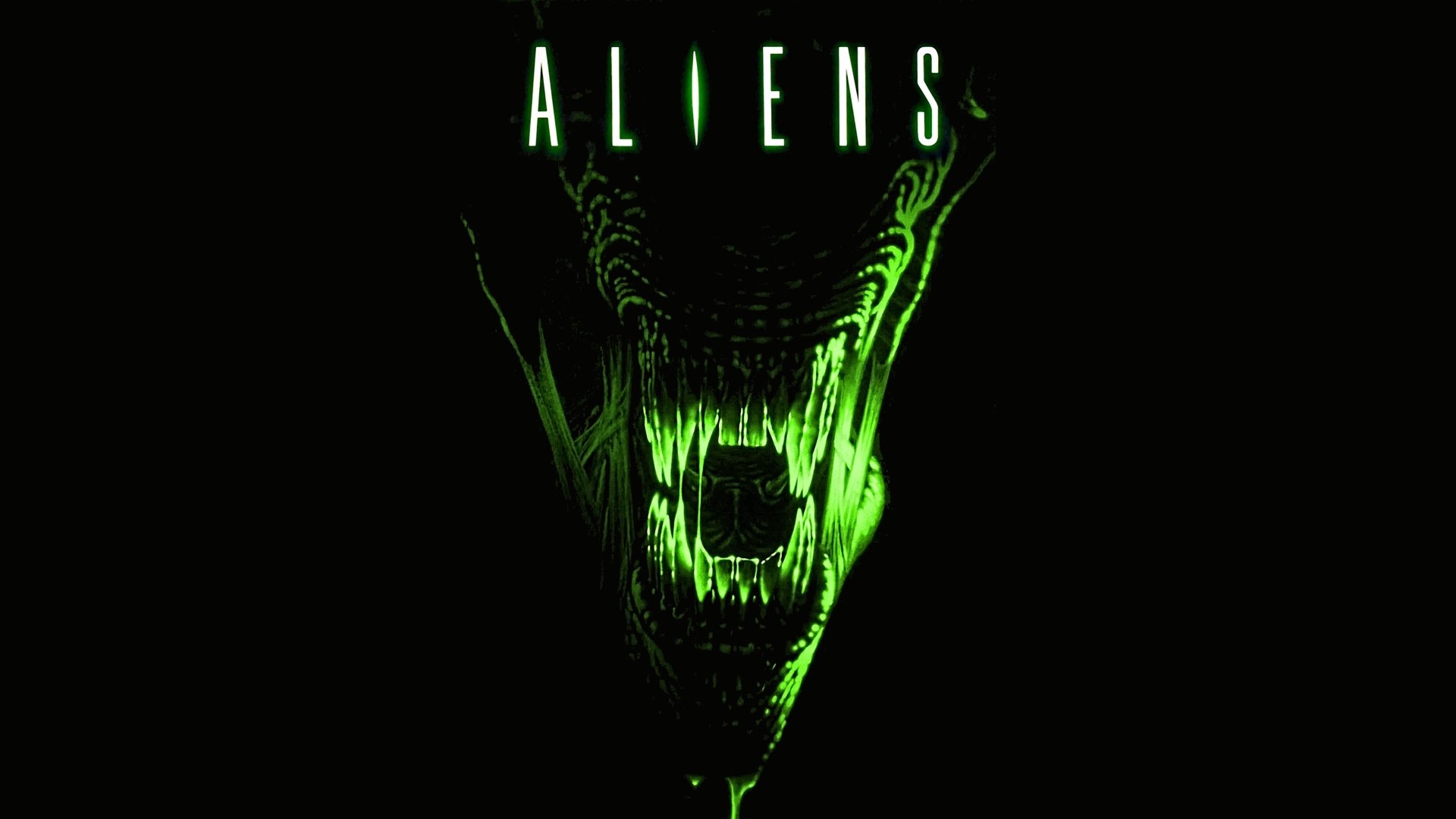 Despite its simplicity, the keypad looks pretty good. Parts of the case are connected securely, there are no gaps, creaks and casting defects at all. In general, it is expected from a manufacturer of this level.
The cap hides the micro-USB connector. Sits quite securely, I don't see any potential problems with it. 130mah battery charges in an hour.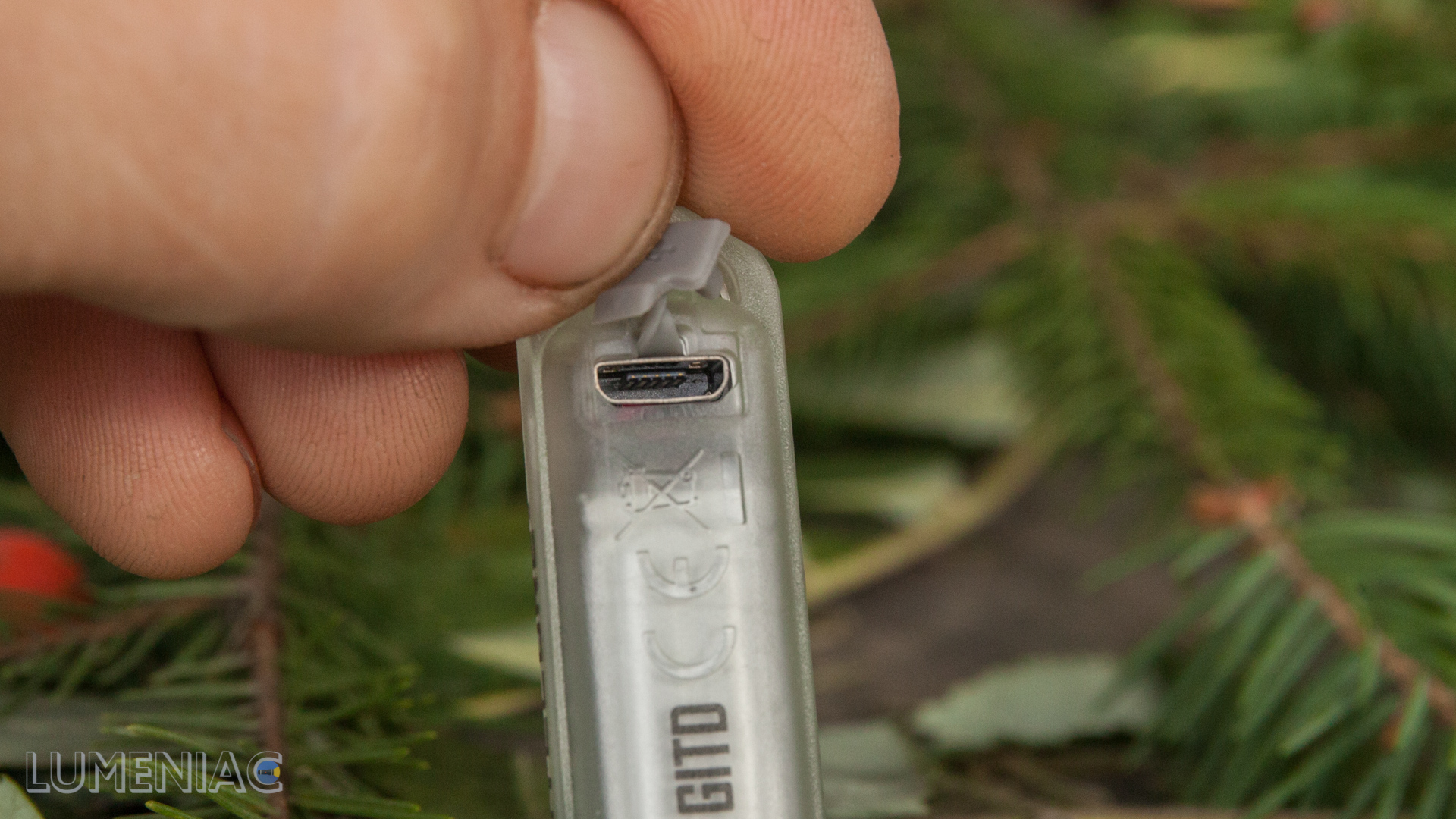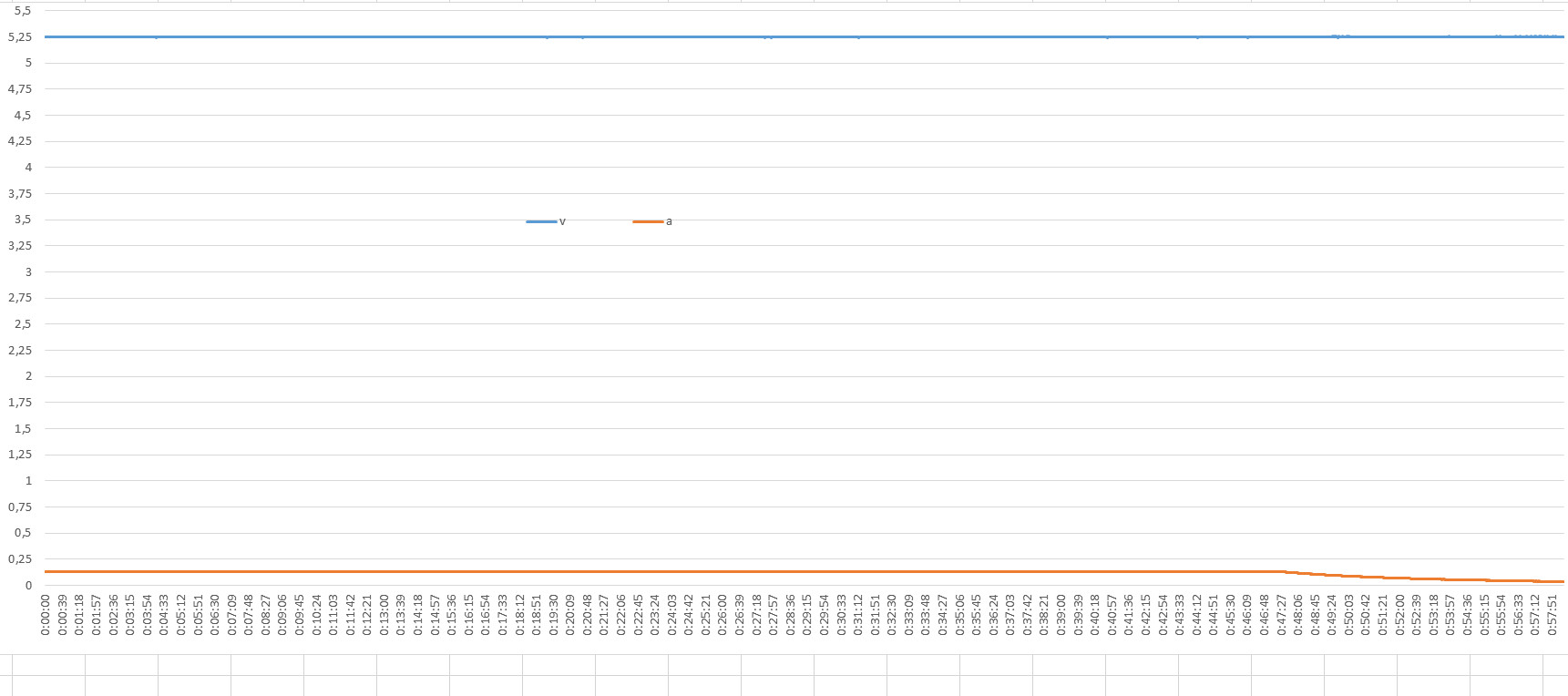 A small, soft and protruding about a millimeter from the body, the button fits quite comfortably under the finger.
Two additional LEDs are visible between the button and the eyelet: one for UV, the other for diffused warm light with a high CRI.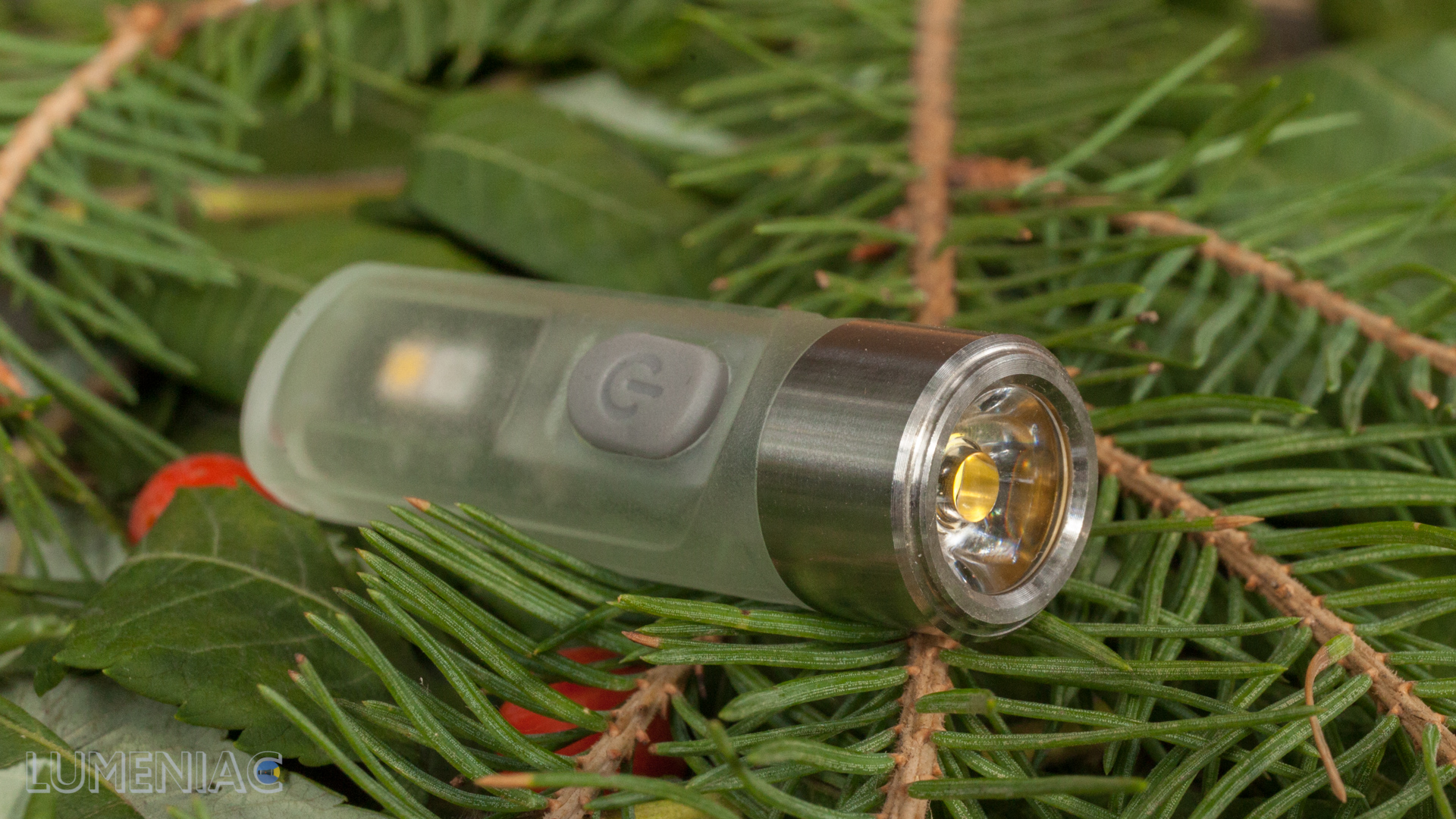 The head of the flashlight is covered with a stainless steel ring, under which there is a bundle of a small TIR lens and an Osram P8 LED.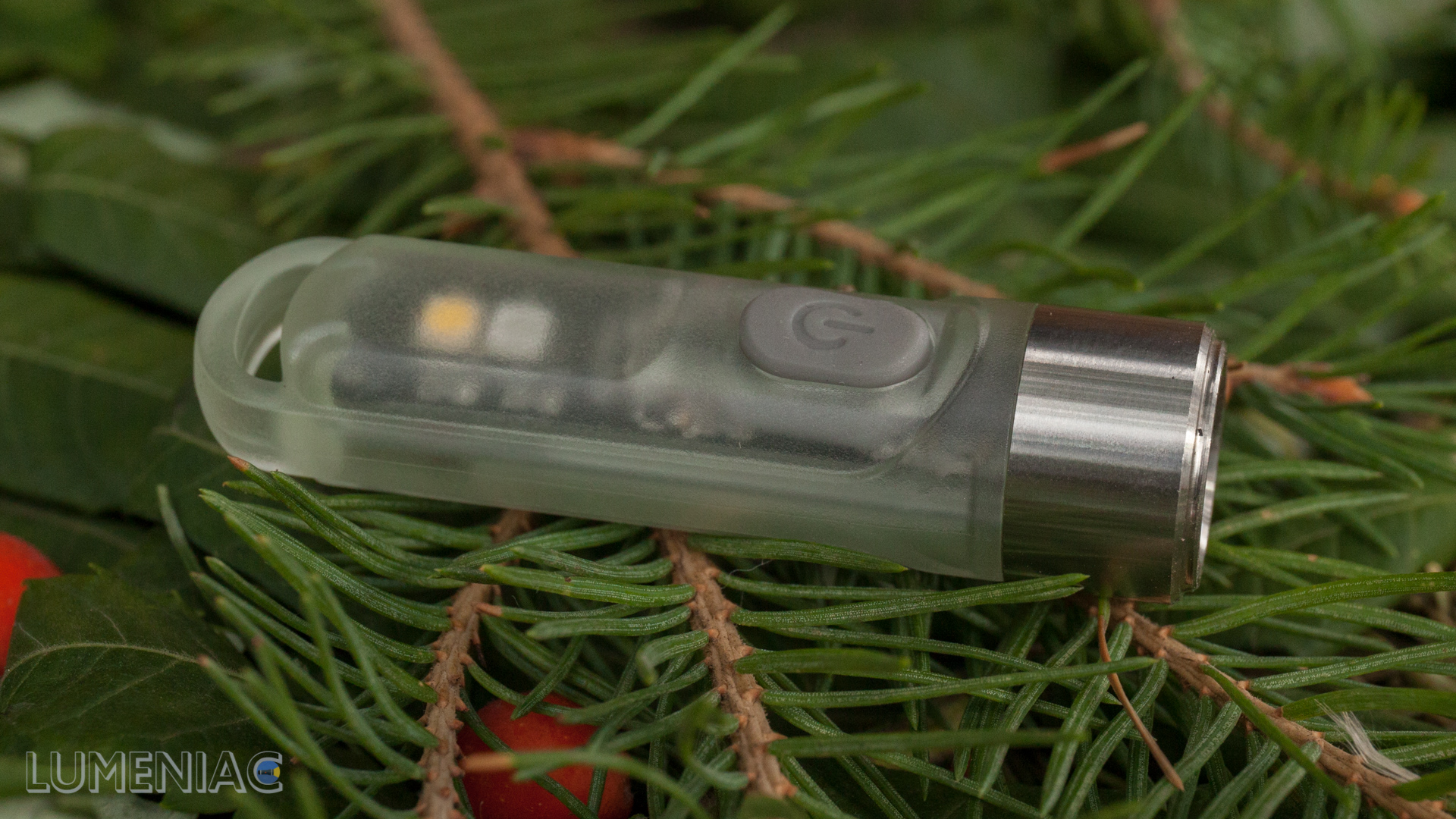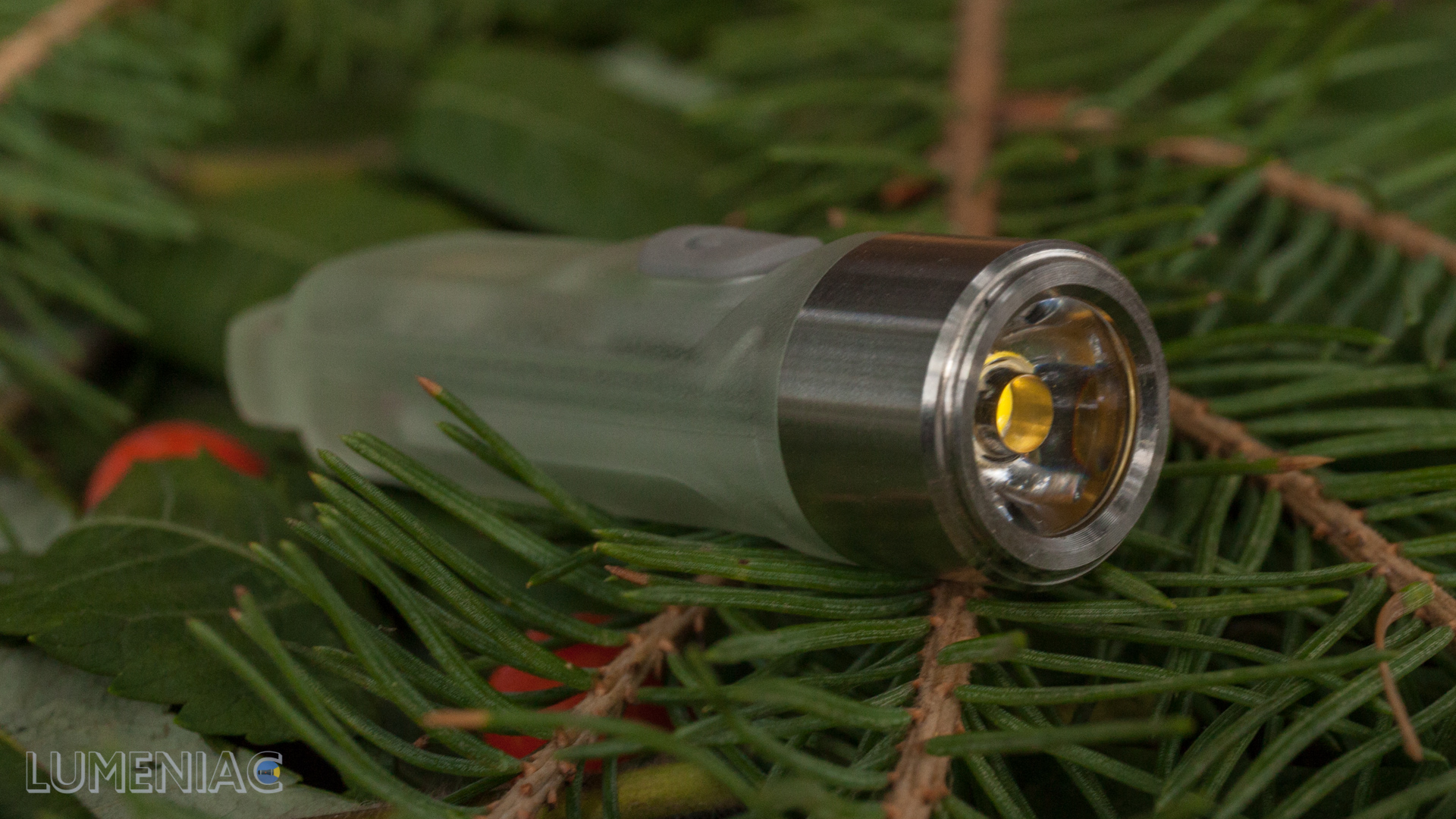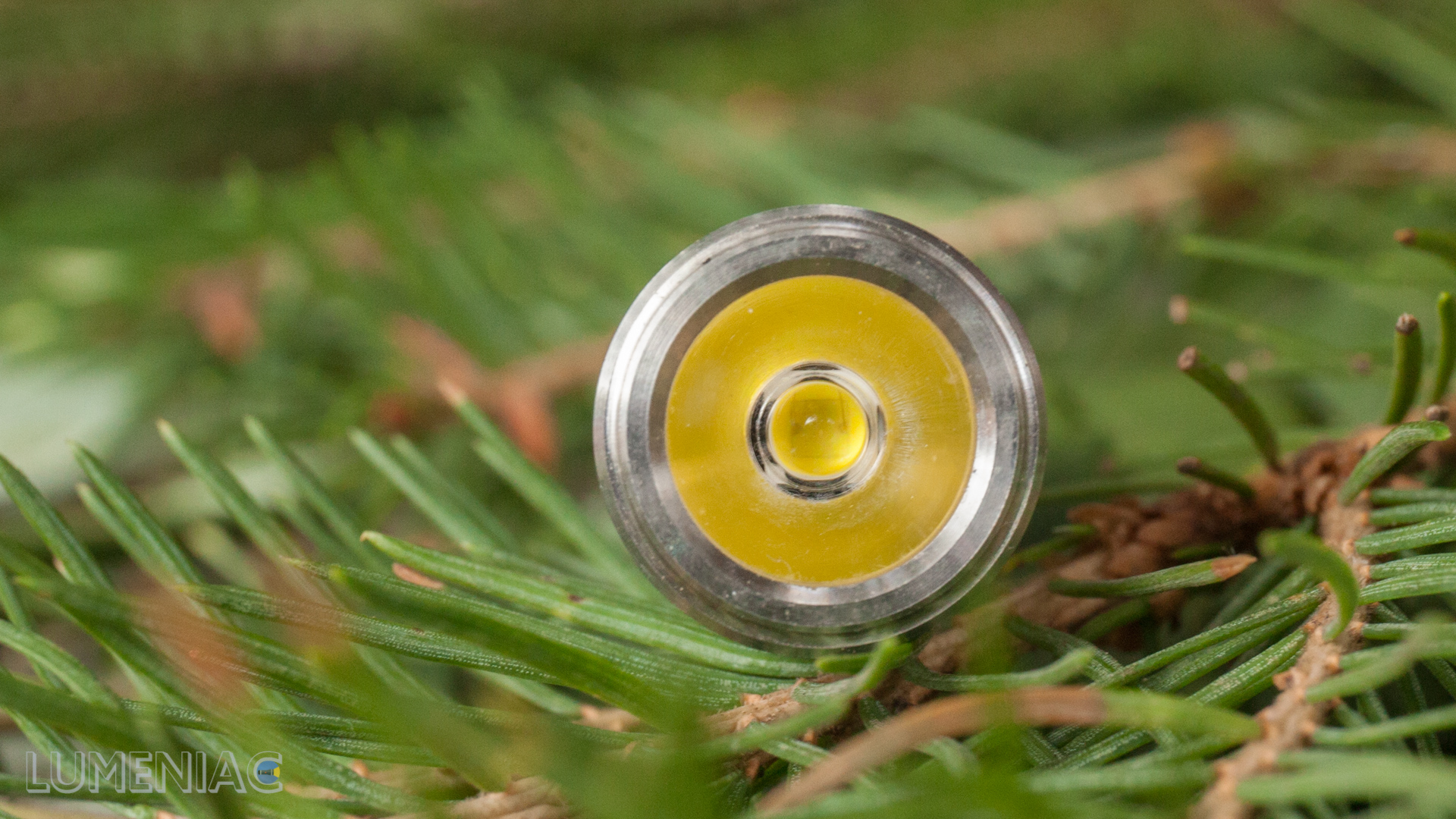 Actually, that's all … at this stage there is simply nothing to talk about. A fairly simple outwardly gizmo with outwardly good workmanship.
UI
quite convenient, but there is no blocking.
from OFF
2x clicks – Ultralow
3x clicks – additional LED
hold – instant access to High (which, in the absence of blocking, is not good from the position of accidentally pressing in your pocket)
from ON
1 click – switching modes (main and additional light) utralow – low – mid – high \ extra white light – extra white light flashing – UV light.
hold – off
How Nitecore Tiki illuminates
The main LED is really bright and makes it possible to give good light several time times, frankly unexpected for such compact body.
Of the minuses – hellish PWM at minimum brightness and recognizable with a pencil test in LOW \ MID. It is absent in HIGH. For the sake of fairness, I strongly doubt that in situations of using keylight , this will cause any discomfort, besides the fact that u know that there is such shimmering in lowest modes.
I also have feedback from one of my subscriers, who uses TIKI right since it was released, and he also said that even though he knows about such PWM-shimmering in LOW, he simply dont see it and he doesnt feel any regrets of byuing and using TIKI. What i`m trying to say is that for this model, attitude to PWM is more matter of taste.
There is no PWM in the side light.
As for the side ones, there is a good choice. In the case of Tiki, you get moderately bright neutral light, at the backlight level for reading books, diffused hiCRI light + UV light for checking currency or cleanliness of premises.
The Tiki Le, on the other hand, has a set of blue and red LEDs, which are practical from a signal light standpoint. There is clearly less usefulness from them in everyday life than HiCRI + UV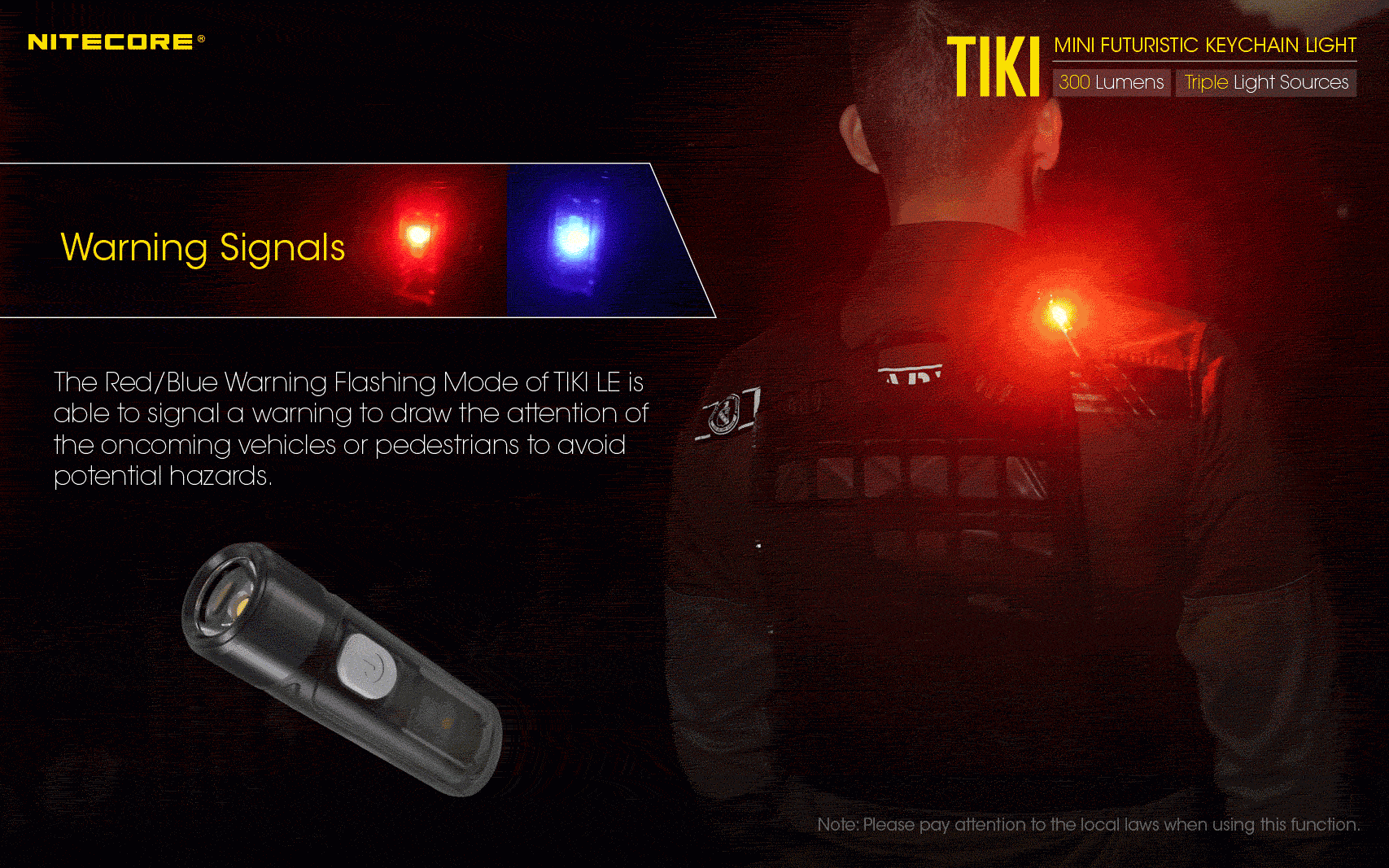 You should not count on full stabilization, but you can confidently rely on this switch in typical situations for using flashlights of this kind – a trip from home to a stop / garage / car, lighting in the entrance. In short, all situations where there is no question of something more than highlighting the path under your feet. 60 lumens is quite sufficient brightness for such situations (and in a room it will be even more visually). By the way, Nitecore is pretty tidying up here, claiming the runtime is twice as long in the MID than the real one. Although, maybe we are usually talking about the total time before the shutdown, where they also counted half an hour in a useless smoldering mode.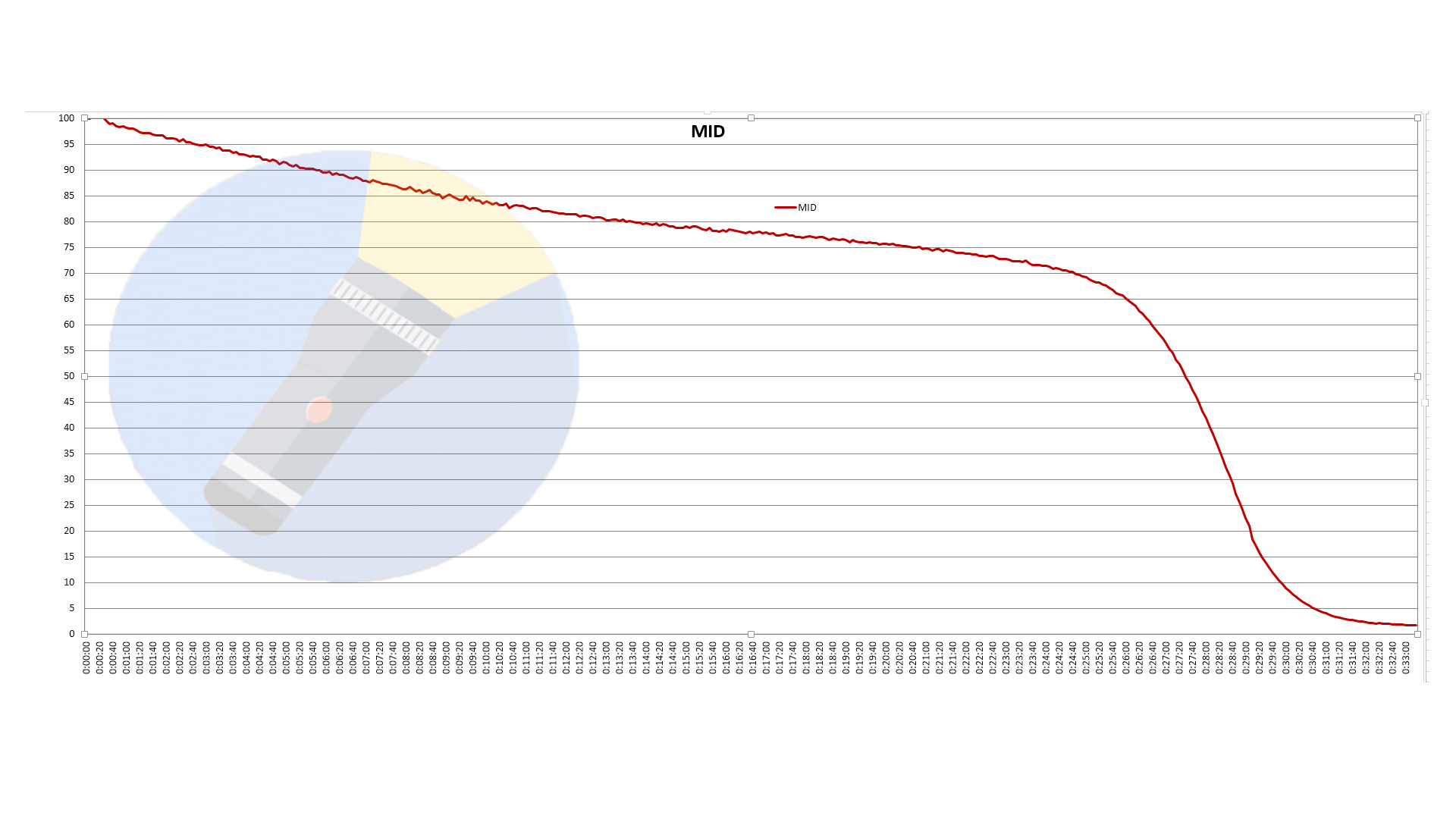 So how much time can you squeeze out of the maximum mode? The maximum brightness drops pretty quickly, but to a pretty decent level and the total runtime here really reaches a minute – you must have time to look around. We are not talking about turbo blitz, High is quite consistent in time. I managed to start the turbo at least 5 times (on the graph I removed the pauses when, after the brightness dropped, I turned off the lights to let it cool down). I think that's pretty good for a flashlight of this type.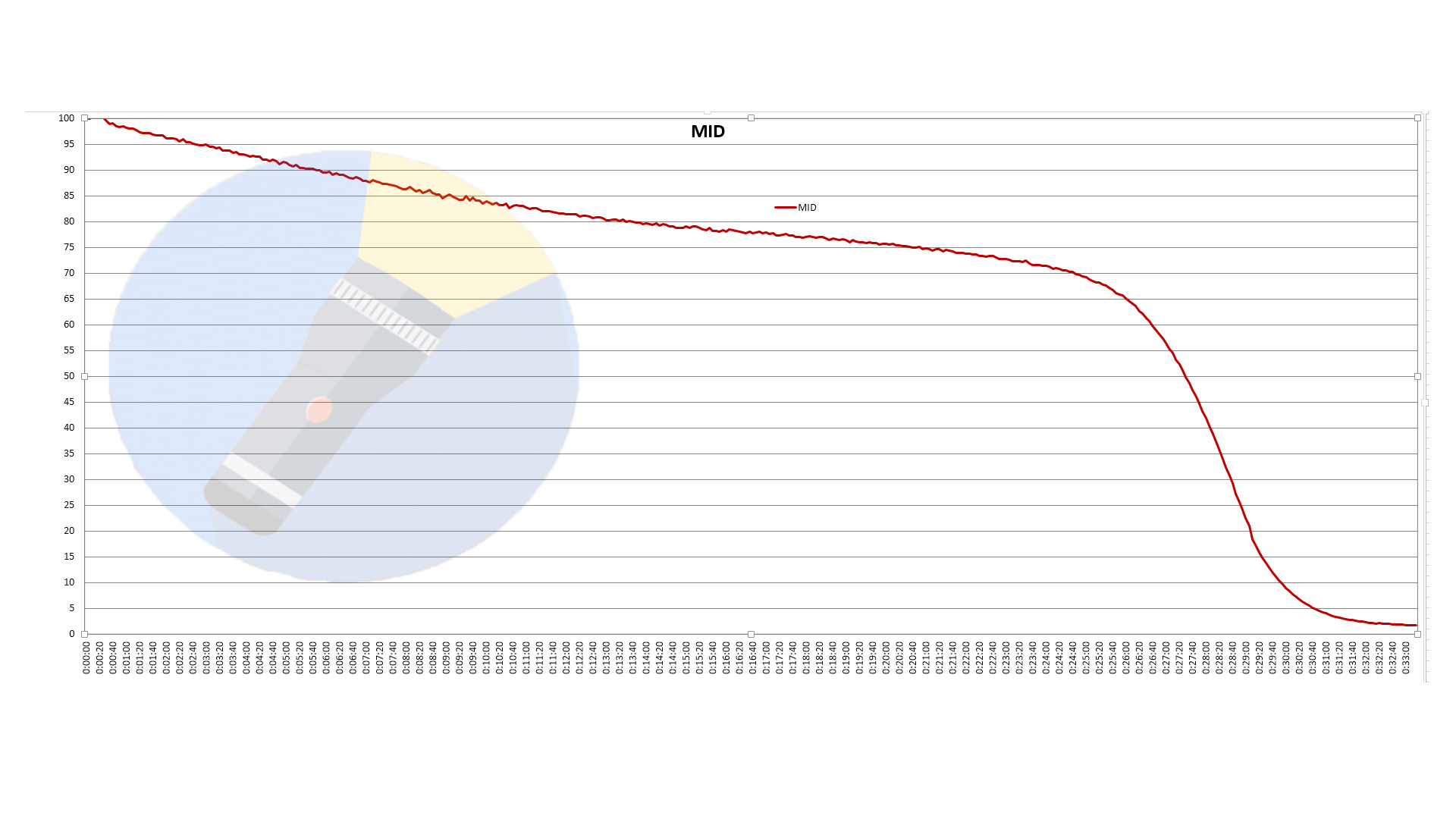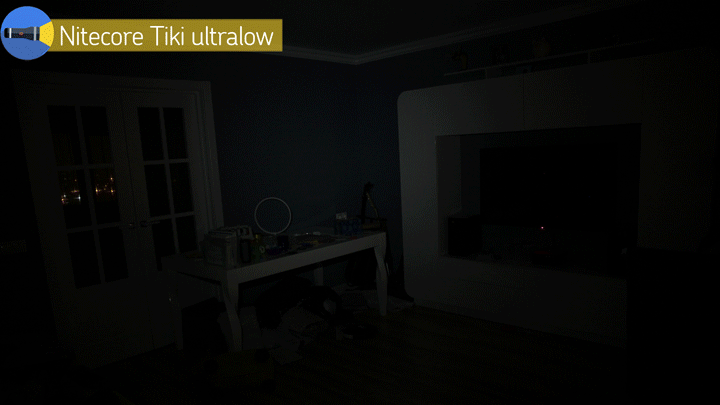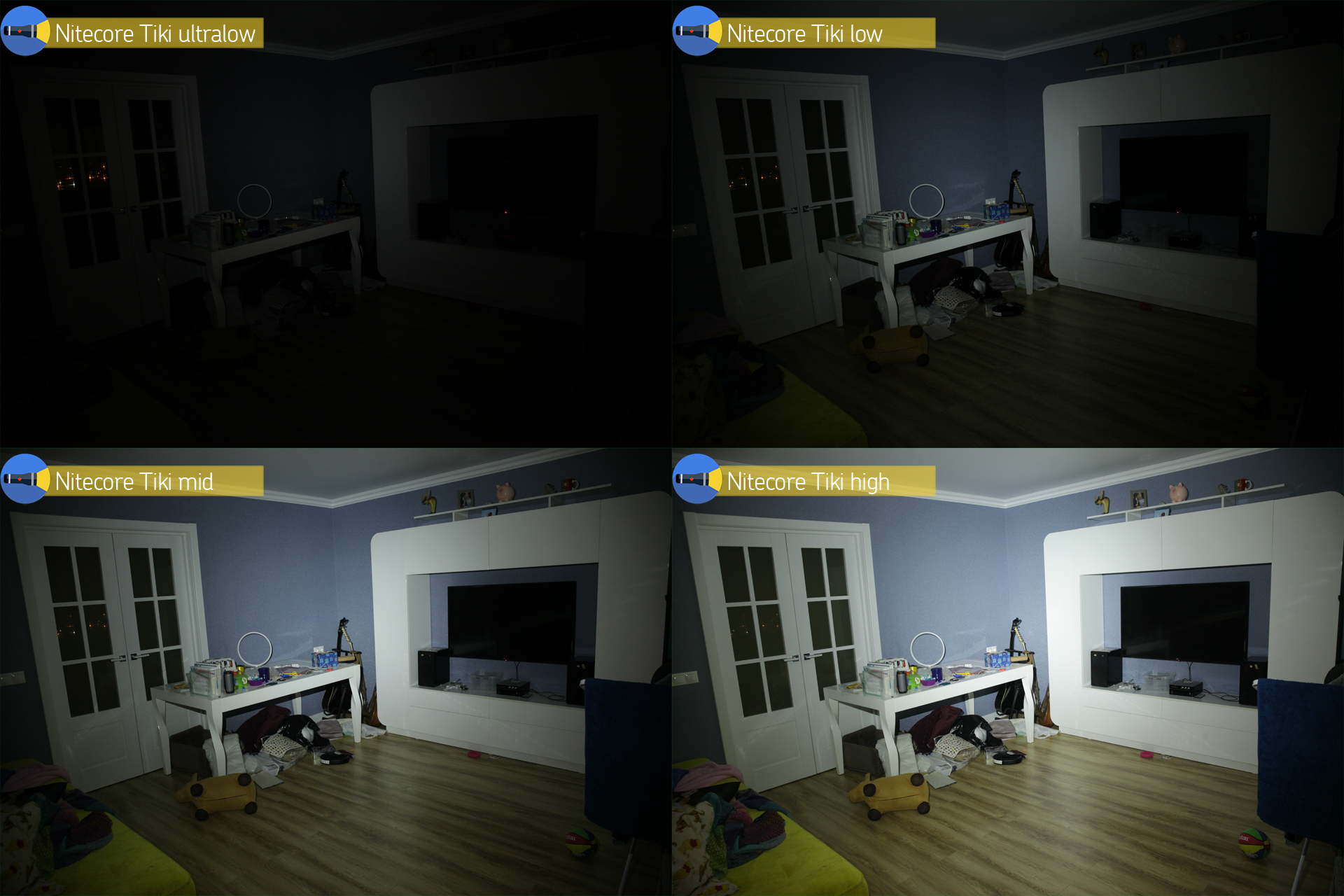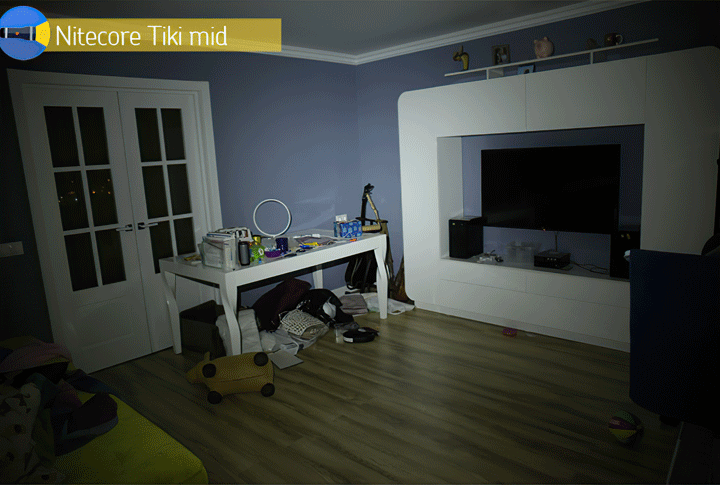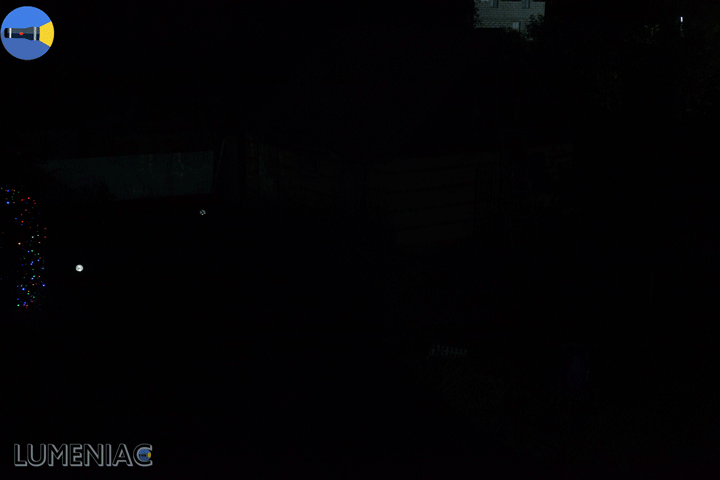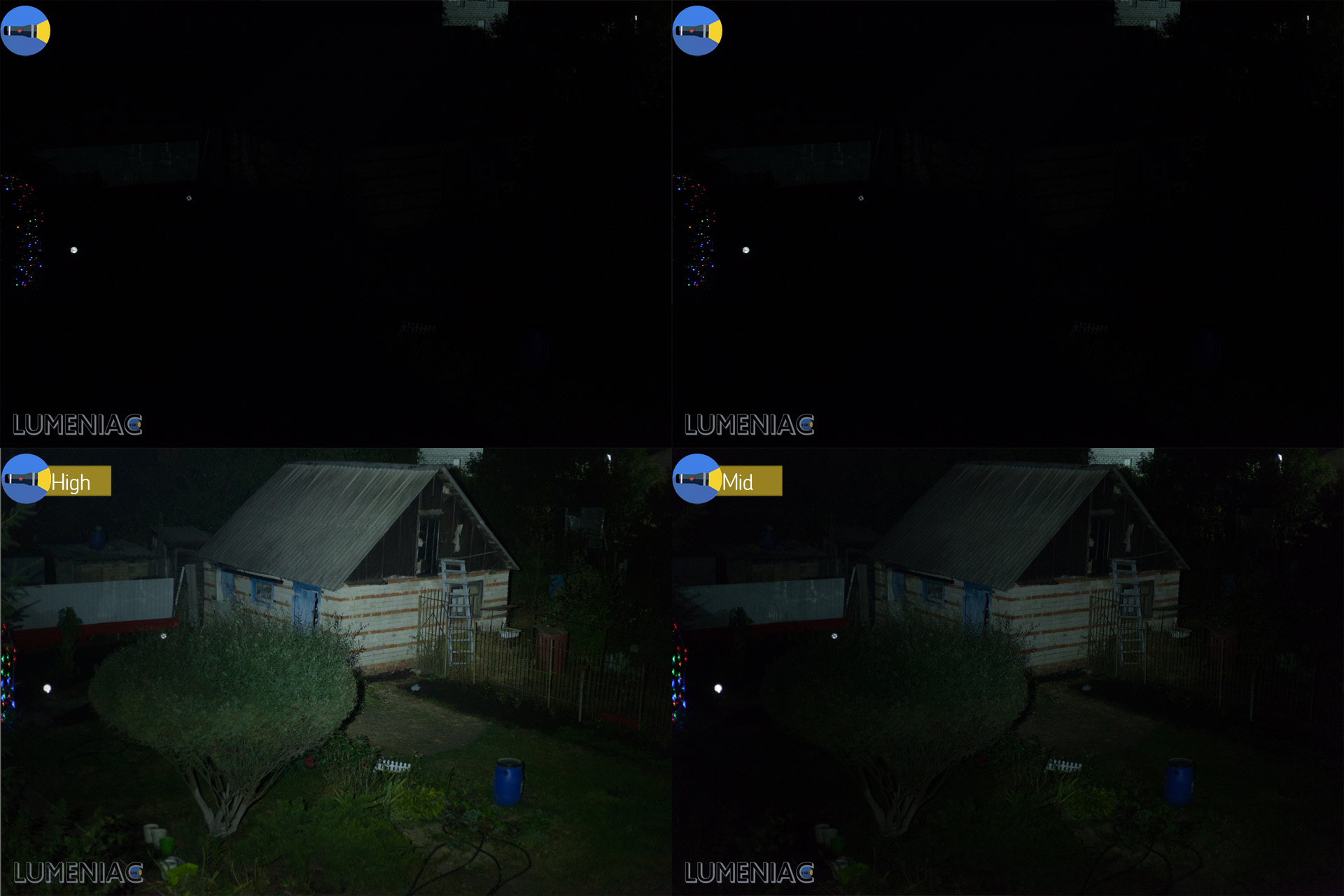 As for the additional light, it can be used as a night light. Or, in the unlikely case that you have a rigid usb cable, then you can make a miniature desk lamp, TIKI fully supports work when connected to an external power source, runtime will be astronomical with power bank .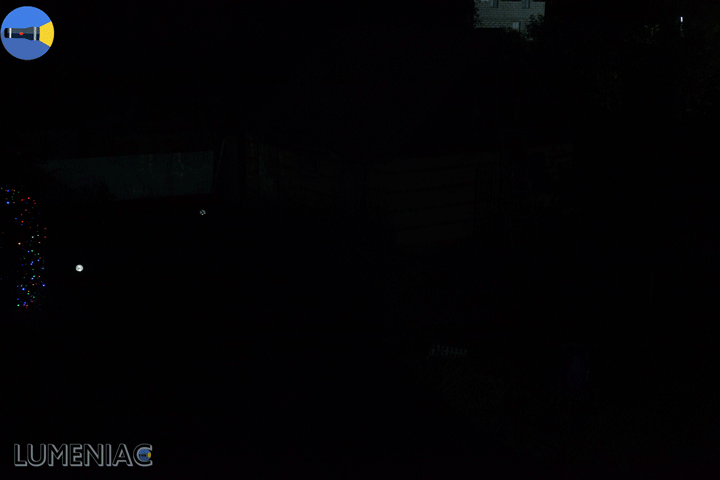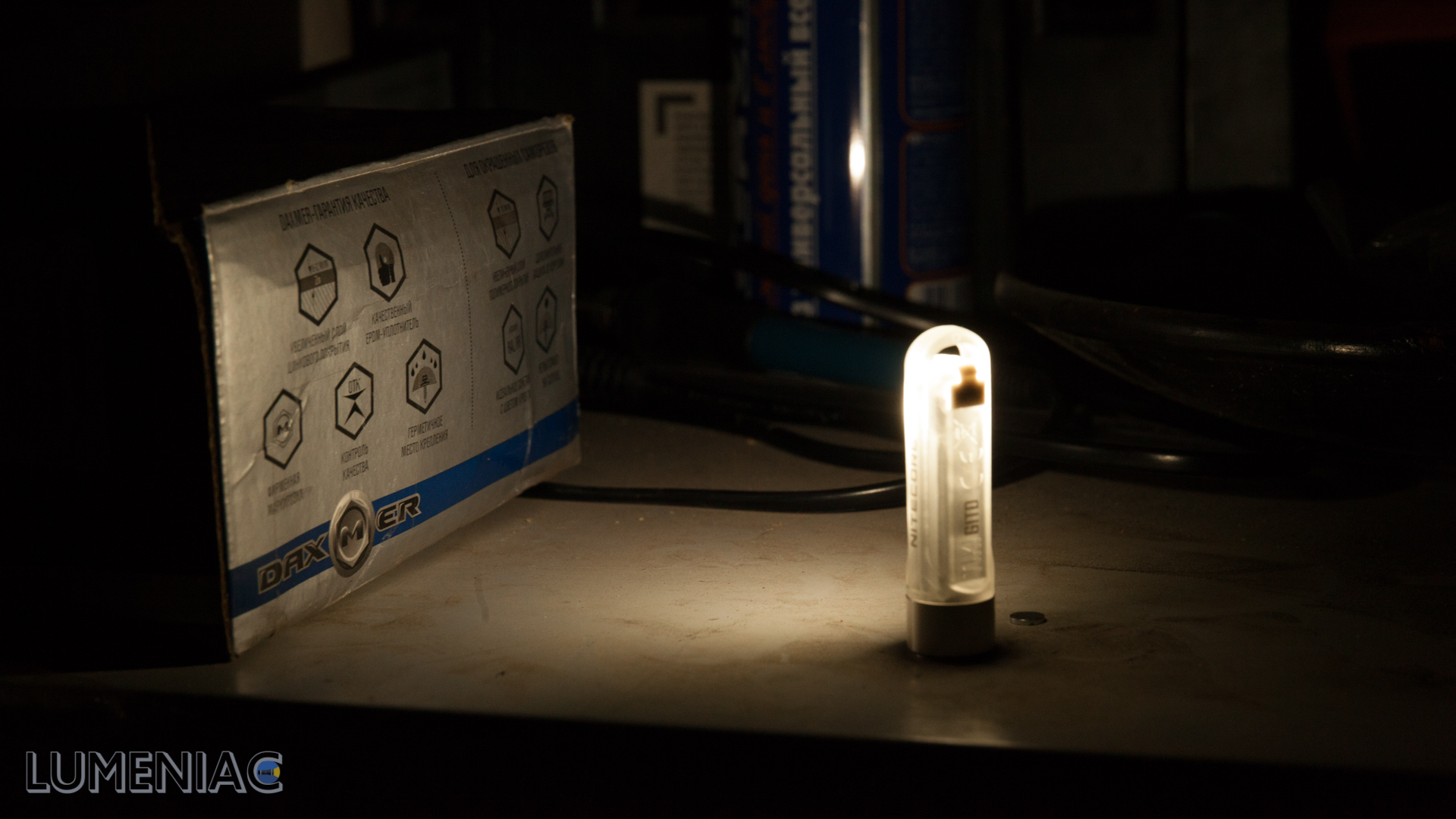 As far as UV is concerned, as a control device, I one flashlight with reliable UV LED , which has more than once caused astonishment by its ability to show that a seemingly clean room only seems clean. And it showed itself to be definitely more keen-sighted in the UV range. TIKI, as stated in the specification, highlights metal fibers in banknotes, but nothing more. It will not scare your wife when you turn lights off in bathroom.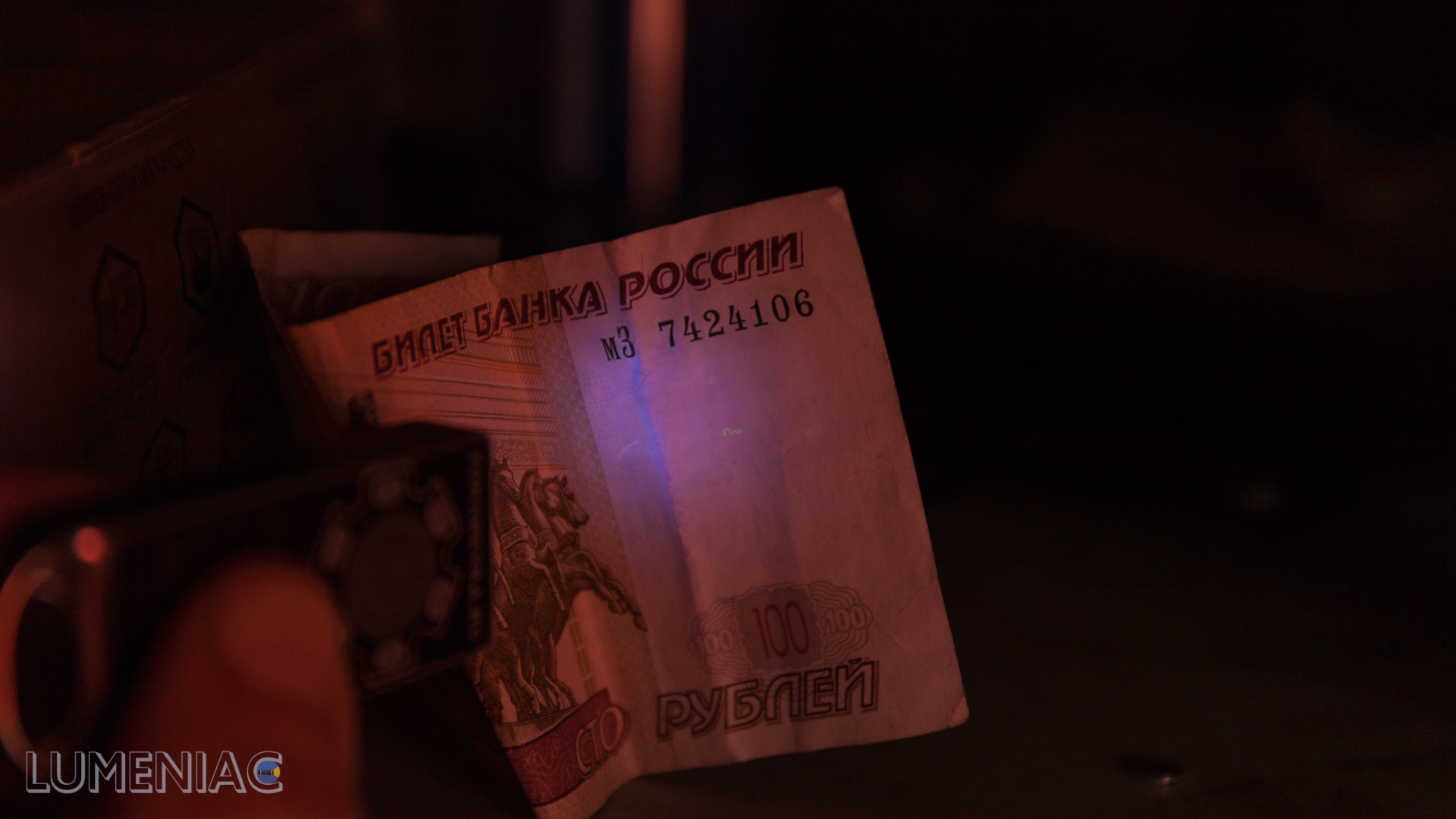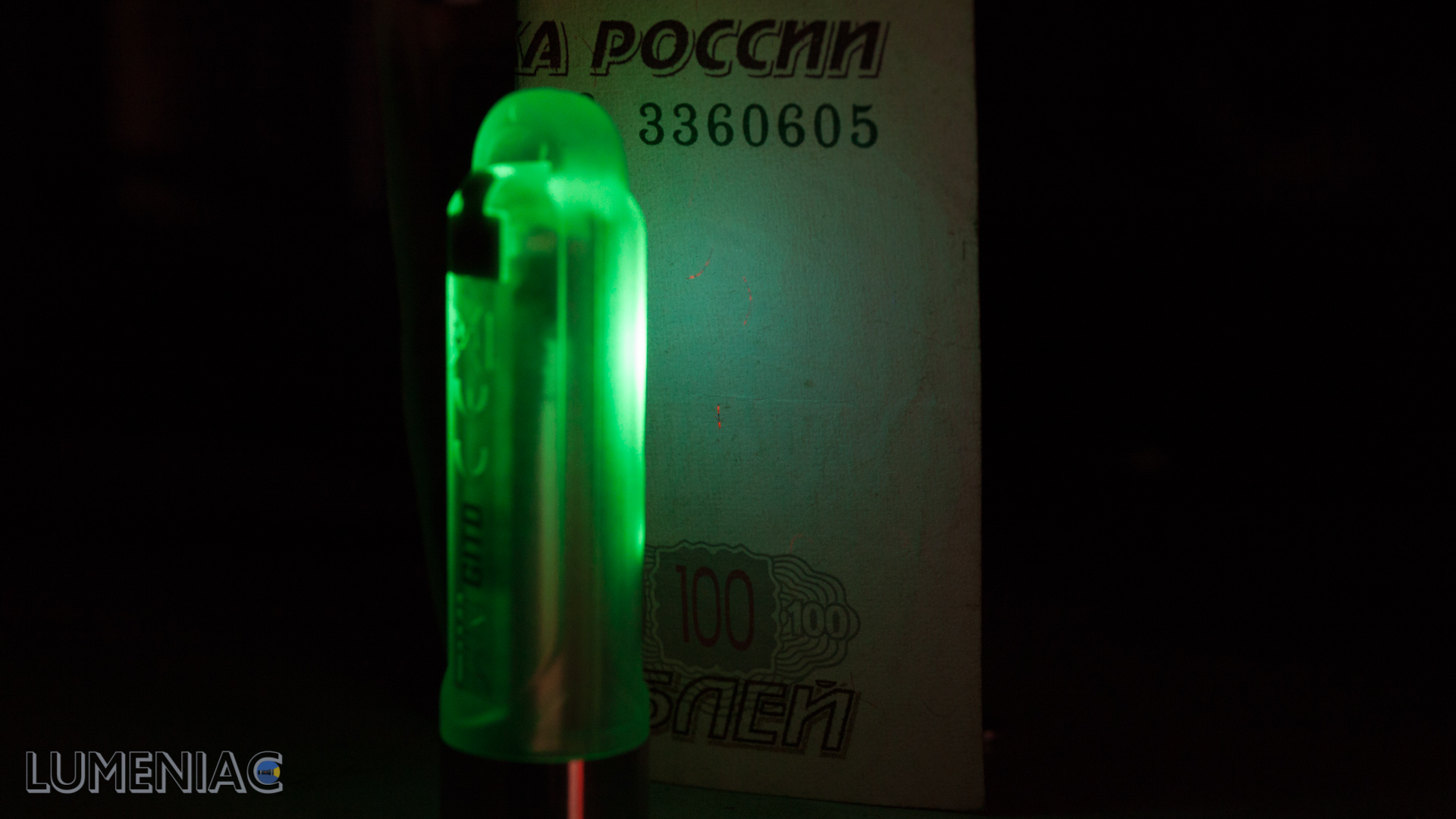 it is clear that the UV sensitive circle in corner does is not lit up that much, i suppose that either body simply cuts off some wavelenght or LED should be brighter. you still can use it, but i expected more.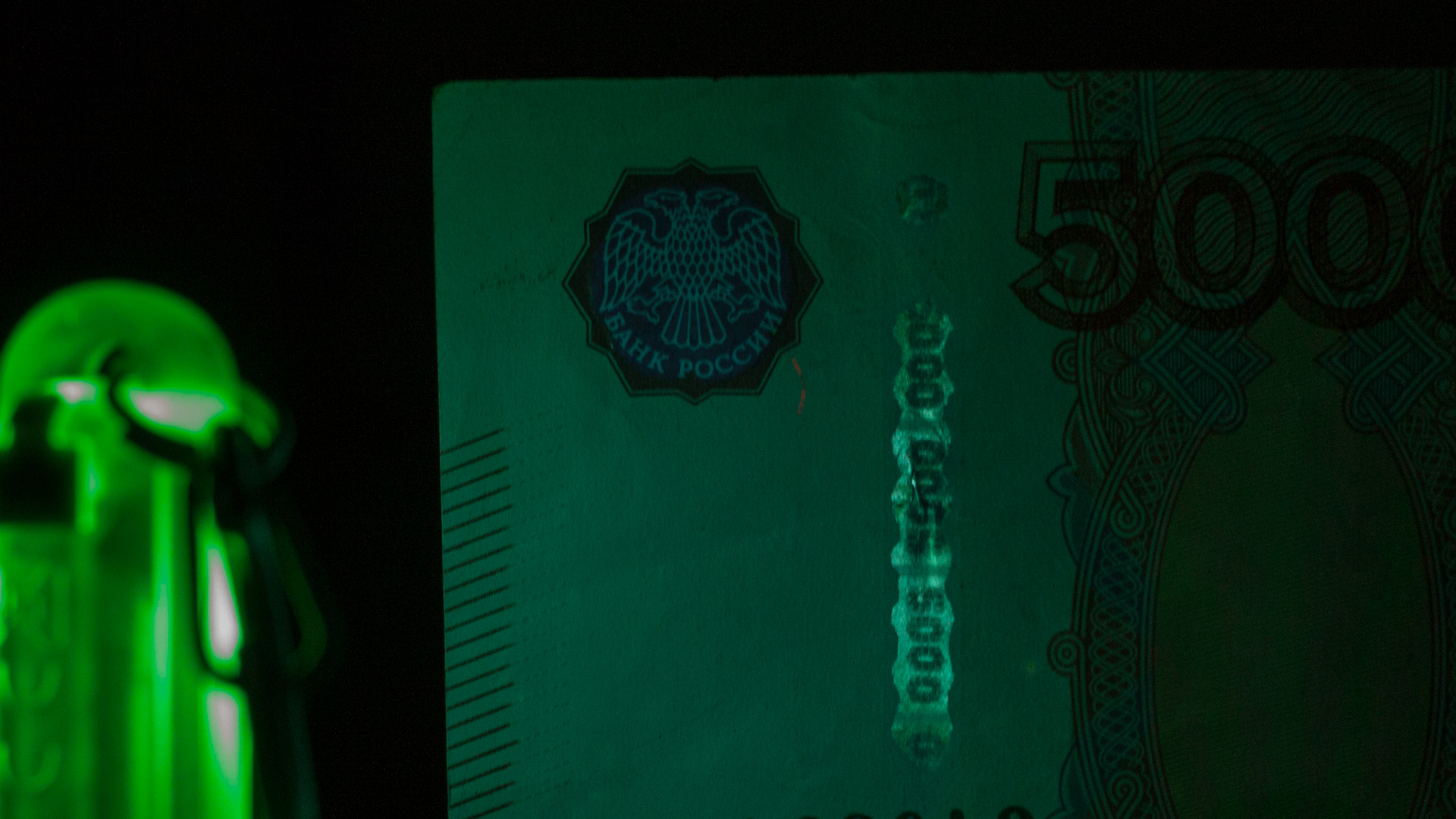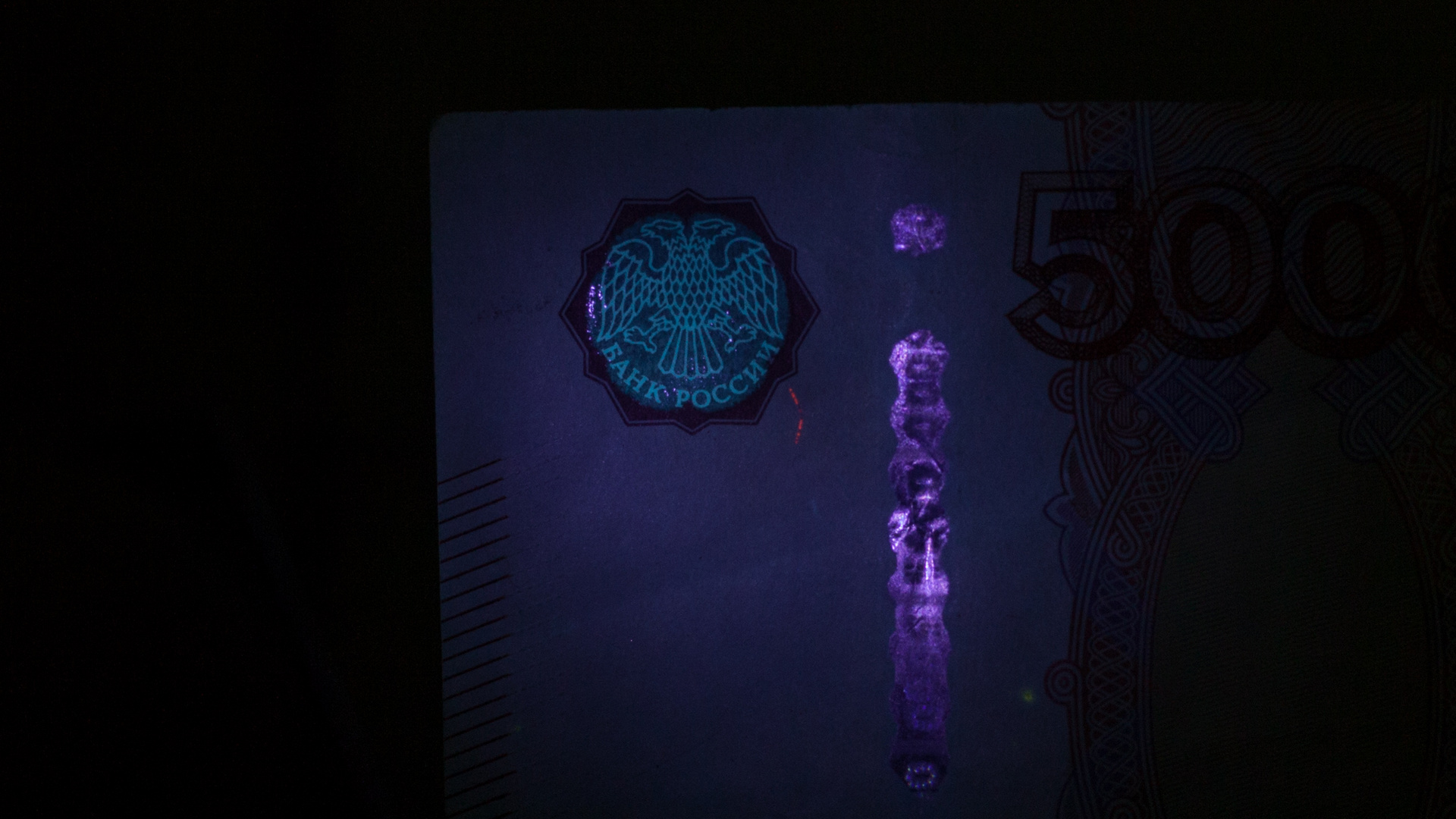 OVERALL IMPRESSIONS
Nitetcore is experimenting a lot with rechargeable keylights and I definitely like the results of these experiments.
Any of the Nitecore Tiki is no larger than the same Nitecore Tube, but at the same time it has a significantly higher maximum brightness of the main light and two additional ones to choose from. In this regard, it is definitely more interesting functionally. But the price tag of $ 20-22 will scare away many (mostly, those ones, who are mentally unable to spend more than 10$ for any flashlight)- for that amount you can take either a couple of good AAA models or at least pair 3 time-tested Nitecore Tube. And, of course, TIKI is only 8-10$ cheaper radically brighter models like TIP2 \ TIP SE.
Well, if the price tag does not scare you away, then TIKI will cope with any need for which you take such flashlights: to brightly illuminate the road to/from the home entrance/porch/car for a short time. And, in MID mode, any of TIKI can also be used as a wok arount light for a short walk in.
The flashlight turned out to be extremely compact, but capable at the same time, in case of need, to give out unexpected brightness for its size. It has an excellent mode set and UI with instant access to the lowest and highest brightness. No blocking, alas. More precisely, the question is not about blocking, but about the potential activation of maximum brightness in the pocket, if the button is pressed occasionally.
UV is not very versatile and powerful, it can only be checked on banknotes at the backlight level of metal fibers. But I really like the additional neutral light.
In general, the model is definitely peculiar, funny, for its own audience. And even if it is not devoid of drawbacks (PWM \ possible launch of a turbo in your pocket\quite weak UV), the main thing is that i didnt get sort of "what the hell did they do this model for?" feeling after some evenings of using this tiny keylight.
And that periodically happens with other seemingly amusing novelties. I hope if you wanted to buy a flashlight with a built-in battery and looked closely at Nitecore TIKI, then my review helped you decide whether you should take it or not.