Bright inexpensive flashlight - a thing that many people are interested in. Some needs 1st, while others the second, but, for sure, everyone will be glad to get combination of both options.
Convoy, as the manufacturer of the most popular budget flashlights, responded to these market demands and released two models last year that quickly became very popular: Convoy S11 and Convoy M3. The first is actually S2 + on steroids, the simplest and fairly bright thing. The latter, in fact, became the first truly bright and affordable flashlight, with a relatively compact size.
But, I really believe that after L6 release, Convoy 4x18A became most anticipated Convoy model. At east subscribers of my channel asked to review  Convoy 4x18A extremely often.  I also believe that capital "B" from BLF still matters for most of community and you also are interested in this definetely budget and definetely bright flashlight.  
Of course, you can buy Convoy 4x18A at
UPD! There is damn good deal for new version with SBT90.2 LED. Check details here
I also recommend Panasonic NCR18650BD batteries (protected button-top are better, but flat top also work even without adaptor).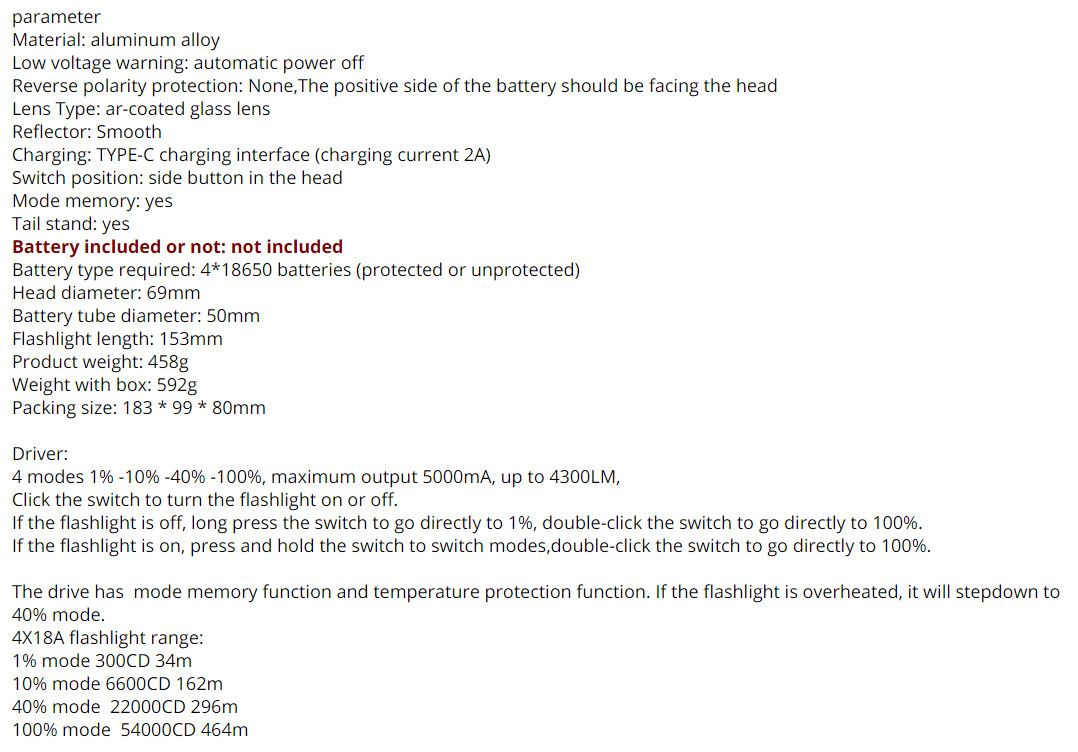 ---
Package and appearance

 Package hasn no design, as usually. Just a solid beige box made of thick cardboard. Want somehting better looking ? Pay more.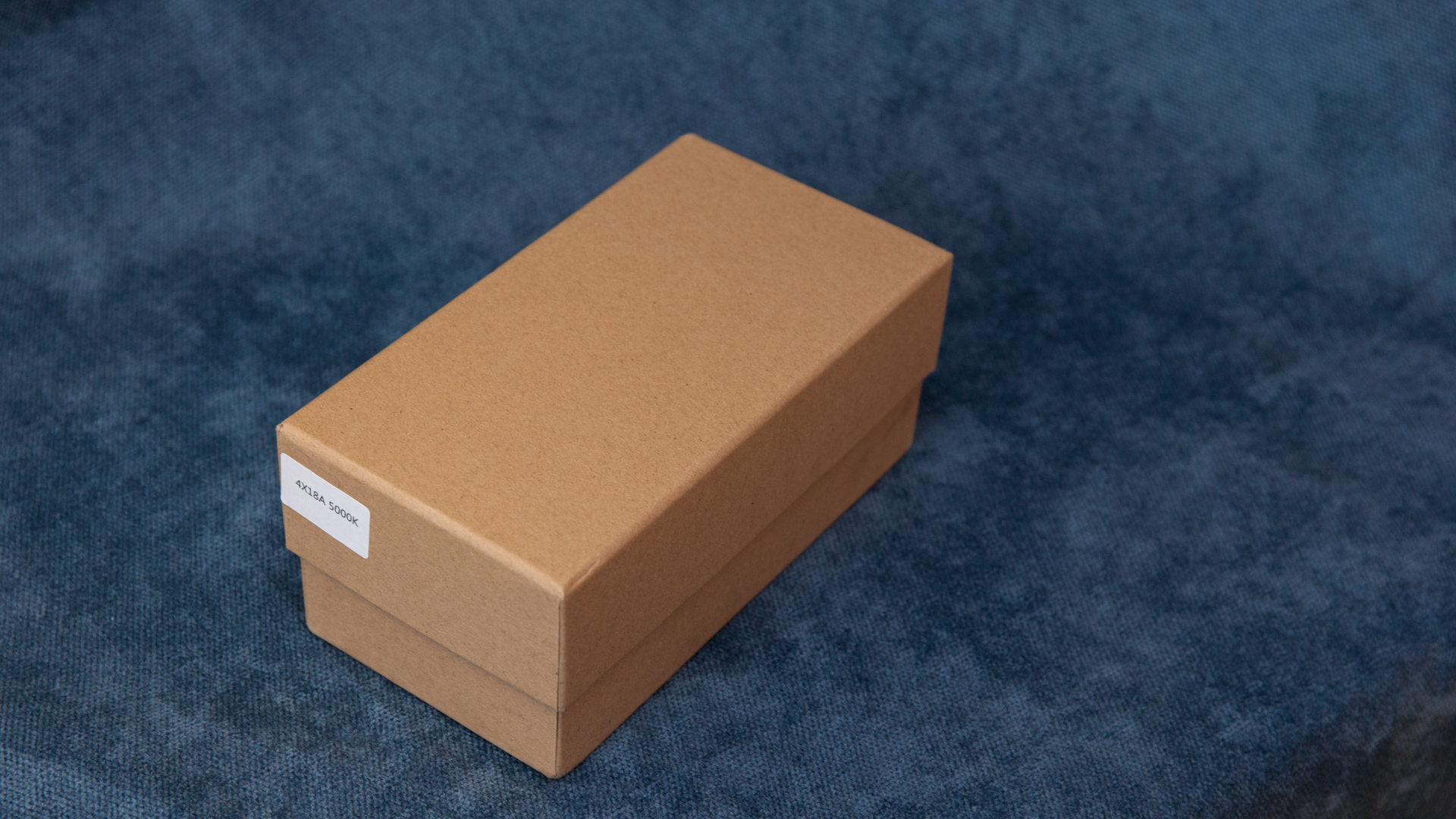 In my case, the kit included even less than usually. Only a flashlight and a flattop-to button top adapter.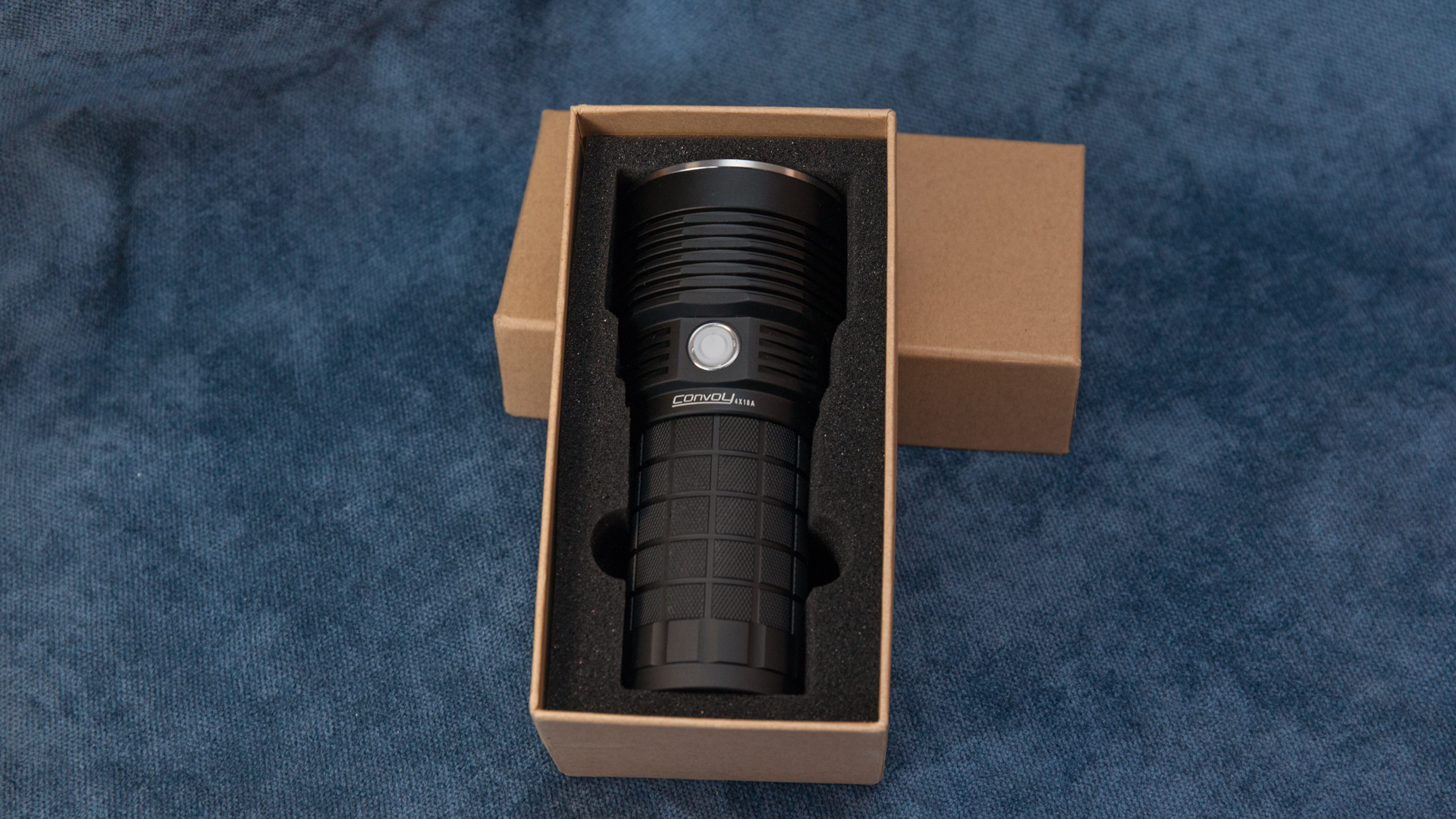 Flashlights looks even simpler and more brutal than the Convoy M3. Black wide body with an extremely simple design. "Beauty" is not about it. What beauty can a sledgehammer have? Here, in terms of design, Convoy 4x18A is the sledgehammer among the flashlights. Notice, I'm not saying that it is ugly. I say that it looks very simple, like tool. And this can be said about almost any Convoy flashlight.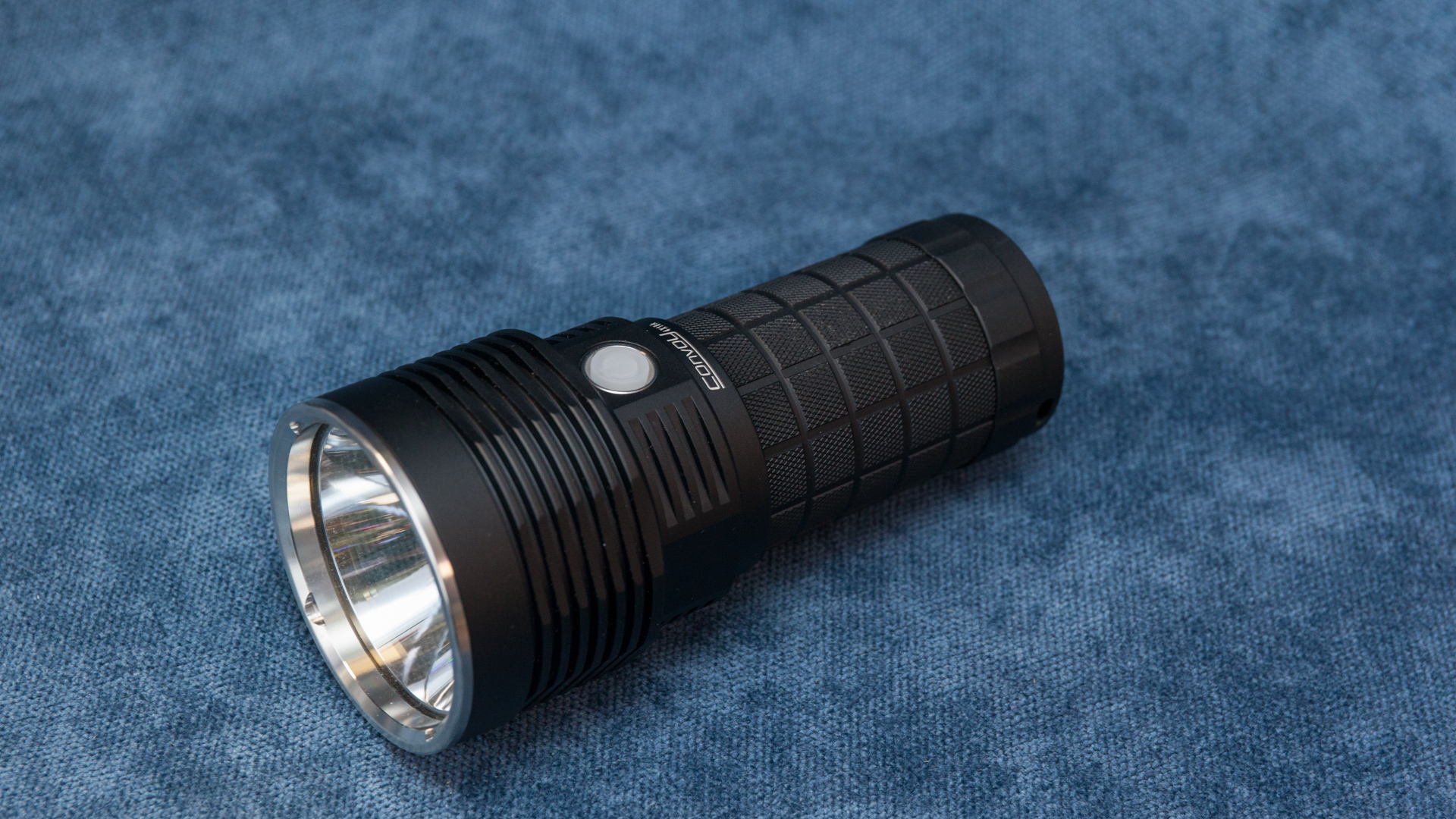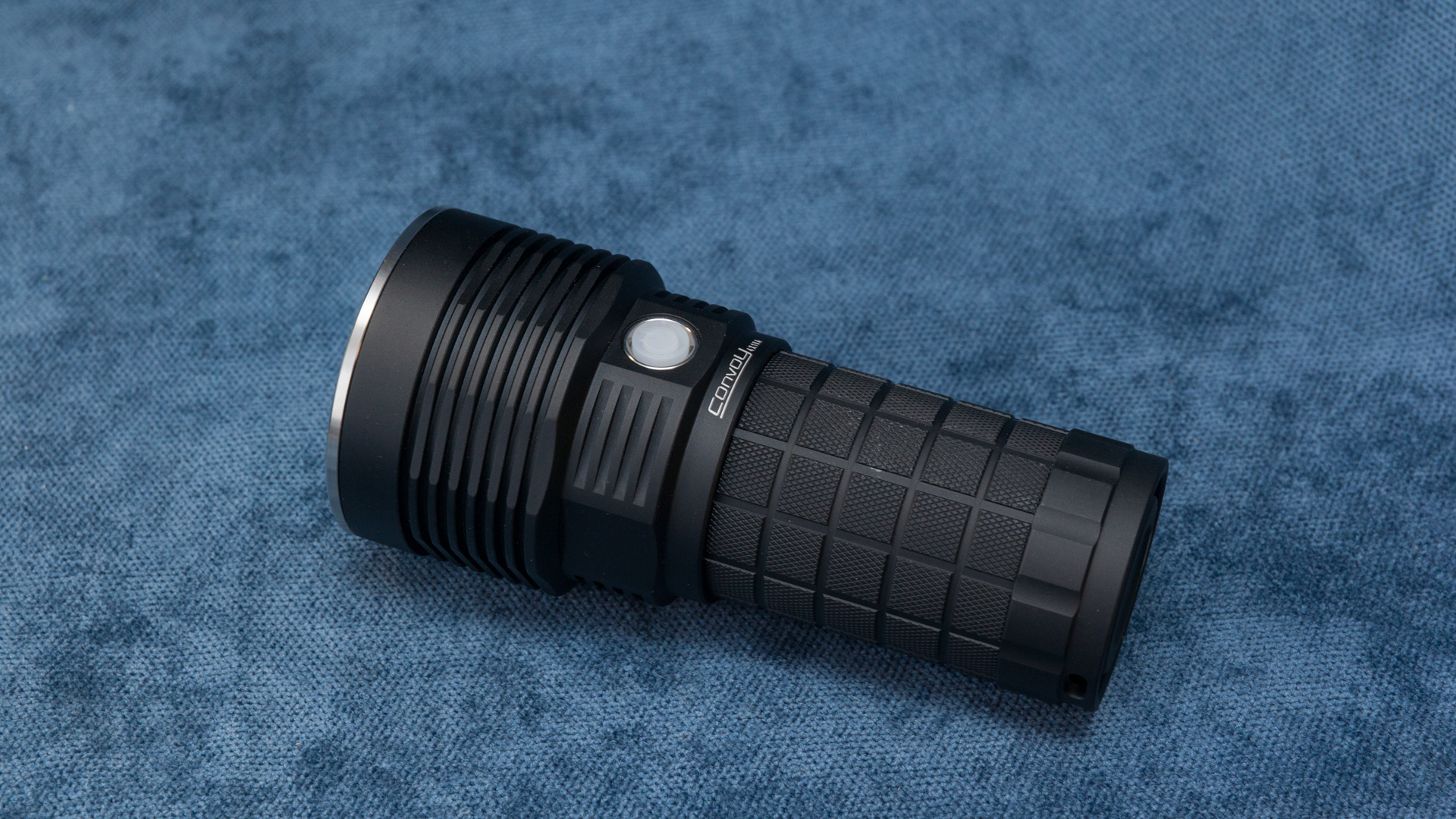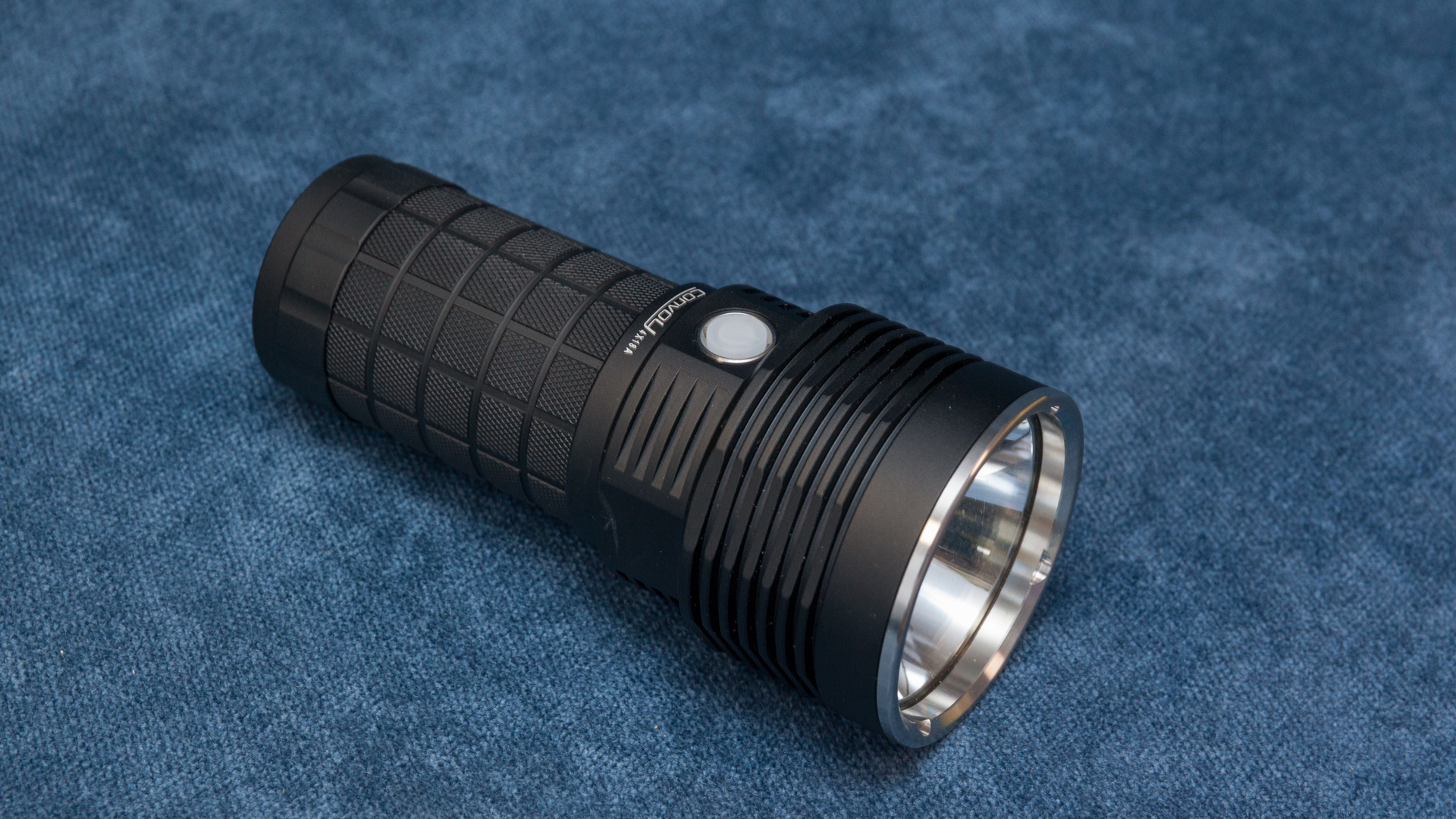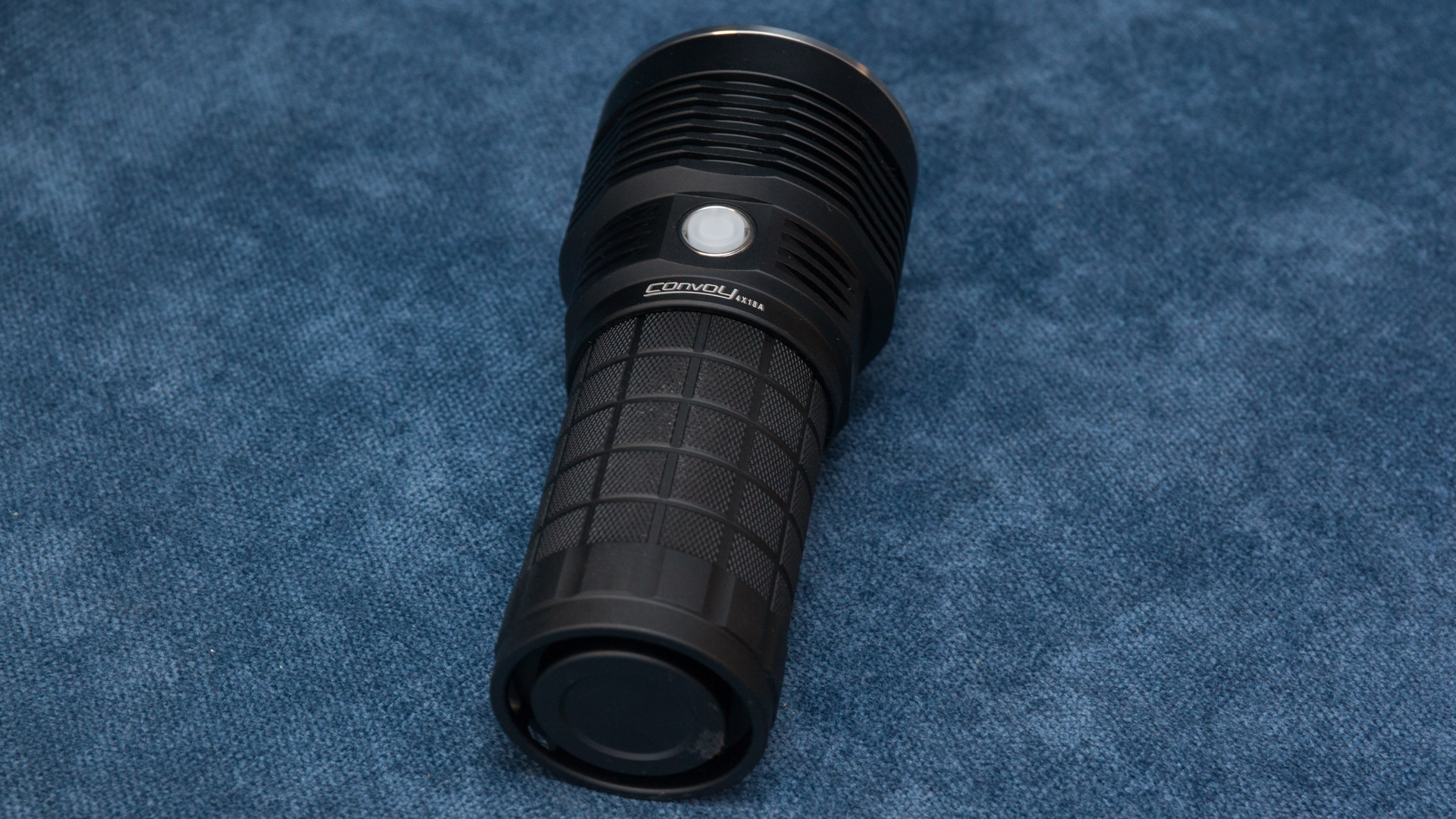 As 4x18650 powered model, Convoy 4x18A takes an intermediate position between bulky long-throwers and compact bright high-tech can-size device. As a result, it turns out that only really large pocket can contain this flashlights. But it burden your hand (nevertheless, lanyard is musthave here).

Yes, see for yourself, since there is something to compare. Convoy M3 looks like a middleweight wrestler, who got into the absolute weight championship.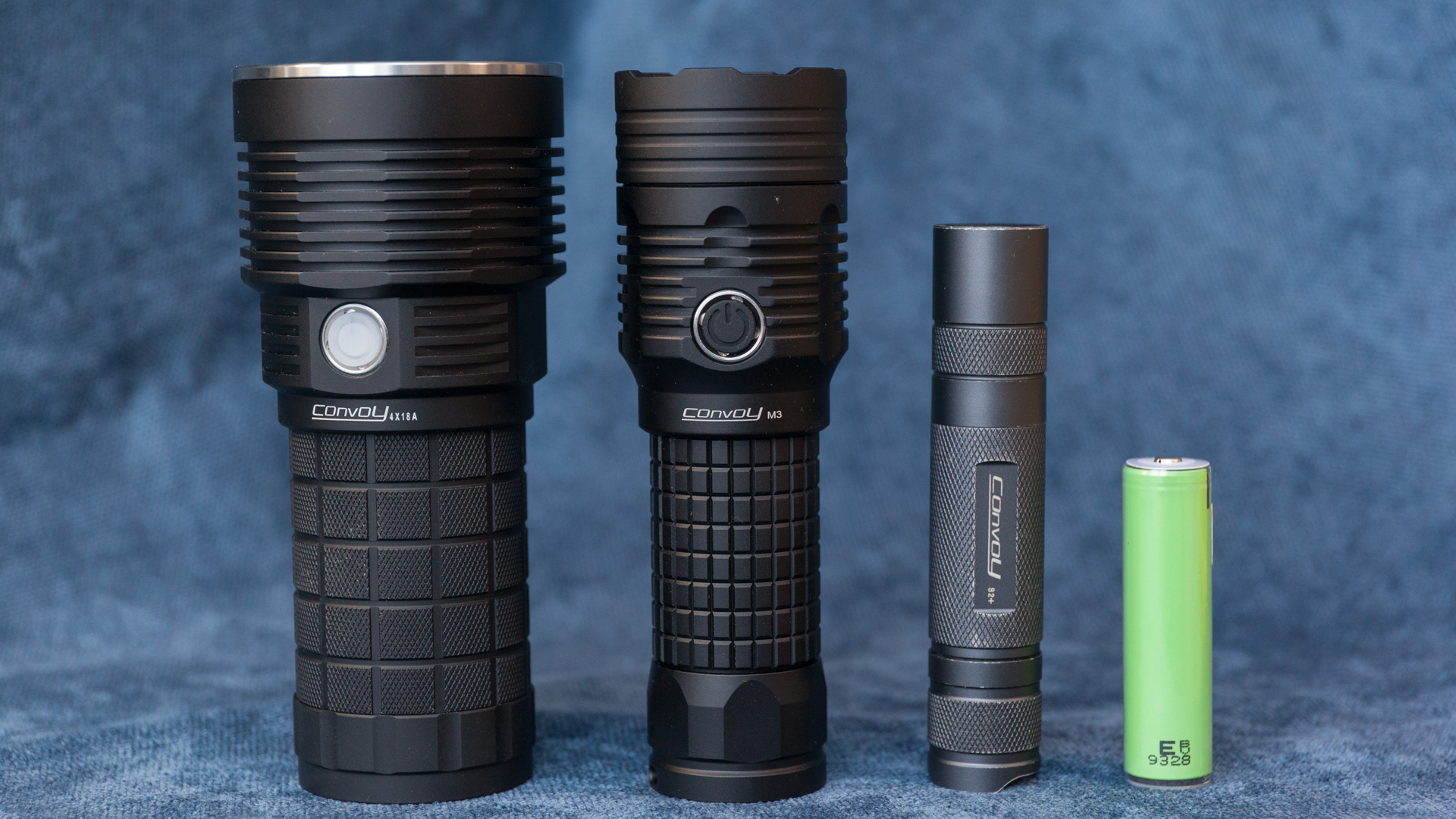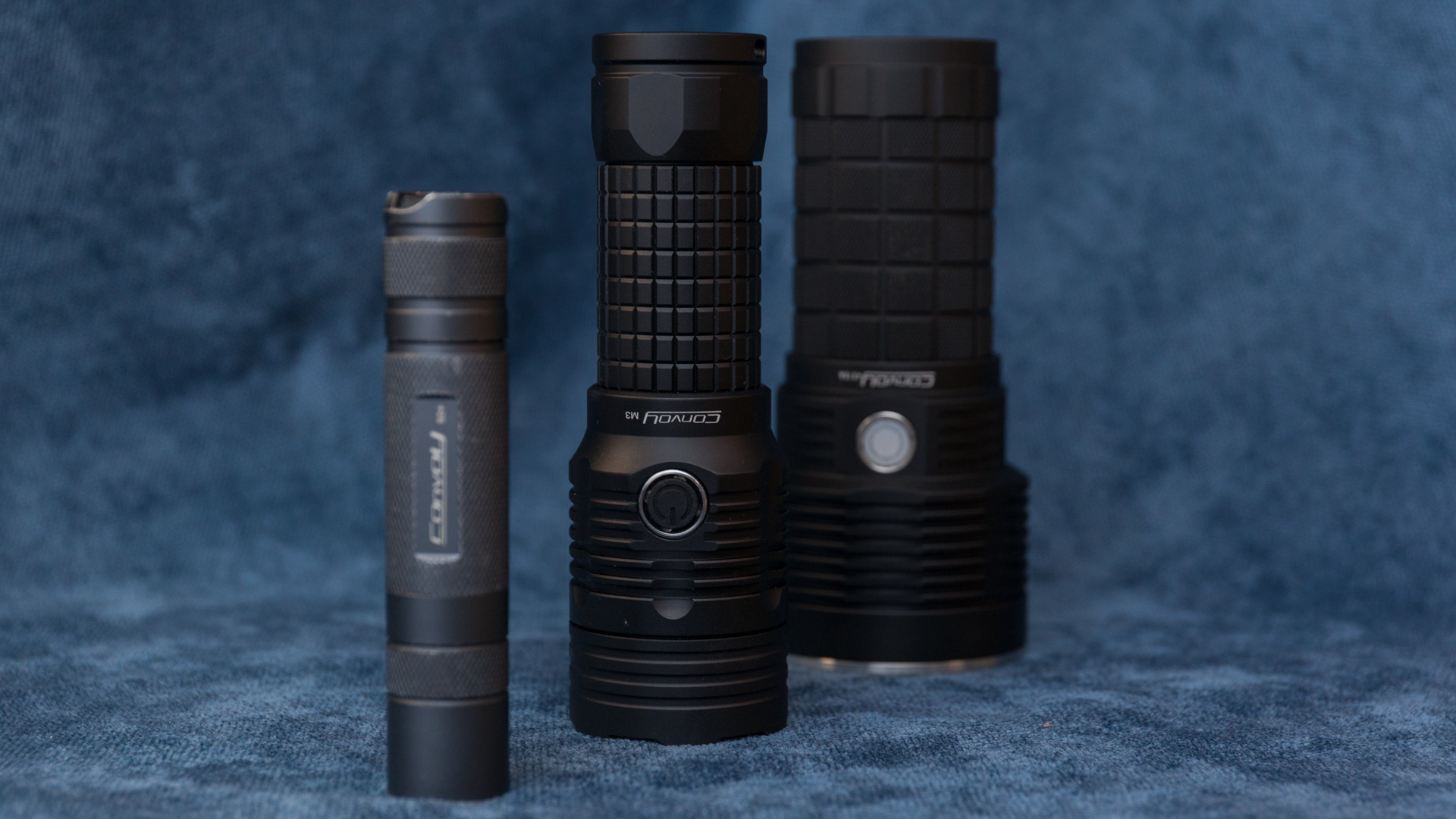 there are some dust on glass, i noticed it too late... in reality it is clean, of course.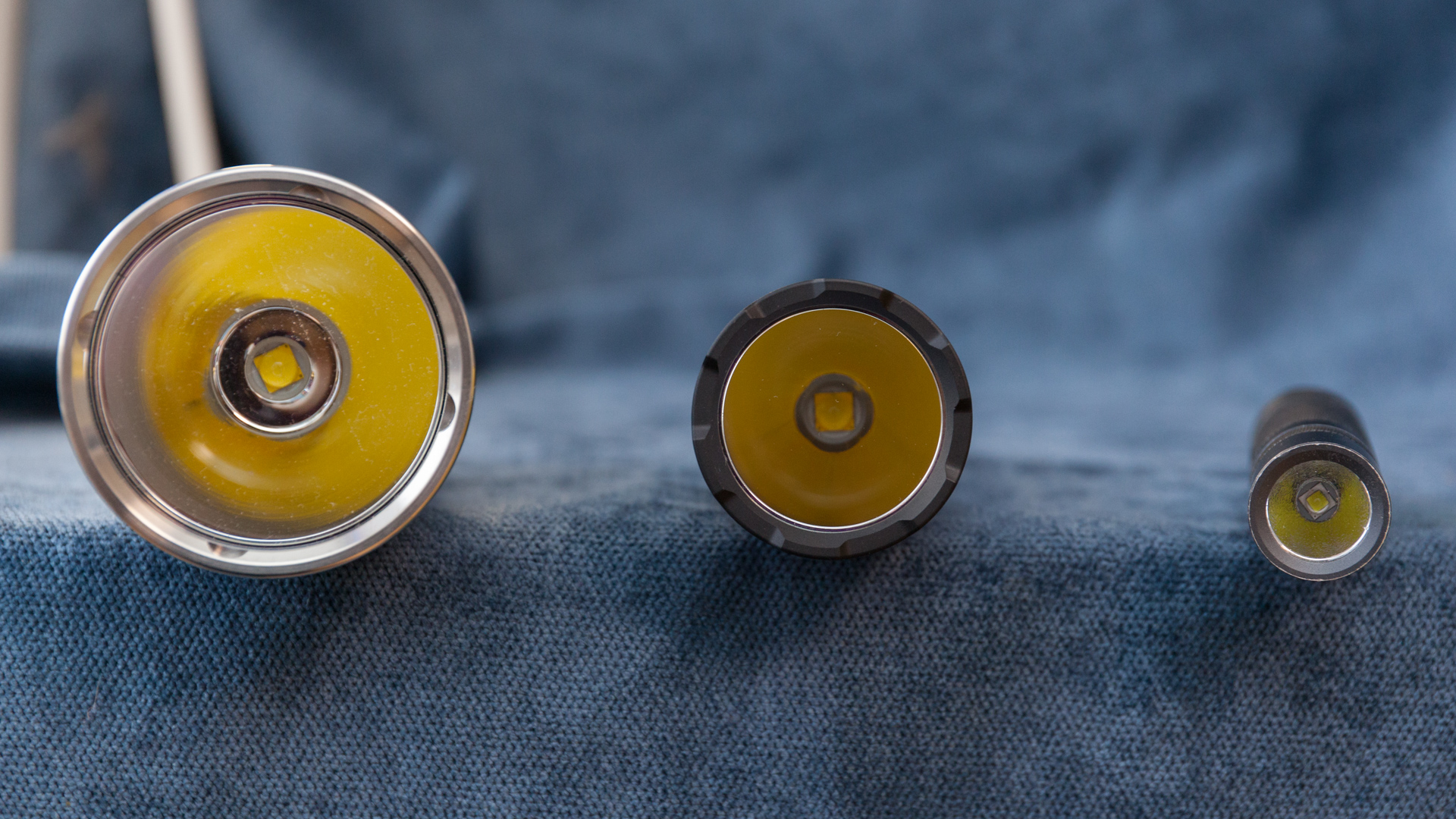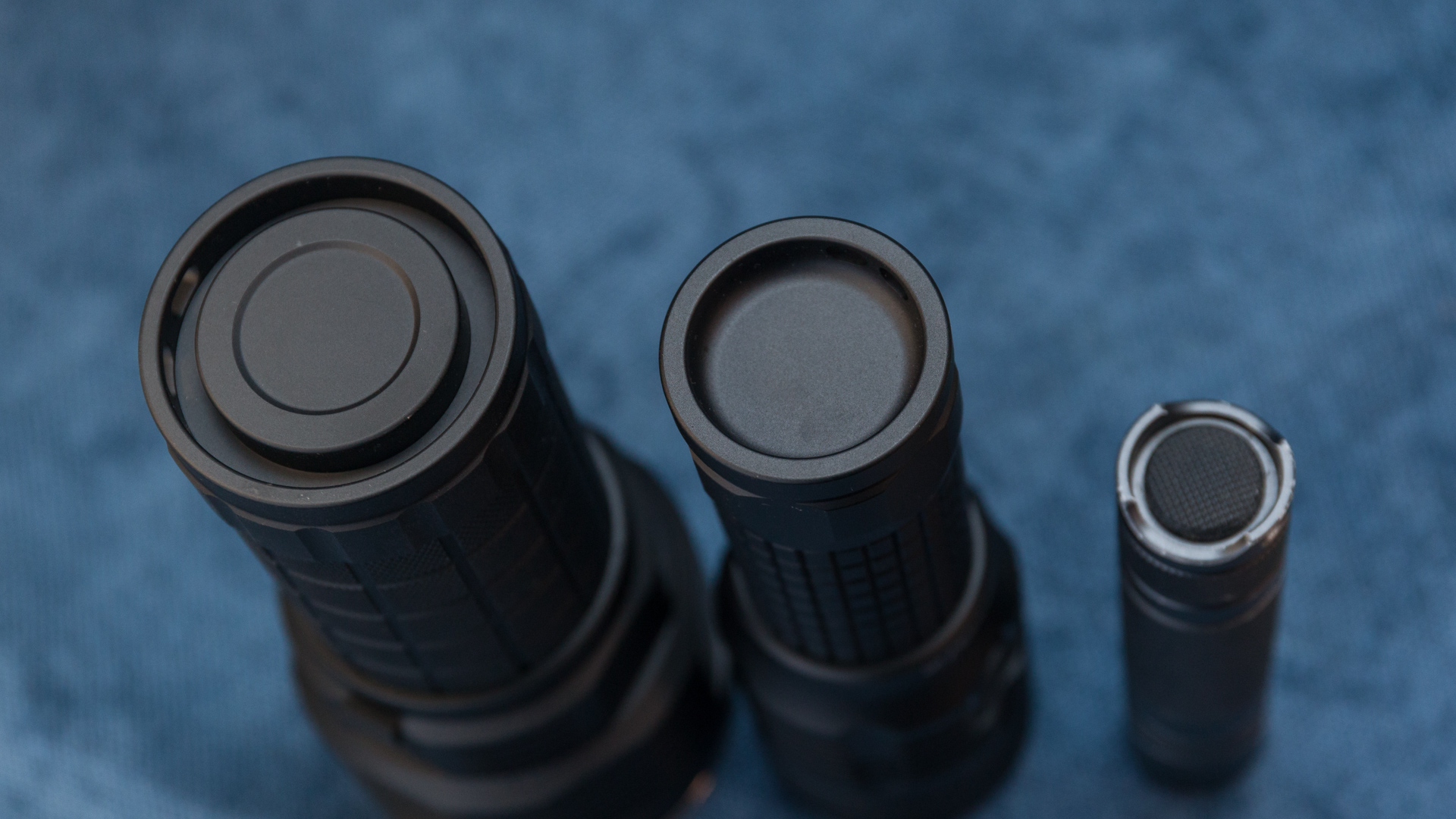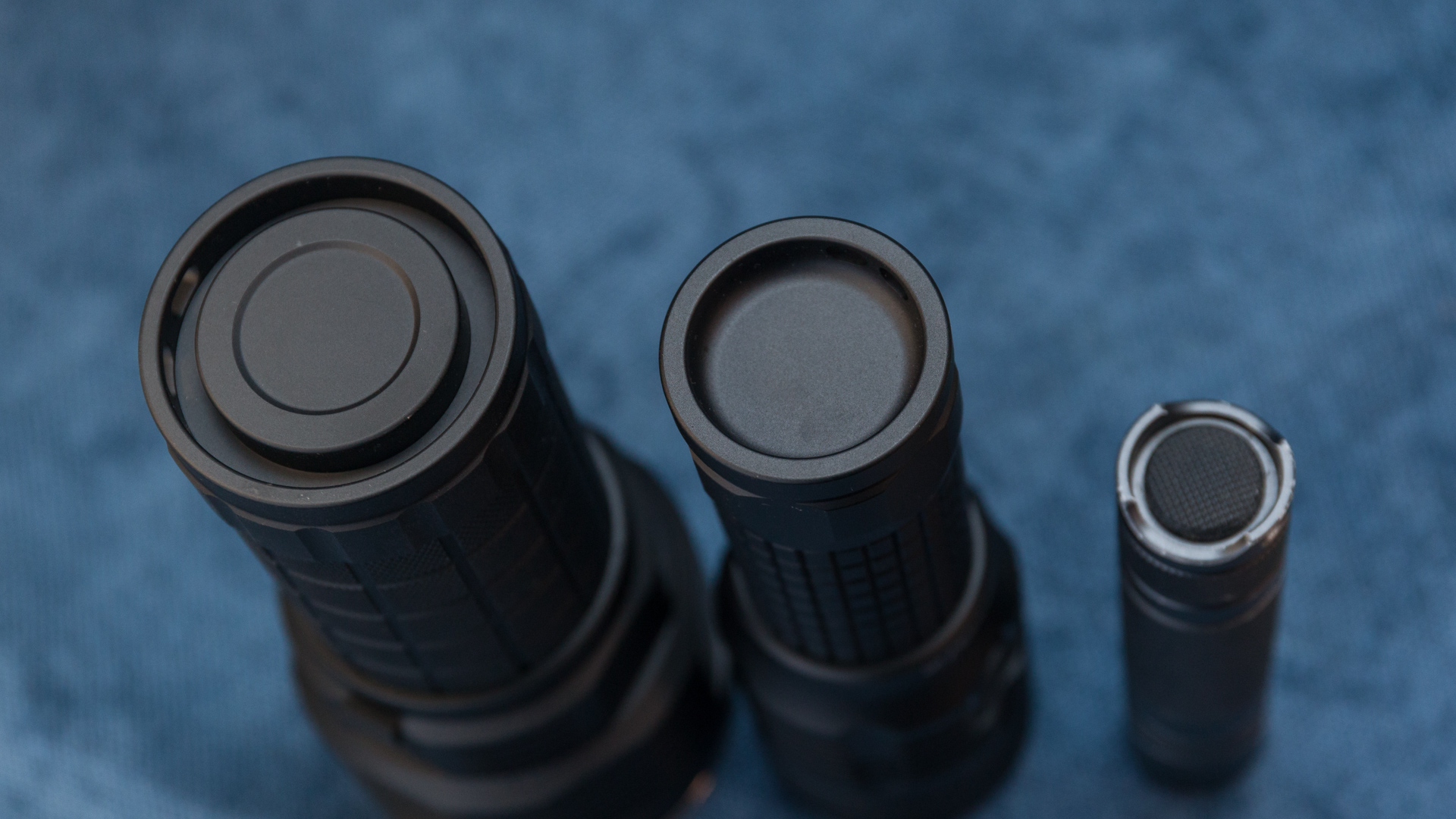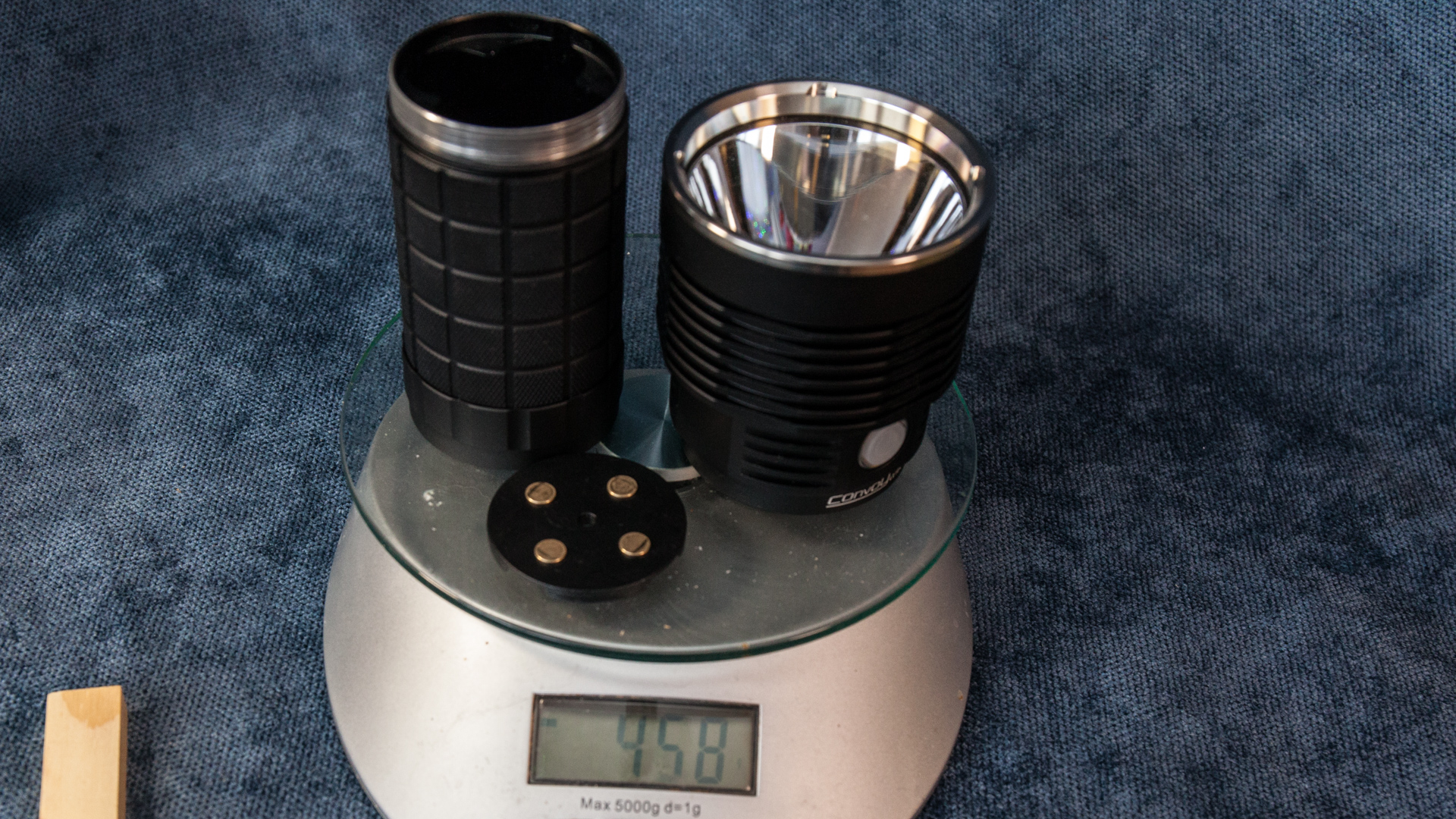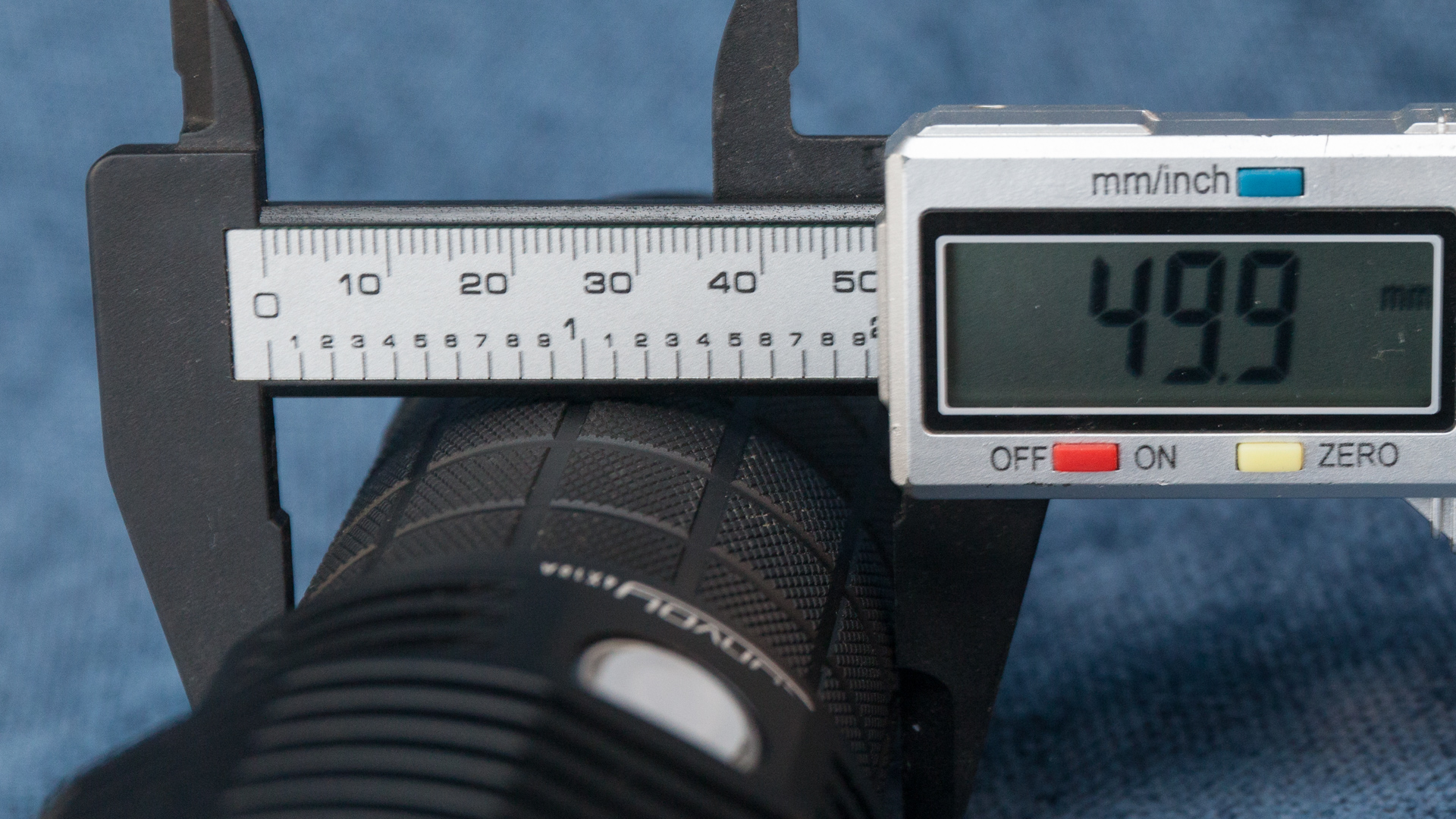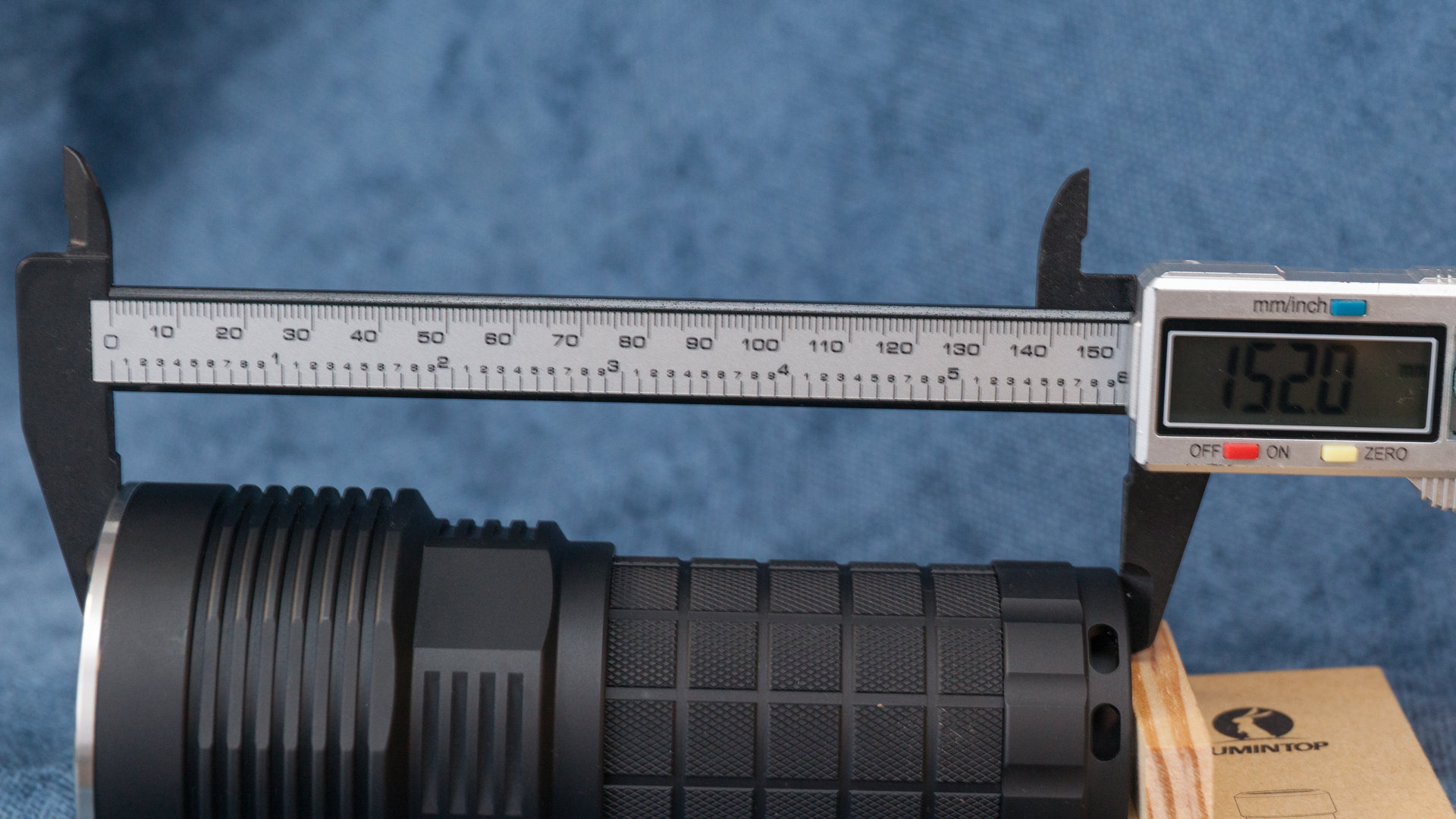 As i mentioned, 4x18A is not that big flashlight, there are lots of larger ones, mostly throwers.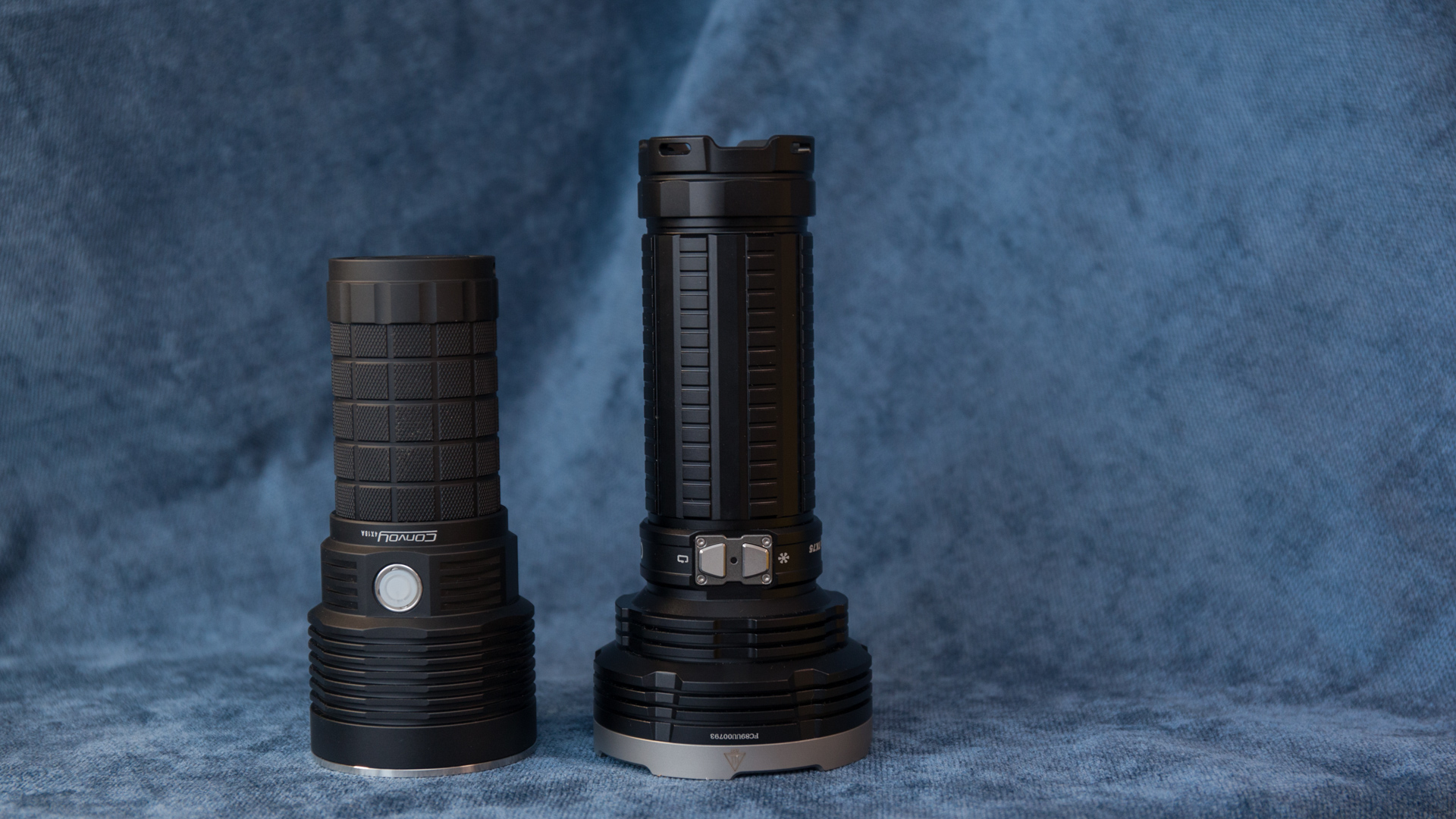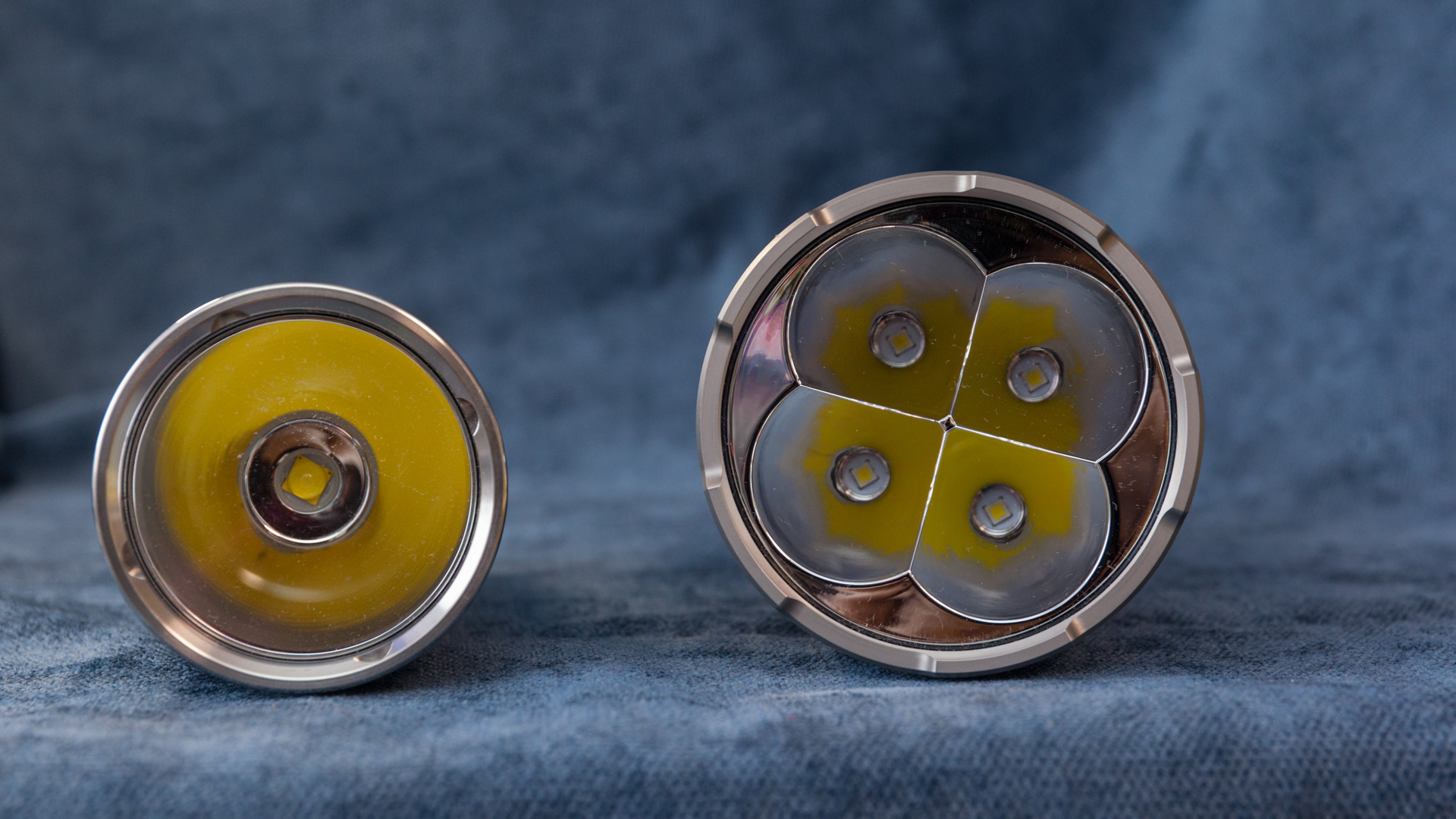 tail-cap is flat, there is also an hole for lanyard. Large base and low center of mass make this model potentially interesting as camping / table light - the main thing is to find a suitable diffuser. Tailstand is perfect.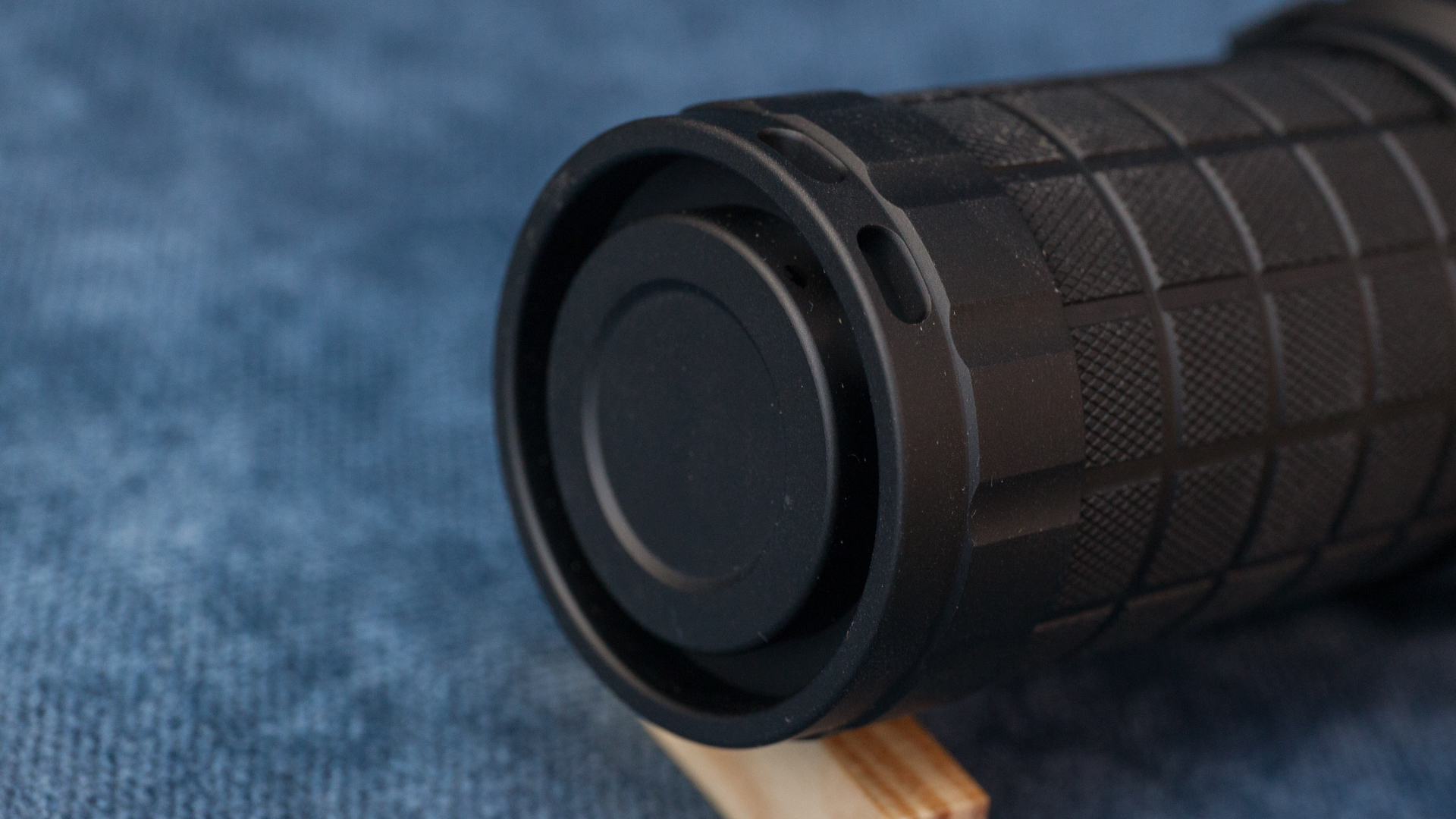 The cover of tailcap can be unscrewed, opening access to the plate with springs. In normal use, you don't have to get there here at all, as there is nothing interesting at all.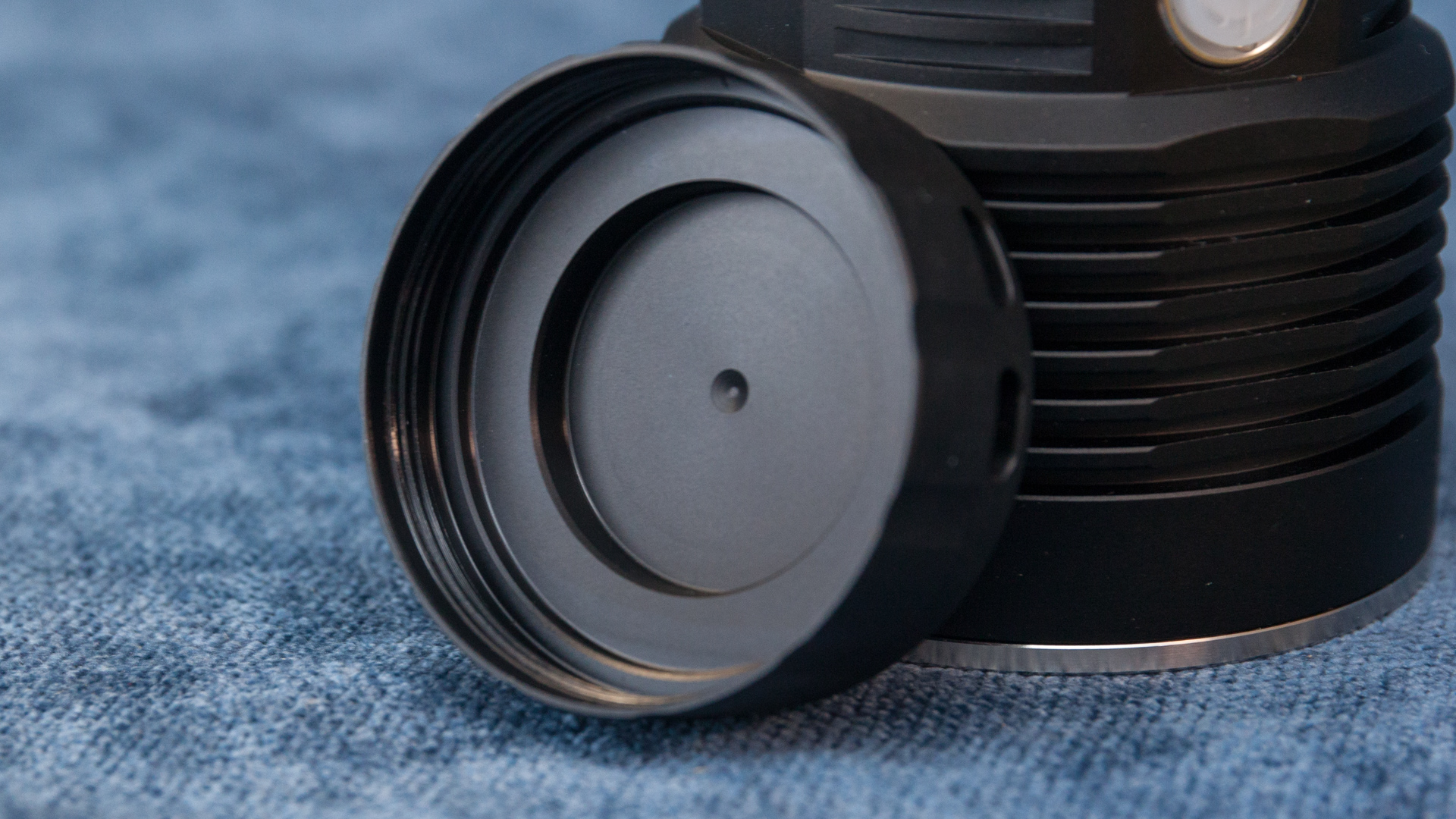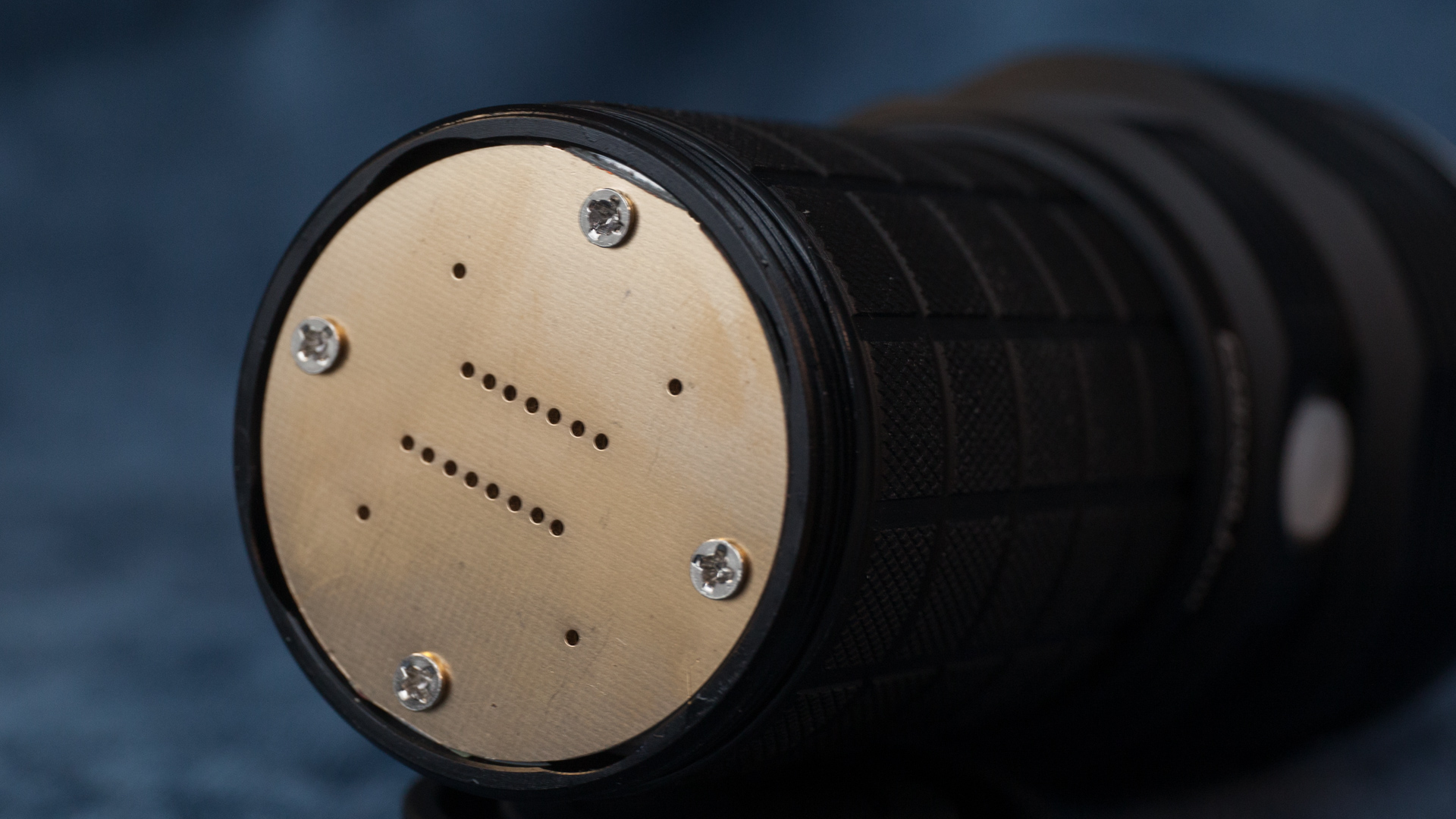 Inside are 4 slots for 18650 batteries.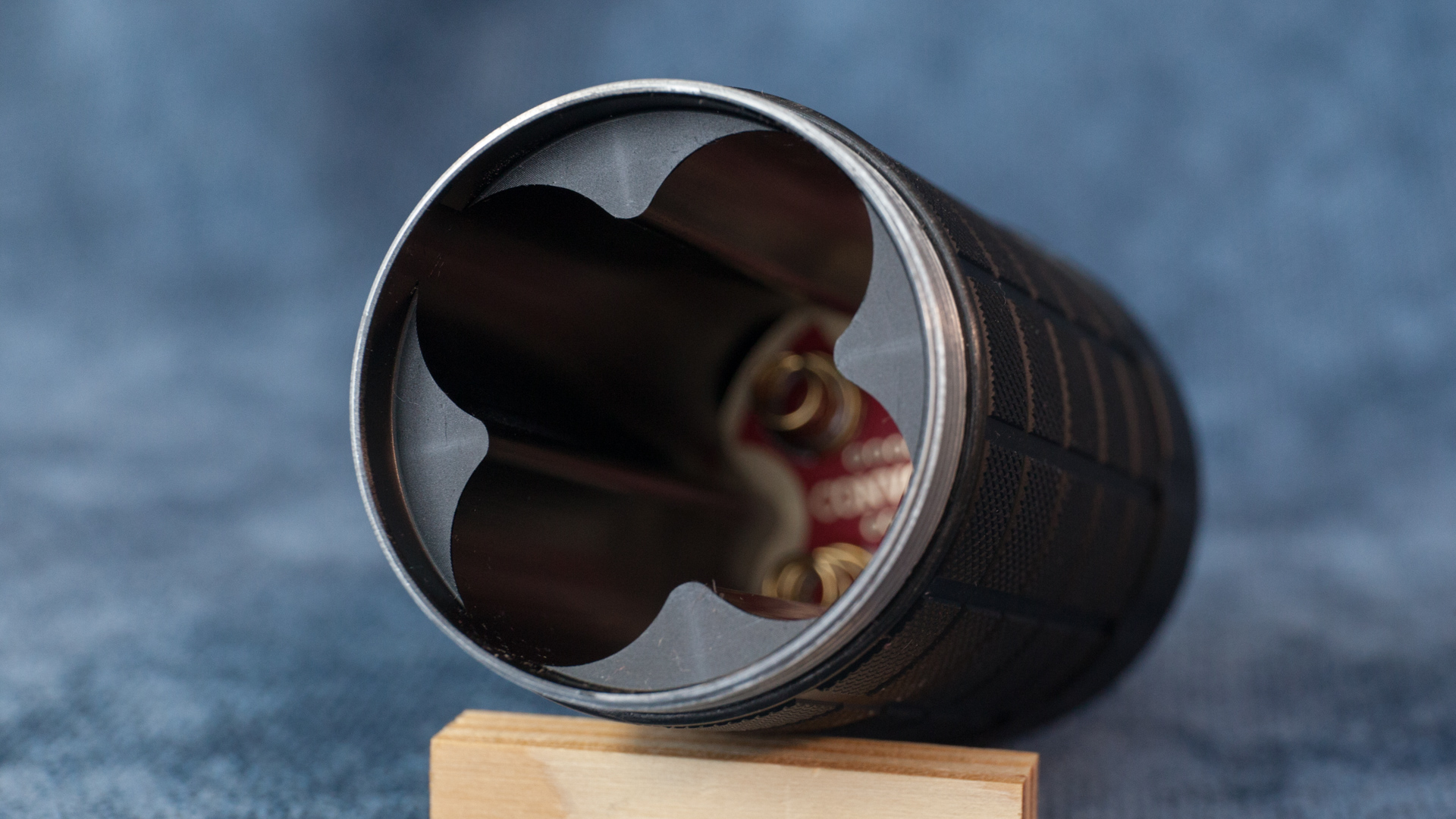 The springs at tail are quite thick. There is no spring from the side of the head - but contact plate instead, which is uncontested for a flashlight with 4 batteries (models without battery carriers). Make sure to clean this plate, btw.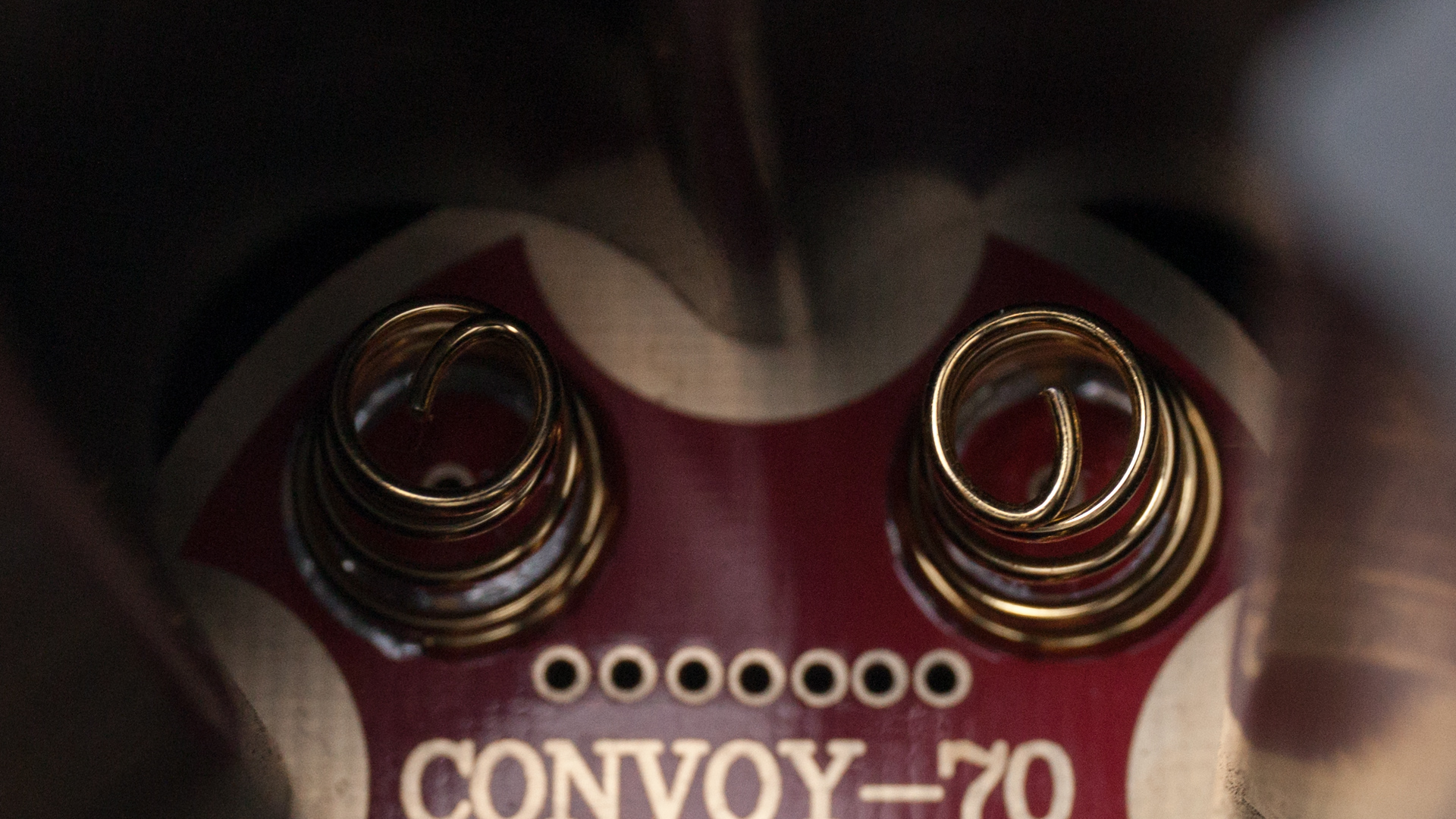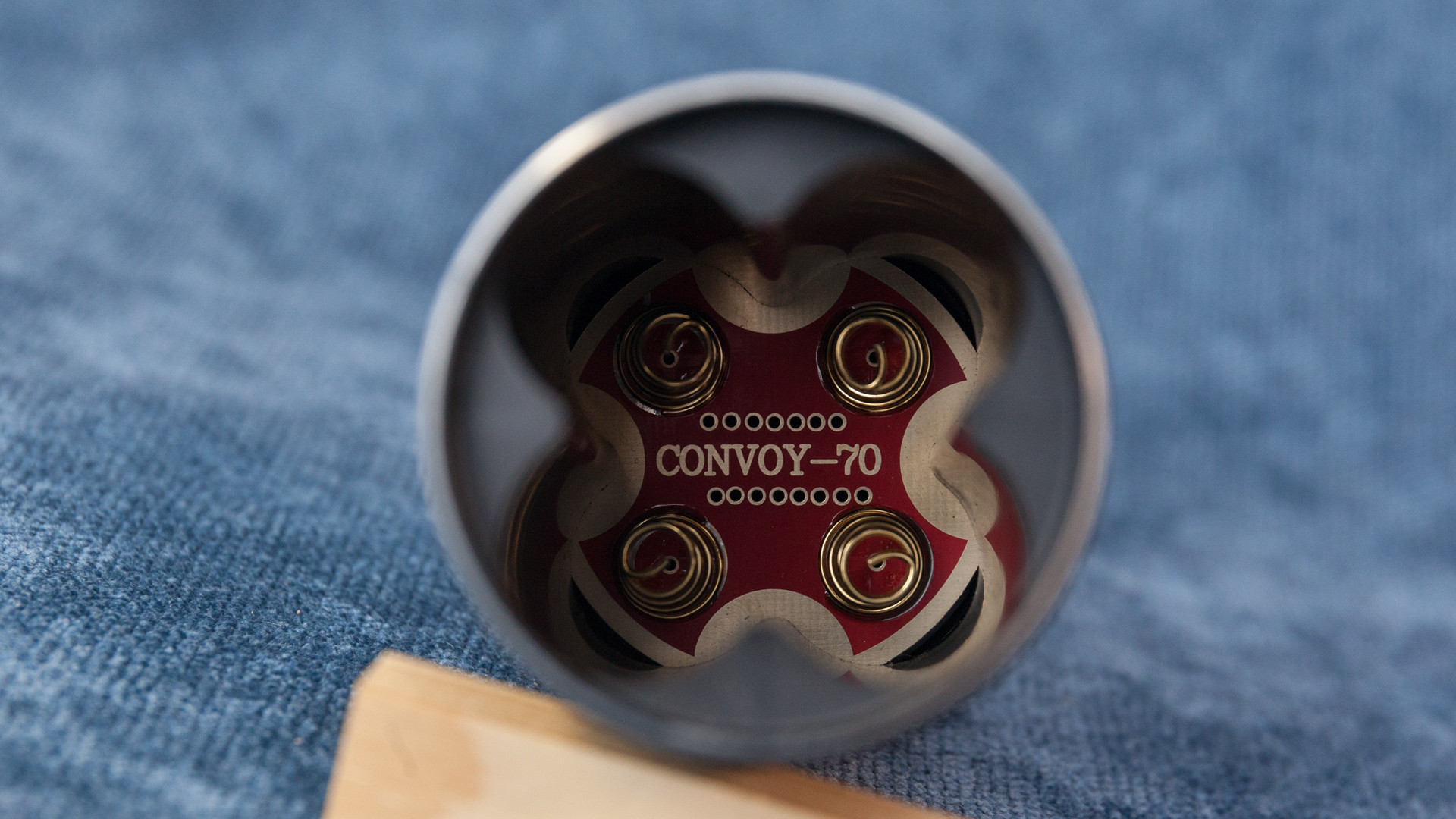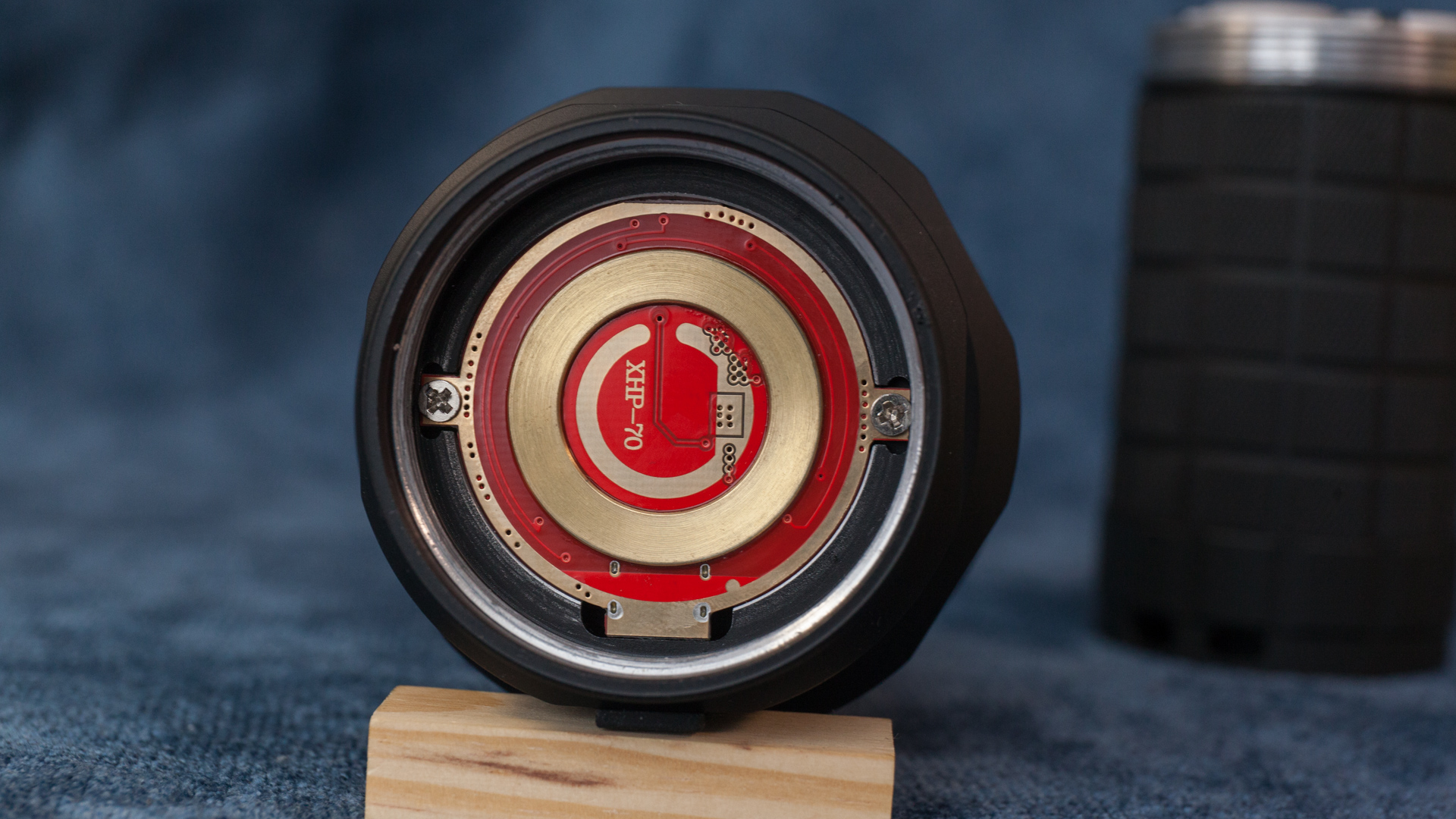 This solution should not let you use flat-top batteries. But does! Flat tops perfectly work here. 
Anyway, Convoy also has plastic adapter fot situtaion when flat-top will not work.  A penny detail that will greatly simplify the life of users
IMPORTANT! No polarity reversal protection! In this regard, button-top batteries will be more practical - the chances of inserting one of them by mistake in opposite direction are extremely low.
  Thread is medium, rectangular, 4 turns at tailcap side. Normally lubricated. Both tailcap and head move o thread smoothly.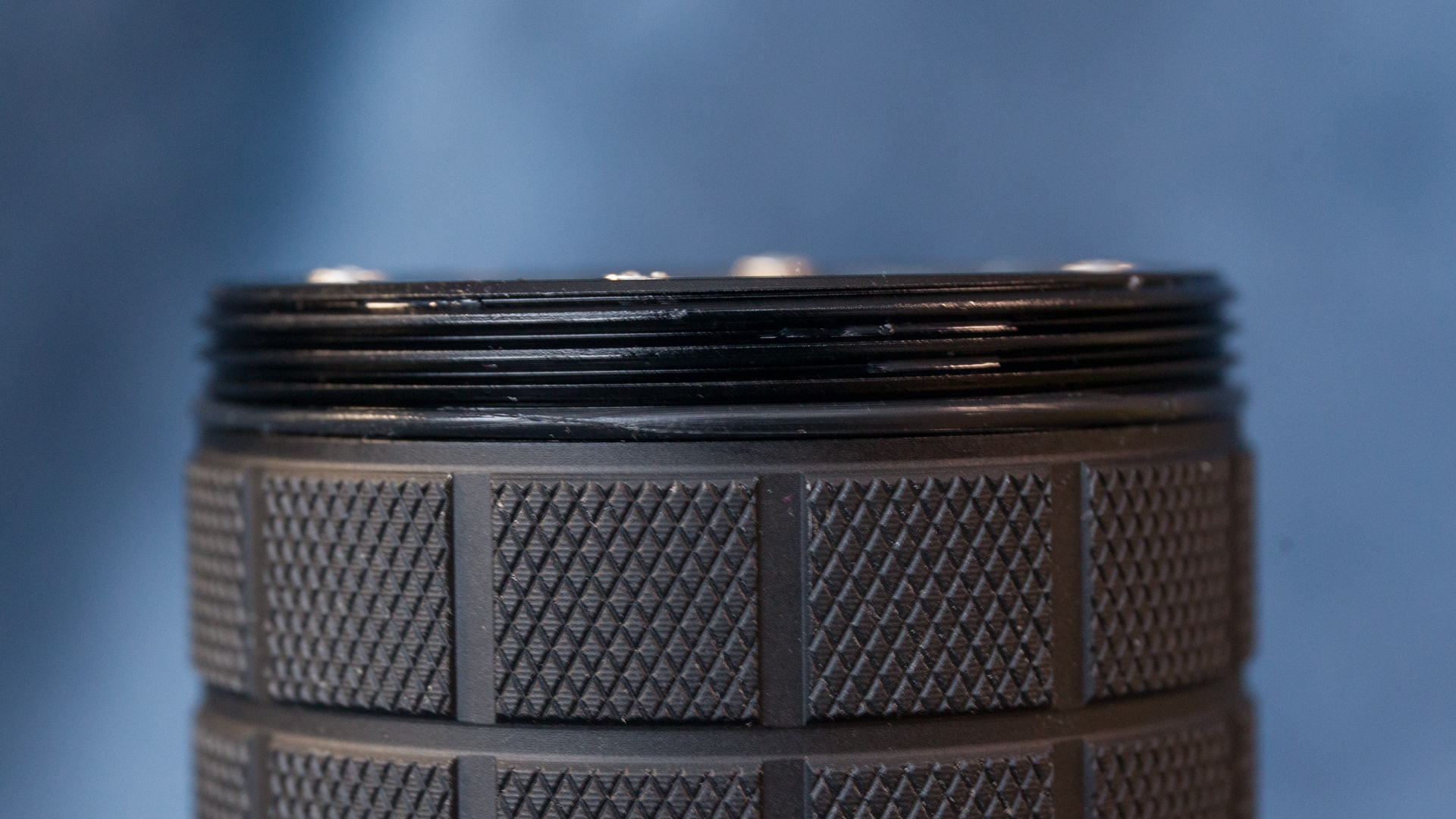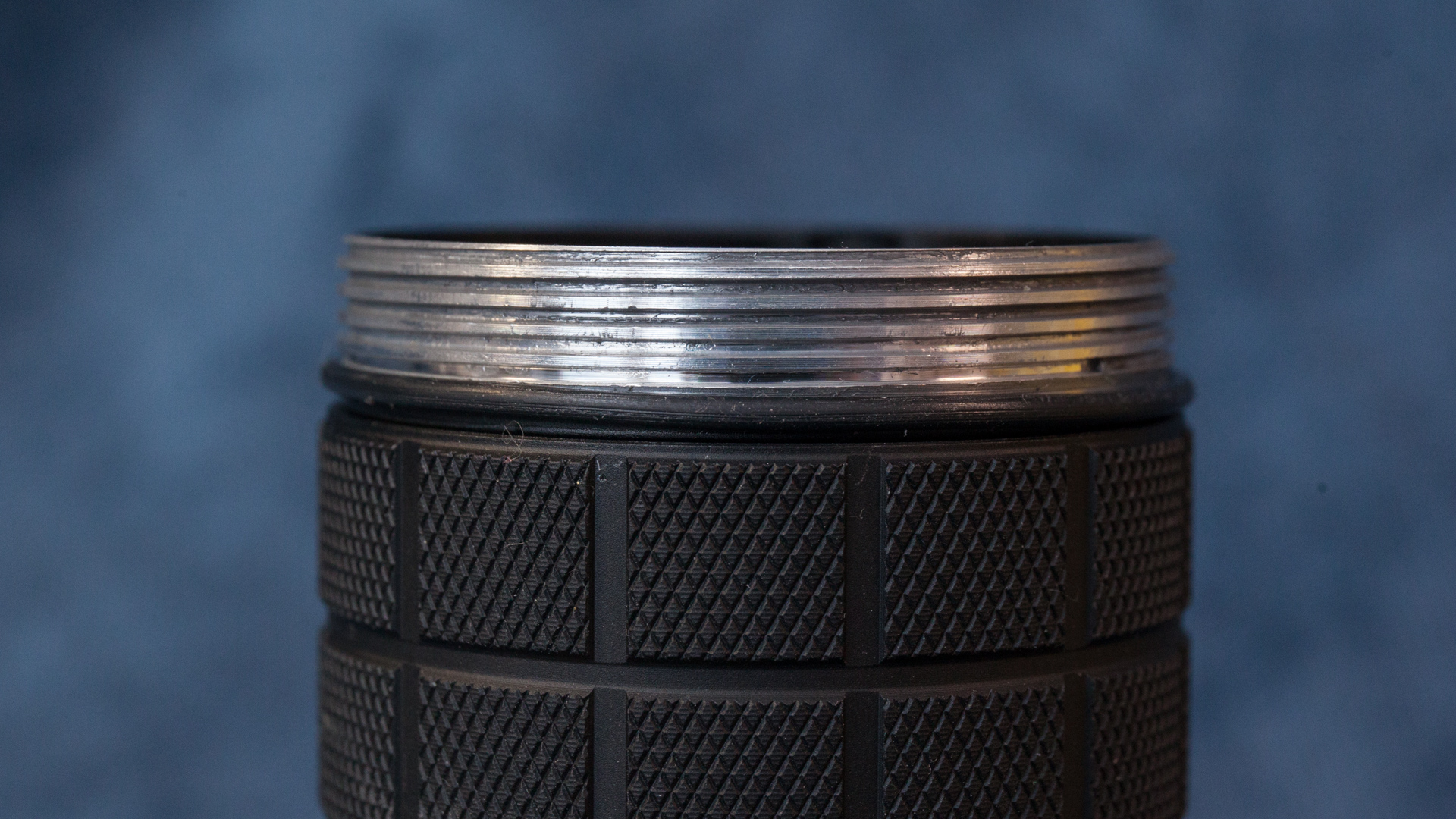 Knurling is an improved version of Convoy M3`s large squares M3, the difference is that here traditional small notches with rhombuses are added. It also has it`s own disadvantage, all the dirt gets easility into these tiny cuts of knurling.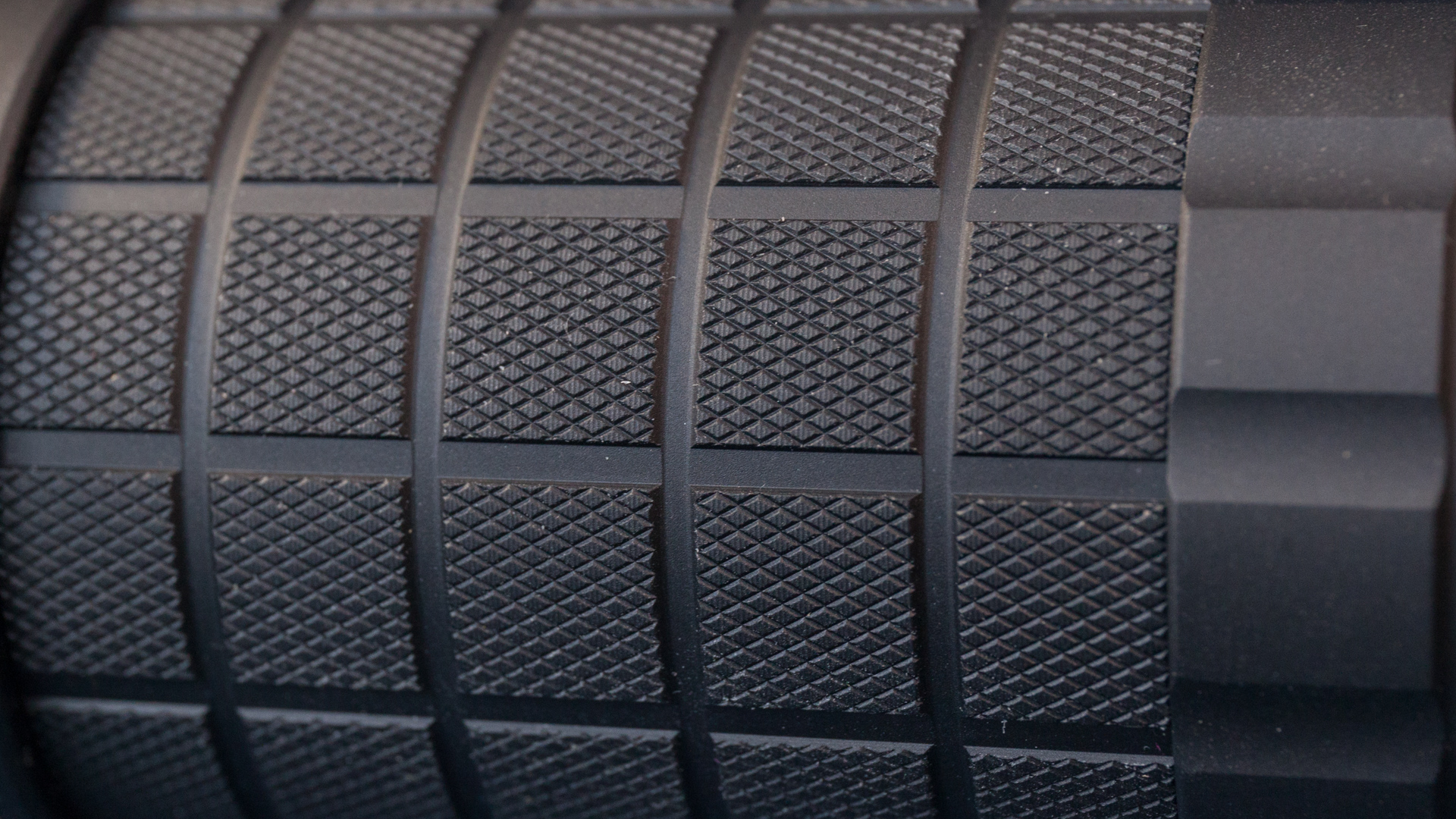 Grip is firm (direct one, reverse one needs large palm). But taking into account the weight and diameter, it is definitely worth adding a lanyard.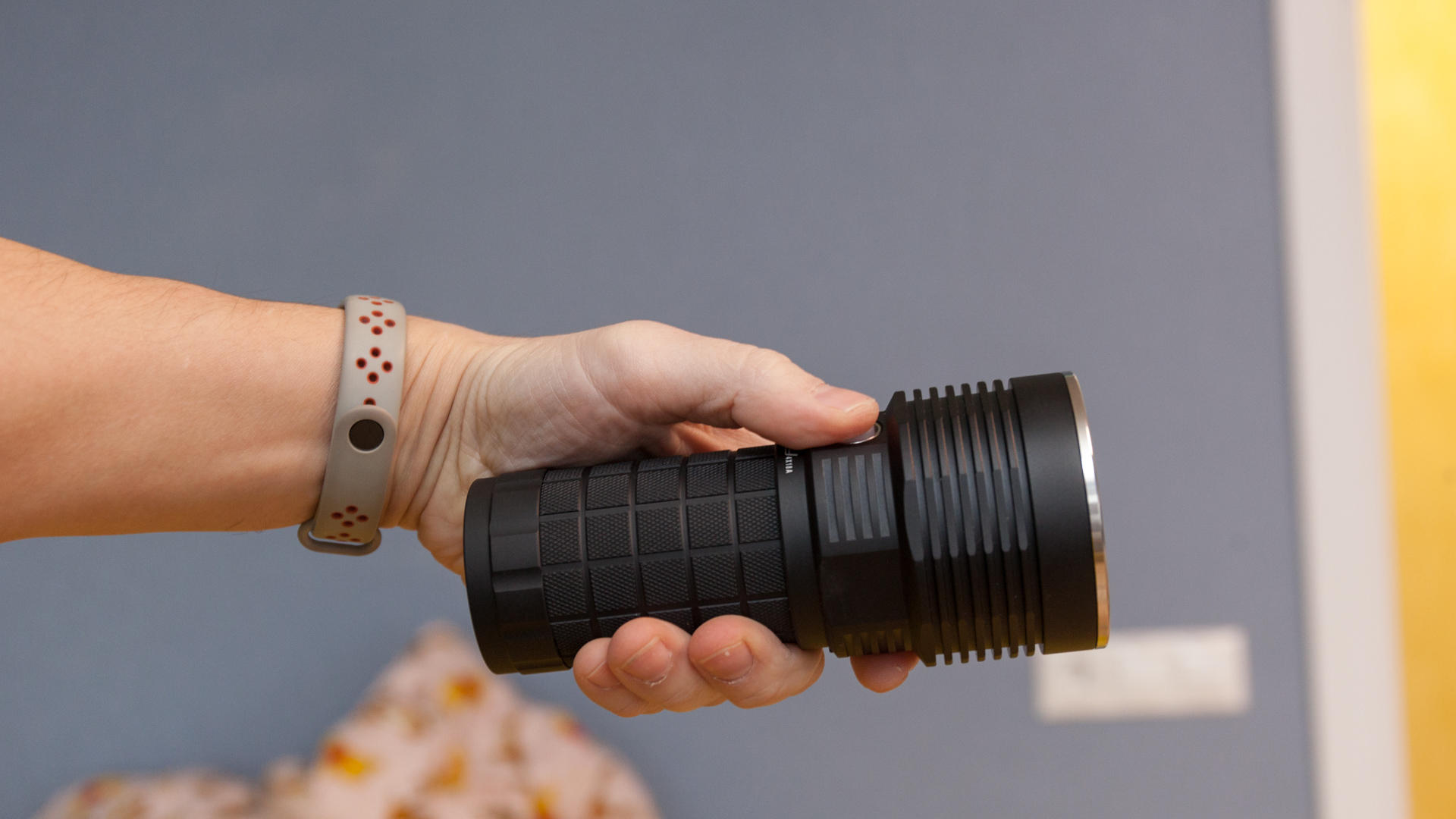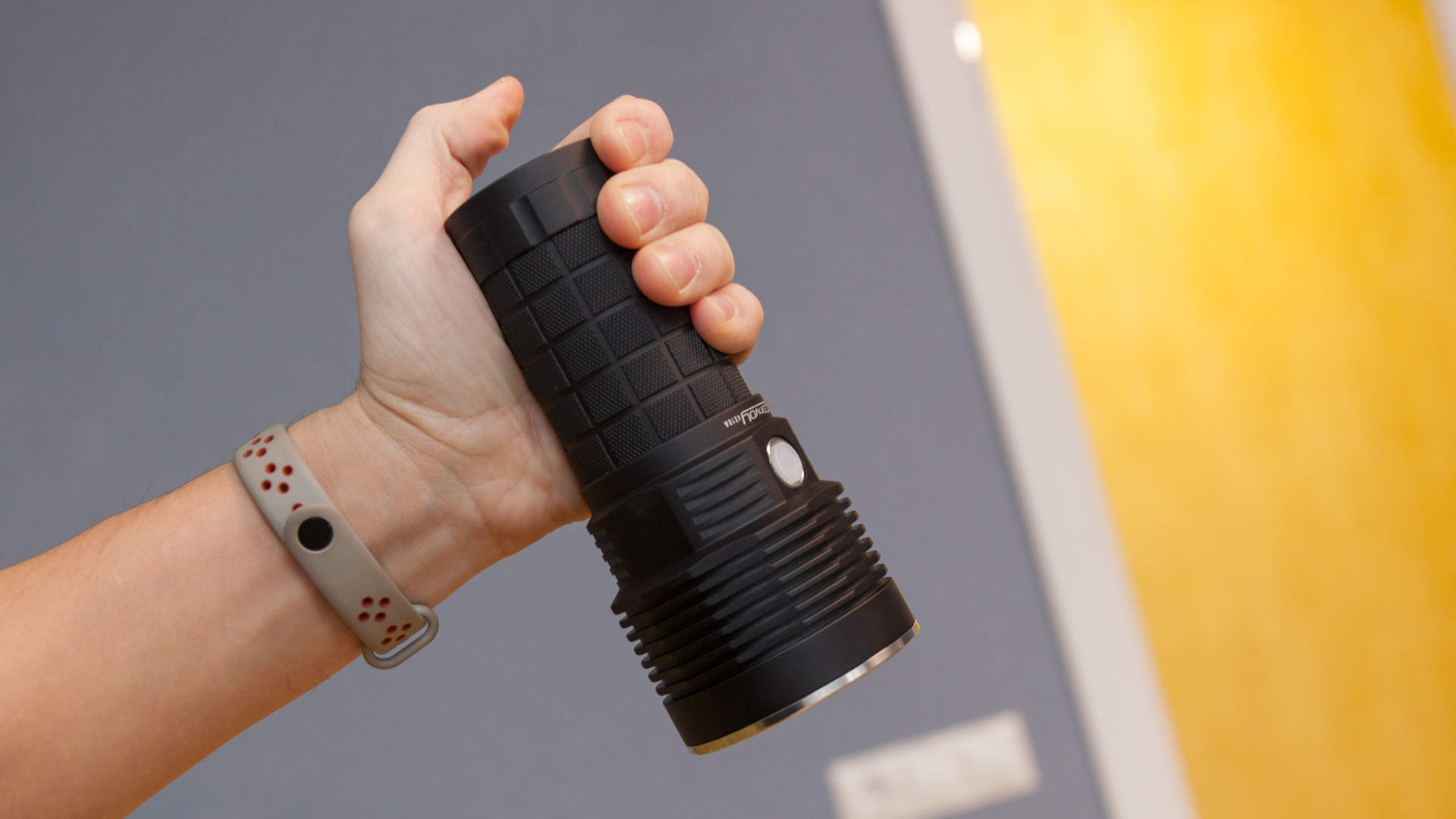 built-in charging... Ha! Type-C, who would have expected this from Convoy! Even with 2A it takes like 6 hours for full charge. Rubber charge port plug cap is large and thick. Holds well when pulled in.
But I do not like the protruding part of the cover . there is a chance that it will catch on something and get open. I recommend cutting it off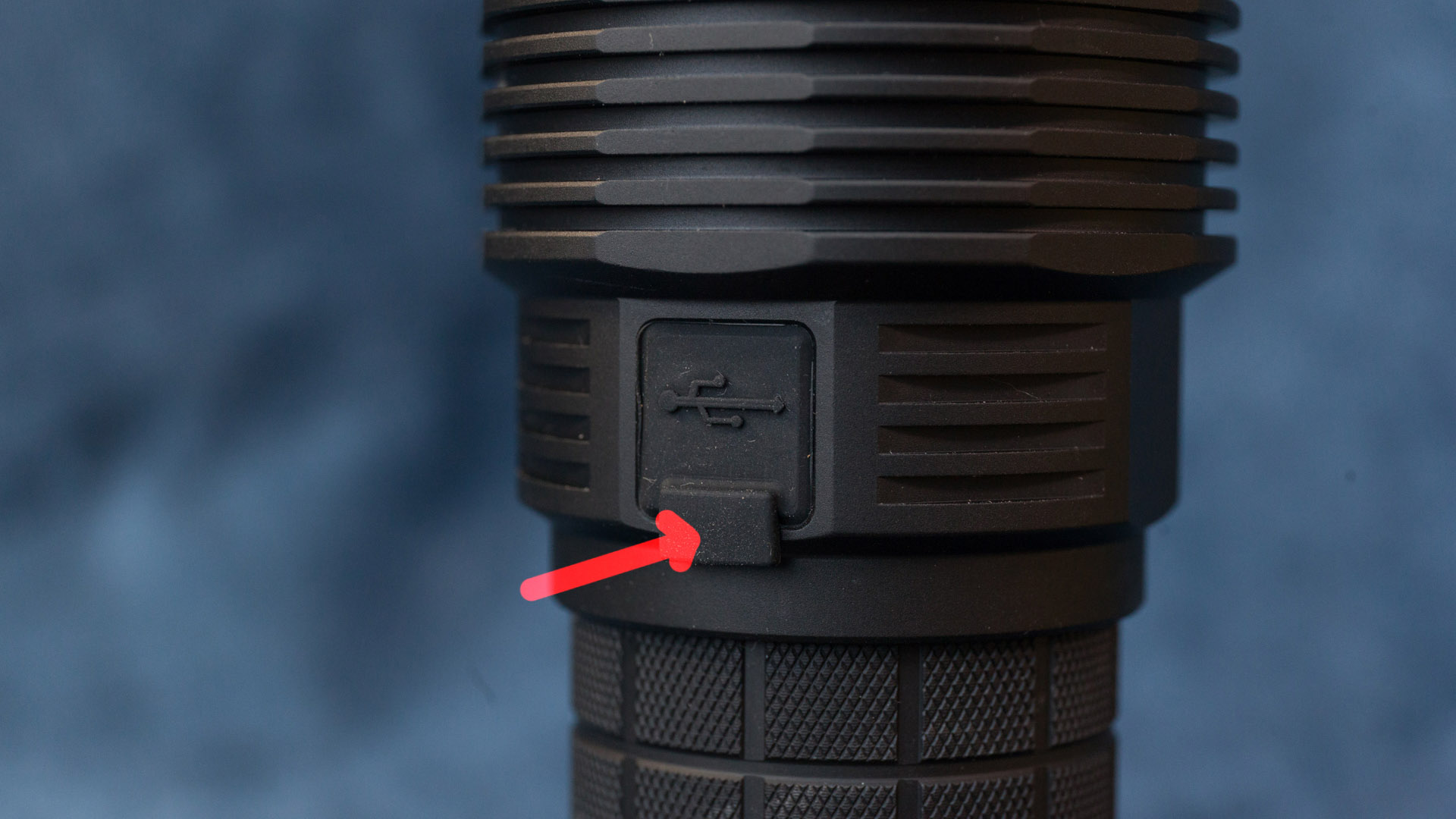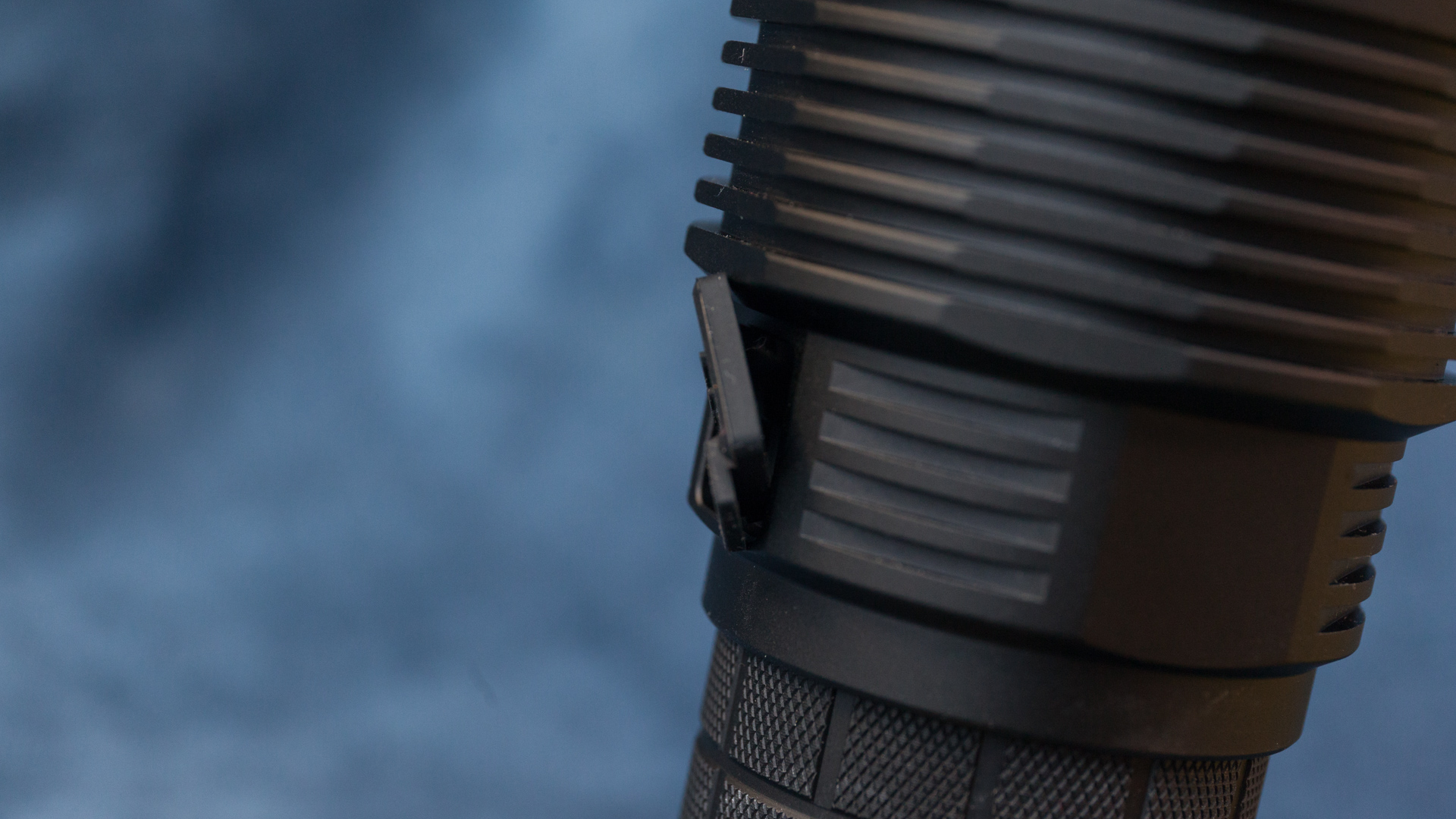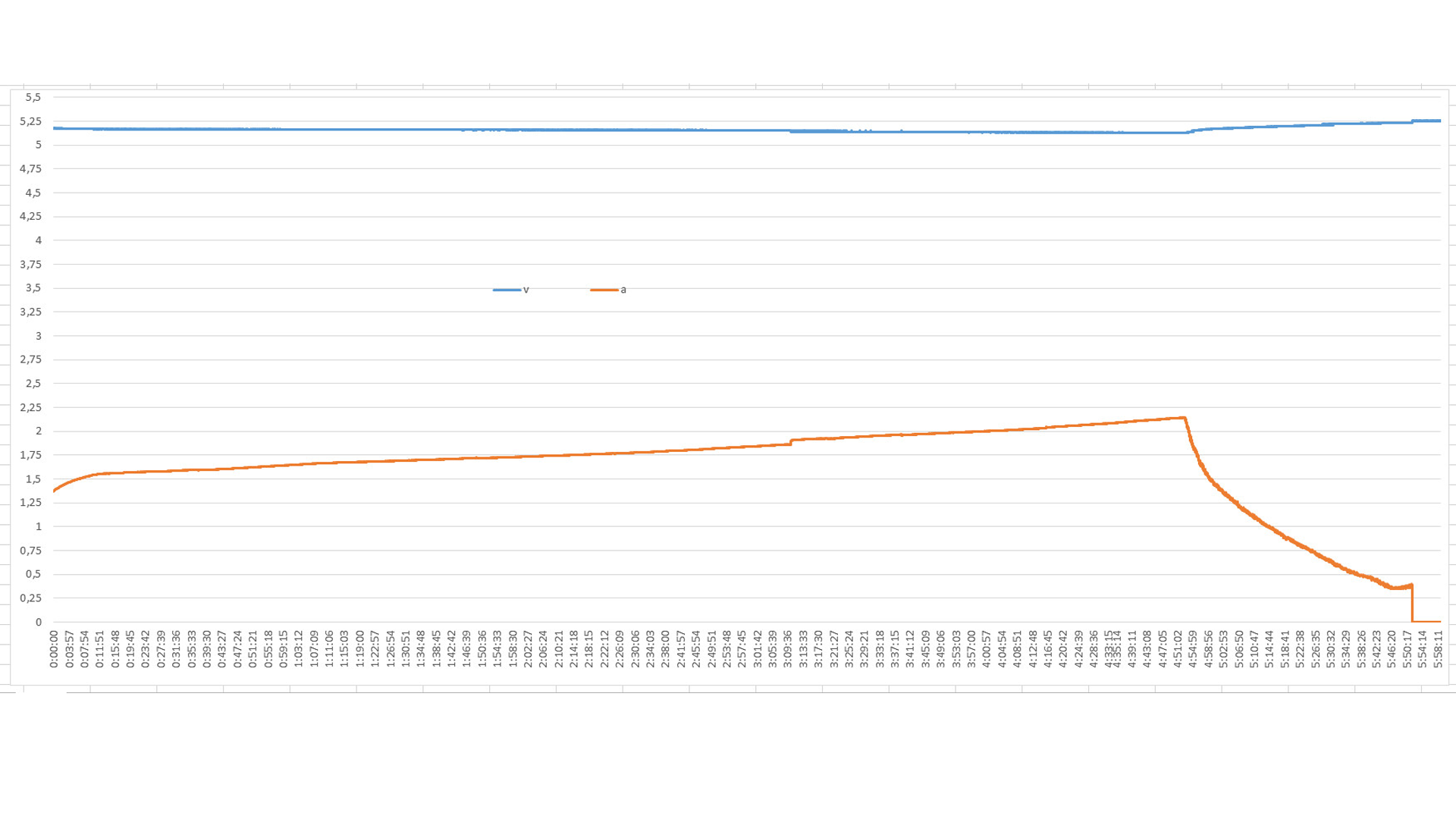 there is a large white clicky button, with an unprecedented (for Convoy) red-blue charge backlight indication on the opposite side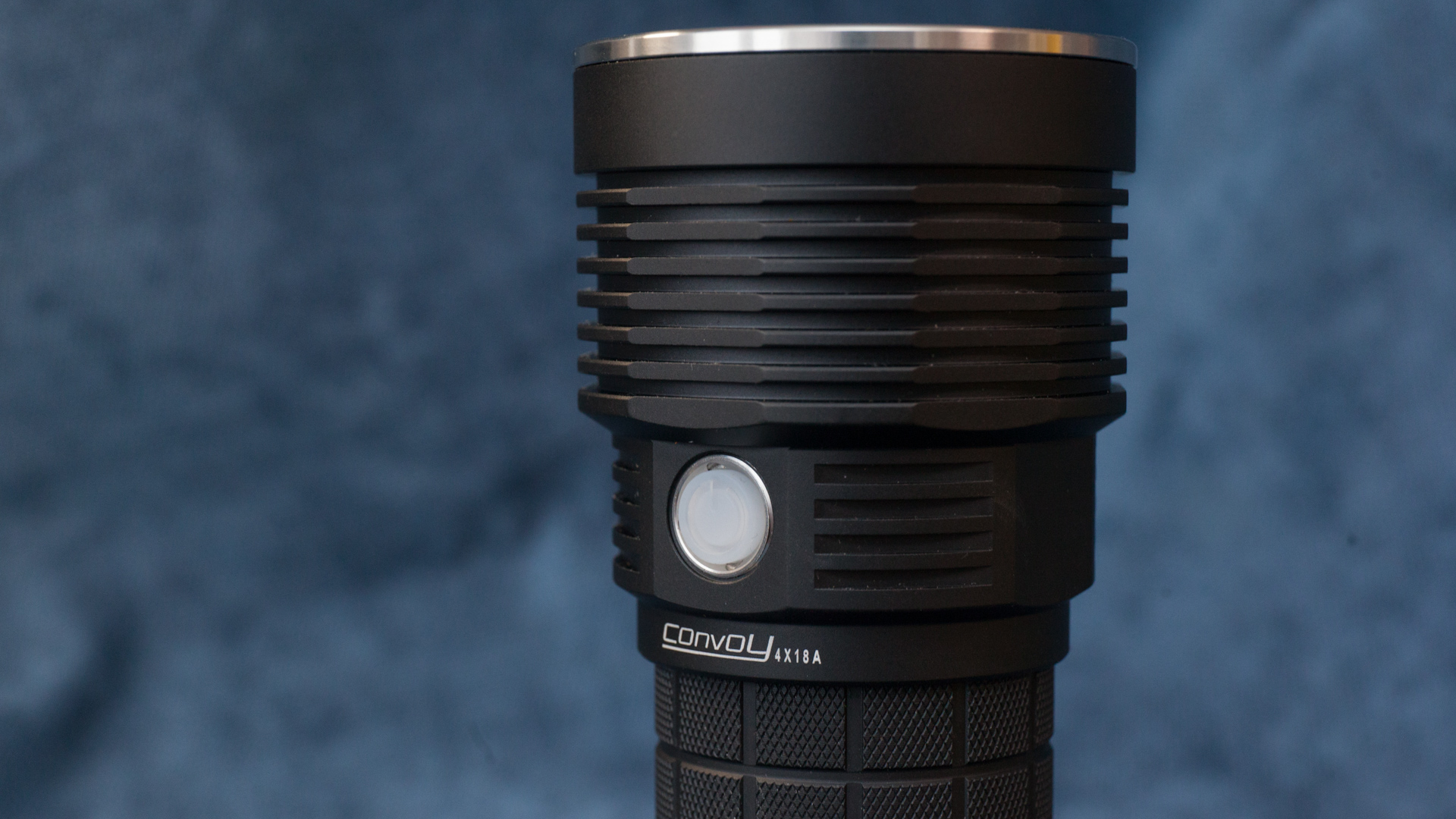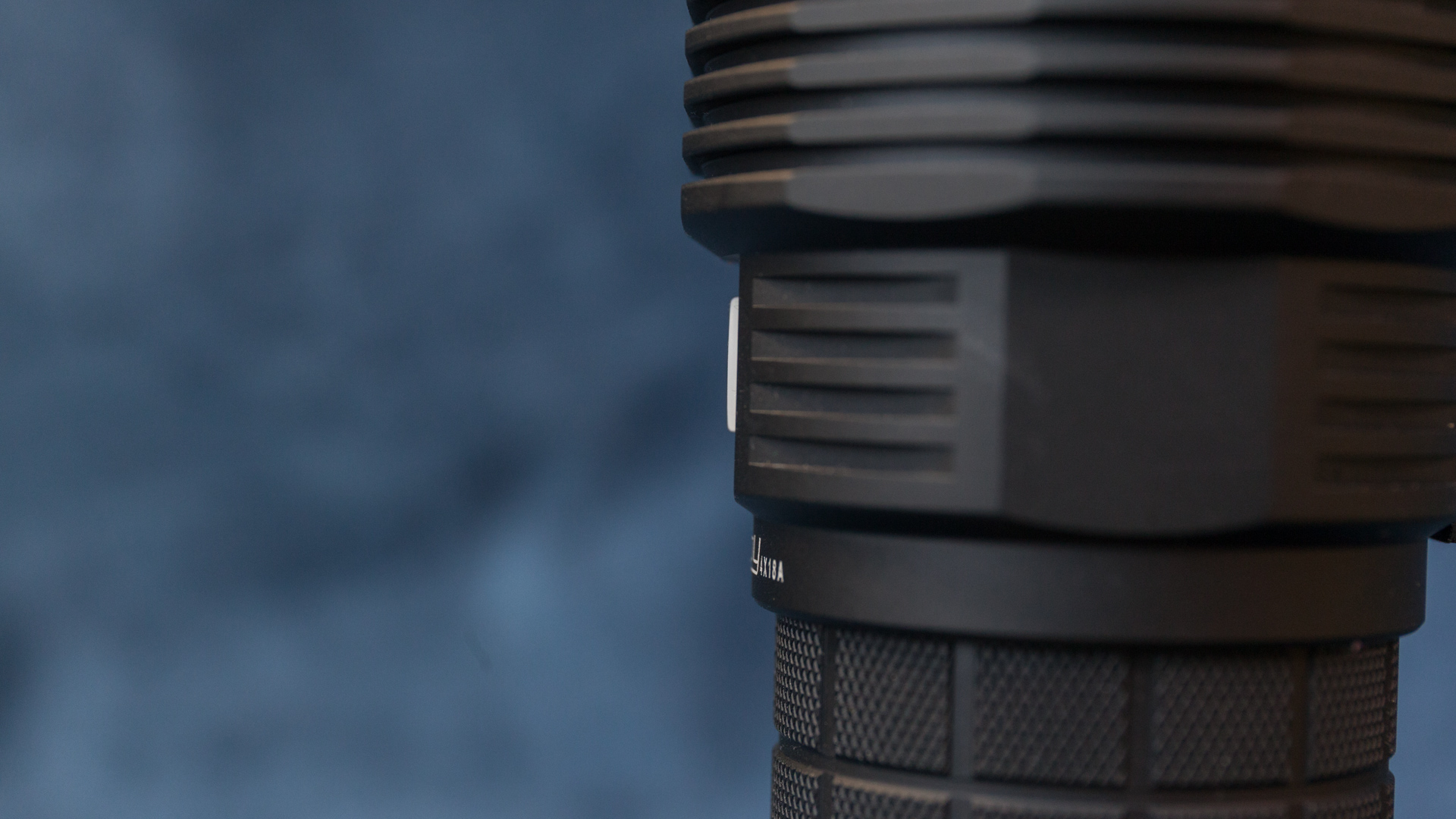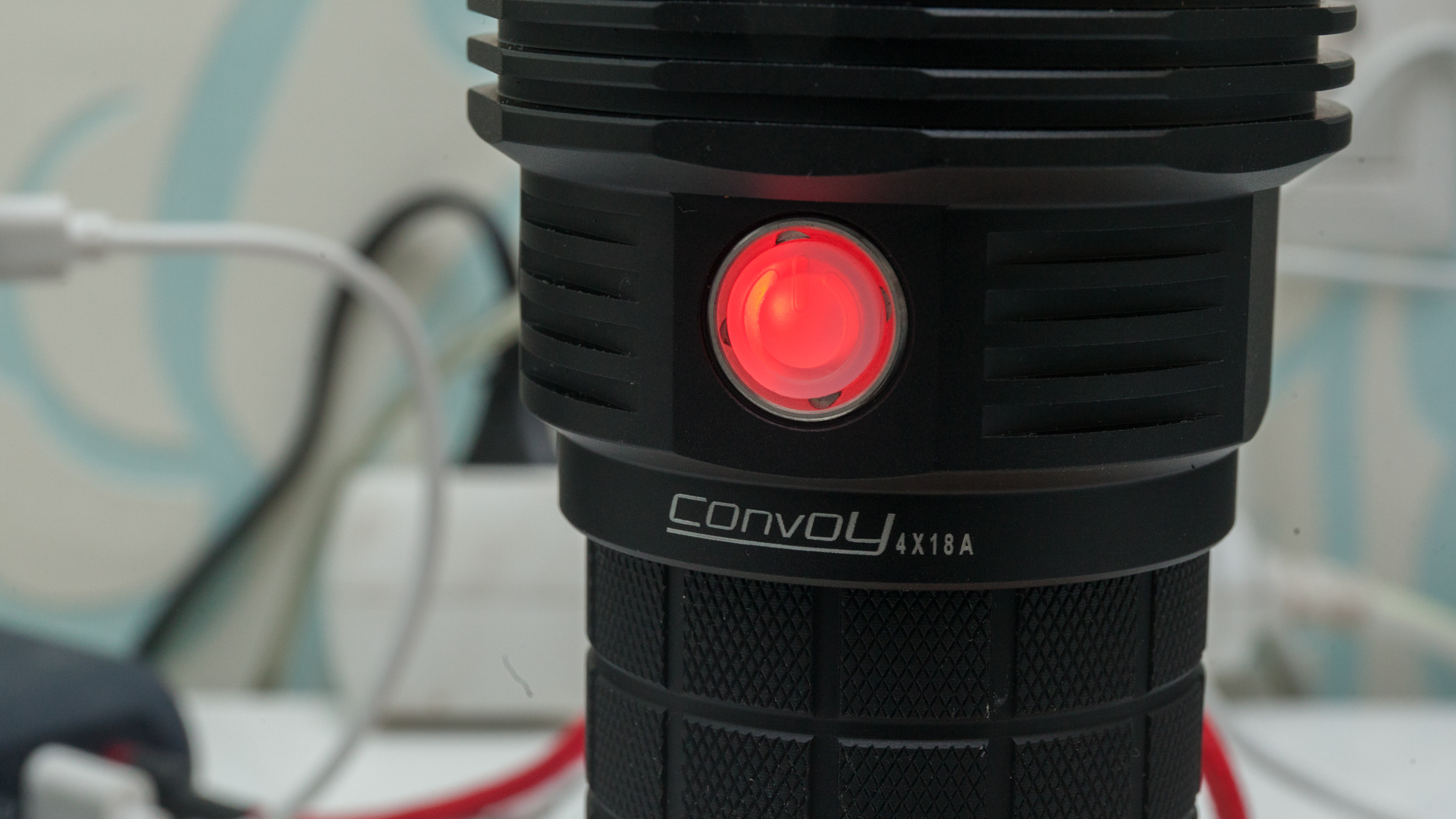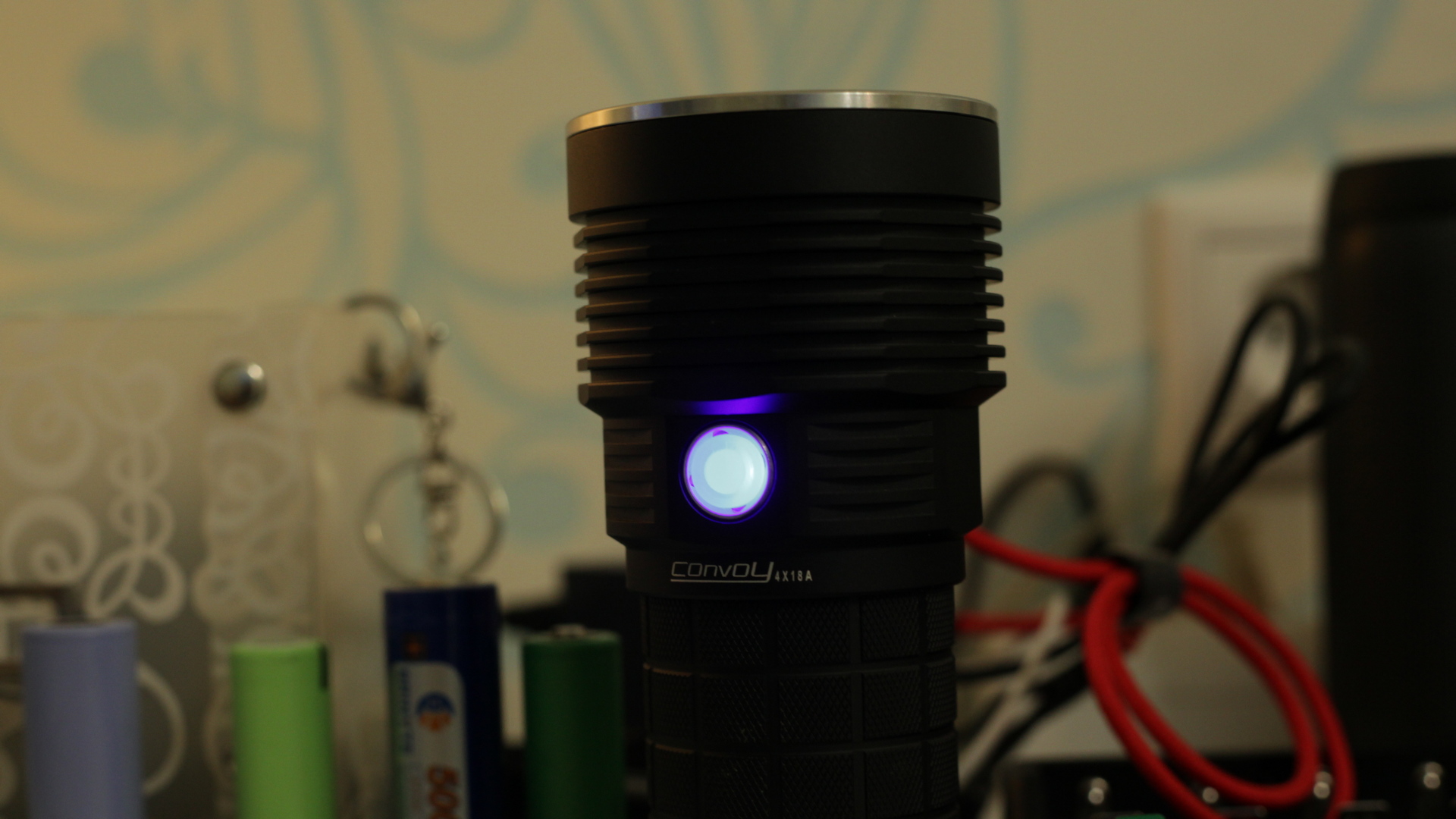 Cooling fins may not look impressive, but the test show that they are enough to maintain maximum brightness for an extremely long period. And for the mass of fashionable bright 4x18650 flashlights, even something of the order of one and a half thousand lumens in this regard will be very problematic to sustain. The compactness and flexible interface of these flashlights turn into the fact that they hold such brightness only for a short time, then the thermal step-down drops the brightness down.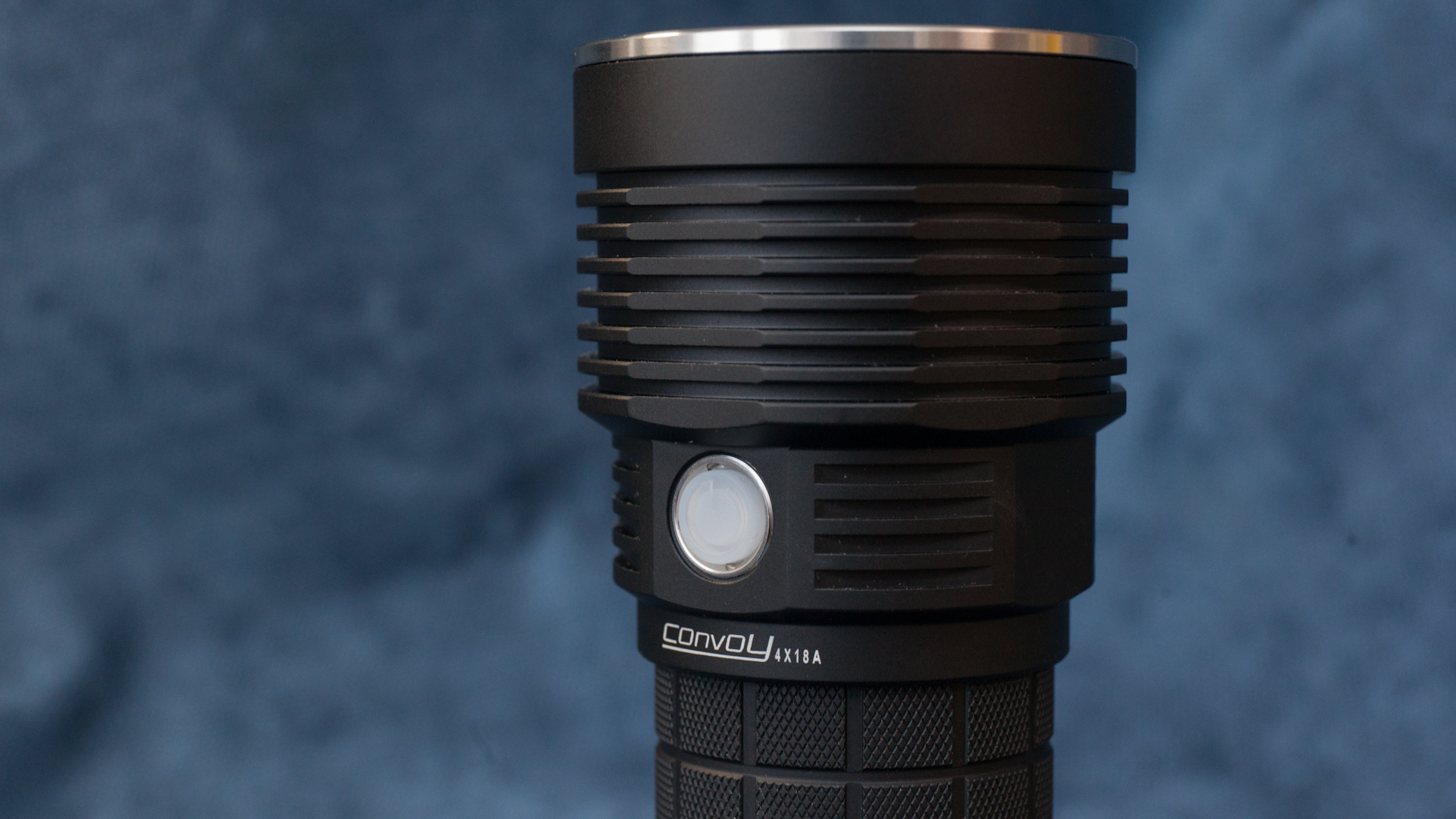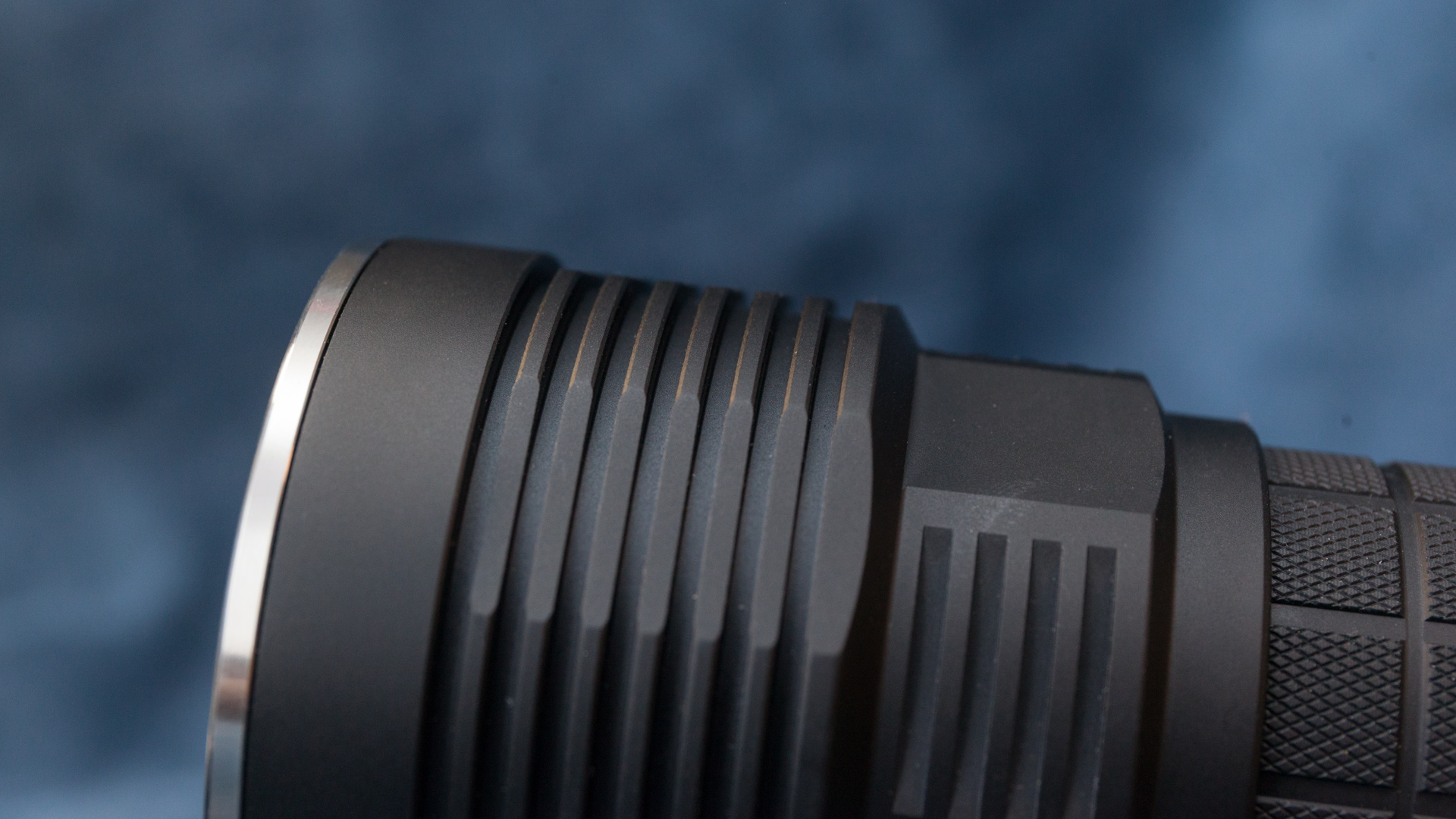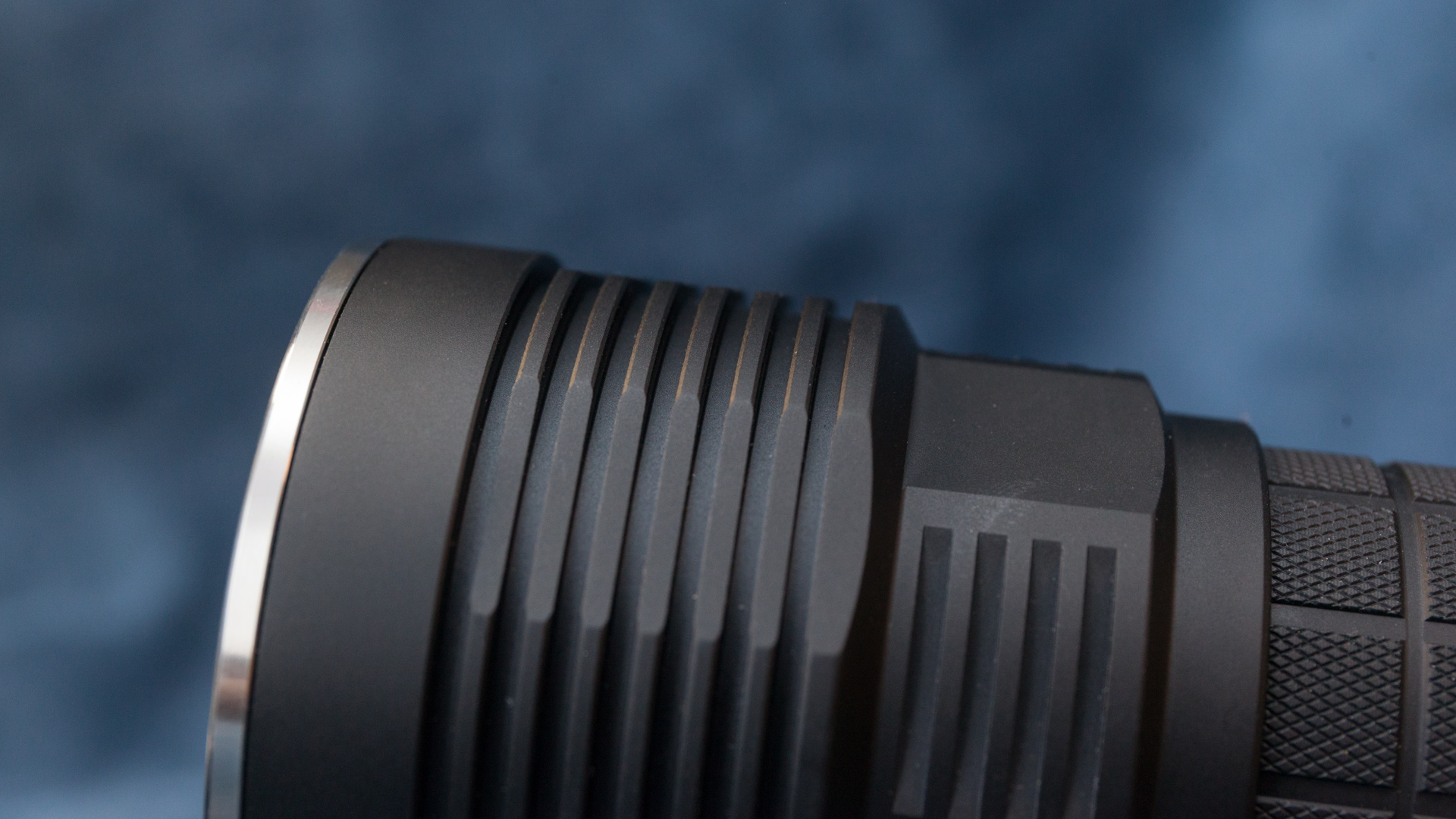 The dimensions directly affect the heat sink, so it is not surprising that the M3 keeps its maximum brightness worse (although it is still noticeably longer than the mass of analogues).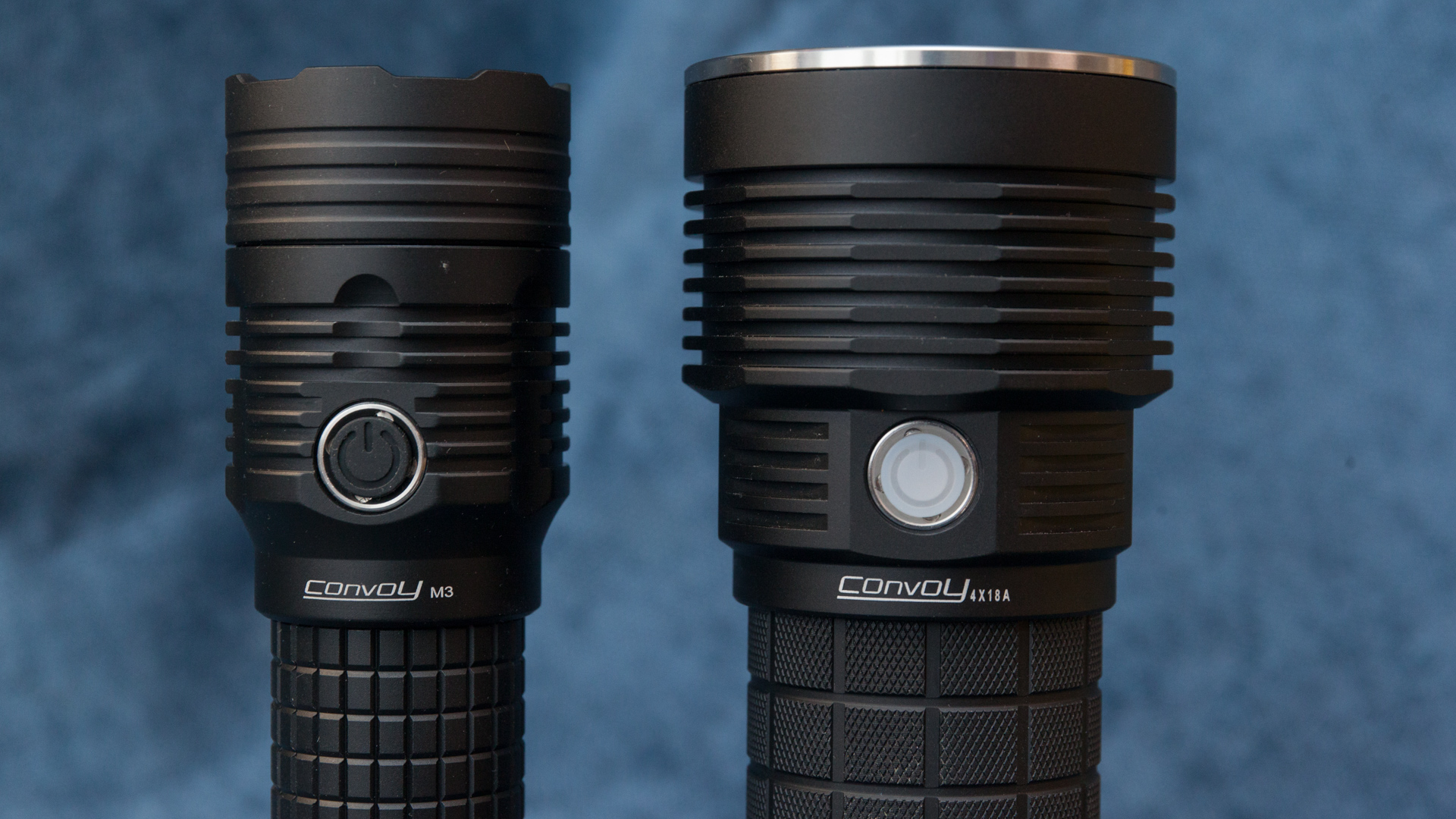 The bezel is thick, wide and flat, twists off without the slightest effort. Below there is rather big smooth reflector with XHP70.2 at the bottom. There is no OP option now. Hm i tested M3 with OP\SMO reflectors both - difference is really not significant. Perhaps, the same will be for Convoy 4x18A. But, I believe that dedomed version would definitely be more interesting for those who are willing to give up some sidelight and lumens in order to increase throw.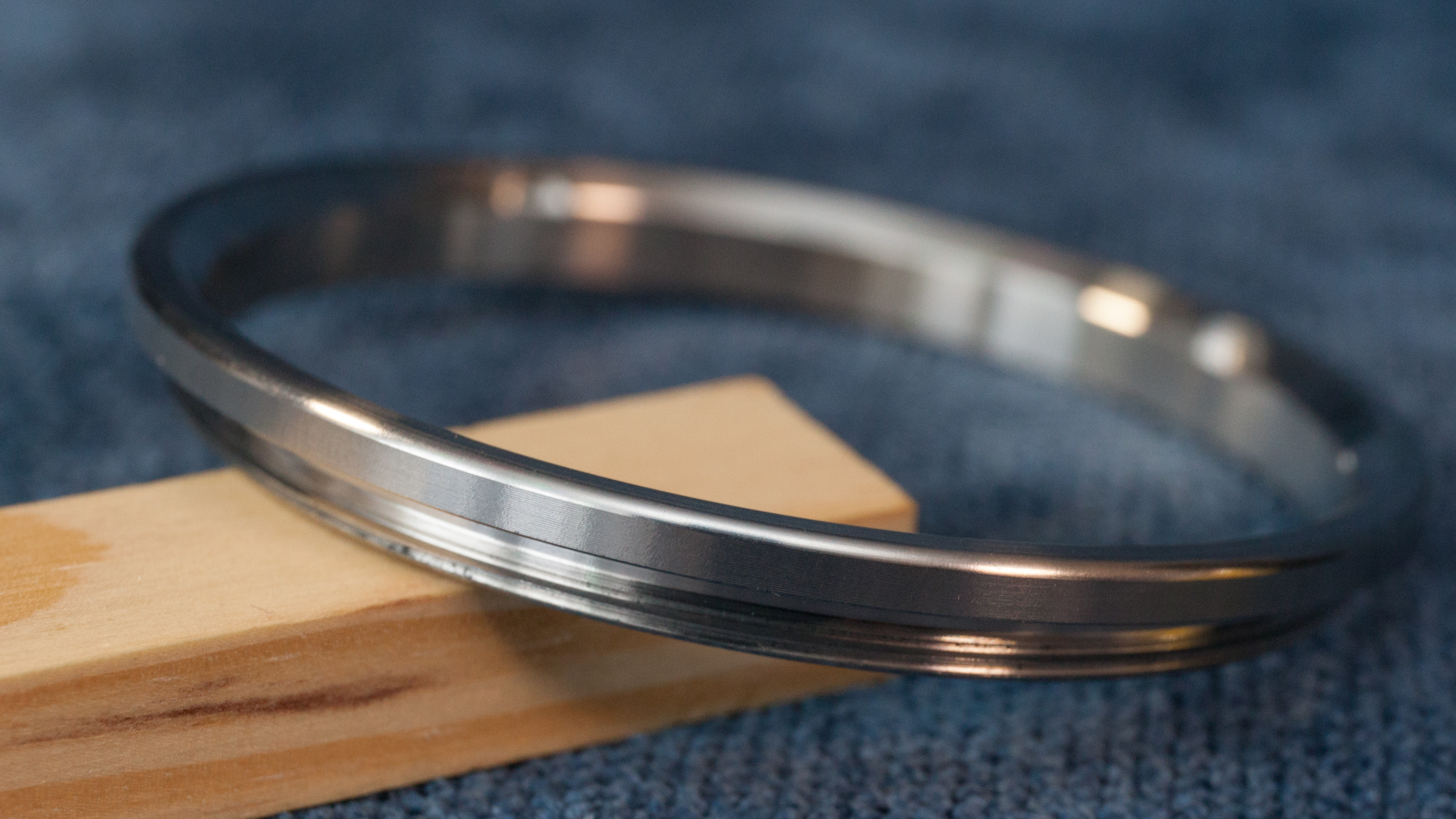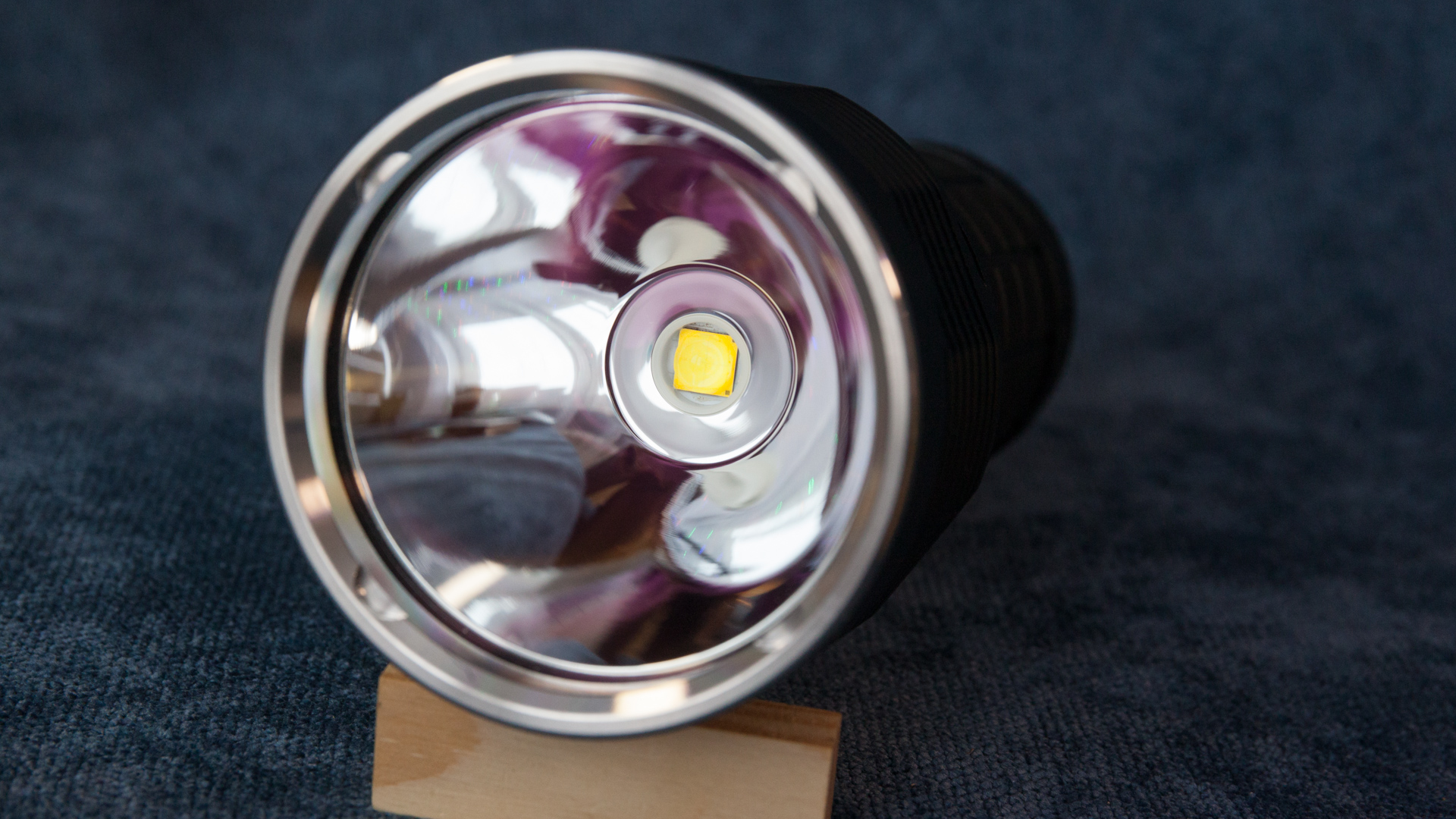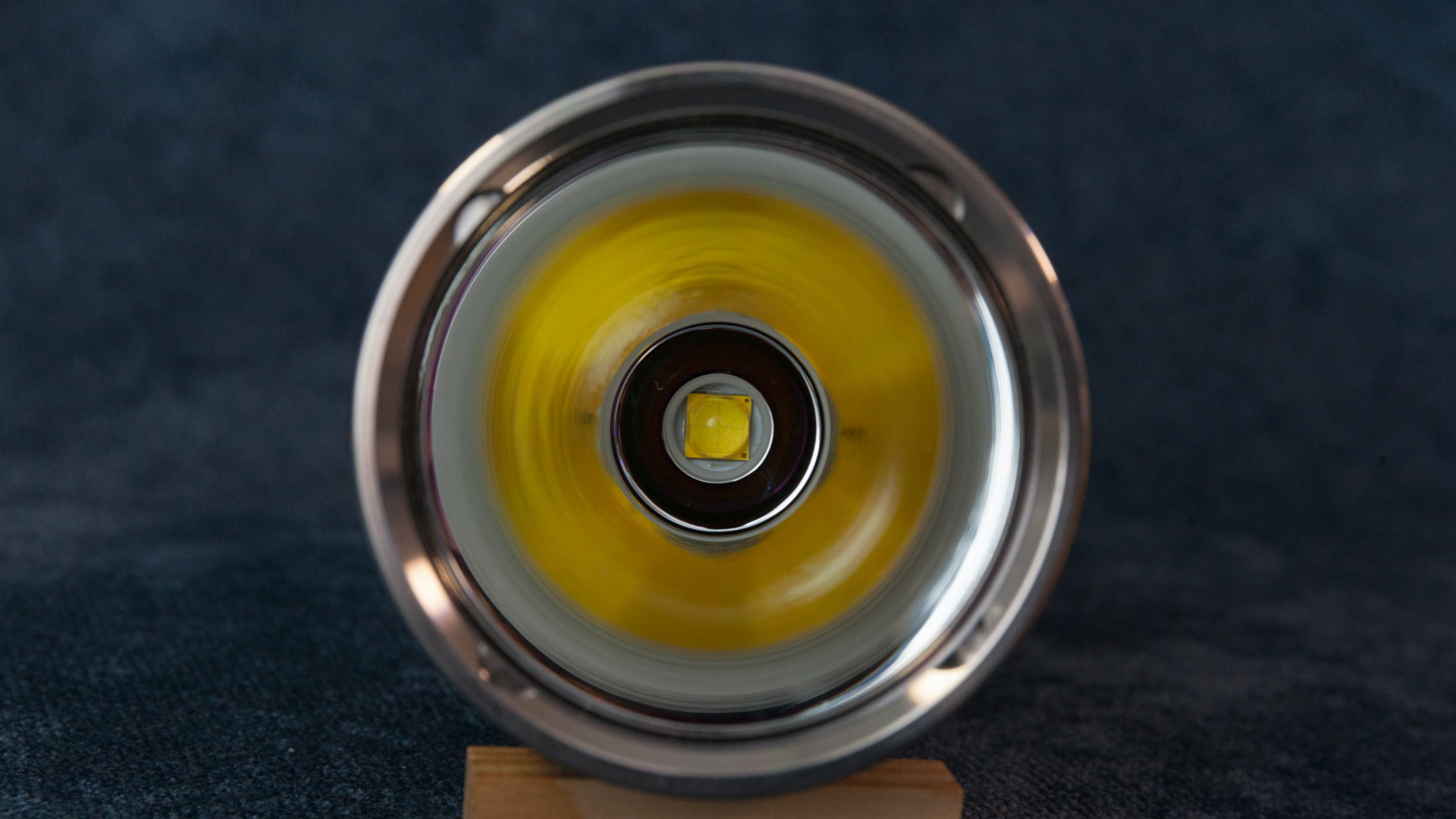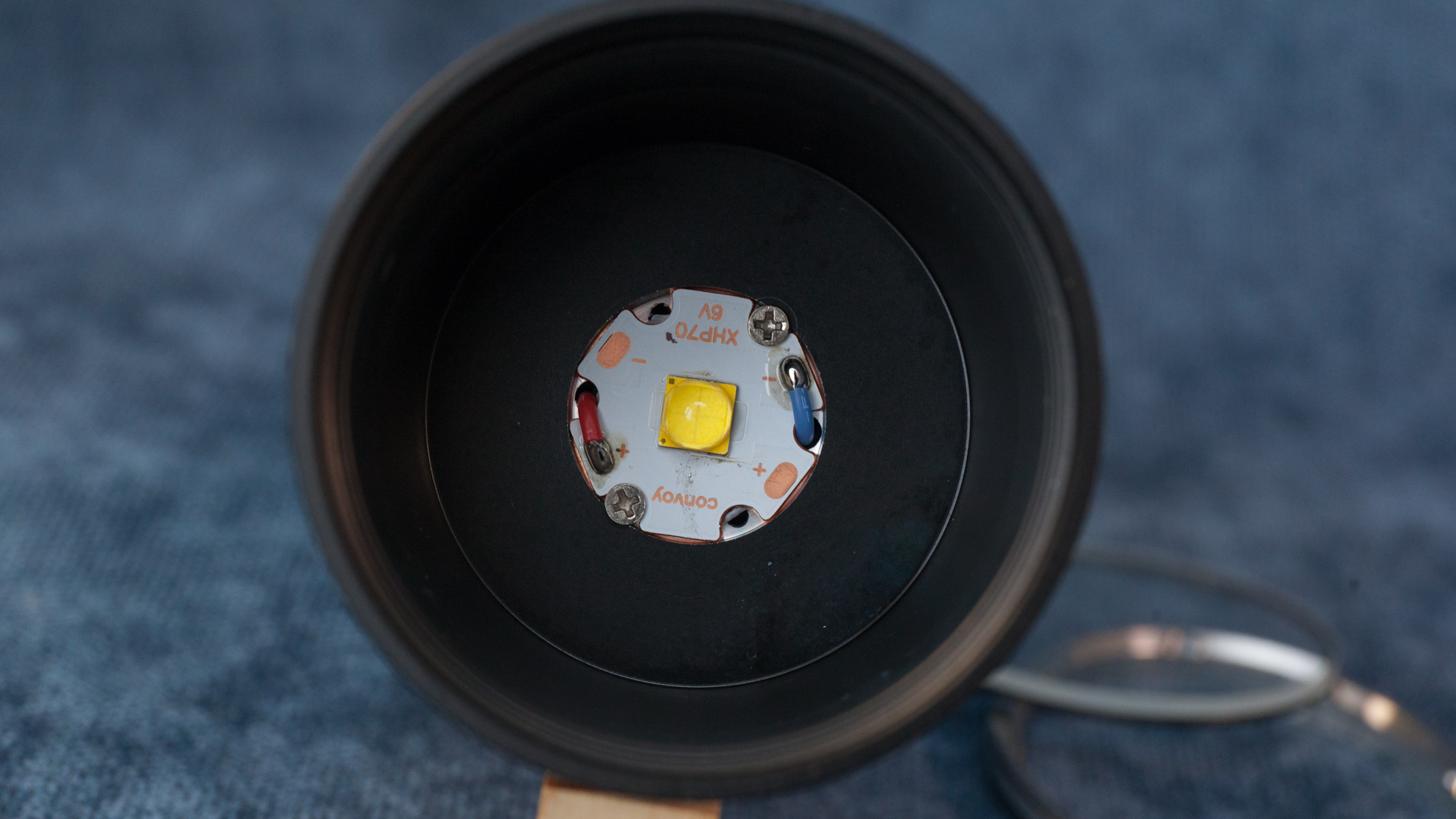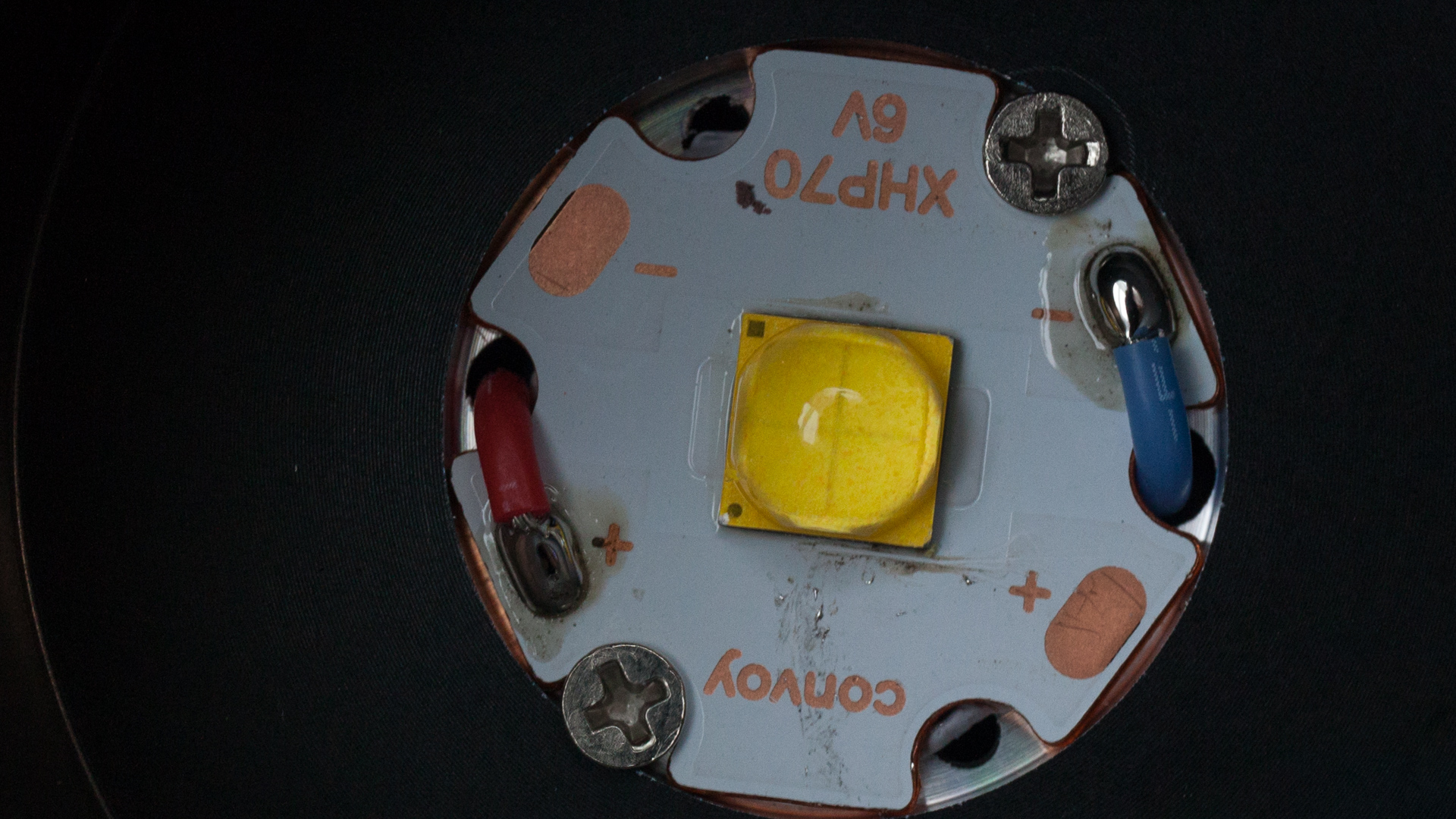 In general, the Convoy 4x18A looks like an enlarged M3. No high-design, just a hefty flashlight for a man's paw. not a thing with a beautiful knurling from a famous brand.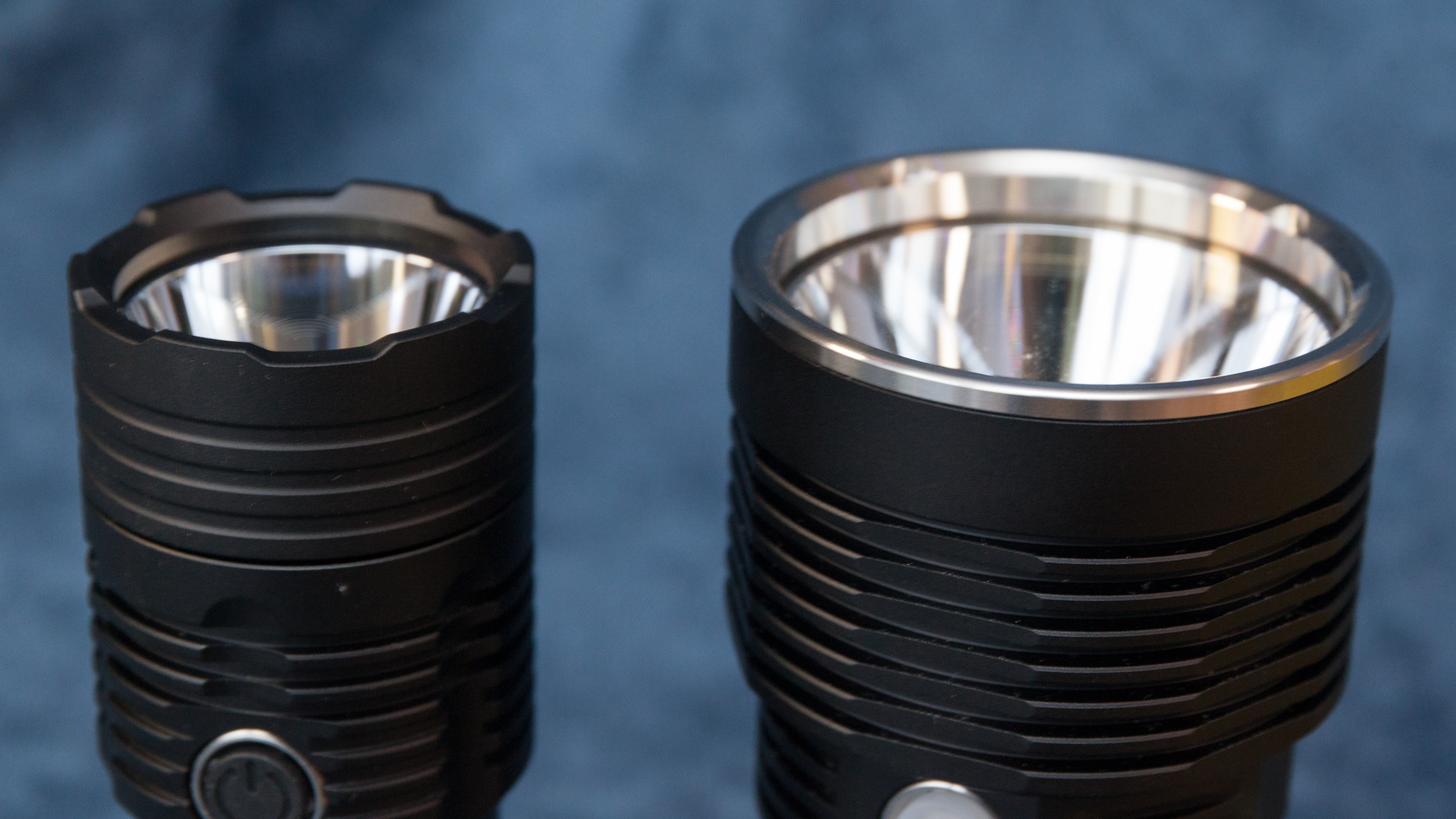 UI

UI in 4x18A is far from being a Convoy invention, and I met it in lots of models. Actually, the most important thing is that it is extremely convenient and practical. For basic needs, there is absolutely everything except blocking, (well, you can uscrew head a little bit in good old way).
turn ON\OFF - click
hold from OFF - 1%
2 clicks from any state - 100%
button hold while ON - change modes  1-10-40-100%.
there is mode memory

And it is necessary to lock it! If a flashlight with such brightness accidentally turns on in your pocket / bag / backpack - you have PROBLEMS.
i would move 1% and 100% to hidden modes and add 2 other in primary. 
Shine

Traditionally, there is a decent color options from 3000 to 6500K. I chose 5000K for review, which I recommend to you. Unfortunately i have only 4000K M3, so comparision will not be precise on color.
 
Light with a wide and bright, well-defined hootspot. If you do not need a detailed light further somewhere around a couple of hundred meters or diffused light for work closer than a couple of meters, then it will be quite convenient. In short, comfortable mid-range light.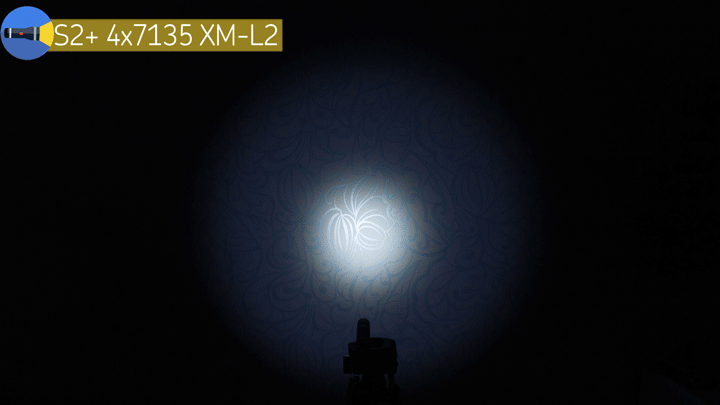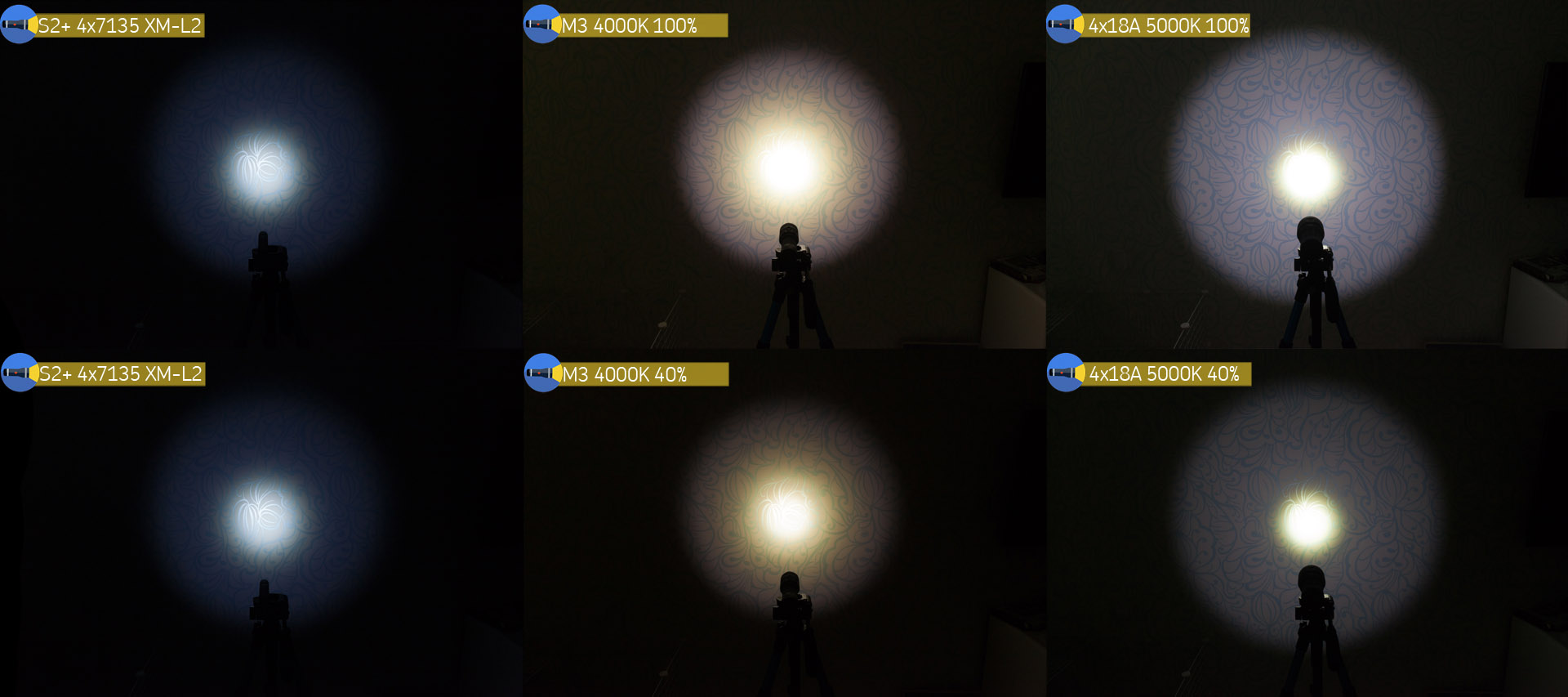 Mode spacing is generally tolerable, but I would add something like 5% and 20%. If you take into account my proposal for putting the minimum and maximum brightness to shortcuts, then these four levels are enough for maximum everyday needs.
Brightness is fully stabilized. 100% here lasts exceptionally long, almost 7 minutes for the first time and minutes 3-4 afterwards. It makes no difference, with or without cooling. Convoy M3, I recall, gives a little less than two minutes before resetting the brightness. The difference is more than three times! I decided to check overall runtime in 100%. Damn, about 70minutes and cutoff at 3.3v! AWESOME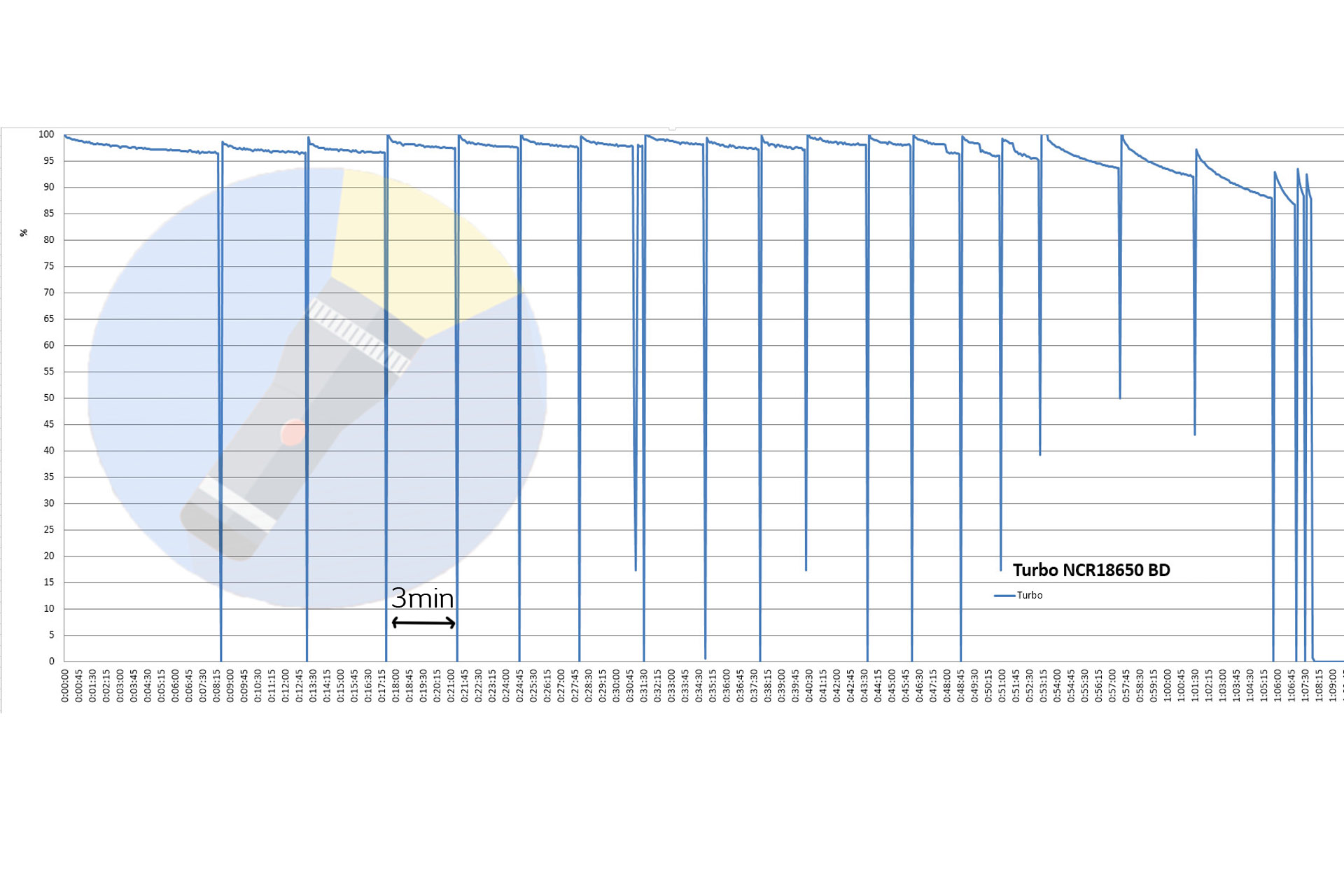 The important question is how much does the convoy 4x18A get 100% heated? So, the temperature is far from uncomfortable.
With high probability, need for such brightness will disappear before thermoregulation drops the flashlight to 40%, which will also last exceptionally long. you can shine for almost 4 and a half hours with the brightness compared to a pair of Convoy S2+ XML2.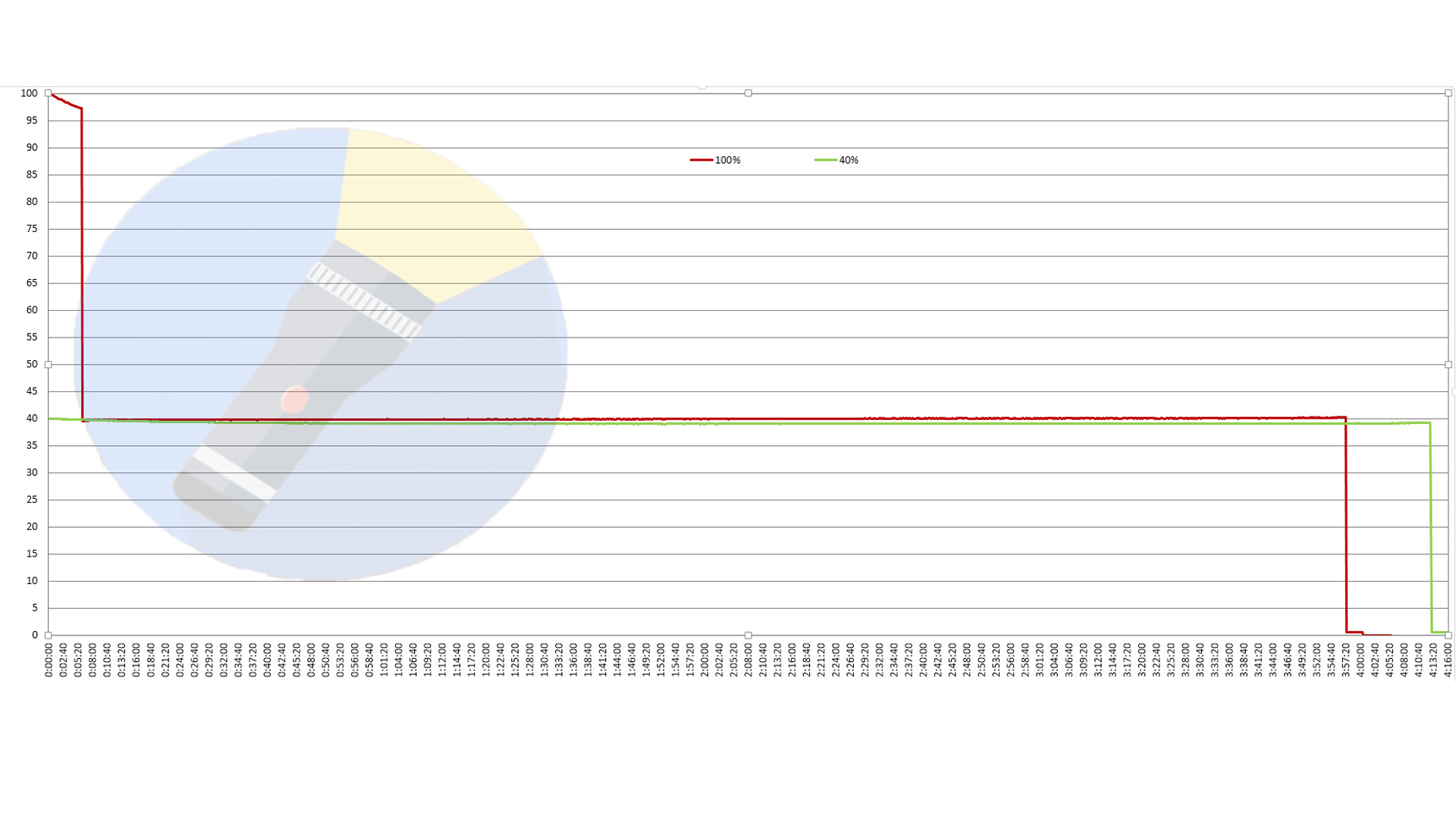 If you find a suitable diffuser, then this brightness is enough to illuminate a large room really bright. I mean REALLY.
For outdoor lighting, these 40% may be excessive and it is reasonable to use 10%, which runtime is enough for two nights.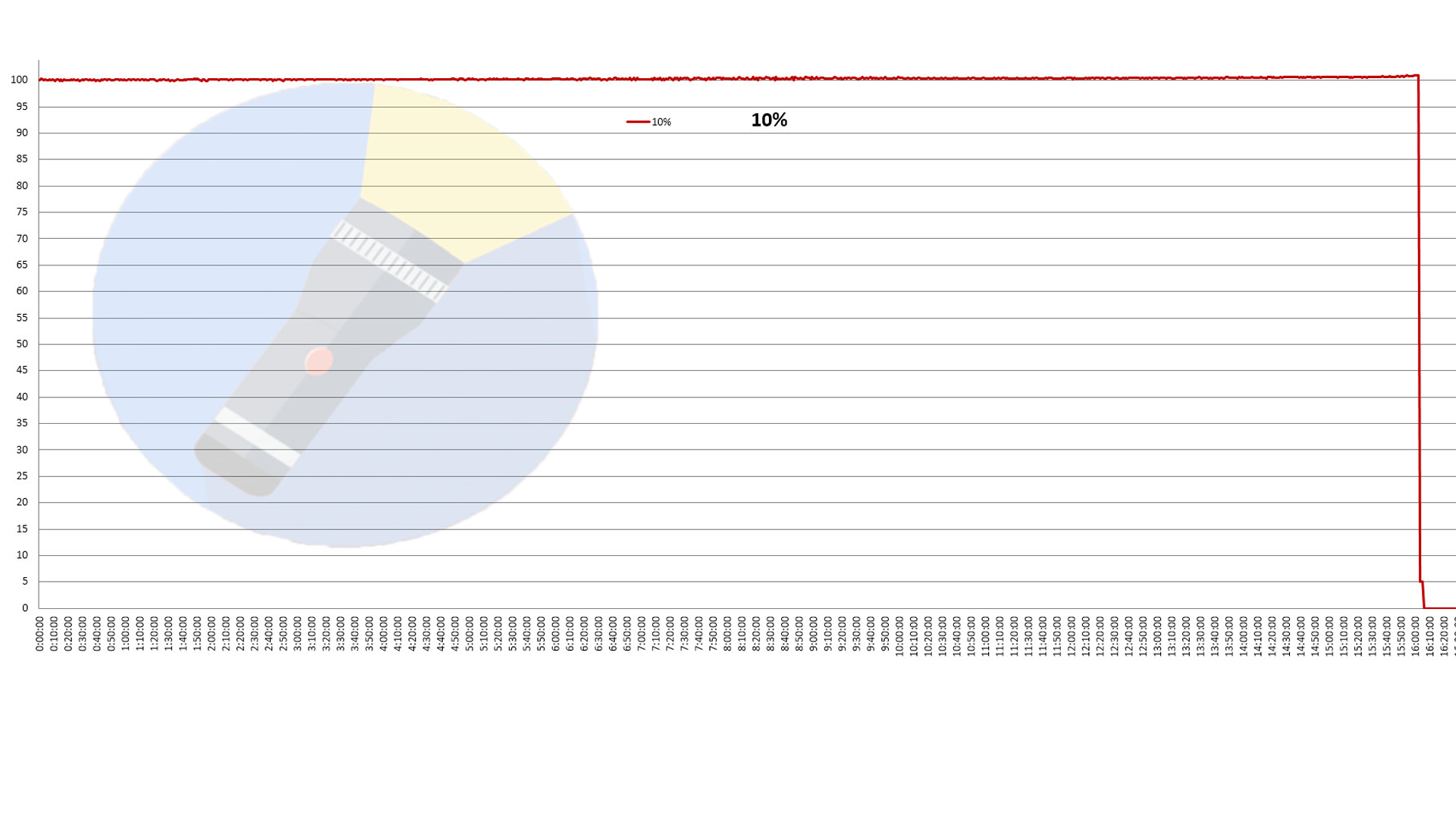 Well and most importantly, how does the Convoy 4x18A shine !? I'll start with how I would rate the modes
1% - dim non-blinding light with an instant access. It is convenient to use when your eyes are already accustomed to the dark.
10% is the most decent in terms of the runtime and brightness, something around 300-400 lumens. It is quite enough for a lots of outdoor distances up to 25m and more. Here I mean a good detailed light, but you still can rely on it at range like 50 meters.
40% is radically brighter than 100% for S2 + 4x7135. In this mode you can shine bright and far. nice detailed light at 75m distance, for example. Somehow you can enlighten 150m, you can tell lots of thing from each other.
100% - bright and quite throwy. Even budget thrower like C8+ will perform better, of course, but in case of 4x18A, you also get sidelight - what C8+ definetely lacks. you can illuminate things within a hundred and a half meters range, and 7 minutes before the stepdown is more than enough to see everything you need in detail. well, you can even it shine at 400m, but the brightness here will be significantly lower than that of the L6, which fits better as it has much deeper smooth reflector.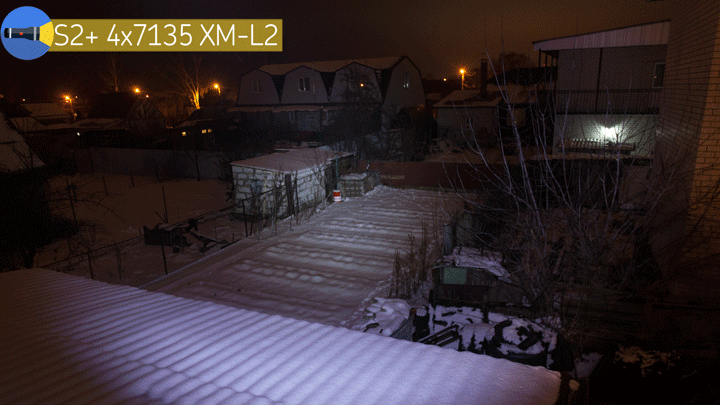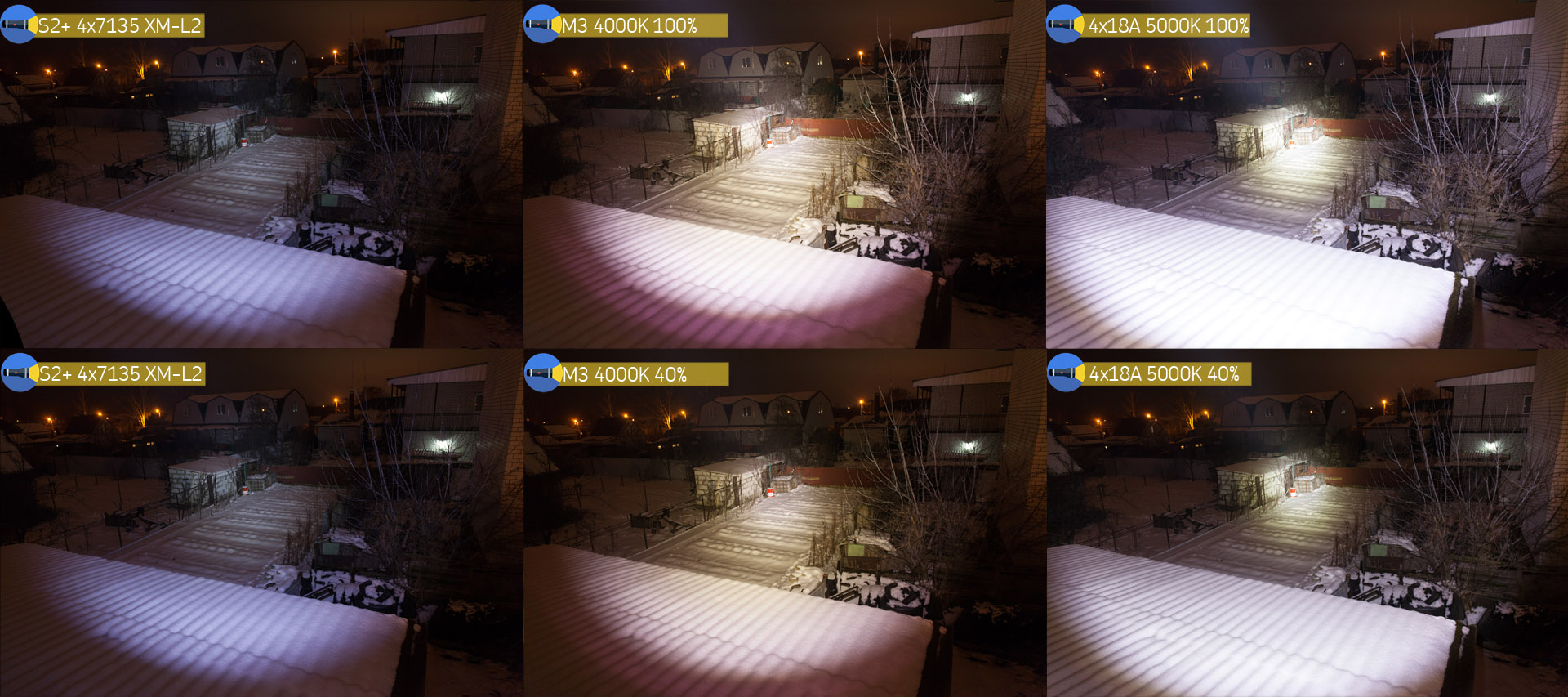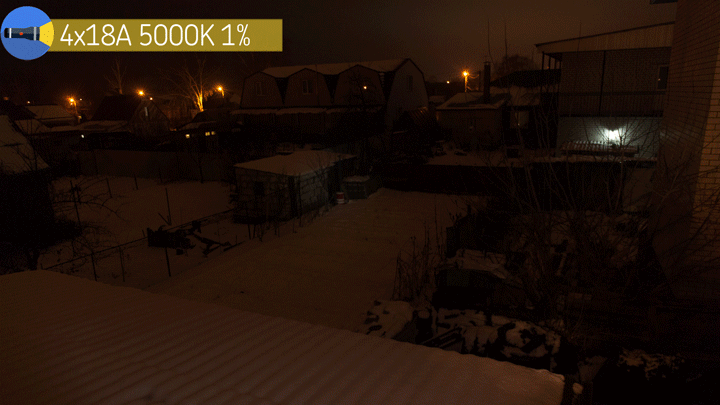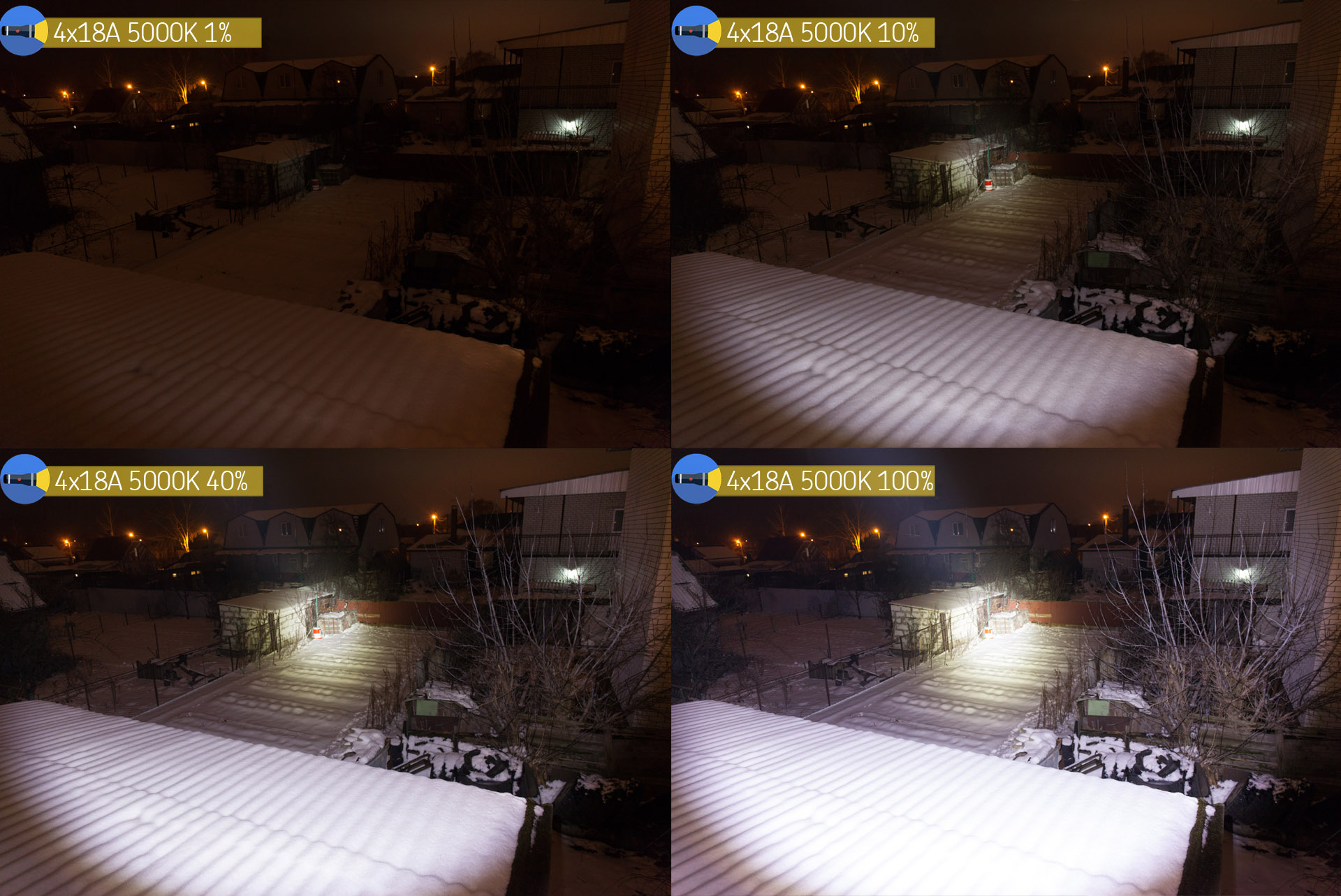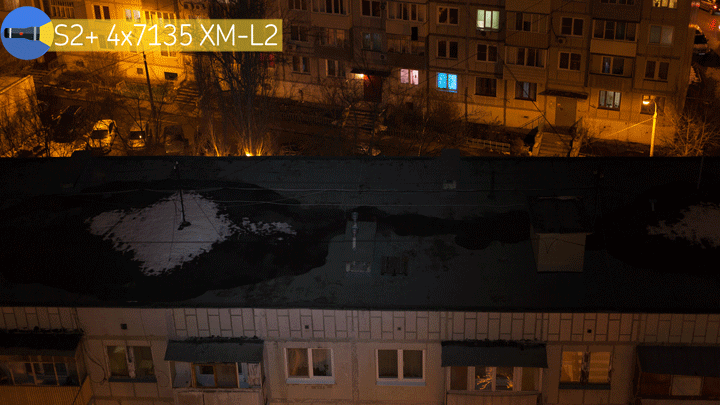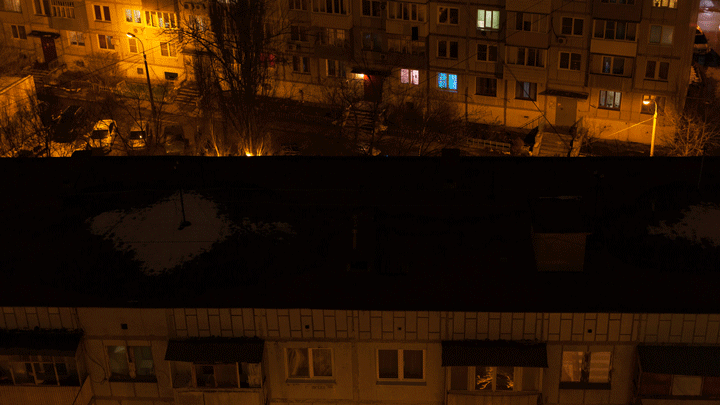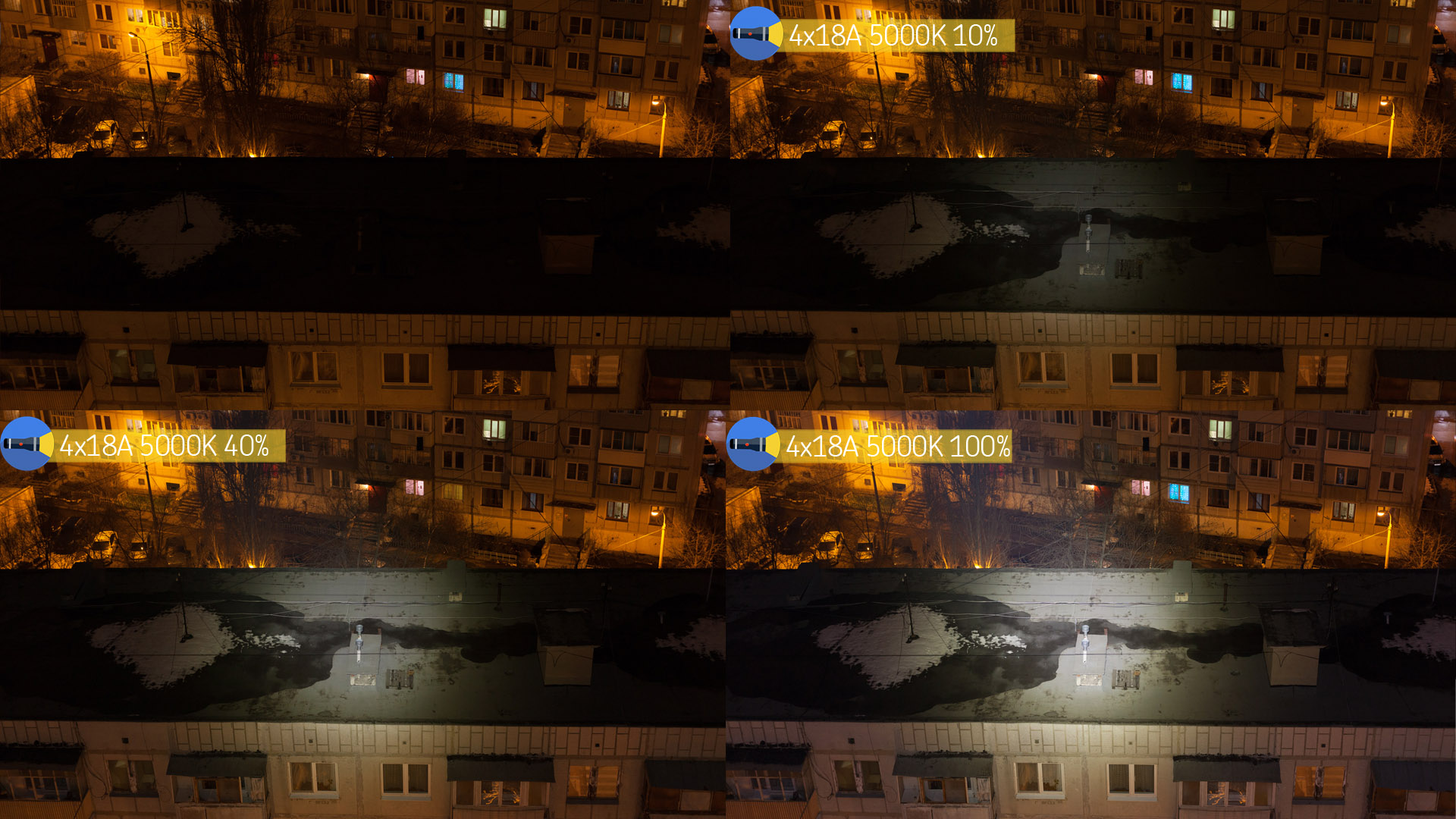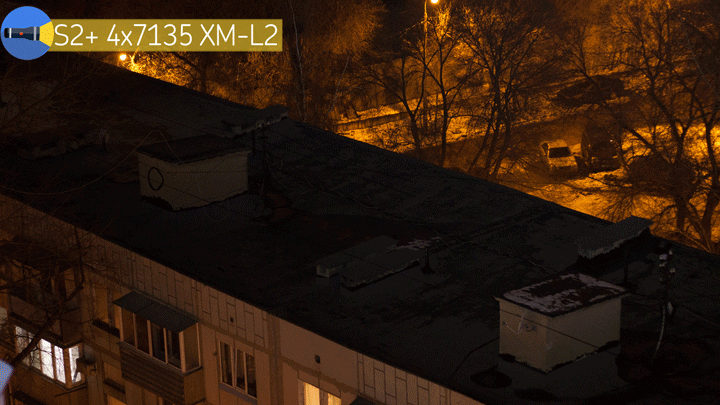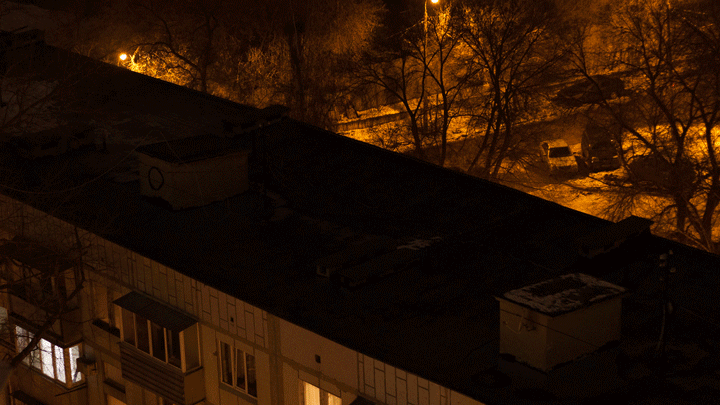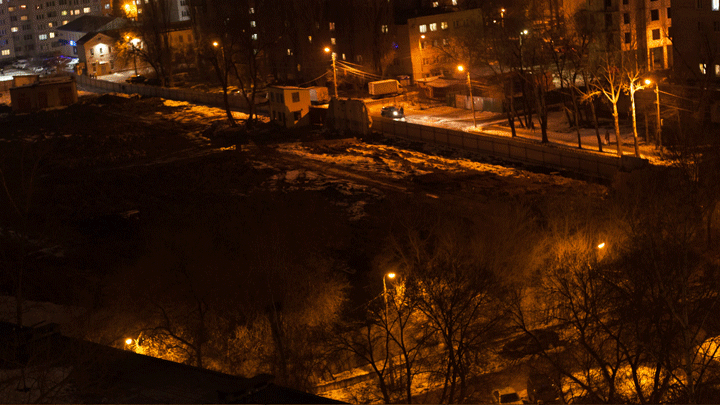 there are more alive video at my utube review + GAW
General impressions

 For its price, flashlight is very interesting. such can-size flashlights are very popular in flashlight society. These things have 3 or 4 batteries, lots of LEDs, flexible UI and great max brightness. But I don't remember that any of these models was able to sustain brightness comparable with 40 \ 100% of 4x18650A. And due to the large total capacity of the four batteries, runtime is really long.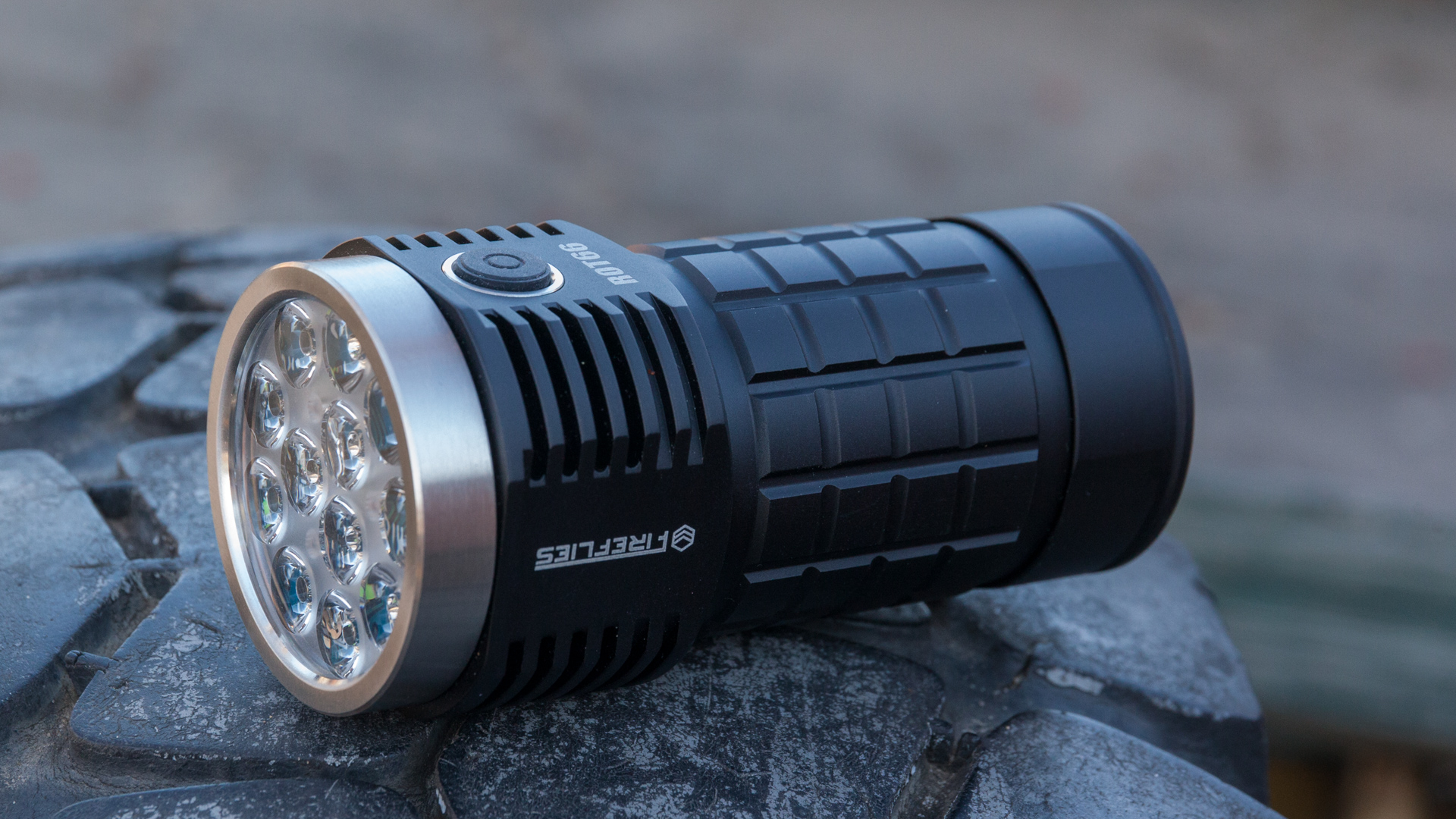 Does this flashlight have (budget) alternatives? How to say. Models with comparable brightness and ability to sustain it are radically larger. I mean Convoy L6 or Sofirn SP70 - hefty clubs with 2x26650. Illumination is comparabe. But no built-in charge. And you cannot store them in pocket at all.
And of the relatively compact flashlights, what can sustain decent brightness, i can name only Convoy M3 - it does not heat up like the hell like Sofirn SP36 does, has full stabilization at the level of about one and a half thousand lumens, which is unattainable for fashionable flashlights with the narsil \ anduril interface.

As a result, it is appropriate to compare these two flashlights. Convoy 4x18A is definitely larger. But this difference in size allows you to accommodate 4 batteries and, as a result, double the overall rutime relative to the M3 (not to mention runtime at 100%). M3 has no built-in charging. With comparable brightness, it has brighter hotspot whit similar throw, but less sidelight
But! a full set of M3 + battery will cost half as much as Convoy 4x18A (without batteries).
So, if the size and weight are critical - take M3, its brightness is more than enough for you anyway. And if you dont care about size and price, this bright new Convoy 4x18A flashlight will surely is what you need. It will shine really brightly, for a very long time, quite wide and far enough for maximum needs besides serious throw.
I sold several M3 to security officers who inspect large areas. I think that this model will also show its best here. After all, at 40%, it will work non-stop for half a shift. And this brightness is actually more enough for you.
This flashlight will not attract and surprise experienced flashaholicks. But a simple buyer who wants to buy budget flashlight with good build quality and serious brightness and pay AFFORDABLE price will find what he needs. Let me remind you that well-known brands offer for this price something like an ordinary EDC flashlight with 1000 lumens. And that is not for new models
So, due to the affordable price, this flashlight will be a great gift for any man. Even if there is no real practical need in such a thing , it will definitely pleasantly surprise with brightness.