The first TK16 was released in 2015, which makes it an antique by the standards of industry. Flashlight had quite bright 1000lum turbo from XML-2. So, years passed and Fenix ​​decided to update their classic model according to modern trends.
As a result, they combined 21700, SST70 LED and seasoned it with they own "Advanced Pulse-frequency Transmission System", their proprietary replacement for a well known additional contact sleeve.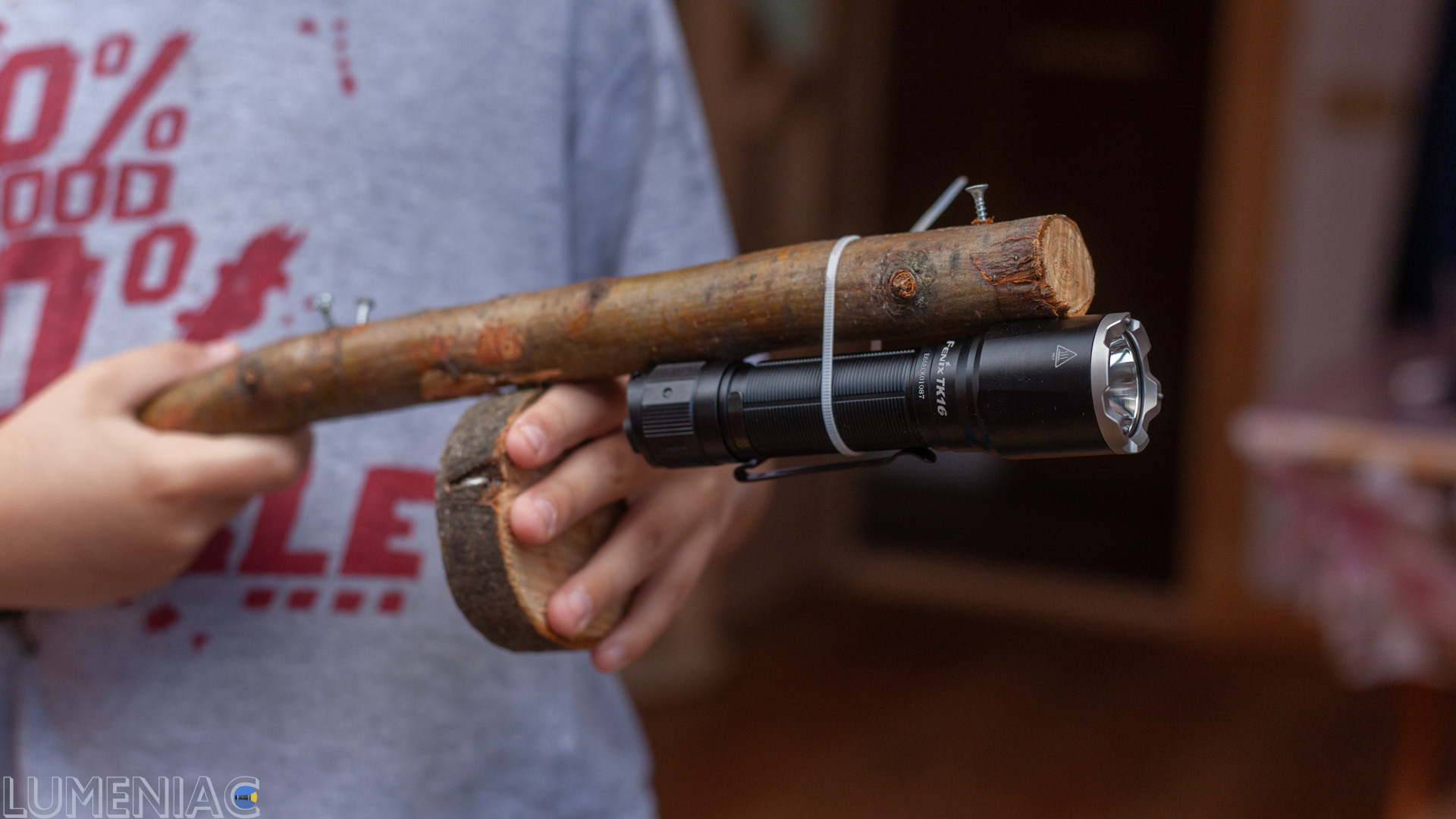 You can buy Fenix ​​TK16 v2.0 at ALIEXPRESS \ AMAZON
Let's start with a visual illustration of the past changes.

specs from model page:
*3100 lumens maximum output; 380 meters maximum beam distance.
*One Luminus SST70 LED with a lifespan of 50,000 hours.
*Included a Fenix ARB-L21-5000U rechargeable Li-ion battery.
*Advanced Pulse-Frequency Transmission System (APF).
*Instant activation and strobe with the dual tactical tail switches.
*Stainless steel strike bezel inlaid tungsten steel breaking tips.
*Toughened ultra-clear glass lens with an anti-reflective coating.
*Made of durable A6061-T6 aluminum.
*Premium type HAIII hard-anodized anti-abrasive finish.
PACKAGE AND APPEARRANCE
The flashlight has a very good gift potential. Package is not that luxury, but nevertheless impressive one.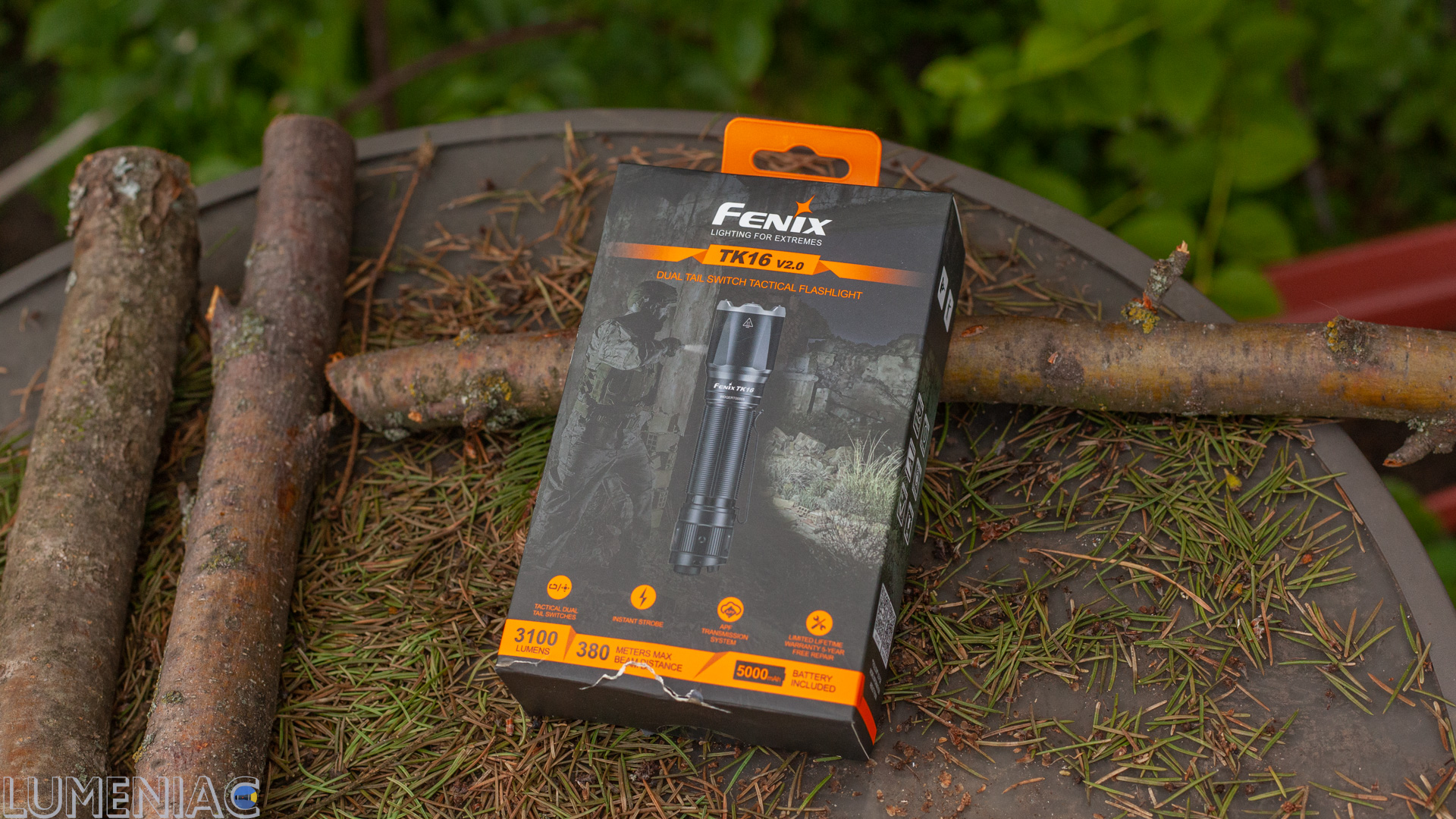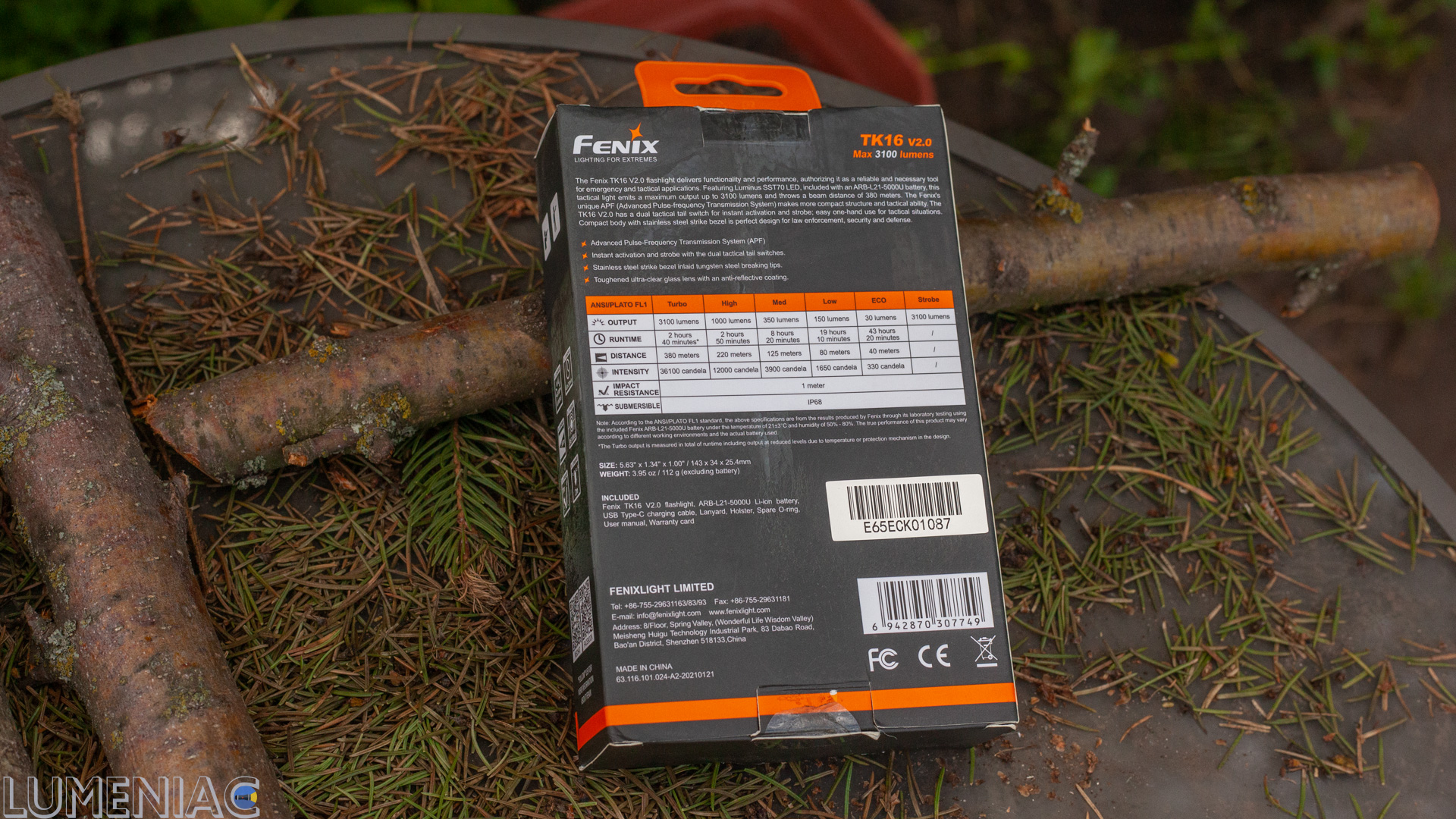 The kit includes everything you need: flashlight, 5000 mAh battery, 21700, Type-C charging cable, case, lanyard, a pair of O-rings, manual and warranty card. There are different kits avaiable at Aliexpress: without a holster, with addditional 21700, with a gun mount, etc.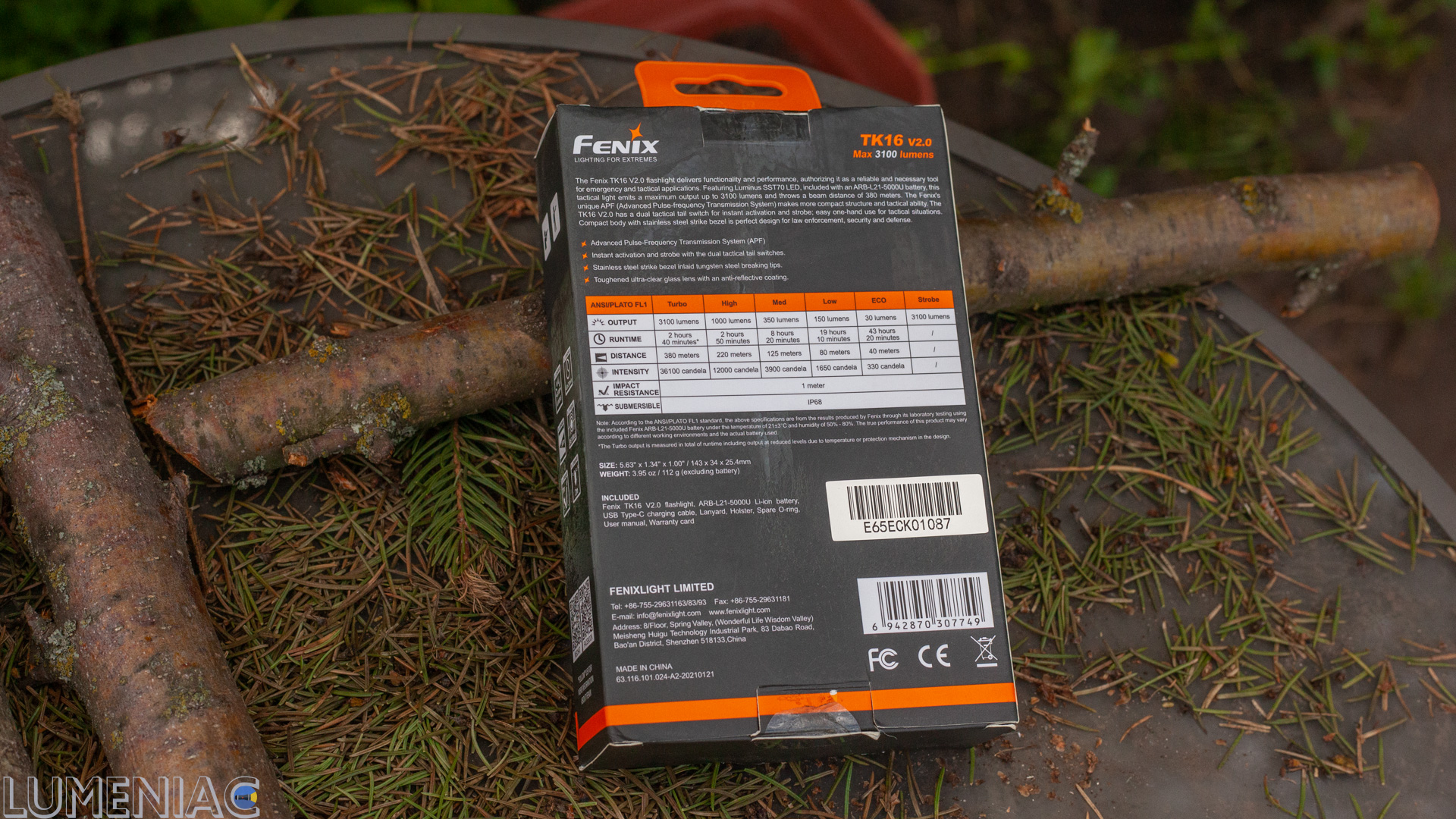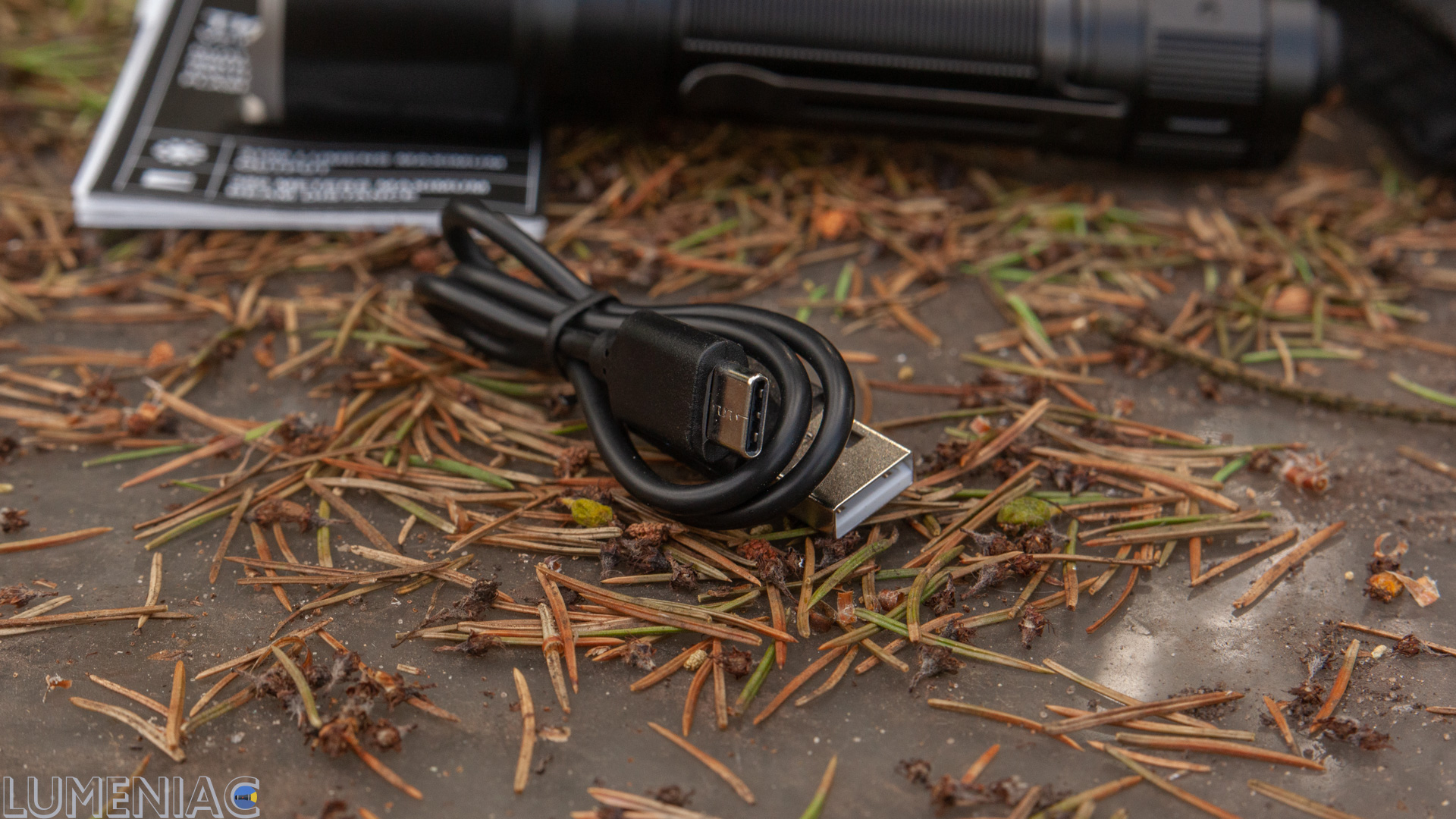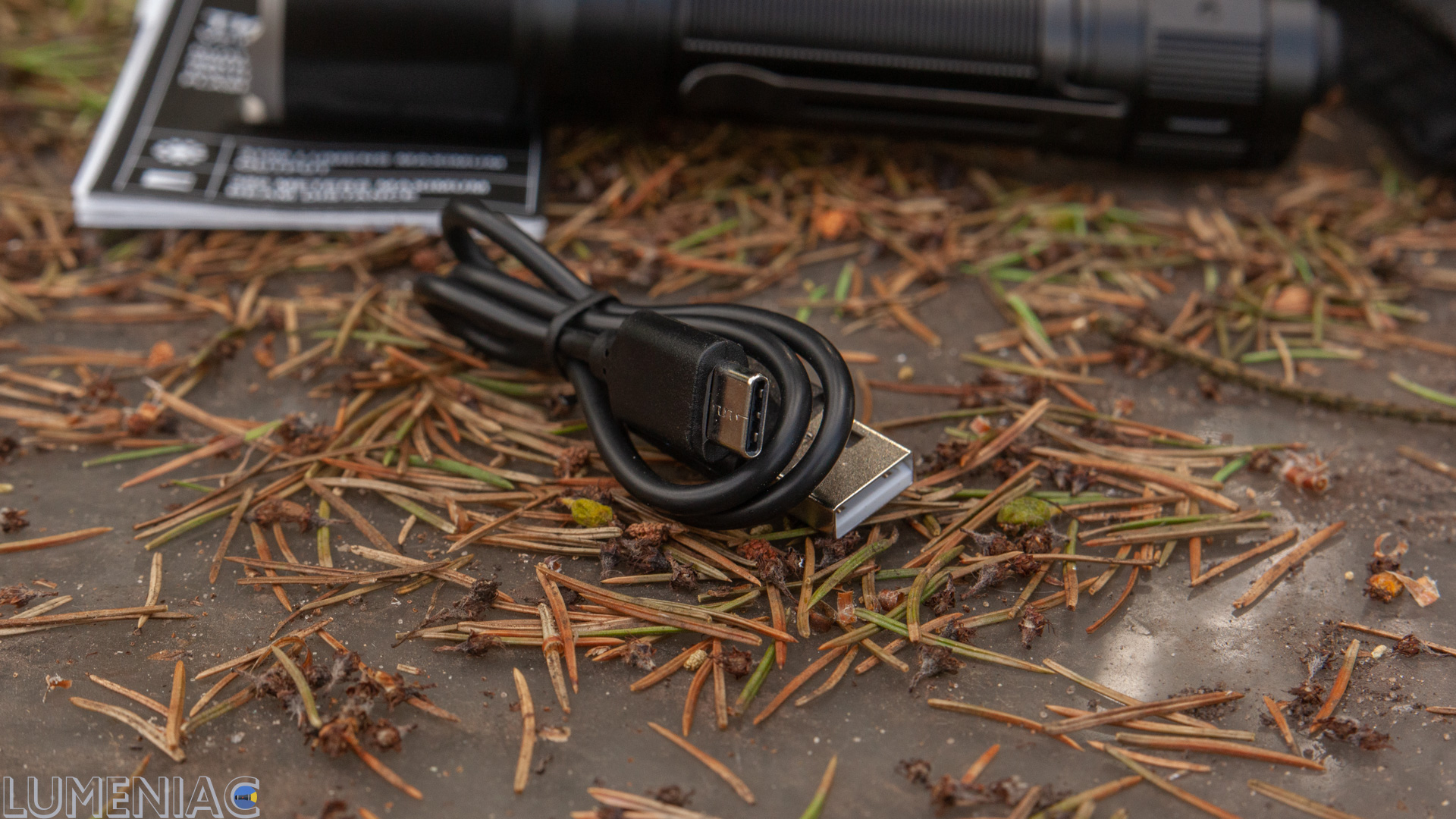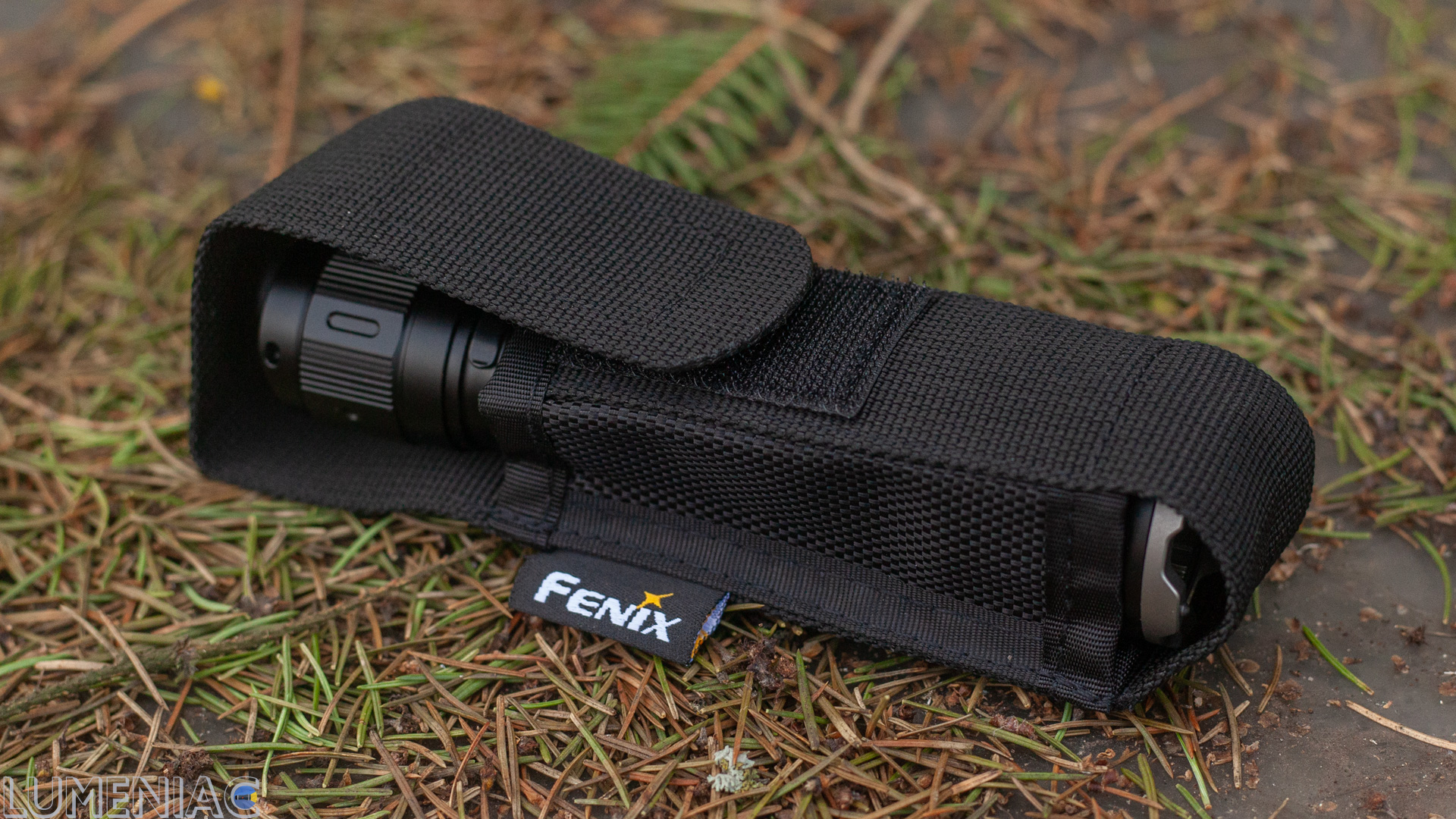 Taking into account the astronomical price tag of this flashlight, such a budget holster unpleasantly surprises. However, the manufacturer is already aware, i was told that chances are high to see way better holster in new batches. The lanyard, by the way, is also superbudget. Damn, Fenix can make good holsters and lanyard. The lanyard included in kit of Fenix LR50R is undoubtly best i`ve ever seen, and i`ve seen hundreds.
21700 battery has built-in charging connector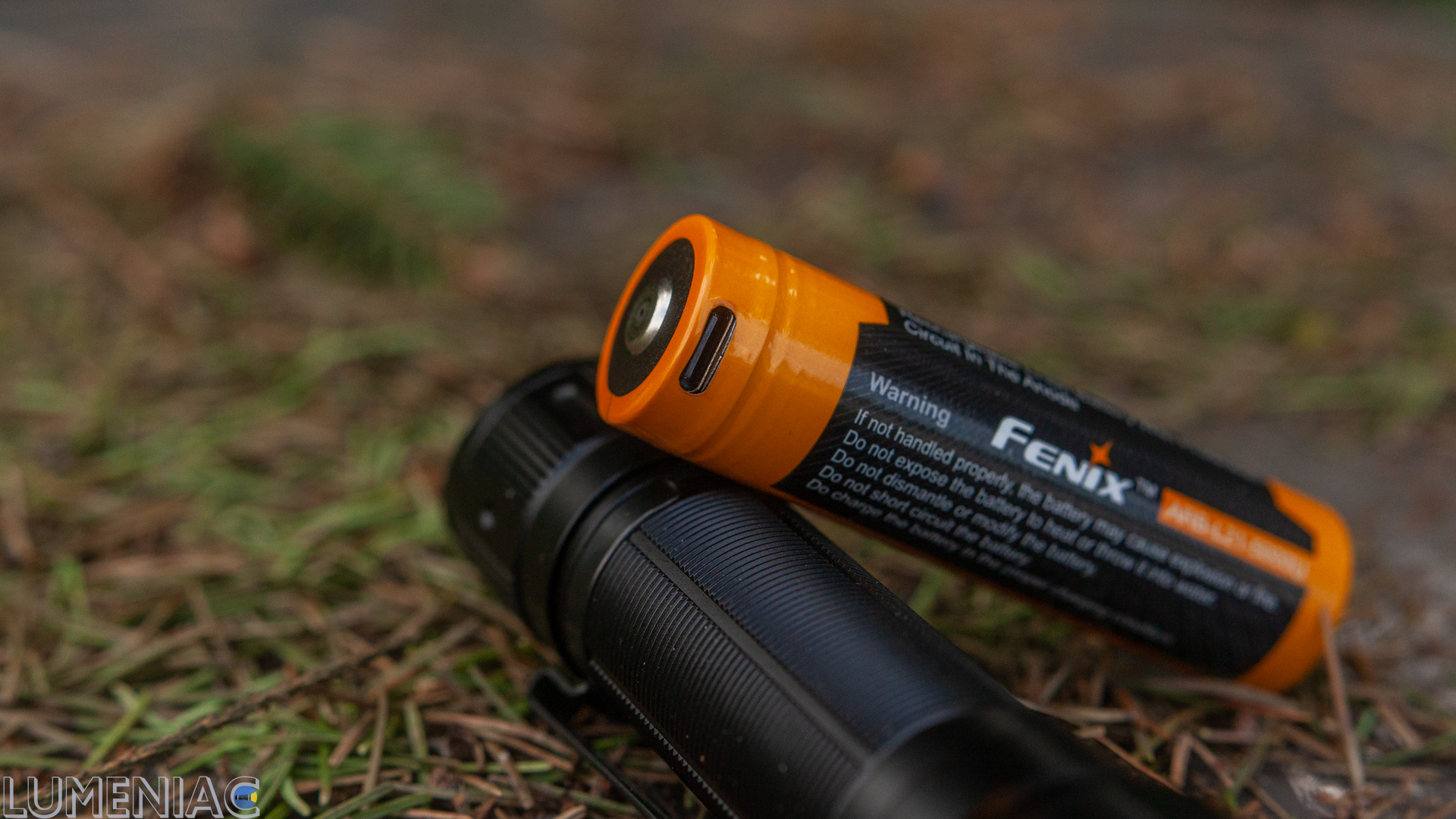 The dimensions of the flashlight are quite average. 143mm (length) x 25.4mm (body diameter) x 34mm (head diameter). Here it is perhaps a little thicker than the 18650 battery models. However, if you do not know this, maybe you will not catch the difference of diameter.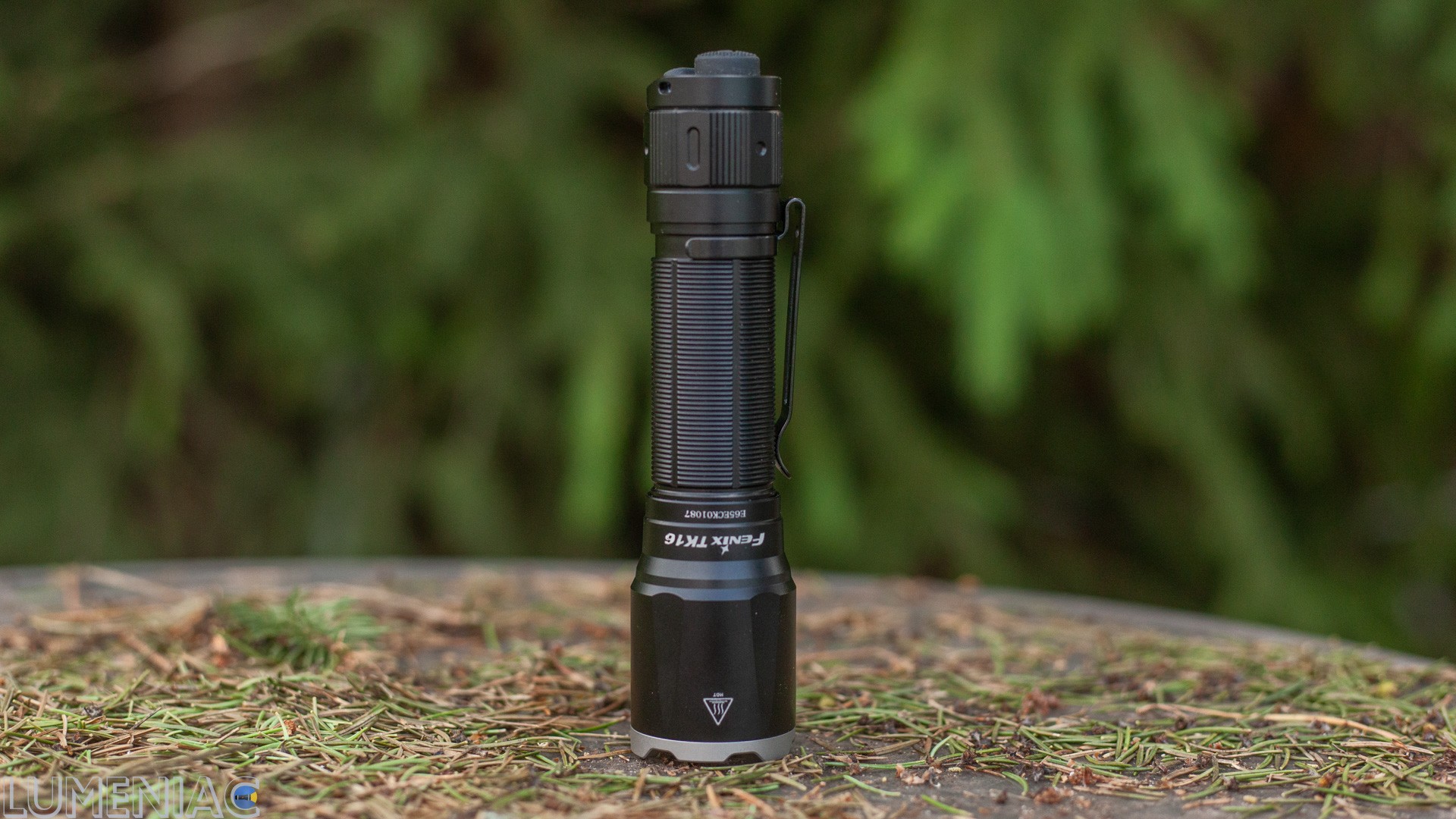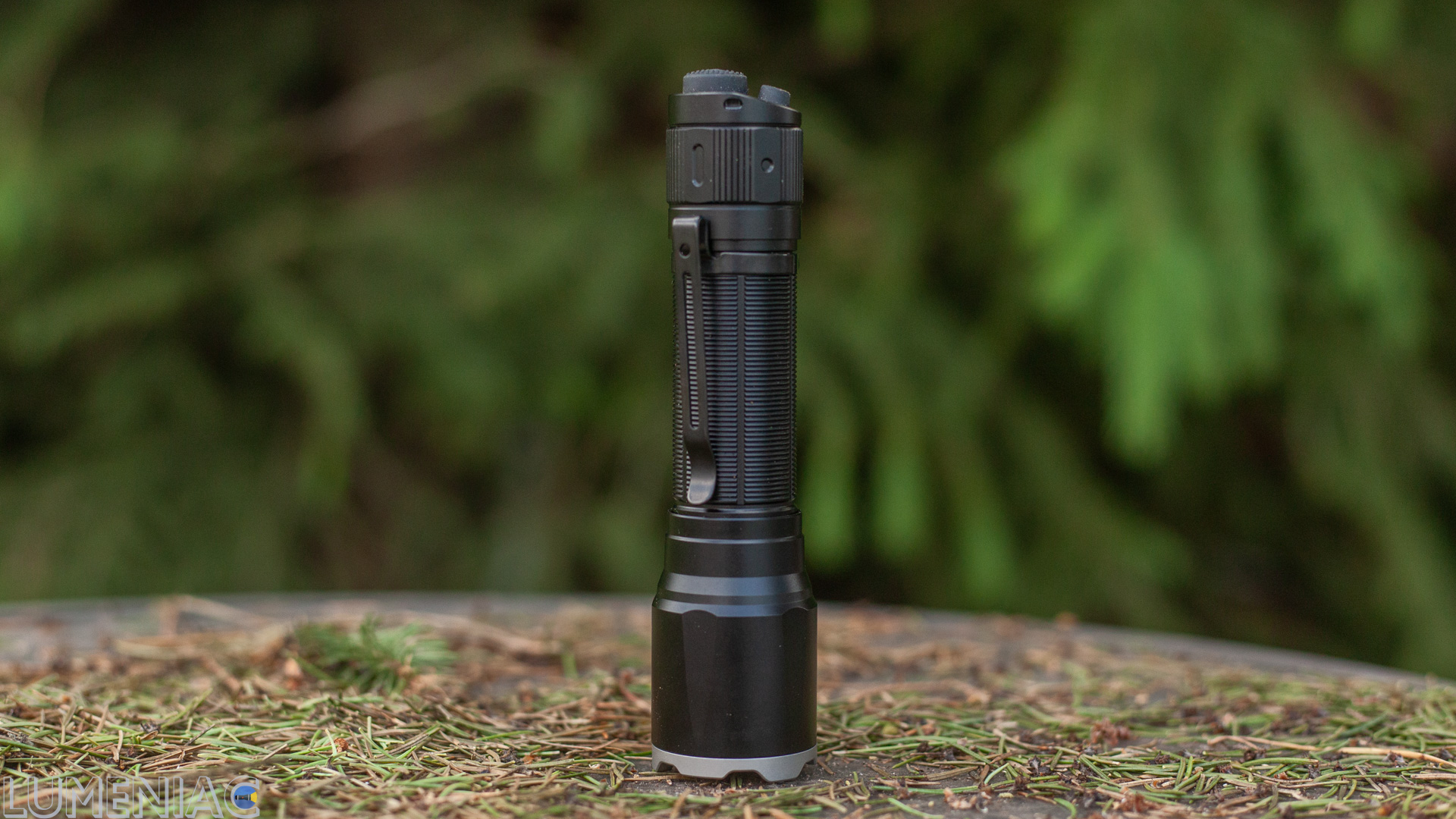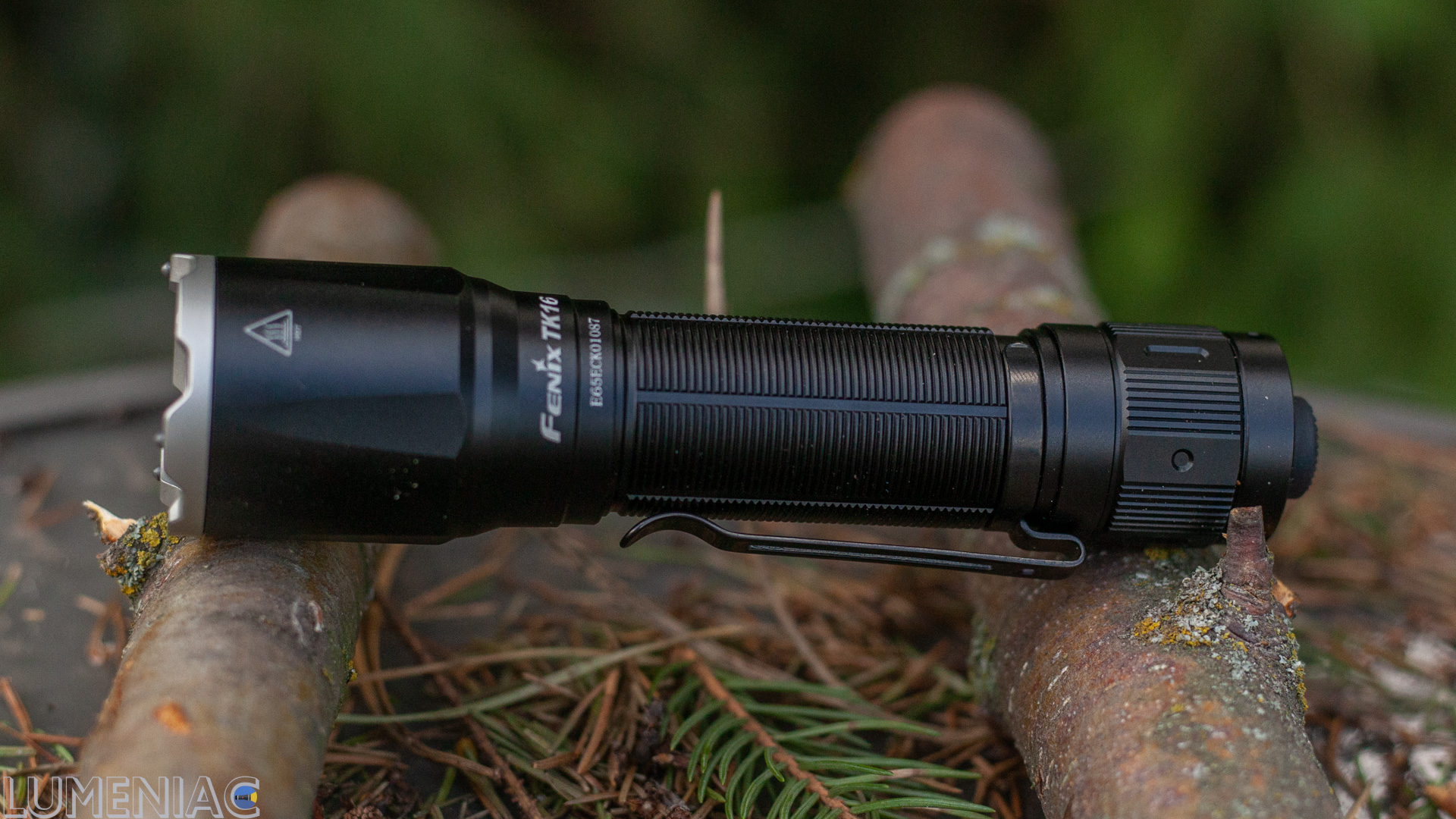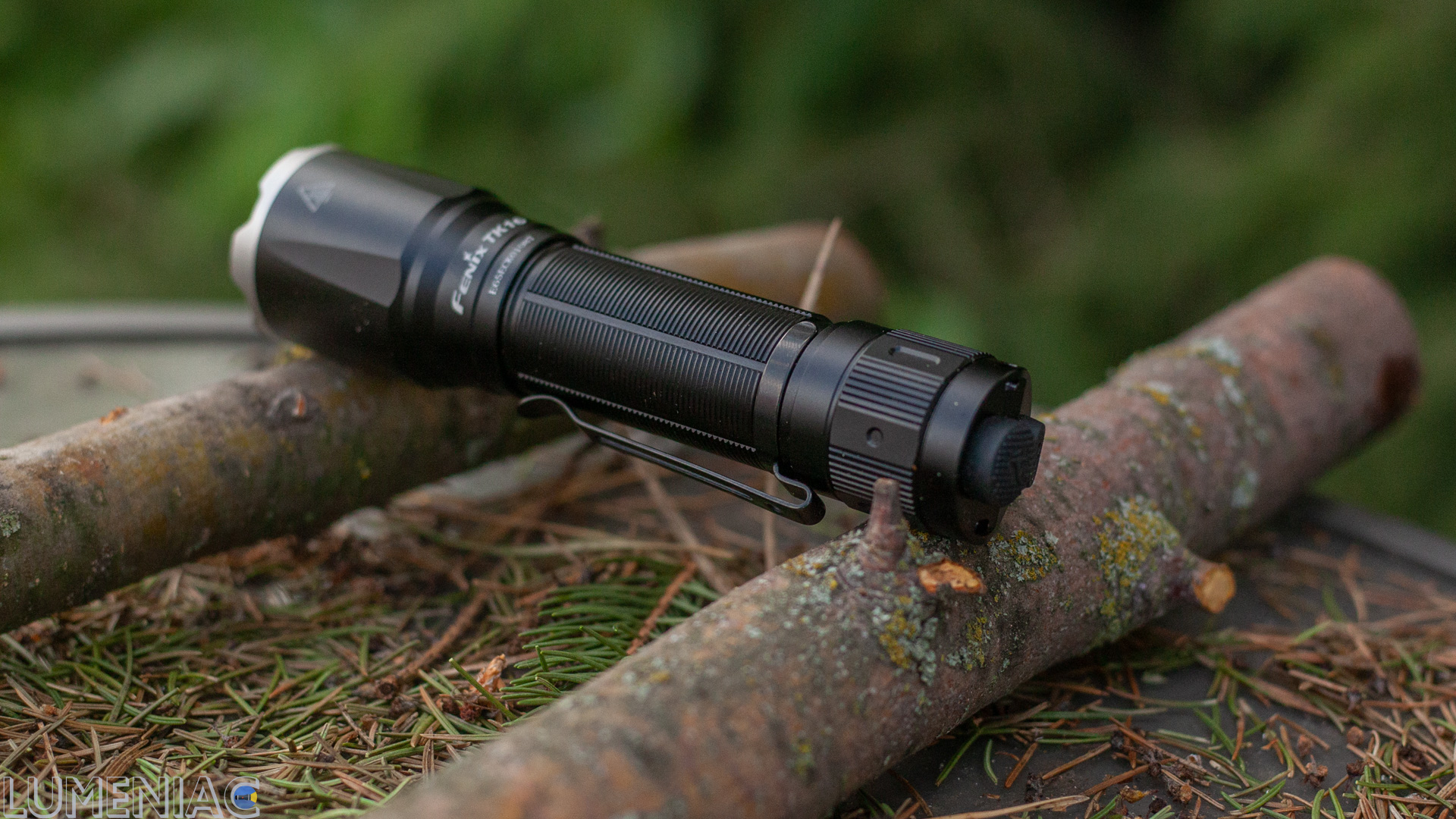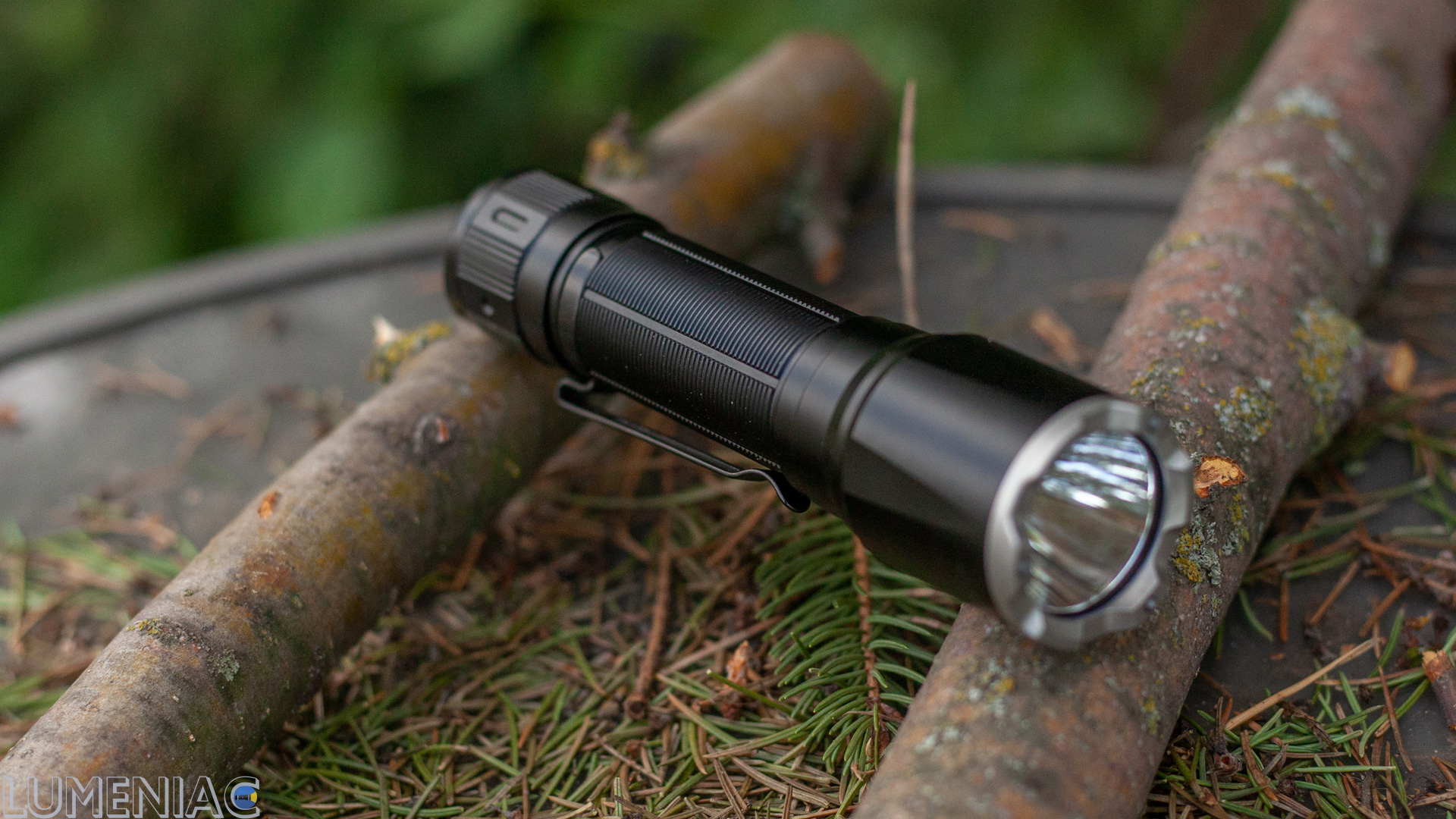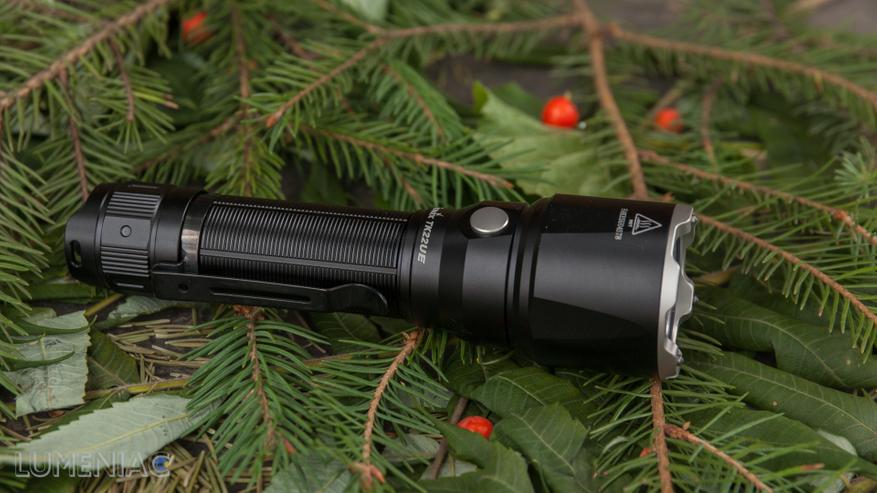 Design is the same as a number of other Fenix models. Well, i think that unlike EDC models, design is not that important feature for tactical flashlights. Not that TK22 v2 looks really simple one, but such straitforward copy-past approach to design is qiute uncool IMO.
Fenix ​​TK16 v2 can be disassembled into 3 parts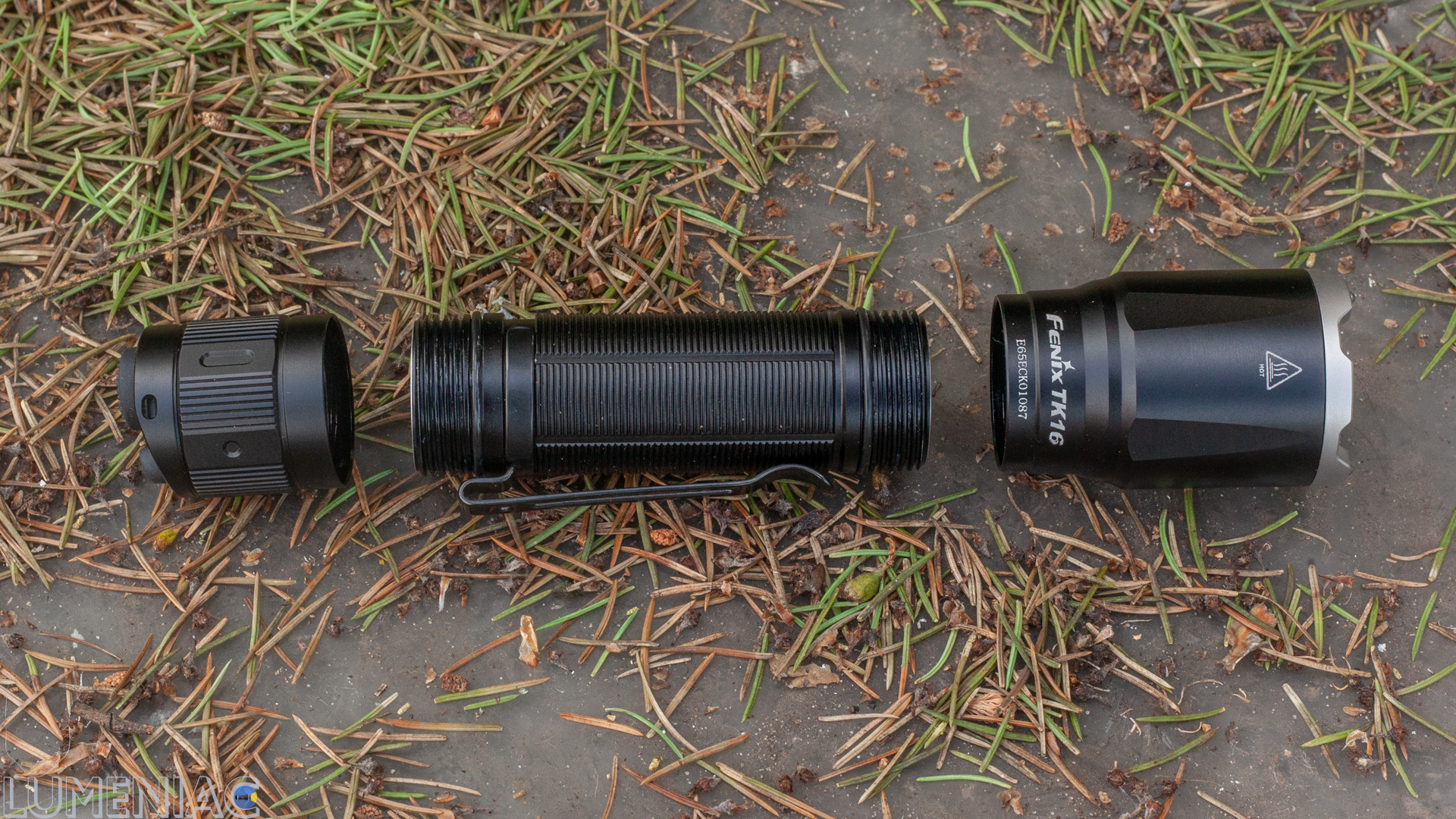 The thread of the middle part is well lubricated. The knurling is quite simple.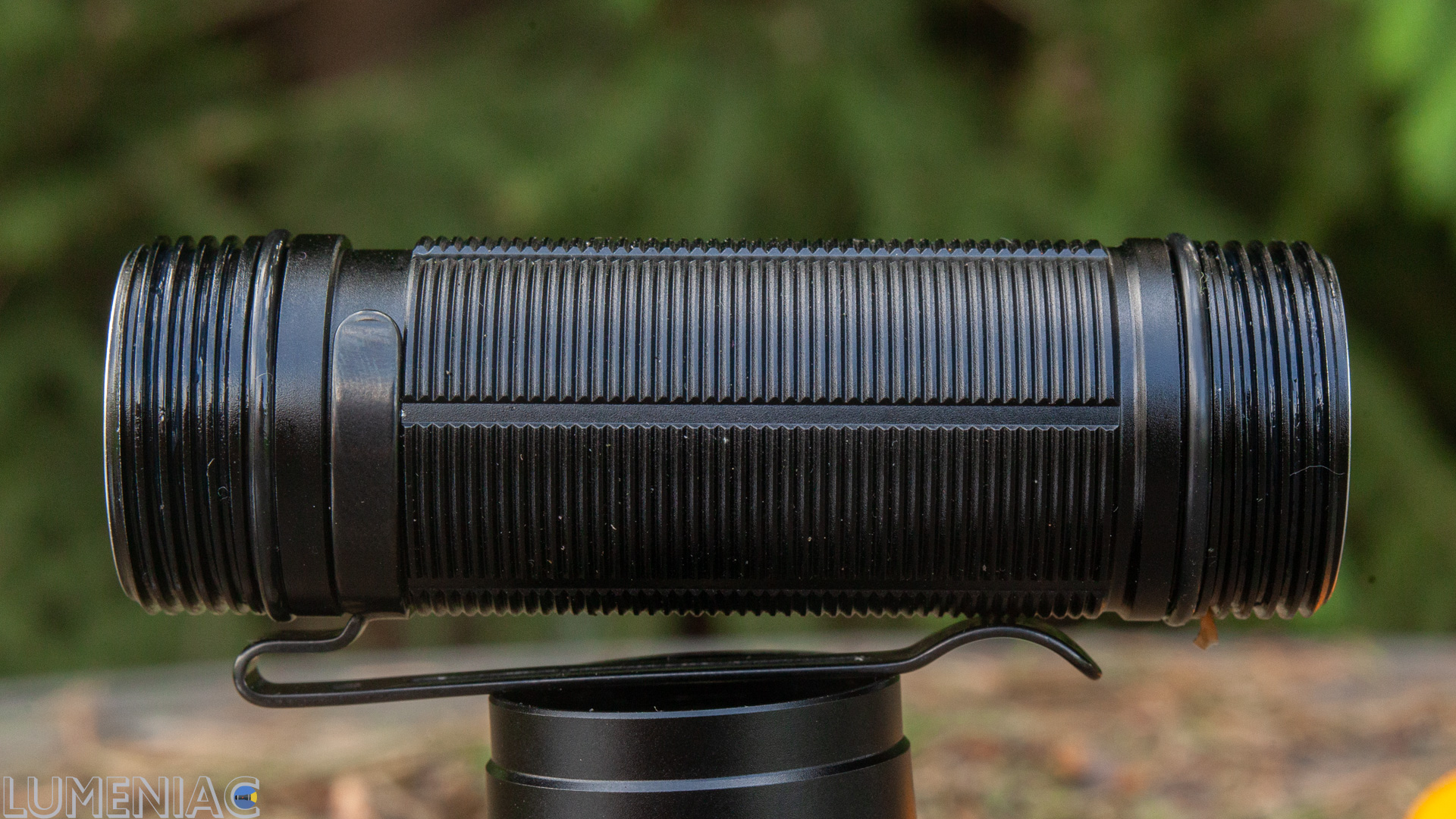 But, nevertheless, it is tenacious enough. And so, the grip is quite comfortable and reliable.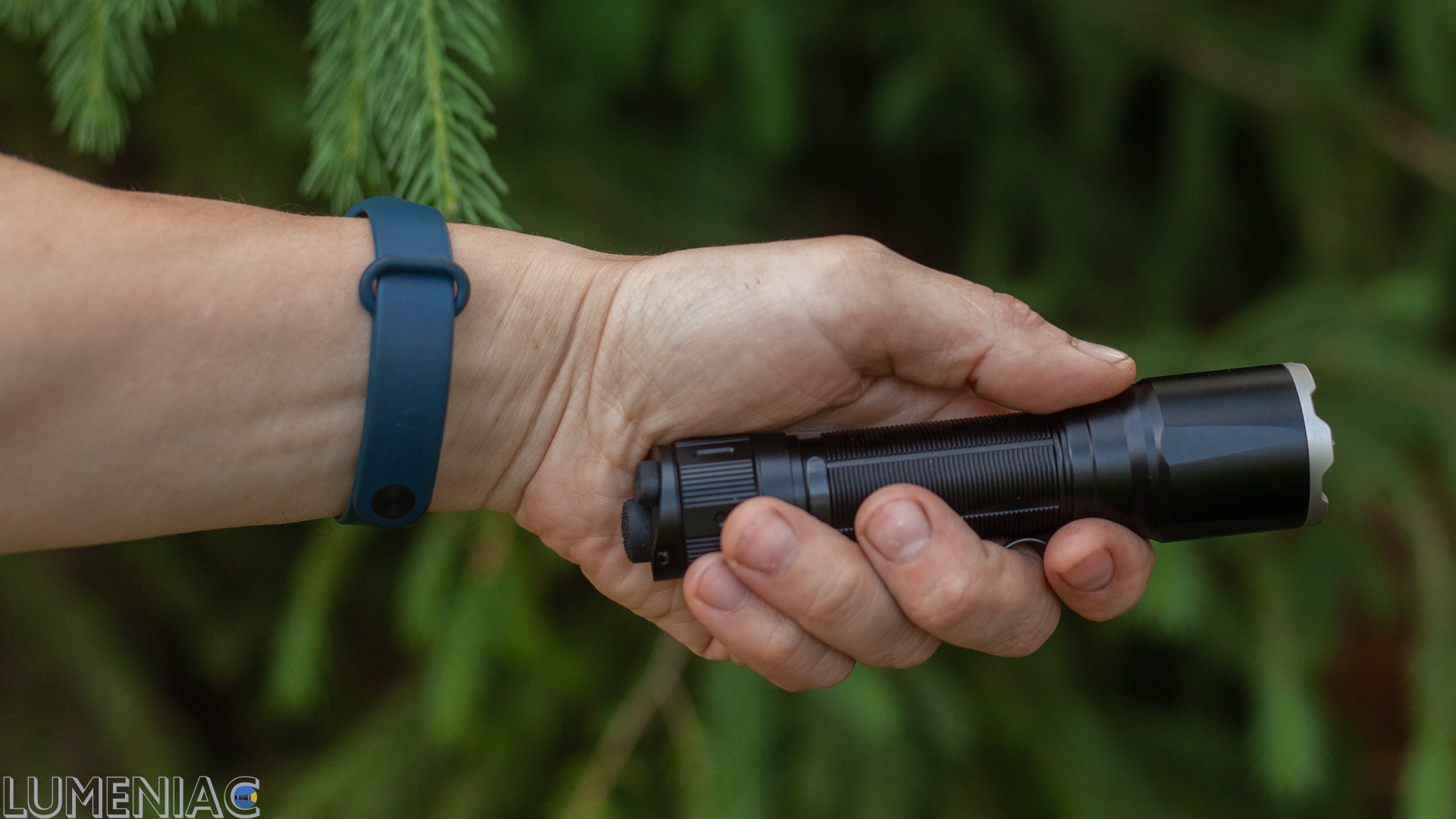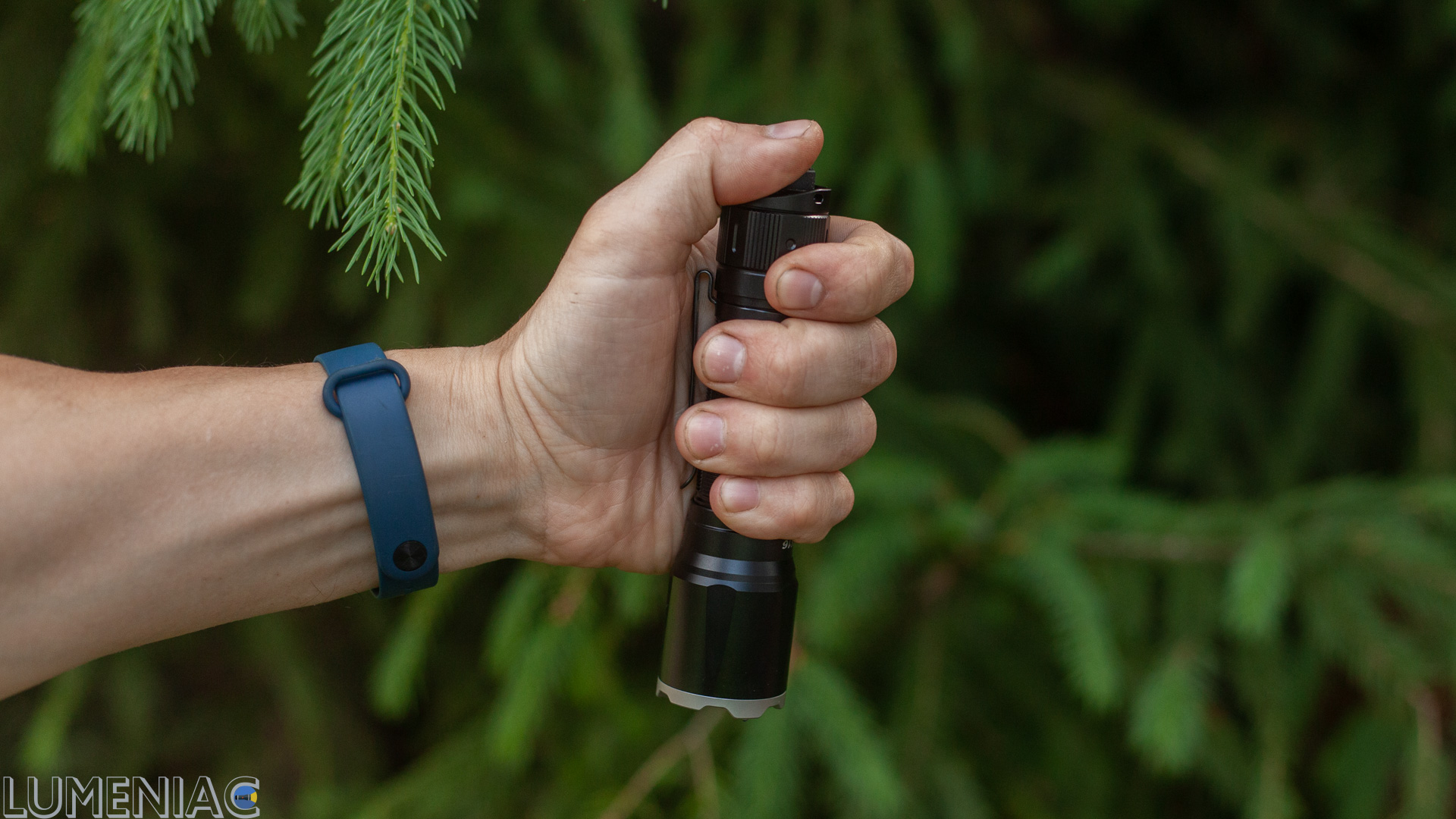 I dont find that there are are multiple grips here, like promo pics say. It is exactly that sort of sweet stuff from promo-pics that either tells you obvious thing in wrapping of "here is our unique feature" or just feed you with you know what…So. You can comfortably operate the flashlight with only one classic reverse grip. I found the cigar grip uncomfortable. Of course you can use it with direct grip. But i`m talking about operating, which means pressing buttons and stuff. And with buttons at tailcap that is, obviously, way more comfortable in reverse grip.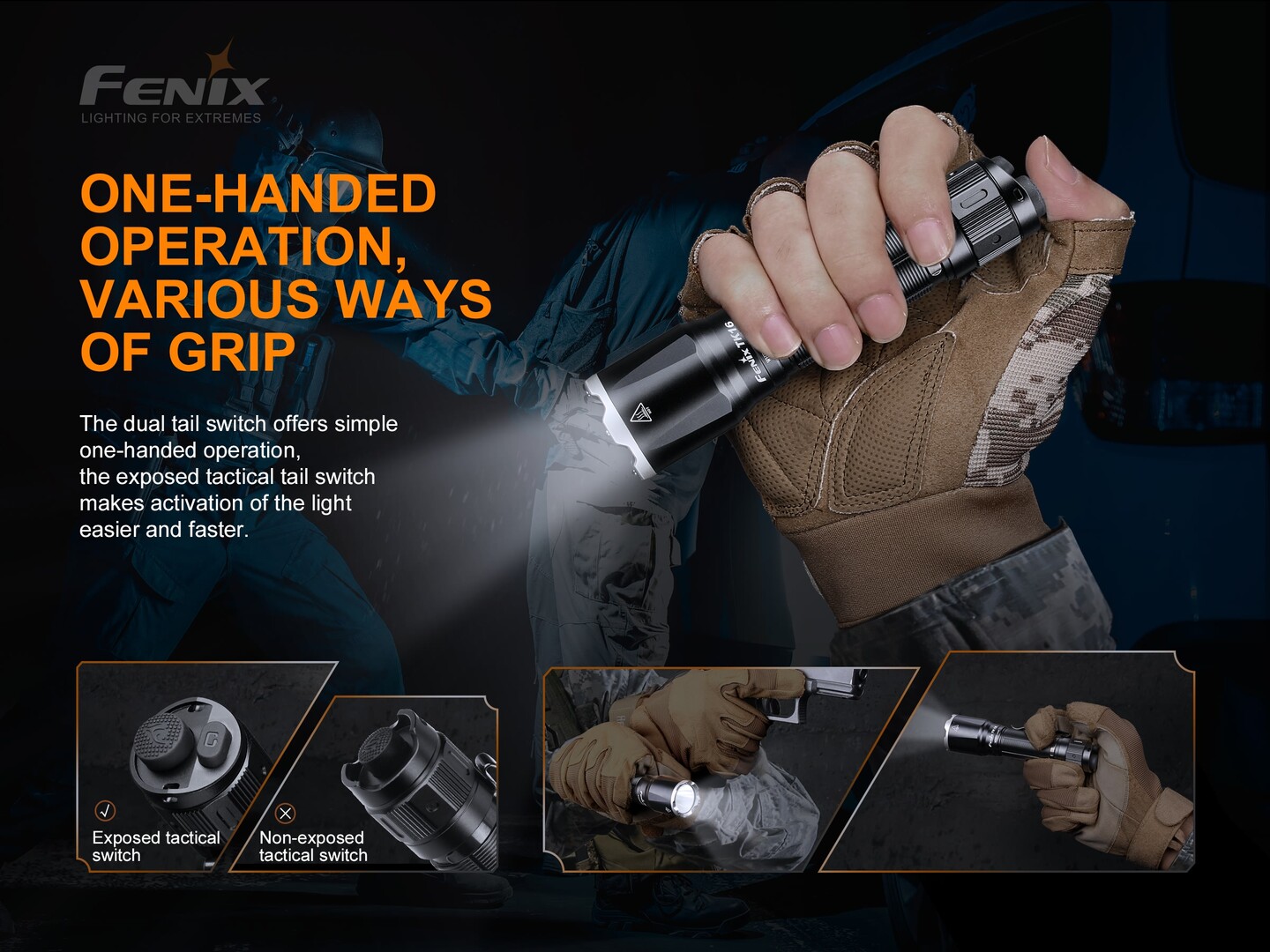 Now about buttons. There are two of them, both on the tailcap. The main large button turns on / off the flashlight and, of course, supports half-pressing. The small rectangular button below it toggles brightness levels and trigger strobes.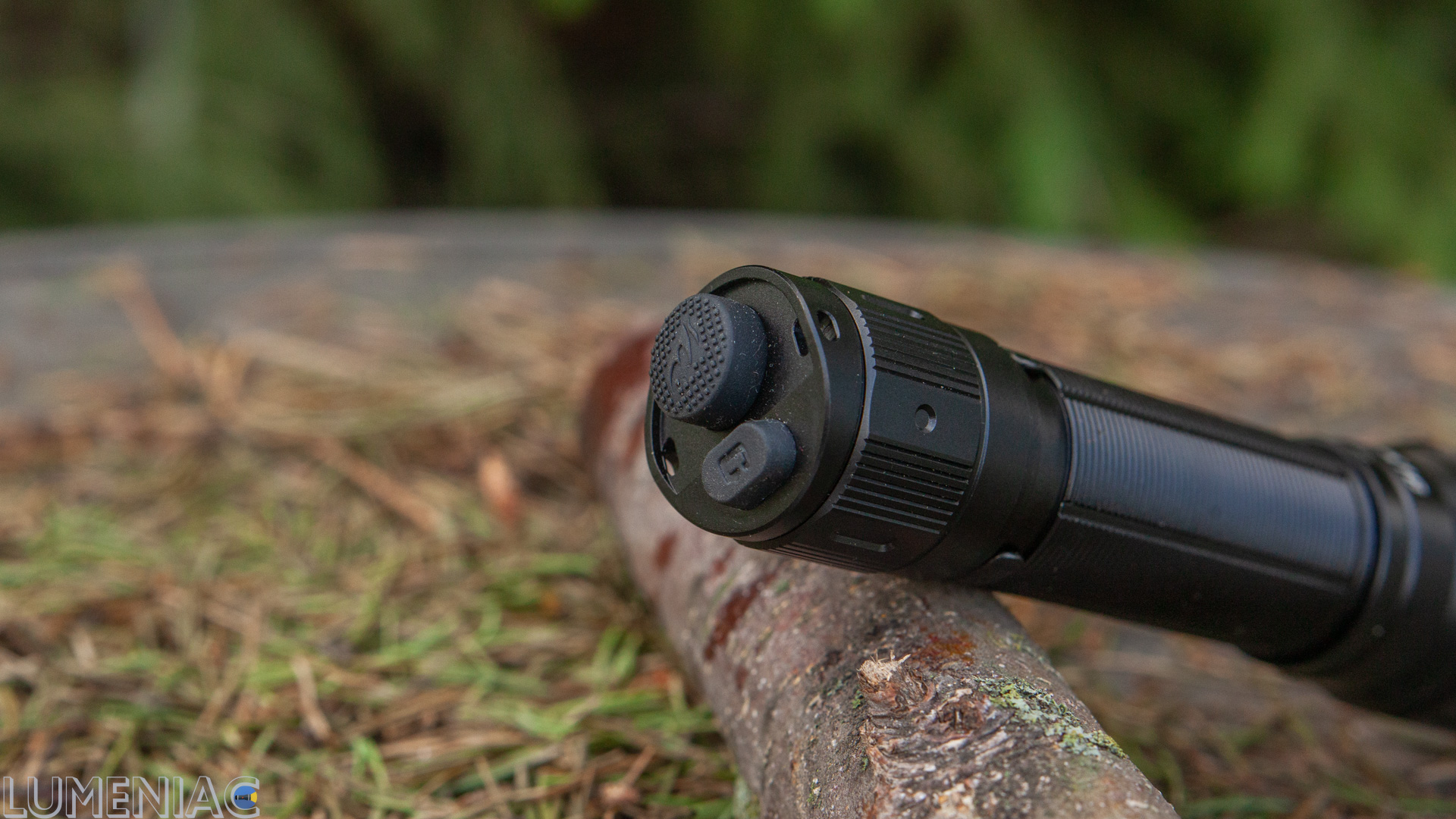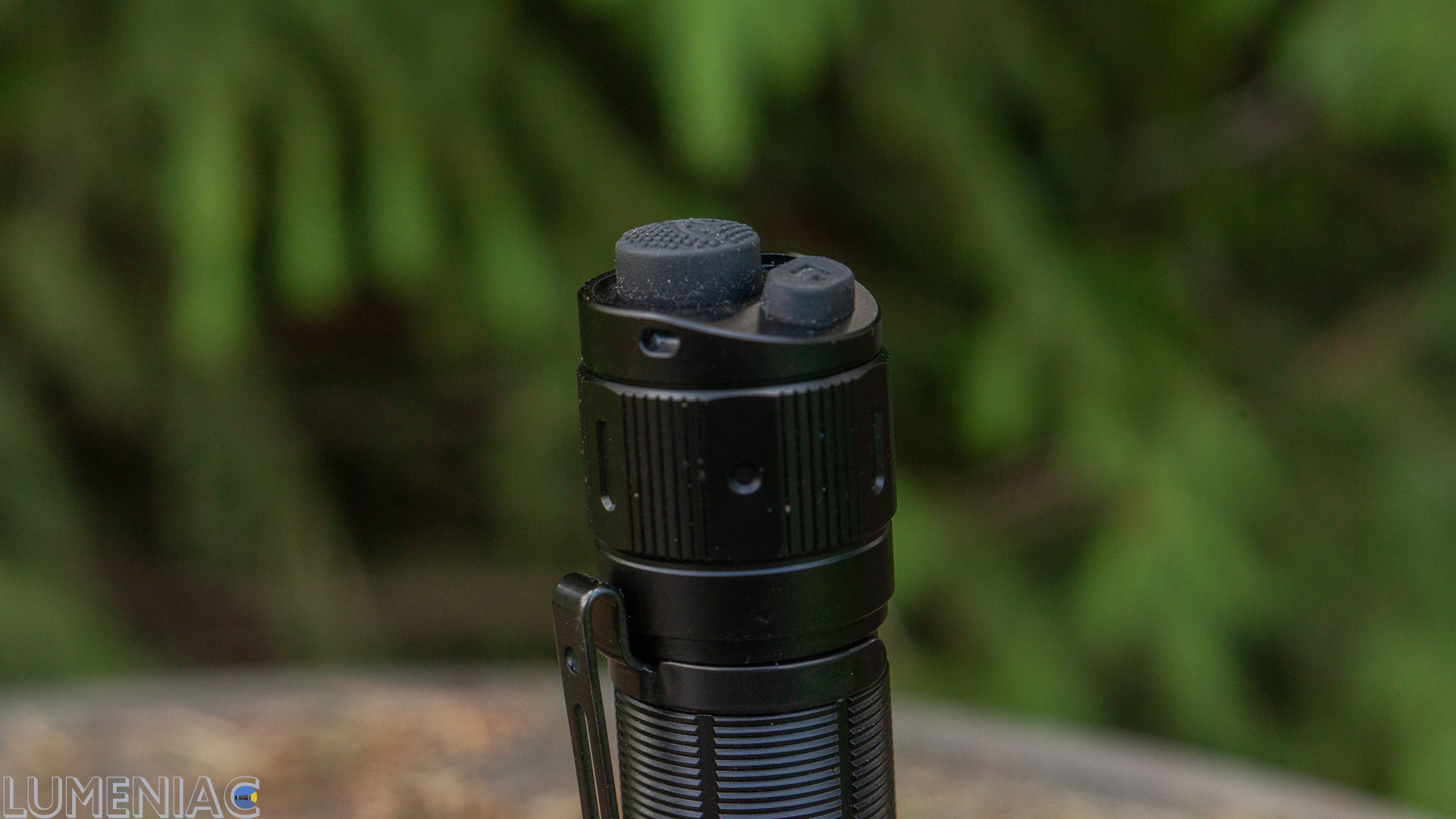 I have a double opinion of this small button.On the one hand, with the correct grip, you can control two buttons at once with just one finger. On the other hand, the move of this small button is very shallow , and it was a rough task for me to locate it instantly.
There is a thick spring inside the tail cap. And here you can see the difference from the previous version of the flashlight, in which the signal from the additional button went along the standard extra contact path – an contact sleeve cylinder was pressed into the primary body.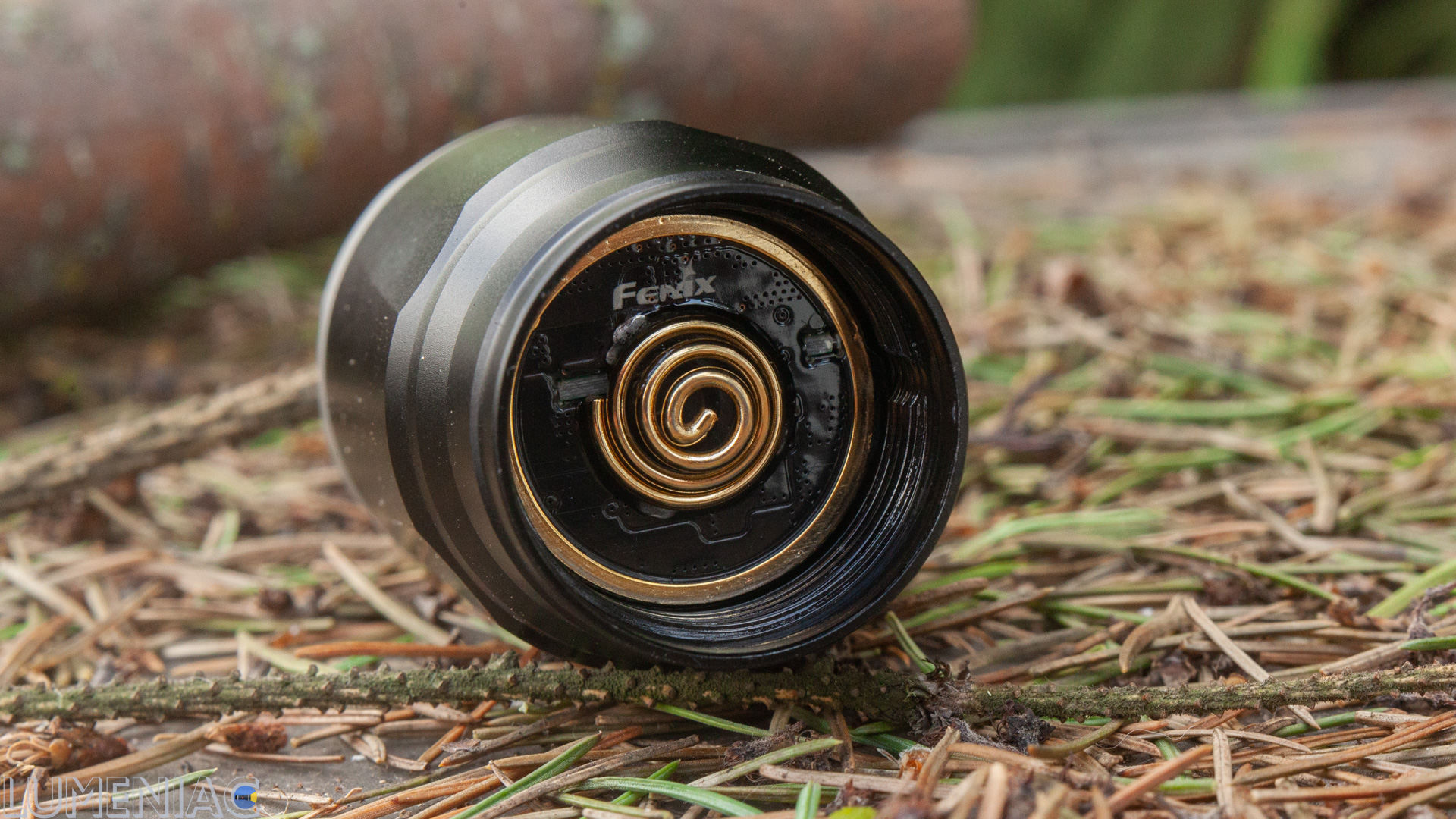 In the new generation, Fenix ​​uses advanced pulse frequency technology for signal transmission. Obviously, some kind of well-knonw physics is hidden behind the cunning term. But, in any case, no one else does this. And, most importantly, I noticed that it does not cause any disadvantages in use. It actually works without an extra tube. Isnt that good?
The head is medium sized, it doesnt stands out against the background of other tactical flashlights except for the absence of cooling fins. However, with such maximum brightness, they would not be of any use. And with modes up to high, the flashlight should and so cope. However, we will check it later.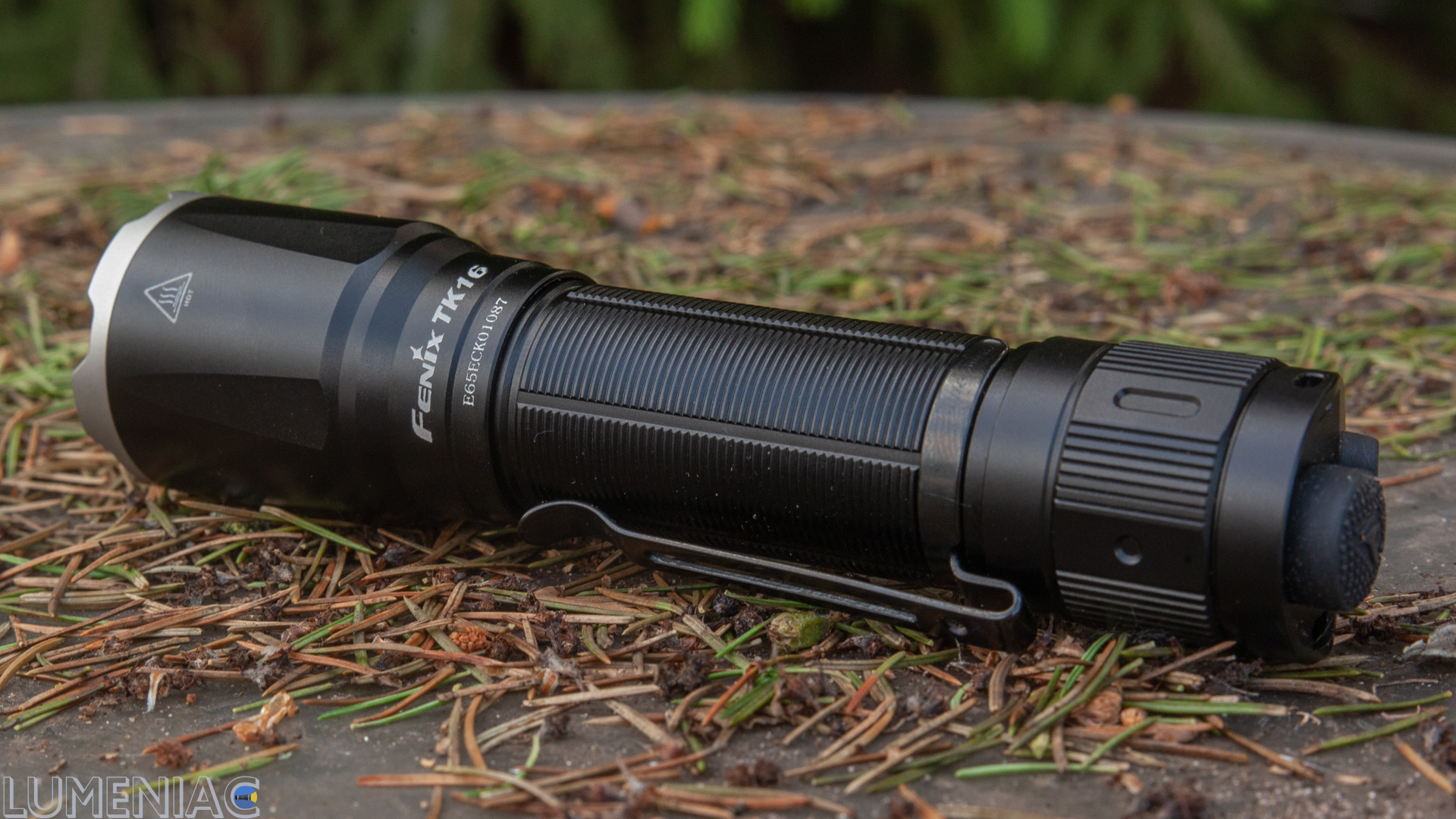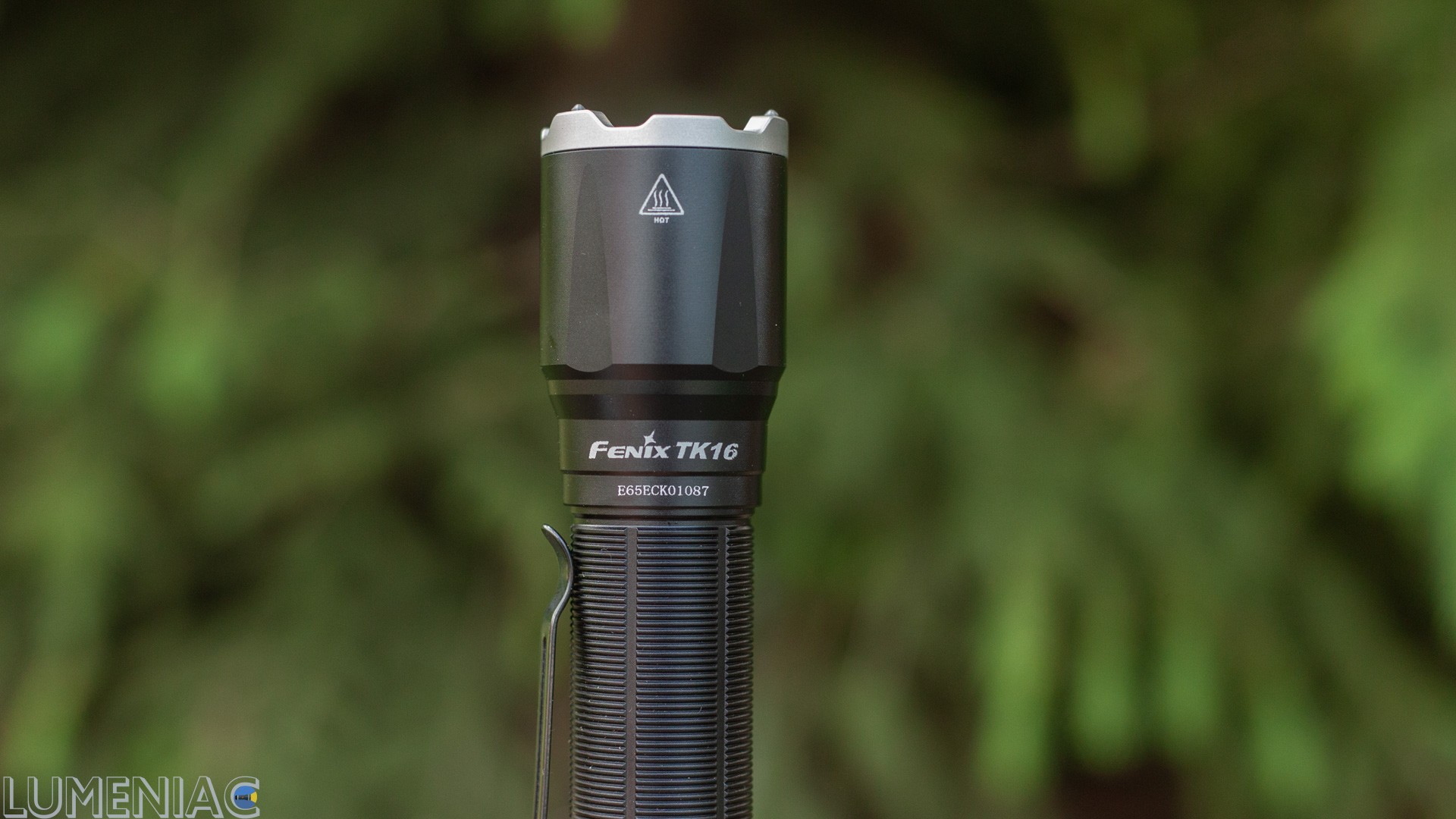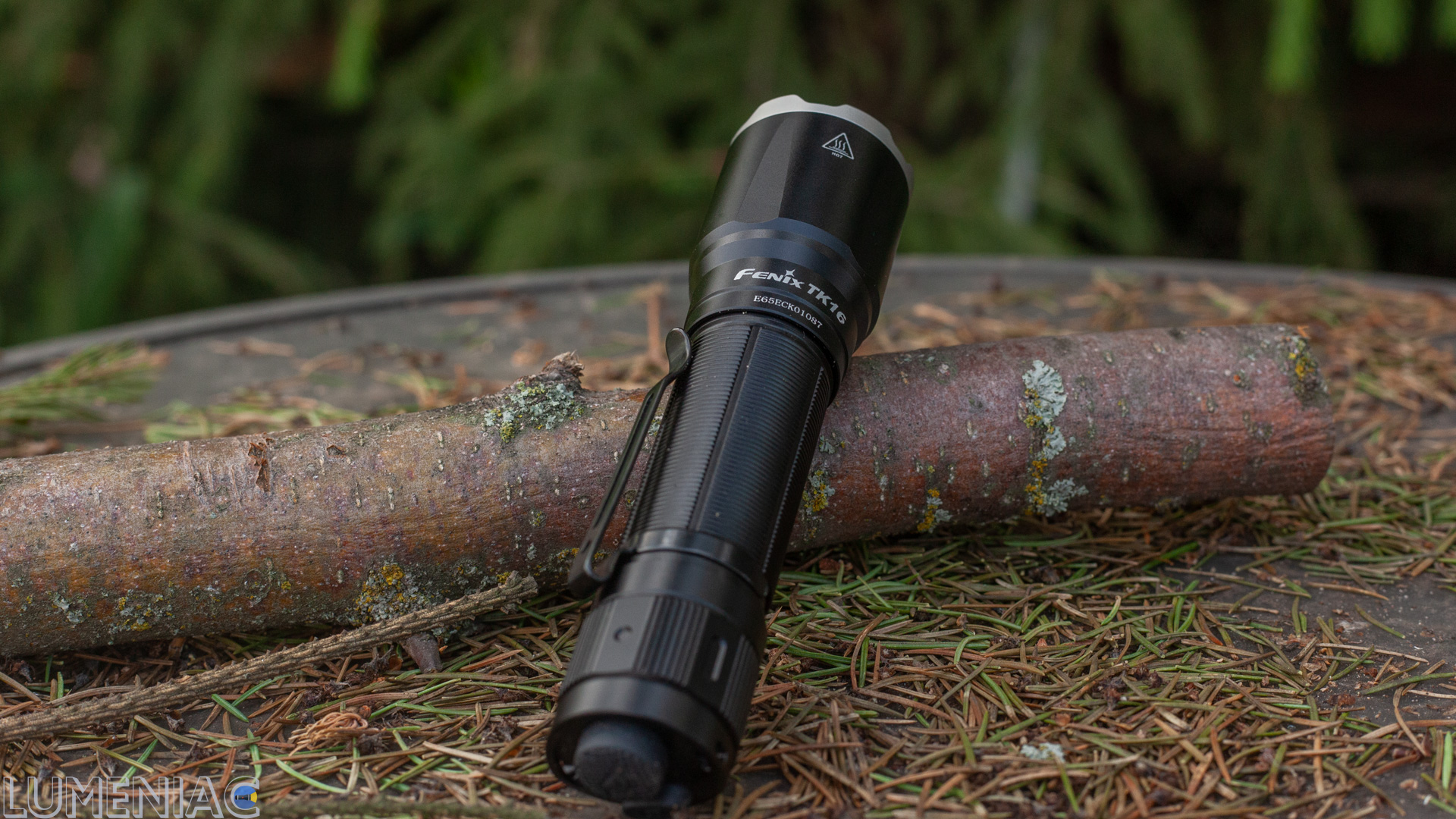 There are 3 spikes installed in the teeth of the bezel, the manufacturer claims them to be made of tungsten steel. They are not sharp enough to worry that they`ll tear a hole in your pocket. But I would not call them useless either. By and large, I did not use them against anything besides a firewood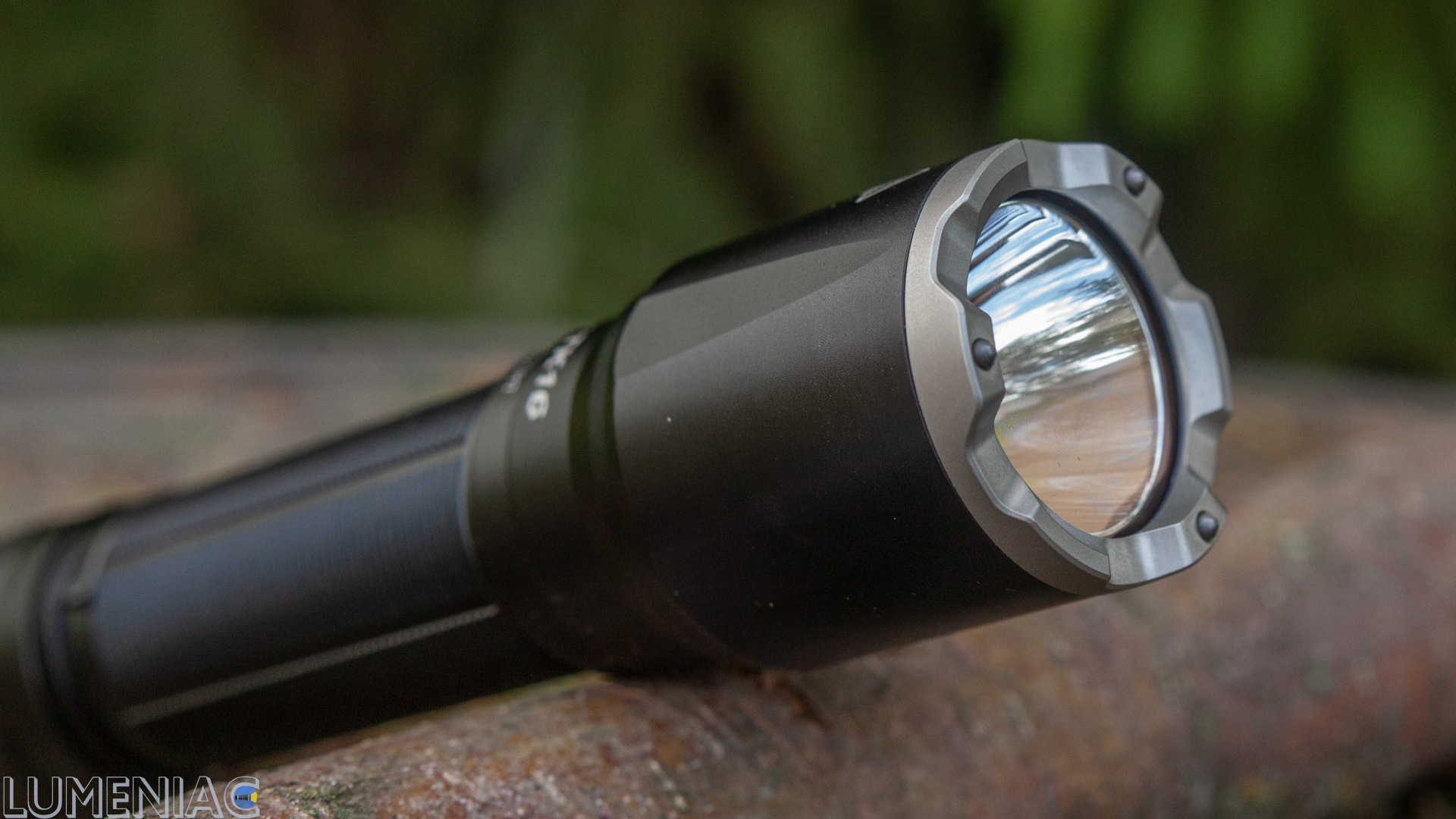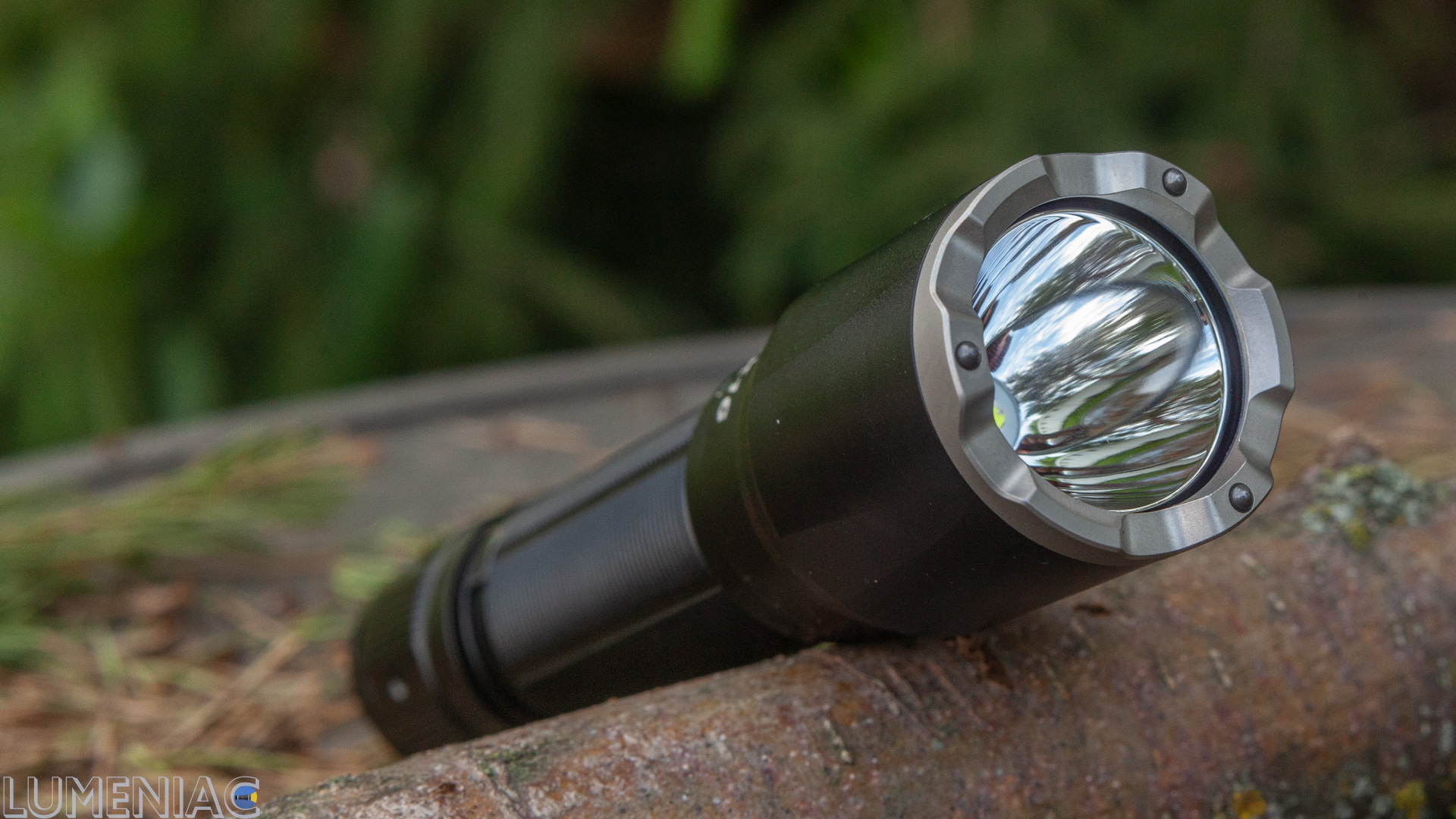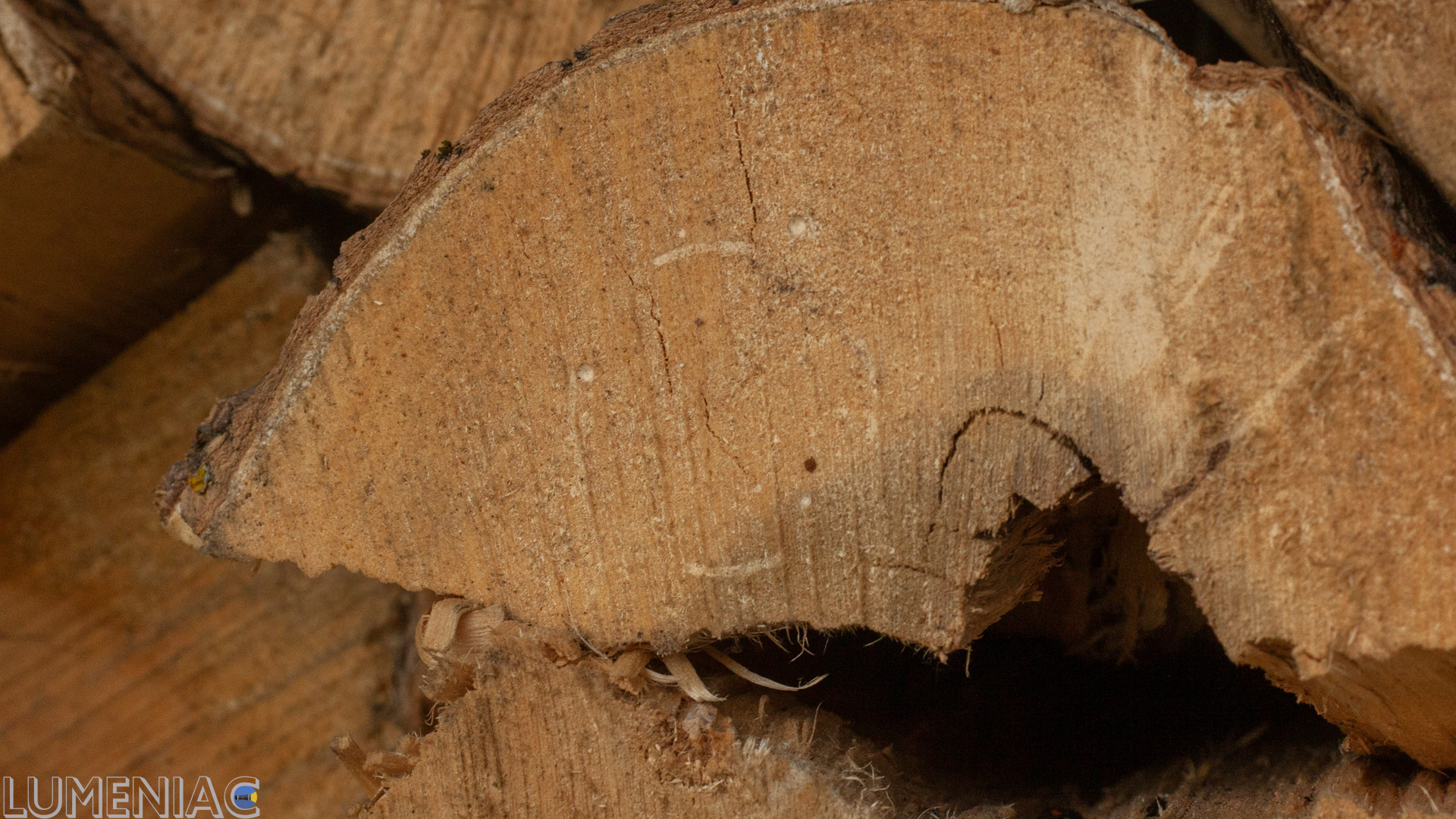 The SST70 LED is hidden behind the standard tempered anti-reflective glass. An unusual and little-used LED. Specification is here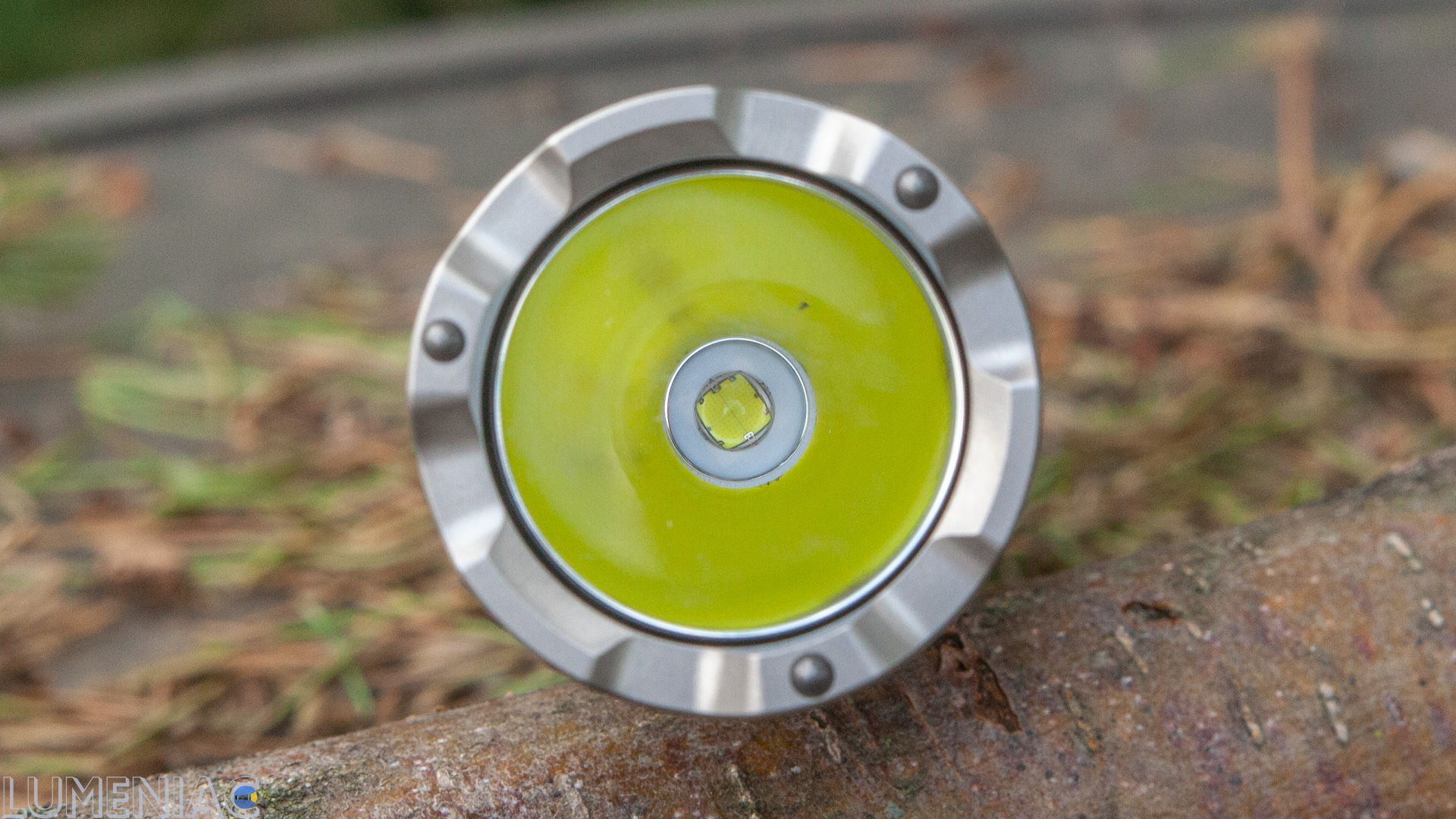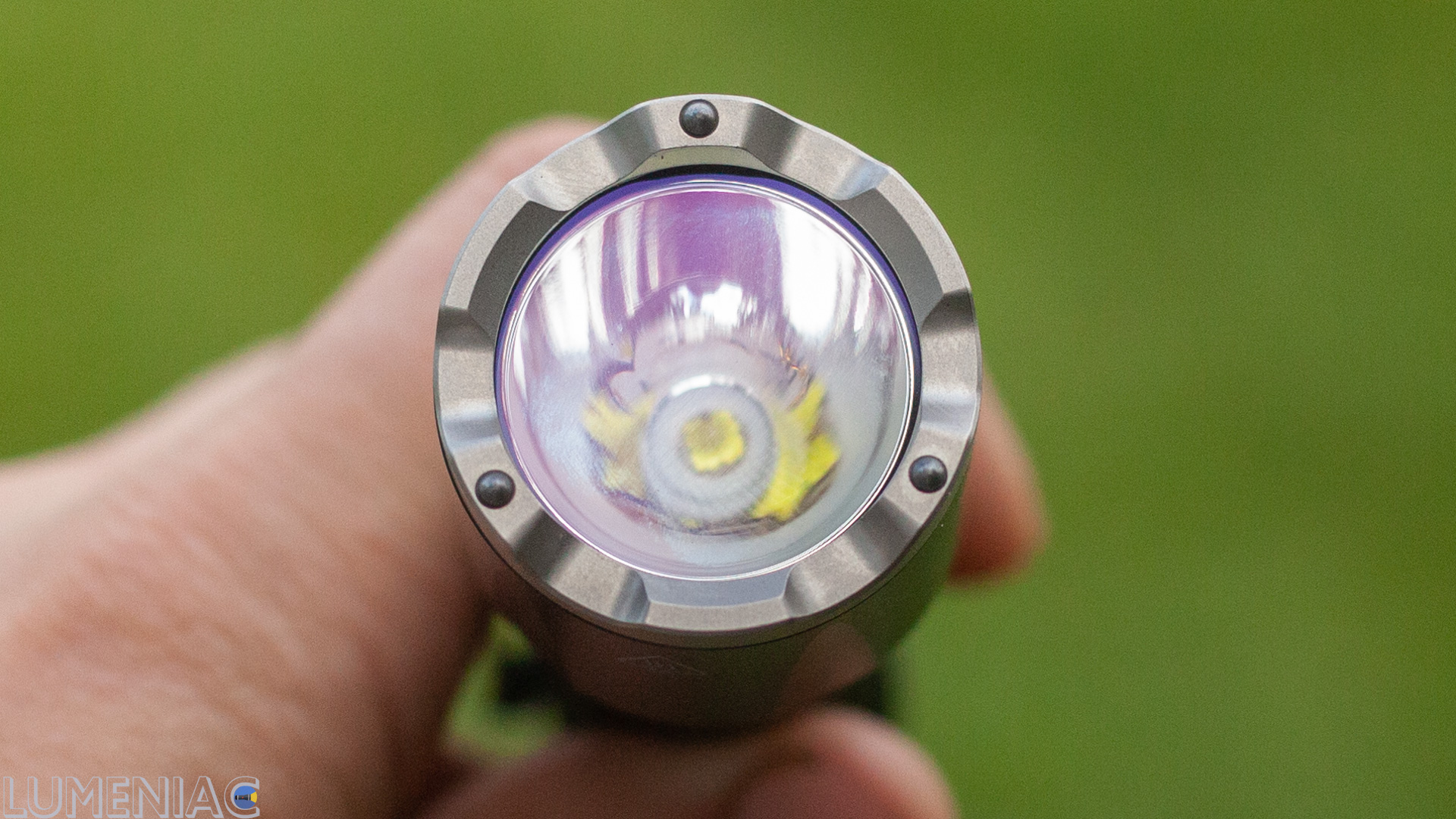 So far, in general, nothing interesting here. The packaging is good, the kit is complete. The design is almost indistinguishable from the mass of other current Fenix ​​models. The buttons are somehow convenient, some are not. High quality workmanship should be expected.
UI

Of course, I don't like it as well as i dont like UI of almost any other Fenix model. That UI doesnt fit me totally.
Well…what is here?
You don't have instant access to minimum or maximum brightness. You can get to them only by rewinding from ON or if you turned flashlight off in this mode before.
There is momentary access to strobe only from OFF. It starts with a noticeable 0.5sec pause from ON.
I feel that something completely bad can happen in half a second in a number of some situations that people buy tactical flashlight for.
For example even goode olde Terminator T-800 can cover a significant distance in this time, not mention Nazgul or Desepticon. Such a time-lag in access to strobe would not be a problem for an EDC flashlight, where, normally, you still have to get to the strobe by 3 clicks. But aint we're talking about a tactical flashlight?
In general, all this could have been avoided if Fenix ​​had also made a button on the head. It could rewind brightness and turn on with last used mode (i.e. just the usual Fenix interface). And the two tail buttons would be dedicated to the strobe and turbo. Ah, wow, here is even better idea -to make two scenarious of UI: everyday and tactical, you can do with it without a side button. We`ve seen this in numerous flashlights even without side button, just with the same pair of buttons at tailcap exactly like Fenix TK16 v2 has. But, alas, Fenix ​​is ​​aimed at an audience of inexperienced, of ordinary and average users who may be confused by the need to go beyond "press – it turns on \ another press – it turns off"
that`s what he big button does – turns it on and off.
the small button rewinds the brightness from ON and turns on the strobe (immediately from off and with a 0.5 sec gap from ON).
All in all, you get everything you'd expect from Fenix. It's a pity, the constructive allows you to achieve more. IMO, of course. Someone will find this UI simple and understandable.
To be objective. There is feedback at Ali from some Brazilian policeman. And they have favelas and Gracie Barras there – really dangerous places as i`ve heard. So, the policeman writes that the flashlight is perfect for his activities. I try to be objective and admit that there are other points of view besides my view of the Fenix's usability.
HOW FENIX ​​TK16v2 WORKS
So what kind of beast is this SST-70? This LED has become a godsend for lamp manufacturers, as it allows you to achieve serious brightness and at the same time give a good through.
A direct comparison with the XHP70.2 would be more interesting, but judging by what I've read, the SST70 should have a longer range at the same brightness.
But! a) better focusing in the center means less sidelight relative to the XHP70.2 (remember, here I am more theorizing), i.e. XHP70.2 should be more comfortable in close range. To be fair, I certainly like the light distribution of the SST70. It is very versatile and even in a smooth reflector the light is certainly pleasant. Alas, in my case it is pleasant only in light distribution, because …
b) SST70 has a disgusting green tint in low modes even by my low standards . However, it can be even worse, the same SFT40 (dedomed graded SST40) has shown itself to be fantastic, colossally green. I am sure that the use of the symbolically less bright 5000K version of the SST70 would radically improve the situation. Unfortunately, only a few manufacturers are ready to sacrifice a couple of hundred lumens of brightness to shift the balance between the quantity and quality of light towards the latter.
And the Fenix ​​is ​​certainly not one of them. 3100 lumens is THREE thousand lumens, and 2900 (conventionally, I don't presume to count the exact brightness of the 5000K version) is TWO thousand lumens. One number will trigger your *oh, that`s damn bright, i need it!" and another one will not.
Here is the maximum brightness. U can see little bit of green tint of SST70 even in a turbo, but just a little bit. Lower is the level, worse it gets.
Convoy S2 + XML2 4×7135 OP 6500K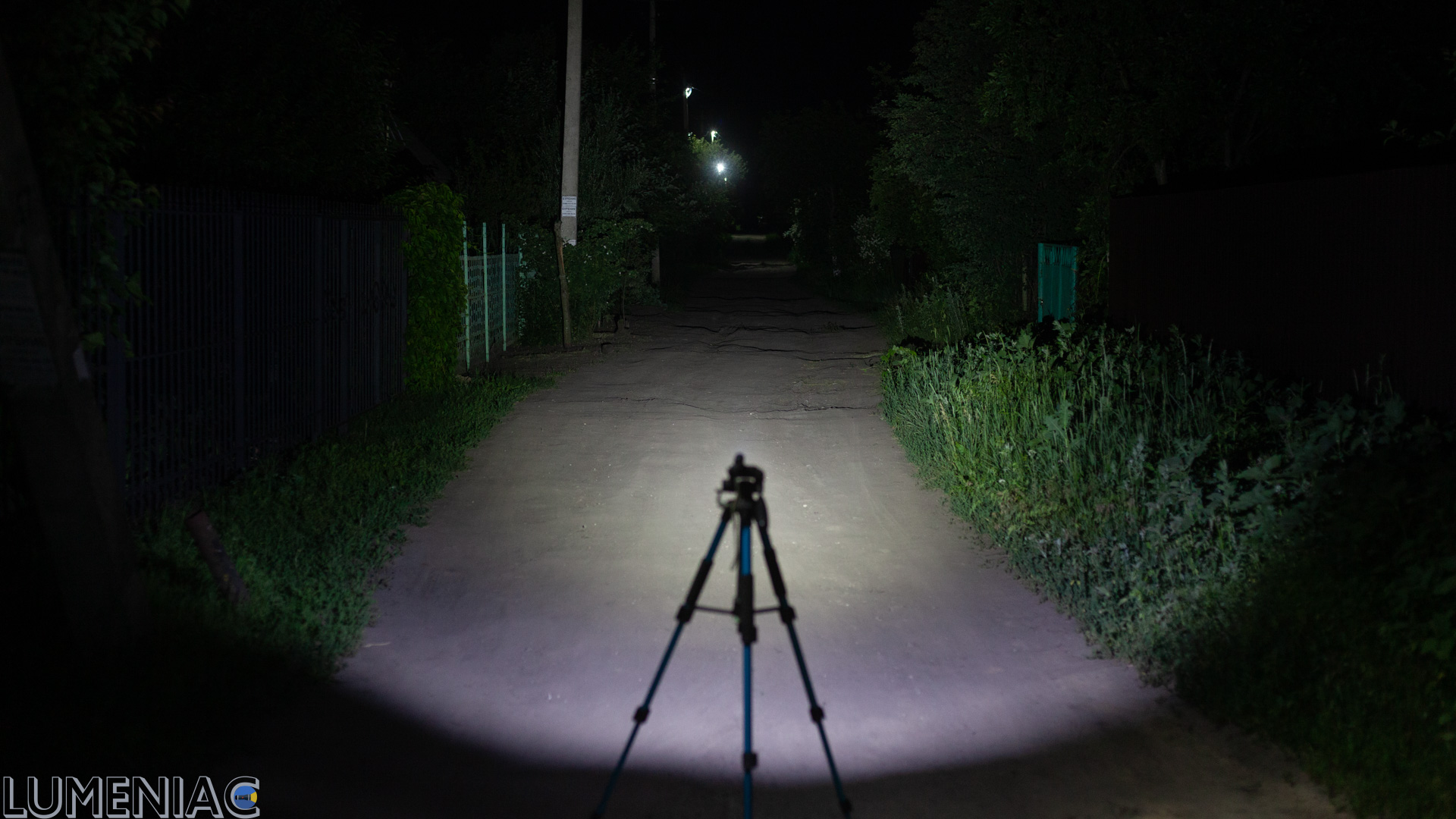 Fenix ​​TK16V2 SST70 6000K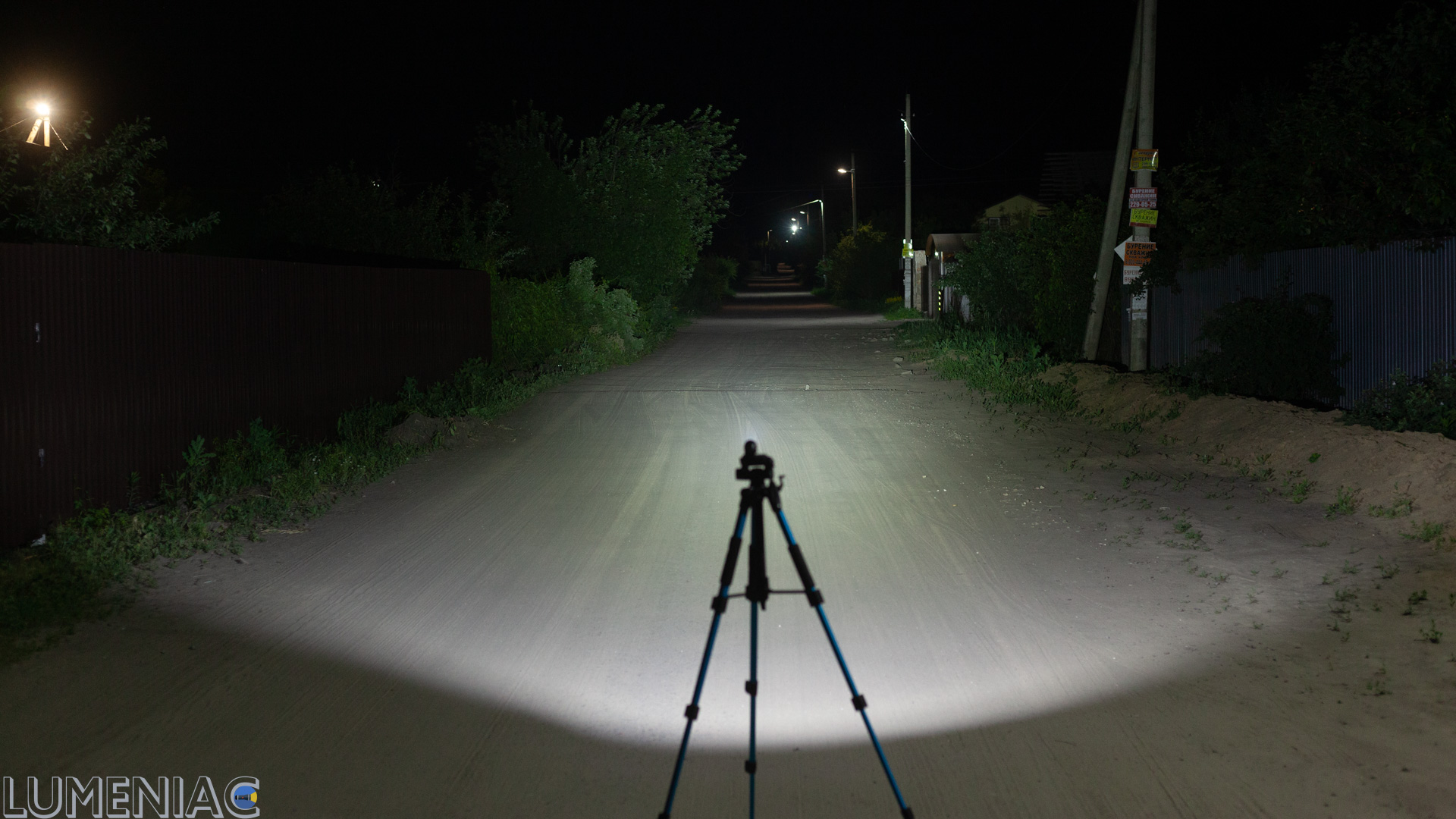 SFT40 6000K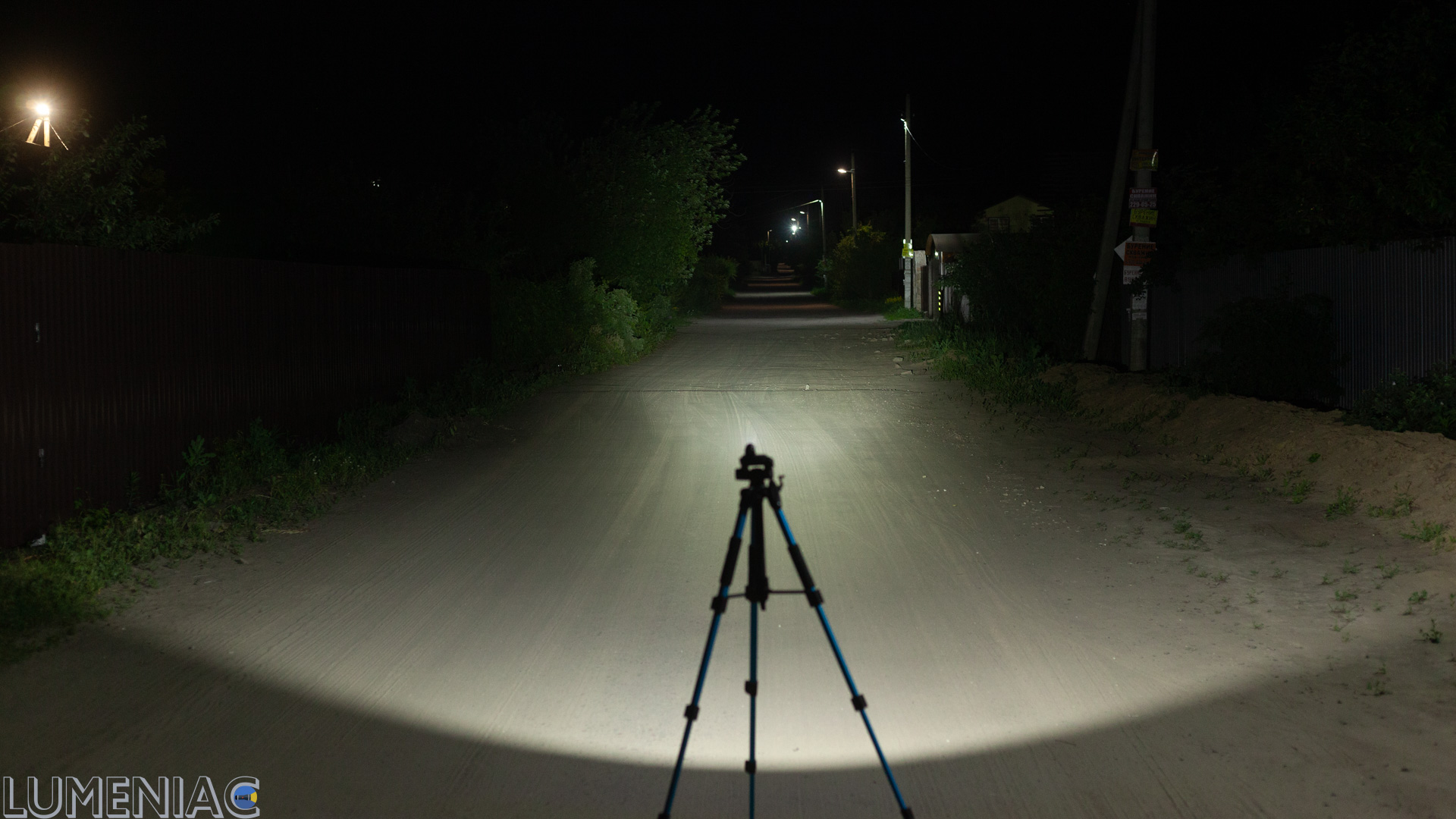 It goes without saying that promo pics cannot show neither a green tint, nor sidelight as there are no numbers to measure it. But it is possible for range and brightness. This is what I am sure is what made this SST70 LED so interesting. For the overwhelming majority of manufacturers, pretty numbers in specs are everything.
Well, okay, let's take a look at the runtime and stabilization. Cooling, of course, has no effect on the turbo. It starts to fall somewhere in 30 seconds and for another 2 minutes it dives to stabilize at the High level, which I think is more than good for such brightness. Re-enabling it permanently reduces the turbo runtime until you simply cannot start it at all until the flashlight cools down. Thermal cutoff, I think, is well set up here. I am sure that this was a serious challenge for the Fenix ​​engineers, which they bravely accepted and coped with.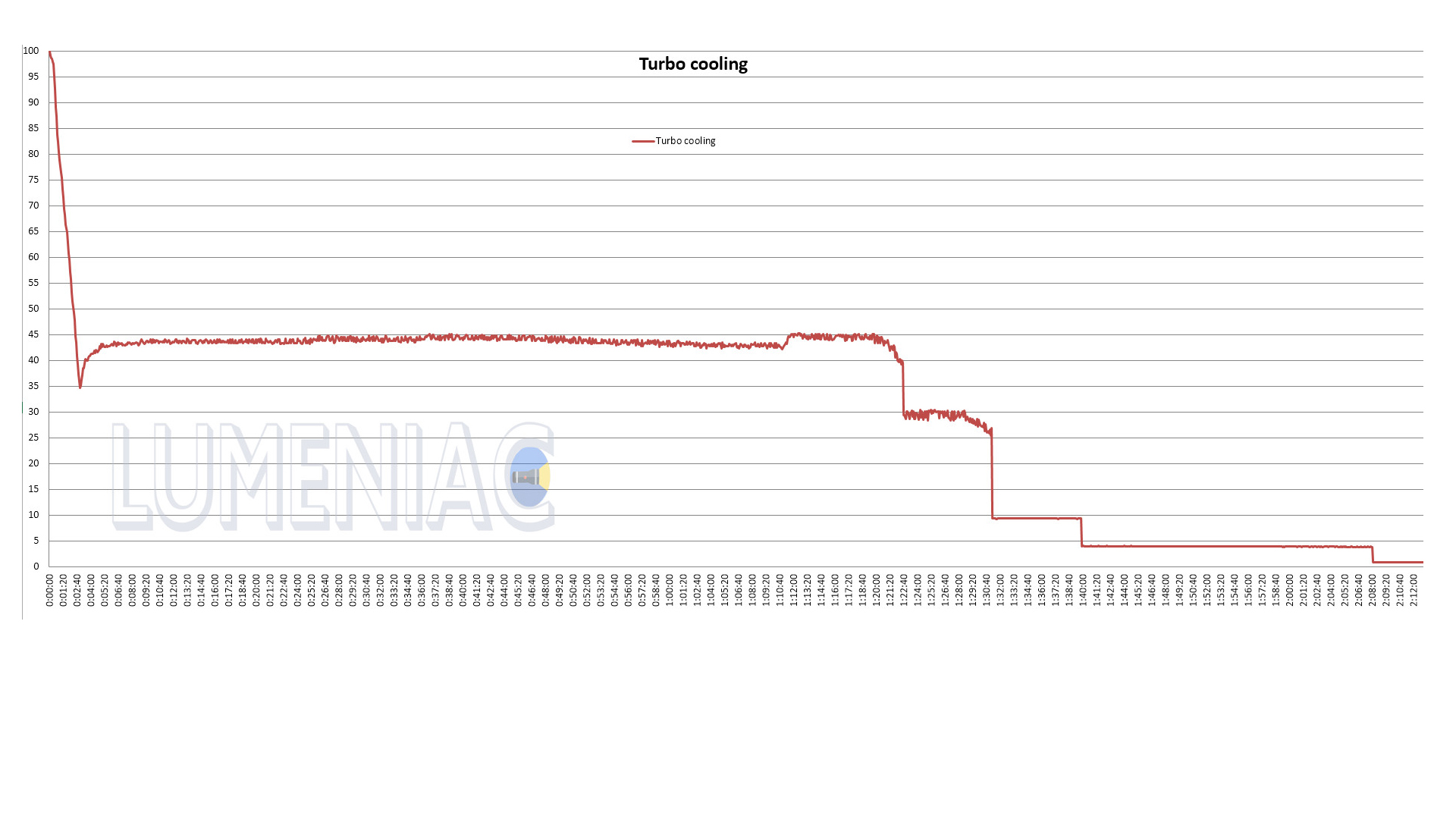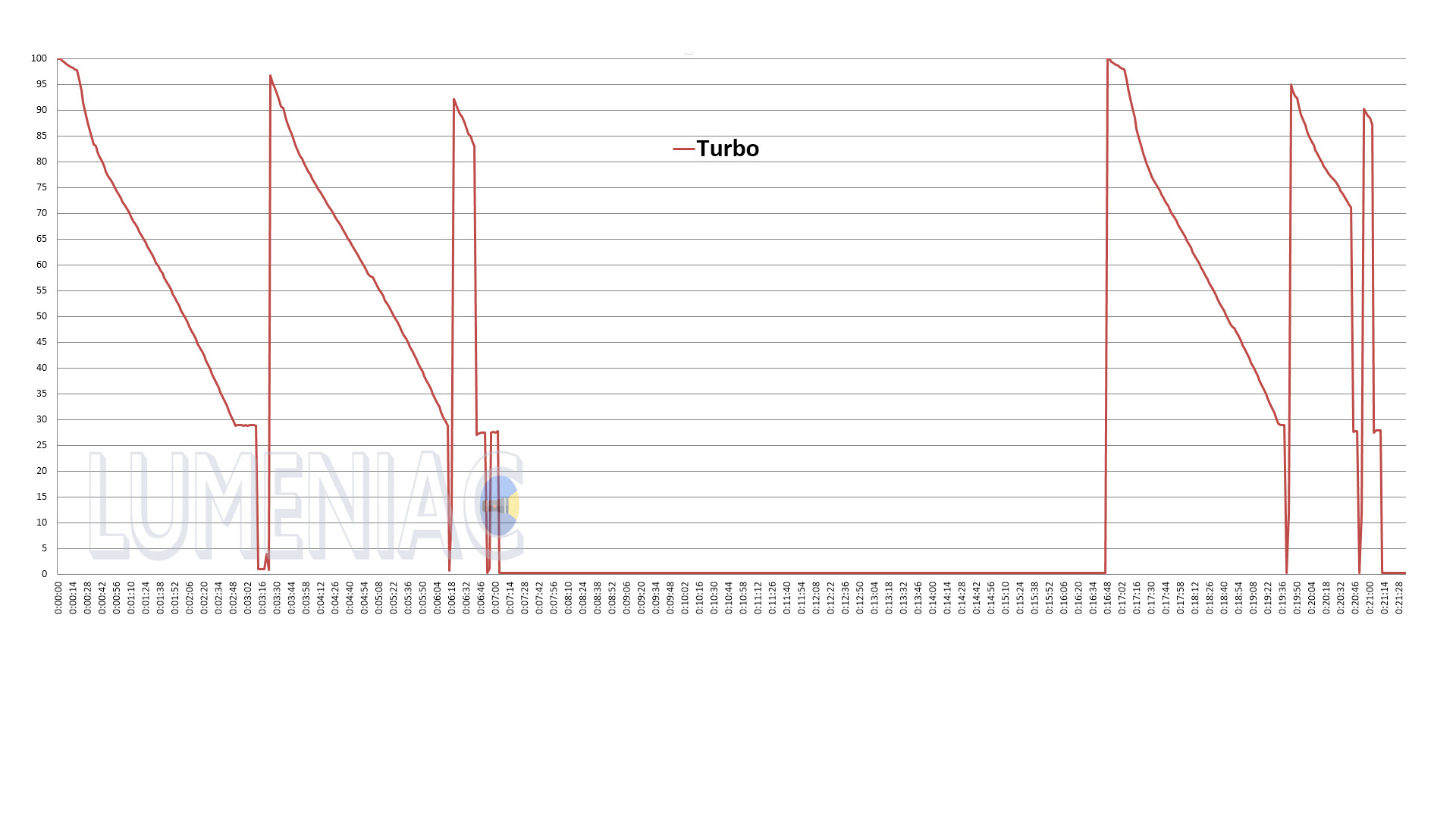 High is stabilized as a whole, with some throwing up and down. But, of course, I'm 100% sure that no one will be able to notice this live. Be that as it may, two and a half hours per 1000 lumens is undoubtedly a worthy period of time. So i like behaviour both in turbo and high modes.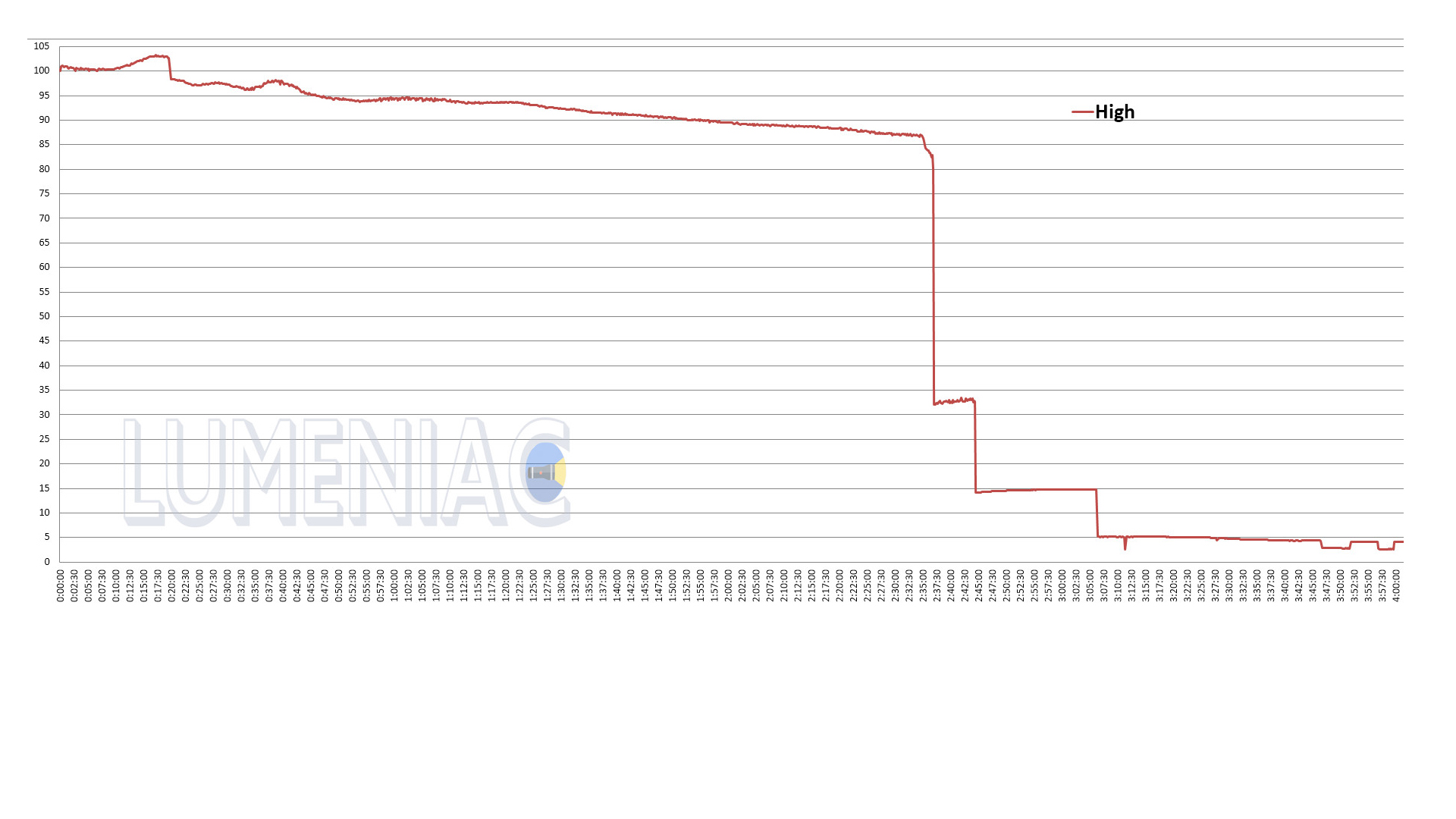 As well as Mid raises questions. 350lum is a good running mode that will last you all night long.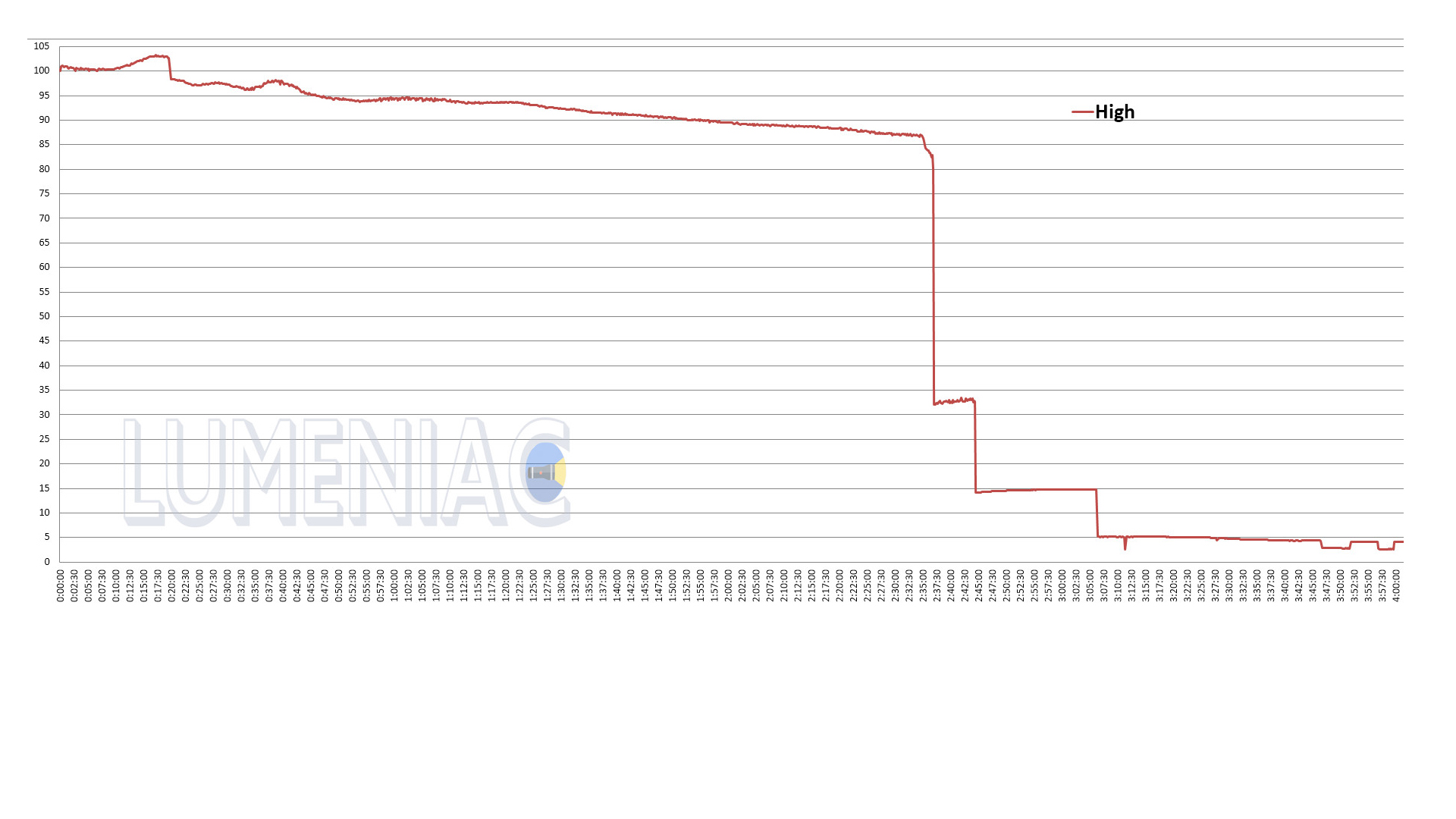 Now the light. In general, the greens more or less disappear in the high mode, but the levels below show an abundance of "mud".
However, in fairness:
a) Chances are low that you`ll notice it when use outdooor in summer. For example, in the photo, such a parasitic tint can be judged only by the known color of the white bricks. Walking in a field or forest, you can generally do not notice all this the greenery.
b) Initially, especially after you switch to the SST70 from some Samsung, it's all really jarring. But after a short time, the eye gets used and the greens no longer hurt the eye. Well, if you don't have 212C \ LH351D (which is most likely – the knowledge of HiCRI shifts the focus to other brands), then even that is not so scary.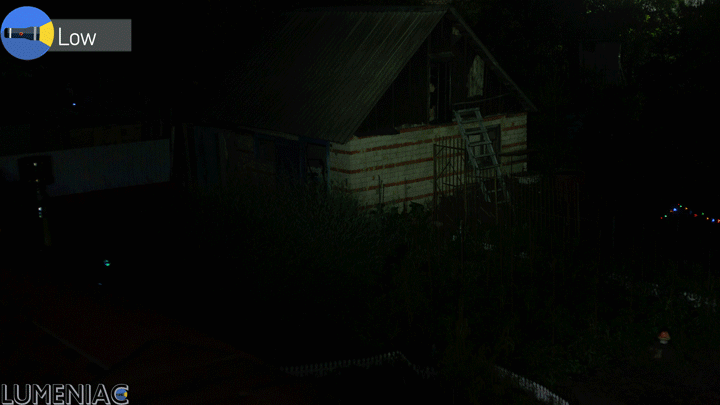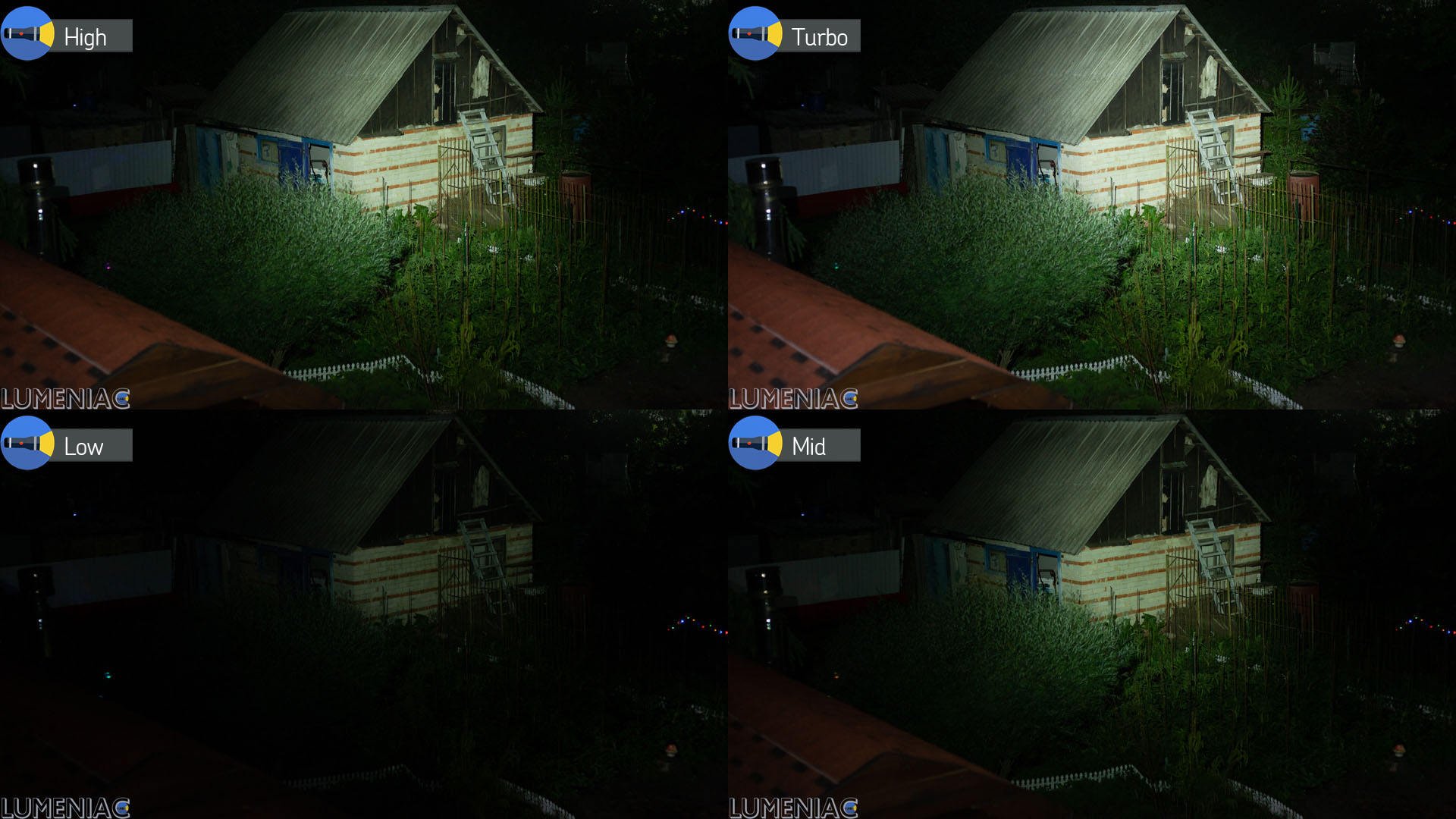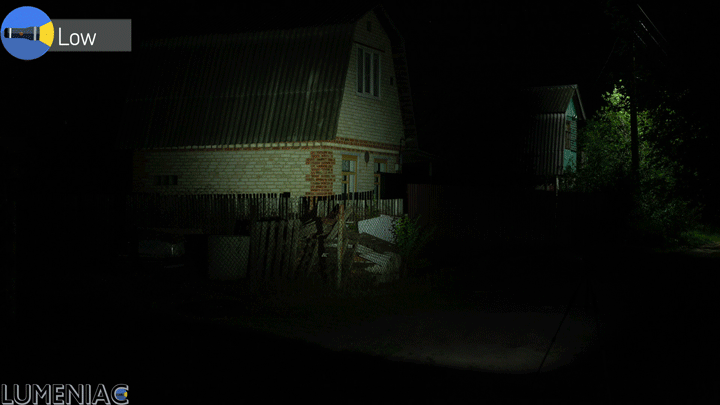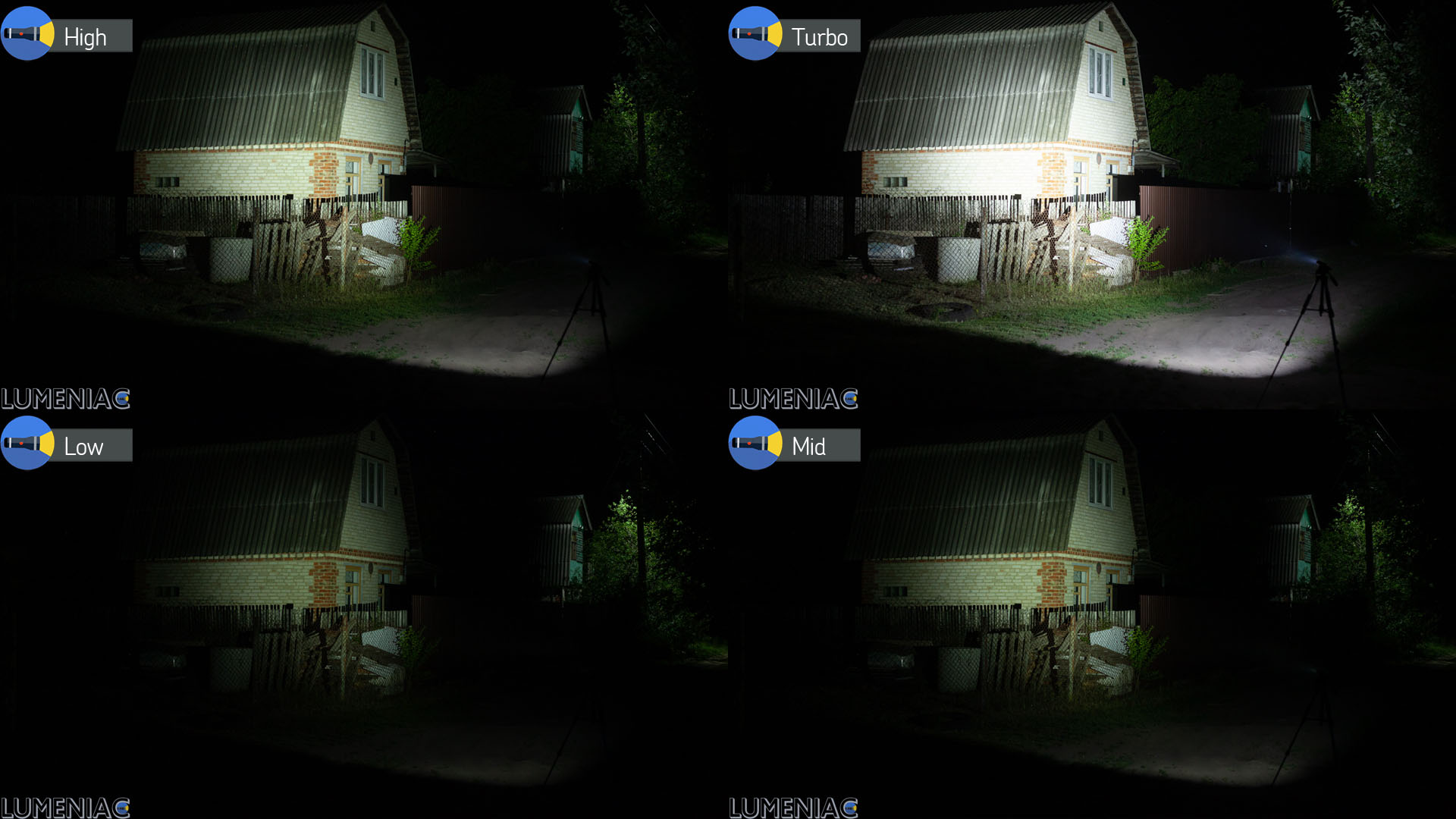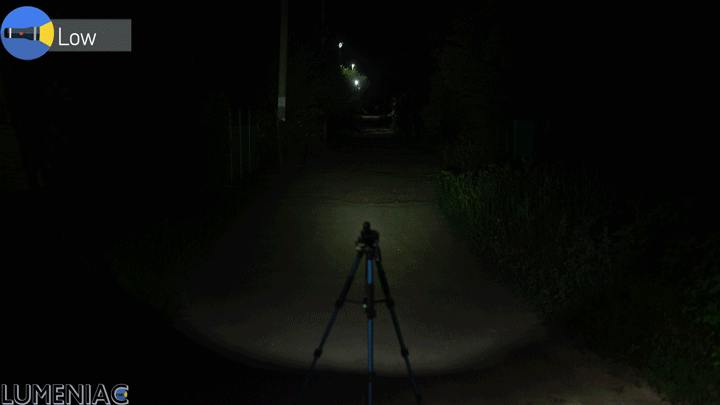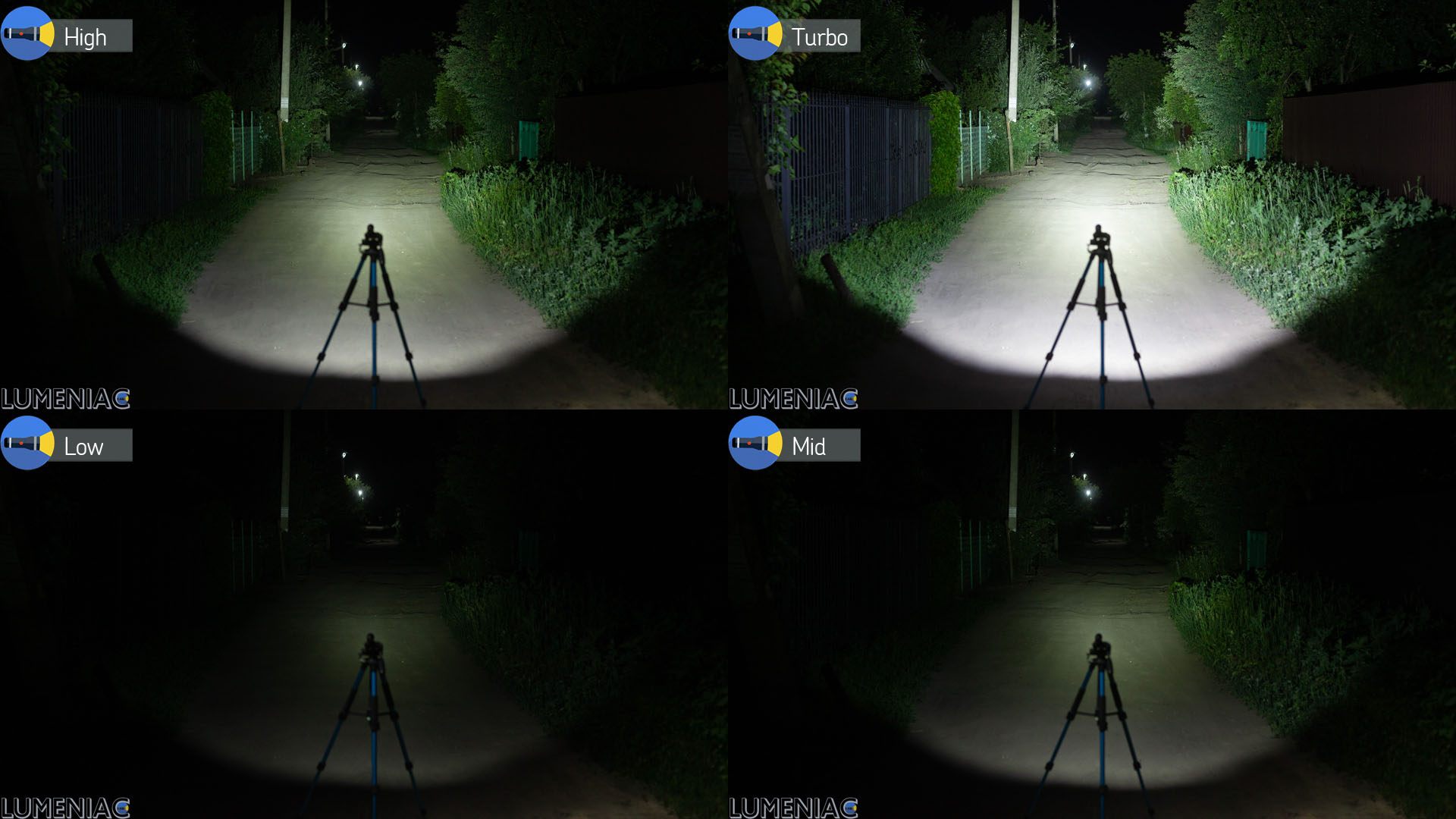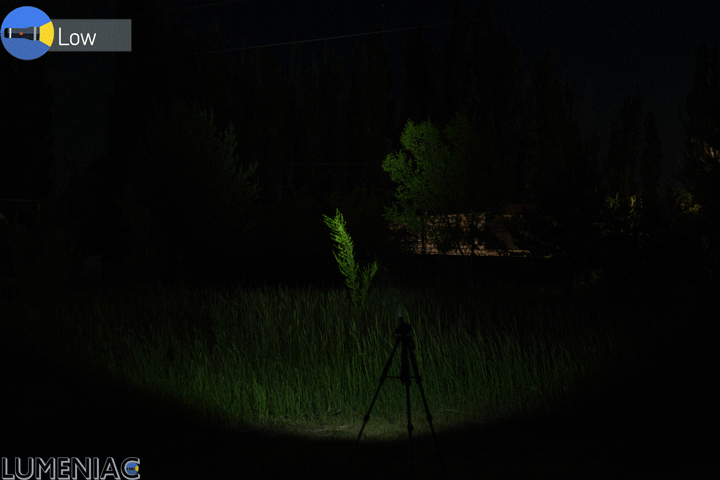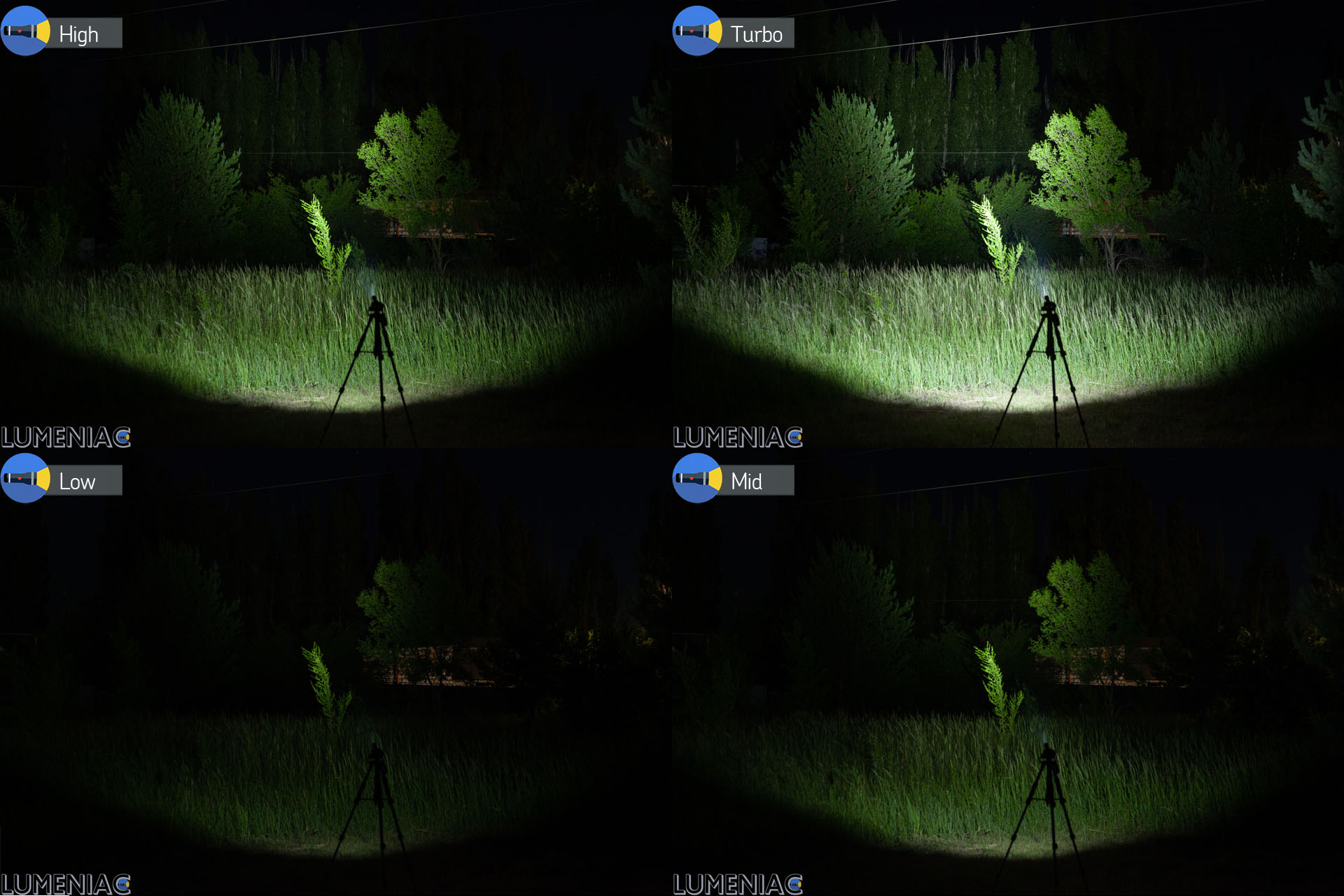 OVERALL IMPRESSIONS
I think this is actually a breakthrough flashlight by Fenix ​​standards. As an expensive new model, it offers a combo of two buttons, lots of lumens and a capacious modern battery. The maximum brightness is not decorative and, if desired, you can quite well punch into the distance. At the same time, I will not in any way call the light uncomfortable for close range work. Fenix TK16v2 has a light distribution convenient in range withing like 5-200m. The target audience of the manufacturer, for sure, will warmly welcome all of the abovementioned features and will not be deterred by the quite high price tag.
Actually, in my experience of communication with people from this audience, they are is looking for a reliable and easy-to-use flashlight. Undoubtedly, Fenix ​​does everything to ensure that any of their flashlights is as reliable as it is easy to operate.
Of course, I welcome the first in every possible way, but I categorically reject the second. The mass of tactical flashlights that passed through my hands makes it possible to judge that 2-button control could be made much more convenient and practical in terms of tactical needs. Now, of all the tacticalness, Fenix ​​TK16v2 has only instant access to the strobe from OFF. Fenix` control simplicity still deprives the user of such pleasant features as instant turbo and moonlight (and in the case of TK16 v2, an instant strobe from ON, which I consider nonsense for a tactical model). However, maybe I am too nitpicking and for such kind of UI is quite good for tactical needs. But I cannot verify this in any way as have nothing to do with real tactical use of flashlights.
Well, bottom line is the same as it was before. Those users who get acquainted with the charm of not even HiCRI, but just a NW and flexible UI with all these shortcuts are not Fenix's target audience. And each of these opposite sides has nothing to do with the other one. They just fallow parralel courses. I am sure that a typical Fenix fan will love Fenix ​​TK16 v2.0 – it has everything for which he loves the brand so much and remains faithful to it.