Bleak and dull is choice of inexpensive camping lanterns. In 10 cases out of 10 it will be a disgusting blueish cold light and UI of 2-3 modes + strobe.
Of course, you can find something with good price\functionality ratio even in this fecal variety. I have already reviewed $5 mini lamp with a built-in battery, which is worth every cent spent.
The more I was surprised to find a good looking lamp with a long-playing power supply from 3 * 18650 batteries (important), warm light (very important) and power bank mode (not very important, but good).
So, with a price tag of $ 17, I did not hesitate for a second and immediately ordered this lamp at aliexpress in THIS STORE
btw, i would also recommend well known (it was sold under name of Zanflare T1 and Beamday T1) lamp from Amazon, read review
It is worth noting that there is a fairly close in functionality analogue from YPL – Bright Beam (that`s what YLP stands for originally in russian) CL-360a "Camping Chandelier 6". There's the same warm light and replaceble 2*18650 batteries. Brightness goes in ascending order + there is a red light mode. Unfortunately, it is almost impossible to buy it outside of CIS.
Package and appearance
Design of box is even better than I could count on the price. Taking into account the fact that you still throw it away – design makes no difference.
You can immediately see that there are 2 options: 30 and 20 watts (9900mah \ 6600mah). In general, abstract figures from which one can deduce that one version has 2 batteries, the other 3.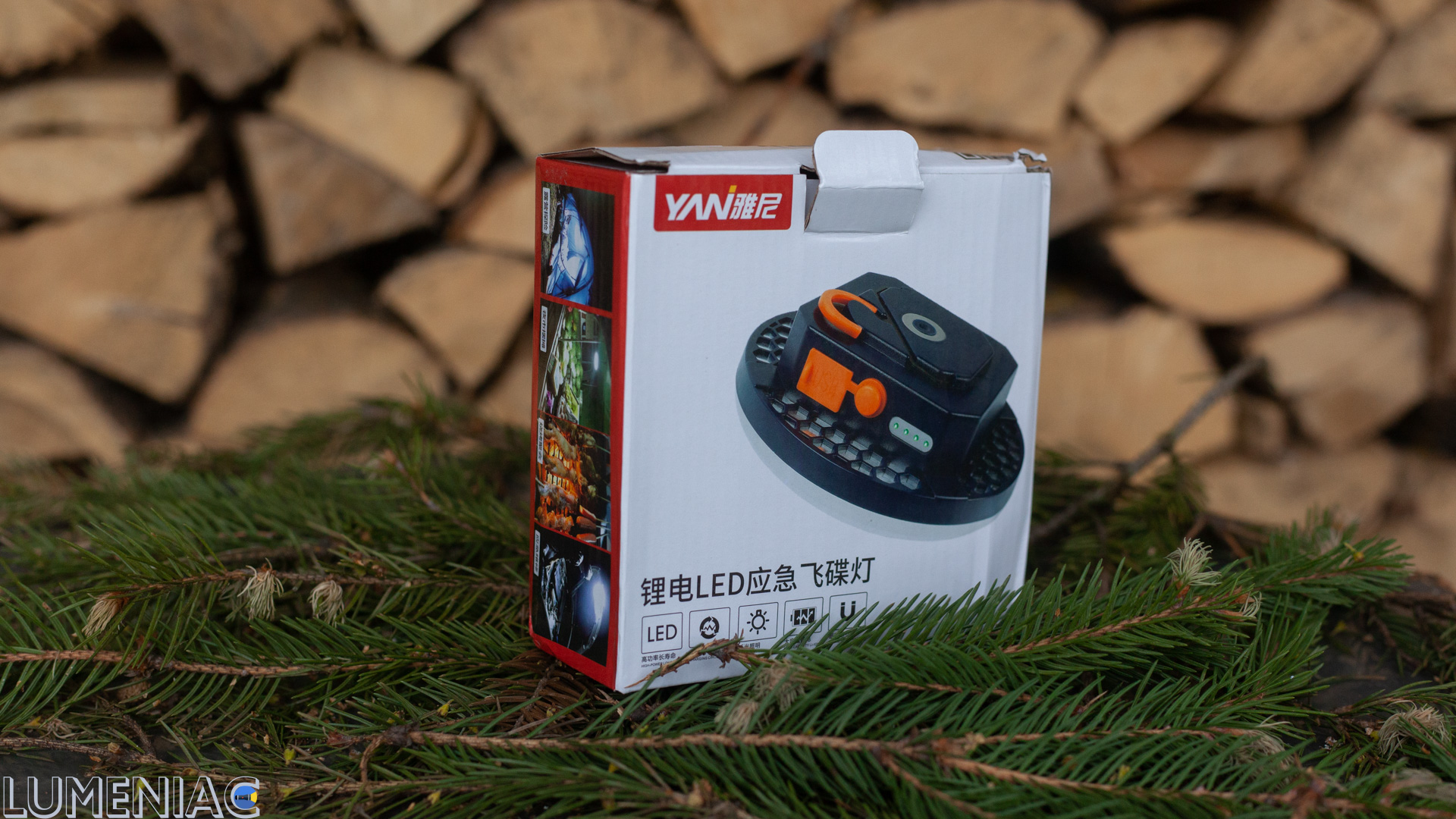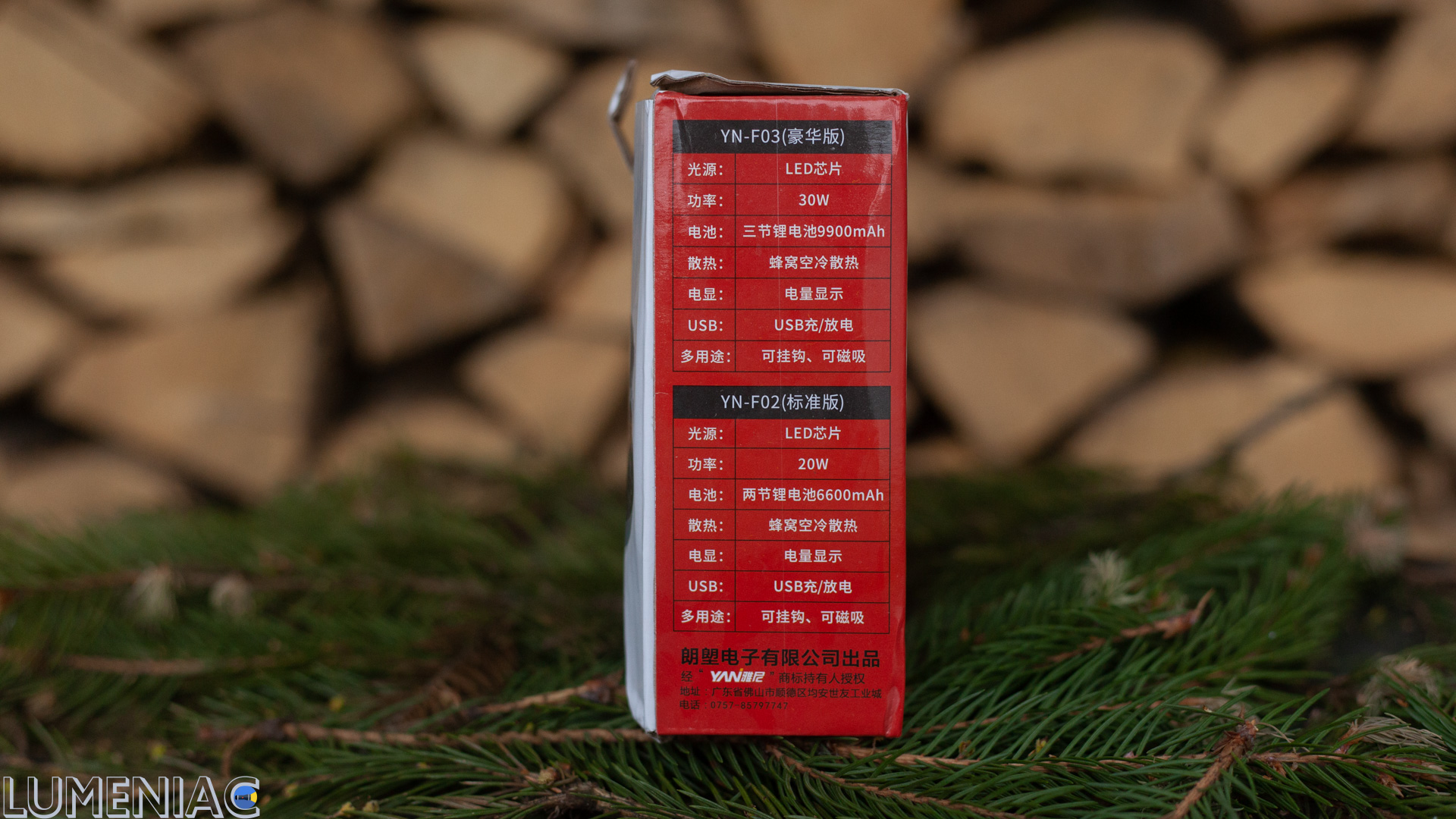 In addition to the lamp, kit includes: a short charging cable, a leaf dotted with hieroglyphs and a metal square with a stycky tapy backing.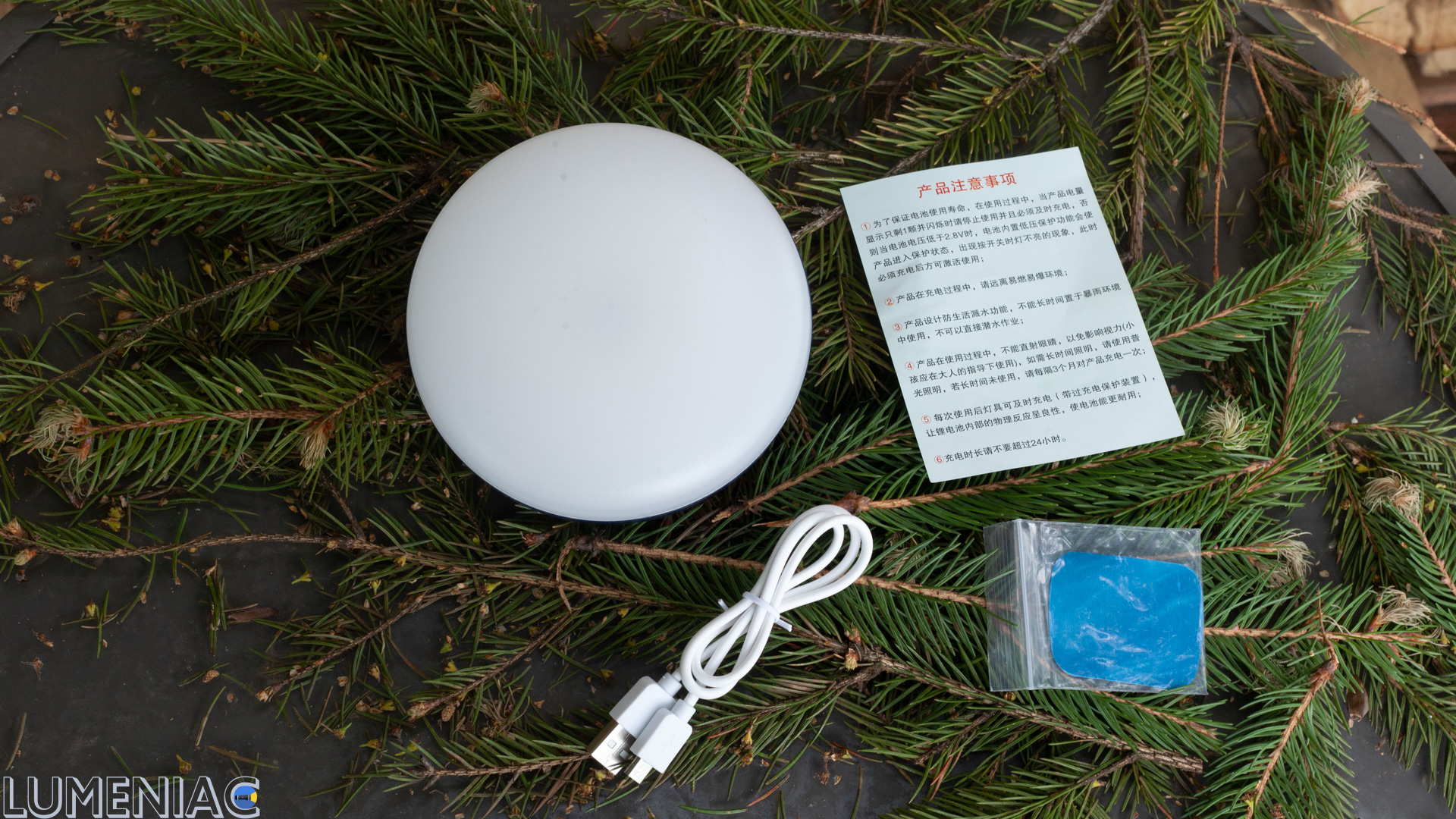 The lamp itself looks and feels, albeit a budget, but definitely not as frankly basement made cheap. And it's definitely, definitely not small. Due to this, as well as extremely modest waerproof protection, I would not consider it for serious tourism in any way. It makes more sense to take something reliable from Nitecore \ Fenix . But for a simple weekend rest in open air, fishing or hunting, not to mention a simple reserve of light in case of blackout.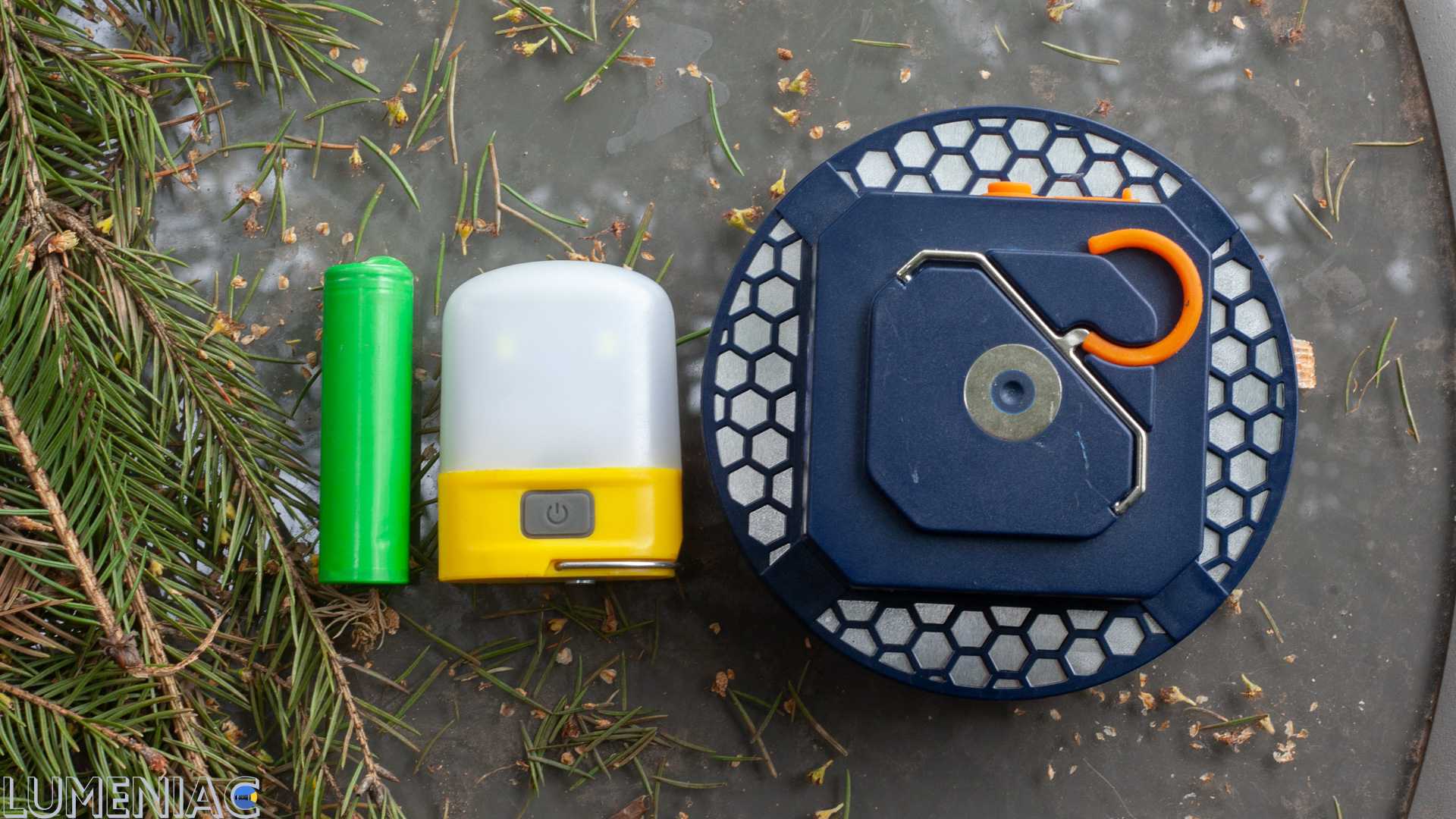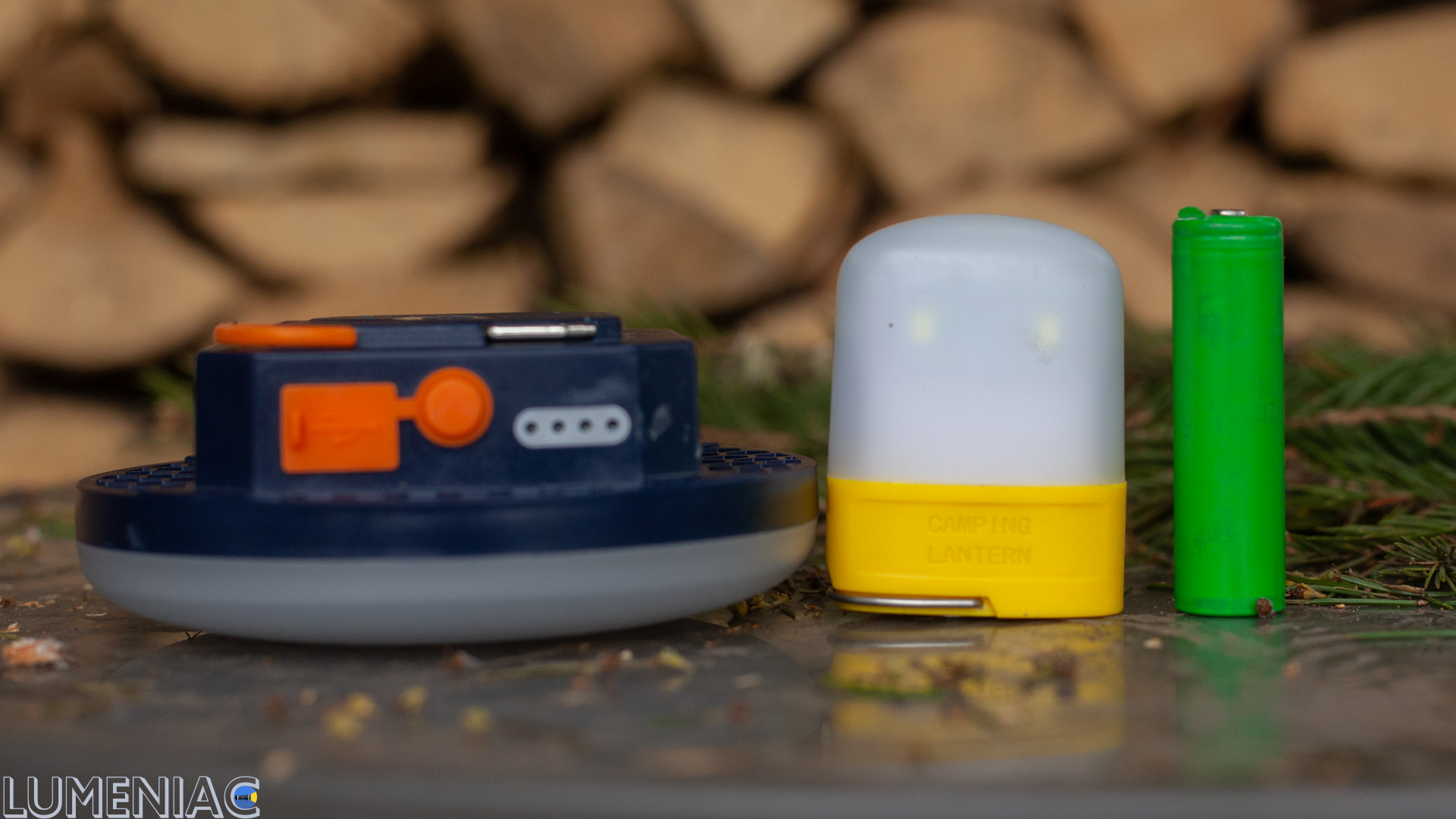 Thick dark blue plastic with no molding defects. Doesn't stink. Of the obviously budgetary features there is only a lurid orange pair of button and plug. But the same honeycomb looks very stylish here! Implicitly budgetary – tiny gaps and unsettled corners. For 17 bucks, you don't give a damn about all this.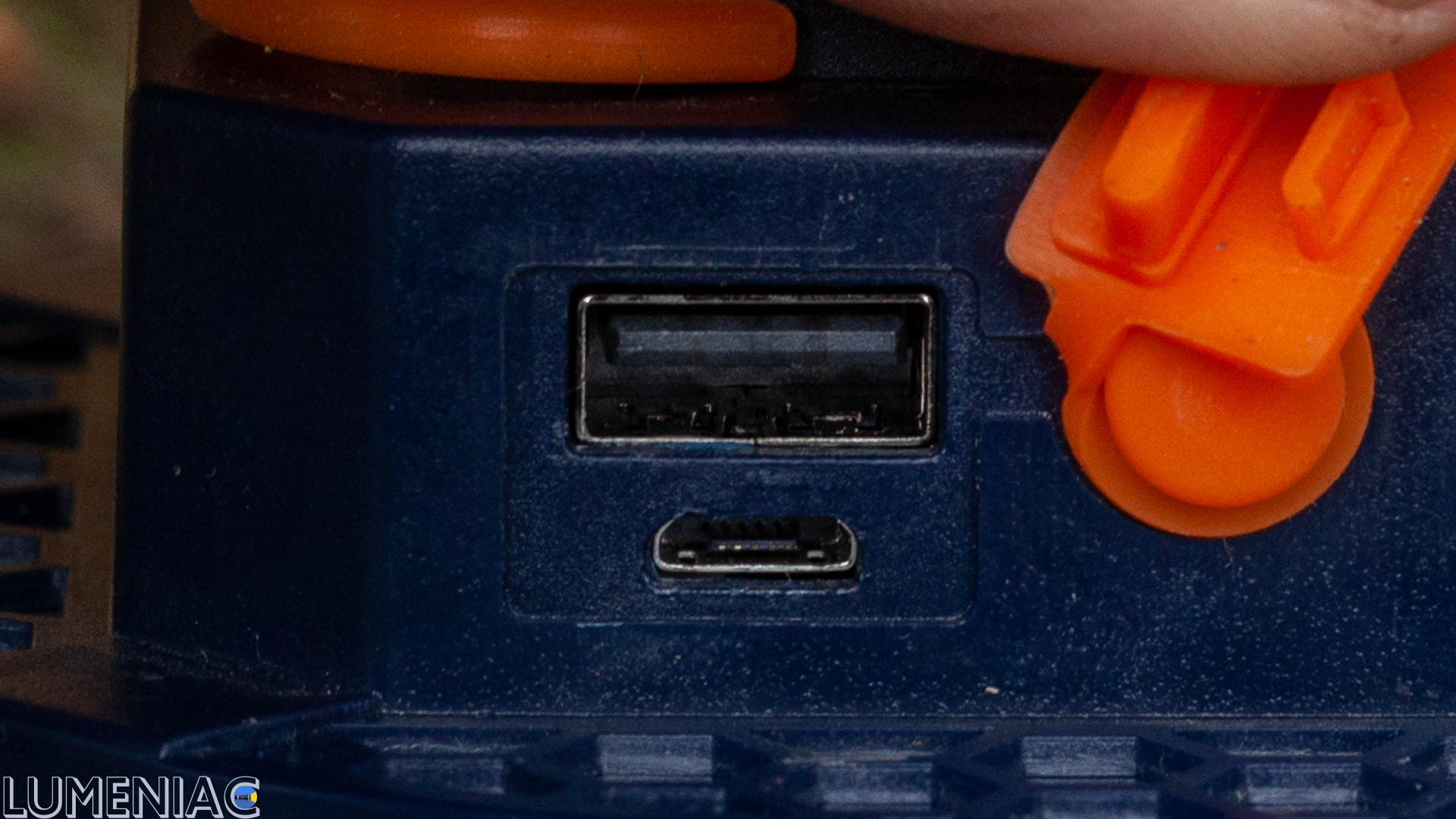 Thre are a magnet ring and a suspension hook on the top. The magnet is strong enough to hold the lamp with confidence.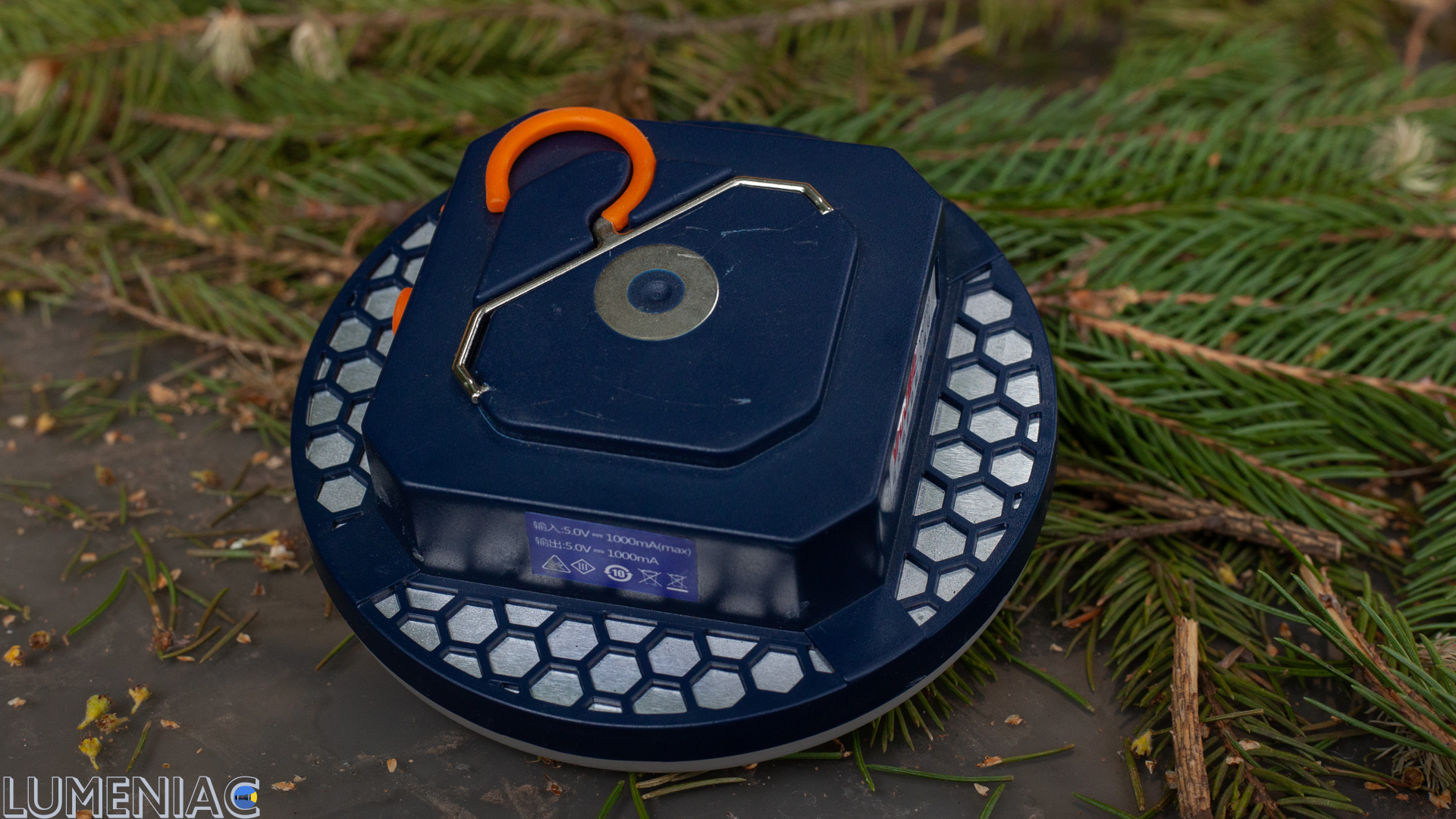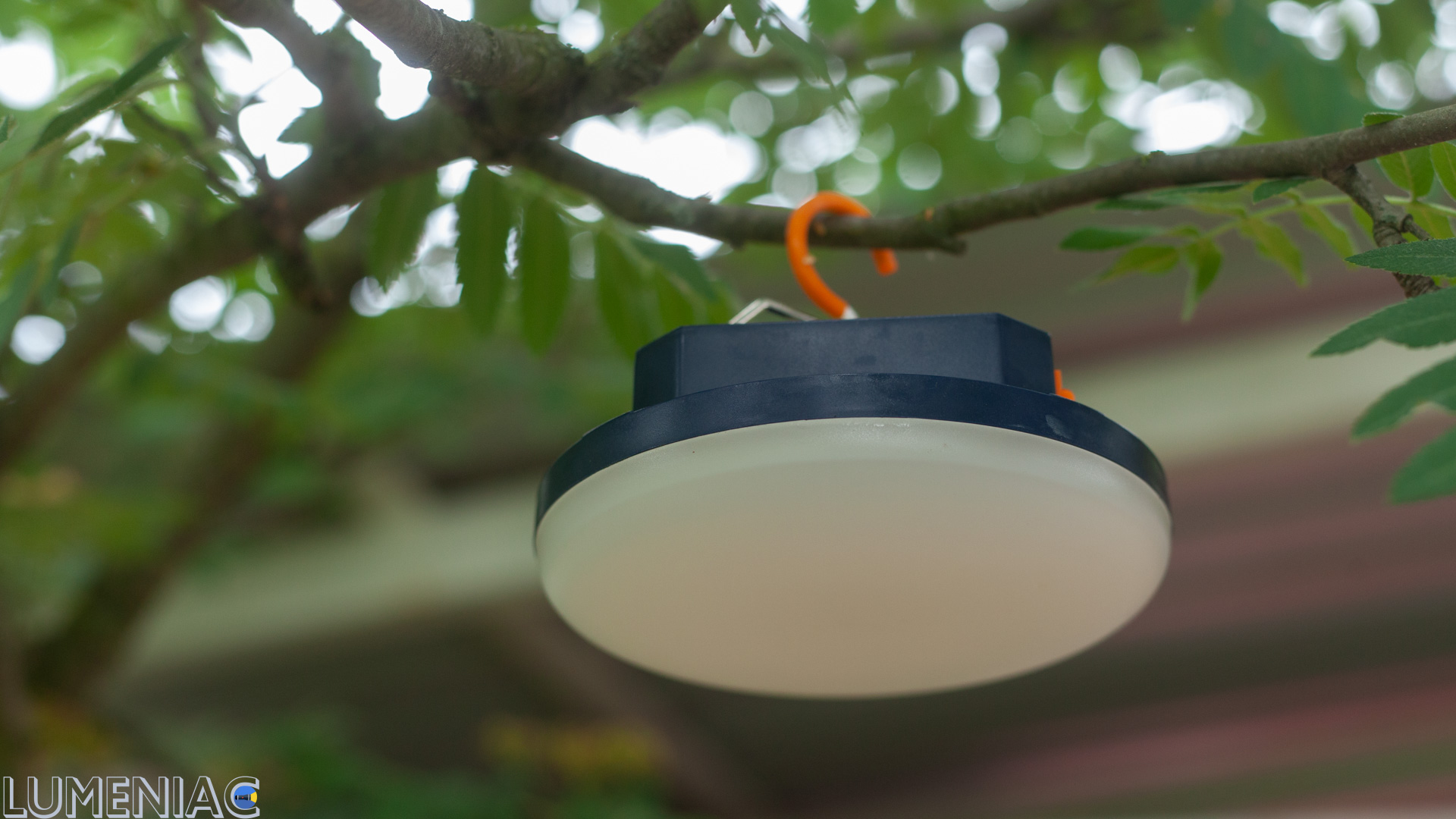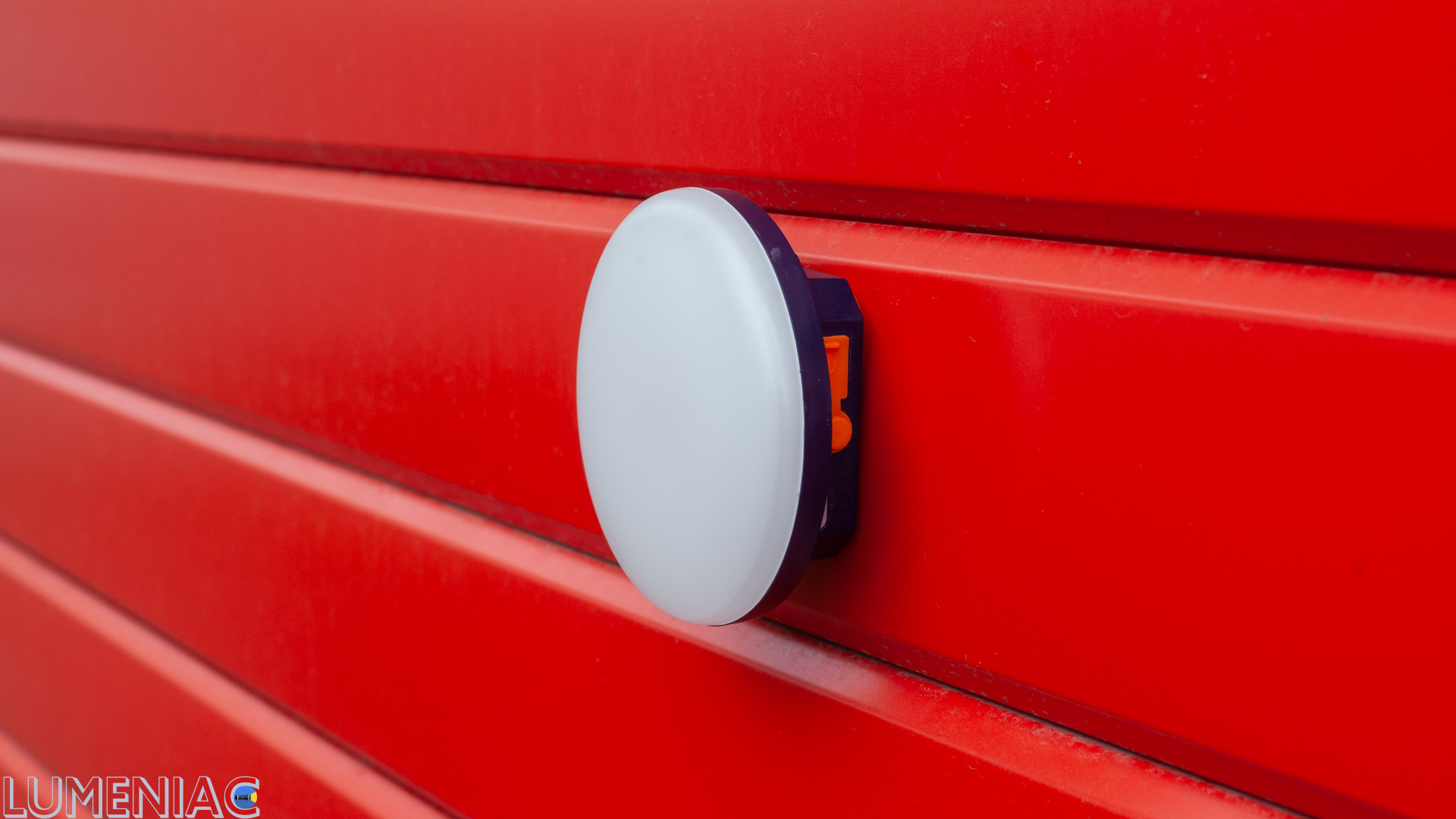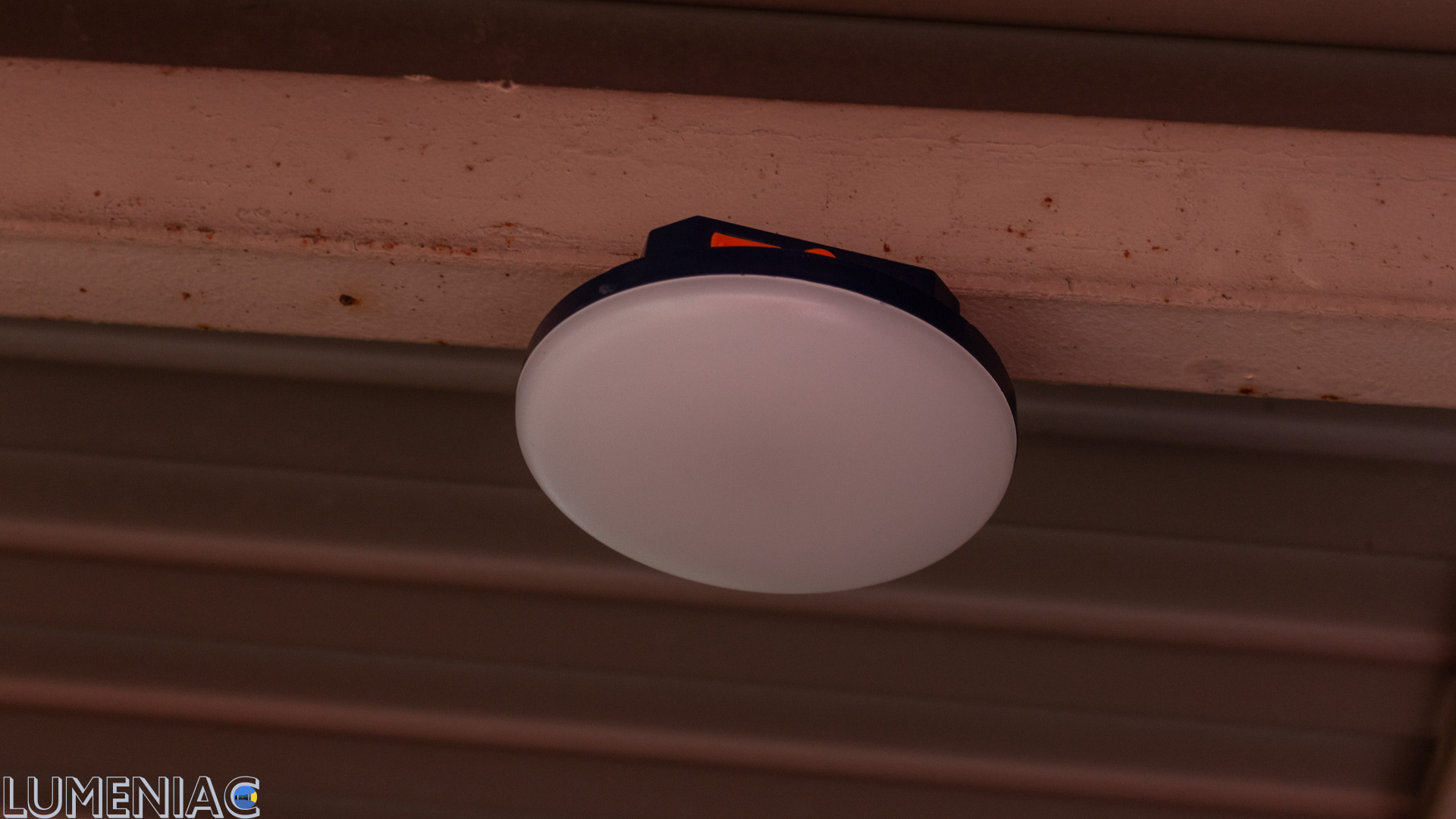 Aforementioned button and plug are not the thickest and most reliable, frankly. There is also a 4-segment indicator window next to it. And there is 1A powerbank mode USB-A port.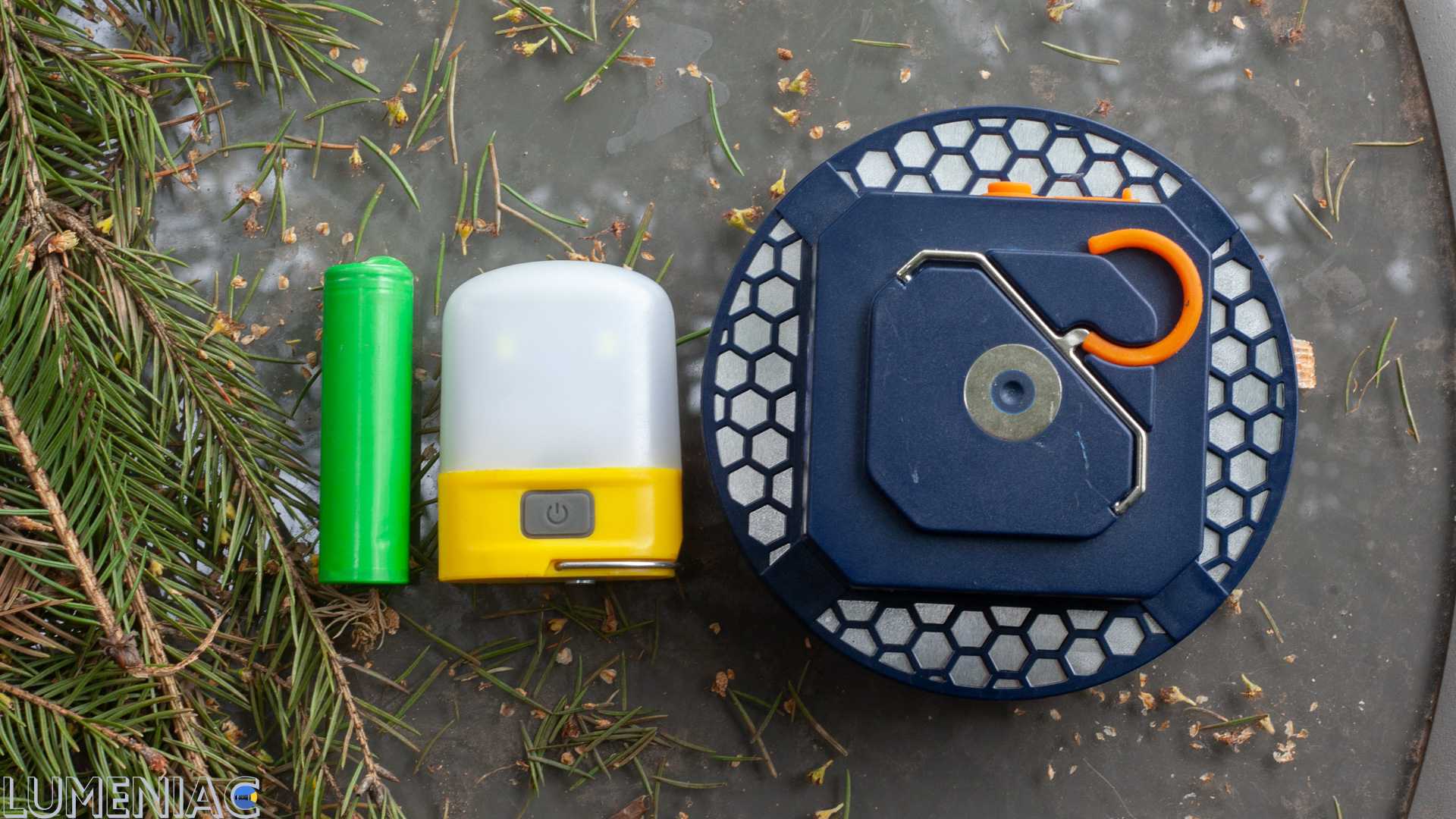 The plafond is slightly dented, which is an advatnage – less chanes to crack if dropped. It can be effortlessly removed, revealing a disc with soldered LEDs.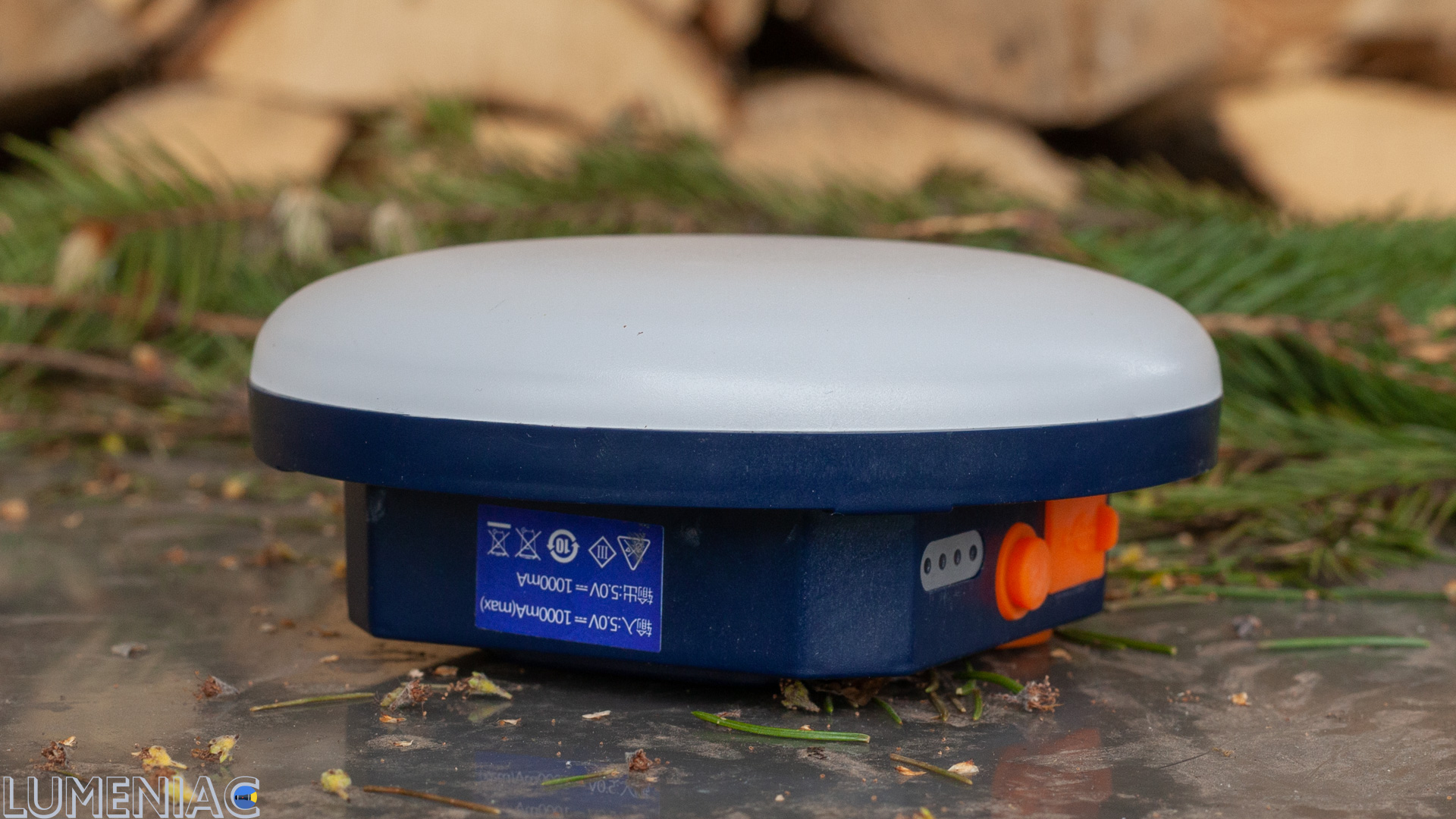 Arh, zero thermal paste! However, due to a rapid drop from maximum brightness, the disk only heats up to "just warm", nothing more – I checked it in my hands.
And one more "argh" is that, according to the good tradition of almost any superbudget product from aliexpress\amazon\bangood, the battery capacity is lower than stated. Here you can see 2500 mAh through the heat shrinkage, which in any way is close to stated 9900 mAh.
Ease of access and constructiveness lets you to swap these batteries to the same cheap Liitokala NCR18650B and add significant extra 2000 mAh capacity.
I guess that if you solder some higher drain cells you can improve the situation with stepdown and male rutime chart line more flat.
I do not presume to comment on the circuitry, it is possible to understand that everything here is extremely simple and expected.
In general, quite, quite good for this price. Substantially higher than what I expected.
UI
Better than you get with similar price model, but stil crap.
The inevitable stroboscope is still tucked in here , luckily it is hidden and can be activated by holding the button.
The rest of the brightness goes like this: High-medium-low-off
It's not cool at all, you will definitely get blinded at night. you will have to press the lamp with a shade to the belly and rewind the brightness down.
Starting from minimum brightness would be definitely more practical.
ILLUMINATION
In terms of battery life, everything is decent, 7500 mAh is actually a lot. The maximum mode is comparable in brightness to a 60-watt incandescent lamp, but drops to 55% in a couple of minutes. In general, any (except Sofirn LT1) camping lantern will give you the same drop. But you shouldn't consider it as a normal short-term turbo, a drop to the undeniably bright MID level will be last about 50 minutes. During this time, you will have a really bright light, and then the flashlight will also work at a good level.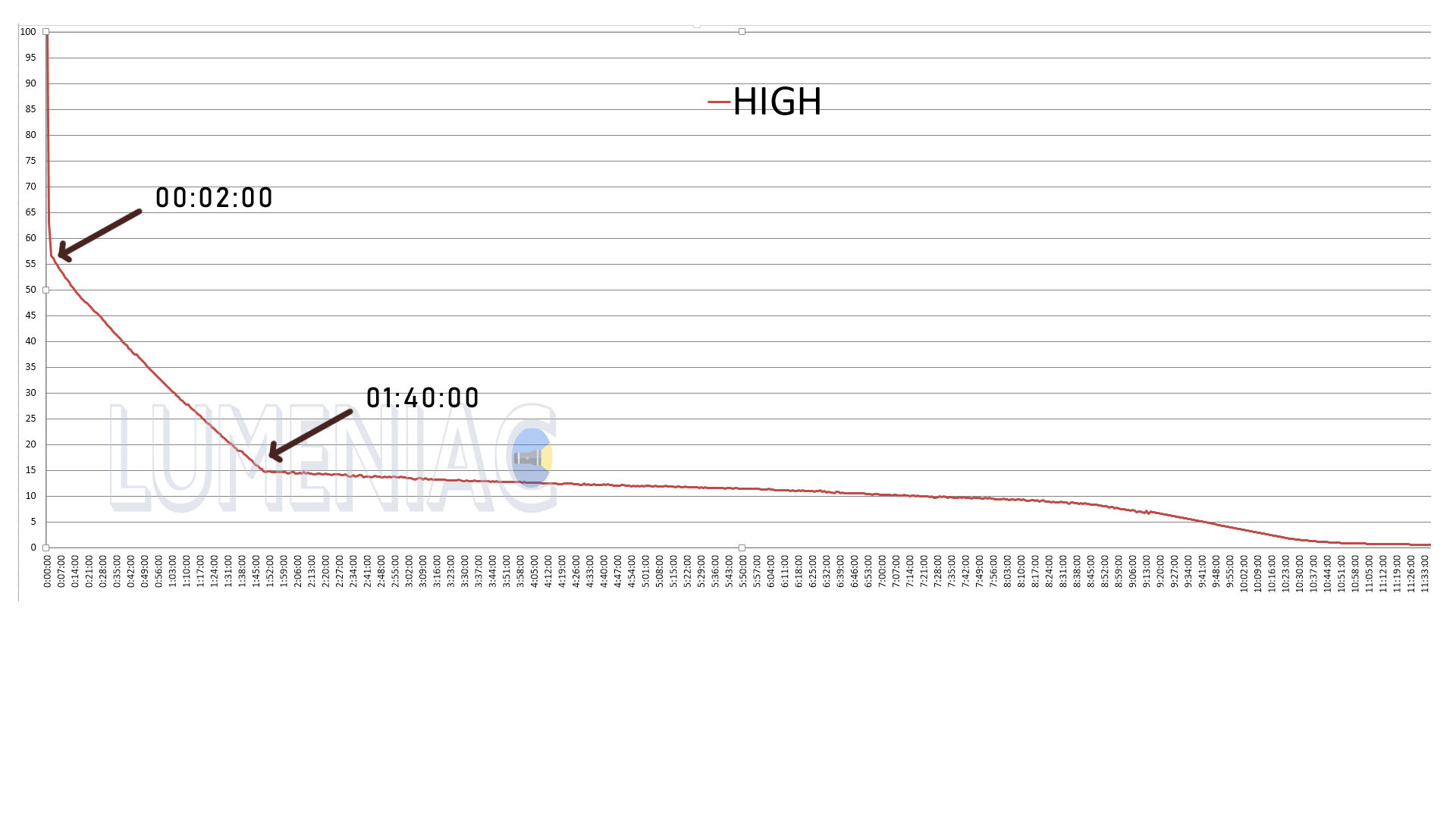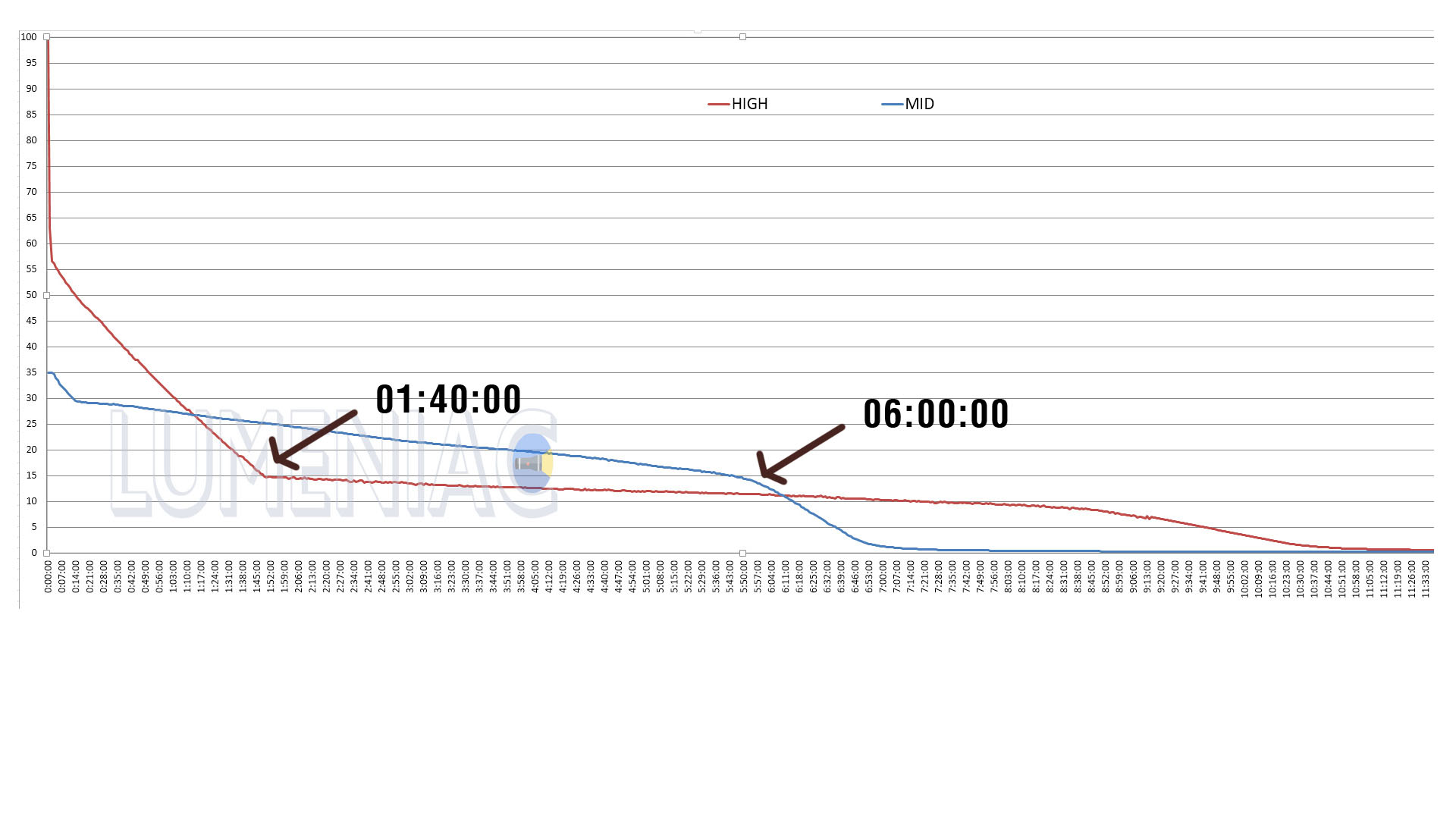 At minimum brightness, you have more than two days of continuous work. Visually, this is something on the order of 20-30 lumens, which is quite good.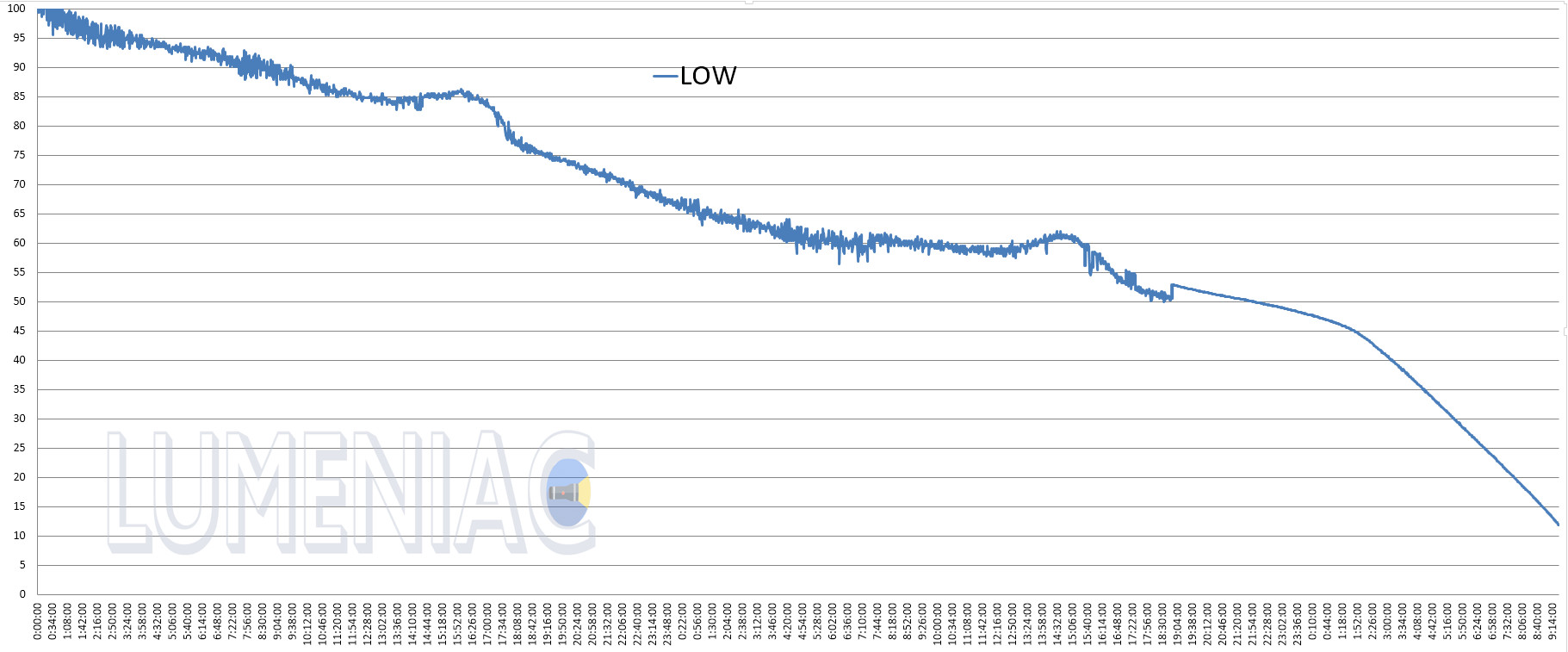 Well, for the rest … Here is the most relish. A combination of two winning characteristics:
a) This is actually a bright camping light. Even taking into account the short maximum brightness.
b) This is a LED camping light with warm light. which is nonsence…
Most of the branded camping lamps (Fenix ​​CL and Nitecore LR) give a sort of 5000K color in best case. This, of course, is a way better than 7000+K blueish light
any
budget camping lantern. But there is still no comfort, there is no cozyness!
But here the light is around of 4000K, no higher. And that's really cool.
There is also a minus – the minimum brightness is too high for comfortable light in the "firefly" mode. Due to the price, the brightness here is probably regulated through PWM, and if you lower it to the level of about 1 lumen, then the light will decompose into hertz pulsations. I hope that Sofirn, to whom I gave the link and pushed the idea of ​​deep OEM modernization, will resolve this issue nd release their model based on this lantern.
And the most interesting thing – how does this camping lamp illuminates? Yes, it does it flaswlessly. Performs perfectly in suspension. As enchantingly steep as Sofirn LT1 is, its shape gives light to the sides, leaving a dead zone below. But form of the saucer, of course, acts opposide way – the light goes down.
For comparison, from right to left: 50 watt incandescent lamp \ review lantern \ $ 5 yellow soapbox.
MID
mode without any need of extra light.
At a height of one meter from the table, you can read with ease for the eyes. absolutely comfortable light in this mode for such needs.
Alas, the lower mode is definitely too bright for a night light. In the gazebo, it gives a cozy twilight, maybe even brighter. It depends on how high you hang and what size the gazebo is. In the same garage, you can move freely, everything is perfectly visible. But it will work in this mode for 2 and a half days. Well, look at the video, everything is clear there.
check final part of video review of this camping lantern, there are way more examples of it`s light.
OVERALL IMPRESSION
Of course, this cheap alixpress camping lantern has its drawbacks. It has an extremely primitive and rather uncomfortable UI. It has a significantly overstated capacity and insufficient reliability for serious tourism.
But! All this pales in comparison with its advantages, the first of which is the cozy warm light. Any other budget camping light will have a nasty, cold light. And in order to get something with at least a decent color temperature, you either need to use a flashlight with a diffuser, or buy an expensive brand model. And that, believe me, with the rarest exceptions will still not have the same cozy light. And also (the only exception is one – Sofirn LT1) unconditionally merge according to the runtime.
The second advantage is the price. 17 bucks (and even less if you have a coupon or promotional code) is just a gift. Absolutely everything that you can buy for such a price will be worse in everything: runtime, UI (catch the strobe after maximum brightness), and, in fact, light.
By and large, one such lamp is enough for your eyes. For one full-fledged night, it will give a wonderful light in terms of brightness. But! Personally, I tend to think it's worth taking two. For outdoor rest such brightness will be excessive, destroying the magic of night outdoor recreation. But in a gazebo or at the countryside (and just as a source of backup light in case of a power outage), launching two pieces at once in medium mode will allow you to achieve a really high and long-lasting brightness level for a more than affordable overall price tag.
I want to remind you that Sofirn manager showed interest in the price-functionality ratio of this model, it is quite possible that after the upgrade they will offer a much more interesting model with a slight difference in cost comparing to this original one. At a basic level, I see improved UI and the installation of better capacity batteries. Stabilization is quite real in deep modernization. And if absolutely, ideally, then 3 * 21700.
For such a version, it is no longer a pity to put two high price tags, it will still be at the level of junior camping lamps from Fenix ​​\ Nitecore.