Samsung INR18650-35E 3500mAh (Pink) 3


Official specifications:


Nominal capacity: 3500mAh

Minimum capacity: 3350mAh

Nominal voltage: 3,6V – 3,7V

Charging voltage: 4,2V

Discharge current: 8A

Maximum discharge current: 13A

Charge current: 0,6C 2000mA

Discharge end voltage: 2,65V

Pluspol: FlatTop

Chemistry: LiNiCoAlO2

Diameter: 18,55mm ± 0,1

Height: 65,25mm ± 0,15

Weight: 48g ± 1


This is a new 35E cell (Supposed to be 2021) from Samsung where there the cell includes a warning. It is a high capacity cell.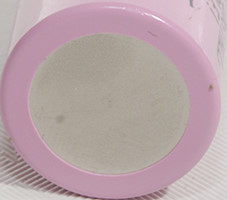 The two cells tracks fairly well, the cell can handle the rated 8A.
Conclusion
This is a good cell, performance is better than the 2020 cell I tested and better at high current than first 35E cell I tested.
Notes and links
The batteries was supplied by reader for review.
How is the test done and how to read the charts
How is a protected LiIon battery constructed
More about button top and flat top batteries
Graphical comparison to 18650 and other batteries
Table with all tested LiIon batteries