PIC SUPER-HEAVY will take time for GIFs to be downloaded and appear here in review.
you can buy Acebeam E70 at
➤Acebeam official store
➤Amazon
➤Aliexpress
➤ Nkon.nl – i`ve bought batteries here since 2015. Recommend.
I'll tell you about a flashlight from the category of purely male "Wishlist". Damn goodlooking yet bright and functional. With choice of copper, bronze, titanium, stainless steel and aluminum body. HiCRI or ordinary bright XHP70.2 LED. All this is Acebeam E70 EDC Flashlight.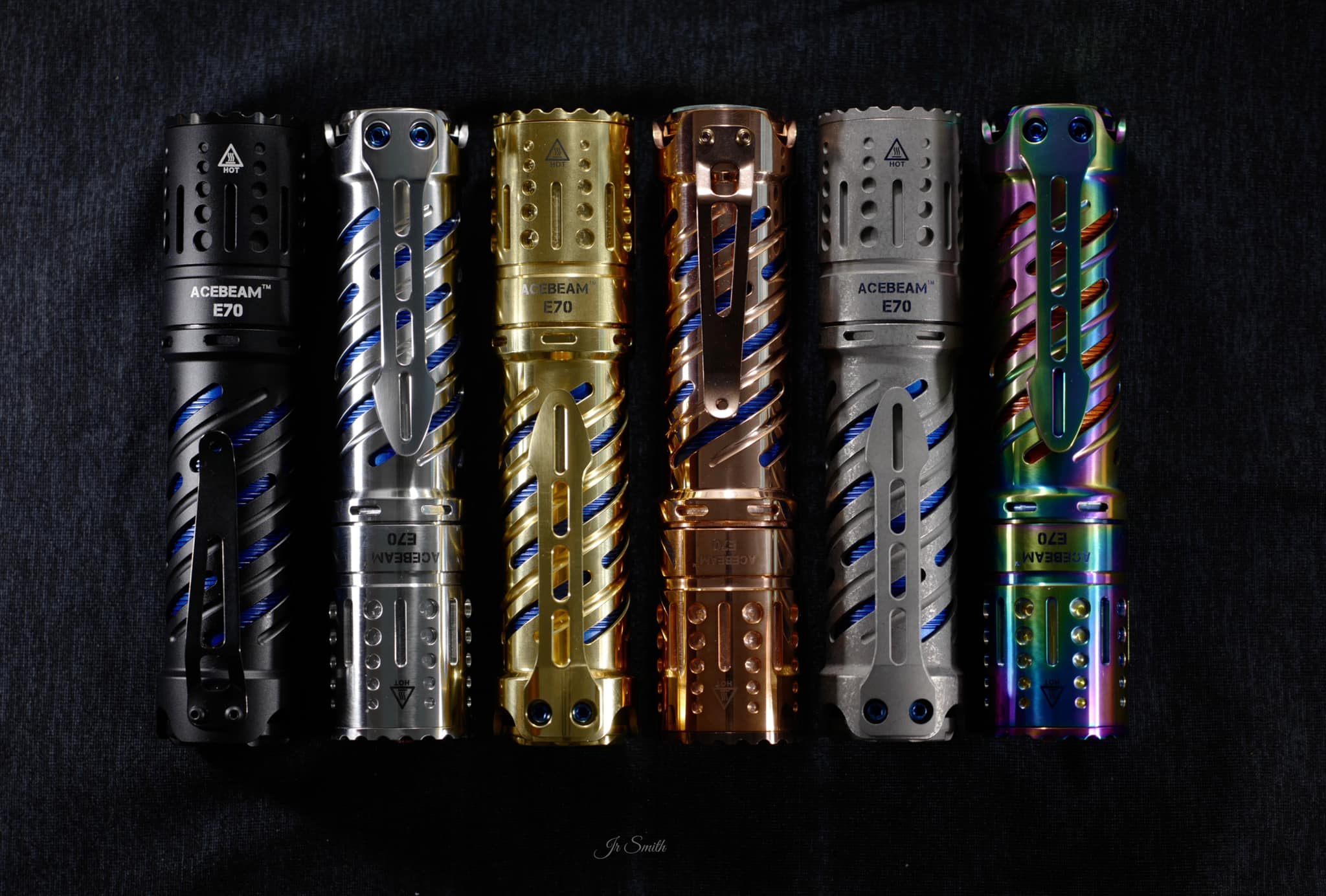 xhp70.2 versio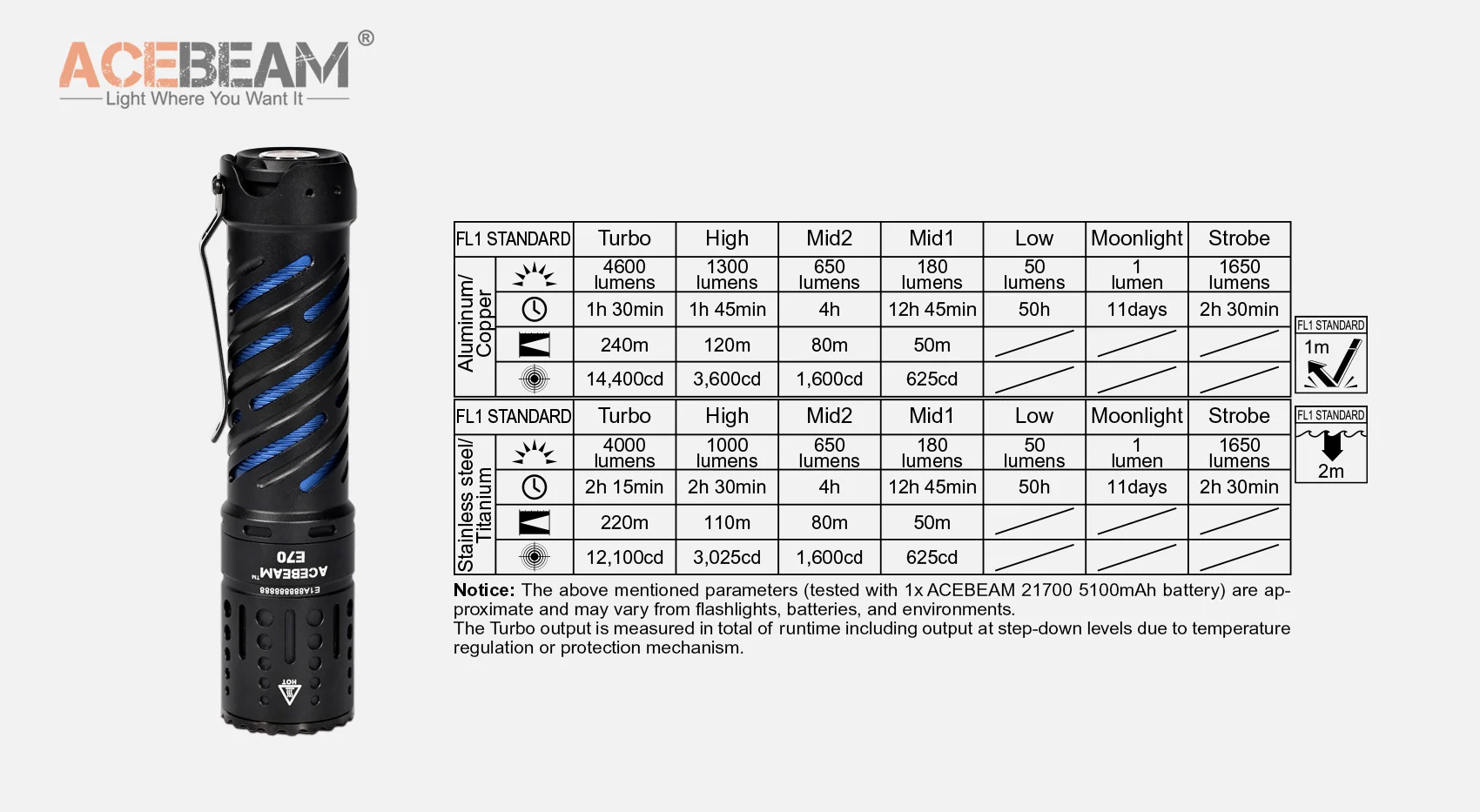 HiCRI GT FC-40 version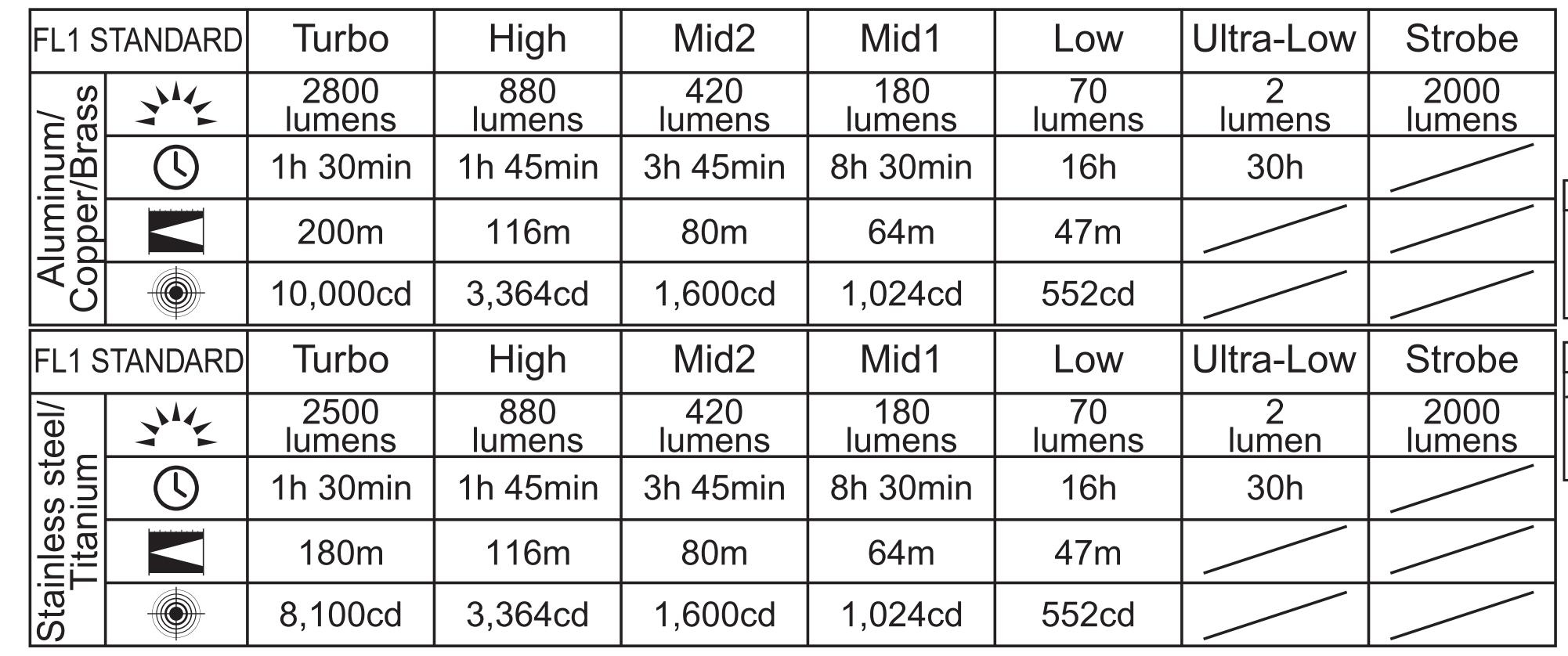 Stated specification
LED: XHP70.2 \ HiCRI GT-FC40
Maximum. brightness 4600 \ 4000 lumens (regular and HiCRI versions)
Maximum. beam distance: 240 \ 220m meters
Peak Beam Intensity: 14,400 / 12,100 cd
1 * 21700 battery
Brightness stabilization
Digital dimmable output maintains constant brightness
5 brightness levels + 2 special modes (strobe \ SOS)
Lock mode and double-click to power-on design prevents accidental activation
All contact points of the circuit are gold plated for better conductivity and durability
Anti-reflective coated tempered glass
Size: 128.3mm (length) x 30mm (head diameter) x 27mm (body diameter)
Impact resistance up to 1 meter
IP68 waterproof (submersion 2 meters)
Package and appearance
Neat white package with magnetic cover.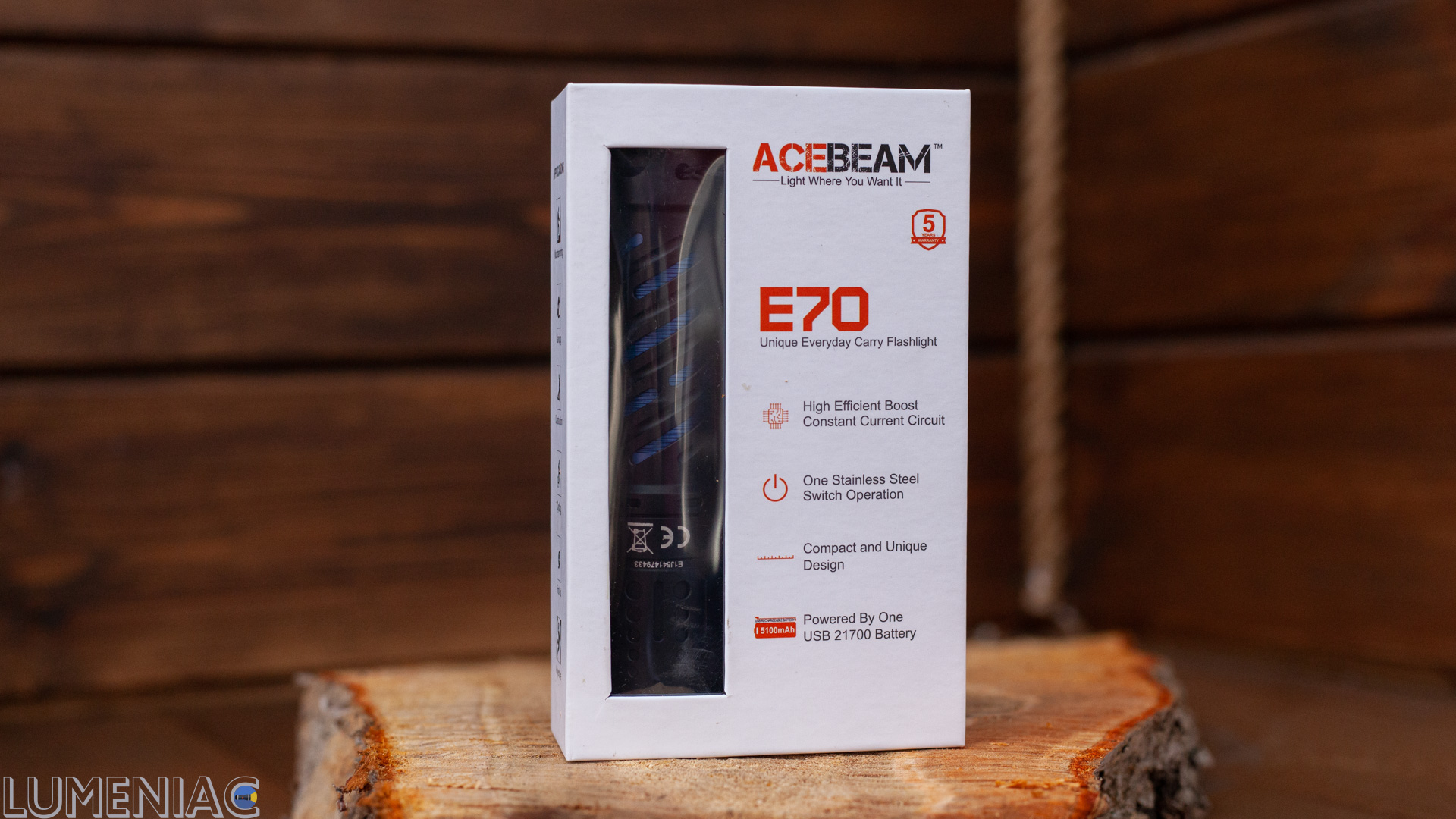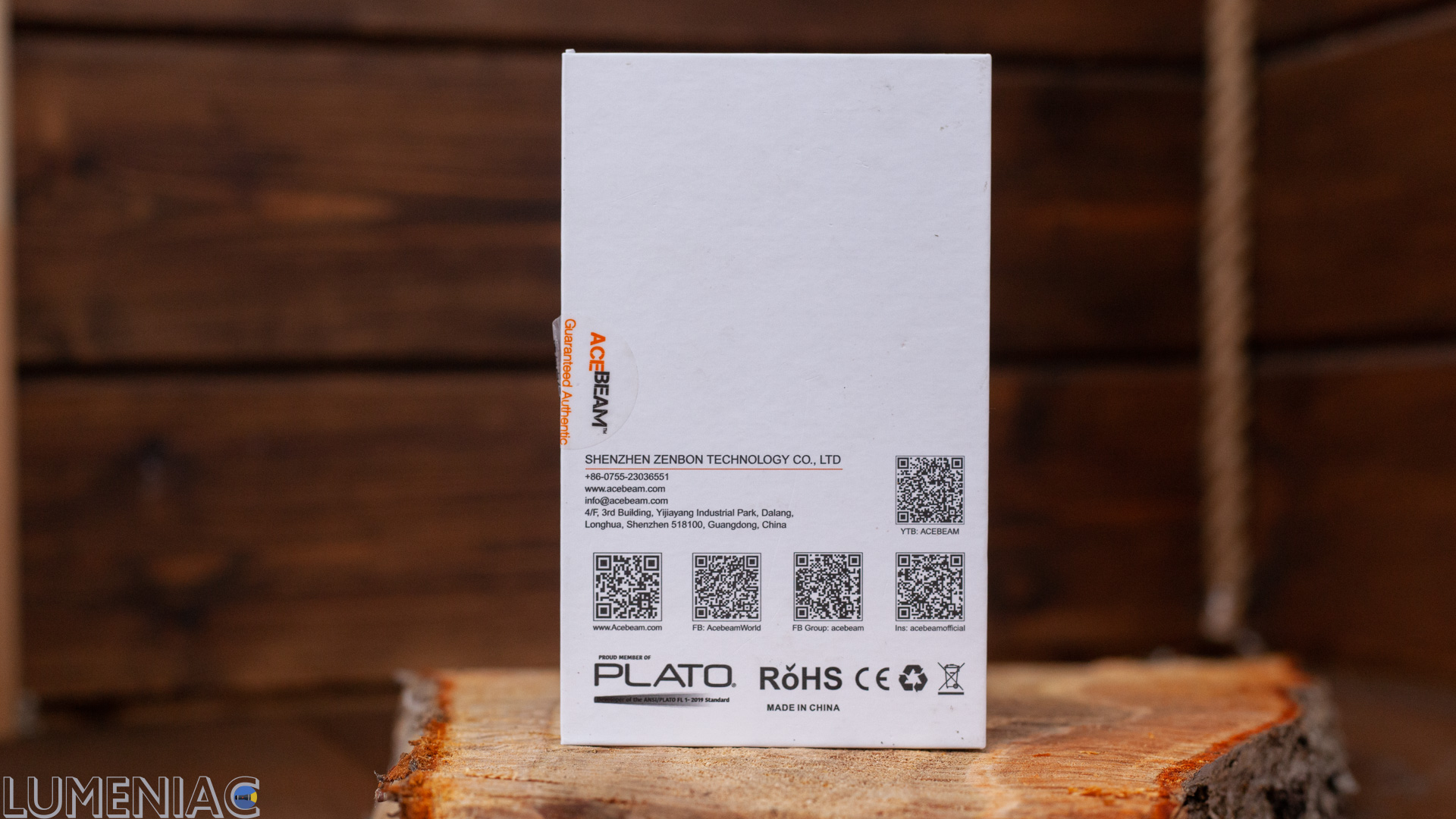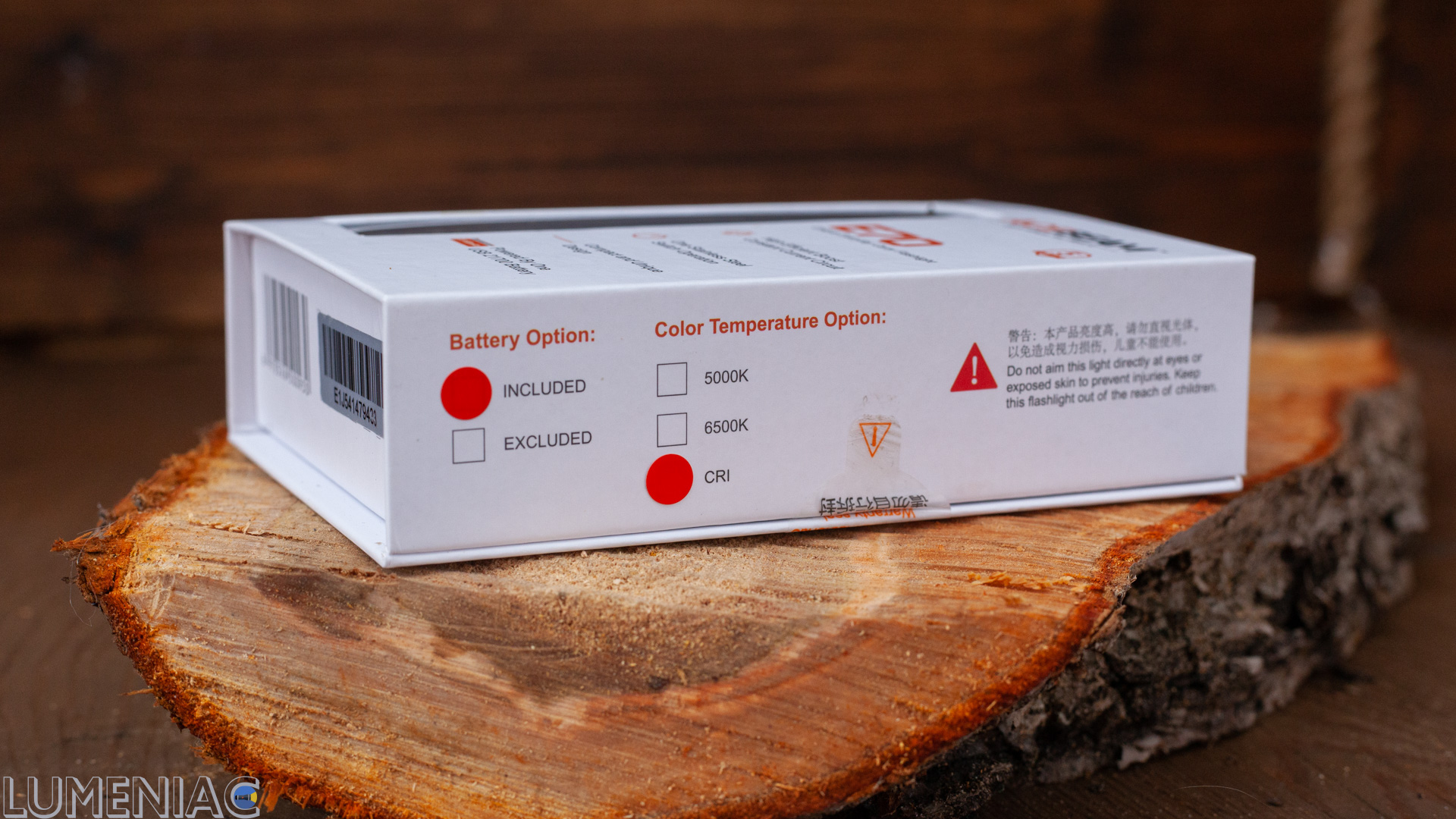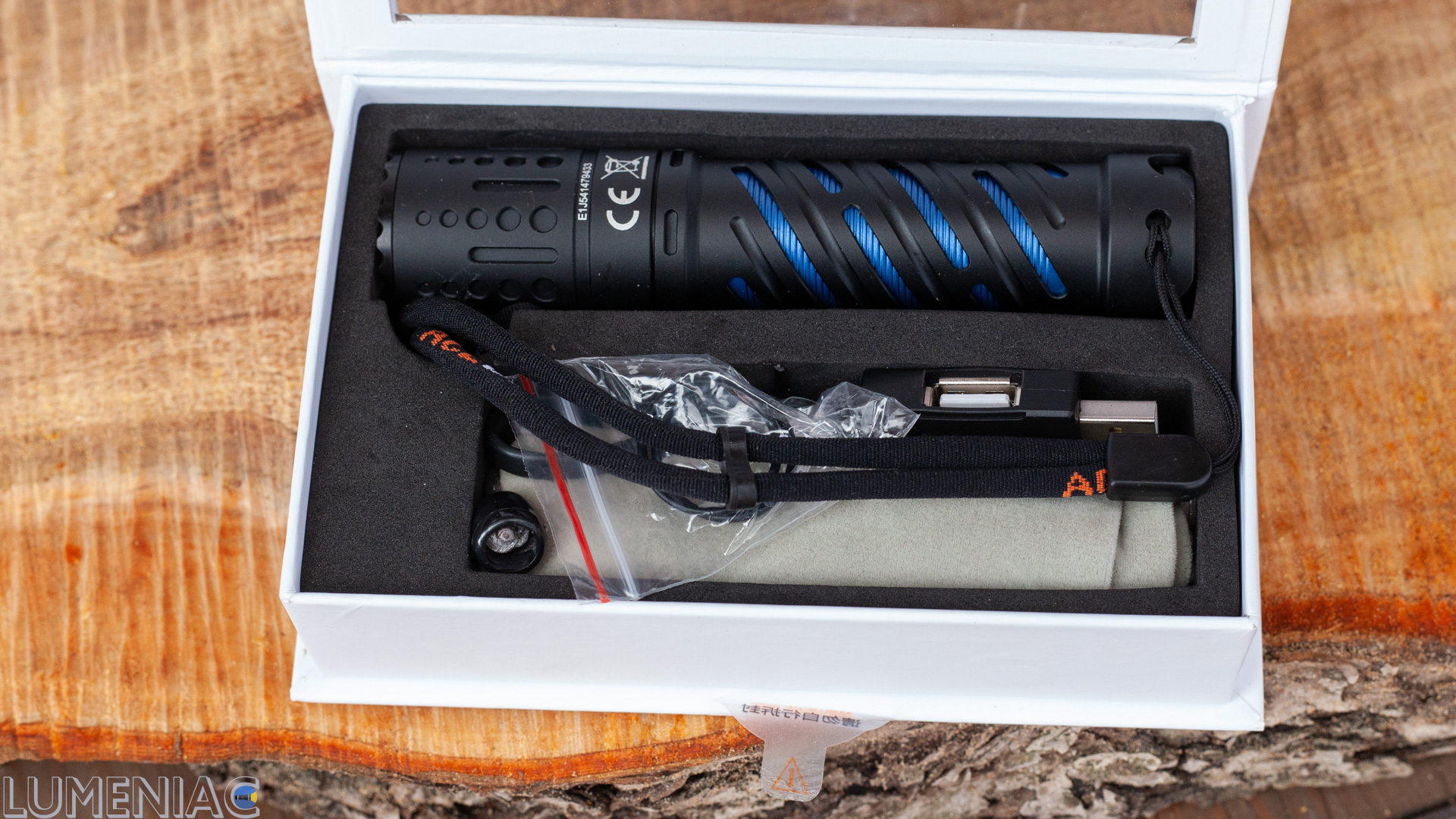 I wish I could say that kit includes everything. It doesn`t. Battery is expluded. This is good for those who already have good 21700 battery and will be an extra expense for those who do not have one or who buy a flashlight as a gift.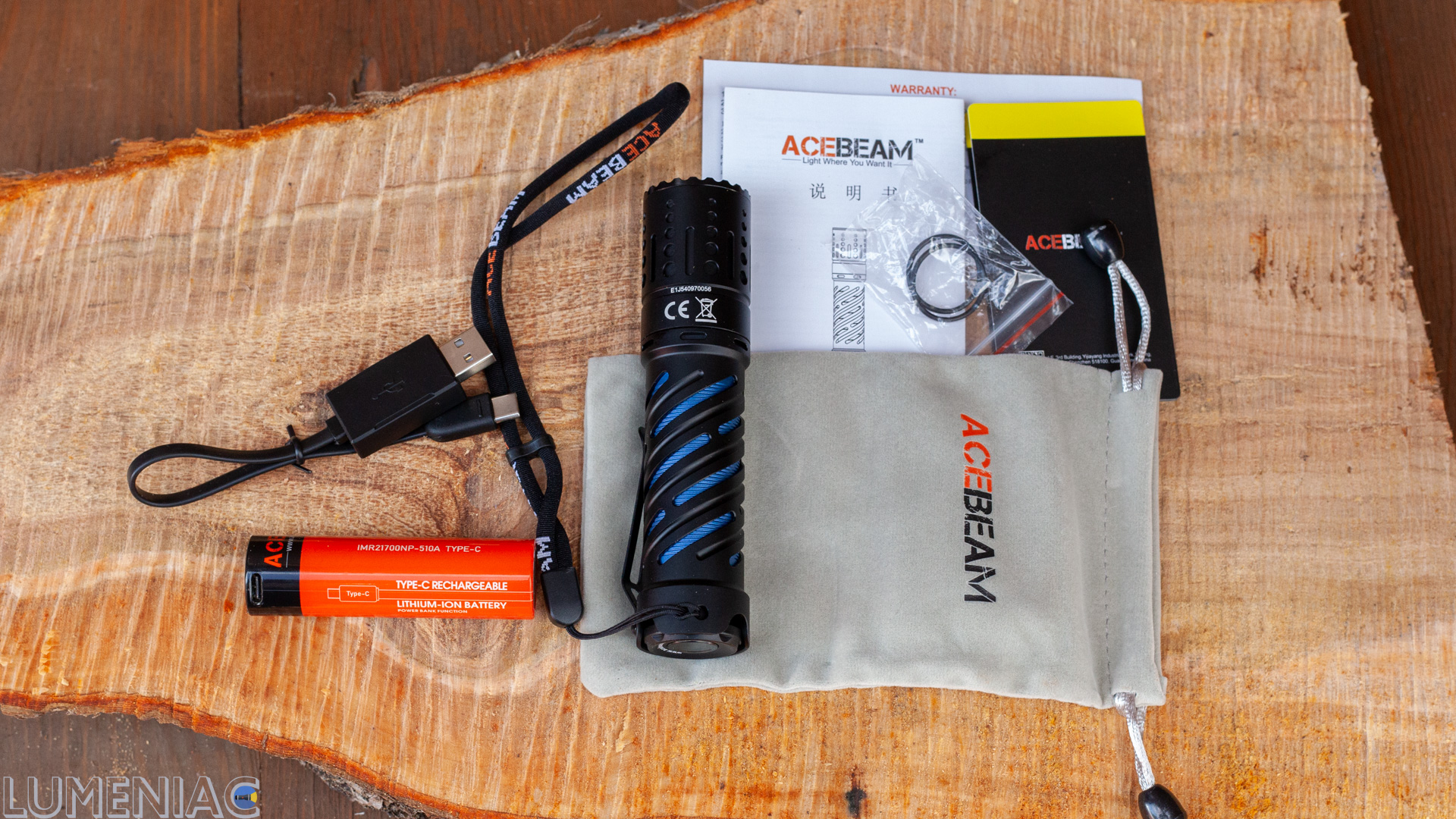 I also note that I have never seen the point in all these velvet bags, I think that a holster is more appropriate to carry flashlight in. To be fair, the Acebeam E70 is an EDC flashlight. And personally, for this kind of flashlights, I never needed a holster as I always carry an EDC flashlight in pocket.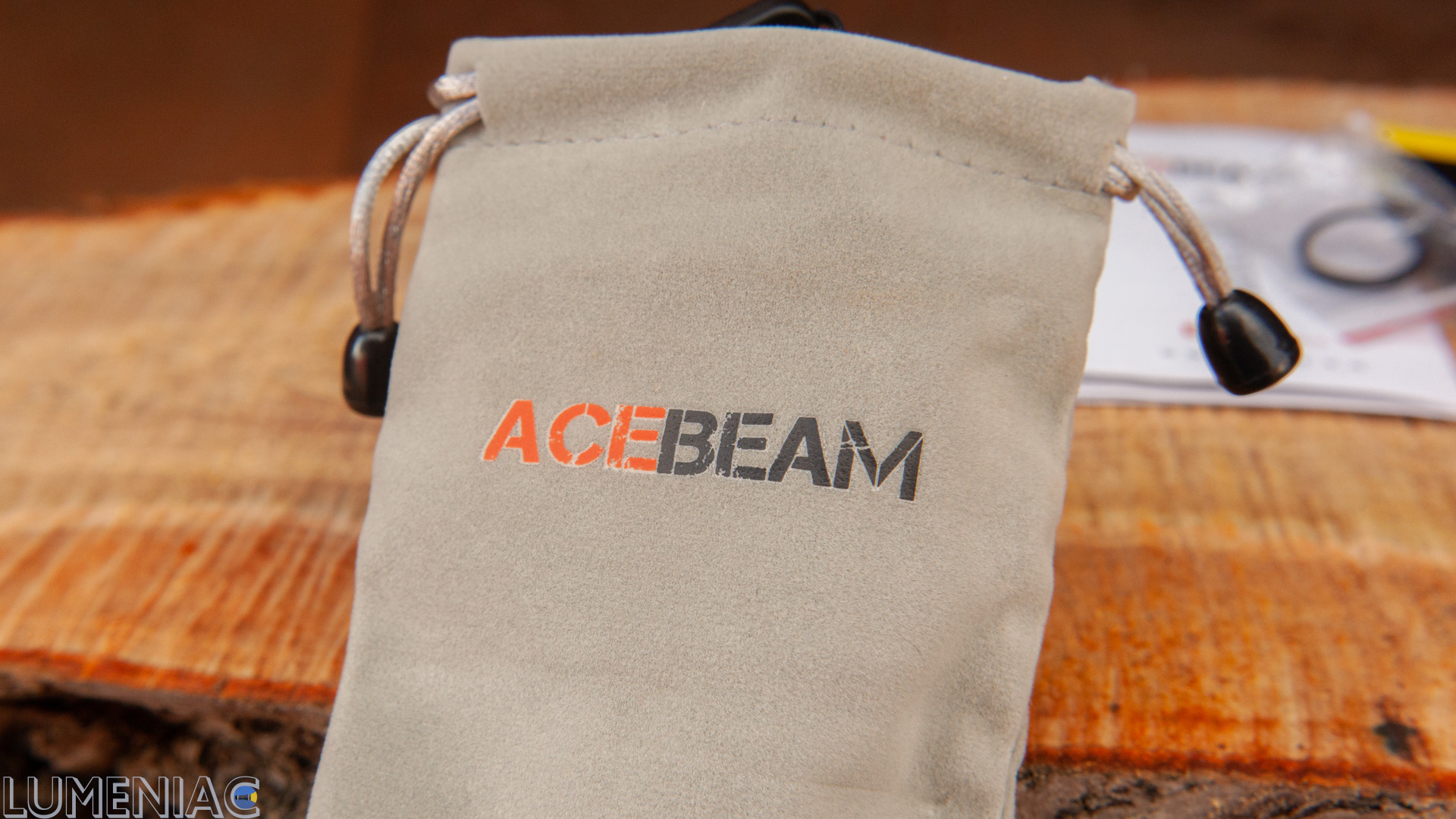 Acebeam suggest using their 5100mah battery with built-in charging connector.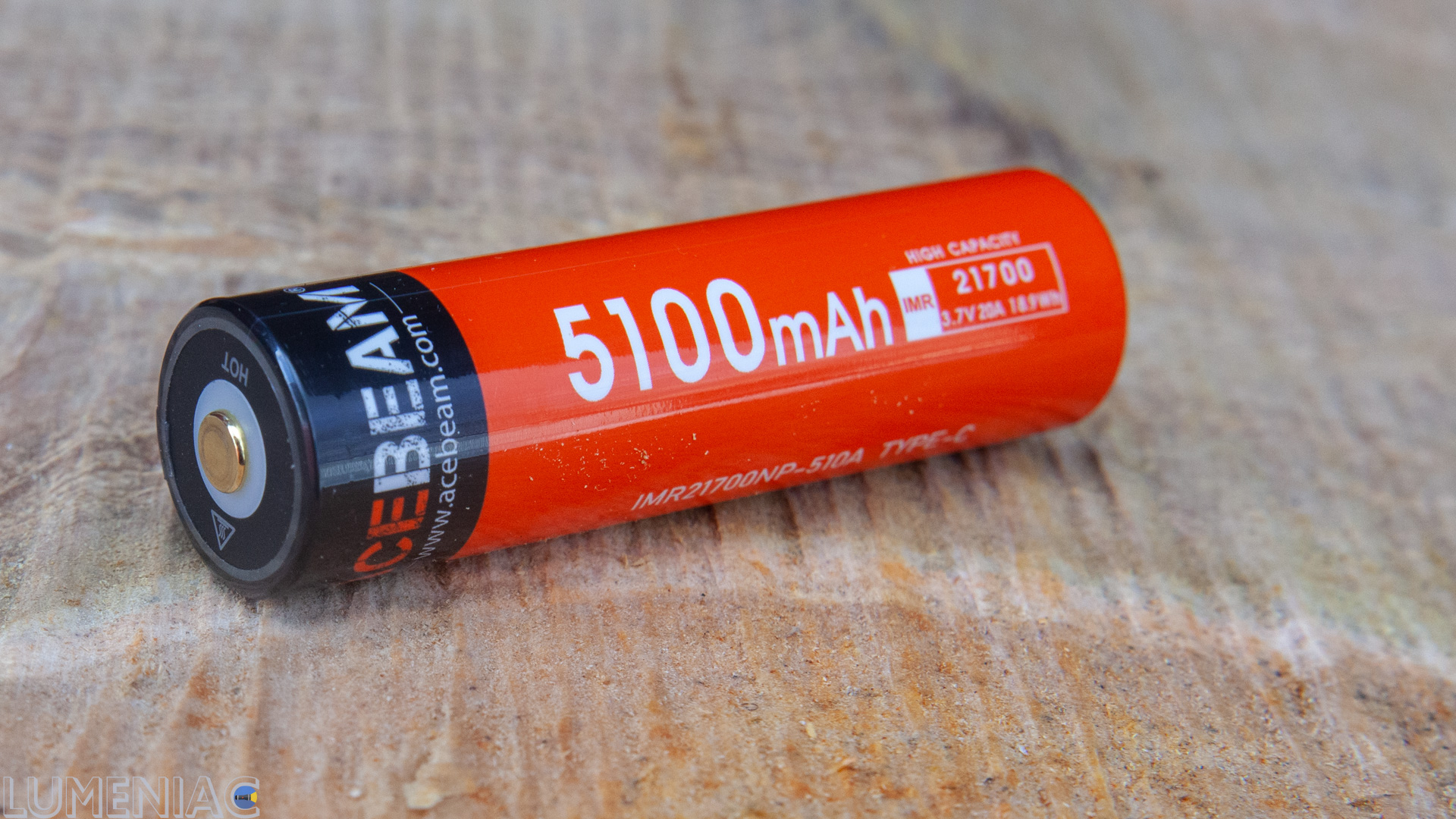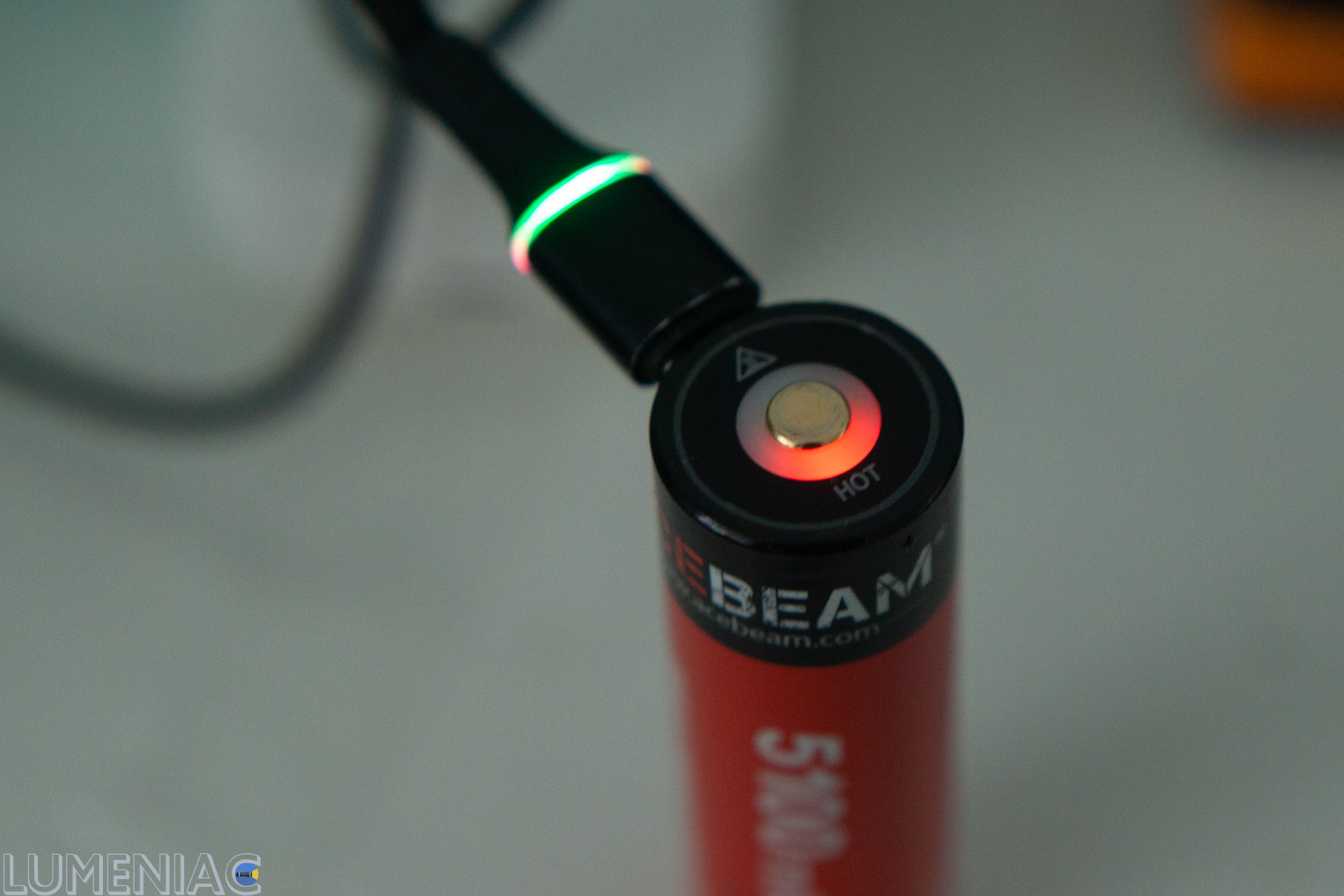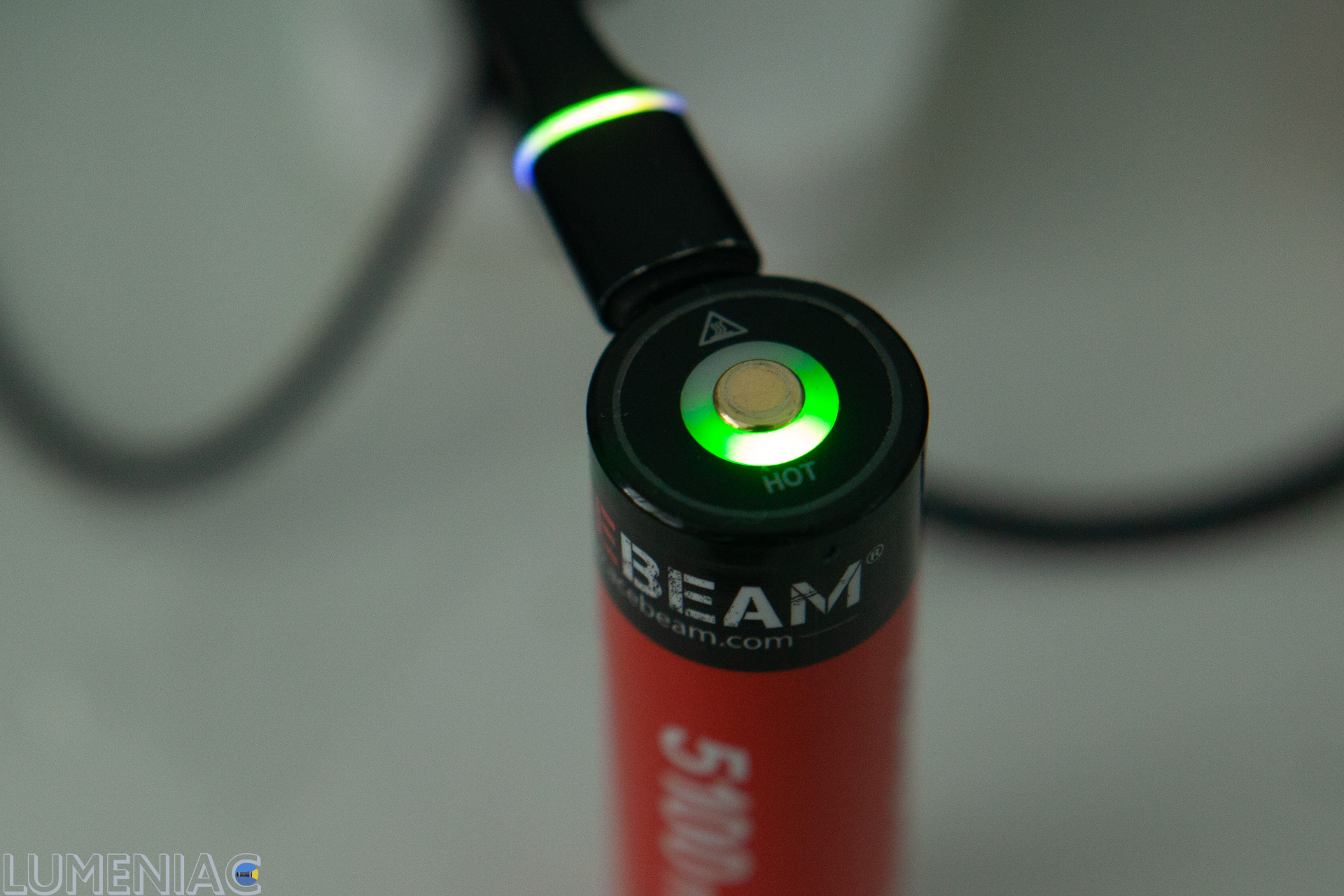 I definitely expected the flashlight to be more compact. It's not that it's bulky, it's just that all the last EDC flashlights I reviewed recently were actually quite small. In reality, Acebeam E70 with its 130mm length is only 4-5mm longer than Convoy S21A and it can seem large only against when stands next to extremely compact (for 21700 battery) Wurkkos TS21.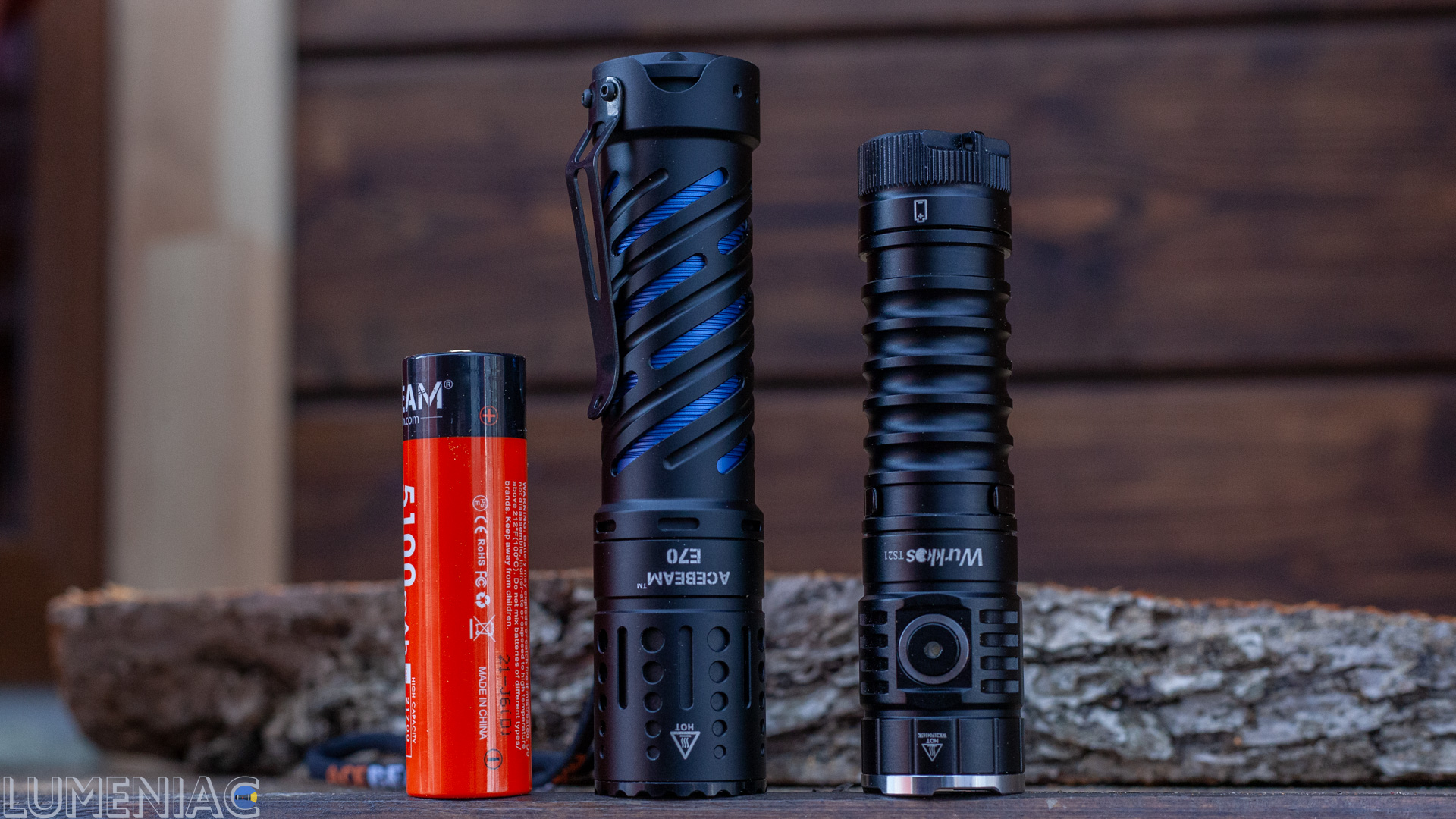 However, do not overestimate the compactness. What is good for the convenience of carrying in a pocket, it is bad for runtime at higher modes. I believe that E70 has a normal length for 21700 flashlight with reflector.
Well, here's the design itself. This is perhaps the very best flashlight design I have seen this year and one of best i`ve ever seen at all. That is matter of taste, of course and i already got some comments from people who dont like this design.
But I adore this design, especially copper and sand blasted titanium versions. Copper should increase runtime in turbo mode and titanium just looks incredibly cool. By the way, such a combination of copper and blue reminds me of Ancient Egypt.
See for yourself. modern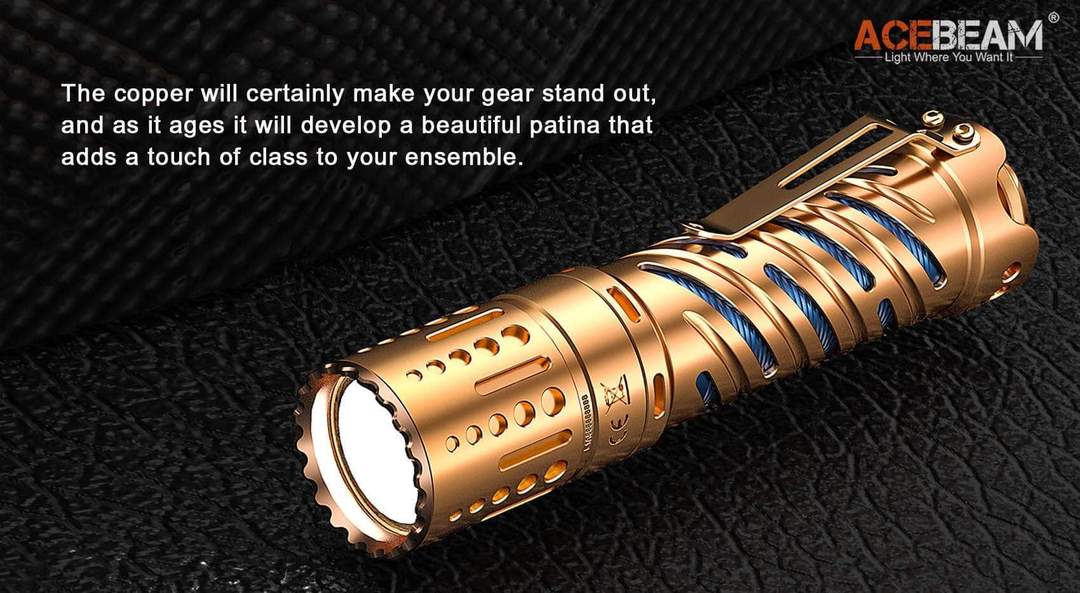 And from the ancient time.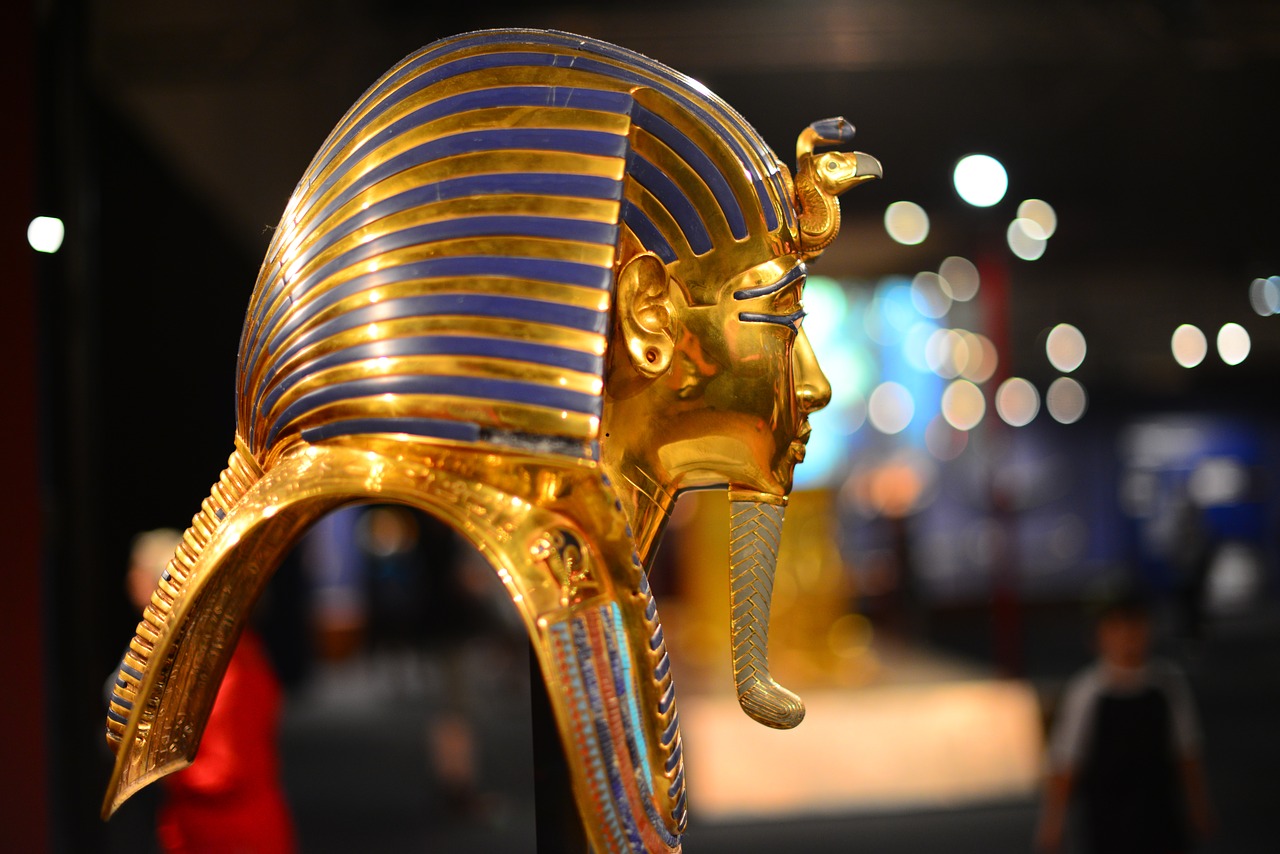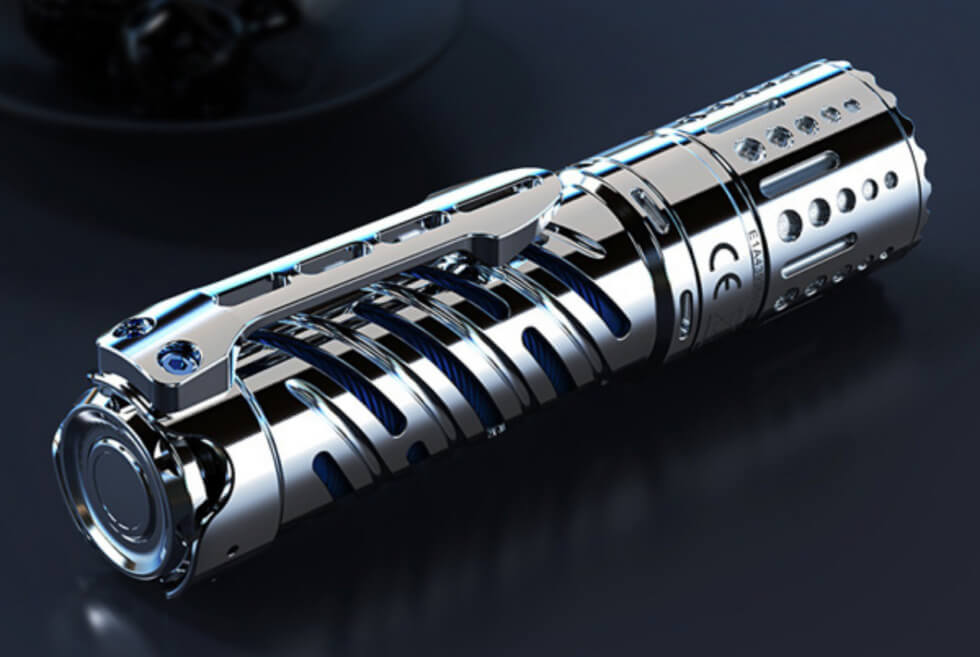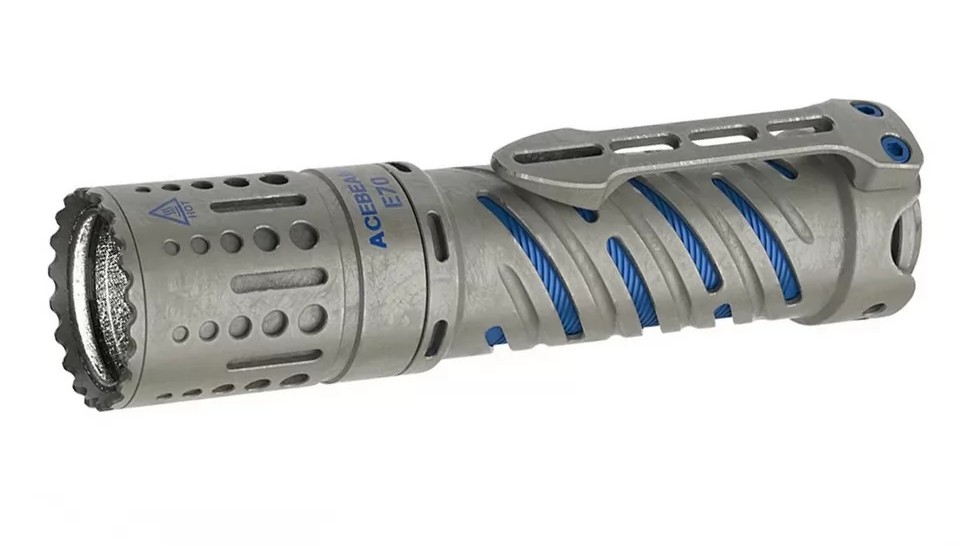 I got most light-weight and most budgetary, classic aluminum version.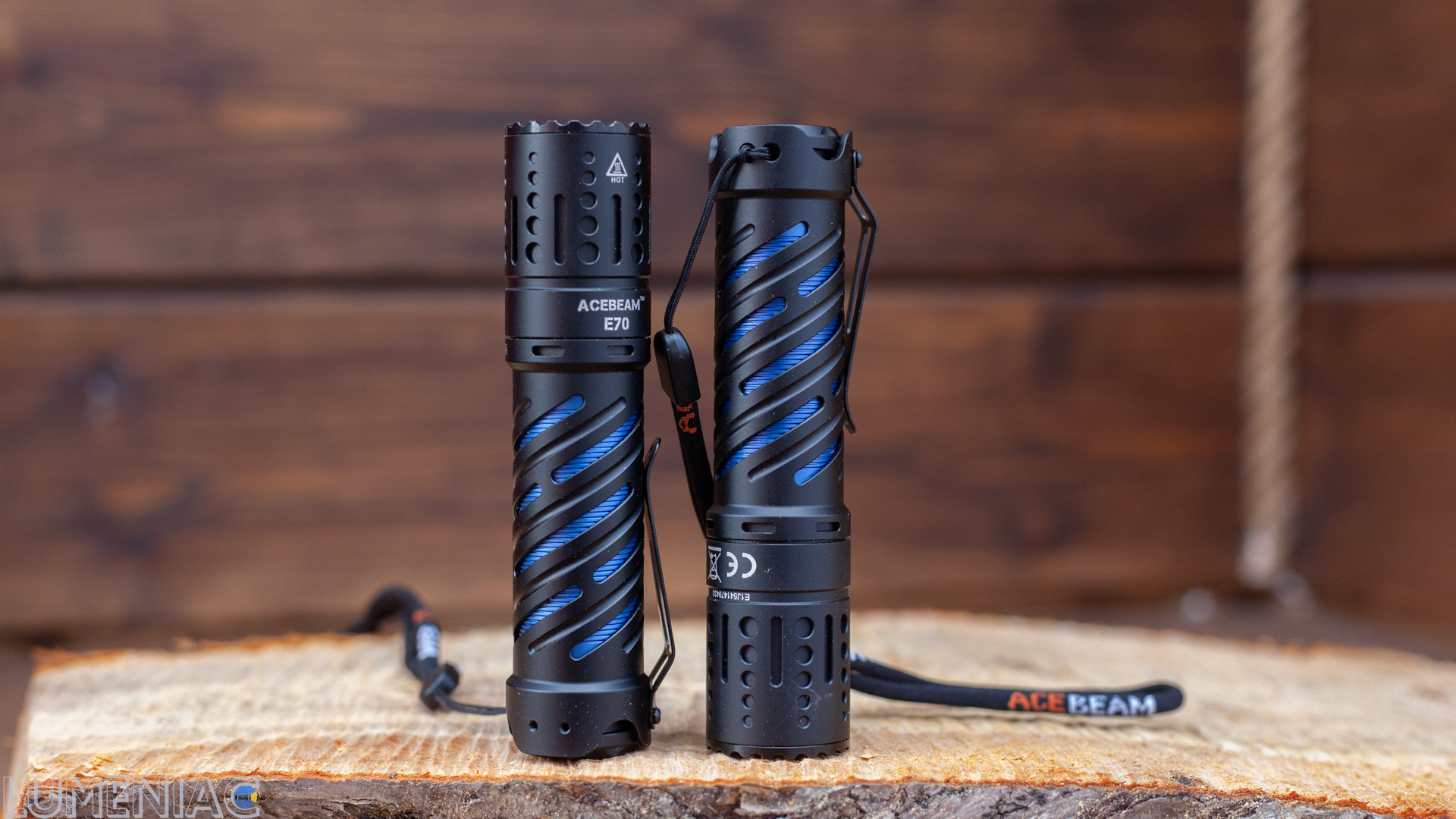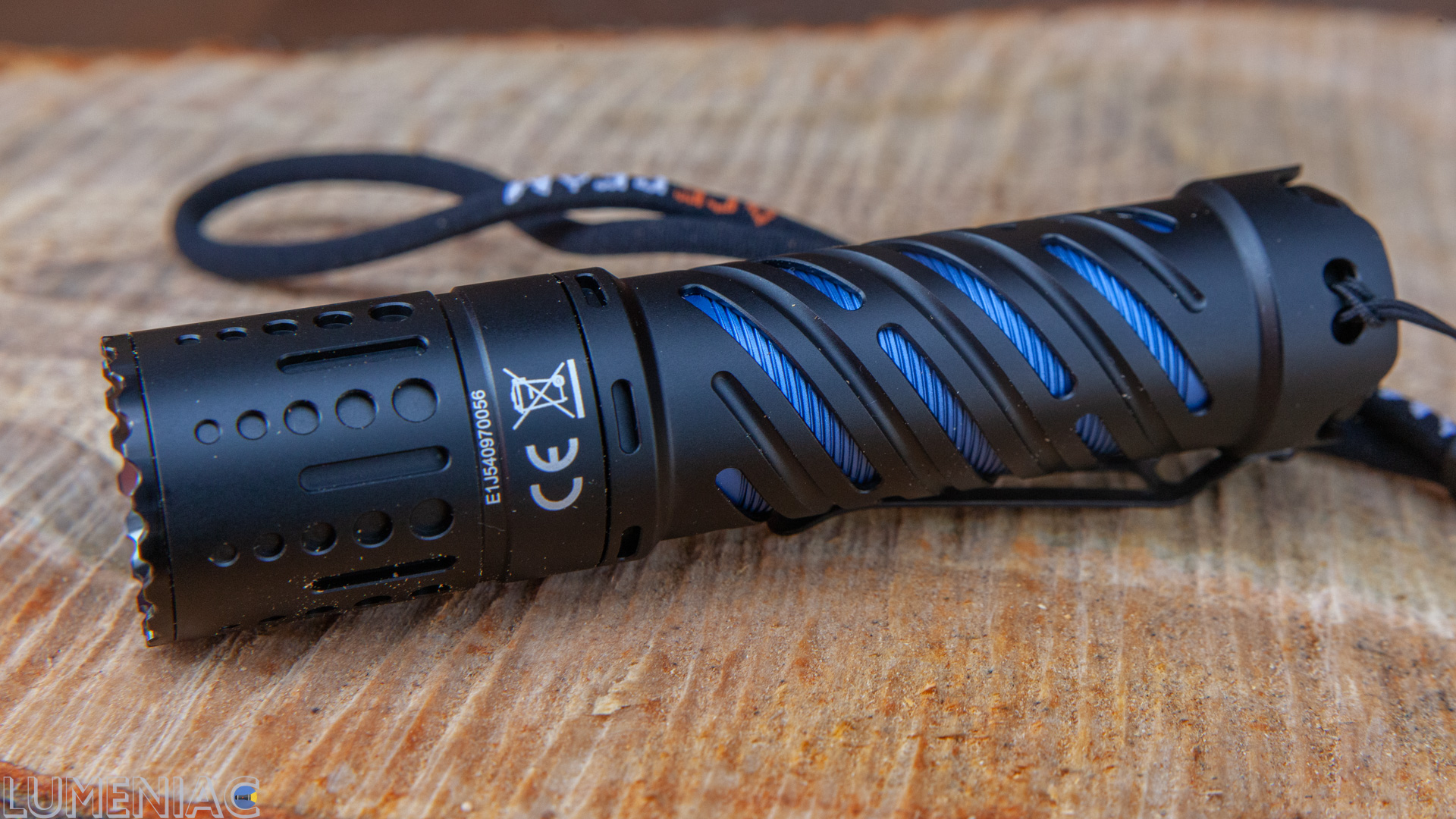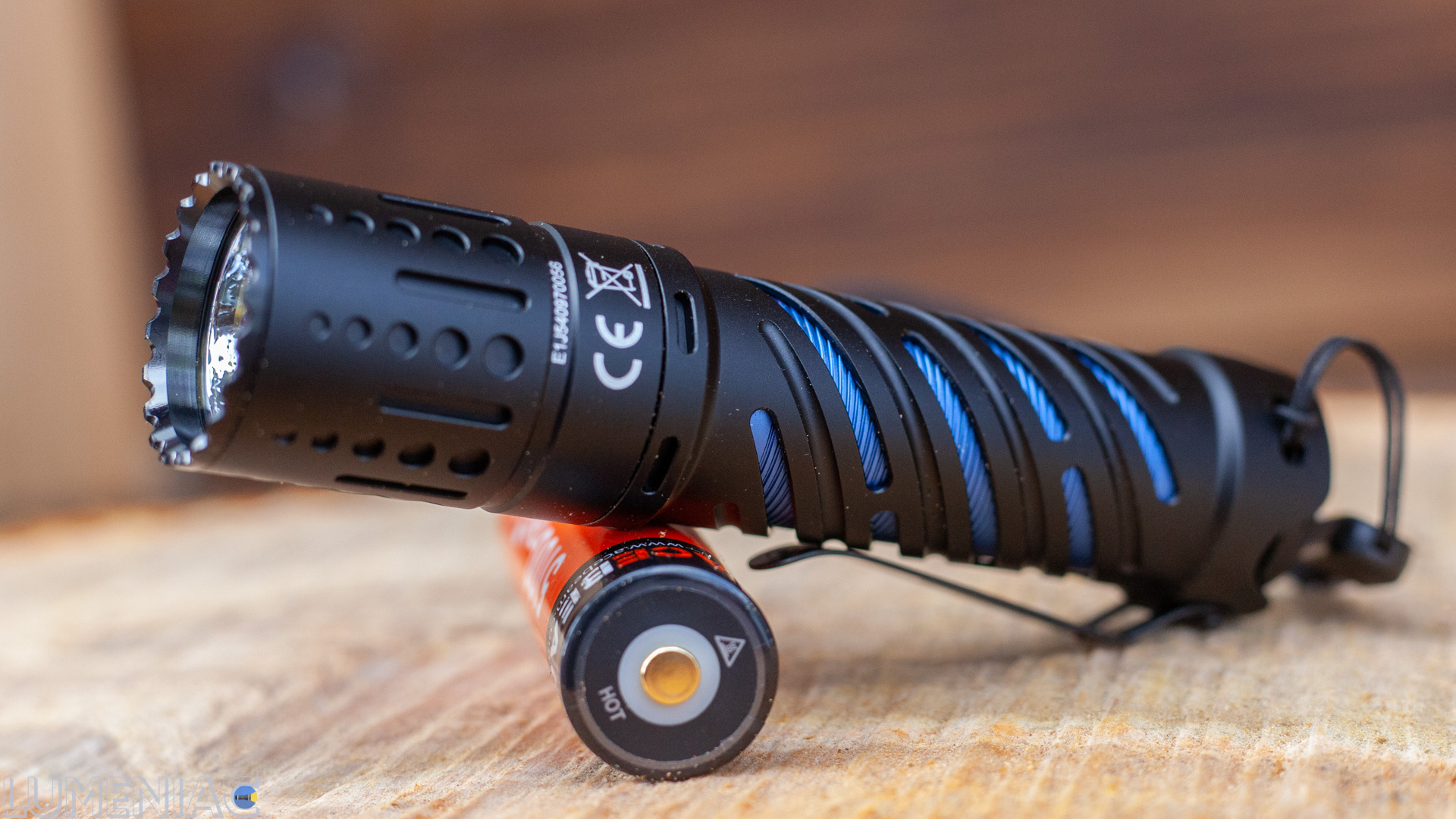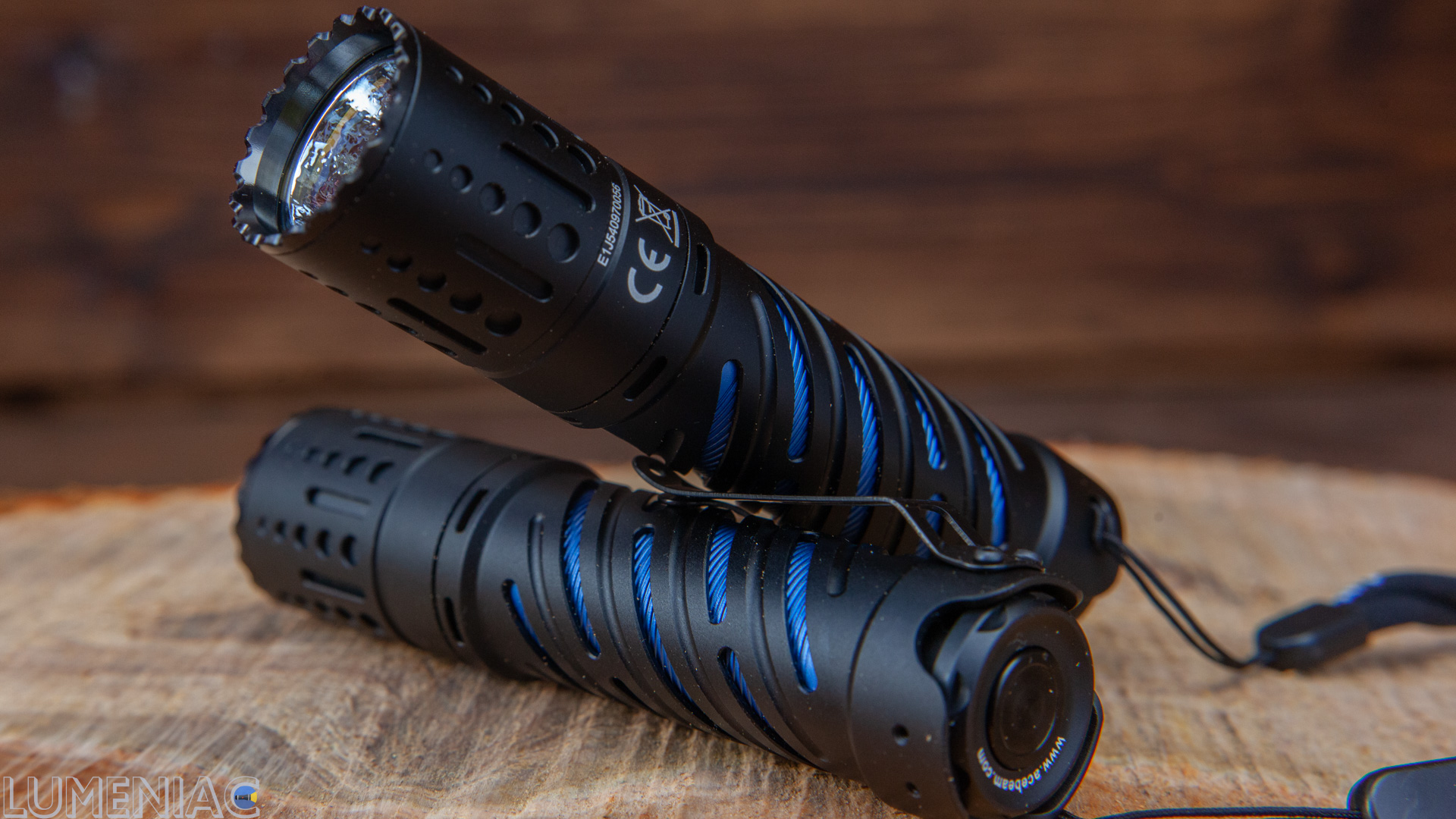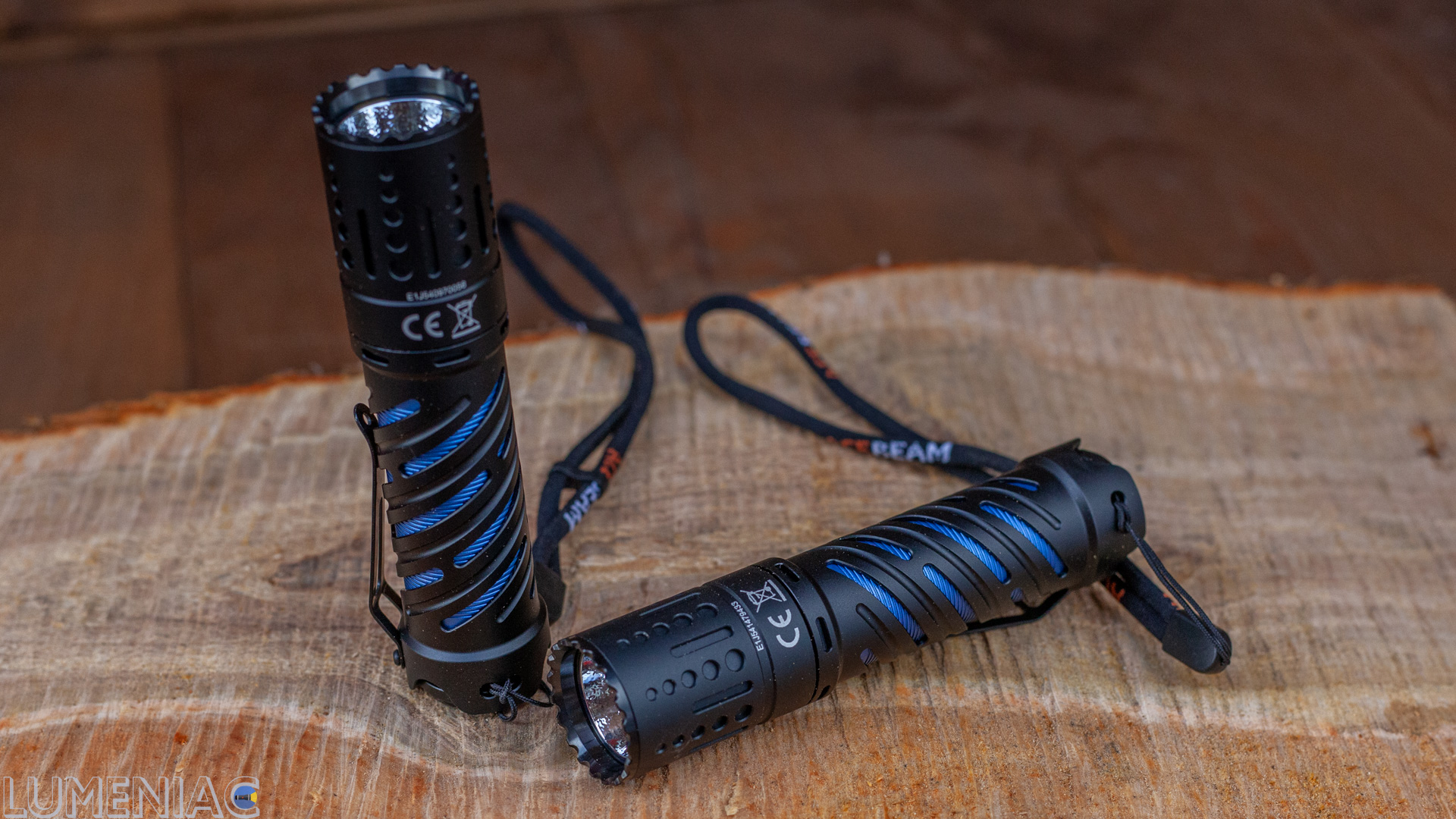 The flashlight has only one tail button. But this is an Acebeam flashlight, so everything here as it should be – both access to the button and the convenience of using it. And the fact that, as usual, the body here has two layers. The inner one is used to conduct the signal.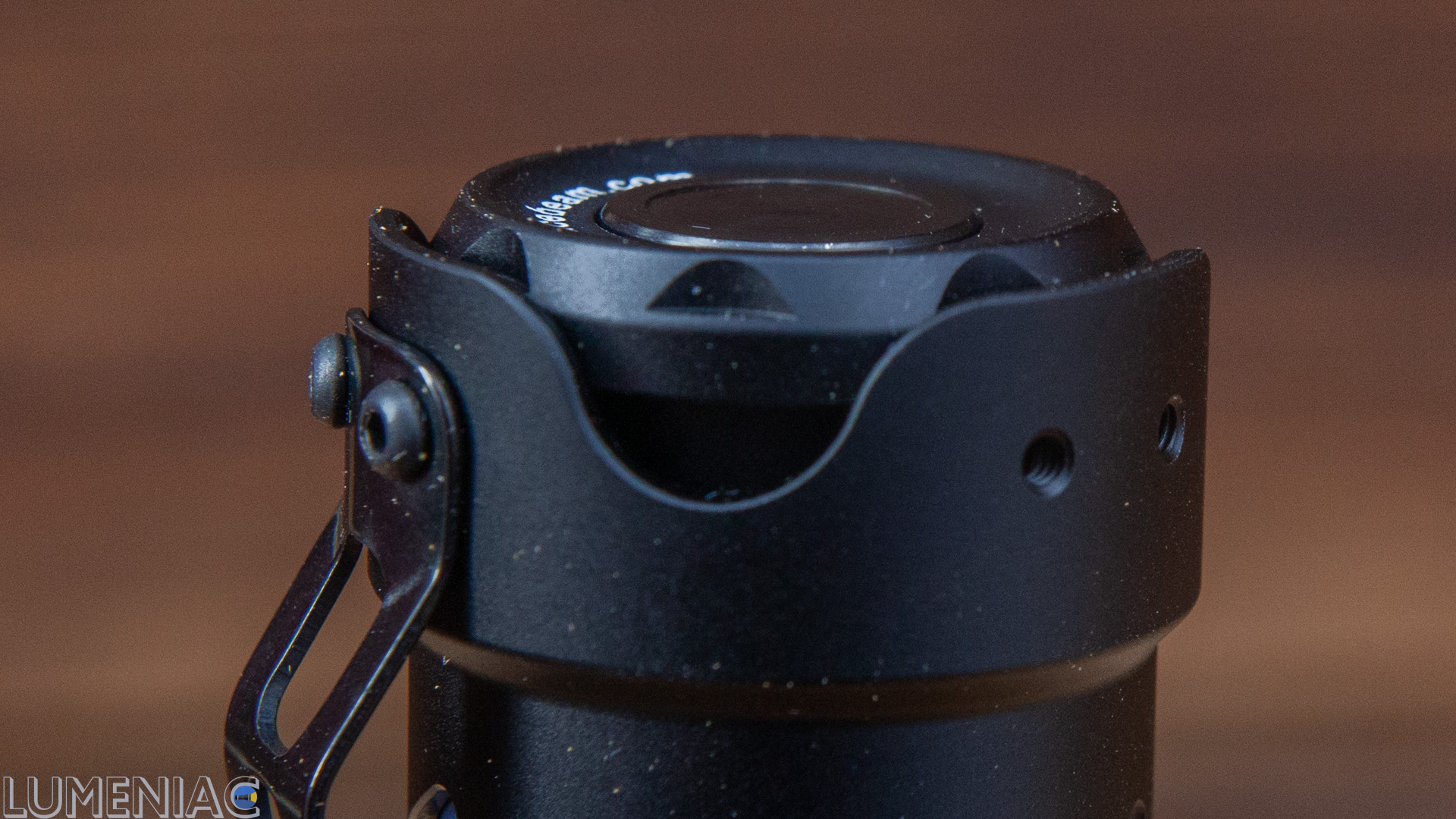 I have to be objective in review, so I think when winter comes and you wear gloves on, button may not be that convenient as you use it with bare hands.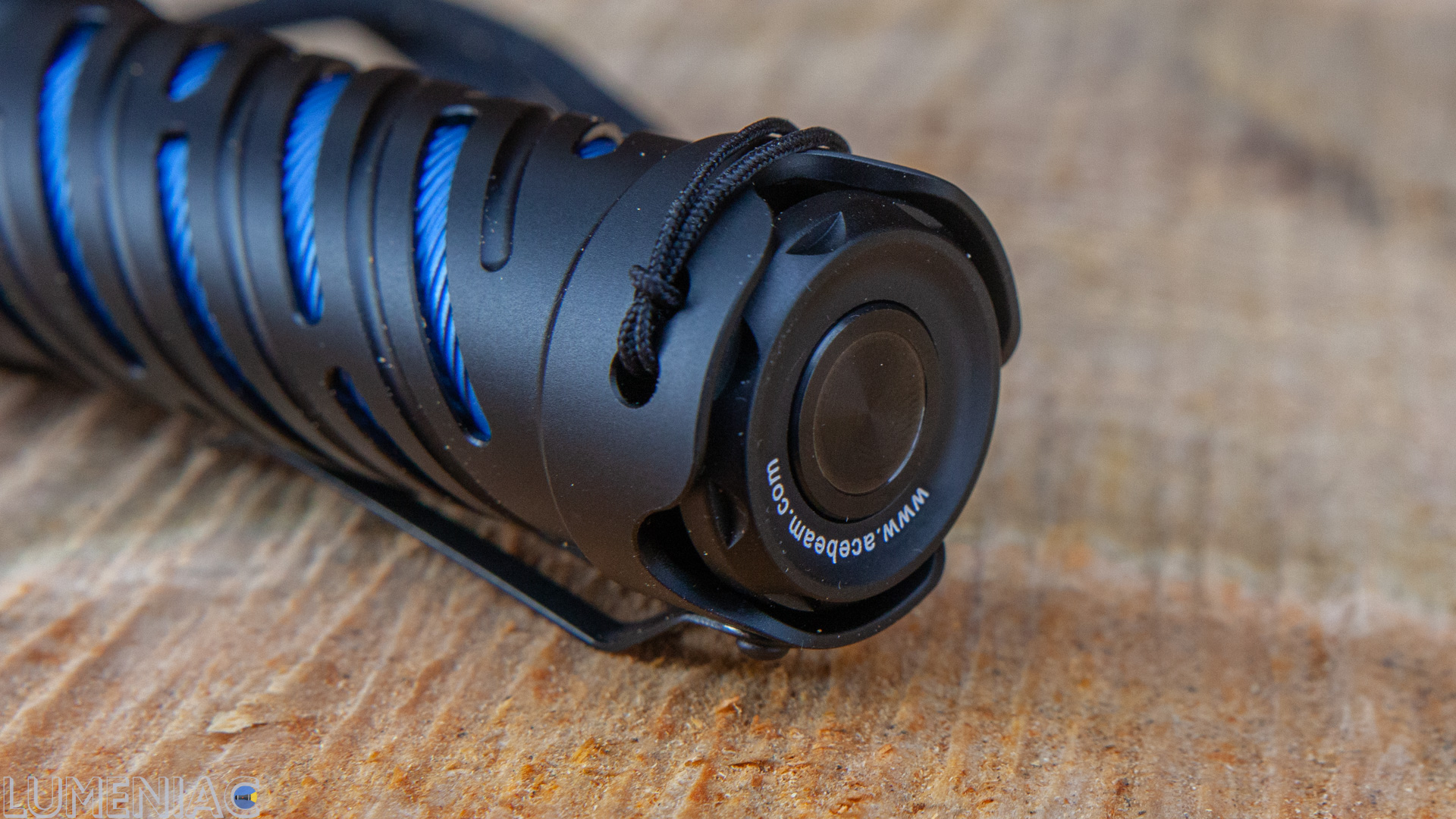 And, by the way, you can easily remove the lanyard,but installing it back is damn tricky.
The clip is rigidly fastened with bolts. You can remove it if dont need.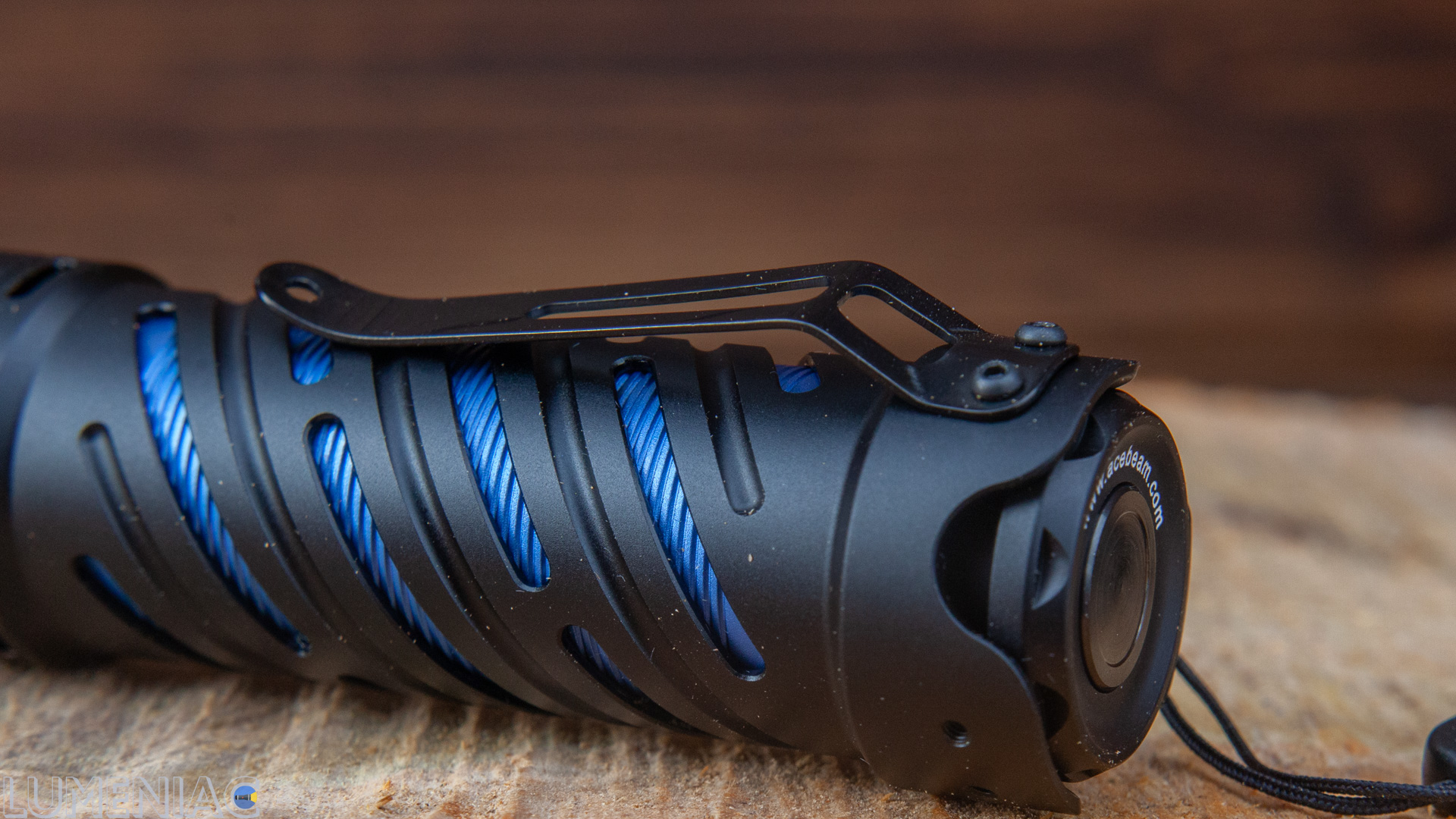 And here is the knurling – unusual one, with cuts and blue anodizing of the inner layer of body. There is every reason to expect that you`ll collect debris and dirt into these cuts in knurling.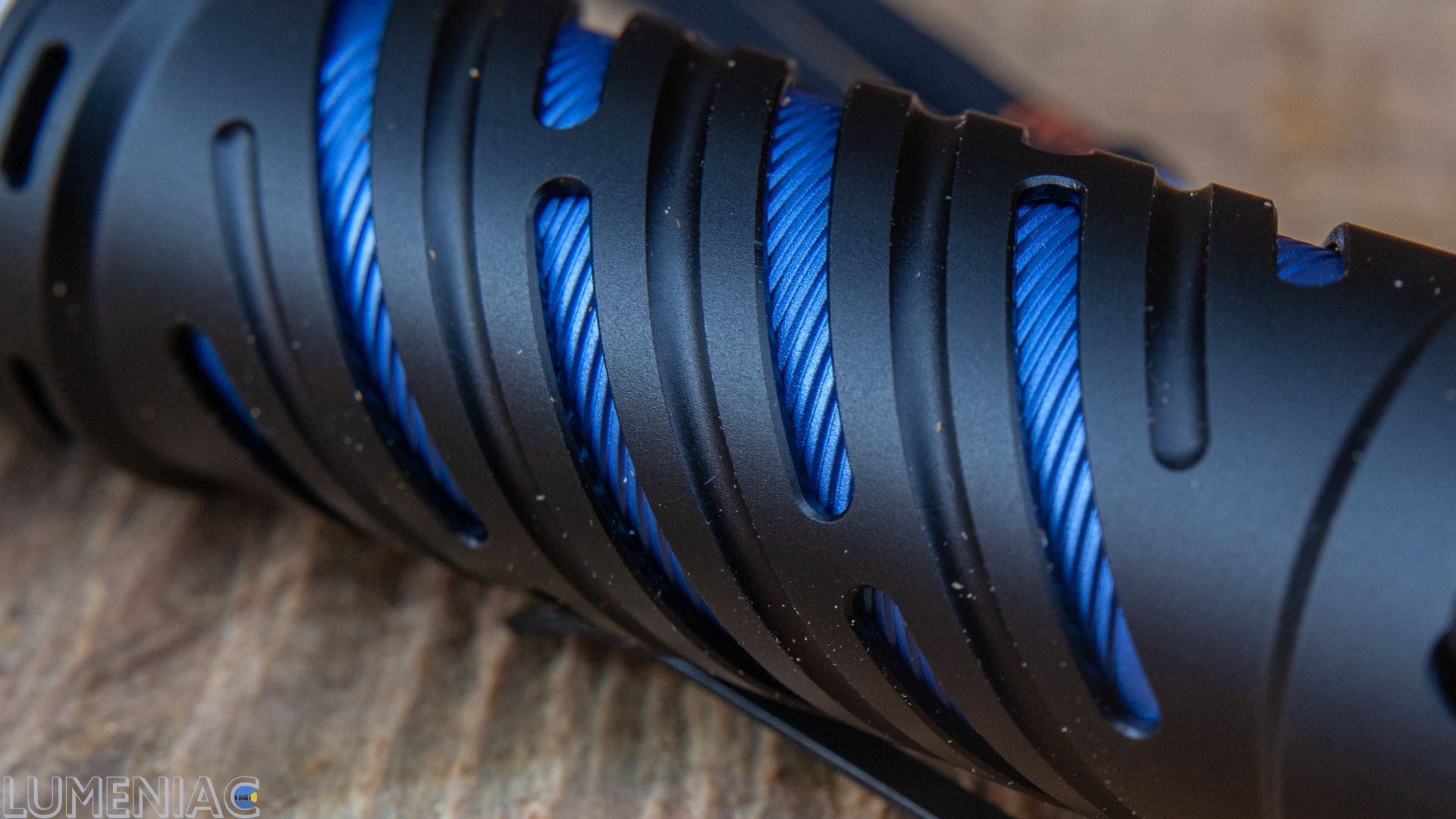 You can also see the slots for the glowing tritium installs.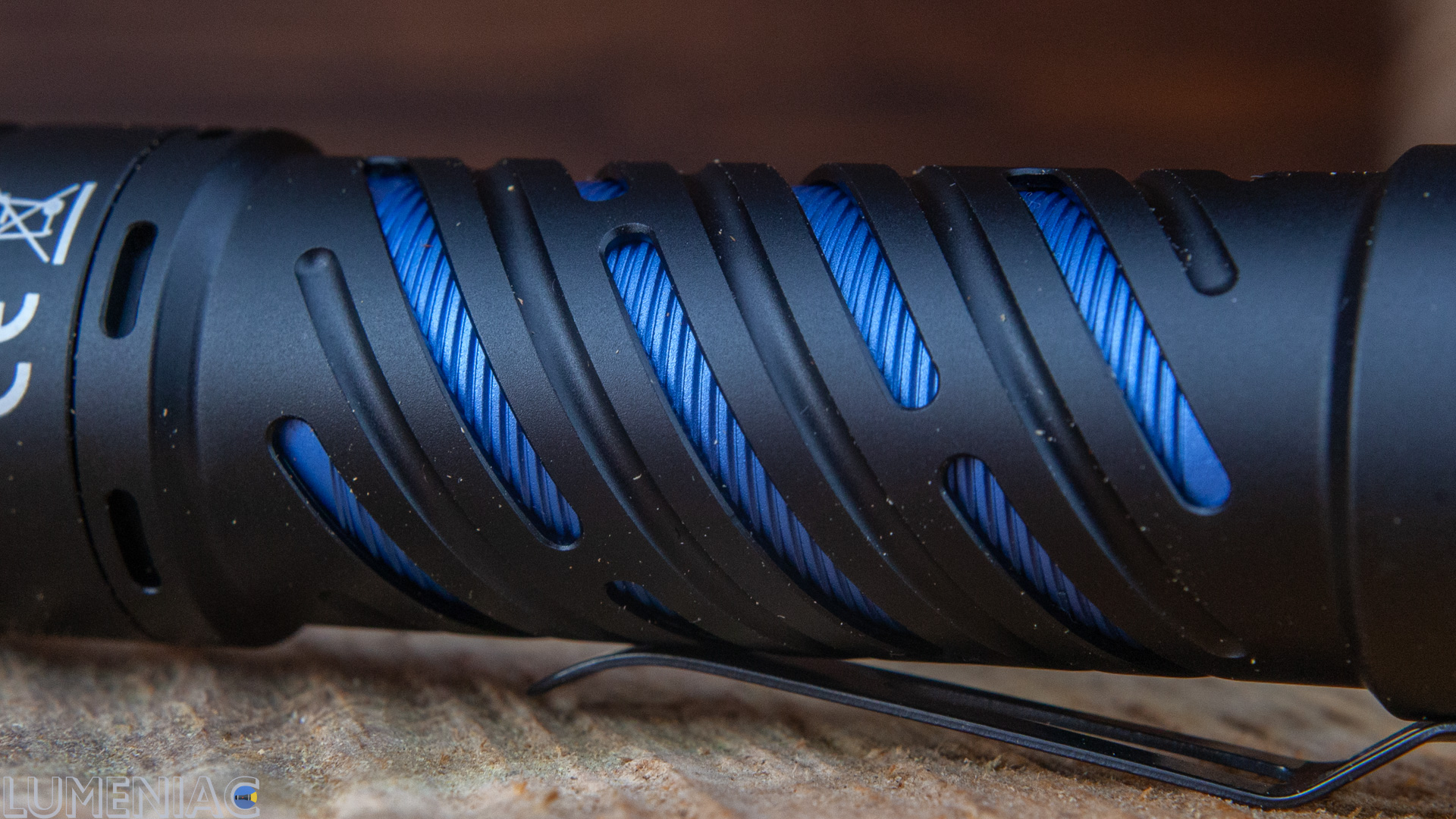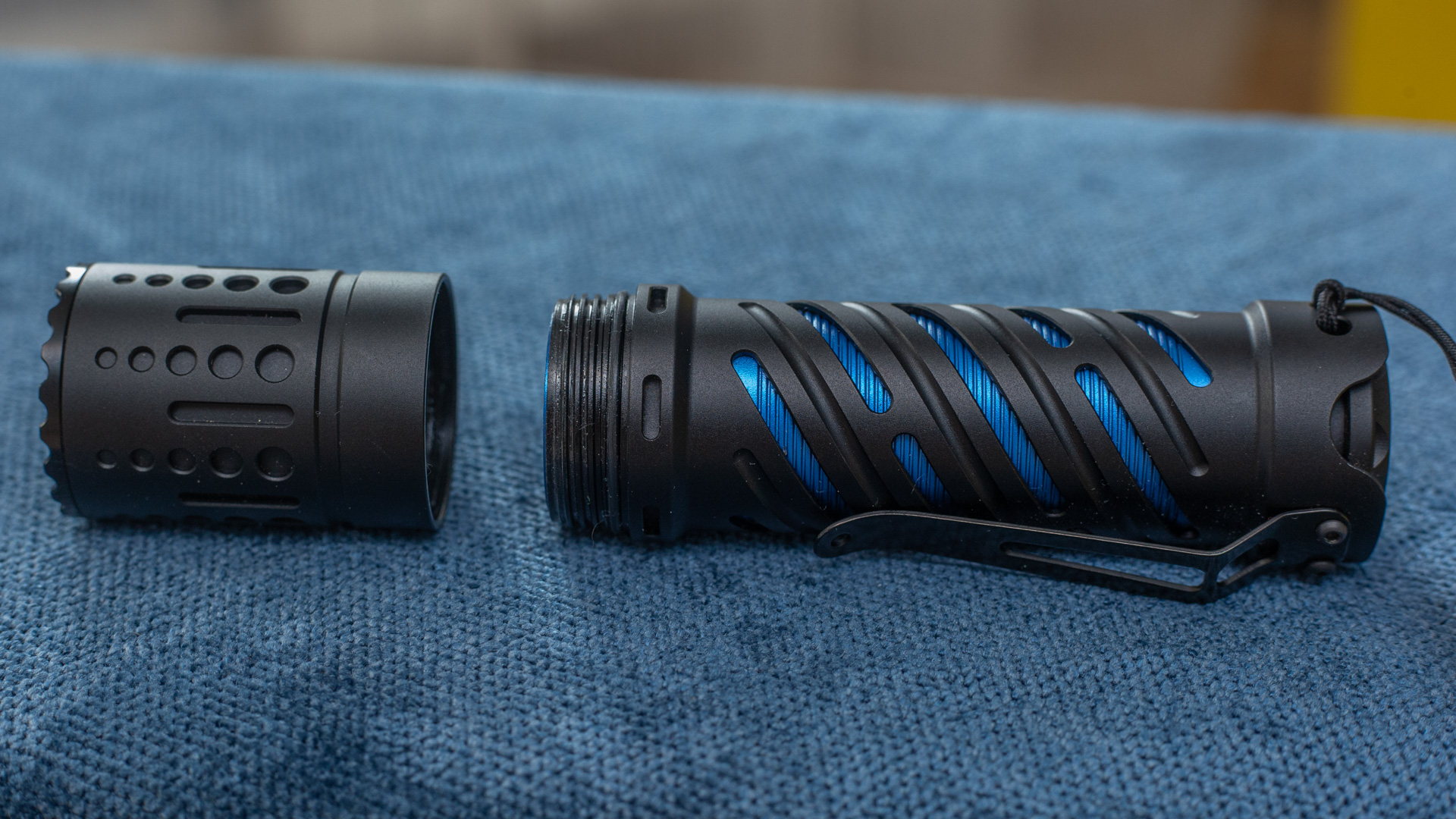 There are springs at both sides, threads are well lubricated.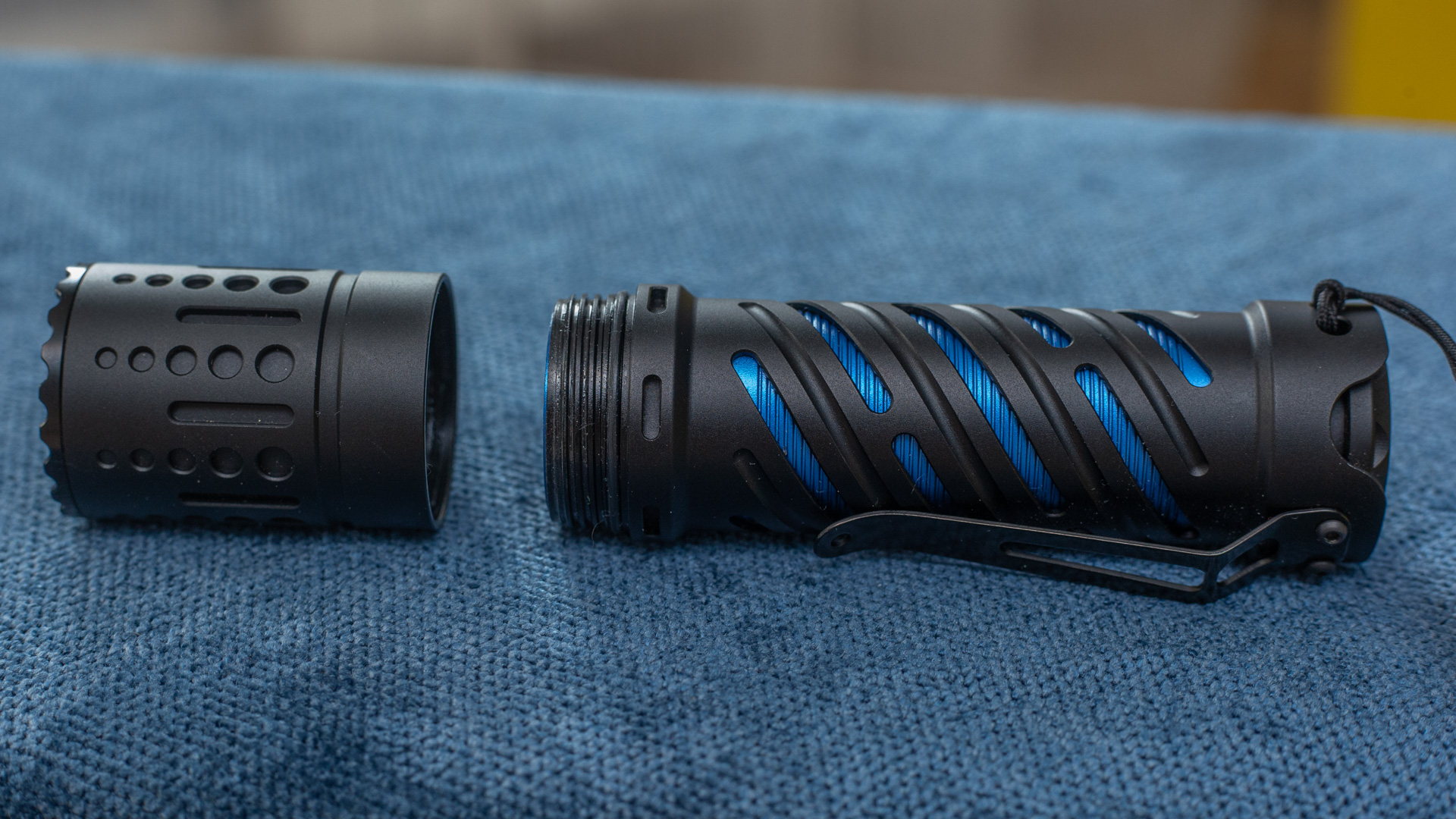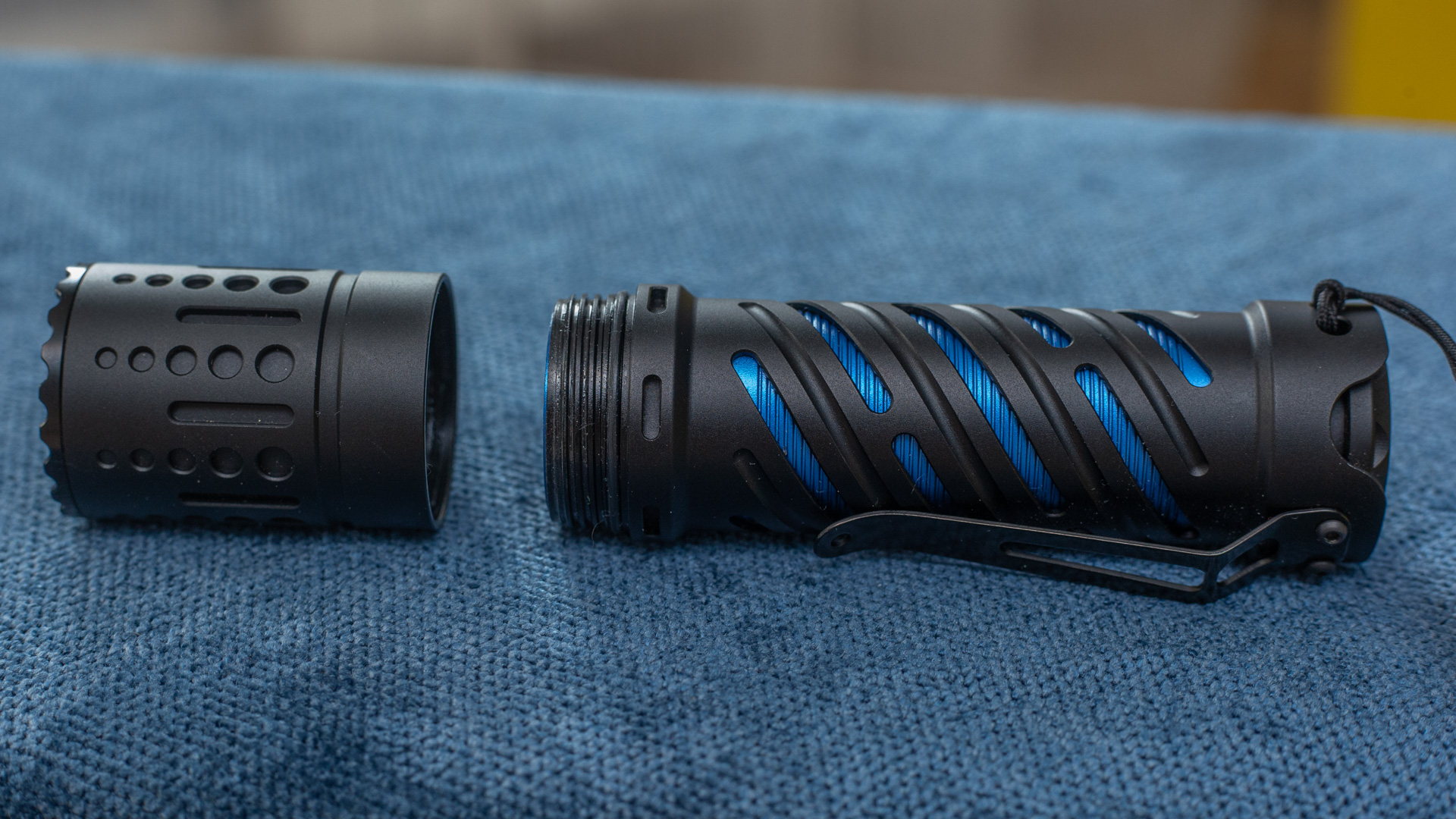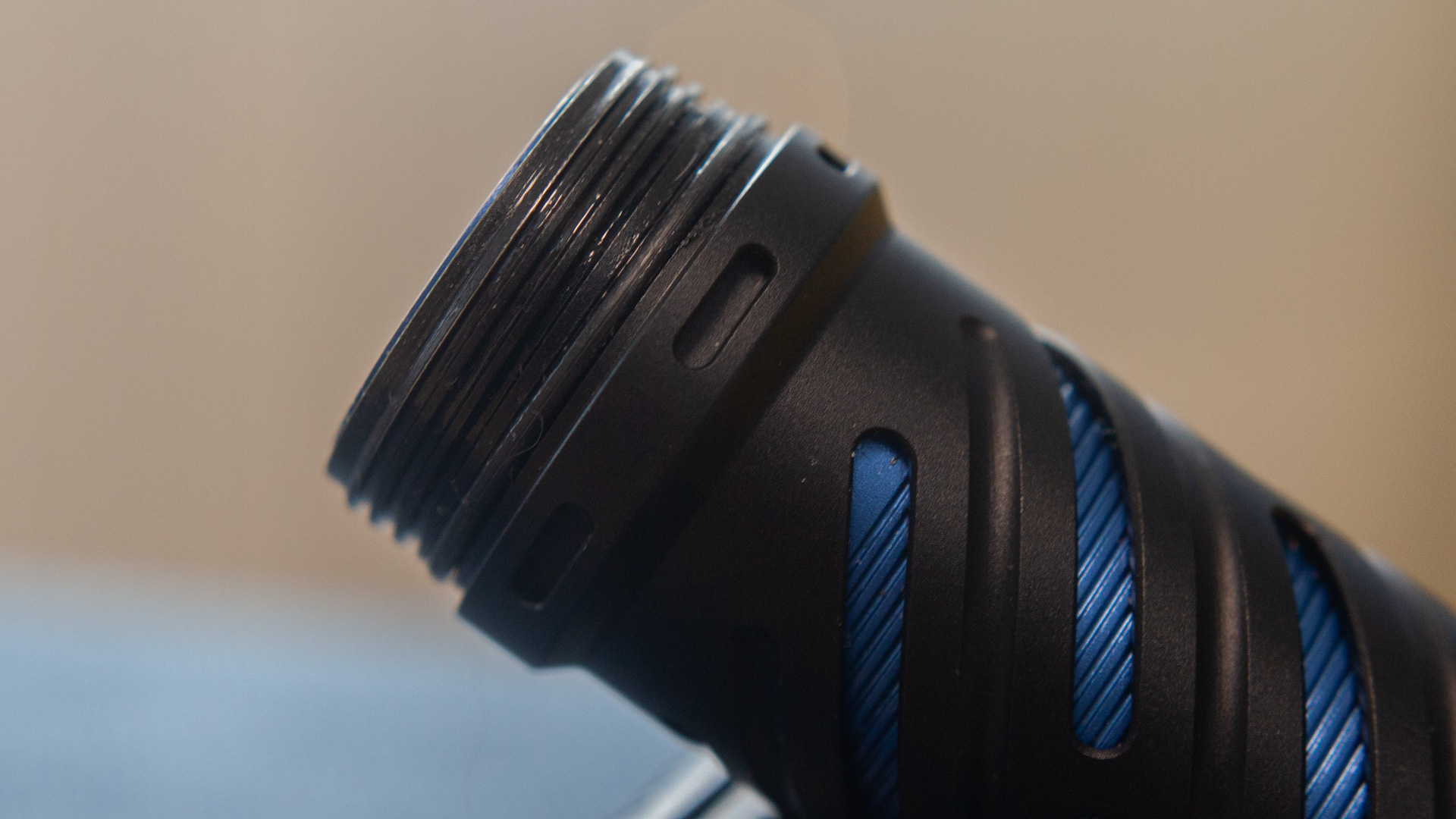 The grip is secure and comfortable. Thanks to the size and unusual knurling.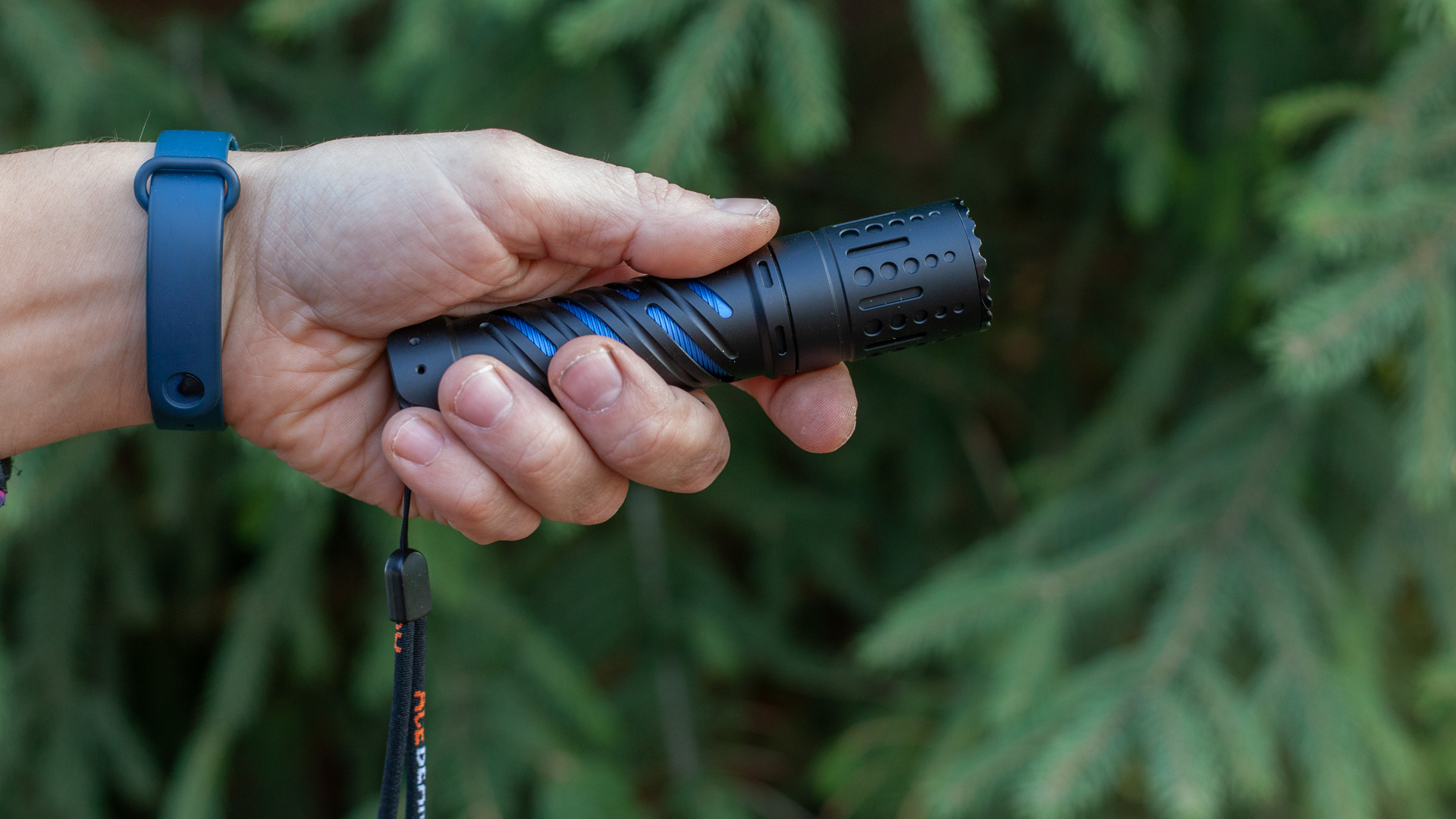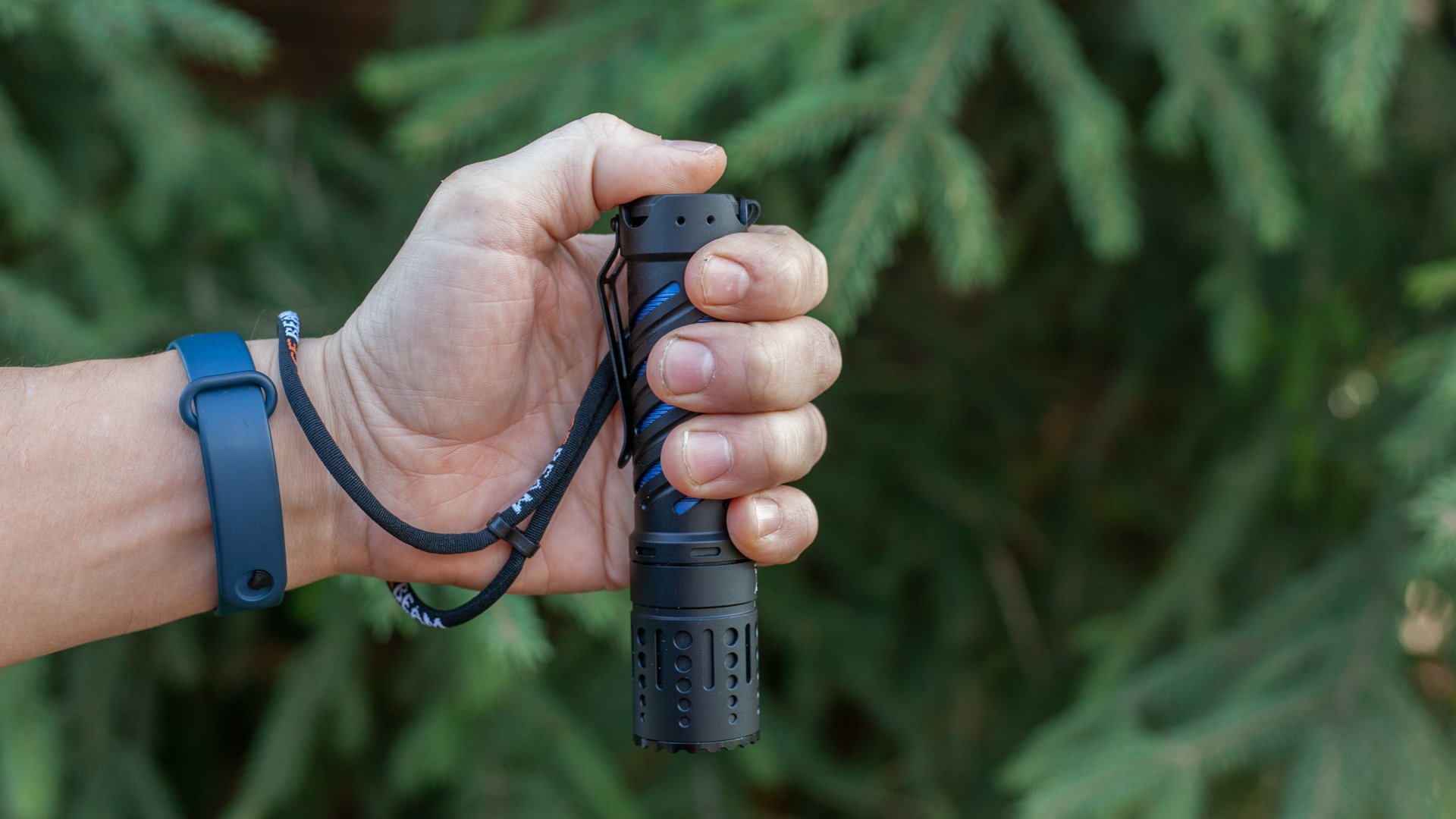 The head is removable, rather long due to the reflector, not TIR-optic. I think that with such a size, it would be quite possible to fit the charging connector in head, even if this would add an extra 4-5 millimeters to the total length of the flashlight.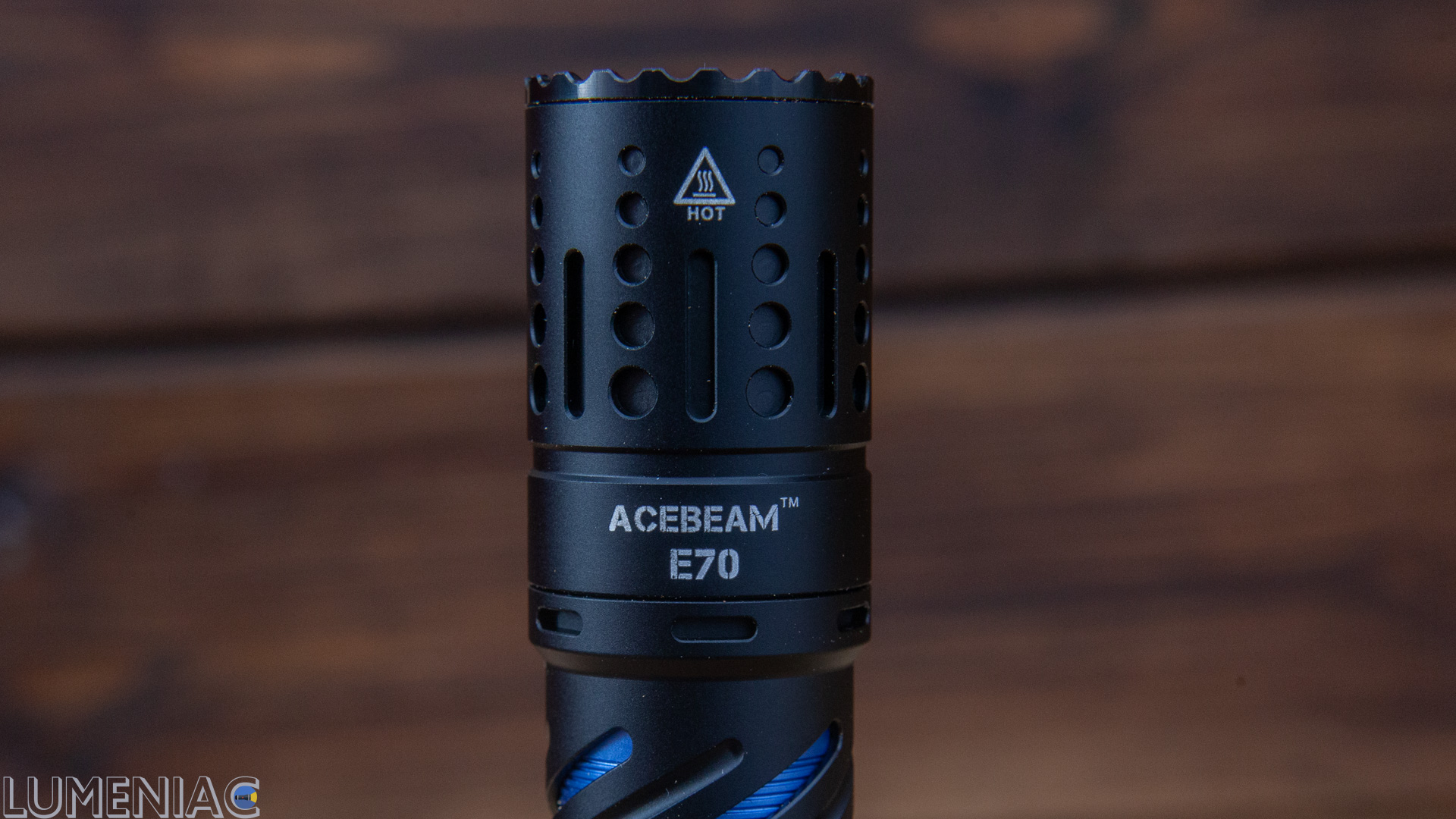 Agree, the design is unusual. In a good way, as I see it.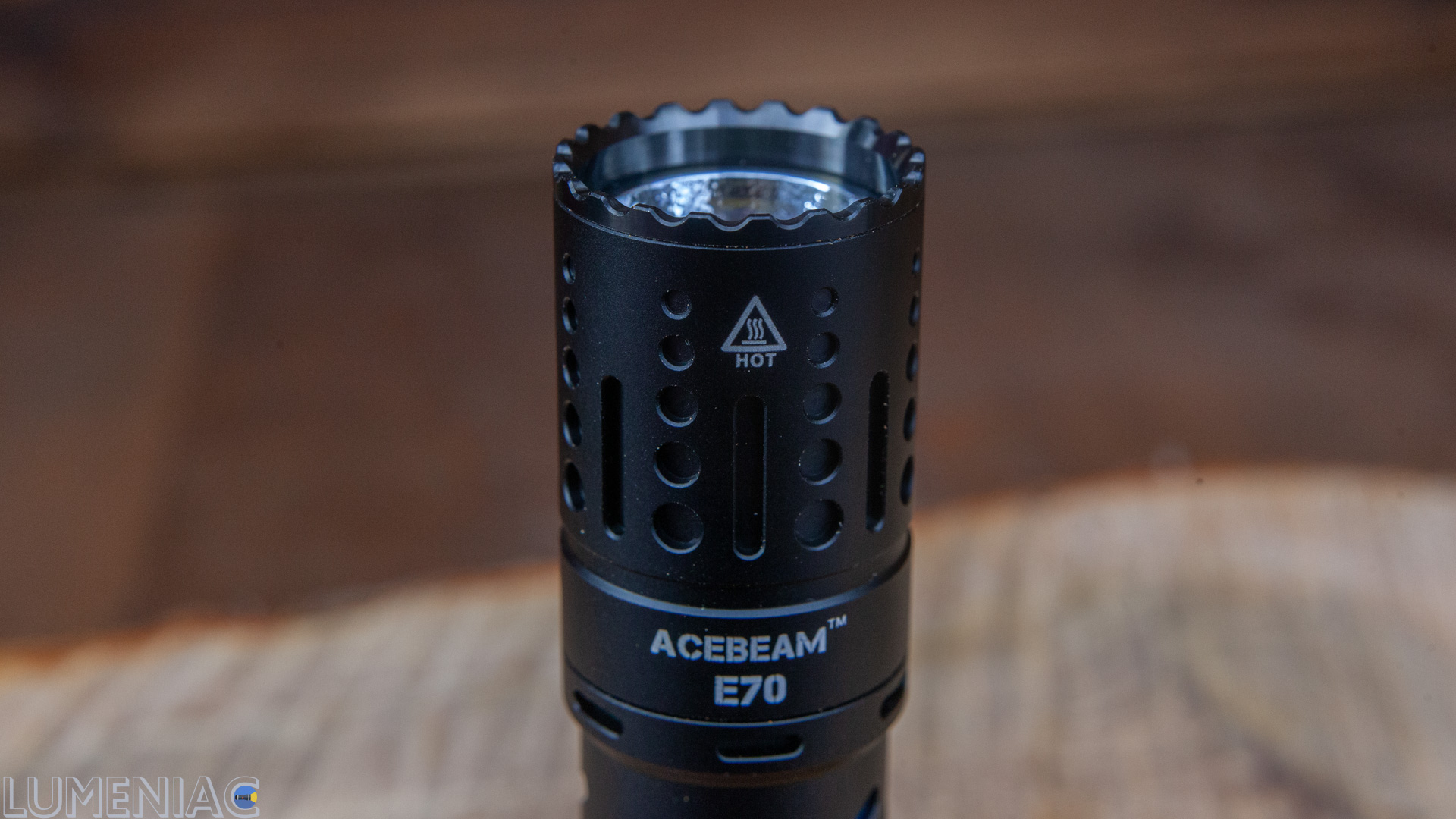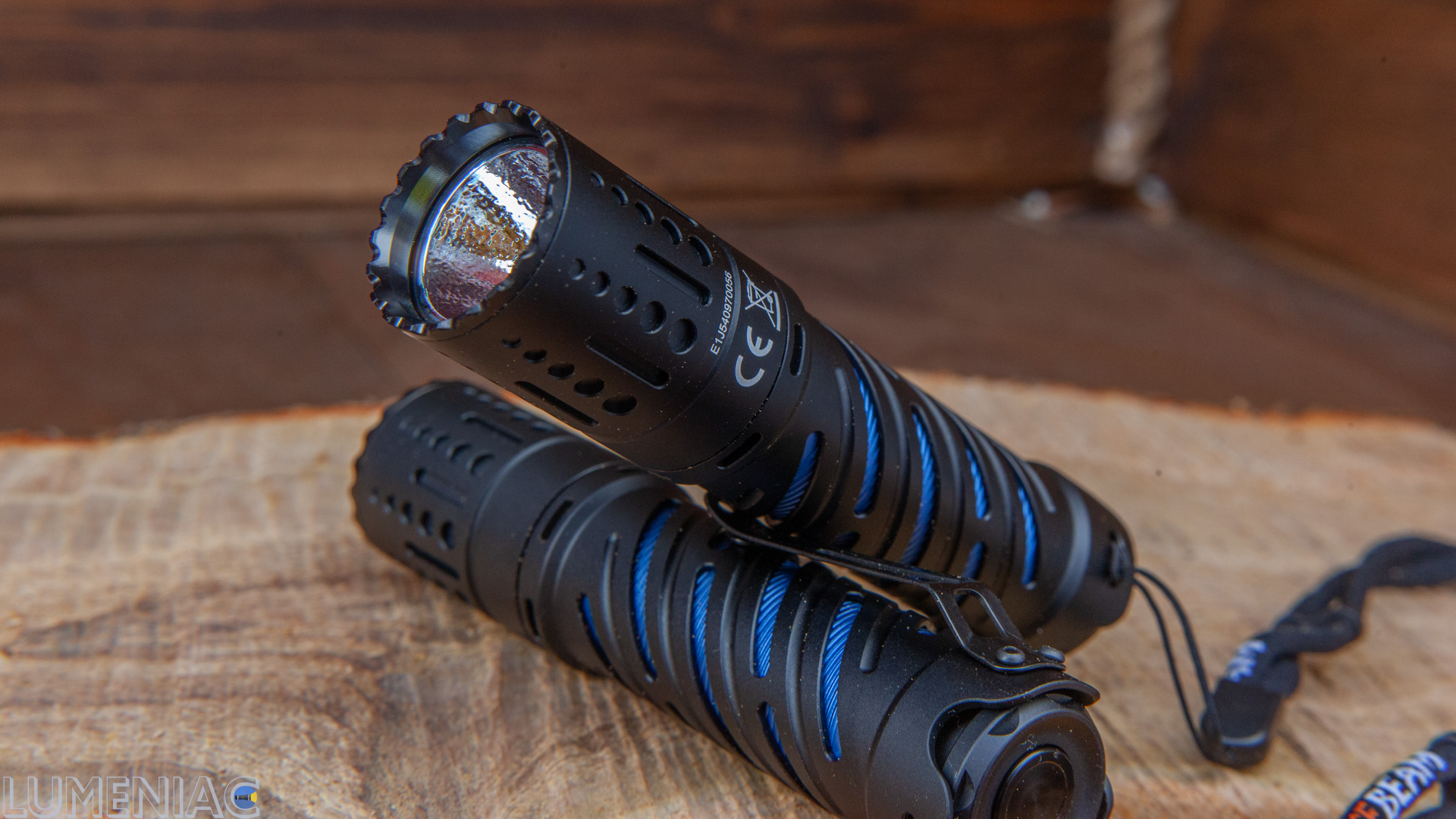 See what it looks like with tritium installs.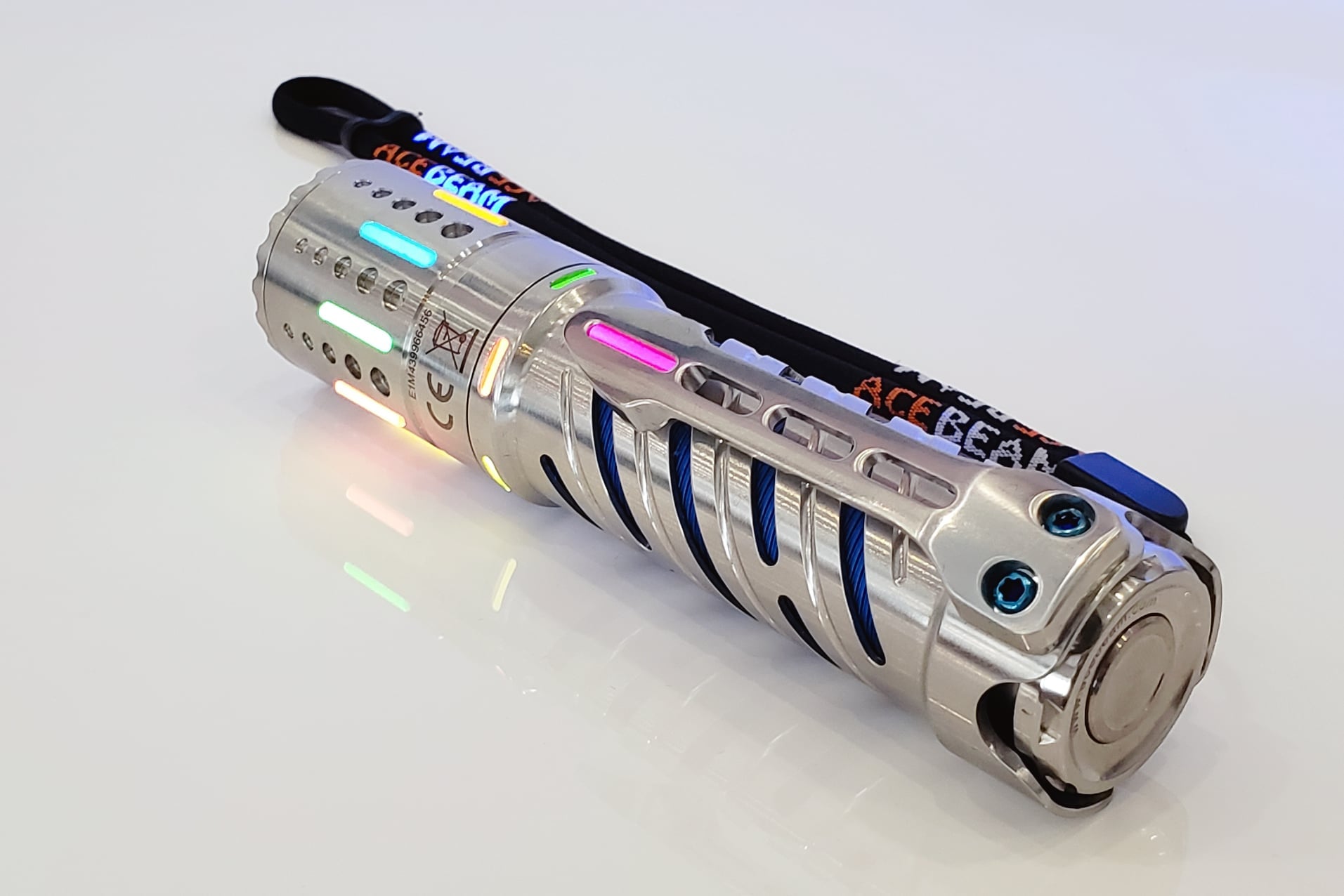 I don't think it was a good idea to make bezel with teeth. Although that are not really sharp, but, nevertheless, if you carry a flashlight in your pocket, then the bezel can tear a hole in it.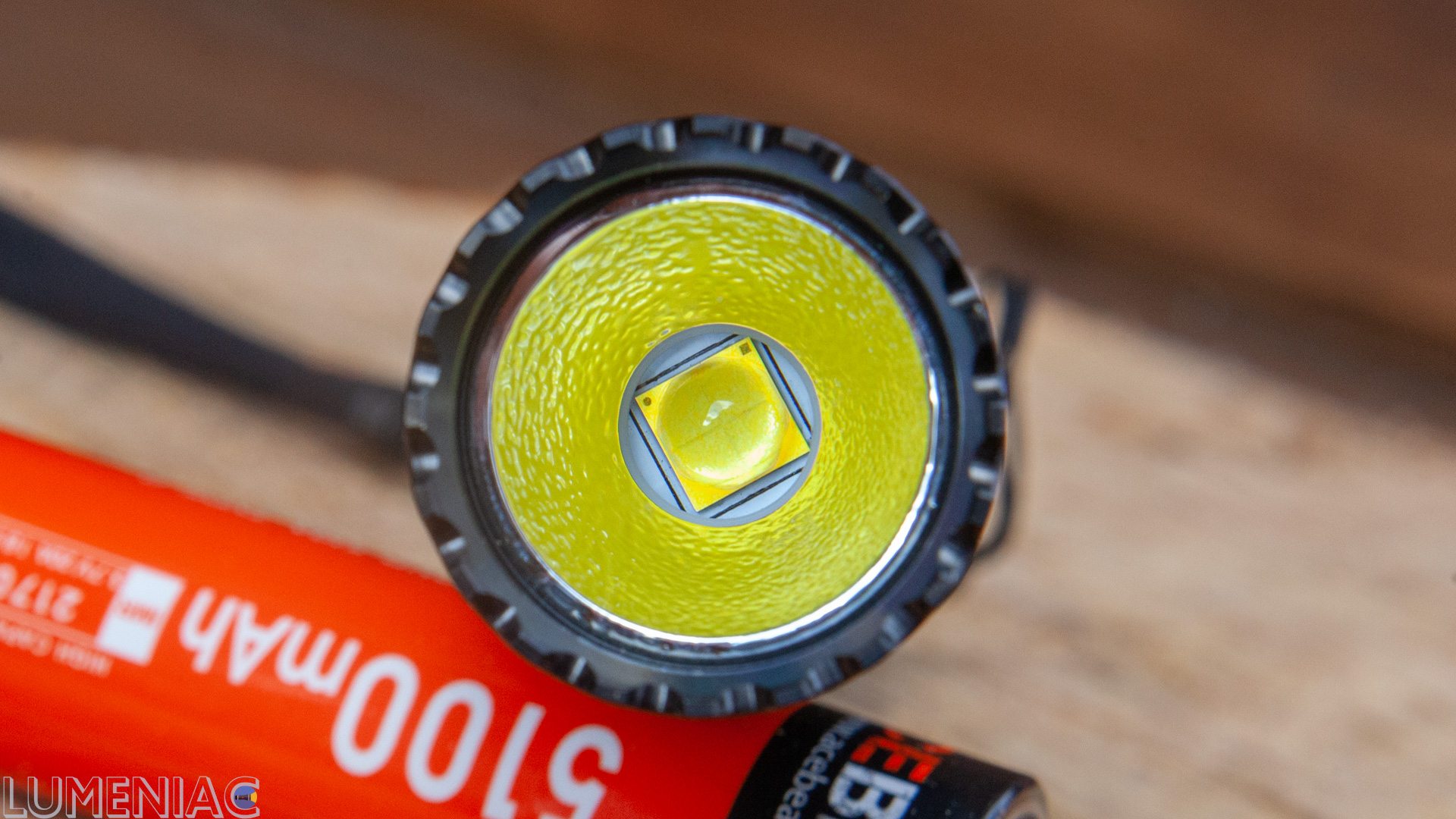 We have a medium-sized textured reflector, and either goode olde Cree XHP70.2, or barely known GT-FC40 for the HiCRI version.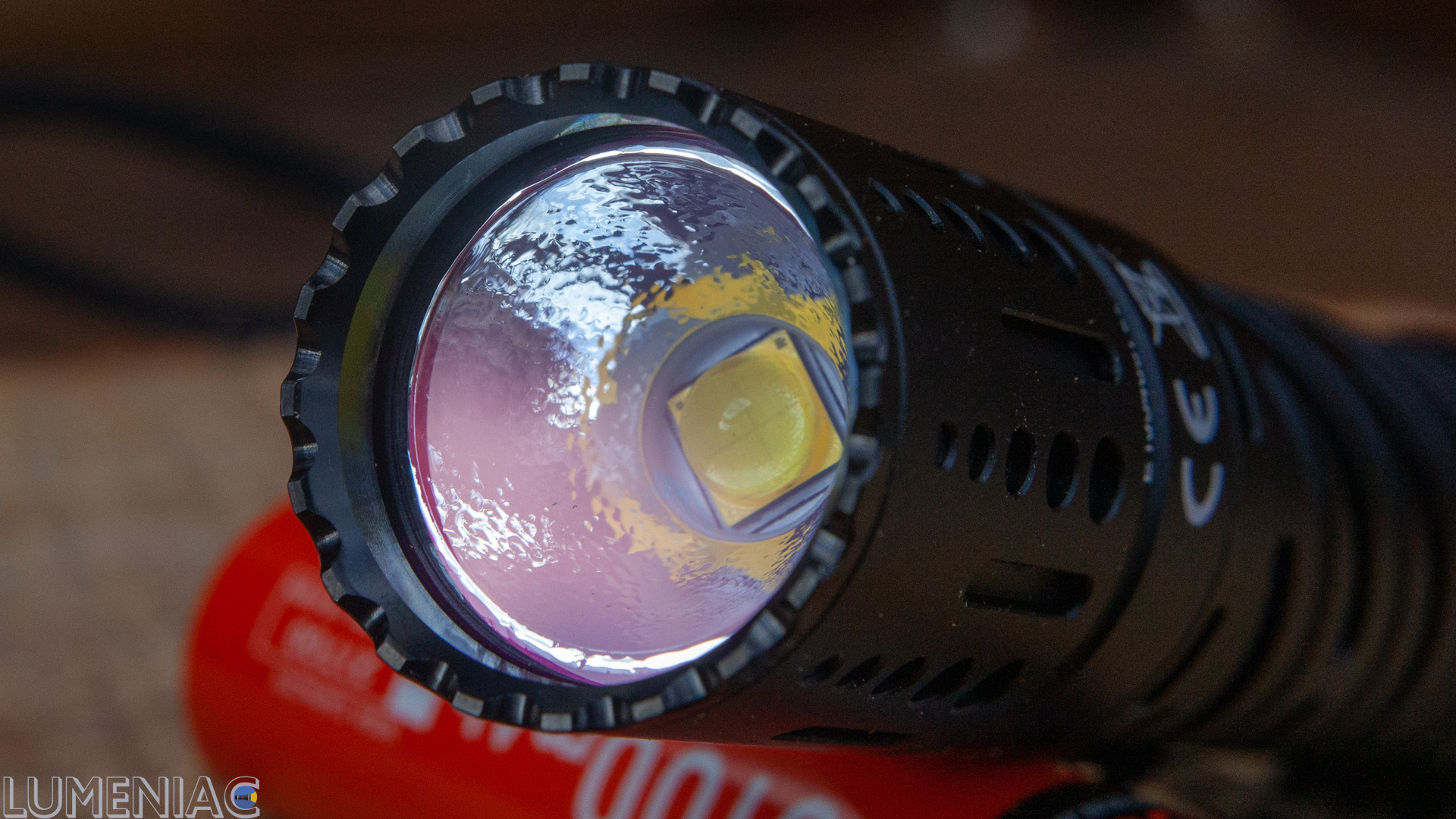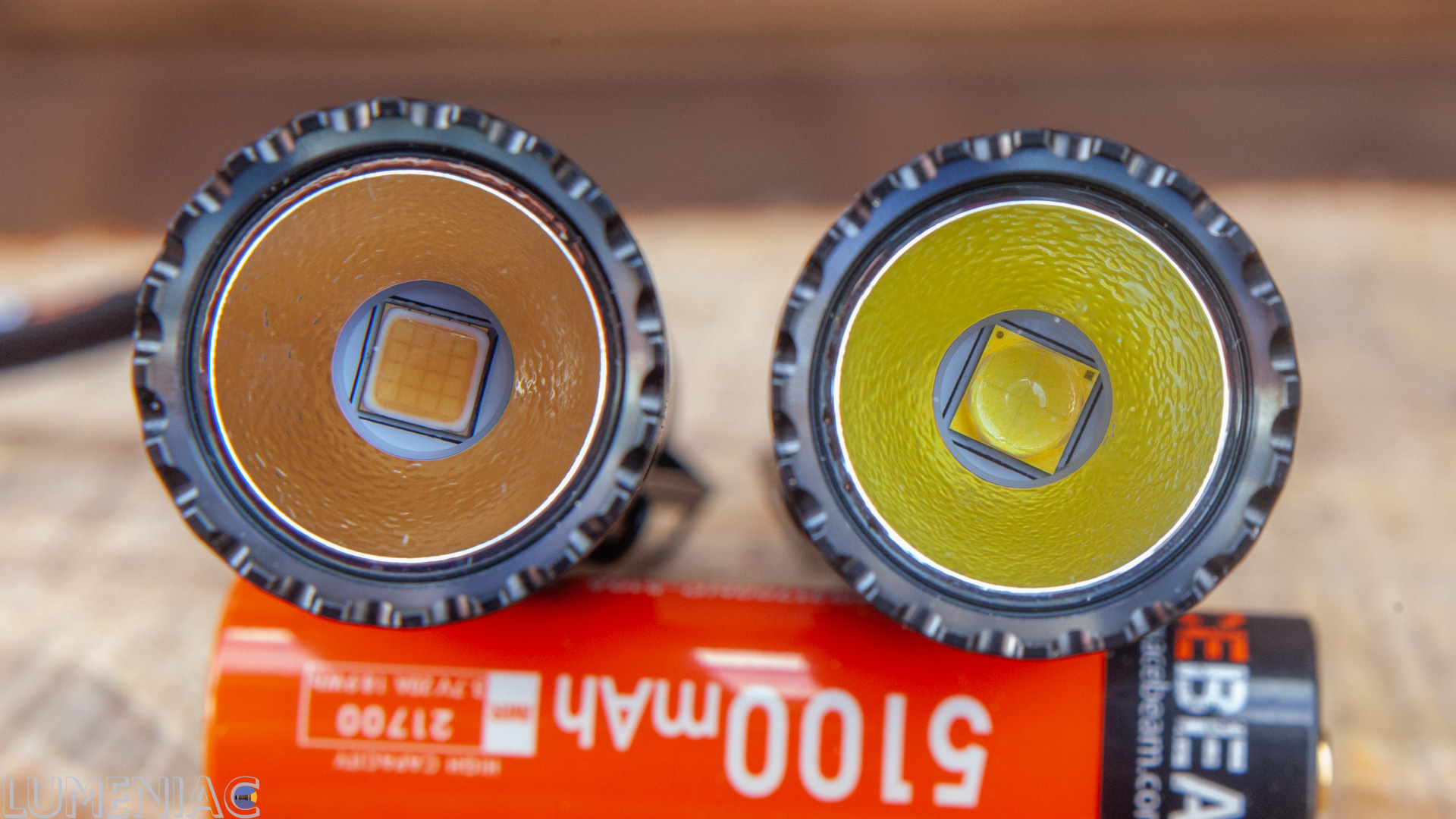 Everything is fine at this stage. The flashlight has an amazing design.
It fits comfortably and securely in the hand. Of the potential functional drawbacks, I will only note a possible inconvenience when pressing button with gloves on.
UI
Acebeam moved away from the usual "on / off by click" scheme. Now this requires on a double click, which usually would start turbo mode from OFF.
Such decision has it`s logic as it really prevents accidental turning the flashlight on so it does not need to be locked.
_This is definitely not uncomfortable, but undoubtedly unusual and will take time to get used to it. As well as it should take time for me to finally figure out if that is ok, or not. I didnt have this time, so i still haven`t decide. And even if i did this would be no more than my point of view. And attitude to UI is almost quite subjective matter. Like i hate Fenix sort of UI, but this is exactly what lots of people need and adore.
_
Everything else is the same
button hold from OFF – switching mode
hold from OFF – moonlight
2x clicks from ON – turbo
3 clicks strobe
5 \ 3 sec hold – lock and unlock
HOW ACEBEAM E70 ILLUMINATES.
Brightness is stabilized up to HIGH mode.
But TURBO mode is nothign but tolerable, no more. This is not a marketing blitz-turbo which you may meet in some compact EDC flashlights, useless and diving down from the very first second.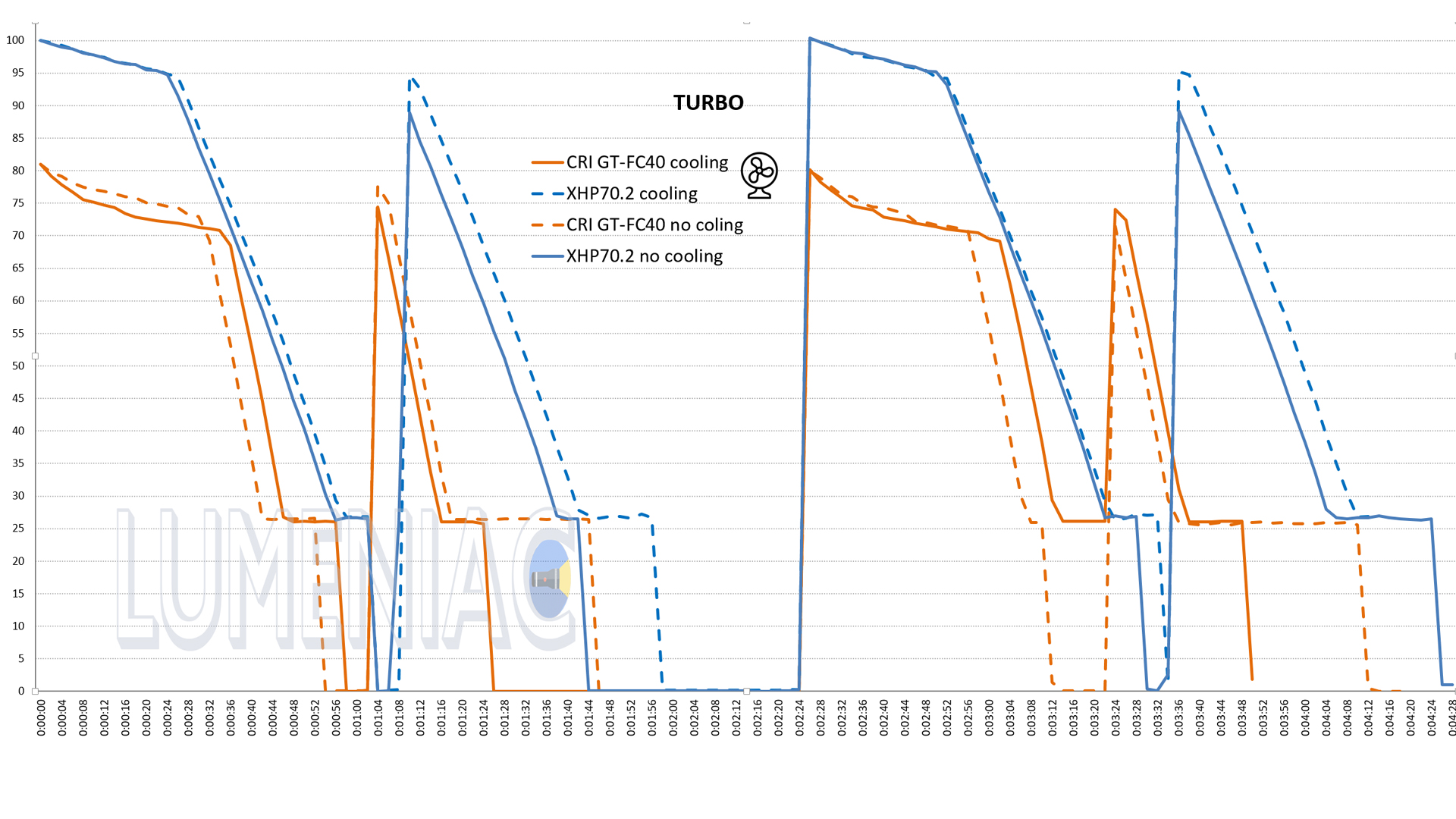 E70 gives you 30 seconds before gradual descent starts, and this is is more than enough for you to illuminate everything around within a hundred meters, well, somehow maybe even two hundred meters. But I would like to see at least 45 seconds of turbo mode from a flashlight this size. I expect that TURBO will last way longer in copper version.
The turbo graph shows some kind of effect of fan cooling but I consider it to be rather measurements error. In any case, runtime is quite decent in this mode. As you may expect, the brightness drops immediately upon restarting, but even so you have enough time to use this falling brightness.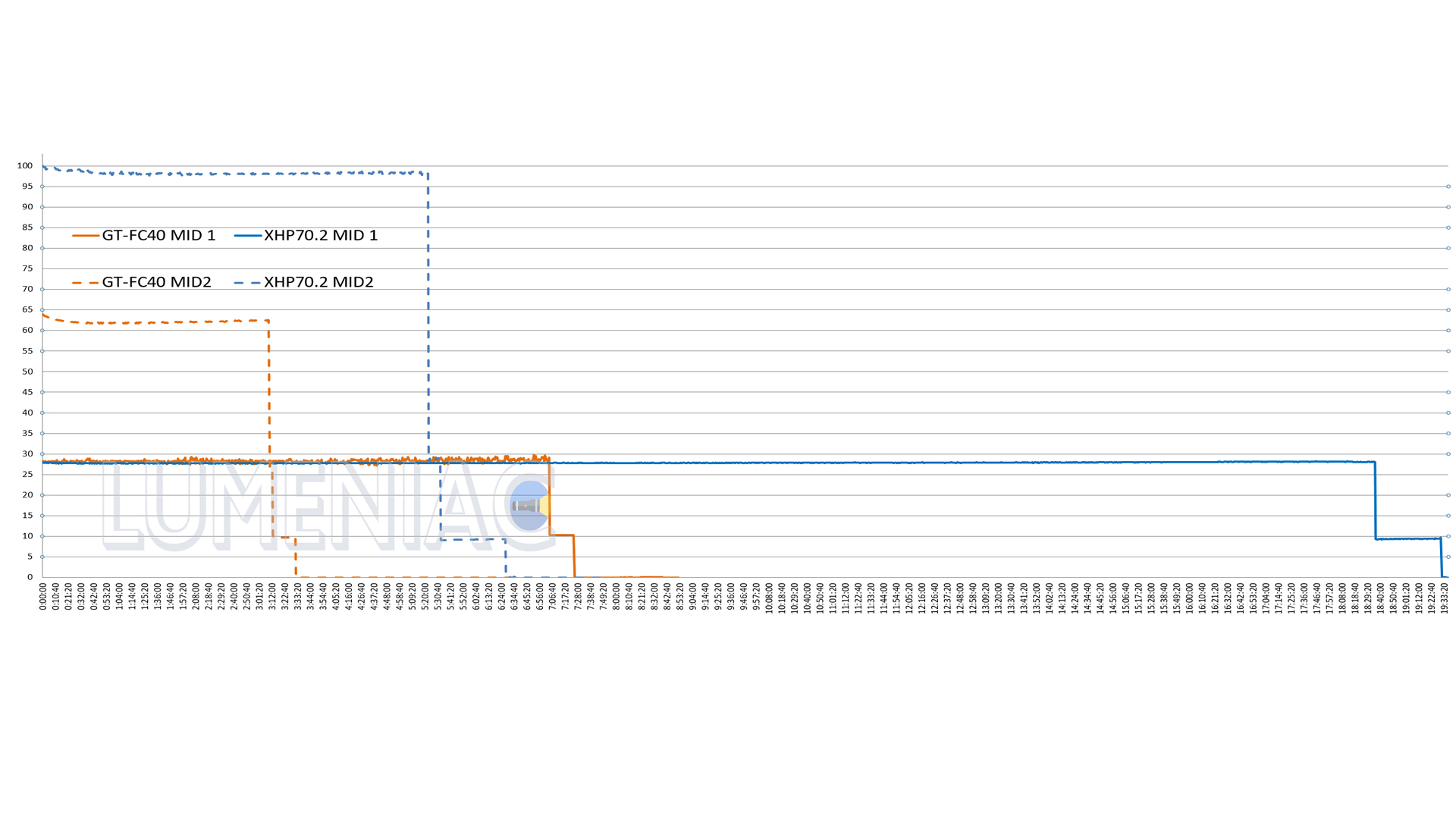 MID1 mode is quite sufficient as basic walk-around light for both version of E70. And is totally good for indoor use. But I suppose you are most likely to use MID2 or HIGH modes.
MID2 seems to me to be the very most used mode for outdoor use. Excellent as walk-around light. Will not blind people around, but let you see things in good radius from you.
HIGH mode will cover the vast majority of everyday needs at mid-range. Just several years ago this thousand lumens was a short-term TURBO mode for any EDC flashlight. And now you have this brightness long-lasting and perfectly stabilized.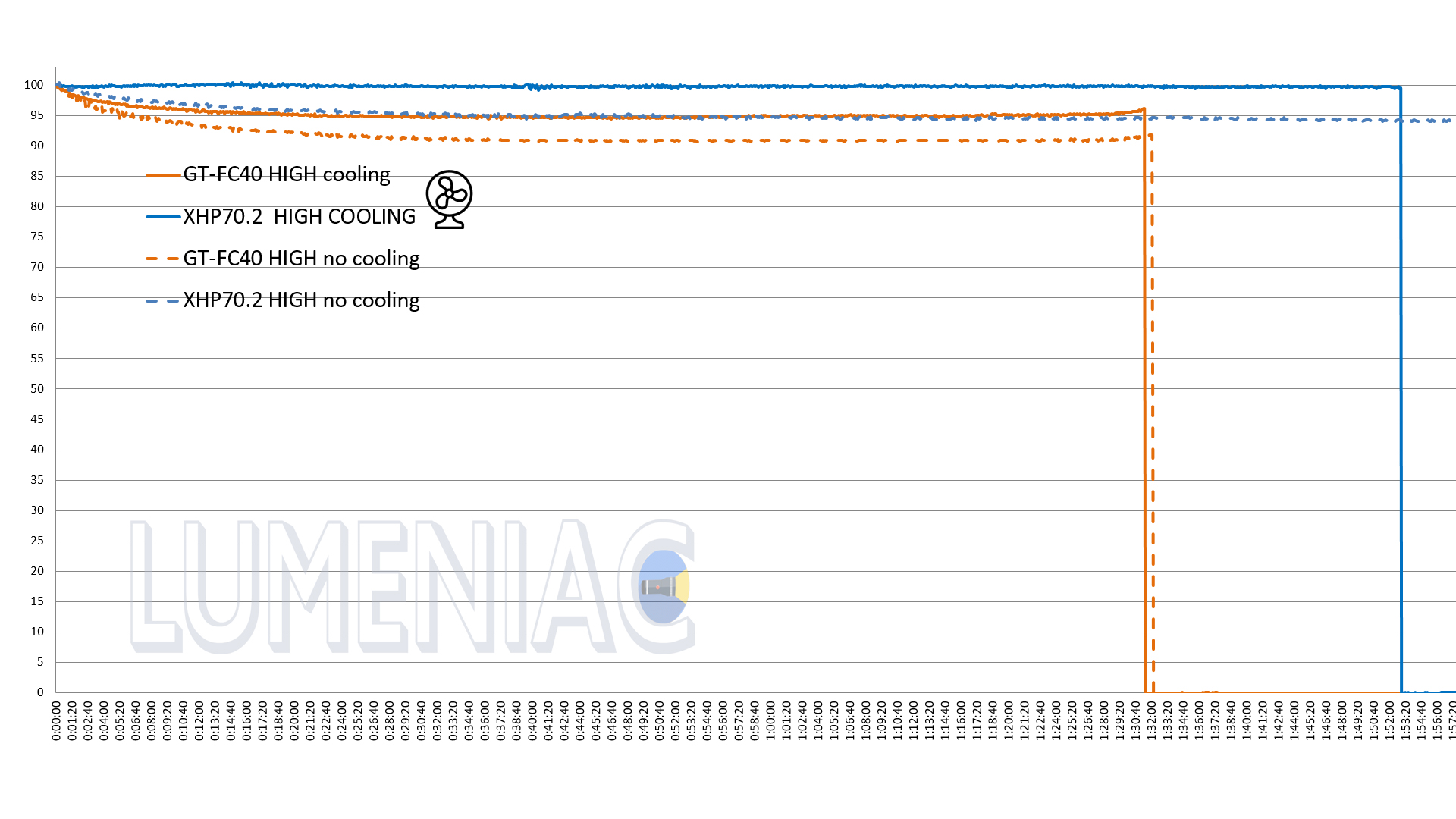 I had two versions for review at the same time and this allowed me to measure and compare maximum brightness. Luxmeter shows that XHP70.2 version is 25% brighter than the CRI version. That is (if we assume CRI version really has stated 2800 lumens) ~ 3500 lumens. Faaar away from 4600 in specs. But, you know, this is exactly the brightness that you may expect from a flashlight with one battery and an one XHP70.2 LED and. When lots of 26650 XHP70.2 models hit market several years ago (i bet you,lads, remember this time of sweet surprises), all they were exactly that bright.
Also, other reviewers measured about ~ 3800 lumens for the 6500K version. 5000K version that i have should be little bit less bright – so it is and i estimate my calculation to be quite precise.
Well, specs have not that much to do with reality, both for runtime and brightness. But, you know, I am only glad that the real brightness in TURBO for XHP70.2 is far less than stated.
An inexperienced user will be surprised why I`m glad that the flashlight is less bright. Let me tell you. ~ 3500 lumens, you can see for yourself that this is actually an impressive brightness, which is enough from an EDC flashlight. If TURBO was close to 5000lumens, it would generate lot of head and make runtime way shorter, close to well-known and useless turbo blitzes.
As for the difference in light between the CRI and non-CRI versions, the difference between GT-FC40 and XHP70.2 is vivid both in quality and quantity of light. I definetely recommend HiCRI version for an experienced flashaholic as E70 gives an exceptionally pleasant light here. One dude came to me yesterday, he owns lots of lights and know things. Of course i showed him both E70. He pointed CRI one at my corgy`s red hair butt and, man, difference with XHP70.2 was sooo vivid. His 1st words were "dude, i seriously want this one!" So, he ended up coming home with this E70 CRI…
An ordinary user can safely take the brighter XHP70.2 version and not feel any inconvenience. It is still good one, it is only worse when directly compare with CRI version.
Of course, i see no sence in getting cold white version.
There is no reason to expect and real throw, no at all.
E70 is a pure mid-range flashlight. Both flashlights confidently cover 70 meters in HIGH mode, and a hundred and a half in the TURBO. The maximum distance is something around to a couple of hundred meters for XHP70.2, no more.
See for yourself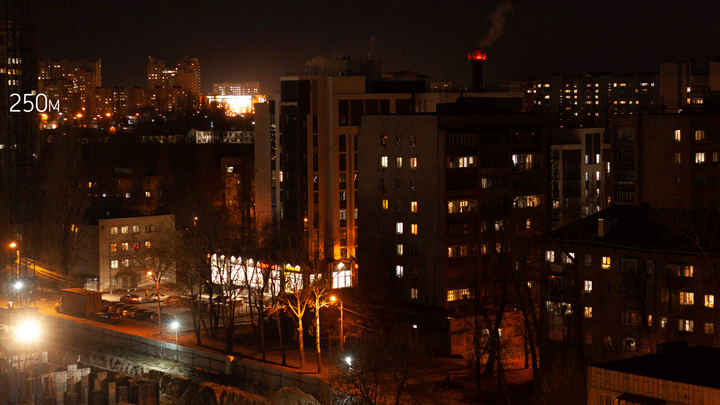 HiRes-photos and GIFs can be seen in this album
Acebeam E70 video review contains additional materials.

OVERALL IMPRESSIONS
Acebeam E70 seemed to me a very, very pleasant flashlight, a sort of intermediate in size between the once popular 26650 models and modern compacts. And as it is (let's be frank) a rather big flashlight by EDC standarts, so E70 definitely won in the convenience and reliability of the grip, as well as in confidence of work at higher level.
The specs of XHP70.2 version are quite far from real. But regardless of the real numbers, the flashlight is more than fine with it, even with the less powerful and energy efficient GT-FC40 LED. This one, by the way, gives an exceptionally pleasant light – here you get both quality and quantity of light. Alas, you will have to sacrifice runtime for this, this LED is less energy efficient. But even so 1 battery will be way more than enought for occasional evening walk.
But brightness and stabilization are not the E70's trump card. High brightness has become quite common for about 5 years already. And if you need it, then you can find higher brightness in similar or even smaller size. Just do not forget about the inverse relationship between it, size and run. Dont overestimate super-compact and super-bright flashlights as they are unlikely able to handle higher modes without instant brightness stepdown. That is typical mistake for an unexperienced users who hunt for lumens.
Well, there is nothing functionally unusual in E70. This flashlight captivates with its appearance. There is an excellent inexpensive flashlight Wurkkos TS21 (review) which has a totally ordinary and budget design.
And Acebeam E70 has just the maximum possible individuality. It is absolutely impossible to confuse it with any other model on the market. It looks amazing even in the basic black aluminum version, not to mention copper or titanium. If u want and can afford – you can even add everglowing tritium inserts, so flashlight will shine like X-mas tree and you`ll be 1st gypsy on the block even if you 100% gadjo.
So, the flashlight has the maximum possible gift potential, which is determined only by the thickness of your wallet and, of course, by taste – because the phrase "gypsy style" can be seen quite often in comments in my primary russian-speaking review channel. So Acebeam E70 couses the expected polarity of opinions.
Again, it is impossible to ignore these good looking cuts in knurling would collect all dust and dirt.
Aside from this, I do not see any serious functional disadvatnages here. But there are a few things worth noting.
Difficulty in installing the lanyard. That`s minor problem. I am sure that you either use the lanyard and do not remove it, or take it off and dont install it back.
The short button move may not be comfortable to use with thick gloves on.
You will definitely have to get used to double-click to turn flashlight on.This is an unusual way, the logic of which, I repeat, I quite see and welcome.
If I choose something that I was not happy with, it is runtime in TURBO mode, which, I am sure, could reach a minute.
Well, let me remind you once again in the end- if you want to choose a compact and bright EDC flashlight, then Acebeam E70 is only about "bright". This is not a compact 18650 EDC model that will be invisible in pocket. If we consider E70 as a pocket flashlight, then we are talking about a jacket pocket. But, unlike these compacts, E70 can easily handle 1000 lumens and it makes me forget about not having longer runtime in turbo mode.
Acebeam E70 is not some super-bright or even long-range flashlight. Neither it is some workhorse with magnet, anduril and type-c. It, in my opinion, is bought by those who just want a sort of good looking men`s thing with good functionality – as a gift to yourself or to someone else. Just because you want it, and can afford it. U earn you money, why should you refuse to buy stuff that you may not really need, but just really want? Especially if that is not sort of useless good looking gadget – Acebeam E70 is bright and useful!
I think my long wait for Acebeam E70 has paid off. It is pleasant to look at it, it is pleasant to hold it, it is actually bright and, if desired, will give exceptionally high-quality light in HiCRI version.
I think that Acebeam jumped over their heads with such a brilliant design. Bravo. Spasibo.