You definitely have not seen such a super power bank! What about you like the capacity of 348000mah (1250 W*h!) And 2 kW of power output – enough to use a microwave or a powerful angle grinder. All this is Nitecore NES1200, the most powerful power bank in the world. The largest and the most expensive, by the way, too. Interesting? So I`ll show you everything that this portable power plant is capable of.
It is worth noting that 3 years ago I did a review of another, "only" 500 watt power bank by Bosscat. And there was no any other similar model but this model. The situation has changed significantly since then, manufacturers understood how convenient and potentially such devices may be. So now the problem is not to buy, but to choose a good large and powerful power station with a 110\220-volts output. There are bunch of such models. From cheap and low power ~100-watt models for $ 100-150 to the review hero, which with its incredible 2kWt of power output has no rivals on the market nowadays.
PRODUCT PAGE | MANUAL
→ AMAZON
→ ALIEXPRESS
→ BANGGOOD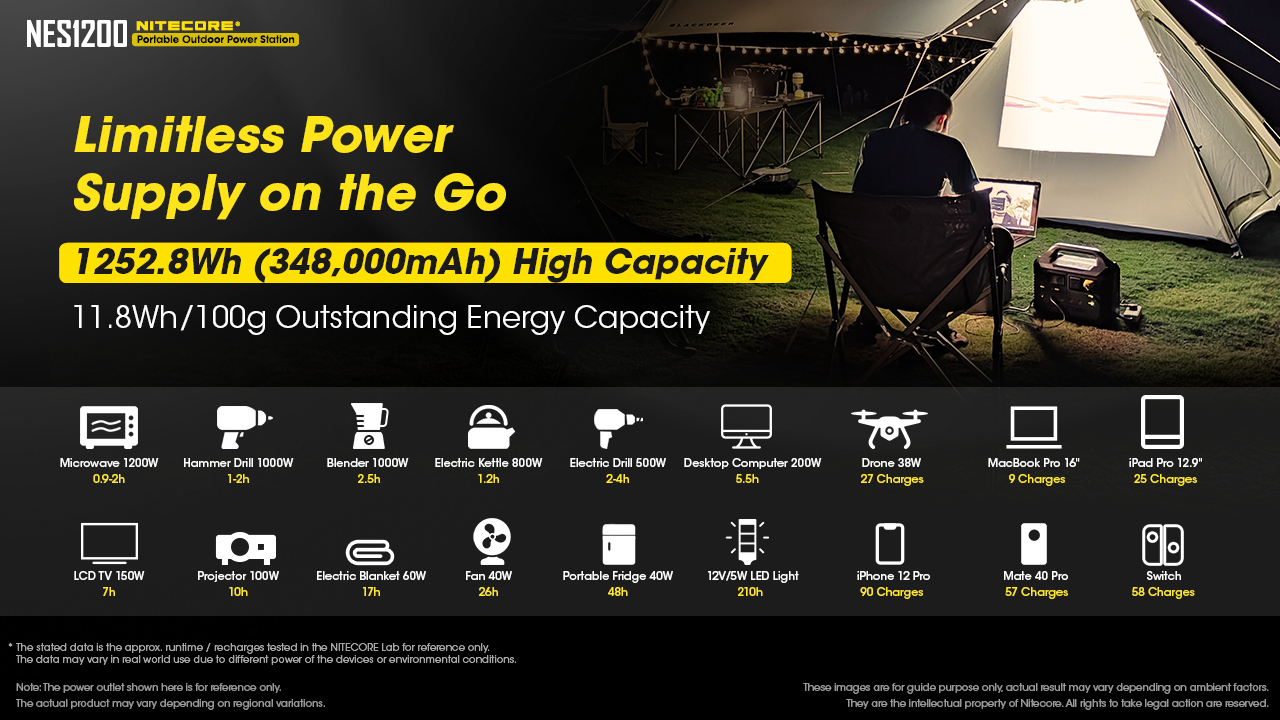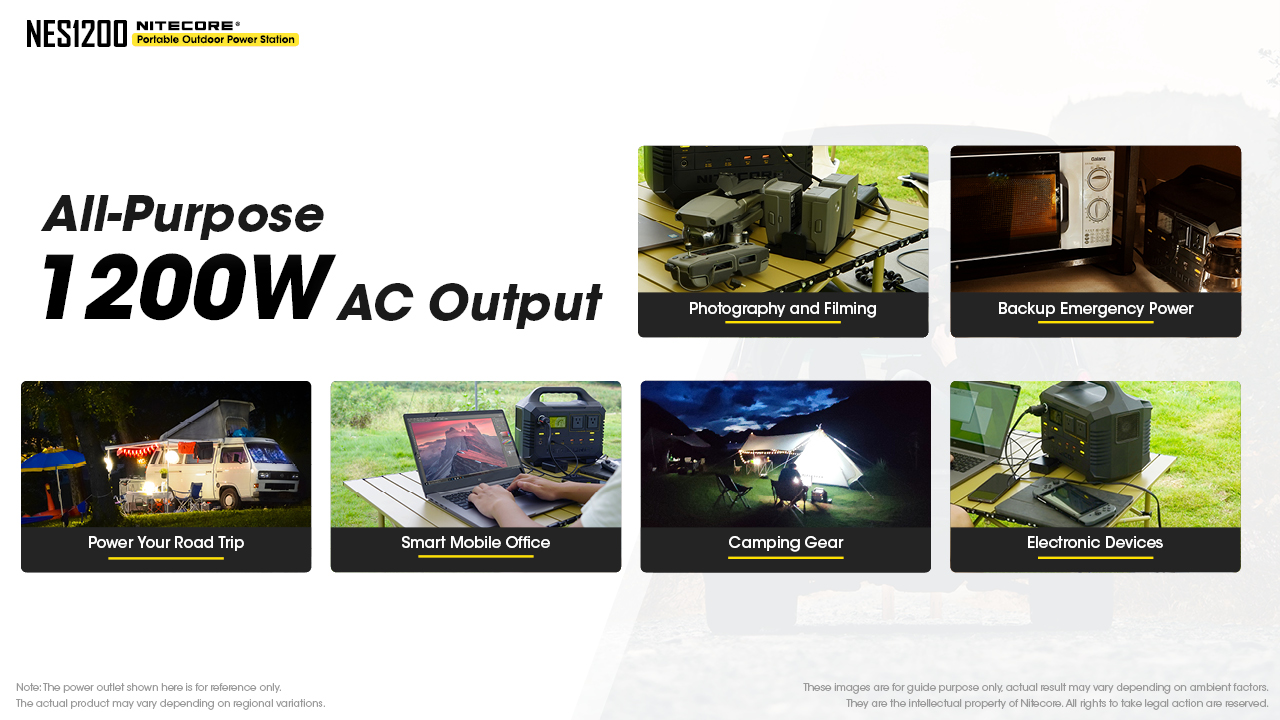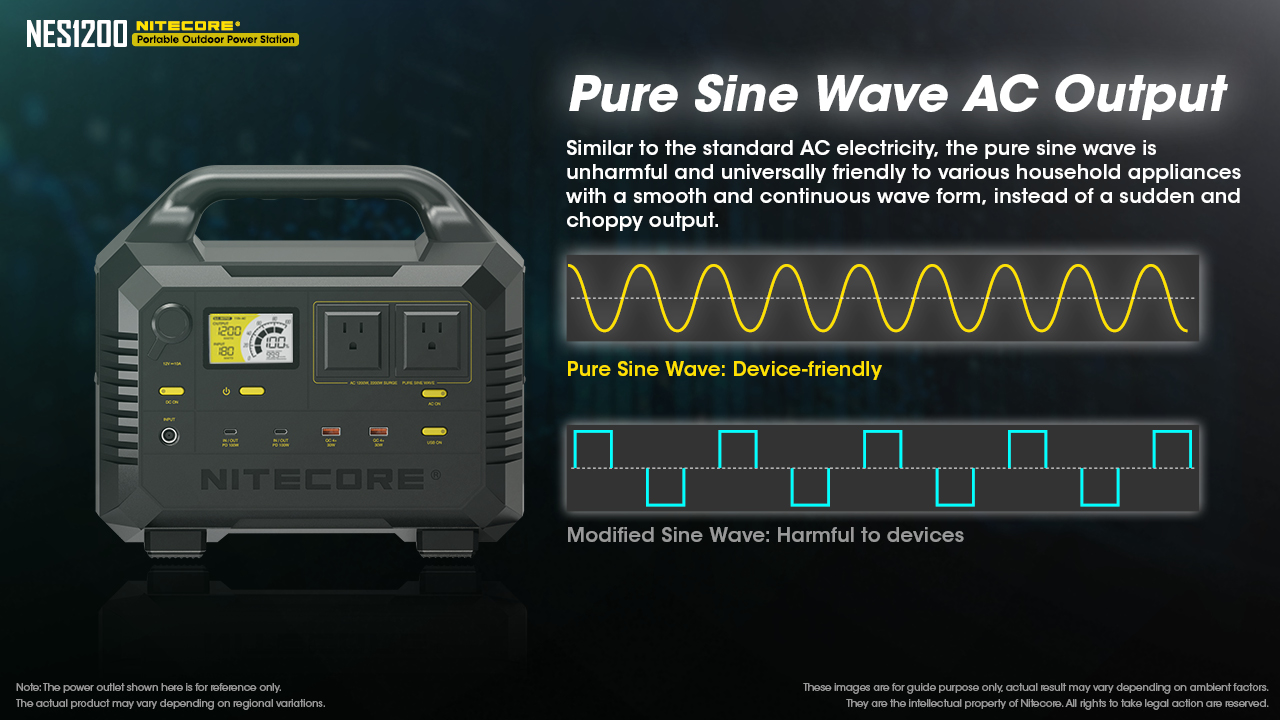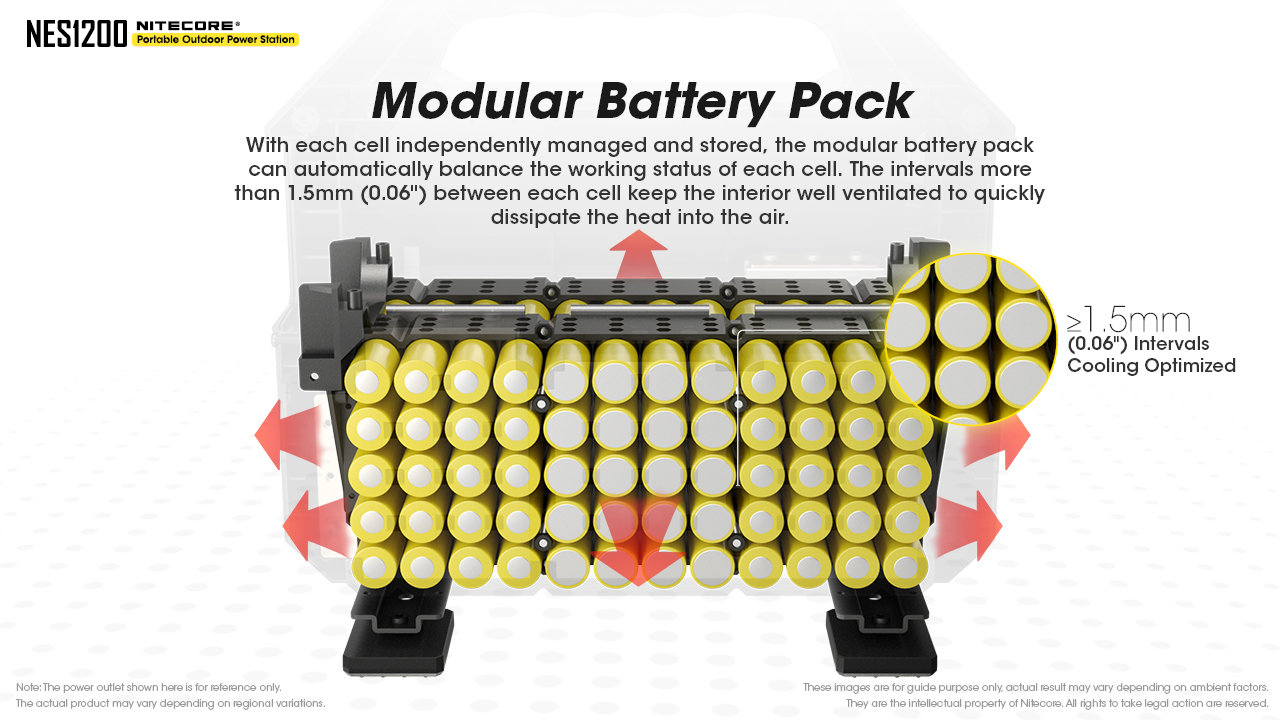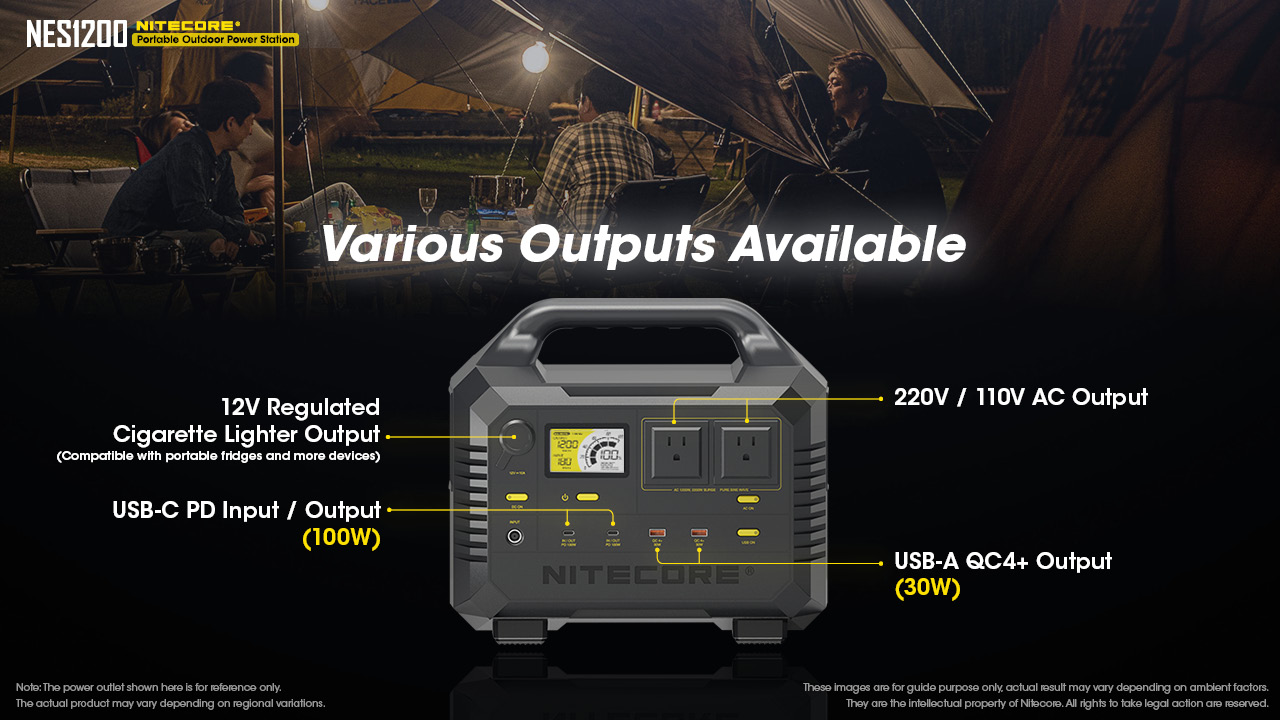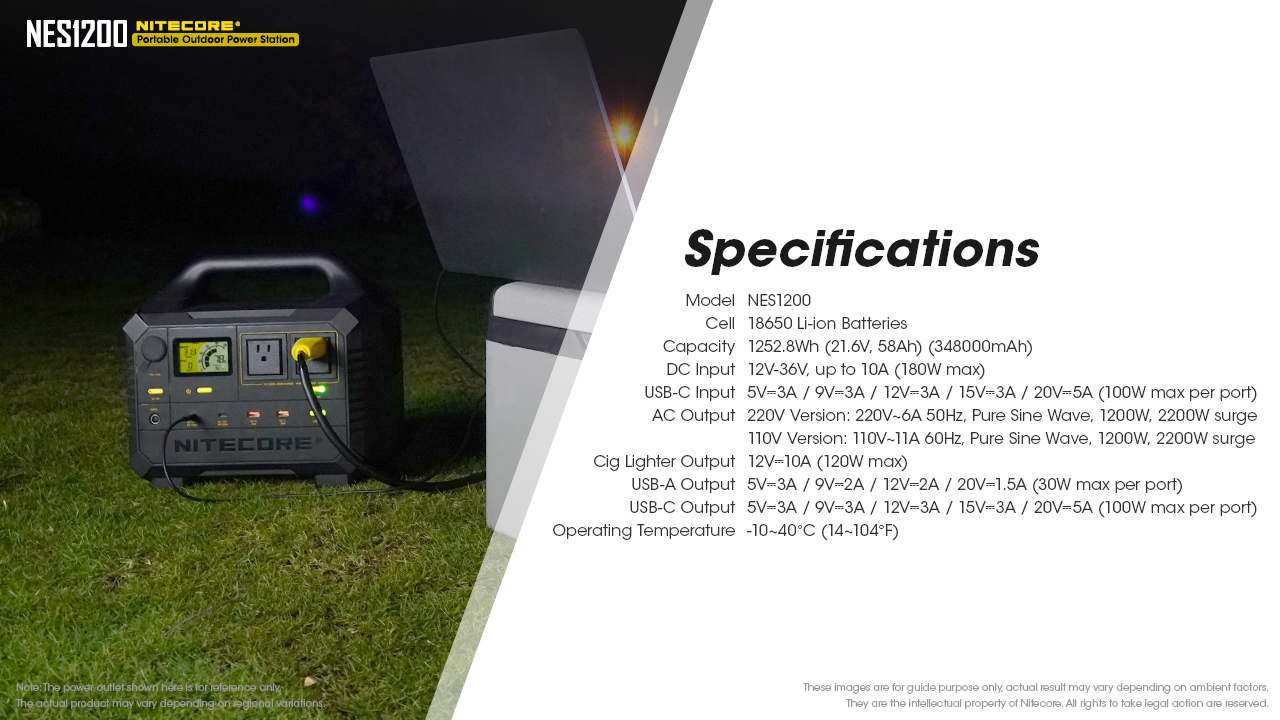 Nitecore NES1200 specifications:
Cell: Li-ion 18650 batteries
Capacity: 1252.8 Wh (21.6 V, 58 Ah) (348000 mAh)
Inputs:
a) DC: 12V-36V, up to 10A (maximum power 180W)
b) USB-C input: 5V 3A / 9V 3A / 12V 3A / 15V 3A / 20V 5A (maximum power 100W per port)
Outputs:
220V version: 2 outputs. 220V~6A 50Hz, pure sine wave, 1200W, 2200W max.
110V version: 2 outputs. 110V~11A 60Hz, pure sine wave, 1200W, 2200W max.
Cigarette lighter power: 1 output. 12V≈10A (max. 120W)
USB-A output: 2 ports. 5V≈3A / 9V≈2A / 12V≈2A / 20V≈1.5A (maximum power 30W per port)
USB-C output: 2 ports. 5V 3A / 9V 3A / 12V 3A / 15V 3A / 20V 5A (max power 100W per port)
Operating temperature: -10~40°C
Size: 317*214*282.5mm
Weight: 10.65 kg
PACKAGE AND DESIGN
I think this is the most reliable package I've seen. It is not surprising as Nitecore NES120 contains 120*18650 built-in batteries
There is a thick layer of foam rubber between the shipping and the main boxes.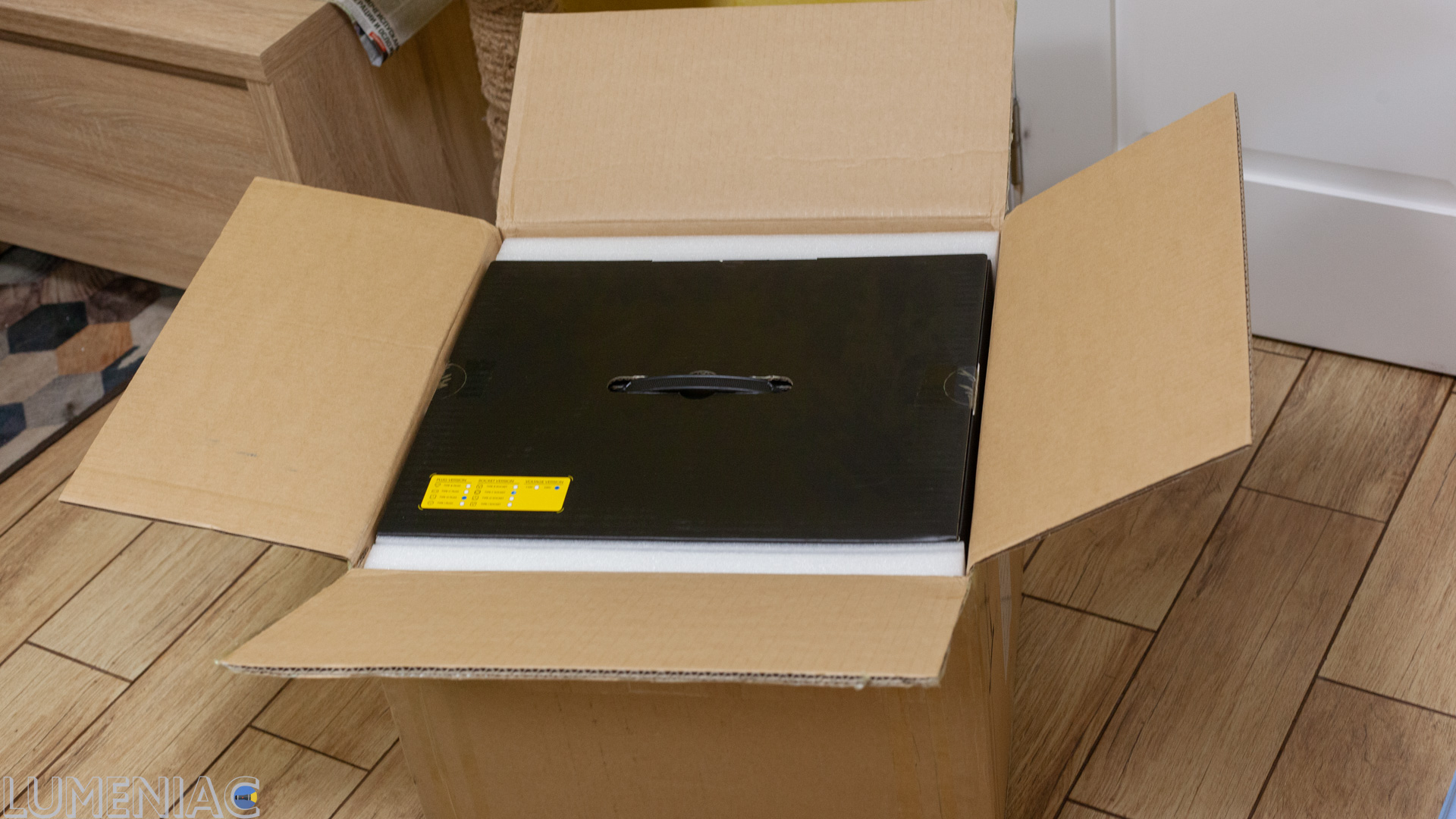 The box itself is already impressive. Huge, black, with highlight design. It is immediately clear that inside is some expensive branded item.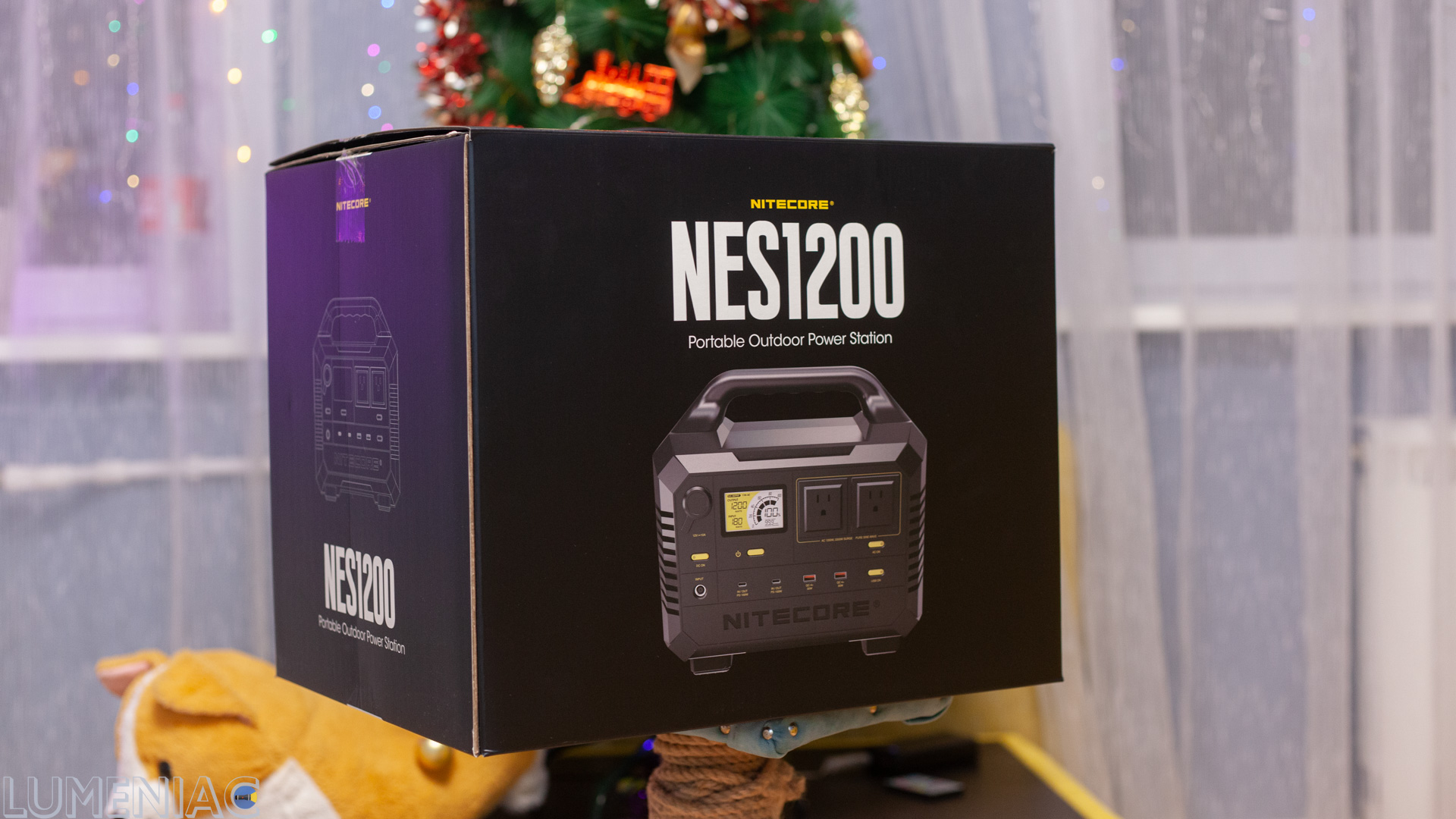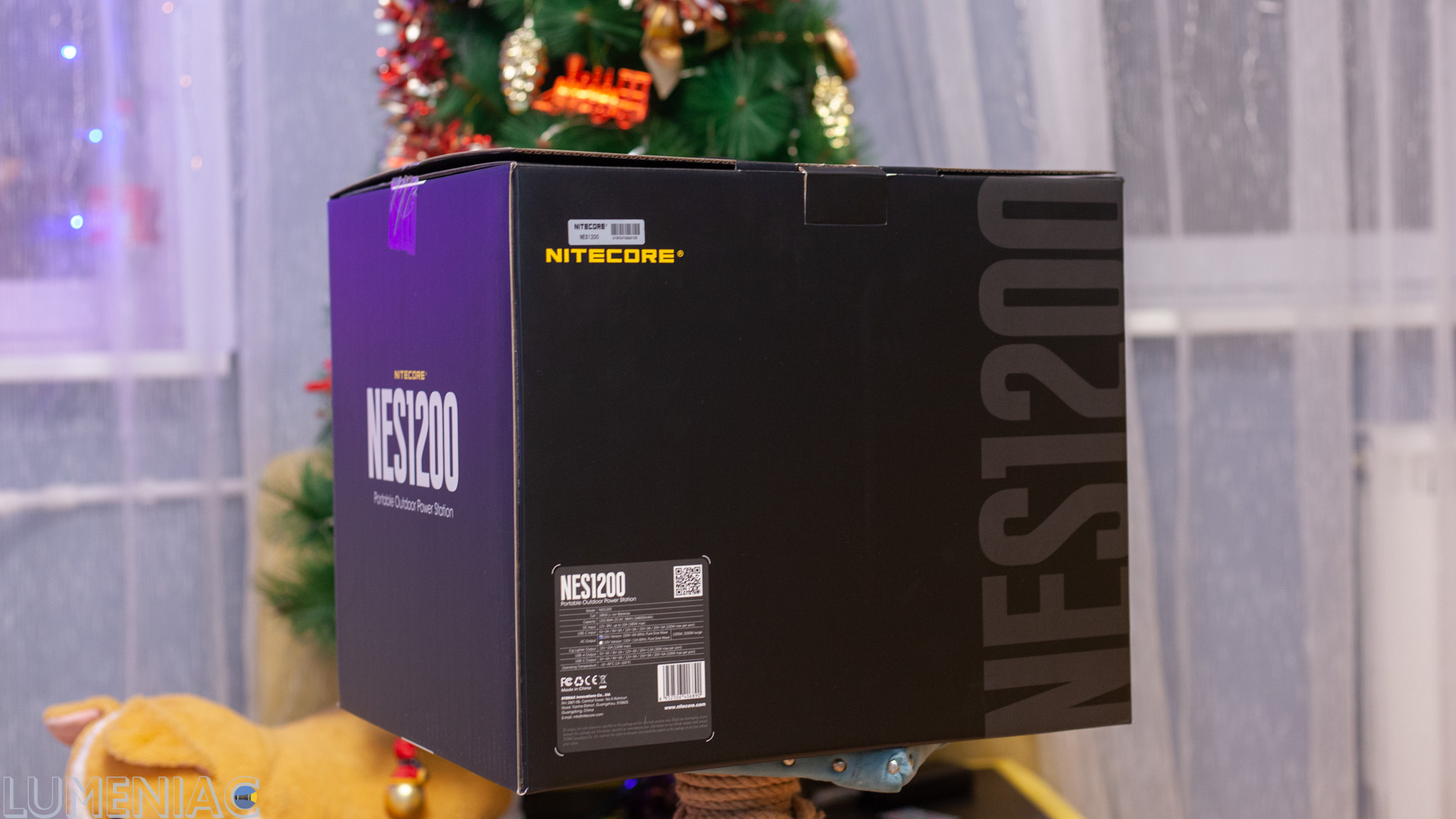 There is an even thicker layer of foam-rubber inside main box. For those who are planning to buy a Nitecore Nes1200 and are concerned about safety during transportation – I really don`t see any chances to damage this power station. Isolation layer is damn thick. Actually, usually i don`t focus on details like box, but as Nitecore NES1200 is really expensive, potential buyer should know everything.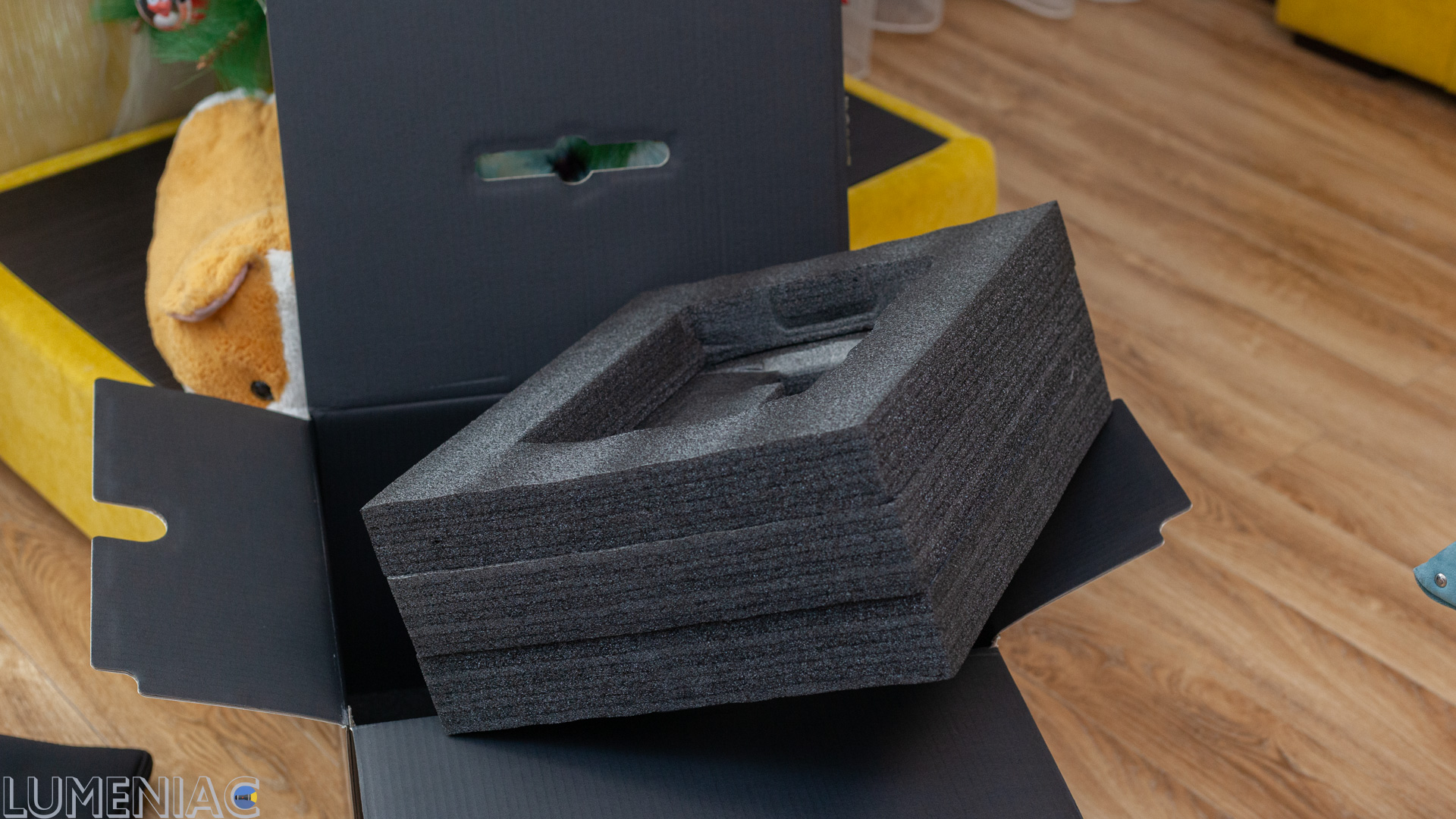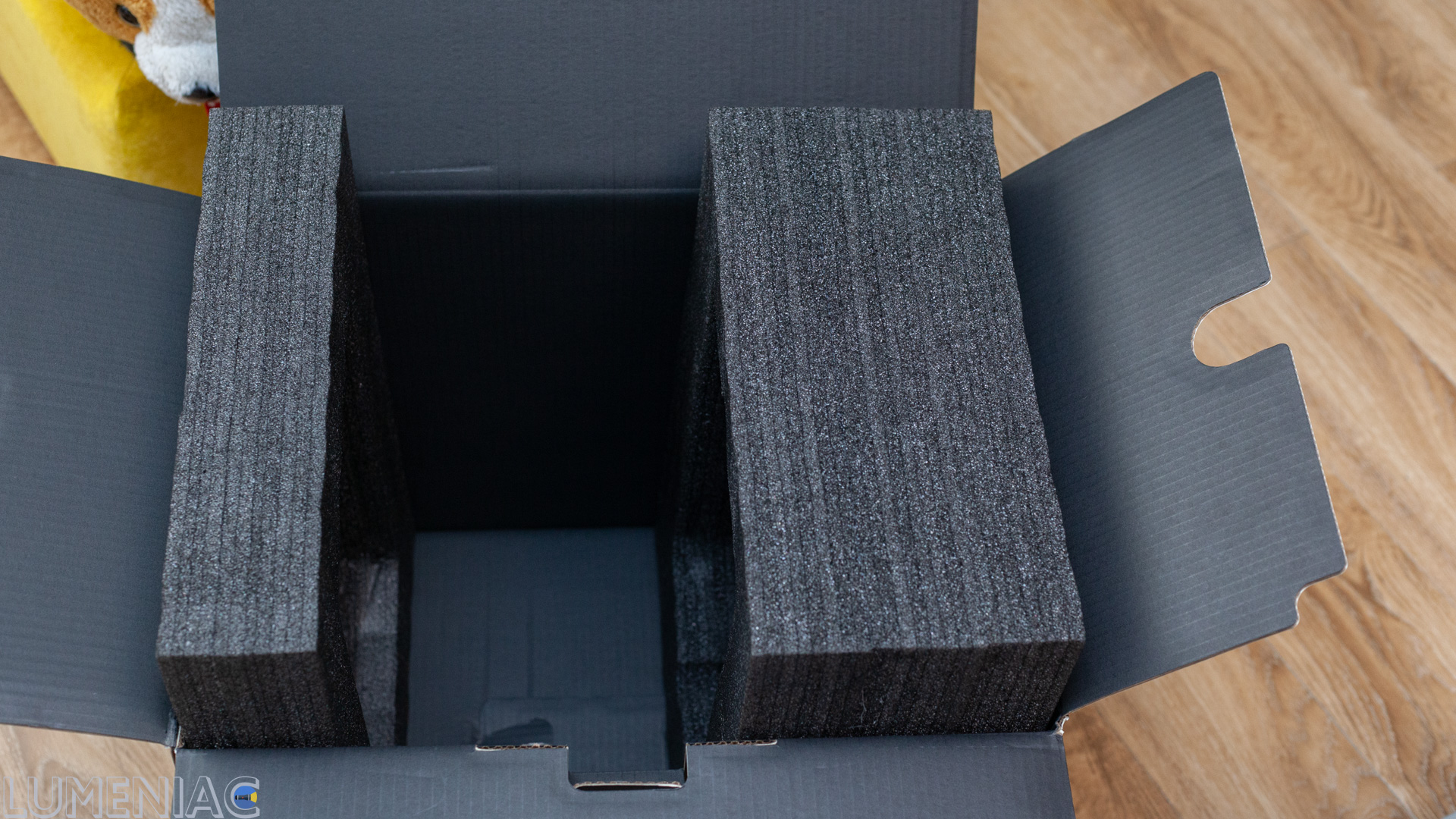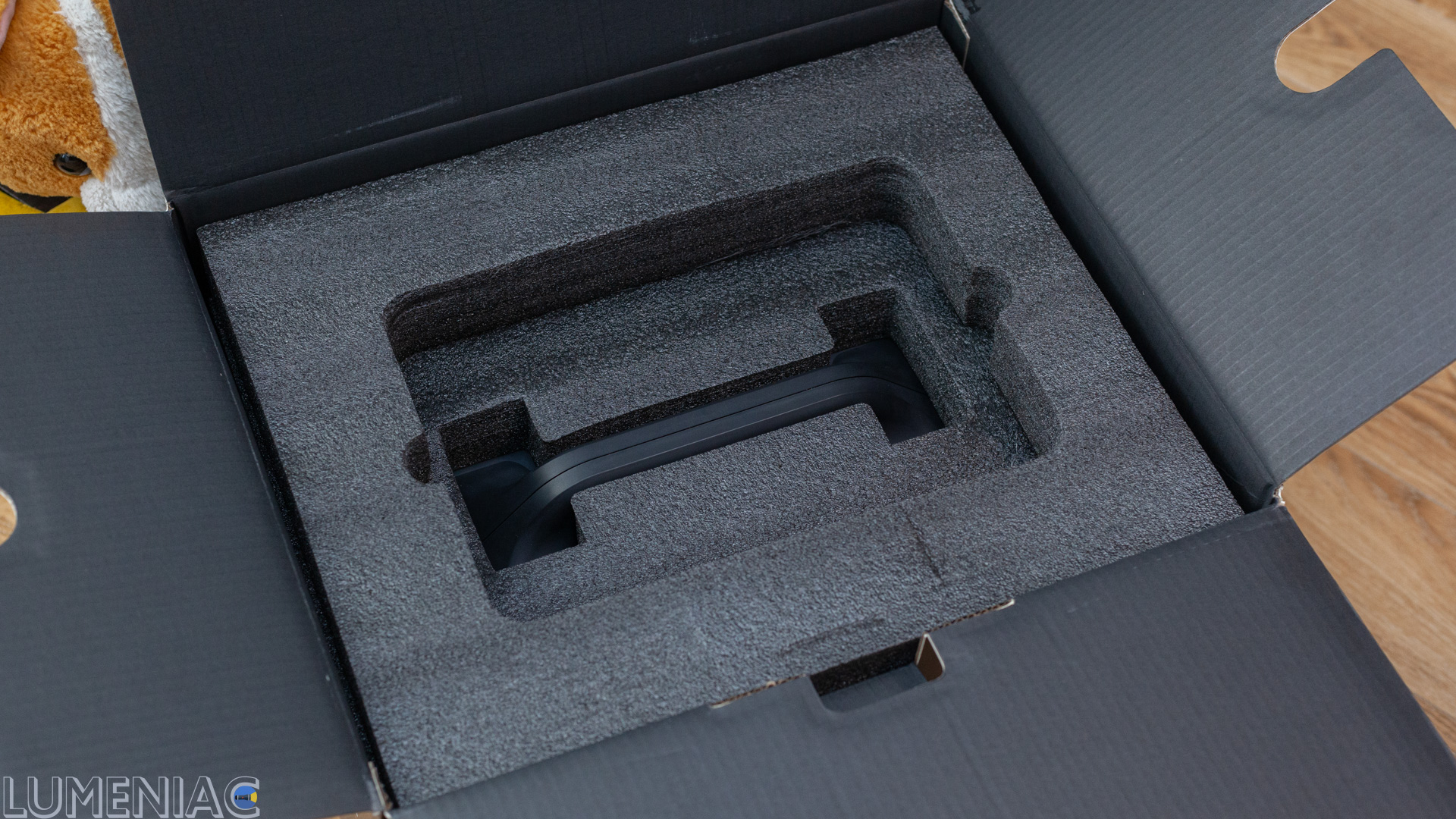 Besides power station itself, you get a neat black bag with rest of kit: a power supply, a 12v car charger and manual. I think it would be appropriate to add a 100-watt type-C cable as well as it costs almost nothing but will help to charge Nitecore NES1200 way faster.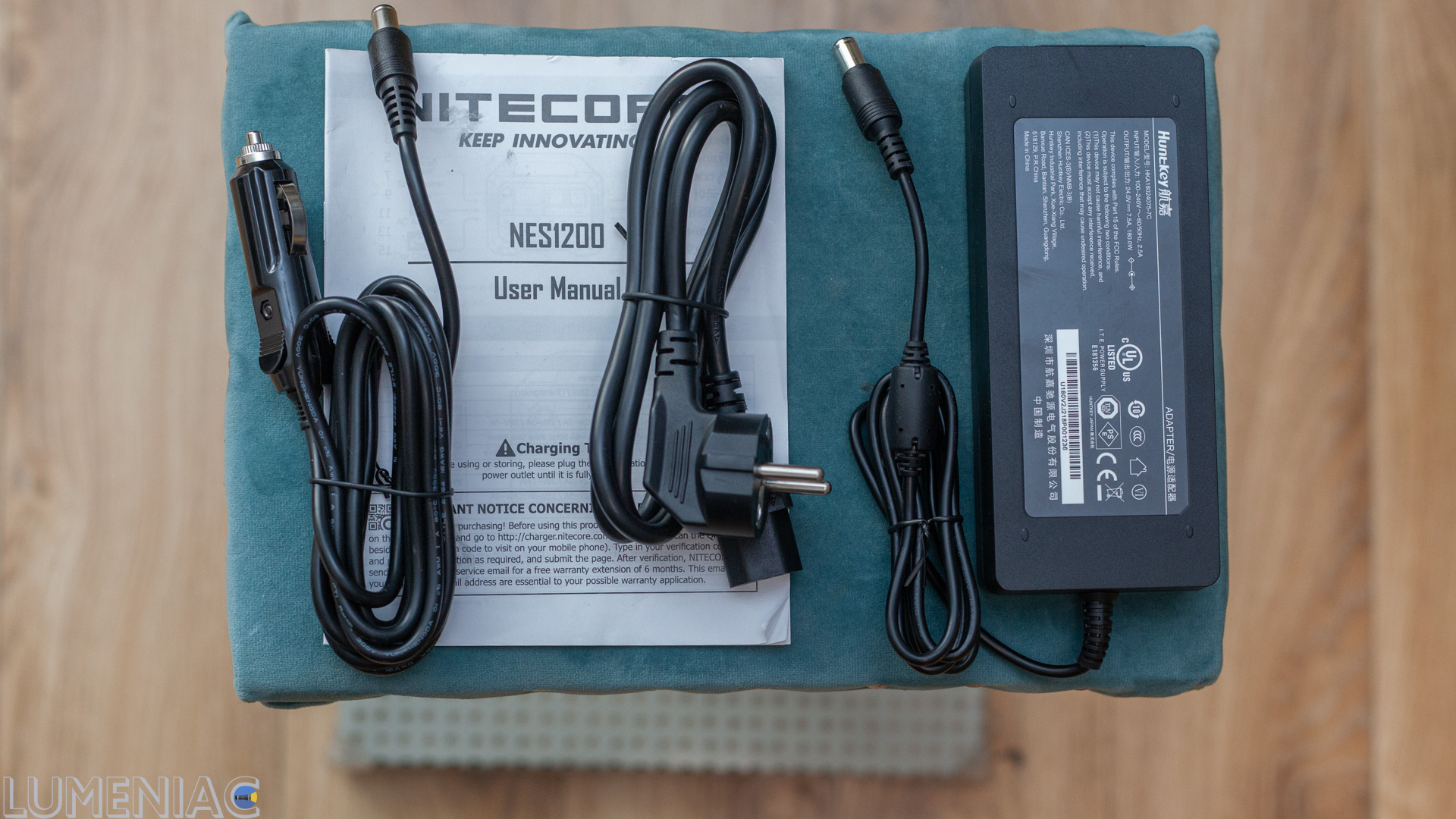 And here is the hero of the review, monster power bank, portable power station, no matter how you call it. Like other devices of this type, it is made in the form factor of a suitcase with a handle. Black, fairly large and heavy. Let me remind you: the size is 317*214*282.5mm and the weight is 10.65kg.
This is sort of the weight tells you that is the solid device, not sort of toy. And this is also a weight that doesn't feel like burden. Even a girl can lift and carry it…for some time.
If this power bank was easier, it would be less capacious and powerful.
Nitecore, by the way, has such models in the NES line, but they have rivals at aliexpress. But Nitecore NES1200 is one of a kind. There is nothing similar in terms of capacity and power on the market.
!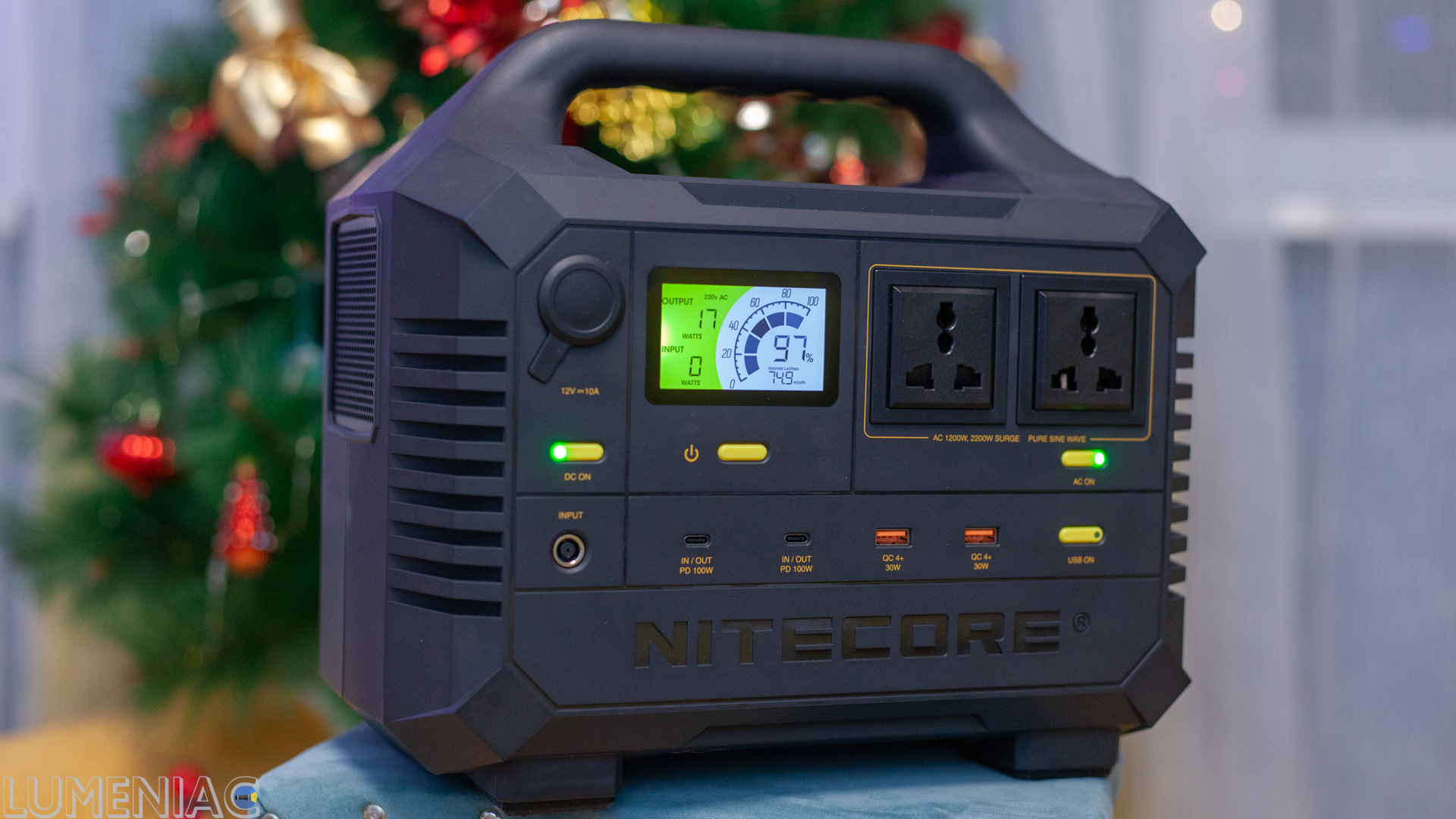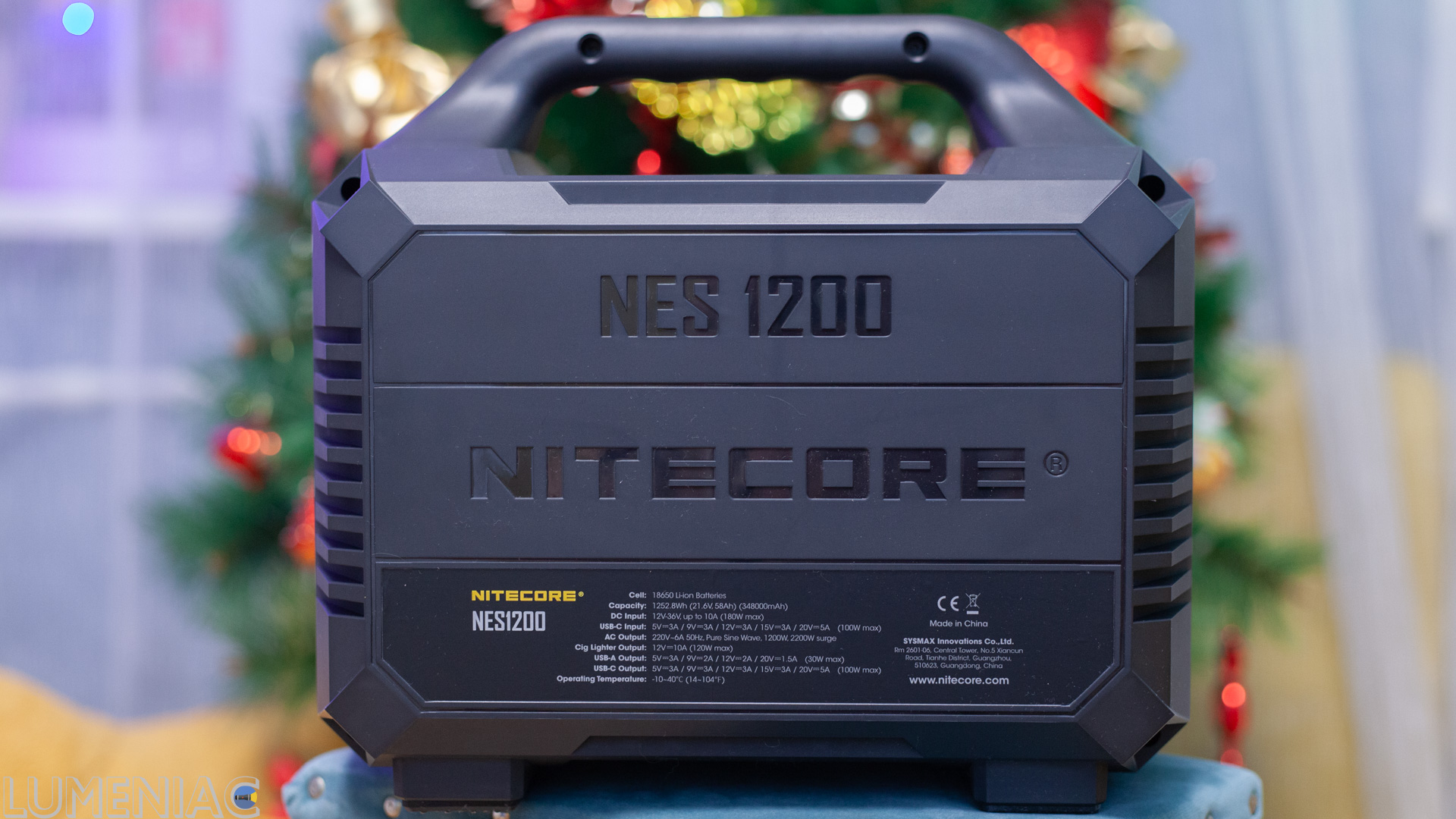 The legs are made of some kind of rubberized material, the power bank does not slip.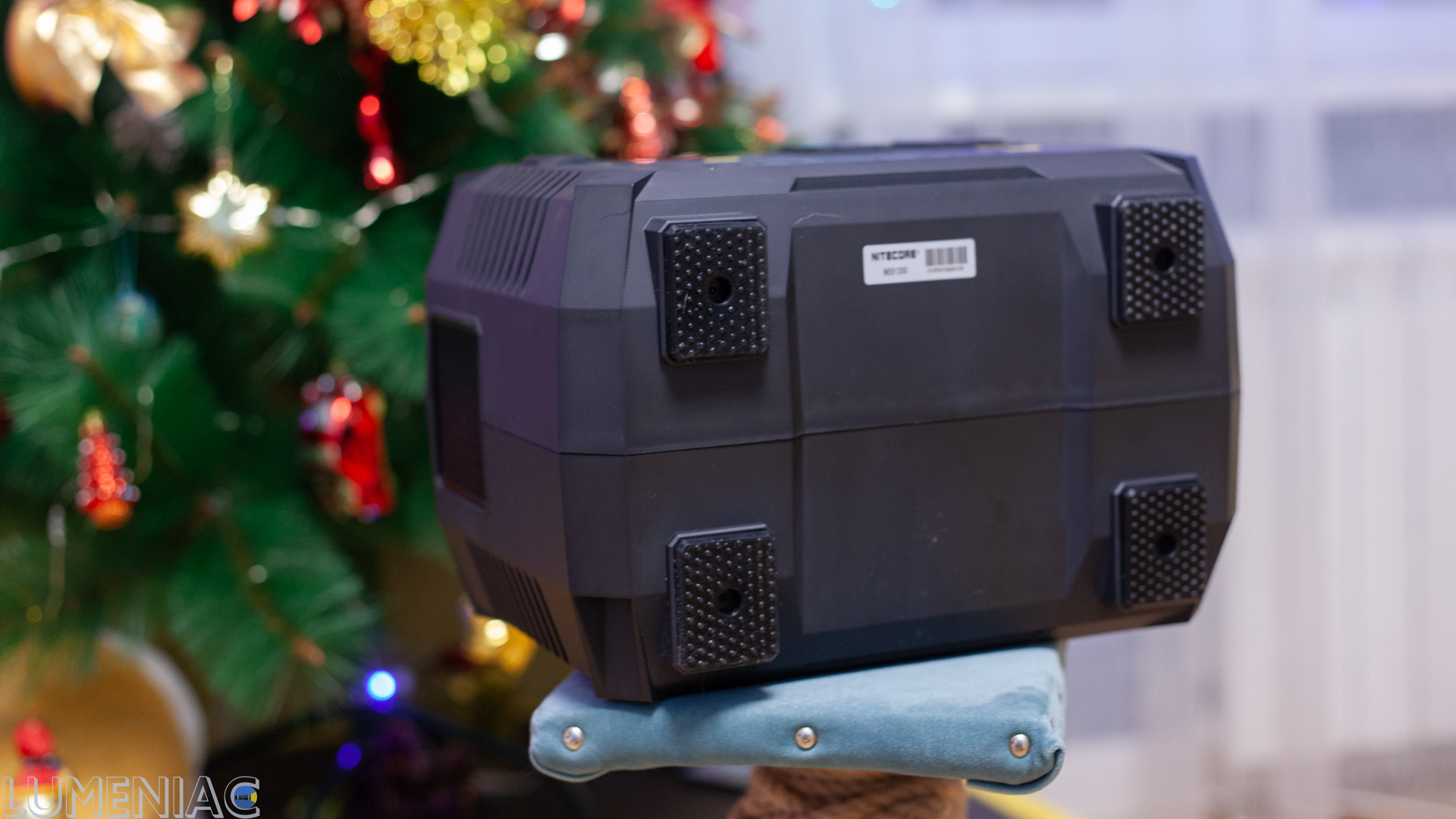 To give you an idea of ​​the size of this colossal power bank, here is a regular compact 10000 mAh Romoss power bank for comparison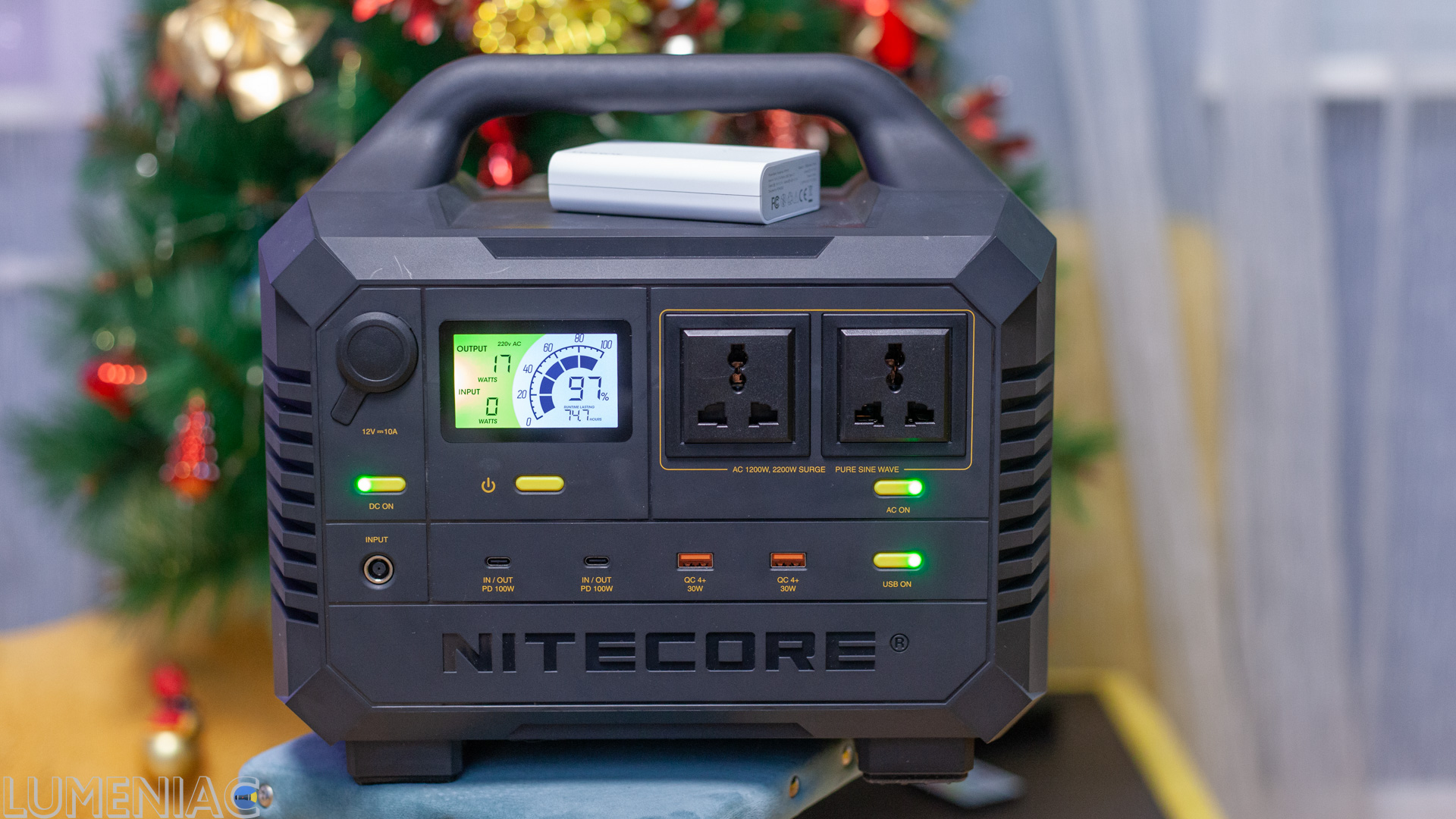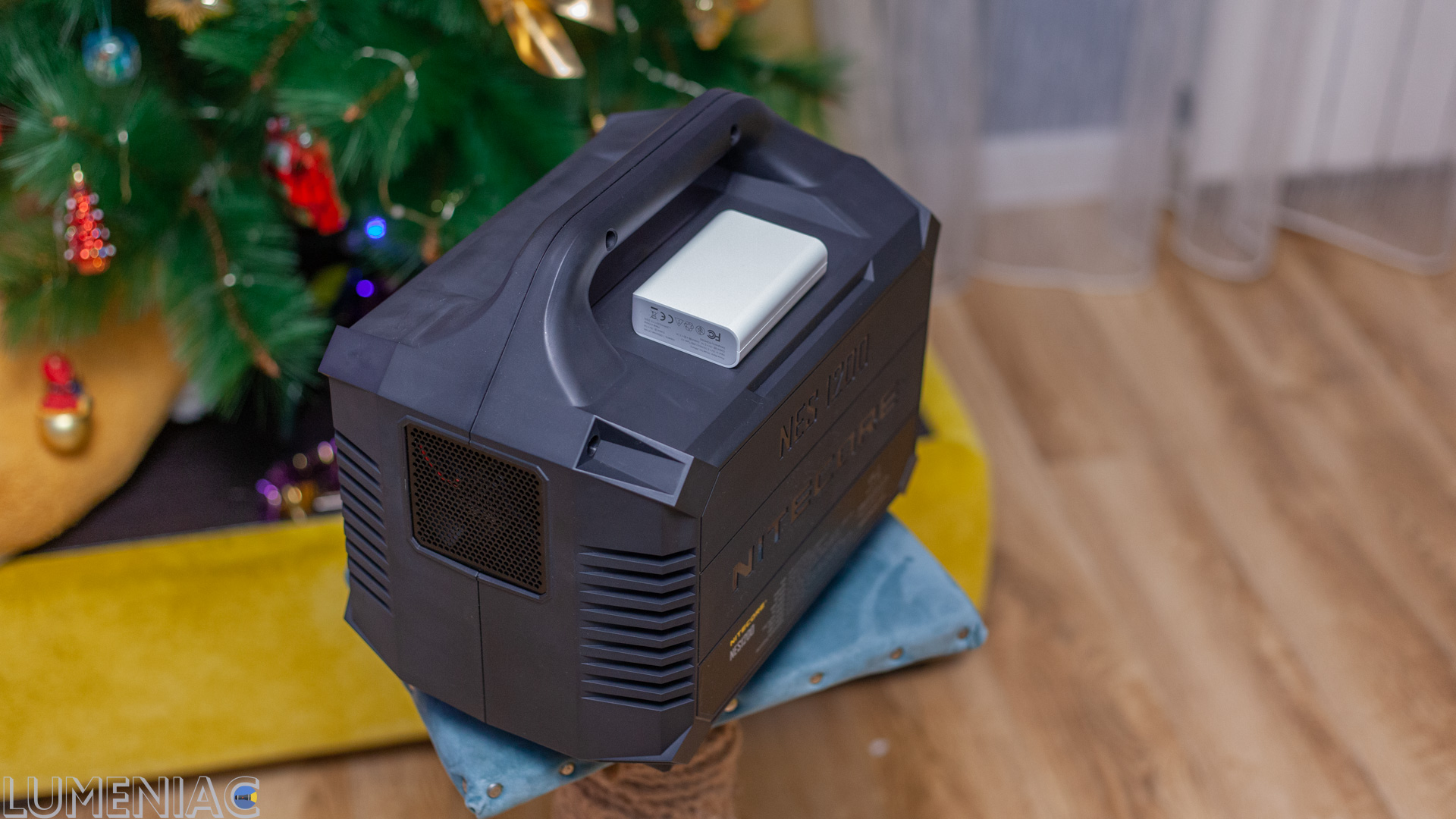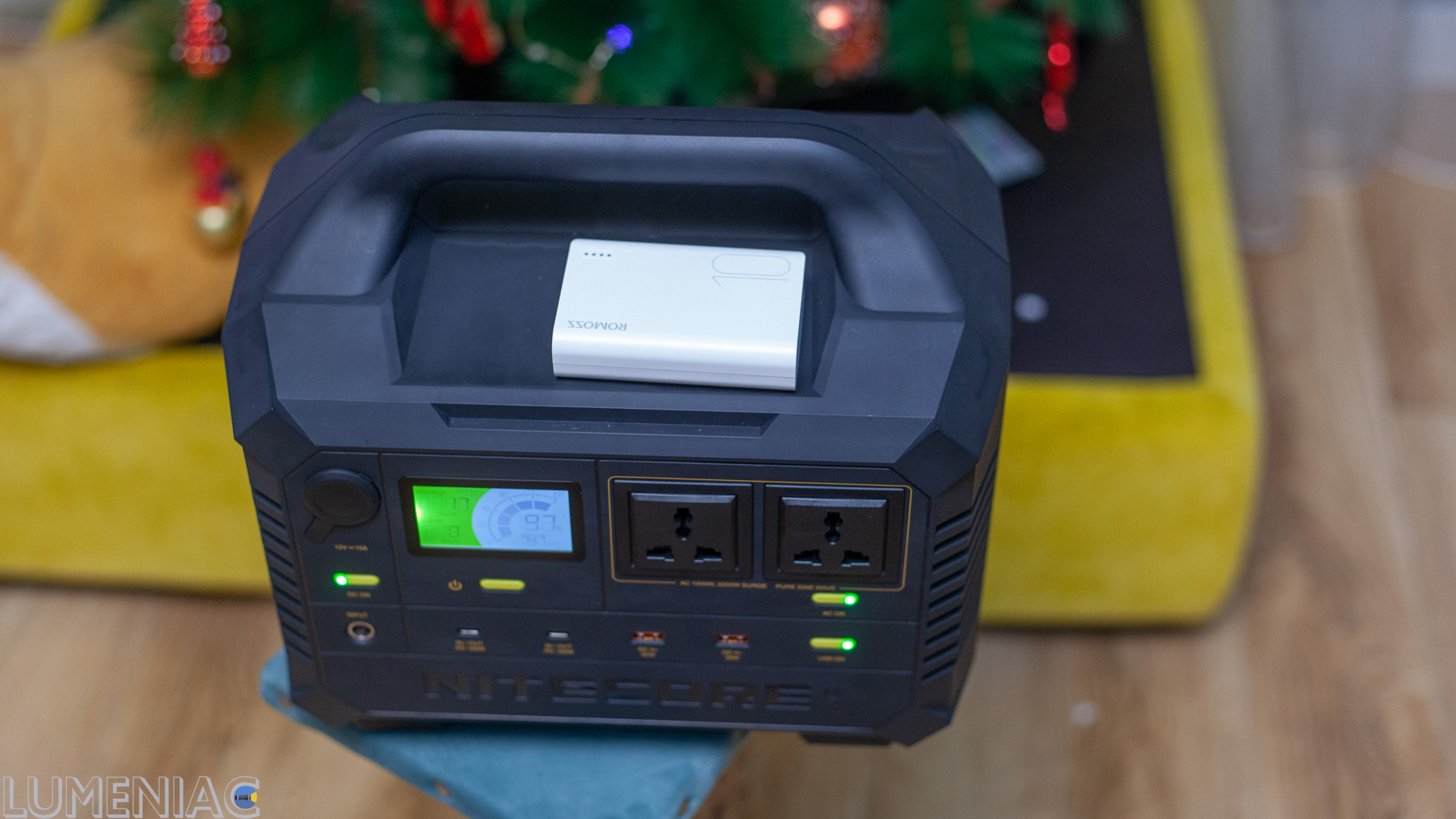 There is a pair of fans at the sides of the Nitecore NES1200.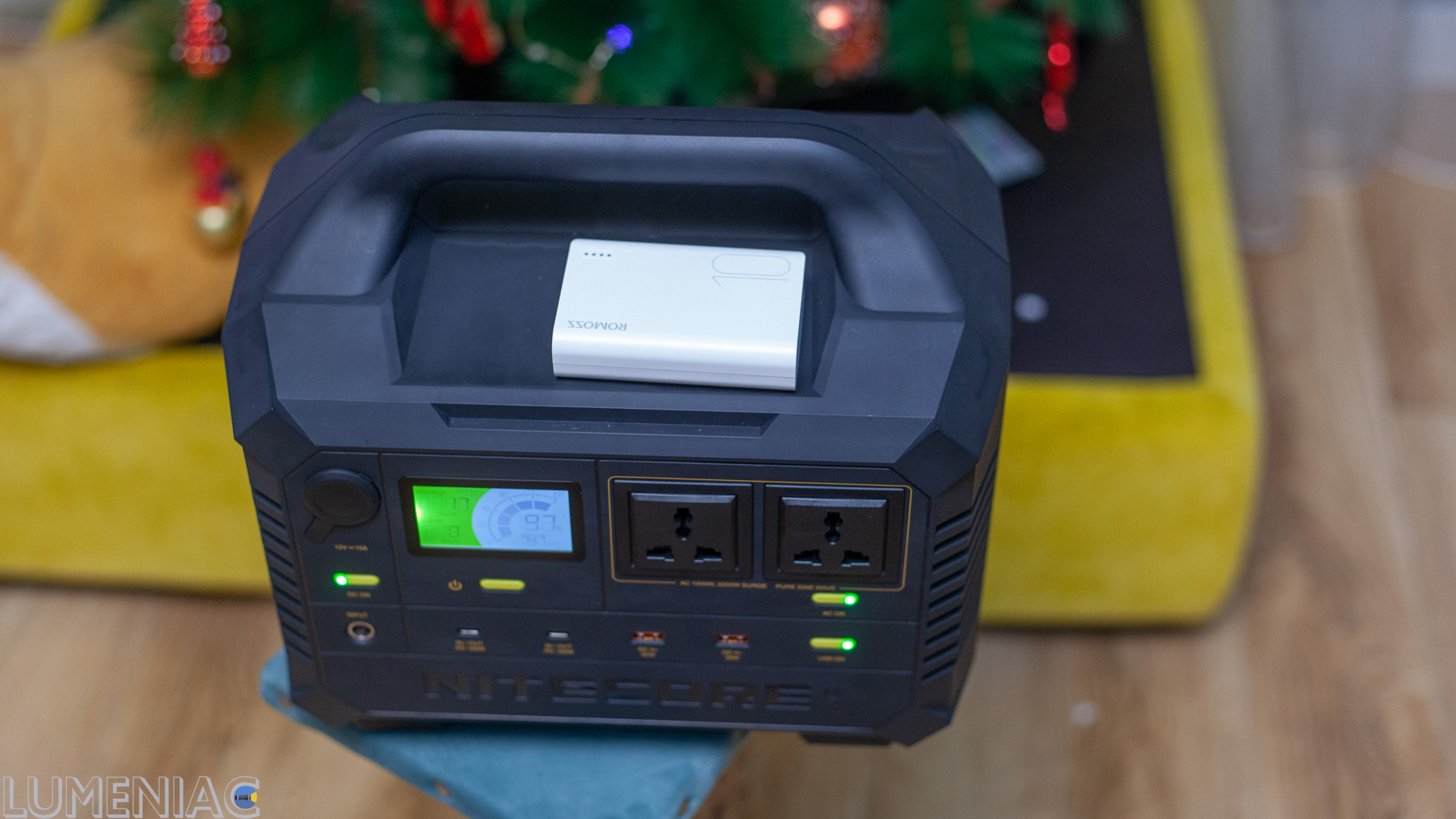 I tried to get to insides, no success, screws are too deep in the body.
The handle is comfortable and ergonomic.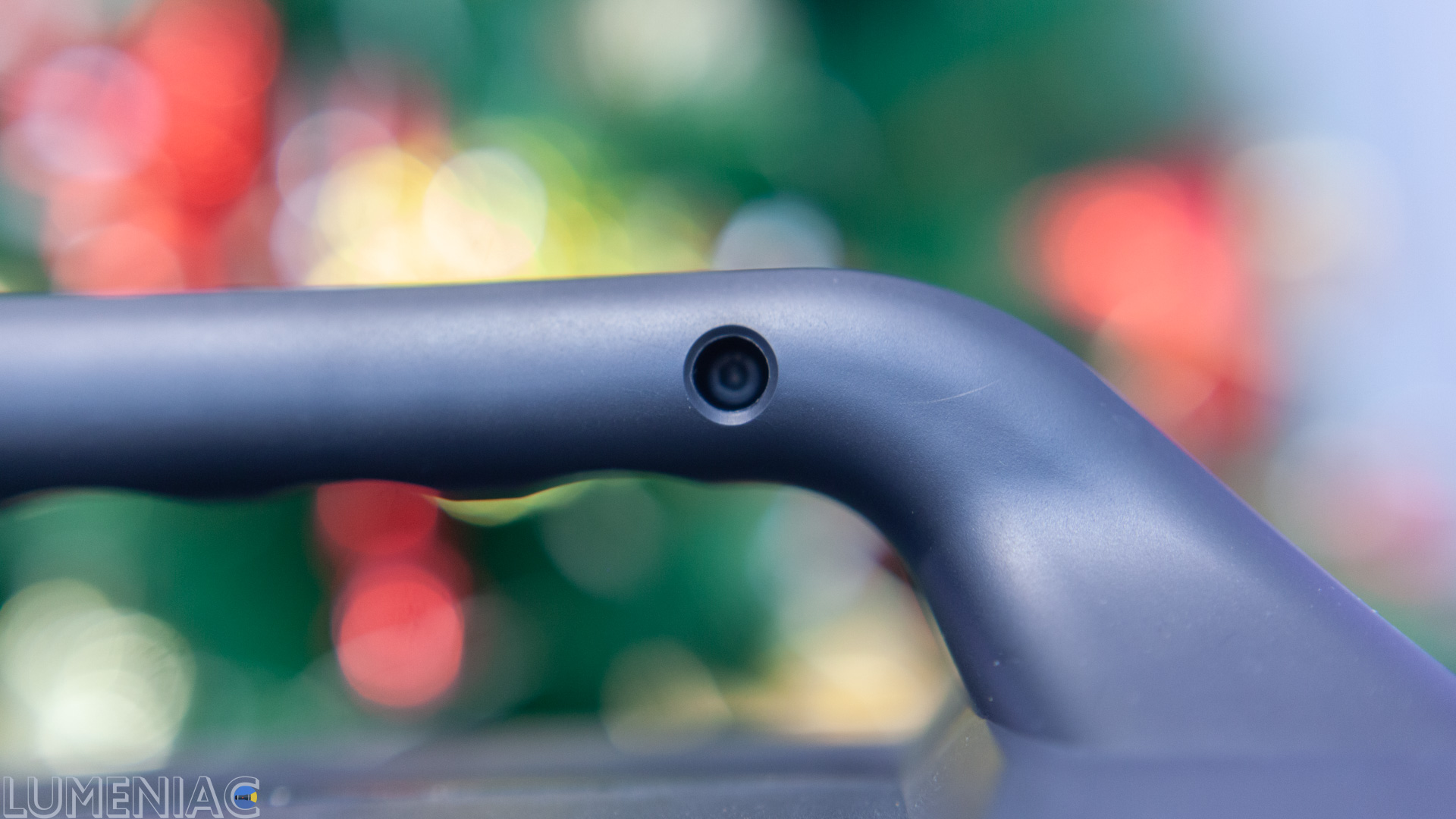 The front panel looks is really attractive with all these ports, buttons and large backlight display.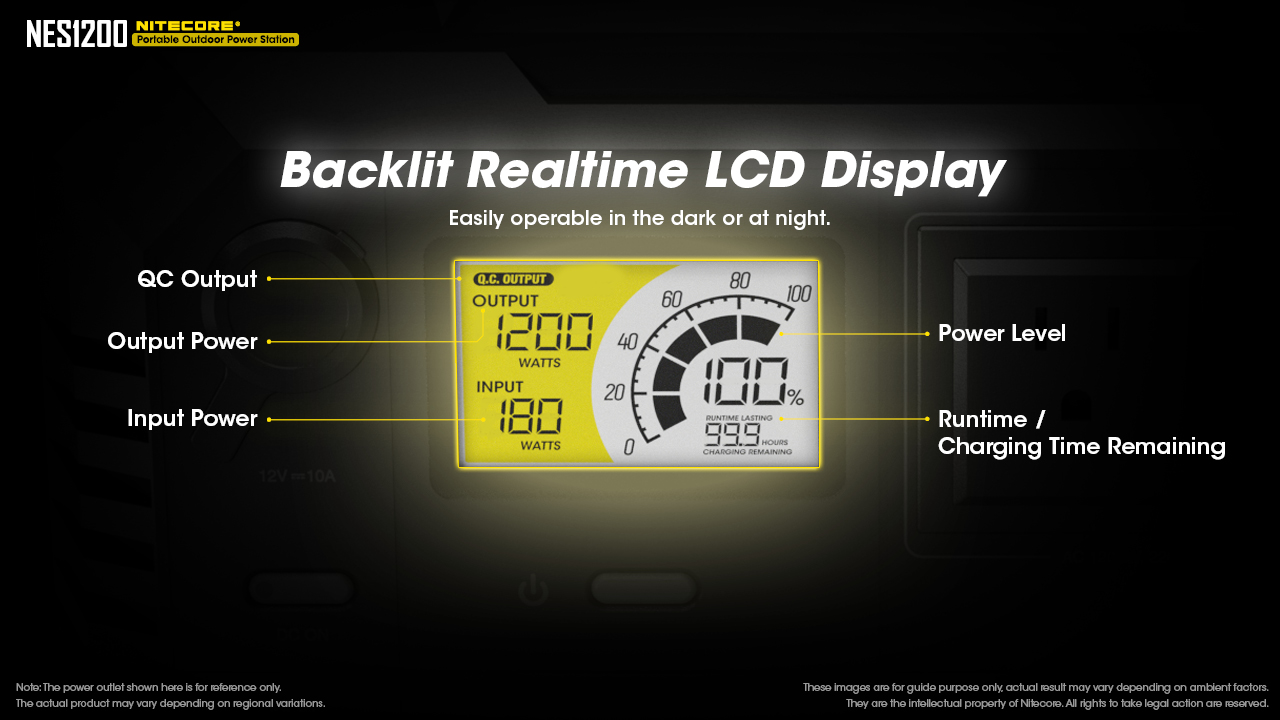 Just count, you get pair of 100w PD, 30w QC4 + and 220v output. One standard 12v cigarette lighter socket.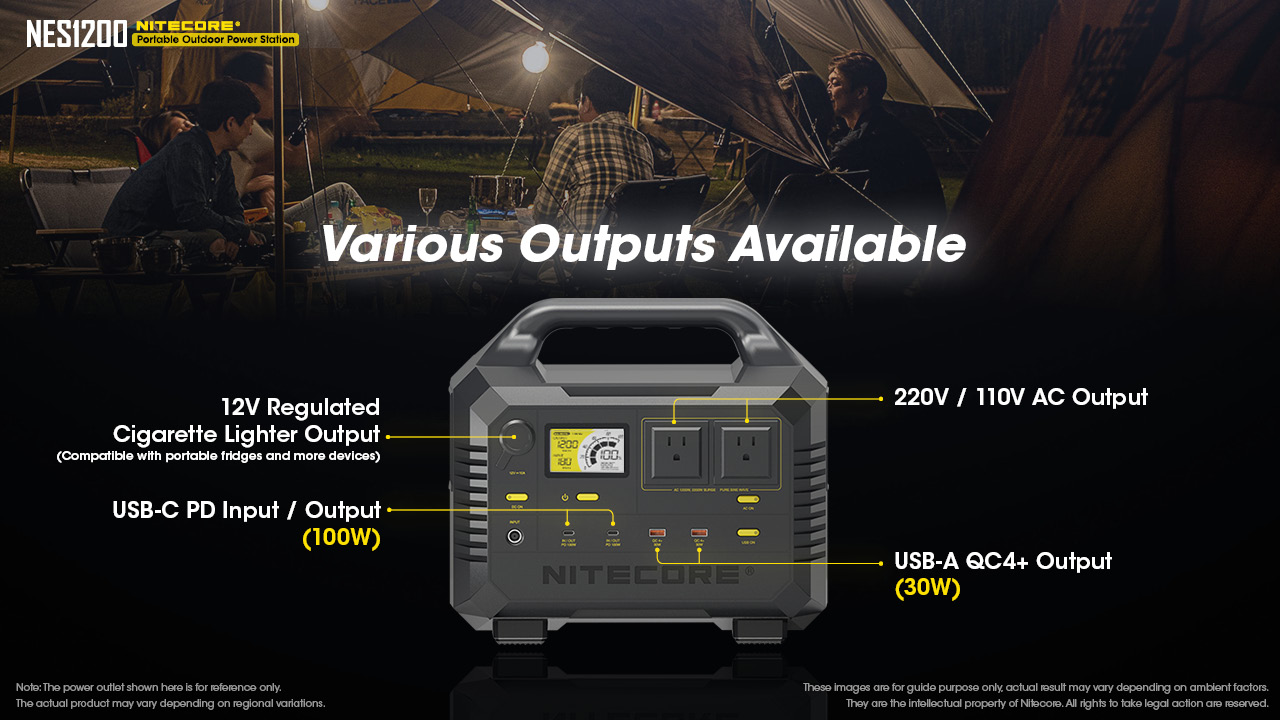 There is absolutely everything you need and in sufficient quantities.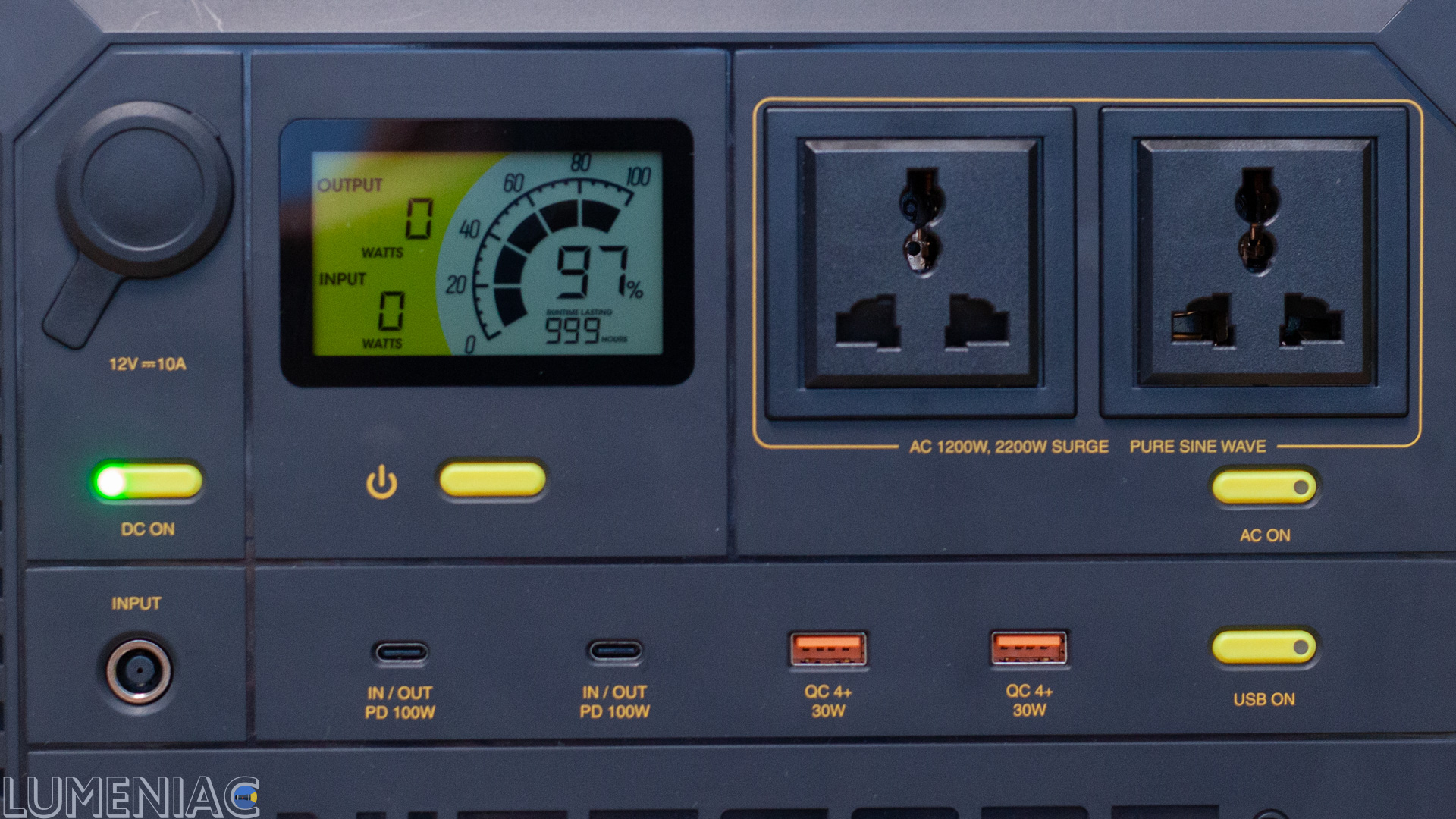 UI
Super simple. 
there are several buttons used to turn on and off corresponding output.
What to expect from Nitecore NES1200
Charging
How to charge Nitecore NES1200? There are several way.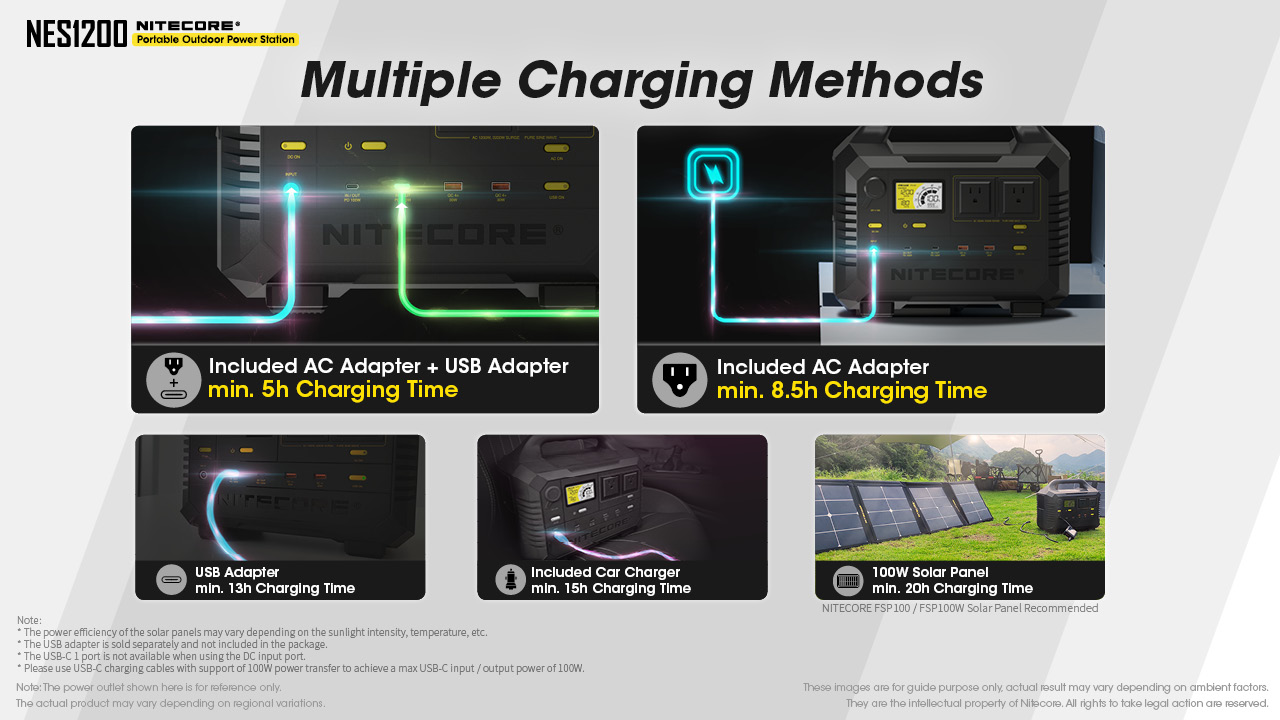 You can charge the Nitecore NES1200 using the main pin connector. In this case, the charging power will be 180 watts and it will take 7 hours to fully charge battery. And this is an exceptionally fast charge for 1252.8 W*h of capacity.
There is also a backup option – to charge via type-C. Here you are limited by the power of your GaN charging. If you are lucky owner of 100w Gan charger (i recommend model by Ugreen)
The charging power on photo has not yet gained the final 100w level, so it shows a little more time, the real figure appears in the video version of the review and you`ll see that in this case it`ll take 11hours to fully charge Nitecore NES1200. Regular nightlong charging.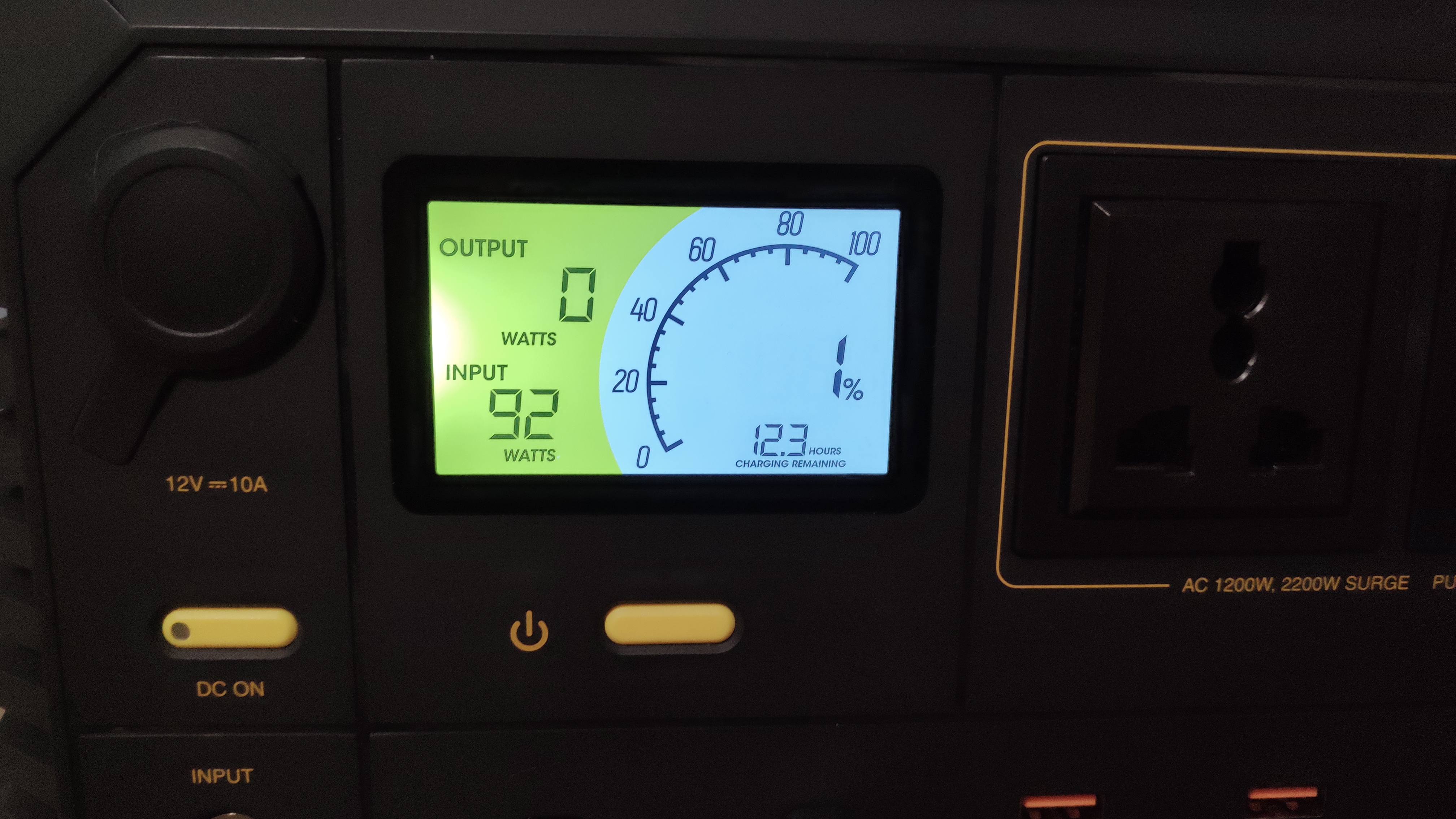 This is primitive capacity test, this pic shows how much energy got into power station. Of course, real capacity is less. Let me remind you that the declared capacity of Nitecore NES1200 is 1252.8 Wh (21.6V*58 Ah=348000 mAh)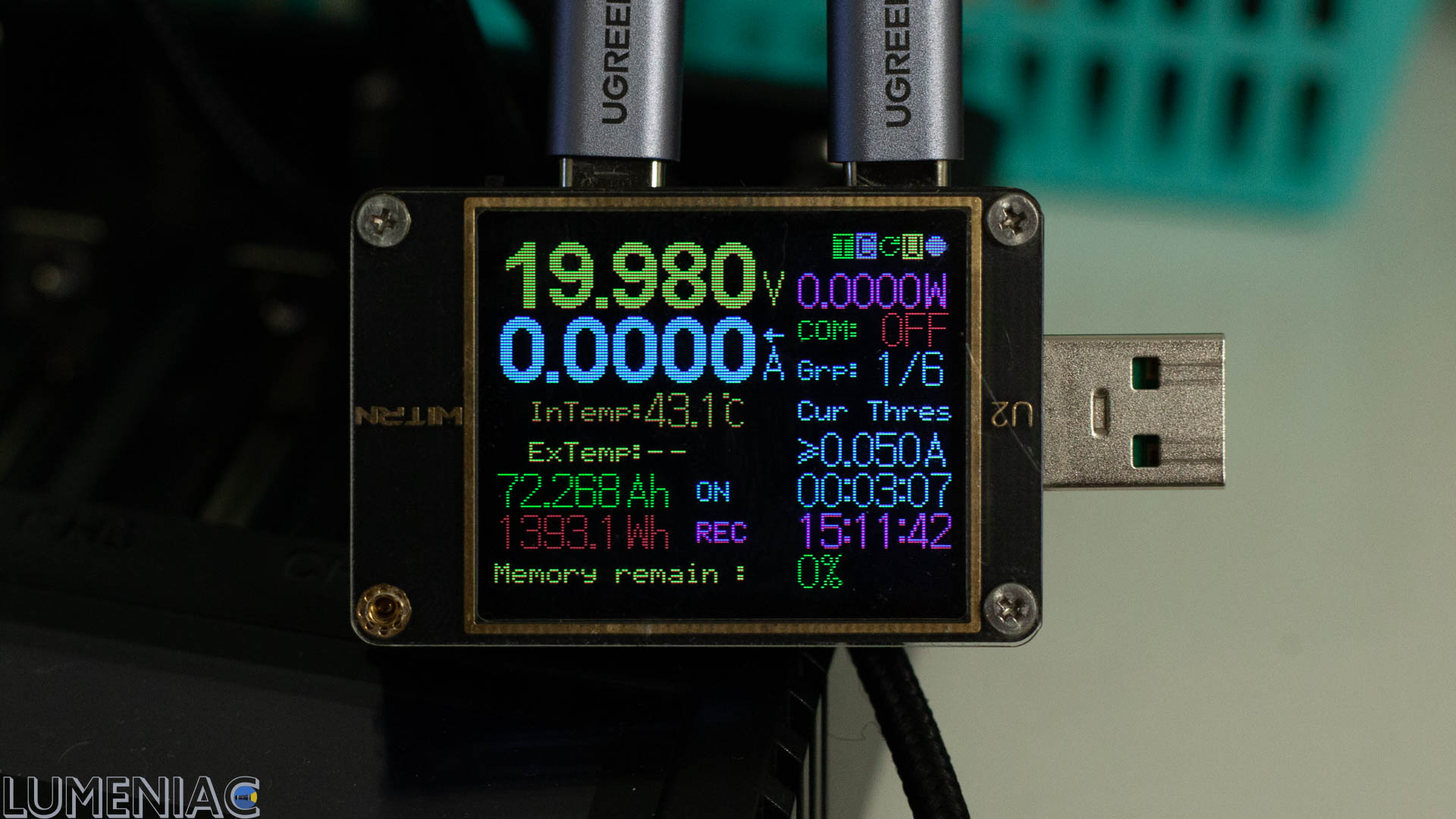 But! But, friends, there is simply a light speed way to charge Nitecore NES1200. This super power station can be simultaneously charged by the main pin and 100w Type-C at the same time! Only 4.5 hours this way. that is incredibly fast charge. Four and a half hours! In most of cases it`ll take you longer to charge a regular 20000mah power bank. And Nitecore NES1200 has almost 20 (!) time more capacity.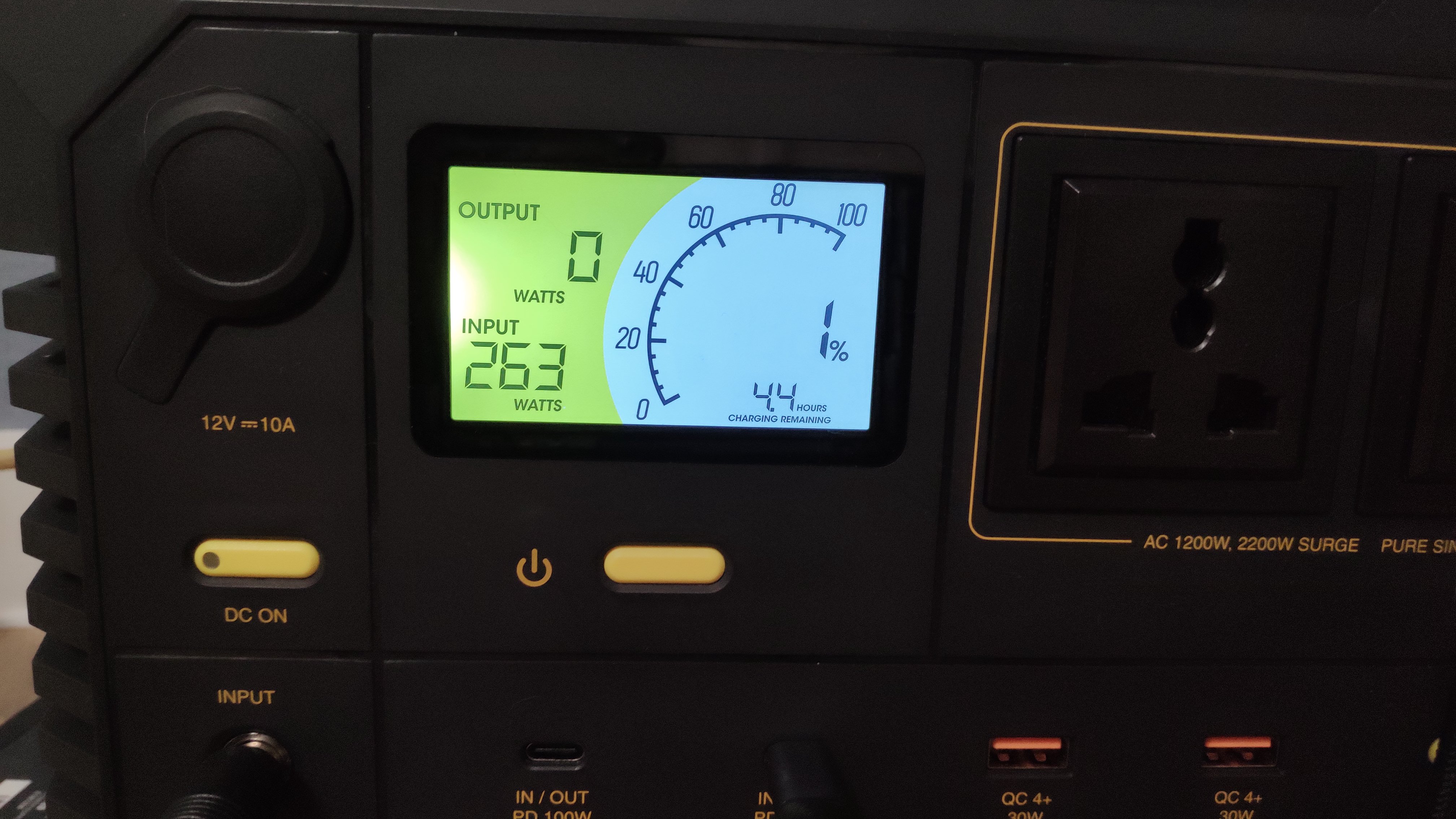 Ah, you are traveling in a car, you can also use regular 12v cigarette lighter socket.
Yes, it is worth noting that Nitecore also sells 100w Nitecore FSP100 solar panel to charge this power bank. If your wallet is big enough, you can even buy two and connect them to speed up charging.
Discharge power
According to promo pics, Nitecore NES1200 contains 120*18650 Li-Ion cells , way more than my previous power station Bosscat AY006 with only 56 of them inside.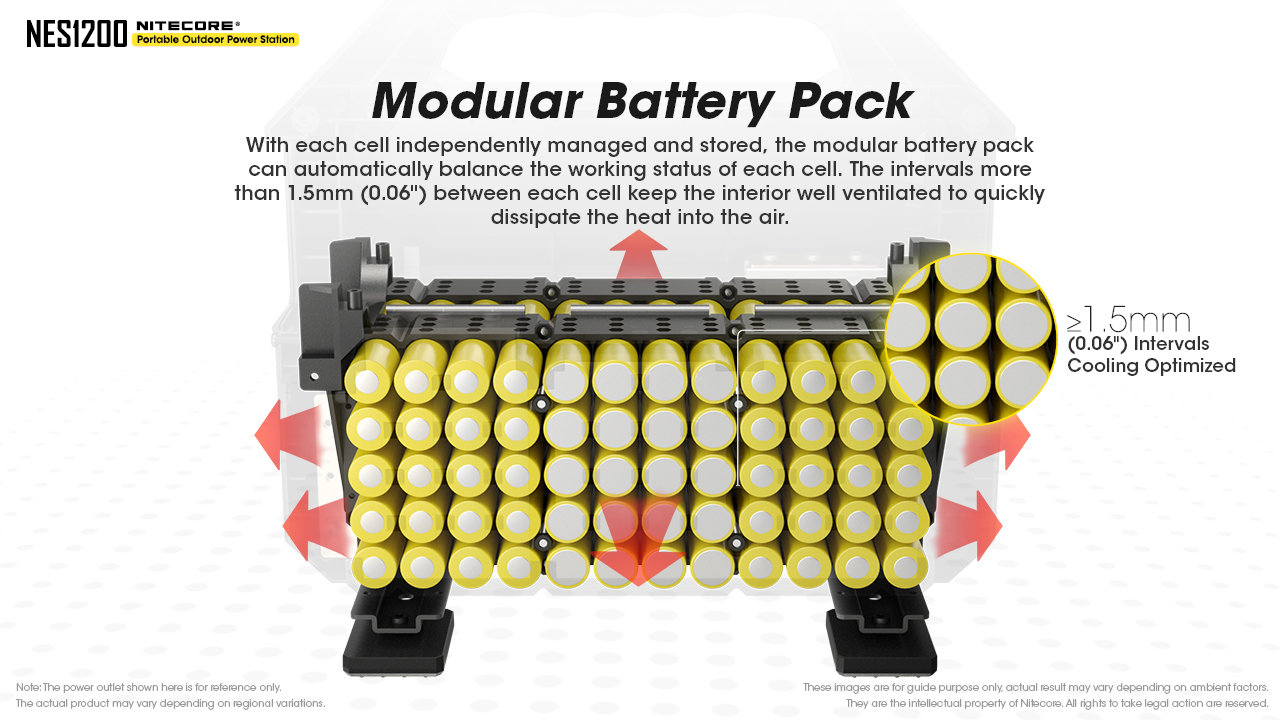 The reason i finally decided to change 500w power station to something with extraordinary power was 900 watts water pump in my countryhouse. I live in countryhouse most part of year, and usually face energy blackout like once per month. That is not problem in April or October, but no water in summer is a real problem. And as I wanted complete energy autonomy, I got it when bought Nitecore NES1200. Now i can power up any device in my countryhouse with the exception of perhaps a 3 kW heating element in the shower, and welding machine.
And the Nitecore NES1200 gave me exactly what I wanted. Of course, I cannot illustrate the full power of this super-capacious power bank with photographs, but I will outline the main points.
Type-C outputs actually deliver 100 watts. Here, by the way, it is appropriate to note that the display overestimates the readings on the return. Where the tester shows a load of 100 watts, the Nitecore NES1200 display shows 107 watts. When charging, the numbers are quite consistent with reality.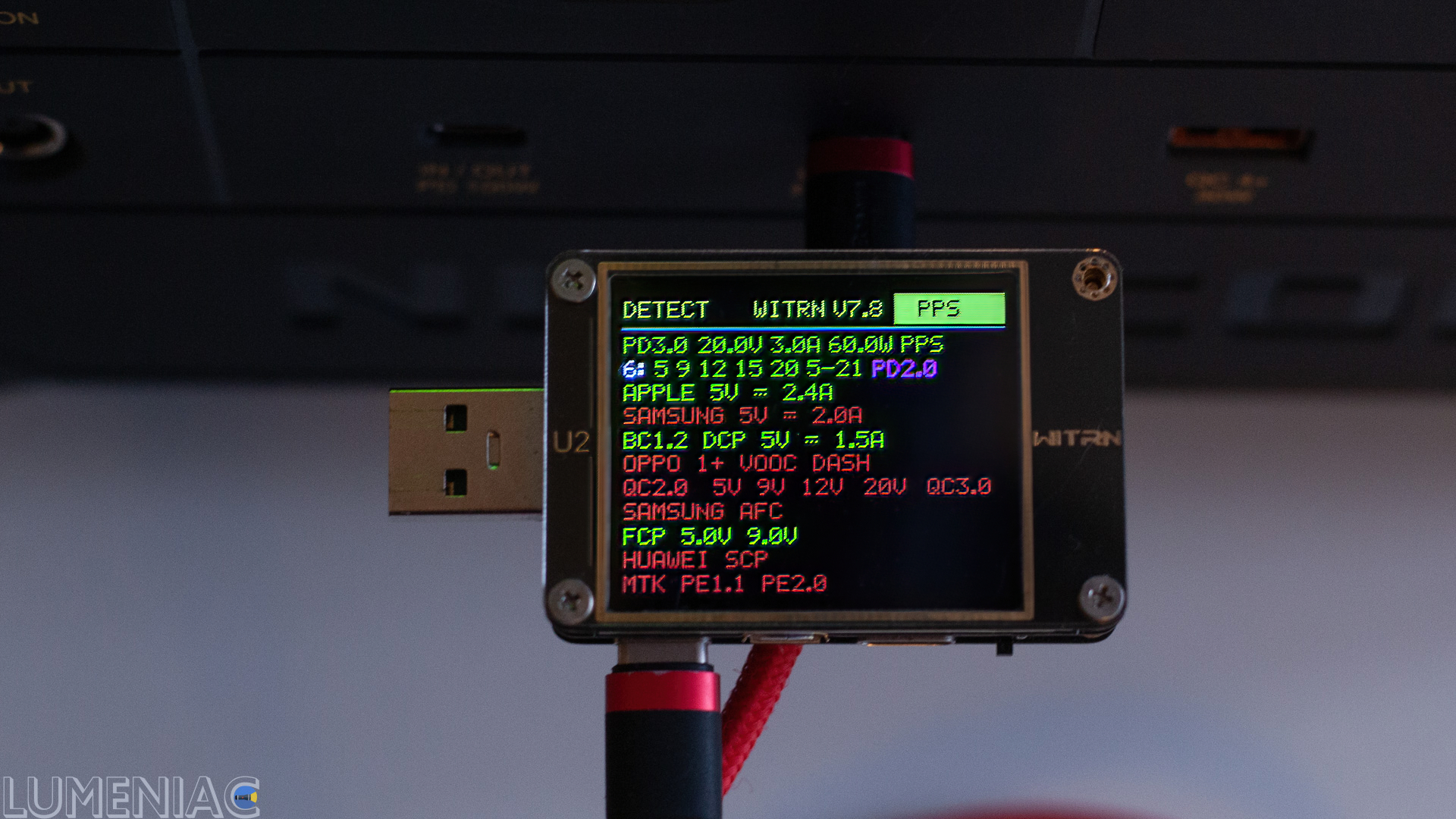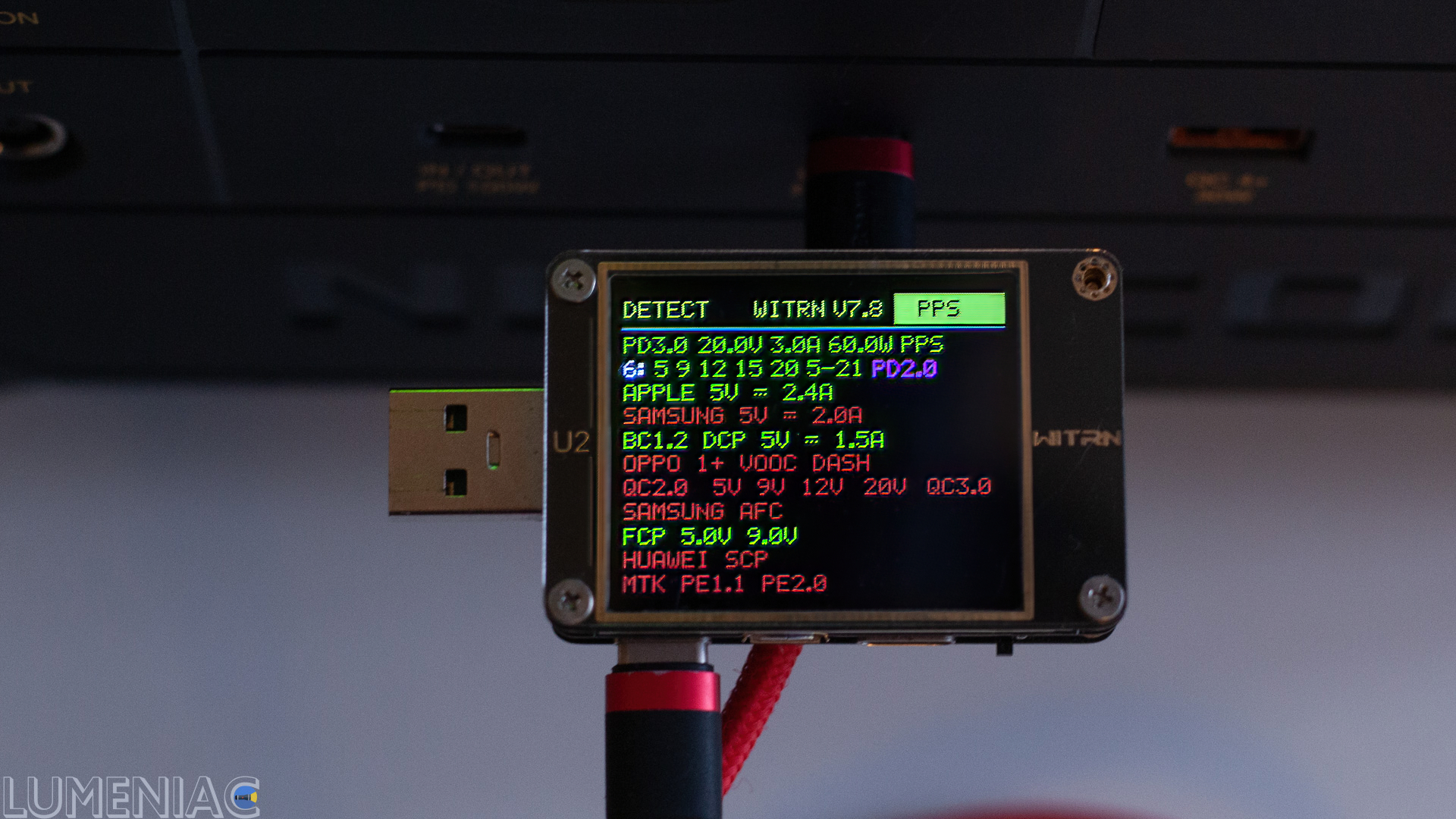 I have only one powerful USB power load, so there is no way to test whether it is possible to get 100 watts at the same time from both Type-C outputs. Be that as it may, honest 100w even from one of them is very good.
The maximum that I could see with the load of both Type-C ports is 100 + 30w. More than decent too.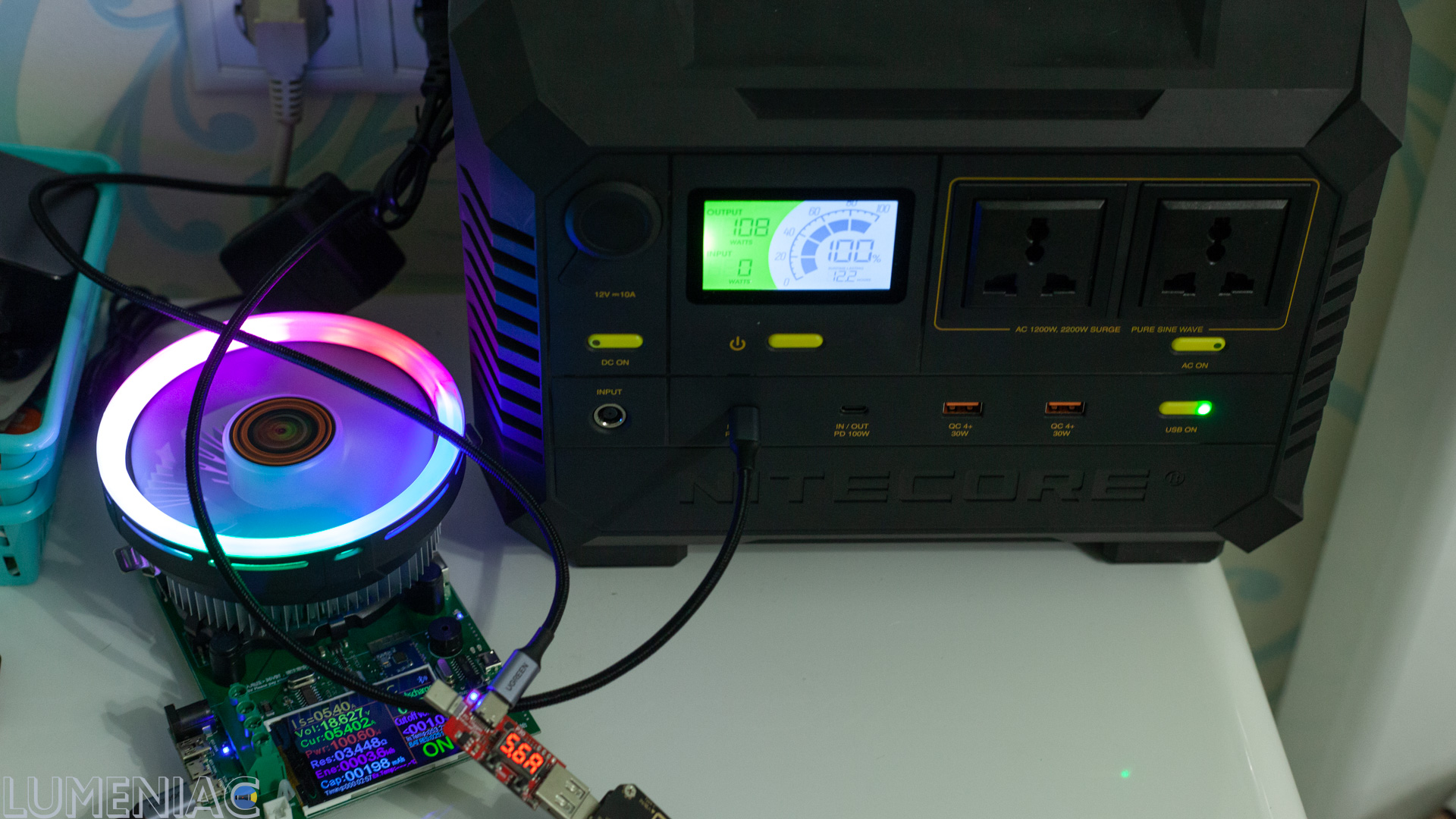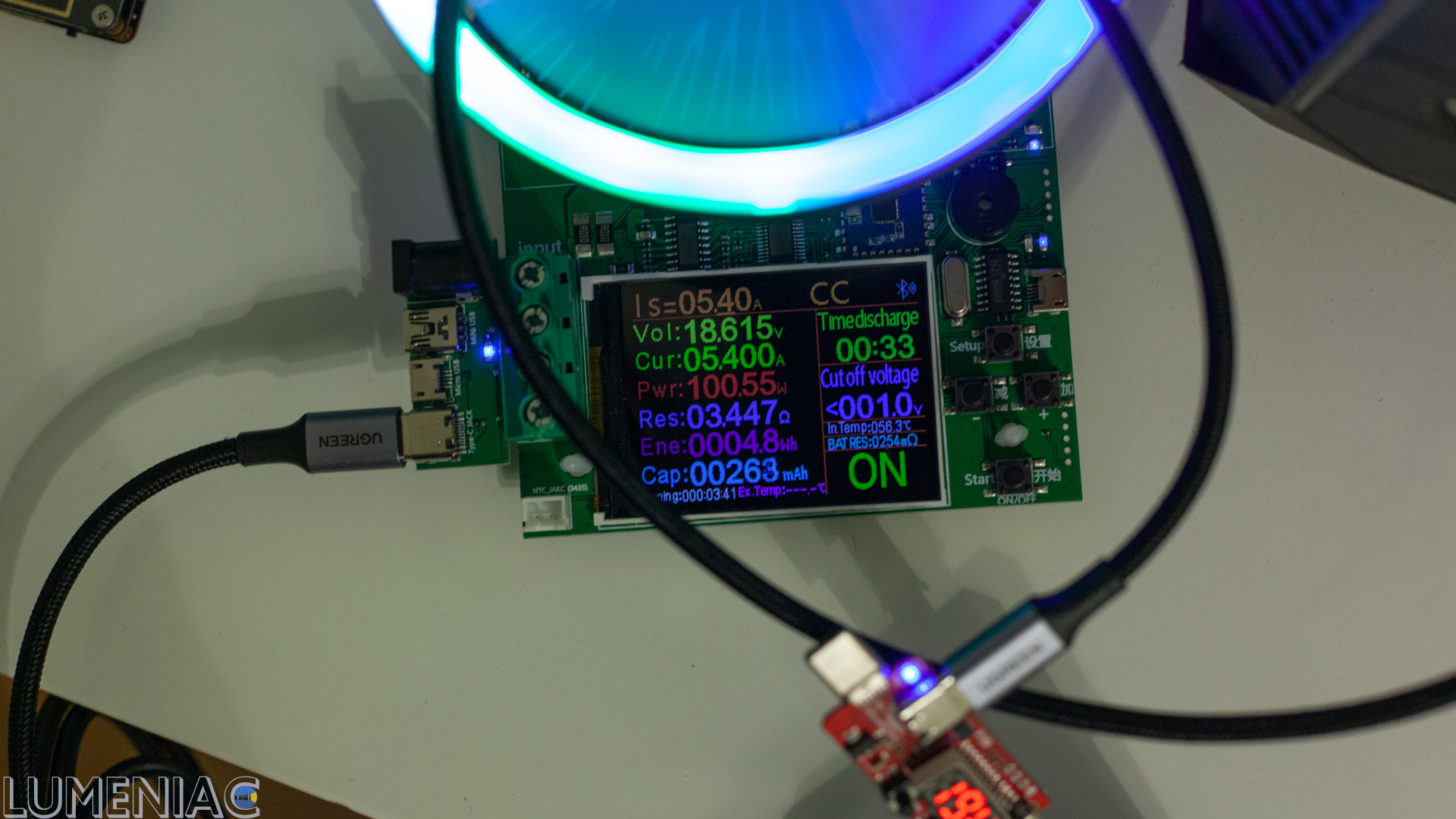 Of course, there are no complaints about USB-A outputs.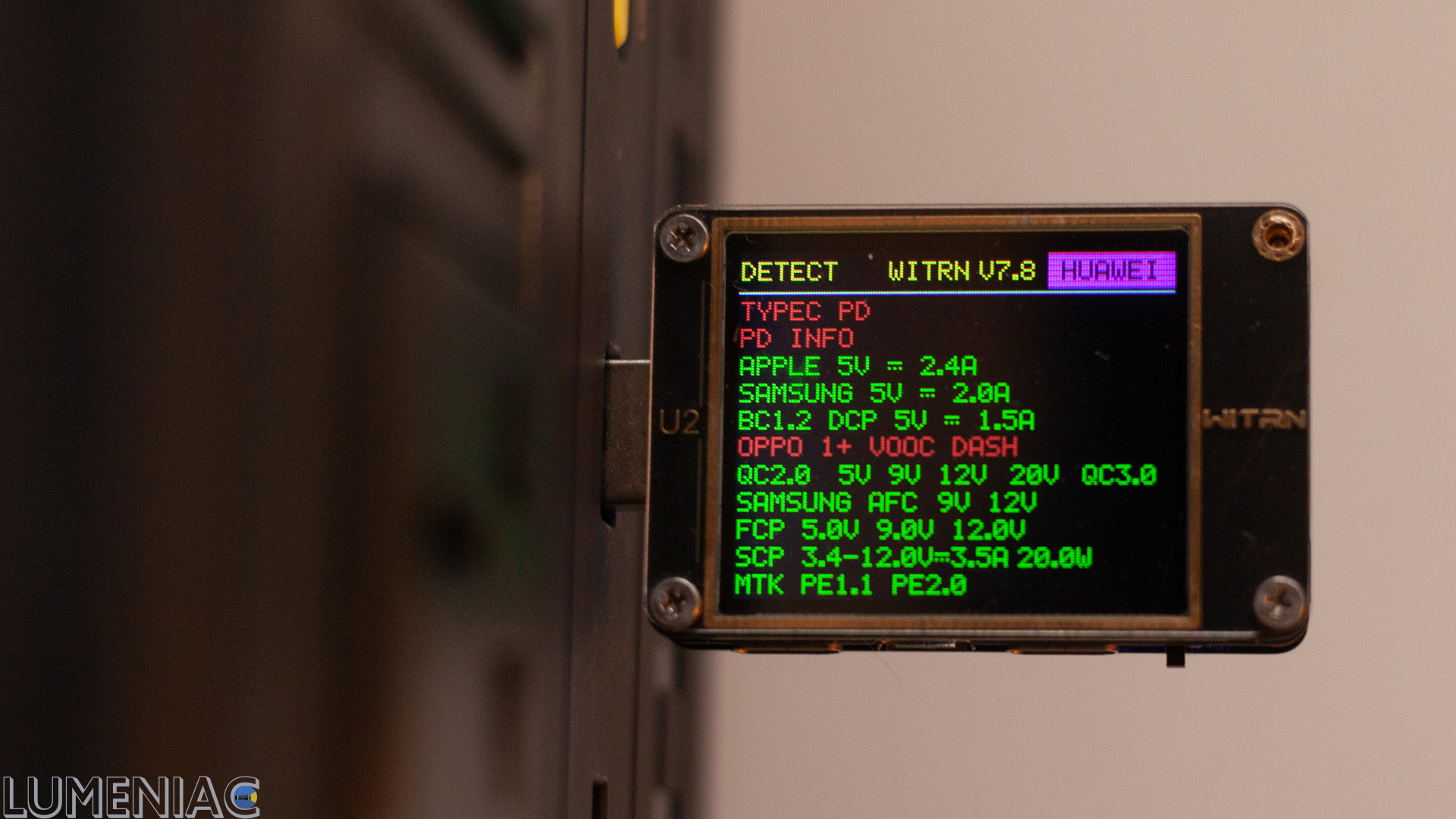 But that's not the most interesting part, is it? Let's see what the 220v output is capable of.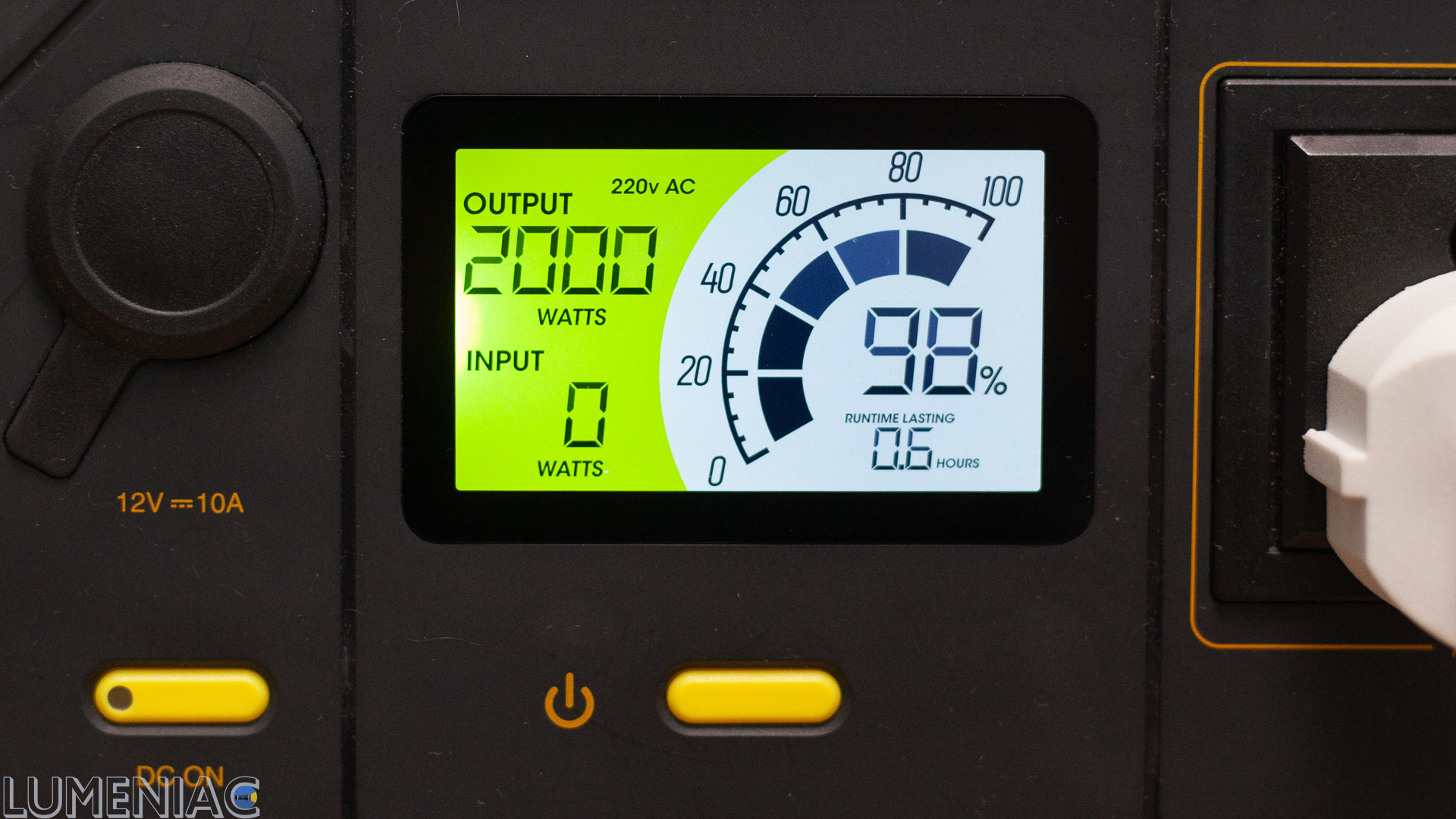 So, the simplest test is just to connect a powerful kettle. Voila, everything works. Let me remind you that with the declared 1200 watts of constant power, the Nitecore NES1200 is able to pull out significantly large loads up to 2 kW. So here, in the video, you can make sure that 1800-2000 watts lasts until the water boils.
Arithmetically, 2 kW should be enough for almost 40 minutes, but looks like that you don't get it when battery charge drop below 30%, then you get "only" 1200 watt. Buy you get these 1200watts until full discharge. And it's actually a lot. Nes1200 delivers this power for about an hour constantly.
Well, example of a low-power load is a TV.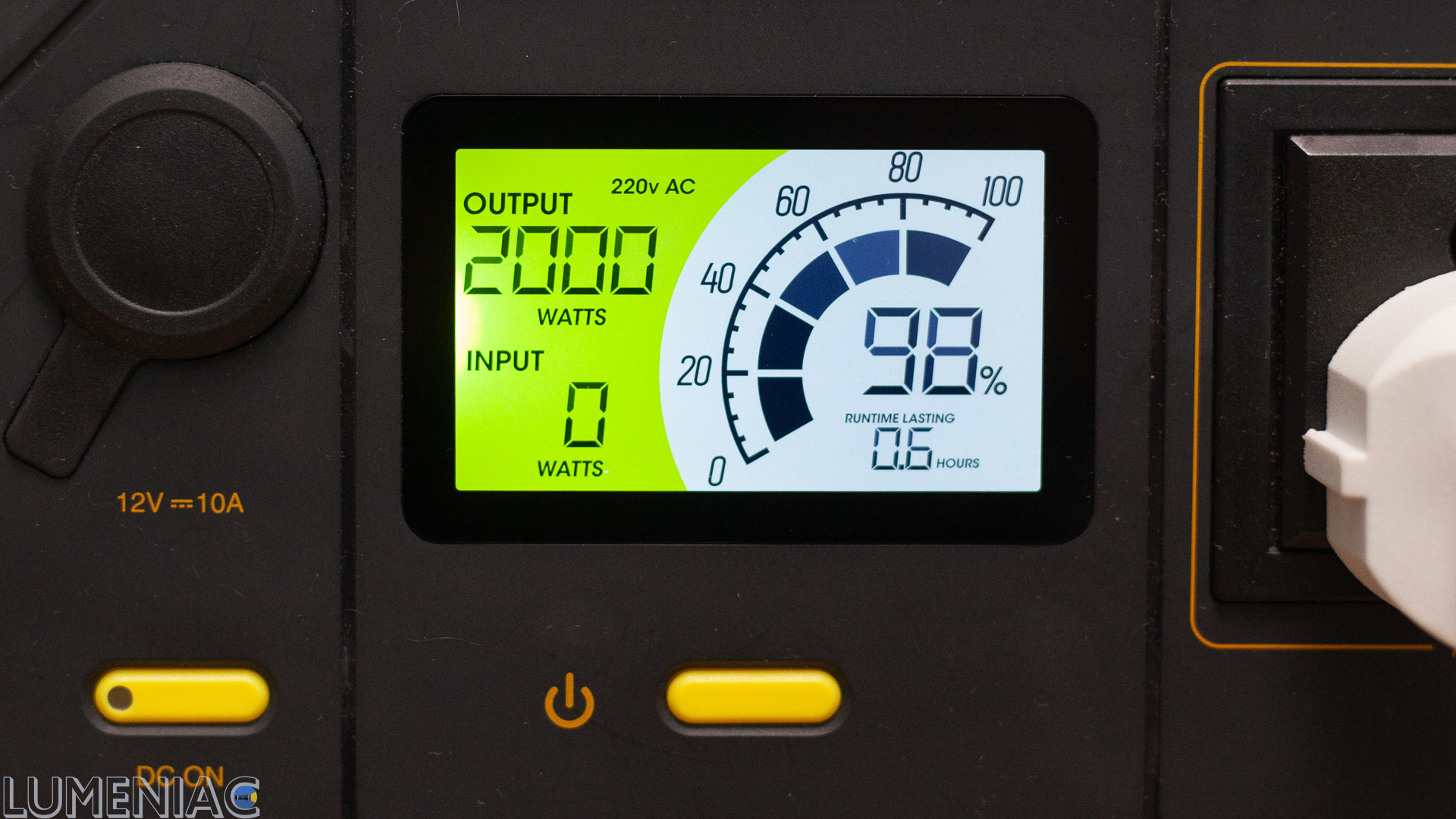 I'll zoom in on the display so you can see how much time the Nitecore NES1200 gives in this case. 13 hours!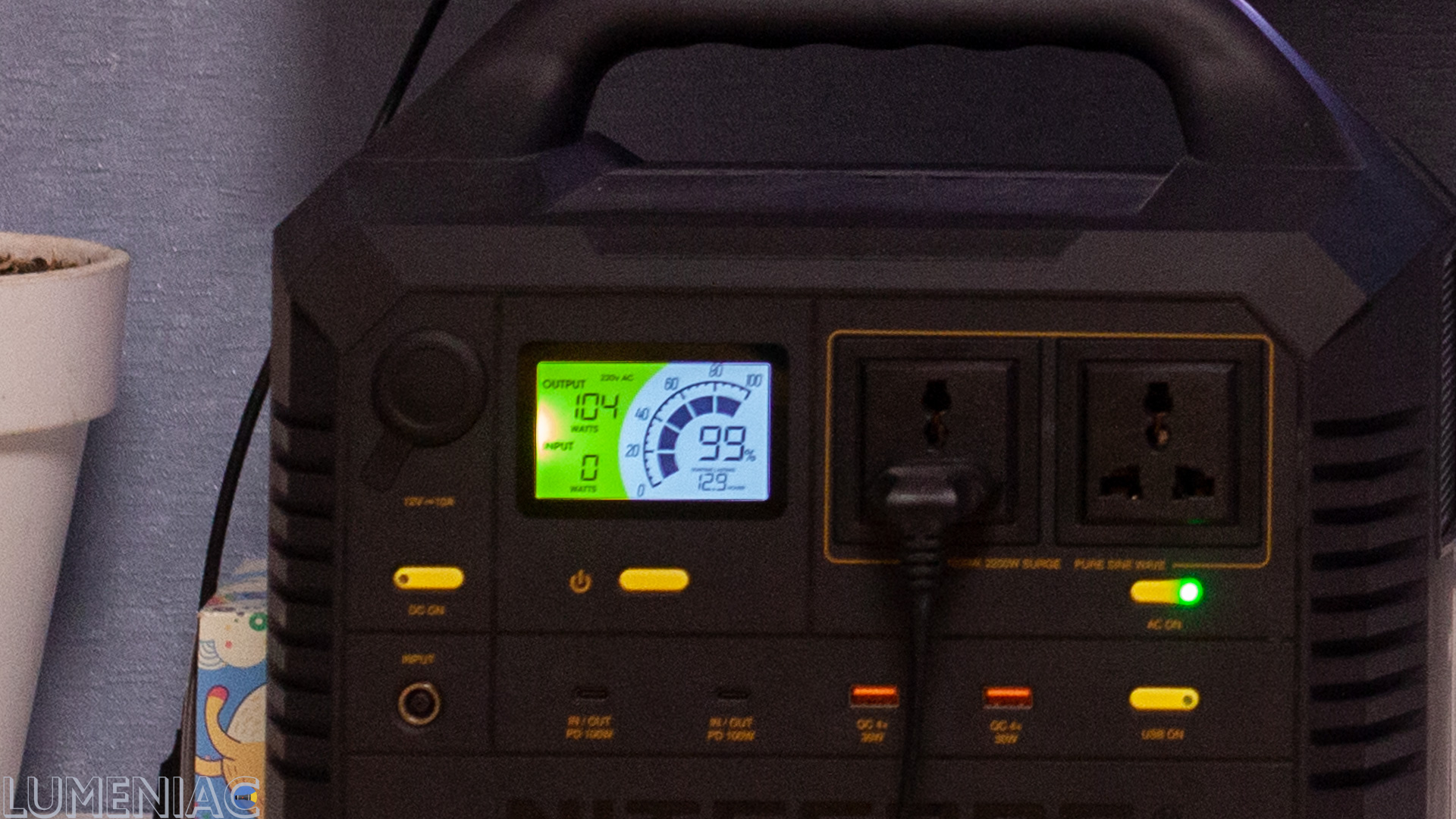 video review of Nitecore NES1200 contains more interesting things, for example, how a power bank pulls a microwave or an induction stove (I heat a pot of snow there).
OVERALL IMPRESSION
Nitecore NES1200 is the exceptional device in each it`s feature. Size and weight, power, capacity, charging speed and, alas, price. Even taking into account the generous discount that manufacturer offered me, it took me about two months to decide to buy this portable power plant. From the position of the price, Nitecore NES1200 is a product for an extremely small number of frankly wealthy buyers who can afford shelling out one and a half thousand dollars just to get best what you can get, the most powerful power station on the market.
However, let me remind you that Nitecore also has more affordable models with a smaller capacity. If you don't plan to use a microwave or a pump, my experience of using 500 watts power station is totally positive.
I sold such 500-watt power station that had served me faithfully for several seasons, added some money and bought Nitecore NES1200. And, you know what…I didn't regret it at all. Sometimes you buy something and then the worm of doubt begins to gnaw at your soul. That didn't happen to me. From the very beginning, I knew exactly what and why I was buying , I was initially sure that such a super-power bank as Nitecore NES1200 would completely close the issue of energy independence for me.
My refrigerator will not defrost and I will have a filter in the pool working the whole summer day. The pump will pump water and kettle will boil it.
Of course, it would be cheaper to buy a generator. Which will make noise, stink and need gasoline. Thanks' no. I refuse. You have no energy when you ran out of gasoline. And in case of Nitecore NES1200, if you have solar panel – you always have energy. Having used such a Li-Ion batteries power station. I don't want to use something else.
I also agree that combination of solar panel + car batteries + inverter also works great. But that is not portable at all. And i like to be able just to pick up power station and put into trunk.
The convenience of the Nitecore NES1200 will be fully manifested in the case of going out into the countryside. Not a hike, of course – Nitecore NES1200 is too heavy. I mean classic camping, hunting or fishing (Nitecore also sell special waterproof version of solar panels). Although, I see little point in dragging civilization along with you in last two cases. .
So, just load Nitecore Nes1200 and solar panels into the trunk. And that's it. No bulky noisy and smelly generator, no gas canisters. Here, promo pictures depicting a joyful life do not lie.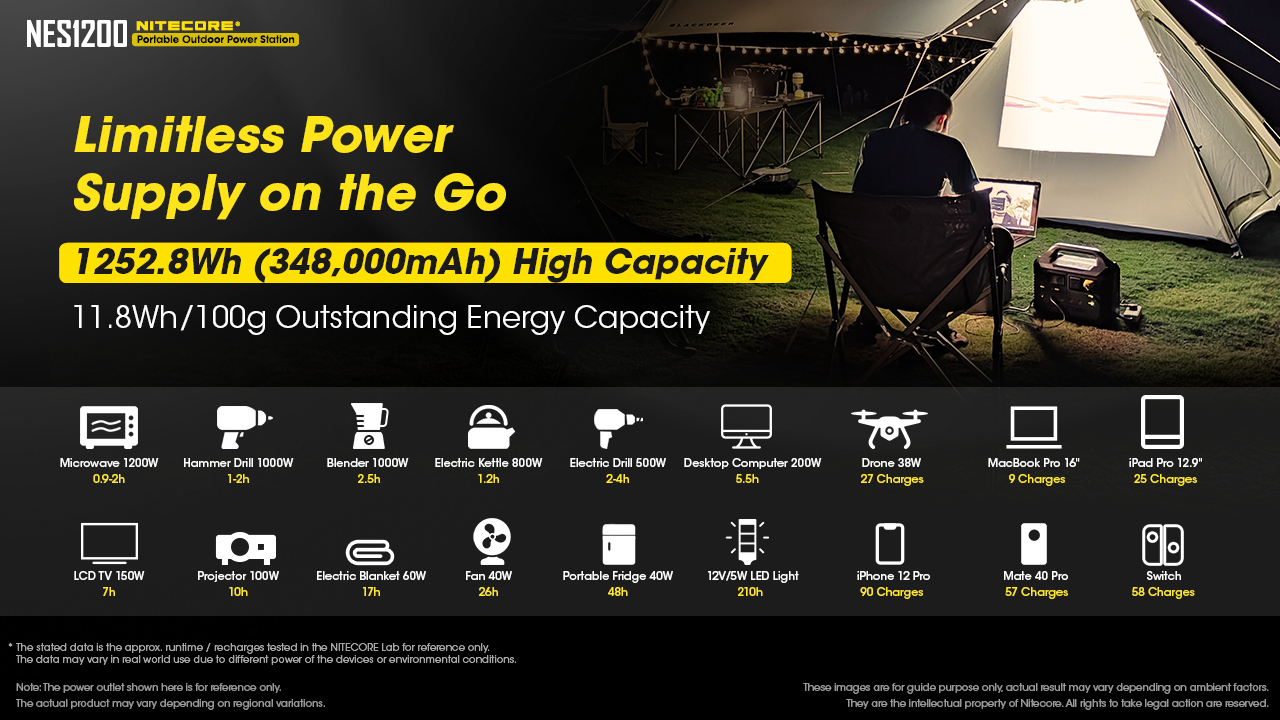 I think it would be wise to mention the functional cons:
1) The indicator slightly overestimates the displayed power output.
2)Sooner or later, the batteries will die. There is a limit to everything. And here a removable battery pack would be more appropriate. However, this is a very distant prospect. I think you can pay to any local engineer to swap and resolder batteries, that is not a problem.
3) I would prefer that all output connectors were covered with rubber plugs.
4) adding some LED as lightsource to front panel would also be cool and usefull