After i bought Nitecore NES1200, one of most powerful solar generators, I wanted to get the most powerful foldable solar panel on the market. It should charge Nitecore NES1200 the same fast as i would do it at home. I`ve found no solar panel more powerful then 300w that Dokio promised. So i bought it this winter, wait some months for clear sunny sky and here is review.  And once i also got incredible Towerwin solar panel, I decided to share my impression here. So it is sort of battle of powerful foldable solar panels.
I believe foldable solar panel is sort of device that lot of BLFers would find interesting. 
You can buy Dokio FSP-300 at:
➤ AMAZON
➤ ALIEXPRESS

TOWERWIN solar panel:
➤ AMAZON
Specification
model name: Dokio FFSP-300M
size: 1000*500*30mm
power
Material: silicon
maximum power: 300W
Packaging and appearance
Number of cells: 36*4
Open circuit voltage (Voc) 22.5 V
Short circuit load current Isc: 16.92A
Operating voltage (Vmpp): 18V
Initially i was surprise how large the package was. Until i unfolded the panel and it astonished me with it`s colossal size.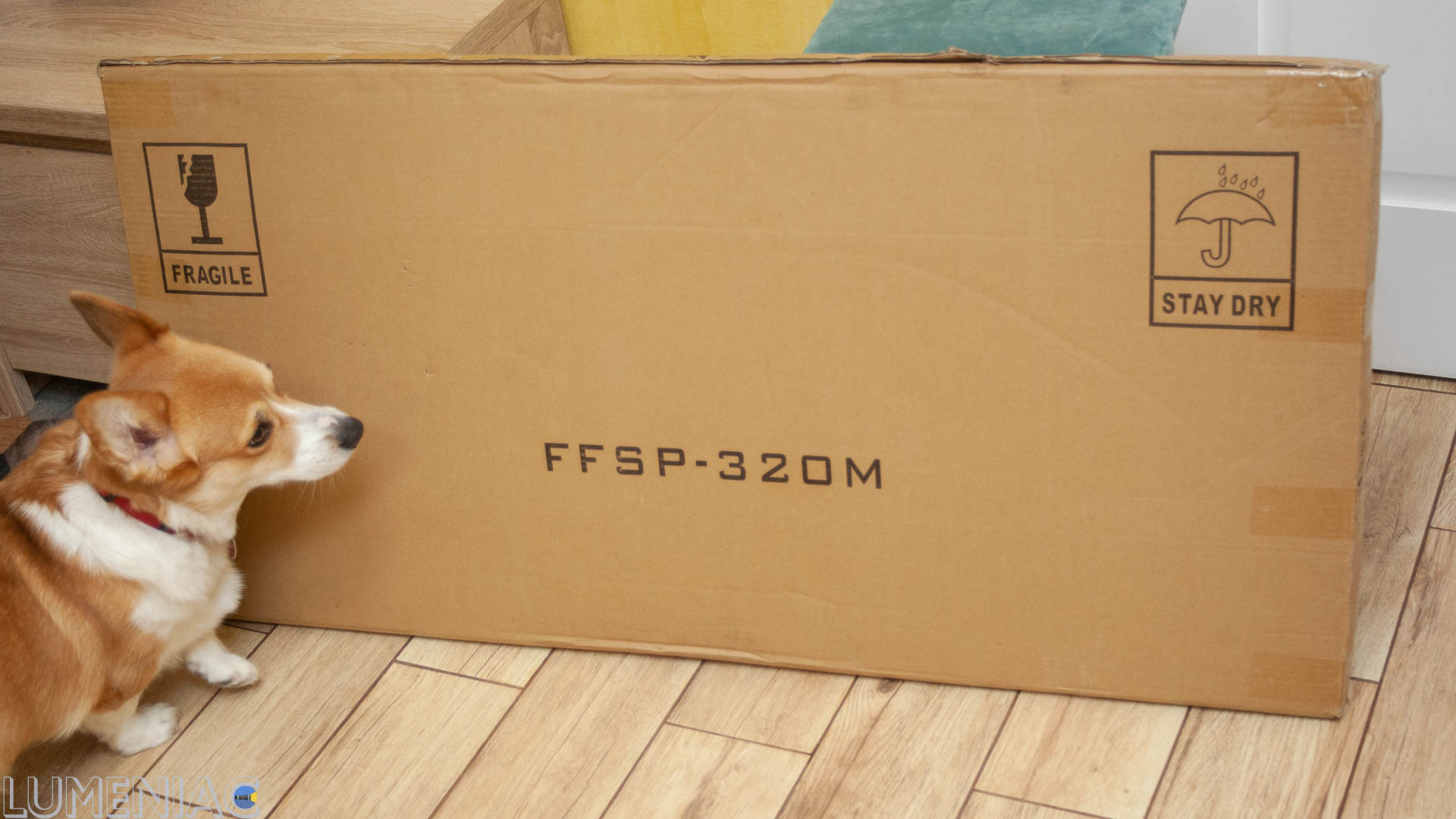 And here is the panel itself. I expected it to be big, but not that big. Dokio FSP300s is really huge. Huge, 100*50*3cm only when folded and 216x104 when unfolded. 7.1 kg of weight, by the way.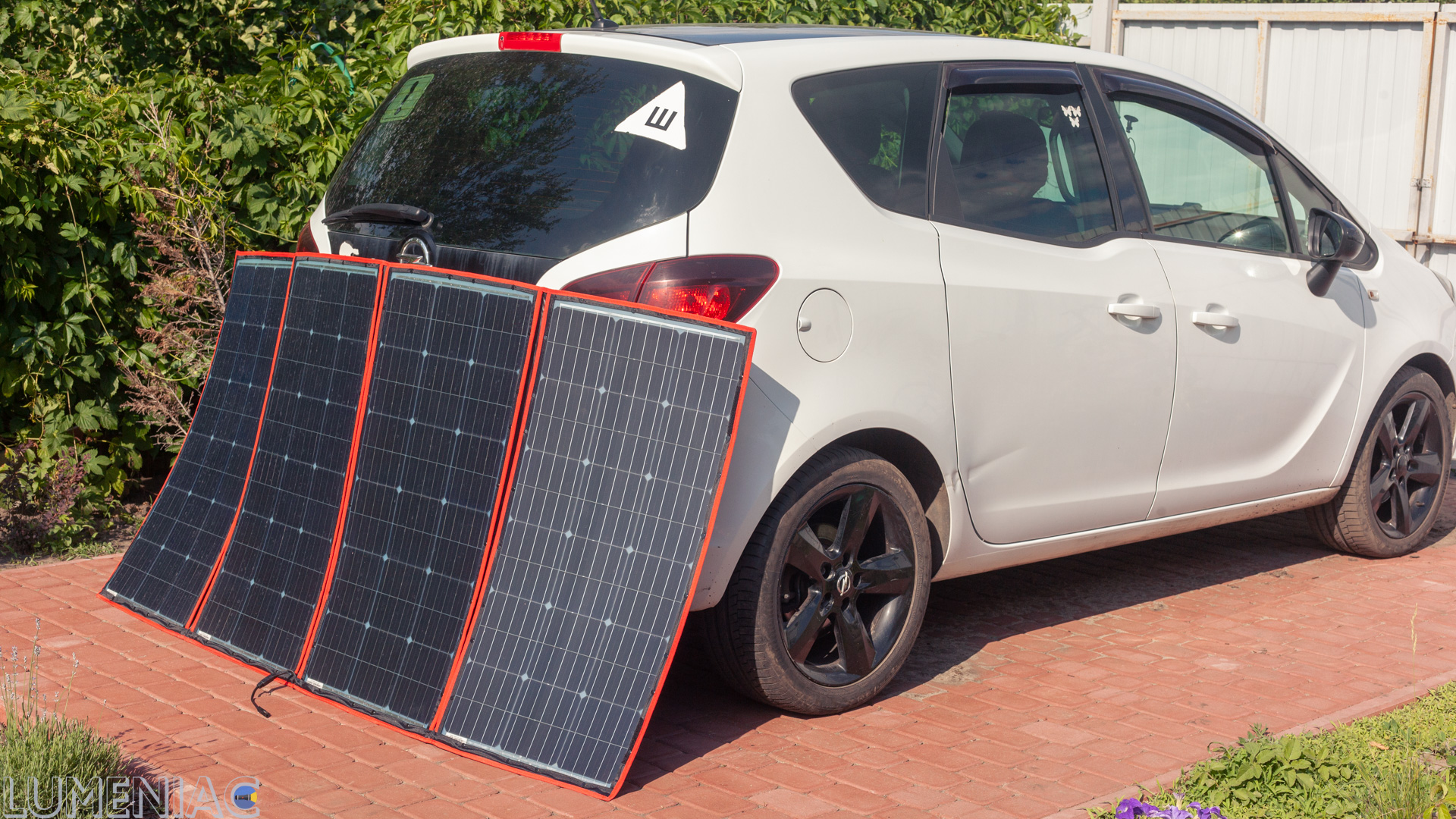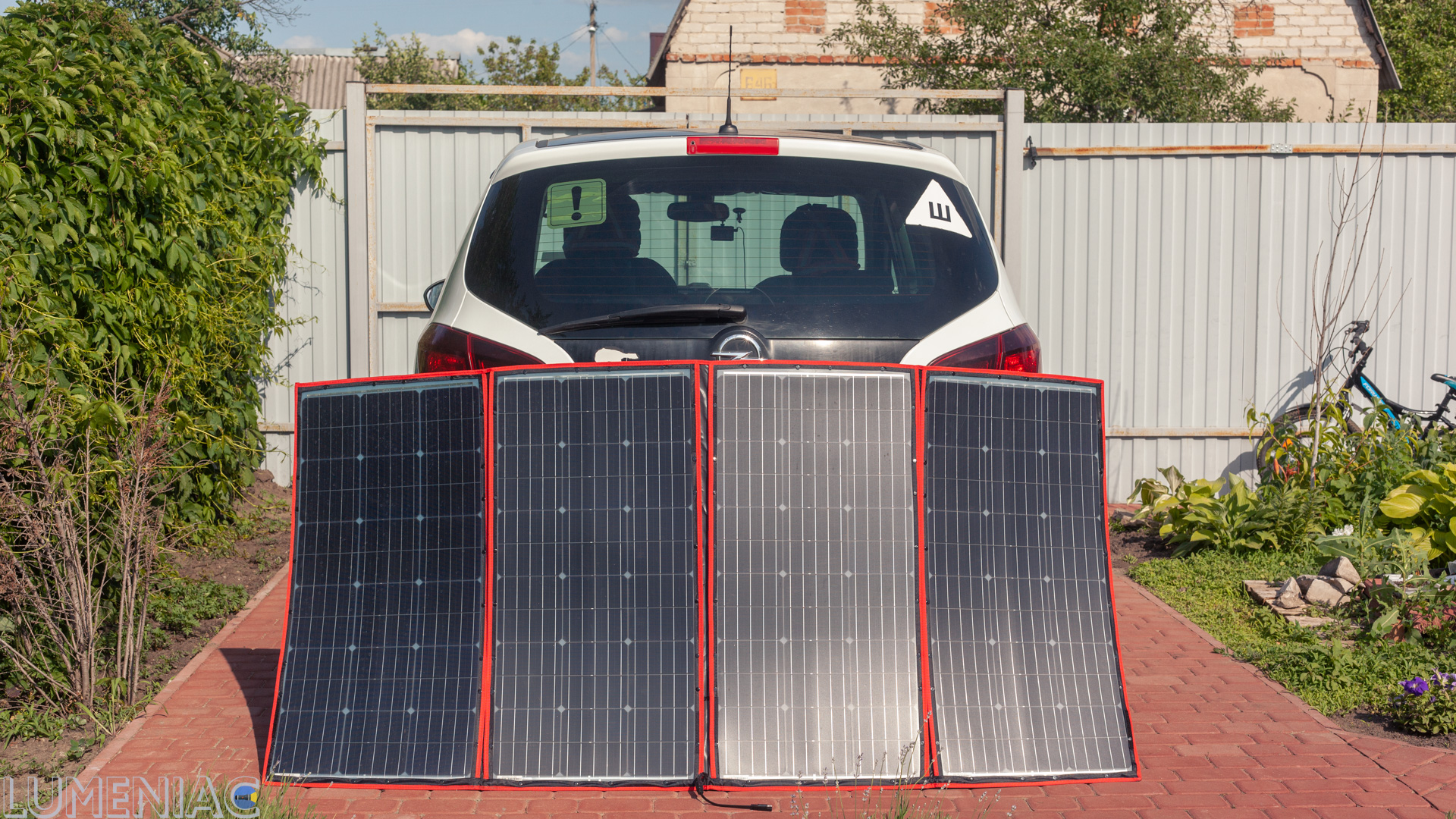 For comparison, the 100-watt Towerwin panel that came from kit of Energizer PPS700 solar generator (review). In advance: this is a very good solar panel, a rare case when you get more than the promised.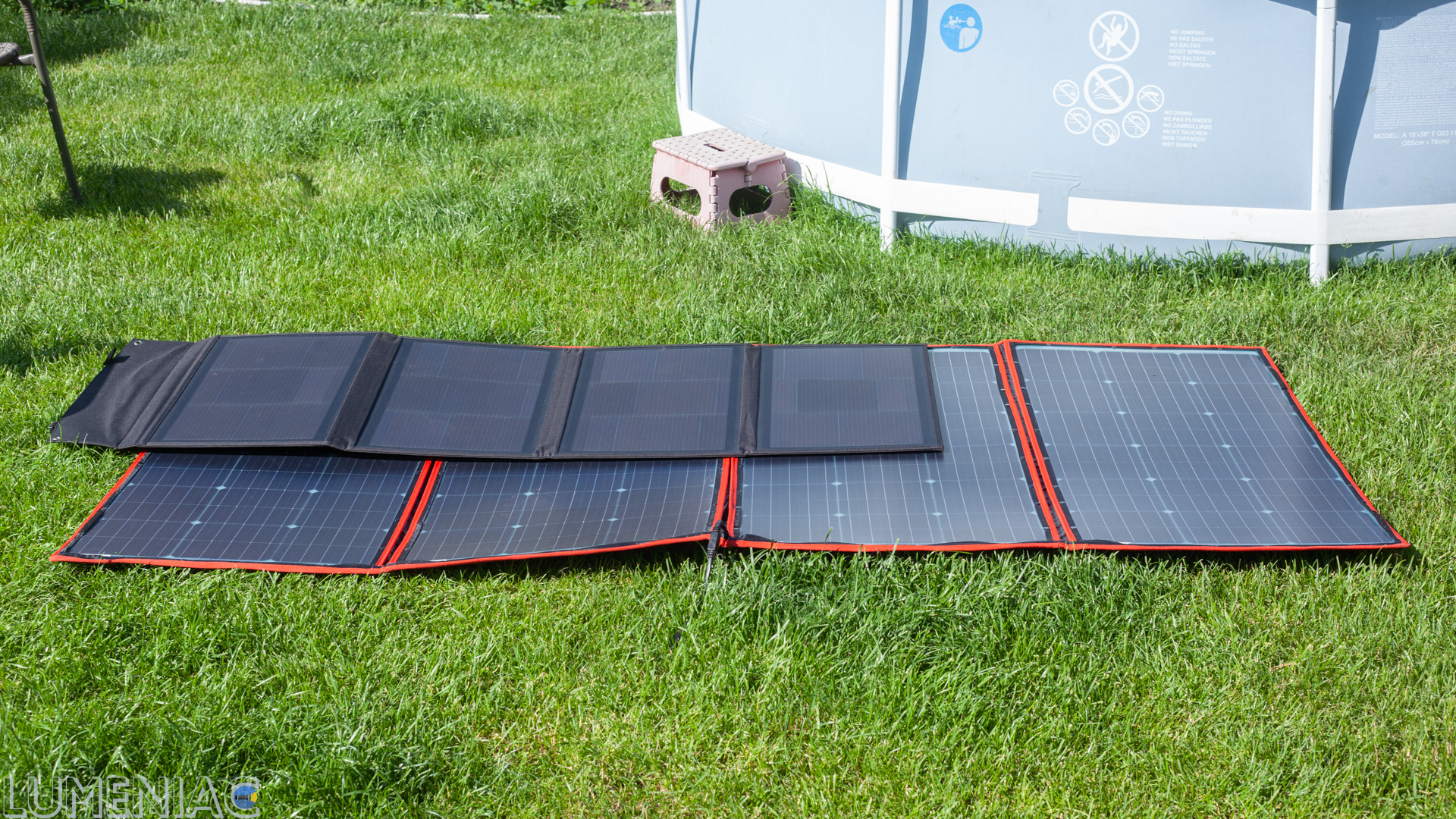 Dokio FSP300S kit includes:
3m extension cable
Adapter set
30 cm tail with JY-60 and a pin for the mentioned adapters
A simple PWM charge controller
Alligator cable with XT60 connector
A separate short piece of wire with XT60 and two stripped wires.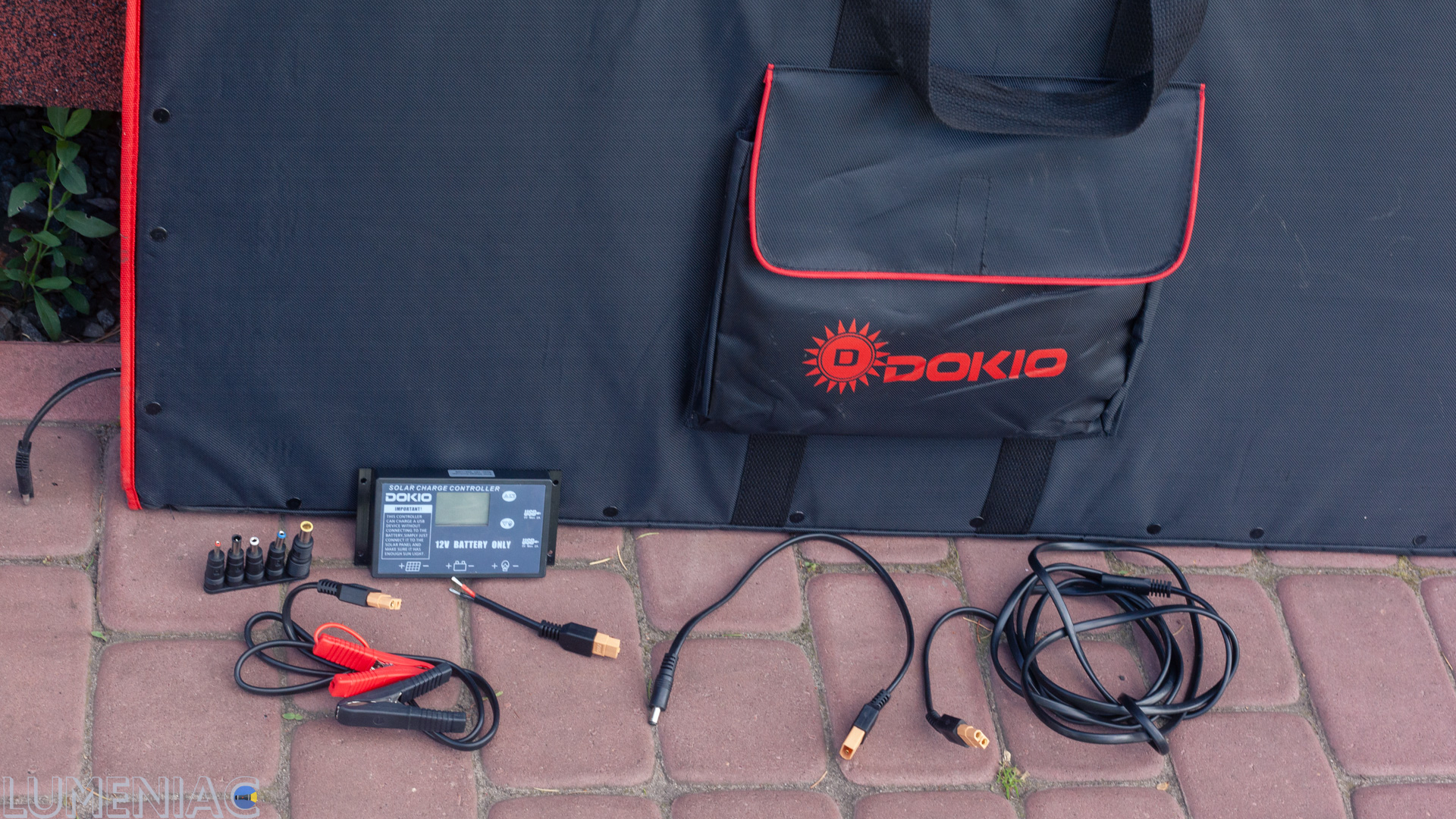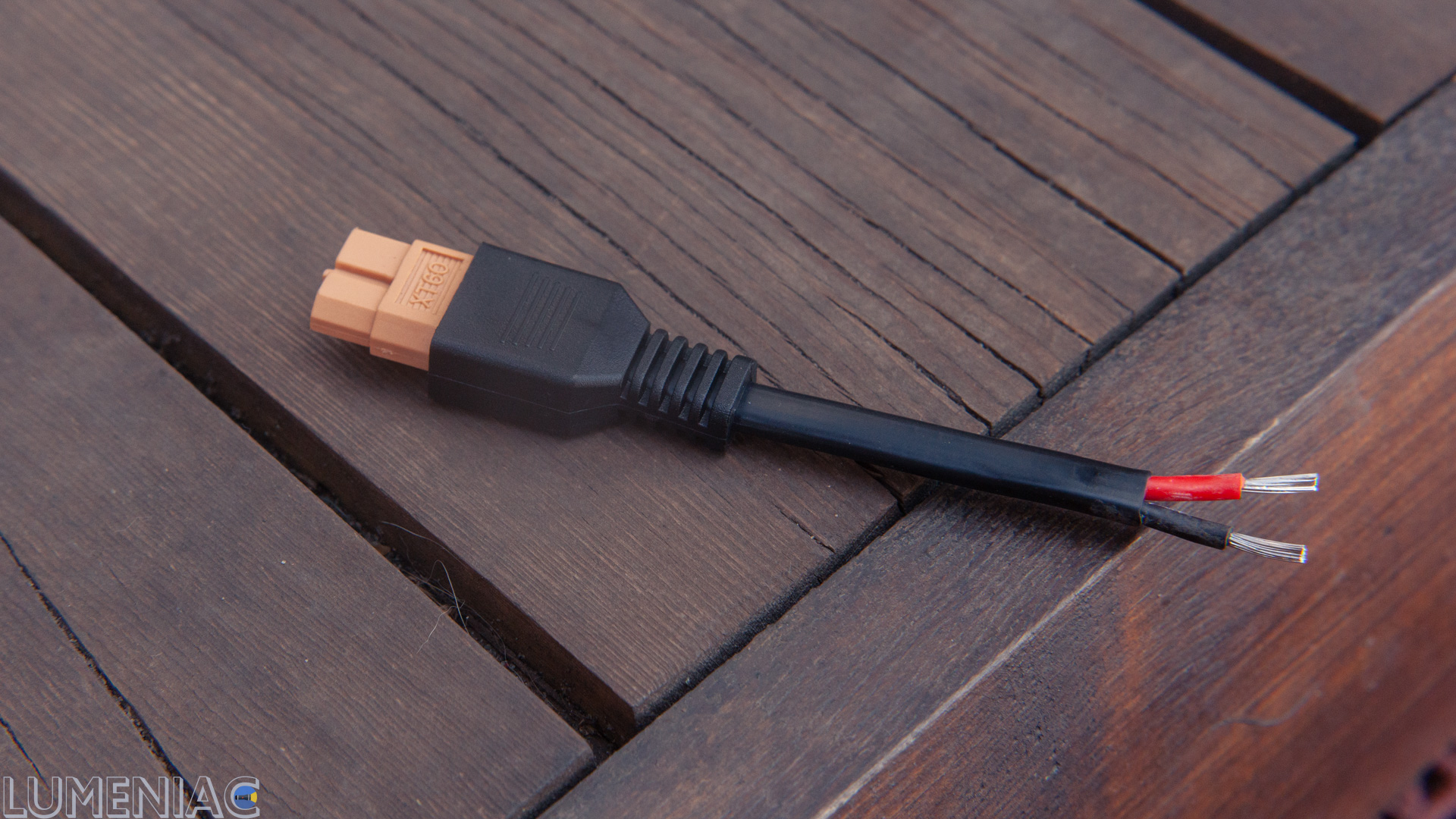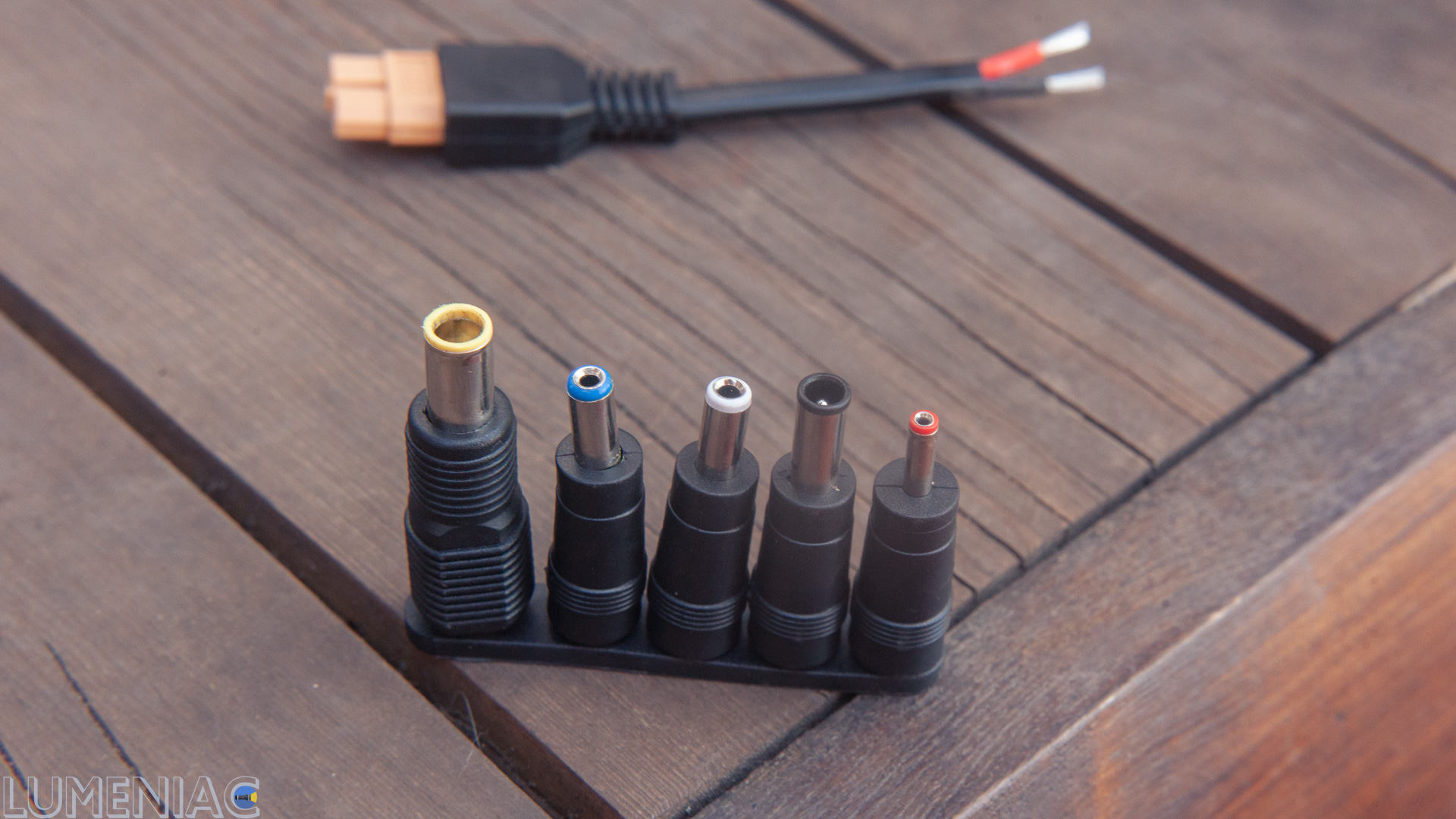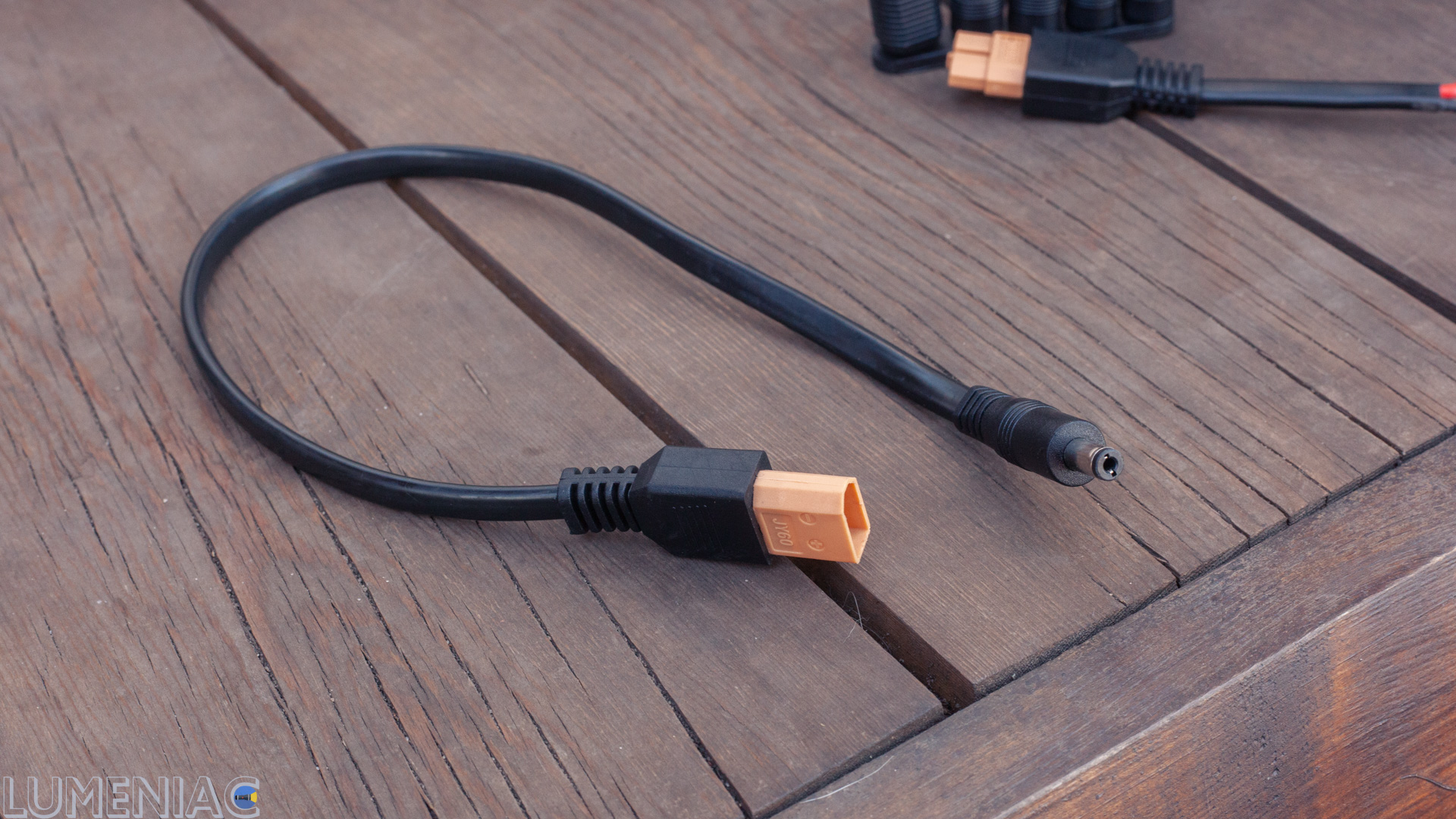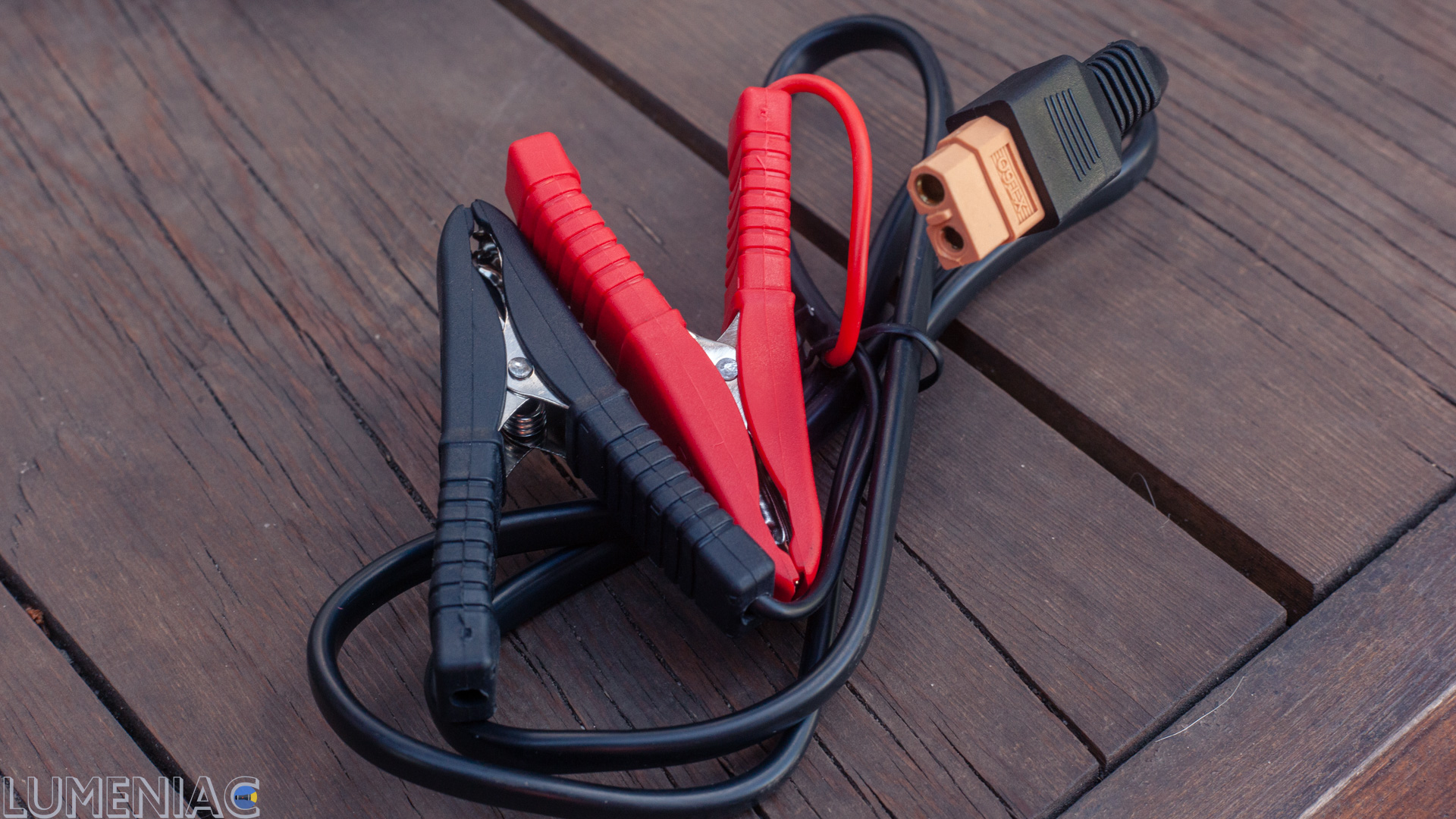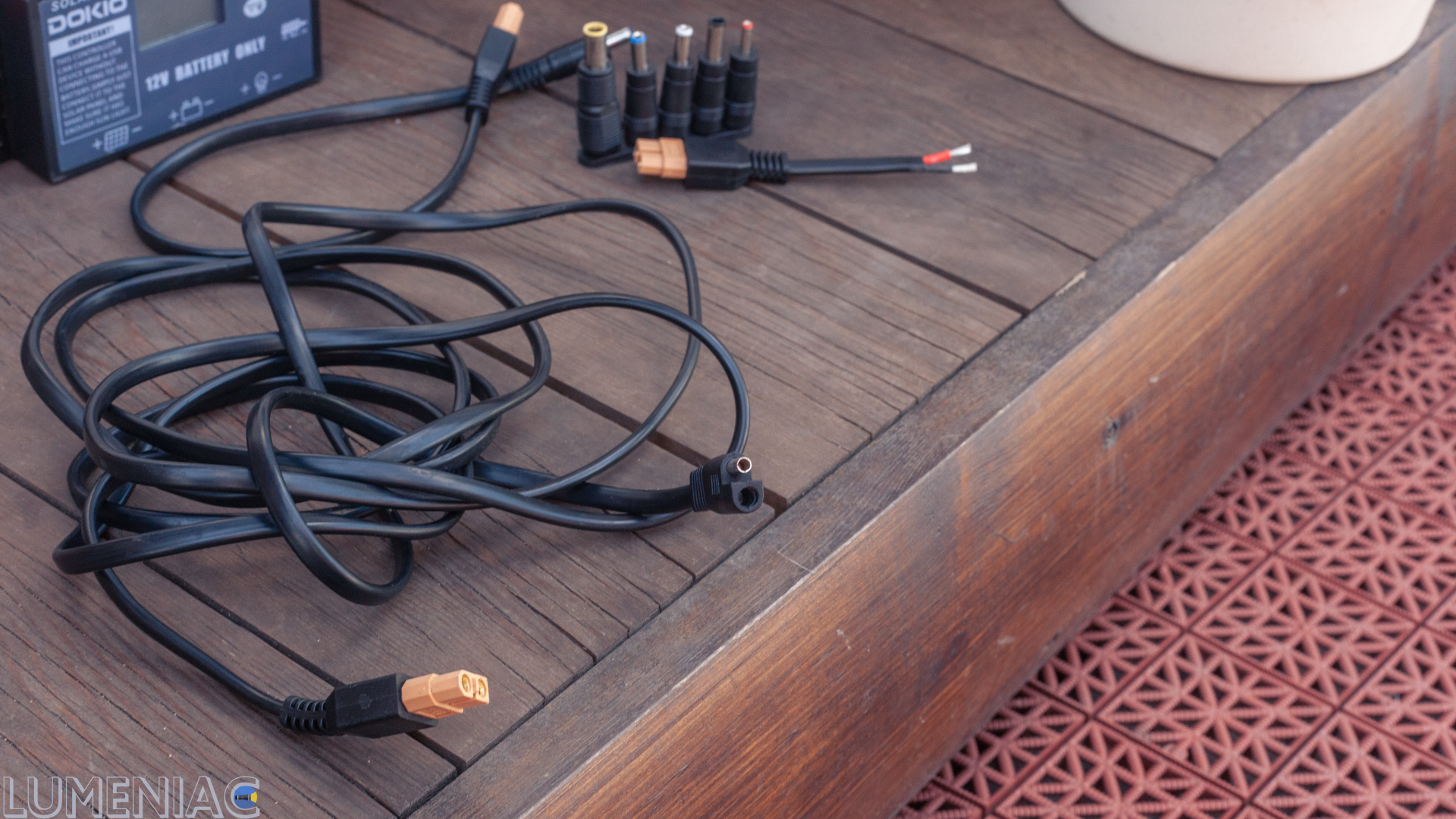 A 12-volt PWM charger is really simple one. It is used to charge car (and not only) batteries or something via USB. Although in the latter case, everything is dull - 10 watts is the limit for each of the outputs. For me personally, it is the only unpleasant remark here - only 5v * 2A outputs. Well, why is there no PD\QC in 2022? Of course, this basic PWM model and MPPT would do better here.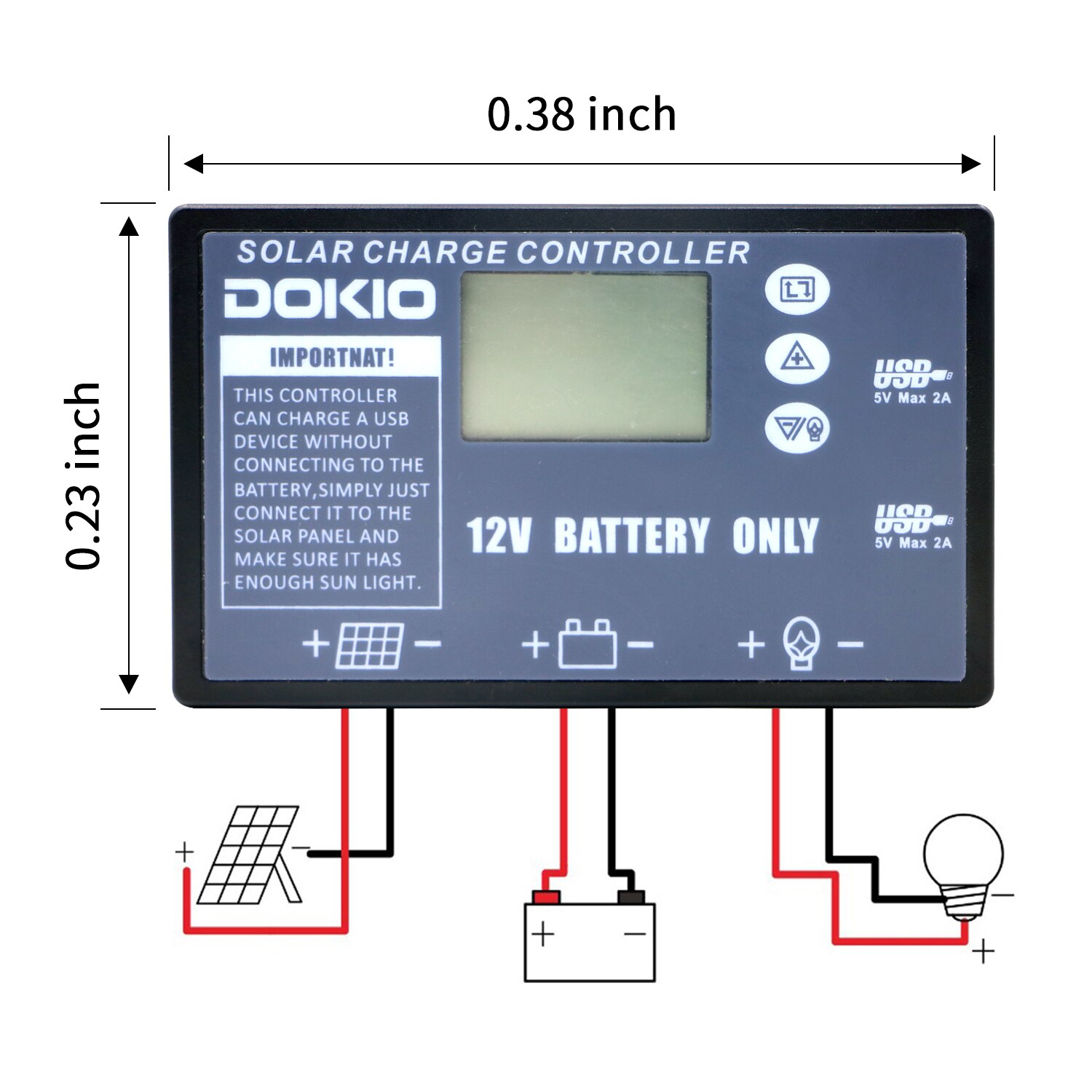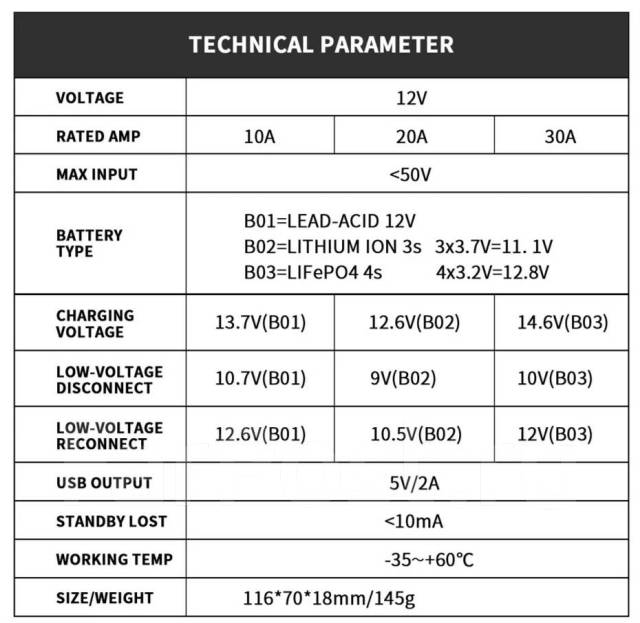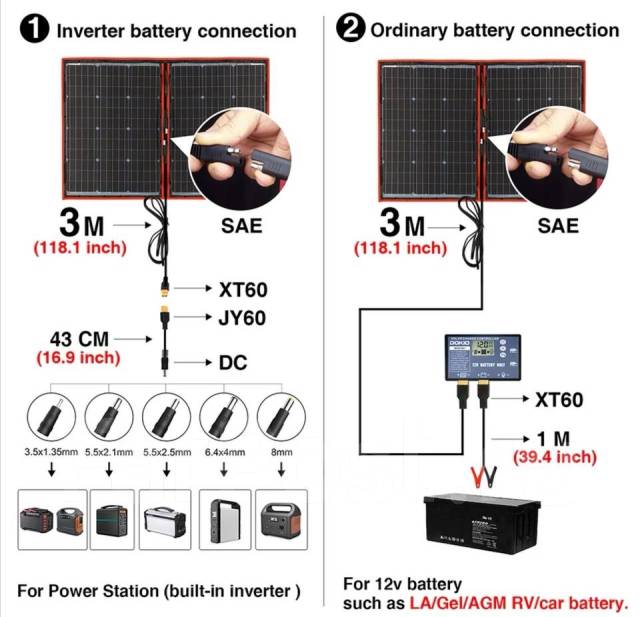 The rest of the work with this charge controller should be as simple as possible. To be honest, i didn`t used it, as both Nitecore NES 1200 and Energizer PPS700 have built-in invertors , so i plug cable directly to charge them.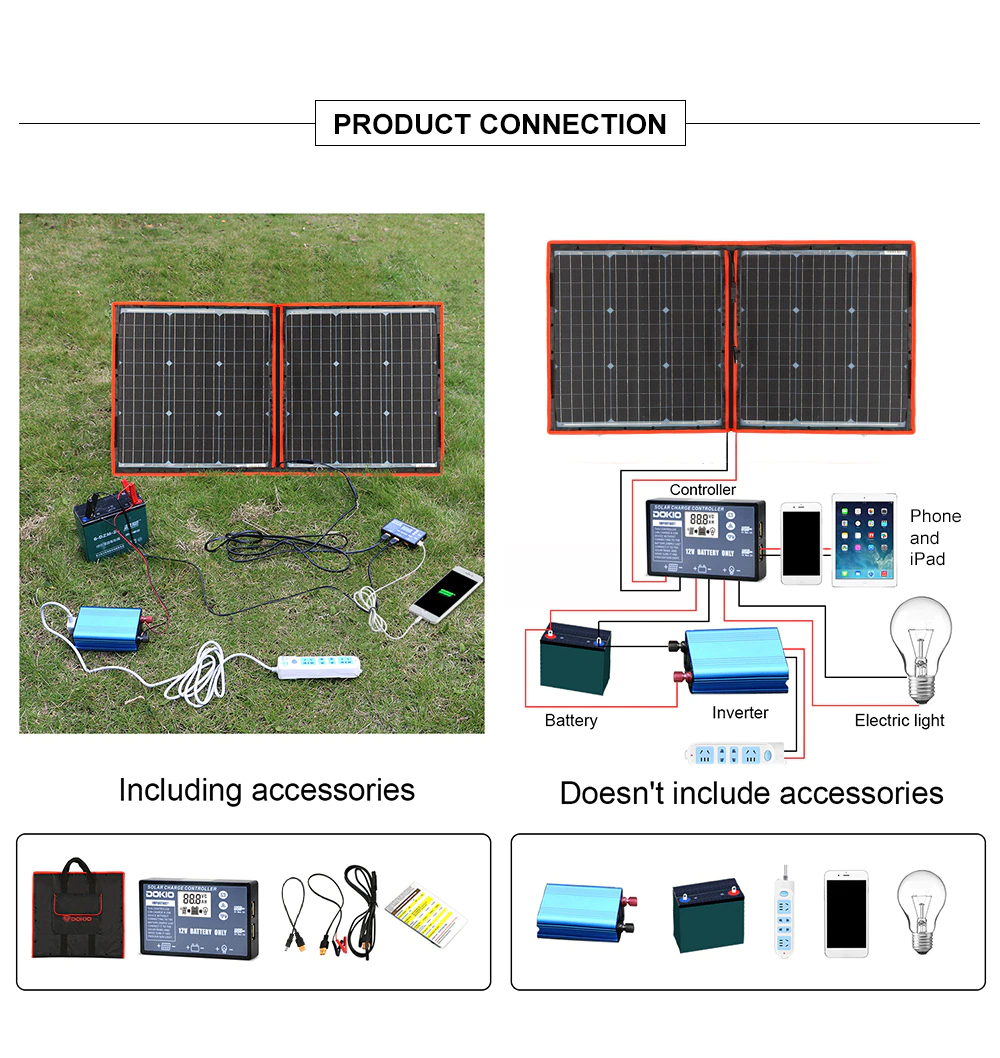 It has all the necessary information: voltage, current etc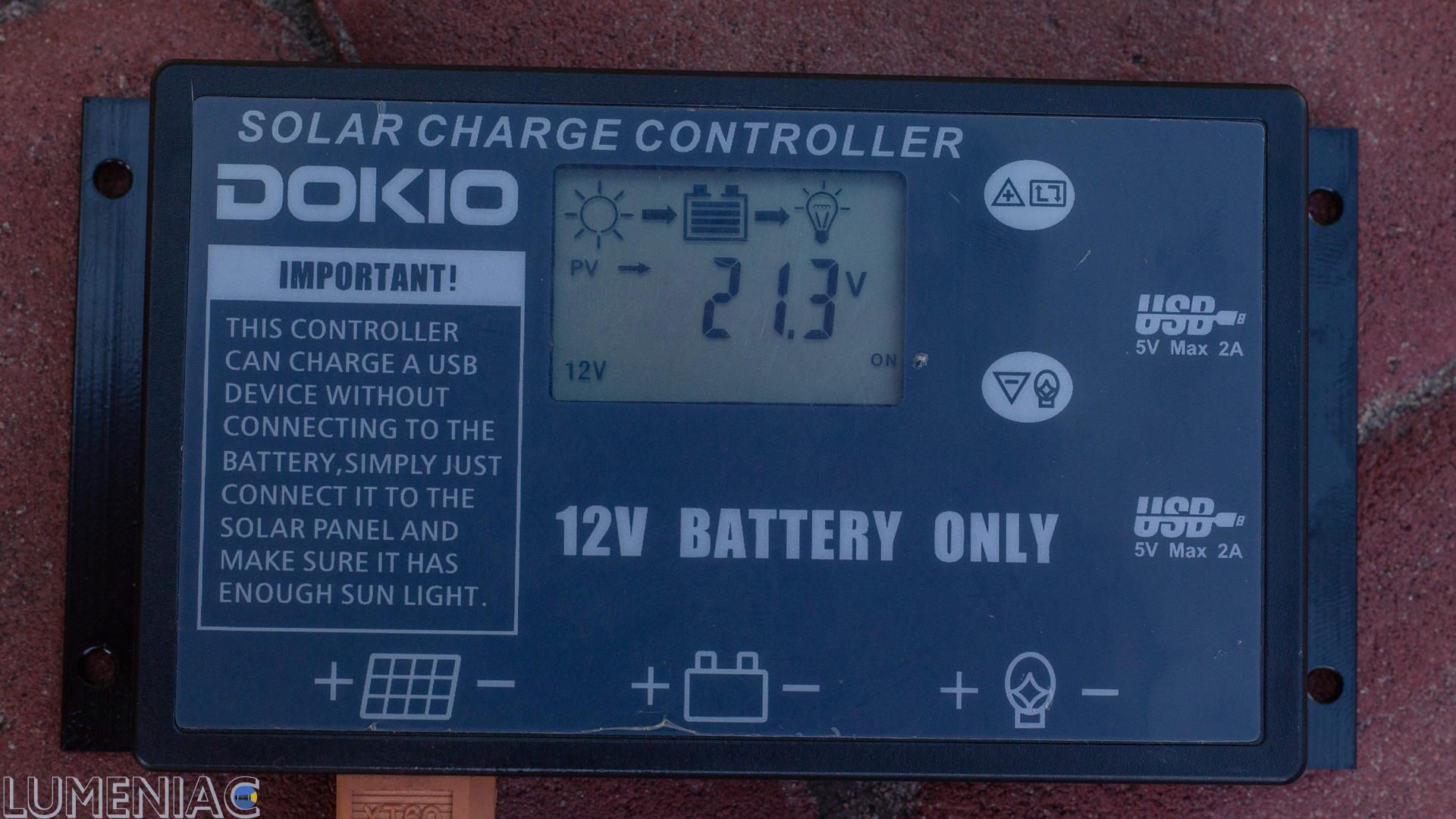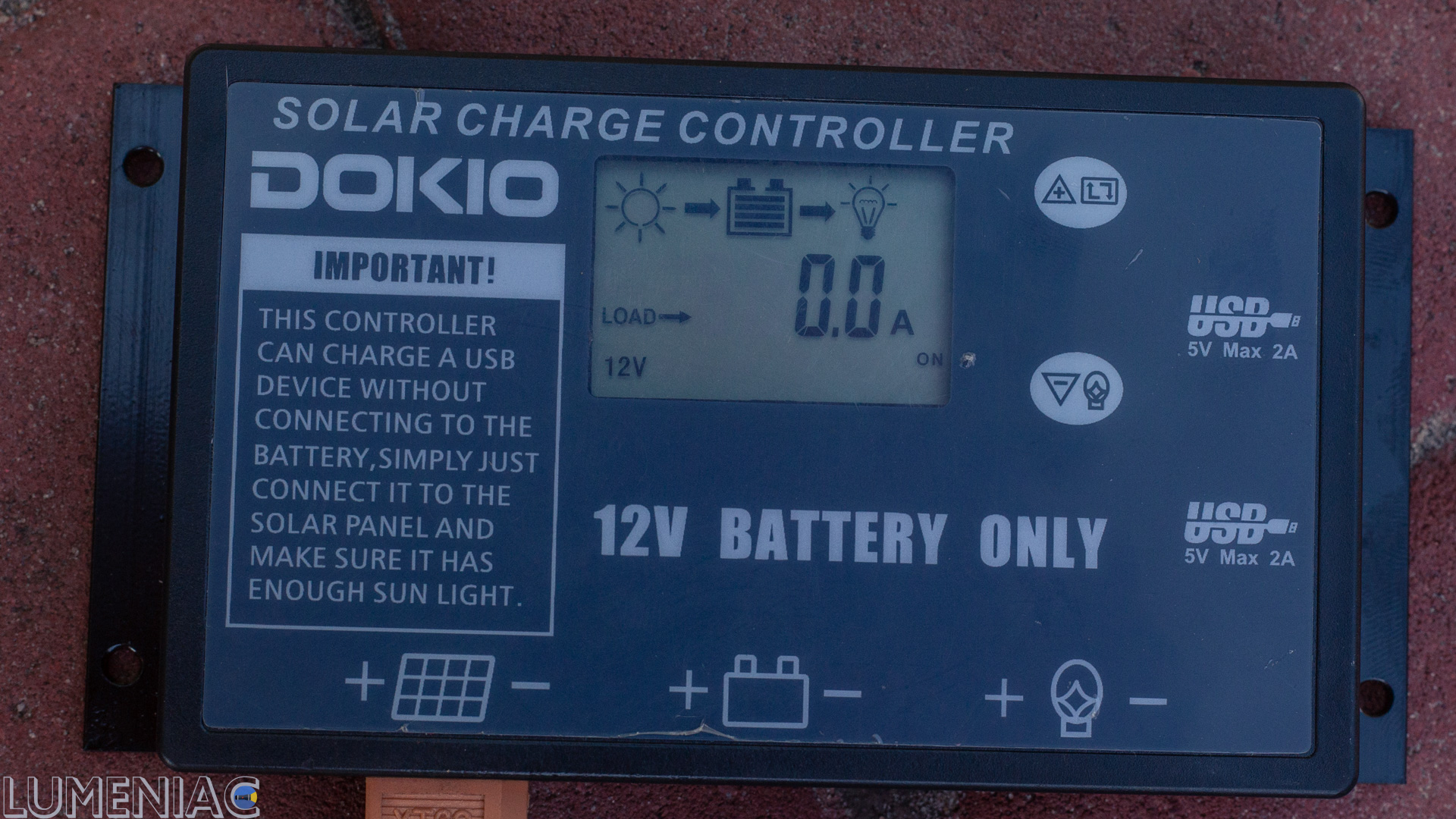 The solar panel looks normal, not sort of made-in-basement junk. Everything that should be straight is straight. Threads do not stick out. However, if at first I thought that "oh, great panel, everything is fine!", then after I tried the Towerwin panel, the difference was vivid.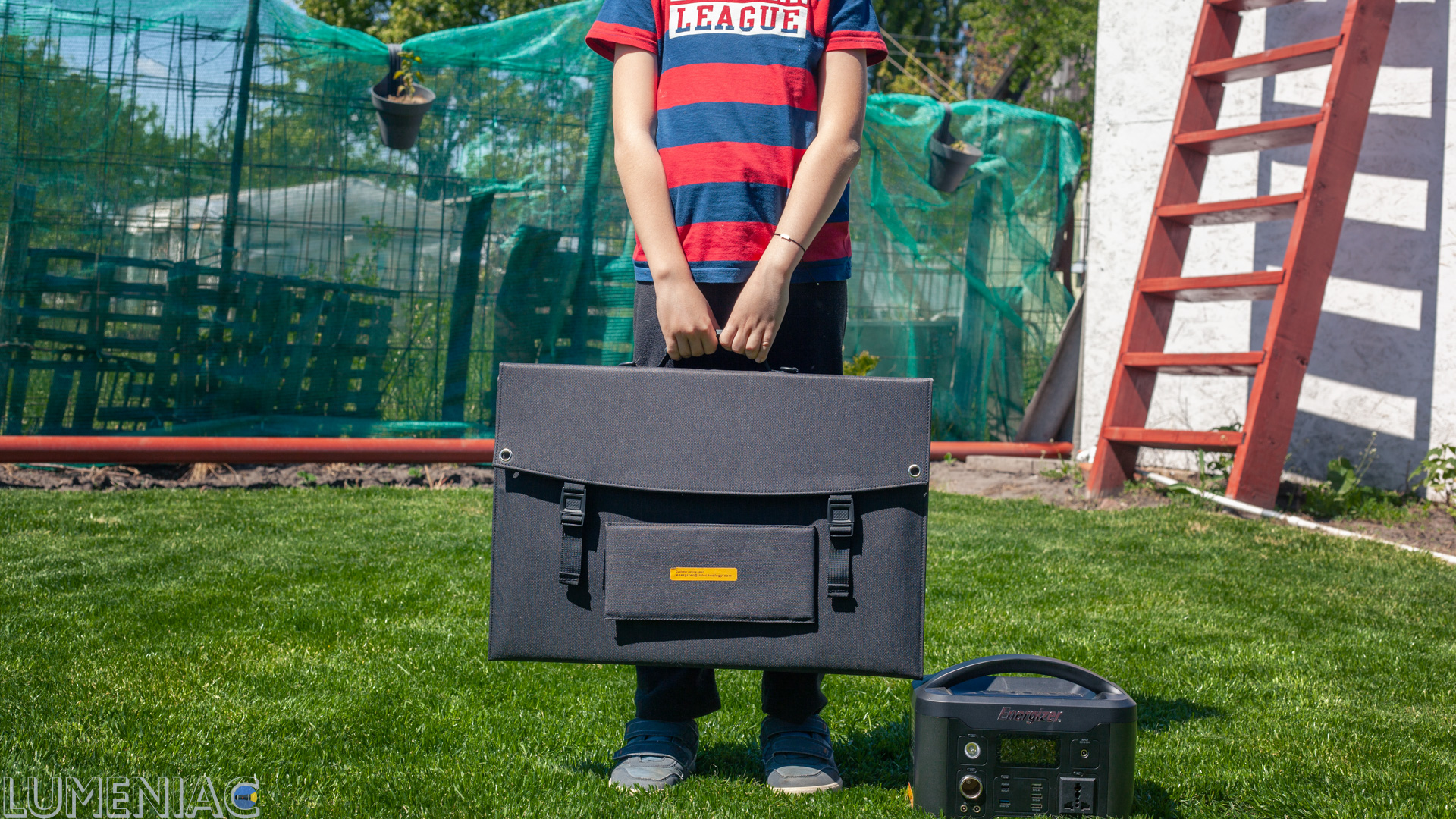 For example. Folds of Dokio are attached with Velcro and buttons. Towerwin offers full-fledged locks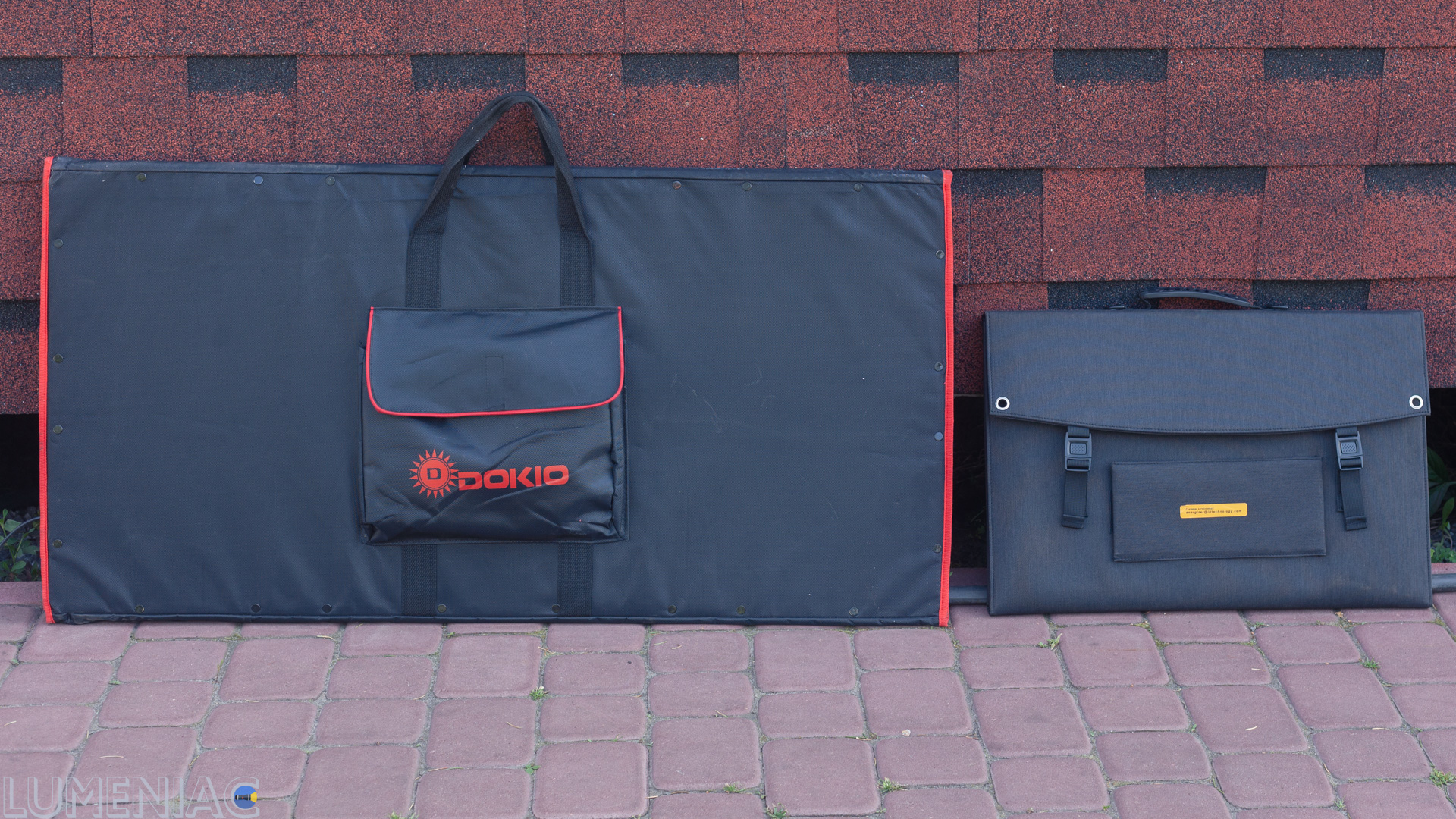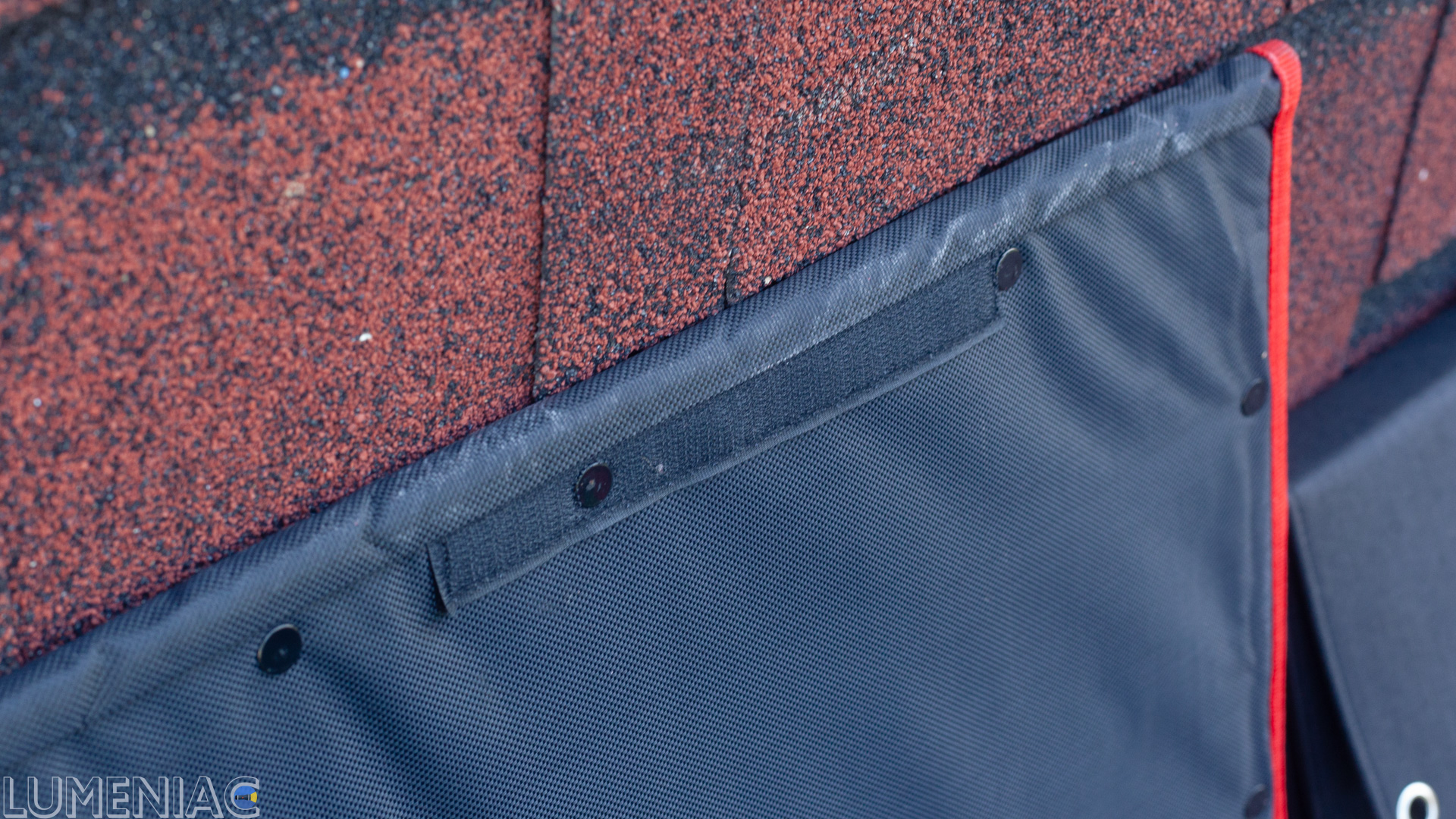 If  Dokio handle is a simple fabric strap, then Towerwin has a comfortable handle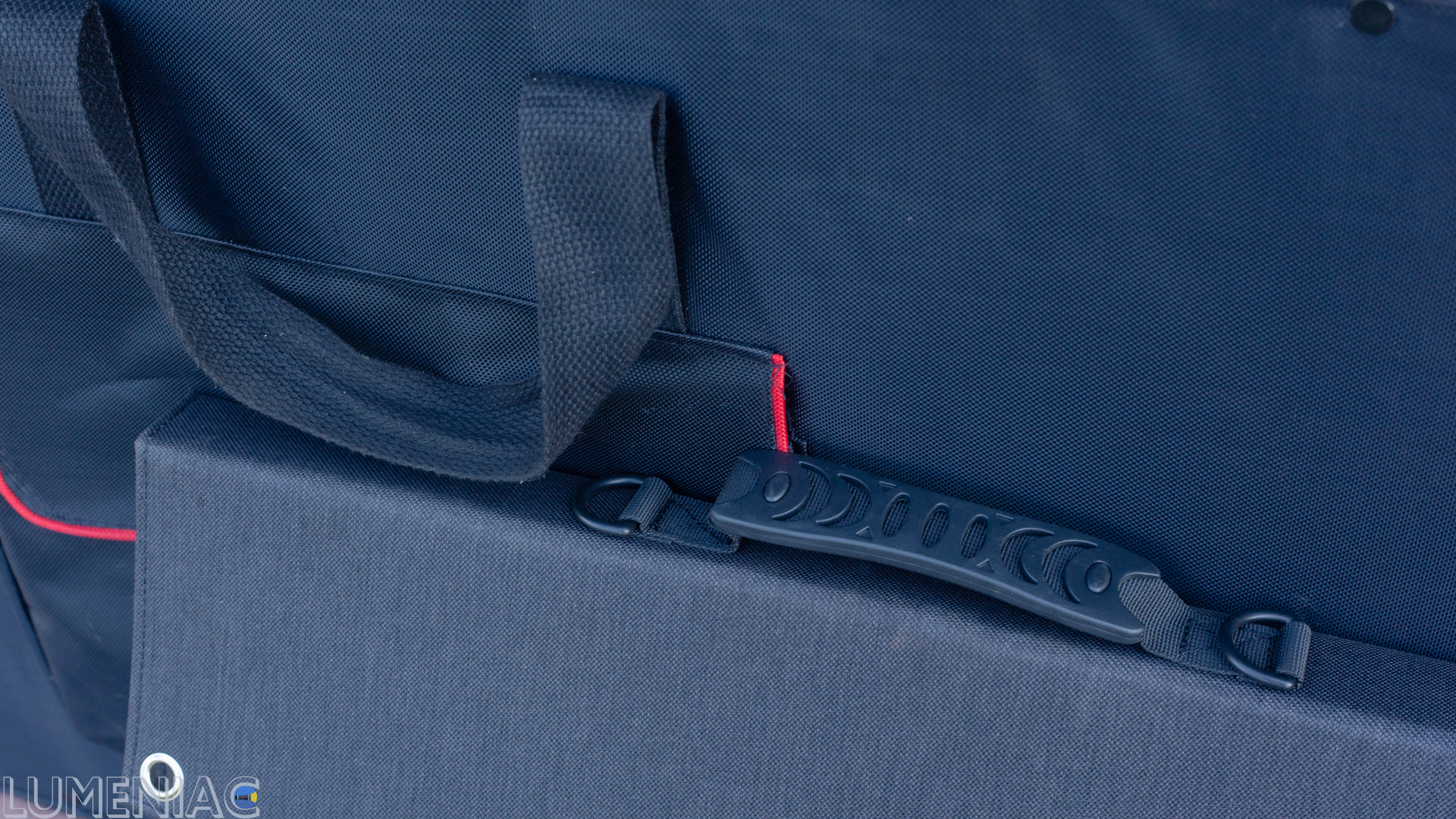 Lamination of some elements of the panel is also worse for the touch, Towerwin is more reliable and thicker.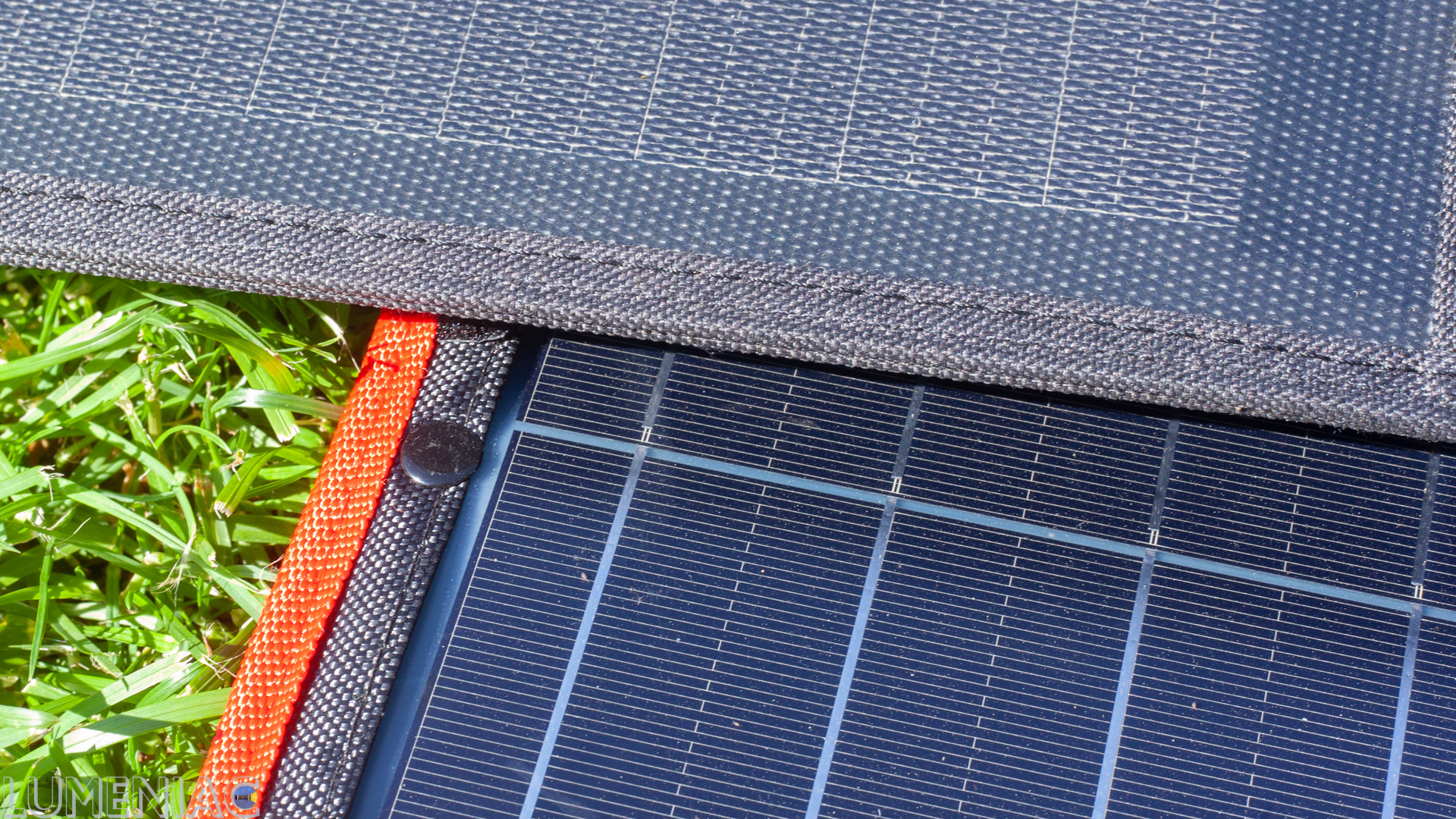 And, by the way, another moment that I really liked - the legs.Towerwin is exceptionally convenient to install. Moved out the legs, and that`s it + it has eyelets for suspension.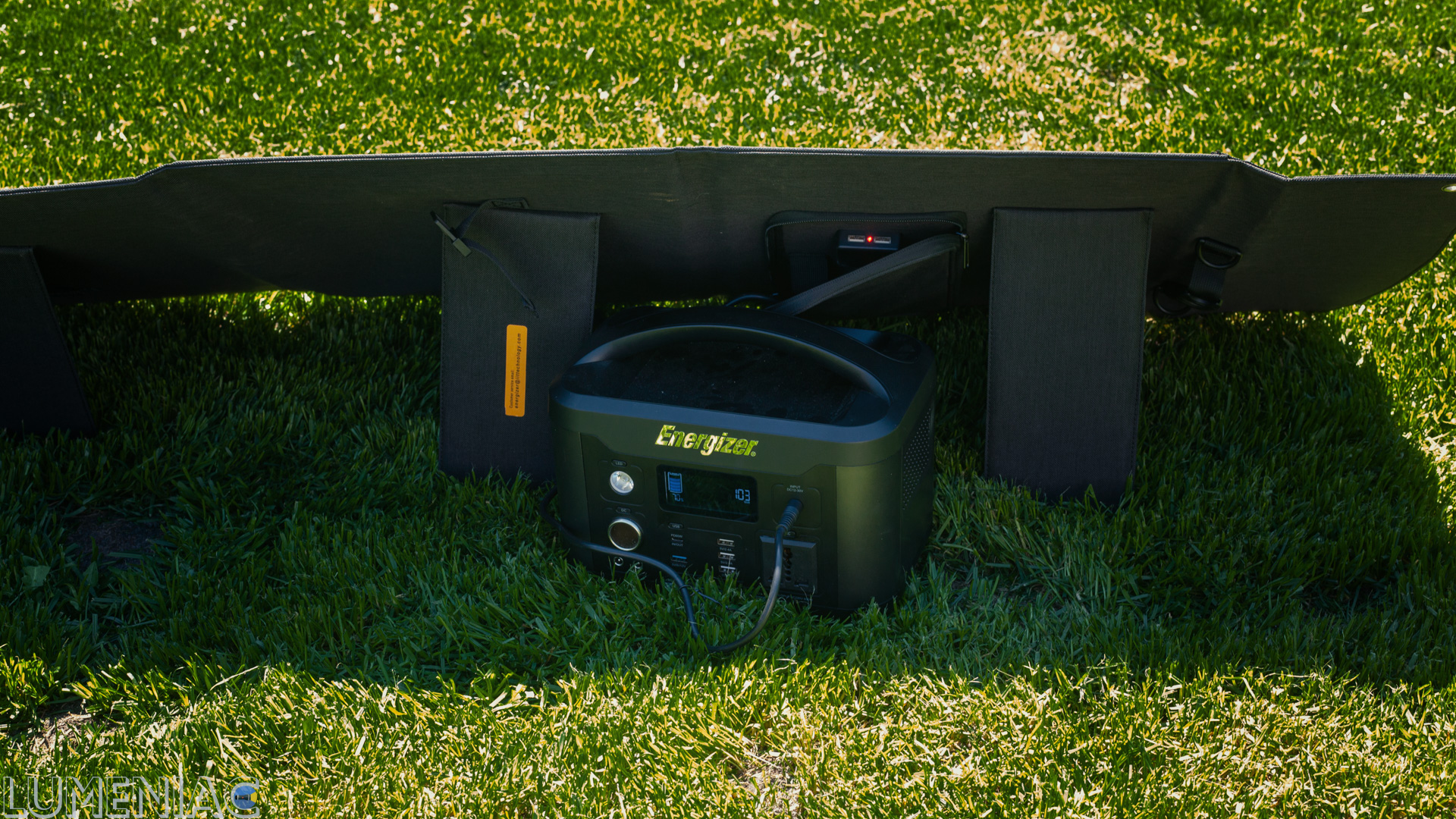 Dokio? Nooo...If you put it at an angle, then due to its size it will sag in the center.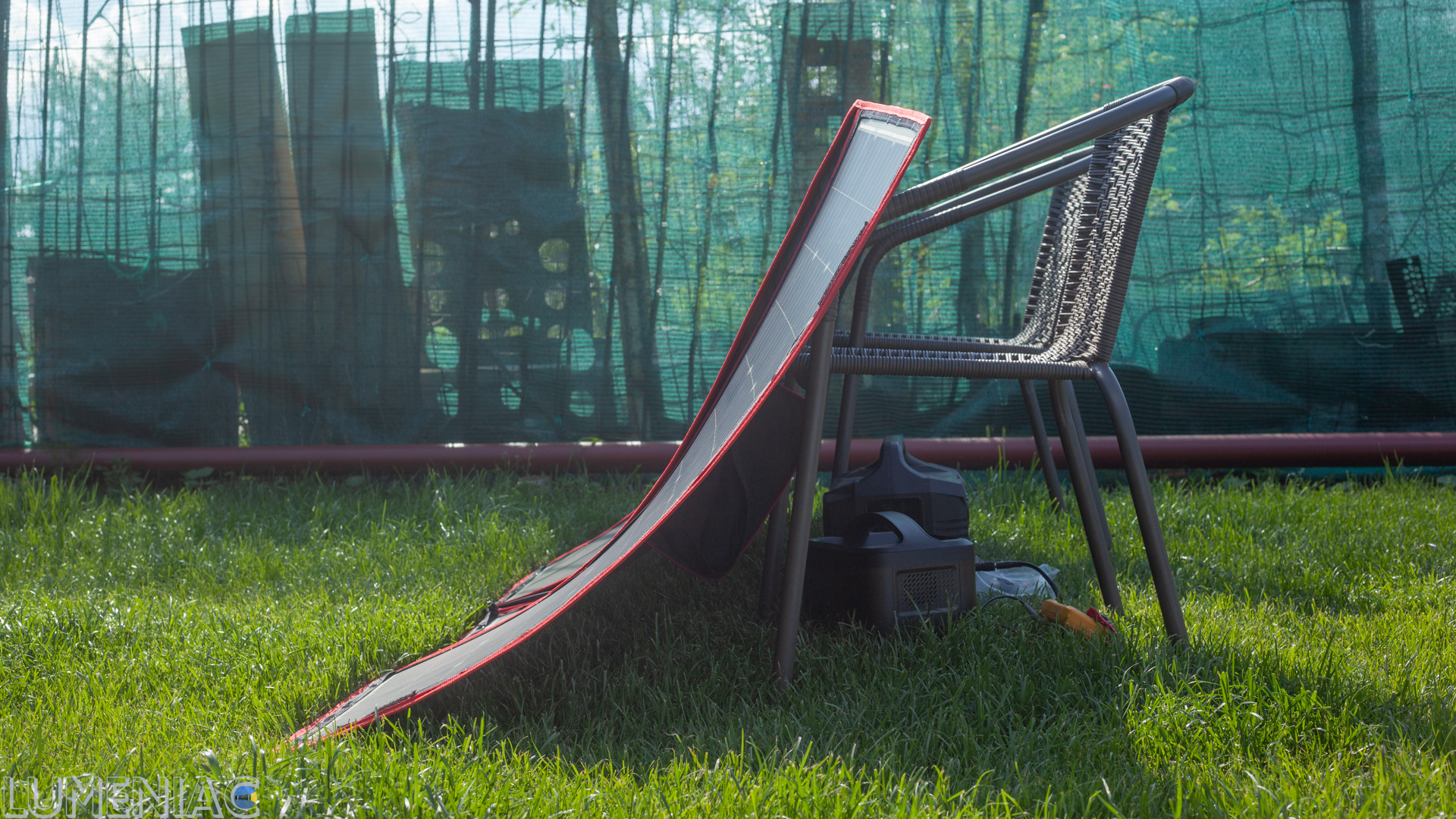 Well...you can cut out 4 PVC knives, glue a Velcro strip to them and the same strip to the inside of the panel. This is not such a time-consuming work. The question is that it could be done at the factory, what a gag to waste time on DIY?
But Dokio really wins with a wire length. Towerwin` one it is very short and quite inconvenient. Immediately, more than 3 meters of Dokio wire can hide the battery or solar generator in the shade.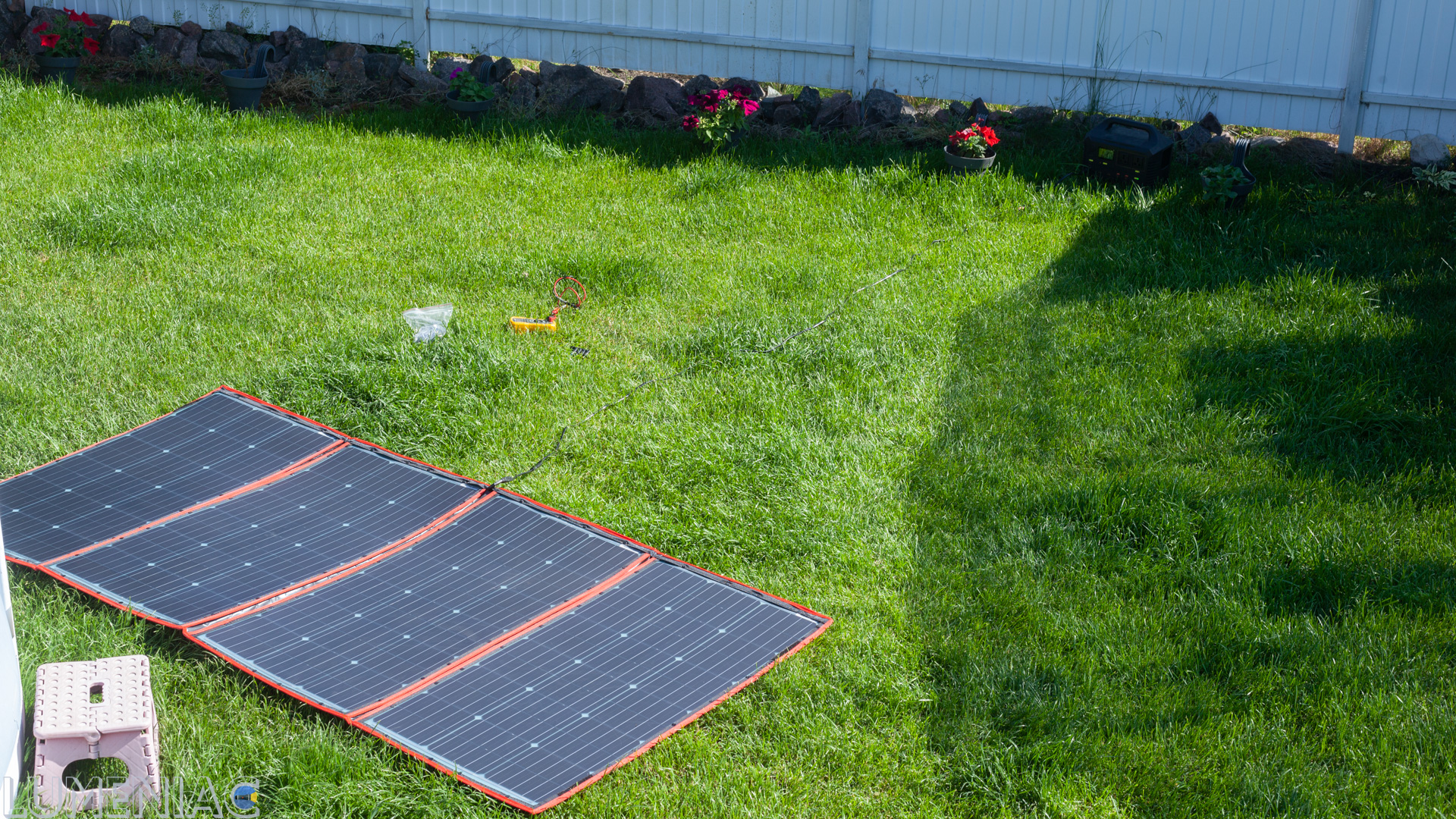 However, extending the cable for Towerwin is much easier than making homemade legs for Dokio.
Farther. Briefly speaking. Towerwin has any feature done perfectly. However, I now rate the solar panel Dokio as 4 of 5 stars  purely externally and in terms of workmanship. Not bad, directly, nor excellent - just well done. In general, this is a worthy result.
Power measurement
Heh, i was sure i wouldn`t get promised 300 watts, this is not my first folding solar panel, which I decided to buy at Aliexpress. Feedback for 100 and 200 watt Dokio panels also proved this point of view. 
Impressions are mixed and rather good.
Mid June. 51,672N . A little later than 8 am. Perpendicular to the sun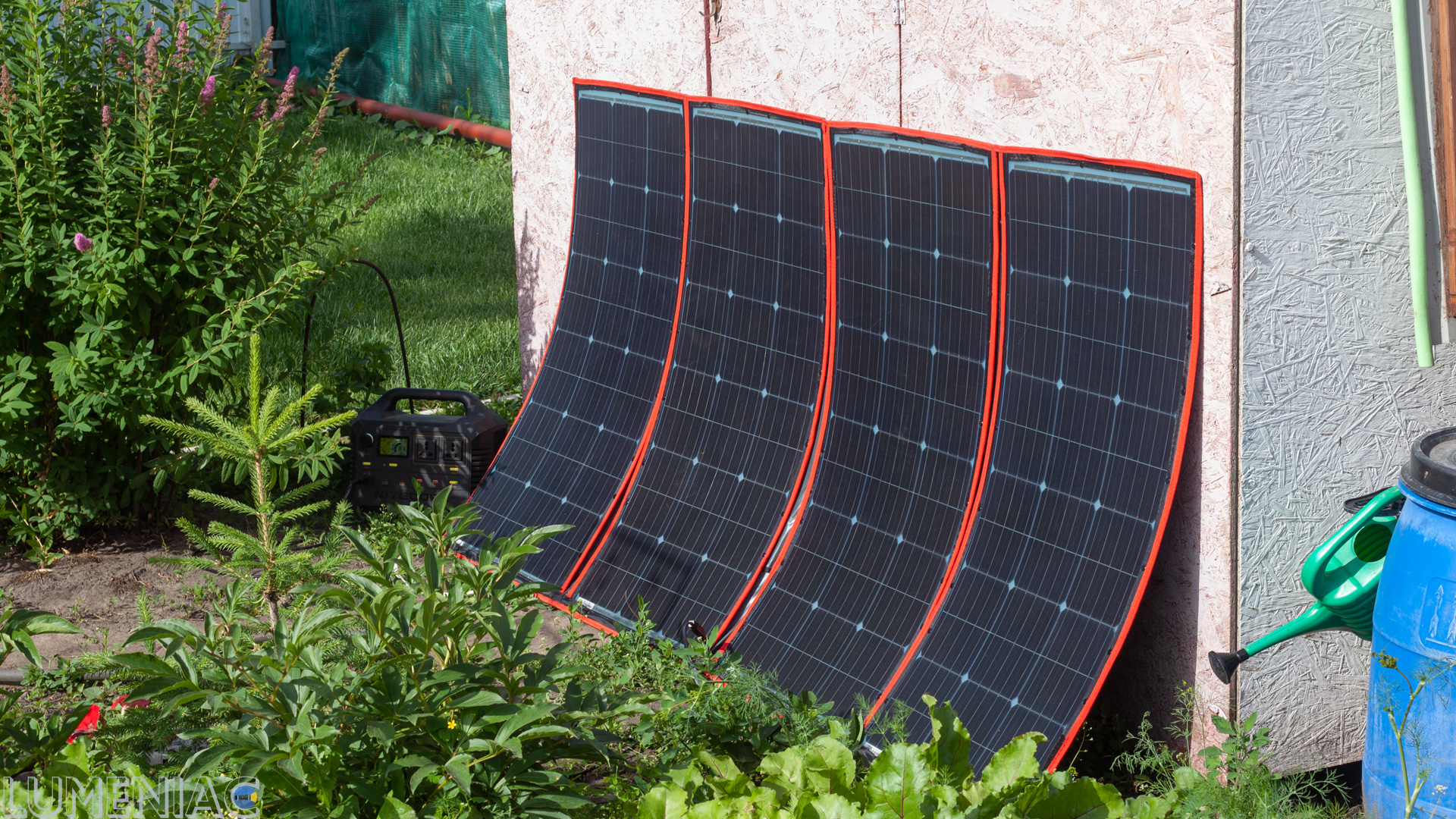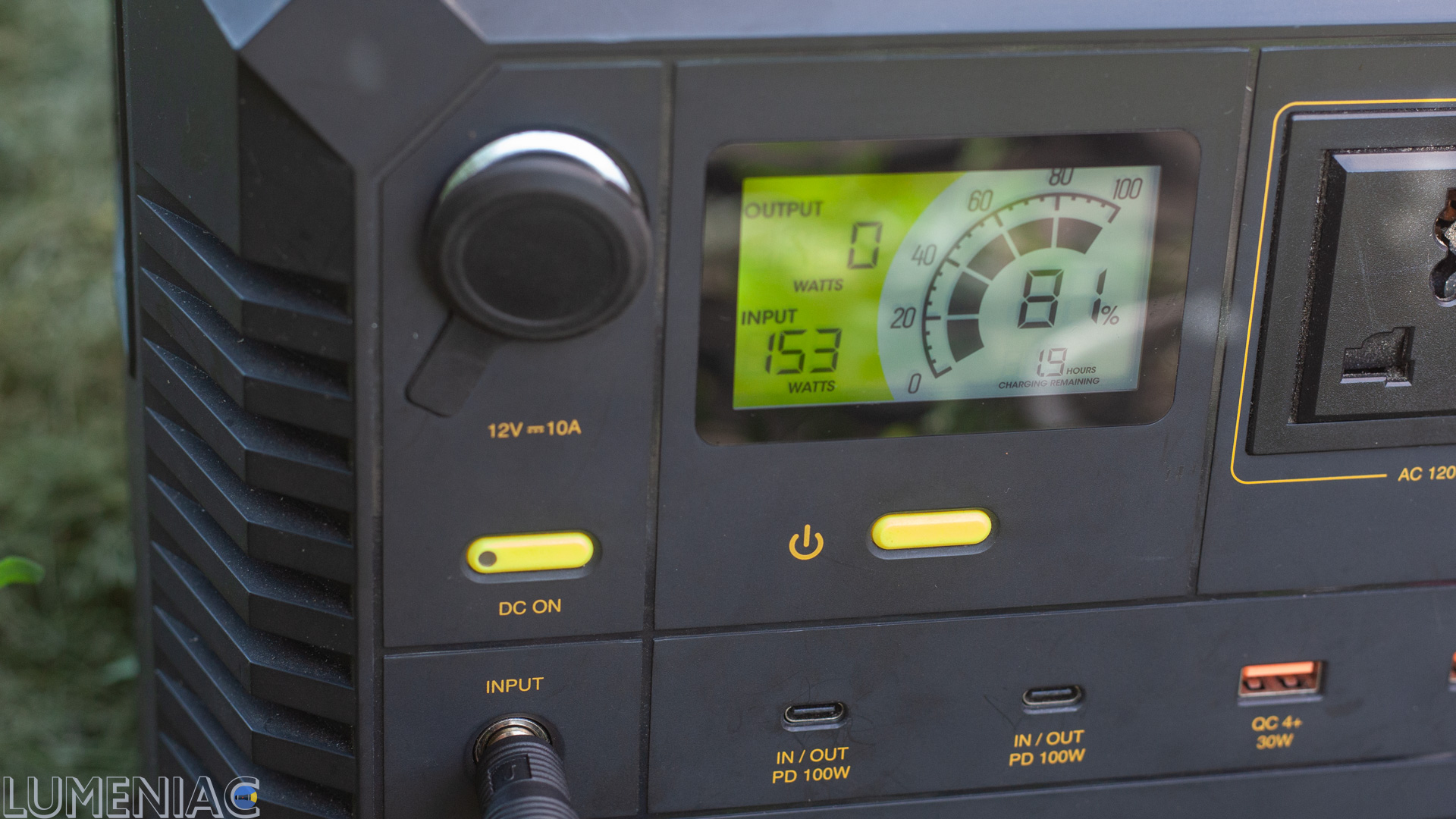 Very, very good!

Well, it's perpendicular and too easy.  What if it gets harder?
The first days of May, 9:30, Very slanting sun. By the way, the photo will help you understand once again how big a solar panel really is.
Here, for clarity, I put a bar so that you can estimate the angle of incidence of light.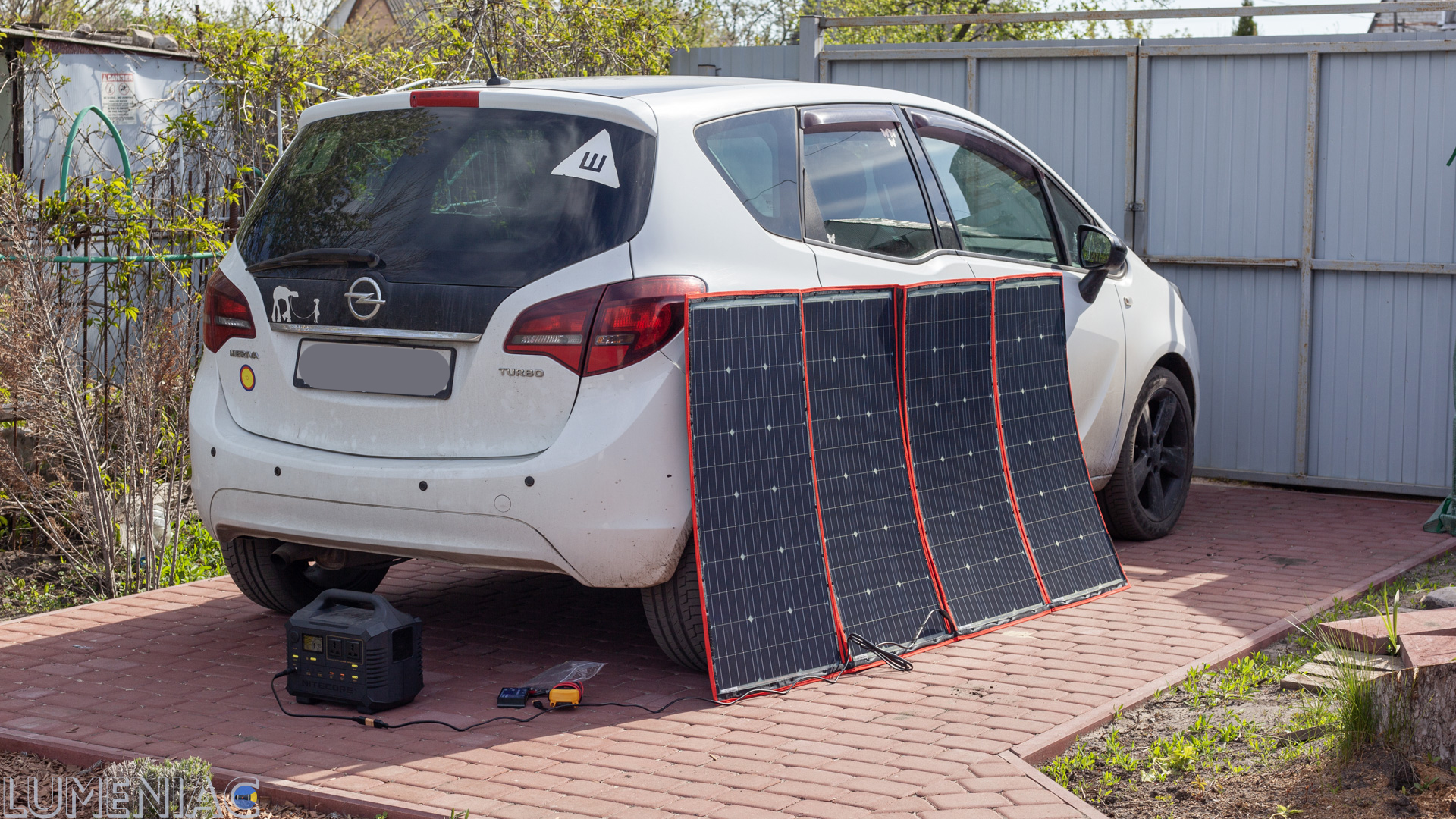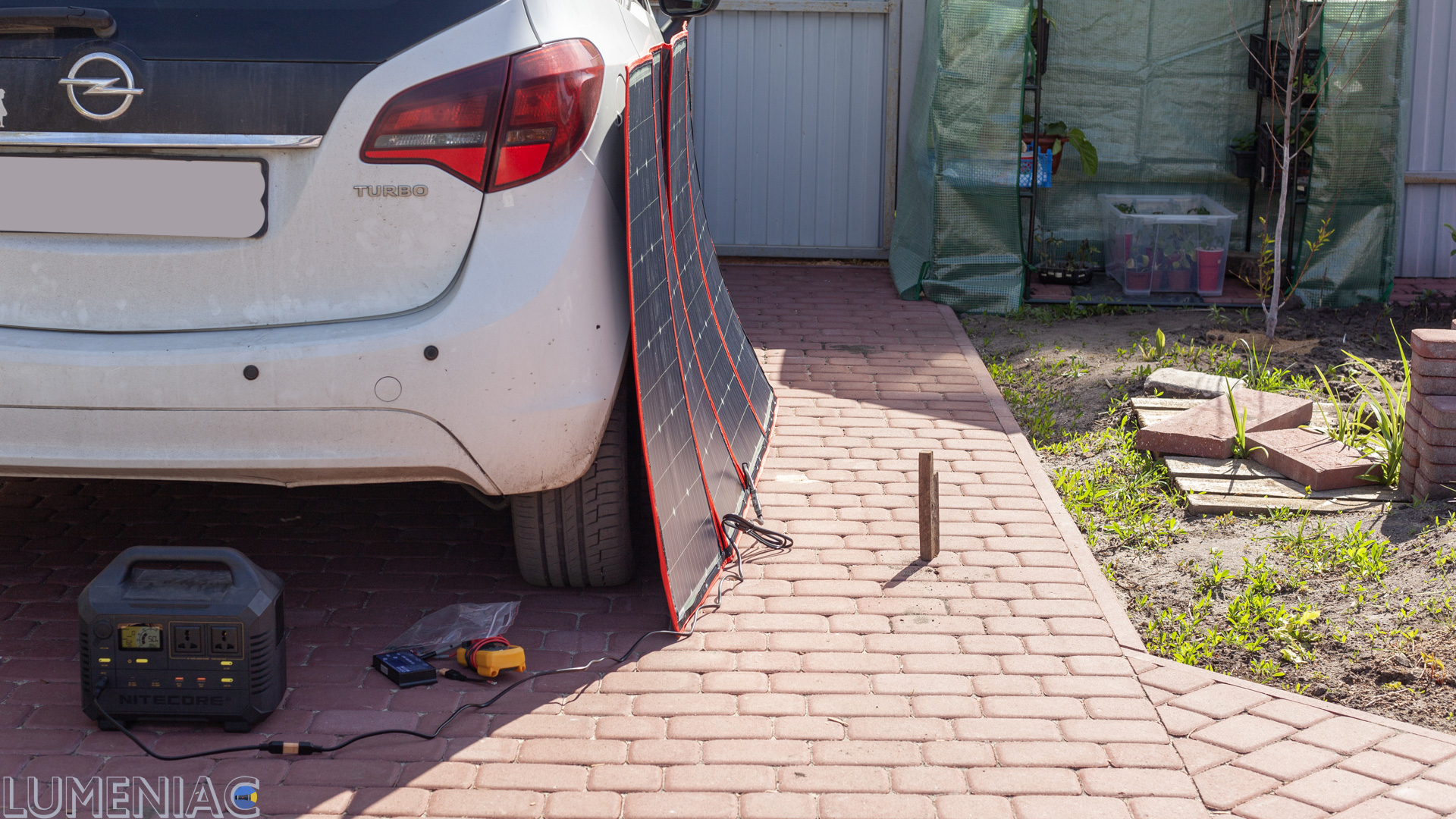 50 watts. Very inspiring!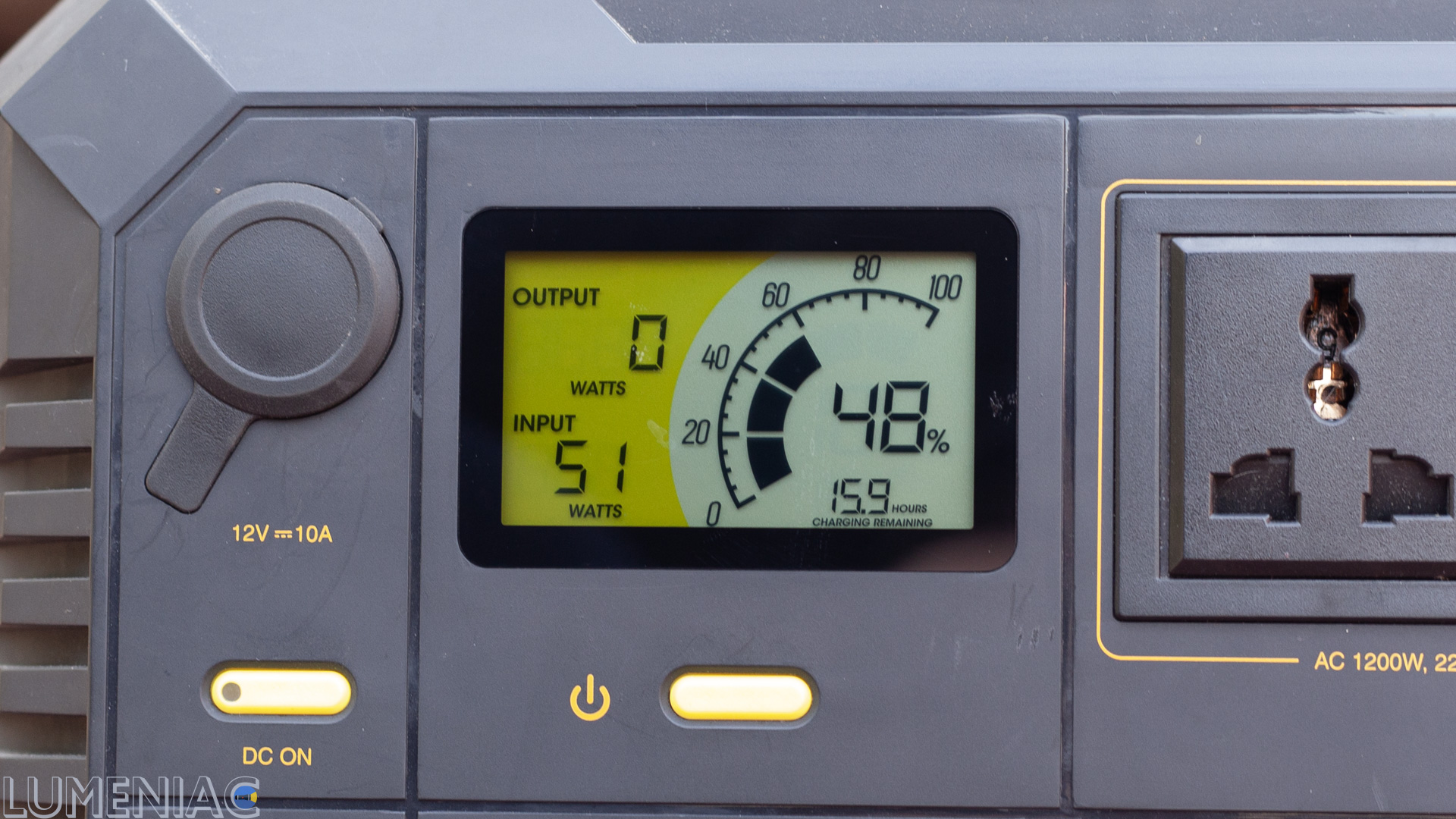 After an hour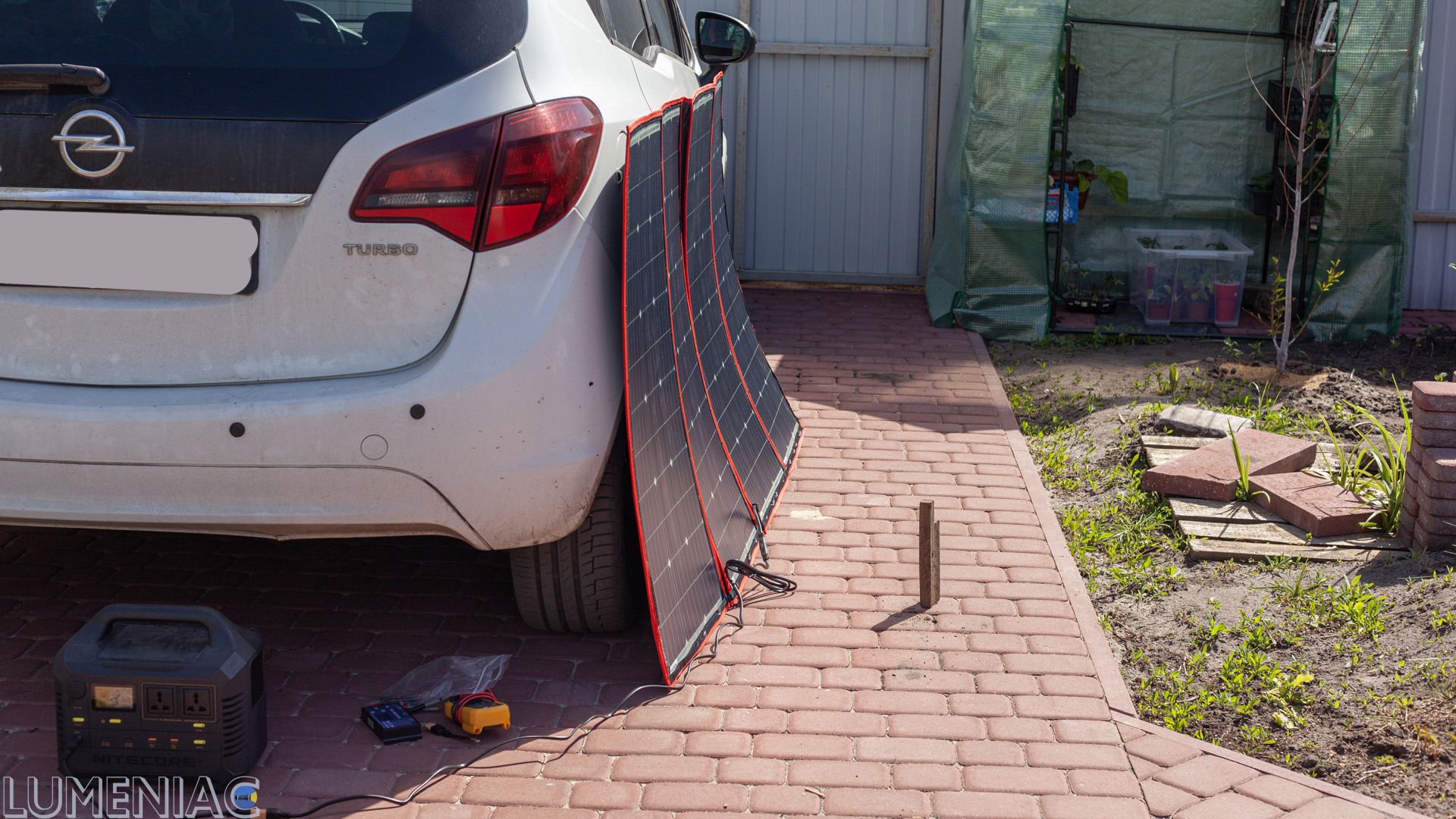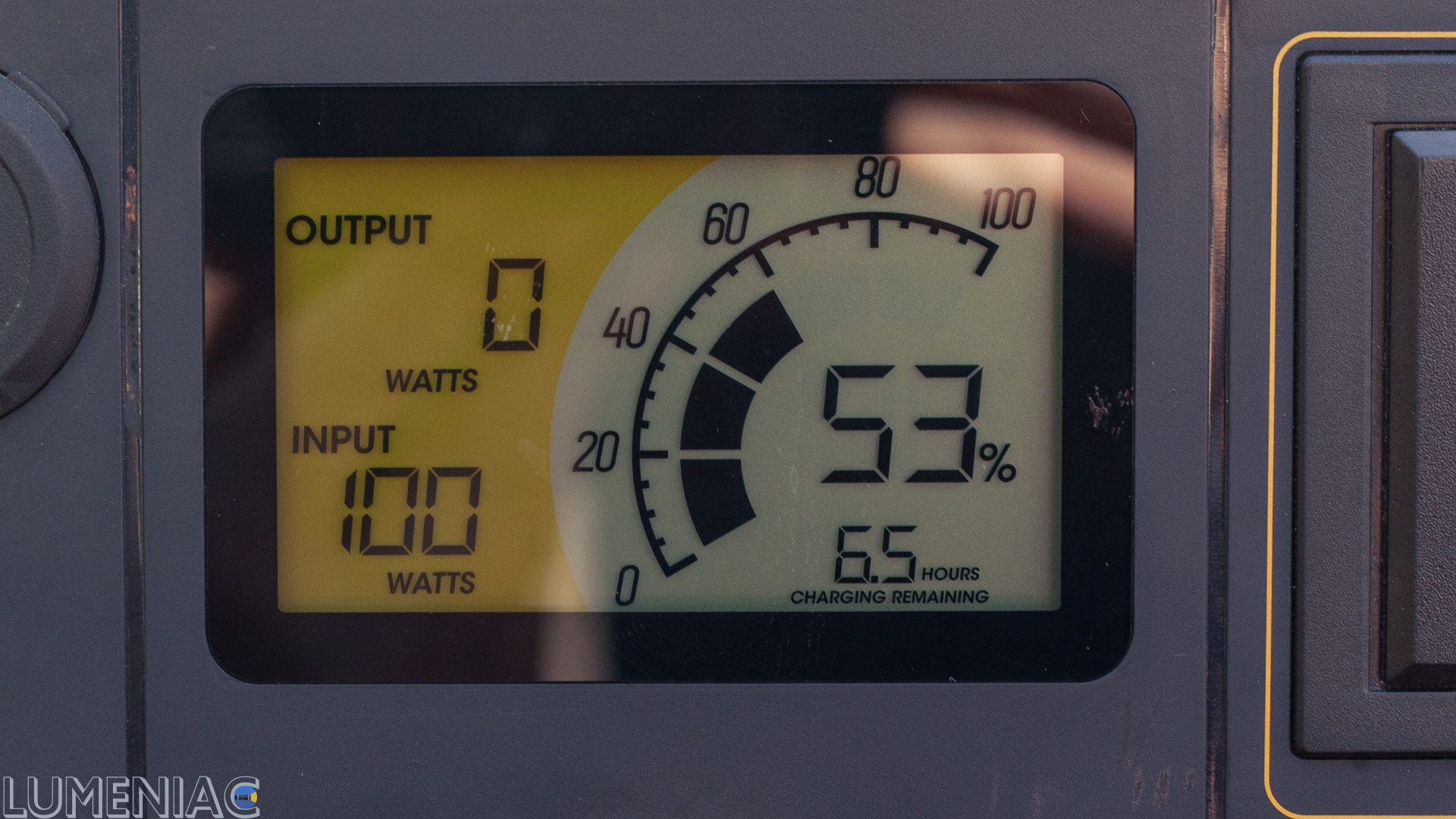 At noon, at the same vertical angle, there was not much more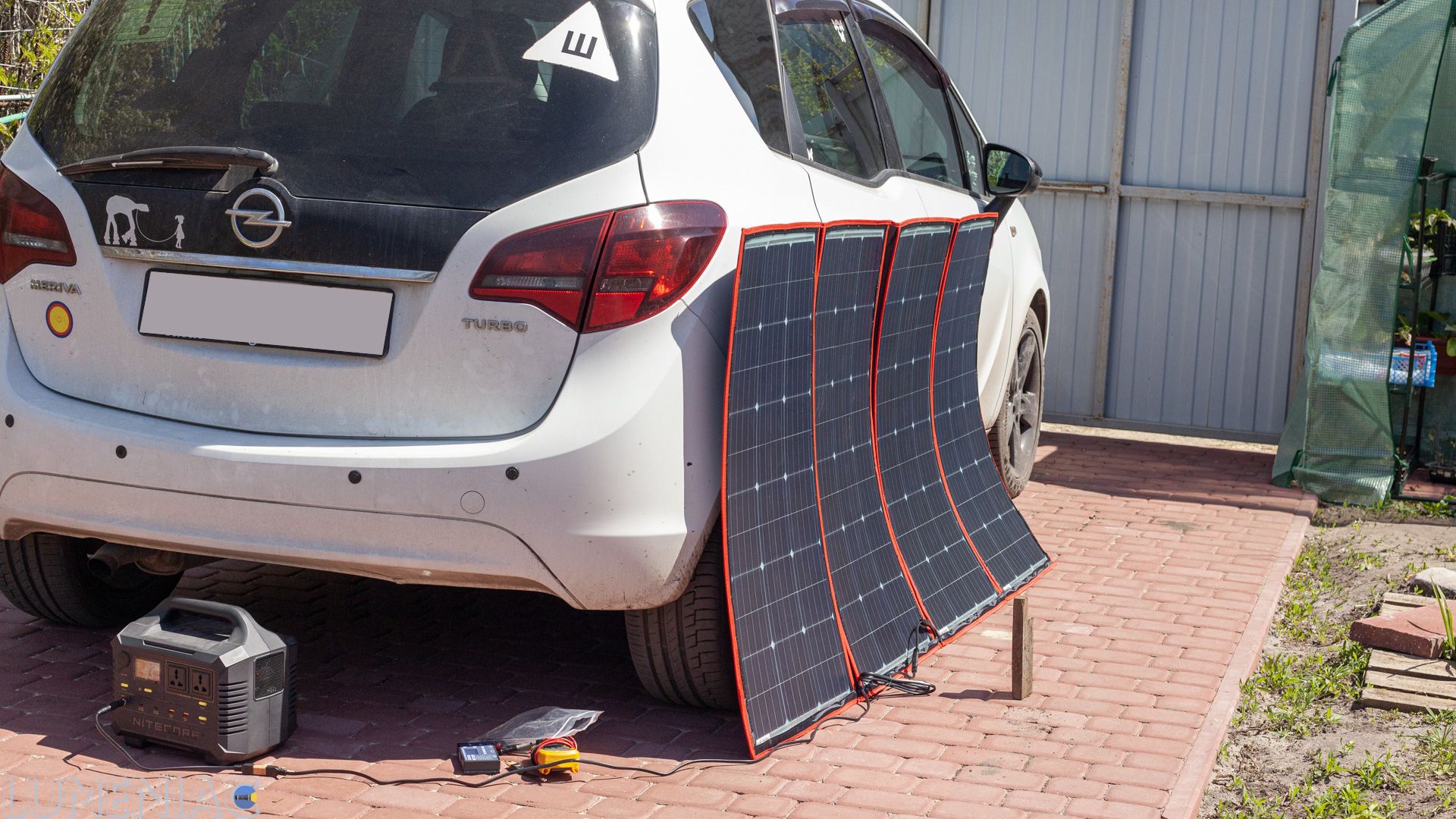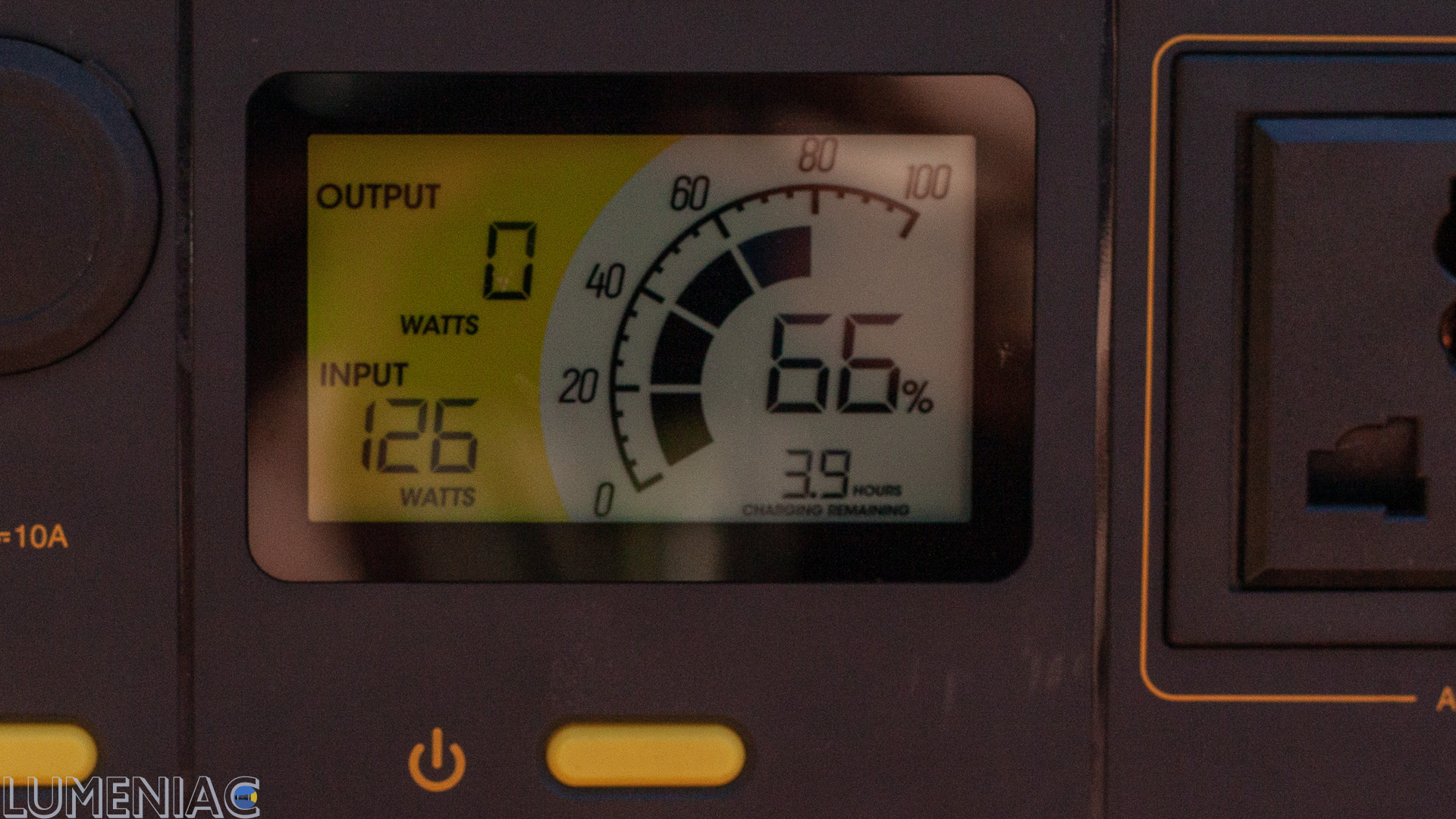 I decided this was not enough and moved the panel under the very right perpendicular to the sunlight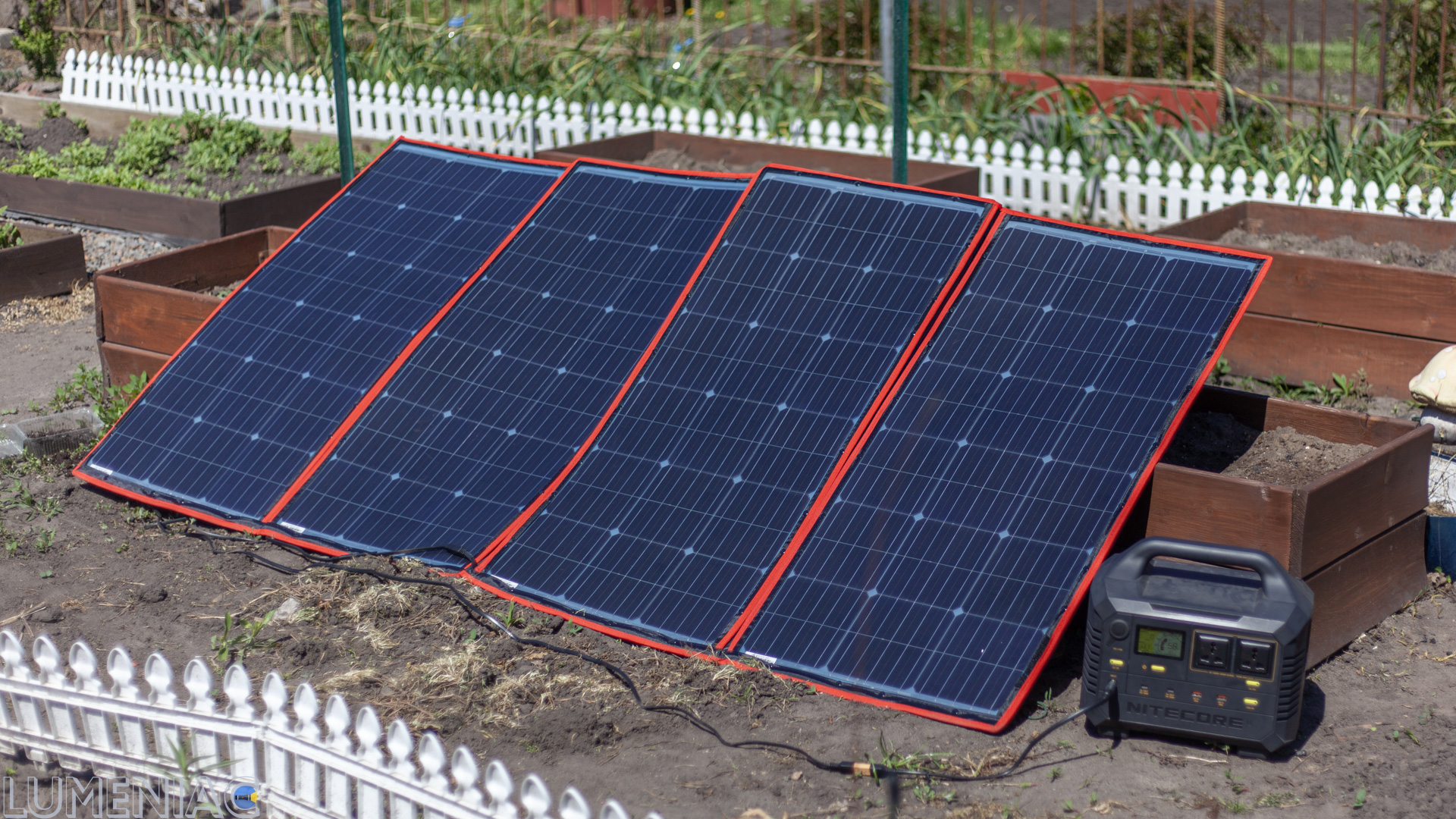 There were suspicions that the Nitecore NES1200 has limitations in the incoming charging power. And to nullify them, I just closed 2 of the 4 panels and got 109 watts. Accordingly, with the panel fully open, this gives 218 watts.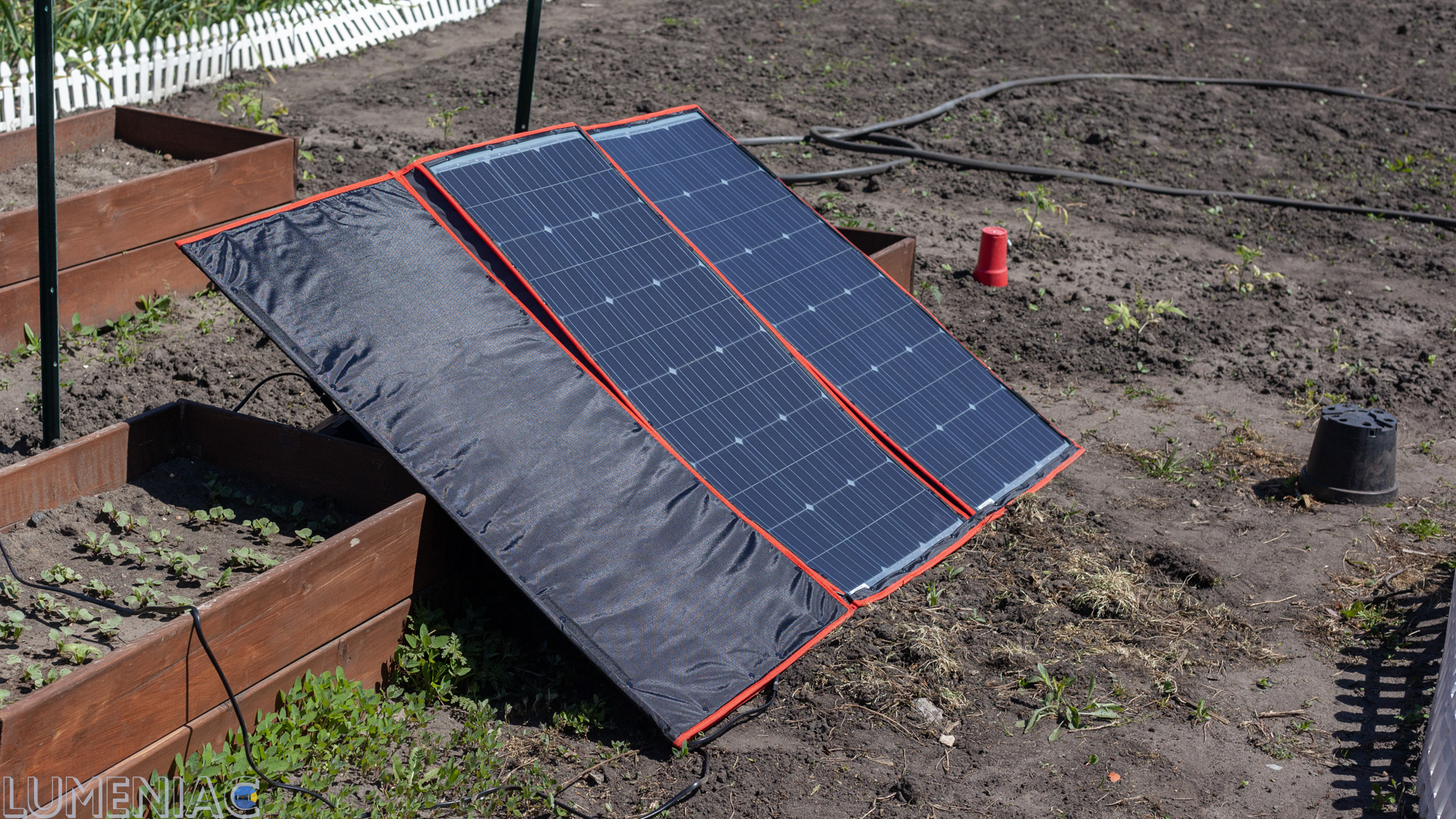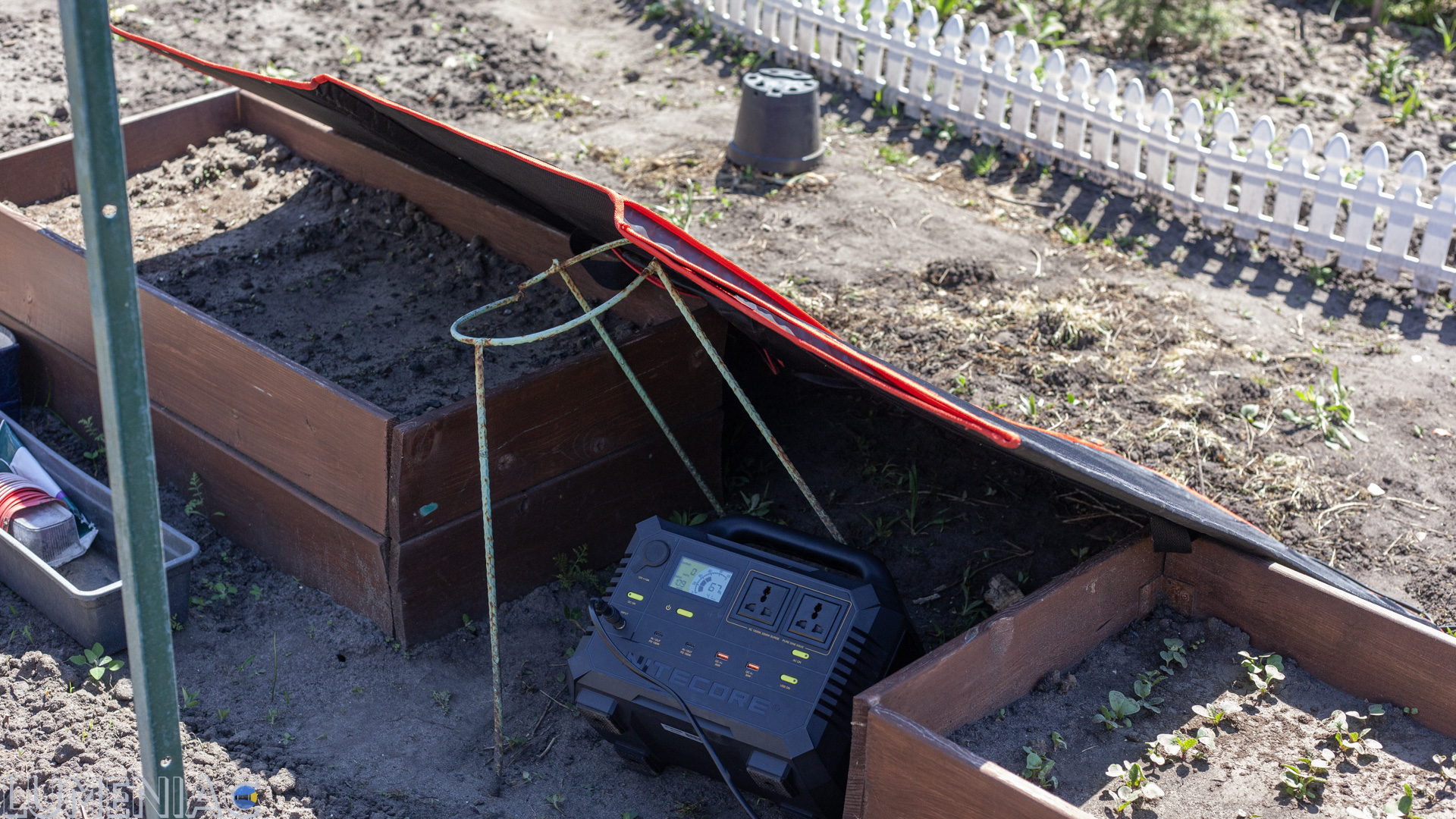 By the way, I saw this power at 15-20, definitely after noon.
When the sun went behind thick enough clouds, the power dropped to a pleasantly high level. 30 watts is kind of like a little, but this is enough with a large margin to simultaneously charge a couple of smartphones.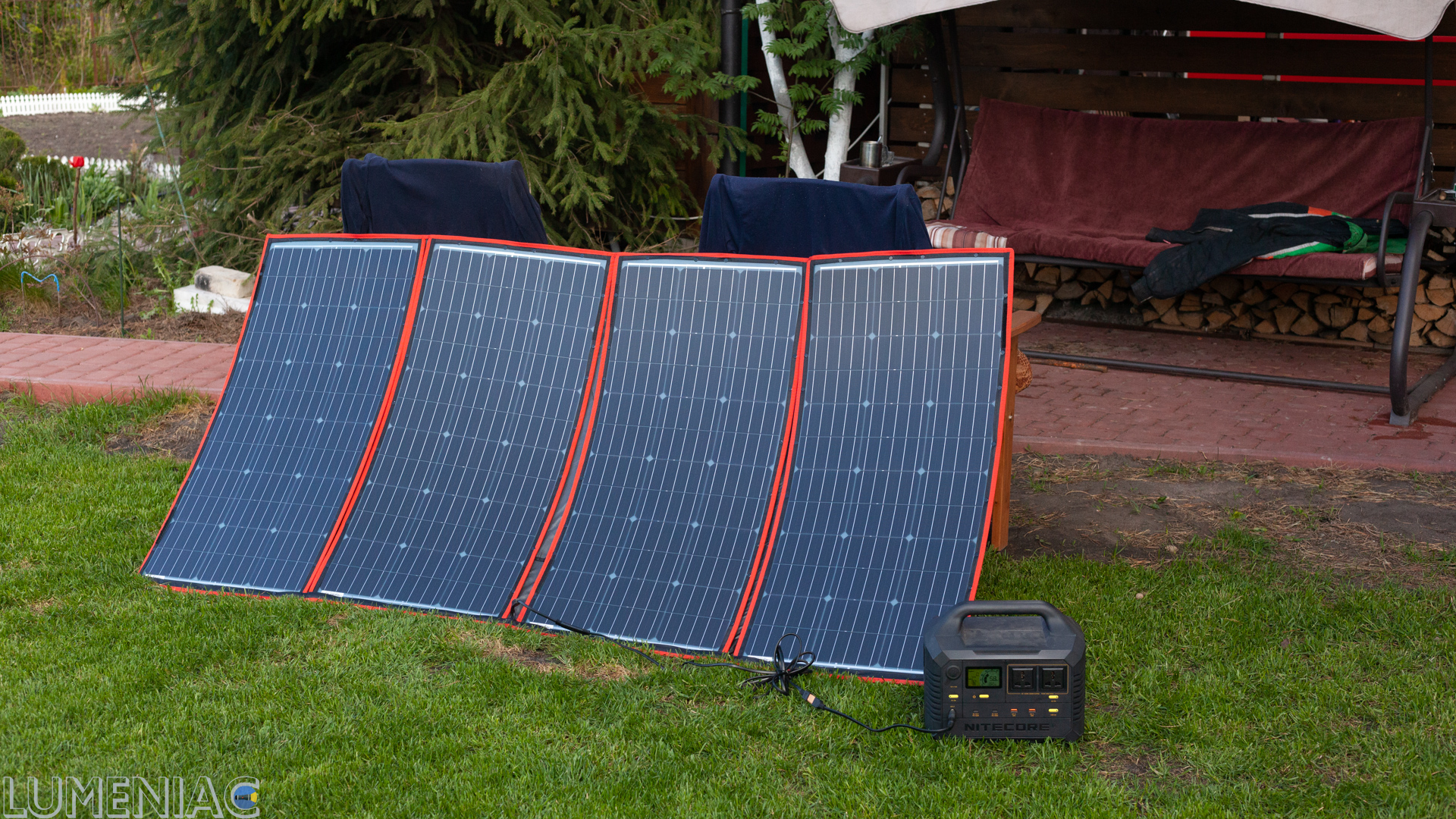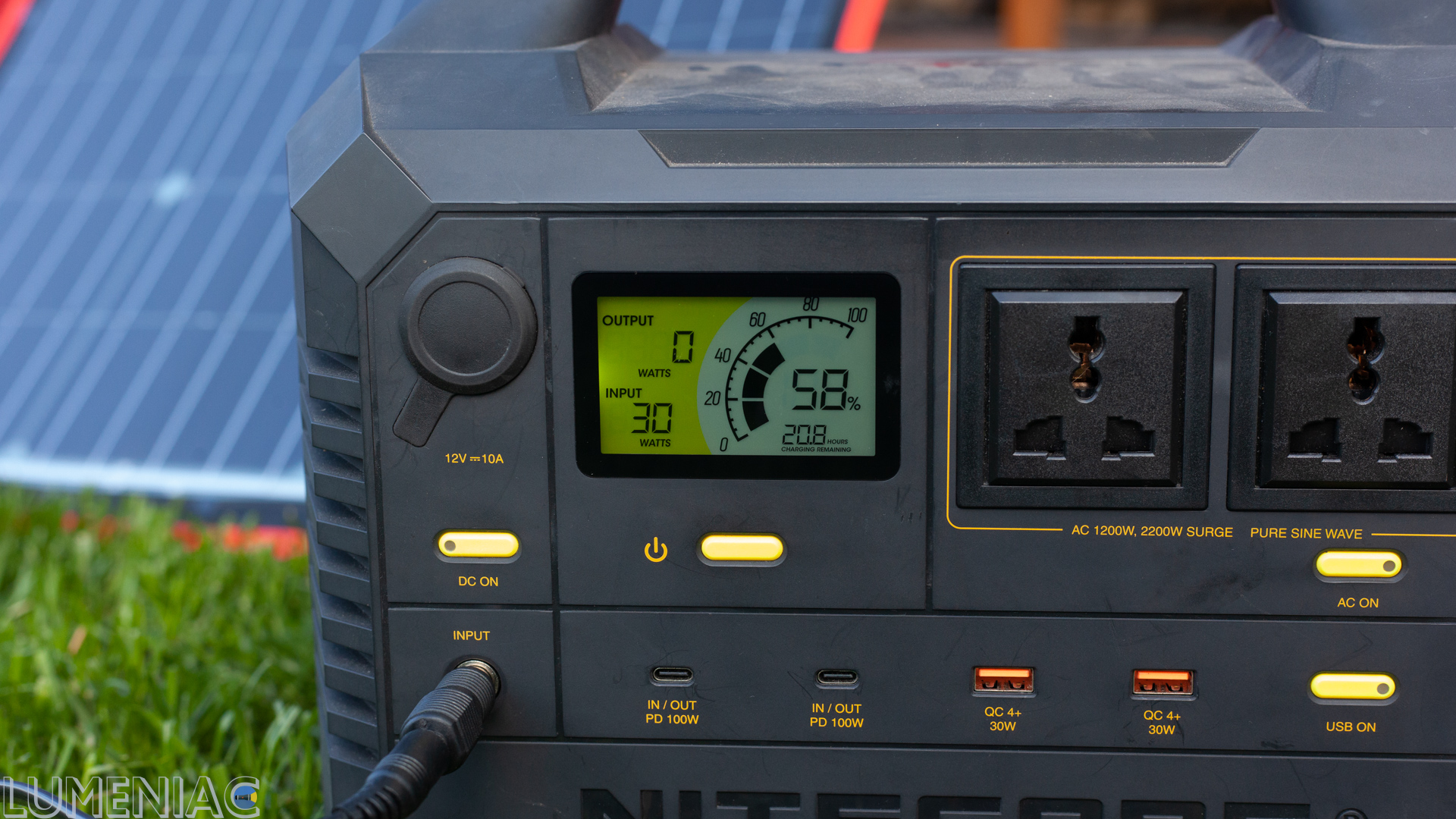 It is worth mentioning the voltage from the panel, 20 volts.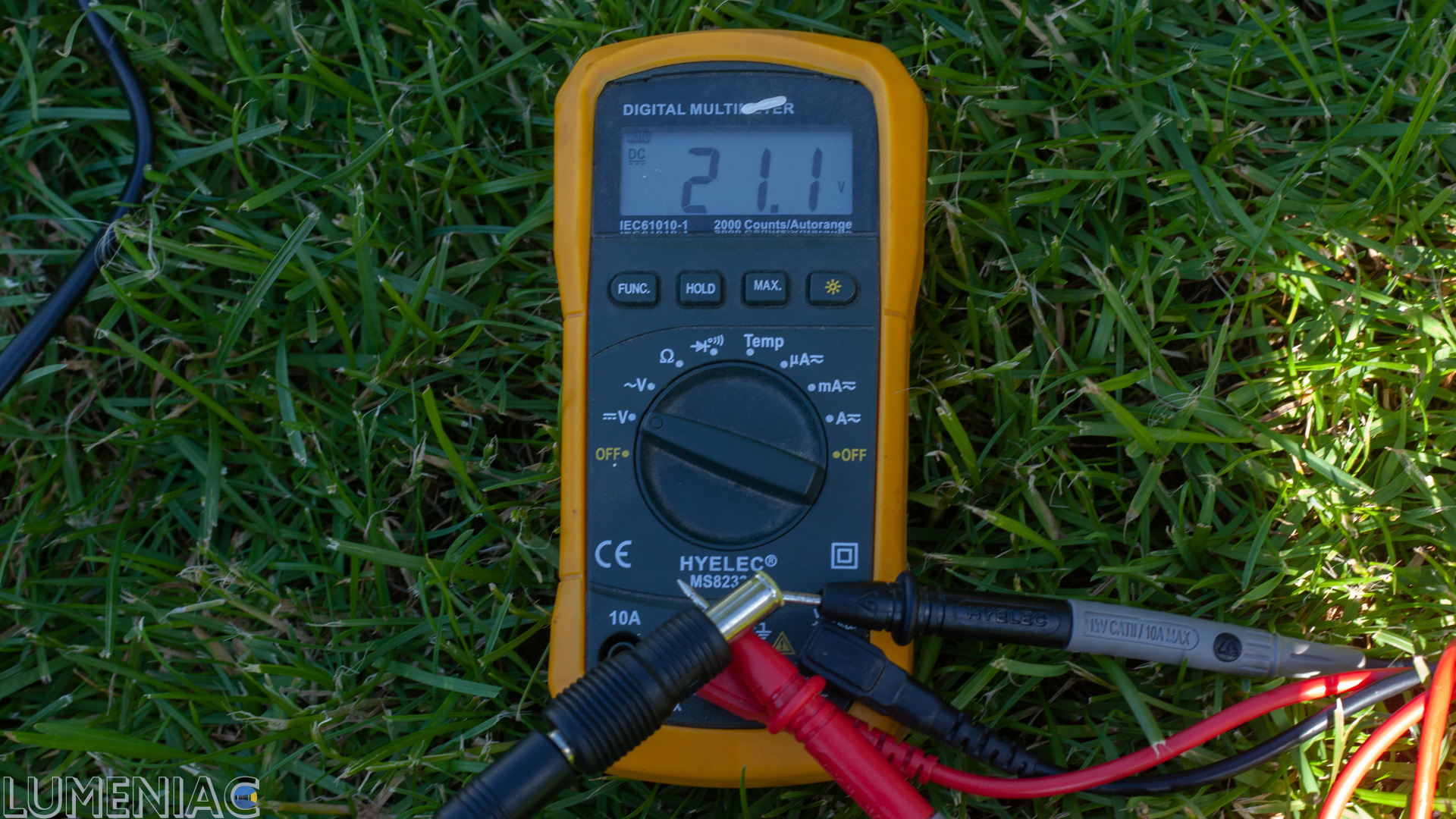 Shortly before I finished writing a review of the Dokio solar panel, it occurred to me to compare it and Towerwin energy efficiency. Their areas differ three times, 1.5 sq.m versus 0.5 sq.m. But power is correlated quite differently. Dokio shoots 145 watts per square, and Towerwin 206 watts.
If Towerwin were the same area as Dokio, I would get real 300 watts. And if the Dokio was the size of the Towerwin, the panel would put out about 75 watts. There is a suspicion that Towerwin uses several layers to collect energy in a wider range, while Dokio works with a narrow range of wavelength.
In general, comparing the power of solar panels with Aliexpress is not in favor of Dokio.
OVERALL IMPRESSIONS

Workmanship
The Dokio panel is well made. It could be done better, but not bad and as it is. And if there is no reason to complain about the quality of workmanship, then in terms of convenience there is still room for improvement. Namely, the legs and rings in the corners for hanging.
But I really liked the 3m length of the wire. When traveling, you can lean the panels against the car, and hide the solar generator or battery in the shade of the latter.
Power output

Less than stated, the real power did not come as a surprise to me. This is exactly what I expected, so I took it with a margin. In reviews of 100 and 200 watt Dokio models on the seller's page, people wrote about the same discrepancy between the promised and the real. Yes, and my other 2 less powerful solar panels in this regard are no different, giving out completely different power than what is stated. So, I'm sure this is quite typical for almost any solar panel from Aliexpress. If desired, by the way, it would be possible to open a dispute, but I ordered this panel back in the winter and it would have been impossible to collect the necessary evidence base there. Now you can do it with confidence.
And yet, even if it is less than promised, it is significantly more than I need. 200+ watts allows me to charge a hefty, capacious and powerful solar generator at the same speed as if I connected Nitecore NES1200 directly to a 220v wall power supply, and added a 100 watt type-c at the same tine. In short, extremely fast.
Even with a very oblique sun, Dokio solar panel produces good power, which will be quite working for a lot of situations. If you hold the panel perpendicular to the sun, then in the summer from dawn to noon, I am sure that (may be in spring as well) it is quite possible to collect half a kilowatt of power. And for daylight hours you can suck 2 kW*h from Sun. This is more than enough for almost any car battery and / or solar generator, portable power station. With clear sky, of course.
Indeed, geographic location has a strong influence. It is clear that you cannot get the same energy in Trondheim and Marrakesh. The solar panel will provide different power. Well, cloudiness with the time of year also play a role. The output power of a solar panel is influenced by many factors, up to the dust that has settled on it.
Anyway, 220 watts completely cover my need for fast charging a solar generator. Alas, you will have to pay for it in size. We can talk about some convenience of transportation only in the sense that it will be convenient for you to bring this panel from the garage or car trunk to the installation site.
Convenience
Due to its size and price, such a folding solar panel is a very specific product. This is definitely not a solar panel for hiking or cycling (here take 100w Dokio. It will be real 75 watts, but enough for you). But for a yacht, boat, caravanning or camping, this will be a fairly powerful solar panel. There is enough space to place it, it gives power in abundance.
As for the price, both panels from the review are now + - cost the same. And here you can set your own priorities. If 100 watts is ok for you and are ready to spend money,  if quality and compactness are more important than power, then Towerwin is a great choice. If power is more important, then take the Dokio 300w. If the budget is more important, then take a 100 or 200w Dokio panel. Based on the results that I got in this review, it will be possible to count on ~ 75\145 watts, which is also a lot.
By the way, if the topic of camping, tourism and outdoor recreation is of interest to you, then I advise you to review my review of the Sofirn LT1S camping lantern