Summary:
Battery:
2 × 18650 or 4 x CR123A
Switch:
Magnetic slider
Modes:
Infinite (continuously variable)

LED

Type:
Cree XM-L U2
Lens:
Toughened glass with anti reflective coating
Reflector:

SMO

Price:

TBA

From:
Provided by

XTAR

for review – Aug 2012
Pros:
Great runtime – easily fit in a day's diving between charges
Regulated output for constant brightness
Bright, tight hotspot perfect for signaling, daytime rock light
Generous spill perfect for night diving
Simple user interface with magnetic slider
High

PWM

frequency (No visible

PWM

)
Double O-rings everywhere
Option to use 4x CR123A batteries
Cons:
Metal body design is susceptible to salt water self discharge, corrosion
Switch movement is short making it difficult to fine tune brightness
No lock-out mechanism whilst underwater
Hole for lanyard is small
Cheap wrist lanyard design
FEATURES:

The D10 is XTAR's third generation diving light. It shares the same magnetic dimmer switch with the successful D02 and D06 line of diving torches. It is reported to be waterproof to a depth of 100 meters and is made out of 6061 anodized aircraft aluminum with a type III hard-anodized anti-abrasive finish.
What's new?

+ Longer burn time (mfg reported numbers) ~ 2 hours and 20 minutes on high – 800 Lumen ~ 250 hours on low – 16 Lumen

+ Dual battery options 2 × 18650 3.7V lithium rechargable batteries or 4 x CR123A 3.0V disposable lithium batteries

+ Brighter, more efficient CREE XML U2 LED

+ Low voltage warning circuitry : Pulses once every 5 seconds (for 5 times) when the batteries are low

+ Larger head and reflector creates a tighter hotspot with plenty of usable spill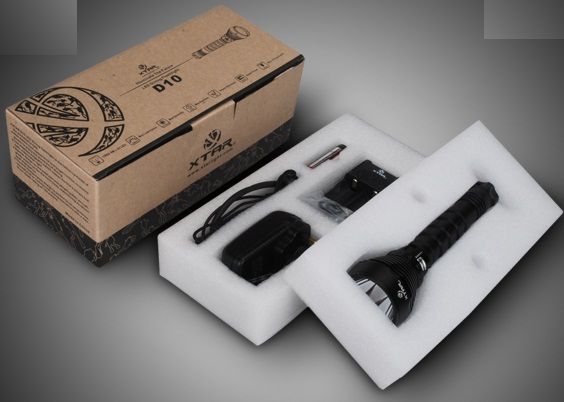 The torch arrived in a well packed, attractive box. The D10 is sold with and without batteries and a charger. My package contained:
D10 torch
Wrist lanyard
Two spare o-rings
One replacement magnetic switch
Instructions and warranty information
DESIGN / BUILD QUALITY:

I unscrewed the tail cap and installed two freshly charged 2500mAh XTAR 18700 Li Ion cells. My first impression is that the torch appears to be solidly built and sturdy. The center of gravity is almost directly under the switch making it comfortable to hold in the hand. The length of the torch makes it too big to be my preferred backup light, but an acceptable size for a primary night diving torch.
The wrist lanyard is difficult to attach to the torch as the attachment hole is too small. I do not know how long the lanyard's sliding cinch will last as the spring may rust easily. My preference would be to zip tie a brass or stainless steel snap hook onto the tail cap for easy attachment to your BCD and forget the lanyard.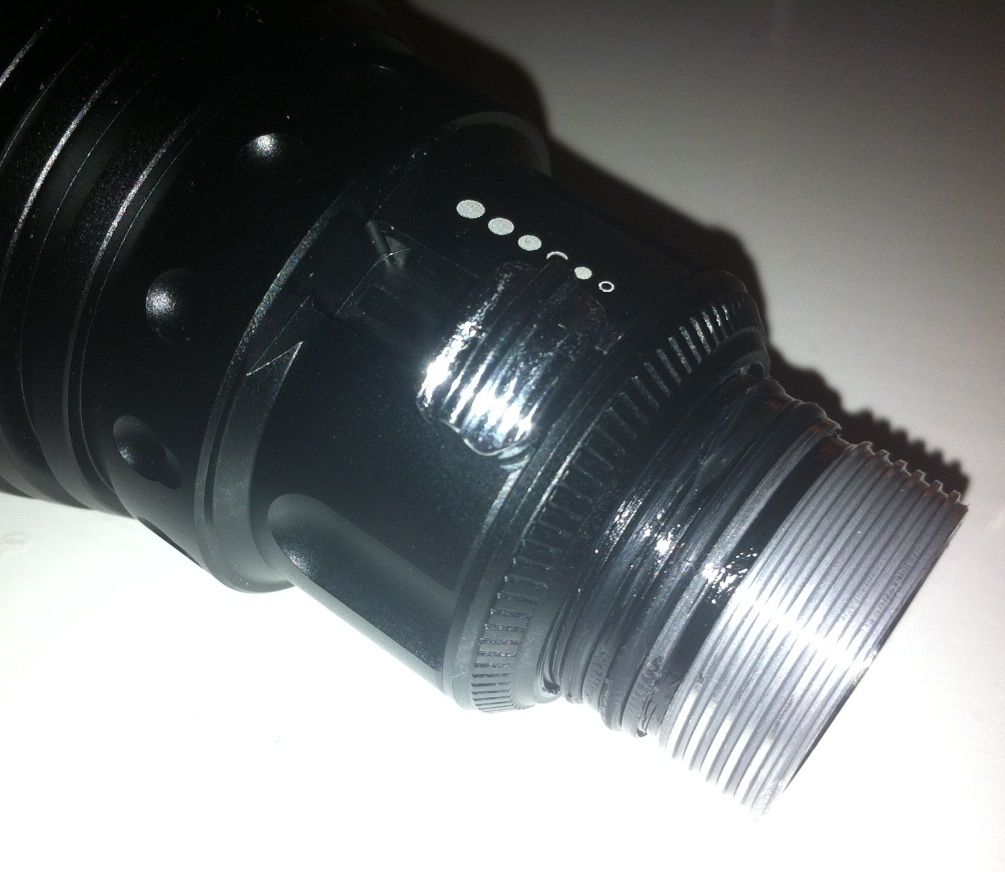 The torch head unscrews from the battery tube easily and is protected by double o-rings. To service the switch you remove the o-rings and unscrew the plastic ring. The switch simply slides out. When replacing the switch the orientation is important as the switch will not work correctly with the magnet installed backwards.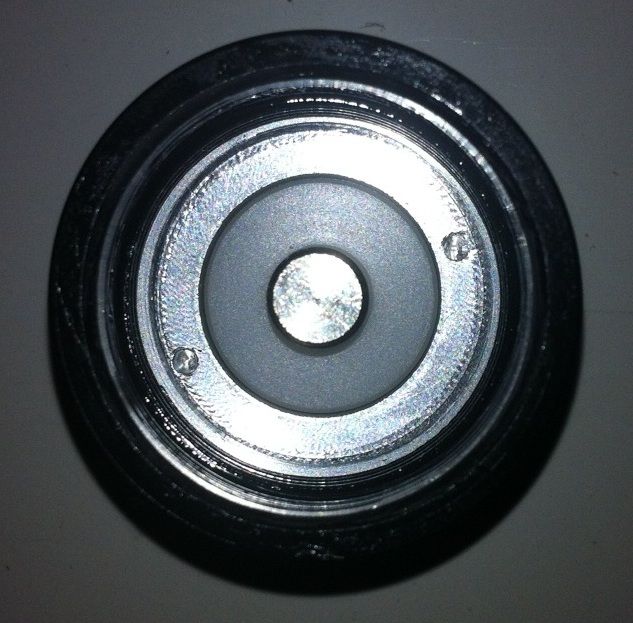 View inside the torch head. Compatable with flat top cells.

The end of the body tube is also protected by dual o-rings.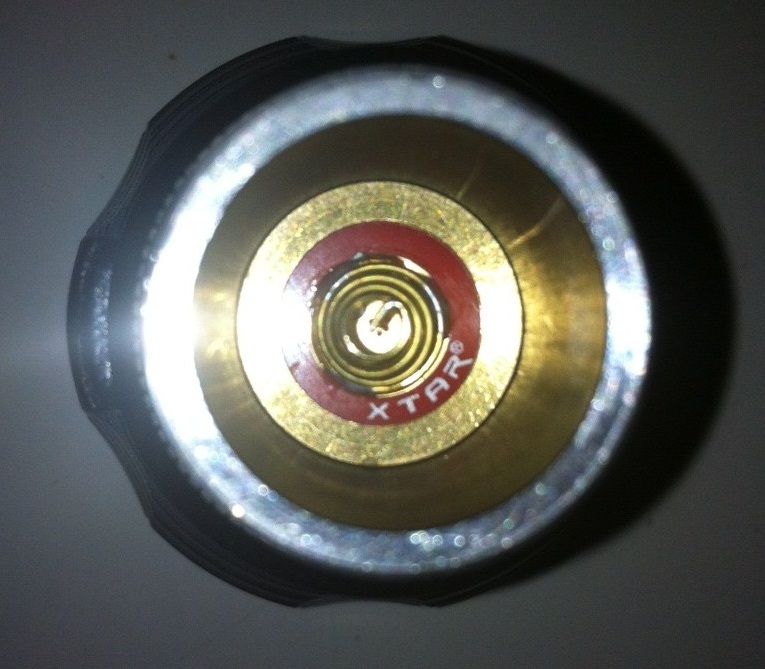 View inside the tail cap.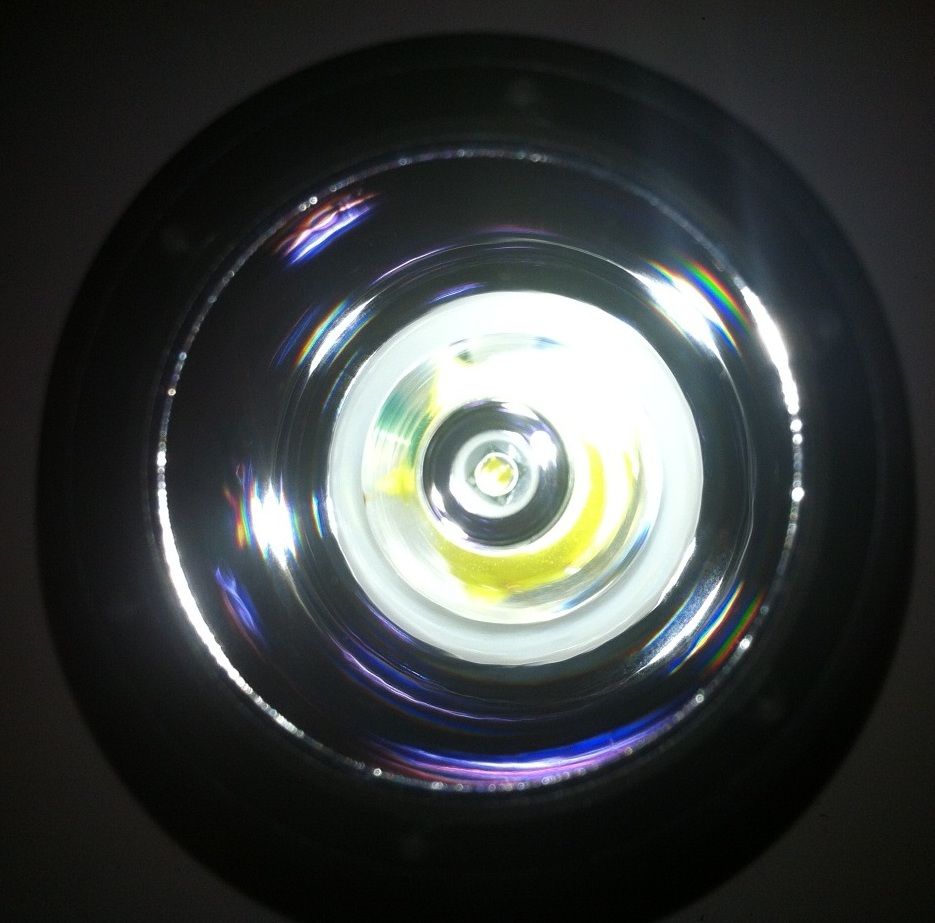 The head is secured by a screw down retaining ring with a compression o-ring. This is factory sealed for water proofing and was not opened for this review. The LED was perfectly centered in the reflector. The components inside the torch head appear to be modification friendly.
USER INTERFACE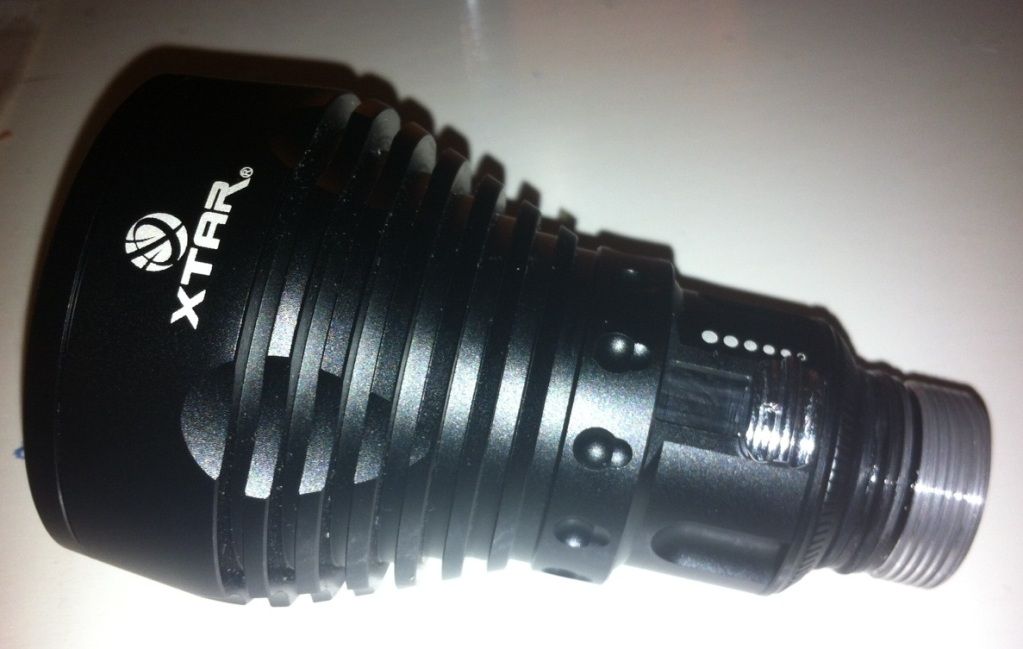 The magnetic switch travels approximately 1cm and is nonlinear in operation. The torch remains off throughout half of the switch travel (dots 1 through 4) and then comes to life in low mode (at dot 4) then quickly increases to full (at dot 6). While any brightness can be selected with practice I do not find the feature useful for diving. My preference would be for a simple high, medium and low setting placed at reasonable intervals along the sliding switch. Dimming is controlled by PWM with no visible flickering.
To prevent the torch from accidentally switching on above water you can unscrew the body or tailcap slightly. This should never be done whilst underwater – salt water and Lithium batteries do not mix well! There is no safety lockout to prevent the torch from turning on accidentally whilst underwater.
The magnetic switch has a small (approximately 4mA) parasitic draw when switched off. When not using the torch for a period of time I recommend removing the batteries.
The switch slides smoothly but may clog with sand and salt crystals. As recommended in the instructions manual, a post dive rinse in fresh water and periodic lubrication / cleaning of the switch slider is essential to trouble free operation.
PERFORMANCE AND BEAMSHOTS

Photos coming soon!
The first thing anyone mentions when switching on the torch is "Wow! OMG… It is really bright."
Switched off the torch consumes ~4ma when switched off as measured at the tailcap. On full power the torch initially consumes 1.3A and quickly drops to around 1.2A. This matches the expected 2 hour + burn time quite nicely.
IN WATER PERFORMANCE

Photos and video coming soon
METAL TORCH SYNDROME

All metal dive torches that use the body to carry electricity have a significant design flaw. No matter how well a torch is anodized, small dings and surface scratches can cause current to flow between the head and tail of the torch in salt water causing corrosion and battery discharge. In extreme cases the user may feel a slight shock when handling the torch with wet hands.
I wish to make clear that this torch performed flawlessly during testing and evaluation. However, based on experience with other metal torches I would not be surprised if and when this problem appears. Dive torches are designed to be used in rough environments. Between being tossed around in gear bags and dive tubs there is no way this torch would not get scuffed up and scratched in 100% perfectly normal use. To minimise 'metal torch syndrome' be sure to rinse in fresh water after diving, dry completely and store the torch with the batteries removed.
Torches with internal wiring or plastic bodies (those that do not use the body of the torch as a return current path) do not exhibit metal torch syndrome.
SUMMARY
XTAR has made another good flashlight for diving. Good build quality and no moving parts to leak water in. The variable brightness control is great for a number of non-diving applications too.
Verdict: Recommended!