EagleTac TX25C2 XM-L2 U2
kreisl's Overall Rating: 
★★★
★★
Summary:
| | |
| --- | --- |
| Battery: | w/o extender: 2x16340, 2xCR123A, or 1x18650 |
| Switch: | electronic side clicky |
| Modes: | 3 main modes, 2 groups, 7 hidden blinkies |
| LED Type: | 2013: XM-L2 U2 CW |
| Lens: | user replaceable double-sided AR coated waterwhite hardened glass lens |
| Tailstands: | ye |
| Price Paid: | 90€ |
| From: | NKON.nl |
| Date Ordered: | May 2013 |
Pros:
market-leading 1x18650 brightness, 1000 Fenix ANSI lumen verified

super compact similar to SC600 MkII size

preselect level before turning on
momentary activation
good looks (compare to ***ly EC25)
instant access to tactical strobe, fast access to tactical turbo
low voltage warning
excellent efficiency, regulation, runtimes, no PWM
nice tintless beam
tailcap lockout
secure pocket clip, 4Sevens Deep Carry pocket clip fits!
optional screw-on diffuser, color filters, or SS attack bezel
8 battery configurations possible: 2x/3x16340, 2x/3x/4xCR123A, or 1x/2x/3x18650
information policy
Cons:
actual resistance to water may be less than advertised
with gloves on, button provides no tactile feedback, only minimal audible
in the dark, button is hard to locate
smaller than T20C2 MkII but more costly wth!!
Relative:
real pocket rocket thrower and with bright spill
a non-weapon mountable cross between G25C2 MkII and T20C2 MkII

T20C2 fans would miss user-replaceable modules, also in G25C2
with pocket clip on, head twisting changes relative button position
big steps between brightness levels (in the default group)
smaller step Med-mode accessed after 10x head twists
ET glossy black anodization similar to Foursevens/Olight quality
firm switch not easy to depress, not easy to activate accidentally
momentary on not suitable for morse code, momentary turbo from Lo is
head twists, usually by 2 hands, a matter of taste
total of UI aspects too complex for Walmart-goers
no moonlight/firefly mode
low voltage warning not for multi li-ion cell config
little prolonged continuous runtime with enabled energy saving mode
not audible inductor whine on Middle mode
tailcap design could look nicer hmm
switching on at Lo-mode, there is (minor) pre-flash
Introduction.
According to their official website EAGTAC LLC was founded in 2009, Washington (office location), USA, and may be an Arizona U.S. based company. Similar to other US-based flashlight brands such as 4Sevens, Shiningbeam, Streamlight, Zebralight and PowerTac, the products are manufactured and assembled in China. For example brands such as 4Sevens (Dave), Shiningbeam (Bryan), iTP and Olight (Christina) are produced by Olight China (Dave). Coincidentally 4Sevens, Eagtac (Dan) and PTS (Mike) share some common history and business relations, and one might assume that some EagleTac parts or processing stem from Olight China too but that's another unconfirmed story so let's not go there. In any case, currently the largest ET importers/distributors/dealers in the USA are Eagletac-USA (Mike) and illuminationGear (Tod).
While EagleTac as a 'US-brand made in China' was known in the scene from the very start and appreciated by authorized dealers, re-sellers and forum boardies from all over world, especially in the US and EU countries (UK, Gemany, Russia, ..) as maker —designer and producer— of affordable high-end throwers for personal use and tactically oriented precision flashlights for professional use (duty, law enforcement, police, tactical gear aficionados, military fields, search and rescue teams), only recently did they make a broader appearance in the scene and left a footprint in so many new potential buyers' minds.
Even without the market introduction of their best-selling EDC series, the D25 Mini's & Clicky's (see also my D25LC2 Clicky review with a similar ET introductory text), there are so many little details about this brand and their products which in most cases turn a simple EagleTac user to an ardent EagleTac fan. In summary, truly exciting are:
the 10 yrs of warranty, service and performance guarantee
the very likable clear product line and compact catalog similar to ArmyTek's (it's been growing tho)
the continuation, improvement and evolution of old strong products such as T20C2
the first to release models with updated LEDs
the separate availability of updated LED modules and upgraded heads
the manifold LED options for throw, flood, tint or even color LEDs, IR, UV
the thoughtfully designed well built and over specs performing end products
the rich set of included accessories plus the optional
the premium-feel packaging (similar to the old 4Sevens retail packaging)
the beautiful modern website (new since Nov 2011) packed with product info
the fair price point below Fenix pricing and much below 4Sevens
cant think of any aspect which sucks
Do you like stickers? I do. I keep'em. The packages are vely nice too, thanks!
Back on topic:
By looking at the above list one can tell that ET works hard to do it right in every respect, keep the pace of technological advances, and literally excel and convince the audience. ET was also the first of its class (among other premium brands with batteries in the portfolio such Xtar, Fenix, Solarforce, Nitecore, Jetbeam, Klarus) to release Protected 18650's 3400mAh based on Panasonic NCR18650B, today's #1-favorite Japcell in the scene. Pretty much there, ET seems to have closed the gap at the forefront behind Zebralight's #1 industry-leading circuit efficiency or let's say max brightness. One major point of this review is to establish the 1000 lumens on the Fenix scale as fact. With it, the TX25C2 beats the for 2.0 years up to now brightest single-18650 light on the market, the Zebralight SC600 MkII, by a narrow margin. More and more 900+ lumens 1x18650 flashlights sporting the latest XM-L2 bins are hitting the market, a.o. Olight, Nitecore, ArmyTek, and gone seems the technological advance of the zebra. These days, only semi-professional reviewers with exact measurement tools and DIY integrating spheres can find out if a rated 950 lumens new light is really brighter and more efficient than a rated 900 lumens older light. At 50 lumens, our eyes can readily detect the difference between 50lm and 100lm light sources by heart, but at 950 lumens, our eyes lose the illuminative difference between 950lm and 900lm flashlights in the tint and peam battern. Integrating spheres conveniently provide such purchase decision-making numbers for your papers, and the core of this review work is based on the measurements made by UPz with his serious DIY IS which was seriously calibrated after the Fenix ANSI lumens scale, meaning "Whatever Fenix factory measures in their expensive commercial IS light box, this DIY IS can reproduce the measurements ... within a ±10% tolerance band. Future Fenix flashlight reviews, possibly with photos of the UT61E readings, will prove it!". For this purpose, i even shipped my bunch of EagleTac flashlights from kreisl Gemany to UPz Spain so that he could measure their ANSI FL-1 lumens after the Fenix scale and add the data to his growing database (database start: May 2013). More recently UPz worked hard on completing an awesome technical review on the legendary Zebralight SC52, and it contains such Fenix lumens readings from the new integrating sphere: measured 30 seconds after activation, the SC52 puts out 254 Fenix ANSI lumens, which means that ZL overrated the product by 26 ZL ANSI lumens and selfbuilt by 36 SB ANSI lumens. Question is, did Eagletac, with respect to the Fenix ANSI lumens scale, overrate their own lights too, or are ET lights rather underrated by themselves, or do the Fenix and ET ANSI lumens scale coincide, or more importantly for starters, is the ET scale as consistent by itself as the Fenix scale? Jump to the review summary, if you don't need graphs or proofs and all you want is the results of my findings in condensed form.
very pocketable Eagtac lights: a XM-L2 thrower, a NW flooder, and a Ti allrounder. EagleTac is simply beautiful stuffz at reasonable price!

The TX25C2 was announced for the first time around mid-Dec 2012 and released to public 2 weeks later on Jan 1st 2013. A new compact powerful flashlight model by EagleTac, a cross-breeding building on the designs of flagship G25C2 and classic T20C2 and never mentioned before in the upcoming releases PDF back then, u serious?? Hell yah, gimme that, now! This was big news on the forums, especially on CPF[1] and TLF[2] major homes of a loyal sizable following of this US-designed/China-produced brand. But only after the announcement of the XM-L2 CW silent update 7 weeks later in mid-Feb plus the detailed technical tests in selfbuilt's XM-L2 NW review[3] did this model gain actionable momentum in sales. On the Russian forum[4], it is currently among the Top3 hottest topics introduced in 2013, after Nitecore EC25 and Zebralight SC600 MkII. The higher price in comparison to the weapon-mountable real tactical T20C2 might hinder this model from becoming a sheer ET best-seller such as the previously introduced, now popular D25-series. Eagletac enthusiast or not, i would not be discussing this flashlight in detail, if i weren't convinced that it is a superior product and worth this kind of labor of love. kreisl reviews follow a non-standard format, contain much atypical discussions, comments, strong opinions, and are biased in the sense that they are written from a subjective point of view, someone who really likes the brand and flashlight under consideration. 'Because i like the light very much and strongly believe in its superiority (and hopefully can prove it or make the point), i am willing to do a kreisl-style review on it' — if such a reviewer's motto does not go against your reader's principles, then please feel free to kick back and be welcome in my world full of love and enthusiasm for a brand and everything it provides to its customers: With Zebralight you get the bare awesome flashlight only, with EagleTac there is so much more to enjoy and admire, so join me on my ride!
Googled and cropped the images, showing the light with optional bezel adapter plus stainless steel crown, photo credits to original author [13]:
I stole this pro-like photo from the Russians. I am sure that they are now after me.
this too. I don't know Russian so i couldn't negotiate the photo credits. see a slashed squirrel, that's the weapon


 
Features / Value: 
★★★★

☆

It is impossible to start a comprehensive review on a recent ET flashlight model without having pointed the reader to the wealth of info and material provided by the company itself. Do you know of any other premium brand which puts more serious efforts into presenting the features and technical details of their products in a very professional manner? I must admit that i immensely appreciate this top level of professionalism and seriousness because it leaves me with the impression and feeling that every area of concern was treated with equal respect and dedication. Eagletac customers are spoiled by an attractive website which one feels compelled to revisit regularly, by a great wealth of product related info see below, by appealing packaging, by 10yrs performance guaranteed warranty, by untypical high quality holsters, by service thru a large stable net of dealers and distributors in many countries, by friendly help thru EagleTac contact direct, by magnificently constructed top performing flashlights, by the included accessories, by the optional additional accessories, by competitive pricing oh well haha, and the imho highly likable company philosophy similar to ArmyTek of keeping the catalog clear and concise and "silently" updating the drivers and LED's of all models as soon as the new technology becomes available. In contrast, Nitecore prefers to throw entirely new model creations on the market building around the current LED generation by forgetting about the just released models with the older LED's. Venerable and lethargic Fenix manages to update only few models per year and they do so slowly and by assigning incremented model numbers — acceptable practice in the industry but not as likable. Sunwayman and Klarus are no high volume sales items, they can't be bothered with a general update of their catalogs at all.
cute sized cherished possessions, each exudes superiority, exclusivity or desirability. the zebra is as green as its anodization omg

The great and many features of the light are listed and summarized in best manner on the Eagletac website. The company put much effort in compiling the info together with top quality photo material and pointing out the various design details. I can hardly add to the wealth, clarity and precision of the descriptions found there. Therefore i urge the reader to study the following webpages, since they contain all essential and interesting info regarding the features and value of the product. The 10 URL's are probably more helpful for your purchase decision than this lengthy blablah review!
http://eagletac.com/html/tx25c2/index.html (TX25C2 intro), landing page, auto-gallery advertises the high efficiency of the "synchronous current regulated circuit" of the "compact duty light" and then gets stuck there (webpage error?), links to 5 product related pages[

β

]-[

ζ

], downloads[

η

]-[

ι

], series overview[

κ

], list of authorized dealers and resellers including international distributors and importers, serial number product registration form, warranty technical support form, general contact sheet, a.o.
http://eagletac.com/html/tx25c2/specs.html (extensive specs sheet), typical for ET and totally unique in the industry, a full(!) webpage dedicated to the small print of the product, boasts with a plethora of detailed specification data, including exact measurements of beam profile, battery fitment, LED circuit, runtimes for 7 (out of 8 possible) battery configurations, 5 different ANSI lumen levels, carrying method, other features, contents for BASE and KIT package, etc etc, plus extended footnotes. a must-read for everyone with serious interest in an EagleTac flashlight model.
http://eagletac.com/html/tx25c2/features/output.html (beamshots), describes turbo boost technology and its duration, how ET measures ANSI FL-1 lumens output, what the RL effects of the LED tint choice are. includes outdoor beamshot to demonstrate tint difference, and white wallshots of normal beam, colored beams and diffused beam to demo beam profiles and the purpose of the diffuser lens and RGBY filter lenses. for various apparent reasons this compilation page consisting of 11 singular qualitative beamshots is imo good for promotional and advertising purposes but not terribly useful for ambitious comparison purposes. could be done a bit better i guess oh well.
http://eagletac.com/html/tx25c2/features/efficiency.html (circuit design), reports on real torture tests to guarantee electronic reliability and physical stability, rather long technical section detailing on the special circuit design and features, ultra-high efficiency, runtimes, absence of PWM. highly impressive page packed with gorgeous kind of info and too good to be passed on without quoting full passages from it, see discussion of driver
http://eagletac.com/html/tx25c2/features/control.html (user interface), explains the essential operation features, nice textual presentation, a bit more wordy than the Quick Start Guide in the printed manual[

ι

]. very good.
http://eagletac.com/html/tx25c2/features/details.html (nice features), is to make the reader aware that the ET engineers paid professional attention to every technical detail. points out over 10 specific design details arranged in 6 sections: Supreme handling, Innovative design, Highly customizable, Button switch and twisty head, Smart head design, Holster. well made page, informative and recommended reading. no bs for the sake of advertising, respect!
http://eagletac.com/download/gallery/tx25c2std.zip (download pics), 7 JPEG's in 16:9 standard resolution, 800x450, 1.01MB download zip, 1.20MB unpacked, created by Adobe Photoshop CS5, file stamp 2012-12-01, typically employed by authorized dealers to fill in their product sales page
http://eagletac.com/download/gallery/tx25c2hd.zip (download pics HD), 7 JPEG's in 16:9 Full HD resolution, 1920x1080, created by Adobe Photoshop CS5, file stamp 2012-12-01, in a 4.42MB download zip, unpacked 5.09MB, great for examining high quality close-ups of the product including reflector quality, LED centricity, glossiness of black anodization, knurling, pocket clip details, white wall shots. nice service by the company to offer 1080p material for enjoyment and convenient sourcing
http://eagletac.com/download/readme/tx25c2.pdf (download manual), clear and very short Quick Start Guide section with incredibly well-written, concise, basic usage instructions, more elaborate sections on battery safety precautions, flashlight maintenance, trouble shooting, battery care, and warranty. the Quick Specifications refer to the older XM-L U2 model. entire manual can be read, understood and finished in 1 minute, hats off great job, nobody does it better!
http://eagletac.com/html/t_series/index.html (T-series overview), correctly points out the very key feature of each of the three current T-series models: the 4.7in long, deep reflector of TX25C2 (pocket rocket!), the Upgradeable LED module of T20C2 MkII (P60 style!), and the Dual output levels of T100C2 MkII (proven simplicity of Quark Tactical!). page presents TX25C2 at the center of interest, maybe because it's regarded as the new flagship or because it is the latest and most modern product creation in the series
wth's going on here omg?? charming, gorgeous, entrancing, adorable, ravishing, EagleTac has it for all tastes and likes. you only need to come and grab your pair. hehe.
Whatever you would possibly want to know about the TX25C2 can be found on the above 10 official webpages or in the below 16 annotated references which contain even more textual and visual material than the already packed official webpages and downloadable resources. For a quick summary of the more attention-grabbing product features please check again the list of Pro's at the top of this review.
2012-08-08 shelm :

Quark Tactical - Which are your 2 settings?

, relevant poll concerning the owners' preferred dual setting of their Foursevens Quark Tactical. Interestingly, most users prefer Max-mode on head tightened combined with Med-mode on head loosened. This poll result, the winning QT configuration, coincides exactly with the Tactical Group of TX25C2: Turbo (head tightened) - Med (head loosened) - Strobe (head loosened even more). So before you TX25C2 shopper complain, why didn't you complain about your Quark Tactical? If the tactical UI 4Sevens served your purpose, then the very similar tactical UI ET should fit the bill too imho.

2012-12-01

jcalvert : Eagletac TX25C2 - Smaller Side Switch alternative to the popular GX25C2 MKII,

prospective buyers

polarized, either really like or don't look forward to the

mode spacing, remain uncertain about actual fallout and effects in RL experience,

topic vehemently debated,

includes

very good discussion and possible explanation of its practical purpose

, owners express strong love for mode preselection, build quality, output, throwing capability, looks, and set the record straight with regard to imaginable issues with the old SC600-style like raised switch and practicability of head twist mode changes. includes fair comparison with Zebralight SC600 and Nitecore EC25 Cobra. points of criticism are price and the relatively frequent need for cleaning the inside metal contacts

2012-12-02

Bwolcott : New!!! Eagletac TX25c2, all cheer the looks, esthetic design, power, are dumbfounded by the advertised mode spacing, further chitchatting about tints, battery fitment, ET ano, and some harmless kresil trolling trying to draw more attention to his own thread[19] hehe


2013-01-03

Gumboot : Eagtac TX25C2...First impressions, comparing to SC600w, neutral white owner raves about nicer, whiter tint, narrower, bright spill and throwier at distance, loves the overall smooth beam pattern and summarizes the torch as impressive compact and wonderful pocketable thrower. early March we hearing for the first time about the soon release of XM-L2 in the TX25C2, the company didn't hesitate a bit to spoil us with updating the just released new product creation to the very latest available LED technology, probably much to the astonishment and frustration of the early adopting and pre-orders fulfilling dealers!

2013-01-03

jojoselected : Eagletac TX25C2 XM-L mit 825 Lumen, superficial video presentation, ignorant of Tactical Group and the other activatable advanced features, Geman dealer jojo measures ~14000 lux for both the EC25 and the (non XM-L2 version of) TX25C2. mentions compactness, big brightness step between Middle and Third mode, firm switch, bad operability with gloves at night, fast hotness of head on Turbo mode, he likes the light very much but asks the shopper to recall the little quirk with the brightness step in Regular Group


2013-01-10

msitc :

MSITC nightly video review EagleTac TX25C2 1030 lumens max.

, short Geman dealer's video 

of the torch performance as part of his promotional clip series 'bright flashlights at night'. his video contributions would be somewhat helpful if 2 lights, e.g. of comparable power TX25C2 vs. EC25, were competing against each other simultaneously on the shooting range. however as standalone beamshot video not very helpful also because of poorly chosen videocam settings. allows very limited qualitative comparison to other lights from the series with the same poor settings.

2013-01-12 msitc : Review: EagleTac TX25C2 1030 Lumen max., Geman dealer promoting his newly stocked product in a photographic non-technical presentation for commercial purposes. text basically a translated recitation of manufacturer's specs from English into his native language. no measurements, nothing, none. nice product gallery if that's what you're after. his merit is being the very first on the WWW to publish original photo material and providing comparative/comparable beamshots on the max mode. thread also contains a good snow beamshot comparison.

2013-01-28

jojoselected : EagleTac TX25C2 das KIT, nice quick video demonstration of the KIT, jojo does not know what the 2 included rubber rings are good for lol

2013-02-07 andreas0401 : Vorstellung Eagletac TX25C2 CW, quick presentation with short gallery, size comparison, mentions firmness of switch, difficulty to feel the switch in the dark, awkwardness of relative clip location, wishes another brightness level between Lo and Hi, finds it as pocketable as SC600.

very helpful the comparison to

G25C2 MkII, SC600 and TD15X in candela and superb animated beamshots at indoor/outdoor/shutter speed. also has great video clip demonstrating that the G25C2 MkII throws further and has a darker spill than the TX25C2
2013-02-10 z7c9vx : EagleTac TX25C2 Laufzeitdiagramm, lux-runtime-graph on Turbo mode with energy saving enabled, a cooling fan and using the hotspot center lux as normed quantity for brightness. battery for this test Keeppower 18650 2600mAh. light shows perfect flat brightness stabilization on Turbo mode after the 25% step-down for extended time, which is the same great result as tested by selfbuilt and UPz.
2013-02-12 Lampentroll : Ankündigung: Eagletac TX25C2, another Geman dealer trying to promote the new product. for some reason the country has many many ET resellers, a very competitive market despite the non-existent undercutting Chinese e-tailers. Since US dealers charge high international shipping costs, with this brand it makes sense to buy from a national dealer with FREE local shipping. These practical conditions make ET a favorite brand with dealers worldwide with no fear of FT, DO, DD, DX, WB or HKE! on TLF the product announcement thread by this popular dealer triggers a great deal of interest, interestingly much more so than [4]. here too, some forum surfers find the discrepant brightness levels a bit off-putting but generally the product meets with a positive response and is preferred to the EC25 very much after the motto Whatever the company produces for Mr. Normalo, it will be very well received in the G. community.   


2013-02-27

vondy : EagleTac TX25C2, G25C2 MkII or Sunwayman V20C, exchange of views and preferences, short discussion of the more obvious differences between the 3 lights, and well-founded recommendations. in the end vondy buys the G25 lol
2013-03-03 tatopus : EagleTac TX25C2 XM-L U2 и T6, one of the most active recent threads in the Russian community, contains good quality photos of the light disassembled with reflector removed, pictures of the light with the single cell extender, double cell extender, stainless steel attack bezel ring, accessories, etc., but most importantly a very helpful series of single and comparative beamshots. worth checking out!
2013-03-07 Lampentroll : Review Eagletac TX25C2, superficial non-critical non-technical review style similar to [5], precise textual description of the flashlight physicality, good product gallery with close-ups, accessories, white wall shots with filter lenses for the birds. lists a whole bunch of tested Protected 18650's if they fit well. solely intended for the introduction, presentation and promotion of the product. no measurements, no real tests, no RL practical experience, nothing.

2013-03-16

selfbuilt : Eagletac TX25C2 (XM-L2 1x18650 2xCR123A/RCR) Review: RUNTIMES, VIDEO, BEAMSHOTS+

, a master of packing much pertinent info fluently into brief textual passages author manages to deliver concise yet complete description of physical build, size/weight comparison, good close-ups of key parts, emitter, KIT, standby drain,

technical analysis of the 7 blinkies, compendious revision of the UI, this time very illustrative white wall shots (note the narrow bright spill plus high intensity hotspot). at the date of writing the torch has #1 industry-leading max output. the brightness-runtime graphs reveal superior performance too. great must-read technical summary of potential issues and preliminary observations. review contains all relevant facts regarding technical tests, results and measurements, a surely more informative evaluation of the light than [19]. definitely worth reading through all posts in this active ongoing thread, also includes a well-made not very short video which explains the operation and accessories!


2013-03-27

jhc37013 : Eagletac TX25C2 XM-L2 - Initial observations, nice mini review from an amazed fresh owner, praises size, throw, spill area, clip, total output, etc., finds single-handed operation awkward because of rotating button location, tiny ano chips near button, battery fitment, others agree that altogether it's an acceptable compromise for what it does and can do, one walmart goer is exposed and ridicules himself lol
2013-04-01 ledmitter_nli : So the Klarus XT11 and Eagletac TX25C2 XM-L2 is in hand. Verdict?, succinct comparison of the 2 lights with respect to their more practical or tactical field of application. author owns, likes and uses them both but for different situations. points out that the ET is less tactical, yet a great emergency light for its manifold auxiliary modes.
2013-04-19 luvlites : Comparing Throw of the EagleTac TX25C2, Convoy M1, UltraFire UF-T50, & Zebralight SC600 Mk II, presents 1 graph measuring the throw, in lux or candela, versus runtime of the named 4 compact 1x18650 flashlights. Keep in mind that lux and candela ain't no lumens nor ceiling bounce. The graph looks nice, depicts the brightness regulation well and that the SC600 MkII is not a bit a thrower but cannot be used to estimate efficiency or calulate integral brightness because erh candela ain't lumens lol

2013-05-17

joelbnyc : Compact 1x18650 High Lumen like Eagletac TX25C2?, short thread, author with the light on shortlist looking for in-bag edc recommendation finally decides in favor of the G25C2 MkII and explains why he did so. turns out, for no hard facts lol


2013-05-22

vinhnguyen54 : Re: vinhnguyen54 Need Modded Work? 2013 , Vinh Nguyen from Seattle is a well-known commercial modder on CPF, he thinks that the TX25C2 is the very best pocket thrower and even better with dedomed emitter
2013-06-01 Cappys29 : Lost modes on EagleTac TX25C2 XM-L2 U2.........., user experiencing issue with his sample, Middle and Third modes seemingly gone, needs help or advice from fellow boardies, owners or not
2013-06-08 Cybernetic : Question about TX25C2 llens get foggy., user got a replacement from his dealer because water humidity entered the head and the glass lens fogged up, compare with my review section on water-proofness


2013-06-14

kreisler : Review: EagleTac TX25C2 XM-L2 U2, not better but textually much longer than selfbuilt's awesome review, extended tl;dr self-important text heavy review in tiresome repetitive style, with an unnecessary and unnecessarily long rambling Eagtac brand intro section lazily copy pasted from his older review work, biased opinion by a sincere ET enthusiast made in gemany, introducing the wonderful light for the first time officially on his home board, da phun BFL! with some original thoughts, some off topic, lists annotated manufacturer's URL's, comments on a chronological list of relevant WWW references including the work by himself, while his photo/scan contributions ****, the main point of his work is to publish definitive re-measurements of the absolute lumens output (not relative lumens output!) in form of equally nice technical tables and graphs similar to selfbuilt's presentation of test results and measurements. reference scale and calibration lights are 100% exclusively Fenix produce. he comes to the conclusion that the Eagletac's would have a higher lumens rating on the Fenix scale and that the TX25C2 is as bright as a Fenix flashlight which the Fenix factory and the Fenix company would officially rate with 1000 ANSI lumens. That's all he wanted to know. Why his review ended up being so wordy and not exactly informative, i'll ask him about it, you betcha.
2013-06-17 Mev : EagleTac TX25C2 Review, short impersonal review. has a few non-3D close-up photos of the main flashlight parts. short objective dry description of obvious details of the flashlight parts. states the obvious and is not very detailed. kind of a "shortened summary" of the above ET pages. white wall beam profiles for Turbo/Hi/Med/Low. since all of his white walls shots are plain green, they could be used for qualitative beam profile comparisons and as indication of brightness levels or beam artifacts between different flashlight models reviewed by Mev but not for indication of tint or tint tendencies of (t)his reviewed flashlights, unfortunately. the core of Mev's work lies in the runtime tests and brightness graphs and measurements. he lists own lumen and lux measurements for Turbo/Hi/Med/Low, lists runtime measurements for Turbo/Hi, has brightness graphs for Turbo/Hi on 1x18650. tbh a very poor work by Mev and rather useless review, not very helpful at all.

2013-07-31 andreas0401 : Beamshotvergleich Eagletac TX25 XM-L CW mit TX25 XM-L2 CW und TX25 XM-L2 NW, apart from the 3 emitter close-ups, lux measurements at 1m and ceiling bounce, and group photo demonstrating the difference in total flashlight length with the optional extenders, at the core of his efforts are superb animated indoor beamshots at 3 different shutter speeds and 1 outdoor shot comparison.

very helpful brightness and tint comparison between the XM-L CW and the two XM-L2 emitter versions, hats off.

2013-08-16

andreas0401 : Fenix PD35 Vorstellung und Vergleichbeamshots, quick presentation of PD35 and very helpful animated outdoor and indoor beamshot comparisons of PD35, TX25C2 XM-L2, and SC600. Easy to see that the EagleTac looks brighter and is brighter than PD35 and that the Zebralight performs so poorly against today's competition. Includes a nice group photo. good job, Andreas!

2013-08-27

Bluzie : 74 Beamshots mit Lampenbildern, compares the beams of many popular EDC's in 1 outdoor setting. TX25C2 CW and NW are included and the best performing 1x18650 lights out of the bunch.

2013-08-29

walter01 : Luxmessung auf 1m mit verschiedenen Taschenlampen, Walter finally got his hands on a TX25C2 XM-L2 flashlight sample for inclusion in the vast lux data table. He published 17320 Lux at 1m, ET's official spec is "Center lux: 15,800 lux", so who is wlong?

2013-09-05

Backpacker : Just received my new TX25C2 XM-L2. But looks like I got the older XM-L model?, senior boardie with few posts who received a wrong emitter light packaged in the retail box, wondering how this had happened. gets the new replacement sample from a different vendor. mind you, EagleTac lights are widely distributed among flashlight dealers, especially in Gemany and USA and elsewhere.

Packaging contents. Your XM-L2 model, CoolWhite XM-L2 or NeutralWhite XM-L2, may come in the retail box with the old sticker and added upgrade sticker or it may come with one single sticker. While the standard offering, CoolWhite BASE version, usually does not bear further stickers, additional stickers do indicate if your XM-L2 is the NeutralWhite emitter or if it's the KIT version: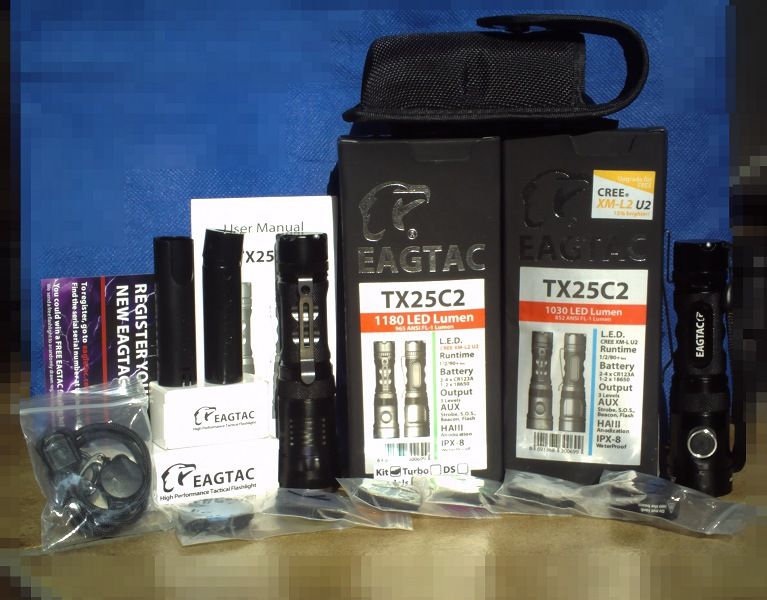 portrait photo. lots of standard Eagtac accessories, great holster. the Deep Carry pocket clip i bought it from Foursevens.com website
User interface. The possibilities of operating the light to the fullest cannot be explained in short and the dedicated webpage[ε] offers already the best most concise description, clearly laid out and more nicely represented than in the packed pages of the operator's manual[ι], neither can I verbalize it better than selfbuilt's explanations[15]. For the sake of this review let me present my elaborate take anyway in form of a commented discussion of the various aspects. It's a rich user interface:
Instant access to strobe. No matter if the light is on or off, double-press and hold the button, and you get your strobe, u happy now? Release the button and you are back in the exact previous state whatever that was. Since you need to keep the button depressed, the strobe is a momentary strobe. Great for signalling purposes, maybe less practical in a stressful tactical situation where one should not be concerned about keeping a button depressed all the time. Nice to have as special feature, at least it's there at the finger tip for instant access and thru one-handed operation, and i would evaluate it as a "panic-proof" function. Otherwise or alternatively, you should operate the torch in activated Tactical Group (see below), so you'd use your other hand to twist the head loose in order to get a constant strobe, if you find that more practical in your very situation.
Momentary on. This term refers to your light starting from the off state, the light be off. A single-click and hold will, by technical design after a minimal delay of 0.4sec, produce momentary light at the preselected level, i.e. depending on the head position and Tactical vs. Regular Group. Release the button and the light returns to the off state. This feature is definitely nice to have because it mimics the core property of a forward clicky at half-depress, namely to produce momentary light, well except for the mentioned delay. Question is, can the TX25C2's momentary on be exploited in a tactical situation similarly to the T20C2's tactical forward clicky? In my opinion, no it can't, not really. In a tactical situation, the TX25C2's momentary on feature is imo not suitable for ultra short bursts in rapid succession nor for signalling in morse code. It's just that, simple momentary activation for typical short lighting needs. And that's typical and the best you can get out of an electronic flashlight switch anyway, they don't replace the full functionality of a mechanical tactical forward clicky with half-depress momentary activation and full-depress engaging constant on. You gotta live with it, the compromise.
Easy on/off. From the light-off state, a short single click defined as pressing and releasing the button within 0.4sec will turn the light constant on. During the light-on state, a same short single click on the button will turn the light permanently off. Simple, straight-forward, intuitive operation, any Walmart-goer no offense i go to Walmart too can figure out by himself how to make the eagle squall and how to choke the bird, without reading the instruction manual or disthis cussion.
Rapid access to turbo. Why rapid, why not instant, you asking? Because you get true instant access only from (any) on position: When the light is already on, i.e. constant light or constant strobe or any of the hidden blinkies, a single-click and hold will, with no minimal delay, produce momentary turbo light. Release the button and the light returns to the previous on state. In contrast, in order to access (momentary) turbo from the off state, you'd either tighten the head and press'n hold the button (see Momentary on), or you'd first click the light on and from there press'n hold the button (see Rapid access to turbo). Accessing constant turbo is yet easier: tighten the head, if it's not tightened already, and click the button, if the light is not on already, and that's it! As you can see, accessing turbo, momentary or constant, is done fast: single-handedly the turbo isn't further away than 2 presses on the button. That's another welcome panic-proof function in a tactical situation! By the way, since the Lo-mode, i.e. the Third mode on Regular Group, is indeed very low and the momentary turbo real-time instant with no delay, you could use this output combo for signalling purposes, for example sending in morse code. At distance, with the focused beam pointed on da face of the observer, the Lo-mode could hardly be made out by him and rather serve as locator and the off-baseline for your signalling sequence. Then starting from there, the instant Turbo painted on his face would be geez hellya instantly recognized as what it is supposed to be: someone signalling in morse code, someone with a message, someone maybe in emergency. And that someone is you.
Preselect level. That's what every user wants: determining the brightness level before turning on the light. That's why infinitely variable magnetic control rings with a mechanical tactical forward clicky are regarded as generally the very best UI on the market (e.g. Sunwayman V11R) and that's also why i personally think that the Quark Tactical UI is right after it the 2nd very best on the market: the light is off, it's dark, you cannot see anything, you can still feel the head and twist it in the right direction with 2 hands, tighten or loosen, and finally you turn on the preselected mode of the active Mode Group with a momentary on (press'n hold) or constant on (click, i.e. press'n release). Perfect, i love it. Preselection of your desired level, get the right amount of illumination in the situation, not more not less. Imho every portable flashlight should come with this nice feature.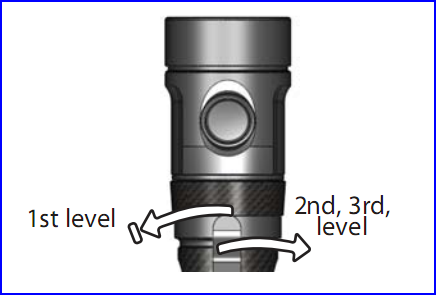 turning the head for advancing modes is similar to a simple magnetic control ring, isn't it?
Changing output level. see above. Once the light is clicked on, the output is adjustable by twisting the head to select between three output brightness levels. Head tightened gives you the 1st level, Turbo mode (at 12 o'clock), loosening it a bit gives you the "Middle mode" (2nd level, between 1 and 3 o'clock), and loosening it even more (3rd level, between 3 and 6 o'clock) gives you the "Third mode" which is either Lo-mode or constant strobe. You can do so with 2 hands or single handed. Changing modes with a single hand is suggested by the ET website and also seen in various youtube clips.
Yeah, 2 mode groups with a total of 4 possible brightness levels. Loosening tailcap defaults to Regular Group
2 Mode Groups. see above. After inserting or exchanging a battery the torch always defaults to Regular Group. From the tightened position (=Turbo mode, light ON), twist the head 10x quickly back and forth to the Middle mode; this toggles your light to the Tactical Group. Note that for your convenience the currently active Mode Group, i.e. either MG1 "Regular Group" or MG2 "Tactical Group", is memorized when you switch the light off. In order to toggle back to the Regular Group, do the same 10 quick twists again, or simply interrupt the circuit by loosening the anodized tailcap, which would automatically clear the mode group memory. The cumbersome ten quick twists guarantee that you won't choke the chicken accidentally. Mode Group? Watt mode group??, you askin'? Yaaahh, you got me. Following your personal preference or current needs, activate Tactical Group, if you frequently need a real Med-mode with moderate 208 lumens plus a constant strobe, or stay in the default Regular Group, if you frequently need a real Low-mode with 7 lumens and a stronger Middle mode (called "Hi-mode" in the instruction manual) with 459 lumens. Sure, it is a big step from 7 to 459, and as interesting this innovative concept of sharing the identical Turbo-mode and dividing 5 modes (Turbo/Hi/Med/Lo/Strobe) into 2 Mode Groups is, i am still wondering what the ingenious idea and reasoning behind all this is. Personally, i go with the Regular Group because i never need constant strobe and i prefer to have a real Low-mode readily accessible. Indoors, at home, the diffuser filter lens is always screwed on, so the 459 lumens are well spread in all directions of the room, no illuminated object reflects too brightly, and who what kind of flashaholic paying 90 bucks for a premium light would think of complaining that his light is too bright for the money lol? If the beam is too intense for your eyes, screw on the filter lens, and done. And for work during the day and outdoors at night, the biggish and deep SMO reflector in combination with the high lumens output produce the right beam for most lighting applications. Tactical vs. Regular Group, an interesting concept, and i got used to it. In practice, RL, it turns out sub-optimal yet agreeable and acceptable. The TX25C2 is a pocketable XML-thrower, with bright spill btw, so this UI peculiarity should not by any means be a deal breaker. And as mentioned, you could always screw on the high-quality filter lens to defuse/diffuse the high intensity beam.
Energy saving. After inserting or exchanging a battery the torch always defaults to Energy saving on (or enabled, activated). From the loosened position (=Third mode, light ON), twist the head 10x quickly forth and back to the Middle mode; this deactivates the energy saving feature; Energy saving is now off (or deactivated, disabled). As soon as you have completed these 10 twists successfully, the light would return some sort of feedback/signal which is to let you know about your success hooray. The signal is difficult to describe but you'll know what i mean when you experience it by yourself, trust me. Note that for your convenience the state of the Energy saving feature, whether it is enabled (75%, default after exchanging batteries) or disabled (90%, after the 10 twists), is memorized when you switch the light off. In order to toggle back to activated energy saving, do the same 10 quick twists again, or simply interrupt the circuit by loosening the anodized tailcap, which would automatically clear the Energy saving memory. This function refers to the down-step size of the Turbo mode "after 200 seconds" (i measured ~205sec), whether the output is reduced either from 100% down to 75% (energy saving is on; default!) or from 100% to 90% (energy saving is off). The 75% (measured XYZ Fenix lumens) and 90% (measured ABC Fenix lumens) are stabilized brightness levels and the prior down-steps are imperative for them because they ensure that the amperage can still rise with the decreasing cell voltage. To this end, the iG webpage suggests that "Due to the high output nature of the TX25C2 - a high output 18650 battery is required for optimal output and runtime performance. The battery must be able to provide 3.0+amps of power - which the cheap Ultra/TrustFire 18650 batteries are unable to provide". On Turbo mode, initial current draw on a good fresh 18650 cell is XYZ amperes. iG was right! In theory, energy saving on should mean that the light runs more efficiently and with longer runtimes. In practice, have a look at the graphs and judge for yourself what the effects are. It seems that the 90% can be stabilized for a very short time only before the light drops out of regulation and enters some kind of pseudo-direct drive. Interestingly, stopping the time at the usual "50% mark" there is no notable gain or loss in continuous runtime, oh well. See discussion of runtimes for an explanation of this phenomenon.
Low voltage warning. Obviously a warning is no active or direct overdischarge protection since it is still in  user's hands to exchange the depleted cell or to continue to let it run in the torch. However it is a working, i've tested it!, minimum safety feature to feed Unprotected 1x18650 with 3.7V nominal voltage and 4.2V fully charged. How does it work? When during operation the cell voltage reaches 2.9V, measured under load, the light would begin to issue a warning signal in form of an 1sec-long anti-flash per minute. The light can still operate down to 2.7V because of the wide operating voltage of 2.7-12.6V. At this point the user is advised to switch the mode to a lower output mode, e.g. from Turbo to Middle mode, in order to reduce the voltage sag in the cell under load and to get back over the 2.9V mark. Eventually the cell voltage under load would drop to 2.9V again, so the same low voltage warning kicks back in. A little further down, at around 2.69-2.75V, the light would completely stop working, either because the protection circuit board PCB of your Protected 18650 tripped (typically at 2.75V) or because the Protected/Unprotected cell voltage under load is beyond the operating voltage range (2.7V specification). I didn't test the latter because as a general safety precaution li-ion cells at 3.0V offline voltage are to be considered fully depleted and should be recharged immediately and not stored. That said, in theory the clearly defined operating voltage range is some kind of indirect overdischarge protection for unprotected 1x18650. But neither this nor the low voltage warning are safe measures in case you run the torch with a multiple li-ion cell configuration, i.e. 2x/3x16340 or 2x/3x18650. In such cases you're really required to feed Protected li-ion cells. All in all the low voltage warning is a nice feature to have when running 1x18650, the user is prompted to either exchange the 18650 (recommended!) or lower the output mode. EDIT: After doing the repeated runtime tests i actually measured the interval between the 1sec long off signal to be 31sec, so the signal goes like this: light - 1sec off - 31s light - 1sec off - 31s light - 1sec off - etc., and yes it is around 2.9V under load when this happens. How much runtime is left when the signal at 2.9V occurs? It depends on the mode and on the cell. Just to give you a feel for timing, here are two examples: On Med-mode, i.e. the Middle mode of the Tactical Group, i stopped the runtime test after 5h45min and the signal occurred 8mins before that. That was on the ET2500 cell; on the ET3100 cell, the signal occurred 23mins before i stopped the runtime test after a total of 7h2min. Once the signalling has started, you can tell that within a few minutes the light drops out of the stabilized brightness level. When i quickly removed the cells to measure their voltage 'quasi-under load', the cell offline voltages were indeed ~2.7V which slowly recovered to a steady 3.303V reading after hours of rest. With these observations I am going to assume that overdischarging a 18650 li-ion cell is possible, if one ignores the low voltage warning or if the cell is not protected. At this moment i don't have any unprotected cells to verify my assumption but i will test it once i got my hands on such cells.
They call'em Aux modes, we blinkies. the strobes are fast and really nasty, highly effective stuff. too many blinkies to remember; they're there if needed
7 Hidden blinky modes. see above. T-series, D25-series, G-series, .. the abundance of blinky modes are almost a standard with EagleTac flashlights. Hidden yet fast accessible you get to the first auxiliary mode, Strobe I, by twisting the head 1x quickly forth and back from the tightened/ON-position to the Third mode: tight - loosen - tighten. Repeat this twist to advance through the 7 blinky modes in repeating sequence (Strobe I - Strobe II - Hi-Flash - fast SOS - normal SOS - Beacon - Lo-Flash - Strobe I - ..). Turn off the light or loosen the head to quit the hidden modes. Note that momentary turbo is still possible by button press'n hold in this tightened head position. Release the button to get back to the active blinky mode. Please be reminded that, apart from the well-known screw-on filter lenses, EagleTac dealers also sell white diffuser tips and red diffuser cones for use as traffic wands and such, see the next review section on accessories. The commercial availability of such extended white/red diffusers, 2013 new on the market for EagleTac T-series lights, add to the sometimes questioned utility of the too(?) many ET blinkies.
Turbo boost. Related to the energy saving and integral part of the UI it is noteworthy that the user cannot turn this feature off. The turbo boost technology is activated automatically every time you flash at turbo output setting from any previous state and it lasts for 200 seconds. During this short period the Turbo mode runs at a max possible energy level, the top brightness is not stabilized. It is normal for the light to get hot at this level and you must not leave the light running unattended. Once the boost period has ended, the output drops by 10% or by 25% to a lower turbo brightness level which the driver tries to stabilize at full stretch. Especially with the energy saving disabled, a poorer quality 18650 cell will make the light drop out of regulation much much sooner than a high drain high capacity cell which can sustain a 3.0A+ current draw stably over a longer period of time. Because of the generation of massive heat, at no time during operation on Turbo mode, during or after the 200sec boost, may the torch run unattended.
Did i forget anything? Lemme think..
Design / Build Quality: 
★★★
★★
The TX25C2 comes in a styling similar to the GX25A3, both torches from apparently the same looks family share common design elements, see for example head shape, tail area, UI and the comparable luminous output. The CNC precisely cut and rolled square-shape knurling provides a sure grip throughout the entire flashlight body. The super compact size and light traveling weight make it very handy to operate, even with one hand. Says the webpage. And it's true. While the head lacks any kind of knurling, its CNC cut very shape provides enough grip for thumb and index finger to twist the head comfortably. The smooth and easy-going twist action permits single-handed operation, that is mode changing. I believe that testers of the Nitecore SmartRing Tactical series would appreciate the same kind of tactile or audible clicking feedback on the EagleTac's head twisting mode change system. More importantly, the latter is a RL proven system, as attested indirectly by the sales success of the popular G25C2 MkII model. Actually, the simplicity of TX25C2's only-3-clear-head-positions UI works to its advantage: even in pitch darkness and with gloves on can you "feel" the head's mode position and quickly change it to your preference before turning it on. Blind folded. With gloves on. It's more complicated to do so with the SRT-series lights or the G25C2 because they are 4+ modes lights, and the last time i checked, stressed out in a tactical situation with all my body shiver and tremble i could hardly focus, speak nor manage to count up beyond 0, 1, 2. After that i got shot dead already.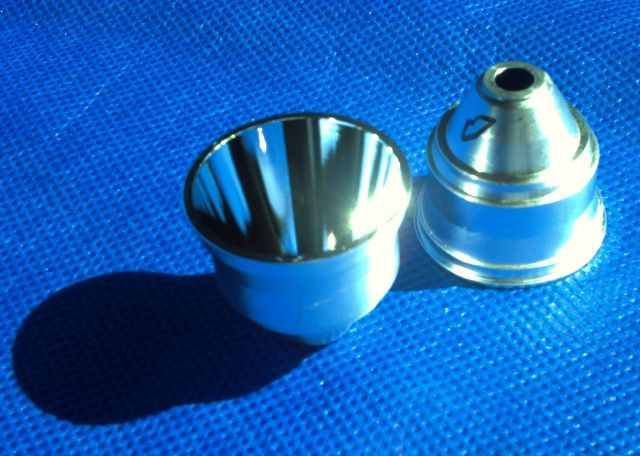 mouse over. distinctive sophisticated fluted male shaping for guided ****tration/introduction into the reflector cup holder
The shiny SMO reflector, absolutely flawless in production quality and finish, is deeper than T20C2's, smaller than G25C2's reflector and produces the most focused and hottest hotspot of its form factor family, pocketable XM-L's with enlarged head and electronic side switch (C20C, EC25, SC600, SL6, XXXFire a. o.). At the same time the spill beam is tight and bright and thus still surprisingly useful for a XM-L thrower. The transition from the hotspot to the bright spill is very smooth. Great spill. Eagtac did a wonderful job designing the reflector.
mouse over. the reflector gets seated at 3 contacting areas: white base ring, middle of the reflector cup holder, and top brim

Tint is nice and absolutely nothing to be concerned about. For sure it is nicer than the best XM-L U2 CW's i've ever seen in EagleTac lights and as flashaholics know, ET is known for consistently great white CW tints, be it in their CREE XP-G S2, XP-G2 R5 or XM-L T6 CW picks. No greenish or lime hue, not even on the lower modes, and this XM-L2 U2 of my personal new sample delivers probably the best CW tint performance from any XM-L family on the current market; for more comments on tint, please see the beamshot section. As for 2nd gen XM-L's, tbh this is my very first and only XM-L2 so far, hence i cannot compare to even better tint-performing XM-L2 CW's picked by other flashlight companies. Folks who know the author also know that he is a tint snob and very critical with regard to tint performance. This TX25C2 sample beats all XM-L tints i've seen so far, especially all and any XM-L U2's which Nitecore flooded the market with in 2012, and i am very pleased. No complaints here, delighted i am yay!
SX25L3 MT-G2, T20C2 XM-L U2 CW, TX25C2 XM-L2 NW, TX25C2 XM-L2 CW: mouse over for duh!
The double-sided anti-reflective coated waterwhite hardened thick (Ø29.1×2.06mm) glass lens is cushioned by a single thick o-ring at the glass outside. At the glass inside, the lens is seated without a cushioning o-ring directly against the widened brim of the reflector. Furthermore it appears that the fancy reflector itself is not clipped or somehow fixed to the surrounding head cup as it was in the D25-series lights, but seems to sit loosely in the head cup; well, that's not entirely true haha. As a consequence, if one wants to exchange the bezel head and therefore needs to unscrew the upper head part, both the lens and the reflector will come loose at the same time and could drop out of the torch by accident, argh! As easy it is to user-replace the lens or the reflector, as easy would it be for the user to let the lens or the reflector drop out of their 'cups' since neither replacement part is secured mechanically. The user is advised to proceed with great care, caution and attention in this critical moment.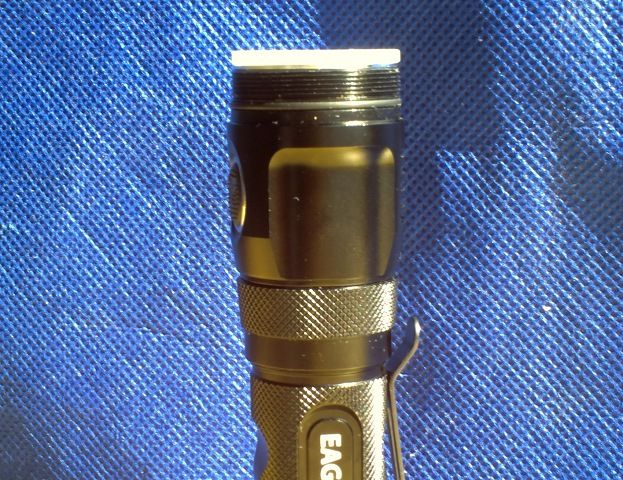 mouse over. o-ring provides very tight seal, sweet! threads are fine but precision cut. thick lens sits on reflector brim
Youtubers have criticized that frequent back and forth exchanging of the bezel head might lead to contamination of the spotless reflector because dust particles would have the chance to enter the system during the short period of exchange. That's kinda true in theory. However in practice my take is: As a KIT buyer, leave the threaded mount head including original glass lens on the torch all the time (be it solo, with diffuser, color filter, or stainless steel bezel attack ring!), and as a BASE user, don't feel tempted to unscrew the default (unthreaded) bezel head at all. This way you reduce the risk of dropping the fragile parts or scratching or contaminating the reflector. And if see 1 or 2 mini dust particles on the reflector surface, then do not use Q-Tips —they will scratch the surface, promised!!— nor blow with your mouth but use a dirt-free brand new air blower or dust cleanser.
By the way, in theory the reflector is clipped in place by the plastic white ring on the LED board which also serves as auto-centering device; and it's true that the reflector gets perfectly centered above the XM-L2 emitter. In practice the reflector still revolves at its very place and eventually may come loose or pop off. In order to avoid that dust particles enter the reflector chamber, one may hold the flashlight vertical bezel down while unscrewing the lens-holding black bezel. This way a loose reflector will come off together with the lens, or no dust can fall into the bezel-down reflector. It is quite easy to pop off the clipped reflector with your finger nail. Just be careful that you don't let the reflector drop on the floor. And yes, the glass lens is seated absolutely loosely in the removed black bezel, beware!
the white speckles and points are dust particles, fibres, gray hair and some dandruff. it's okay
Owners who popped out the reflector for disassembling purposes will have noticed that the TX25C2 is also a great torch for modding. EagleTac uses standard-sized commercially available LED star boards and it makes upgrading or swapping the LED a breeze. Because of the depth of the reflector, the LED board is seated deep in the cup housing but to me, exchanging the LED board seems very doable. Let me note again how effective the thermal path and heat sinking on this model is. The head gets much hotter and much faster than the 600lm T20C2 XM-L U2 model with its screw-in LED modules.
mouse over. thermal paste, reflector centering white ring, perfect thermal path, heat sink, quality soldering: great construction, cha!
Since the button is relatively flush with the surrounding area, does not flash (EC25), neither protrudes (EA4) nor lies recessed (SC600), it does not give very good tactile feedback and one sometimes ends up fumbling in the dark to find it unless you remembered its position relative to the unremoved pocket clip. With gloves on, tactical feedback of the switch is absent, especially compared with a protruding forward clicky tail switch at the rear end of a typical tactical model (T20C2) where no fumbling is needed to find the button if you need to turn the light on in a hurry without looking. Most electronic side clickies have this practical concern in common, they are small, located on any side, hard to feel, difficult to operate with gloves. A light emitting button cover or GITD paint on the switch boot would remedy such a situation. Note that the slightly recessed switch requires a firm depress after all and is harder to activate than the old SC600 MkI switch which had suffered from accidental activation. The ET website informs that no current goes through the on/off switch and that this means higher efficiency, a reliable switch mechanism, and quiet electrical spark-less operation. Aha. I am not sure if this is rather common with electronic switches but it sounds sweet, thanks!
mouse over. middle doesn't have as perfect alignment of everything as left sample but who cares? switch doesn't protrude, yes sir aha
"No current goes through the on/off switch means high efficiency, reliable switch mechanism, quiet and electrical spark-less operation." — That's what the product webpage[ζ] says. From the thin wiring we could confirm that the electronic switch indeed works totally differently from a mechanical tailcap on/off switch since the latter would sustain the full current load of the batteries. Thin wires are sufficient as signaling lines and they lie protected in the chamber space between the reflector and the reflector cup. What a clever way to make a flashlight compacter!
mouse over. switch assembly has its own mini housing and is connected directly to the driver through thin signal lines
I have never seen such a clever construction before, the inner of the tailcap is designed in such a way that it could host a Protected 18650 which protrudes over the edge of the battery tube. Clever, clever! This rather unique (patented?) construction comes with another welcome advantage: perfect alignment. Tactical tailcaps with thumb cutouts always suffer from arbitrary or poor alignment relative to irregular body design elements, i.e. distinguishing marks which deviate from the otherwise circular symmetry of the flashlight's cross-section such as labels, cosmetic grooves, or a fixed clip. The positional arbitrariness would originate from the retaining ring assembly, i.e. the machining of the threadings, tolerances of the parts, how firmly the ring was tightened, or if a conductive or non-conductive spacer was added or not, all in all a true technical challenge for manufacturers. EagleTac's inner tailcap design puts away all these factors and allows for perfect fit, i.e. no gap between the cap and clip ring, and perfect alignment: the lanyard hole ends up aligned with the body label "EAGTAC", very nice! Note that Zebralight, in a quick afterthought after the initial SC600 release, bypassed the risk of arbitrary alignment by inelegantly adding a lanyard ring on the flashlight body, and ZL users don't really like the stub nor the lousy pocket clip.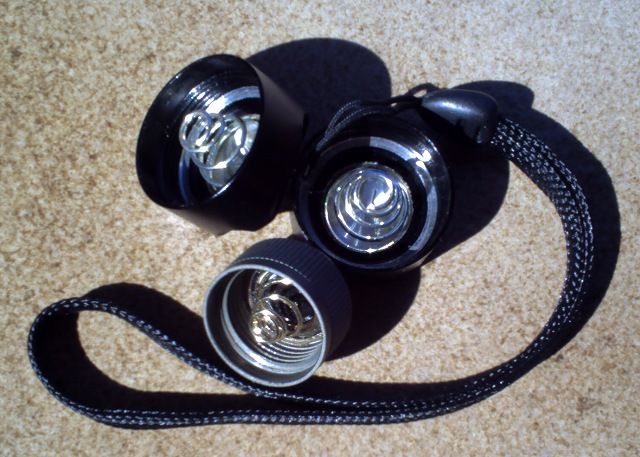 mouse over. SC52 design is simple, Eagtac's inner tailcap design leaves extra room for cells up to 71.00mm length
The lanyard attachment point, is it a lanyard hole or a lanyard ring?, has as thin wall thickness as seen on similar designs. It is a common and, unlike the SC600 stub, a very unobtrusive design and people would attach a small split ring at it, in combination with a mini carabiner and strong lanyard. I don't. I prefer to attach a harmless wrist strap directly to it and fertig. Should the attachment point ever fail on you under normal usage, then rest assured that the ET factory will send out a replacement tailcap at no cost under the 10 years performance guarantee.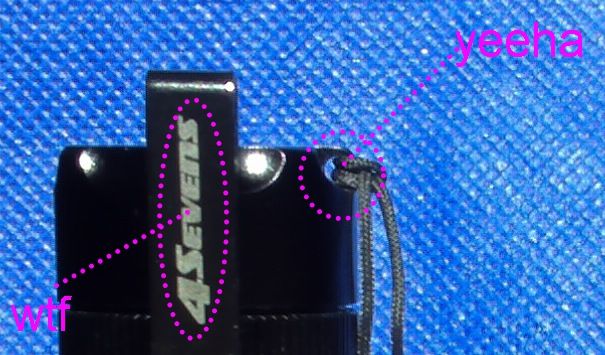 dis ain't key ring attachment point for key chain flashlights! you're weird if you attach your bunch of keys to this fleshright
The circular outer edge of the tailcap has spherical cap-like cutouts and I am still wondering what their primary purpose is. On the one hand the 5 or 6 cutouts provide real grip for twisting the tailcap to lock-out the light or exchange batteries, on the other hand they do impart basic styling to the otherwise ungraceful looks of primitive tailcaps: Making primitive things look beautiful is an art and i could not have done it any better, neither did Andy Xie the leading artist in the scene.
i've seen more attractive tails, bottoms or buttocks however you call them. but i've also seen worse so no complaints here i guess haha
Interestingly, while the battery poles touch spring loaded contacts, the battery itself is spring mounted at the tailcap side only and rests against the battery tube opening at the opposite side. In other words, the battery is not double-spring mounted as known from tactical gun-mount lights. This and the physical reverse polarity protection entail that flat-top cells don't work in the light. In the forum threads, users have been compiling lists of known 18650's which are reported to work fine. These include the ET2500, ET3100 and ET3400. Well, these ET cells are not really protruding button-top cells but they seem to work fine.
see and learn which parts are anodized. the latest T20C2's have bare aluminum tail threads wth. all batteries are double-spring loaded, aren't they? well, the TX25C2 not truly, see below!
The flashlight body is not a drilled-through battery tube but a on the upper end confined battery compartment, similar to a container with a small opening at its top. A highly unusual construction in the scene with the intended effect to allow for 3 different electrical states to be signaled to the driver, instead of the usual 2 states: head tightened vs. head loosened. A positive side effect of this construction is that the cell is held fixed in the body, cannot drop out of the flashlight when the head is screwed off, and the mechatronics of the 3 different electrical states should be more controllable, reliable and less susceptible to mechanic failure or physical impact.
chamber construction could be used as battery carriers in theory. in practice, you're risking a short. remove the batteries first before removing the head
A potential negative side effect would be the ease of shorting out the cell, e.g. a kid playing with a tiny piece of wire and shorting the cell's plus pole with the 1/2 inch distant bare aluminum contact disc, or leaving 'the container' accidentally by itself in a mixed bag or purse with conductive parts, metallic pens, coins or upside-down on a conductive sheet, plate or similar. Even trying to measure the offline voltage of the container could lead to a short-circuit because of a bypassing multimeter probe. Such practical considerations are slightly off-topic and have nothing to do with a proper flashlight review but the writer thinks that whatever related thought comes to mind, a piece of advice, guideline, precaution, idea, or other relevant info, should be noted nonetheless in order to bloat this blablah review even more haha.
Changing modes with one hand is possible and a bit tricky because twisting the head also changes the original relative location of the button. Twisting the head one way or the other, it does reposition the side clicky. So after changing the mode, you'd rotate the entire light a bit to get your thumb exactly back above the button. In some users' opinion the side-switch/twisty-head combo isn't ideal and I agree that the repositioning of the entire light in the hand is not helped by the presence of the unremoved pocket clip.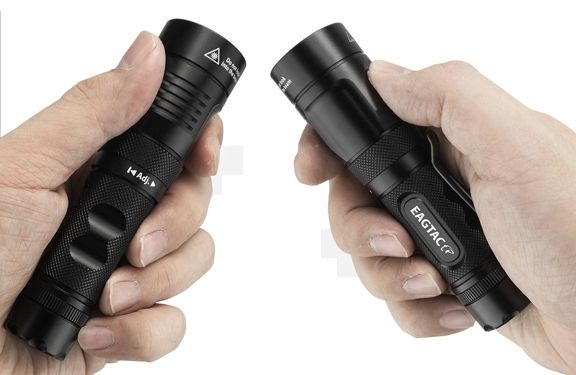 wiv less than ¼ of a turn one reaches all 3 modes in series. 1-handed comfortable on TX25C2, very hard on SX25L3
The removable secured pocket clip, a much loved sturdy design, also serves as natural anti-roll device. Moreover it helps to identify visually or by touch, before turning the light on, which mode is preselected, Turbo, Middle mode, or Third mode. Unlike plain clip designs (SC600), the ET clip has a perfect middle point whereto attach a wrist strap or the stainless steel split ring for clipping the mil-spec paracord lanyard onto. Or one can attach the ring or strap to the dedicated lanyard hole on the tailcap. Personally i either attach a mini split ring directly to the middle of the pocket clip and leave the dedicated lanyard hole unused, or alternatively attach a thin wrist strap to the dedicated lanyard hole.
Interesting to note, on my new sample the body tube has 4 notches to fix the location of the pocket clip. This gives the user the freedom to choose between 4 possible fixed positions whichever he or she likes best as a matter of taste and preference. Having the clip fixed at the (standard) 12 o'clock position lets the user easier realize visually which preset level the torch is in, whereas the opposite clip position, fixed at 6 o'clock, is much more comfortable to hold in the hand and with the absence of any impeding top-positioned clip also facilitates unobstructed access of the switch button by the thumb. For the latter reason i personally prefer to have the clip fixed at the opposite position of the standard location.
mouse over for 180° turn. TX25C2 with SS bezel head is still shorter than T20C2 which is protected by rubbery parts and film-taped head
The website advertises with a smart head design referring to the excellent thermal path between the LED and the heatsink by dramatically reducing the thermal resistance, which in turn leads to a maximization of LED output and its service life. The outer surface area is also maximized with cooling fins to dissipate the heat to the air. At least they are proud enough to address this critical technical design aspect overtly, and we also recall the catastrophic heat sinking and thermal path design in Nitecore EA4 and EA8. A quick look into the well-built interior of the disassembled head [12], and we nod and agree that the designers put some serious efforts into ensuring a firm broad heat conductive connection, i.e. a broad thermal path, between the LED board, aluminum pill heat sink and the encasing head. EA4 and EA8 owners had been wondering why their 800 lumens flashlights did not heat up during operation. In contrast, all TX25C2 users and i can tell you that our little torch gets hot very fast on Turbo mode, within seconds so to speak. A good sign that the excellent thermal path is present and working.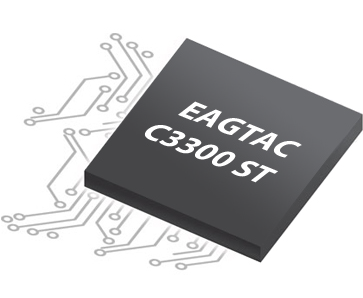 Time to talk about the heart of every flashlight, the driver circuit. How can you write down so much about the driver and its electronic design whereas nobody else, no other flashlight reviewer ever does so in their reviews, kresil? Well, think about it, because i can and they can't, because no other flashlight company known to mankind is so open about naming and presenting the benchmark data of the circuit design. Eagletac designers and engineers are proud to let the customers know what changes and improvements and new features they incorporated into the development of the current driver version. Fenix is the only other company who lets the user know about firmware updates and refined drivers but they don't communicate this kind of info openly in public, and only the observant Fenix fan community would know about these silent updates by comparing the version codes on the driver contact disc. Nitecore stopped similar practice after the TM11 V3 release and all other flashlight companies, out of fear and marketing reasons, don't even consider doing so, much to the frustration of Zebralight, Skyray King, or, erh, Nitecore buyers. Diligent manufacturers and ambitious designers constantly improve the electronic circuit of their most popular models, that's what they do, their daily job when they go to work. Similar to software updates, designers identify bugs, gather suggestions and issues in a to-do list, improve the code incrementally, and when the total of changes is big enough to warrant the change in the factory production line, the new driver release sees the world. All(!) Nitecore new creations have bugs in the initial driver releases or are otherwise electronically flawed and Zebralight hardcore fans can tell you exactly how many silent iterations existed for SC600 Mk1 and SC51. To the delight and appreciation of Eagletac users, the ET company pursues an open information policy with respect to driver versions and future product updates, the latter via email. For starters, a name is assigned to the driver. The name contains an iteration version number and also its main characteristic, the max current. On the SC600 or the EC25 you don't know **** about what's inside (name? generation?) and what's exactly inside (version?) and you can't even communicate your technical question or concerns to the customer service reps because there isn't any official form of name or version identification. Post-TM11 Nitecore flashlights and their driver versions are identifiable, thru the flashlight serial number, but you still don't know in May if the April-TM26 on cpfmp has the improved firmware over the reported buggy March-TM26. The Nitecore company is not very willing to disclose driver version information via email and with Zebralight i love my SC52 btw the entire subject is in vain. EagleTac always published the driver version iteration of the former T-series flagship, there were C1200 I, C1200 II, C1200 III, C1500 V, C2100 M, and C2100 V, referring to the max amperages 1.2A, 1.5A, 2.1A and the updated circuit versions. Now, the TX25C2 (Mk1, XM-L2 U2) is listed with a driver called C3300 ST, that is 3.3A max current. If in 1 year the company decides to release a "silently" updated model, say a TX25C2 XM-L2 U4 or a TX25C2 MkII XM-L3, then you could see the driver version change on the updated webpage as say C3300 SU or C3500 I, or, if it still says C3300 ST, then it means that ET didn't but swap the emitter or that the webpage has not been edited. It would be easy to drop a quick message to ET customer service 'hello team ET, is the driver in the current TX25C2 XM-L2 U4 NW still the same old C3300 ST? i am just curious'. You know, maybe the difference between a C2100 M and C2100 V driver doesn't play any role in your life, but the certainty of consciously knowing what exact driver, name and version, is built into my possession is important enough, to me. This bit of info matters to me. I want to know it, i want to know what's inside, i don't want to be ignorant about it. If you didn't care about detailed info, then you wouldn't still be reading this dang review, would you? Because you're a flashaholic and not any Mr. Ignorant from the streets. Some ignorant shoppers don't want to know what's inside a PC and they buy their new computer from the supermarket because they believe in best price best value motto of the grocery discounters. Fine. Not my chicken. Me, as snobbish pseudo flashaholic, i detest the arbitrariness concerning xxxfire budget labels, and if i don't know exactly how well it performs or what's really inside from an identifiable reputable brand name source, i wouldn't even look at the product. The design esthetics and superior construction are first to arrest my light attention, and then, the more info on the product is available, user-provided or manufacturer-provided, the more am i willing to get hooked and give the product a fair chance. EagleTac spoils my honest need for product-related facts and i really enjoy it. You possess an ET light, and you can be confident about what you possess, hard facts such as lux, hotspot angle, spill angle, throw, battery fitment, operating voltage range, type of driver, efficiency of driver, name and version of driver, max current of driver, replaceable items, runtimes for alternative battery configurations, exact indication of how the lumens were measured, namely after 60 seconds instead of the usual 30sec, detailed battery safety precaution, etc. I am honest about it, EagleTac is the only flashlight brand which fully satisfies my needs and does not leave me frustrated about anything shall we get back to the driver circuitry topic let me quote the useful description from the webpage[δ]:
Ultra-high efficient circuit design.

Reliability that you can count on

We design this circuit to survive the toughest torture environment including: 1) repeatedly over-night burn-in test w/ minimal cooling, 2) over input voltage test of up to 15V, 3) over-driven output current test of up to 4A, and 4) high temperature duration test.

Our experienced electronic engineers ensure all components are working at its maximum efficiency and highest stability with the optimally planned and implemented circuit pcb layout. All chosen electrical components in this circuit design have good amount of headroom to ensure high stability in long term usage.

Inside the C3300 ST

This highly efficient synchronous buck current regulated circuit controls the precious amount of current that goes through the LED at all output levels. This results in constant brightness output regardless of LED variation, battery voltage, and temperature change. The Low EMI management and quick soft-start design provide clean electricity for the circuit and LED to enhance their service life.

Our synchronous buck converter is more technologically advanced and compact than regular buck converter. It also allows more board space for our exceptionally low DCR mosfets, rugged & shielded power inductor, and low ESR tantalum capacitors. This together leads to very high efficiency and lower required input voltage to regulate current.

The microprocessor is programmed to provide handy and easy-to-use interface for the users. When the flashlight is turned off, it shuts off all unnecessary components and waits to respond to user command at very low standby current (uA).
Wow, this is clear English and loaded with facts and real technical info, the language of a technician who really knows what he's talking about, lovely! I don't know how much of the text you understood, it was very technical, but I for my part feel very satisfied after reading such a professional text. I like my SWM's but have you ever read the official product webpage of a Sunwayman flashlight? Then you'd know what i mean with "feeling satisfied" lol. The technical specs webpage[β] tells us a bit more on the C3300 ST driver, namely that it's synchronous buck w/ efficiency of up to 95%, does non-dimming constant current regulation for all output levels without flicking, has a low dropout voltage which enables the circuit to regulate the current even with a single 18650 for most of the runtime at turbo output. The low battery voltage warning and the turbo boost technology are also part of the driver design as is the very low standby current (uA). Imo all this plausible no-nonsense and seemingly no-bs info on the driver sounds to me more like the company's urge to convey factual technical information than the ridiculous swm efforts to advertise a product. I am almost swept off my feet after so much sincere clear technical data. Am feeling good now. This is what i want, thanks!
portrait photo again. the color filters are optical glass filters unlike the early T20C2 filters which were simply colored glass lenses. u don't know the difference? s***s
What's more to indulge in? Did anyone say accessories? I luv accessories, don't ya? So let's go over to this simple and fun topic and learn what we've got. Arranged in 10 item groups:
extension body tubes: 1x single (123) cell battery tube extender for a flashlight total of 3xCR123A/RCR123, 1x double cell extender for a total of 4xCR123A/2x18650, or 2x double cell extenders for a total of 3x18650 — 1 single cell plus 1 double cell extender are part of the KIT. the extenders are also available individually. please also see separate review section.
mouse over. the long extender has some knurling, the other hasn't. both come with a multi-function rubber grip ring to be installed
screw-on color filters: ET28

R

ed,

G

reen,

B

lue,

Y

ellow glass lens filters, see below mouse over pics. identical to the T20C2 screw-on filters, except for an improved red: selfbuilt said that the red filter is an optical grade red filter and not simple red colored glass — included in the KIT and also available separately
well this is the old red from T20C2. as you can see it's colored glass and the easiest, cheapest and safest way to produce red light
optical grade filters look funny. both reflected and transmitted light color depend on their respective view angles. red can look orange!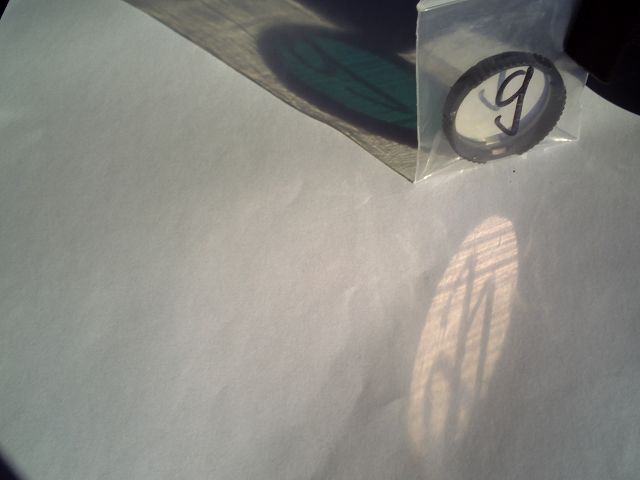 from the front this filter has a rose reflection. look through it and you'll see the color of hope, health, nature, fertility, tranquility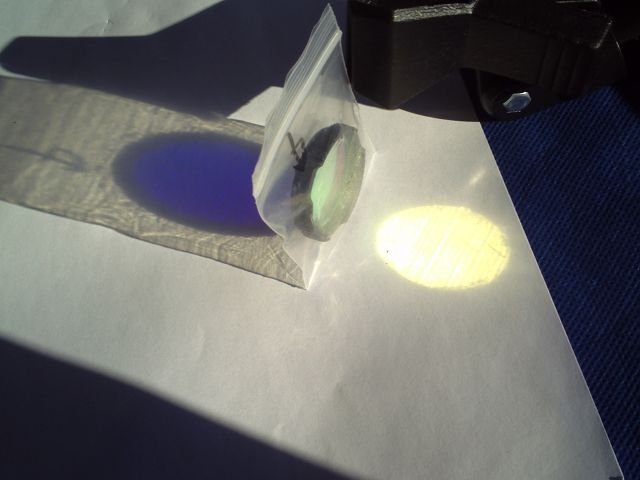 front reflection looks green or yellow depending on view angle. looked through at an angle the filter produces violet instead of blue
from above the reflection shimmers blueish. after passing the filter the light turns into yellow color. it's magic haha. bored yet?
diffusers diffuse the original untouched beam but they also absorb brightness. at home i use my TM15 with diffuser lens all the time
screw-on stainless steel crenelated ring: ET28

SS

Bezel, shiny stainless steel, has sharp edges, serves as attack ring and also protects the top part of the light, anodization, bezel head, glass lens. it's the identical bezel as seen in the T20C2 standard package. trade-off, the sharp edges are not super pocket-friendly — not included in the KIT but available individually or from your T20C2 MkII hehe. according to iG's note maybe available in BS black steel too, limited quantities
mouse over. the SS bezels are quite easy to unscrew. for more friction add sticky silicone grease to the threads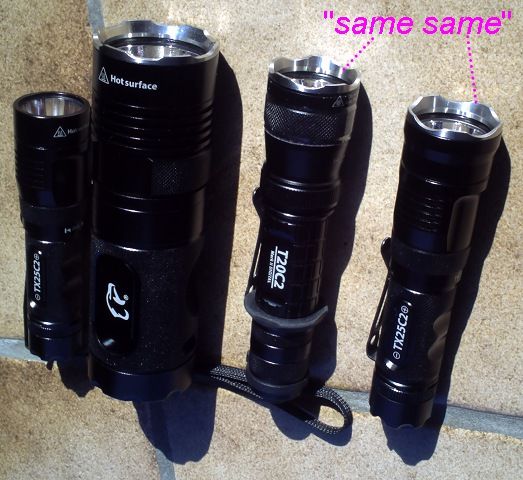 rotated photo. T20C2 rubber cigar grip works great as anti-scratch shock absorber
front-mount bezel head: threaded bezel needed for screwing on the ET28 R/G/B/Y/D/SS. Note: at its o-ring, carefully insert the glass lens from the original bezel head. since the glass lens is not fixed in the bezel head, while unscrewing the bezel heads there is high risk of losing and dropping the glass lens and also of altering the bare-lying sensitive reflector surface, so much attention and care are required during this operation — included in the KIT and also available separately
mouse over. threaded bezel is longer and therefore channels the beam and causes minimal lumens losses. great accessory item tho
why would you want to run around like that? that's what they are there for, you should at least cover the top
diffuser cones: red cone and white diffuser cone for use as traffic wands similar to the popular Fenix conical diffuser tips, Nitecore has similar stuffz — new optional accessory for the T20C2 but also fits the TX25C2 with the front-mount bezel head on. limited availability, iG may have them in stock
I have old Fenix diffuser cones which are not a perfect fit but with some padding tape at the orifice they're just fine
holster: a rigid, very functional, nice quality, generously dimensioned, heavy duty nylon holster with flap, button closure and self-retention — included in the BASE
perfect fit for BASE version, so with front-mount threaded bezel head or with Deep Carry pocket clip the light will not fit, argh
pocket clip: titanium coated stainless steel pocket clip, removable. secured in position by a retaining place-holder ring, also serves as natural anti-roll device, identical in quality to the praised Foursevens pocket clips. retainer ring must be fully tightened to ensure unblocked connection of tailcap contact. Foursevens Deep Carry pocket clip miraculously fits on the TX25C2 (and the D25LC2) but not on the T20C2.
SWM clips s*** so hard omfg. clips by 4Sevens, Eagtac, Fenix rule! Nitcore titanium clip installed on SC52, beautiful fit and function!
anti-rattle sleeve: CR123A battery magazine for two CR123A/16340 batteries. an older soft plastic and a newer rigid plastic version of the adapter exists and it is standard accessory part of the T20C2 package. the 1-part new style adapter sleeve is integral part of the TX25C2 BASE package, even though some early adopters did not get it in the package.
both adapters are super lightweight, thinnish and easily incinerated. don't crack if you will
o-rings: 2 black o-rings are included, that is 1 thick o-ring for the tail-body junction (16.0×20.0×2.0mm) and 1 thin o-ring for the body-head junction (20.0×23.0×1.5mm).
lanyard: mil-spec paracord wrist strap with quick attachment clip. very good quality and standard accessory item with most ET lights. nothing cheap about it. Fasttech has a similar yet cheaper version of it.
generous standard accessory bag. other manufacturers don't package as much and no anti-rattle sleeve!
split ring: stainless steel split ring, a freebie yay to accompany the quick attachment clip of the lanyard. you can attach it to the lanyard hole at the tailcap or to the pocket clip. i prefer not to attach any split ring directly to the light in order to avoid scratches and strain on the coated metal parts. hey it's a premium light and there is nothing wrong with treating the lanyard hole gently by threading a harmless wrist strap through it.
batteries: ET is one of the few premium brands to offer a full range of round li-ion batteries, ET CR123A, RCR123, 14500, 17650, several capacities of 18650's, and custom li-ion accupacks for the big GX/SX/MX rechargeable models. The white wrapped 18650's (ET2500, ET3100, ET3400) are based on the well-known Panasonic cells (NCR18650A, NCR18650B), protected, thin and short, and my favorite cells for flashlights. Sometimes ET dealers would include FREE ET CR123A's with your ET flashlight order because they buy them at low bulk prices. The TX25C2 hosts Protected 18650's with lengths up to 71.00mm with no problem, cells should have a slightly protruding button top because of the physical reverse polarity protection.
generic protected Pannies have really sturdy wrappers. ET wrapping is too thin for my liking tbh
Early builds versus most recent builds. It has come to my attention that the physicality of the light got minimally improved from early builds to most recent production versions. No biggos but late adopters will appreciate the physical improvements nevertheless. They are:
groove. The very early body had a single cutout for the pocket clip. Newer bodies have four cutouts equally spaced 90° apart from the next groove.

switch. The early switch was hard to press and really did not have any audible nor tactile feedback. With no gloves and in darkness operating the light fail-safe through the switch was difficult. The newer switch is easier to depress, and while the tactile feedback is still negligible, especially with gloves on, there is now some clear audible clicking sound. Faint but it's there, and i appreciate it a lot. I am not the only one to report it[

29

].
alignment. Everything is aligned, harmonically. Lanyard attachment point, pocket clip groove, EAGTAC label, and switch in Turbo-mode are on the same single line. Next groove, driver cup label, and black bezel label are on the same vertical line too. The opposite side black bezel label is aligned with the pocket clip. The TX25C2 body label is aligned with the cooling fins of the reflector cup in Turbo-mode. Once the head and the tailcap are fully tightened, there is no more arbitrariness left between the various parts and the labels. On early production versions, ooh don't get me even started. I am not the only one to report it[

23

].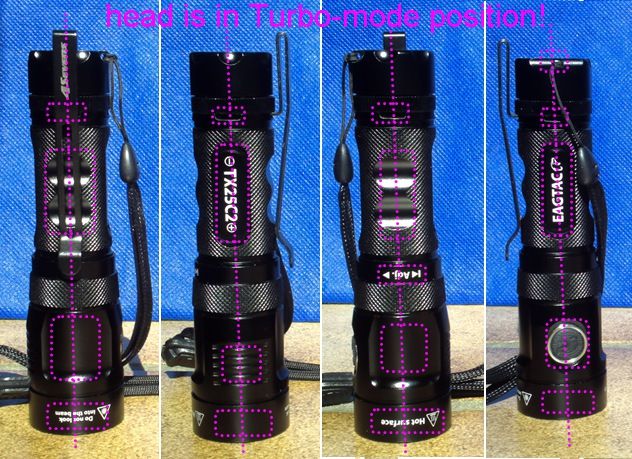 I might just have been lucky with this sample. total neat alignment wherever you go. this is serious production quality
tint. This, i don't know for sure. Maybe i got lucky with my recent production sample or maybe ET did provide improved XM-L2 tint bins in the latest production batches. It is a fact though that i know various early adopters with a slight greenish hue XM-L2 and that my sample has an extraordinary icy cold XM-L2 tint with absolute zero greenish tendency but purplish/blueish/artificial pure white cast. ET, in their own right and discretion, will not guarantee a specific tint bin or that recent samples like mine will always have a whiter CW tint than older samples. If not for ET, ultimately the end user is always subject to the CREE tint lottery.
Extending battery tube. Since i have the KIT version, why not compile a series of basic photos with the extenders installed? Some of you readers might find it interesting to learn how the light looks with one or the other extender on, i don't, lol. For the sake of completeness here are the pix anyway. All images are mouse over.
3x16340/3xCR123A (1 single extender installed) vs. 2x16340/2xCR123A/1x18650 (no extender)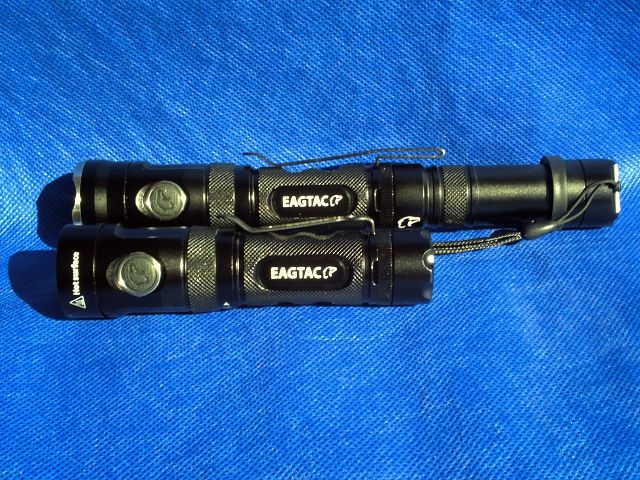 4xCR123A/2x18650 (1 double extender installed) vs. 2x16340/2xCR123A/1x18650 (no extender)
same as above. 4xCR123A/2x18650 (1 double extender installed) vs. 2x16340/2xCR123A/1x18650 (no extender)
lol. 2x18650+1xCR123A is not recommended because of differing cell capacities. Don't do this configuration!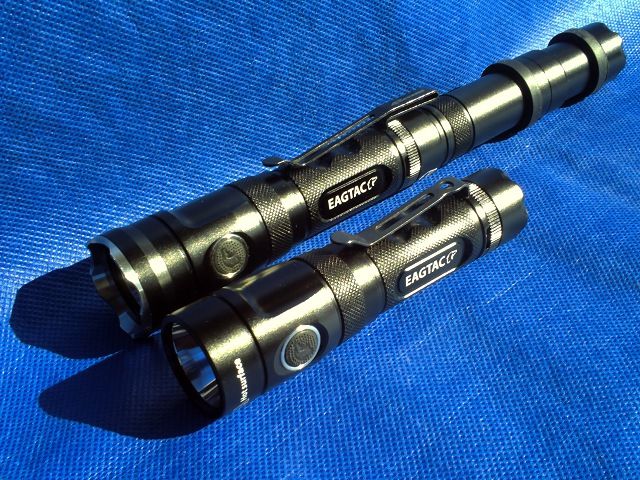 same here. 2x18650+1x16340 is not recommended because of differing cell capacities. Don't do this configuration!

size comparison of T20C2 vs. TX25C2 with single/double extender installed
same as above. the lights look pretty stylish imho. very versatile battery configurations, cool
Not shown above, the light can be operated with 2 double extenders, that's 3x18650 in total. Interesting from an engineering standpoint, usually cells in series do not increase the capacity of the battery pack: cells in series are to increase the total voltage of the pack whereas cells in parallel naturally increase the pack's capacity. Here, the story is different. Since the buck converter of the C3300 ST driver transforms the 12.6V input voltage down to standard internal operating voltage, the actual runtime of the light is increased. The product page[β] details that turbo output runtime with 3x18650 is 4.8hr for 3xET3100 + energy saving enabled. Note that the text passage contains a typo because 4xRCR123, which is the same as 4x16340, is definitely not allowed in this light.

Shame on this reviewer, i did not test runtimes for all 8 possible battery configurations (2x/3x16340, 2x/3x/4xCR123A, or 1x/2x/3x18650). But i did test all continuous runtimes for the 1x18650, the most common battery config. So let's hop over to the following review section, yay!
Battery Life: 
★★★

★

☆

Runtimes should not be estimated by using a single current measurement, for two major reasons. First up, in a current-regulated light the current is not a constant at any chosen time but a function of cell voltage. A Med-mode brightness is being stabilized by raising the current the more the cell gets depleted, whereas a Turbo-mode current may stay constant or may decline within the first minute of operation before it steps down to a fully regulated level with raising current. Secondly, more importantly, with our typical sub-100$ multimeters or measuring equipment it is impossible to get an accurate reading in highly optimized sensitive low voltage circuits because the multimeter's shunt resistor already effects the performance of the light. As a result, the light operates beyond regulation, is less bright and the multimeter measures a significantly lower current than what is actually flowing when no DMM is connected to the circuit. Connecting a DMM to the circuit, one can sometimes/often observe exactly this, the drop in output! There are more expensive more refined techniques get an unaltered accurate current reading from a more sophisticated current measurement device; one user was able to get readings matching the specs of the nomimal 3.3 amps C3300 ST driver: 3.36A/0.83A/0.02A on an unprotected red Sanyo [14]. However most users will see the altered reading on the display of their sub-100$ DMM, for example on a freshly charged protected Panasonic NCR18650A the DMM typically reads only: ~2.30..2.51A/0.748A/0.026A and the standby current drain to be 0.140mA (131.48uA). As you can see, measuring current in such an optimized circuit is a futile exercise, and that's exactly the reason why selfbuilt does not do it nor publishes any such numbers. Having said that, it sometimes makes sense to do use a DMM after all, e.g. when the flashlight is equipped with a cheap simple unoptimized budget driver or when comparing various production samples of the identical flashlight model. There may be tolerances in the electronic parts, the soldering, the CREE emitter, and these lead to minimal performance differences between the samples.
ET 25-series 18650 lights with shared design elements. 2 look rather plain, da left stylish. all are compact tho, mouse over
Often flashlight companies do not state which capacity/cell they used in the runtime tests and they don't stop the test until 10% of the initial brightness has been reached. In contrast, internet reviewers usually state runtimes for a 50% drop from initial brightness. This reviewer, me, kreisl!, did 5 runs on ET3100 (red label) and 5 runs on ET2500 (blue label) and the tests were stopped when the light had dropped out of regulation and looked a bit yet noticeably dimmer than at the beginning. Not an admittedly very scientific or accurate way of stopping the time but the results are valid as empirical values nonetheless. I ejected the EagleTac cells right after the test end, let them rest for hours and measured their offline resting voltage to get an indication of their state of depletion. In the below table, any voltage above 3.3V, e.g. 3.661V, indirectly states that i stopped the test a few minutes too early and a voltage as low as 3.158V that i should have stopped the test a few minutes earlier. No big deal. At least one could easily reproduce these numbers by stopping the time and measuring the offline voltage after several hours of rest. Of course, with 70mm+ over-long generic Protected Panasonic NCR18650B 3400mAh, the runtimes are longer than the numbers given in the below table. Btw, yes, such over-long cells fit in the TX25C2 without problems. I got 4 of these cells from the Wallbuys group buy and they all fit without the slightest space problem thanks to the clever design of the tail cap.
Oh let's not forget the low voltage warning. It really works!, see for example the next-to-last row, Tactical|off|Med|ET2500. Low-voltage warning started ~8mins before i interrupted the test at 5h45min, offline cell voltage was ~2.79V measured after quickly removing the cell and over night it recovered to 3.303V. Every 31secs the light turns off for ~1.0sec, that's the warning signal. Very cool. Another example, the 6th row, Regular|off|Lo|ET2500. Low-voltage warning started ~40mins before i interrupted the test at 93h55min, offline cell voltage was ~2.59V measured after quickly removing the cell and after a couple of days it recovered to 3.360V equilibrium voltage. 
TX25C2 XM-L2 U2 CW continuous runtime
Mode Group
Energy saving
Mode Level
intensity
spec'ed runtime
measured runtime


Regular Group

on

First mode "Turbo"

100%↓ "75%"

1.8h (1.5h)**


ET3100: 1h41min

4.216V→3.315V

Regular Group

on

Middle mode "Hi"

"40%"

2.9h

ET3100: 3h50min

4.216V→3.302V

Regular Group

on

Third mode "Lo"

"0.5%"

150+h

ET3100: 120h32min

4.216V→3.030V

Regular Group

off

First mode "Turbo"

100%↓ "90%"

1.8h (1.2h)**


ET3100: 1h37min

4.208V→3.310V

Regular Group

off

Middle mode "Hi"

"40%"

2.9h

ET2500: 3h13min

4.216V→3.435V


Regular Group

off

Third mode "Lo"

"0.5%"

150+h

ET2500: 93h55min

4.213V→3.360V

Tactical Group

on

First mode "Turbo"

100%↓ "75%"

1.8h (1.5h)**


ET2500: 1h14min

4.216V→3.661V

Tactical Group

on

Middle mode "Med"

"10%"

6.8h

 ET3100: 7h2min

4.217V→3.158V

Tactical Group

on

Third mode "Strobe"

Strobe

n/a

(not tested)


Tactical Group

off

First mode "Turbo"

100%↓ "90%"

1.8h (1.2h)**


 ET2500: 1h10min

4.217V→3.531V

Tactical Group

off

Middle mode "Med"

"10%"

6.8h

ET2500: 5h45min

4.216V→3.303V

Tactical Group

off

Third mode "Strobe"

Strobe

n/a

(not tested)

**runtimes for 1x18650 differ in section "Output and Runtime" and "Other battery types runtime" of specs webpage[β].
You find the above table complex or confusing? You betcha. This product ain't no cheap light with ridiculous budget UI Hi-Med-Lo or Hi-Low-Strobe but a premium light with 2 mode groups × Energy saving mode, so things are a little more complicated and i also measured the continuous runtimes for ×2 capacity cells.
My measured runtimes are not too way off from the spec'ed runtimes, depending on which capacity/cell one is referring to, except for 1 offset: with either cell, ET spec'ed the "Hi (40%)" runtime too low; Mev had even measured 4h22min omg without specifying which cell he had been using [23].
Another interesting finding is that the Energy saving feature, effective only in Turbo-mode, does not effect significantly longer continuous runtimes. With either cell the difference between activated and deactivated Energy saving is about the same, ~4mins. That's because in a continuous run the deactivated Energy saving will make the Turbo-mode fall out of regulation very early; no light on the market can hold "868 ANSI lumen" (90% of 965 ANSI lumen) constant for a sustained period. Vice versa, if you operate the light with deactivated Energy saving for a couple of minutes only in Turbo-mode, say 6mins, then you would never reach an accumulated runtime of 1h37min with an ET3100. My guess is that you could do 10 such short runs for a total of 1h (10×6min) until you notice that the ET3100 cannot provide the 3amps high current anymore. Exactly for this reason, Fenix states accumulated Turbo-mode runtimes in the manuals of PD32UE and PD35, simply because such numbers make much more practical sense.
Water resistance. And if you're wondering how i performed the runtime tests, I placed the torch in glass of cold water and exchanged the warmed up water periodically. Before doing so, i had lubed all o-rings and the upper side of the rubber switch cover with sticky silicone grease. This way humidity did not seem to enter the torch body or head but during the first minute of the Turbo-mode runs i did notice small air bubbles leaving thru an invisible point at the seam junction between driver cup and reflector cup: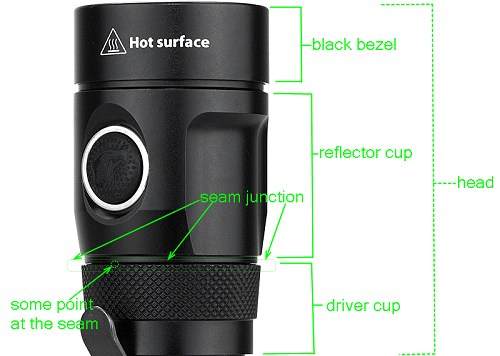 the head is a 3-part system but only the black bezel can be serviced by the user
I am not sure if reflector cup and driver cup are loctite glued with or without extra o-ring at the seam junction but who would have thought this seam line could in theory be another potential entry point of humidity? It has been witnessed that a user [21] got humidity into the head which in turn caused erractic behavior of the light. On the one hand, it makes sense that a sealed head would develop internal air pressure by the build up of hot LED heat and that the pressurized air may find a point in the system for gas leakage and balancing the pressure to the environment, on the other hand i don't know to which degree hot air leakage (without humidity entering the head!) is considered natural or normal. Apparently the "semipermeable" seam junction on my sample is resistant to liquid water pressure and not resistant to hot air pressure; if it stays this way, I am fine with it — as long as humidity does not enter the head through any of its potential entry points: the 2 o-rings at body and black bezel, the switch, or the seam junction. Note that primitive lights such as the popular Xeno E03, rated at 10m water resistance, only have a single point of potential entry at the head area, namely the o-ring at the stainless steel bezel.
While i would not mind doing so with the Xeno E03, tbh since my expensive TX25C2 sample passed my personal water dunk test through the runtime tests, i am not going to challenge its waterproofness any further. You too, be considerate and do no challenge your many lights' claimed water resistance and waterproofness for the sake of testing. Maybe the E03 was designed with top water resistance in the engineer's mind and i also strongly believe in the longevity and water resistance of the former ET flagship model T20C2 MkII but when it comes down to this compact TX25C2, personally i'd prefer to treat it as something cute and tender. Kitten survive a bath in a cold water tub and the TX25C2 too but hey c'mon.
Please also refer to mhanlen's incredible experience of moist leakage in the Nitcore EA4 which got never dunked into cold water.
Light Output: 
★★★
★★
Lorem "EagleTac ANSI FL-1 Lumen output is measured using a calibrated integrated sphere one minute after turning on the flashlight." aha!!, that's why the values seem underrated. the following tables contain measurements for 30sec and 60sec after activation.
According to the ANSI/NEMA FL-1 2009 standard for flashlight testing, output can be measured 30sec, 60sec or up to 2min after activation. The bottom of the specs page[β] states that the ET ANSI FL-1 lumen output measurement was taken "3min" after activation (which must be a typo because that's both beyond the 120sec outer limit of the Standard and beyond the 200sec limit of Turbo boost), whereas the beamshots page[δ] states the ET ANSI FL-1 lumen output measurement was taken 1min after activation. Note that all other flashlight companies and also this reviewer take the lumen output measurement exactly 30 seconds after activation. selfbuilt adopted the 30sec-post-activation rule too for his recent reviews. At lower modes a good flashlight stabilizes the brightness level of the mode, however at absolute max drive not even a Zebralight is capable of stabilizing the top max brightness directly after activation. Therefore reported ANSI lumens of premium brand lights will differ greatly depending on the chosen point in time after activation. In an effort to gather comparable data, the below table contains both 30s-post-activation and 60s-post-activation lumens output measurements after the FENIX post-2011 published ANSI lumens scale.  
TX25C2, GX25A3, SX25L3 are similar pseudo-tactical whereas T20C2, G25C2 are real tactical weapon mount lights. mouse over
the Turbo Mode is regulated for constant brightness, as long as the cell has enough juice.
TX25C2 XM-L2 U2 CW output

| | | | | | |
| --- | --- | --- | --- | --- | --- |
| Mode Group | Energy saving | Mode Level | intensity | spec'ed EagleTac ANSI lm | measured Fenix ANSI lm |
| Regular Group | on | First mode "Turbo" | 100%↓ "75%" | 965↓ 746 |   |
| Regular Group | on | Middle mode "Hi" | "40%" | 459 |   |
| Regular Group | on | Third mode "Lo" | "0.5%" | 7 |   |
| Regular Group | off | First mode "Turbo" | 100%↓ "90%" | 965↓ "868" |   |
| Regular Group | off | Middle mode "Hi" | "40%" | 459 |   |
| Regular Group | off | Third mode "Lo" | "0.5%" | 7 |   |
| Tactical Group | on | First mode "Turbo" | 100%↓ "75%" | 965↓ 746 |   |
| Tactical Group | on | Middle mode "Med" | "10%" | 208 |   |
| Tactical Group | on | Third mode "Strobe" | Strobe | Strobe |   |
| Tactical Group | off | First mode "Turbo" | 100%↓ "90%" | 965↓ "868" |   |
| Tactical Group | off | Middle mode "Med" | "10%" | 208 |   |
| Tactical Group | off | Third mode "Strobe" | Strobe | Strobe |   |
ipsum d
Beamshots.
Since sufficient helpful beamshots are published on the WWW already (see especially [7], [9], [13], [14], [15], [24]), this reviewer focuses on beam couplings against a white wall for comparisons of beam tint, beam intensity and beam pattern. The camera uses automatic white balance to minimize tint differences and also auto-brightness to adapt to different brightness levels of the flashlight modes. Each image could be (downloaded or) opened in another browser tab in original format (full size 800×600 *.PNG) for personal compilation purposes. I grouped the many white wallshots in 7 short commented series (a, b, .., g) and arranged them in sensible order to point out certain beam characteristics better. The series is then reposted in reduced quality, full size 800x600 as animated GIF.
Recall that the TX25C2 can be turned on at 4 brightness levels Lo (7lm), Med (208lm), Hi (459lm) and Turbo (965lm, before the stepdown), depending on which Mode Group is active.
promotional photo showing the older emitter, not our XM-L2 U2 (spec'd 15,800 lux, 275 yards). user measurements range between 17,100lx[25] and 17,320lx[28], not too shabby huh?
The overall tint impression on my unit is icy cold pure white similar to the best EagleTac picks of CREE XM-L T6 CW or XP-G S2 CW, lacks any greenishness (or yellowishness) in center and corona and has the typical purplish cast in the outer spill area. Even on the lower modes there is no greenishness anywhere but hotspot and corona are artificial pure white while the beam does get tinted, purplish, toward the end of the spill area. Great tint. On my unit. And i would assume that the very latest production samples have the same great untinted beam. As mentioned before, notable improvements between early and recent production samples exist (alignment, clickiness, grooves, tint). I do know that very early production units of TX25C2 may come with a minimal greenish cast in their XM-L2 U2 CW beam, CREE tint lottery! Below, you can observe that the same TX25C2 beam looks tinted differently from photo to photo. That's because of the auto-white balance setting of the camera. However, our own eyes perceive tint differences in a similar way, they auto-white balance out the lesser tinted, i.e. the less greenish beam. Pairing beams, a splendid idea copied from UPz reviews, avoids that the camera drifts into unreal greenish wallshots, see [23]. The interesting effect is that some of the below photos do represent not too awfully bad what our eyes perceive in reality while others seem awfully off indeed. Well if by the end of the day you did not find the entire series of beam pairings too helpful then hopefully you could at least enjoy the charming smile on the bridget portrait. That is something you will not forget after having looked at her so many times.
a) UltraF*** M5 R5 vs. others:
 The UF M5 has a rather good harmonic beam pattern with agreeable tint impression and because of its DX group buy popularity was chosen as common denominator for this mini series. My Tank007 E09 V1, a 2011 model with large smooth nice hotspot, looks darker than the M5 also because of its creamish or shall i say dirty-looking tint, yet the Tank007 ES12, a 2013 stainless steel model with updated LED and tight bright hotspot is throwier. None of these 3 lights on 10440 Li-ion beat the beam intensity of TX25C2's 208 lumen Med mode. #3 also provides a glimpse at the great tint of both beams.
(839kB GIF)
b) LOW vs. others:
The technical reason why beamshots never include the Lo-mode is simple, the camera cannot pick up very well what's going on. Except for the tbh lime-ish XM-L U2 CW (#6), i would classify all other lights in this series as lovely tints on their higher modes. As we know, the low modes generate a tint shift on current-regulated lights and it may be interesting to see what the camera picks up after all. For example my eyes do make out the differences between the two Low modes of D25A Clicky Ti XP-G2 on 14500, 6lm purplish PWM beam (#2) vs 11lm creamish PWM-free beam (#3), the camera cannot. #4-#6 demonstrate the throwiness of XPG's against XML. Note that the camera auto-white balance produces a nicer looking TX25C2 tint on the photos when the right-hand side beam has a clear greenish or lime cast (#6) and a blueish beam representation when the RHS is a warm incandescent-like beam (#7). And the bridget still smiles no matter how dark it is. Very enchanting, miaow.
7
.
(977kB GIF)
c) MED vs. 10440 Max
In this series i took some well-known popular 1xAAA lights and fed unprotected blue Ultrafire 10440's. Although they aren't really floody, compared to the focused bright TX25C2 beam they certainly look underwhelming on the photos. Tintwise, the E09 produces a dirty creamish non-greenish beam (#1) whereas the iTP A3 does have greenish hue with an even greenisher center hotspot (#2) and the LD01 too, to a lesser degree (#3). The latter is interesting because Fenix and Klarus use premium XP-G's and without a reference light, i was not aware that my LD01 R4 or Klarus P1A R5 were indeed lights with a greenish hue. The best 1xAAA tints are seen and confirmed with the M5, least greenish hue (#4), and the Thrunite Ti, a beautiful beam with some throw and great brightness on 10440. Note how misrepresented the tint of the left-hand side (LHS) is in the very first pic, #1. Oh well.
d) MED vs. others
In this series the most greenish RHS's are #2 (XML U2 CW) and #6 (SC52, XML U3 CW), and luckily the photos do show it! My D25A Clicky Ti XP-G2 has a very pleasant tint, i'd characterize it as creamish-white, and its deviation from the pure white tends toward yellow —and definitely not green/lime— or what the scene would call "Neutral White" (#3). The warmer the RHS gets, the more blueish icy cold gets the LHS (#3→#4). Looking at all photos at the same time or in animated series, it is easy to tell that the best tint is given by JR30 (#5) and the LHS on pretty much all photos, i.e. the TX25C2. And as to brightness or intensity, it is true as seen that the lights output over 208lm (#3-#7). On Med-mode the T20C2 puts out 90lm (#2). And the Sipik, #1? I leave that up to you, thanks.
7
.
e) TX25C2 vs. T20C2 XP-G's
This series is to demonstrate that EagleTac's picks of XM-L2 (LHS of #1-#7), XP-G2 (#2, #4, #6, #7), and XP-G S2 (#1, #3, #5) are equally fantastic tints in their own right. If at all, then the TX25C2 (and the XPG S2) could be seen as a blueish-freezing white light as correctly depicted in pairings with the neutral-warm XML of D25LC2. However in this unfortunate series the photos does not do their greatness justice. Clearly, the green cast in all 7 pictures is a camera auto-white balance error. I guess this happens when the beams are too similar in their tints and the auto-balance feature has only very little to base the balancing upon. This photo effect totally reminds me of all white wallshots found on Mev's review website; they are all super greenish or blueish omfg. So in the end the below photos mostly demo the brightness levels, i.e. MED > T20C2 Med, MED < T20C2 Turbo, HIGH ≈ T20C2 Turbo, and TURBO > T20C2 Turbo. Don't be bored yet, two more series to follow. The bridget is a natural beauty isn't she.
7
.
f) HIGH vs. others
The HI-mode of TX25C2 is ANSI 459lm. We already established in g) that it seems about similar intensity as T20C2 XPG S2 (spec'ed ANSI 375lm, #1) and T20C2 XP-G2 (spec'ed ANSI 418lm, #2). Rofis JR30 R5 could be around the same ballpark, with 14500 Li-ion it is in direct drive; great tint as always btw (#3). T20C2 XML U2 CW is spec'ed ANSI 600lm and the omfg greenish Zebralight SC52 ANSI 500lm. Yep, both look brighter than the LHS (#4, #5). Since all lights are more or less equally bright, the series mostly serves to determine which hand side has the better tint, so watch the animated GIF and spontaneously decide, left or right? Not trying to bias you but i bet that you will decide 5 times for the LHS. TX25C2, my recent production sample at least, is the winner .. as long as you like frosty, non-greenish CW's. I am tellin' ya, it's an artificial pure white, similar to the well-received XP-G2 CW emitter on other lights, Archer 1A, Preon PenLight, etc. Great comparison, kreisl!
g) Turbo vs. others
Oh my god omg omg. The TX25C2 XM-L2 in Turbo mode dwarfs my other powerful 1x18650 EagleTac lights in Turbo mode. No wonder why, because it also draws the highest current from the single cell. If you didn't read the other review sections of this kinda long review tl;dr, here again the key number, the flashlight is equipped with the CC3300ST driver which draws 3.3A nominal on Turbo mode, insane!! This is how you beat Zebralight in the lumens war lol. Btw, the SC600 MkII comes with the identical same emitter as the SC52, namely the greenish CREE XM-L U3 CW. Here again, while watching the animated GIF, decide which side has the better tint, LHS or RHS. Even though we're witnessing that the TX25C2 defeats the T20C2 MkII in both brightness and tint performance, it does certainly not supersede the older brother. The latter is a real professional 100% tactical and affordable light with user-replaceable upgrade LED modules, whereas the former is a more expensive compact light with tactical features. Only time will tell if professionals accept it as their to-go light on the long run. For now we only know, yes it has better tint, higher brightness and is really pocketable, no holstering needed.
(784kB GIF)
Summary: 
★★★
★★
"EAGTAC TX25C2 offers maximum output performance, versatile user interface, tough build quality and rich accessories like no other flashlight offers. This series is designed for police, professionals, and hobbyists.", summarizes the manual, aha. A true yet somewhat general statement. "Pocketable thrower", "pocket rocket", that's how most owners describe the essence of the light in a single short phrase and indeed a new product which does not fail to impress, the TX25C2 XM-L2, sharing looks of C20C, EC25, SC600, SL6 and revised UI features of the G25C2, is unanimously praised for its size, still pocketable, immense throwing capability, and preselection of modes before turning on. Thanks to the no-nonsense Maglite-style side-clicky, it combines panic-proof features such as instant strobe and instant turbo with a generous set of hidden blinkies applicable in most tactical and emergency situations of a civilian in a more compact powerhouse than the standard 1x18650 weapon-mountable lights with fully tactical forward rear-clickies. The bigger cousin, G25C2 XM-L2, throws even further (with dimmer spill in turn) but is, erh aha, yes sir, bigger! While the prospective buyer may fear the big brightness step between Lo and Med (in Regular Group only!), actual owners and common users of well-received 2-mode models —see Quark Tactical, P1A, BA10, PA10, MT1A, MH1A, Armytek Partner— are fine with the UI's practicability. The attractive looking TX25C2 is a good compromise, half-EDC half-tactical, very powerful modern 1000 lumens light for civilians and wives, less so for police officers, and with its optional accessories (diffuser, color filters, extenders, attack ring, traffic wands) also a very versatile layman's all-round light suitable for all kinds of situations and serious extended lighting tasks, indoor, outdoor, work, walk, bike, fish, squirrel, home, hot, dog.